Weekly round-up: 19 - 25 Aug 2015
The week at a glance
An at-sea Chimney Swift logged off the coast of Highlands
Ideal conditions assist a Pallid Harrier on to Mainland Shetland
The week begins with an impressive fall of drift migrants and rarities, including Booted Warbler , Arctic Warbler and Thrush Nightingale, from East Yorkshire north to Shetland
…and further Booted Warblers appear on Shetland, Orkney and Norfolk
Black Storks continue to dominate proceedings, a small selection of stragglers lingering on
The Mayo coast scores a Sunday flyby Fea's-type Petrel
Another extremely busy, bird-filled week gets chalked up on the board as seven somewhat muggy and sticky days (for most areas) sucked in some rather helpful east to southeast winds - hoovering up a non-too-shabby array of scarcities and rare birds in to the bargain.
The week got off to a flying start for those sat on the east coast anywhere from the Humber north to Shetland as the final fling of a small area of low pressure cleared the North Sea and opened up a significant "corridor of drift" on to the Low Countries and Scandinavia. The arrivals didn't disappoint.
The next weather happening to follow on was a sometimes tempestuous often warm to very warm to hot mass of southerly influenced air that quickly saw winds shift slightly towards the southeast and east - high temperatures (31 degrees C in southeast England on 22nd for instance) coupled with pulses of cooler action to the west ensured thunderstorms across much of southwest and northwestern Britain, the rain tracking slowly east in to the bargain.
The hot and sticky conditions certainly had quite some influence on what was what through the week but it was from a rather different direction of the compass that brought the one genuinely blue riband bird of the last seven days - keeping a whole heap of news in the best of company.
But no sooner has folk digested that, then the focus fell sharply back to the Northern Isles as the spectacularly nigh-on perfect weather (for them) heaped a set of rares on Shetland to round off a particularly fine August week for birding in general.
So, here we go then…
Chimney Swift
After the somewhat grumpy weather systems cleared the west coast of Briatin sometime during the evening of 23rd, the attention was switched, somewhat dramatically from a raft of east coast drifters strewn from Norfolk to Shetland to the seas of Highland. Weirdly, the bird that stole the headlines was a rather different piece of "pelagic plunder" - it wasn't even a seabird, it was the quite remarkable report of a newly arrived Chimney Swift…
The bird was seen in The Minch, some three miles off Staffin Bay on the Scottish west coast - an amazing record and a potential first for the Highlands (and the second in a row for the far northwest of Scotland after last autumn's late October bird around Port Nis on Lewis.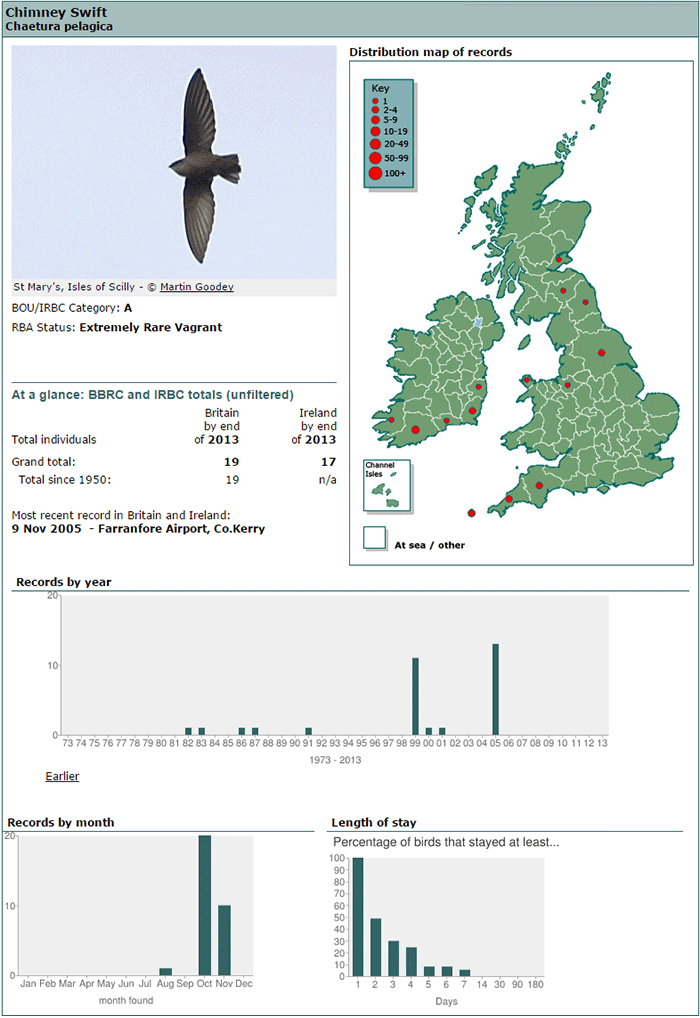 That individual was the first species record since the accepted birds that littered the fortnight between October 29th-November 9th 2005 -13 records in all, of 17 birds (including four on November 1st near Courtmacsherry) - and that set of records boosted the overall total to 31 records in all, the first being the famous duo at Porthgwarra in the autumn of 1982.
(Incredibly, the observer of the Swift also made mention of a dark-rumped petrel on the same trip….lorks!)
Pallid Harrier
Pallid Harrier - a species that, sadly, no longer brings with it the sharp intake of breath and gut-gnawing sense of excitement and wonder that it once did. But, being from the "old school" where the "excitement and wonder" can be employed now towards the rapid range expansion westwards and sheer head-spinning volume of records in the past two decades+, I'm all for giving this fine creature an outing in top-bird territory.
From listening to the late-night, post MOTD work comedown of "Sailing By" and the shipping forecast in the wee, small hours of 23rd, there was little doubting that Shetland was surely in line for something very tidy indeed in the daylight hours that followed.
Correctamundo! Sure enough, the morning of 23rd produced the first Pallid Harrier of 2015, note on the Mainland, at Loch of Spiggie, a bird which could potentially be the 30th record for the islands.
Up until the end of 2013 there had been 23 records around the archipelago, with the most recent acceptance coming in October 2011. A single Fair Isle record from June 2013 has yet to appear anywhere in print, while a further five or so were noted around the island group through last autumn. There have been five previous August records from Shetland - four of them in 2011, including a remarkably early juvenile on Fair Isle from 12th-15th. As a whole, including the Shetland quintet, there have been a further five August Pallid Harrier recorded, all of them coming since 2002.
It still seems hard to think that many birders first experience of this long-time mythical species was 20 years ago, the young male on Orkney drawing the crowds north - that bird was just the ninth for Britain. That some 70 have followed in the two decades that have followed since 1995 really is quite something…
North East Coast Drifters…
The weather map late in the day on the final day of last week's roundup was showing one thing and one thing only - birders from Spurn northwards to Shetland really needed to bring their "A" Game through the day that was to begin this week's roundup period…
…a bird filled August 19th…
Everything was lining up (the weather system ticking all boxes, across the board) to be a busy, busy day and, in the end, that was exactly what it was. By midday, the scores for Wryneck, Icterine Warbler and Barred Warbler was already at 11:8:6 - and things continued to improve throughout the day.
Two Northern Isles excelled throughout the day, so before rolling through individual species numbers, we'll mop up the exciting day's field totals from Orkney's North Ronaldsay and Shetland's Fair Isle…
North Ronaldsay
In amongst the impressive figures of commoner migrants (17 Pied Flycatchers, 19 Whinchats, 24 Garden Warblers and 77 Willow Warblers) posted on the ever-excellent North Ronaldsay Bird Observatory website - http://northronbirdobs.blogspot.co.uk/ - there was also a mightily impressive list of scarcer drift migrants across the small island at the head of Orkney's island group.
Top of the list for the day was a somewhat elusive Greenish Warbler that frequented the thistle fields at Stennabreck but for the NRBO staff, the appearance of at least six Wrynecks around the island was more exciting still. Also in amongst the quality August fall were two new Barred Warblers, single Marsh Warbler and Common Rosefinch and also a Corncrake.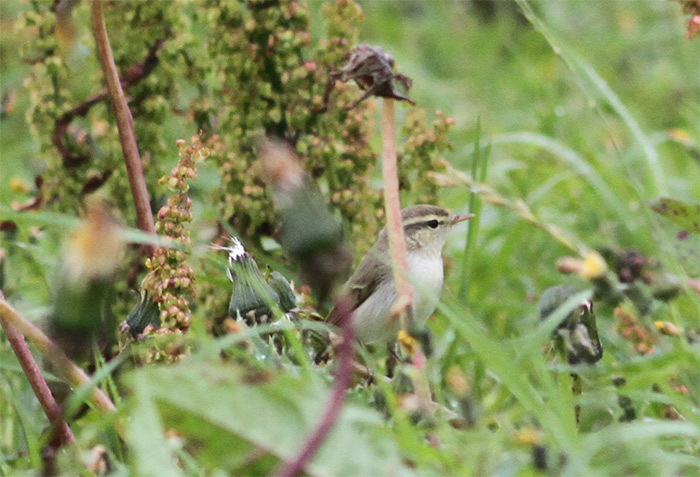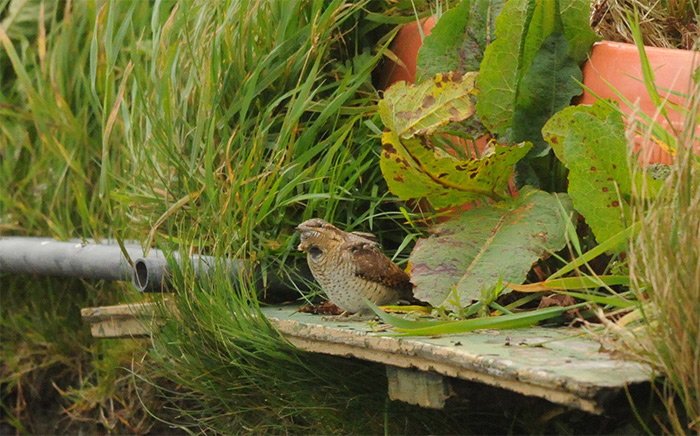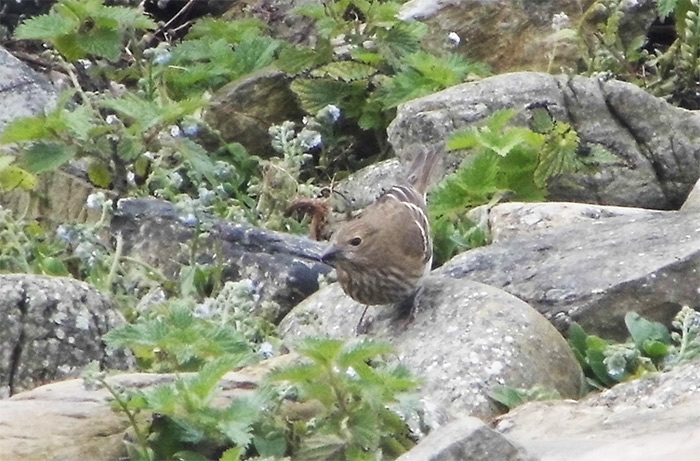 That's a pretty decent day in anyone's book…
Fair Isle
Some 25 miles or so to the north of North Ronaldsay lies Shetland's southern most outpost, the world famous Fair Isle. Friendly rivalry exists between the two island Obs., but this week's 1st day of business saw Fair Isle come out on top…
…and the two birds that ensured a gold star for David Parnaby and his wardening staff were the island's 14th Booted Warbler, found during the evening down at Lower Leogh (Shetland, to the end of 2013, had recorded 43 in all, from a grand total of 152 acceptances in all) and the showy (surprisingly so) 62nd Thrush Nightingale that was found at Setter (Shetland, to the end of 2013, had 91 records in all, from an overall tally of 210 acceptances).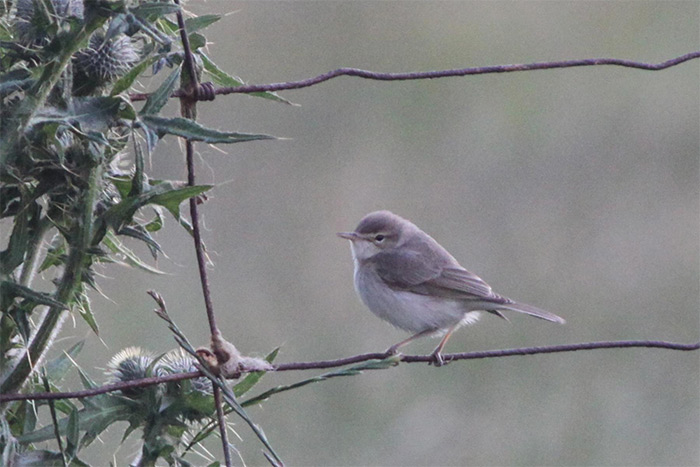 Shetland has already has a dozen August Booted Warblers prior to this week's new Fair Isle bird, while a total of 10 previous August Shetland Thrush Nightingales have been logged. Nationally, the month totals for the two species (including those Shetland records) are 32 Booteds and 24 Sprossers.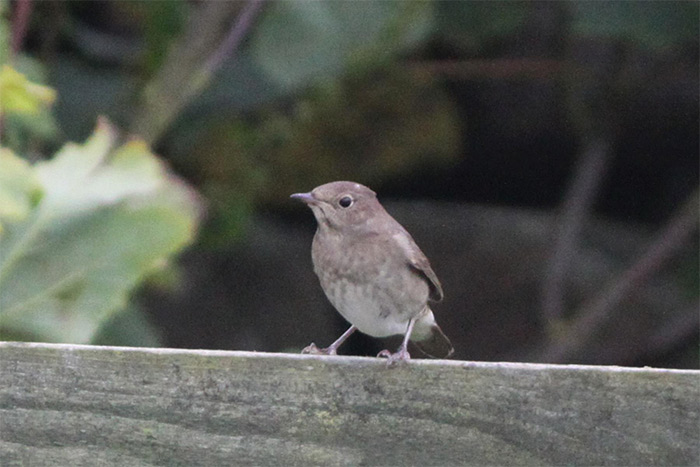 What else did Fair Isle land on a cracking 19th? Sharing species with "neighbours" North Ron., there was a single Greenish Warbler, seen around the Observatory garden, at least four Wrynecks and two each for Icterine Warbler, Barred Warbler and also Red-backed Shrikes.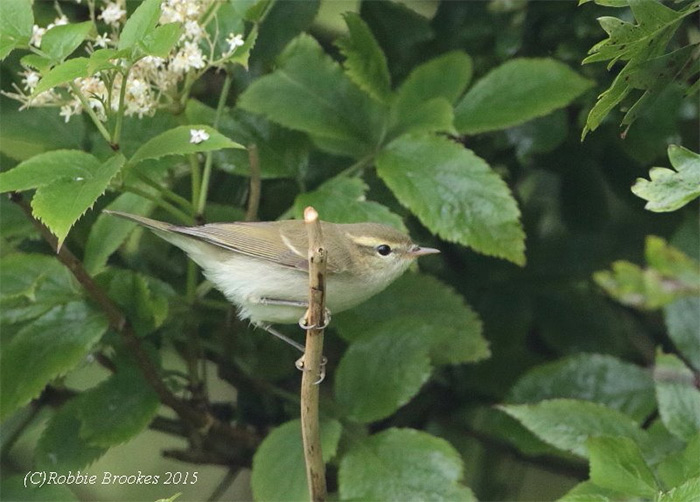 Pop in a couple of Grey-headed Wagtails and a neat ensemble of common migrants, a similar set of species to Ronaldsay, in slightly smaller numbers (nine Pied Flycatchers, 20 Whinchats, 15 Garden Warblers and 56 Willow Warblers), well, you end up with a belting day on this remarkable island.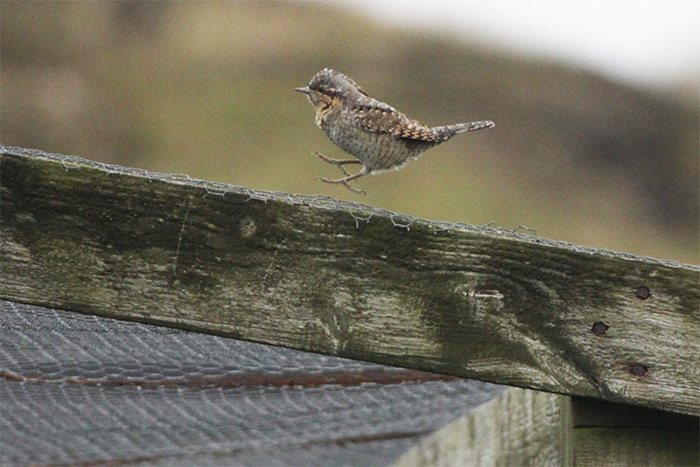 Mopping up the rest - Arctic Warbler & more besides…
That actually sounds somewhat disingenuous in many ways - but that is what has to be done for such a busy day. Leading the way, in some style, the Arctic Warbler found on the Aberdeenshire coast, at the Sands of Forvie NNR.
A huge rarity for the county, only the third in all and, in one of those delicious little snippets of my beloved symmetry, the first example in this particular part of northeast Scotland for exactly 36 years to the day; Aberdeenshire's last record of Arctic Warbler came on August 19th 1979 at Foveran Links. Aberdeenshire's only other record came from the same site as this week's, at the Sands of Forvie reserve on September 2nd 1958.
August is a particular strong month for Arctic Warblers here - up until the end of 2013, there were 48 records in all (from a total of just over 350) and last year Shetland added a further two August birds and this week's 1st bird takes us to 51 for the month - of those, 31 have been found on Shetland alone.
So one Arctic Warbler then and its erstwhile "sister species", Greenish Warbler, chalked up a third individual for the 19th (in addition to the North Ron., and Fair Isle birds mentioned above) courtesy of the one found at Norwick, Unst (Shetland).
New for the autumn was the Red-breasted Flycatcher was found on the Isle of May during the morning of 19th while further regular drifters made themselves known as follows…
Icterines…
Excluding Fair Isle's two new arrivals, another 10 individuals popped up during the day; two further singles were seen on Shetland, on Whalsay and Noss; Aberdeenshire birders found one at Rattray Head and two were seen in Northumberland, on Inner Farne and Holy Island. Further south, Cleveland grabbed a second in a week at the bomb hole at South Gare, while in North Yorkshire, Filey saw two arrive with another at Scarborough. The last one of the day (new ones that is) was found at Flamborough Head - 12 in all… (and in Norfolk, the long-stayer remained at Burnham Overy Dunes).
Barreds…
Away from Fair Isle, Shetland hosted a further four Barred Warblers, seen on the Mainland, at Sandwick and also on Unst with two on Noss. A neat day in Aberdeenshire saw one appear at Girdle Ness and the Isle of May collected one as well. In Northumberland, up to three birds were found around Holy Island while Spurn popped in another to take the overall day total to 14 in all.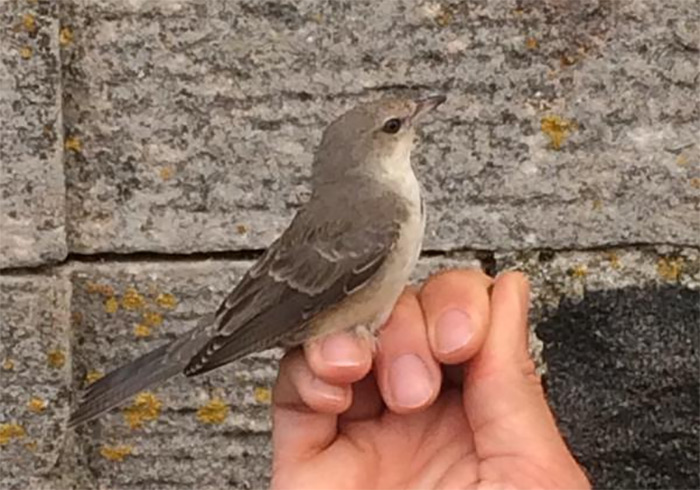 Wrynecks…
We've already had 10 Wrynecks shared between Fair Isle and North Ronaldsay - a figure that gives some indications as to how many were found elsewhere. Six more were seen on Shetland, three for Whalsay, with singles at Sandwick, Mainland and, again, on Unst and Noss. One more Orcadian bird was discovered at Kirkwall, Mainland and another was found at Girdle Ness (Aberdeenshire).
Across the border to England's northeastern counties, two were found in Northumberland, at Bamburgh and on the Farnes; one was at Whitburn (Co. Durham); three were logged around North Yorkshire, all at Filey; four were seen in East Yorkshire, two at Spurn and singles at Flamborough and also in Hull while Norfolk saw the appearance of one at the Holkham end of Burnham Overy Dunes. The sole bird - of 34 in all - away from the east coast, was seen at Church Norton (West Sussex).
Red-backed Shrikes…
…and finally, for the superb 19th that makes up the first day of the review we come to eight more Red-backed Shrikes (in addition to the two on Fair Isle). Shetland held a further six, two each for Whalsay and Isbister, Mainland with further Mainland singles at Sandwick and Loch of Hillwell. A west coast bird was seen at Castle Douglas (Dumfries & Galloway) and Aberdeenshire scored with one at Nigg Bay. The final bird (of 11 in all) was found at Flamborough Head in East Yorkshire.
Blimey Charlie…that really was quite a day…
(and there's lots more on the above further in to the round-up).
Booted Warbler
As was touched on a few paragraphs ago, August can be a significantly fertile month where Booted Warblers are concerned and this week did nothing to change that thought.
The Fair Isle bird discovered on the super-productive 19th was noted again at Lower Leogh on 21st-22nd and was followed by a threesome across the hectic 22nd -Shetland scored a second bird for the week courtesy of a new arrival around Sumburgh; a new arrival was located on Orcadian near-neighbours North Ronaldsay, with mainland east coast birders getting a chance to pit their wits with an elusive bird at Gramborough Hill, Salthouse (Norfolk), an individual that lingered to 24th.
Orkney currently claims just three accepted records of Booted Warbler to date - which doesn't include reported last year at Burray - the records "OK'ed" to date were seen on South Ronaldsay in early September 1988 and on North Ronaldsay in September 1993 and in mid-August 2012.
Norfolk has a dozen previous records on the books, the most recent being two seen exactly two years ago this week - on Blakeney Point on 24th and in Burnham Overy Dunes on 26th. This week's Gramboro' Booted becomes the sixth August record for the county too.
Four in the space of three days is fine form indeed, but there's a way to go to get close to the bumper Booted Warbler crop of 1993 and 2013 - those years clocking up 13 and 12 records respectively.
Black Storks
Still worthy of a place at the week's avian top-table are the three Black Storks that continued to frequent three well separated parts of England and Scotland.
The juvenile noted last week in East Sussex was seen again on 19th, 22nd-23rd and 25th, generally around the Cooden area, a couple of miles from Bexhill (where it still occasionally popped in to surrounding gardens).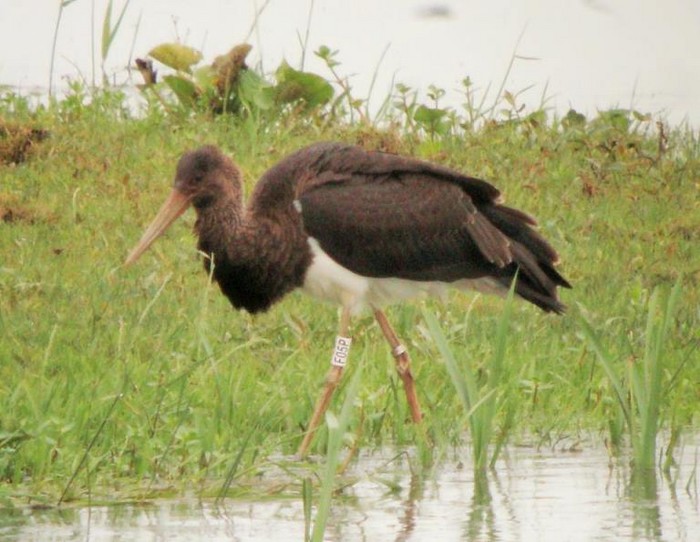 The deux Le stork noir from Ardennes maintained their sibling Gallagher-esque distance between themselves - the juvenile in Aberdeenshire remained around the Loch of Strathbeg RSPB area until at least 23rd while the increasingly infrequently observed youngster in East Yorkshire was noted heading along the Humber during the afternoon of 22nd, seen again at Stone Creek (where it was noted heading along the Humber again on 24th).
Fea's-type Petrel
Wrapping things up for this section, it would be rude not to give a mention to the Fea's-type Petrel noted from Kilcummin Head (Co. Mayo) during a decent seawatch on 23rd. Having been somewhat spoilt by those astounding shots from Scilly last week, there's nothing to offer pictorially speaking this week, but everyone knows how exciting it would have been to pick one of these beauties up…
Kilcummin has two previous accepted records to its name - on August 31st 2007 and September 14th in the same year - while last year saw three birds noted in the space of just seven August days (between 10th-17th). Mayo as a whole has six accepted records to date, with a few still outstanding (including last year's Kilcummin trio).
After the mother of all Pterodromas last week, the pelagic life aboard the M.V.Sapphire was all the more quiet this week - certainly no repeat performance but there was some compensation in the appearance of two evening Wilson's Storm-petrels on the trip out of St. Mary's on 20th with a single seen from the off-island jaunt on 24th.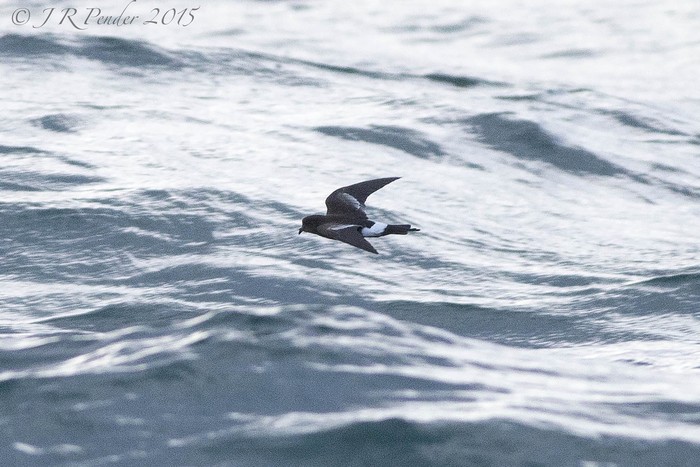 Four single Irish Great Shearwaters got the week under way (seen off headlands in Cork and Waterford) with the first double figure count of the week coming on the above-mentioned Scilly trip on 20th. The following day, off the Cork coast, Galley Head seawatchers counted 50 in just over an hour in a pre-breakfast scan (along with 16 Cory's Shearwaters and a Long-tailed Skua - goodness, I wonder what else they'd have seen during the day if they'd had chance to linger longer?) with another 10 logged from the Friday night Scilly pelagic on the same day. A single Great was seen from the Cornish coast, at Mousehole and two were noted from the Scillonian, also on 21st (with one on 25th) while the Scilly jaunts of 22nd and 23rd yielded three and five birds respectively, with one on 24th.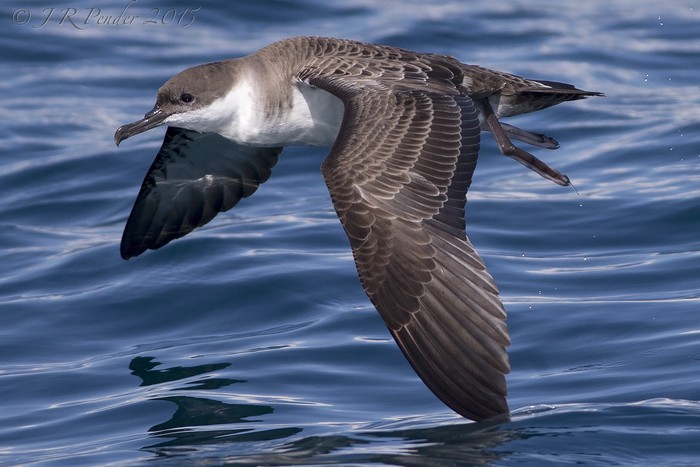 An increasingly favourable wind on 25th for both the southwest of England and southwest of Ireland boosted tallies further - 32 Greats were seen from Porthgwarra and three evening hours saw Galley Head round things off with 128 birds in all.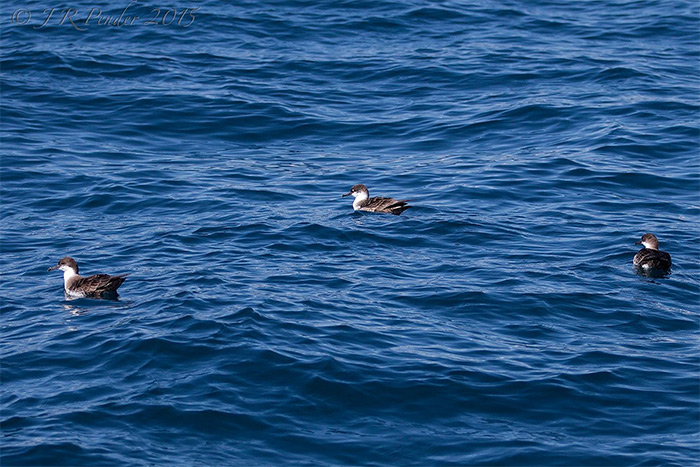 Along with those Galley Head birds of 21st, another Cork count of sixteen Cory's Shearwaters came from Mizen Head on 20th, the only two double figure totals this week. A singleton was off Helvick Head (Co. Waterford), also on 20th and further Irish singles were seen from Kilcummin Head on 23rd and Bridges of Ross on 24th. Off Scilly, nine and three were the counts from the trips on 20th and 21st, four were seen from the crossing back from St. Mary's to Penzance on 24th and one passed both St. Agnes and St. Mary's on 25th. The only other birds noted were seen from or off the Cornish coast between 23rd-25th - at Porthleven on the former date and from the Scillonian, Bass Point, Rame Head, Lizard Point and Porthgwarra - the latter two sites seeing 21 and 130 birds respectively pass by.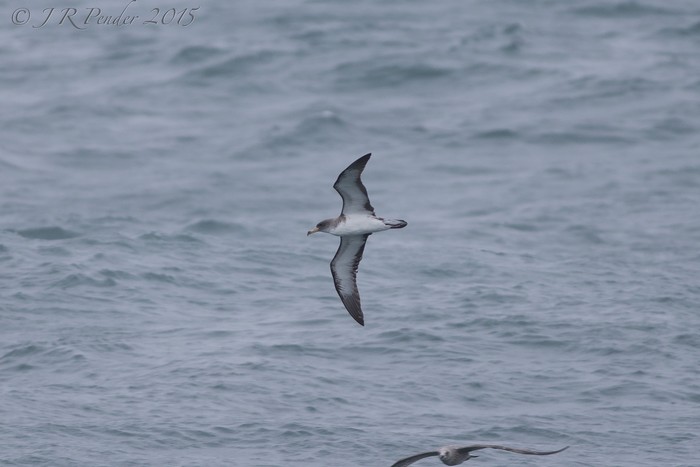 The year's highest count of Balearic Shearwaters came from Devon's Berry Head on 21st - 406 birds logged through the day, with 107 from the same site two days earlier and 181 were counted there on 25th. Elsewhere in Devon, 84 were seen from Prawle Point on 21st, the third highest count from the last seven days. Dorset's total through until the weekend was 115+ (mostly off Portland where at least were seen on 25) while 150+ were seen off the Cornish coast, including counts of 25 (off Rame Head), 27 (off Lizard Point) and 50 (off Porthgwarra).
Further afield, 60 more or so were reported - from Kent and Sussex (where over 30 were seen from Selsey Bill on 25th) to Norfolk, the northeast of England, the coast of west Wales and on in to Ayrshire. A handful were also logged in Ireland, around the coastline from Wicklow to Mayo.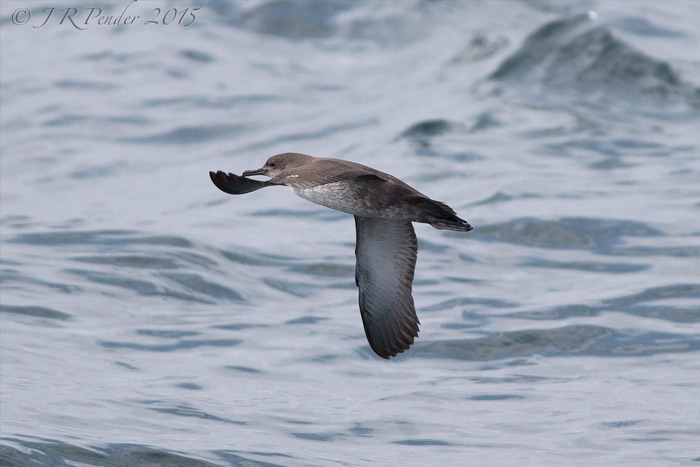 The first Long-tailed Skuas of the week were noted on 19th - seen from Mayo's Annagh Head and East Yorkshire's Flamborough Head. Three birds followed on 22nd, the already mentioned individual from Galley Head and also off Bridlington (East Yorkshire) and from a Scilly pelagic. The 23rd saw 10 birds logged from assorted points of Britain - three were off Flamborough, two were seen from the Sunday pelagic off Scilly and singles appeared at Fishtown of Usan (Angus), South Gare (Cleveland), Filey (North Yorkshire), Spurn (East Yorkshire) and Thorpeness (Suffolk) while 24th saw two pass Whitburn (Co. Durham) with a distant bird reported from Cley (Norfolk) with one also in Staffin Bay (Highland). Another Irish single was seen from a "Cork Pelagic" on 23rd and a juvenile was recorded off Bridges of Ross on 24th while singles off Ballylongford (in Kerry), Bardsey Island, Flamborough and Spurn wrap up the proceedings on 25th.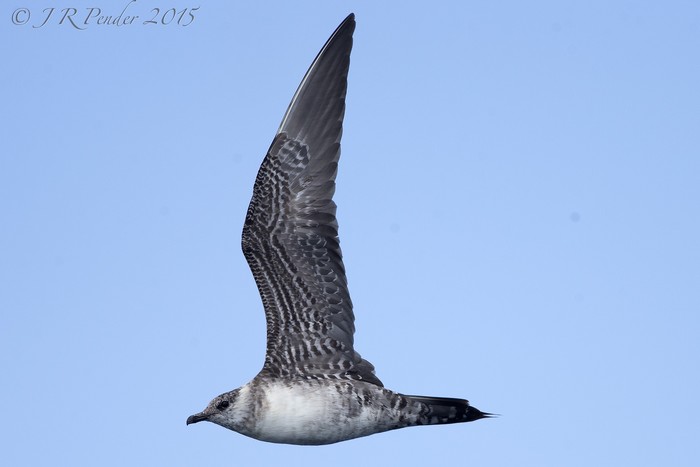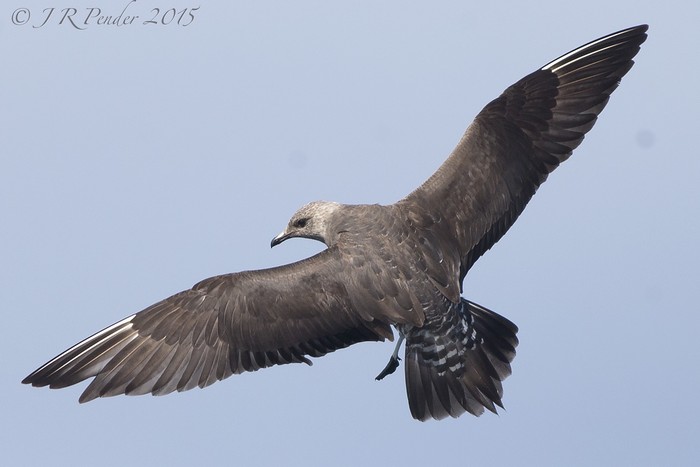 By the end of the weekend, some 69+ Pomarine Skuas had been noted in 10 British and six Irish counties (36:33) with five off Kinghorn (Fife) on 19th, five off Spurn (East Yorkshire) on 23rd while seven were noted in Lincolnshire until the end of 23rd. Irish birds included seven from the Baltimore pelagic of 23rd with half a dozen off Bridges of Ross (Co. Clare) through the week and five off the Waterford coast too.
The week's only Leach's Storm-petrels were two birds seen from Kilcummin Head on 23rd and one from the profitable Staffin Bay trip of 24th while two Grey Phalaropes were seen from Bridges of Ross on 22nd and the 23rd saw a single pass by Flamborough. Then came news of a brisk two-hour passage of 20+ from Helvick Head (Co. Waterford) on 24th.
Bridges of Ross also saw a Sabine's Gull drift past on 19th while Shetland saw an adult appear on the airfield at Sumburgh Airport on 20th. In and around Scilly waters, two singles were noted on 21st (from the Scillonian and from the Friday pelagic) and on 22nd, an adult was seen from Pembrokeshire's Strumble Head. The final birds this week was noted in Staffin Bay (on 24th and 25th) and from the Scilly evening pelagic on 24th.
The adult Night Heron found last week in West Yorkshire, at Swillington Ings was seen on 20th and again from 22nd-24th while a White Stork flew over the Rainham Marshes RSPB reserve (London) on 24th with perhaps the same individual then appearing much later in the day at Peacehaven (East Sussex) - the potential for a neat, possibly even unique, same day, double stork species day for the county was on, but there was no news of the big black one.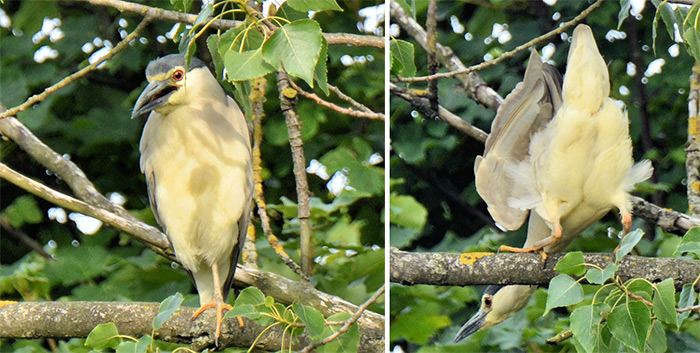 The big numbers of Spoonbills continued to be noted in Lincolnshire and Norfolk - Gibraltar Point's flock peaking at 16 on 22nd, while in Norfolk, Stiffkey Fen's high count was 19 on 23rd with 16 at Ticthwell RSPB on 24th. Elsewhere in the two counties, five birds were at Frampton Marsh RSPB on 23rd while singles were at Snettisham, Burnham Overy and Cley. Further south and in to Suffolk, eight birds was the maximum count from Hazelwood Marshes on 23rd.
The past seven days saw a further two double figure totals reported - Dorset's Brownsea Island managed 13 by 25th (with one on Studland the same day) and in Kent, 10 Spoonbills headed over Oare Marshes KWT on 19th and were presumably the same 10 that were seen at Capel Fleet on 22nd. Two twos were elsewhere in the county (still at Scotney and also at Reculver) while in and around other parts of the southeast, five birds remained at Fingringhoe Wick EWT (Essex) to 22nd, four were at Pagham (West Sussex) on 23rd and, in the Home Counties, three were found inland at Little Marlow (Buckinghamshire) on 23rd.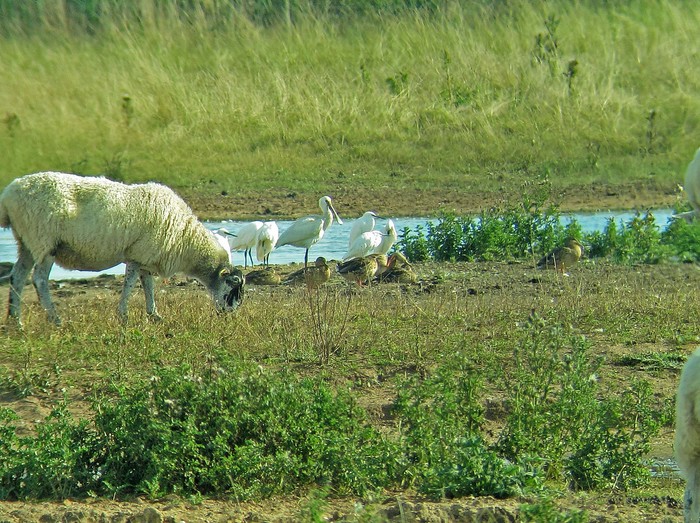 Random singles dotted around the country included three sightings in East Yorkshire through the week; in Somerset (at Wall Common) on 19th; in East Sussex (at Pett Levels) on 20th; still in Lancashire (at Glasson) on 20th while two were noted together at Hesketh Outer Marsh (also Lancashire) on 22nd-23rd.
Two adults and a local reared juvenile Common Crane flew over Thorne Moors NNR (East Yorkshire) on 19th and two were in the Norfolk Broads, at West Somerton on the same day. The Cambridgeshire Washes held five at Ouse Washes RSPB on 20th with seven there on 22nd while Leicestershire recorded a single (at Pickworth Great Wood) on 19th and two (over Grimston) on 24th with last week's lone bird at Blithfield Reservoir (Staffordshire) on site until 25th as well.
Continuing to enjoy the good life in East Yorkshire was the Spotted Crake that remained at Blacktoft Sands RSPB reserve throughout the week while the drift conditions seduced three migrant Corncrakes on to the eastern side of Britain - along with the Ronaldsay bird mentioned earlier, singles were located at Hollingbourne (Kent) on 22nd and at Spurn (East Yorkshire) on 24th.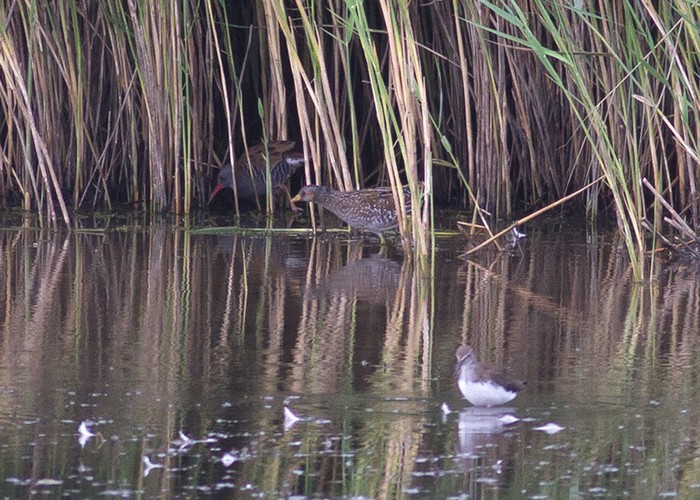 Somerset's drake Lesser Scaup was in situ until 25th while a potential newbie in the Aythya line was the Ferruginous Duck reported from Abberton Reservoir (Essex) on 23rd.
A Surf Scoter lingered in Lunan Bay (Angus) to 22nd and was the only other ducky thing of note this week (which is a mighty blessed relief given all that migrant action…).
As with last week, there was a decided Nearctic influence to the Shorebird proceedings over the last seven days - marked most notably by the first Semipalmated Sandpiper of the year, found at Inny Strand, Waterville (Co. Kerry) on 20th (a county blessed by 42 accepted records until the end of 2013 alone). Lancashire hosted an obliging Lesser Yellowlegs along the Conder Estuary from 23rd - possibly even the bird noted briefly at Brockholes Nature Reserve on 20th?) - a round dozen records for the northwest county now while, in county terms, far rarer was the Highland
Baird's Sandpiper located at Castletown on 24th, the first in the region since Octobher 8th 1994 and only (potentially) the 4th record ever there (the first two came in September 1984 and September 1990).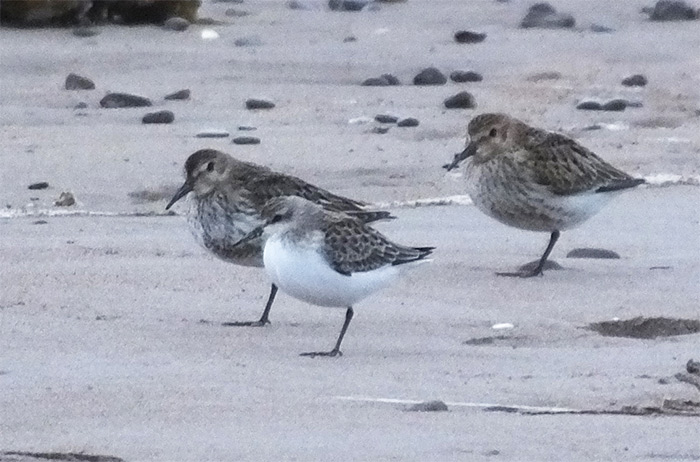 New too was the White-rumped Sandpipers on the north side of the Bull Island causeway (Co. Dublin) on 20th while last week's adult at Oare Marshes NR (Kent) was also last seen on the same date. The fifth species to provide fresh blood from across the Atlantic was the brief American Golden Plover out on Donegal's Tory Island (while the moulting adult on North Ronaldsay remained to 20th).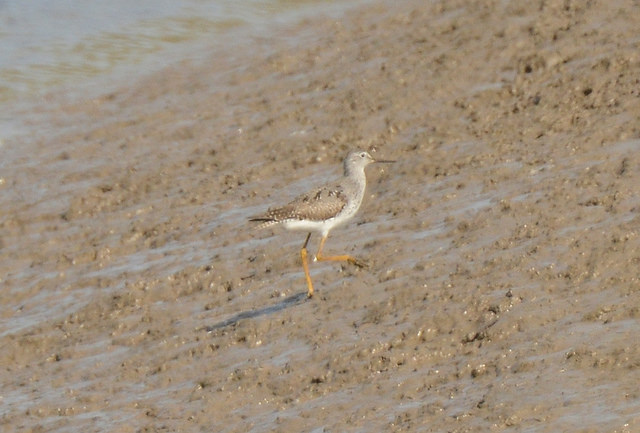 Wrapping up the Nearctic vibe of the rarer shorebirds on offer, down in Wiltshire and to the Coate Water Park where the county's first Spotted Sandpiper remained right the way through until 25th.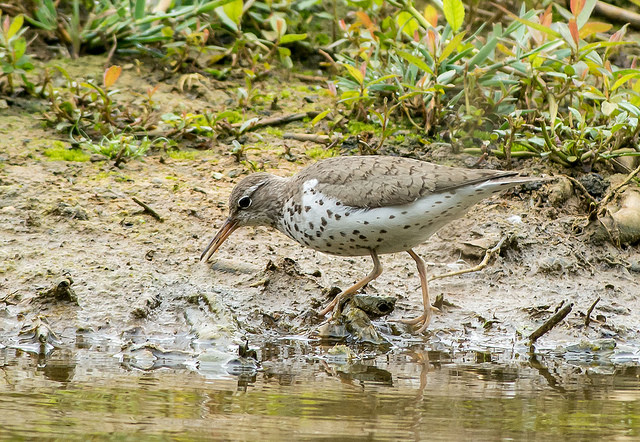 After the deliciously obliging looking invite-only Terek Sandpiper on the edge of "The Burnhams" earlier this summer, Norfolk birders saw frustration of a different kind emerge this week thanks to the brief fly-through sighting of the bendy billed species heading across the Little Eye, at Salthouse just before noon on 24th.
There have been three previous records within the fabled TG04 of the Cley 1okm square - the first was in early July 1975, with the second and third came within 12 months of each other; seen at Salthouse and Cley on May 18th-20th 1982 and on the Cley NWT reserve from May 23rd-30th 1983. A long 32 year gap has followed...if accepted, this will also become the 13th record for the county.
Over in Derry, on the Myroe Levels, the third Pacific Golden Plover of 2015 was found on 23rd (following on from the recent-ish bird at Breydon and the late January winter individual in Lincolnshire). Four years ago, in July 2011, two birds, including a fine adult male, were noted at the same site.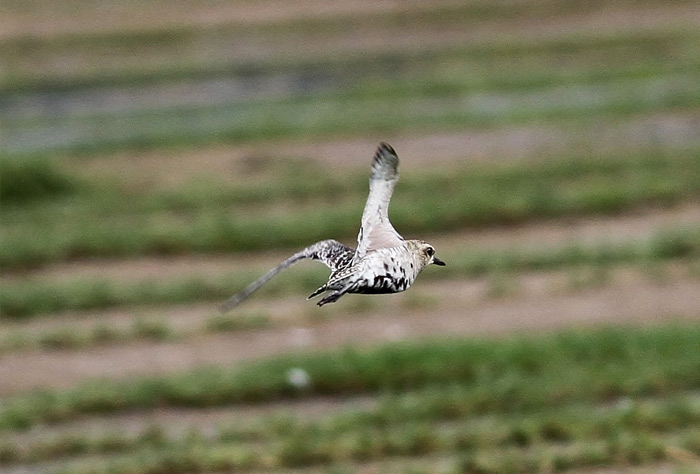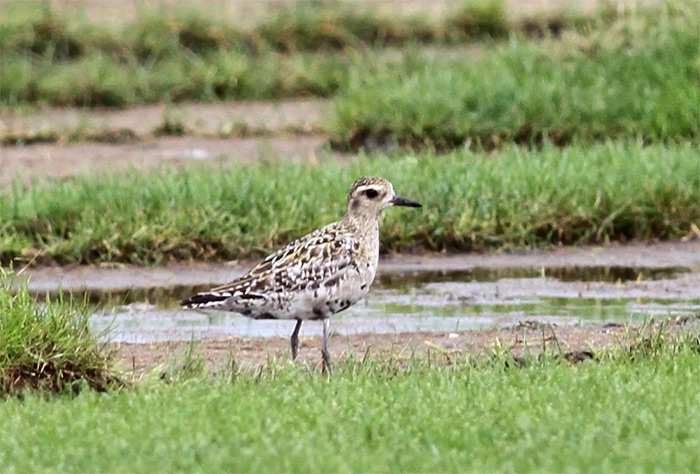 (An either/or
American
or
Pacific Golden Plover
was reported in flight low over Whitburn in Durham on 25th as well...).
The Lucky 13 Pectoral Sandpipers this week were split 6:6:1 between England, Ireland and Scotland; up to three of the English birds were found in Sufffolk - at Minsmere RSPB from 19th-23rd, on the Hazelwood Marshes briefly on 19th and at Havergate Island RSPB on 21st. Three other singles were noted elsewhere; a juvenile was at Holywell Ponds (Northumberland) on 20th, the second was at Wat Tyler CP (Essex) on 23rd and the following day saw a new arrival appear at Frodsham (Cheshire).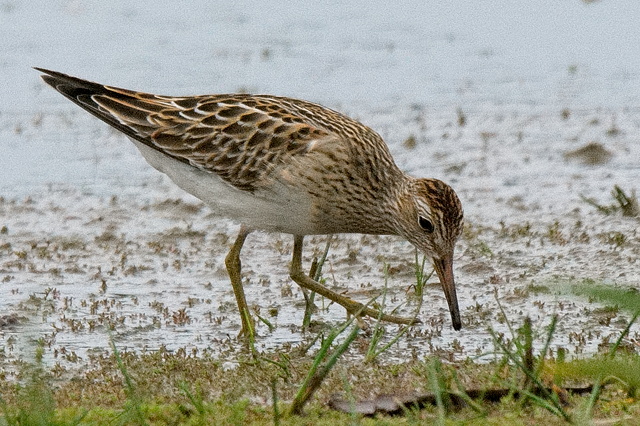 Two twos were in Ireland, in Wexford, at Tacumshin on 22nd and in Galway, at Muckrush, Lough Corrib on 24th. A leftover loner was at Laytown (Co. Meath) until 19th and another Wexford sighting came from Carnsore Point on 23rd. Scotland's only offering was a bird on Mainland Orkney, at Braebuster Ness, near Kirkwall on 23rd-24th.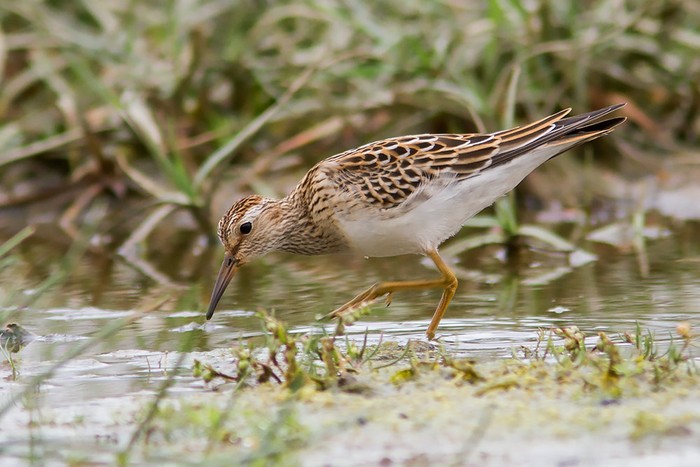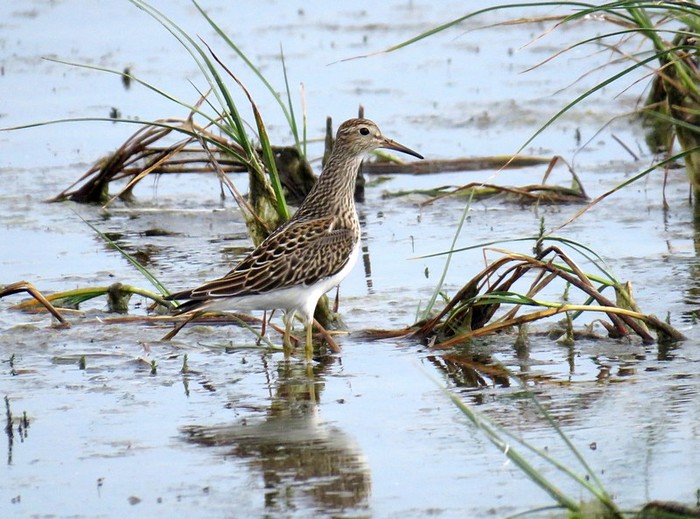 Double figure Dotterel trips are pretty rare in autumn, so the flock of 20 reported over Muckleburgh Hill (Norfolk) during the afternoon of 23rd really stands out from the crowd. The same day saw five adults and a fresh juvenile drop in to fields at Hesketh Out Marsh RSPB (Lancashire) while mobile (often flyover only) singles were noted on 19th at Whitburn (Co. Durham) and Felmingham (Norfolk); on 20th over Newton Point (Northumberland); on 21st at Turnhouse Hill (Lothian) and on 24th at Great Ormes Head (Conwy) and over Dungeness (Kent).
Let's stay in Kent for one of three Red-necked Phalaropes - a juvenile seen in the shallowed of the hoverport at Pegwell Bay on 23rd, which was the same date that the other two birds were noted - one dropped in briefly at Gibraltar Point NNR (Lincolnshire) and another was at Hollesley Marshes RSPB (Suffolk).
Swinging swiftly back to Kent again to the flock of four Temminck's Stint that were found at Sandwich Bay on 20th. They weren't the only mini-multiples, three arrived at Seahouses (Northumberland) on 24th, remaining there to 25th. Singles were logged at Filey Dams YWT from 19th, at both Cley and Dungeness on 24th and Gibraltar Point NNR on 25th.
What was potentially Northumberland's second Gull-billed Tern of the year was reported this week, a first-winter passing St. Mary's Island on 23rd (May's bird at Bothal Pond was the fiorst county record since the two together in May 2006).
The sticky, dank warm weather of the weekend yielded two juvenile White-winged Black Terns - the first made an appearance at North Bull (Co. Dublin) on 23rd and was followed by a youngter at Hornsea Mere (East Yorkshire) on 24th-25th. The former county hasn't been graced by this lovely litttle marsh tern since 2011 (and will be the 12th in all) while East Yorkshire has fared better; this is the second in East Yorkshire this month.
Dropping down to the south of Dublin and in to County Louth for news that the returning adult Forster's Tern has come back to Soldier's Point, near Dundalk this week, seen from 22nd-25th. It seems highly likely that this bird has been appearing in the county since 2006, with the only blank years in the area being 2010 and 2013 and has arrived anywhere between August and October, often staying for just a few days before departing.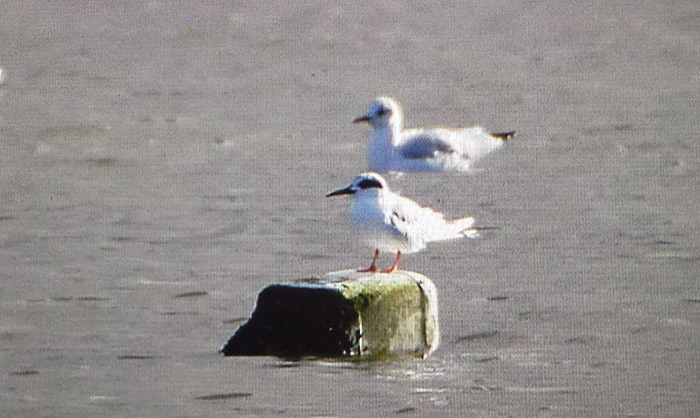 A new old friend made a way back to the seafront at Teignmouth in south Devon this week - the adult Bonaparte's Gull seen there on 23rd, back for a fourth winter around the area. Over in Kent (for a third year in a row too of course), the summering adult Bonaparte's Gull was noted at Oare Marshes KWT through until 23rd.
After a brief absence of some four days the now fully second-winter Ring-billed Gull was back in the Preston Dock area of Lancashire from 23rd onwards. Recent stalwarts of a similar age remained at the Tralee Bay Wetlands and nearby Blennerville (Co. Kerry) until 21st, at the Belfast Lough RSPB reserve (Co. Antrim) to 22nd and on the Hayle Estuary (Cornwall) throughout the week. The only adult across the past seven days was on Carrahane Strand (Co. Kerry) on 24th.
Three unseasonal Iceland Gulls remained on the August menu - an adult was seen in Highland, well to the north of Ullapool, at Brae of Achnahaird on 20th; a second-summer was at Portballintrae (Co. Antrim) and a first-summer was at Newport (Pembrokeshire) on 23rd.
Two brand new juvenile Red-footed Falcons around the Spurn and Kilnsea area during 24th were fascinating additional new arrivals (along with all those passerines), with the day's third youngster arriving at Kingsbarns (Fife) in the early morning - a hugely significant record for the Scottish county where, aside from a report in early November 2010, there have been just four acceptances, the most recent of which came way back in 1973, when a female was photographed on the Isle of May, in, errrrr, May!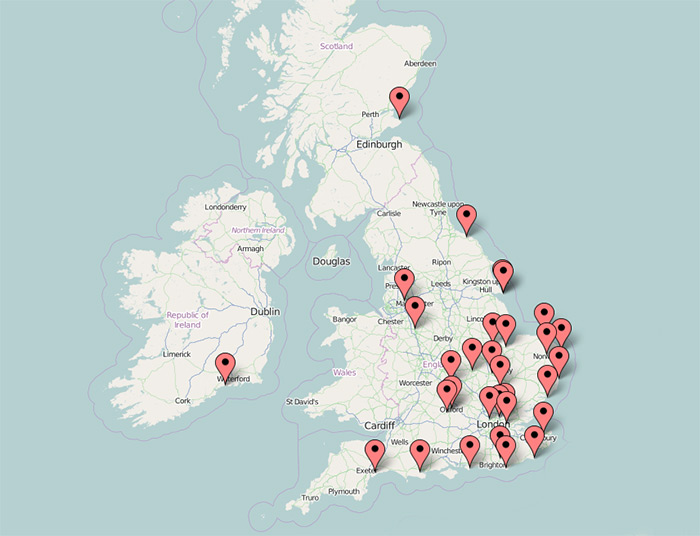 Yorkshire has fared rather better, by the time the species was removed from the Rarities List a decade ago, 56 had been recorded in all -several more have followed since but the two youngsters at Spurn this week really do stand out…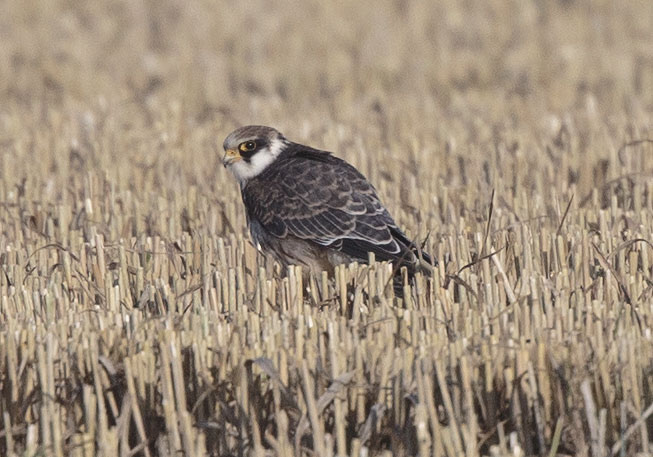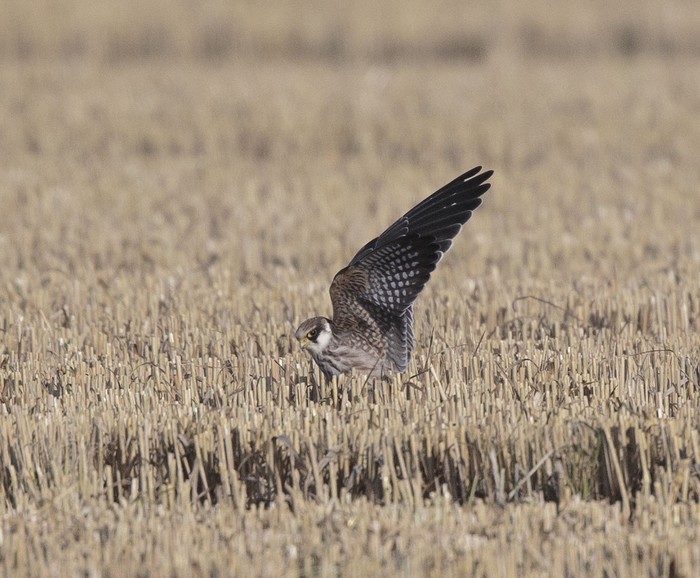 Lincolnshire's fine first-summer male was an ever-present at Willow Tree Fen LWT until 25th, with a second county bird, presumably one of the Spurn juveniles, flying south at Donna Nook, also on 25th. The fourth new individual this week and the second in Scotland, was another first-summer male, this one seen at Newtonhill (Aberdeenshire) on 25th - potentially the first there since 2007.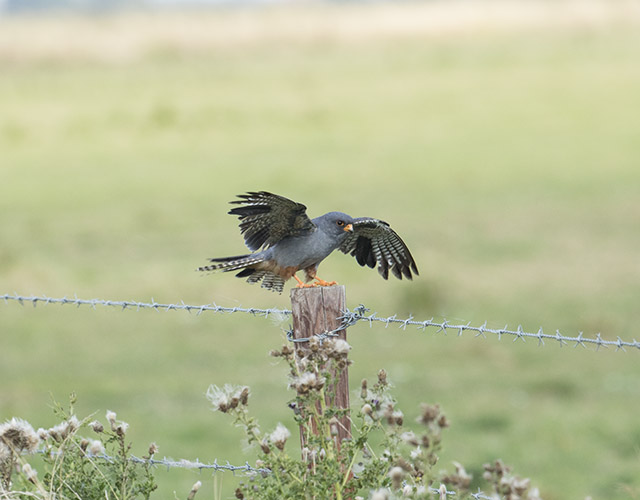 In Nottinghamshire, a Black Kite was reported from Barton in Fabis on 22nd while just one of the Blacktoft Sands Montagu's Harriers was seen this week, the female present to 25th, while on 22nd, another was noted heading west over the Isle of Sheppey's Capel Fleet. A juvenile was seen logged along Blakeney Point (Norfolk) on 24th.
Norfolk also saw four Honey Buzzards noted in the short stretch of coast from Wells to Stiffkey between 20th-24th - adult males were reported heading west over Wells Woods on both 20th and 21st, a dark bird was at Warham Greens on 21st and a pale juvenile was logged over the marshes at Stiffkey on 24th. Kent birders found three singles through the week; at Allhallows on 22nd, Aycliff on 23rd and at Worth on 24th, while the same date saw one or two make it on to the Spurn Peninsula. Further lone birds were seen over Brighton (East Sussex) on 19th and Walthamstow (London) on 22nd.
Whilst the east coast of England was the main centre of most birders attention this week, a sneaky eye cast to the far southwest revealed a cracking list of new passerine arrivals on the Isles of Scilly - they too benefitting from some "A Grade" conditions.
A super 19th on the islands saw a Bonelli's Warbler sp., make an appearance at Porth Killier, on St. Agnes with St. Mary's laying claim to a juvenile Woodchat Shrike at Salakee and a flyover calling Citrine Wagtail at Longstones in the middle of the evening.
Three days later, on 22nd, again at Longstones came another Bonelli's, this one eventually beginning to call and prove itself to be a Western Bonelli's Warbler (there have been 19 accepted records for the islands up until the end of 2013) - it remained in the pines until 24th.
The final new arrival in a fine, fine August selection was a Subalpine Warbler sp., on the Garrison on 23rd - a bird not allocated to form or species level.
Away from Scilly, more Bonelli's were found on 22nd at Portland Bill (in and around the Observatory garden) and at Bass Point (Cornwall) - the former was definitely identified to species level and is the second for Portland within just over a year (one was trapped and ringed there on August 16th 2o14).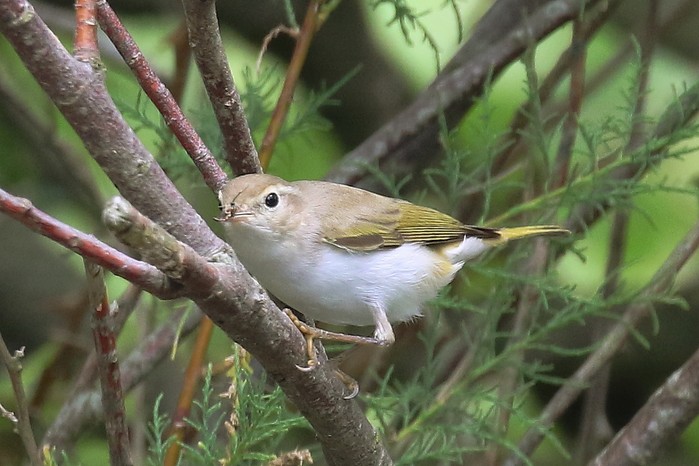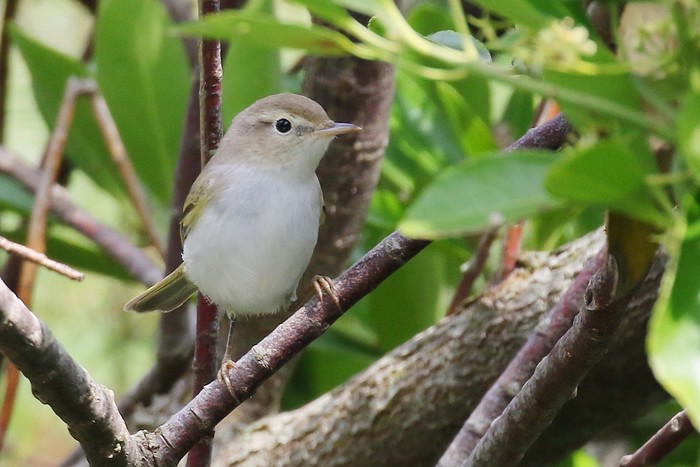 The week's second Citrine Wagtail spent 10 early morning minutes at Walney Island (Cumbria) on 22nd - another hugely significant record as, if accepted by the local records committee, it will become the 1st for Cumbria. Nice!
Before the mini-breakdown of quantifying all those drift migrants species that arrived (to one degree or another) en masse this week (I so love to put off the inevitable…) let's scamper through…
Any other business…
Randoms first then - and to the 22nd when two Alpine Swifts were noted in Suffolk and Essex, one heading across the busy A14 near Newmarket with the other heading over St. Osyth in the evening.
The three Rose-coloured Starlings this week were separated by several hundred miles - two adults were noted, one on Islay on 18th, where it remained until 23rd at least, whilst the other was discovered at Tintagel, on Cornwall's north coast on 23rd. A second Cornish bird, a juvenile was found at Porthgwarra on 25th.
Similarly coloured, but markedly different in every other way is Hoopoe and one of these floppety-flop beasties was reported from Preston Capes (Northamptonshire) on 23rd.
It still appears to be full-steam ahead where the Cumbrian Bee-eaters are concerned, up to three adults still around at least one nest hole at the Lower Gelt Quarry, near Brampton throughout the week. A lone bird also flew over Shotton NR (Flintshire - Clwyd if you prefer…) on 20th.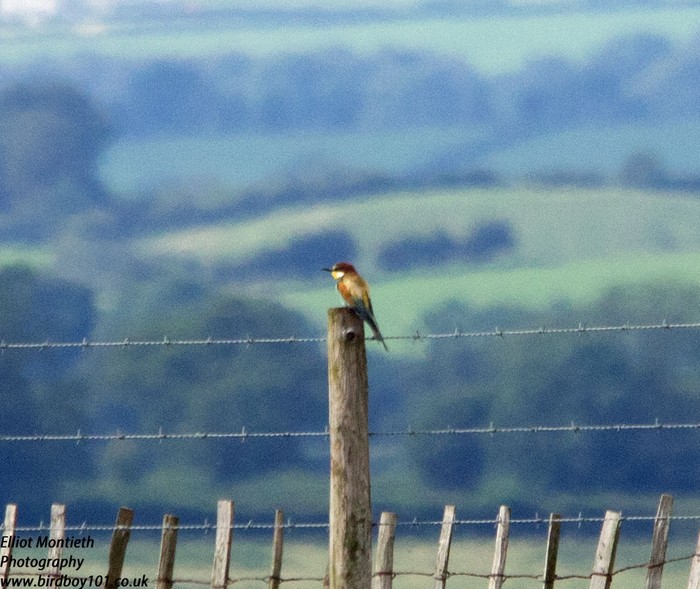 Dorset was, perhaps unsurprisingly, host to two more Melodious Warblers this week - one showed on 20th at Swanage and the Obs., staff at Portland trapped one the same day. The third and final bird of the week was reported from the Nanjizal Valley (Cornwall) on 22nd.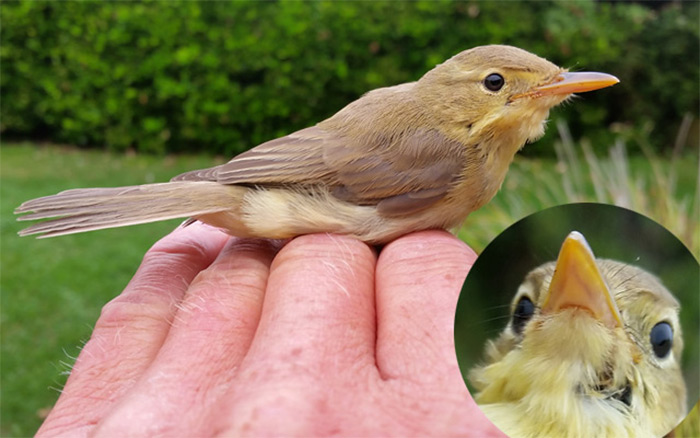 Almost there…the quality just won't stop…
Whilst keeping the most significant fall species at bay for just a little longer (if only for my own sanity…this is meant to be fun right?), there were a further set of associated species that dropped in along our coasts in smaller numbers - every one of them "classics" for the time of year in the startling weather that was on offer…
The week's second Arctic Warbler was found on the Mainland, at Dale of Walls - the 32nd August record for Shetland and the 52nd for the month and it wasn't the only good bird for the same site - it actually followed on from a female Black-headed Bunting which had been seen there the previous day; there are 51 acceptances on the books for the island group and, of those, eight have been seen in Augusts past - the most recent being on the 25th of the month in 2000. Shetland's most recent bird, prior to this one, was reported from Sumburgh in early September last year.
Before departing Shetland for a short while, the extremely productive 25th also drew in a much-predicted Lesser Grey Shrike to Lunna, Mainland, a Citrine Wagtail dropped in to Quendale Mill, Mainland and on Unst, a Melodious Warbler was discovered at Norwick.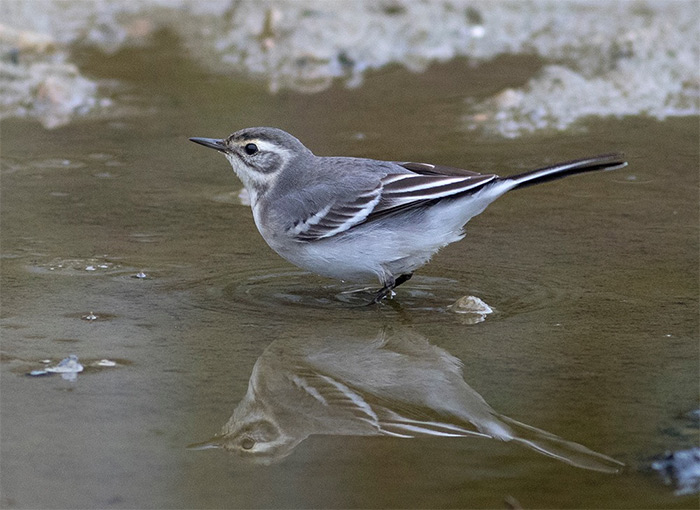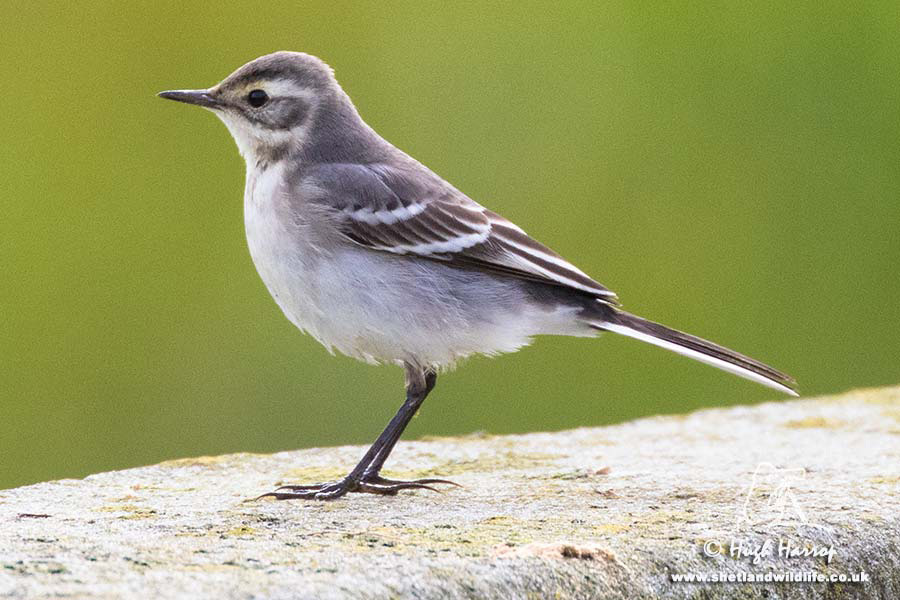 There's a solid track record for Lesser Grey Shrike in August, this is the 18th for the month in question and the third August bird on Shetland (following on from birds in 1956 - on Foula - and in 2004 - seen at Gulberwick). Across the years, Shetland boasts almost a quarter of all accepted records, out of 200 or so in all, 44 have been on Shetland (a figure that includes this week's bird and one seen on Unst last summer.
The Quendale Citrine Wagtail was the third recorded this week (see above for the other two of course) but the rarity value, officially at least, been removed and this will now be adjudicated on at local level only (no worries there though, given the exquisite photo of the fabulous monochrome first-winter that popped up on social media). By the end of 2013, there had been c.325 acceptances in all, an amazing third or more (134 in fact) had been found on Shetland - and of those 134, 31 had been notched up in previous Augusts.
Melodious Warbler is a different beast again for Shetland birders. This week's Norwick individual is the first around the islands since one was found on Fair Isle in May 2013 and that was the first on Shetland since September 2010.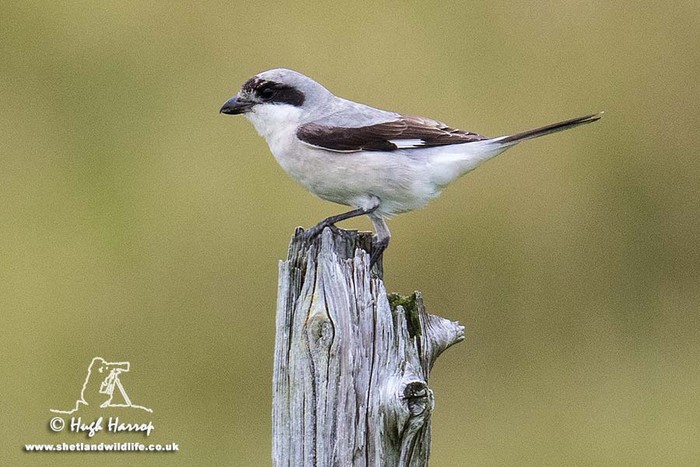 Three of the week's Greenish Warblers have already been discussed at the top of the round-up, buried amongst the headliners and a further six can be added on to the list for the past seven days; the 23rd saw one appear at Boarhills (Fife) while the next day saw singles uncovered in Whitburn (Co. Durham), on Holy Island (Northumberland) and swapping places with the rarer wing-barred birdie, at the Sands of Forvie NNR in Aberdeenshire. The final day of the week saw a new arrival make landfall at Spurn and also back up in Aberdeenshire, where another new bird wa found at Loch of Strathbeg, making nine in all.
Marsh Warbler #2 of the week was found on The Hood, Blakeney Point on 24th (the first was one of North Ronaldsay's birds of the 19th) while the second and third Red-breasted Flycatcher dropped in on 24th to the Aberdeenshire coast, at Kinneff and to Gutcher, Yell (Shetland), the 1st was on the Isle of May, as mentioned earlier.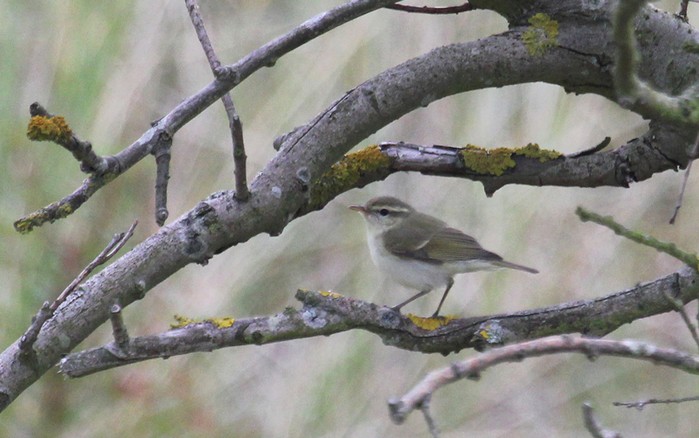 In addition to the Orcadian Common Rosefinch of 19th, a further quintet of teddy-bear-eyed birds were noted through the rest of the week, all on the Northern Isles - a second Orkney bird was found at Burray on 22nd while two were seen at Skaw, Unst (Shetland0 on 22nd-23rd further Shetland birds were on Noss on 22nd and Yell on 24th. There was little surprise to see that the week's two Ortolan Buntings were also found along the east coast - the first appeared on Brownsman, Farnes on 23rd with the second heading over St. Abb's Head (Borders) on 24th.
Best of the newbies though has to be the week's second Thrush Nightingale, this one trapped on the apex of the county borders between Lincolnshire, South Yorkshire and East Yorkshire, at Thorne Moors NNR on 24th - the first of Yorkshire's (now) 15 records ever to have been found away from the Spurn Peninsula (Spurn 14 records stretch from 1971 to 2013 amd this week's bird is only the second August record from that set of records.
The Final Four #1 Icterine Warbler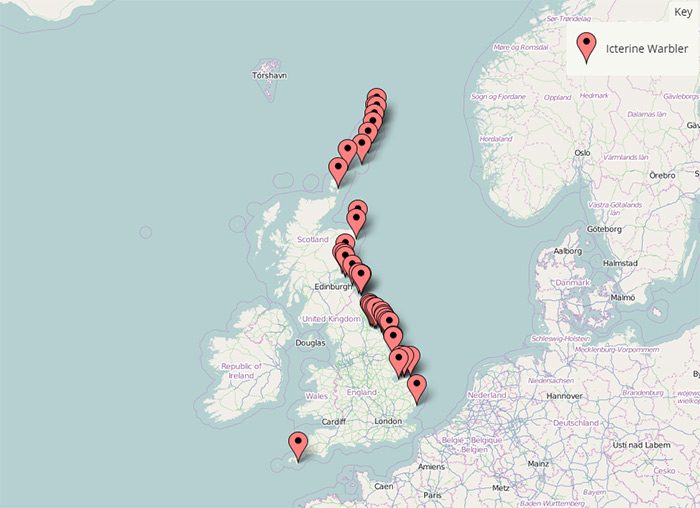 In no particular order, we're in to the last quartet of species for a busy, busy week - four species that really were at the vanguard of the superb east coast fall of drift migrants across the weekend. First up, Icterine Warbler.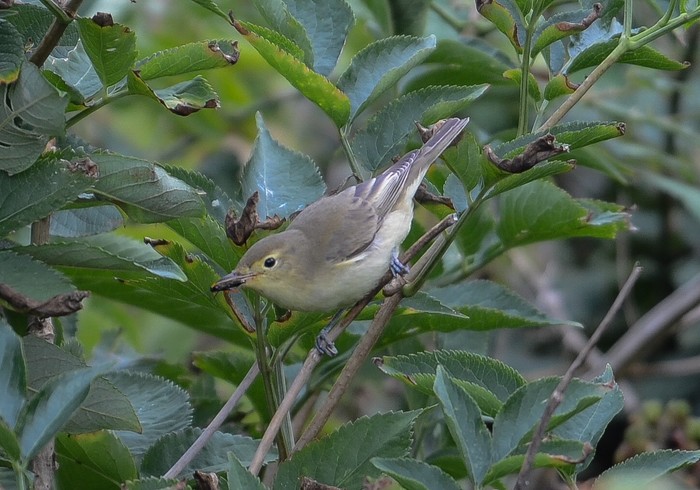 With a dozen already on the board for 19th alone, there was actually a mini-cessation of action but it didn't last long. A further 68 were recorded by the end of the review period to take the total for the past seven days up to a mightily impressive 80 in all.
A very sizeable percentage of the birds were spread northwards from Yorkshire through to Shetland - the northeast of England recording around 23 in all after the 19th while Scotland managed in the region of 34 additional birds. At least nine were seen in East Yorkshire, including four around Flamborough Head on 23rd-24th while North Yorkshire's five included two at Filey on 24th. Five Icterine Warblers were seen around Cleveland while Northumberland managed four (including two on Holy Island on 24th).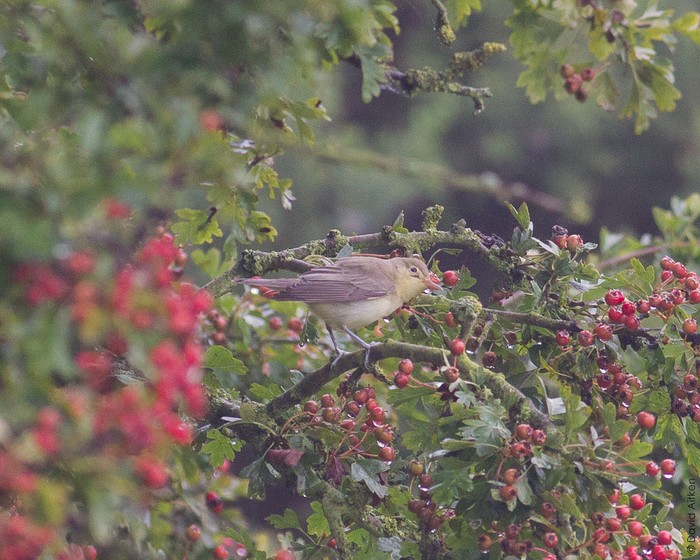 A superb five were found on the Isle of May (Fife) on 23rd while Borders nicked one, Aberdeenshire two. On the islands, four were seen on North Ronaldsay on 20th and again on 25th (surely different - up to 12 were noted around Orkney this week) while of Shetland's (minimum) 18, at least five were seen on Fair Isle (on 25th), with a single on Noss, twos were seen on Whalsay, on Unst and Fetlar while five were noted on Mainland.
Away from the northeast and Scotland, four Icterines were seen in Norfolk, one was in Suffolk and one drifted down to Cornwall's Lizard by 23rd.
#2 Barred Warbler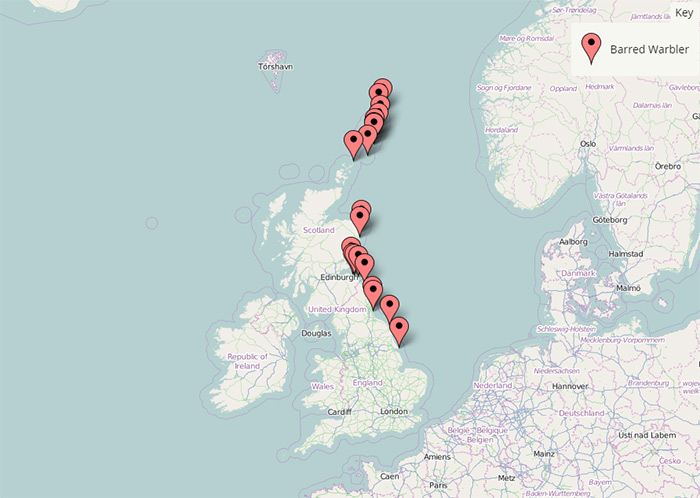 Barred Warbler next then - and from the starting point of 14 on the first day of the review, the total for the remaining six days increased by a further 31 to 47 in all - 26 of which were found on the Scottish east coast and Northern Isles. A single was in Borders, at least two were on the Isle of May on 23rd-24th, three were seen in Lothian and at least two were found in Aberdeenshire. A bare minimum three were logged around North Ronaldsay (it could have easily been at least double that number) while Shetland's 15 included six on Fair Isle during 25th. Noss, Unst and Mainland evenly shared out half a dozen birds between them with one a piece for Whalsay and Yell.
The only other birds noted post-19th in England were all in the northeast - three were in East Yorkshire (two at Spurn and Kilnsea), one was in North Yorkshire (at Long Nab, Burniston) two were in County Durham on 23rd and a single was located on Holy Island (Northumberland) on 24th.
#3 Wryneck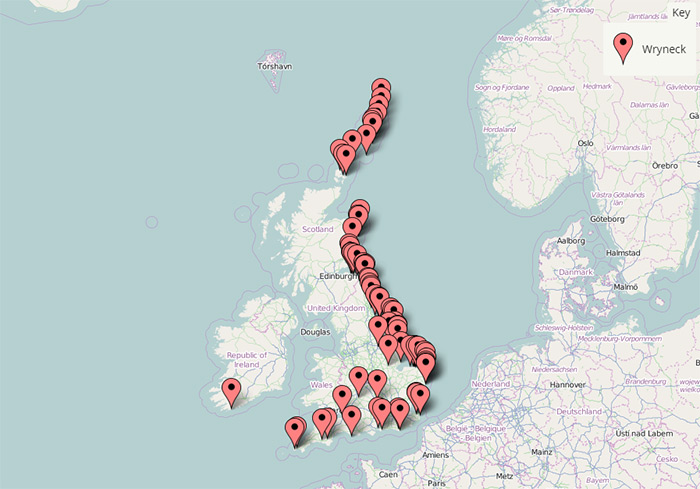 A heavy scorer from 19th was Wryneck which managed a day-total of 34. An additional 97+ were recorded to 25th, pushing the week's haul to a mighty 131 in all. There was another subtle shift in arrival patterns, most birds post the first day of the week were seen through the northeast of England, with Scotland coming along just behind.
Pretty much bang-on 40 Wrynecks were recorded around northeast England; one was in South Yorkshire, two were seen in Co. Durham, four were found in Cleveland, five were in North Yorkshire (including three together at Filey on 20th) and Lincolnshire (another threesome was noted at Gibraltar Point, on 24th with stunning seven on site on 25th), eight were seen in Northumberland while East Yorkshire clocked up as many as 16, including three at Buckton on 23rd.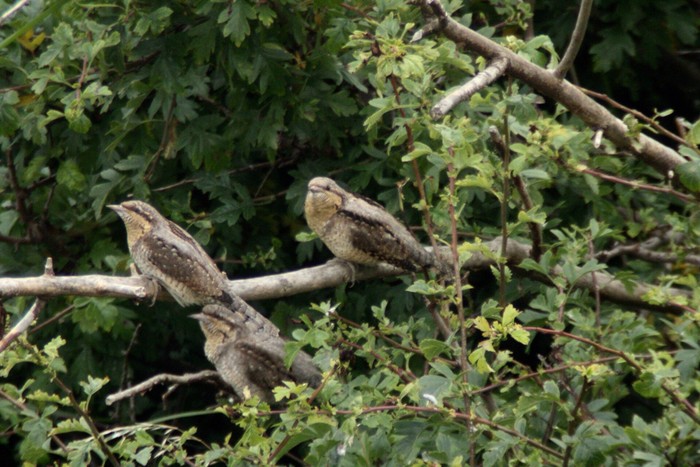 A further 24 Scottish birds were recorded from 20th-25th, including nine around Shetland (four of them on Mainland) while eight were found in Aberdeenshire. Orkney followed up the brilliant half dozen on North Ronaldsay on 19th with three further singles while Lothian and Fife managed two each.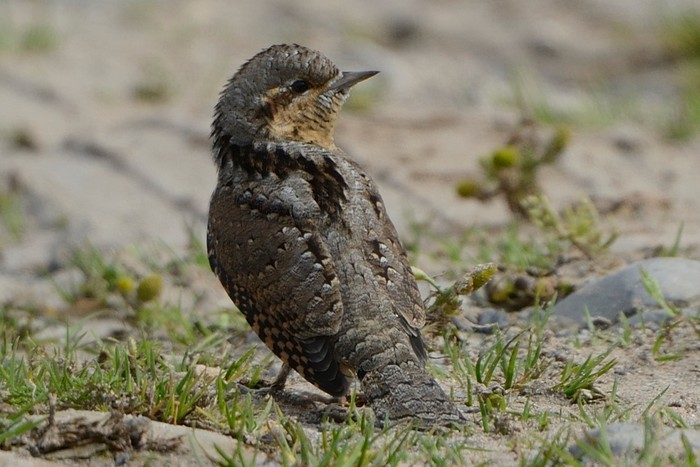 Wrynecks also managed to spread themselves a little further a field than the previous two species - six were seen in southwestern England (two for Cornwall and Devon and ones for Dorset and Somerset) and one made it to the south Midlands, discovered near Cheltenham (Gloucestershire) on 25th. Three of the southeast's seven were seen in Kent while an inland bird at Long Crendon (Buckinghamshire) was certainly noteworthy. The East Anglian split of 13 birds was 8:5 in Norfolk's favour over Suffolk while Ireland also managed to collect one this week, seen on Toe Head (Co. Cork) on 22nd.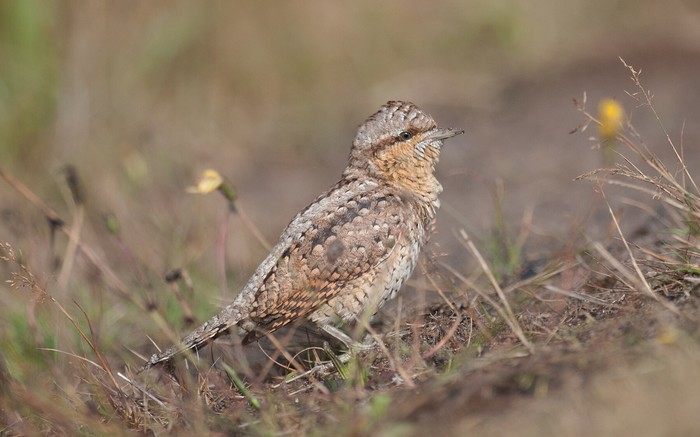 #4 Red-backed Shrikes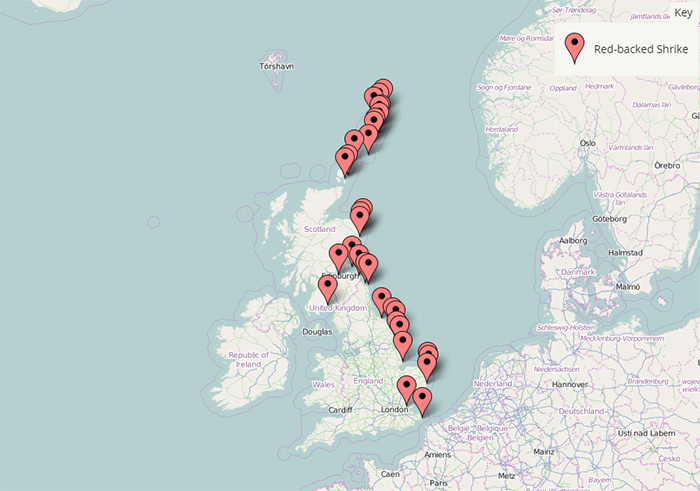 The final species of the quartet that top and tail the round-up is Red-backed Shrike. From a starting point of 11 from 19th, the week's total closed at dusk on 25th on a healthy 52 for the week. Once again, the emphasis on reports was from northeast England and Scotland - 14 for the former and 24 for the latter.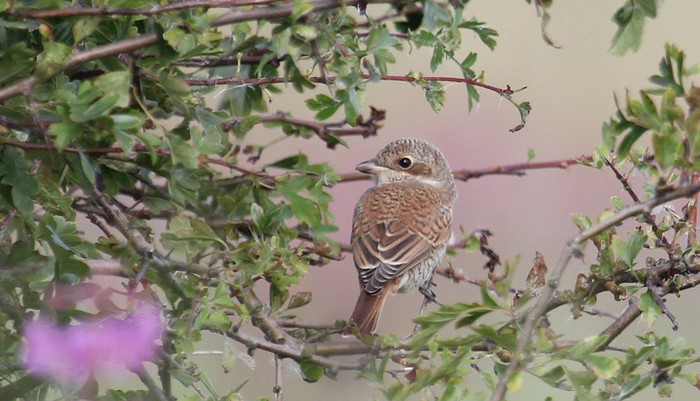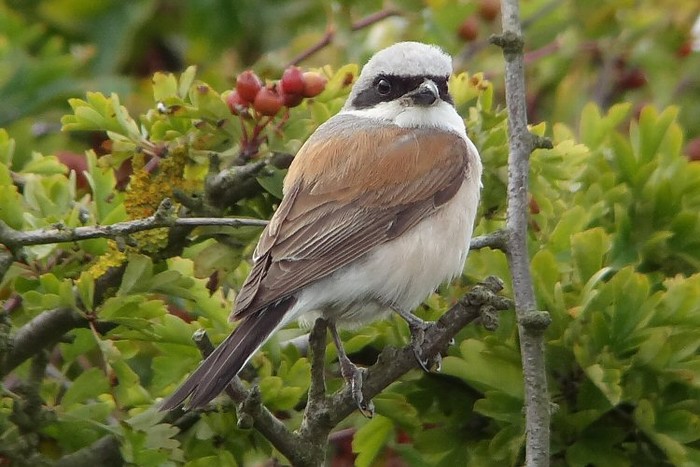 East Yorkshire prospered well once more, nine in all around the county (mainly at Flamborough and the Spurn peninsula) with a couple in Northumberland and singles in Lincolnshire, North Yorkshire and Cleveland. At least 16 Red-backed Shrikes were seen on Shetland, including five on Mainland and three on Whalsay, two on Fair Isle and one was on North Ronaldsay, while on the Scottish mainland, three were found in Aberdeenshire and singles were seen in Fife and Borders. Further south, Norfolk managed two, Suffolk one while the lingering female at Bower's Gifford RSPB (Essex) remained to 21st (but isn't included in the overall tallies.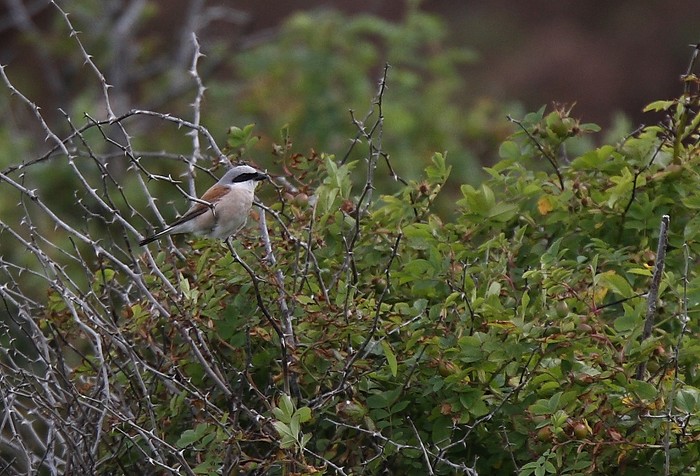 …phew…glad that's over and done with…
September beckons then and there's every reason to think that the ante will upped once more…
Before we get there, August could still pop in some surprises - take your pick as to which family group you fancy for any potential weirdness.
Sykes's Warbler remains on the agenda (nearly got it right with the Fair Isle Booted, close but no cigar and all that, tho' - by proxy I cliam a "win" after one was found in the Czech Repbulic…) - Orkney managed one on August 26th 2002 when one was trapped on North Ronaldsay, Fair Isle scored the first for Britain way back on August 29th 1959 and, back to 2002, a third for the month was found at Beachy Head (East Sussex).
There's every chance, with the regular "weather permitting" caveats, of perhaps a Great Snipe making an "1st of 2015" appearance in the days ahead, 17 have been seen historically across the seven day period that lies ahead.
Seabirds remain gloriously unpredictable, there's every chance of a rare petrel and shearwater (again) but astute observers of rare bird history will know that we're getting right in to the business end of things…
Shorebird megas include three Red-necked Stints - two have been found on August 27th; in 2007 an adult was seen at Carne Beach in Wexford and 2010 saw the superb Ferrybridge bird alight in Dorset (with the identity only coming to light once images were seen at the Portland Bird Observatory). The third for the period was the dead juvenile on Fair Isle on 31st August 1994.
Rarer still - the still amazing duo from '82 - the Saltholme Long-toed Stint and the Sker Point Little Whimbrel. These two species remain staggeringly rare here - the former has seen just one further accepted bird appear (the Cork bird of June 1996) while the latter also boasts just one more record - exactly 30 years ago this week, thanks to the Blakeney & Cley bird of 1985.
Britain's most recent twitchable Rüppell's Warbler appeared in the week ahead - step forward please the quirky, curious-looking female that spent five days at Holme from August 31st 1992 comfortably being one of the absolute passerine highlights but it isn't just the Western Palearctic that can stack quality upon quality...
Last week mention was made of two of August's four Yellow Warblers - strike another "Western P" prediction down for me after that showy luminous beast this week on Madeira - the second pairing came this week; Britain's first was on Bardsey on August 29th-30th 1964 and Cork's second of 2008 appeared on Mizen Head on August 26th. The following day of 2008, saw Cape Clear snag a Northern Waterthrush - famously seen on the same pool as a Solitary Sandpiper - and that Clear bird was the second Waterthrush for late August, the first was seen on St. Agnes from August 29th 1989.
…and then there was 1982 - not only did it produce some astonishing shorebirds but it also fired in some outrageous Nearctic landbirds too…August 29th saw a sickly Black-billed Cuckoo make landfall on St. Agnes; the next day saw Britain's first Northern Mockingbird appear briefly in Saltash (Cornwall) and then, two days later, a freshly dead Black & white Warbler was found at Mylor (and Orkney's Tennessee Warbler wasn't far behind either…
The gloves could be coming off then…let's see what the weather throws at us.
Mark Golley
26 Aug 2015

This week's roundup is dedicated to Derek Bean, the long-time proprietor of the Beach Café at Cley who sadly passed away recently. A humble, generous and gentle man, he'll be much missed by all those who knew him well.
Please note: we put a lot of time and effort into sourcing and and producing the images, videos and graphics for each roundup. Some of you (probably Apple users) may notice some photos etc. that appear to have incorrect captions. Please try refreshing the page as they are correcty captioned. If after a refresh they are still showing the incorrect captions then please email us
Many thanks to all this week's contributors for their photos and videos.
Martin Goodey, George Gay, Stephen Rutt, Gavin Woodbridge, North Ronaldsay Bird Observatory, David Parnaby / Fair Isle Bird Observatory, Robbie Brookes, David Steel / Isle of May NNR, Martin Scot, Joe Pender, Phil Jones, Ray Scally, Colin Scott, Pat McDaid, Davey Farrar / Kerry Birding, Paul Slade, Jeff Lack, Mike Langman, Derek Charles, Frank Golding, Tom Shevlin, Cian Cardiff, Gerry O Neill, Graham Catley, Mark Johnson, Peter Moore, Elliot Montieth, Martin Cade / Portland Bird Observatory, Roger Riddington / British Birds, Hugh Harrop / Shetland Wildlife, Jonathan Farooqi, John Pringle, David Aitken, James Wild, Ian Cunningham, Stefan McElwee, Tony Dixon, Chris Downes,