Weekly round-up: 12 - 18 Aug 2015
The week at a glance
Scilly pelagic weekenders land themselves a fantastic Fea's Petrel
A last-gasp, seen briefly Fan-tailed Warbler appears in West Sussex
Black Storks continue to dominate proceedings, a small selection of stragglers lingering on
North Yorkshire lands itself an inland Aquatic Warbler & then so does Shetland
The late summering Paddyfield Warbler finally seems to have departed from Noss
East coast conditions open the door to the first drift migrants of the early autumn
A funny old week of weather was on offer this week ~ a funny old week if you were on your summer holidays at least ~ but for those of a birding bent, the conditions on offer were actually of quite some interest.
A significant area of drift-enducing high pressure extended a sizeable encouraging finger or two way across the North Sea coasts as the new review period began and there was little surprise when the accompanying (perfect) north northeasterlies the following day started to open a pleasing mid-August window of opportunity for those located anywhere from north Norfolk to Northumberland.
The brisk breeze of Thursday gave way to cloudy skies and increasingly dank, murky and muggy conditions as Friday dawned and with an occasionally stroppy area of low pressure cutting across the country, from west to east, more new arrivals continued to drop. Numbers may not have been akin to those from even 20 years ago, but drifters are drifters and therefore always welcome.
Once the clag had taken it's muggy meandering leave of us, fresher conditions followed on behind, like a decent night-watchman if you will, and temperatures went from the clammy low to mid 20's to an all-together more appealing high teens. It all turned out to rather pleasant.
This is such a funny time of year ~ mid August can often be one of the quietest periods of any given 12 months (sounds weird I know…) ~ yes, of course there are a hatful of highly entertaining oddments dotted around the place and, as with any other one of the other 51 weeks within a given 12 months, there is always that "freak of the week" moment when something bonkers pitches everyone a curveball. But, and it is a sizeable but, that actually doesn't happen too often around now.
You wouldn't say that we're sailing along in the birding doldrums, far from it, but there's a definite lull in the proceedings ~ it feels as if almost everyone is keeping their birding powder dry until the first genuine vagrants from the east and the west traverse a tortuous route to our collective shores. Sometimes that can be at the end of August, often as not, it's another month from now (with a similar "quiet spell" on the cards for the first week to ten days of September.
But before we start to look towards the opening the door of the gas oven, there's no cause for doom and gloom this week…there was a whole host of birds on offer (aren't there always!) and, as hinted above, the weather played the game for birders who face the North Sea ~ the drifters were on their way…
Fea's Petrel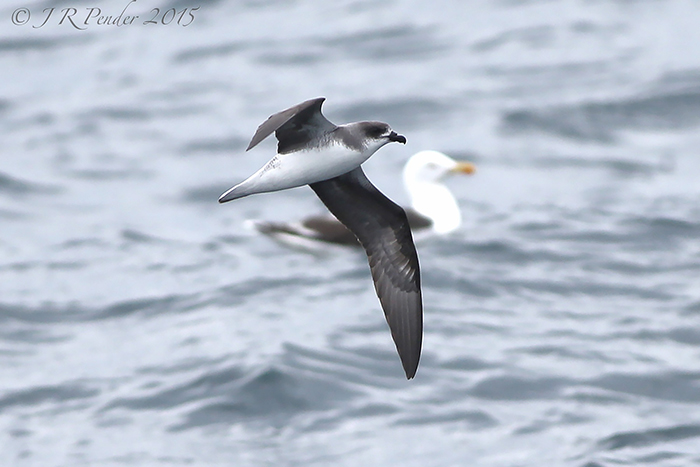 With the very greatest of respect, (on paper at least) there doesn't seem to be much left to say about Fea's Petrel ~ annual, some times in very modest numbers through the course of a summer and autumn seawatching adventures around the coastline of Britain and Ireland ~ they are a species that has (apparently) long since lost it's truly mega status (rightly or wrongly…).
It is though a species that remains one of the prime targets for many 100's of birders despite there being, by the end of 2013, over 150 acceptances from Britain and Ireland.
That figure doesn't, of course, tell the whole story, as it remains a fiendishly hard species to see (for obvious reasons) and aside from the occasional freaky record that renders the species as actually being twitchable ~ remember that east coast bird of September 21st last year that started off passing north at Flamborough at breakfast time and was tracked through five counties through the rest of the day as it headed north, many people scoring at Whitburn ~ this is one bird remains high on many folk's wants lists.
A Cornish or Irish headland in the optimum conditions and at the optimum time of year (we're slap, bang in the middle of it) brings a chance of one towering by or you could take to the high seas to track down your desired quarry.
And this year's Scilly birder's pelagic weekender well and truly hit the jackpot during the Sunday trip out to sea, as seabird guru Bob Flood pulled another Fea's Petrel out of the bag, showing ridiculously well for five minutes around Joe Pender's boat, some 11 miles to the southeast of St. Mary's.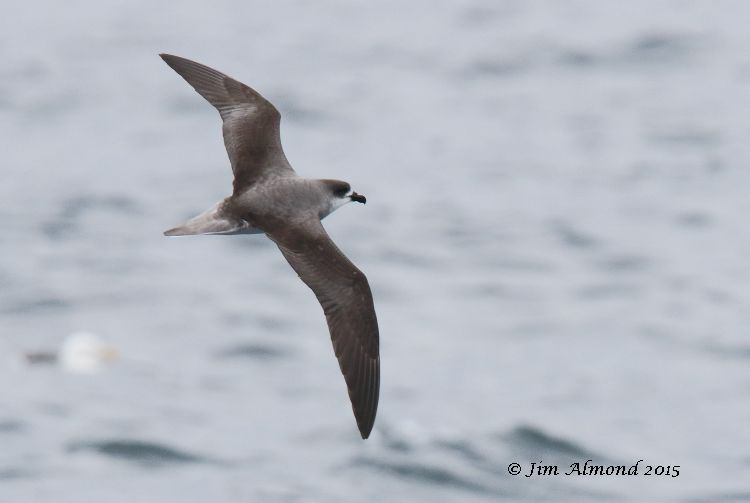 Knowing how many lenses would have been trained upon the bird in that 3000 seconds of viewing time ~ that is a fair old time for a seabird… ~ you just knew that there'd be some rather fine images coming to the pass by teatime on Sunday…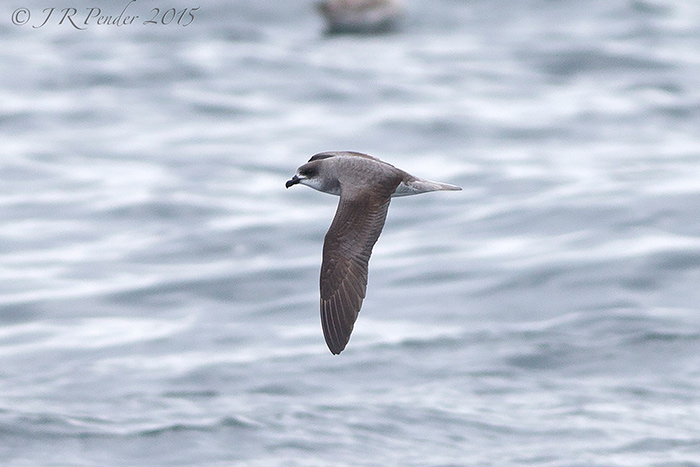 …yep, none too shabby ~ indeed we can marvel at the definitive images of this species (it is definitely Fea's) taken in our waters, courtesy of the skilled lensmanship of both skipper Joe Pender and Shropshire birder Jim Almond. What a superb set of shots…and what a bird!
…who said they weren't still mega?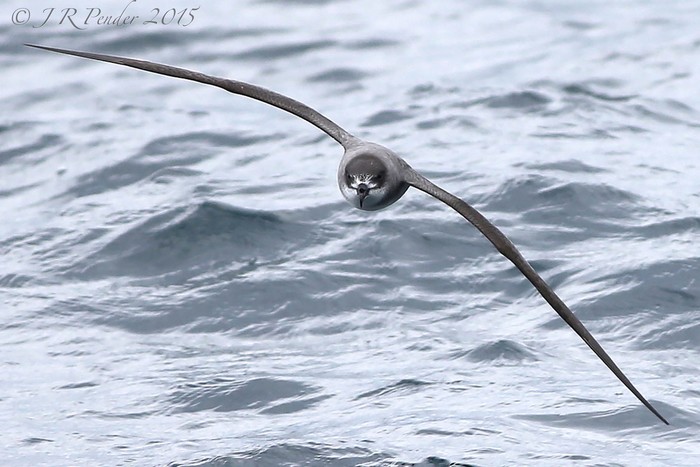 All those 1000's of hours spent on the ocean around Scilly have yielded ten further Pterodroma records from the area close to the islands; the first was seen on August 18th 1996, not far from Bishop Rock; the second, also near Bishop Rock on August 24th 1999 with third following a week later, south of St. Agnes on August 31st.
Britain's first confirmed Fea's was videoed c.12 kms off St. Mary's on July 8th 2001 and an either/or was noted the following year, 10 kms off St. Mary's on September 8th 2002. Another "one or t'other" was photographed to the northeast of St. Mary's on August 28th 2004 and the third definite British Fea's was photographed a fortnight later, on September 6th, west off St. Mary's.
A nine year gap followed until Scilly birders managed another Fea's-type ~ photographed south of St. Mary's on August 9th 2013 with the islands' lastest ever record coming later the same year, seen on a late October trip out to sea, on the 23rd of the month. Finally, last year, another photographed Fea's-type was recorded on August 18th 2014.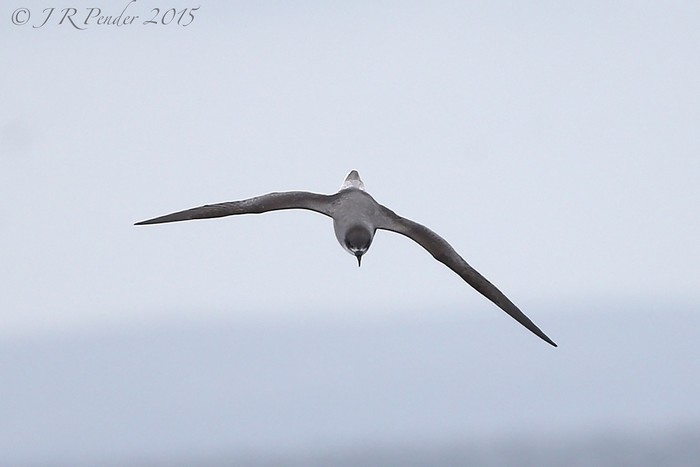 The transformation from "fabled" quarry to annual event across the 26 years that have elapsed (almost to the day) since the Harrison flyby Fea's from Porthgwarra (incredibly noted daily on consecutive August days ~ 12th, 13th & 14th) in 1989 and the latest Flood find sometimes beggers belief. Ask anyone birding actively back then about the likelihood of this current upwards trend and they'd have, more than likely, laughed at you…
And one day there's going to the moment when a photographed "at-sea" Zino's Petrel is recorded in the waters around our coasts. You certainly wouldn't bet against Messers Flood and Fisher being the ones on hand to call it either…
Fan-tailed Warbler
Yes, yes, yes ~ Fan-tailed Warbler is so much rarer than a Fea's Petrel (current standings are 10:160 ~ give or take) but despite the quirky appeal of the Zitting Cisticola and the still very high rarity value it holds on to ~ a seen briefly bird on the final day of the review period (18th) where news comes out well after dark with, as yet, no pretty pictures to go with it ~ well, it's a no brainer ~ it doesn't rank quite as highly as that mega Scilly seabird.
Not much is known about the sighting in West Sussex ~ the bird (a county first) was noted in a ditches near Atherington, a couple of miles from Climping during the middle of the evening but wasn't seen post-the initial views.
As mentioned above, there are just 10 records to date ~ two from Ireland (both Cape Clear, both of them in April) and a further eight from Britain, shared out between Kent (four birds), Dorset (three birds) and Norfolk (just the one).
Two of those eight British birds were noted in August (at Cley on August 24th 1976 and at St. Margaret's at Cliffe on 25th August 2006) while six of the ten accepted records have appeared since 2000. The first of those, the bird at Portland in May 2000, was the first twitchable bird of modern times and for all those latecomers who missed it after an early morning departure inland, Dorset pulled in a second bird less than a week later, this one spending almost a fortnight at Hengistbury Head. Three one-dayers have been noted in Kent between 2006-2010 but the same county also pulled in a long-staying singing male around Pergwll Bay between September and December 2009.
Black Storks
There remains, somewhere deep in my own personal psyche, something really rather special about Black Stork ~ and, to this day, I can't put a finger on as to precisely why it feels like such a treat to see one.
…perhaps it was the envious glances at the BBRC reports and the occasional acceptances of the species (the flop on the doormat, every November, in the early to mid-80's of the British Birds issue containing the previous year's rares round up was greeted with untold, under-wraps excitement) ~ and there was also the "Twitcher's Diary" sketches of the Perth bird in 1980 too…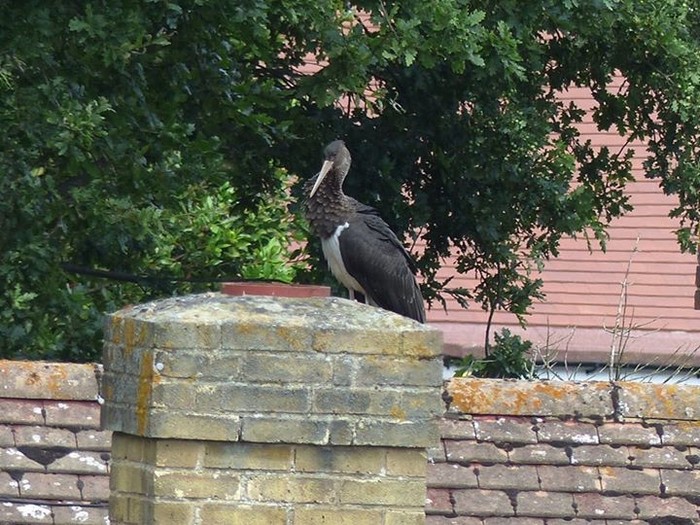 …or perhaps it stems from the first twitching encounter ~ after hunting down, "re-finding" and ticking off the Bude Squacco Heron on a pleasing late April Sunday in 1985, news began to circulate about a flyover Black Stork in south Devon which, by dark, was known to be on the River Erme.
After a late night watching the Taylor v Davis classic World Snooker final on a crappy B&W portable in my bedroom, it was up and at 'em early doors to head to the south of my (then) home county and, after walking through the beautiful (private) woods alongside the estuary…there was the quarry….wowsa indeed!
Anyway…all of the above is by way of saying that here's a species that really does retain that crucial frisson of excitement (despite some 280 records in all) ~ the "fly-over" element ensuring that there will always be much entertainment to be had from birds that decide to alight somewhere and show themselves.
After the superb mini-invasion of last week, there were still at least four birds on the go through the last seven days.
The new review periods began with the Dorset juvenile spending the first few hours of 12th in fields near West Bexington before departing just before 9am (this individual will become the 11th record for the county). Later the same day, a Black Stork was reported circling around near Bexhill (East Sussex) where it was noted again during the afternoons of 13th & 15th-18th ~ it was seen in gardens at one point (something of a mini-theme for the species this week, it is certainly one heck of a garden birdwatch bird for sure…). This Bexhill Black Stork has helped to take the combined Sussex counties tally 15 in all.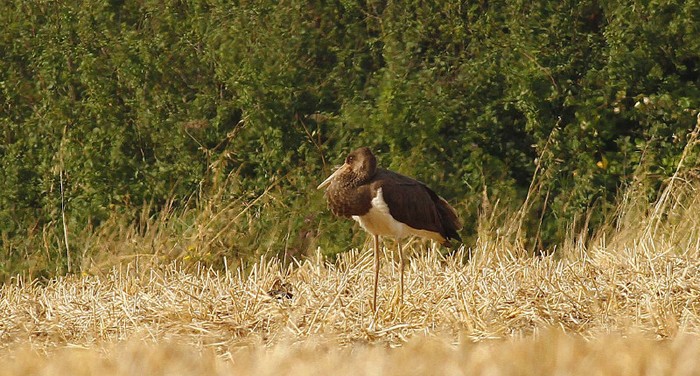 One of the French siblings (hot foot from the Ardennes) was still on site this week ~ the juvenile Black Stork remaining in Aberdeenshire, at Loch of Strathbeg RSPB through until 18th while further south along the east coast, another somewhat unusual garden visitor was noted at Goxhill (Lincolnshire) on the afternoon of 13th (which one of the two recent county birds this was is impossible to know without a photo or two to help us out).
As the review week began to run down towards the final day or two, the 17th brought a new county in to the influx mix ~ Cornwall landing the second record of the species this year courtesy of a north coast bird at Wadebridge. A new one or even perhaps the Dorset one, no one can say but, either way, it's a great record. Earlier this summer, a Black Stork around the west of the county in early June and these two will take Kernow's total to 16 in all.
Also on 17th, the first definite report of the Strathbeg bird's sibling for several days ~ seen at Stone Creek, near Sunk Island (still in East Yorkshire).
Aquatic Warbler
It seems as though it's been a long time coming where the "official" status of the classic "tiger-striped denizen of the marsh" is concerned…after way too long, Aquatic Warbler has returned to the Rarities List and the singleton showing from the last couple of weeks, in some of the (traditional) peak weeks for the species, goes a little way to showing how scarce it has become.
Last week's little surprise was the trapped and ringed Aquatic Warbler found in nets on the Suffolk coast ~ this week, the surprise factor was somewhat higher still, coming to the nets at an inland site in North Yorkshire ~ found at Wheldrake Ings YWT reserve on 12th.
Birders anywhere in the assorted counties that make up the whole of Yorkshire will be only too well aware that an Aquatic Warbler in the county is still a significant event ~ an inland bird in North Yorkshire is an occurrence of "hen's teeth" proportions…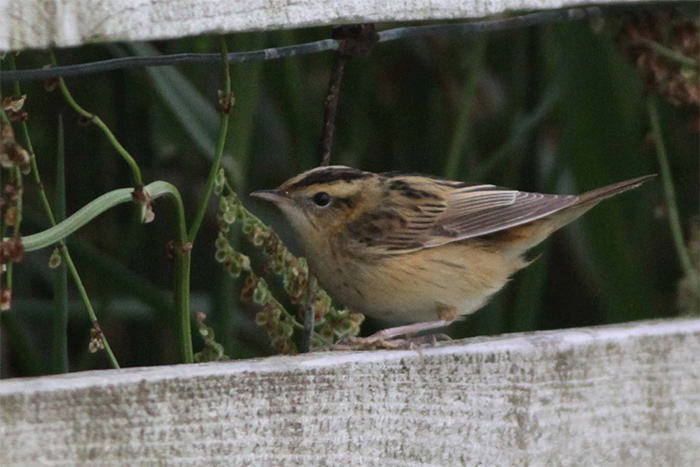 An online sage kindly offered up news that eight of the nine Aquatics seen anywhere in Yorkshire between 1967 and 1985 were noted in the Spurn area and the only bird in the county anytime through the past 15 years (until the Wheldrake bird) was another for the Spurn area ~ seen along the Canal Zone on August 4th 2002.
A 13 year gap is sizeable…given the habitat loss from whence they come, the chances are that an equally long time could elapse until Yorkshire's next Aquatic Warbler…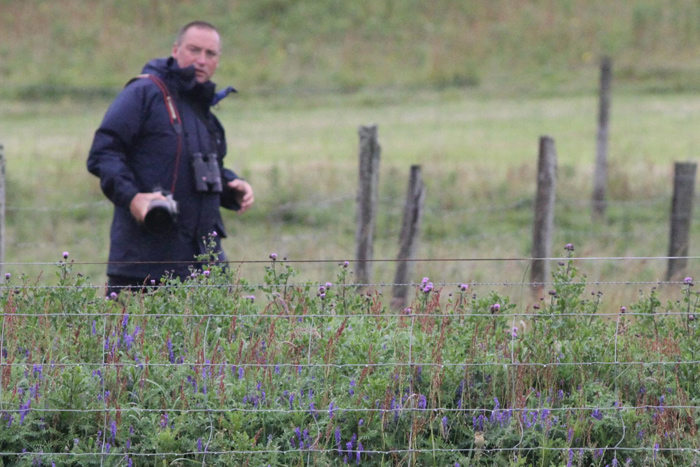 Waiting almost as long for an Aquatic Warbler is Shetland, so the discovery of an often showy juvenile in the Meadow Burn on Fair Isle on 15th was most welcome ~ the first island record for nine years and the first anywhere in Scotland since 2008.
Fair Isle has a deceptively impressive track record for an island that seems so far north of what is generally accepted as the species "core range" (in UK terms) ~ this week's new arrival becomes the 38th for Fair Isle alone…
Paddyfield Warbler
Whilst we have a thought for rare warblers, we'll quickly note that the Shetland Paddyfield Warbler couldn't take itself away from the warden's cottage garden on Noss until 16th (a stay of 26 days in all…).
The Noss bird has the #3 slot in the "long-stayers" chart all to itself now, but it appears that it won't reach the 43 and 44 day totals of the previously mentioned Cornish and West Sussex birds of 1996 and 2012.
East Coast Drifters…
One look at the synoptic charts as the new review period began showed a set of squiggles and arrows that shouted out "DRIFT!"
Loins were girded, lips were licked up and down parts of the East Coast as the charts shouted loudly that the days ahead (certainly until the start of the weekend) would provide the first happy signs of a predictable, though hugely entertaining, ensemble of birds from Scandinavia and the Low Countries.
A suitably quiet 12th was followed by a 13th that seemed to be almost as hushed ~ but thankfully the predicted drift migrant duck was broken by the discovery of a young Icterine Warbler along the shingle on Blakeney Point (the traditional afternoon arrival time box duly ticked in the process).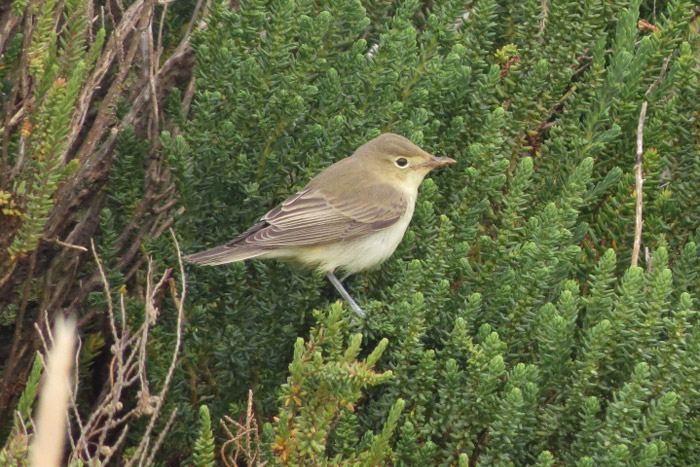 Before the clock struck 9 the next morning, Norfolk had popped in two further Icterines ~ trapped at Holme NOA with another on the edge of the dunes at Burnham Overy (a popular bird indeed, showing through to 16th). The third for the day (and the fourth in under 24 hours) was found at the bottom of Kilnsea's Beacon Lane in East Yorkshire, with the same county yielding #5 at Flamborough Head in the early evening of 14th. Mopping up proceedings for a fairly busy day was the trapped Icterine Warbler at Sandwich Bay (Kent), a bird that took that total for the day to six in all.
A blank day (for new arrivals) followed on 15th but new on 16th was one at South Gare (Cleveland) and, as conditions started to favour Scottish coasts, new arrivals on 18th were found on the Isle of May (Fife) and Fair Isle to bring the total to nine in all.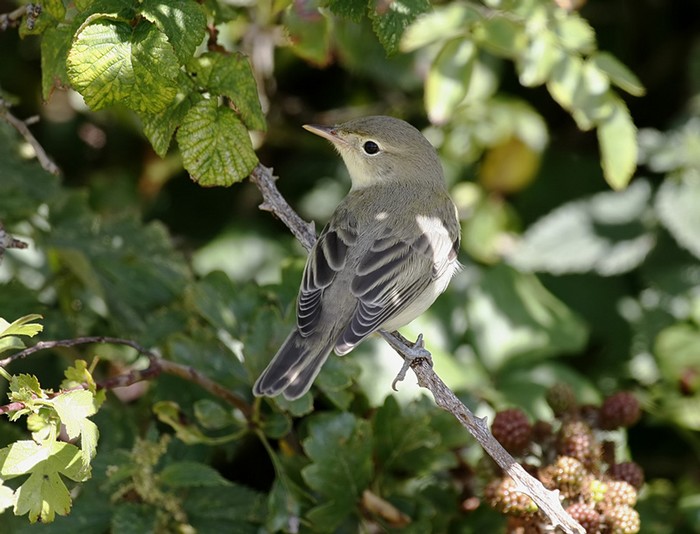 Back along the Spurn Peninsula, at the Warren earlier on 14th, the first Barred Warbler of 2015 was trapped and ringed, with a presumed second bird later in the day along Chalk Bank. Three more new arrivals made landfall during the afternoon of 14th ~ in Lincolnshire, at Donna Nook, off the Northumberland coast, on Brownsman, Farne Islands and on Shetland on Fair Isle.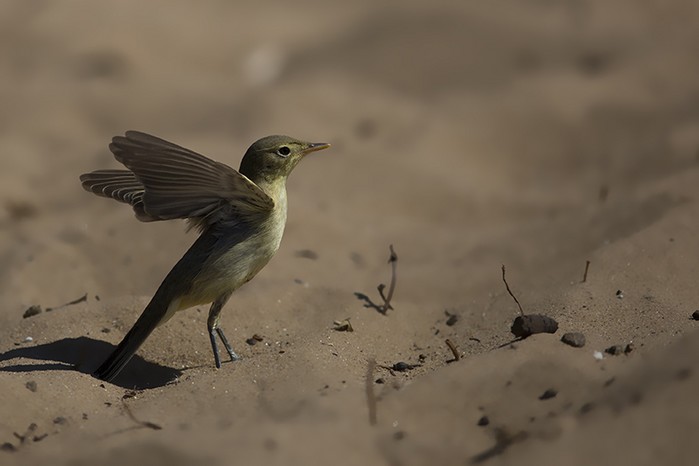 The following day (15th) saw Spurn birders log one in the bushes near the Canal ~ new one or old one ~with Shetland collecting a second on Fair Isle and another newbie on Unst. Back at Spurn a Barred Warbler was noted along the hedgerows near the Bluebell campsite on 16th with a second East Yorks., bird for the day appearing at Grimston. Also on 16th, Norfolk's first of the autumn, found not too far from the Icky, in the bushes of Burnham Overy Dunes while new in Scotland were singles in Highland where another new arrival for the day was located at Tarbet Ness and also on Shetland, another bird for 16th clocked up at Sumburgh. What may well have been a new Barred Warbler was noted on Fair Isle on 17th (with two there on 18th) and the final ones of the week (the 16th or so) were the two birds found on North Ronaldsay on 18th.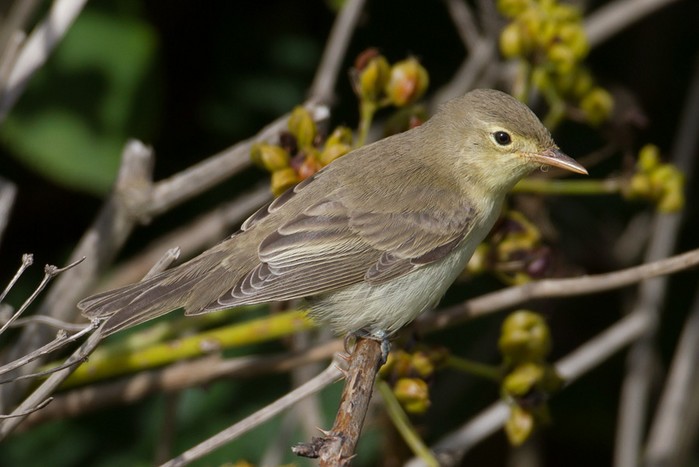 Further north along the Yorkshire coast came a Greenish Warbler ~ found in Carr Naze, at Filey (North Yorkshire) ~ also on 14th. The second of this bite-size little arrival popped up for quarter of an hour on Holy Island (Northumberland) during the first few hours of 15th and it was followed by a second bird on the same small piece of the coast later the same day.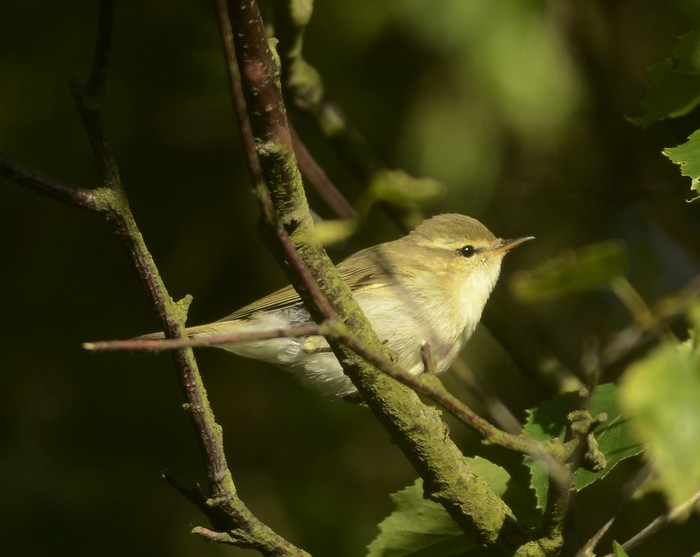 It wasn't just the east coast that began to see a few drifters make landfall ~ two Wrynecks found on 14th were at Seaford (East Sussex) and in Gunners Park, Shoeburyness (Essex). More expected was the singleton found on Inner Farne on the same day while another less than expected location was along the River Nene, just east of Northampton on the morning of 15th.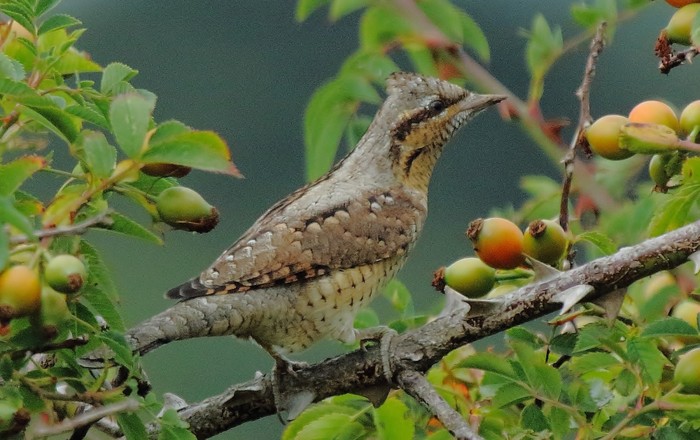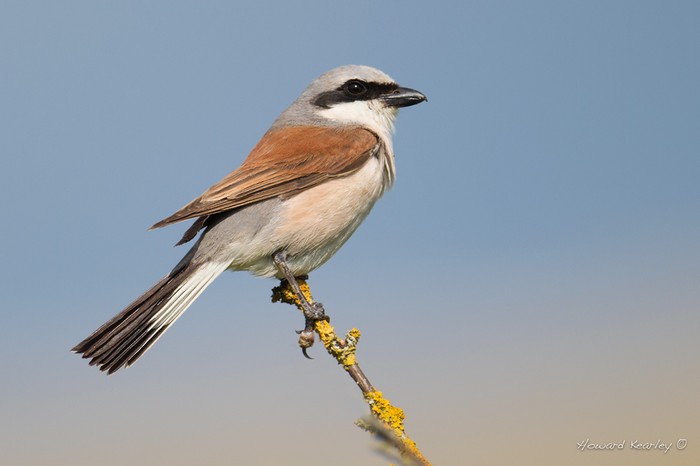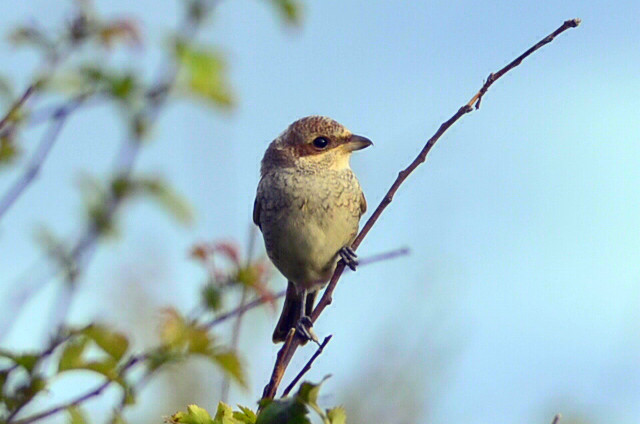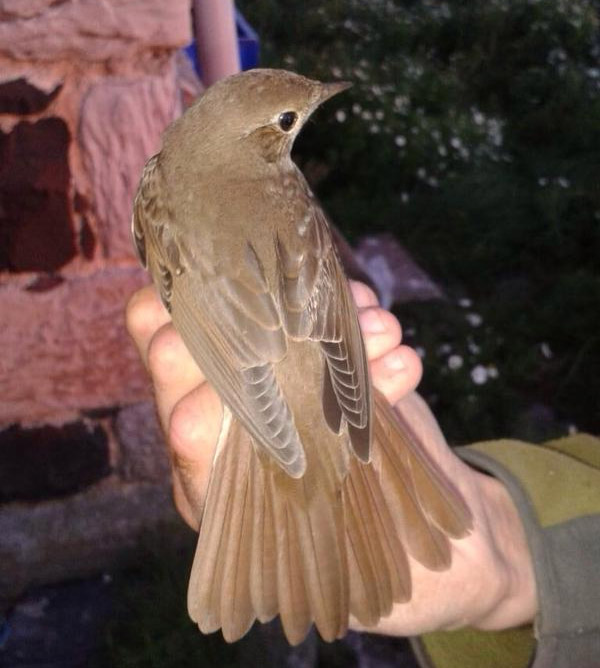 The busy-ish Saturday saw two more Wrynecks drop into East Sussex ~ found at Rye Harbour and Newhaven ~ while Spurn chipped in with the 7th in 24 hours, also found on 15th. The following day saw number eight pop up, again along the south coast, this time in West Sussex, seen briefly at Church Norton with number nine and ten coming soon afterwards, noted at Wyke Regis (Dorset) and Ramsgate (Kent). Further birds not found on the east coast (but hey, drifters are drifters right?) were trapped and ringed at Nanjizal (Cornwall) on 17th and field observed at Porthgwarra on 18th, while the latter date also produced two Northern Isles singles ~ on North Ronaldsay and Fair Isle ~ making a 14 in all for the week.
No self-respecting set of August drift migrants would want to be missing a Red-backed Shrike ~ Flamborough's Old Fall Hedge on hand to provide the required addition to the guest list on 15th ~ a bird that was the first of three east coast birds in the day ~ others following along at Winterton (Norfolk) and on Brownsman, Farnes. The 16th saw an inland bird reported in Hertfordshire (at Sandon) and one also drop on to Shetland's south mainland, at Hillwell, while a male found a way to the Sussex coast, arriving at Cuckmere Haven on 17th. The final birds this week were the trio found on 18th ~ in Highland one was seen at Noss Head while Shetland saw two singles arrive; one on Unst and one on Fair Isle.
We'll wing our way back to the Farnes' Brownsman Island for the top drift prize ~ a Thrush Nightingale finding a way in to the ringers nets on the island on the evening of 15th ~ the first record for 2015, the first on the Farnes in five years and a day (the last one there was seen on August 14th 2010) and just the 10th record for the county in all (four of them between 2002 and 2015).
With all the obvious excitement generated aboard the M.V.Sapphire by the five-minute Fea's, it is easy to forget that all those who invested their time and money for the three-day set of trips out of St. Mary's also managed to score consecutive single Wilson's Storm-petrels on the sorties in to the high seas on all three trips made on 14th, 15th and 16th ~ the first this season around Scilly.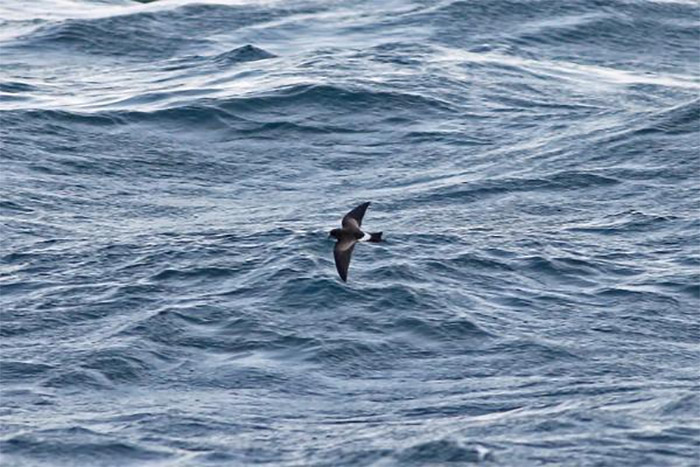 Further WSP records this week all came from County Cork ~ land-observed was one from Brow Head on 12th, with pelagic records coming from trips off Galley Head and two from "Cork pelagic" on 15th with a second set of two for those on board another Cork boat on 16th.
'Big shear' fans on those Scilly pelagics enjoyed marvellous views of Great Shearwaters if Joe Pender's cracking shots are anything to go by ~ half a dozen were logged on the trip of 14th with 14 noted on 15th, nine on 16th and a dozen on 17th. A single was also noted from the Scillonian on the evening trip of 17th. Ireland saw a single noted a mile off Waterford's Mine Head on 12th and a pelagic off Galley Head the same day saw three more noted. Clare's Bridges of Ross has been quiet so far this autumn, but a lone Great Shearwater was seen there on 15th and the Cork Pelagic on the same day saw three more notched up. The following day's Cork trip scored a further seven birds.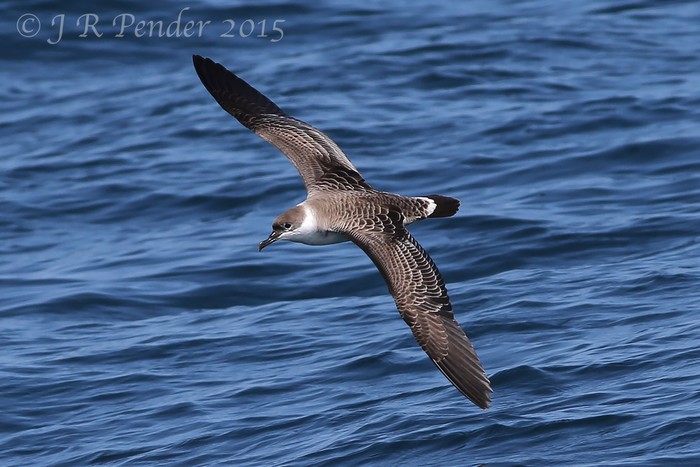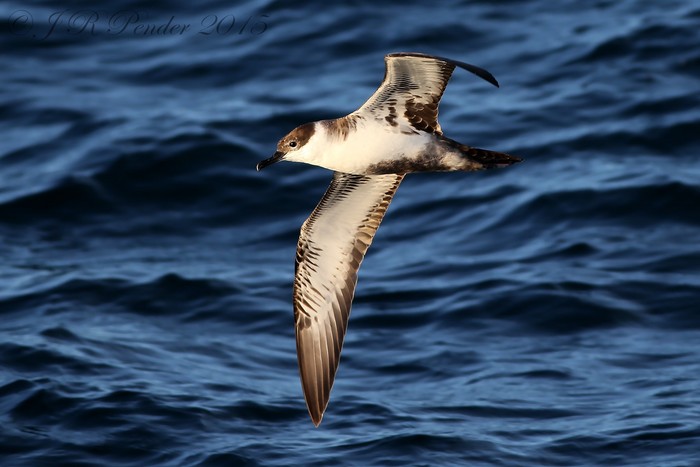 Cory's Shearwaters remained in spectacularly low supply ~ by the end of the weekend only there singles had been seen ~ one was reported from Pentire Point (Cornwall) on 12th, with birds on 14th appearing off Pendeen Watch and Spurn. A fourth bird was reported for 10 minutes off Mayo's Erris Head on 17th. Going markedly against the flow of anything else this summer though was the unconfimed report of upwards of 1,000 birds heading past Lizard in just five minutes on the evening of 18th.
By the end of the weekend, numbers of Balearic Shearwaters had just managed to wing a way over the edge of three figures ~ aided significantly by 45 from Devon's Berry Head on 12th. Portland Bill managed 40+ through the week, including 10 on 15th, with Cornwall's Pendeen registering the same number on the same day. Numbers elsewhere were slender in the extreme, Kent managing four and Clare seeing three loners pass Bridges on separate days, while roaming further afield were birds off Durham, Ayrshire and Highland (seen from Tarbet Ness on 14th). The week concluded on 18th with low double figures off Portland, while 24 headed past Cornwall's Rame Head and a more-than-respectable 82 were counted from Berry Head (pushing the week's total through the 200 mark with ease).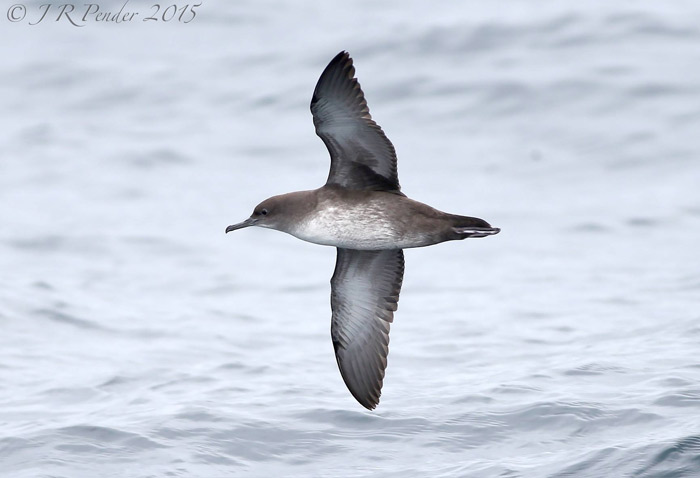 Six of this week's twelve Long-tailed Skua records came from Ireland ~ Britain's representatives were logged off Gibraltar Point NNR (Lincolnshire) on 13th, Flamborough Head (East Yorkshire) on 17th and 18th respectively, as well as Spurn and Cleveland's Hartlepool Headland and North Yorkshire's Burniston both on the latter date. Ireland saw four birds recorded from Bridges of Ross (Co. Clare), two each on 14th and 15th and singles from Brandon Point (Co. Kerry) on 14th and Annagh Head (Co. Mayo) on 16th.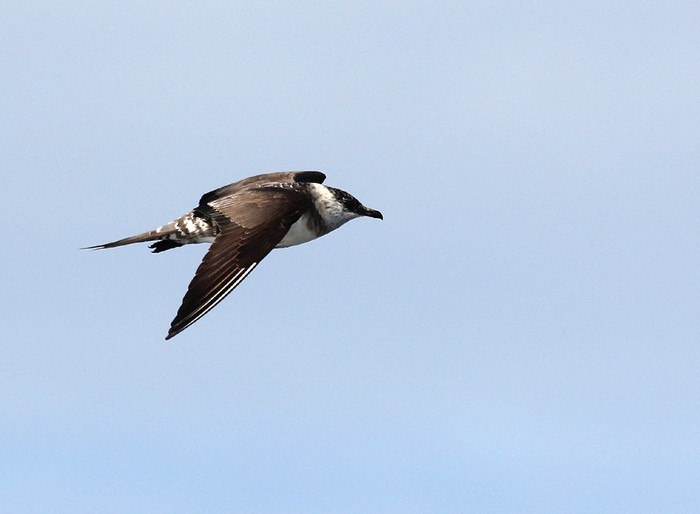 A somewhat miserly just-under-30 Pomarine Skuas were recorded through the week ~ eleven recorded in six English counties (including three off North Yorkshire and three off the Cornish coast too) with fifteen more in Ireland spread thinly over four counties (including four in Clare and threes in Mayo and Louth). One Welsh bird was logged too, from Bardsey Island (Gwynedd) on 18th.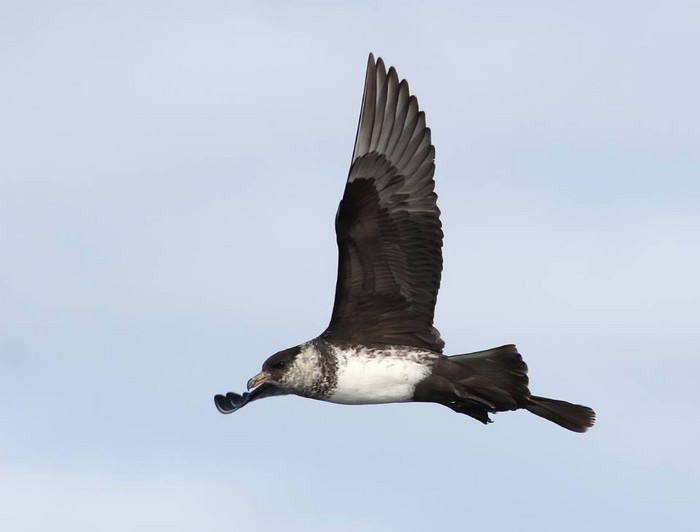 There was just one Leach's Storm-petrel noted this week, trapped in an overnight ringing session on the Farnes on 12th, while five Grey Phalaropes flew east at sea off Ram Head (Co. Waterford) on 12th and the Cork Pelagic of 15th recorded two more.
Birders at Bridges of Ross saw a single Sabine's Gull head past the famous seawatching hotspot on 14h with two singles there the following day. A first-summer was noted three miles east of Highland's Staffin Bay on 15th while the remarkable summer-dressed bird at Pennington Flash in Gretaer Manchester just stayed and stayed and stayed ~ present all the way to 16th at least.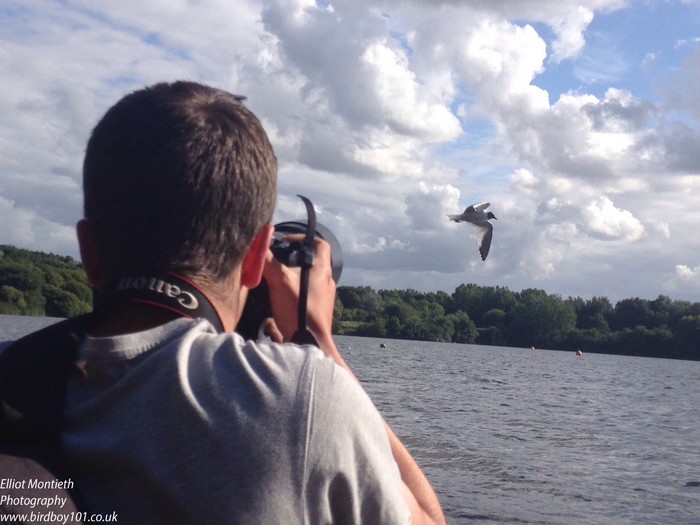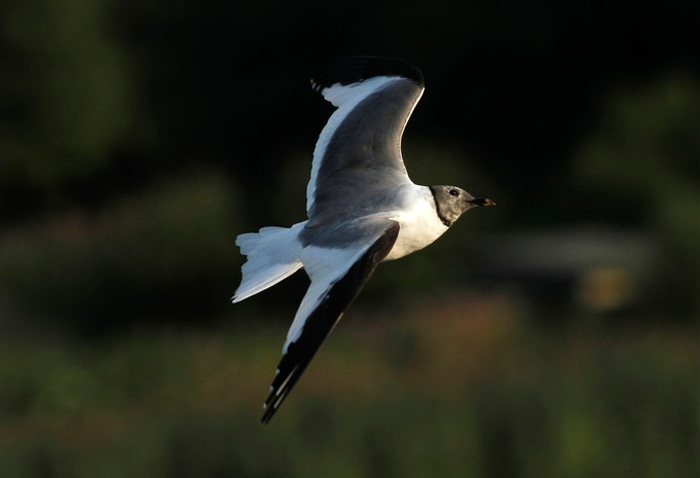 After a lonely report on August 3rd, it seemed as though the sometimes singing male Little Bittern had done a bunk from its South Yorkshire hidey-hole ~ not so it seems as he was reported from the Old Moor RSPB reserve a couple of times during the course of 13th. One of the locations the roaming LB took in this summer was Swillington Ings and this week, the West Yorkshire site saw an adult Night Heron noted on the morning of 18th. Further east, in Lincolnshire, came another report of an adult Night Heron, this one seen at Tetney Lock on 17th.
With the re-appearance of a Cattle Egret back with the assorted Kentish moo-ers out on the almost prairie-lands of Dungeness's Boulderwall Farm on 15th ~ well it felt a little like an old friend popping back to "howdy". Whether this is one of the two that spent for most of the first four months of the year is pure speculation ~ but we like that here, so yes, it probably was! No hint of any youngsters in the adjacent area though…
Thankfully nowhere near any lion enclosure was the brief White Stork at Levington Creek (Suffolk) on 15th while, breaking all the rules, like illicit lovers, the draw of at least 10 Great White Egrets on the Somerset Levels, at Meare Heath on 15th proved too much to resist… (yes, they have officially gone, but double figures are double figures and still warrant a nod of affection).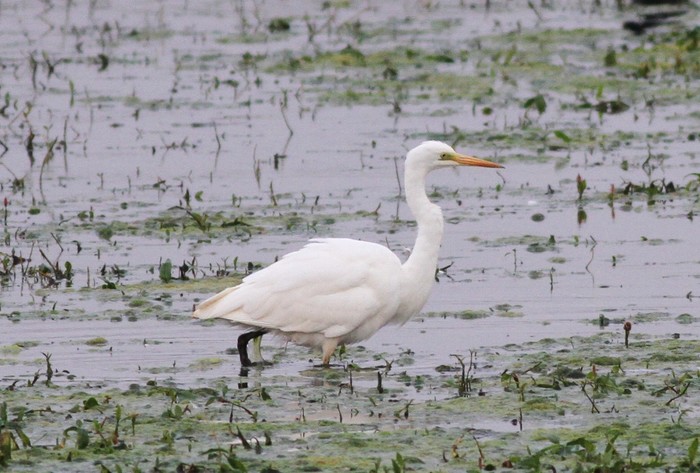 In Suffolk, the released-from-the-boat juvenile Purple Heron remained at the Carlton Marshes through until 17th, while the first-summer Purp was also still within the same county, present again at King's Fleet to 17th. More curious was the report of a juvenile Purple Heron in a Shropshire garden in Whixall on 13th ~ potentially the first in the county since September 2009.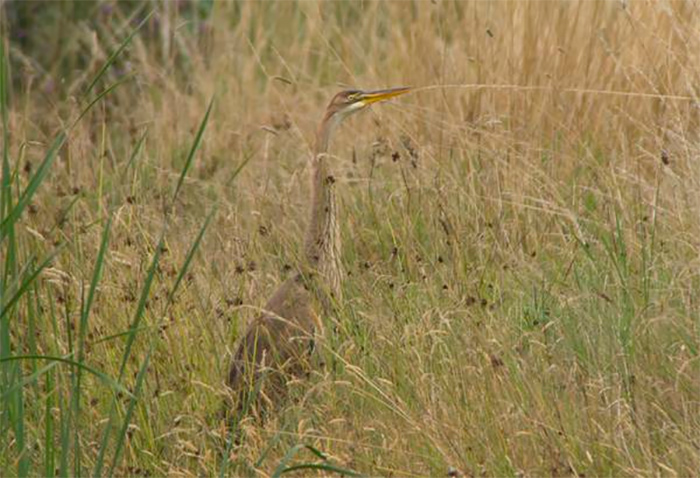 Spoonbills next then ~ hmmm….plenty of them on offer and numbers began to spiral higher and higher across the coasts from Lincolnshire down to Kent ~ several double figure hauls reported through the last seven days.
Starting in Lincolnshire and to Gibraltar Point where a maximum of 14 were seen this week (peaking on 14th) while Frampton Marsh RSPB hosted 5 on 15th with Alkborough Flats scoring six on the same date. Norfolk's Stiffkey Fen lobbed in a hefty 26 on the afternoon of 16th, while Titchwell managed 17 on 12th (nearby Brancaster took eight of them on 13th while singles were also seen at Cley and Blakeney through the week). Dropping in to Suffolk where "recently" at Orford ness, 15 birds had been noted, 13 of them presumably making an appearance at Havergate Island RSPB on 15th. Up to seven Spoonbills were at Hazelwood Common SWT by 17th and Minsmere RSPB hosted four on 12th.
Moving further south, into Essex, where two >Spoonbills became five >Spoonbills at Fingringhoe Wick EWT between 12th-16th while three were at East Mersea, on the Colne Estuary, on 16th. Two youngsters flew up the river at Rainham Marshes RSPB (London) on 13th and in Kent, a flock of 12 was noted at Elmley RSPB on 15th. Elsewhere in the county, seven and then 11 were at Oare Marshes KWT (presumably connected to the Elmley Dozen) on 16th-17th and twos were still at both Pegwell Bay and Scotney GPs through much of the week.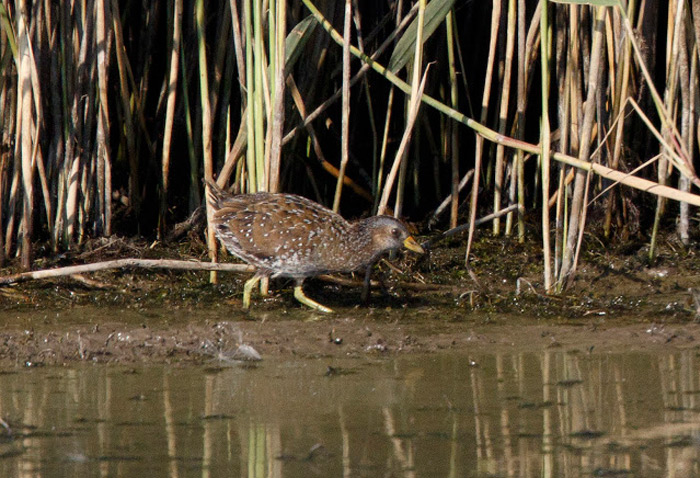 Half a dozen birds gathered in Poole Harbour, at Middlebere, on 16th and one remained on the Lune Estuary, Glasson (Lancashire) throughout the week. In Ireland, a singleton was on The Cunnigar, Dungarvan (Co. Waterford) on 16th-17th.
The Common Crane that appeared at Blithfield Reservoir in Staffordshire last week remained to 18th while more traditional territories for the species included Burwell Fen (Cambridgeshire) ~ three there on 16th ~ and Welney WWT (Norfolk) ~ five noted on 14th. A single bird was also reported from Hooe Level (East Sussex) on 17th.
The week's only Spotted Crake was a leftover from last week, still at the Blacktoft Sands RSPB reserve (East Yorkshire) through until 18th.
Parrot free this week ~ so we can bring news of the drake Lesser Scaup that showed for much of the week (until 17th at least) at Blagdon Lake (Somerset).
A couple of Surf Scoters help to pad out this compact and bijou little round-up section ~ a first-summer drake lingered off the beach at Blackdog (Aberdeenshire) to 13th while new(ish) was drake in Lunan Bay (Angus) on 16th.
With the calendar chalking off more and more days through August, the prospect of Nearctic shorebirds increases daily (almost regardless of the weather) and this week boosted the overall look of things courtesy of a couple of new arrivals...
Pick of the bunch, the inland adult Spotted Sandpiper in Wiltshire, found near Swindon, at the Coate Water Park on 14th with news out & about by close of play on 16th. This handsome and rather dashing blobby attired little sandpiper becomes a county first ~ there aren't too many blanks on the map in terms of counties yet to host this annual visitor (240 of which have been recorded until the end of 2013) ~ and stayed put to 18th.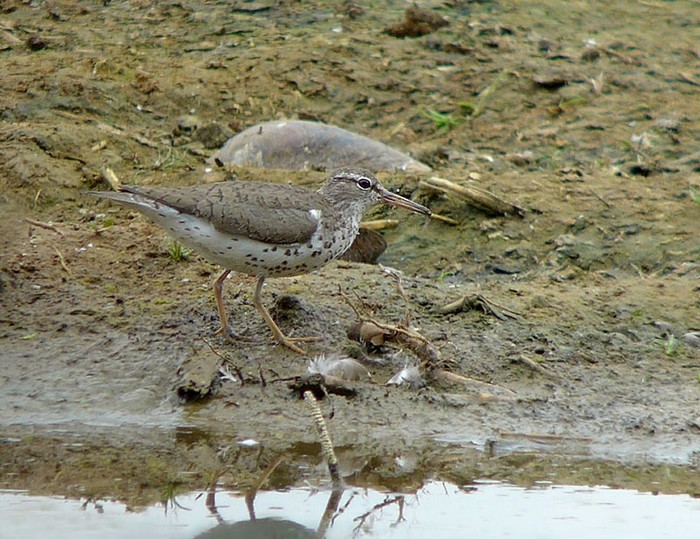 A second Spotted Sandpiper was present this week, unfortunately choosing an area of Devon's Teign Estuary with no general access on 17th ~ it becomes the 11th record for the county. A later landowner concession to visitors came too late ~ the bird had, as they say, done one.
Staying in the same county, along to the east and not far behind the Wiltshire spotty herbert in the neat stakes comes the cracking-looking adult Baird's Sandpiper found in east Devon, at Black Hole Marsh, near Seaton, on 15th ~ only the eighth record for the southwestern county and the first since one spent almost three weeks at Dawlish Warren in September & October 2001.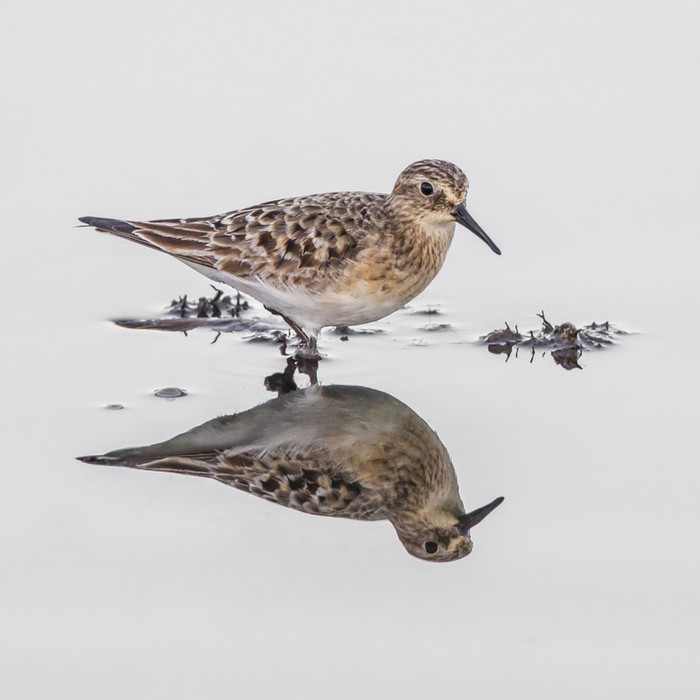 Four of Devon's (now) eight birds have been at my A-Level Geography project location aside the Exe Estuary (in 1983, 1993 and also 2000) ~ away from Dawlish, Lundy has hosted two (in 1974 and 1989) with the final bird appearing at Northam Burrows in September 1991.
Belated late news emerged during the review's final day of a Wilson's Phalarope at Par Sands (Cornwall) on 16th ~ the first record of the species anywhere in B&I for almost two years (since one on Shetland in October 2013). Last year's blank for this most delicate of Nearctic visitors was the first year recording "zero" since 2000 ~ a rare event indeed. Cornwall has fared reasonably well for the species in the past, 23 accepted records in all, but this week's report is the first in the county since a young bird was found on the Hayle Estuary in early September 2010.
(Not long after the news of the Cornish Wilson's Phalarope came out, a second report was mentioned for August 11th ~ a juvenile apparently showing well on the Monach Islands (Outer Hebrides) and a bird which could become only the 3rd record for the islands, the first and second coming in the Septembers of 2005 and 2008).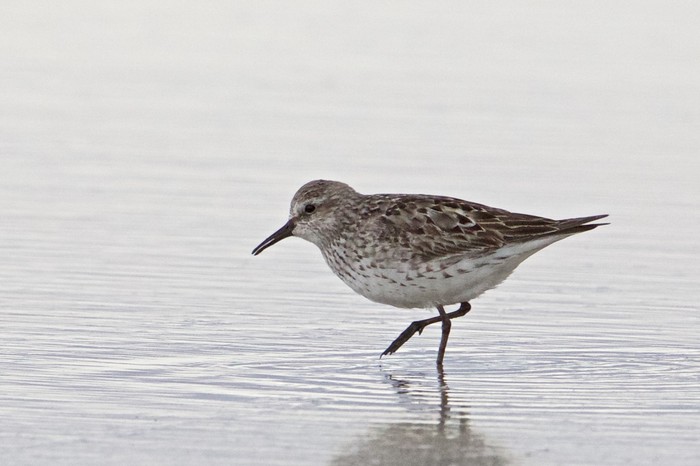 The fifth new Nearctic arrival this week was the slightly mottled, moulting adult American Golden Plover that was discovered near the lighthouse on North Ronaldsay (Orkney) on 14th, where it remained through to the 18th ~ since 2009, only 2011 has drawn a blank on the island for this super species.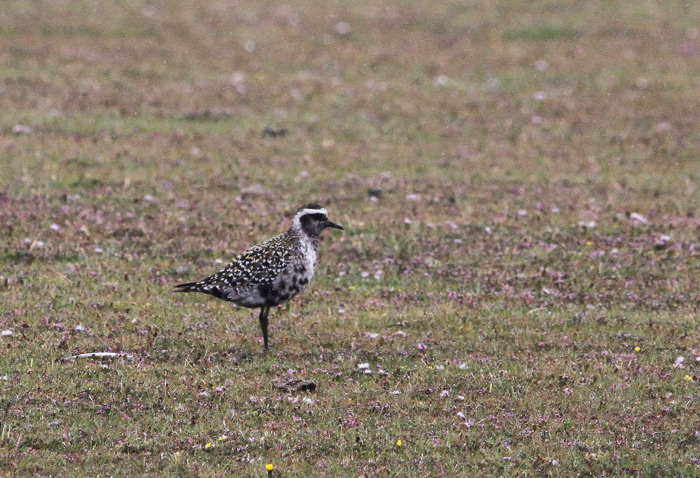 The fourth and fifth notable newbies from the Americas this week were freshly arrived White-rumped Sandpipers; found at Baleshare, North Uist (Outer Hebrides) on 14th and along the Ythan Estuary (Aberdeenshire) on 15th. The adult found last week at Oare Marshes NR (Kent) was present through until 18th while what was presumably the same individual noted recently around Kilnsea (seen again on 15th and 17th) was also located at nearby Spurn, near the Warren, on 16th.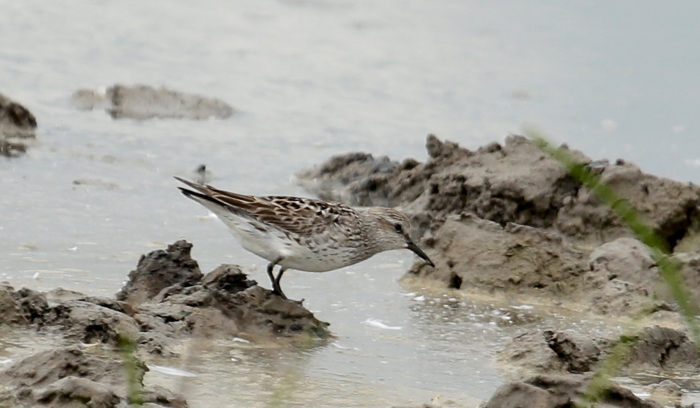 A sextet of Pectoral Sandpipers made the news this week ~ one remained at Tetney Marshes (Lincolnshire) to 12th while new were singles at Hogg Lane Flash (Nottinghamshire) from 13th-15th; near Austerfield (South Yorkshire) on 13th; at Rainton Meadows DWT (Co. Durham) on 14th; at Pagham Harbour LNR (West Sussex) on 18th and in Ireland, at Laytown (Co. Meath) from 15th-18th. Finally, a lone Temminck's Stint ~ seen at Dungeness RSPB (Kent) on 12th and Titchwell logged an unconfirmed report of a Black-winged Stilt on 17th.
Devon birders enjoyed a mini-purple patch this week ~ along with the first Baird's Sandpiper for just shy of 14 years, the county also produced the first White-winged Black Tern in seven years ~ the juvenile found at Exminster Marshes RSPB on 14th (a bird which lingered to 16th) becomes the first Devonian bird since an adult was seen at Slapton Ley in August 2008 (and only the 14th there in all).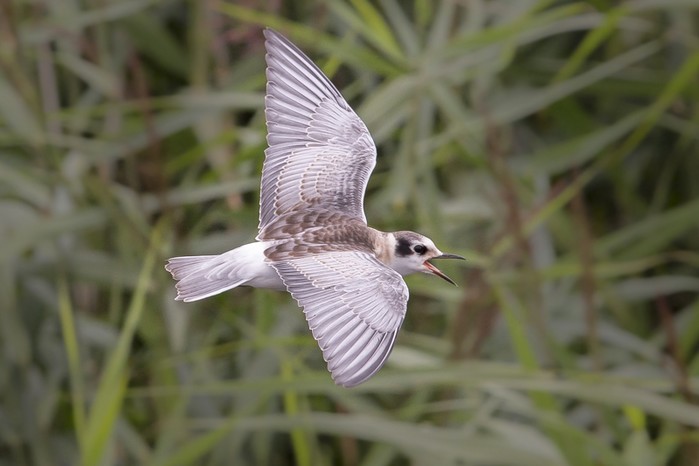 More predicatble was the brief juvenile seen off Dungeness on 17th. The bird departed quickly to the northeast and is the gazillionth record for this famous Kent site. (See previous features from this year for actual numbers...)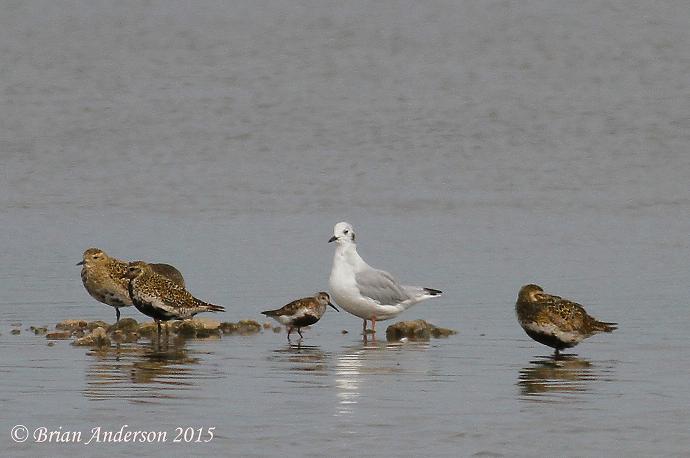 Still showing no real urge to wander off from the north Kent marshes was the adult Bonaparte's Gull that remained at Oare Marshes KWT until 16th. Ring-billed Gulls included the popular new first-summer at Preston Dock (Lancashire) ~ still in situ until 16th ~ and the long-staying individual on the Hayle Estuary through until 18th. A further first-summer was found in Derry, along the Bann Estuary near Castlerock, on 14th.
Ireland mopped up the two Iceland Gulls logged this week; again at Lissagriffin (Co. Cork) to 13th and also at Glenarm (Co. Antrim) on 16th while Scotland laid claim to the only Glaucous Gull, a young bird found at Hopeman (Moray) on 15th.
There's no doubting the star quality and obvious appeal of the über-photogenic (tame) first-summer male Red-footed Falcon that spent over a month on parade to all and sundry in Staffordshire, around the edge of the Chatterley Whitfield Colliery. However, as last week tailed away, keen observers noted a little bit of negative news from the site on 11th ~ folks it looked as though the party was over…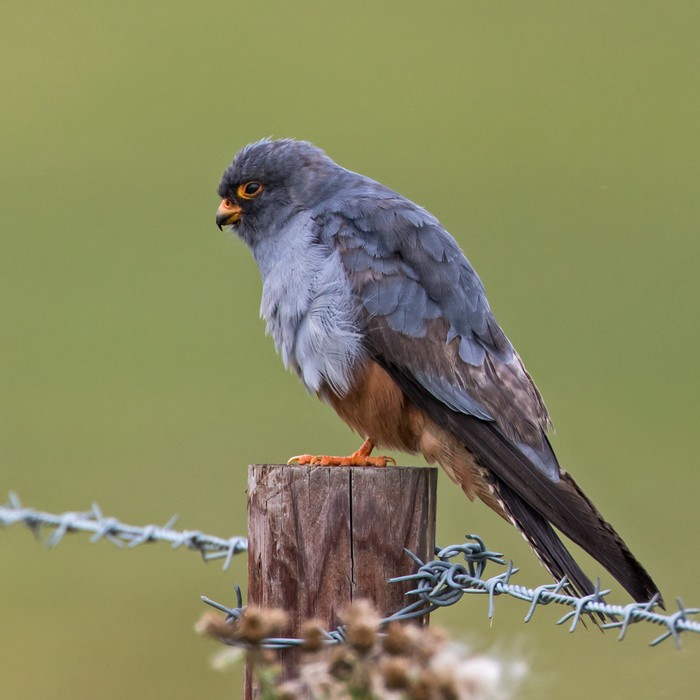 Wrong! Nah, there's nothing gonna stop this smokey-toned starlet from letting his popularity slide ~ all he did was move the party some 100 miles to the east ~ bringing his own demure charm to Lincolnshire's Willow Tree Fen LWT reserve just a day after departing northwest England.
...and he continued to do his stuff from 12th-18th ~ didn't he show well...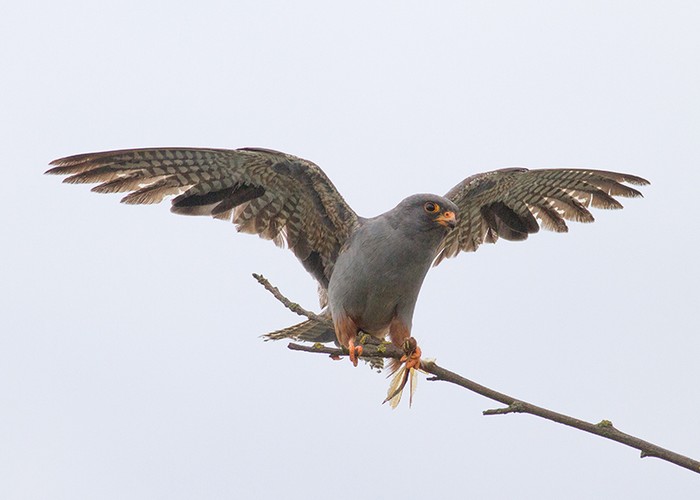 Both the breeding Montagu's Harriers were still being seen around the Blacktoft Sands RSPB reserve, both adults seen to 12th, with the female noted through to 18th. A roaming male was also seen at Cliffe Pools RSPB (Kent) on 18th and a ringtail was logged on the Isle of wight on the same day, seen over Shanklin Down.
A handful of Honey Buzzards were logged this week, the first of which was reported heading south at Sandhurst (Berkshire) on 15th with one at Budby (Nottinghamshire) on the same day. A couple of Norfolk birds followed on 16th, over High Kelling and the Wells/East Hills area with another reported over Brighton (East Sussex) on the same day. The sixth, seventh and eighth reports of the week came on 17th; from Flamborough heading east just after midday, in North Yorkshire, near Commondale and also over Warham Greens, on the north Norfolk coast later the same day. Also on 17th, two birds were seen briefly in North Yorkshire, at the Wykeham Forest Raptor Watchpoint and the finla bird of the week was a dark adult seen at Evie, Mainland (Orkney) on 18th.
The warm weather of a sunny Monday 17th enticed a Western Bonelli's Warbler into the valley at Porthgwarra ~ Cornwall boasts 11 previous accepted records of the species (up until the end of 2013) with two or three outstanding within the recording process.
Seven of Cornwall's accepted bonelli have been seen since 2002 (a year that yielded three autumn birds between late September and the first of November); prior to then, only four birds had been noted, two in 1990, one in 1989 with the first coming to Sennen in September 1985. (There are also four accepted Bonelli's Warbler sp. records for Cornwall, with one from last September, in Kenidjack out there too).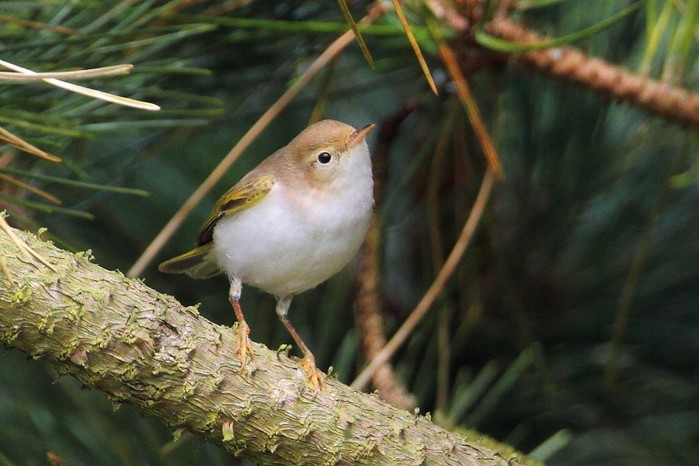 On Orkney, a Marsh Warbler was found on North Ronaldsay on 15th, while a Hippolais species, thought most likely to have been a Melodious Warbler was reported from Lytchett Bay, Poole Harbour (Dorset) on 14th.
A big rare for Staffordshire this week was the Alpine Swift that was reported over Cheddleton on 12th ~ if accepted by the local county records committee this one-time BBRC rare will become only the 2nd county record ~ the only record prior to this week was seen at Belvide Reservoir on July 14th 1996.
Further oddments included the still-in-place female Red-backed Shrike at the Bowers Marsh RSPB reserve in Essex until at least 17th, a flyover Ortolan Bunting over the Nanzijal valley on 17th (where they also caught a whopping 219 Sedge Warblers) and a Hoopoe that was reported from Llithfaen (Gwynedd) on 17th.
Also standing out from the crowed, the female or 1st winter Bluethroat reported from Meare Heath NR (Somerset) on 15th (crikey ~ if they can land a Hudwit they can definitely land one of these…). It's actually almost as rare in Somerset as said long-beaked wadery thing ~ aside from a report of a white-spotted male in a garden in June 2010, there's been diddly in the county where this species is concerned for decades.
A couple of Scotland's mainland extremities played host to single Rose-coloured Starlings this week ~ in Highland, an adult availed itself of the Gairloch Fire Station tower on 15th-16th and a very early juvenile was reported at Peterhead (Aberdeenshire) on 16th ~ that has to be one of the earliest ever birds-of-the-year…doesn't it?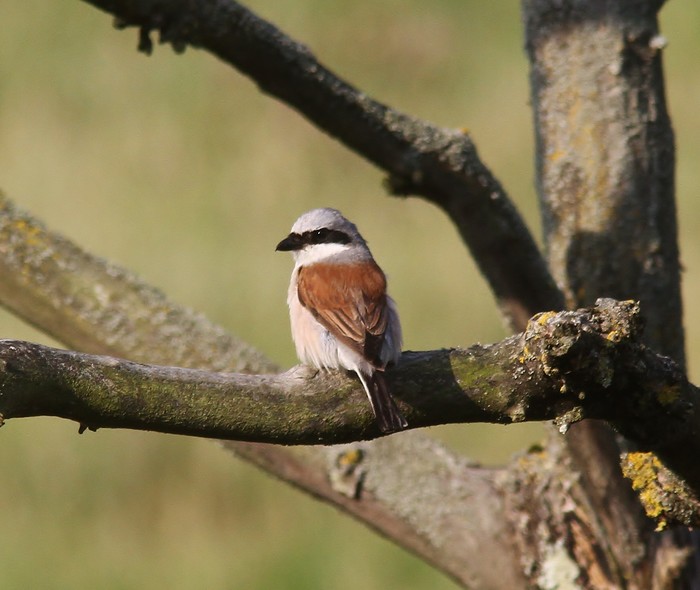 Landguard just can't help itself where Serin records are concerned this year ~ it wasn't too long ago that mention was made of the records there to date and this week's occurrence means another quick tot up is needed ~ ok, so there were at least three on one date in April; a male was present for a day in mid-May; a male was noted again on August 2nd and 7th while this week saw one noted for 15th.
Lost, lone Bee-eater records came from North Ronaldsay on 12th (is it just the same roaming soul that's been around the Northern Isles all summer?) and a heard-only bird was reported from Stevenston (Ayrshire) on 15th. Our Cumbrian breeders were still in place at the Lower Gelt Quarry, near Brampton (Cumbria) throughout the week ~ at least three adults were still in attendance at the site.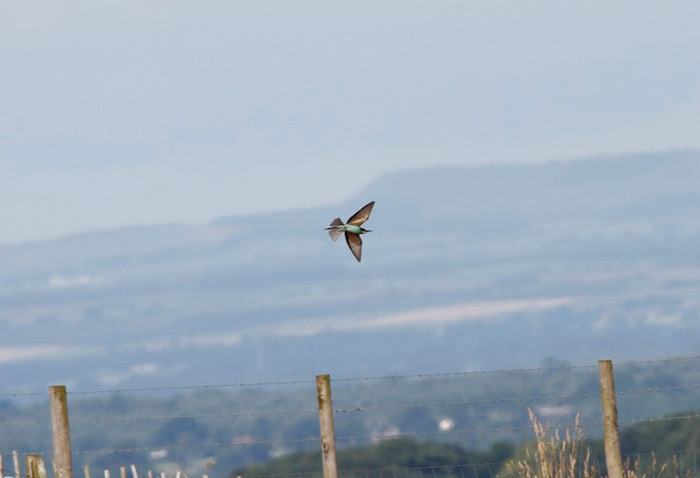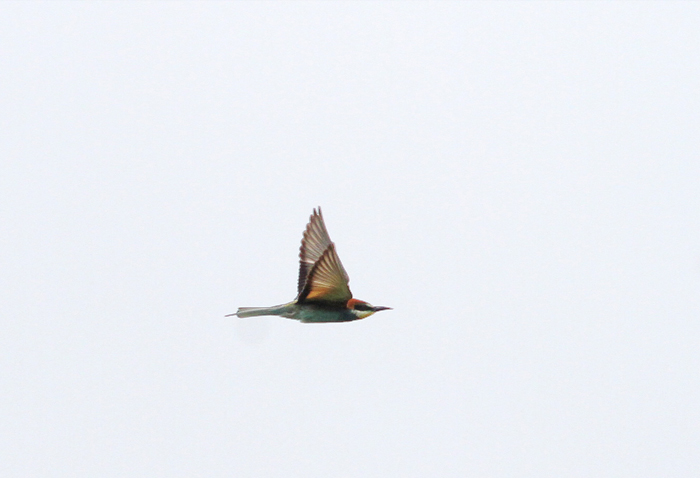 Those youngsters must be due to fledge any day now…
As we head slightly deeper in to the autumn's grasp, so much of what lies ahead depends entirely on the weather we're given. It could be seabirds. It could be shorebirds. It could be further drifters. It could be something off-the-wall…
Staples could include further White-rumped Sandpipers, more White-winged Black Terns and perhaps an increase in Greenish Warblers.
After that…well…
A couple of Western Sandpipers have appeared in the week that lies ahead ~ over on Tresco (Scilly) in 1969 and at The Cull (Co. Wexford) in 1996. Other more frequent Nearctic shorebirds that, weather permitting, could figure (and that have figured widely in the seven days ahead) include Semipalmated Sandpiper and also Wilson's Phalarope (typically they just beat me to it).
The time is certainly right for more Fea's Petrel and Barolo Shearwater acceptances while, at the other end of the spectrum, history shows five accepted Yellow-breasted Buntings through previous August 19th-25th's but, tellingly, the most recent of these came on August 25th 1999.
Should an unseasonal Atlantic storm pulse across the ocean from the Eastern Seaboard (looks unlikely right now to be fair), along with shorebirds can come passerines too ~ August 24th boasts (remarkably) two Yellow Warblers ~ one in 1992 on North Ronaldsay and in 2008, one on Cape Clear Island was at the vanguard of an amazing trio of American rares.
One final species to mention is one that seems to remain eternally under the radar ~ Sykes's Warbler. From the 19 accepted records to date, seven have come in August including two in 2010 (one of which, at Druridge Bay, was the last mainland twitchable record) and three in 2002.
One of those August 2002 birds was found on 23rd, near Sheringham in north Norfolk ~ an individual that was curiously ignored by many county birders at the time; there's not been one since ~ while the other record "for the week ahead" came to Fair Isle on August 20th 1977 (the second for the islands, a further eight have followed).
It may be rare and tricky to ID but another mainland one will cause a stir. You never know, it could sooner than you think.
Mark Golley
19 Aug 2015

Many thanks to all this week's contributors for their photos and videos.
Joe Pender, Bob Flood, Jim Almond, Brett Spencer, David Parnaby / Fair Isle Bird Observatory, Kayn Forbes, Dave Hutton, Neil Hughes, Martyn Sidwell, Annette Davies, Martin Garner / Birding Frontiers, Andrew Armstrong, Howard Kearley, Andy Hood, David Steel, Eric Dempsey, Elliot Montieth, Chris Thornton, Steve Furber, Danny Porter, Graham Catley, Mark Dowie, Timothy White, Terry Laws, George Gay, North Ronaldsay Bird Observatory. Chris Bond, Timothy White, Brian Anderson, Peter Beesley, Penny Clarke, Colin Scott, Lewis Thomson, Matthew Eade.