Weekly round-up: 29 Jul - 04 Aug 2015
The week at a glance
A five minute Barolo Shearwater seen well from Pendeen Watch as seawatching picks up…
…a fact emphasised by Cork's predicted Fea's or Zino's Petrels on a breezy Sunday - with more on Monday
Arrival of at least three Black Storks livens up the tail end of the week
RSPB announce the presence of two pairs of breeding Bee-eaters in Cumbria
Shetland's Paddyfield Warbler remains on Noss at the start of the new week
There was a definite weather split between the north and the west and the south and the east this week - cool, occasionally damp and often rather gusty conditions staying put across much of the left hand side of the country through much of the week while the right hand side, particularly the southeast of England and East Anglia was bathed in warm sunshine, blue skies with an accompanying brisk southerly to southwesterly wind.
The wind did wobble from time to time, producing a diverse batch of scarce and rare visitors, mainly from the Continent - no sign of any mega Nearctic wanderers this week - but as can often be the case at this time of year, the prevailing conditions suited those who like to sit out amongst the elements and cast their eyes across the oceans.
Seabirds were, very much, "on message" this week…

Barolo Shearwater
After all of the mumblings, mutterings and musings about quite what last week's putative Pendeen Pterodroma petrel was (take your pick, anything from Kermadec Petrel - suggested by the there observers - to an aberrant, faded and worn Balearic Shearwater - one of which was seen from Porthgwarra the same day) there was an air of "normal service" being resumed with the headline news of another Pendeen flyby seen at the start of the new round-up period.
This time around it was the oft-forgotten, always in the frame (in the right weather - and, by 29th - it was definitely bob-on) Barolo Shearwater.
Seasoned Cornish seawatcher Dave Flumm was on-hand to enjoy a five minute performance of this still desperately hard to see seabird - most birders in Britain will go through their whole listing lives and not see an accepted one - this week's bird seen from 0817 – 0822 before departing off to the west.
Up until the end of 2013, there were 80 acceptances in Britain and Ireland of Little Shearwater, few of which have ever been accepted to "form" level - although (almost) all records will actually have been Barolo Shearwaters. Cornwall has managed eight accepted records to date, the most recent of which was in August 2007, from St. Ives. That is one of three seen in the county since the start of the millennium (others noted off Porthgwarra in April 2005 and from Pendeen in August 2006) with further records coming in 1999 (three singles accepted that year), 1975 and 1967, when one was noted from St. Ives in late October.
Perhaps more telling is that since that last accepted Cornish record, there have been a further seven Little Shearwaters reported there (all as being bona fide and legitimate), none of which have appeared in the "accepted" column - though given the credentials and experience of this week's principal observer, Cornwall should see record #9 appear in print next year.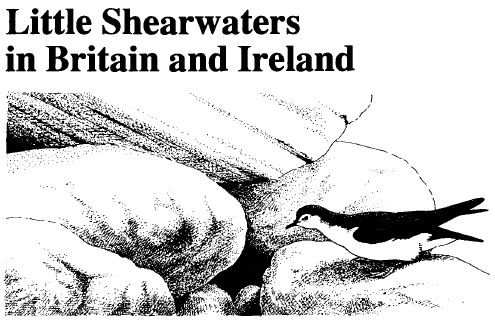 The most recent confirmed Barolo was the returning singing male heard on Lundy Island, off the coast of north Devon, in June 2010 and April to May 2011. The next definite baroli was a dead female found at Mussleburgh (Lothian) on December 9th 1990 and before that was the famous singing male on Skomer Island (Pembrokeshire) which, just like the Lundy bird, returned for second year - seen and heard in June and July 1981 and again in June and July 1982 - for more on this exciting occurrence click on the image opposite.
Another famous "Barolo" from the more recent days of yore (1977) was the sickly four day bird on Rostherne Mere in Cheshire, seen from June 29th until being caught on July 2nd, , dying the following day (when it was actually identified).
Heading further back in time you come to the only other birds identified to form - the first five British and first Irish birds all identified as Barolo Shearwaters, a total which includes all three accepted Norfolk records (all three fresh spring corpses, two of them found on Blakeney Point).
The one-time "Little Shearwater" has a complex taxonomic background - different authors, different authorities seeing a whole mass of options on the table; baroli and boydi (the two forms that were recently seen as sub-species of Little Shearwater) are now seen as…
#1 monotypic species - Barolo Shearwater and Boyd's Shearwater
#2 identifiable sub-species - found within Macronesian Shearwater (which is afforded the scientific name P. baroli
#3 identifiable sub-species - found within Audubon's Shearwater (P. Iherminieri)
As with many other seabird species/sub-species/forms, an overall consensus is sometimes hard to come by but there's little doubting the thrill and the buzz of seeing one of these tough cookies loom in to view from your seawatching hot-spot of choice…
Fea's/Zino's Petrels
With so much attention cast across the oceans that collide with our coastlines, the news on the morning of 2nd of the first Fea's/Zino's Petrels of 2015 wasn't a massive surprise - indeed the first sighting, off Cork's Galley Head was even mentioned as being on the cards at the end of last week's review.
It actually looks as though there were at least two of these eternally gripping Pterodromas seen from Cork's southern facing coast during the morning - the Galley Head bird was noted heading west at around 0620 and was presumably the same bird seen heading west past Toe Head just over three hours later.
Then, at just after 11am what was presumably a second bird was noted heading west past Ballycotton, a significant distance to the east of both Galley Head and Toe Head.
There's a chance that the bird did a sizeable (feeding?) arc back around from west to east in the 90 minutes between the two sightings at Toe Head and Ballycotton, but it seems much more likely that there were two individuals involved - and whether the bird seen from Galley Head during the middle of the morning on 3rd was one of these is anyone's guess. Chances are it was a third one…but whether the sighting from the same site later the same afternoon was a fourth…oh lorks…guesswork time!
Two, three or four, whatever, "stat-fans" will know only too well that Cork has a very decent recent track record for this species and of same-day multiples of course…
As mentioned last week, July 31st 2013 saw three Fea's-type Petrels head past Galley Head in a handful of hours and last year a pelagic out of Baltimore produced two in quick succession on August 24th. That twosome were part of five Cork records during 2014 - and with this week's potential trio included, the overall total number of records (not birds) is 50 in all.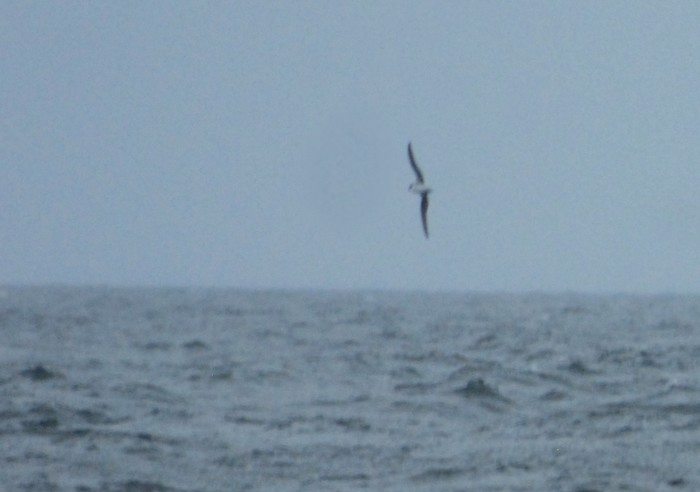 Black Storks
After news of a possible, high-flying Black Stork over Greatham Creek (Cleveland) on 1st (which could have been the 1st for seven years there) the appearance of a juvenile the following day at Haggerston (Northumberland) must have been somewhat galling for the Cleveland contingent.
The bird didn't seem to stay put too long in the far northeast, last noted drifting off once more (south it seems) and it will become the eighth record in all, though three single records in 2006 may all have been linked to one roaming bird.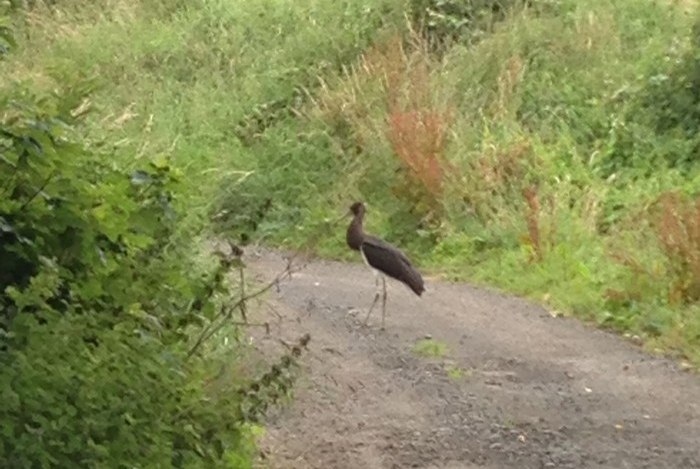 The most recent Northumbrian bird was seen on May 1st 2013 before that, a juvenile in August 2008 which arrived in Durham before tracking north for a couple of days before meandering south through assorted bits of Yorkshire until September 2nd when it departed from Spurn, appearing in east Norfolk the next day.
What odds on a similar happening here?
Well, it may actually have started off by doing things in reverse (unusual in autumn but it's a lost vagrant after all), as news emerged on 2nd of a belated report of a juvenile Black Stork near the Suffolk's River Blyth, at Wenhaston Marshes, on 28th.
…then, typically, no sooner had all the above been typed, then news popped up on 3rd that a Black Stork was making landfall near Spurn, heading over Beacon Ponds and landing somewhere near the Triangle. You know when the last one was for the area…its three paragraphs above this!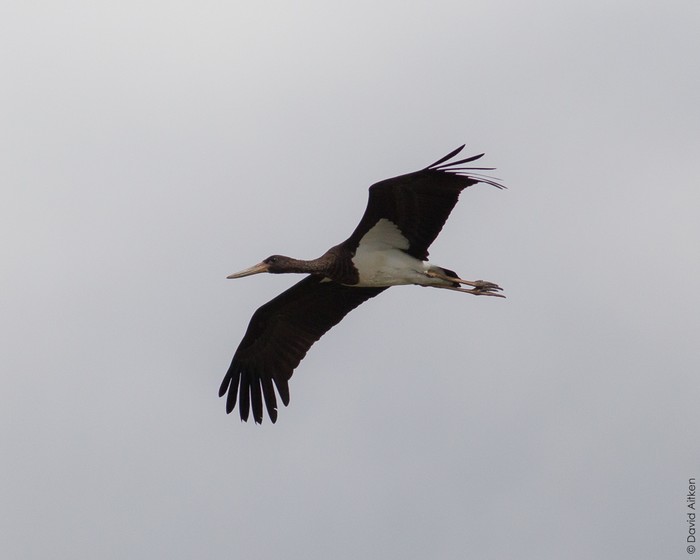 Once on the deck, the bird was noted to be the proud owner of a piece of Gallic jewellery - the white ring showing the code F0RF, a French colour-ringing project that began in 2012.
But that wasn't the end of this little conundrum - a second East Yorkshire Black Stork was seen heading east over Blacktoft Sands RSPB late in the afternoon of 3rd, which soon crossed the river in to Lincolnshire, where it was seen (from the Blacktoft side) circling over Alkborough village. This second individual then dropped in to the Tetney Lock area, well to the southeast of Blacktoft, during the middle of the evening. Next day, it was heading south along the coast, passing over Donna Nook at 10am and then over further almost adjacent sites (Theddlethorpe St Helen and Conisholme) through the rest of the morning. By the afternoon, what was presumably the same bird had evidently gone north again, appearing along the Humber at Read's Island.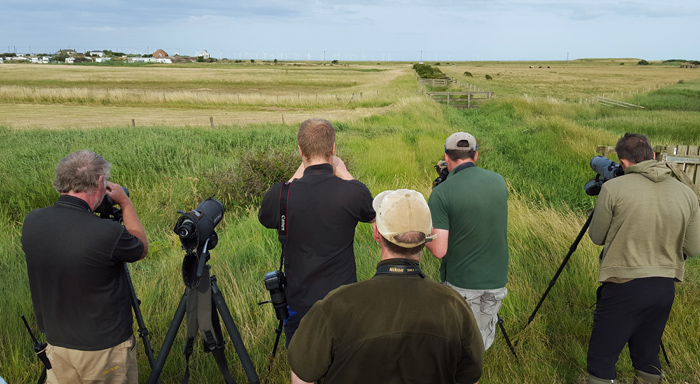 Up until last year there had been just two accepted Black Storks in the county, but there have been up to four different birds around the county since 2014.
Then, no sooner had you thought just how cool two different Black Storks were, then - lo & behold - up pops number three! The one that completed the hat-trick for the 4th was seen over the lake at Hoveringham (Nottinghamshire) at a time when both the East Yorkshire and Lincolnshire birds were also being accounted for; it becomes the East Midlands county's fourth record in all and the first since June 2002.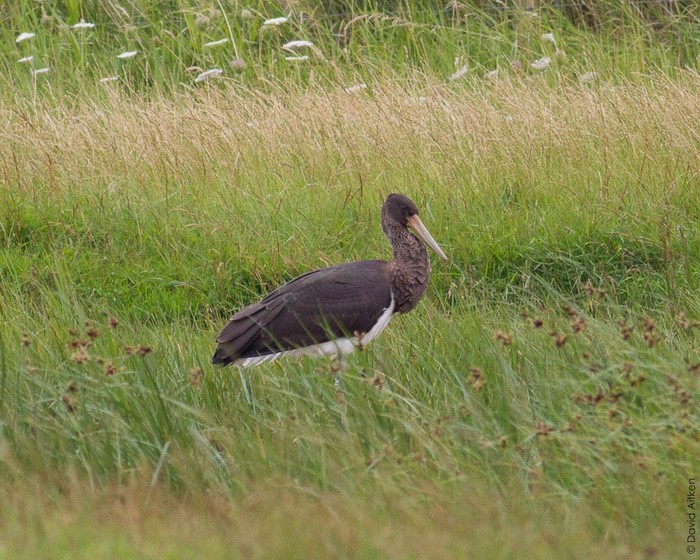 August is a fine month for this still-prized Continental traveller - out of 273 acceptances, 48 have come from the month we find ourselves in now and they've been almost annual through each August from 2005 to 2015 (2009, 2012 and 2014 the only blank years).
Which bird (if any!) is perhaps the Northumberland is a guessing game that's impossible to win, but with no mention of a ring on those initial "on the deck" views in the northeast, perhaps the Spurn bird is the new kid on the block. Or is that the Lincs., bird or the Notts bird?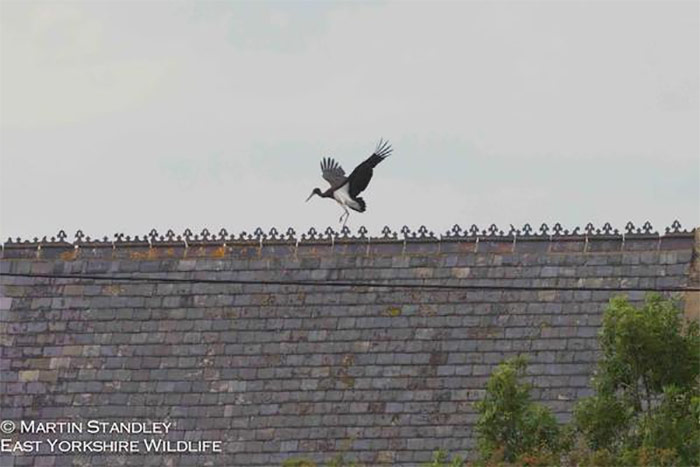 Interestingly, three birds in the same day isn't unique. A swift trawl through time reveals that August 8th 2007 also saw a trio within the country - seen on the Alaw Estuary in Anglesey, The Fleet in Dorset and at several sites around west Cornwall. There may be more, but once I found one, I stopped looking…
Bee-eaters
After a super summer that at times appeared to be awash with colourful daily news of small groups, and even reasonable flocks, of Bee-eaters up and down the country, there was much speculation amongst many folk as to the chances of a pair or two settling down somewhere and get involved in a little nesting activity.
Time drifted a little and although there were occasional whispers, not much was actually known to be definite until this week's exciting news was released by the RSPB of two breeding pairs feeding young in Cumbria, at the Lower Gelt quarry, near Brampton, not far from Carlisle.
The birds have been on site since mid-June and the two pairs have been assisted in the process by two non-breeding singles - more on some of the back-story to this happy event and where to go to see the birds can be seen here.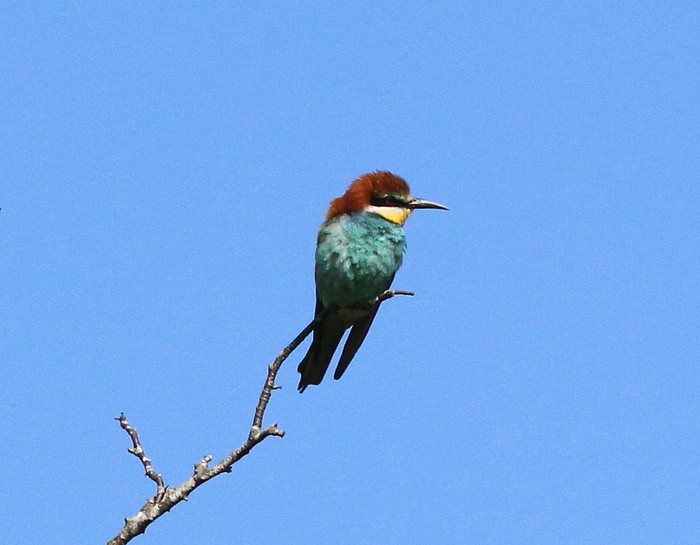 This is, of course, the second year in row in which Bee-eaters have bred in this country; last summer's birding news was brightened considerably by the goings-on on the Isle of Wight, where two nests successfully fledged eight baby Bee-eaters from their chosen site on the Wydcombe Estate. Estimates suggested that up to 3,000 visitors headed to the site to enjoy this marvellous kaleidoscopic spectacle of colour - here's hoping that the far northwest of England proves to be a similar draw and, most importantly, that the youngsters fledge…
It was a year ago this week that the RBA Round-Up brought news of the young being fed in the nest at Wydcombe and within that particular week's review, mention was made of previous (known) breeding attempts - with the birds being so current, it's worth a little repeat.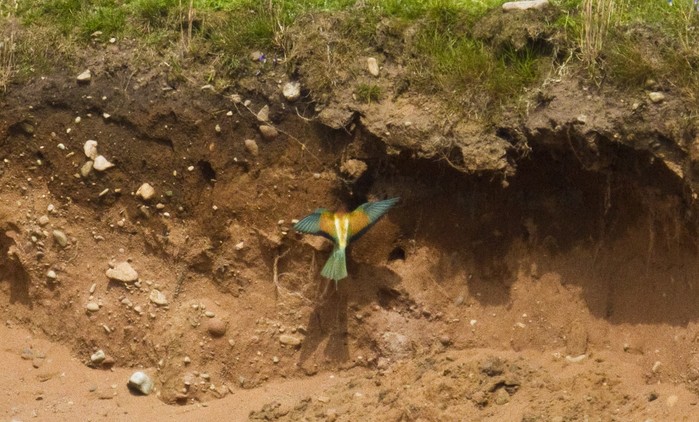 The most recent known breeding attempt came in the summer of 2005 near Hampton Bishop (Herefordshire) when two adults were visiting a nest in the last week of July (fox predation apparently the reason for failure, though the heavy rain at the time wouldn't have helped matters) whilst three years earlier, Britain's second successful breeding record came from Bishop Middleham quarry in County Durham - the summer's Merops activities there resulting in two juveniles (from a brood of five) fledging successfully, drawing around 15,000 to the site in the process.
Prior to that, two out of three pairs raised seven young at Street Sands Quarry, near Plumpton (East Sussex) in the summer of 1955 (over 1,000 people visited the site, a remarkable number for the times) while another failed attempt was recorded in Scotland in 1920, when a pair nested along the banks of the River Esk near Mussleburgh, but the female was captured by a local gardener who kept her in a greenhouse where she died a couple of days later, after laying one egg.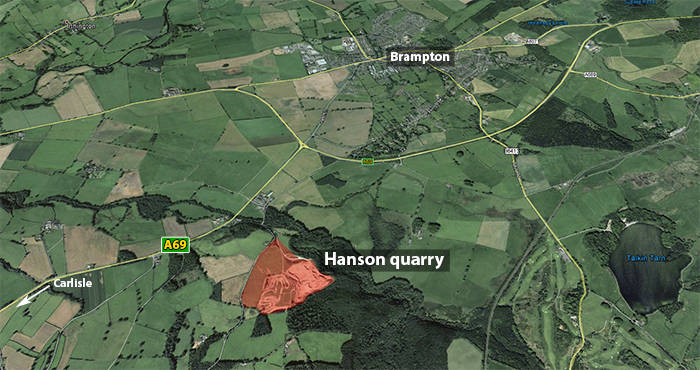 Time will tell if any other breeding birds come to light in 2015, beyond the weekend it seems as though no more than two birds were being seen, but for now we'll have everything crossed that the events in Cumbria to have a successful outcome.
Paddyfield Warbler
By holding station to August 4th, the super Paddyfield Warbler found in the garden adjacent to the warden's cottage on Noss (Shetland) had chalked up a stay of 14 days in all - mirroring the most recent summery record in the island chain, the trapped bird that spent 12 days on Fair Isle from the end of June and in to July 2012.
Double figure durations are a rare thing amongst the 103 acceptances to date - there are just six birds prior to this one to have made it to 10 days or more - as well as the Fair Isle bird mentioned above there are the following on the books.
In 2003, a Paddyfield Warbler on Shetland spent 10 days on Foula from the end of September and then went missing, presumed gone, only to appear at the Kergord Plantation on Mainland on October 11th-12th, a total of 14 days in all; in 1974 on spent 16 days around St. Mary's (Scilly) from the end of September; in 2005, another resided around the Torness Power Station in Lothian for 17 October days; Cornwall's Marazion Marsh hosted a late-in-the-year find on November 16th 1996 for a total of 43 days, while ahead by one, the wintering Paddyfield Warbler trapped at Pagham Harbour, present from January 30th to March 13th 2012.
Both species of "big shears" remained in short supply throughout the last seven days - just a dozen Great Shearwaters were recorded; Cornish singles seen off the valley at Kenidjack on 29th, from a boat in Falmouth Bay on 31st with another "boat bird" noted at sea off Land's End on 1st. These were followed by three from Gorran Haven on 2nd and another lone bird, this one off Porthgwarra, on 4th.
Ireland managed further loners off Valentia Island (Co. Kerry) and Ballycotton on 3rd and three birds off Galley Head on 2nd, a seawatch that also produced one of the week's five Cory's Shearwaters. Further Irish Cory's on 2nd were seen from Ballycotton and also in Wexford, at Carnsore Point and another was off Galley Head on 3rd. The only other reports this week were of one on the east coast of England, which flew ENE past Cley on the morning of 29th and Porthgwarra on 4th.
Prior to 3rd, the weekly total of Balearic Shearwaters was looking a little on the skinny side - just 44 birds noted from five English and three Irish counties, with Cornwall managing 14 and Dorset 15 in the total while Wexford, Waterford and Cork managed just eight between them. Thankfully, a blustery Monday morning pushed 68 birds past Devon's Berry Head (including 56 in two early morning hours) saw the overall total hit three figures and the weekly haul hit 150 courtesy of 38 past Rame Head (Cornwall) on 4th.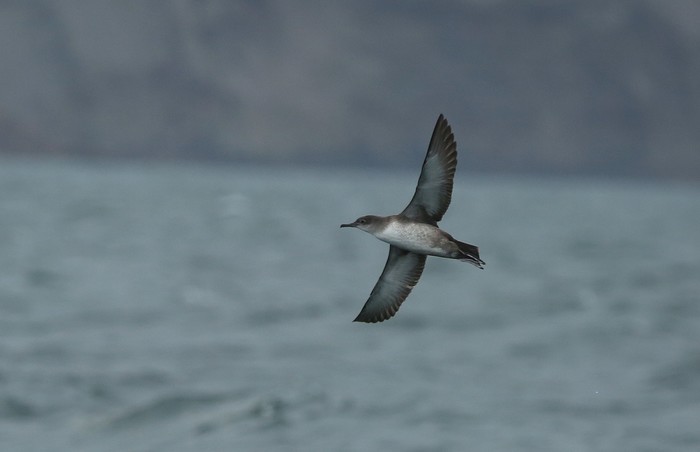 One or two east coast adult Long-tailed Skua were logged this week - three counties recording one each during the day on 30th - the first was seen heading south from Flamborough Head (East Yorkshire) and was followed by reports from Filey Brigg (North Yorkshire) and Boulmer (Northumberland). The following day, the 1st of the new month, saw an adult Long-tail noted from Kinghorn (Fife) and another was seen in Cork, from Toe Head, on 2nd. A second Irish bird flew past Valentia Island on 3rd.
Just under 40 Pomarine Skuas were split 16:20 in Ireland's favour over England - six of which were seen during the day off Waterford's Helvick Head on 2nd and five flew past Galley Head on 3rd. Three more were at the mouth of Carlingford Lough (Co. Down/Co. Louth border) on 1st and a further four were seen in and around County Cork, including two off Toe Head on 2nd. A final single was noted from Kerry's Valentia Island on 3rd.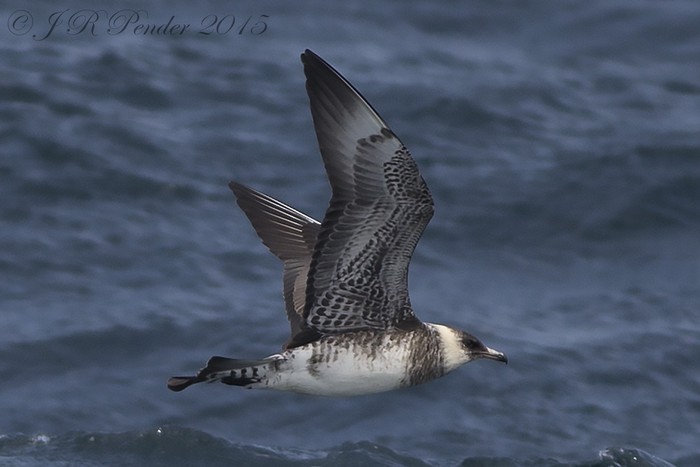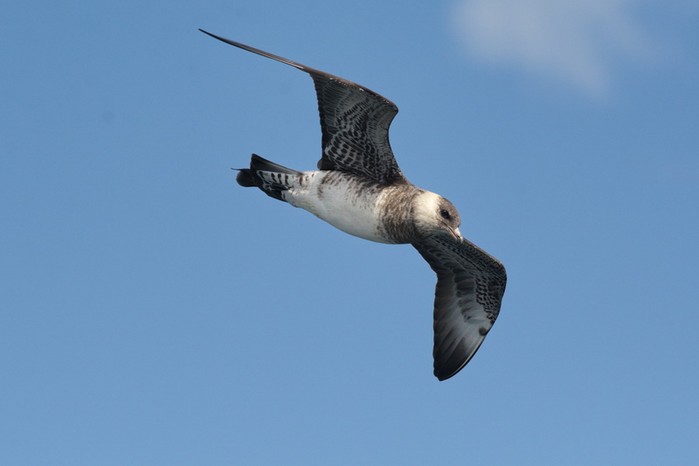 English Poms were spread from Scilly to Durham, four being noted off the coast of East Yorkshire, three for Flamborough and one for Spurn during the course of the week, two were seen from Devon's Berry Head on 2nd and at least one was again noted along the Norfolk coast, seen over Cley Marshes NWT on 30th and 31st then at Titchwell the following day.
A pelagic off Scilly during the morning of 2nd produced two Sabine's Gulls - part of the thin total of four birds in all this week. Cornwall's Pendeen managed one on 29th while more unexpected was the first-summer that flew across Fair Isle on 31st - the first Sabine's anywhere around Shetland since late October 2013 and the first on Fair Isle itself since September 21st 2011. The final birds of the week were seen off Kerry Head (Co. Kerry) on 3rd and, remarkably, at Pennington Flash CP (Greater Manchester) on 4th - a summer attired bird that lost its way somewhat - it was the first record in the region since September 2006.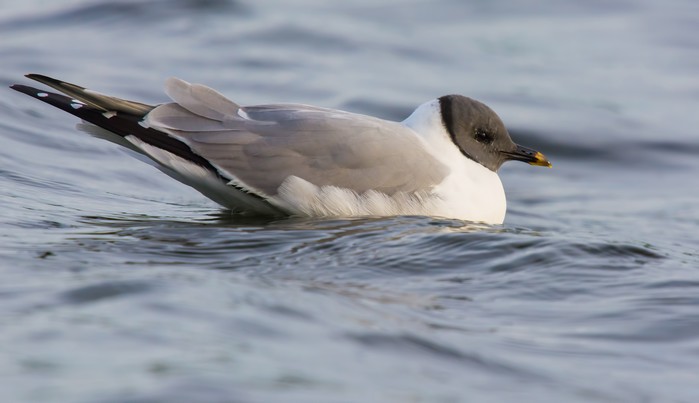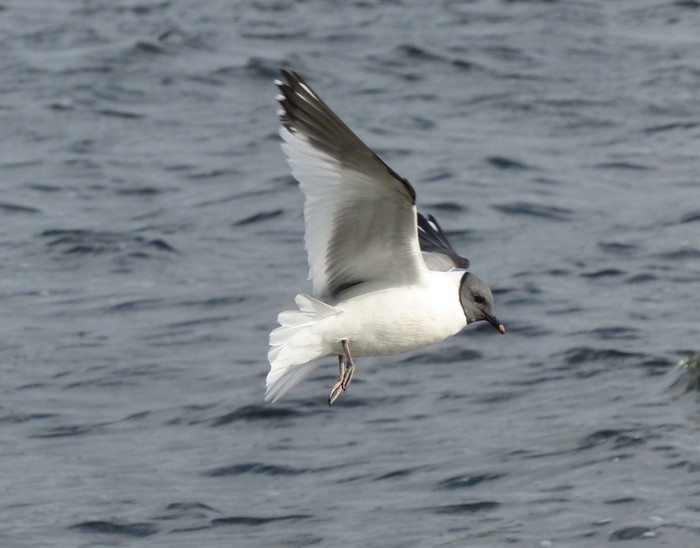 The famous island also managed to produce one of the week's two tape-lured Leach's Storm-petrels - Fair Isle's brid caught overnight on 31st-1st with the second coming in to Durham's shores, trapped and ringed at Whitburn on 29th-30th.
Rounding things off, its back to where we began, in County Cork and Galley Head where a lone Grey Phalarope was noted during the productive morning of 2nd. A second Cork bird was noted passing Ballycotton on 3rd as well.

I guess the question has to be asked - has the male Little Bittern gone walkabout again? After a single sighting this week at Old Moor RSPB in South Yorkshire on 31st the next news of the species came late on 2nd - a male being reported as singing in for around five minutes during the morning at Willington GPs (Derbyshire).
The Old Moor bird has already wandered a few miles up the road in to West Yorkshire, when he paid a visit to Swillington Ings and there's more than half a chance that he actually ventured to South Yorkshire via Lincolnshire (a male was at Kirkby on Bain on June 28th and the Old Moor bird appeared soon afterwards). Willington is not-quite due south of Old Moor, so it is entirely feasible that he may have wandered off once more - pre-another report from Old Moor on the evening of 3rd.
If the Derbyshire record is submitted and accepted, it will become the first county record for a whopping 126 years - just two exist on the county list; a female was shot at Draycott in August 1872 and a male was shot in the spring of 1889 at Langwith.
Making a return to the review is the first Glossy Ibis for a month - seen at Brough Airfield (East Yorkshire) on 1st-2nd (disappearing after an early morning viewing on the latter date). A second bird, via an unsubstantiated logbook report, was claimed at Pembrokeshire's Marloes Mere, also on 1st.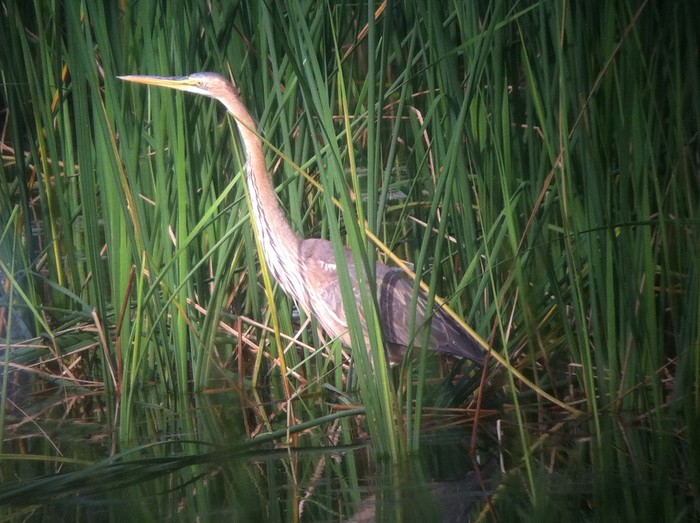 After a gap of a week and a half, the first-summer Purple Heron was back along Suffolk's River Deben on 30th - seen between Falkenham and King's Fleet until 2nd at least.
An adult Night Heron was reported again from Ham Wall RSPB (Somerset) over the weekend. Nearby, despite vowing to bid sayonara to the ever-present since time immemorial Great White Egret, the dusk gathering of 19 birds on Shapwick Heath on the evening of 2nd is irresistible.
A further 20+ birds were spread far and wide across the week - from Kent, London and Oxfordshire in the south through to Durham and Cumbria in the northeast and northwest, right up to Aberdeenshire and the Scottish Highlands.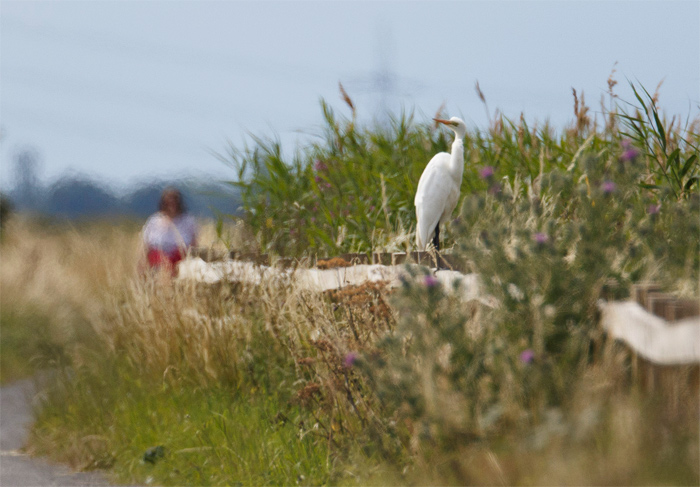 An inadvertent co-ordinated count of Spoonbills between the coasts of Norfolk and Lincolnshire during the middle of the morning on August 1st produced a minimum count (at around 1045) of at least 41 birds in all - split between Stiffkey Fen (20), Titchwell RSPB (11) and Gibraltar Point NNR (10). Interestingly a further three were noted heading north around the same time of day between Filey and Scarborough (North Yorkshire). 44 and counting then…
The following morning saw Stiffkey weigh in with an impressive 24 while Gibraltar Point mustered some 16 (at a similar time of day again), while the afternoon and evening brought news of 11 still at Titchwell with five at Lincolnshire's Alkborough (after seven were noted in the late afternoon of 1st), with a further four were also seen at Frampton Marsh RSPB on 2nd and two over Cleethorpes on 3rd too.
Yes, there's a lot of Spoonbills around right now…and those numbers in East Anglia were bolstered by a maximum five at Cley NWT and six at North Warren RSPB (Suffolk) on 29th, with two more were also noted at Breydon Water on 4th. Elsewhere, two twos lingered in Kent, around the bays of Pegwell and Sandwich and also at Scotney GPs until 2nd, with two also noted at Seasalter on 3rd, while two twos in Dorset were seen around Poole Harbour for much of the week and also passing low and west across Hengistbury Head on 1st.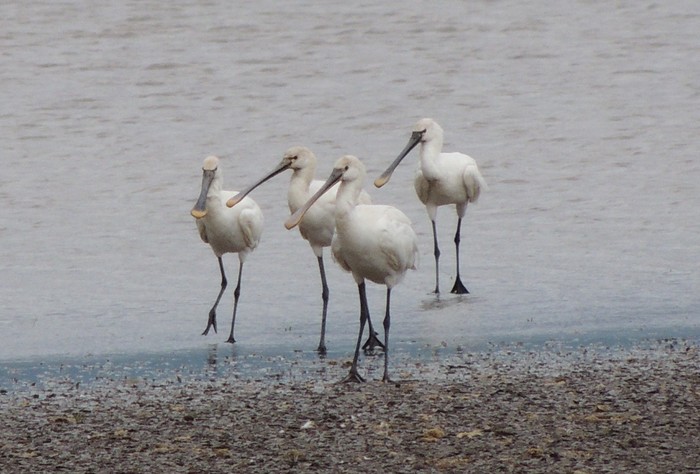 A lone bird was again at Banks Marsh (Lancashire) on 1st while Celtic Nation birds included singles in Wales at Newport Wetlands (Gwent) on 30th and the National Wetlands Centre WWT (Carmarthenshire) on 2nd-3rd, a lone bird in Wexford, at Rosslare Back Strand on 2nd and the Tacumshin on 3rd while in Moray, ever-present again, were the two Spoonbills in Findhorn Bay.
Two groups of Norfolk Common Cranes couldn't have been further apart if they tried - some 70 miles dividing the five birds in the extreme west of the county, at Welney WWT (on 1st) and the pair at Horsey Mill, in the extreme east of the county (on 30th). The only record this week came from North Yorkshire, two birds noted over Wykeham on 1st.
Two Spotted Crakes were logged this week - a fine inland find came from Warwickshire's Brandon Marsh on 30th (and reported again on 31st) while a singing male was noted at Lower Carbarns (Clyde) on 30th-1st. A singing male Corncrake was noted in the wee small hours of the Lancastrian night on 2nd, heard near Bretherton.
In Somerset, the drake Lesser Scaup made it in to August, present on Blagdon Lake on the opening day of the month and still in place on 4th.
The eclipse drake King Eider seen recently in northeast Scotland, in Moray, was noted again on 31st, this time at Whiteness Head, some five miles or so from Nairn where he was last noted on July 21st. Also in Scotland this week, the first-summer drake Surf Scoter that lingered off Murcar Golf Course, still present to 30th.
<!—Section Title -->
Let's kick this section off with news of a juvenile Kentish Plover (an age not often noted here) - found on the beach at Overcombe, just northeast of Weymouth (Dorset) on the morning of 3rd. It moved a little way in to Weymouth Bay, alighting opposite Lodmoor RSPB before being flushed and departing on its way.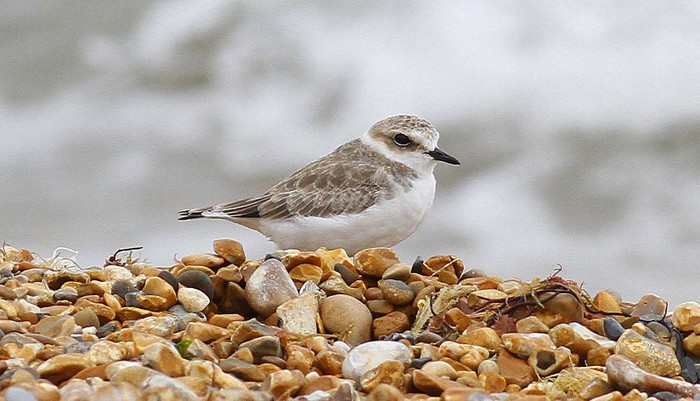 What may have been the first Buff-breasted Sandpiper of 2015 was reported from Beacon Ponds (East Yorkshire) on 1st - but there were no subsequent sightings following on from the initial news. The long-staying White-rumped Sandpiper was at the same site until 4th and the same date saw a new bird discovered at South Gare Breakwater (Cleveland). Last week's new arrival in County Antrim remained at Belfast Harbour RSPB until 29th.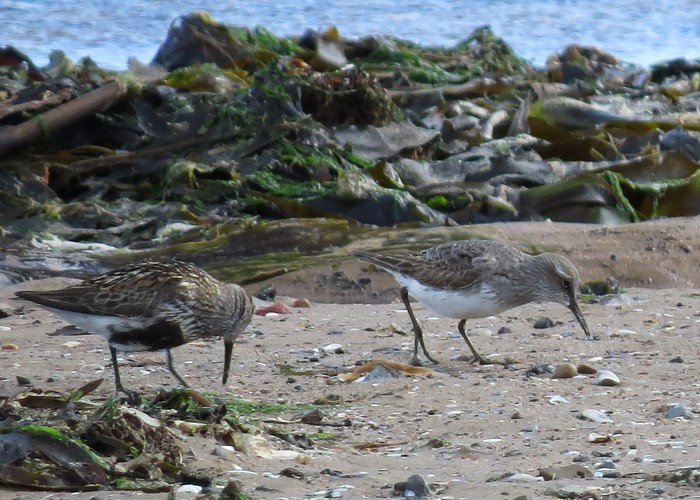 After a more-than-respectable 11 Pectoral Sandpipers last week, the past seven days has brought forth just three or four new birds - the first appeared at Thorne Moors NNR (South Yorkshire) on 1st with the second dropping on to Porth Hellick, St. Mary's on 3rd. A second sighting on Scilly came from St. Agnes on 4th with the St. Mary's bird back on station by late morning. Also new on 4th, the final Pec of the week, seen at Pegwell Bay (Kent).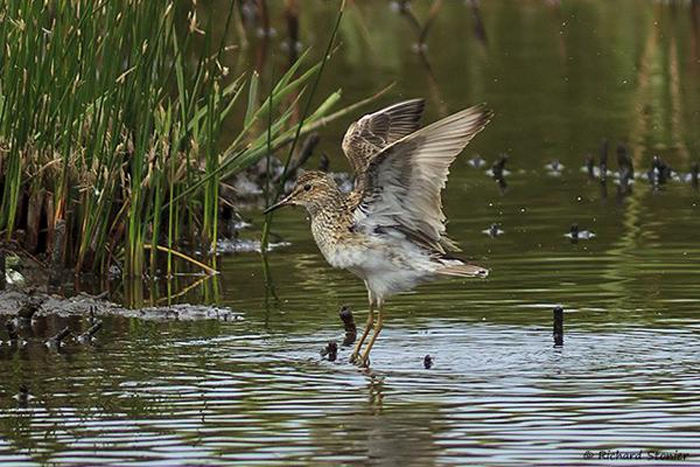 Two migrating Red-necked Phalaropes were found on 31st; one was found at Levington Creek (Suffolk) and another popped up at Steart WWT - the day long stay from this week's bird being welcomed by many local listers, Somerset's most recent record for the species came back in October 2010 thanks to a juvenile on Blagdon Lake. There are just two other records in the past 15 years - at Meare Heath in October 2006 and at Weston-super-Mare in August 2008.

In a week of minimal shorebird returns, the only species to make the grade is Temminck's Stint - two of which appeared (again?) at Oare Marshes KWT on 31st (two had been seen here until July 21st).
What will be the first Caspian Tern for Essex in 34 years was a brief 15 minute visitor to the scrape at Holland Haven CP on the morning of 10th - departing to the southwest at around 10am - not only did it become the first for over three decades in the county, it was also only the 7th Essex record in all - although two old records, both from 1961 (at the reservoirs of Walthmstow and King George V) should arguably moved to "London" - which then takes the total for Essex down to just four in all prior to this week's bird .
Singles have been seen at Abberton in August 1959 and August 1961 and others appeared at Colne Point and Fingringhoe Wick in June-July 1975 with the most recent record until now coming from Heybridge GPs on June 20th-22nd 1981.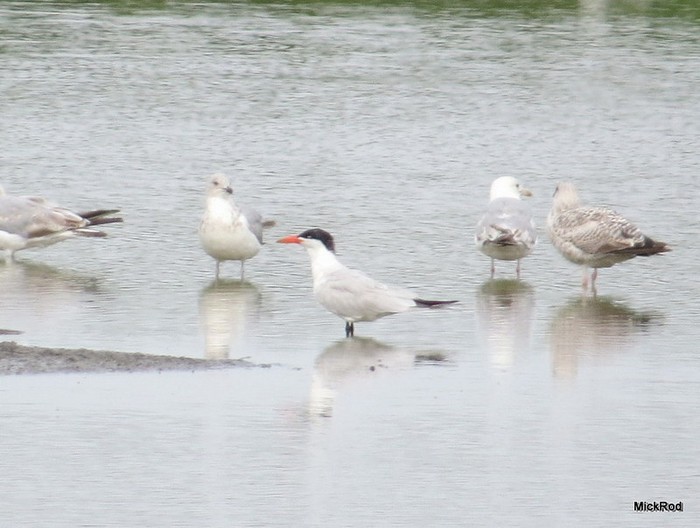 Another fine record this week was the moulting adult Whiskered Tern that flew south past Spurn's seawcthing hut, with Common Terns, on the evening of 4th. It looks as though it will be a "1st" for the Spurn recording area and is perhaps the first in East Yorkshire since an adult paid a visit to Tophill Low in June 2003. (There appears to be a report of one off Spurn from October 2011 but it has yet to appear on the official record).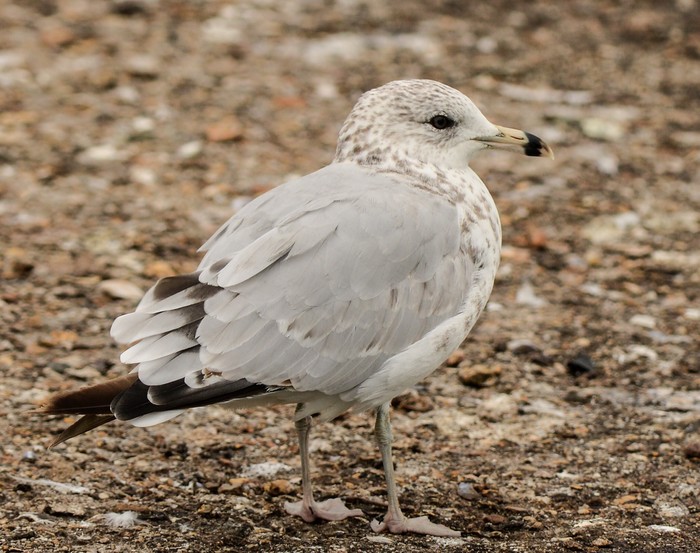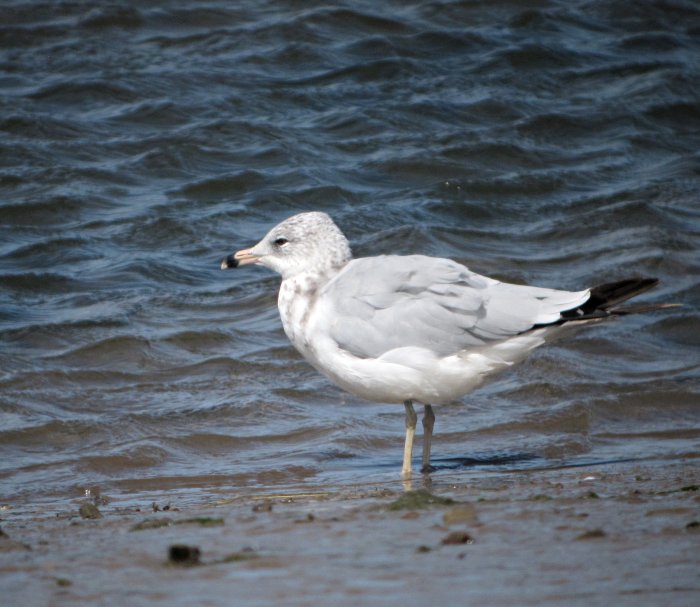 Still in no apparent hurry to vacate north Kent was the summering adult Bonaparte's Gull, still on Oare Marshes KWT until 4th. Other Nearctic larid news barely comes as a surprise - the almost second-winter Ring-billed Gulls remaining at the Tralee Bay Wetlands (Co. Kerry) and the Hayle Estuary (Cornwall) until 1st and 4th respectively. More surprising was the discovery of an approachable 1s-2w bird at Preston Dock (Lancashire) on 2nd-4th - this was the second record of the species for the site.
It appears to have been a blank week for Glaucous Gull this week and there were just two Iceland Gull to mention - a second-summer at the Isle of Whithorn harbour, in Dumfries & Galloway and a first-summer at Stromness, Mainland (Orkney), both seen on 3rd .

Rapidly approaching a month on site is the first-summer male Red-footed Falcon in Staffordshire, still being seen well around the Chatterley Whitfield Colliery through until 3rd.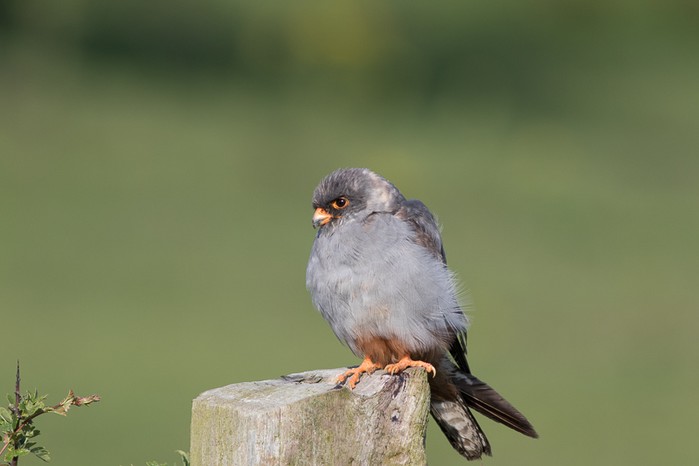 Three roaming Montagu's Harriers have been noted this week; a female was seen at Scotney (Kent) on 30th; a male was recorded at Breydon Water (Norfolk) on 2nd when another was at King's Fleet (Suffolk). A summering ringtail was again at Gibraltar Point NNR (Lincolnshire) on 31st-1st and again on 4th while three birds, including a fledged juvenile remained around Blacktoft Sands RSPB until the third of the new month.
Another juvenile is on the wing in East Anglia, in what seems to be a poor year for the species.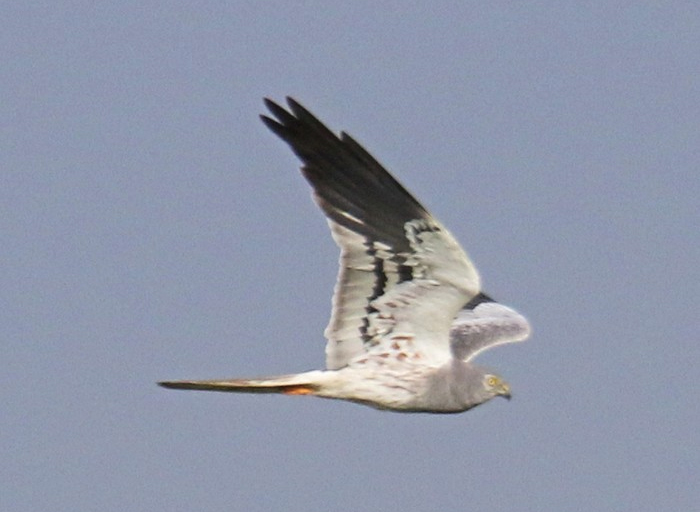 Seven Honey Buzzards have been mentioned this week - along with two birds still in the Wykeham Forest area of North Yorkshire, singles were reported from Pott Shrigley (Cheshire) and near Edinburgh on 29th, over the Raila Cafe, south of Kigussie (Highland) on 30th, Bough Beech Reservoir (Kent) on 3rd and St. Leonard's on Sea (East Sussex) on 4th.
In Suffolk, a Black Kite (of unknown origin...) continued to bounce around the Bawdsey area for a few days this week, seen on 29th and 31st. Whether this bird moved to Essex isn't known, but it could have accounted for the sighting near Colchester on 2nd and even the subsequent Suffolk occurence, near Wattisham Airfield on 3rd. The only other report came from Cornwall, where a Black Kite was reported over the Eden Project on 30th.
Norfolk birders don't generally expect the first rare autumn passerine to appear on July's final day but that was precisely what happened this week with the amazing news of a juvenile Melodious Warbler in the Tearoom Lupins out on Blakeney Point on 31st.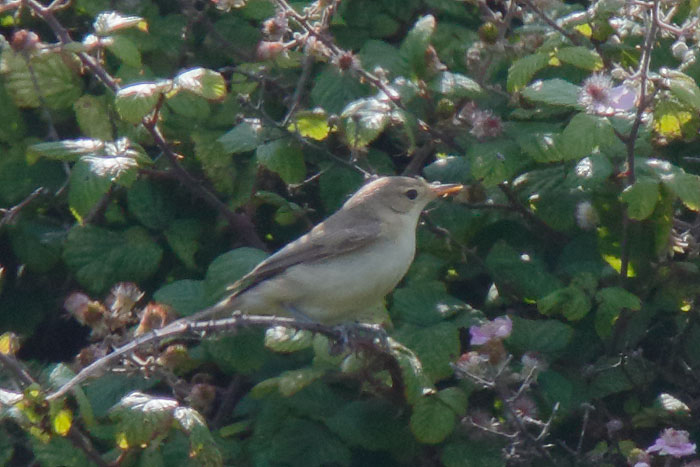 This remains a huge rarity in the county - up until the autumn of 2008 it was one of the "most wanted" birds for Norfolk listers and a species which no one could quite figure out as to why it was so damn rare within the county.
There had been just two records before the late 2000's - famously trapped and ringed within three months of each other at the old Cley observatory at Walsey Hills; the first was found on June 7th 1957 by Richard Richardson (who popped the bird in his garden aviary for local twitchers to view for a while later the same day) with the second coming on September 5th courtesy of ringer Barry Spence.
51 years and 19 days elapsed between Norfolk's first two Melodious Warblers and the well documented third, just east of the Marrams, also on Blakeney Point, on September 24th 2008 and this was followed just over three years later by an exceptional November record at Happisburgh (from 8th-10th) in 2011.
Almost four years on, Norfolk now has another; three birds in seven years feels about right for this particular species in the county. The two previous birds of '08 and '11 certainly proved popular for local birders but the turn out of a miserly seven birders on a glorious afternoon and evening on the Point this week almost seems a little disrespectful for this mellow-looking Melodious - still it didn't care a jot and showed wonderfully well at times for those who paid homage.
(There have actually been six Melodious Warblers in Norfolk - a well-watched bird seen around Blakeney Point's Plantation one September during the early 1990's divided opinion at the time - two sets of experienced observers arguing the toss and falling into two camps and certainly not seeing eye-to-eye as to the Hippolais' identity).
A further warblery surprise this week was the control of a French-ringed Marsh Warbler at Marsworth Reservoir (Hertfordshire) on 2nd - a singing male had been noted elsewhere in the county in June).
Fair Isle's Common Rosefinch reappeared again on 1st (after being seen in late July) while new there was the Rose-coloured Starling photographed by visitors to the North Raeva area on the same day. Across on the Outer Hebrides, the adult Rosy Pastor continued to visit the gardens of South Dell, on Lewis until 31st while the second newbie of the week was found in south Wales; present around Aberavon (Glamorgan) from 31st-4th - the first county record since a juvenile was seen in private gardens on the Gower Peninsula in October 2011.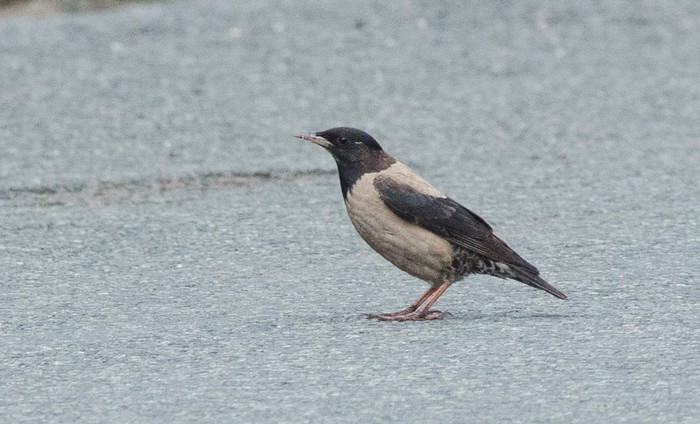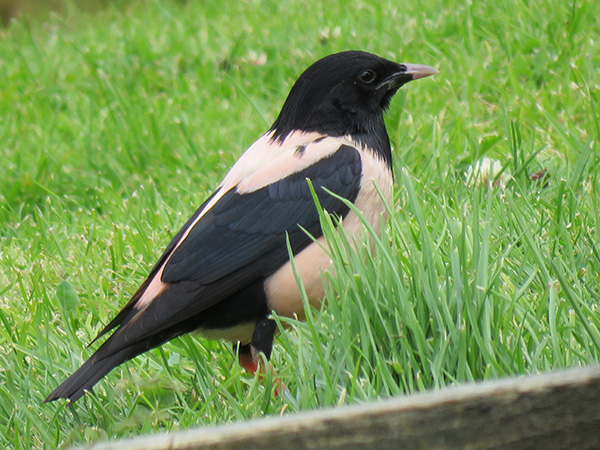 All three of the midsummer Red-backed Shrikes reported last week were seen to varying points of the past seven days - the single males remained on the Isle of May and in the New Forest until 29th, while the Oxfordshire female stayed to the south of Churn Hill until 1st.
A male Golden Oriole was another Norfolk surprise this week, seen briefly near the visitor centre on the afternoon of 29th and a female-type was reported near St. Austell (Cornwall) on 3rd. Suffolk managed a one-day male Serin at Landguard Point NR on 2nd (there have been upwards of five at the site this year).
Away from all the exciting Cumbrian news, a handful of roaming Bee-eaters were recorded elsewhere around the country this week. The 29th saw a solitary bird noted briefly at Dungeness RSPB and then on 31st, three Kent birds headed southwest over Hope Point. Two Bee-eaters spent half an hour around Gibraltar Point NNR on 1st while loners on 2nd were logged at Minsmere RSPB (Suffolk) and South Milton Ley (Devon).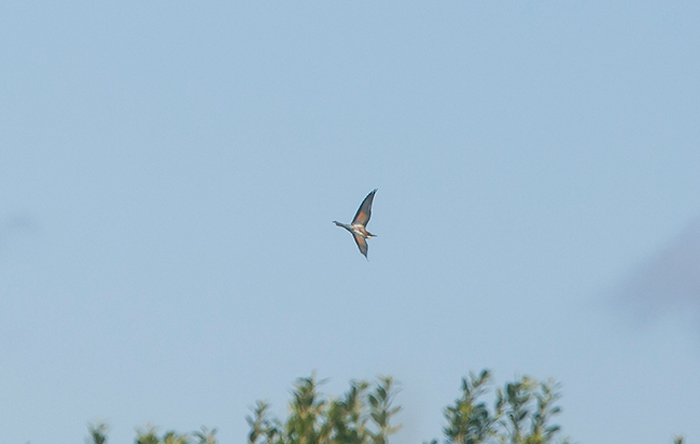 As usual, conditions depending, we're looking at shorebirds and seabirds in terms of what particular group/s could yield the odd surprise or two (maybe even an occasional mega) as the week ahead drifts along.
…and with surprises in mind, a look back through the record books for the days ahead is full of quirky oddments (and that occasional mega mentioned above too)…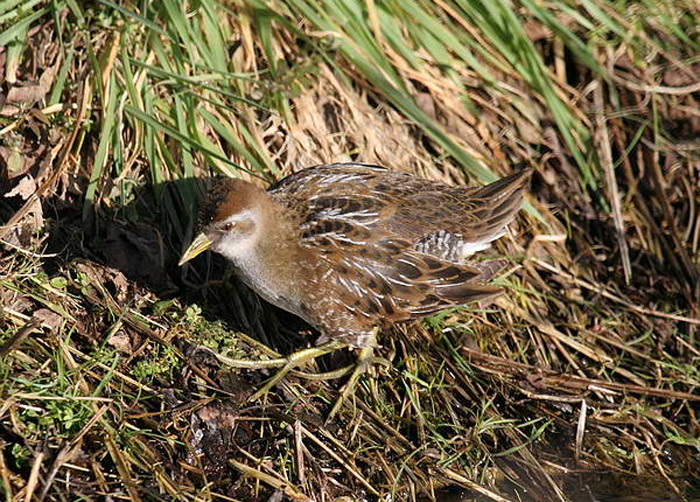 Starting on Bardsey, off the coast of north Wales, where August 5th 1981 brought in a remarkable adult female Sora - the 9th British record at the time and a bird that was just the 2nd in 39 years. Several twitchable birds have followed but the last accessible mainland bird was over nine years ago, at Gibraltar Point NNR in March 2006.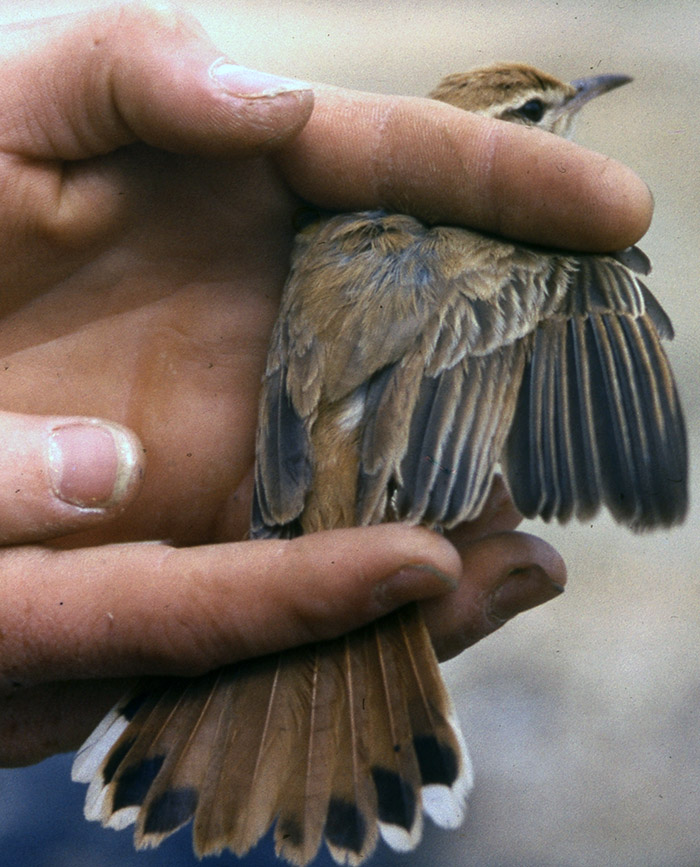 Two curios stand out for past August the 6th - in 1971 an Ivory Gull was seen near Bunowen Point (Co. Galway) while the same date in 2000 saw the remarkable appearance of a Chimney Swift heading south over Spurn (East Yorkshire) - the first of two for the site.
North Ronaldsay hosted a decidedly unseasonal male Pine Bunting on August 7th 1967 (which was only the 3rd for Britain at the time) while rarer still was the first British Eleonora's Falcon found in Lancashire, at Formby Point on August 8th 1977.
No doubting the stand-out rare of August 9th - the Prawle Point Rufous Bush Chat. This incredibly rare bird was the 9th record for Britain (Ireland has had two as well) but there's not been a single whiff of one since, 35 years on the clock and the likelihood of one appearing here seems as remote as ever; no wonder it remains one of Britain's birding "forgotten megas".
Four of the 11 records in all were pre-1900 and after a gap of 75 years, two were found in September 1951 - at Dungeness (a one-day individual) and then on Great Saltee Island for 13 days from September 22nd. The third record from the 50's was found at Gammon Head (a location that lies close to Prawle Point) in October 1959.
A twitched Rufous Bush Chat (the only one!) a trapped adult male, was seen in the grounds of Butlin's at Skegness from September 2nd-9th 1963 and Cape Clear claimed one on April 20th 1968. A two-day bird at Flamborugh was next, on October 5th-6th 1972 and then there was the eight year gap to the Prawle Point bird of local stalwart John Nicholls in 1980.
(If you should ever fancy your chances, the south coast of Devon is the only place to try - four records in all, all between Start Point and Prawle).
Back to where we were before turning up that fascinating avenue - august 10th has produced a somewhat surprising male Slate-coloured Junco at Ballygannon (Co. Wicklow) in 2000 (three days after that Spurn swift…) while August 11th rounds things off with Britain's fifth Spanish Sparrow - the much-twitched male on North Ronaldsay in 1993 - and our most recent accepted Eleonora's Falcon - the dark morph youngster seen over Porthgwarra on August 11th 2012, Britain's seventh in all.
A whole host of surprises then, but what on odds on any of the above appearing in the seven days ahead…long shots (or longer…) every single one, so perhaps the best idea is to suggest that the first Aquatic Warblers could make their way in to southwest England in the next week. And it still feels as though there's a Sharp-tailed Sandpiper just around the corner too.
Mark Golley
05 Aug 2015

Many thanks to all this week's contributors for their photos and videos.
Barrie Wilkinson, Paul Connaughton, John Holmes, David Aitken, Steve Valentine, David Aitken, Martin Standley, Peter Stanfield, Robert Folder, Dan Lombard, Joe Pender, David Lewis, John Tymon, Allan Conlin, Pete Hines, Paul Hindess, Andrew Last, Graham Catley, Holly Ruthven, Erich Hediger, Brett Spencer, Chris Small, Richard Stonier, James Packer, Mick Rodwell, Michael Turner, Adam Hartley, PJ Hampson, Simon Spavin, Steve Gantlett, National Trust Norfolk Coast, Mark Hipkin, Sam Hawkins, Martin Casemore, Dean Eades.