Weekly round-up: 08 - 14 Jul 2015
The week at a glance
Whaaaaaaaaaaat! Black-browed Albatross makes landfall at Minsmere!
Suffolk's double figure flock of Bee-eaters delights and disappoints in equal measure
In the northwest, Staffordshire's young male Red-footed Falcon proves to be a significant weekend draw
The Hudsonian Whimbrel goes a'roamin' around West Sussex
…unlike the pretty stationary Greater Yellowlegs in Hampshire
Deceased Cedar Waxwing found in Pembrokeshire
After all that hot and shiny stuff last week, there was a return to something all the more tolerable this week - a typically mixed bag of conditions on offer which saw some of the Scottish glens note temperatures hovering just above zero (!) coupled with much sunshine and showers almost everywhere.
The winds were generally from the southwest and didn't really offer much aside from a handful of seabirds in the far southwest…
…oh, and one other bit of pelagic plunder on the east coast. You may have heard about it already…
Black-browed Albatross
There's a super episode of Father Ted when a typically off-kilter discussion takes place in the Parochial House. The calendar has a sizeable red circle around a single day in July and Father's Crilly and McGuire try to work out just why it is so significant…
"Anyway, any idea why July the 19th should be so important? Would that be the day the Ice Age ended…?
"…I'll look it up in the diary. July 19th. "On this day, Galway liberated from Indians. "Marathon" becomes "Snickers". A-ha Ted! Ice Age ends".
This year, a week ahead of that particular date in comedic heaven, the history books will report "Greek economic crisis deepens"; "Djokovic wins Men's Singles at Wimbledon" and "Black-browed Albatross lands on small pool behind the scrapes at Minsmere"!
With cartoon eyes out on stalks and imaginary klaxons hooting a mighty ole hoot, the incredulity-omter peeked somewhere in the red and bumping off the scale as the news of an adult Black-browed Albatross amongst the Mute Swans behind Minsmere's South Pool sunk in and became a reality.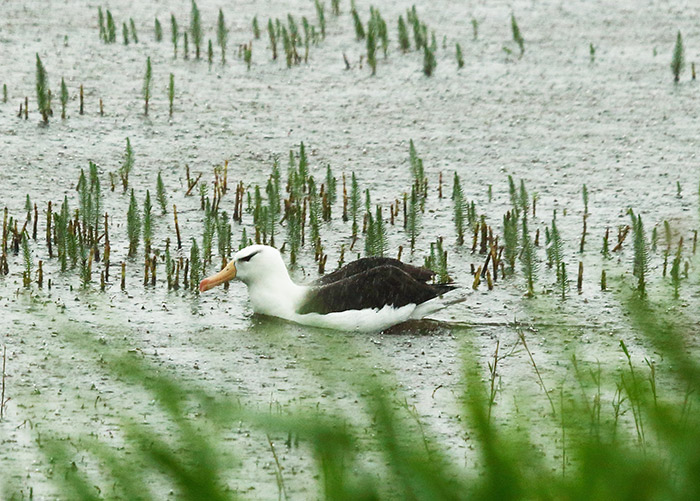 Downed in a heavy rain shower (as the stunning and utterly jaw-dropping image of Peter Hobbs confirms), this once-in-a-lifetime happening lasted just a handful of minutes, sometime around 4.40pm, before the bird composed itself, headed back out to sea and off to the south, lost to view somewhere around Sizewell.
Doubtless pretty much anyone reading this will have already marvelled at and enjoyed the drama through Peter's super account, if you've not had a chance yet, go and give it a read then smile at the amazing events that unfolded as tea and tiffin was being taken. Fabulous stuff!
Once formally submitted and accepted by the BBRC, this will become a county first record for Suffolk and one of just a handful of east coast sightings ever. Yorkshire is way ahead of anywhere else facing the North Sea - seven records in all, the first coming at Spurn in November 1965, the most recent being the adult that passed Flamborough Head on May 26th 2010.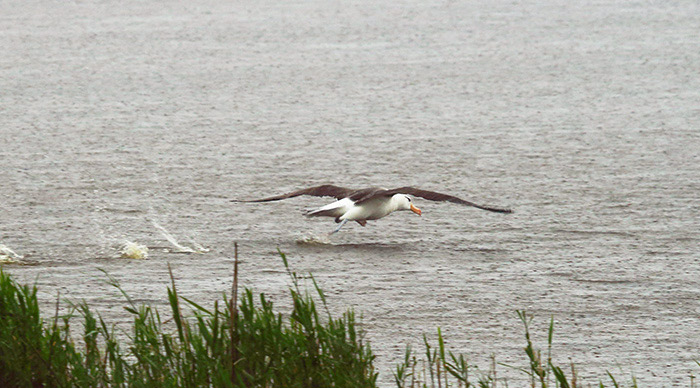 An earlier adult Black-browed Albatrossin the 2000's, seen off Spurn on September 22nd 2002 was also noted off Torness, in Lothian while further to the south, Norfolk boasts only two accepted records - off Mundesley on New Year's Eve 2002 and then from Sheringham on October 10th 2004.
Further south again, Kent offers up a single record, the well-watched uncertain age individual on May 4th 2001 - there may have been some in the county who'd have been hoping that the Minsmere bird was going to make a bee-line for the county this time around - but by close of play on 12th, there'd been no further sign.
This stunning record - one of the more remarkable of this year at least - just has to be the Black-browed Albatross that has loitered off the German coast, on Helgoland, where it has frequented the Gannet colony from time to time across the past two summers.
The bird first appeared there on May 28th 2014 and was seen, off and on, until June 13th. It then went wandering, with a sighting further along the German coast, at Cuxhaven, Niedersachsen on June 20th before appearing once more the following month - this time at Skagen, in Denmark, on July 17th-18th.
There are many similarities with this year's sightings - after an early return to the cliffs of Helgoland (on April 19th) the Albatross moved in to Danish waters twice in May and was seen infrequently around the German island through June, with the latest date mentioned being July 7th - what was assumed to be the same bird then made another sortie to the Danish coast, noted from Ribe, Syddanmark the following day.
Four days later, there it was on the Suffolk coast - funnily enough, many shrewd minds along the North Sea coasts had expected this bird to make a flypast at some point - just not at Minsmere on a warm, showery day backed by a muggy southwest wind.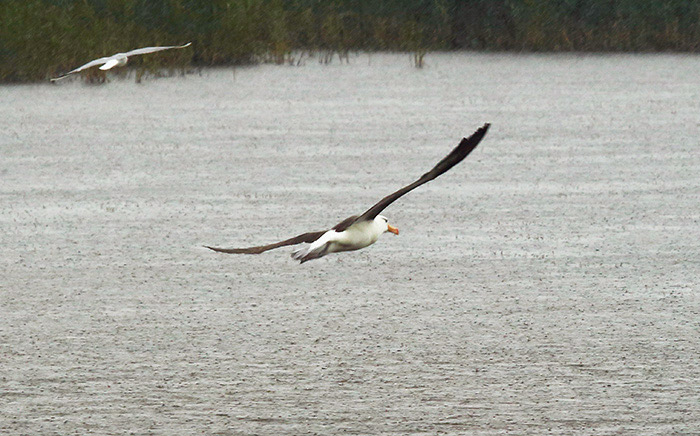 July has provided just four Black-browed Albatross records prior to this one - July 9th 1897 saw an exhausted sub-adult being picked up at Linton in Cambridgeshire; the famous "Albert" made a debut appearance on the rocks at Hermaness on July 21st 1972; the same bird was seen in sea-area Fair Isle on July 27th 1976 and the most recent occurrence was a fly-by first- or second-year bird heading past Porthgwarra on July 26th 2009.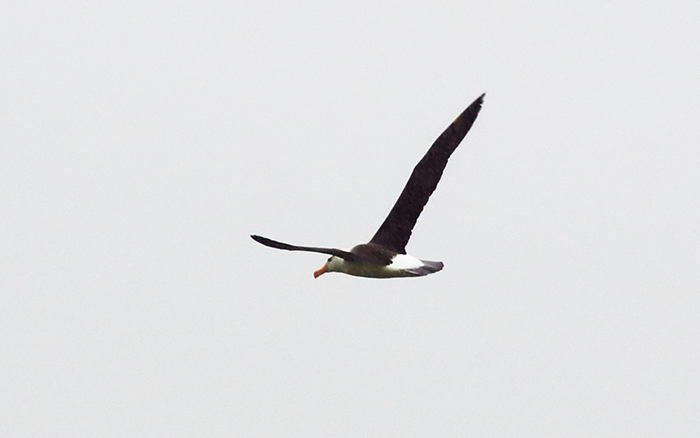 This week's amazing Minsmere Black-browed chose a handful of the local Mute Swans for a most temporary group of chums - compare that to the Messingham Yellow-nosed Albatross of July 2007 which decided that Greylag Geese were more to its liking…
…you never, ever know what may be lurking amongst two trash species that barely anyone hardly bothers with…
Bee-eaters
Before departing Suffolk, let's enjoy that flock of Bee-eaters once more.
What's not to love!?!
After their return to the trees of Theberton as last week's review drew to a close, they delighted dozens and dozens of birders by remaining in place early on 8th (departing sometime around 6.40am) but they obliged all comers with their reappearance in the same spot during the evening.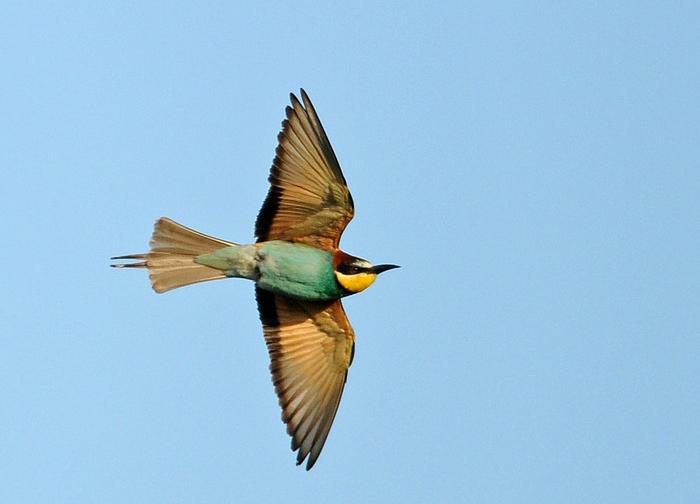 The Bee-eaters did a repeat performance on 9th, heading south in the early morning, returning by mid-evening and on 10th, the 10 birds departed the area for what appears to have been the final time - the flock appearing to splinter around Minsmere; four heading SSW over Eastbridge at the same time as at least five were on view at Whin Hill.
Elsewhere in Suffolk on 10th, single Bee-eaters were noted at Bucklesham and Alderton, records which seem to draw to a close this particularly colourful phase of birding in East Anglia. Who knows though, there may be another chapter to follow…
Red-footed Falcon
Making a rare appearance in the headlines is Red-footed Falcon but the popularity and obliging nature of the first-summer male in Staffordshire warrants a bump in the order in a week which, until all the Albatross carry-on, was looking like one of the quieter weeks of 2015.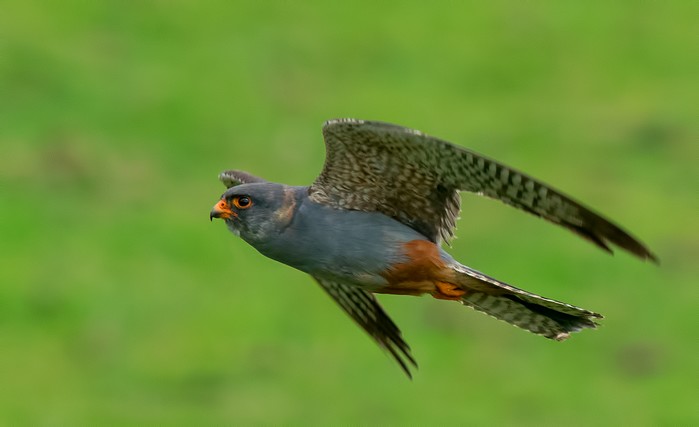 Found near the entrance to the Chatterley Whitfield Colliery, just north of Stoke-on-Trent on 9th (when it was identified from photographs), this often very showy "blue budgie" performed right the way across the weekend - drawing quite a crowd in to the bargain - and on in to the week, still showing well on 14th.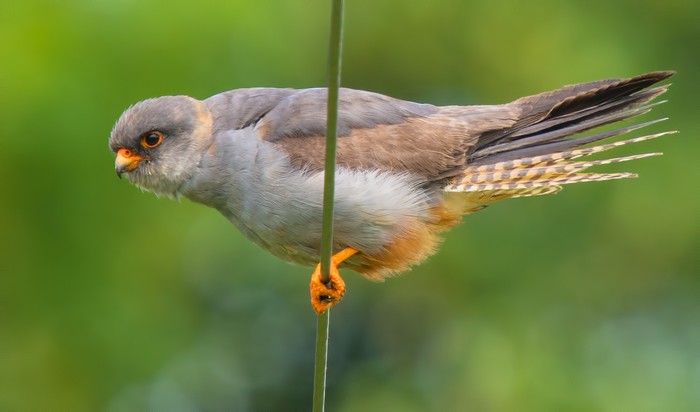 Sticking Red-foots have been a little thin on the ground this year - females in Dorset and West Sussex in May and June being the only stayers out of a dozen or so reports - so this funky second-calendar year bird was always going to draw a crowd, proving especially popular to local county listers - this appears to be only the 4th for Staffordshire and the first since a one-day female was present at Essington Quarry on July 25th 2002.

Hudsonian Whimbrel & Greater Yellowlegs
It seems as though the Hudsonian Whimbrel took a little jaunt to the SSW on the morning of 11th - noted passing by Selsey Bill, heading towards the Medmerry RSPB reserve at 8.40am - but it was back at Pagham later in the day (where it been seen daily, albeit intermittently, through until then). Is it getting fidgety? Is a departure on the cards? Time will tell and all that (but it was still there on 13th).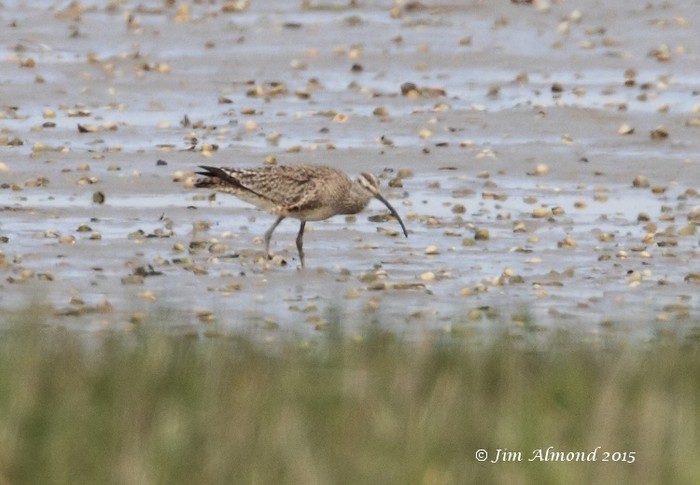 Also staying, pretty much, rooted to the spot, the Titchfield Haven Greater Yellowlegs - on site until 13th at least and still finding a few islandicas to keep it company. When they go, it'll go.
Probably.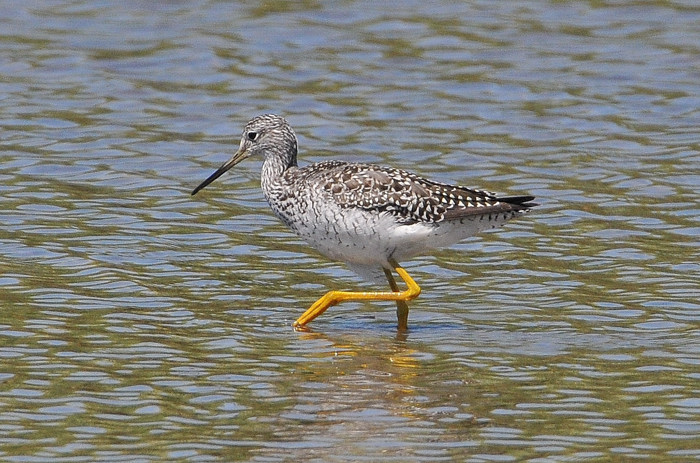 Cedar Waxwing
Not too long ago, only a week or so in fact, an article appeared which took a look back at the stellar spring of 2015. Within that reprise of three occasionally very hectic months was the following…
"When the BBRC Rarities Report detailing the cream of the crop from the School of 2015 appears in October next year, one set of figures will really stand out as exceptional within the fabled pages of British Birds".
"Cedar Waxwing Bombycilla cedrorum (0, 5, 3)"
"Three Cedar Waxwings!"
Strike all of that from the record!!!
Let's make that four (!) Cedar Waxwings as news has emerged this week of a (sadly) dead bird being discovered at Treginnis, near St. David's (Pembrokeshire) on June 27th (eight days after the Scilly bird popped up - again? - on St. Mary's).
The fresh remains of the corpse (it doesn't sound as if there was much left) were inspected and the primaries, some secondaries and undertail coverts were collected, along with rectrices. All seems to be well and truly above board.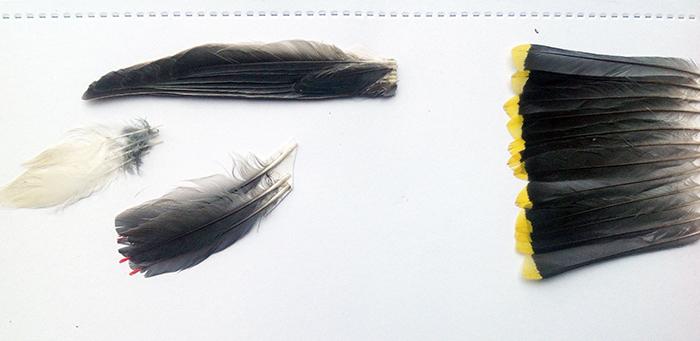 A first for Pembrokeshire then, a first for Wales too, this will become the ninth record for Britain and Ireland and, of course, the amazing fourth record for June 2015.
"Cedar Waxwing Bombycilla cedrorum (0, 5, 4)"
There. That's more like it.
Four Great Shearwaters were noted from three seawatching points up to the end of the weekend - on 8th, one headed by Pembrokeshire's Strumble Head; on 11th, one was noted from Cork's Galley Head while on 12th, two were seen passing Cornwall's Gwennap Head. The latter site then popped in seven morning birds and a further six or seven during the afternoon on a breezy 13th and same-day singles were seen off Scilly (on an evening pelagic) and also Carnsore Point (Co. Wexford). Seawatchers at PG rounded things off with two more Greats on 14th with an at-sea bird seen off Pothcurno too.
Also off Porthgwarra on 13th were at least three Cory's Shearwater and the previous day had seen another lone bird pass by, one of eight singles recorded this week. A second Cornish bird flew past Pendeen on 8th and the third and fourth were reported from Gorran Haven and Bass Point on 13th, while on the south Devon coast at least Cory's was noted in Thurlestone Bay, also on 13th. Three Irish counties got on the map too - one was off Mailn Head (Co. Donegal) on 8th; another was seen down the east coast, off Newcastle (Co. Wicklow) on 10th with another the following day offshore from Ballycotton (Co. Cork).
The breezy 12th saw eight Balearic Shearwaters fly past Porthgwarra and a dozen were seen from Prawle Point (Devon) the same day. Also on 12th, two birds were noted off Downderry (Cornwall) and another for Devon was at Dawlish Warren. Prior to these 23, the first record of the week saw one fly south past Whitburn (Co. Durham) on 10th. Post the weekend, Portland logged two more on 13th with one off Scilly the same evening and two were seen from Porthgwarra on 14th.
An adult Long-tailed Skua heading east over East Yorkshire's Hornsea Mere was something of a surprise on 8th, similarly the first-summer Long-tailed seen from Carnsore Point on 13th; less surprising (given the recent summer records) were the 22 Pomarine Skuas reported through the week.
The new week began with four Poms off Kilcummin Head (Co. Mayo) on 8th and was followed by three birds on 9th; a pale adult seen from Flamborough Head (East Yorkshire) and two off Hound Point (Lothian). Another duo were seen from the Cork coast, off Galley Head on 11th, while seawatchers at Porthgwarra recorded five birds on 12th, a date which also saw two noted from South Uist's Ardvule Point with a singleton off Portland Bill. The 13th managed further singles; seen from the Isle of May (Fife), Long Nab, Burniston (North Yorkshire), Flmborough Head (East Yorkshire) and Porthgwarra (Cornwall) and on 14th, an adult flew past the North Yorkshire coast, seen off Filey and two more were off Flamborough.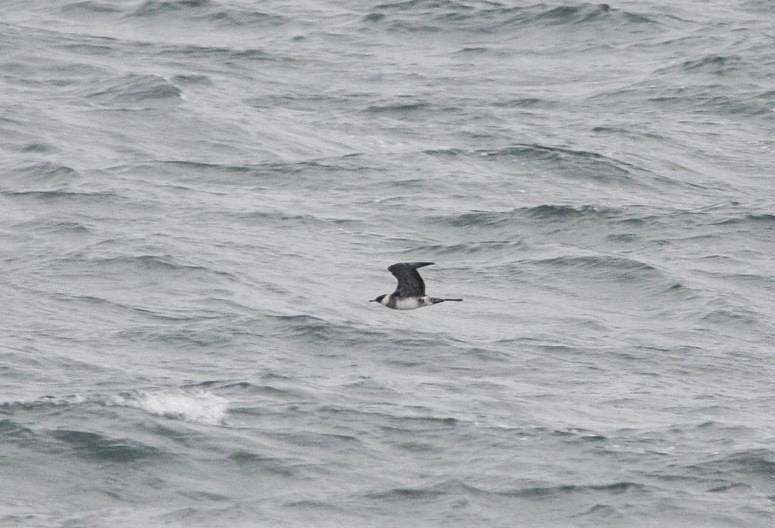 Finally, we're reaching that time of year when the whale cruises around Skye's Staffin Bay begin to pop in a few nice pelagic species and this week's first offering was a first-summer Sabine's Gull on 14th.
Making a hop across the White Rose counties this week was the male Little Bittern that moved from South to West Yorkshire during the course of the last seven days.
Starting the week still in place at Old Moor RSPB, this popular northern draw was seen a couple of times on 8th and once on 9th, with a blank being drawn on 10th. That may well have been because he was on the road again (as it were), heading a few miles to the northwest, alighting at Swillington Ings on the morning of 11th, where it showed well from time to time until 12th.
As was touched upon last week, the appearance of the bird at Old Moor was the first record for any of Yorkshire's counties for 30 years. This week's shift to West Yorkshire gave that county a first record in almost 39 years - the most recent Little Bittern record to date being a male at Horbury, near Wakefield in September, through to October, 1976.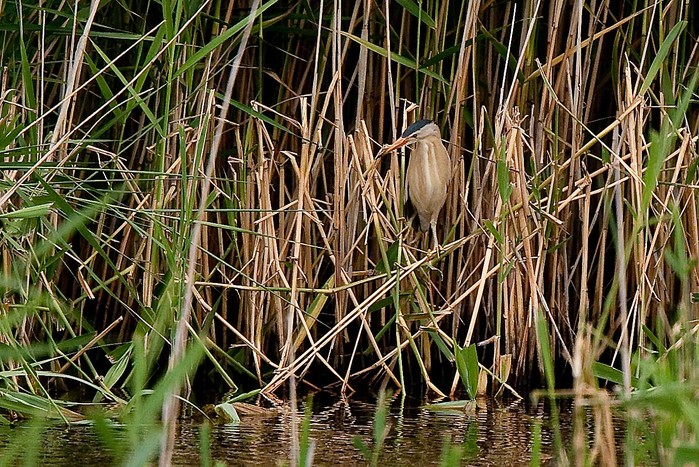 Then, after starting the week at Old Moor, the Little Bittern concluded the week back at the same site - found there again on the morning of 14th.
New this week in Suffolk was the first-summer Purple Heron seen between Falkenham and Felixstowe Ferry, along the River Deben, at King's Fleet on the afternoon of 14th.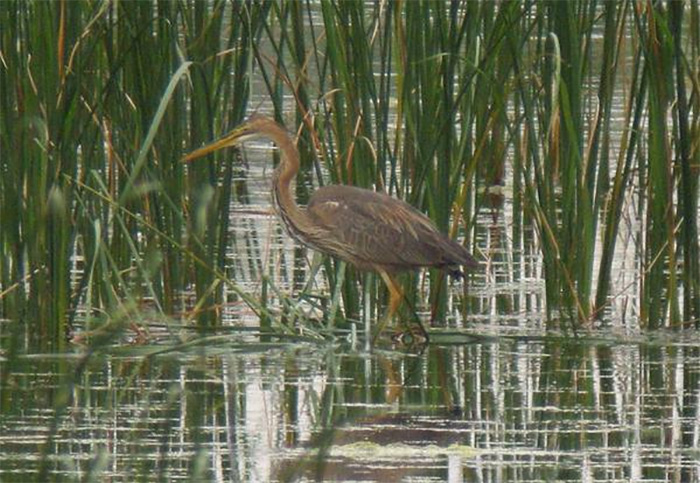 In Somerset, the adult Night Heron was seen again, in flight, over Ham Wall RSPB on 9th with a single Great White Egret there on 8th. That was one of 17 birds noted through the week, spread across eleven English counties, three Welsh ones and a single Irish county too.
In northwest England, singles were at Frodsham (Cheshire) on 11th and 14th and at Leighton Moss RSPB (Lancashire) through until 14th. The northeast managed a single bird at Saltholme Pools RSPB (Cleveland) on 13th while in the Midlands, one remained in Leicestershire, at Rutland Water to 12th, another was at Erlestoke (Wiltshire) on 13th a third single was seen near Derby County's Pride Park ground on 13th while three were seen heading over Ryall Pits (Worcestershire) on 11th.
In northwest England, singles were at Frodsham (Cheshire) on 11th and at Leighton Moss RSPB (Lancashire) through until 12th. The northeast managed a single bird at Saltholme Pools RSPB (Cleveland) on 13th while in the Midlands, one remained in Leicestershire, at Rutland Water to 12th, another was at Erlestoke (Wiltshire) on 13th a third single was seen near Derby County's Pride Park ground on 13th while three were seen heading over Ryall Pits (Worcestershire) on 11th.
Just one Great White Egret was in East Anglia, at Ouse Fen (Cambridgeshire) on 11th while four singles were logged in the southeast; at Bradwell-on-Sea (Essex) on 8th; at Northward Hill RSPB (Kent) on 9th; back for yet another spell at Blashford Lakes HWT (Hampshire) on 10th and on Dagenham Chase (London) on 11th.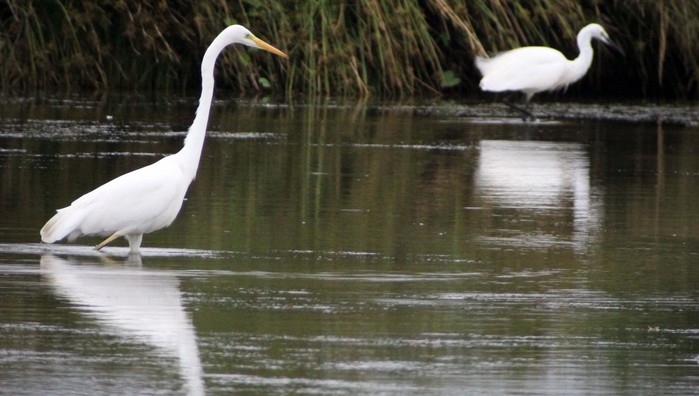 In Wales, three singles were noted through the past seven days - the juvenile at Kenfig (Glamorgan) remained in place until 11th and last week's bird at Llandegfedd Reservoir (Gwent) was present to 12th. New was one at Cemlyn Bay NWWT (Anglesey) on 10th and again on 11th. Ireland's sole representative came courtesy of one on the river near Enniscorthy (Co. Wexford) on 11th.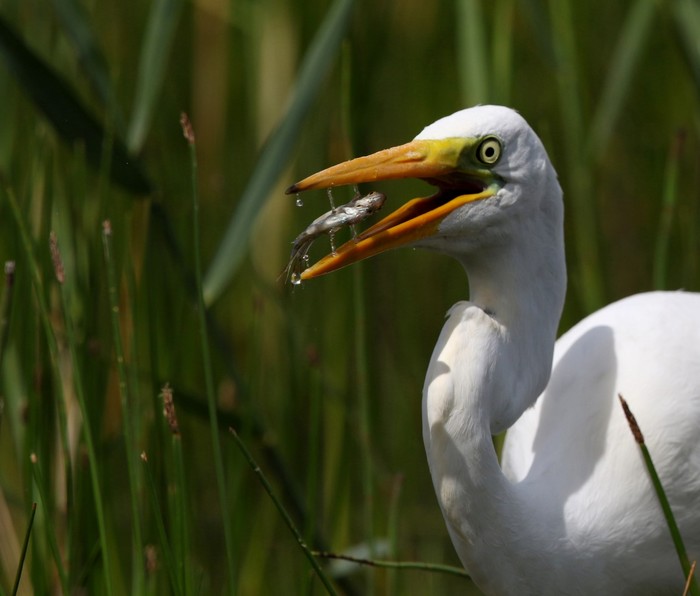 There was just one report of Glossy Ibis this week, coming from Southwold (Suffolk) on the morning of 12th, but with no subsequent sightings after that. A similar tale was to be had with the reported White Stork at Eastleigh (Hampshire) on 13th.
Up to 32 Spoonbills were seen along the north Norfolk coast during the morning of 9th - 16 were on Stiffkey Fen, 10 were at Cley and six were noted at Titchwell (though not all timings overlap). The latter site scored a maximum of 11 birds (on 8th) while Cley managed 12 (on 13th) with further coastal sites hosting birds included four at Brancaster Staithe (also on 8th) and at Burnham Norton (two present on 9th).
Elsewhere in East Anglia was a singleton that remained at Trimley Marshes SWT (Suffolk) to 11th while moving south, Kent hosted up to seven Spoonbills through the week - three were at Pegwell Bay on 8th-1tth, moving to Sandwich Bay on 13th, two were at Scotney to 10th and singles remained at Cliffe Pools RSPB and Oare Marshes. A quintet were seen at the Arne RSPB reserve in Dorset on 9th with the seven further birds noted this week in northeast England.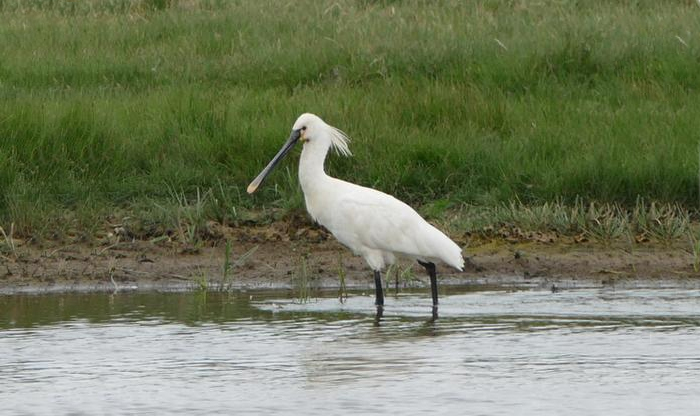 Four birds were at Gibraltar Point NNR (Lincolnshire) on 9th with lone birds at Kilnsea (East Yorkshire) and Cresswell Ponds and Druridge Pools (Northumberland) on 11th and in Cleveland, around the Saltholme and Dorman's Pool area on 12th. Further north, in Moray, two Spoonbills lingered in Findhorn Bay throughout week.
Over on Scilly, the summering sub-adult Common Crane was seen on St. Agnes on 8th, Annet the next day and St. Mary's on 14th with just two more seen through the week, at Hickling Broad NWT (Norfolk), also on 9th.
Staying in Norfolk, Titchwell scored a slightly surprising midsummer Spotted Crake on 12th - a site with an impressive record for the species. Wonder where its sprung from? Fenland Washes, further a field or even closer to home?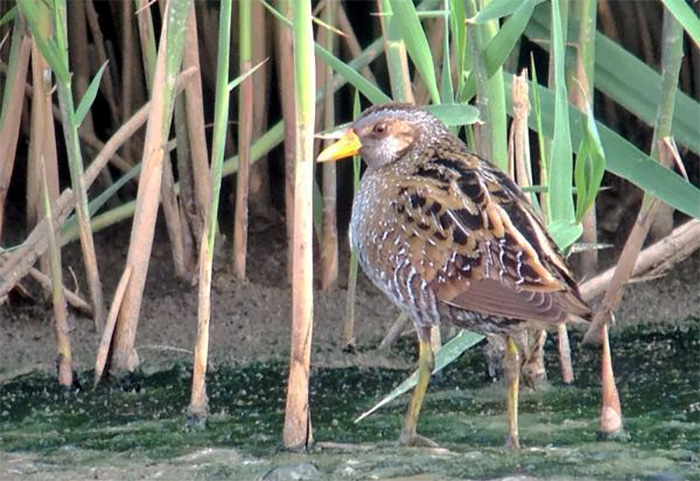 A week or more after the first murmurings were had off a presumed eclipse drake Lesser Scaup at Blagdon Lake (Somerset), the identification was confirmed on 13th as being precisely that for the first record this month.
It seems as though the Little Bittern wasn't the only rare bird making a move from Old Moor to another part of Yorkshire - after staying put until 8th, the subsequent negative news and sighting of an eclipse drake American Wigeon at North Cave Wetlands, in East Yorkshire, on the evening of 9th invited the inevitable thoughts of "same one". The long-staying female American Wigeon in Aberdeenshire, on Rigifa Pools, was noted once more too - seen again on 14th.
Making an early bid (along with the Blashford GWE) for earliest returning winter visitor was the drake Green-winged Teal that was found on Folly Pond, at Caerlaverock WWT (Dumfries & Galloway) on 10th (it, or another has returned for perhaps five years or more).
After a blank week or two, three separate Surf Scoters were seen around Scottish coasts through the past seven days - lone drakes were at Lunan Bay (Angus) on 9th and off Ballochroy, in the Sound of Gigha (Argyll & Bute) on 10th, while a first-summer drake was off Blackdog (Aberdeenshire) on 11th.
A male Red-necked Phalarope was seen again on North Ronaldsay (Orkney) on 10th and again on 12th while on the Scottish mainland, the Temminck's Stint was noted once more on the floods of Vane Farm RSPB (Perth & Kinross) on 11th. A new arrival was found at Rutland Water (Leicestershire) on 13th-14th.
In East Yorkshire, the adult White-rumped Sandpiper remained at Beacon Ponds, Spurn through to 11th while new Pectoral Sandpipers were found at Low Newton-by-the-sea (Northumberland) on 9th, at Caerlaverock WWT from 10th-11th and on Tiree (Argyll & Bute) on 10th.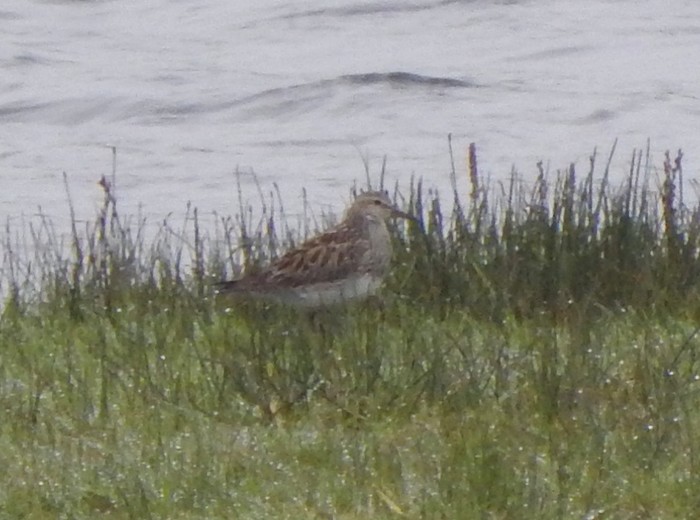 Down in Kent, a Black-winged Stilt was noted again at Cliffe Pools RSPB on 12th and 14th.
Finally, some interesting late Norfolk news emerged on the final day of the review, courtesy of British Birds flopping on to the doormat - turns out there'd been a super-looking Terek Sandpiper and it had spent a week in the Burnham Deepdale area of the north Norfolk coast, from June 25th-July 1st.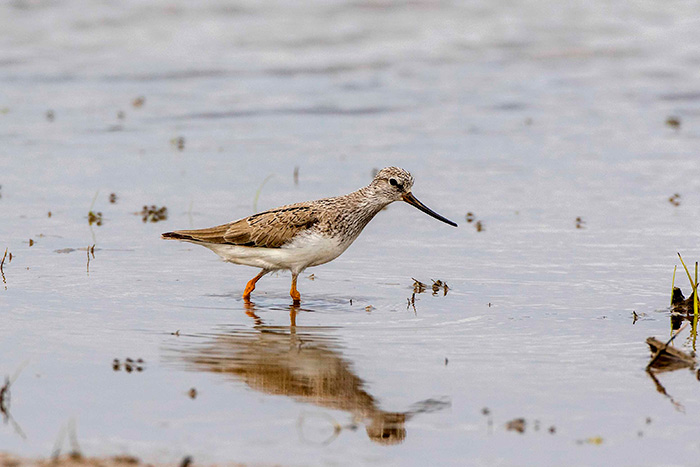 That's not the end of the tale though - a few days after departure#1, the Terek was back again, seen again between July 5th-7th (it was last noted there on the morning of the latter date). The reserve it chose to alight upon is a private site, apparently with Schedule 1 breeding species in the area, so the news was witheld.

This will become the 12th county record of this superb shorebird and the first for almost 14 years - Norfolk's most recent previous record being a lingering bird that spent up to 20 days at Snettisham RSPB from July 21st to August 9th 2001. Prior to that was an elusive two-day bird, also at Snettisham, in mid-July 1995 and that followed one in the Breydon and Berney area in June of the same year.
Four birds in two decades is a pretty slim return for a species that popped in eight records between the county's first, in June 1975 and the well-watched bird at Wissington Beet Factory in June 1991.
Norfolk recorded the 43rd Gull-billed Tern for the county during the late afternoon of 12th - an adult seen for a few minutes on Arnold's Marsh, Cley before heading off slowly to the west.
Despite the sizeable haul of this still tricky-to-connect-with species within the county, Norfolk has managed just three records since the turn of the 2000's - the surprising first-winter that spent November 16th-27th 2001 at Titchwell, a tracked adult that was seen at Kelling Water Meadow and then Thornham and Titchwell on May 18th 2011, a bird which was initailly seen by one of the two observers of this week's Cley bird.
A second Gull-billed Tern found on 12th was a rather better behaved individual - discovered in south Devon, at the Passage House Inn, along the River Teign during the early evening, remaining there through the next couple of days as well. The southwestern county has just a quarter of the number of records that Norfolk has (currently 11 acceptances in all) but this is the second of 2015 - this one follows on from an adult on the Exminster Marshes in late May.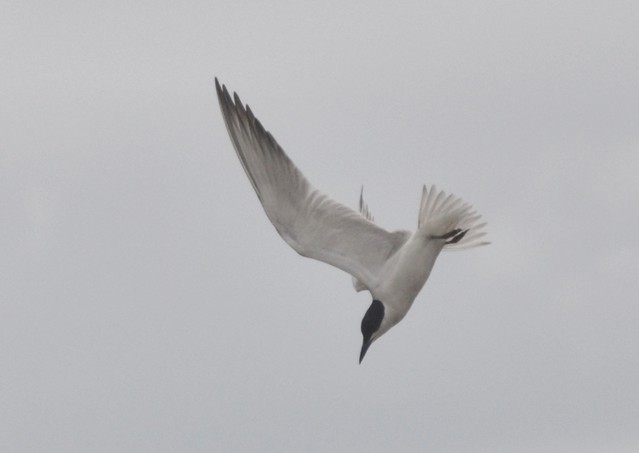 In Kent, the adult summer Bonaparte's Gull was noted at Oare Marshes NR on 8th, 12th and 14th, while the moulting first-summer Ring-billed Gulls in Kerry (seen at both Tralee and Fenit) and in Cornwall (on the Hayle Estuary) remained to 10th and 14th respectively.
Six single summering Glaucous Gulls were reported across the past week - a young bird was at Louisburgh (Co. Mayo) on 9th-10th, with another first-summer at Holm, Mainland (Orkney) on the former date. Last week's bird at Low Newton-by-the-sea (Northumberland) appeared again on 10th while on 11th, a second-summer was at the Brae of Achnahaird (Highland) and a third-summer was at Graemeshall, Mainland (Orkney) later in the week. The last of the big boys were seen on Tiree (Argyll & Bute) and Swillington Ings (West Yorkshire) on 13th.
Seven Iceland Gulls were much as last week's birds, with a couple of added extras. One was again at the Balranald RSPB reserve, North Uist (Outer Hebrides) on 11th; Tiree scored one at Traigh Bhi on 13th and another single lingered at Troon (Ayrshire) throughout the week, while two birds (a youngster and second-summer) were on the Lossie Estuary (Moray) on 12th. The final day of the week saw two birds noted around Orkney as well, at Birsay and Marwick Bay.
July 10th saw two separate sightings of Black Kite come along the Round-Up Way - one was seen heading north over Leiston (Suffolk) and the other was logged at Upton Towans, Hayle (Cornwall). Quite whether the Suffolk bird was the almost resident escape that spent months around Wrentham is anyone's guess - let's be generous and view the Leiston bird as new (and it has been almost two months since any mention of the escape...).
The female Montagu's Harrier seen last week at Wallington, near Baldock was last reported on 8th (after a stay of almost a month). The popular breeding pair at Blacktoft Sand RSPB (East Yorkshire) continued to be seen throughout the week - hopefully, there'll be youngsters on the go soon! The week concluded with another sighting of a Monts at Gibraltar Point on 14th.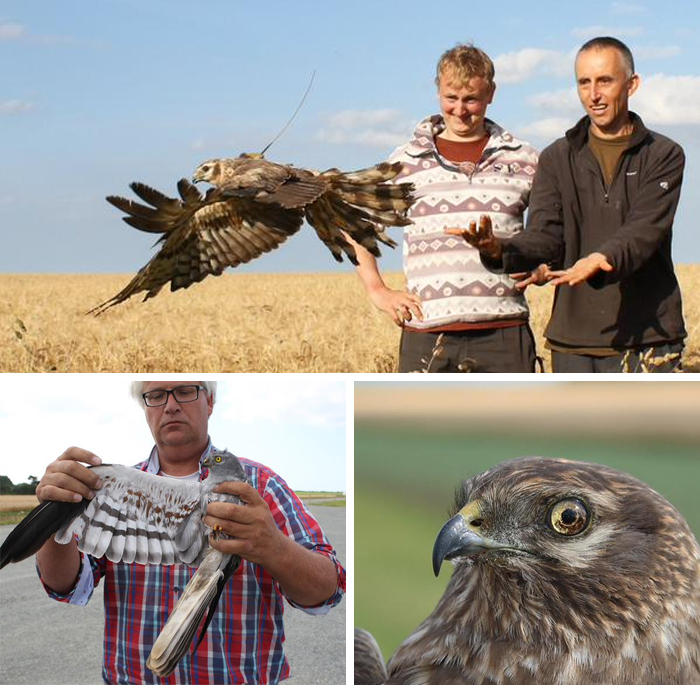 Making a welcome (confirmed) reappearance in the news were Honey Buzzards at the Swanton Novers Raptor Watchpoint (Norfolk) - after a report of one there on 6th, there was "1+" on 9th with as many as four reported from Swanton Novers church the following day. The weekend brought the inevitable crowd, many of whom saw one across 11th-12th (and again on 14th) - and it appears that at least one may have been in the area since sometime in late June.
Prior to Albatross Day, the most impressive flying machine on view at Minsmere (Bee-eaters aside!) was the lingering Honey B that remaiend from last week to 8th. Keeping the Suffolk bee and wasp munching link going, the Theberton Bee-eater watchers saw a Honey Buzzard head over them on 9th. A nice combo for sure! One final bird in the same general area was noted over Westleton on 11th.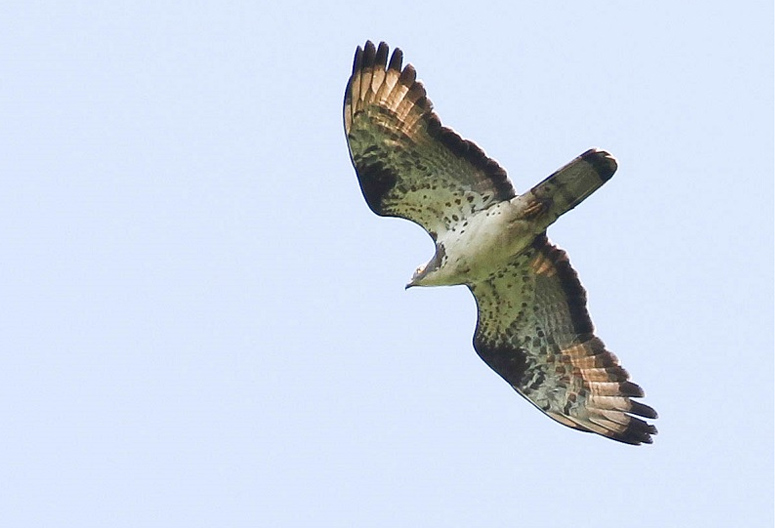 Out of East Anglia, a male HB flew over Daventry Resrvoir (Northamptonshire) on 10th, with another county bird reported over Corby on 12th. Also registering two singles this week was Kent; at Folkestone on 10th and Littlebourne on 11th. The remaining records this week came from the traditional sites of the Wykeham Forest (North Yorkshire) - a displaying bird there on 11th - and at Welbeck Park (Nottinghamshire) on 12th.
Almost as unlikely as a July Albatross on the Minsmere reserve was the appearance of a particularly striking hoary-looking redpoll on Whalsay (Shetland) this week - found and photographed on 11th in the garden of my erstwhile colleague Jon Dunn - the dinky frosty wee beastie appears to be a fine looking Coues's Arctic Redpoll.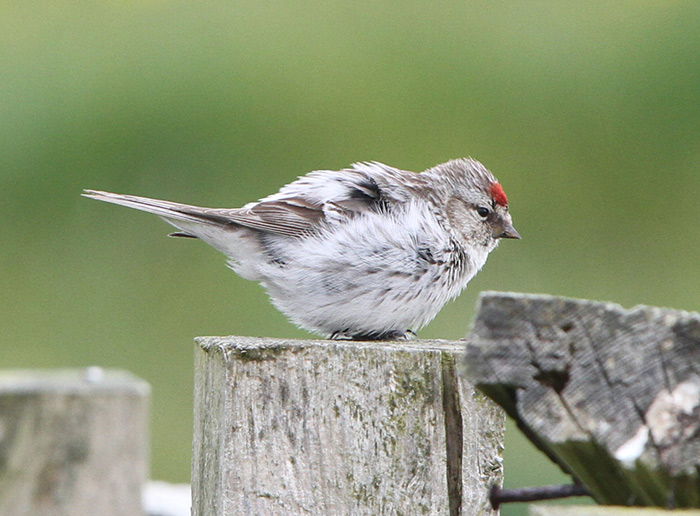 The vagries of Redpoll identification are famously complex - but this bird seems to show a decent number of the required suite of characters for the vagrant species. Minimal undertail streak works fine for a Coues's. Ditto what was confirmed by Jon as a clean white rump patch. Ditto the pencil fine streaks on the flanks. Ditto the lovely squidgy-looking face and smallish bill. Ditto the lovely pallid silvery-grey and white plumage tones. It just looks the part...
However. Flies in the ointment can come from both Scandinaiva (we know just how close to each other both exilipes and flammea can sometimes be) and also from Iceland (where their pale-end "Northwestern" redpolls can also have an uncanny resemblance to a Coues's Arctic Redpoll). The lack of familiarity with summer birds and their respective appearances certainly throws up potential issues too.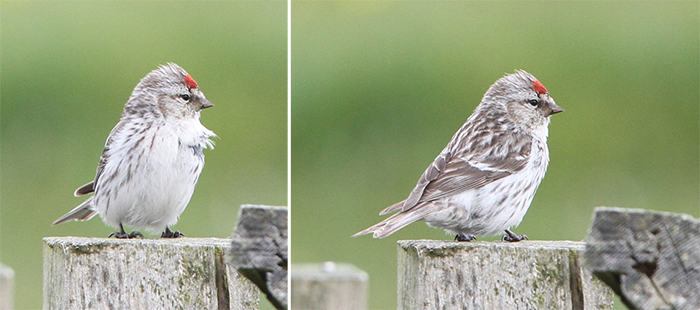 Arctic Redpolls (in a Coues's styleeee) haven't been adjudicated upon by the Rarities Committee for 10 years now (they saw what was coming…) but out of the 600+ accepted records up until 2005, only three were noted in July - in 1965, one spent July 13th-25th on Foula; another was trapped on the Isle of May (Fife) on July 12th 1982 and on July 4th 2000, one was found on the Oil installation Buchan Alpha in sea area Forties.
With all the headaches thrown up by Mealy Redpoll, "Icelandic" Northwestern Redpoll and Coues's Arctic Redpoll the much talked about, much anticipated lump almost seems like the best option. After that, it's just a question of splitting the powder-puff beauty that is hornemanni and the giant, swarthy rostrata.
Interestingly, a second "white" redpoll was seen at Burravoe, on Yell on 11th - that bird was thought most likely to have been a Hornemann's Arctic Redpoll).
Could someone pass the Ibuprofen please.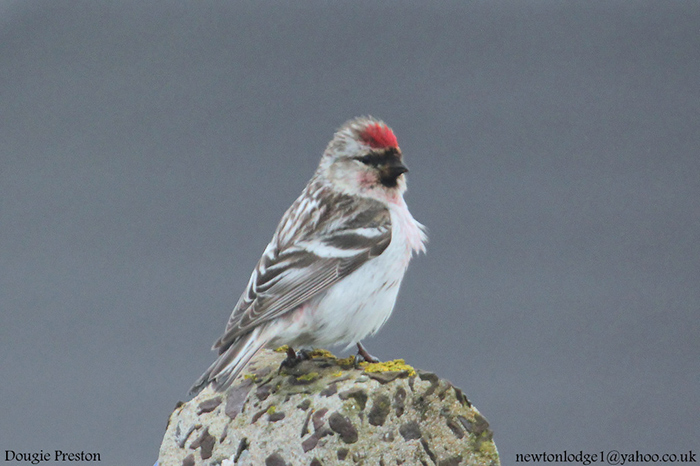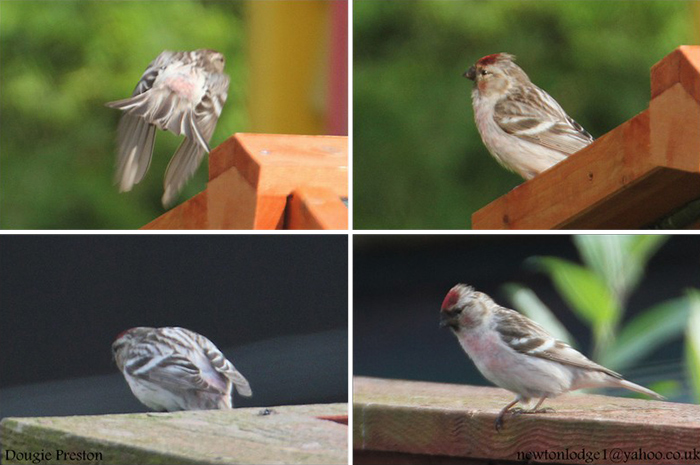 Also on Shetland this week, the Red-rumped Swallow reappeared in Lerwick on 9th (coming a week after the first and only other sighting, in the very same place) where it was seen again on 10th and 12th-13th too. Spurn clocked up another rare swift in July this week - it really is the place to look for unusual aerial feeders - an Alpine Swift flying south there on 8th.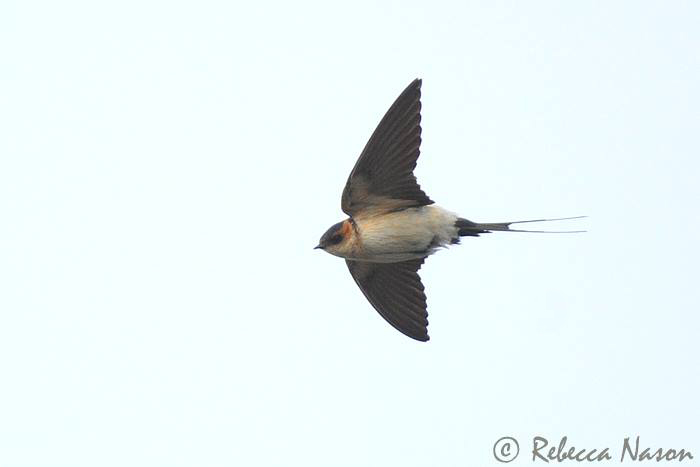 Away from the Suffolk headliners, further Bee-eater records were noted as follows; on 9th one was seen at Beachy Head (West Sussex) for a few morning hours, another was heard at Durlston CP (Dorset) and two were at Ellesmere Point (Cheshire). A further two birds were over Portland (Dorset) on 10th and the same day offered up at least three at Kent's Sandwich Bay.
Almost as popular as the ole Merops are the ole Upupa and there was one of those on offer this week - a Hoopoe seen over Longham Lakes (Dorset) on 9th.
The singing Melodious Warbler in the West Midlands appeared to be getting a little disheartened by all his efforts coming to nothing - present to 9th, there was a blank day on 10th before a reappearance the morning of 11th. More negative news came along on the afternoon of the same day and there's been nothing since.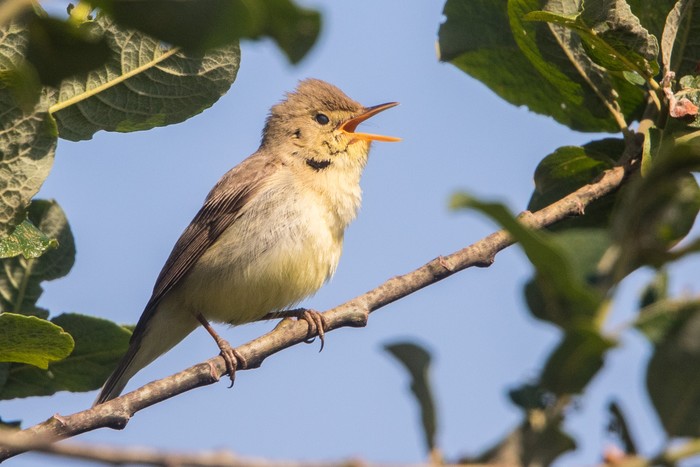 A male Red-backed Shrike in the hedges around South Huish Marsh (Devon) on 9th was an interesting summer record while a little more expected was the continuing presence of the adult Rose-coloured Starling on the Outer Hebrides, still at Garrabost, Lewis until 8th.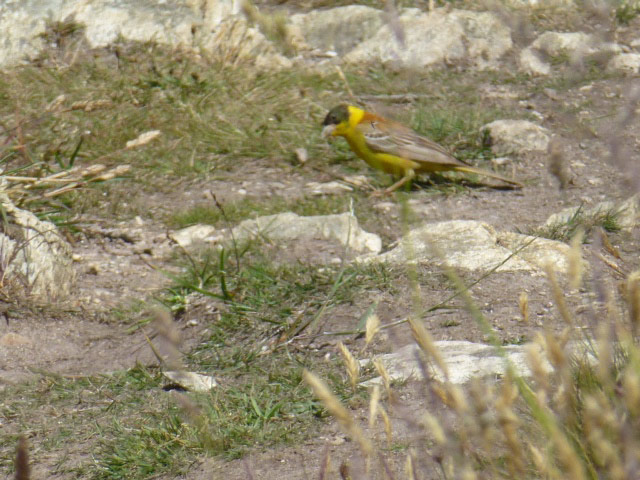 We'll conclude with some late news from west Wales, where coastal walkers at St. Justinian in Pembrokeshire saw (and photographed) a fine looking male Black-headed Bunting on June 29th - a bird that should be the third male in the county just three weeks. The first male was noted on Skomer on June 7th and one was then photographed in a garden at Saundersfoot on June 10th.
Prior to this remarkable little run, Pembrokeshire had seen 11 Black-headed Bunting records accepted (a figure that doesn't include last May's Skomer female), only three of which (until the last 12 months) occurred in the 2000's.
There's not much weather on the horizon to suggest much will change in the days ahead - so pretty much all of last week's rubbish predictions can hang over for another week!
It still feels as though one morning there'll be a Mega Alert relaying bleary-eyed news of a trapped Swinhoe's Storm-petrel on Fair Isle (or anywhere else for that matter) while someone, somewhere will see a Fea's Petrel anytime, especially if the conditions suit the far southwest of England and Ireland.
The shorebird radar still feels good for Mongolian Sand Plover (or if Pete Allard and co fancy obliging me with a returning Norfolk Great Knot, I'd be most grateful…).
Another Lesser Crested Tern feels overdue - its 10 years this week since the last LCT was seen here - the roaming adult that was found at Cromer on July 16th 2005 and subsequently wandered the Norfolk coastline through until 20th before relocating to Minsmere and Bawdsey in the following two days.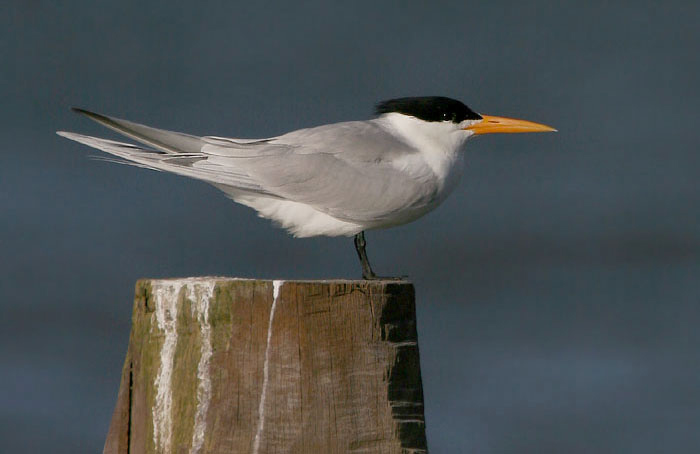 …and there's been a handful of Bridled Terns historically through the week ahead and an Elegant Tern too. Remember them?
The same rules from last week apply to Lesser Grey Shrike and Roller - two classic midsummer vagrants - and we do, of course, remain in the firing line for Blue-cheeked Bee-eater - Kent's 1st record coming to Church Hougham on July 18th 1989.
Put it in the review enough times and, y'know, it may actually come to be at some point in the next two weeks or so…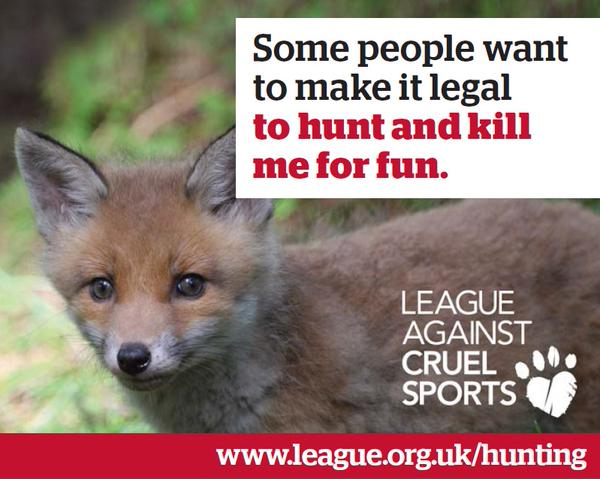 Finally, it's heartening to see SNP, Labour, Lib-Dem and rebel Tory Members of Parliament ignore the cruel, blood-lust wishes of those within the appalling Cameron fiefdom and see the postponement of the vote to repel the Hunting Ban. Long may the ban continue - Nicola Sturgeon in particular deserves huge credit for ensuring that the Tory plans were destabilised.
This is not the end though - simply put we must keep the ban…
Mark Golley
15 Jul 2015

Thanks this week to David Hosking, Roger Riddington, Jon Dunn, Mike Young-Powell &
Pembs Birds
, Chris Orgill, Many thanks to all this week's contributors for their photos and videos.
Peter Hobbs, Jon Evans, John Tymon, Jim Almond, David Mercer, Martin Cade / Portland Bird Observatory, John Kemp, Chris Downes, Ian Porter, Jerry Bart, Jeffrey Slocombe, Marcus Nash, Eddie Myers, John Bowler, Simon Thrugood, David Boult, Mark Thomas, Alan Lewis, Jon Dunn, Dougie Preston, Rebecca Nason, Paul Ward, Colin Williams, Kit Day.