Weekly round-up: 10 - 16 Jun 2015
At a glance
Singing male Cretzschmar's Bunting gives folk the run-around on Bardsey - but he settles down, eventually…
A Cedar Waxwing pops up on Tiree -then belated news of another in Clare at the start of the month…
…while on Shetland, the spring's second Swainson's Thrush arrives on Fetlar and Skokholm's bird hangs on in to the new week too
The third Slate-coloured Junco of spring reported from the far west of Cornwall…
Corking male Eastern Black-eared Wheatear becomes a Saturday treat in Hampshire
The West Sussex Hudsonian Whimbrel sticks it out to the end of the weekend and beyond
…and the summering Greater Yellowlegs remains on Hampshire's coast
Topsy-turvy weather once more this week people - weather that has lead to a brilliantly diverse and equally topsy-turvy blend of the scarce, rare and rather mega avian adventurers hitting our shores.
Sunshine and increasing temperatures were the order of the day as the early days of the week progressed. Increasingly humid air was drawn in to many areas by Friday, with some east coast locations bearing significant fruit from the muggy, dank and eastern-tinged winds (coming off a nigh-on perfect pressure chart).
It got warmer and warmer, and stickier than the gooey-ist, most unctuous of Toffee Puddings prior to the weekend - 26's and 27's logged on the thermometer and, as the warm air clashed with cooler northerlies, the thunderstorms and heavy bursts of rain that followed were nailed on certainties. The close of the weekend saw a brisk North wind strike up in some parts of the North Sea before the millibars rose again as high pressure returned, bringing more midsummer warmth as the week drew to a close for may areas.
As for the birds…I said topsy-turvy didn't I…oh, yeah, it was topsy-turvy alright as the unpredictable beast of a spring rampaged on. And on. And on.
Settling down at the computer on a rare day off, the beautiful sun-bathed churchyard of Cley outside the window, the June morning of Wednesday 10th was one set aside for a catch-up on emails and a bit of this & that before heading out to the see what was "out the back".
The perfect accompaniment to the flurry of emails opening and replying, given the weather, was a retro-blast from the finest band to step foot out of Derry - the punk-pop euphoria given to us by The Undertones. As each joyful surge of 70's and 80's pitch-perfect tunes came and went in a dizzying blur it seemed as if the Mega Alert had got in the act too - a bleeping accompaniment to the best singles of the era.
…and with around 1'44 on the clock for the total duration of the sublime "Here Comes The Summer" it also felt (as it turned out) that the two outstanding rares found within such a short space of that Wednesday morning were also on a similarly brief Undertones-style rush, such was the brevity of their duel sightings.
Cretzschmar's Bunting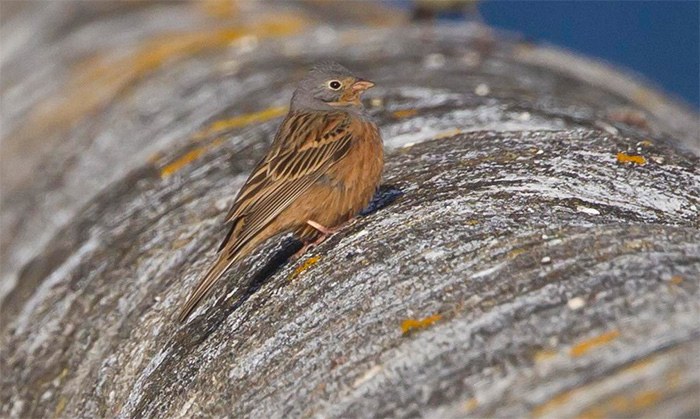 June 10th 1967.
June 10th 1979.
June 10th 2015.
The same date, spread across 48 years is, once again, the date for viewing the nerve-jangling Cretzschmar's Bunting. The first two dates in the select triumvirate of days above came from Fair Isle - Britain's first found there on June 10th, Britain's second (found on June 9th) was still in place on June 10th - and now Britain's sixth Cretzschmar's has come along to another island, but this time in an altogether different location - Gwynedd's stunning Bardsey Island being the chosen location, finally breaking the Northern Isles stranglehold on records of this extreme mega to boot.
Given the absolute and total immediacy that comes hand-in-hand with social media and modern technology these days, pretty much everyone knows the deal with this week's stunning male (they've all been stunning males…all six of 'em) - but here's a brief summary…
The Cretzschmar's Bunting was seen, for the briefest of spells on the island just before midday on 10th and, despite due diligence being employed around the island in further searches throughout the day and on in to the next day too, it seemed as though that was that - no more sign was to be had on the (roughly) mile long (roughly) half a mile wide island lying off the end of the Llyn Peninsula.
All that changed on the morning of 12th - around lunchtime, he was found around the south end of the island and then, quicker than you could go through "You Got My Number" in your head, it seemed to have vanished once more…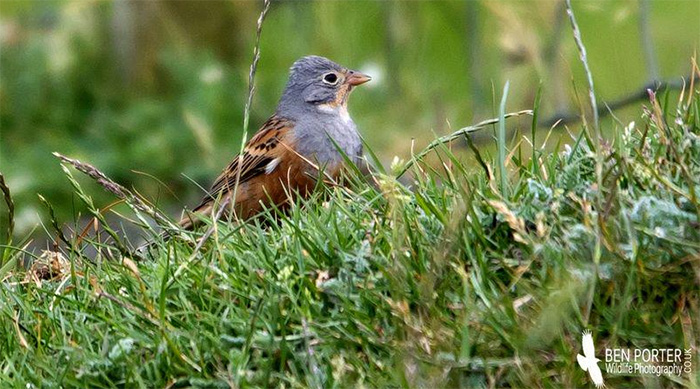 As the gnashing of teeth grew ever louder as waves of negative news followed throughout the remainder of 12th, rolling on in to 13th too. Two more whole blank days. It looked like his time was up and departure seemed the most likely option.
Nah.
Mr Cretzschmar was clearly just toying with the listing community for, bold as brass, up he popped again on the morning of 14th, this time around the lighthouse compound, and this is where he finally gave himself up - showing for much of the rest of the day to everyone who made it on to the boat that ferried birders back and forth throughout the afternoon. With some tasty seed in the area by way of recompense for being dragged away from where he wanted to be, the Bunting was rooted to the spot (albeit temporarily) through 15th and 16th too - all crossings full before you could say "wakey, wakey" - Early Birds 1 Lazy Bones 0…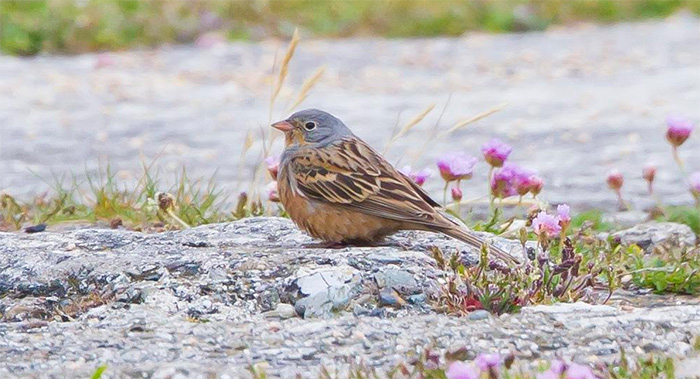 There's a whole lot of words that could be written about the pleasing, civilised proceedings of the dark and dusky small hours of 16th - the pretty twinkle of new arrival's head-torches, flickering like halogen-bulbed fire-flies at a summer festival; sleeping in a tractor, with the beautifully eerie songs of Manx Shearwaters accompanying the lapping waves - the idyllic crepuscular serenade disturbed only by assorted bursts of fulsome expectorating, volcanic snoring and audible flatulence from the birders attempting to grab some shut-eye on the pebbles or underneath the boats - but all of that can keep a while….
The five previous records of this mega bunting have split themselves 3:2 between Shetland and Orkney - more accurately it is, of course, a split between Fair Isle and Orkney, such is the small Shetland island's hold on the species.
In addition to the two Fair Isle records of yore, both mentioned at the start of this bimble through Cretzschmar's World there was Deryk Shaw's amazing late April find near his croft at Burkle last year (a bird that ended up staying six days in all). Orkney managed a rather elusive five-day male on Stronsay in May 1998 and also the only autumn record to date, the much admired first-winter male on North Ronaldsay in September 2008.
The Bardsey Bird Obs staff kept everyone well informed about the birds comings and goings and posted photos on their Twitter feed of the twitch. Judging by comments on social media everyone seemed delighted with the experience...
@bardseyobs .A BIG THANKS for all you have done so people can see this STUNNING CRETZSCHMAR'S BUNTING.Lovely island will be back.

— Dave Johnson (@DaveJohnsonLPP) June 16, 2015
Cretzschmar's Bunting showed perfectly this AM- thanks too the Guys on Bardsey for organising etc, got a soft spot for the Island.

— George Kinnard (@George_Kinnard) June 15, 2015
A 10hr wait for a boat to Bardsey all worth while with crippling views of Cretzschmar's Bunting at 6.45pm

— A Allen (@coopbirder) June 15, 2015
And some were taking no chances with their place on the boat...
For those who long to see this wanderer from the far eastern Mediterranean and for whom island twitching doesn't suit, there's half a chance that one will make it to mainland eventually and the fact that half of all records recorded here have come in the last seven years is a reason for no little optimism…
In the meantime, it's a heartfelt thanks to warden Steve Stansfield and his team of assistants on the magnificent Bardsey who handled the island's first major twitch with rigorous aplomb - well marshalled and well organised, despite having their regular BBFO duties to perform too. They worked hard to relocate the bird in the first place and the staff and boatman Colin Evans worked their doo-dahs off to make the twitch work.
A beautiful bird, a beautiful very rare bird, in a truly beautiful location on an island that is startling and quietly inspiring in its wonderful rugged glory.
To the departed Lou Reed - this is what a "Perfect Day" can be...
Cedar Waxwing
At the start of June, we touched upon the intriguing report from Scilly of a non-birder giving a passable account of what sounded rather like a Cedar Waxwing. Reminders were made of the first British bird being a June one too and with a strong supporting cast elsewhere it felt, for all the world, like there really might have been "something in it".
Despite no further joy on St. Mary's a fortnight ago, there was no end of joy coming forth on Tiree on the morning of 10th - seen briefly at around 9am at Scarinish, the main village hub on the island. Remarkably, this is the second record on the island in the last 20 months or so - the most recent accepted record on the books was in a private garden at Vaul, just a few miles from Scarinish, between September 21st-29th 2013.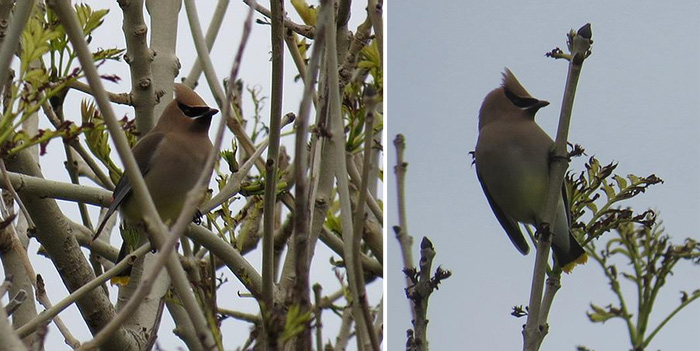 …then, as if seemed as though this somewhat autumnal feeling spell of truly top-class Nearctic vagrants couldn't get any better, news emerged from County Clare of a second Cedar Waxwing - a two day bird seen southeast of Kilmer, near the Vandeleur Walled Garden on June 3rd-4th (just a day after that unconfirmed report from Scilly…).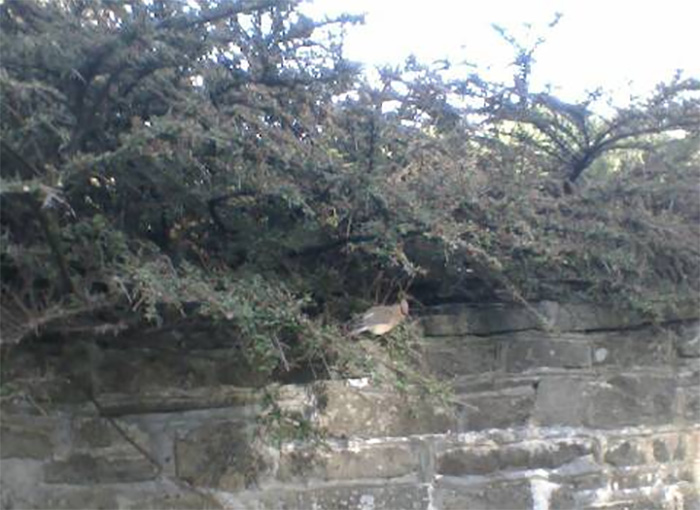 Tiree then (acceptance permitting) has two Cedar Waxwings under the belt, Ireland now has three - the Clare bird following in the footsteps and wing-flutters of birds on Inishbofin on October 14th 2009 and on the Mullet Peninsula on November 10th 2012. All five have been - well and truly - unavailable. Indeed the only joy where the species is concerned remains the much-admired bird in and around Nottingham in the winter of 1996, seen amongst 1000's of Bohemian chums. Gosh, that seems like a very long time ago now…
…and kick-starting the lot? That photographed bird on Shetland, discovered out on the island of Noss on June 25th-26th 1985 - a bird which looked pretty as a picture amongst the thrift a top a rocky headland. Found by visitors to the island, it was identified soon afterwards by Clive McKay (who less than three years later would find Britain's first Brown-headed Cowbird). For quite some while, the Noss Cedar Waxwing was dismissed as a presumed escape - late June vagrancy barely thought of as an option for a vagrant first from the Nearctic (despite the roll-call of honour that came before…) - but the bird was eventually acknowledged as being the real deal, post-the Notts., individual to become the first record of this wandering Waxwing for the Western Palearctic.
Two Cedar Waxwings, three Catharus thrushes and two Slate-coloured Juncos. A weird sextet of birds from "across the pond". Whatever next? Remarkably it seems as though its more of the same.
Swainson's Thrush
Mention has been made in the not-so-distant past as to Shetland's recent dominance where Swainson's Thrush has been concerned. Last October's appearance of the island chain's 11th bird in all, found on Unst, equalled the overall total recorded on Scilly - now, another of these dinky Catharus thrushes has found a way to Shetland to ease ahead of the famous competitor some 900 miles to the southwest.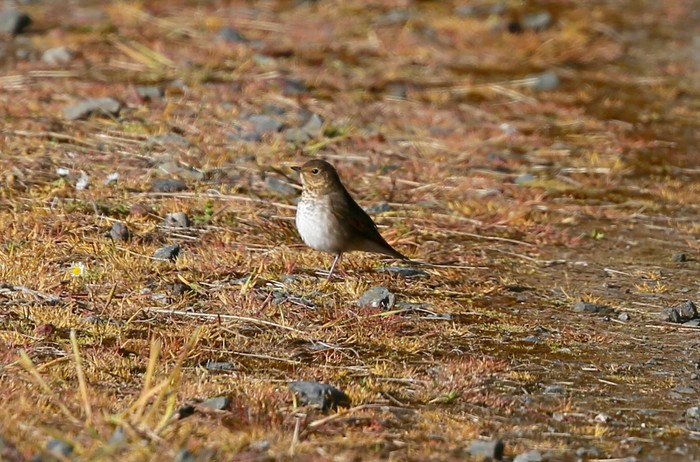 The Shetland Dozen was completed thanks to the discovery of the bird at Houbie, Fetlar, during the morning of 16th - the third-ever spring record and, of course, the second of recent days. Amazing. Absolutely amazing. Fetlar has managed one Swainson's Thrush prior to this - that too was also located at Houbie, on September 28th 2007.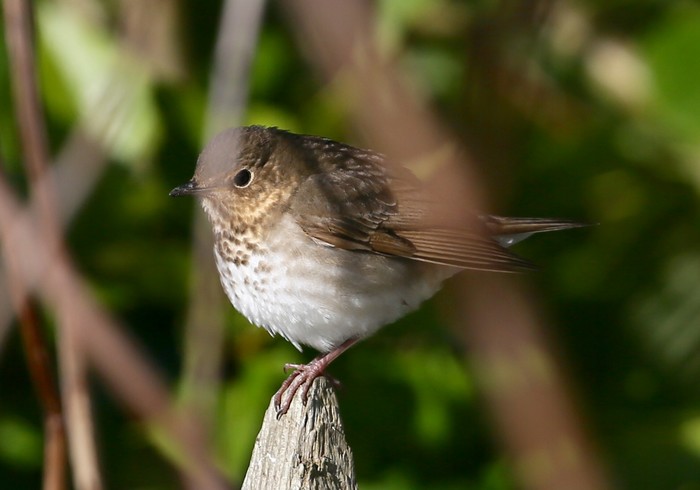 Before heading too much further, let's just make note of the continuing presence on the Pembrokeshire island of Skokholm of the Swainson's Thrush that remained until 10th. A nine-day stay in spring is quite something - and it was nice to hear that all-comers to see the elusive critter behaved themselves.
The amazing rolecall of Nearctic rares just goes on and on and on…and Spring 2015 just doesn't stop giving…
Slate-coloured Junco
…because, joining the stellar list - those two long-gone Bombycillas, the Mayo Grey-cheeked Thrush, the Orcadian Veery and those two Swainson's Thrushes - were singing male Slate-coloured Juncos on Shetland and then Cork. Now it appears that we may have a third singing male on the horizon - courtesy of the bird reported twice (on both 13th-14th) from the Logan Rock Inn car park, near St. Buryan (Cornwall).
Despite just under 50 accepted records of this ever-popular dusty-hued vagrant, Cornwall has managed only three birds prior to this one - the first was seen on The Lizard on May 27th 1983; the second came to Illogan on May 12th 2007 and the third was seen a year and a half later, photographed near Hayle on November 26th 2008.
Slate-coloured Juncos has a particularly patchy distribution across Britain and Ireland - Hampshire, Dorset and the Isle of Wight share nine records between them (5:3:1) while Shetland and Highland can boast a further eight (5:3). Kent has three to its name, while Norfolk and Yorkshire have an even split of two each from four county birds in all. Gloucestershire and Somerset also have two records a piece while the mystery remains as to why Ireland, as a whole, has just four records in all (one in the the north and now three in the south) and Scilly, well, Scilly is still waiting for the elusive first record.
Eastern Black-eared Wheatear
Amongst the madness of American arrivals, and the mini mind-bending scenario of the "is it there, it's not there"/"can I get on the boat, can I not get on the boat" that came forth post the discovery of the Bardsey bunting, it fell to Hampshire to provide a little mainland respite and twitching joy on 13th, in the sumptuous form of a quite splendid looking male Eastern Black-eared Wheatear at Acres Down, in the New Forest.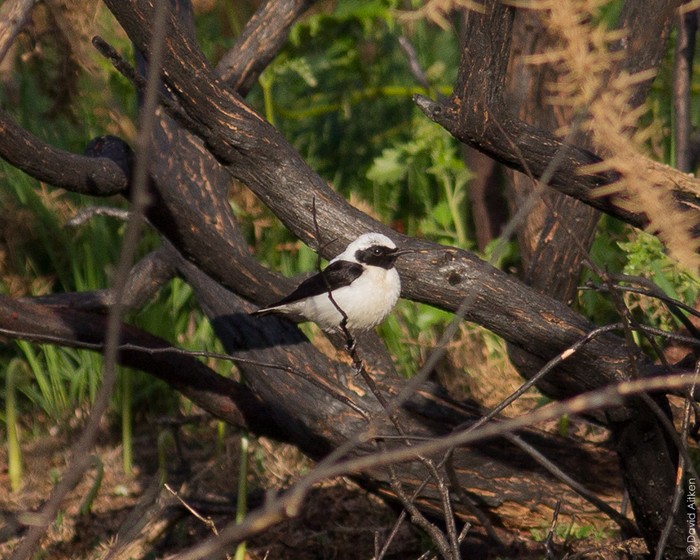 A typical one-dayer, this bonzer drake seems likely to become the first accepted record of the form (melanoleuca) since a first-summer male spent two days on St. Agnes in early June 2009. Only three records have followed, two in 2010 - an unassigned first-summer female on Great Saltee, off the Wexford coast in May of that year and a showy first-winter female on St. Mary's for five October days - with a photographed hispanica at Frampton Marsh in Lincolnshire being the most recent accepted record of either form, found and photographed on June 12th 2012.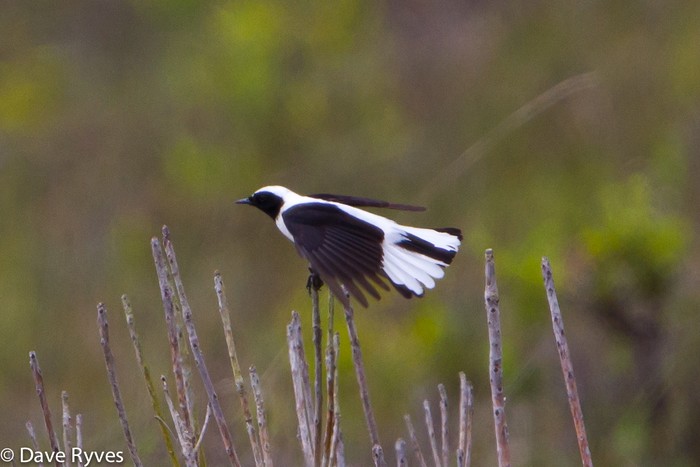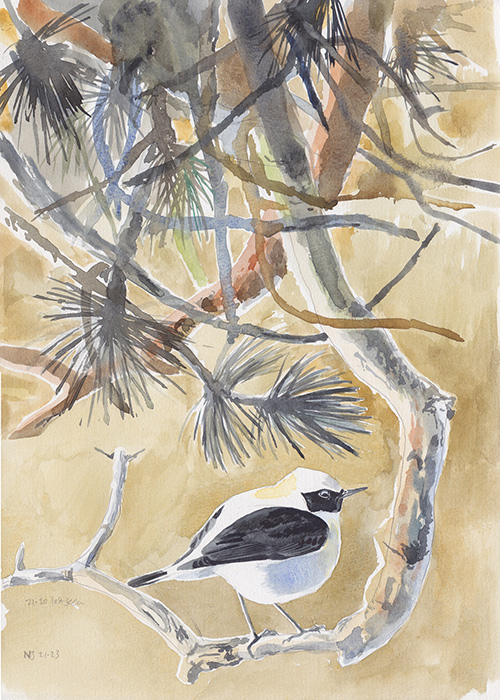 This weekend's Acres Down stunner proved particularly popular, showing as it did throughout much of a Saturday in southern England and with so few twitchable records in the past 15 years, it is pretty easy to see why he drew so many admirers. You have to go back to the dandy cock bird at Nanquidno in late March 2002 for the last really "available" mainland Black-eared Wheatear (accepted at the time as Western but now the cause of some online specific form debate) with another bang-on male Eastern making himself known on the Dorset heathland in late June 2000. Truly a tough bird to connect with, despite some 65 acceptances.
Fortunately, Dorset rare-legend Grahame Walbridge has already trawled through the figures of those 65 acceptances and come up with the following breakdown of those birds specifically identified and OK'ed to form - so I hope he won't mind them being lobbed in to the mix here…
To date there are 21 hispanica records on the books: March (1) April (3) May (5) June (3) August (1) September (5) October (3) with a further 14 melanoleuca: March (1) April (2) May (5) June (5) July (1).
Hampshire now has one of each - the sole record of Black-eared Wheatear until now was a male Western at Farlington Marshes on June 5th 1987.
…in most weeks, this would have rocketed towards the top of the charts, somewhere adjacent to the other star from vaguely eastern European climes…but this week - as my Shetland-based colleague JD would have it - Oooof!
Hudsonian Whimbrel & Greater Yellowlegs
Keeping it real in West Sussex, at Church Norton was last week's Nearctic surprise, the popular Hudsonian Whimbrel that remained in the area through until 16th - with a cat & mouse game in operation around the timing of lister's visits (all very tide dependent). With just three previous mainland records (from just two locations -in Gwent and Cumbria) this 14th record for B&I was always going to be a draw…and so it seems to have been.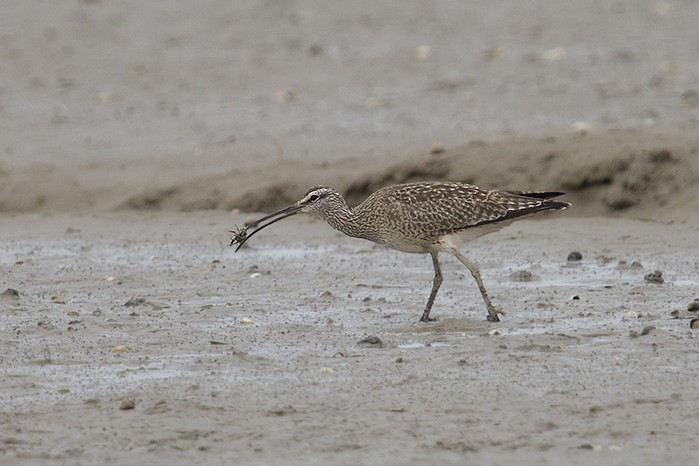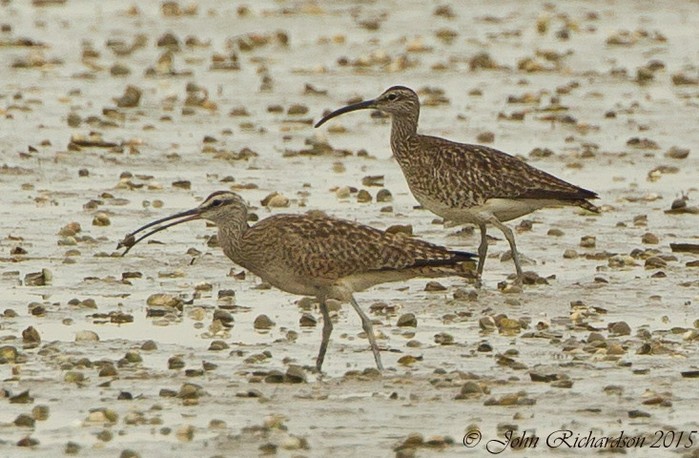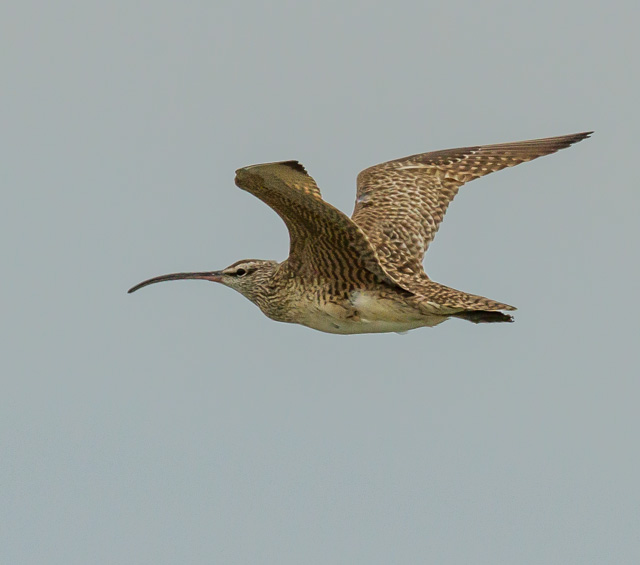 Not too far away (not in real terms at any rate), along the road in to Hampshire's Titchfield Haven NNR where the rather snazzy looking adult Greater Yellowlegs was still in no hurry to leave the chosen pools of the south coast, still in situ through until 16th.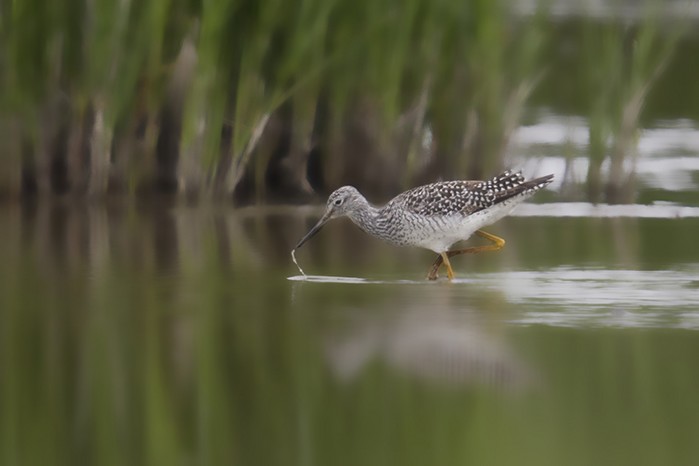 After all that run around earlier in the year, it just can't help itself and show now, putting in a solid month of being "up for grabs" since the most recent re-re-re-appearance in the middle of last month.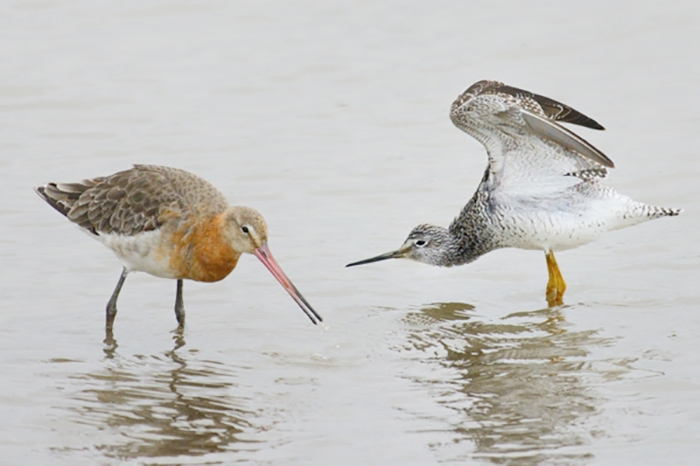 With the onset of midsummer being only a week away, the easing up in numbers of Long-tailed Skuas was no surprise - the Isle of Skye seeing one head through Loch Dungevan on 10th while another loner was noted over High Island (no, not that High Island…) in Galway on 13th.
Late moving Pomarine Skuas were noted off Spurn (East Yorkshire) on 10th; two from Selsey Bill (West Sussex) and singles at Mudeford Quay (Dorset) and Downderry (Cornwall) on 13th and two more east coast birds, off Flamborough Head on 14th where the following day saw up to five non-adults loitering offshore, doubtless caught up in the previous day's unseasonal conditions.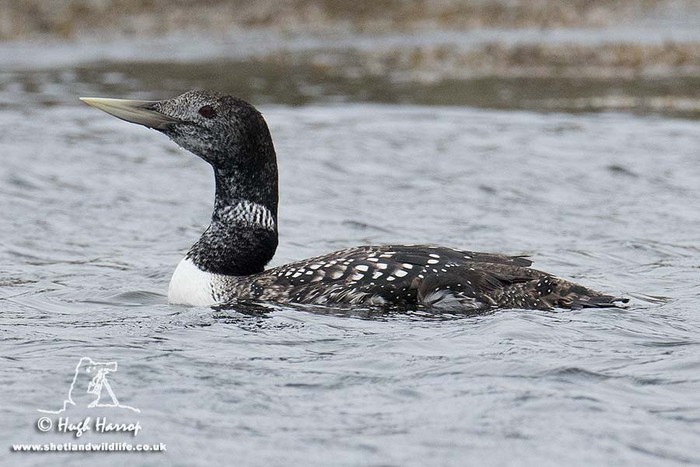 Just one Balearic Shearwater was reported, seen from Land's End on 10th (at least it made a change from Red Kites) while a Leach's Storm-petrel was logged from the ferry between Uig and Lochmaddy in Highland on 11th. Best of the bunch? The summer-dressed White-billed Diver that was still on the upland pools at Esha Ness, Mainland (Shetland) to 15th.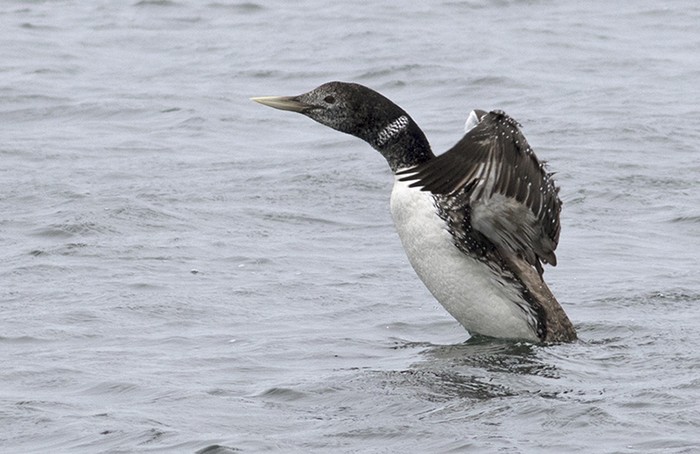 After almost daily occurrences from who knows quite how many Black Storks last week, the past seven days have been rather easier to tally up - on 10th, one was noted circling over Junction 11 of the M6 near Shareshill (Staffordshire) - for what could be only the 3rd county record and the first since June 1985 - while on 12th the second of the week was seen at South Raynham and then over Narborough (Norfolk) - the county has 14 acceptances to date with a couple more waiting in the wings.
Still holding court (and territory) in Suffolk was the male Little Bittern at Lakenheath Fen RSPB; he continued to sing and show occasionally through until at least 11th.
In Cornwall, last week's newly arrived Squacco Heron showed itself at Marazion Marsh RSPB until the evening of 10th, while on Scilly, on St. Mary's, a new Purple Heron was noted at Porth Hellick on the evening of 14th, being seen again on 15th too before (presumably) heading to Porth Killier, St. Agnes on 16th. The week's first Night Heron was noted again over the Shapwick Heath NNR (Somerset) on the evening of 15th with the second following on 16th, at Lower Penn (Staffordshire). The third and final one of the last seven days was seen heading towards Tresco, from Porthloo, St. Mary's on the evening of 16th.
The Waterford Glossy Ibis was again at Tramore Backstrand on 13th while another perennial favourite staple of the review, Cattle Egret, was represented by a singleton in Kent, at Hersden, also seen on 13th.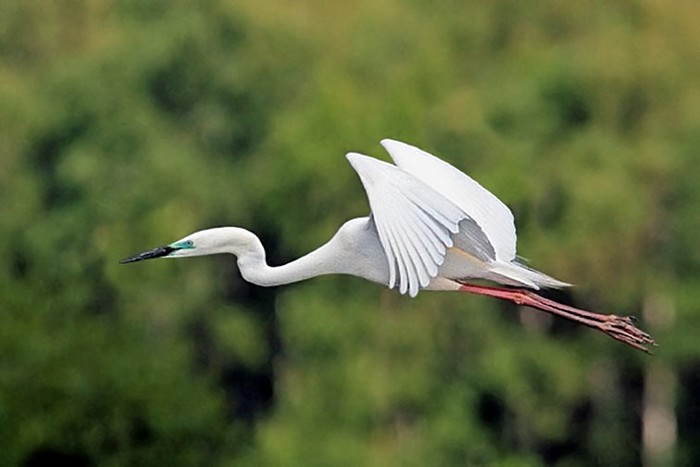 Down in Zummmm-errrr-zeettttt, a quintet of (presumably "doing something innarestin'") Great White Egrets were seen on Walton Heath (part of the Ham Wall RSPB reserve) on 10th - helping to boost the week's haul to the dozen mark. Singles were logged elsewhere as follows: on 10th, a Great White was reported near Lewes (East Sussex); the 11th saw a new bird appear in northwestern England, at Leighton Moss RSPB and the 12th was represented by one at Sandwich Bay (Kent). Three loners were noted on 13th; in Norfolk (at Welney WWT), in County Down (at Dundrum, where one was recorded last September) and also at Chittering Warth (Somerset) while the morning of 15th saw the 12th of the week head past Spurn, over The Warren. Birds 13-15 rounded things off at Bough Beech Reservoir (Kent), Coryton (Essex) and Lough Beg (Co. Derry), all found on 16th.
At least eight different coastal location in north and west Norfolk hosted Spoonbills this week, with a peak of 18 from Warham Greens, sometime around 11th being the highest count of the week (a total which was reported to include two juveniles). Over the Wash in Lincolnshire, at Gibraltar Point, nine birds started the week on site, with seven still around on 14th.Twos logged in Northumberland were seen at Cresswell Ponds and nearby East Chevington to 15th at least while in West Yorkshire, two more were at Fairburn Ings RSPB between 10th-12th.
Further double Spoonbills were noted at Middlebere (Dorset) and Pegwell Bay (Kent) through to the weekend, with four more in Kent heading across Elmley on 15th; eight singles were more widely spread from Tacumshin (Co. Wexford), Black Rock (Gwent) and Leighton Moss RSPB (Lancashire) on the "west side" (geography pedants needn't email, I know where Wexford really is…) to south coast individuals in Hampshire and West Sussex and east coast drifters in Cleveland and East Yorkshire.
Not much Grus grus action on offer this week - one was seen at Wheldrake (North Yorkshire) on 12th; two were reported in the west of the county, near Barnsley on 14th, one was in fields at Crimond (Aberdeenshire) on 15th while the "trapped" sub-adult was back on Annet (Scilly) on 16th. Back in Yorkshire's northern quarter a White Stork was reported at Stony Marl Moor on 15th.
After the entertaining (and unprecedented) influx of Todd's Canada Geese a couple of weeks ago, the World of Ducks'n'Geese this week was rather more typical of the time of year.
On Scilly, a pair of American Wigeons were on Tresco's Great pool, at Simpson's Field on 14th-15th (could they be the same pair noted there in November last year?) while the female seen last week in Aberdeenshire, at Rigifa Pools, Cove Bay was still present on 16th.
The drake King Eider continued his summer sojourn on the sandy banks of the Ythan Estuary to 15th, while the rather more demure, but still rather regal female King Eider remained around the waters of Shetland's Unst through to 14th.
A drake Ring-necked Duck was new in East Yorkshire, found on the Blacktoft Sands RSPB reserve during the early morning of 11th (appearing again on 16th) while in Derbyshire, the Carr Vale Green-winged Teal was on site until 14th.
Popping up again at the start of the new review week was the second very tidy bird for the Lakenheath Fen RSPB reserve - the Collared Pratincole preforming there again occasionally between 10th-12th.
New (and keeping that Nearctic vibe going in style) was the summer-dressed Long-billed Dowitcher found at The Cull, in Wexford, on 12th before reappearing a couple of days later, some seven or eight miles away, at Tacumshin. This lovely county in southeast Ireland (hello again to all those geography hounds out there...) has a great track record where this species is concerned, 25 acceptances in all, including three "doubles" and this individual is Tacumshin's second of 2o15, following on from one there on January 2nd.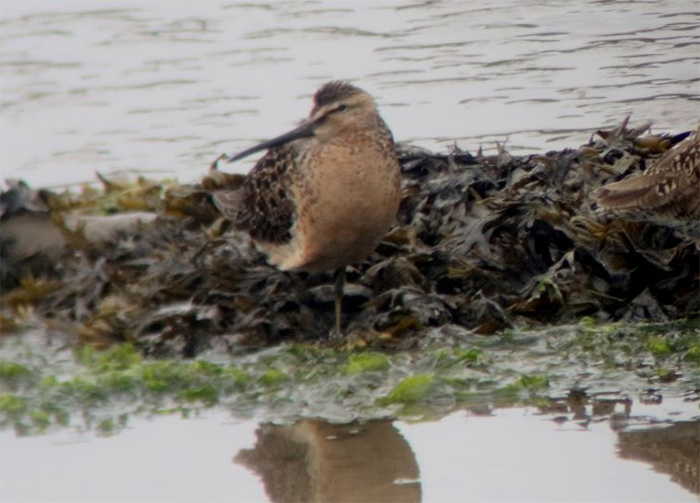 Lincolnshire's Frampton Marsh RSPB reserve was doing very nicely, thank you this week with an impressive trio of shorebirds still up for grabs there. The Broad-billed Sandpiper found there at close of play last week remained in the area until 12th along with an adult White-rumped Sandpiper to the same date. Also on site, from 11th, a Red-necked Phalarope which remained to 13th.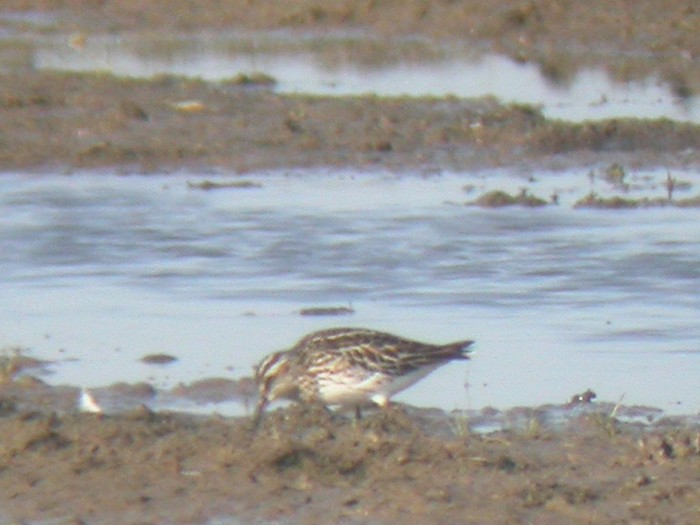 Cley's much maligned wader scrapes bagged the site's second White-rumped Sandpiper of the spring courtesy of one on and around the North Scrape from 12th-16th while in East Yorkshire, a late moving Temminck's Stint was found at Flamborough's Thornwick Bay on 16th with a second found further north, at Castle Island (Nortumberland) later that evening.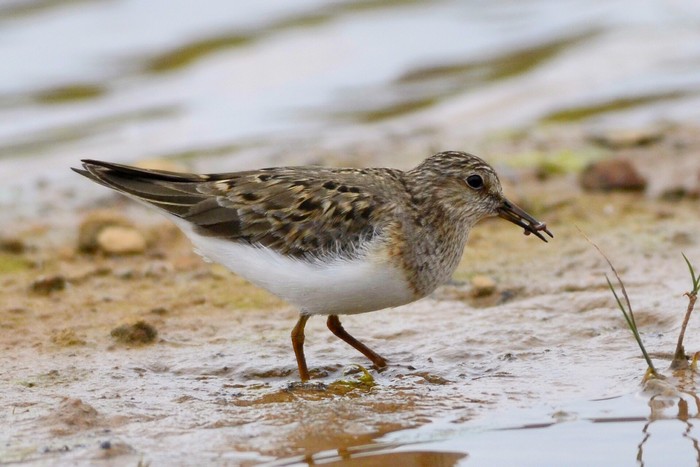 Back to the mini-whirling dervishes that take the form of the ever-lovely Red-necked Phalarope. The superb showing from the species this spring carried on with eight more newbies during the past seven days with three left-overs in the mix as well.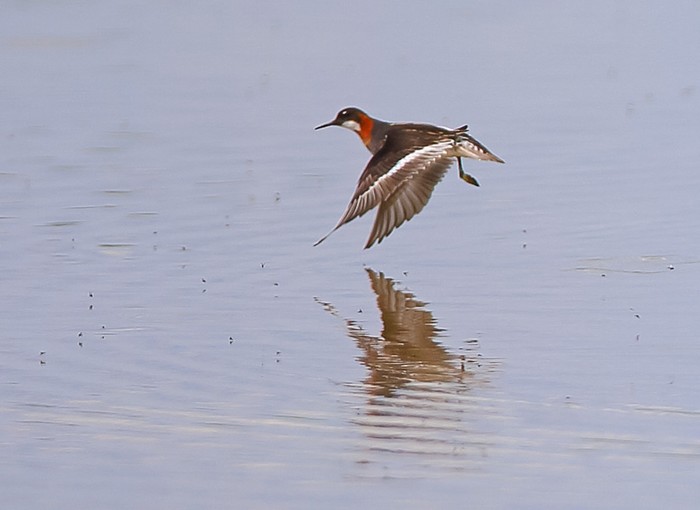 The week began on 10th with last week's duo still in place on Pembrokeshire's Skokholm (an island first) and a new arrival appearing at Langford Lowfields RSPB (Nottinghamshire). The 11th saw Cambridgeshire claim a single bird on the Ouse Washes RSPB while the 12th saw the second coming of the female at Kilnsea (East Yorkshire) and a new Phalarope arrive at Grindon Lough (Northumberland) - where it remained to 15th. Norfolk was next, one dropping in at Welney WWT (arguably/presumably it could have been the Ouse Washes bird) while on Shetland, a lone bird was at Skaw, Whalsay on 14th. Wrapping things up in another successful week were the females that alighted on the Slimbridge WWT reserve in Gloucestershire and the Burton Mere Wetlands RSPB (Cheshire), both on 15th.
Ok, so who guessed that we'd be able to discuss not one, not two, but three species of vagrant Transatlantic gulls in the second week of June? Not many hands in the air would be the guess but, blow-me-down, that's what was on offer this week.
The rarest of the three was the adult summer Franklin's Gull that was noted briefly in Rusheen Bay (Co. Galway) on 13th - just the second county record following on from one at Rossaveal for almost a fortnight in November 2005. A total of 106 birds in all are on the record books, with several (up to five) in the offing from last year.
Up next comes the second-summer Laughing Gull found on the Beacon Pools at Spurn (East Yorkshire) during the early morning hours of 13th. The bird didn't linger for too long before heading south, but it made a brief (around five minute) appearance the next day (pre-7am) at the nearby Kilnsea Wetlands. A second "first" for the recording region this year and strike another down to Mick "The Tick" Turton.
After that brief Kilnsea "second day" sighting, it all got really funky...
A peculiar pulse of cold, damp and rather inclement (localised) northerly air pushed rapidly down the southern part of the North Sea during the middle of the day on 14th and, along with assorted close-in Gannets, auks and Manx Shearwaters off the north Norfolk coast during the afternoon, up popped - daaaa-daaaaah - the Spurn Laughing Gull!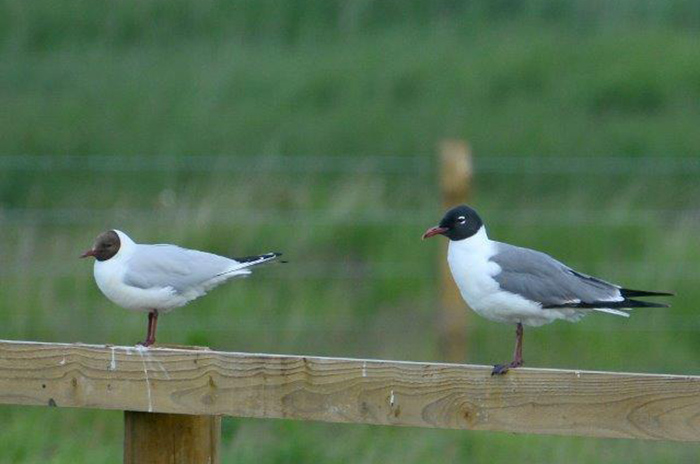 Seen initially off Cley Coastguards, the bird swiftly hurried west, passing close inshore past watchers of both the Watch House and Long Hills rare and rarer Acros - a genuine surprise to all and a rather brilliant Brucey Bonus in to the bargain. As the rare Larid flies, there's probably not much more than around 70 miles between the two sites and with a north wind up its tail and almost 10 hours between the sightings it does appear (via photo confirmation) to have been one-in-the-same (becoming the fourth record for the Cley square and the first since spring 2006 - out of six Norfolk records in all).
It then emerged, courtesy of an email in my inbox, that the sniggering one had spent a little time at the duckpond at nearby Salthouse an hour or so before heading west along the Point - and what a super thing it was too.
The final species in the news this week were the two new Bonaparte's Gulls - both seen on remote Scottish islands (one rather more remote than the other). A fine adult was seen on the beach at Skaw, Unst (Shetland) on 11th (only the 4th for the islands as a whole and the first since July 2005) with bird #2 coming a day later, when a first-summer bird found a way to St. Kilda (Outer Hebrides) - an island first but the 19th record the Outer Hebrides as a whole.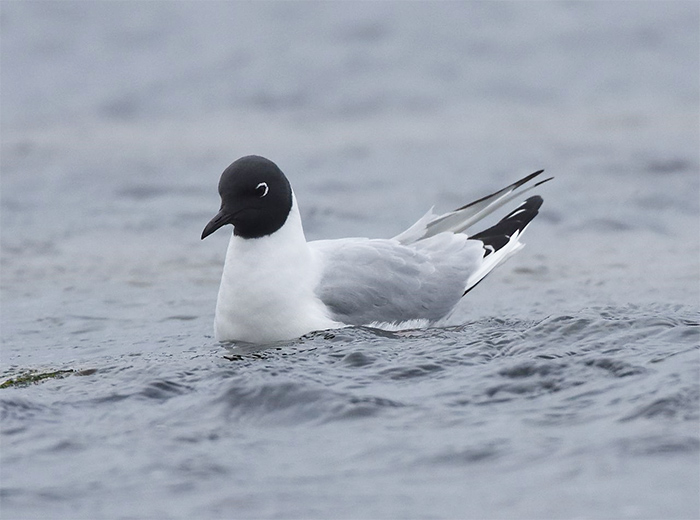 Resident first-summer Ring-billed Gulls remained at the Tralee Wetlands (Co. Kerry) to 11th and on the Hayle Estuary (Cornwall) to 16th while further Larid action included a couple of lingering Glaucous Gulls - at Lossiemouth (Moray) on 10th and on Loch a'Phuill, Tiree (Argyll & Bute) on 12th - and fourIceland Gulls as well; two were seen at Loch Stiaphabat, Lewis (Outer Hebrides) and at Skara Brae (Orkney) on 11th and also on Tiree's Loch a'Phuill on 12th.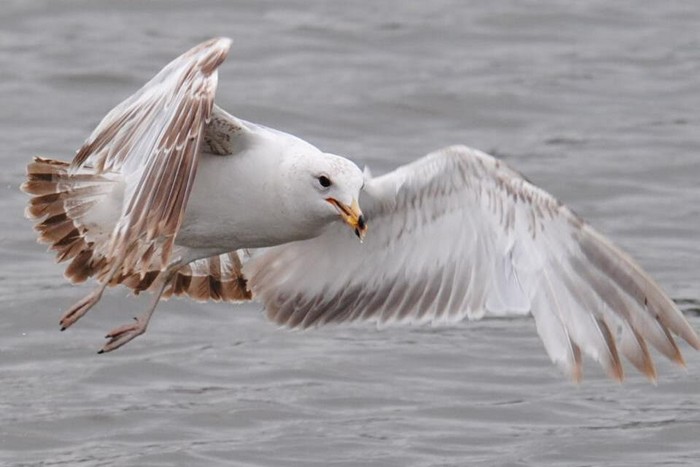 The first Whiskered Tern of 2015 was reported from Wheldrake's Bank Island on 13th (potentially the first anywhere in Yorkshire since 2009) while an adult White-winged Black Tern at Staffordshire's Blithfield Reservoir on 15th was the first county bird since a September juvenile in 2011.
There's one final rare tern to mention and that's the inland discovery of a Gull-billed Tern at the Idle Valley NR, near Lound (Nottinghamshire) on 11th - present on-and-off for just three hours or so, this becomes the third record for the East Midlands county and the first since one around the same area on May 19th 2006. What must be the same bird moved across the county border in to South Yorkshire on 16th, spending much of the day coming and going from the Old Moor RSPB reserve area and elsewhere in the Dearne Valley - the first in the area since an adult in May 2003.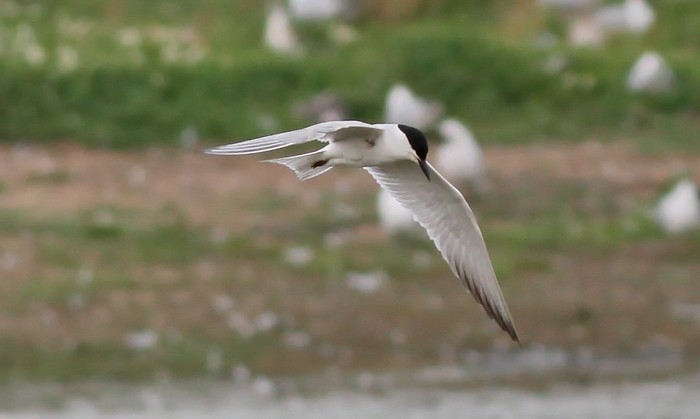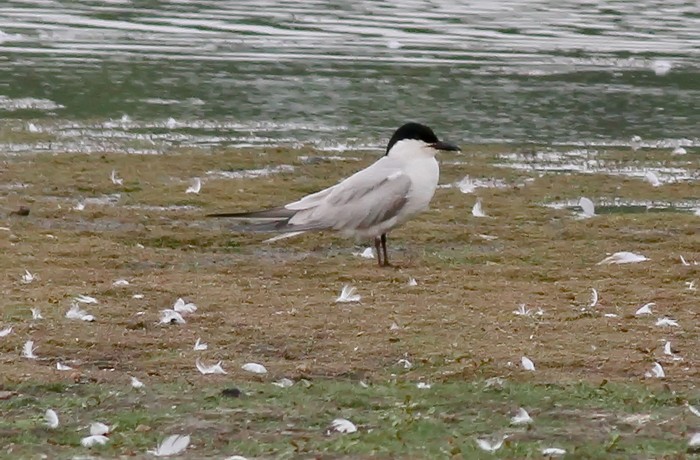 Mayo was treated to another record of Snowy Owl this week, one seen heading across Lough Mask, near Ballinarobe on 12th.
In West Sussex, a male Red-footed Falcon flew over the Church Norton area on 12th and further singles reported included a female at Wicksteed Park (Northamptonshire) on 13th and Landguard NR (Suffolk) on 16th. Also in the Midlands this week, the only records of Black Kite - both from Warwickshire, so perhaps the saem bird was involved. The first sighting came on 11th - one heading east by the M42 and Piccadilly village (what with the Black Stork seen from the M6, it's Motorway Birding all the way from here on in - who needs Blakeney Point!) and the second came from Dordon the very next day.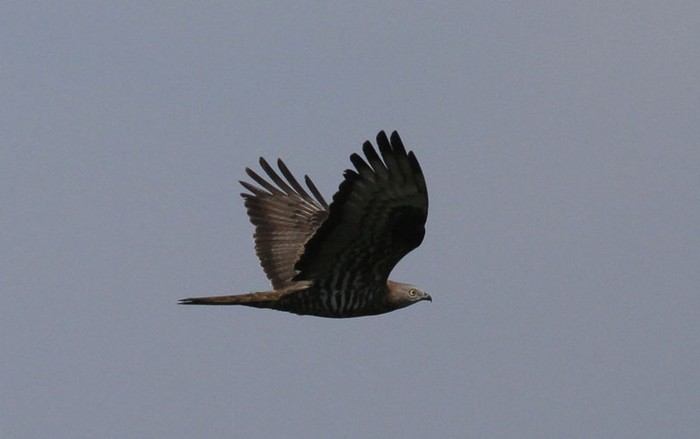 Up to three Honey Buzzards were seen in the Wykeham Forest (North Yorkshire) throughout the week while elsewhere around the country a further half dozen lone birds were reported; at Flamborough Head (East Yorkshire) on 10th; over the Ouse Washes RSPB (Cambridgeshire) on 11th; over the M23, near Nutfield in Surrey (see above!) on 13th; at Budby (Nottinghamshire) on 14th and on 15th, singles were reocrded over Iverley (Staffordhsire) and Bovingden (Hertfordshire).
The pair of Montagu's Harriers remained around the Blacktoft Sands RSPB reserve until at least 12th while last week's first-summer male at Gibraltar Point NNR was noted again on 15th.
There's arguably nothing worse than emerging from the troglodyte-caverns of London's Underground network as you head further and further away from your beloved home turf than to pick up a voicemail from one of Norfolk's finest exponents in the art of rare-finding…
The distinctive tones of James McCallum came forth against the clackety-clack of the Central Line - along with another of Norfolk's leading bird-finders, Kevin Shepherd - he'd only gone and found the county's first spring Paddyfield Warbler on Blakeney Point's Long Hills. More importantly (from a purely selfish POV) this was a dagger-blow to the heart, it was a 1st for the Cley Square.
Spring bird, Blakeney Point, mid-June and me not back from Women's World Cup duty until 14th. And this was happening on 11th.
The odds seemed stacked high against me (sorry to be so self-indulgent...) but, who'd have thunk it, by the time I arrived back in to TG04, the beastie was still in place! After a swift 45 minute stretch of the legs along the quickly disppearing sandy shoreline, I was in place around the Long Hills. Five minutes later - BOOM! - species #350 was inked in to my personal Cley Square tally. Sweeeeeeeeeeet!
This supreme find by James and Kevin becomes only the fourth Norfolk Paddyfield Warbler in all - the first was seen at Dead Man's Wood, near Sheringham on September 24th 1993 and was followed by one out on Lodge Marsh, near Wells, on September 23rd 1996. The most recent county record was a trapped bird at Snettisham Coastal Park on October 15th 2009 - a bird that wasn't known about until after the event.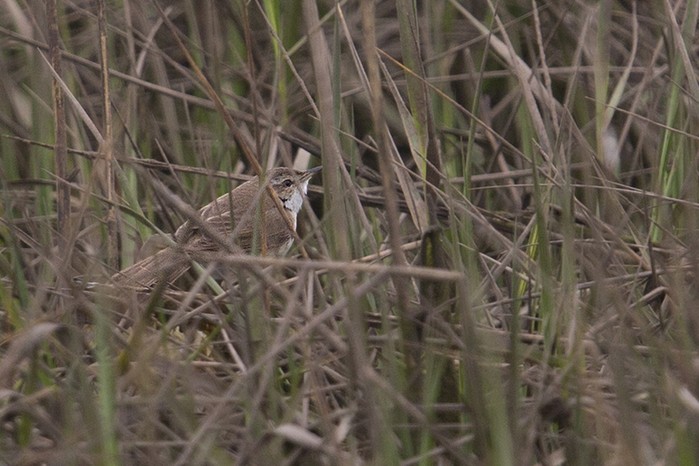 As if finding a Paddyfield Warbler wasn't enough, James also had a hand in the correct identification of a warbler seen around the Watch House on 13th-14th - it was indeed a Blyth's Reed Warbler - and not long after the triumph of the Paddyfield on 11th, he also located a Greenish Warbler on the Yankee Ridge. The fourth bird of an outstanding quartet of a brilliant week's birding work was the Short-toed Lark that started the goldrush - found by James as he ventured off the Point on an otherwise bird-free trudge along Shingle Hell on the evening of 10th.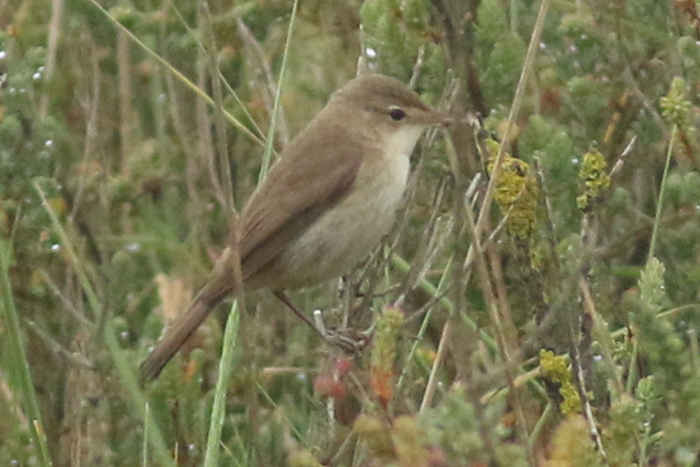 Regualr finders of rare bird will know only too well that when you're in the zone, you're really in the zone - goodness me, JMcC is right on it at the mo.
Away from the hub of mainland action (five great birds unleased upon Blakeney Point this week in all), the week's second Blyth's Reed Warbler, a singing male, was at Holland Haven CP (Essex) on 12th - only the second county record, following on from a singing male at Fisher's Green on June 16th 2003.
Along with the Blakeney Greenish Warbler, three more were located through the past seven days - one remained on St Martin's (Scilly) to 11th and new birds were found at Skomer's North Haven on 12th and singing in gardens on Flamborough Head on 15th.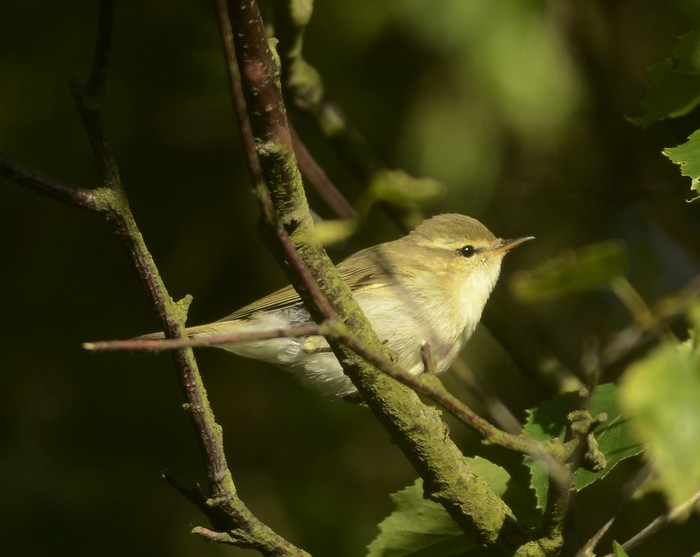 Shetland's Great Reed Warbler remained on Unst, at Halligarth, Baltasound through until 14th at least while much further south, a super find right in the heart of England was the singing male Melodious Warbler at Hampton-in-Arden (West Midlands), present from 11th-16th (a huge rarity for the region). Further south again, another singing male melody - this one noted at Portland Bill on the morning of 16th.
Five Icterine Warblers were noted too - the singing male lingered at Ballater (Aberdeenshire) to 11th, a new songster was found in the Highlands, at Kingussie on 11th (where he stayed until 15th) and the 14th saw two birds arrive on Shetland; one for Fetlar and one for Fair Isle, with another on the former island on 15th too (seen at Houbie).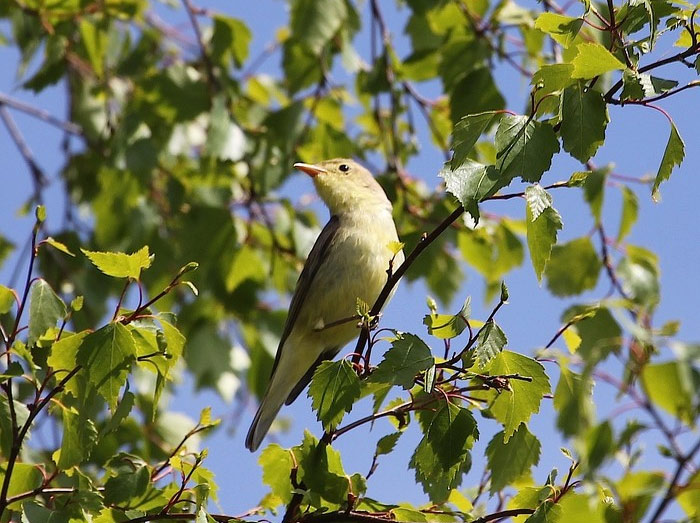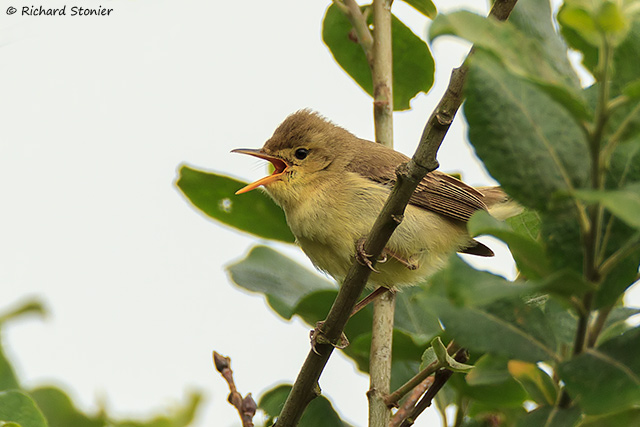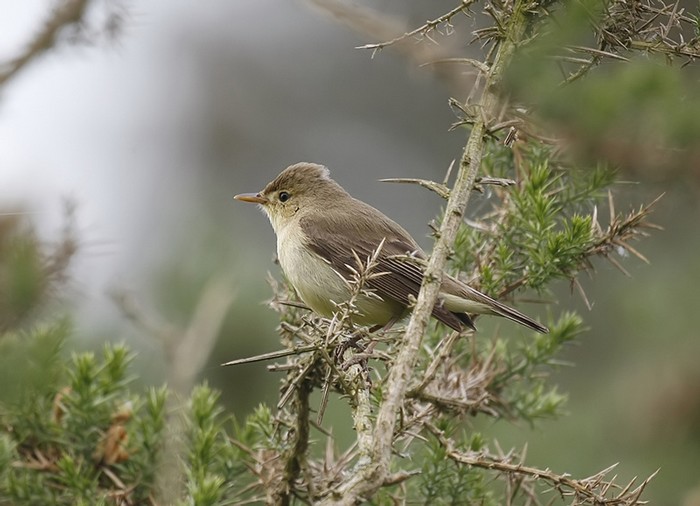 Marsh Warblers also kept themselves in the news, eight noted through the week. The singing male remained on territory at Narborough (Norfolk) throughout the week, while a second East Anglia brid was trapped and ringed at Landguard NR (Suffolk) on 14th. East Yorkshire bagged two; on at Easington on 13th-14th was followed by another singer at Spurn on 15th. Shetland also managed two, on Fair Isle on 13th and at Quendale on 14th with the last ones appearing at King's Mead (Hertfordshire) on 11th and Whitburn (Co. Durham) on 16th.
Before departing Warblersville, let's mention the news this week that "Swiss Tony" - the first-summer male Moltoni's Warbler seen recently on Fair Isle has come back with positive results all round - he does indeed do what he says on the tin and it's the second confirmed record of this new split from the island within 12 months. More importantly, it confirms that the quoted field characters (for spring males of the species at least) hold firm - so even none-calling birds (such as the silent-but-lovely male Moltoni's Warbler at Balranald RSPB last week) should still past muster with the BBRC.
Bee-eaters now and although the double-figure flocks of last week were seemingly lacking (famous last words), there were still several on offer, especially if you were out and about…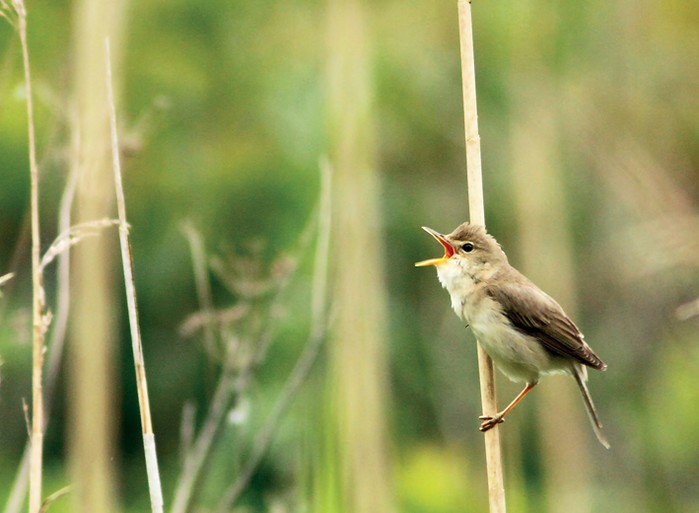 Moving through things day-by day and on 10th, the six found last week at Woolley (Somerset) remained and the East Yorkshire flock of five headed over Sammy's Point, near Spurn. Another East Yorkshire bird was over Flamborough Head and Shetland saw one again on Unst, around Baltasound. Heard only was a bird over Ainsdale (Lancashire) while late news popped up as dusk fell on 16th - of two on Canna (Highland) - also on 10th.
The 11th saw just one Bee-eater noted, seen at Kingston (Devon) while the 12th saw two head across Norfolk's Kelling Heath with another around the coast at Winterton. Two more from the same day were seen at Sandwich Bay (Kent). The 13th was lucky for some at Kilnsea, when a lone bird was found during the late afternoon while swinging back to Norfolk, another singleton spent half an hour on wires at Southrepps.
Winterton grabbed a second of the week on 15th - a busy day for the species on the east coast with up to four birds seen in Suffolk (two at King's Fleet and ones over Kessingland and Minsmere) while one was noted again at Spurn and also Sunk Island (presumably one in the same). Portland got one too - seen over Weston during the late morning.
A further two made it to Tresco on 15th with perhaps the same duo on St. Martin's the following day with further Bee-eaters on the final day of the review period coming to Dorset (at West Bexington and Portland) and Kent (two over Herne Bay) but, most impressive of all, the flock of 11 that whizzed south over Bempton Cliffs RSPB (East Yorkshire) on 16th - with presumably the same flock having been seen earlier the same morning at Tetney Marshes (Lincolnshire).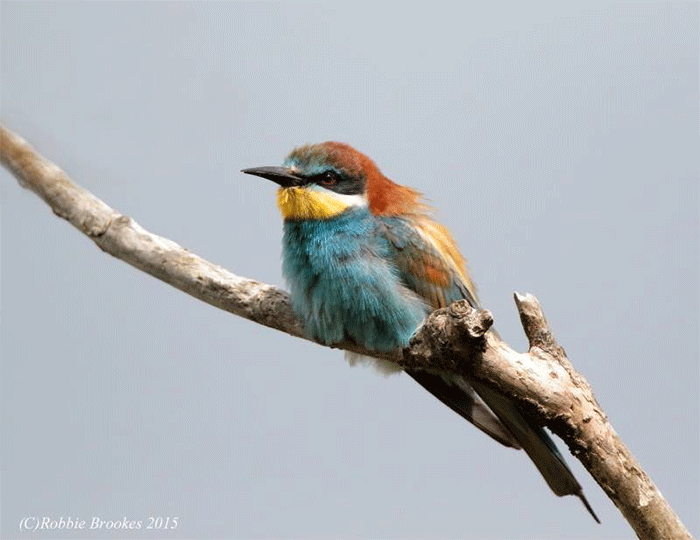 Further colourful fare came courtesy of Golden Orioles - a singing male was at Cleeve Hill (Gloucestershire) on 10th with another at Scorrier (Cornwall) the same day. Further reports came from Avebury (Wiltshire) and Strumpshaw Fen RSPB (Norfolk) on 12th-13th while a definite male was seen in Kent, at Bockhill Farm on 14th. Two more were seen the same day - in Lincolnshire, at Gibraltar Point and in Highland, near Strontian - and on 15th, a male was heard by the River Yare, at Hardingham (Norfolk).
An early morning Hoopoe was found at Aylesham (Kent) on 12th and one took up temporary residence on the cricket pitch at Polgigga (Cornwall) from 13th with the same date seeing reports of a singing bird in Ipswich (Suffolk).
A Red-rumped Swallow spent a short time around the lighthouse on Mizen Head (Co. Cork) on 12th and a Woodchat Shrike was reported belatedly from Dunstanburgh Castle (Northumberland) on 11th. No belated news were the second of the week was concerned, one noted at Porthcothan (Cornwall) on 16th. New too was the adult Rose-coloured Starling that was found at Fowlsheugh RSPB (Aberdeenshire) on 16th.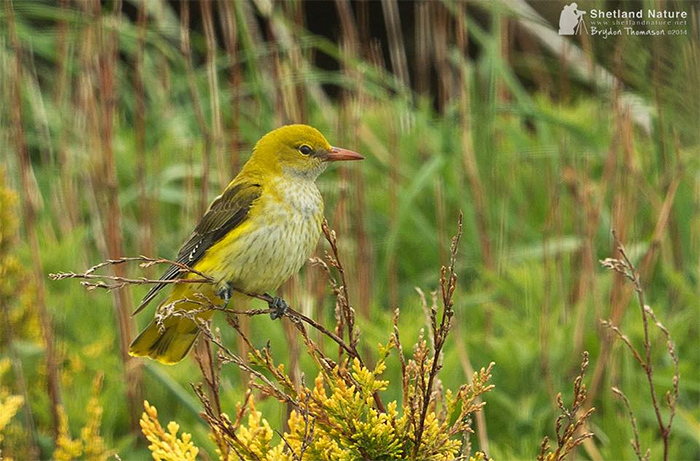 Also this week, some 12 Red-backed Shrikes were noted too - lone males beginning the proceedings on 10th on Dursey Island (Co. Cork) and Flamborough Head (East Yorkshire). Another male dropped on to North Ronaldsay on 11th when the fourth of the week was found at Bothal (Northumberland). Shetland managed four birds through the week, two for Fair Isle (on 11th and 13th) with singles at Norwick, Unst on 14th and at Tresta, Fetlar on 15th, while north Norfolk managed a male and a female within just a mile or two of each other on 13th - the former at Blakeney Freshes, the latter at Walsey Hills NOA. Last but not least to Kent where a Red-backed Shrike was reported from Dungeness on 12th and another was noted at Samphire Hoe CP on 14th.
Bits and bobs now - a Wryneck was found on Skomer Island (Pembrokeshire) on 12th (it has been quiet for them this spring) and lonesome Serins were at Portland on 10th and in Kent, on 14th, at Bockhill Farm, St. Margaret's at Cliffe.
Common Rosefinches were noted in reasonable numbers still this week, as many as 15 noted in all. Dorset held on to two from last week, the singing first-summer males at Radipole Lake RSPB and on Portland (the former to 13th, the latter to 10th), with further "twos" in Shetland (on Fair Isle on 11th and Unst on 14th) and Pembrokeshire (one a piece for Skokholm and Skomer - on 11th and 13th respectively).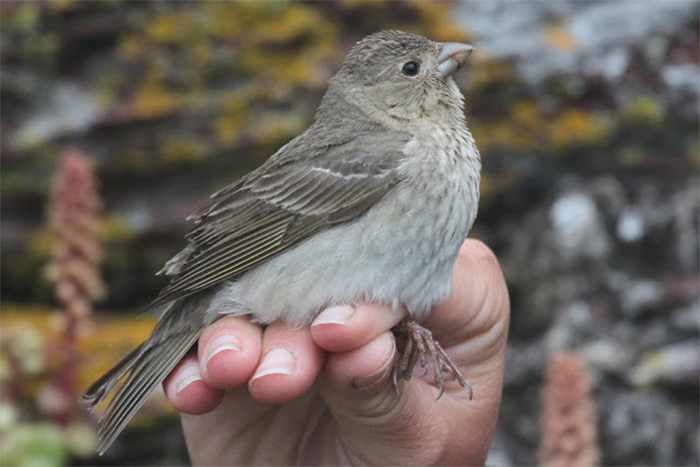 Singing males (first-summers) at the start of the week were at Housel Bay (Cornwall) and Flamborough Head (East Yorkshire) and these were followed by one on North Ronaldsay and another in Highland, at Melvich, on 12th (the same date seeing a singing male arrive off the Galway coast, on Inishbofin; first-summer males were at Ambleside (Cumbria) and also on the Isle of May (Fife) and reported from Lochgilphead (Argyll & Bute) all on 13th while a singing male in County Durham, at Whitburn, on 15th.
Rounding things off with a flourish from the artist's paint box, news of Pembrokeshire's second male Black-headed Bunting with just four days - hot on the heels of the bird on Skomer on June 7th, this week saw the appearance of one, on garden feeders, at Saundersfoot on 10th. A what a dandy he was - the 14th county record and the first on the mainland since 2001.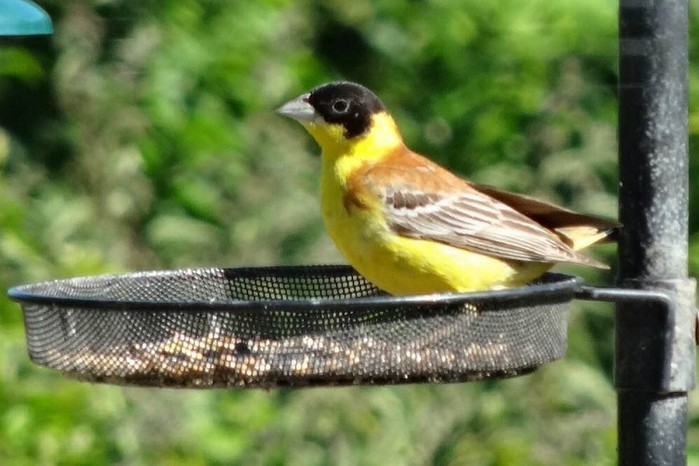 In theory, things should start to quieten down for the next three or four weeks before July kicks in with wacky seabirds and shorebirds (hopefully…). But the growing feeling is that you just can't take your eye off the ball at any time nowadays and, depending on the weather, there's the potential for untold rare carnage.
We're definitely due a Terek Sandpiper and, from the other direction, the lack of a late spring/early summer Wilson's Phalarope hasn't gone unnoticed.
There's still time for overshooting rarer passerines such as Rock Thrush, River Warbler and Collared Flycatcher, with the likes of Roller and Lesser Grey Shrike seemingly about to appear at any time.
Oddments abound through the record books (June 17th 1977 was the date that Britain's first Cape May Warbler was located…) but one species, one name, one nemesis keeps looming large on the horizon…Blue-cheeked Bee-eater.
The time is drawing ever closer to the four weeks or so where senses are on full alert for another performance from this multi-hued extreme vagrant. Interestingly it isn't quite as rare as you may recall - there are 11 in all now - but there's been not a whiff of one since 2009.
Three of those eleven Blue-cheeked Bee-eaters have been found in the seven days that lie ahead. The second British record was discovered on St. Agnes by Hilda Quick on June 22nd 1951. The ninth for Britain found its way to Shetland on June 20th 1997 and, most recently, was the Hampshire bird of 2009, found at Needs Ore on June 21st (relocating to Devon before the month was done). That individual was followed soon after by the most recent record to date - the didn't-stay-long- enough Bockhill bird on July 22nd.
We're overdue another then and a vagrant has recently made it to Catalonia, seen near Barcelona on June 6th…so, you just never know do you?
Mark Golley
17 Jun 2015


Thanks again to all the staff on Bardsey for making the Cretzschmar's Bunting twitch run so smoothly. Many thanks to all this week's contributors for their photos, videos and sound files.
Skokholm Bird Observatory, Steve Stansfield, Ben Porter, The Nature in Shetland team, Dave Carter, Keith Gillon, Mary Keating, David Aitken, David Ryves, Alex H Jones, Richard Thewlis, Neil Hughes, Jon Worthington, John Richardson, Dave Mansell, Tom Hines, Hugh Harrop / Shetland Widlife, Roger Riddington / British Birds, Jeff Hazell, Sarah Davis, Killian Mullarney, Jim Swalwell. Andy Hood, Angela Trew, Noel Elms, Roger Ridley, Edward Carty, Richard Willison, David Hatton, Andy Williams, Penny Clarke, Oriole Birding, Robbie Brooks, Brydon Thomason / Shetland Nature, Debbie Lowe.
Please check out our contributor's websites for more superb birding photos, videos and more.