Weekly round-up: 20 - 26 May 2015 sponsored by British Birds
At a glance
The first ever spring record of Grey-cheeked Thrush for Britain and Ireland is found in Co.Mayo
Suffolk delivers its first Broad-billed Sandpiper in almost twenty years
The Hooded Mergansers stay for just long enough in Co.Donegal
And the Aberdeenshire Harlequin adds long-staying colour
It's been a while since I took the reins of the RBA Rarity Round-Up, and a lot's changed in the interim. Gone are the hordes of white-winged gulls and most of the winter wildfowl – but in their place this week was a colourful tapestry of spring migrants and, as is so frequently the case, the frankly unexpected too – and I'm not just talking about Norwich City's return to top flight football, an event that rumour has it saw your regular correspondent Mr Golley abandon all pretence that he was trying to find a mega on Fair Isle and instead run around the fields at Shirva with his waterproofs pulled up over his face and arms outstretched...
Yes, it's good to be back.
The weather was the usual mixed back for this time of year – some favourable winds wafting in a smattering of southerly and easterly overshoots in the southern half of Britain and Ireland, while the north continued to enjoy (if that's the word) some cold winds coming in unhelpfully off the north Atlantic. Ah well. There's always seawatching...
With no further ado then, let's get cracking with this week's birds.
Grey-cheeked Thrush
If you'd asked me this time last week what passerine species I'd have been writing about in the headlines, I'd have probably optimistically opted for a rare lark or some such. That wasn't to be this week as Ireland got all October on us and produced an unprecedented Grey-cheeked Thrush on The Mullet at Termoncarragh (Co.Mayo) on 25th.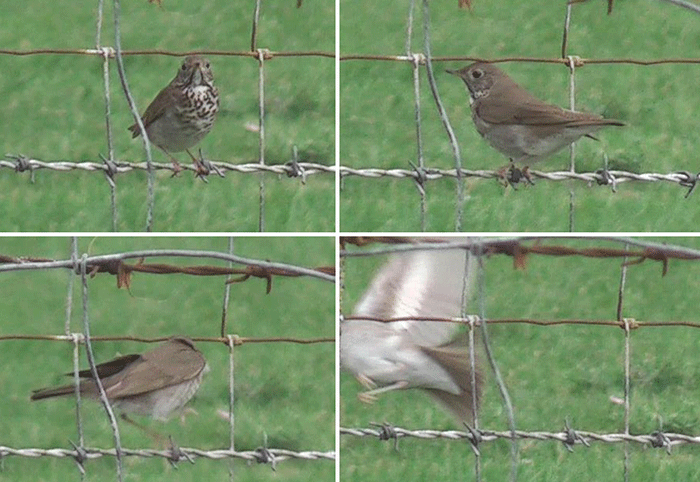 While we're fairly accustomed to the odd displaced American sparrow or warbler heading north in the spring and turning up on our shores, there's never been an accepted record of Grey-cheeked Thrush for Britain and Ireland outside of the narrow September-November autumn window, with the lion's share of the previous 64 records having been in October. Finding one in the last week of May is quite an event then.
Bearing in mind that there are only seven previous Irish records in all (of which all but one – in Co.Clare - were in Co.Cork) and it's not just an odd time of year... it's a properly rare bird and a superb find whatever the date happens to be. And just goes to show that where rare birds are concerned, for all we can try to pick patterns and analyse the stats, there's just no telling what might pop up in front of you next time you're out birding. It's a great thing we do, isn't it?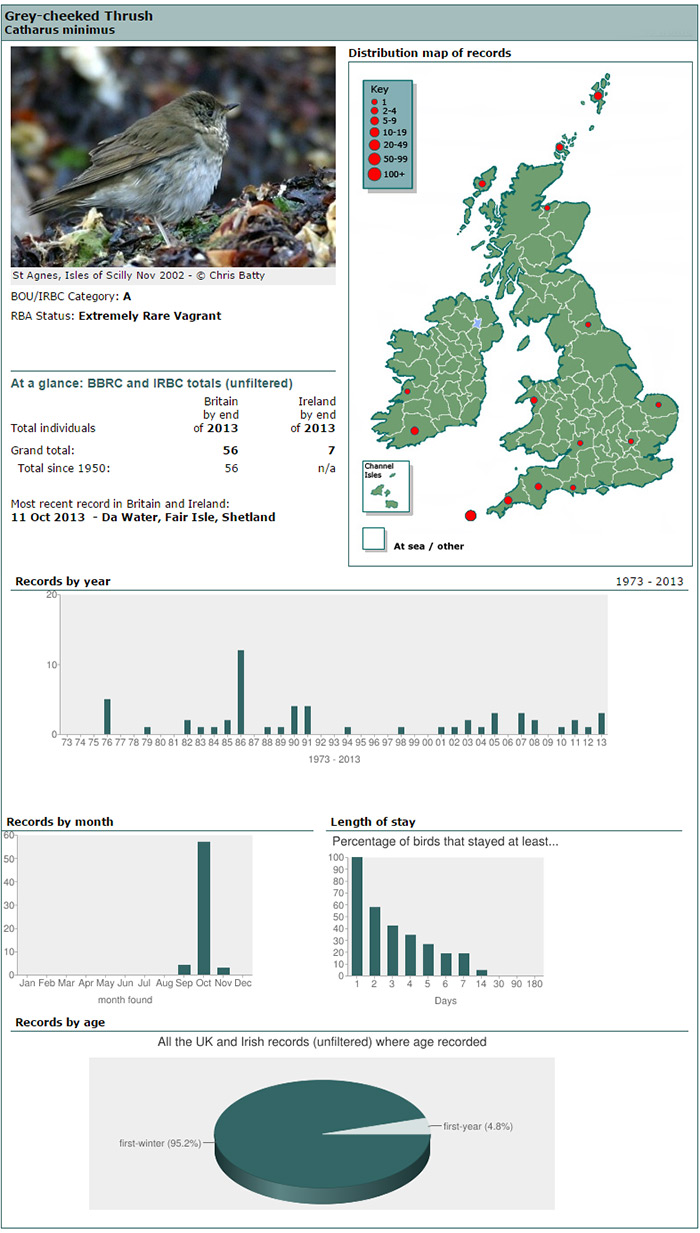 Broad-billed Sandpiper
It's a traditional staple of late May birding albeit always a rare one and, since 2000, one that's had a couple of blank years with no records whatsoever, so we shouldn't be too surprised to find a Broad-billed Sandpiper featuring in the headlines this week courtesy of a bird at Tinker's Marshes (Suffolk) on 22nd-23rd.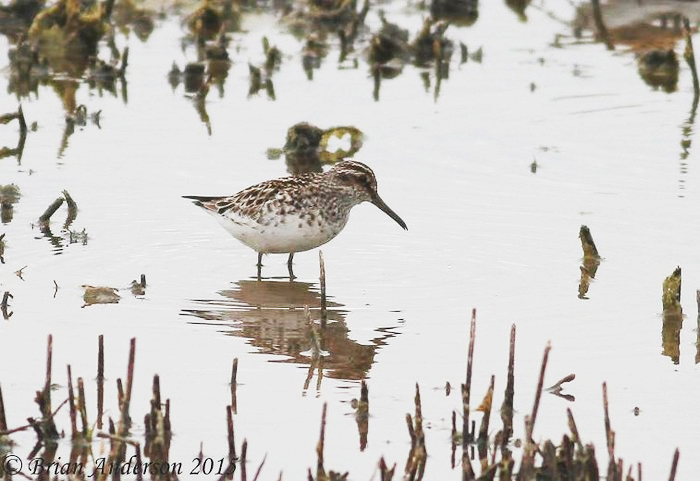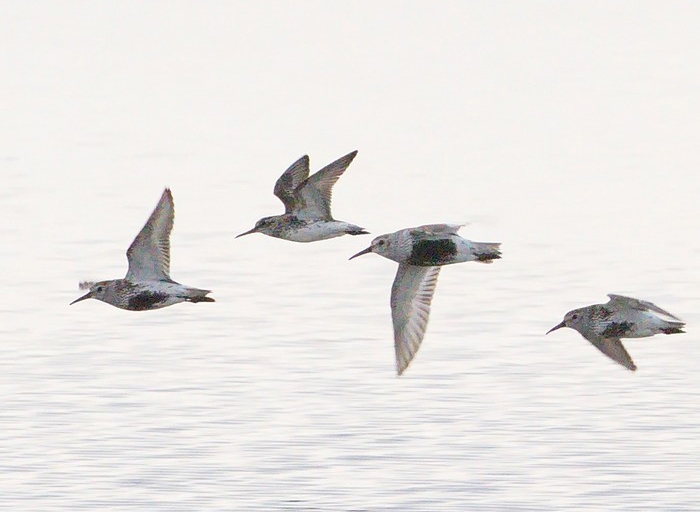 What is perhaps more surprising, given Suffolk's east coast location and established attractive sites, is that it's been nearly 20 years since the last record of this funky stripy-headed wader from the county – a one-day bird at Minsmere in 1998. With plenty of suitable new habitat being created along the Suffolk coastline you'd not bet on it being 17 years until the next one. For now, for a new generation of Suffolk county listers, this would have been a welcome reprise of the species.
Hooded Mergansers
As alluded to last week, the presence of Hooded Mergansers in the Rarity Round-Up is usually the prelude to some good-natured joshing about certain recently accepted records and the criteria by which they're judged. [Editor's note – don't you mean 'thinly veiled criticism made whilst choking back snorts of hollow laughter'?]
Hm. Whatever.
Last week was a different story though, with two wary birds turning up on Tory Island (Co.Donegal) and looking, on the face of it, in a rather better place than certain of the accepted British records. They did their cause no harm whatsoever this week by remaining generally unapproachable, not carrying any unfortunate aviculturist's bling on their legs, and being in possession of a full set of flight feathers. All good, then (though I'm unsure whether anyone attempted the bread test on them). And better yet, they didn't commit the cardinal error of sticking around for too long, being last seen on 23rd.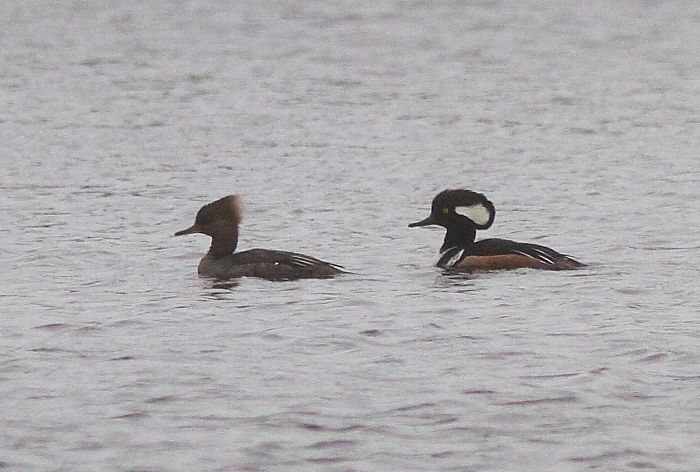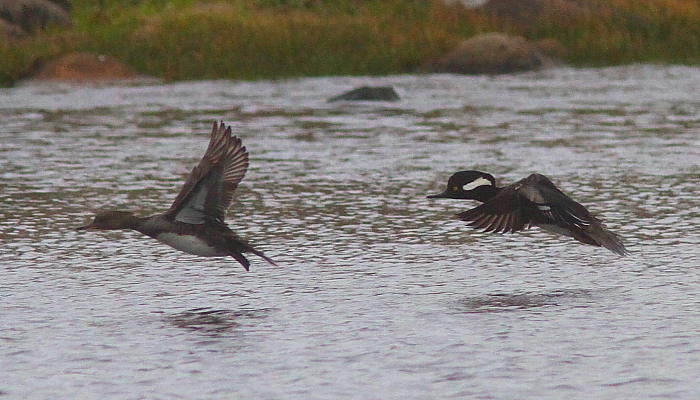 For which I give you Exhibit A, the drake Wood Duck and Hooded Merganser found on Shetland in the springs of 2009 and 2006 respectively. The former did itself no favours whatsoever by sticking around from mid April until June, an altogether indecently long amount of time for a wild duck. The latter behaved much better and was gone after a fortnight. The latter was deemed acceptable by BBRC. The former didn't pass muster with BOURC.
The lesson apparently being that you can have too much of a good thing where making a case for natural vagrancy is concerned. Those Irish mergansers appear to have done precisely the right thing with a nice early departure. Heaven forbid they'd done a Radipole on us...As Mark said last week, it'll be interesting to see how they fare with the IRBC. Plain sailing, surely?
Harlequin
It's curious though how eyebrows are raised when some ducks outstay their welcome, but other long-staying ducks don't twitch so much as a critic's muscle – but continue to be the subject throughout their stay of many a successful twitch... In one particular instance, it appears as if that's now come to an end.
Finally, after a record-breakingly long stay, it looks like Aberdeen's increasingly gaudy drake Harlequin may have finally done a bunk. So long fella. It's been brilliant while it lasted. Did a vagrant duck ever get quite so much attention as this one did? The first I saw of it was on the local STV evening news – though they managed to change its gender – and then there it was a while later on BBC's 'Winterwatch', and in between it made the local and national newspapers. Just remember, you heard about it here first...

Skua passage continued apace, particularly off this Scottish coast this week with some chunky numbers of Pomarine Skua recorded past the Western Isles in particular. Of some 975 birds logged in all during the week, North Uist's Aird an Runair accounted for over 825 individuals – with around 250 past on 22nd, and 429 on 24th. English records came from Bowness-on-Solway (Cumbria) with 25 birds logged on 20th-22nd; a single past Exmouth (Devon) on 22nd; two past Spurn (East Yorkshire) on 23rd; and one past Flamborough Head (East Yorkshire) on 25th.
It was a very similar picture where Long-tailed Skua were concerned, and once more Aird an Runair was at the heart of the action with 510 birds noted during the week from an overall national tally of around 570. Passage past there peaked on 24th when 317 birds were recorded. Elsewhere double figure tallies were logged off Rubha Ardvule on South Uist (Western Isles) with 11 past on 24th, and off Saltcoats (Ayrshire) on 22nd with 29 birds noted. Bowness-on-Solway (Cumbria) accounted for the sole English records with at least two past there on 20th, and a further single past the following day.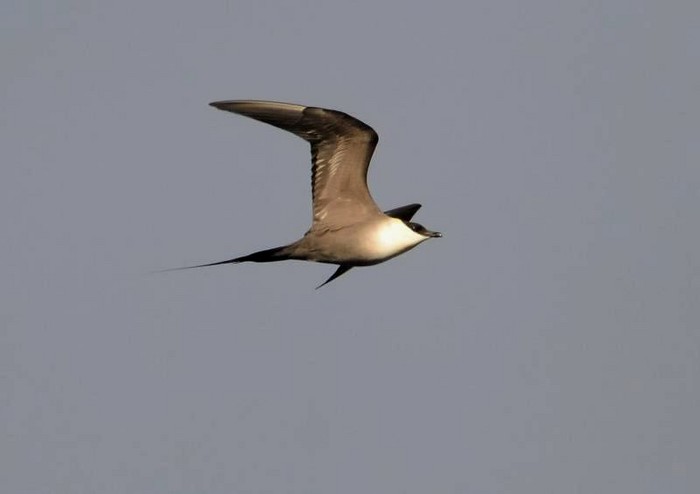 Balnakeil (Highland) accounted for the sole White-billed Diver record of the week, with one noted off there on 21st.
It's proving to be a colourful and varied spring where vagrant herons, egrets and their ilk are concerned, and there was something for everyone this week. We kick things off with Black Stork - a wandering bird was tracked up the east coast, first noted on 21st in Norfolk in the Ringstead area before drifting through north Norfolk and up into Lincolnshire on 22nd, being noted in the latter county at Frampton Marsh and Kirkby-on-Bain GPs. Possibly the same bird was noted over Midhope Moor Watchpoint (South Yorkshire) on 23rd; and then on 25th one was seen in Pembrokeshire heading north over Skomer in the afternoon and also at Marloes. The week ended with presumably this latter wandering individual seen in Glamorgan on 26th first at Afan Valley Forest Park and from Maesteg and Nantyffyllon, and a late report of one seen in Gwent that day flying south over Abergavenny.
The singing male Little Bittern remained in situ all week at Lakenheath Fen RSPB (Suffolk); a further probable bird was heard singing at Snettisham Coastal Park on 21st only.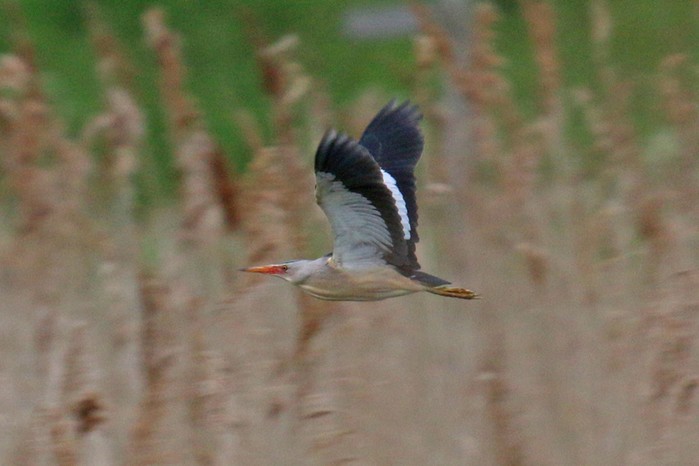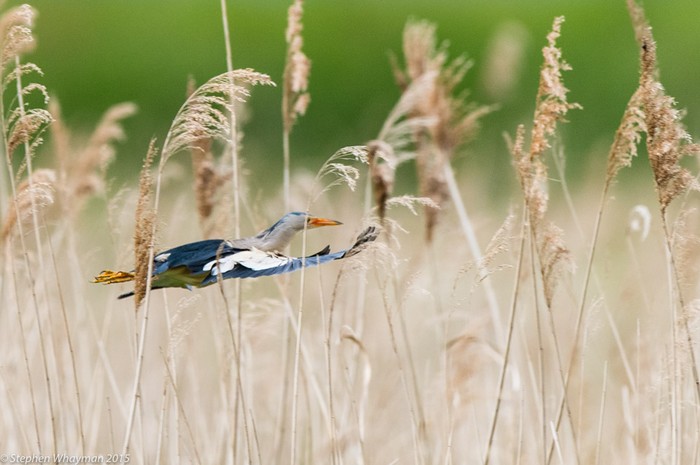 Scilly held a small flock of Night Herons throughout the week with as many as three adults coming together occasionally on St.Mary's at Lower Moors, with some commuting to Porth Hellick taking place. A further adult remained in the Tresemple area of Cornwall on 20th-26th.
The southwest retained its two Purple Herons, with both the adult at Drift Reservoir (Cornwall) and the first-summer settled in Dorset at Lodmoor RSPB for the entire week.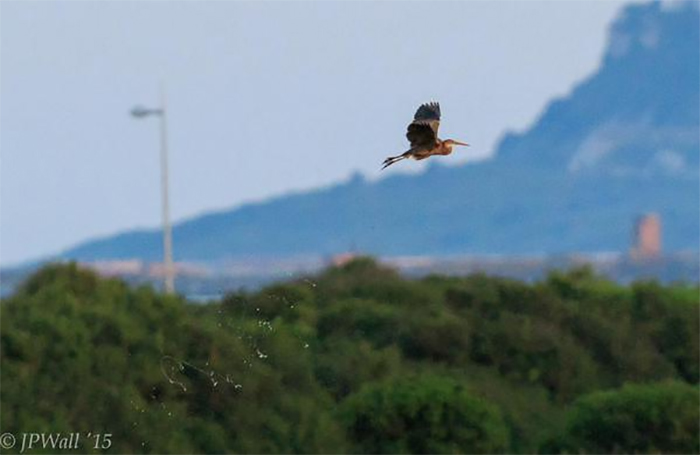 Back on Scilly the first-summer Squacco Heron remained at Porth Hellick on 21st-26th; in Ireland, one was noted at Ballycotton (Co.Cork) on 22nd.
Somerset ensured the week wasn't a blank for Cattle Egret, with one seen in fields at Trull on 25th.
Somerset was, as usual, the epicentre of all things Great White Egret with the ever-reliable Ham Wall RSPB area accounting for daily sightings, with five there again on 21st. Elsewhere in the southwest one was seen flying over Bridport (Dorset) on 20th, and one was at Exminster Marshes RSPB (more of which anon) on 21st. One remained in the Cuckmere area of East Sussex from 22nd-25th; while in Kent a mobile bird commuted between Stodmarsh, Grove Ferry, and Collards Lake throughout the week, with presumably a different individual noted at South Swale NR on 23rd.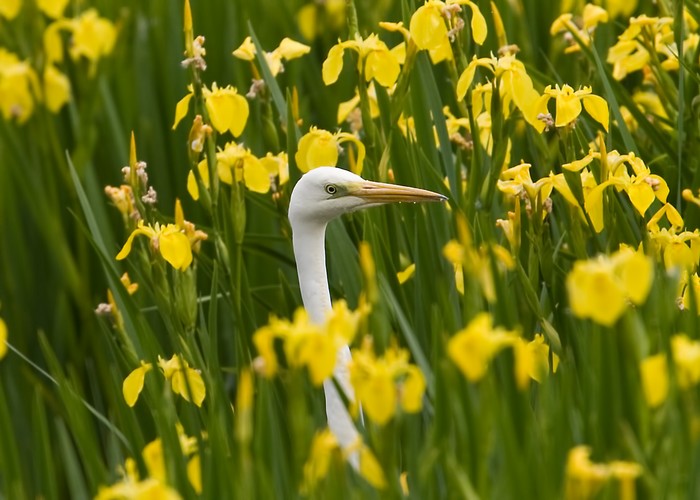 One remained from 20th-25th in Suffolk at Minsmere RSPB, with one still at Lakenheath Fen RSPB on 26th; in Norfolk birds were logged over Kelling Heath on 21st and at Welney WWT on 25th-26th. One was seen over Northampton (Northamptonshire) on 23rd, while elsewhere in the county the ever-reliable Summer Leys NR retained a bird on 21st-25th. One was at East Chevington NWT (Northumberland) on 24th, and one was seen over Uppingham (Leicestershire) on 25th. Finally, in Scotland birds were noted from Halkirk and Brawlbin (both Highland) on 20th and 22nd-26th still respectively, and at Loch of Strathbeg RSPB (Aberdeenshire) still on 22nd-23rd.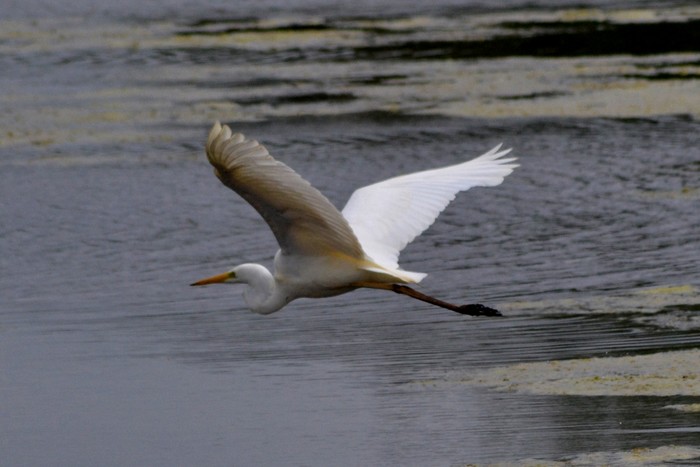 And so to Spoonbills, and a typical week with a good scatter of individuals nationwide. Starting in the southwest, Dorset (and Poole Harbour in particular) accounted for most records: one was reported over Corfe Castle on 20th; one was at Arne on 21st; and six were seen off Rempstone Causeway on 24th. Down on Scilly one was on Gugh on 20th.
Records from Hampshire came in the form of three birds at Farlington Marshes HWT on 21st, and Pennington Marshes on 23rd-26th. Moving east one remained at Pagham Harbour (West Sussex) on 20th still, and in East Sussex at Cuckmere Haven the immature bird remained on 22nd-25th. In Kent, one was noted at Scotney GPs on 24th.
Suffolk accounted for a single bird at Tinker's Marshes on 22nd and two birds at Hollesley Marshes RSPB on 23rd, with one there still on 24th-26th. Three were at Breydon Water (Norfolk) on 22nd (with one there again on 26th), with records of single birds elsewhere in the county coming from Cley on 22nd-25th, Hickling Broad on 22nd, Salthouse on 23rd and Holme Dunes NWT on 26th. Heading up the east coast, Lincolnshire produced an individual at Frampton Marsh on 20th and three birds at Gibralter Point on 21st and 23rd with one noted from there on 24th and two there on 26th. One was recorded at Flamborough Head (East Yorkshire) on 22nd, and one went past Whitburn Coastal Park (Co.Durham) on 25th. One remained in the vicinity of Druridge Pools and Cresswell Pond (Northumberland) on 22nd-26th, while back inland in West Yorkshire one was still at Fairburn Ings on 20th-21st. Finally, in Ireland one remained at Tacumshin (Co.Wexford) on 20th-24th.
Aw ay from their Norfolk stronghold there were a scattering of Common Cranes seen throughout the week: in chronological order, three birds were noted at Ouse Washes RSPB (Cambridgeshire) on 20th, with three birds reported that day also at Lakenheath Fen RSPB (Suffolk); one was again on Gugh (Scilly) on 23rd-24th, and one was noted over South Stack RSPB and The Range (Anglesey on 23rd-24th; on 23rd a wild bird pitched down at Slimbridge (Gloucestershire) to hang out with three of the introduced birds there; and on 26th two birds were seen from the raptor watchpoint in Wykeham Forest (North Yorkshire) and three passing over Grimsby (Lincolnshire).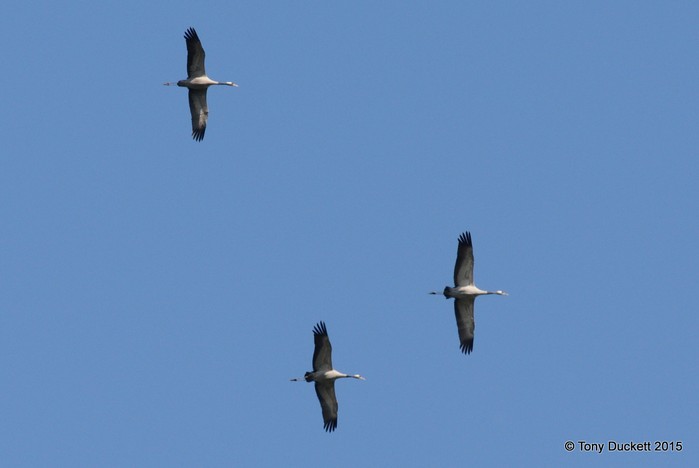 A Spotted Crake was noted singing at Martin Mere (Lancashire) on 23rd.
I've not had a chance to listen to Mark's piece on the last Talking Naturally podcast (and must get around to that soon), but I wonder if he mentioned the not inconsiderable time spent during the winter months reporting on the many notable quackers and honkers to grace our coasts and freshwater bodies? It's a different story at this time of year, so we'll quickly dash through what's on offer and head as quickly as possible to those lovely passerines via a particularly vibrant shorebird offering...
A couple of Black Brants were almost our only goose news this week – adults at Levington Creek (Suffolk) on 21st and still at Spurn YWT (East Yorkshire) on 22nd-26th. Late past the post was a small race Canada Goose on Unst (Shetland) on 26th – appearing to be either form interior or parvipes.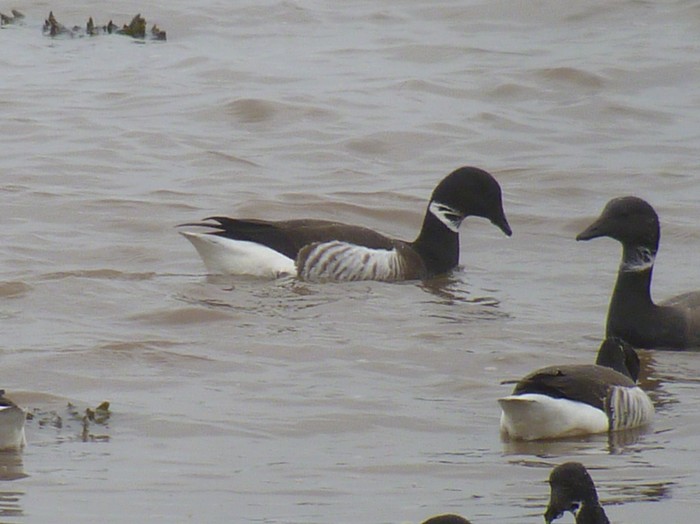 The two drake Ring-necked Ducks remained in Shetland on Loch of Hillwell on 21st-25th; a further drake was an excellent find at London Wetland Centre WWT on 25th; while in Ireland the drake remained at Blackrock (Co.Dublin) on 20th-25th.
A drake Green-winged Teal was on North Ronaldsay's Bewan Loch (Orkney) on 23rd.
Completing the set of rare drakes, the photogenic King Eider remained on Aberdeenshire's Ythan Estuary all week.

<!—Section Title -->
Deep breath now – this was an absolute gem of a week for rare shorebirds with a particularly American flavour to the rarer proceedings.
Top-billing goes to the Greater Yellowlegs in Hampshire that remained faithful to Titchfield Haven NNR throughout the reporting period. Further American offerings came thick and fast as the week progressed...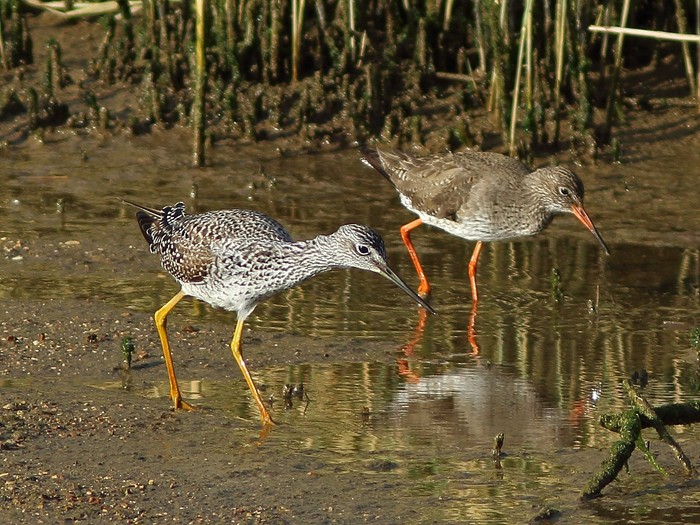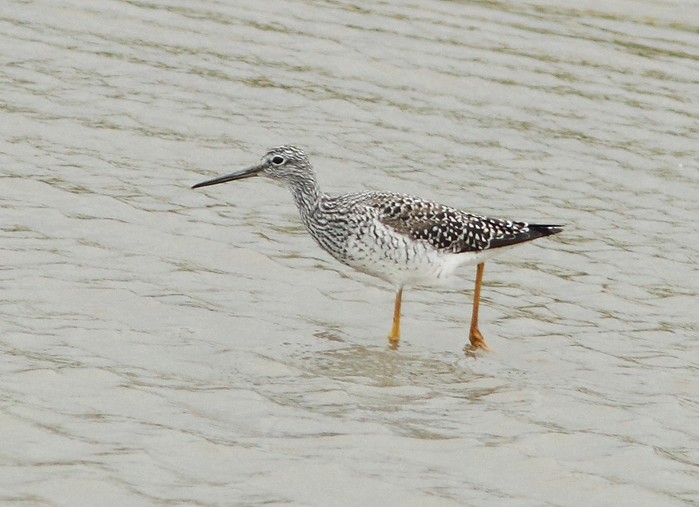 Two smart Spotted Sandpipers were, ahem, spotted –an adult on 21st on Arran near Brodick (Ayrshire) had been present since 19th; and rather more accessible, a further adult was in Herefordshire at Wellington GPs on 24th-25th.
Cley Marshes (Norfolk) had a busy week, with two Pectoral Sandpipers there on 20th (and a Red-necked Phalarope also that day) and one bird thereafter on 21st-22nd; and a White-rumped Sandpiper on 25th-26th.
Completing the American theme (and competing with Cley for site of the week) Devon's Exminster Marshes RSPB produced a first-summer American Golden Plover on 23rd-24th – with an adult Gull-billed Tern there on 23rd for good measure.
More European offerings came in the form of two Black-winged Stilts at Bowers Marsh RSPB (Essex) on 22nd and again on 26th, and a Kentish Plover reported as present for its third day at Fenham-le-Moor (Northumberland) on 24th.
A decidely good week was had for anyone wanting to catch up with a Temminck's Stint with 17 birds noted from eight counties across England. The week began with one still present at Martin Mere WWT (Lancashire) on 20th, with two reported there on 24th and one still there on 26th; singles were at Seaton Marshes (Devon) and Scorton (North Yorkshire) on 20th, with the latter bird still present on 22nd; one was at Gibralter Point (Lincolnshire) on 21st, with two the same day at Druridge Pools (Northumberland); two birds were at Broom GPs (Bedfordshire) on 22nd-25th, with further singles seen on 22nd at Manby (Lincolnshire) and Tophill Low NR (East Yorkshire); two birds at Coombe Hill Meadows (Gloucestershire) on 24th had risen to three birds on 25th and back to one bird on 26th; singles were noted on 24th at Hesketh Out Marsh RSPB (Lancashire) and Scalby Lodge Pond (North Yorkshire); and a further single was at Cotswold Water Park (Gloucestershire) on 25th.
A reasonably good supply of migrant Red-necked Phalaropes were on offer too this week, with one bird in particular settled at Minsmere RSPB (Suffolk) from 20th-26th. Elsewhere, Broom GPs (Bedfordshire) retained a bird until 20th, and further individuals were seen at Cley and Titchwell (Norfolk) on 20th; at Loch Inchard (Highland) on 21st; at Bicester (Oxfordshire) on 24th; and two males on 26th near Campbeltown (Argyll).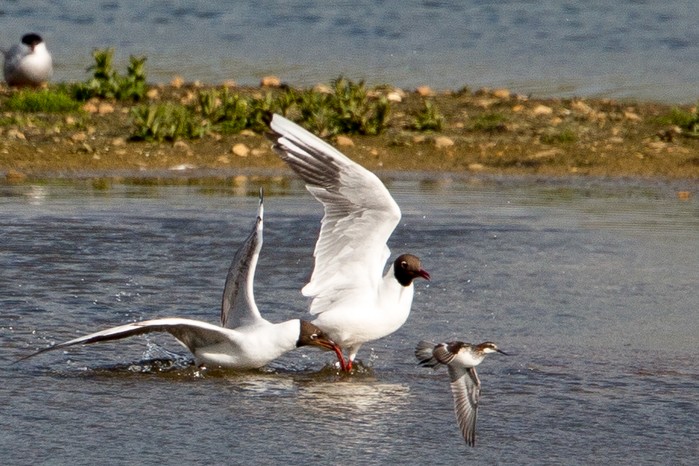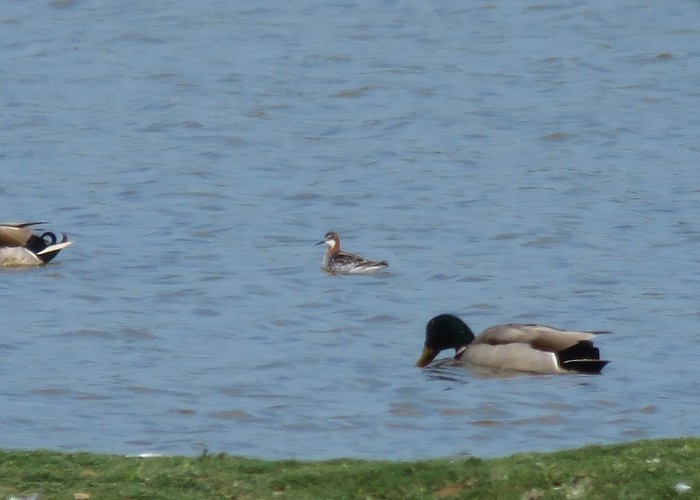 A female Grey Phalarope was noted on 21st at sea between Gigha and Tayinloan (Argyll).
Dotterel numbers fell away midweek in Norfolk with the trip of 15 birds at Choseley Drying Barns still present until 21st but reduced to five birds from 22nd-24th with just two females remaining there on 26th. Elsewhere small trips of four birds were on Fair Isle (Shetland) on 20th and Cross Fell (Cumbria) on 23rd, and one bird was reported from Blackcraig Hill (Ayrshire) on 20th.
In the absence of confirmation of the possible second-summer Audouin's Gull reported distantly off Gorleston (Norfolk) on 21st, Devon's Gull-billed Tern at Exminster Marshes RSPB on 23rd tops the class this week amidst the gulls and terns. And before we return to those gulls, we'll finish off the terns with news of a White-winged Black Tern at Martin Mere WWT (Lancashire) on 24th and at Lunt Meadows LWT (Lancashire) on 25th; and a further individual was mobile at Paxton Pits NR (Cambridgeshire) on 26th.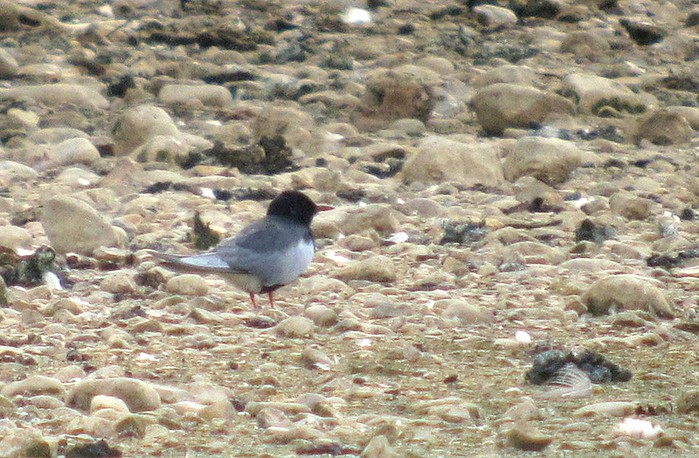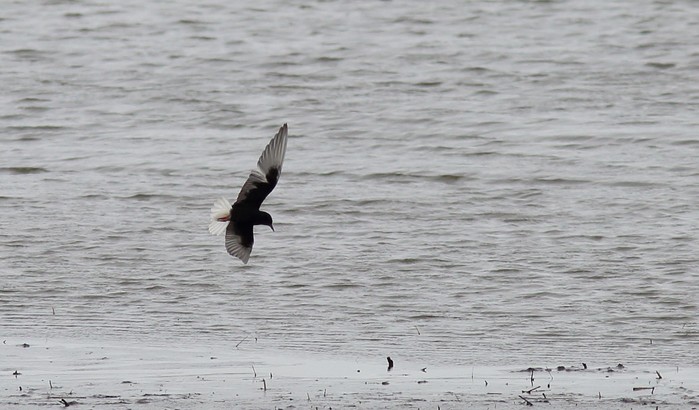 Back with the gulls, the first-summer Bonaparte's Gull remained in Southampton at Chessel Bay LNR (Hampshire) on 20th-24th; while further first-summer birds were in Norfolk at Breydon Water on 21st and in Cornwall at Kingsmill Lake on 26th.
Just two Ring-billed Gulls were logged this week – the settled first-year bird down in Cornwall at the Hayle Estuary until 26th, and in Ireland a first-summer individual at Tralee Bay Wetlands (Co.Kerry) on 22nd-23rd.
Numbers of lingering white-winged gulls still haven't fallen away entirely, with double figures of both Glaucous and Iceland Gulls still noted this week.
Glaucous Gulls were recorded still on 20th at Achnahaird (Highland) and Carnsore Point (Co.Wexford); a probable bird was at Bowers Marsh RSPB (Essex) on 20th-22nd; on 21st birds were noted at Balnakeil (Highland), Holm (Orkney), on North Uist at Loch Hosta (Western Isles) and on the Roe Estuary (Co.Londonderry), this latter bird still present on 22nd; again at Seaton Common (Cleveland) on 22nd; at Eigg (Highland) on 23rd; at Uyeasound on Unst (Shetland) on 24th-25th; at Point of Ayre (Orkney) on 25th and, sticking with Orkney, on North Ronaldsay on 26th; and also on 26th, one still present on Tiree at Balapool (Argyll).
Iceland Gulls were roughly three times as numerous as their bulky counterparts, with around 30 birds noted across the week from an almost exclusively Scottish quarter. On 20th, one remained in Northumberland at Queen Elizabeth II CP (still there on 25th), two birds were still at Yesnaby (Orkney), one was still also on Orkney on Westray, and one remained at Balormie (Moray); one was on Skye at Uig (Highland) on 20th-25th, and also on 20th in Shetland singles were noted on Unst at Norwick and from the Mainland at Brettabister. Birds were noted again in Shetland on 21st at Symbister on Whalsay and on Mainland at Loch of Hillwell; two further individuals were noted that day in the Western Isles on North Uist at Balranald and Greinetobht, and at Loch Ryan (Dumfries & Galloway). Back on the Western Isles on 22nd two juveniles were on Lewis at Butt of Lewis (with one juvenile and a second-winter there on 25th) and a singleton was at Loch an t-Saile on South Uist. On 23rd reports came from Longhouse (Orkney), Sound of Raasay (Highland) and Urquhart (Moray). On 24th two birds were on Lewis at Loch Stiapavat (Western Isles) and one was in Surrey at Staines Reservoirs. Back in Scotland on 25th individuals were noted at Arbroath (Angus) still; and on the Western Isles on South Uist at Ardivachar Point and Penninerine and on North Uist at Loch Paible; and on Orkney at Point of Ayre. On 26th one was at Uyeasound on Unst (Shetland), with one in the Western Isles that day on North Uist at Balemore and three on the machair at Balranald RSPB. A further English record came on 25th from Titchwell RSPB (Norfolk).
While there are murmerings from the Continent that Red-footed Falcons are having one of their periodic westerly irruptive years, we've yet to see anything indicative of that in Britain and Ireland – none of which detracts from the first-summer female Red-footed Falcon in Dorset at Wareham on 20th-26th. Hopefully she's in the vanguard of a wave of further records...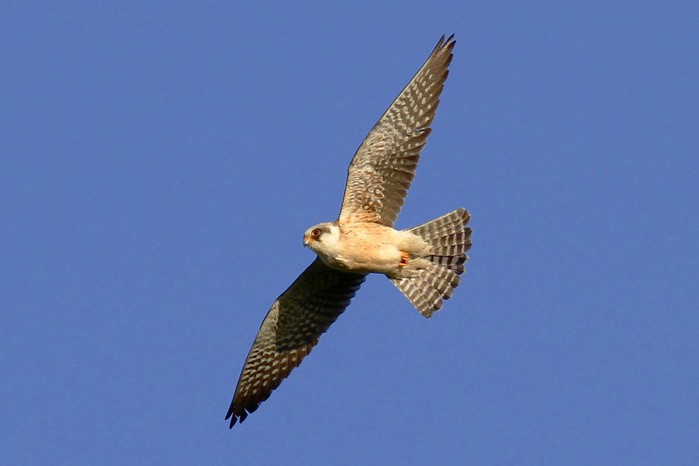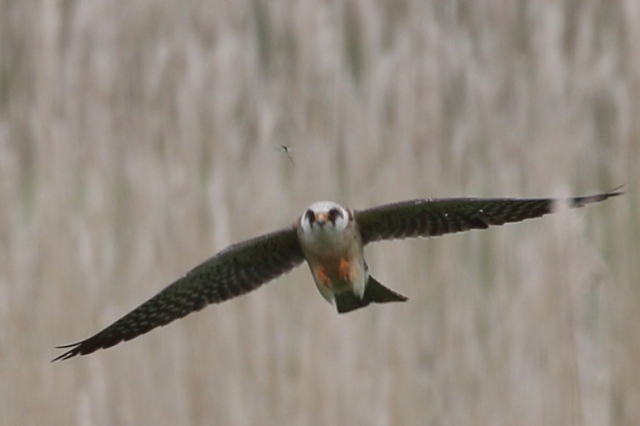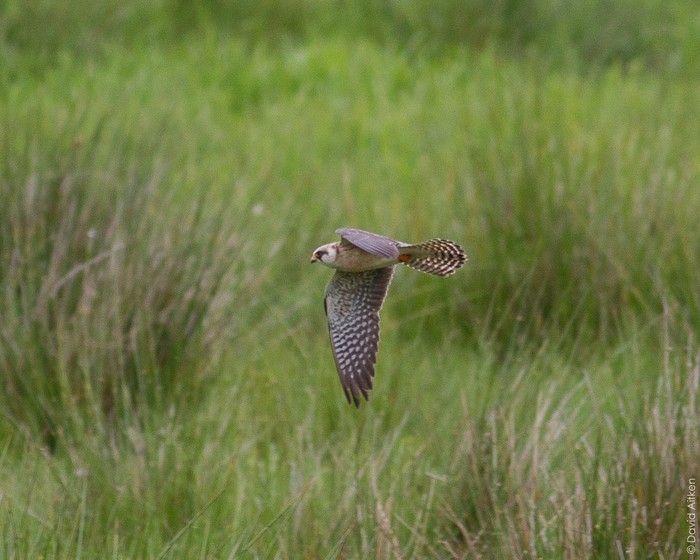 In the meantime, it falls to Black Kites to make up the numbers of the rarer vagrant raptors. Birds were noted over South Foreland (Kent) on 2oth with a further possible bird that day over Weybourne (Norfolk);on 21st in Norfolk at Wells-next-the-sea and at Sheepcote Valley (East Sussex); and on 25th over Chelmsford (Essex) - and again there at Chelmsford on 26th – at Rye Harbour (East Sussex), and a further possible individual in East Sussex at Firle.
Double figures of Honey Buzzards were reported during the course of the week, starting on 20th with two probable individuals noted at Mansfield Woodhouse (Nottinghamshire) and Bracknell (Berkshire) respectively, and a definite bird over Langar Tip (Nottinghamshire). The week's sole Irish record came on 21st from Ballycotton (Co.Cork), with another noted that day over Ware (Hertfordshire). On 22nd birds were logged at Dingle Marshes SWT (Suffolk), Epperstone (Nottinghamshire) and Harwood Dale (North Yorkshire). One was over Westleton Heath (Suffolk) on 23rd, one was noted in Norfolk on 24th at Titchwell RSPB and one was seen at Sandwich (Kent) that day also. One was noted in the afternoon of 26th from the Welback watchpoint in Nottinghamshire.
A pair of Montagu's Harriers remeained available all week long in Lincolnshire at Blacktoft Sands RSPB, with a single bird seen passing over Slaption Sands (Devon) on 26th. There should be more harriers of all kinds in England and Scotland... Just sayin'.

We'll kick off the passerines with the warblers, where there was all sorts of variety and (perhaps) none more so than amongst what we once, in our innocence, merely thought of as Subalpine Warbler. Last week's male Moltoni's Subalpine Warbler continued to find Fair Isle (Shetland) very much to its liking, albeit having forsaken the Obs garden for pastures new further down the island, and was still present on 26th. So far, so straightforward.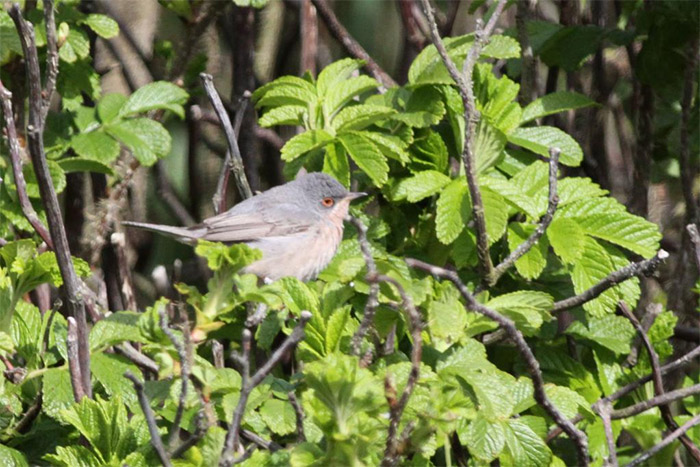 Things became more problematic as the week wore on at opposite ends of the country. On 23rd a female turned up in the mist nets in the Obs garden at Portland (Dorset). The Portland Bird Observatory blog provides an excellent and educational account of the of the route-map towards establishing an identity for a female subalpine warbler sp - and of the cul-de-sacs that, short of a conclusive dose of DNA, one can find oneself in with these subtle birds. On the evidence, this one appears to be a Western - but until the DNA results come in, we're a smidgen short of being conclusive.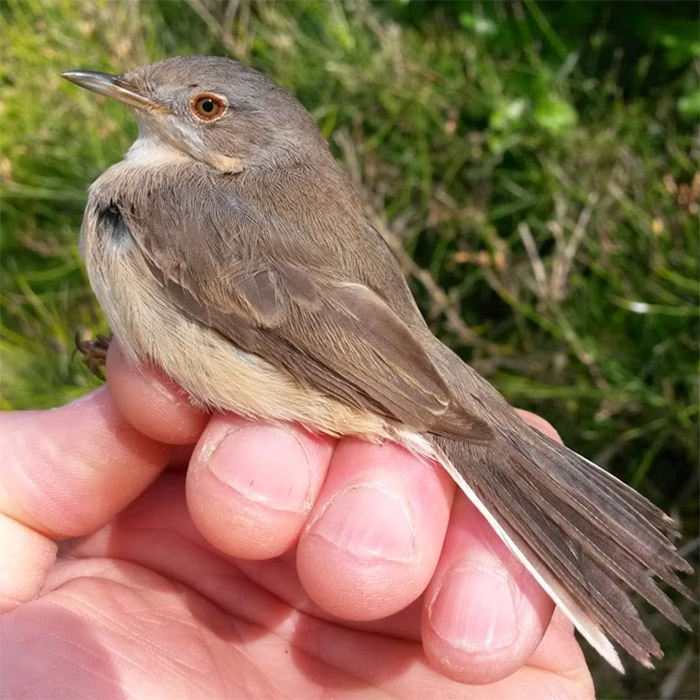 And that's with one in the hand. What then to make of another female in the field at Halligarth on Unst (Shetland) on 25th? Not a lot, it would seem. For those of us of a certain vintage there are now rather a lot of Subalpine Warblers from days gone by that can't be safely assigned to species. A frantic scramble for notebooks and photos (and how many were taken in the pre-digital and pre-every-man-and-his-dog-carrying-a-camera era?) will only resolve so many of the males alone. As for the females... What's clear is that records of what was once a straightforward single species are now in something of a limbo.
A less taxing Sylvia remained present this week in Cornwall at Land's End, where the male Sardinian Warbler continued to belt out some tunes (and show itself from time to time) until 26th. Other warblers in song included a Blyth's Reed Warbler in East Sussex at Forest Row on 23rd, and a handful of Icterine Warblers down the east coast: one at Seacroft (Lincolnshire) on 21st; and at Buckton (East Yorkshire) and West Runton (Norfolk) on 24th. Meanwhile down on Scilly a singing Melodious Warbler was on St.Mary's at Peninnis Head on 20th.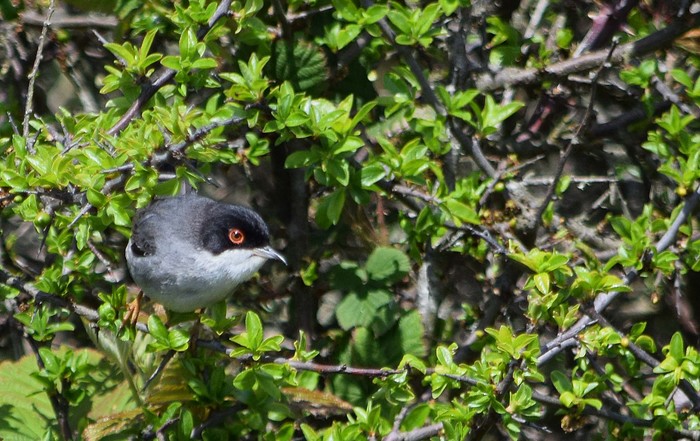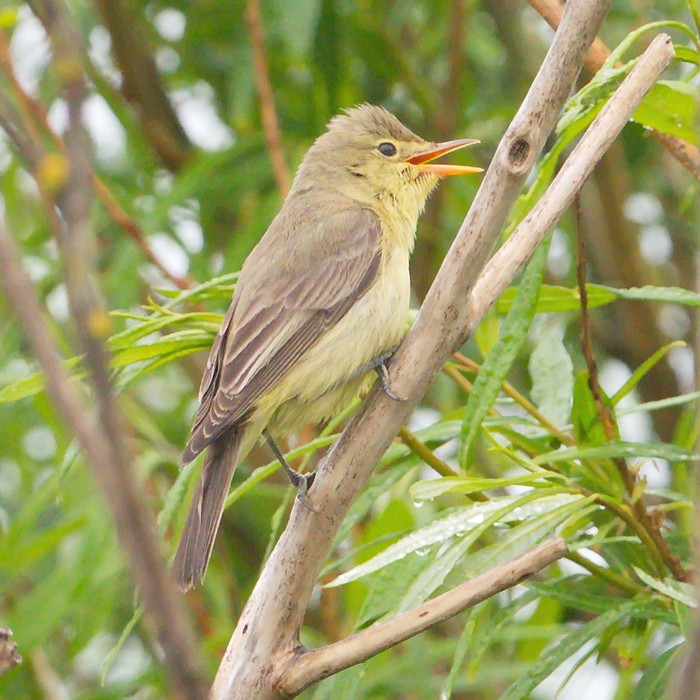 Neatly bringing the singing and unresolved specific warbler identity strands together was the Bonelli's warbler sp. singing briefly in the morning of 26th at Hickling Broad (Norfolk). As the strong (and frustratingly for many observers) often silent type in Scalloway (Shetland) last autumn reiterated, in the absence of DNA these warblers really need to be vocal if observers are to have a chance of making a definitive identification of either Eastern or Western Bonelli's. Fortunately this particular bird was doing the decent thing and (albeit briefly) being vocal – and as the day wore on and sonograms were compared the identity of this bird was discerned once and for all – a Western Bonelli's Warbler.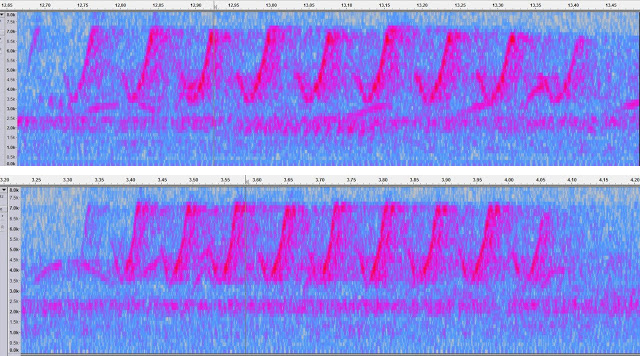 (Birding's become almost unrecognisably technical and technological of late, hasn't it? I remember, back in the day, when we just had a pair of cheap binoculars and a notebook and counted ourselves lucky, jumpers for goalposts, etc, etc...)
Herefordshire seems to have had a bit of a thing this week, what with the aforementioned Spotted Sandpiper and another warbler to add to our accounting – a singing probable Iberian Chiffchaff at Haugh Wood on 23rd.
Essex provided an uncomfirmed report of a singing Great Reed Warbler at Fingringhoe Wick on 21st, though there was no sign of the giant croaker there subsequently.
Traditional spring colour came in the form of multiple Bee-eaters and Golden Orioles this week. Doing one on bees the length and breadth of the country, the week began with a Bee-eater still in Co.Mayo at Blacksod on 20th. Subsequent records came from Ousdale (Highland) on 22nd; on North Ronaldsay (Orkney) on 23rd and again on 26th; on Flamborough Head (East Yorkshire) on 24th; heard in Dorset on 24th over Portland and Radipole RSPB respectively; seen over Portland and at Lodmoor RSPB on 26th; reported from Sanday (Orkney) on 25th and seen in Ireland at Roundstone (Co.Galway) on 25th.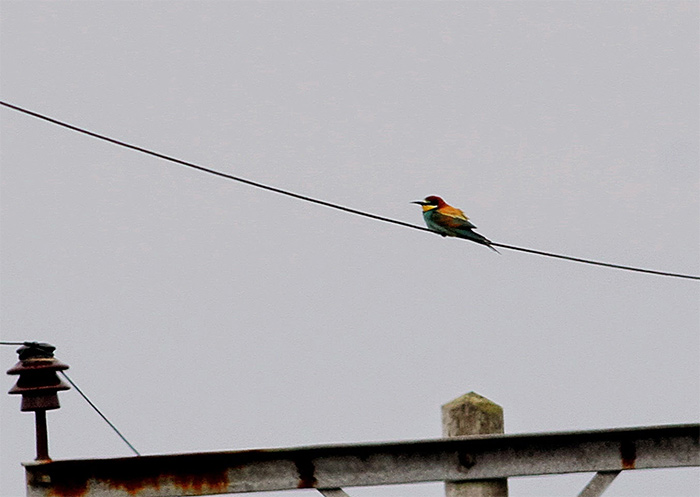 Golden Orioles were also being seen as well as heard – one was on Unst at Baltasound (Shetland) on 21st; one was heard in Friday Wood (Essex) on 22nd, with an immature or female that on 22nd-23rd at Kilnsea (East Yorkshire), and one on 23rd in East Yorkshire at Sammy's Point; another was heard singing in Kent at Cooling on 24th; and birds were seen that day also at Winterton Dunes (Norfolk) and at the edge of St.Mary's airfield (Scilly), this latter bird still present on 25th.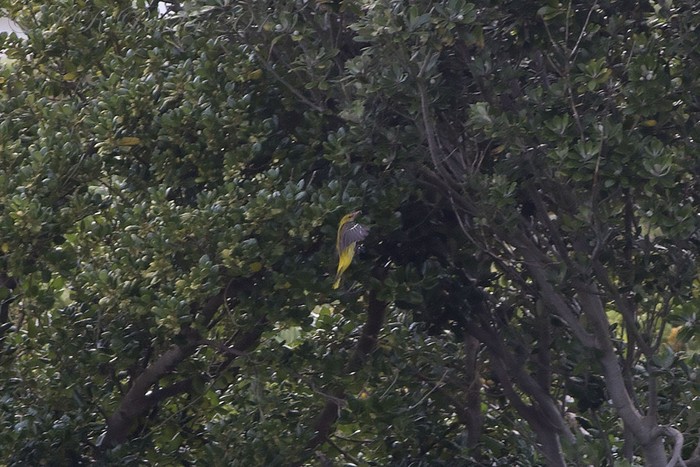 Two Hoopoes were seen this week – one up in Unst (Shetland) at Clibberswick still on 20th-21st; and one in Northumberland at Saltwick on 24th.
Two Wrynecks were noted at the back end of the week, seen on 25th in Shetland on Out Skerries and down in Somerset at Shapwick Heath NNR.
A typical overshoot for this time of year, a Red-rumped Swallow was over Spurn (East Yorkshire) on 25th.
Equally anticipated fare came powering overhead in the form of an Alpine Swift above Winwick (Cheshire) on 23rd. A probable further bird was reported over London that day at Hanworth. Rather less expected this late in proceedings was a report of a Waxwing that day near Easington Colliery (Co.Durham).
A male Red-backed Shrike was a good find in London at Fairlop Waters on 25th. More of them in the comings days for sure...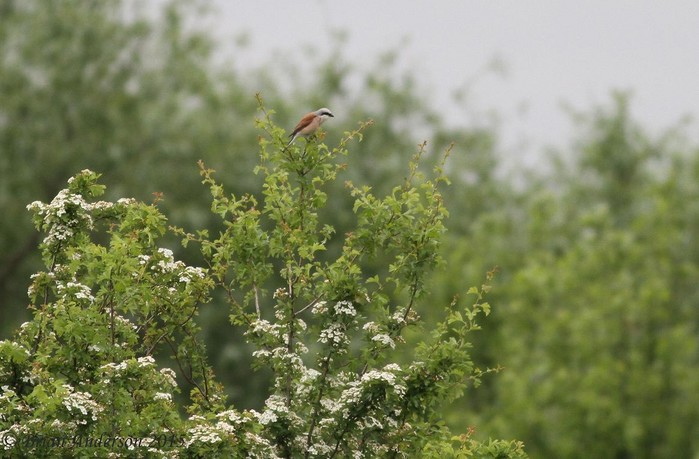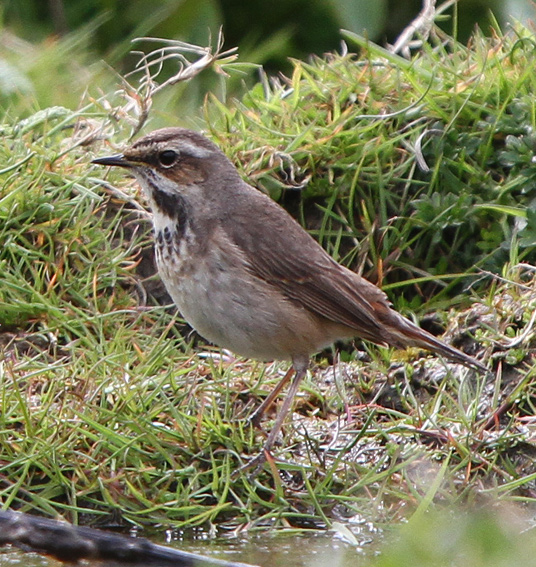 Up in Shetland, Fair Isle hung on to its Short-toed Lark until 22nd. We've not been blessed with much by way of favourable winds lately, so it wasn't with much hope that your own correspondent decided to spend Saturday 23rd birding on the underwatched Out Skerries. To cut a long story short, despite a close encounter with some angry dogs along the way, I managed to find a Bluethroat. Granted it was nowhere near as good-looking as the stonking singing male on Blakeney Point (Norfolk) on 24th, but any day one finds one of these is a Good Day (as well as demonstrating the effort and risk your RBA correspondents go to in order to give you something to read about – I bet observers of neither the Blakeney bird nor the female on Gugh (Scilly) on 24th nor the bird on Unst (Shetland) at Hermaness on 25th had to contend with enraged Cavalier King Charles spaniels...)
Moving onto the moveable feast that's Yellow Wagtails, we find three records of Grey-headed Wagtail this week – one in Suffolk at Tinker's Marshes on 20th; a probable over Whitburn Coastal Park (Co.Durham) on 20th also; and one on Fair Isle on 21st-25th – and records of Blue-headed Wagtail at Burton Mere Wetlands RSPB (Cheshire) on 24th and Fair Isle on 25th.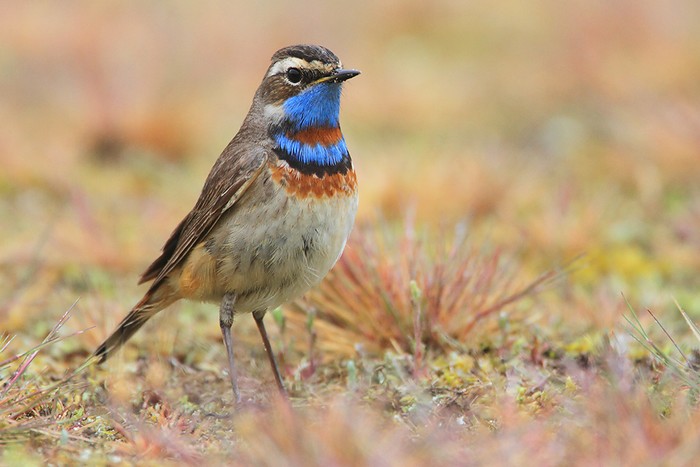 The Rose-coloured Starling remained on South Uist at Ardivachar Point (Western Isles) until 21st.
In Dorset, Portland's good week continued with a Serin on 21st and an Ortolan Bunting on 24th. Other Ortolans were noted on Skokholm (Pembrokeshire) on 20th and in Ireland on 26th at Rockabill (Co.Dublin).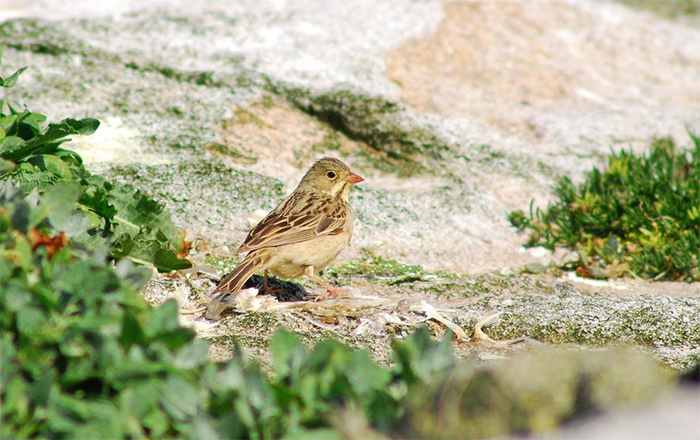 Nanjizal Valley (Cornwall) yielded a first-summer male Common Rosefinch on 23rd. More colourful still was the singing male Rustic Bunting many hundreds of miles away on North Ronaldsay (Orkney) on 2th-26th.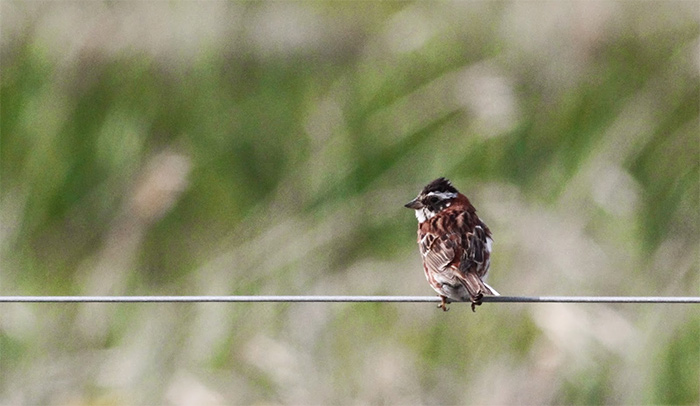 Cor. That was good, wasn't it? It's a safe bet that next week will be just as tasty too...
Late May and early June is, as Forrest Gump would have had it were he a birder, like a box of chocolates where rarities are concerned. There's just so much to go at... We're totally spoiled for choice where the coming days are concerned if days of yore are any guide.
Rummaging through the scores of Red-footed Falcons - the rarity equivalent of the toffees, I think – it doesn't take long to uncover the fruity creams that are double figures of the likes of Broad-billed Sandpiper, Roller and Black-headed Bunting. Mm. We've already had the sandpiper this week, but an accessible indvidiual of either of the others would doubtless be popular.
It's fair to say that almost anything is fair game now, and all bets are off. Pretty much any rare tern is a possibility, from the reasonably anticipated likes of White-winged Black and Whiskered through to single figure screamers like Bridled, Sooty and – gulp - Aleutian. The latter, on the British list courtesy of the Northumberland bird of 1979, being something of a champagne truffle in birding's box of chocolates.
And it's far from the only mouthwatering gem the coming week has served up in the past. Anyone fancy another Ancient Murrelet, Tengmalm's Owl, Tree Swallow, White-crowned Black Wheatear or Rock Bunting? Yes, me too.
(It's only comparatively recent records of >strong>White-tailed Plover, Pacific Swift, White-throated Needletail, Blue-cheeked Bee-eater, White-throated Robin and Western Orphean Warbler that relegate those to honourable mentions... (Not that anyone would complain about another of any of them). It's that sort of an upcoming week).
Or you could just head out to the coast and try to find The Warbler Formerly Known As Subalpine. As evidenced by this week's goings-on, it's bang in the heart of the best time to stumble across one. Hoping, for the sake of an easy life, that it's not a female.
One thing's for sure though – there ought to be something found this week that changes plans, tests marriages, and brings on sudden illness-related absences from work. Here's hoping...
Jon Dunn
27 May 2015


Thanks to this week's contributors for their photos, videos and sound files.
Dave Suddaby, Brian Anderson, Paul Rowe, Aidan G. Kelly, Jeff Hazell, John Kemp, Steve Grimwade, Stephen Whayman, Ashley Banwell, John Wall, Mark Chidwick, Stuart Mundy, Tony Duckett, Dean Nicholson, Paul Kelly, Sean Wileman, Paul Ward, Jason Coppock, Paul Shilling, David Boult, Brett Spencer, Simon Kidner, David Aitken, Birds of Poole Harbour, Fair Isle Bird Observatory, Portland Bird Observatory, North Ronaldsay Bird Observatory, Graham Etherington, George Gay, Joe Pender, Brian Anderson, Rob Holmes, Norfolk Coast National, Gly Evans, Brian Burke,
Please check out our contributor's websites for more superb birding photos, videos and more.