Weekly round-up: 13 - 19 May 2015 sponsored by British Birds
At a glance
Ding, ding - it's London bus time for Moltoni's Subalpine Warbler - along comes the second in a week, this one a male on Fair Isle
Cornwall keeps the Sylvia theme going - landing a singing male Sardinian Warbler
Scilly awash with a fine selection of rarer Herons though the "big one" really has gawn…
North Yorkshire welcomes a neat first-summer Balearic Woodchat Shrike - a one day wonder though
The south coast Greater Yellowlegs looms large again in Hampshire
Aberdeenshire's first-summer drake Harlequin just won't go away…
…and what may be Ireland's first genuine Hooded Mergansers in almost six decades arrive off the coast of Donegal
It seems to have been another right old mash-up of weather across the past seven days - the warmer southerly to southeasterly airflow that unleashed Norfolk-based fervour last week left her mark on us for a couple of days at the start of the week, but as the weekend came a'knockin', things started to change once more.
Atlantic weather systems chugged in once more, locking the migrant door firmly closed on the east coast (where most of the scarcer options were concerned at any rate) bringing along a run of increasingly cool conditions, coupled with a significant band that headed from west to east as the weekend turned in to the working week.
Chilly west to northwest winds, showers, thunder and lightning and sunny spells were the order of the day to the conclusion of the week, though the Northern Isles got a waft of northeasterlies, which promptly plopped some nice birds their way.
But the best birds, bar a couple of newly-arrived quackers (that only the hardest of hearts would want to deny as being "4Real") all came from the same sort of direction as last week's headline acts. Indeed one of them was a rapid repeat…
Moltoni's Subalpine Warbler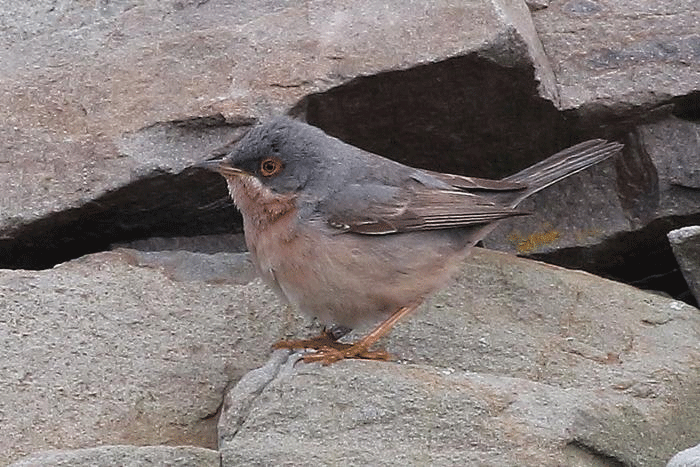 It was all about the so-called "Shetland specials" this time last week - Shetland specials that fell, quicker than a tumbling line of dominoes, in a quite remarkable two days in north Norfolk.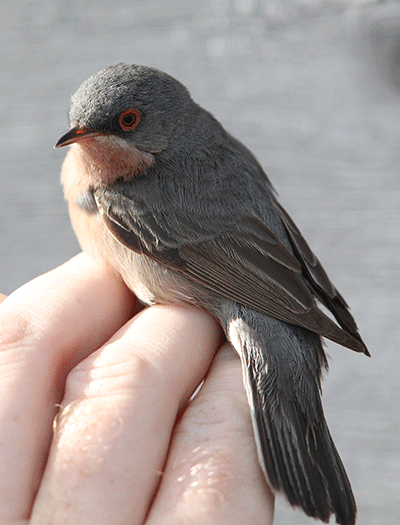 One of the those duo of dreamt-about rares - the male Citril Finch is unlikely to fall again anytime soon (no matter now, given the heavy stream of admirers who found themselves amongst the dune hollows of Burnham Overy) - but the other bird, well, that's one that will now be a constant on the spring overshoot cards…
…and, with that in mind, perhaps it came as little surprise that the morning clarion call to arms on Friday 15th (particularly for those listers for whom circumstances conspired against them on the sorrowful shingle trudge along Blakeney Point) blared out the words "Moltoni's Subalpine Warbler, Fair Isle".
That wasn't much of a surprise at all was it?
This week's male Moltoni's was caught, ringed and released just one day short of the (mentioned last week) appearance of the caught, ringed and released female that became the island's first and Shetland's third record of this newly split species in 2014 - the 15th compared to 16th. With spring still somewhat in its infancy this year, the odds feel pretty high towards the likelihood that any number of male MSW's are coming our way - and the Fair Isle bird of 2015 stayed put until the end of the week.
"All rather misleading!" some will cry and this could be viewed as a mini-peak (can two or three birds be a peak…a mere peakette perhaps?) in a spell of arrivals dominated by birds from Sylvia subalpina-land. That's probably absolutely right - but the next male SubA, especially on the mainland of Britain is going to get a grilling of George Foreman–like proportions.
One thing's for sure, Moltoni's Subalpine Warbler is on the up and who's to say that within the next three years or so, it won't become more than a bit part player in round-ups such as these. For now though - it's Mega status all the way.
…and quite right too.
Sardinian Warbler
Whilst we're in the mood for numbers, we're now on three known Moltoni's within the last 364 days (two Fair Isle, one BP) and a grand total of five since 2009.
Compare that to another subtly delicious little Sylvia from the south - the eternally handsome Sardinian Warbler -which finds a way in to the Headliners courtesy of a scrummy first-summer male on Land's End on the evening of 14th - which after much searching, rocked up again on the afternoon of 15th and showed to 17th.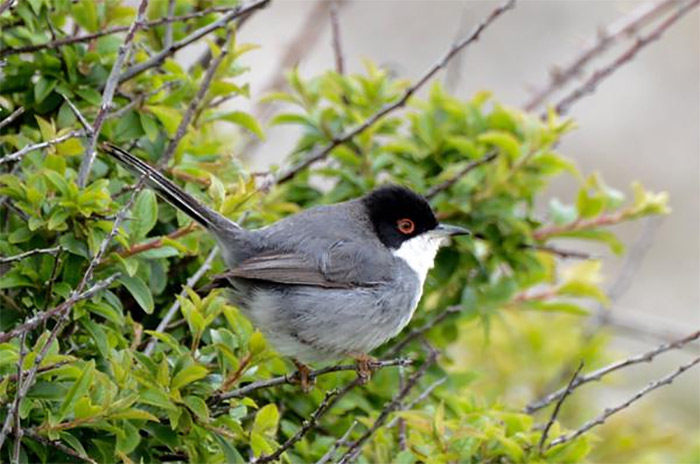 Up to and including this week's photographed bird, we're on just four records of this often furtive species since 2009 and this is the first one to appear in almost two years. Observer awareness with regard to the much-rarer warbler is one thing, but clearly the super Sard still maintains a great deal of respect upon the rare-o-metre.
The overall tally for the species is 82 acceptances in all and this week's offering will become the 8th county record for Cornwall, the most recent prior to this was a one-day bird at Nanjizal in April 2011. Just one other record has come from the 21st Century, a two-day male noted near Sennen in 2002.
A remarkable triumvirate got the county ball rolling in 1990 - two of them seen within just a few March days - the 1st Cornish record, a belting male, discovered in and around the gardens and garages of Stratton, near Bude between March 8th-22nd, with the second, another male, found lurking on the Lizard between 18th-26th of the very same month. The final record of the ragged and glorious 1990 came at Cot Valley and then Treen in October.
The relative paucity of records nationally within the last 10 years or so has meant that there's a fair amount of interest every time a Sardinian Warbler appears but most people, should they have "needed" to avail themselves of the species recently, will have taken comfort in the appearance of the bird at St. Abbs Head in Borders - a bird which seemingly summered post-trapping, showing for over a week after rediscovery in late September (having been netted on the last day of June).
Scilly's rare herons
So ole Blue Eyes has definitely done one then?
As the realisation sinks in that, along with my regular travelling companion Steve Beal, we've managed to take on the mantle of World's Worst Blue Heron twitchers - amongst the first to have dipped the Little Blue in Connemara, amongst the first to have dipped the Great Blue , there's also an air of disappointment in the premature departure of Scilly's last monster mega - there'd have been so much fun to have been had in writing about five species of rare herons around the islands at the same time…
It wasn't to be though, so let's settle for *just* the four species then…
None of them rank as megas, but that doesn't matter. They are all birds that people would turn out for and a couple of them are truly exquisite to look at when in their full pomp.
Rarest of the Scilly quartet, the first-summer Squacco Heron that made itself known during the morning of 14th, heading across Porth Hellick towards Holy Vale. It spent two or three hours in the same general area before mooching off towards Lower Moors but swiftly returned from whence it came and was seen around the bay throughout much of 15th - before ending up over on the Porthloo side by 18th. The final day of the review period saw it back over the road, on Shooter's Pool.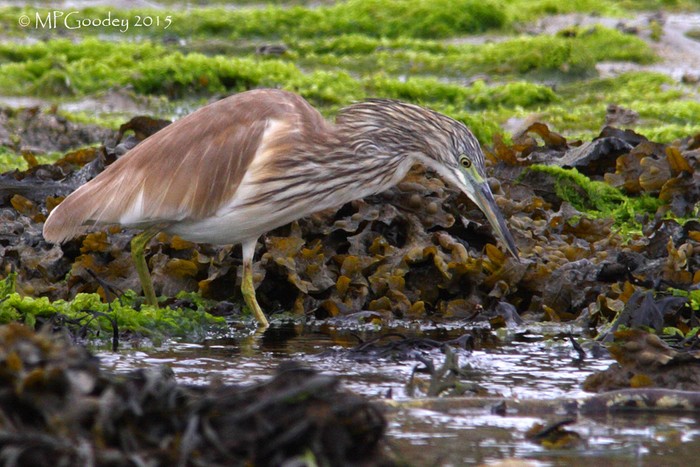 Scilly's (and St. Mary's) most recent Squacco, another May first-summer, was seen from 13th to 30th of the month in 2007 - that was the eighth record for the islands in all (and the fifth for May). The stand-out date was the early bird on March 20th 1990 - turning up along with species such as Sardinian Warbler.
Up next on the "Island of Lost Souls" (no that's not a pop at the local birders, Blondie filmed the video for said quirky reggae-tinged popfest in 1982…) comes Little Bittern - a rather dandy male of the species popping up over the reedbed at Lower Moors during the late afternoon of 13th before taking in the nearby Shooter's Pond, Porthloo Lane, Rosehill and Porth Hellick through to 15th. Then, by the afternoon of 16th, it was established that there were two male LB's on St. Mary's - an island first (two were also present on May 8th 1994 but they were split 1:1 on Tresco and St. Mary's) and at least one was still in place to 18th.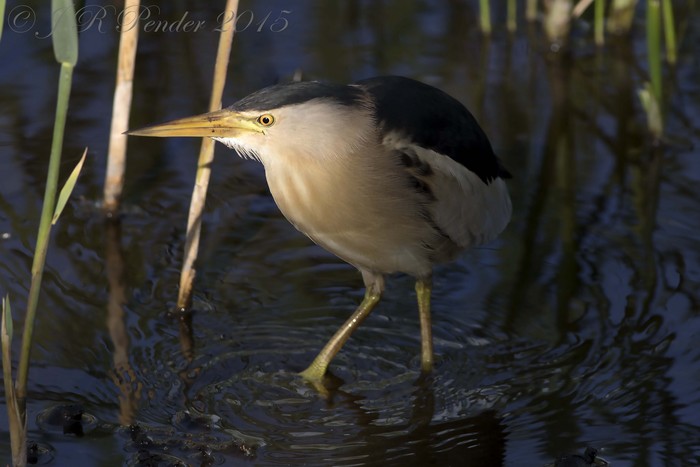 Close on 550 Little Bitterns have been recorded in Britain and Ireland since the first known record was shot in Hampshire in 1773 - Scilly has, prior to this one, managed 19 in all; the first was shot on Tresco in June 1866 and the most recent record came from St. Martin's on May 18th 2011. They've been recorded on four of the islands - St. Mary's (8, now 9 & 10); St. Agnes (4); Tresco (3) and St. Martin's (2).
Getting "commoner" but still always to be much –admired, we arrive on Species #3 - Night Heron. The final day of last week (12th) saw mention of made of three birds heading out of Lower Moors, taking a southbound bearing and being lost to view out to sea. With five birds in the area that still left a couple and that seems to be precisely where things are at on St. Mary's this week - one was seen on Lower Moors on 14th with another on the rocks at Porth Hellick a little while later on the same day. The next day saw one again on the Shooter's Pool, still in no hurry to make a move…
Rounding off this fascinating particularly rare siege of herons was Scilly's second spring Purple of 2015 - first noted heading over Shipman Head (Bryher) on 14th, the bird relocated to St. Martin's on 15th, noted offshore from the north end of the island heading to, well, who knows. Not that far as it happens, as it was noted again on Martin's on 17th!
Balearic Woodchat Shrike
Although the chance of an anytime-soon split of Balearic Woodchat Shrike (form badius) is as likely as the potential King Of England not spouting utter tosh and absolute cobblers about the badger cull (what a dim, deluded old man - and you wonder why I'm a republican?) we will try and maintain some sense and decorum in these parts instead of venting forth with the filth and the fury and take a look at a rather expected new guest.
With the presence of a Citril Finch, two or three Moltoni's Subalpine Warblers and a Sardinian Warbler (not to mention those Scilly herons) the Passerine Most Likely To Surface This Week was always going to be a Balearic Woodchat - and obliging all comers on 13th was the first-summer male that spent a day in the Wykeham Forest (North Yorkshire), becoming a county first (not just for the North, but the entire White Rose region) and Britain's 10th record in all (Ireland currently has two - in Cork and Wexford).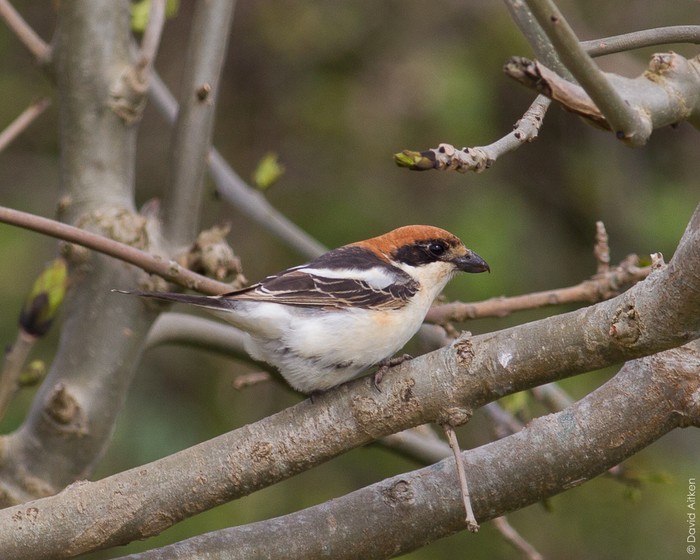 Previous popular insurance birds have sometimes been a touch thin on the ground - many people first connecting (knowingly) with the distinctive form in 2005, courtesy of the first-summer bird near Weston-super Mare (Somerset) in June of that year.
That was the first of six birds in the past 10 years (including this week's newbie) with Somerset claiming a second (in 2008), Cornwall bagging a brace (in 2007 and 2010) with one each for Shetland and Orkney (hitting the former two days after making landfall on the latter).
Greater Yellowlegs
Making another appearance for another weekly round-up, the Titchfield Haven Greater Yellowlegs which decided to make him/herself known again at this popular Hampshire spot on 15th-19th - absent since 9th, this pattern of (non-) occurrence is becoming rather familiar now. As yet, there's no northward passage on the cards, but what happens when the last of the islandicas heads off?
Eyes peeled godwiteers, eyes peeled.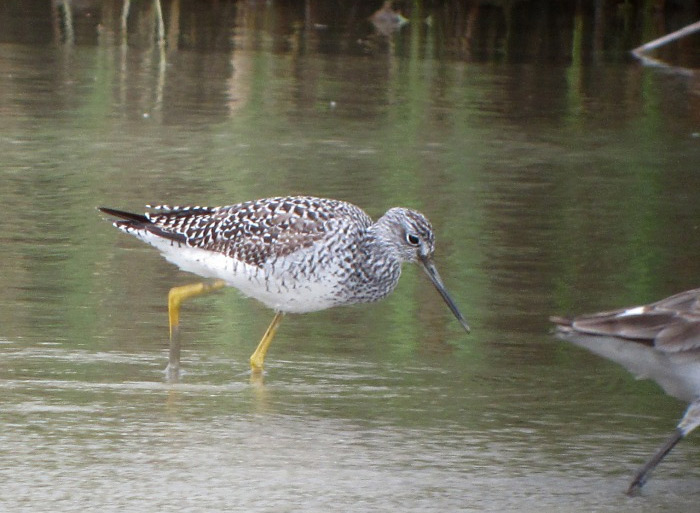 Harlequin
Still proving somewhat irresistible - and why not, he's such a dashing fellow - the first-summer drake Harlequin who….ahhhhhh c'mon, you know the rest….
Northeastern Scotland.
River Don, on the outskirts of Aberdeen.
May 18th. 135 days.
Record stay = 141 days.
Almost there fella, almost there…
Hooded Merganser
...and so to the after-dark news on the review's last day (19th) that greeted me as I walked in the door from a spot of dusk-shrouded wildlife watching - there was a double hit of Hooded Mergansers out on Tory Island, some nine miles off the northwest coast of Donegal.
Generally this species is one that takes a (metaphorical) deserved good kicking within the four imaginary walls of the round-up - given the committee-lead criminality that has allowed some über-ropey examples of this somewhat notorious sawbill gain a place amongst the great and the good on the British List.
Now thanks to this photographed pair - its now the turn of the IRBC to see what decisions they come up with. The record doesn't actually represent a "1st" for the country - there are in fact three Irish acceptances to date: a pair was shot in Cork Harbour in December 1878; another collected bird was taken on the Shannon Estuary in Kerry in January 1881 with the only vaguely "modern" record coming almost 60 years ago, courtesy of a female or young male in Armagh in December 1957.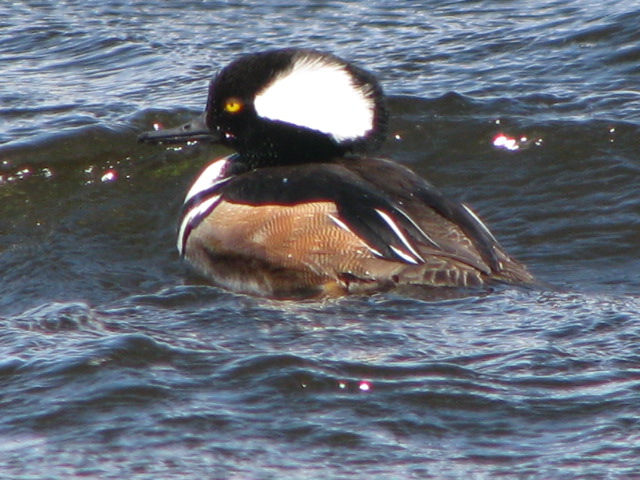 Those three made up the first of the 10 combined records for B&I - and only one of those has been a spring arrival (the male that surely no one could find fault with that appeared on Unst in mid-April 2006).
On the face of it, there's little to question regarding this intriguing pair - the off-island location has a suitably vagrant-y feel to it. That the off-island in question is at the northwestern tip of Ireland is also something that begins to enhance the feel-good factor and the time of year certainly isn't something that would go against it, not by any means. The weather? Well that's certainly not something that goes against the vagrancy potential of the birds either - Ireland has been in a run of fresh northwesterlies coming from some distance away and Nearctic species are in the back of a few rarity-hunters minds right now.
At first glance (at second glance even) everything feels right where these two are concerned. Maybe these Hooded Mergansers are the real deal. It would be a brave Irish lister who sits at home praying for a colour-ring to be seen - if you're going to gamble, gamble hard.
(…and if anyone knows what happened to Donegal's "1st" HM, seen at Fanad Head on September 1st-2nd 2002, I'd love to know more).

Adult Long-tailed Skuas in spring are completely irresistible, so let's kick off the proceedings for the week's tales of pelagic plunder with a run through off the spring passage noted across the past seven days.
There was no "unlucky 13th" for birders perched upon the imposing cliffs at Esha Ness, on the northwestern side of Mainland Shetland - 645 birds counted heading by throughout the day. Birders by Fair Isle's South Light registered 40 Long-tails (a good haul for the island in spring) and, back on Mainland, a further nine passed Wats Ness. Down on Orkney, after four were seen at Yesnaby, Mainland, a score of 79 was noted on North Ronaldsay with Sanday logging 85 in five morning hours.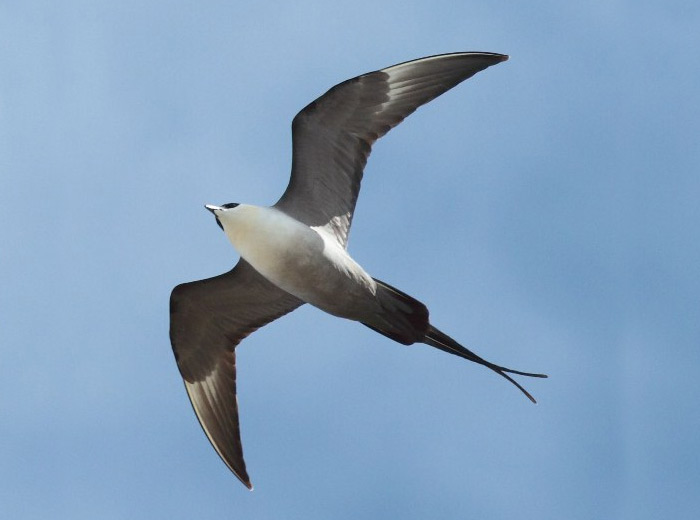 After such a frenetic closer to last week on the Hebrides it seemed a little surprising that the islands recorded just one bird on the opening day of this particular review week - but what a handsome beauty it was - spending some time around near the lighthouse on the Butt of Lewis. A further singleton was seen heading through the inner Moray Firth, near Fort George (Highland) just before 6.30am.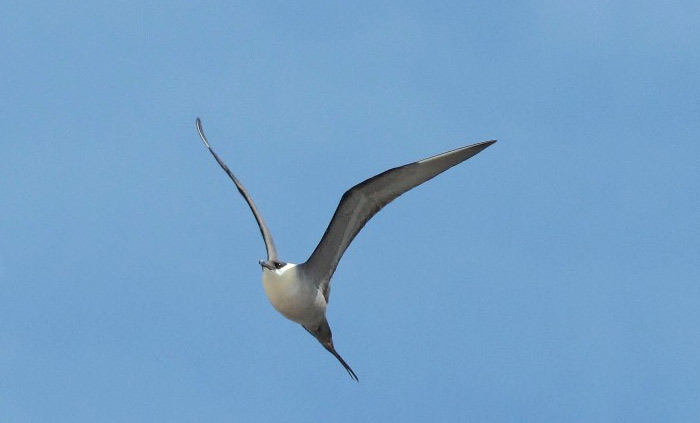 Just one was noted anywhere on 14th, on Scotland's east coast, off Dalgetty Bay (Fife), while the RSPB at Balranald was the focus of attention on 15th - a hefty 437 counted in just two mid-evening hours. On South Uist, 80 Long-tailed Skuas were seen from Ardvule and another was noted from the Uig to Lochmaddy ferry as it crossed The Minch.
There was a similar feel to the news on 16th - Balranald seawatchers logging a mouthwatering day tally of 847 birds in all off Aird an Runair through the day, along with a year-high count of the species that follows too…elsewhere around the Outer Hebrides, there were 24 birds seen from Ardvule and, on Lewis, 30 passed by Magersta with another was seen from the ferry across the Minch. On the mainland, four Long-tails were seen at Saltcoats (Ayrshire) and two flew by Bowness-on-Solway (Cumbria).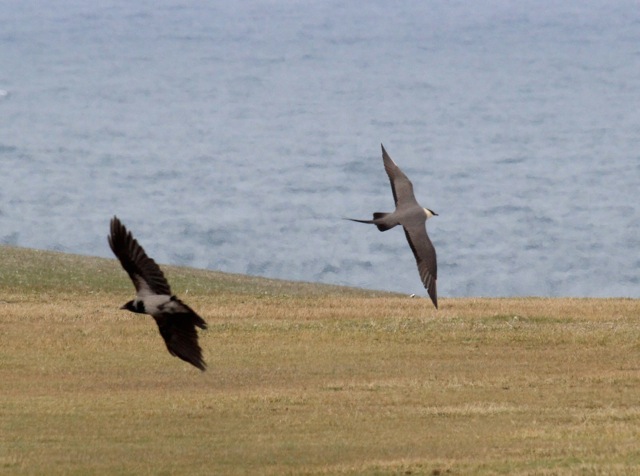 Similarly the 17th saw Balranald dominate once more - a further 236 Long-tailed Skuas logged through the day, with counts of 16 and 24 from two Ayrshire locations and singles in Cumbria, Dumfries & Galloway and Wexford. Numbers fell away again by 18th, 15 recorded from Bowness-on-Solway with single birds around the coasts of Argyll & Bute and Ayrshire, while on 19th a grand total of 43 were recorded in all, with 25 off Bowness while 10 headed north across the Bridge of Waithe, Mainland (Orkney).
Not far behind in the bobby-dazzler stakes are Pomarine Skuas and for those birders at many of the sites mentioned, the delicate and effortlessly refined lines of droves of Long-taileds were juxtaposed by the imposing brawn but undeniable grace of fully-spooned squadrons of summer-attired Poms - what a cool combo…
Shetland dominated the proceedings on 13th - 465 counted from Esha Ness, with Wats Ness managing 21 and Fair Isle logging 13. Both Yesnaby and North Ronaldsay saw eight birds each while on Sanday, a very respectable 97 were counted. Further afield ones and twos were seen from the Outer and Inner Hebrides, down to Cumbria and also in Donegal and Waterford.
The only substantial tally for 15th came from Aird an Runair on North Uist, 149 Pomarine Skuas sent here in the fizzing two-hour period in the evening. A further 13 were logged from seven widely spread localities, including Criccieth (Gwynedd) and Sandwich Bay (Kent).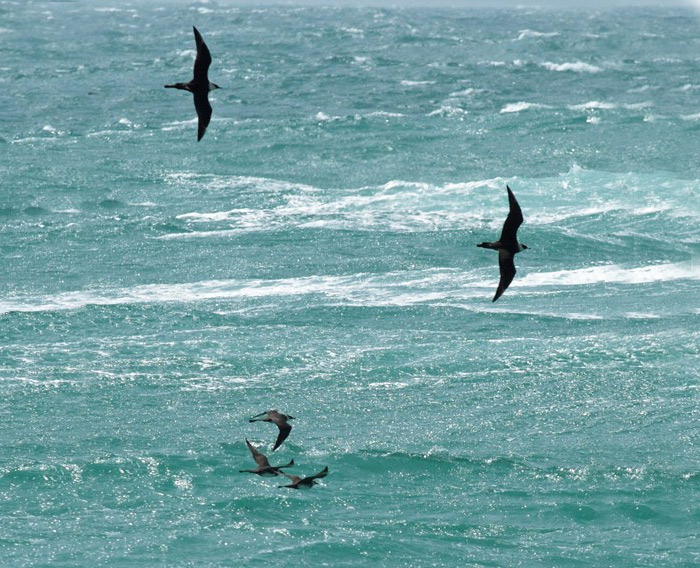 Numbers remained on the low side on 16th except for another cracking haul from Balranald - 911 counted off Aird an Runair during the day (a clear high count for the year to date), with 136 from Ardvule and 62 off Mangersta while 17th saw another 194 trundled past Balranald with 19 also seen from Carnsore Point (Co. Wexford). Passage tailed off by the end of the week, 32 birds on 18th were distributed widely across the west coast, from Cornwall to Dumfries & Galloway, with 17 off Bowness making up over half the total in all.
The overall total for 19th snuck back in to three figures - just - primarily courtesy of 54 off Aird an Runair, 15 from Rubha Ardvule and 14+ from Southerness Point (Dumfries & Galloway).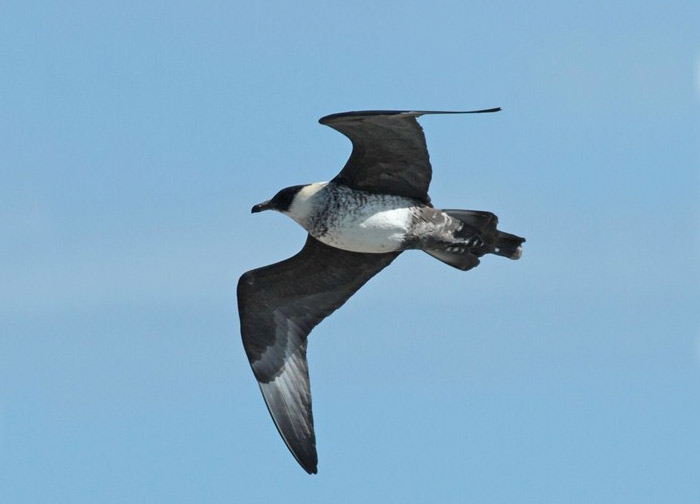 Mixing it up a little off of Aird an Runair was the Leach's Storm-petrel on 17th - while a Balearic Shearwater off Skomer on 18th was the only other seabird of note this week.
It appears to have been all systems go for Squacco Herons in southwestern England this week - as well as the first-summer on Scilly, there appears to have been a further four at large on the mainland - two for Cornwall and two (at least) for Devon.
Starting in the latter county, what may have been the superb adult from Prawle late last week was located in a private garden at South Milton on 13th with the 16th seeing two birds noted around the south coast, at Beesands and, back again, at Prawle - the second time two Squaccos have been recorded in the county on the same day - June 6th 1990 being the other date, when singles were at Aveton Gifford and near Dartmouth. By 17th, one was again noted a Beesands Ley, within a very hefty stone's throw of Prawle (times appeared to overlap on 16th…) - and it was presumably this bird that was seen over the bridge at Slapton on 17th as well. All rather confusing…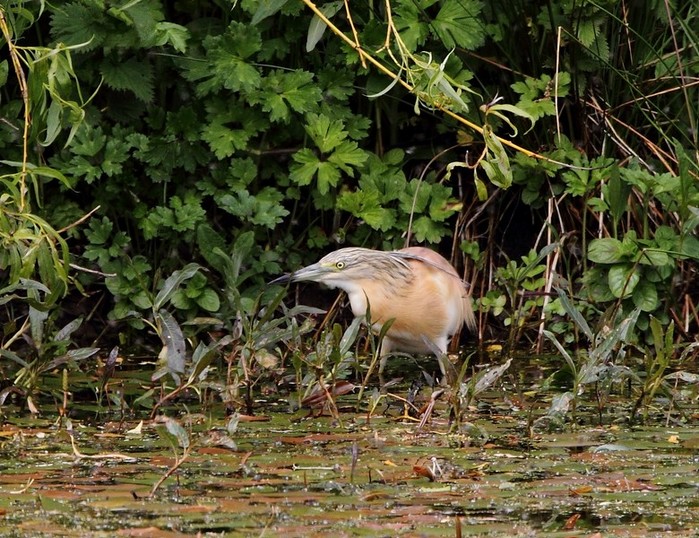 The 15th saw another Squacco Heron appear - this one over the Nanjizal valley before relocating to the garden at Swingates House - all before 9am. It was back around Land's End on 17th (presenting a nice double with the red-eyed warbler in to the bargain…). Kernow's bird#2 was recorded over Lizard village on 16th and was found again later in the day on pools near Goonhilly Down. There are no modern day doubling-up examples to be found - but if you go far enough back in time, you can find one; two males were shot at Land's End in mid-May 1849 (and a third was taken in the same month at St. Hilary).
This "five+" haul of Squaccos is the busiest here since the end of May 2007 - singles were noted between May 28th to June 2nd on Scilly (one had been around for a while..), Dorset, London, Wexford and Kent (with another following in the latter county on June 9th). All of these helped to push the year total on to an eventual score of 10 birds in all.
Following on from the late news of a dead Little Bittern being found at St. Buryan (Cornwall) on 12th, Scilly provided the two superb males already detailed in the Headline Birds section - but here was one more to report and that was the singing male that was found at Lakenheath Fen RSPB (Suffolk) on 16th. Initially seen briefly mid-morning, the bird was heard towards dusk and then showed briefly once more just after 9pm.
Although the 18th record for the county, this was the first Little Bittern in Suffolk since Minsmere hosted an adult male and, soon after, an adult female in May 1977 - 38 years is a long time to wait for species that has appeared on at least nine occasions in Norfolk within the same time frame (Norfolk generally gets the upper hand over Suffolk, as the result at Carrow Road on Saturday proved conclusively…).
Night Heron records have been a little thin on the ground away from Scilly this spring, but a couple of new birds were found in Cornwall this week; an adult was seen along the beautiful Tresillian River, near Truro on Tresemple Pool on 17th-18th and a further adult was noted at Loe Pool, Helston on 17th as well.
One or two new south coast Purple Herons were found on 13th - at Rye Harbour NR (East Sussex) and Dungeness RSPB (Kent) while to the west, at Lodmoor RSPB (Dorset), last week's first-summer remained to 18th at least. Given the pulse of rare herons that have pushed in to the southwest this week, it seems highly likely that the adult Purp seen at Drift on 17th-19th wasn't the same individual that was present around the west Cornish reservoir at the end of April. But stranger things have happened…
The week's only Cattle Egret remained in Kent, at the Kenardington RMC bridge near Hamstreet through until 19th. The week's total of Great White Egrets mirrored (pretty much) last week - 16 birds in 11 counties (again), with six around the Ham Wall RSPB (Somerset) on 16th the one-and-only multiple on offer.
Away from Somerset, singles at the start of the new review period were at Rye Harbour NR and still in Northamptonshire at Summer Leys NR and Suffolk, at Minsmere RSPB. The 14th saw lone Great Whites recorded from Leighton Moss RSPB (Lancashire) and Dungeness RSPB (with a second county bird at Stodmarsh NNR on 19th), while the 15th saw one head north over Skomer Island (Pembrokeshire) with others found at Frodsham Marsh (Cheshire) and Needs Ore Point (Hampshire). Back in Suffolk, at Lakenheath Fen, a Great White Egret was watched across 16th-17th and one was reported from the Norfolk coast, at Titchwell, on 19th. The same date saw Scotland's lone representative remain at Loch of Strathbeg RSPB (Aberdeenshire).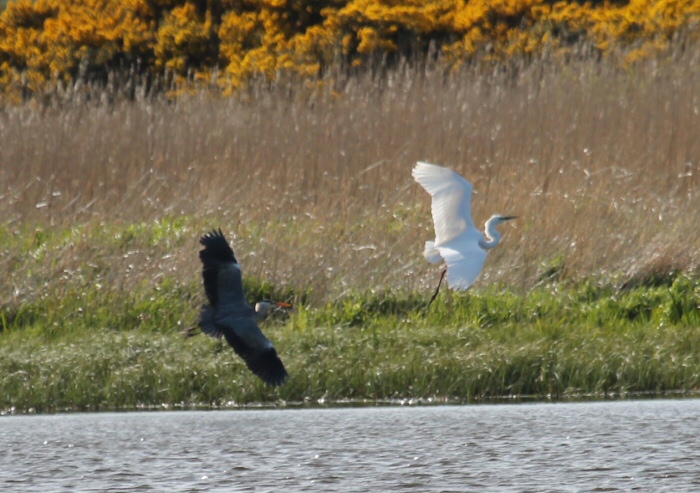 White Storks of unknown origins this week were reported from Cotton End (Bedfordshire) on 13th, west over Lampeter (Ceredigion) on 14th and north over Shirehampton (Somerset) on 17th.
The first day of the new week saw a modest spread Spoonbills noted; three were at Church Norton (West Sussex) while two (of the same three?) were at nearby Pagham Harbour the same day, with two more at Rye Harbour in neighbouring East Sussex. A further duo were also in Hampshire, at Pennington, while two singles were seen in Dorset and Norfolk.
Hampshire birders logged three birds at Farlington Marshes on 14th and four at Keyhaven Lagoon on 15th-16th with four then noted at Lytchett Bay, Poole Harbour (Dorset) on 16th as well. Further records of note included the two Spoonbills at Gibraltar Point NNR (Lincolnshire) on 15th, the single noted again at Slimbridge WWT and then New Passage (Gloucestershire) on the same day, the lingering young bird at Wexford's Tacumshin, the inland bird that made its way into West Yorkshire - spending 14th-16th at the Fairburn Ings RSPB reserve -and also the bird at New Heugh Water (Northumberland) on 18th.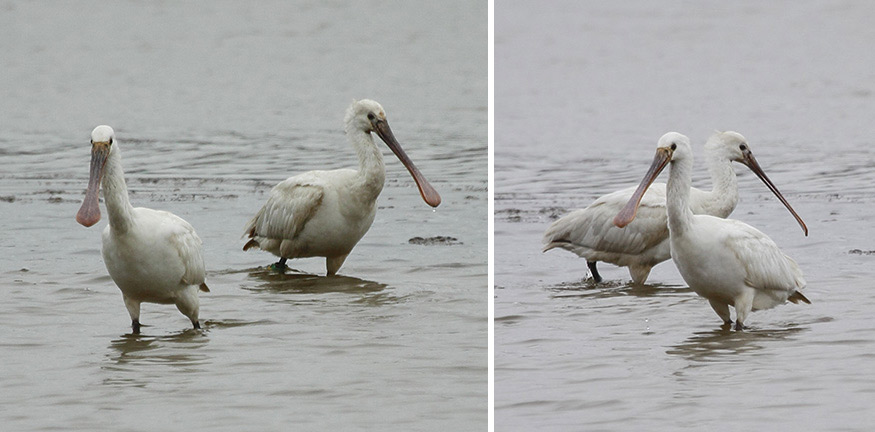 Scilly's newsworthy sub-adult Common Crane (the islands' fifth-ever don't forget) still couldn't find a way to the mainland - seen on St. Mary's until 14th when it took the trip to St. Agnes where it remained through until the middle of the day on 16th, when it headed back to the familiar territory of Porth Hellick. It wasn't long before it went a'rovin' again, back to Agnes by 18th and it took in a flight over Gugh on 19th for good measure.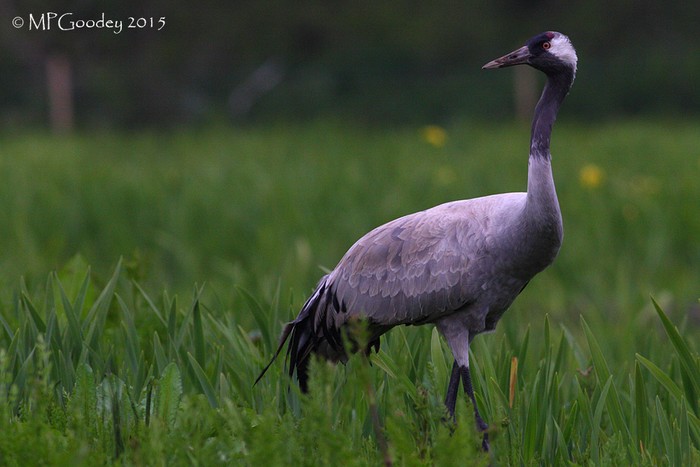 The two Cranes that drifted down from Mid Yell to Mainland Shetland last week continued their southbound trip on 14th, alighting on Fair Isle where they remained through until the following day. The only others reported across the past seven days were at Thrapston (Northamptonshire) - two there on 15th - and also at Lakenheath Fen RSPB (Suffolk - where three were seen at the weekend.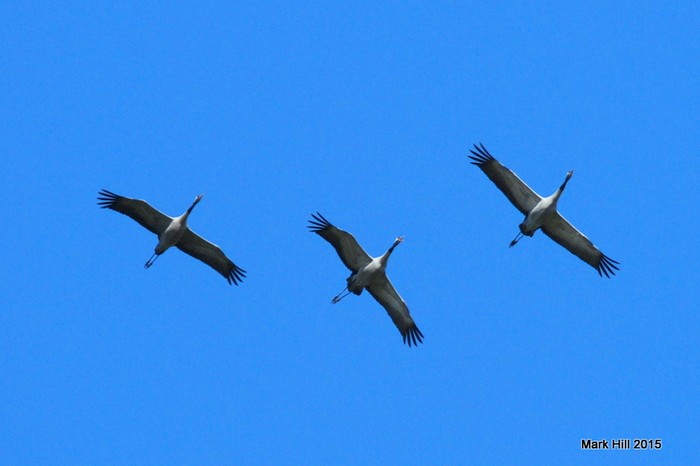 The drake Lesser Scaup stuck it out in West Yorkshire through until the end of the weekend at least, still around the Anglers CP area until 17th - that ghastly bleedin' nasal saddle still looks dreadful. That said, if he fancied a trip further east, I wouldn't be too critical of his beaky-appenadage should he avail himself of a tour of the northern part of East Anglia.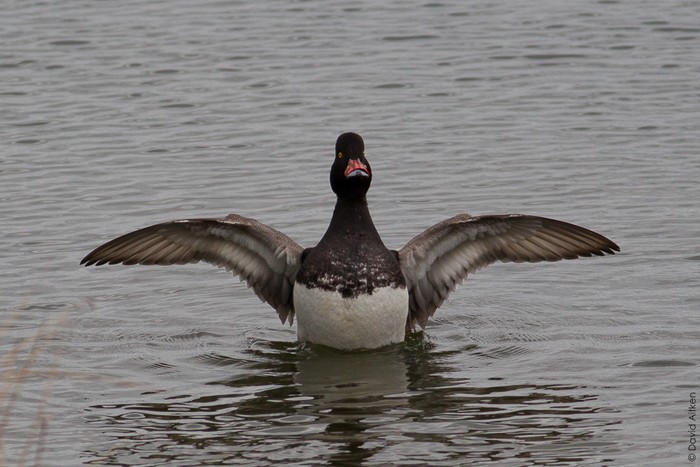 Its been a a few weeks since Ring-necked Ducks made an appearance here, but the two drakes found on the South Punds, Levenwick, Mainland (Shetland) on 17th rectified all that. The dapper duo were then seen on Loch of Hillwell on 19th.
Just the one drake Green-winged Teal made the news this week - found in west Scotland, at Lochwinnoch RSPB (Clyde) on 14th - he didn't stop long though, no sign the following day.
Birders casting their eyes seaward from Wats Ness, Mainland (Shetland) on 13th added a nice drake Surf Scoter to their total, making a rather nice supplement to the skuas logged there the same day. Also on 13th, another drake was noted from a boat on Loch na Keal, Mull (Argyll & Bute). Somewhat inevitably, the ever-dashing drake King Eider remained on Aberdeenshire's Ythan Estuary to 19th.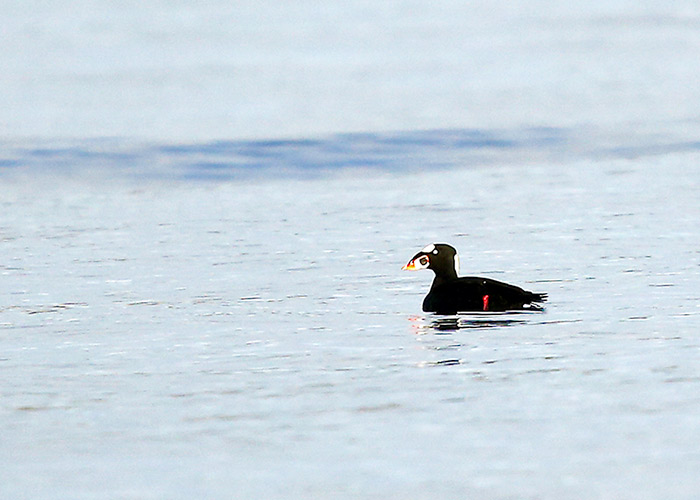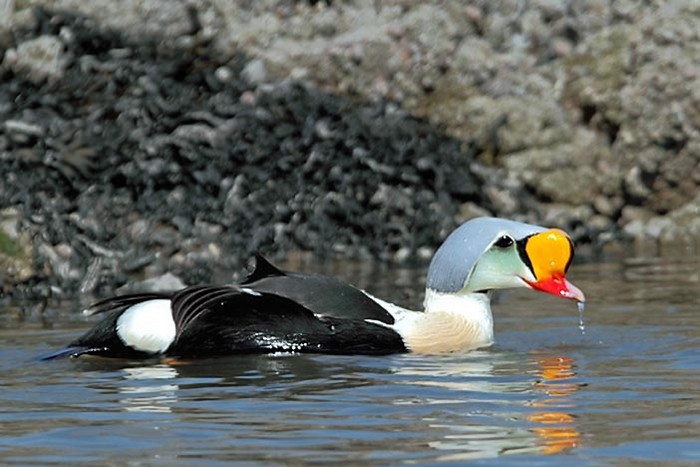 In GooseWorld, the two lingering east coast Black Brants managed to sneak in to another week, the adult present at Frampton Marsh RSPB (Lincolnshire) to 13th, with the bird at Spurn YWT (East Yorkshire) remained around the Humber for an extra day, seen there on 14th.
Lincolnshire's extensive mudflats are currently proving to be the best coastal zones to search for the always-in-demand Broad-billed Sandpiper - and this week one (a distant one apparently) was seen late in the evening of 14th at Gibraltar Point NNR, almost a year to the day since the same species appeared further along the same county's coast, at Alkborough Flats on May 16th 2014. The temptation to suggest that they are one-in-the-same is high - 'natch. Strethcing things further still, the worn adult seen at Gib at the end of last July may even have been the same too!
The second Red-necked Phalarope of 2015 was seen on Benbecula (Outer Hebrides) on 13th with the third and fourth following on 18th; one appeared at Minsmere RSPB and the other was found at Loch na Muilne RSPB on Lewis. Number four for the week rounded the week off nicely for Notts., birders - found on Annesley Pit Top on 19th - the first in the east Midlands county for almost four years while the fifth record in seven days followed later the same day, at Broom GPs (Bedfordshire) -funnily enough, just like the Nottinghamshire bird, this too was the first record in the county for almost four years.
The first day fo the week (13th) was the final date of the occupation for the Lesser Yellowlegs at Low Newton-by-the-sea (Northumberland) - a site that continued to hold one of the week's two Pectoral Sandpipers as well. That bird was last noted on 14th while in Ireland, Tacumshin did the biz., with bird #2, found there on 16th. The third of the week was reported from the East Bank, Cley (Norfolk) on 19th.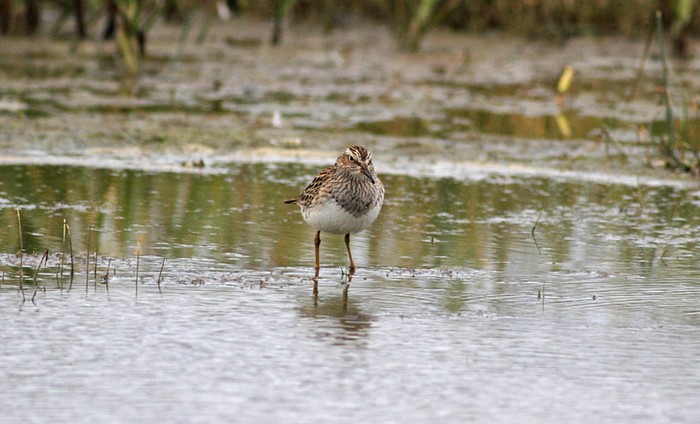 There's been another decent showing for Temminck's Stint this week - 29 birds reported from 16 different counties with a four at Druridge Bay (Northumberland) on 19th and two threes in Suffolk, at Hollesley Marshes RSPB from 13th-16th and on Orford Ness on 16th leading the way. Twos were noted at Titchwell RSPB (Norfolk) on 14th, Frampton Marsh RSPB (Lincolnshire) on 15th with 17th seeing two more Lincolnshire birds found on the pits at Kirkby-on-Bain.
The remaining single Temminck's were spread from the south coast, at Titchfield Haven in Hampshire through the Home Counties, at Broom GPs (Bedfordshire), the middle of the country, at Rutland Water (Leicestershire), Stanford reservoir (Northamptonshire), Long Eaton (Derbyshire), Lound (Nottinghamshire) and, in South Yorkshire, at Hatfield Moors and Bawtry, through to the northeast, at Boldon (Co. Durham) and the northwest, at Leighton Moss RSPB (Lancashire).
There was decidely lop-sided mid-May feel to the distribution of Dotterels this week - seven Scottish sites sharing 31 birds, while three English sites hosted up to 25, 23 of them were still on site at Choseley (Norfolk) on 14th (with 15 still present on a damp 18th). Two singles were seen in Yorkshire - in the East, a flyover was seen at Easington on 15th and in the North, a male was found on the moors at Fylingdales on 17th.
North of the border, a lone Dotterel was on Blackcraigh Hill (Ayrshire) on 13th and was followed the same day by seven on Sanday (Orkney). A trip of ten were found at St. Combs (Aberdeenshire) on 14th when four were reported at Askernish, South Uist and two appeared at Bruach na Frith (Highland). Back in Aberdeenshire, three birds were at Collieston on 15th, rising to seven on 17th-18th with the same day seeing four more make landfall on Fair Isle.
Two rather lovely White-winged Black Terns - the second and third of 2015 - spent two days around the Dungeness RSPB reserve on 14th-15th and were, perhasp a little surprisingly, the first in the county since the spring and summer of 2012 when two adults graced Stodmarsh NNR and a loner was seen at Grove Ferry.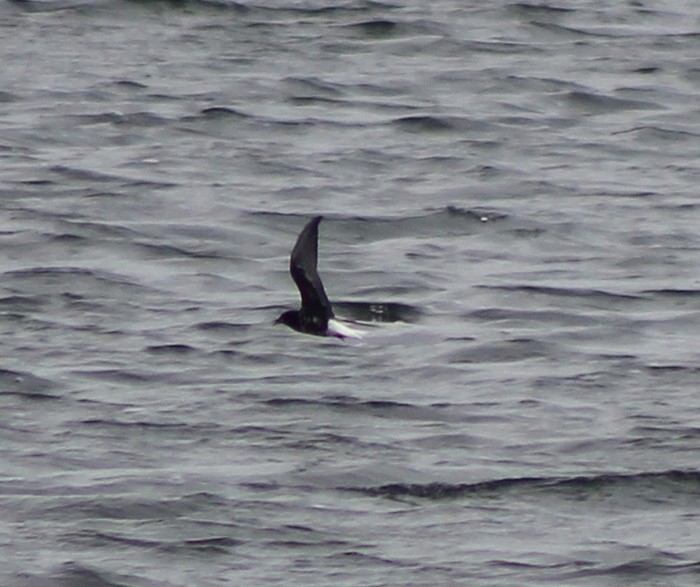 Also making a nice surprise appearance at Dunge this week was the site's third-ever Bonaparte's Gull - an adult spending a few minutes on site during the late afternoon of 16th before flying off. Previous records came along in April 1989 (which was also the first for Kent) and June 2001 - both of these were one-day birds too.
Along the way in Hampshire, the first-summer Bonaparte's Gull remained around Southampton, often at the Chessel Bay LNR through to 19th.
Two young Ring-billed Gulls make it in to this week's proceedings; the first-summer lingering on the Hayle Estuary to 19th while another bird approcahing its first birthday was seen at the Tralee Bay Wetlands (Co. Kerry) on 14th.
This week's Glaucous Gull were almost all to be found in Scotland; 14 noted in six counties, with four for the Outer Hebrides and three each on Orkney and in Argyll & Bute. Shetland hosted two (at Breckon, Yell) on 13th and singles were in Moray and Highland. Three English singles were seen over the weekend - at Filey (North Yorkshire) on 16th and Hartlepool (Cleveland) and Wakering Stairs (Essex) on 17th.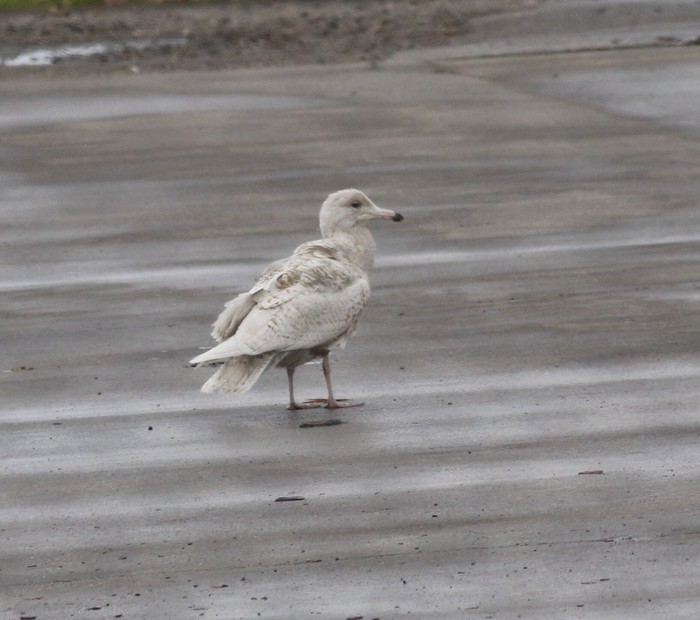 Numbers of Iceland Gulls fell away to 26 in all; 18 were seen in seven Scottish counties (including five on Orkney, four on the Hebrides and three on Shetland); six were loggd in five English counties (from Cornwall, to Norfolk, East Yorkshire, Cumbria and Northumberland) while Ireland managed singles in County Down (at Ardglass on 13th) and Wicklow (at Arklow on 16th).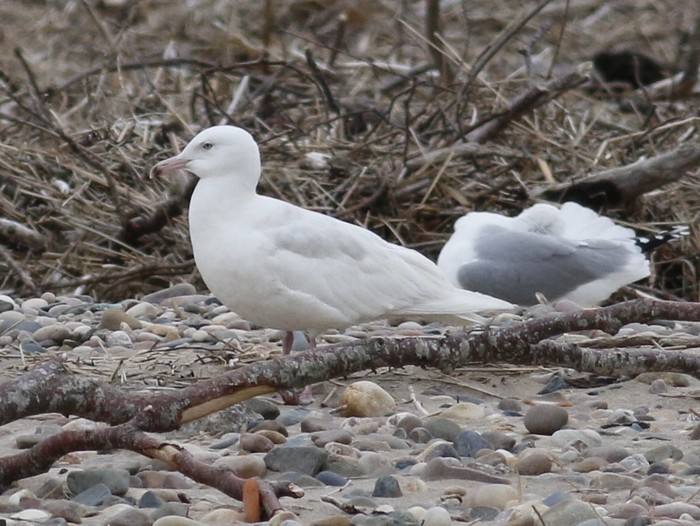 A couple of Red-footed Falcons made appearances in southeast England in the middle of the week - a male spent 20 minutes over Brent Reservoir (London) during the early afternoon of 15th and a female was seen from the viewing ramp at Grove Ferry NR (Kent) on 16th.
Kent's birders were paying special attention to the skies over the weekend - Black Kite reports coming from five different locations between 16th-17th. The first was noted at Ash, near Sandwich on 16th with the second coming later the same day at Sittingbourne. Which of these two were invloved in the records from the following day is impossible to guess at - one was found at Bockhill Farm, St. Margaret's at Cliffe and was followed by birds at Pegwell Bay (seen twice during the morning) and also at Sarre. Its a fair bet that at least two, probably three indiviudals were involved.
Elsewhere, in Suffolk, Black Kite sightings came from Shingle Street on 13th and Trimley Marshes SWT on 15th (the resident Wrentham escape was still knocking around on 14th so isn't either of the above) while Hampshire also saw two reports come forth; at Hambledon on 15th and at Titchfield on 17th. Last but by no means least, the bird reported from Polgigga (Cornwall) on 15th.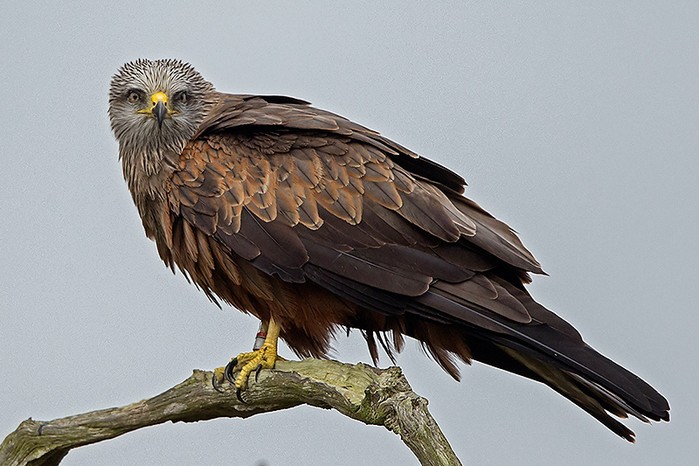 Two of the Kentish BK sites were also sites for Honey Buzzards this week too - singles over Ash, near Sandwich on 16th and Grove Ferry on 17th when a third county bird was seen passing over Dungeness. Four more weekend birds were logged from Suffolk and Norfolk to Somerset and Northumberland (all noted on 16th) while, earlier in the week, the 13th saw single HB's reported from Tophill Low (East Yorkshire), Wharncliffe Wood (South Yorkshire) and Newmarket (Suffolk). Rounding things of, the photographed HB over Sumburgh, Mainland (Shetland).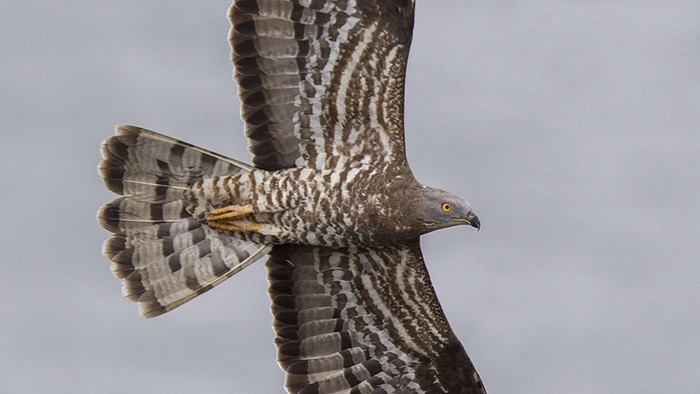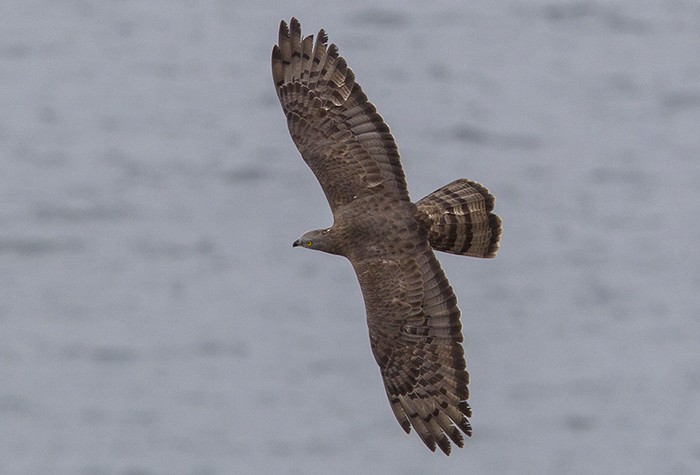 The male and ringtail Montagu's Harriers continued to show daily at the Blacktoft Sands RSPB (East Yorkshire) throughout the week, with another East Yorkshire male appearing near the golf course at Burstwick on 18th. A first-summer male was seen over Shipman Head, Bryher (Isles of Scilly) on 13th and ringtails were reported from Northwick (Gloucestershire) on 15th and, at Barnham Broom (Norfolk) and in-off at Reculver (Kent) on 17th. Norfolk recorded a further two on 18th, a male that headed along the beach at Titchwell followed by a young female at nearby Thornham Marsh later in the day.
Fair Isle gets the ball rolling with the first spring Rustic Bunting there for a couple of years - found at Utra on the morning of 19th. Prior to removal for the Rarity List at the end of 2005, Shetland had amassed a huge haul of 191 acceptances in all and, despite the slump that followed in records almost immediately afterwards, the 200 mark for the islands has been passed comfortably since.
Despite the apparent decline in the nice spring overshoot conditions (that cool, damp and wet grot that tracked from west to east overnight on 17th/18th) it didn't stop the first Great Reed Warbler of 2015 making a way in to the edge of the Black Country, found at the Sandwell Valley RSPB reserve (West Midlands) during the morning of 18th.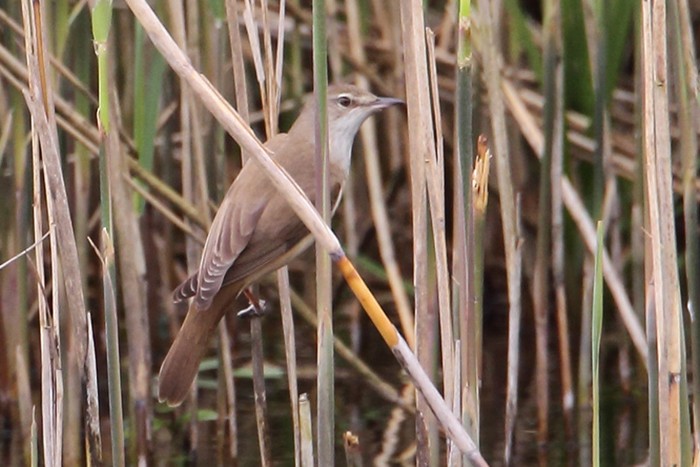 A good bird anywhere, anytime, an inland record is always that tad more exciting and for West Midlands listers, this terrific find represented the first in the county, one that could be perhaps seen as even a tad overdue - a look at the rarity map shows records from all the counties that surround the West Midlands; Worcestershire, Shropshire and Staffordshire all have one record a piece; two have been seen in Leicestershire and three have found a way to Warwickshire.
(It transpired that what was thought to be GRW Day#1 was actually Day#2 - not to worry though, it's still a cracking record).
Also new for the year, the first definite Red-spotted Bluethroats - kicking the week off were males at Minsmere RSPB and on Fair Isle on 15th (the latter remaining, if a little mobile, to 17th) and these two were followed by another male in Dorset, in the reeds at West Bexington on 17th.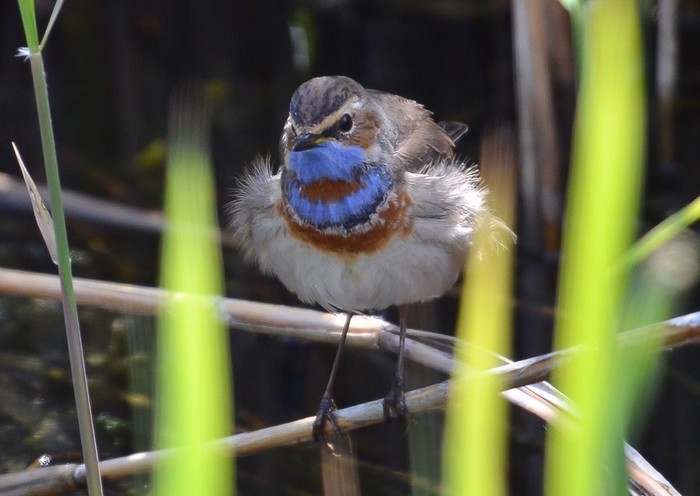 The moderately strong (espeically nowadays) spring showing of Red-throated Pipits - two is moderately strong nowadays - was bolstered by two further reports this week; the first was noted near the pier at South Shields (Co. Durham) on 14th and another was claimed (in flight only) at Westleton Heath (Suffolk) on 15th. Also enjoying a "moderately strong" spring showing this year is Tawny Pipit - this returning BBRC rare has now chalked up three birds so far this month and Fair Isle claimed the second for the island in under a fortnight, courtesy of one at Nether Taft and Quoy on 17th-19th.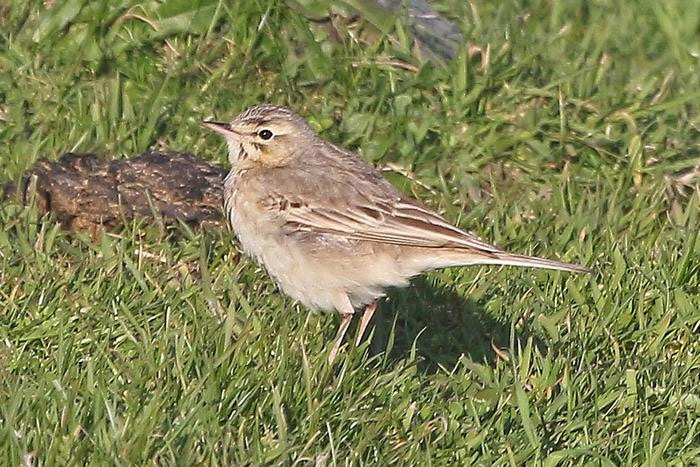 Two new Melodious Warblers were grounded on 15th this week - first was the fresh arrival that was trapped, ringed and released at Portland Bill's bird observatory and it soon followed by Skokholm's earliest ever record - this one too was trapped and ringed. Before either of these two made themselves known, a singing male Icterine Warbler was reported from Berrow Dunes (Somerset) on 13th - but there was no subsequent sign in searches made later the same day.
No need to query the other Subalpine Warbler seen this week - John Kemp nabbing the first-summer female type on celluloid at the tip of Rubha Ardvule, South Uist very early in the morning on 14th - someone, somewhere may fancy putting a name to it beyond "Sub-A sp." - but we do know it's the first record of any type of Subalpine on the Hebrides in over four years.
...actually, while South Uist is on the agenda, let's make note of the Rose-coloured Starling that was found at Ardivachar Point during the afternoon of 19th - it's a fascinating game trying to work out the routes these last two species have taken to get to almost the same point.
Bee-eaters remained part of the May menu this week - following on from one in a private area of the Broads, somewhere adjacent to Ranworth on 13th, a more accessible one (sort of…) was a cracking garden find for Mayo-based birder Dave Suddaby - seen in and around his local patch at Blacksod, out on the Mullet on 14th, a bird which reappeared on 16th and remained to 19th. All of Mayo's recent Merops - this one, two in April 2011 and one in July 2004 - have all been around the general adjacent to Suddaby Towers at Tarmon.
A lone Bee-eater flew in-off the sea at Ferrybridge (Dorset) on 14th and the following day saw a further singleton spend a little time at beachy Head (East Sussex) whilst two were at Faxfleet (East Yorkshire) and at least one was heard-only over Alkbborough (Lincolnshire). Another heard-only bird was at Breydon Water (Norfolk) on 16th with another being seen the same day at Kingsdown (Kent).
A quintet of Red-rumped Swallows found a way across the Channel through the past seven days, spread from south to east coast; first up was one that spent some evening time at Holmethorpe (Surrey) on 14th (with another mentioned for Fairburn Ings on the same day) and it was followed by birds at Filey Brigg (North Yorkshire) on 15th and heading south over The Warren, Spurn (the second in a week) and drifting over the pools at Lodmoor RSPB (Dorset) on 16th. Not too far away, at Lyme Regis, one of the week's two Alpine Swifts was reported on 14th with the second seen at Loddiswell (Devon) on 16th.
As is often the case with overshoots in certain places, its pretty tricky to work out how many Woodchat Shrikes were in west Cornwall this week (certainly without piccys at any rate). What is known is that one remained at Porthgwarra to 13th; the following day saw a 1s male appear at Nanquidno with another male at Land's End on 15th. Over on Scilly, on St. Mary's, a singing male was located on Porth Hellick Down on 14th where it remained to 16th and in County Cork, the Ballycotton male remained to 13th. As the week closed, a wayward Woodchat was seen briefly on North Ronaldsay (Orkney) on 19th - the first on the island since a male was seen on May 6th 2006.
Last week brought news of a relatively early Red-backed Shrike from the Isle of Skye - this week brought photos of the first definite RBS of 2015, an exquisite male making for a good start to the day for those at Landguard NR (Suffolk) on 16th. A second bird, a female was a good inland find at Burnthouse Lane NR (Berkshire) on 16th - the species has been seen annually in the Royal county since 2013.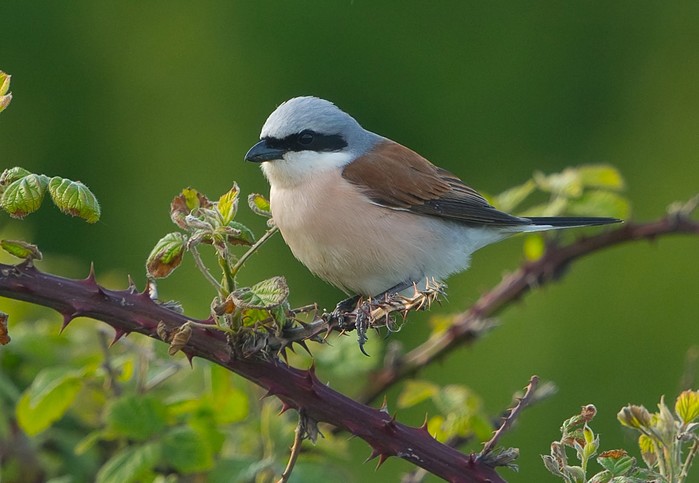 It seemed unlikely that the exceelent numbers of Golden Orioles recorded last week (nigh-on 50 in all) would be toppled this week, but those invaders gave it a right old go, by the end of 18th at least 32 birds had been reported.
Eight birds started the week off on 13th, with a couple at Ditchling Beacon (East Sussex) - with another in the same county, at Beachy Head too - a couple of singles in Lincolnshire, with others in Kent, Pembrokeshire and Cleveland.
The 14th was the big Oriole day this week - at least a dozen new birds seen, a figure which included three at Gibraltar Point NNR (including one adult male), perhaps as many as seven around Scilly (up to four on St. Mary's, two on Gugh and a male on Bryher) with loners at Land's End and also right up in County Kerry, at Ballyferriter. On 15th, newbies popped up at Malltraeth (Anglesey) and in west Cornwall, at Polgigga and Land's End. A new adult male was also found at Gibraltar Point, at least the fourth there in just a couple of days.
The weekend yielded what mauy have been yet another Scilly bird, on St. Mary's and a singing male was heard in west Devon, on the edge of Roadford Reservoir on 16th, while 17th saw Kent score two more, East Sussex another one, ditto Land's End. Some 850 miles away on Fair Isle, early risers found the island's first G.O. since 2012 in the Observatory garden. Another island Observatory that produced on 18th was Cape Clear, one noted in Cotter's Garden during the afternoon.
Up to four Hoopoes were found on the first day of the new review week - seen in Bournemouth (Dorset), on Lundy Island (Devon), along the path around Blakeney Freshes (Norfolk) and near the Ailwee Caves, on the Burren (Co. Clare) - a location known to anyone with a penchant for the legendary "Father Ted as "The Very Dark Caves"… just beware of Father Noel Furlong and the St. Luke's Youth Group)…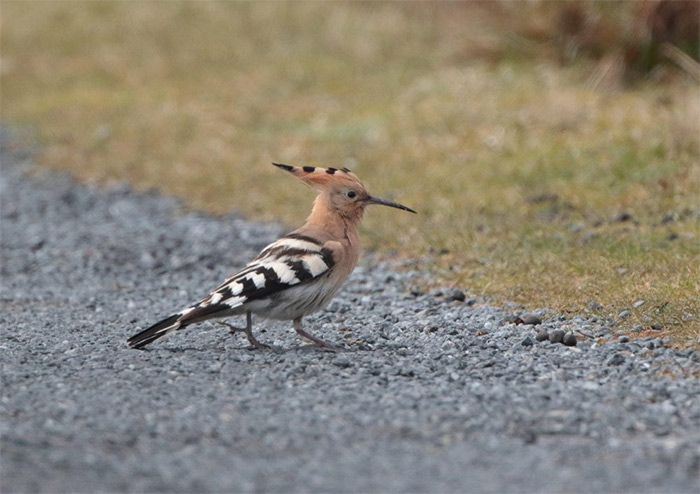 The Bournemouth bird may well have flopped across to Boscombe on 14th and a second for the day was seen in gardens at St. Abb's Head (Borders). North Yorkshire comes next, one present at Dallowgill on 15th, with Hythe (Kent) following along with a Hoopoe on 16th with another overshooting all the way to Unst (Shetland) on 18th. The final one for the week was seen in private gardens in Boscastle (Cornwall) on 19th.
The only Wrynecks this week were split between the far southwest and northwest - the latter came to gardens on North Uist on 13th, the former appeared on St. Martin's on 14th.
...and the same island continued to host the Short-toed Lark found there on 8th and it seemed to enjoy itself through until 16th while, in a repeated theme this week, the other examples of the species this week were located at the exact opposite end of the country - one becoming two on Fair Isle over the weekend.
We'll close proceedings with the four Serins which were logged through the week - the first was reported flying across the Nanjizal Valley (Cornwall) on 15th while rather mroe obliging was the dinky male that popped in to Landguard NR on 16th, sometimes showing rather nicely. An early-bird caught the Serin-y worm at Selsey Bill on 17th, seen flying in from France just after 6am while close of play on the same day saw another fly-over reported from Rocky Hill, St. Mary's (Scilly). (If you think there's wall space for chapter & verse here on the reported yellow-variant House Finch on the outskirts of Norwich, forget it - if I can't have the newly arrived yellow-variant Cornish bird (ship-assisted for sure - but so too was Lark Sparrow and, presumably, oodles of other genuinely rare sparrows, buntings, blackbirds with yellow heads and cowbirds from that same part of the world…).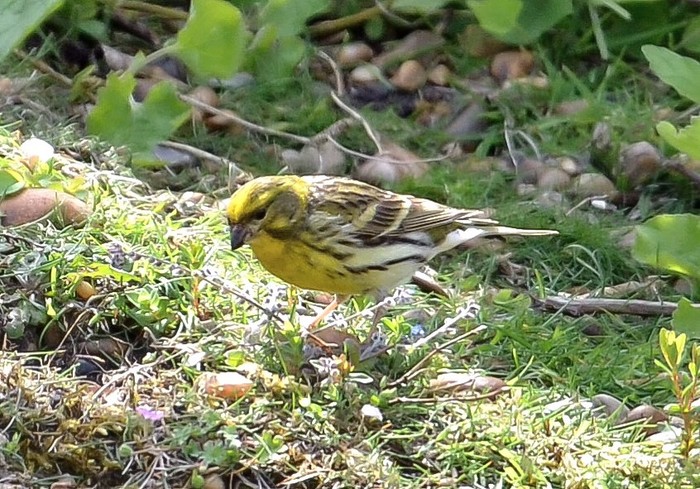 ...a grumpy footnote on whcih to conclude but perhaps it may be to the west and that Nearctic surprise that we may have to turn as the week ahead's weather seems to suggest that as perhaps an option...
Anyway. Like a drunken lush on a provincial street corner, we lurch slowly but surely towards what is frequently known as "the business end of the spring" where dreams can come true and nightmares loom large for the unsuspecting dipper…
Contrast is riddled throughout the following seven days ahead - not only has May 20th produced four different species of Nearctic passerines, it has also yielded an Orphean Warbler sp., and a Brown Shrike (both in Cornwall as it happens).
Amongst the role call of honour on the 21st of the month, amidst the warblers, flycatchers, wheatears are two outrageous shorebirds - the Durham White-tailed Plover of '84 (a bird which held its value for so long) and the stonking male Caspian Plover that spent a breezy, sunny afternoon trotting around Wingletang Down on St. Agnes - the following day's Sunday outing on the Scillonian living long in the memory for all those on board…soldiers reduced to honking wrecks on that bumpy return voyage…
Caspian Plover actually features again on 22nd - Britain's first, a pair, shot in the dunes at the North Denes on 1890 - while that Scatness Moltoni's Subalpine Warbler showed himself for the first time in the rather more recent times of 2009. More of those are on the way…
…and, if you like those hot-topic Sylvias, try your luck out and about on 23rd - there's double figures of Subalpines (of assorted varieties…), along with a St. Kilda Sardinian and the Borders Marmora's.
…and, dog-with-a-bone time, whilst the ball's still rollin', Britain's first Spectacled Warbler made himself known (for a while…) on 24th - jumpers for goalposts employed to pass the tedium of dipping before the inevitable return to site the next day - while fans of the elusive Red-footed Falcon should keep wits about them - almost 20 seen on this date historically.
Anyone on or around Shetland on 25th (Hey! That's me and Team Café con Leche! Sibley at the ready chaps!) may need to be on Monster Mega Alert all day - Fair Isle snagged one of the infamous accepted American Kestrels in 1976 while Quendale was graced by the ultimate avian flying machine, White-throated Needletail in 1984. It's a good day too for the likes of Lesser Grey Shrike and Thrush Nightingale too. Ditto Broad-billed Sandpiper.
Needletail got another outing in 1991 as one tracked from Kent to Shetland (taking 16 days to find a way from Wiertin Hill Reservoir to the cliffs of Noss) with Foula claiming a Pallas's Sandgrouse in 1969.
With birds of that order, of such devilishly high quality on the go, the ole' Spidey senses need to be at the max…
…and the conditions ahead suggest that those Irish Mergansers are precisely the sort of surprising species that may be on the cards this week. A Nearctic wood-warbler, thrush, sparrow or similar feels like the rare contender of choice, certainly in the first few days of the new week, with Ireland and Scottish off-islands in line for the biggie.
Someone's going to strike it lucky…guaranteed…
Mark Golley
20 May 2015


Thanks to this week's contributors for their photos, videos and sound files.
Jon Dunn, Stephen D Keightley, Rob Jones, John Chapple, Martin Goodey, Joe Pender, Ashley Fisher, David Aitken, Adam Hartley, Peter Phillips, Steve Duffield, Tony Marr, Alan Doidge, Rik Morley, Lorne Bissell, Mark Hill, Marcus Conway, Jeff Hazell, Paul Kelly, Steve Furber, Steve Blain, Robin Stokes, Toby Green, Chris Upson, Gordon Mccall, Peter Hackett, John Pringle, Nicholas Brown, Robbie Brookes.
Please check out our contributor's websites for more superb birding photos, videos and more.