Weekly round-up: 08 - 14 Apr 2015
At a glance
St. Mary's scores the second Great Blue Heron for Britain (and Scilly) at close of play on the last day of the review week
A busy week sees a week-long wave of 90+ Hoopoes trundle our way - mostly in southwest England and southern Ireland…
… while the treble-predicted Red-rumped Swallow and Woodchat Shrike romp in to Cork & Western Subalpine Warbler makes it to Waterford …
Scops Owl in County Wexford seemed to be the week's "best" bird, 'til dark on Tueday…!
…and, not far behind, the second coming of the Hampshire Greater Yellowlegs
The two Scottish Harlequins hang on in both Aberdeenshire and Highland
…and the young American White Ibis makes an interesting move too…
The sun continued to shine through the first three days of the new review period and the golden glow of early April spring hues was coupled with blue skies, southerly winds and warm temperatures across much of the country.
Conditions like these are never to be sniffed at, especially if you're located in the far southwest of England or around the long coastline of the southern end of southern Ireland and a lucky few saw a lovely waft of early Mediterranean colour flop over the seas and head our way.
The warmth and nice migrant travelling conditions lasted through to the weekend, when rather cooler air tracked in from the Atlantic - the west winds seeing figures drop on the thermometer from the high to low teens but the brief burst of gales, some heavy rain and even some snow over the hills was a temporary blip - warmer weather closing things out by the end of the roundup period.
With all this loveliness came the second dose of sinister "toxic smog" within just a handful of weeks - some of the warmest days of the year seeing a mini "perfect storm" of low level pollutants trapped near ground level, aided and abetted by additional continental aerial junk and a small amount of Saharan dust too.
Needless to say, all the southerlies had - on the face of it - no bearing whatsoever on the astonishing record that closed out the review week…but that may well not have been the case.
Great Blue Heron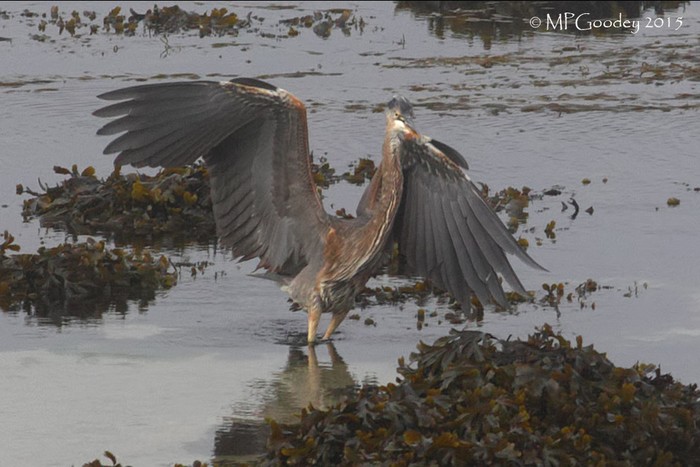 Just when you think you can rest easy at the computer, with dusk's summery feeling shroud closing out the Norfolk mid-evening and the review all ship-shape and Bristol fashion, up pops the worrying bleep of the pager some 15 seconds after the "bzzzzt" of the text alert on the mobile phone. That means just one thing - MEGA.
It will always be a good bird, but this time around, sometimes after 8pm on 14th, it was to signify a really,really good bird - Scilly (and Britain's) second-ever Great Blue Heron. Huge, in every sense.
The conditions in which the two Scilly GBH's have been located could hardly be more different - the first for Britain was discovered at Lower Moors, St. Mary's on December 7th 2007 after a quick-fire rippling Atlantic storm whipped away from the eastern seaboard of the USA to the Western Approaches within less than 72 hours. Found by local island resident Ashley Fisher, the striking juvenile surprised everyone by disappearing and not being seen again, despite numerous folk getting to the islands the following day, the swathe of tasty images taken on the single day of observation making the dip all the harder to swallow.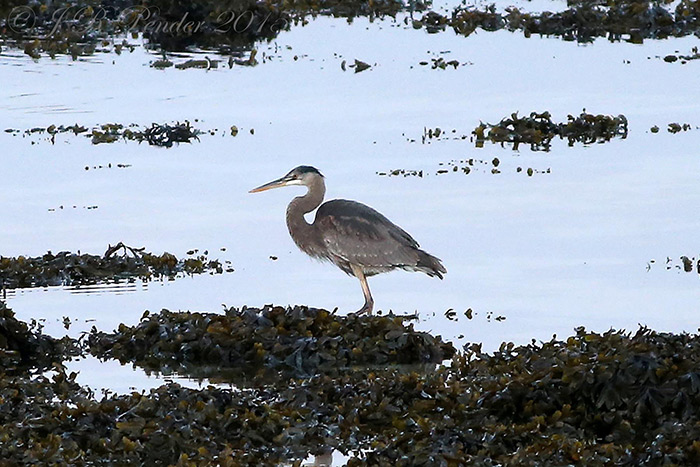 Fast forward seven years, four months and around a week later and, once again, on Lower Moors, St. Mary's there's the second British Great Blue Heron - found, once again, by Ashley Fisher.
What an astounding double rarity find - absolute total respect to Ash for a feat that's unlikely to be repeated ever again with any gross rare. Awesome and awe-inspiring stuff.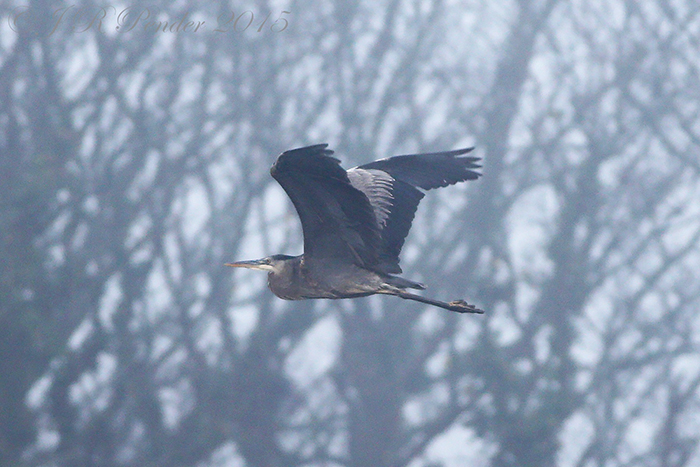 After spending some time around Lower Moors, the bird then moved to Old Town Bay where it was seen until dark - Joe Pender's atmospheric shots in the bay being both extremely informative and gripping all rolled in to one.
Once the initial "cor blimey" feeling had subsided, the next question I asked myself (and doubtless it was a question asked by many others too) - just how does a Great Blue Heron make it to Scilly in mid-April?
First thoughts - a vagrant Great Blue Heron makes landfall somewhere within the Western Palearctic - maybe moving off the Azores to tuck itself away in west or north Africa or around the Iberian Peninsula for the winter (three were logged on the islands between September and December 2014).
As the urge to move north kicks in, the bird's first chance are the nigh-on PERFECT conditions that pushed so many "southern" migrants, oddities and vagrants to southwestern Britain and southern Ireland over the past seven days.
That, off the top of my head, seems to make complete sense…
SPRINGTIME - PART II!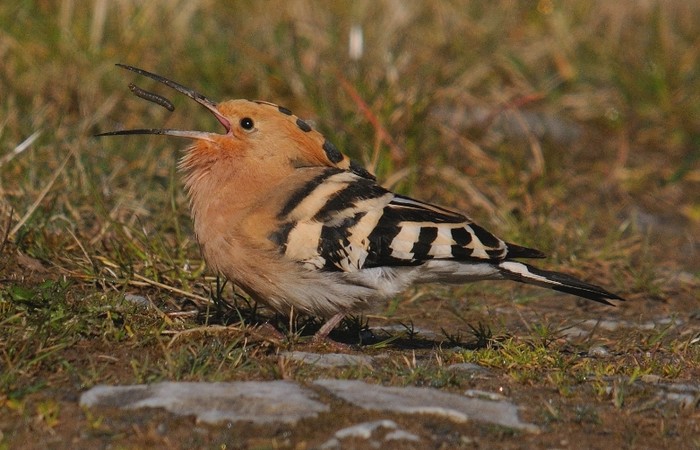 Before depression sets in and its decided that we're going to hell in a handcart because of the way we, collectively, as a human race trash the earth with no respect for the environment whatsoever ("Who's Gonna Stand Up & Save The Earth?") I'll head off to the flippety-floppety world of the joyous Hoopoe.
As with one or two other species from very recent round-ups, this is a bird that seldom justifies status as a headline act - but this week, certainly within the first couple or three days of the round-up, this was a bird well worth keeping tabs on as a decent mini-influx came in to southwestern England and southern Ireland too.
Last week's review ended with news of two Hoopoes around the Garrison, on St. Mary's (Scilly) - seen there on 7th. This week, well, let's take a peek at what's been happening…
April 8th
On Scilly, one bird was left over around the Garrison on St. Mary's. Over on St. Agnes, a single was seen during the morning of 8th (perhaps the same bird as noted on the island on 7th?) while new was a Hoopoe that came "in-off" and on to Wingletang Down just after 3pm. Scilly's fourth of the day was seen in the sheep fields on St. Martin's during the morning too.
On the Cornish mainland, lone Hoopoes were found at Porthgwarra and Mylor Creek, near Falmouth, while the day total moved from six to ten courtesy of five birds in Ireland - two were seen at Kilmurrin (Co. Waterford), Kerry welcomed one to Castlegregory and in County Cork, single individuals were at Union Hall and also Ballycotton.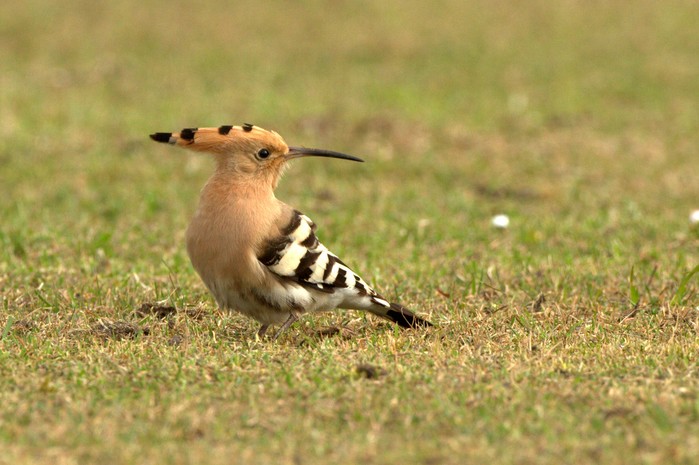 April 9th
Ten Hoopoes in a day seemed a pretty decent haul but on 9th, things went a little bit crazy and numbers doubled and more - a whopping 28+ recorded, including oodles of new arrivals.
Starting again on Scilly, where as many as 10 or even 11 birds were seen through the day - three were counted around St. Agnes and as many as seven or eight birds were on St. Mary's; three on the Garrison, with four around Penninis Head during the evening, with another morning bird in Old Town too.
Around the tip of west Cornwall, up to six single Upupas were logged; two were in the valley at Porthgwarra with singles found near Sennen, at St. Levan, St. Erth and Polgigga (duplication is possible, just like Scilly, but this is an influx across a broad front, so they're likely to be all different) with a seventh a little further up the A30, at Redruth.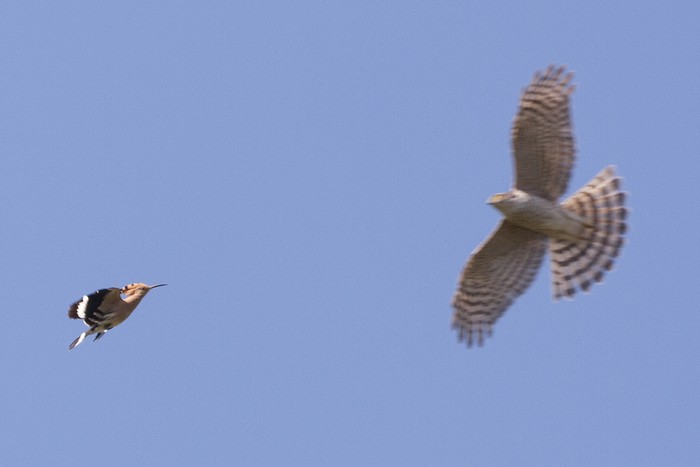 A single bird made it along the south coast to Kent, where Dungeness pulled one in during the middle of the morning, seen near the Bird Observatory (and reported again the following day) while back on the west coast, two Hoopoes were found on Skomer (Pembrokeshire) during the evening.
Irish Hoopoes tallied eight - including a superb four around Mizen Head and nearby Brow Head in County Cork, with two further records of singles in the same county coming from Beara and also Guileen. In the southeast of the country, birders in Wexford discovered two birds on Carnsore Point as well.
Whilst we're at it, Mizen Head also rattled in the first Red-rumped Swallow of 2015 on 9th - lob in a couple of Wrynecks at Mizen on the same day and, all in all, it was clearly lá mhór amach out there…
April 10th
With so many birds noted in the first two days of the week, keeping track of potential duplicates became ever-so-slightly trickier as the third day of the week came along.
Birders along the southern coasts of Ireland fared brilliantly, particularly in Cork - three were seen around the Old Head of Kinsale before midday, with a fourth new bird nearby at Churchtown. New county arrivals #6 and #7 appeared at Ardfield and newbie #8 was located on Galley Head. Cork's total rose to a hugely impressive 10 fresh arrivals for the day with further singles on Dursey Island and at Timoleague. What may have been the bird from 8th at Union Hall was seen nearby at Glandore - it too could have been new of course.
Also new were Hoopoes on Waterford's Brownstown Head, also near Mine Head, at Loskeran and near Waterford itself, while Wexford scored three - one on Hook Head, with the same county seeing two pop up on Great Saltee Island, and another made it to Bruree (Co. Limerick) - a minimum of 15 new Irish individuals then, taking the week's total through the 50 mark - while elsewhere in Wexford, one remained at Carnsore Point.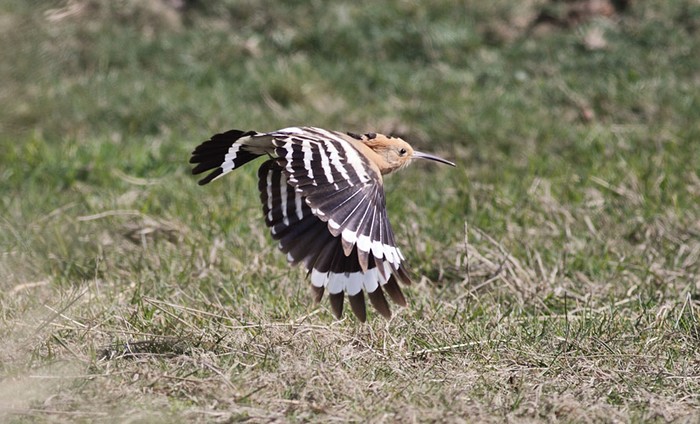 On Scilly, two twos remained around the Garrison and on Penninis and singles were noted at Longstones and Lower Moors too (new? Who knows…), while one in the Parsonage, St. Agnes may have been one of the trio seen on the island the previous day. New though was a lone bird along the coastal path, at Great Bay on Bryher.
Across the sea on the Cornish mainland, a Hoopoe was found feeding on the cricket pitch at St. Levan, one remained at St. Erth and at least one was seen between Land's End and Sennen. Definitely new were birds on The Lizard and between the valleys of Cot and Nanquidno - moving the total of the newbies-for-the-day along to eighteen and the total hopped along by one more with the discovery of a second bird at Polgigga.
Elsewhere, a new Welsh bird was at Marloes (Pembrokeshire) and another was reported from Dent (Cumbria) as well, taking the total of new Hoopoesfor the day to upwards of 21, with the grand total standing at somewhere adjacent to 60 birds in all.
April 11th
By the morning of 11th it appeared that the Hoopoe-athon was easing off - Cornwall saw birds noted as still present at Polgigga and near Land's End, while Scilly saw lone birds on St. Mary's (still on the Garrison) and also on St. Agnes (this time at Browarth).
As the day progressed, three new Hoopoes were found at the seaward end of the Nanjizal Valley with another in gardens at Helston and birders on St. Mary's managed upwards of seven birds on the island, including two potentially new birds along Sandy Lane, while three remained on Peninnis Head. An eighth Scilly bird was at Covean, St. Agnes.
What seems to be a new Hoopoe was at Carrignaour (Co. Waterford) while elsewhere in the county, singles remained on Brownstown Head (where a fine male Western Subalpine Warbler was found too), and also still near Mine Head. Wexford saw one linger at Carnsore Point while two remained on Great Saltee and new was one at Courtown. Through the day, birders in County Cork registered 11 birds in; one at Union Hall became two; new ones at Ballytrasna, near Ballycotton and also Fountainstown and, amongst the others, two were still near Ardfield.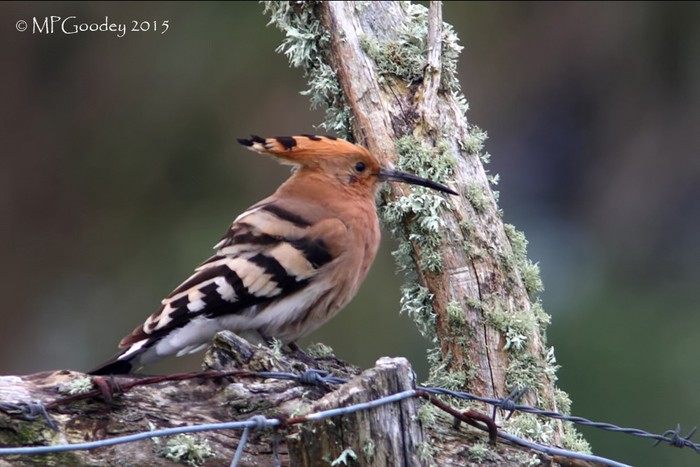 The (minimum) eleventh new bird of another busy day for the species was found way up on the Outer Hebrides, in gardens at Ormiclate, South Uist while in west Wales, a Hoopoe lingered on Skomer.
April 12th, 13th & 14th
Some 29 or 30 birds were logged on the second day of the weekend, the now-familiar spread across Scilly and Cornwall and Cork through to Wexford becoming all the more familiar. New individuals were recorded in Hampshire, at Browndown North; in Argyll & Bute, at Glencruitten, near Oban; at Tacumshin (Co. Wexford), Ballyfeard, near Kinsale (Co. Cork) and at Kells (Co. Kerry).
By the Monday (13th), the invasion had tailed off a little more (coinciding with most folk heading back to work) but a quartet of new birds were located to bumped the grand total up some more - fresh in being birds in Cornwall, at Cape Cornwall, at Tregaron (Ceredigion), on Bardsey Island (Gwynedd) and, inevitably, in Cork, where two more (presumed) new Hoopoes were logged, found at Carrigaline and at Brulea, near Drombeg, while another was reported from Roches Point "recently". Also new in Ireland, a Hoopoe at Glenbeigh (Co. Kerry). Back in Cork, one remained on Galley Head, two were still being seen in County Waterford, at Kilmurrin and assorted singles remained on Scilly and also in Wales, at Marloes.
The 13th also saw the appearance of the second Woodchat Shrike of the spring, no surprise to see that it was Cork that played host to it - a male seen briefly on Cape Clear.
After a couple of "quieter" days, the 14th got busy again - at least 27 Hoopoes recorded, with 11 in Ireland (nine of them in Cork, including a new bird at Lehanemore, the other three in Waterford, including a new bird at Kilcohan) and seven on Scilly, in a presumed new bird on Gugh, with three together nearby at Covean (yes, I've finally lost track as if to whether they were new or not). One was on St. Mary's and two new ones were on St. Martin's, at the campsite on Middle Town. Two singles remained in Cornwall while elsewhere, new birds began to spread themselves further a field once more.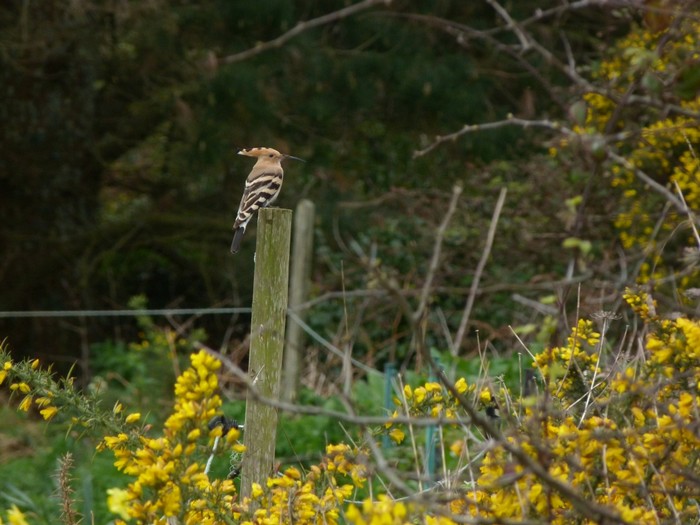 Singles were reported in the southeast at Medmerry RSPB (West Sussex) and in Kent at Shuart and again at Dungeness. Definitely new were birds at South Stack RSPB (Anglesey), Thurstaston Hill on the Wirral and Loch Gair (Argyll & Bute) and back in Wales, one remained at Marloes. Assuming all reports were genuine, there were a bare minimum seven new Hoopoes, which could have actually been closer to 10 or 11.
By the end of 14th, at least 90 birds had been seen, in what has to be one of the most striking mid-April Hoopoe arrivals on record. Awesome!
Scops Owl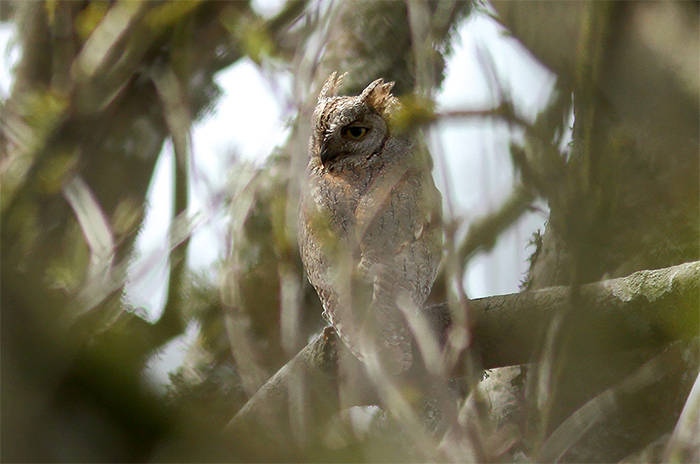 All of those Hoopoes and (the predicted last week) Irish Red-rumped Swallow and Subalpine Warbler all pointed towards something rather special making landfall somewhere between southwest England and southern Ireland (the latter becoming favourite) - and lunchtime of 10th gave visitors to Wexford's Great Saltee a proper reason to be cheerful - Scops Owl!
In all there have been just under 100 acceptances of this superb little creature, with 14 of those arriving in Ireland - and many of those are truly from times of yore. Eight Irish counties have recorded Scops Owl and the Saltee bird becomes the fourth for Wexford but the first one since 1889. Four birds now ties Wexford with Cork where records are concerned - three of Cork's quartet coming since 1993, including the most recent one in Ireland, found as a road casualty at Crookhaven in early November 2005.
Twitchable Irish birds? They are incredibly thin on the ground - a trapped, three-day adult male on Cape Clear in May 1999 being the only option and this week's Saltee bird seemed to disappear reasonably quick-smart too.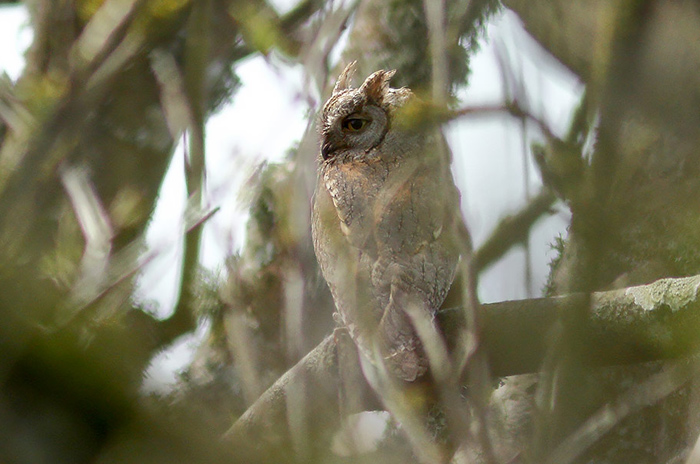 April has good form where Scops Owl is concerned - the Wexford bird is the 20th recorded within the month (a fifth of the overall total) and there have now been five April birds within the last 20 years.
Greater Yellowlegs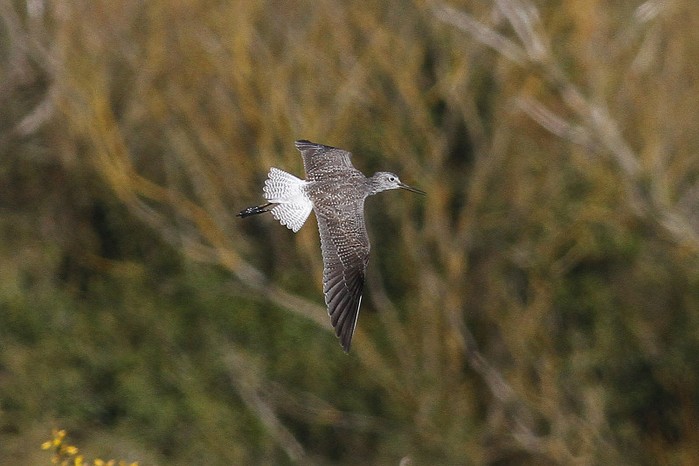 Week in, week out it can be a struggle not to repeat oneself with some of the recurring rares (you've doubtless noticed…) but this time around, with the reappearance (surely!) of the first-winter Greater Yellowlegs at Titchfield Haven on 10th, here's a reprise of what was said three months ago, on January 11th.
This week's new headline maker was found at Titchfield Haven NNR and becomes the second record for Hampshire - the sole record to date was a two day bird at Farlington Marshes in late September 2007 - and it also becomes the 52nd record of this popular Tringa for Britain and Ireland.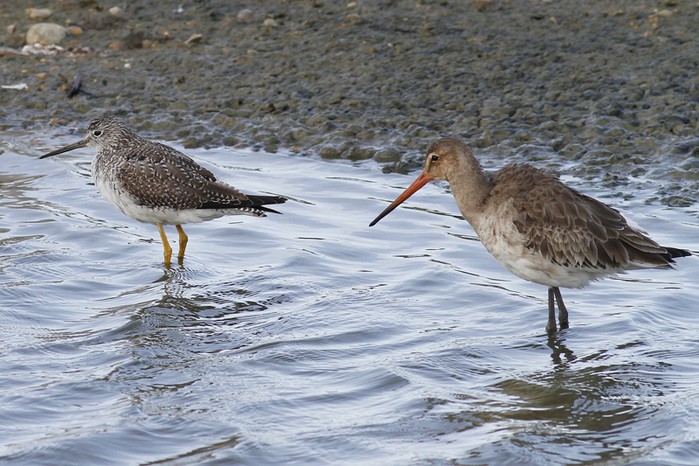 Since then, there have been a further six records, prior to the Titchfield bird - the ooops-a-daisy, which-one-is-it on Foula, also in 2007, three singles in 2011 (in Cornwall for two September days, in Northumberland for a month from mid-November and on the Fleet, Highland in December) while 2012 saw the appearance of a first-winter at the Loch of Strathbeg RSPB in Aberdeenshire from March to May, complete with a rather random four-day return visit in the autumn as it presumably came back from somewhere in northern Europe.
Our most recent Greater Yellowlegs was found in September 2013, a one-day individual photographed on the Coldharbour lagoon at Reculver.
This week's occurrence saw the bird linger for around four and a half hours before departing high to the south and off towards the Solent. Funnily enough, it spent a similar amount of time on site back in January too.
Harlequins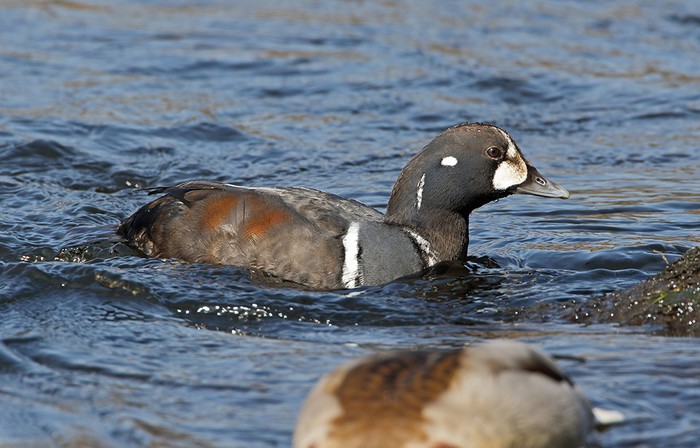 While the spring action began to hot up on in the far southwestern extremities up in the far northeastern corners of Scotland the two wintering Harlequins remained firmly in place through a few more days.
In Aberdeenshire, the first-summer drake was still along the River Don, on the outskirts of Aberdeen through until 14th (sneaking through the century mark in the process, 101 days and counting now) with the Harlequin duck still sitting pretty in Highland, just below Brora, at Sputie Burn, to 11th.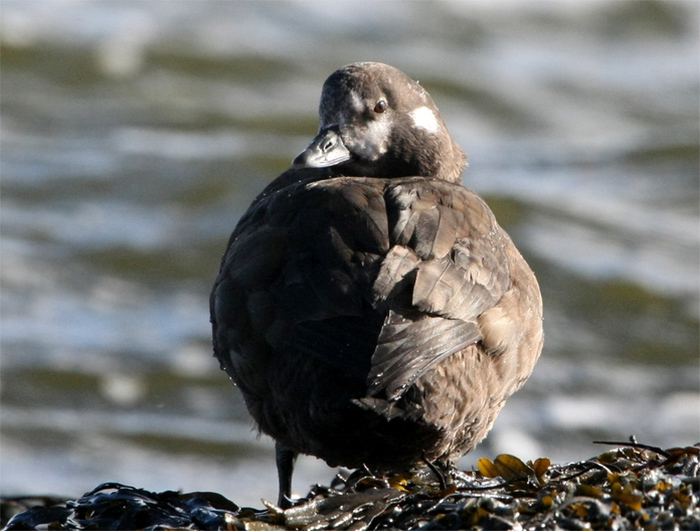 American White Ibis
Those who took out a birding insurance policy by taking a trip to the Sevenoaks WR in the last five months will have had a smile on their faces (and pens hovering over their lists) with the lunchtime news on 10th that the juvenile American White Ibis had taken leave of its wintering site in Kent and moved westwards to London - bang on cue you'd argue too.
This particular bird has only been mentioned five times in the last three months (four times in February, not at all in March and once, on April 3rd, this month) and the naysayers would perhaps have expected to stay where it was for some while to come (in a style matching the Dorset Hooded Merganser).
However, this potential addition to the British List may just have enhanced the case for the defence just a tad by lifting off and away from Kent and spending a short time at the London Wetlands Centre WWT before continuing on westwards once again. Not content with one performance, there was an evening fly-by amongst some local Cormorants later in the day too.
If this was, say, an American Coot, the arrival date of November 19th and departure date of April 10th would be absolutely right on the money. Arguably, any wintering rarity, Nearctic or otherwise, would be looking to upsticks in "nice" migration enducing weather in early to mid-April - this one will be a very interesting BBRC file to follow…
…those who went will be licking their lips, those who didn't may end up licking some listing wounds…
White-billed Divers have seemingly taken their collective leave offshore from Portsoy - after a dozen last week, the maximum number for this week was just two, seen from the coast (rather than a boat) on 9th, with two logged to 14th. On Lewis, a single bird remained at Skigersta harbour, near Port Nis to 9th with the Orcadian adult still being seen around South Ronaldsay to 10th. The final bird of the week was noted distantly off of the Moray coast, from Lossiemouth's West Beach on 9th.
Spring Sabine's Gulls are always incredibly thin on the ground, so an adult seen at Malin Head (Co. Donegal) on 8th takes pride of place within the seabird section this week. The competition wasn't too intense mind - two Pomarine Skuas off Burnham-on-Sea (Somerset) on 12th the only other contenders.
Night Herons were the forerunners of pretty much all this week's excitement - and this week saw the continuing presence of a few birds on Scilly. On 8th, one was seen heading over Lower Moors, St. Mary's with another noted again on St. Agnes the following day, a bird which remained around Porth Killier to 10th. Two birds were seen around St. Mary's at dusk on 11th while on Bryher, a dead Night Heron was found on 9th. The 13th then saw one fly across the Great Pool, Tresco.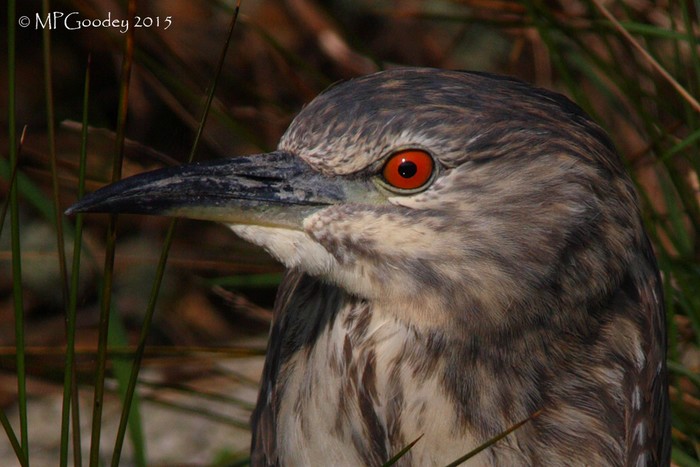 Elsewhere, a single bird was at Marazion Marsh RSPB (Cornwall) on the evening of 14th and news emerged too of a Night Heron being found in a garden at Wootton Bridge, on the Isle of Wight, on April 4th which was then taken in to care - becoming the first record of the species on the island in at least nine years.
New this week was a Purple Heron over the Rising Sun CP (Northumberland) on 14th - the first of the year.
The two Kentish Cattle Egrets remained near Dungeness RSPB through to 13th at least, with two or three Great White Egrets in the area to at least 10th, part of six birds in all around the southeast, the others appearing over Seaford Head (East Sussex) early on the morning of 8th, at Bough Beech Reservoir (Kent) on 11th and north over Worthing (West Sussex) on 14th.
Up to half a dozen Great Whites were seen in Somerset this week, a minimum five at three sites on the Levels, with a roaming individual noted at Blagdon Lake on 10th. Further to the west, singles (perhaps the same single?) were seen in south Devon, at Exminster Marshes RSPB on 8th and then South Huish on 9th while off to the east, two birds flew over Hengistbury Head (Dorset) on 13th.
Northeastern counties recorded three singles this week - at both Rimac (Lincolnshire) and Seal Sands (Cleveland) on 10th with one on 11th being noted at East Chevington NWT (Northumberland). Two singles were in East Anglia, at Welney WWT (Norfolk) to 9th and Lakenheath Fen RSPB (Suffolk/Norfolk border) to 10th with the final ones (in a total of around 20 in all) seen at Ynys-hir RSPB (Ceredigion) on 11th and still on the Mullet (Co. Mayo) through to 11th as well.
Last week's three Glossy Ibis were, yup, you guessed it, this week's three Glossy Ibis - seen at Fen Drayton Lakes RSPB (Cambridgeshire) on 8th, 10th and 13th, Tramore Backstrand (Co. Waterford) to 10th and at Gonalston (Nottinghamshire) to 14th.
In Dorset, the Spoonbills in and around Poole Harbour managed counts of five (at Lytchett Fileds RSPB) and nine (at Arne RSPB) on 8th - the largest flocks of the week. A flock of four were along the Beaulieu River in Hampshire on 10th before departing courtesy of an Osprey flush. Elsewhere in Hampshire singles were noted at two sites on 8th while three remained at Bracklesham Bay (West Sussex) to 9th.
Around the rest of the southeast, five further single Spoonbills were noted - at Dovercourt (essex) on 8th, Grove Ferry (Kent) on 9th andChurch Norton (West Sussex), Rainham Marshes RSPB (London) and Otmoor RSPB (Oxfordshire), all on 11th - and two flew over Southill (Bedfordshire) on 13th.
At least three Spoonbills were seen along the north Norfolk coast through to the end of the weekend and Suffolk hosted two over Thorpeness on 8th with one at Minsmere RSPB on 11th and another at Boyton Marshes RSPB to 13th and the final day of the week saw three birds noted at Norfolk's Breydon Water. The only other records both came from Ireland - the youngster still at Tacumshin (Co. Wexford) to 11th with another flying over Clogher Head (Co. Louth) on 12th.
A new roaming Common Crane headed over Seaforth LWT (Merseyside & North Lancashire) on 8th having passed over Cheshire's Burton Mere half an hour earlier. Also on 8th came a record of a Crane near Gowran (Co. Kilkenny) - massive county rarity.
April 9th saw two Cranes reported from the West Midlands, over Dudley with another seen heading east over Raworth (South Yorkshire) on the same date. In North Yorkshire, three were at Strensall Common on 10th when two were also logged over the marshes at Salthouse (Norfolk). What could even have been the same two (long shot, yes, but you never know) made it down to Carlton Marshes (Suffolk) on 11th before heading back in to Norfolk, over Happisburgh, Cromer and Sheringham, on 12th. A lone bird was noted in the Broads, at Horsey, also on 11th with up to a dozen there on 13th. The same date saw a single bird drift over Potteric Carr YWT (South Yorkshire).
Finally, an escaped green-ringed White Stork made its way from Cumbria to Ayrshire, then across to Northumberland, Durham and Cleveland through the first part of the week (the leg iron may not have been noted in the former two counties but it has to be one-in-the-same).
We have to start off on the Wirral where the numbers of Surf Scoters present offshore from the Hoylake area went bananas this week - at least seven seen there on 9th (presumably something adjacent to an English record, courtesy of - you'd assume - dissipating flocks from north Wales).
Local blogs suggested that the "Surftet" comprised of two females, a first-winter drake, two first-summer drakes and two adult drakes with others going for four adult and one first-summer drake and two ducks. Either way, it was mightily impressive and numbers varied from then to 14th, including four were during the morning of 13th with two drakes were seen on the final day of the week.
In north Wales, two adult drake Surfies were still off Old Colwyn (Conwy), also on 9th and the same date saw the continuing presence of the drake in eastern Scotland, still at Mussleburgh, with the same bird drifting to Joppa on 12th. Further north, up along the Scottish east coast, the week's only King Eider, an adult drake, was seen offshore from St, Combs (Aberdeenshire) on 14th.
That lovely and most welcome onset of spring meant that ducks were leaving our shores in some number - just threeLesser Scaups noted this week, an adult drake was still in County Sligo, on Lough Gara to 9th, the first-winter drake still in Ayrshire, at Marnaham Loch, to 13th, while a new female was found at Loch Ardvule, South Uist (Outer Hebrides) on 12th-14th.
In Oxfordshire, the super flock of four Ring-necked Ducks on the pits at Standlake to 12th with three present on 13th. Three further birds were reported through the week - still in Aberdeenshire, at Policy Loch and Loch of Skene on 8th-9th and Irish drakes still on Lough Beg (Co. Derry) and Cross Lough, on the Mullet (Co. Mayo) to 9th and 10th respectively.
A brand, spanking new drake Blue-winged Teal was seen on the flashes at Donna Nook (Lincolnshire) on the afternoon of 12th - seen again on 13th-14th too - and on Orkney, the 12th also saw the reappearance of the drake B-w T at The Shunan, noted for the first time since March 27th.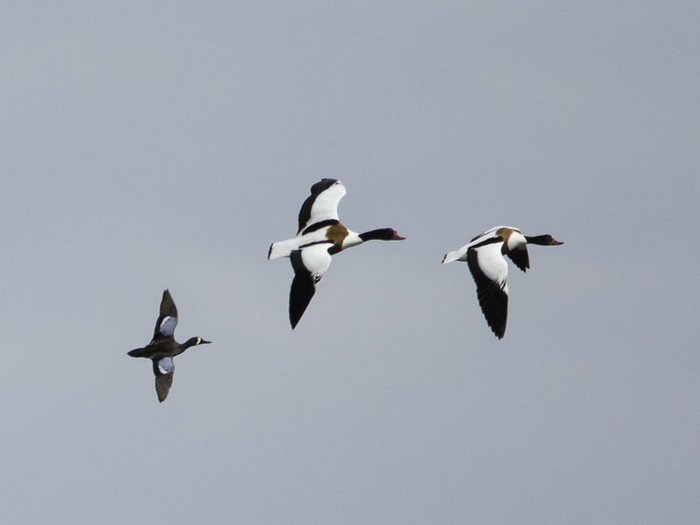 Three new drake Green-winged Teals were found on 12th - at Titchwell RSPB (Norfolk), Loch of Spiggie, Mainland (Shetland) and Loch a'Roe, North Uist (Outer Hebrides) - with further new birds noted at Loch an Eilein, Tiree (Argyll & Bute) on 13th and Long Preston (North Yorkshire) on 14th. A further four or five birds leftover from last week were noted on the Ouse Washes RSPB (Cambridgeshire) to 9th, Ballycarry Bridge, Larne Lough (Co. Antrim) to 10th, the Great Pool, Tresco (Scilly) to 12th and Greylake RSPB (Somerset) and Loch Sandary, North Uist to 13th.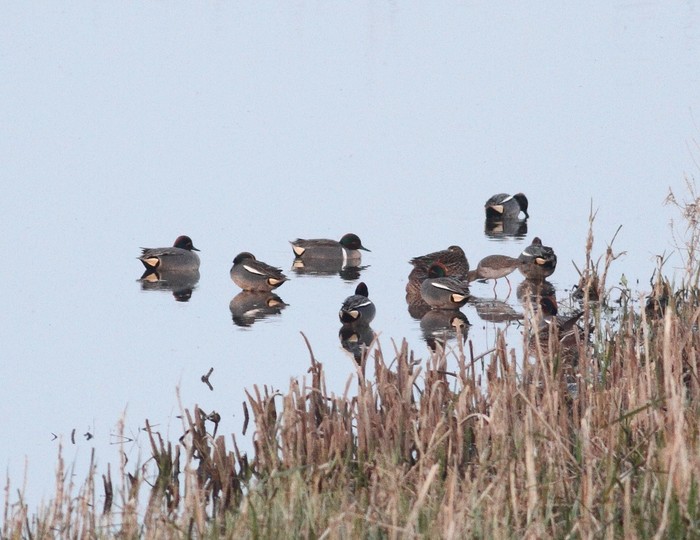 Also still on the same Scilly isle was the drake Black Duck, he was in residence to 13th.
Three drake American Wigeons began the new week at their favoured wintering locations - still at Loch of Harray, Mainland (Orkney), Swillington Ings (West Yorkshire) and Holme Pierrepont (Nottinghamshire) - and this trio were followed by a new drake found at Tacumshin (Co. Wexford) on 11th (where it remained to 14th) while a pair remained on Shetland, at Papil Water, Burra to 12th.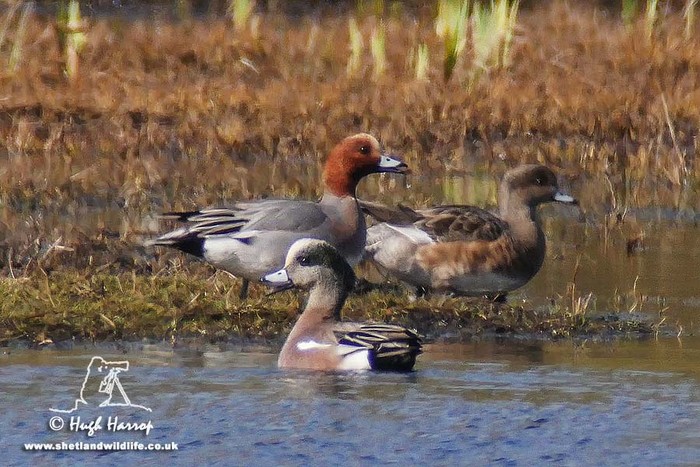 We round off the wild side with two lone, long staying Black Brants - at Levington Marina (Suffolk) to 8th and around Kilnsea (East Yorkshire) to 13th - while a Brant (or hybrid) was at Frampton Marsh RSPB (Lincolnshire) on 14th. The latter date also saw the reappearance of the first-winter Brant on the Humber, again at Spurn.
...but before departing WaterfowlWorld, mention should be made of the drake Wood Duck that flopped in to Thornwick Pool, Flamborough Head (East Yorkshire) on 11th. The initial message would have got a few hearts beating a tad quicker than usual - coming just two days short of the accepted drake Baikal Teal from the same site in 2013. Fortunately, there wasn't too much of a gap until the next message which relayed the news that there was no need to panic…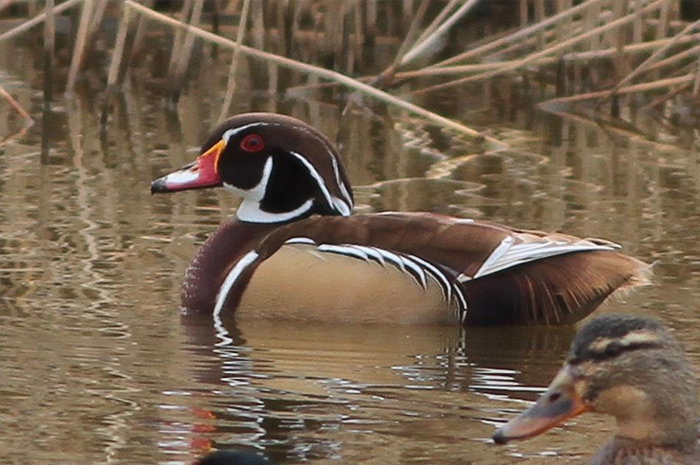 The date is a cracking one for a vagrant WD - last spring's drake on the Outer Hebrides, at Stoneybridge from March 27th-30th giving those with ticks in mind something to think about and the Flamborough bird, even if it was duff and a "colour mutant", has an arrival date uncannily close to the other lauded drake Wood Duck that appeared on Loch of Brow, Mainland Shetland on April 16th 2009.
The two Scottish island birds are generally regarded as being pukka and this week's would almost certainly have been seen as the same if it wasn't swiftly dismissed as an unringed, variant escape.
Such are the trials and tribulations of a none-Category A species - no such fears for the accepted Shetland Hooded Merganser which was another April 15th arrival, this one in 2006. (I like that one so much it gets a second outing at the end of the show…).
<!—Section Title -->
Last week's freshly arrived male Black-winged Stilt remained on the meadows at Abbotsbury (Dorset) to 10th with the second for the year arriving further along the south coast, at Sidlesham Ferry (West Sussex) on 13th while the morning of 14th saw five full-grown Stilts arrive at Higham Marshes, near Cliffe with six in place by mid-afternoon, becoming a county record flock in to the bargain- Kent has 37 acceptances to date, with the foursome at Elmley in May 2012 being the previous largest group noted (does the pair of adult and four small chicks last year, also at Cliffe count as a flock…sort of, but not really). Two more also arrived in Essex, at Bowers Marsh RSPB also on the morning of 14th and the evening saw a brief appearance of another in Kent, at Grove Ferry.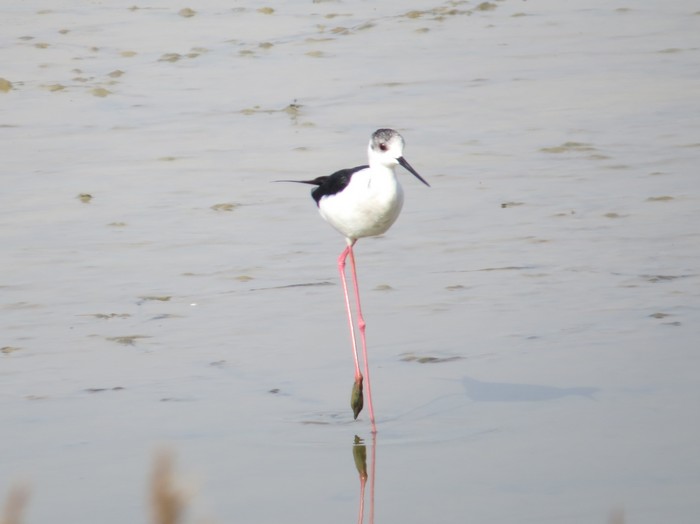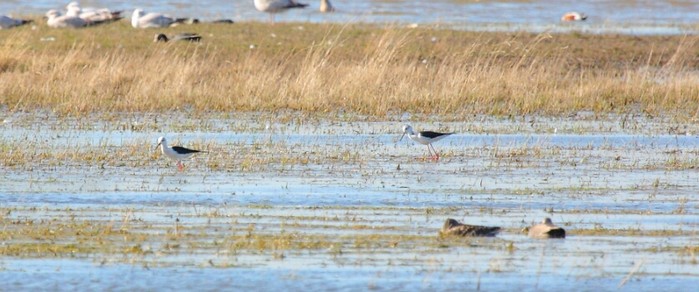 On Scilly, a male Dotterel alighted on St. Martin's on 8th, remaining there to the following day and was followed by a trip of nine birds at the traditional stop-off site at Choseley (Norfolk) on 13th, half a dozen remaining to the following day. Not too far away, at Beacon Hill, just outside of Burnham Market, a lone male Dotterel was also recorded on 14th.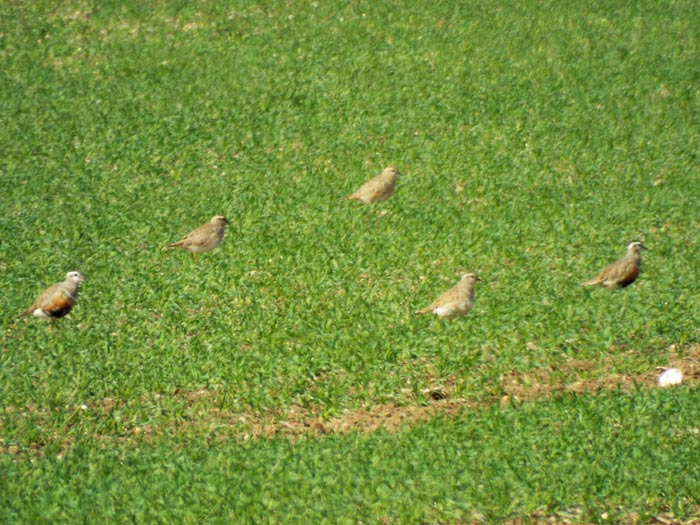 The last of the wintering Lesser Yellowlegs of 2014/'15 remained throughout the week, through to 14th, on Dublin's Rogerstown Estuary. Surely it won't be there much longer?
Cornwall leads the way in this section, thanks to the Gull-billed Tern that was found in fields near Redruth, at Four Burrows, late in the day on 14th - a fine bird anywhere - only the 12th for the county and the first since an even earlier April bird spent a fortnight around Sennen between April 6th-19th 2011.
Just the one Bonaparte's Gull was on offer this week, the adult in Cardiff Bay (Glamorgan) to 10th being the species only representative this week.
Both of the wintering Laughing Gulls were logged again this week, the second-winter was again at Ballycotton (Co. Cork) on 8th and again on 14th while the first-winter in northwest England popped across the Mersey from New Brighton to Seaforth LWT throughout the week.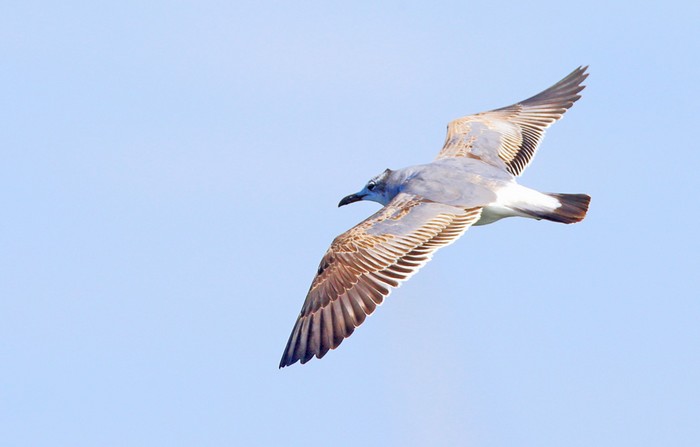 Diminishing returns were the story for Ring-billed Gulls over the past seven days - just six (or possibly seven) recorded all week. In Ireland, an adult and first-winter were seen around Nimmo's Pier and Waterside (Co. Galway); a first-winter was again at the Balranald RSPB reserve on North Uist to 10th with another youngster on the Hayle Estuary (Cornwall) on 12th-14th. That last date also saw the arrival of the most significant Ring-bill of the week, an adult making a couple of appareances at Attenborough NR (Nottinghamshire) - a huge rarity for the east Midlands county. Last of all, an adult that found its way to Hillwell, Mainland (Shetland) on 13th.
Falling away too were Glaucous Gulls - 35 recorded in 18 counties across Britain and Ireland - with 18 of them seen in Scotland, with 10 of those seen on the Hebrides, including five juveniles on a dead whale corpse at Balranald RSPB on 9th. Five birds were recorded in Ireland, four were seen in the northeast of England and three were logged in Wales. Singles were dotted sporadically and very thinly elsewhere, including the ringed adult that was at Stanwick GPs (Northamptonshire) for much of the week.
After three or four weeks of a gradual decline in numbers of Iceland Gulls, there was a small upward spike this time around, rising from 82:34 to 91:26 (birds:counties).
Scotland held well over half of the grand total - 57 in all seen with 29 on the Hebrides, 19 of which were in Stornoway Harbour, Lewis on 10th (17 of them juveniles). A further 10 were seen in Argyll & Bute with five more on Orkney. Ireland's 17 Icelands included six birds still around Malin Head (Co. Donegal) and three birds in Antrim, while in England, the northeast of England's total of eight birds included three in the roost at Scorton GPs (North Yorkshire) on 11th.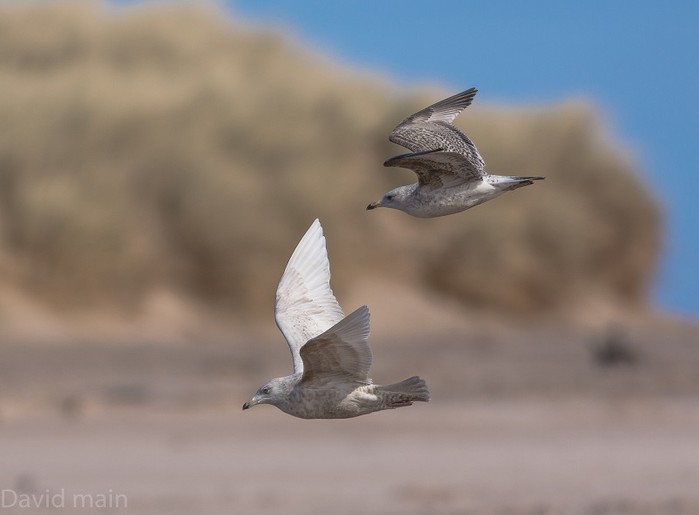 There were only two Kumlien's Gulls to report on; the adult was again at South Milton (Devon) on 8th and the third-winter sen recently on the Outer Hebrides remained at Smerclate, South Uist to 10th.
Last but not least, to Cornwall where the still-elusive second-winter American Herring Gull was noted again in the fields around Jericho Farm, St. Just betwen 9th-11th.
With a waft of migrant-friendly air, the number of Black Kite reports began to take an upward trajectory this week - reports coming from Hayle (Cornwall) on 8th, Donna Nook (Lincolnshire) on 9th, near Somerton (Somerset) on 10th, Grove (Kent) on 11th and circling around the lighthouse at Cromwer (Norfolk) for a quarter of an hour on the morning of 13th.
An impressive immature White-tailed Eagle spent a few hours around North Ronaldsay (Orkney) on 10th - quite where it was form, and where it was going, remain a mystery.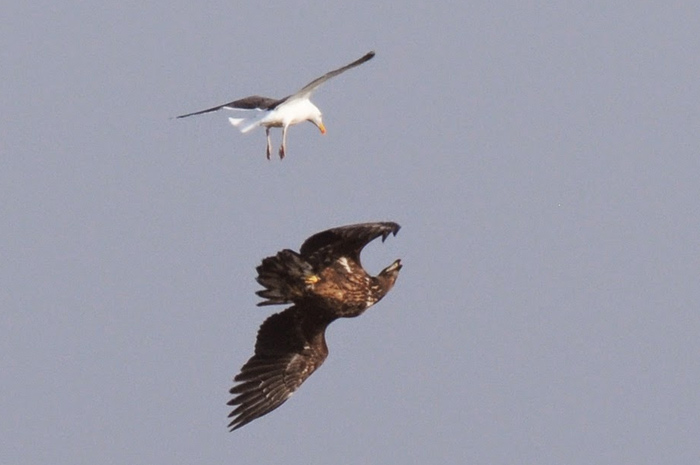 Five single Rough-legged Buzzards were reported around Norfolk, at Haddiscoe on 8th, over Winterton on 9th, at Burnham Overy to 10th ,around Halvergate to 11th and over Choseley on 13th. Also in East Anglia, a Rough-leg was reported over Duxford (Cambridgeshire) on 12th.
Three separate locations in East Yorkshire recorded the species this week, at High Eske NR on 8th, Bucton to 12th and over nearby Bempton Cliffs RSPB on 13th. Cleveland hosted singletons at Sleddale to 9th and then at New Marske on 12th while one was in Northumberland, at Low Cocklaw on 9th. Two final brids to report where seen in Scotland - at Langholm (Dumfries & Galloway) on 9th and still at Lochindorb (Highland) to 13th.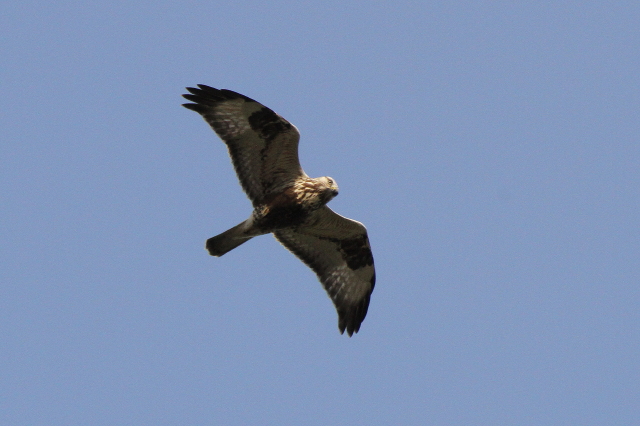 Cream of the crop? That'll be the Snowy Owl seen on 11th in the Burren (Co. Clare), on Gleninagh Mountains. The site lies just a couple of miles away from where one of the same species was reported during the late spring and early summer of 2014. To date there are just two accpeted recorsds for the west coast county - shot near Ennis in November 1909 and at Doolin on May 17th 2009.
All those Hoopoes were certainly worthy of some headline status but the warm weather pushed a handful of nice, early spring overshooting passerines our way too.
Already mentioned in the Upupa invasion (and touted as nigh-on nailed on at the end of last week's review) were the year's first Red-rumped Swallow, seen over Mizen Head (Co. Cork) on 9th (almost a year to the day since the last in the county, seen briefly at Owneahincha on April 10th 2014), with the second of the week arriving at Marazion Marsh RSPB (Cornwall) on 14th; the lovely male Western Subalpine Warbler that found itself on Browntown Head in County Waterford to 14th - only the second record for the county, following on from a one-day male at the same spot in early May 2008; and the Woodchat Shrike that alighted upon Cape Clear Island (Co. Cork).
The second Western Subalpine Warbler for the week came along during the early afternoon of 13th, found on the Lizard, just north of Caerthillian, near Kynance Cove - an area with a rich vein of form where Sub-A's are concerned. This particular songster was still giving it some on 14th with a second male drawn in to the same area too - while the same date saw the week's second Woodchat make landfall in the southwest, on the coast of south Devon at Soar Mill Cove.
A year to the day since many people enjoyed one particularly rare aerial grandee at Flamborough Head (East Yorkshire), folk gathered at the same site on April 11th this year to enjoy some fine views of an Alpine Swift, present through to early afternoon. A second bird was recorded heading over Verwood (Dorset) on 12th and a third was seen inland at Rutland Water (Leicestershire) on 14th - potentially the first in the county since one at Stanford Reservoir in May 1987 which was only the fourth-ever - although one was reported at Oakham in June 2008.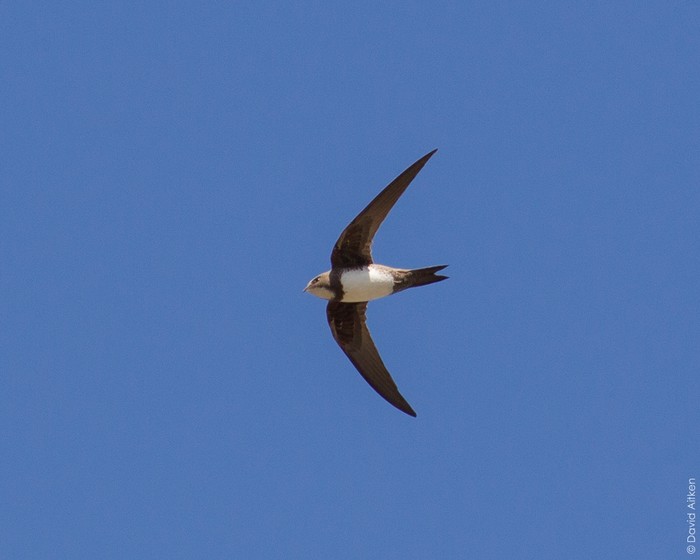 Rather more unexpected was the very early Bee-eater that was seen and heard over Greatham Creek (Cleveland) on 11th. It is really rather tempting to associate this sighting with the one that followed the next day in South Yorkshire, seen off and on at Rother Valley CP a couple of times through the morning of 12th.
One last "new for the year" bird was the brief Bluethroat that made an appearance at Bowness-on-Solway (Cumbria) on 8th - just the third record of any form in the county in the past fifteen years or so. The penultimate day of the review period saw a White-spotted Bluethroat show early in the morning at Nagden Marshes, Faversham Creek (Kent) - a wholly expected overshoot given the weather and time of year - with the second, a male, making a surprise inland debut at Amwell GPs (Hertfordshire) on the same day.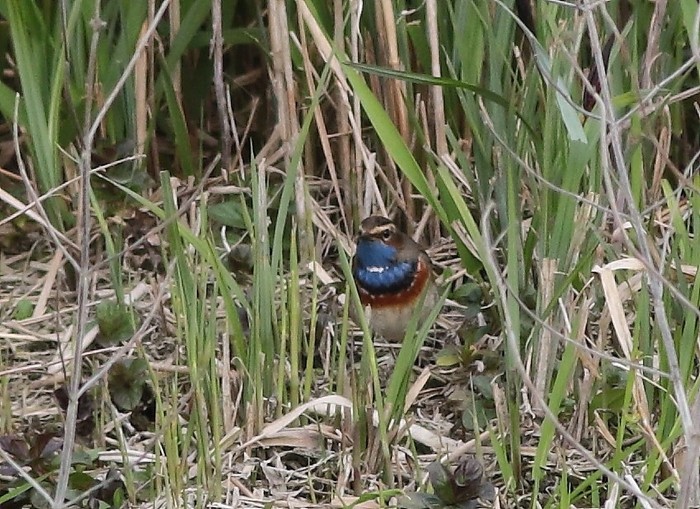 Four flyover Serins were widely spread - one went over Trewince, St. Mary's (Scilly) on 8th, another flew over Gorleston-on-Sea (Norfolk) on 11th, at The Warren, Spurn (East Yorkshire) on 11th and along the cliffs at Foreness Point (Kent) on 14th.
Wrynecks had a good week which, although not on a par with the extremely strong showing of Hoopoes was, for the 2nd week of April, pretty impressive, at least 20 recorded before the weekend had even started.
A productive 8th saw at least nine brids reported; five for Scilly (three on St. Mary's and one each on Tresco and St. Agnes), two for Cornwall (at least one at Nanquidno with another on the Lizard) and one each for Lundy Island (Devon) and also in Aberystwyth (Ceredigion).
Three sets of twos made up the Wryneck news for 9th - at St. Ives (Cornwall), on Skomer (Pembrokeshire) and, as mentioned earlier, on Mizen Head (Co. Cork) while the following day saw new singles on St. Martin's (Scilly) and at East Soar (Devon) with one again on the Lizard while Irish loners were seen on the islands of Great Saltee and Dursey.
Four more followed before the end of the review period; another noted on the Lizard on 11th; one at Ballinglanna (Co. Cork) on 12th, another was Cockerham Sands CP (Lancashire) on 13th and the final individuals this week dropped in to Benacre (Suffolk) and Sutton (Pembrokeshire) on 14th.
Three departing Great Grey Shrikes hit the north Norfolk coast early in the week; at Warham Greens on 8th, Choseley on 9th-10th and Weybourne on 10th, with another east coast coaster was at Donna Nook (Lincolnshire) on 11th.
Eight more birds were noted - in the New Forest (Hampshire) and in Wales, at Cross Forest Inn (Ceredigion) and World's End (Denbighshire) on 8th; at Midhope (South Yorkshire) and new at Ashleworth Forest (Gloucestershire), Scammonden Dam (West Yorkshire) and East Ord (Northumberland) all on 9th; at Sudbury (Suffolk) on 10th.
Lastly, what may be our final Waxwing of the winter was reported at East Chevington NWT (Northumberland) on 10th.
As the next seven days beckon, we're starting to really get in to spring and the mouth-watering cast of birds, some of the very highest order, begins to take on a list of Opal Fruit-like proportions…(Starburst?…Pah…).
Another burst of lovely southerlies could produce the first Little Bittern of the year (they've been seen daily through the seven days ahead, 19 birds accepted in all) and we could be in to Squacco territory too, weather permitting.
Along with the April Gyrs that remain a prominent option, why not up the ante to a passing Pallid Harrier - there's been a couple of accepted mid-April birds and there's clearly a whole heap of them "down south" recently. That may be a decent even-money gamble for the next seven days too and seems more likely than the once popular Red-footed Falcon.
Three individual dates and one outrageous rare double on the very same date always stick out like the proverbial sore thumb from the record books - April 15th most recently produced a vagrant Baikal Teal on Flamborough head in 2013 with the same date, in 2006, providing birders on Shetland with a Hooded Merganser that not even the most cynical loathers of said ducky could really diss, appearing in Unst and staying put for a fortnight or so (Shetland does good duck).
April 16th could be rare thrush day - the widely twitched male Rock Thrush at Portland in 1988 was found on this date; also popular and surprisingly well-twitched was the superb spring White's Thrush on County Down's Copeland in 1993 while the Eye-browed Thrush in East Yorkshire, at Aldbrough, from April 16th 1981 went under the radar to all at the time.
Taking all the honours though for the week ahead, the amazing day of April 20th 2008 which is always worth a repeat - an east wind was blowing along the North Sea coasts and two mega alerts came along through the course of the day - the first, a Calandra Lark on Fair Isle although never expected wasn't as much of a surprise as it once would have been. The second mega…still a real wow moment…Norfolk's Black Lark, found in the dunes of Winterton in the late afternoon, where it remained until dawn the next day, vanishing in to the Norfolk ether before 7am.
…all those birds above are just scratching at the surface of a mass of great birds that potentially lie in wait. Eyes become ever more transfixed on the weather forecast - anything warm from the south or east will do nicely thank you…
Let's see how we get on…an early Citrine Wagtail feels on the cards…
Mark Golley
15 Apr 2015


Special thanks this week to Ashley Fisher and Joe Pender for all things Great Blue Heron. Thanks also to the rest of this week's contributors for their photos, videos and sound files.
Martin Goodey, Andrew Malcolm, Brian Mellow, Caleb Knight, Paul Kelly, Will Scott, Tom Shevlin, Brett Spencer, Gary Thoburn, Micky Maher, Mark Johnson, Brendan Doe, Hugh Harrop, Martin Garner, Bart Ives, Andrew Armstrong, Jim Swalwell, Michael Trew, David Main, Stephen Rutt, Dave Burns, David Aitken, Jason Ward, Penny Clarke.