Weekly round-up: 18 - 24 June 2014
The week at a glance
Two White-throated Sparrows found in Suffolk and Argyll and Bute
Another week, another Scops Owl - this one in Shetland
The Short-toed Eagle finally settles down in East Sussex
Bridled Tern returns to Inner Farne
Norfolk's male Spectacled Warbler finally calls it a day, while the Cleveland Black Scoter ends its brief stay
East Yorkshire lays claim to a possible Great Black-headed Gull over Spurn. Surely any day now...
Honestly, you'd think there'd come a time when 2014 paused to catch its breath, suck on a half-time orange, and decide whether to stick with the tactics of the first half or whether to throw caution to the wind in the remaining period. But no. (And heaven help us all after the quality of what's come thus far this year if 2014 ups its game even further).
As a large lump of high pressure continued to sit over Britain and Ireland, the weather remained calm and settled across the land, and for the most part warm and sunny. (Wimbledon's underway now, so expect that to all change shortly...) With new birds of quality, lingering megas, and a possible almost-first for Britain the week was, however, anything but uneventful.
White-throated Sparrows, in Suffolk and Argyll and Bute
Yes, that's 'sparrows' plural. What odds a midsummer White-throated Sparrow? Pretty short, as it goes. But what odds two of them, on the same day, at opposite ends of the country? Funny old game, birding.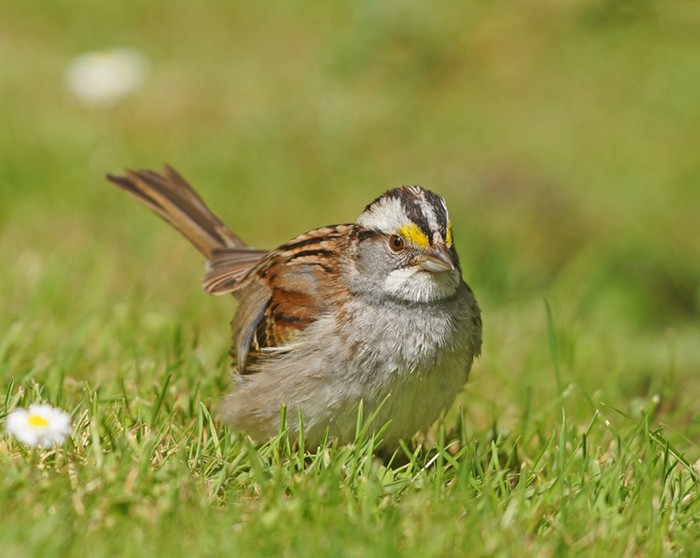 The 19th kicked off with one trapped and ringed at Landguard (Suffolk) in the morning. By lunchtime, Argyll and Bute's first was singing at Otter Ferry. The Landguard bird is Suffolk's third, all of which have occurred in June; and the Otter Ferry individual is a fine, shiny first for Argyll and Bute. May and June represent the optimum months for finding one of these cracking Nearctic sparrows, with over two-thirds of all previous British and Irish records coming from these balmy weeks. It sure beats bracing oneself against an autumn westerly... Suffice to say, both of these individuals were one day birds, and weren't seen subsequently.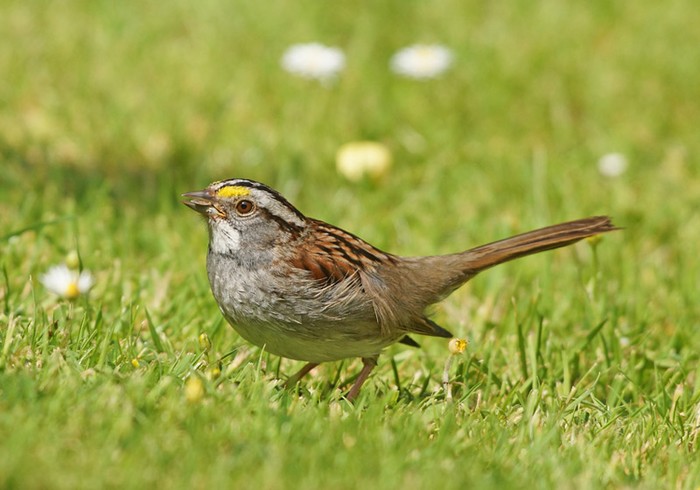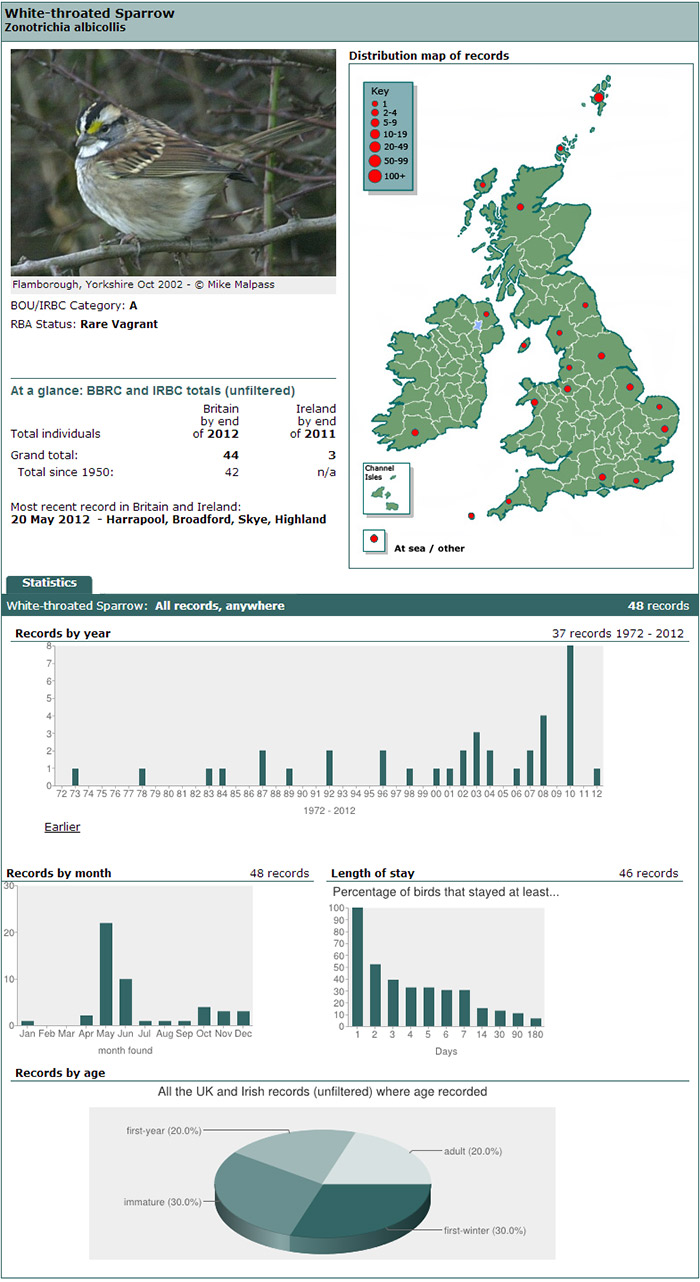 Scops Owl, on Shetland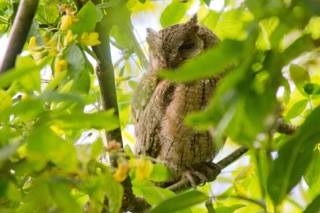 Hot on the heels of last week's bird on Orkney's North Ronaldsay, a Scops Owl was photographed in Shetland on Yell at the Wind House bod on 24th... but had subsequently flown off. Whether or not this was the Orcadian bird doing a Myrtle Warbler and relocating further north than hitherto remains to be seen – the Orcadian bird was ringed, of course, but the photo of the roosting Shetland bird typically doesn't show much by way of leg, let alone bling.
Shetland's had a goodly haul of Scops Owl down the years, and this represents the 14th for the islands – but the first record for Yell. The island's resident birder will doubtless be scouring the place for it... With this being the sixth record for Shetland as a whole since 2000, the islands are averaging almost a record every other year – paradoxically for a species associated with the Mediterranean, a group of islands closer to the Arctic Circle than they are to London is the best place of late in the UK to see the species!
Short-toed Eagle, in Sussex
After a previous week of bouncing hither and thither around the south of England, the Short-toed Eagle in East Sussex finally did the respectable, decent thing this week and settled down to some serious snake consumption in Ashdown Forest, providing all-comers with an accessible and even reliable daily opportunity to catch up with this species in the UK. Good views were forthcoming, and some superb photos soon surfaced as the week wore on. Seen daily until 22nd, it was back again on 24th – with something approaching a territory established, we'd have to assume this bird will linger a while longer in southern England.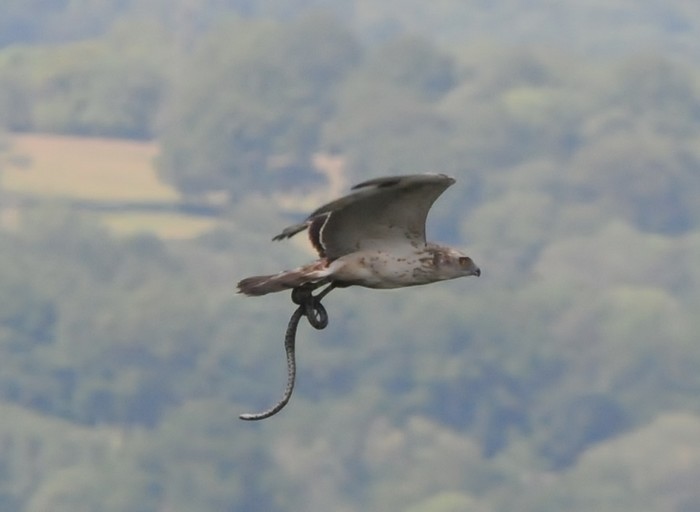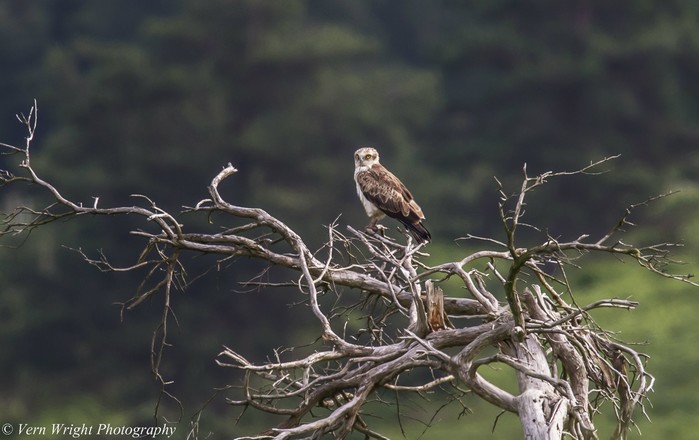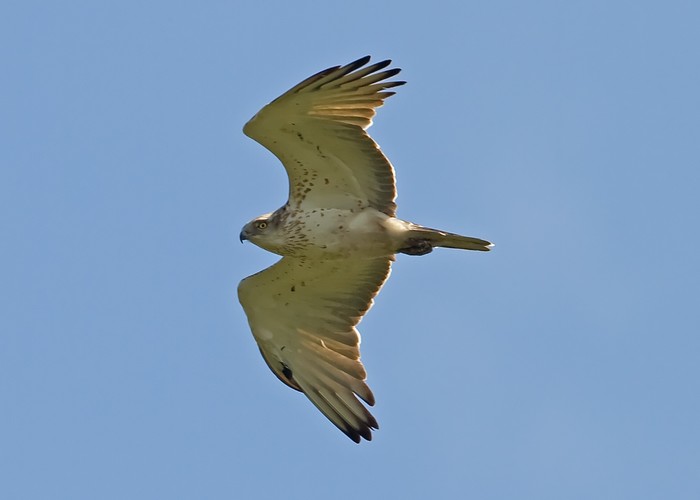 What then to make of the unconfirmed report of a Short-toed Eagle in Hampshire on the morning of 24th at Acres Down in the New Forest? The same bird, a-wandering, or something else entirely? The old two bird theory is alive and well.
Bridled Tern, on Fair Isle and later the Farnes
Far less settled than the above bird was the returning Bridled Tern... after an all-too brief Shetland sojourn on Fair Isle, it was last seen there on 19th before turning up again on last year's favoured island, Inner Farne in Northumberland on 20th, remaining there until 24th. Not far as the pelagic tern flies, but it might as well be on the moon for this thwarted Shetland birder...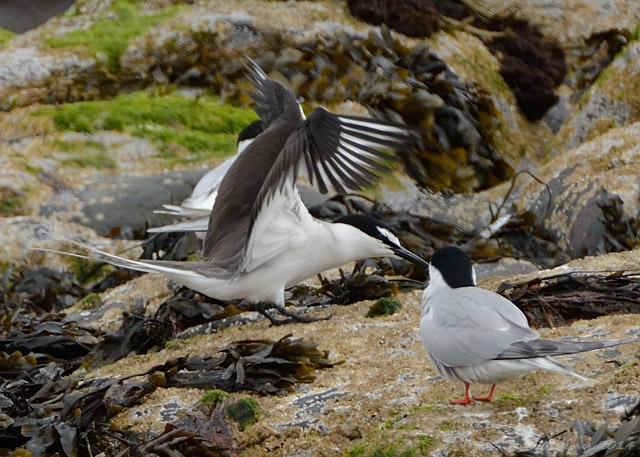 Going by last year's precedent, we might expect the bird to settle down now for a while on the Farnes; but judging by the recent Shetland variation to the theme, this bird could theoretically turn up almost anywhere the length of the east coast. Incentive, were any needed, to keep an eye on your nearest tern colony.
Spectacled Warbler (Norfolk) and Black Scoter (Cleveland)
Two other recent headliners ended their respective stays this week – the record-breaking Spectacled Warbler in Norfolk and Cleveland's Black Scoter. By the time the warbler was last seen at Burnham Overy on 18th it had racked up a long stay of 17 days, comfortably doubling the longevity of any of its predecessors, and affording all who cared to with an unparalleled opportunity to enjoy this charismatic songster.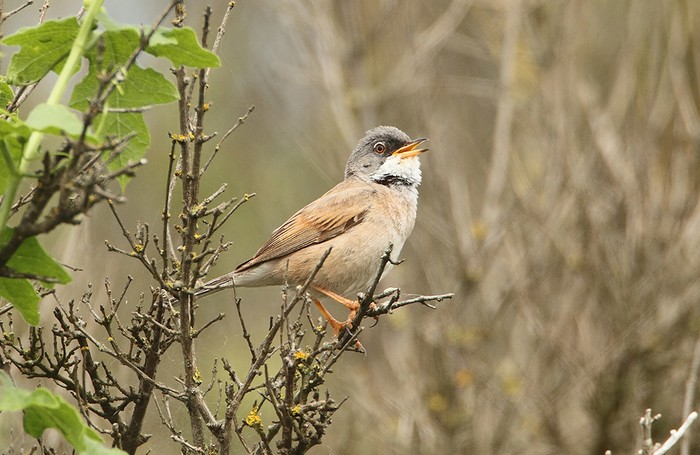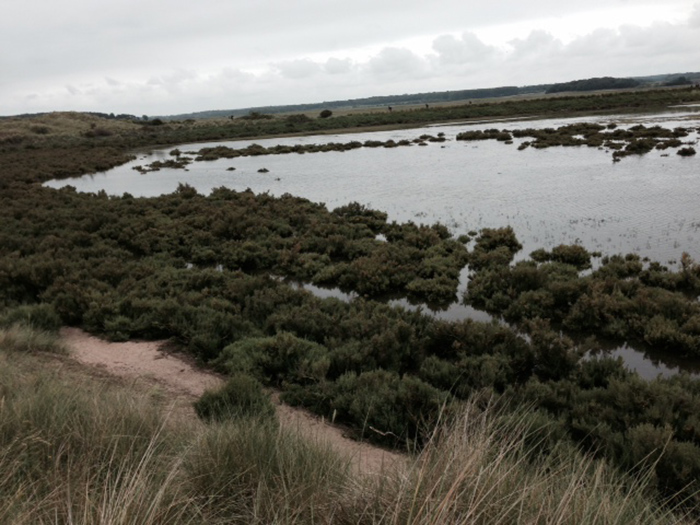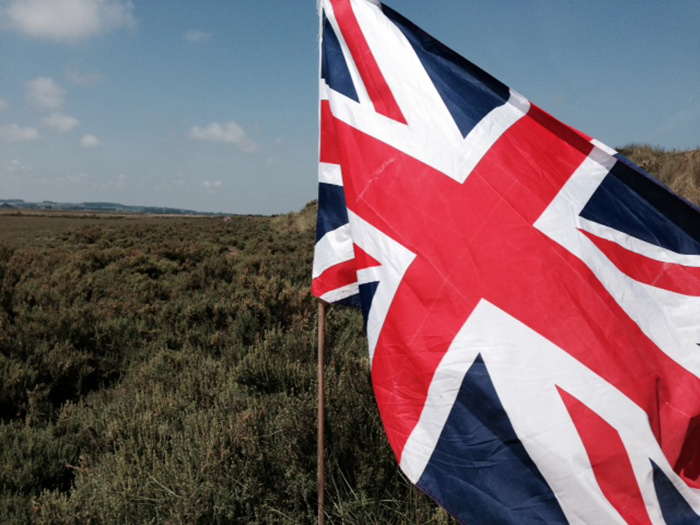 Far less accommodating was Cleveland's first Black Scoter, found on 17th, still present to greet the new week on 18th, but gone by the following day. As scoter flocks mass in the coming weeks, short odds on it or another being found in Britain. Eyes very much peeled for the return of last year's late-coming Stejneger's Scoter.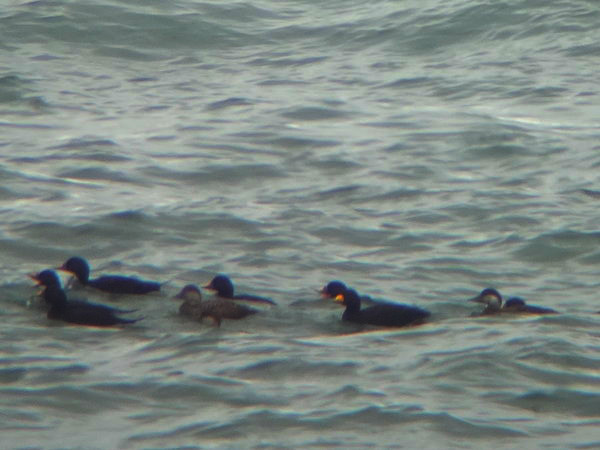 Great Black-headed Gull, Spurn, E.Yorkshire
And speaking of monstrously rare firsts for Britain, this week saw a near-miss for what would be, to all intents and purposes, an honorary first for Britain. With a clear 155 years having elapsed since Britain's first (and last) was summarily shot in Devon, the next confirmed occurrence is eagerly awaited, and will surely spark a twitch of a magnitude to match the stature of the mighty larid itself.
On this occasion, a possible immature bird flew north from the Humber over East Yorkshire's Spurn on 21st, but was not relocated subsequently. A heart-in-mouth moment for the observers, and for the nation's twitchers who awaited further news with bated breath. Alas, for now, no further sign. But there's time yet. We've waited since 1859 - we can all wait a while longer.
Really, really quiet this week in Seabird Corner. Quieter even than England's travelling football fans in Brazil who, let's face it, are not singing any more. Far more exciting than watching England would have been the Long-tailed Skua seen in Ireland passing Dursey Island (Co.Cork) on 21st, or the four Balearic Shearwaters noted in West Sussex passing Selsey Bill on the morning of 24th.
As far as seabird reports (and gratuitous football references) went this week, they think it's all over...and it is now.
Much more action to be had this week with herons, egrets and their allies, and none more so than where White Storks were concerned. What was possibly last week's bird from Chilworthy continued to pop up at various other locations in Somerset – one was reported at Ilchester on 18th; then Chilton Cantelo on 19th, Westhay Moor NNR on 20th, Mudgley on 21st, and Westonzoyland on 22nd. It might however be premature to consign those records to just one wandering bird – one in Dorset at Stourton Caundle, four seen over Bath city centre and a probable seen flying over Devon's Budleigh Salterton all on 22nd hint at a multiple arrival. A final singleton was found on 24th in Hampshire at Hedge End. Further north, a Black Stork drifted south over Reddish Vale CP (Manchester) on 22nd.
Back in Somerset, Ham Wall RSPB laid claim to two of the week's scarce herons with an adult Night Heron again on 21st and 23rd, and a report of a brief Purple Heron on 18th.
The week closed strongly in the north with a singing male Little Bittern at Gosforth Park (Northumberland) on 22nd-24th.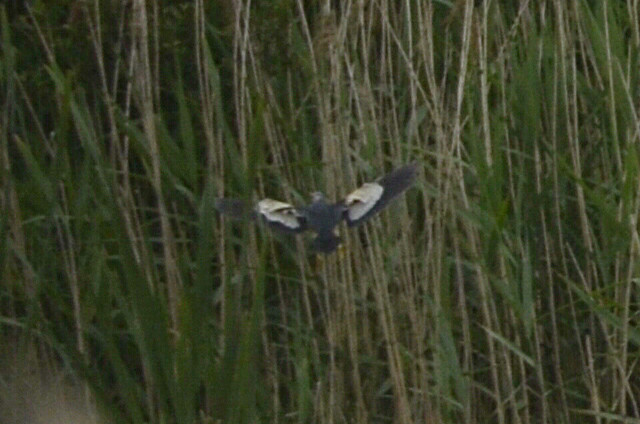 With no reports of the long-staying pair of Cattle Egrets, from Tacumshin (Co.Wexford) this week, the sole representative of that species came from elsewhere in Ireland, at Cullahill (Co.Laois) on 22nd. Reports of Great White Egrets were much as we were before, with ten birds noted: individuals still at Kyle of Durness (Highland) on 19th, and at Ham Wall RSPB (Somerset) on 20th-23rd, with two birds there on 21st-22nd. Elsewhere singletons were seen at Newport Wetlands (Gwent) and Spurn (East Yorkshire) on 20th; at Ouse Washes RSPB (Cambridgeshire) and Tice's Meadow (Surrey) on 21st; at Arne (Dorset) on 22nd; and at March Farmers and Bluntisham (both Cambridgeshire) on 24th.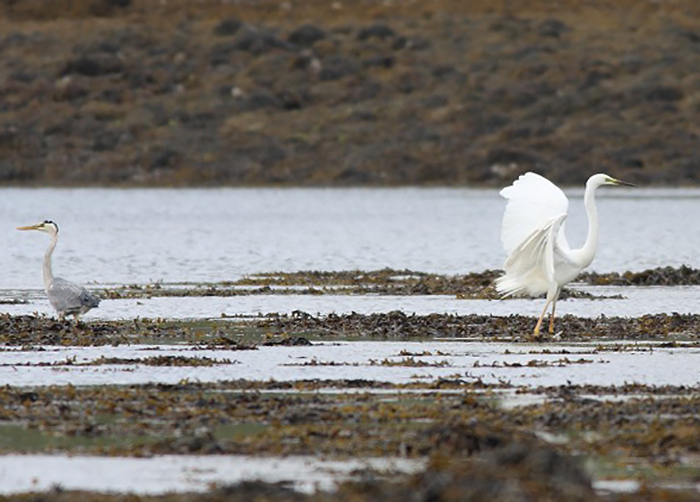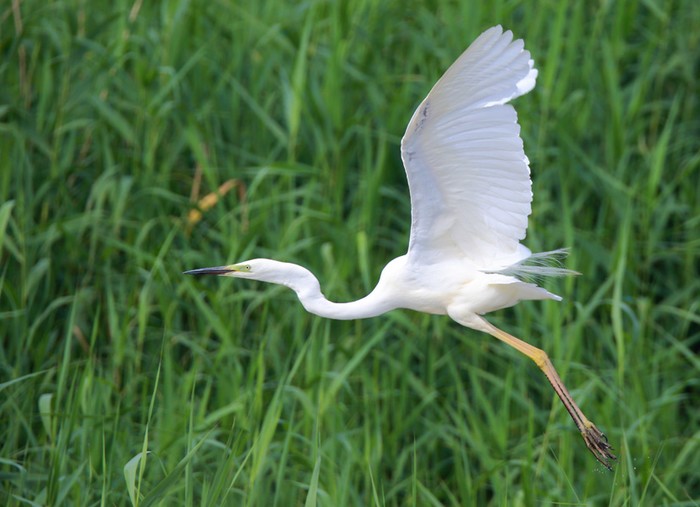 Spoonbill numbers remained strong this week, with Cley (Norfolk) once again dominating proceedings with a maximum count of 14 birds there on 23rd. Elsewhere, of the 40+ birds logged across 13 counties, multiple records came from Druridge Pools (Northumberland), where four birds remained until 21st, rising to six on 22nd-23rd; at March Farmers (Cambridgeshire) where five birds remained on 18th; at Holme (Norfolk) with four birds west past there on 21st; in Dorset at Arne on 22nd, and Lodmoor on 23rd, with four birds noted at each site on those dates, and on Brownsea Island with a pair there on 19th-20th; and finally in Northumberland, where three birds were seen at Long Nanny, and in Suffolk where another trio were noted, both on 24th.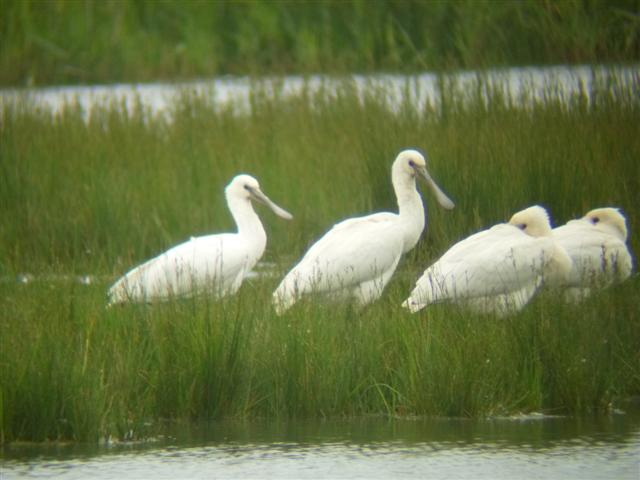 Lingering Glossy Ibises remained at Rutland Water (Leicestershire) until 20th; at Vane Farm RSPB (Perth and Kinross) until 21st; at Otmoor RSPB (Oxfordshire) until 22nd; and at Frampton Marsh (Lincolnshire) and in the Dearne Valley (South Yorkshire) until 24th. Further single birds were logged in England at Stanpit Marsh (Dorset on 18th-24th; at Minsmere (Suffolk) on 19th; at Willow Tree Fen (Lincolnshire) on 20th-21st, and Milnthorpe (Cumbria) on 20th-24th; at Boyton & Hollesley Marshes RSPB (Suffolk) and Brading Marshes RSPB (Isle of Wight) on 21st-22nd; at Abberton Reservoir (Essex), Trimley Marshes (Suffolk) and Killamarsh (Derbyshire) on 22nd, the Abberton individual still being present there on 24th; and at March Farmers (Cambridgeshire) on 24th. Four birds were seen flying west over Weybourne (Norfolk) on 23rd.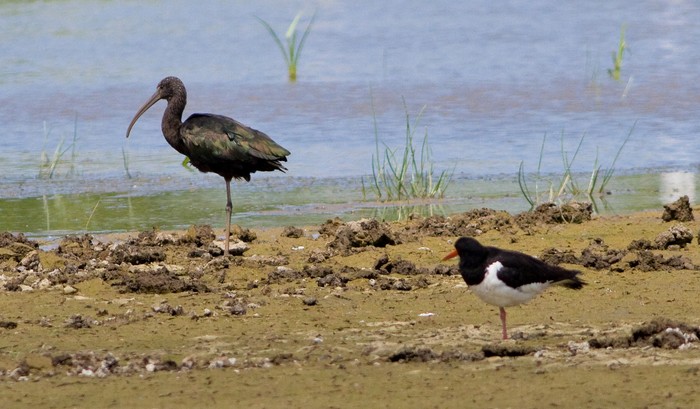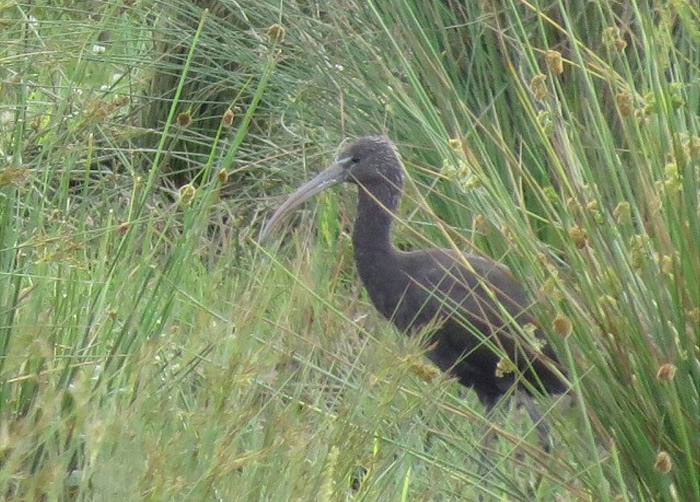 Single Irish Glossy Ibises were noted at Tacumshin (Co.Wexford) on 18th, and Annagassan (Co.Louth) on 23rd.
Four Common Cranes were seen over East Calder (Lothian) on 21st, whilst in East Yorkshire a single bird was at Leven Carrs on 22nd-24th, with one noted at Hull over the Bransholme Estate on 23rd.
A few lingering ducks bolstered the wildfowl reports this week, with (Black Scoter aside) little to set the world afire. Appropriately enough in the week that included the 700th anniversary of the Battle of Bannockburn, Scotland dominated such midsummer records as there were.
Two drake American Wigeons were noted, one apiece at Loch na Reivil on North Uist (Western Isles) on 18th-23rd, and Vane Farm RSPB (Perth and Kinross) on 21st-22nd.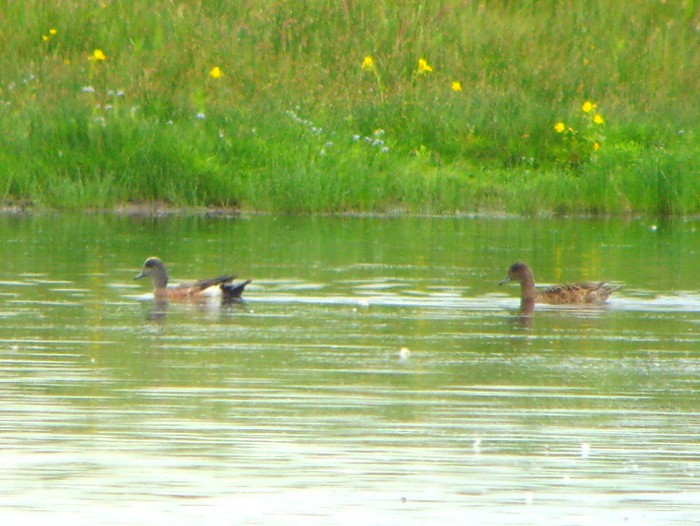 Aberdeenshire accounted for the drake Blue-winged Teal still at Loch of Strathbeg RSPB until 23rd, the drake Surf Scoter still at Blackdog until 24th, and the drake King Eider still on the Ythan Estuary on 23rd.
The week's only Ring-necked Duck report also came from Scotland, with the drake still at Murton GP (Angus) on 20th. p>
South of the border, in Cheshire the Lesser Scaup was still at Frodsham on 19th. p>
After the excitement of the hatching of Britain's first homegrown Black-winged Stilts last week in West Sussex and Kent, things calmed down on that front this week with no further news forthcoming from Cliffe (Kent), and the Bracklesham Bay RSPB stilts in West Sussex becoming rather more coy. Tthe two adult birds were seen daily, but there was no sign of the (hopefully well-hidden, rather than predated) chicks in the latter part of the week.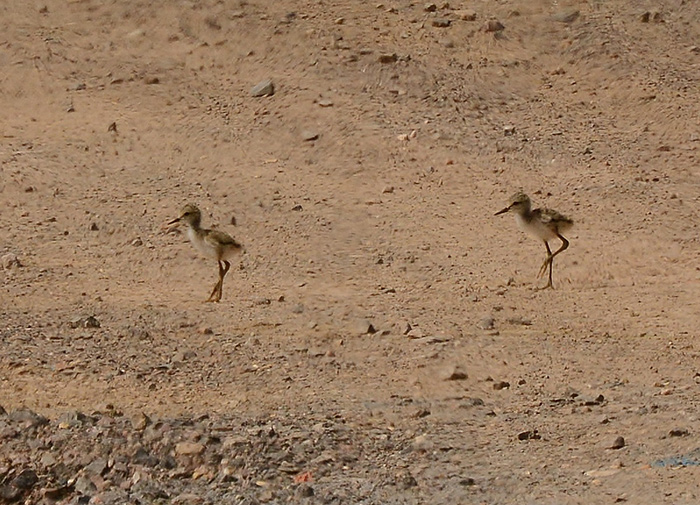 New in this week was the first Lesser Yellowlegs of the autumn (can I say that? Now we're post longest day, and the nights are drawing in, I think I can...), a bird noted in Northumberland at Long Nanny on 22nd.Also new for the week was a Temminck's Stint in Cleveland at Saltholme RSPB on 21st-23rd.
Finally, Orkney held onto the Grey Phalarope on North Ronaldsay's Gretchen Loch until 19th.
Devon's fine summer for rare gulls continued with both the Ross's Gull and first-summer Bonaparte's Gull present at Bowling Green Marsh this week, the former reported daily until 24th, and the latter until 21st. A further Bonaparte's Gull was seen on Scilly, a first-summer bird noted off Tresco on 19th.
Fair Isle, not content with providing Shetland with its first Bridled Tern last week, provided a double-whammy early this week with the tern joined on 19th by an adult Laughing Gull - there's not been one seen on the island since 1975, when (with a certain inevitability) Shetland's first was recorded in September that year. A possible first-summer Laughing Gull was noted in Co.Wicklow at Kilcoole on 22nd.
Reports of white-winged gulls had melted away to almost nothing this week. Orkney provided the only Glaucous Gull of the week with one at Stromness on 23rd; single Iceland Gulls were seen in Highland at Brora on 22nd, and Embo on 23rd; and in Moray on the Lossie Estuary and at Spey Bay on 22nd.
Cemlyn Bay (Anglesey) retained its adult White-winged Black Tern on 18th; further reports of adult birds came from Seaforth (Lancashire), also on 18th; and from an undisclosed site with no public access in Surrey on 19th-20th.
Black Kites dominated the raptor news this week, with 12 records spanning nine counties. In chronological order, single birds were noted as follows: a probable bird was seen at Barton Mills (Suffolk) on 18th; on 19th, birds were seen at Great Bentley (Essex) and Pound Bottom Landfill (Wiltshire), and further report from Woking (Surrey); one was reported at Heigham Sound (Norfolk) on 20th; three birds were seen on 21st, at Corley (Warwickshire), Catisfield (Hampshire) and Dunwich (Suffolk); a further pair of sightings came from Suffolk the following day, with a bird noted over Reydon and Benacre alike. Elsewhere on 22nd one was over Flamborough Head (East Yorkshire). Suffolk laid claim to another sighting over Wrentham on 23rd-24th, while one was reported that evening over Hackney (London).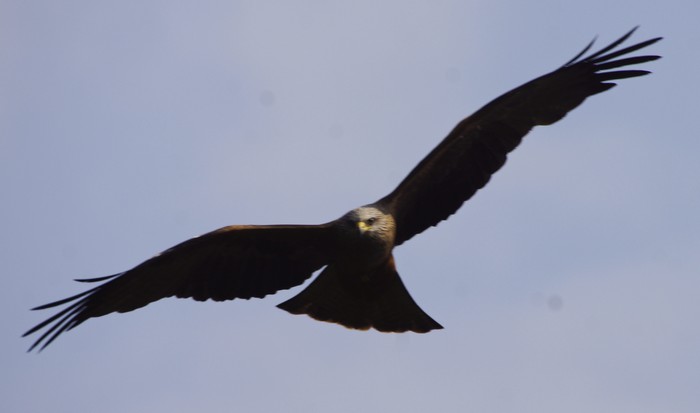 A female Montagu's Harrier was seen in Lincolnshire at Gibralter Point on 19th-23rd, whilst a probable male was noted in Gloucestershire at Cannop over Russell's Inclosure on 21st.
Away from the regular raptor watchpoints Honey Buzzards were reported on 22nd north over Folkestone, Kent and on Orkney at Finstown, over Heddle Hill on 24th.
On the whole, things were finally calming down amongst the passerines this week with the midsummer hiatus finally upon us. However, as predicted a week or two ago here at RBA Towers, midsummer is definitely the high time for finding a smart Roller in the UK – so news of one this week in Cambridgeshire at Warboys on 21st was not entirely unexpected. Mind you, with Cambridgeshire's last record an eye-watering 130 years ago, Cambridgeshire birders could be forgiven for feeling a little peeved that this bird didn't stick around to allow them to catch up with it.
Topping the best-of-the-rest were a trio of Woodchat Shrikes - a male in Devon at Walkhampton Common on 20th-22nd; one at Kilnsea (East Yorkshire) on 21st; and one confirmed at Quholm on the Orkney mainland on 23rd – still there on 24th, it had reportedly been present for several days beforehand. A little further north still, and on Unst (Shetland) the male Lesser Grey Shrike remained at Baltasound until 22nd.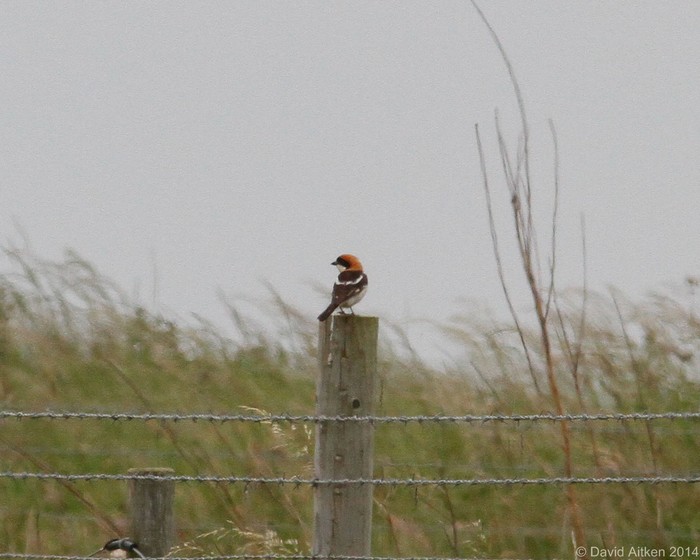 More midsummer glamour came in the form of at least two Bee-eaters in Suffolk this week – on 19th, one was noted at Dunwich heading west over Minsmere; two flew south, and then one flew north over the latter site.
A first-summer male or female Golden Oriole remained on Scilly on St Mary's on 19th, with another reported from Redditch (Worcestershire) that day.
Two Hoopoes were logged this week, though neither was accessible: one was at a private site in Hull on 18th, whilst a probable further bird was seen fleetingly in London at Wanstead on 22nd.
Yet another Blyth's Reed Warbler turned up in the south mainland of Shetland this week, one trapped and ringed at Eastshore, Pool of Virkie on 22nd. Could this be the bird that went un-trapped last week at nearby Scatness? North Ronaldsay (Orkney) held onto last week's Western Subalpine and Marsh Warblers, with both still present and singing on 18th. Two Marsh Warblers remained in the Fair Isle Observatory garden on 24th.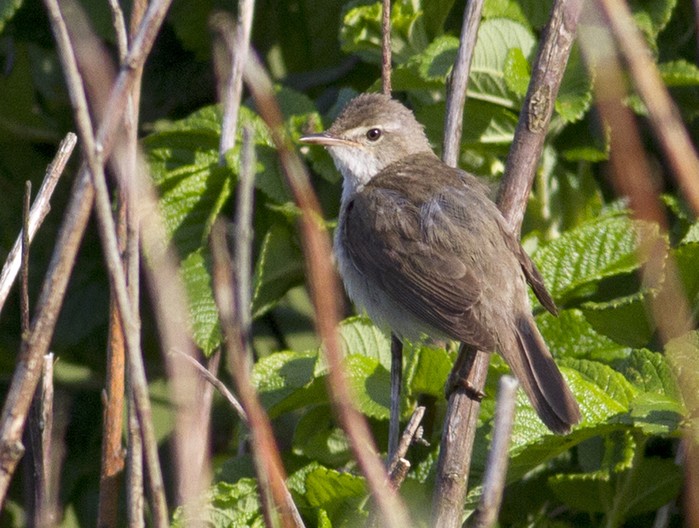 Bringing up the warbler vanguard was the singing male Greenish Warbler at Tyninghame Bay (Lothian), still present and correct until 22nd.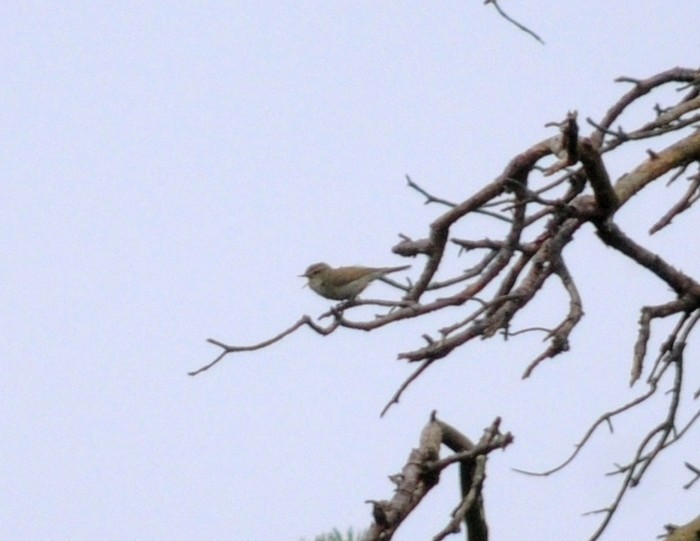 A single male Red-breasted Flycatcher was noted this week, on Tiree at Balephuil (Argyll and Bute) on 19th.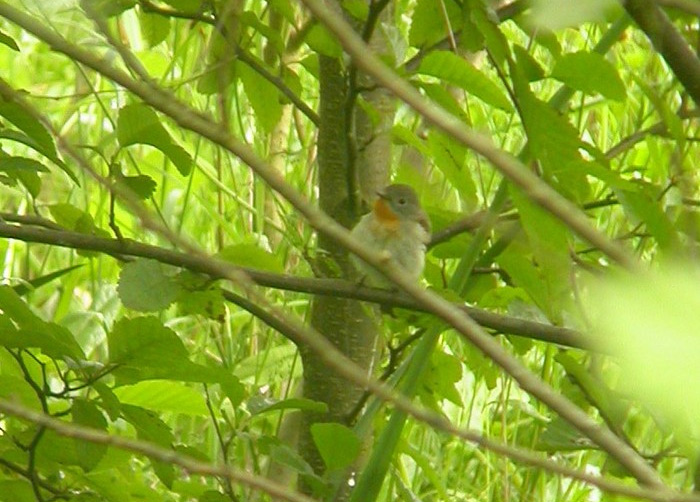 Lingering adult Rose-coloured Starlings remained in Ireland at Inishbofin (Co.Galway) on 20th, and in Suffolk at Lowestoft until 23rd. In Scotland, another adult was in Highland at Achiltibuie on 19th-24th; another individual was on Islay at Port Ellen on 23rd, and another new adult was found on 24th in Northumberland at Byker. Keep your eyes on those post-breeding Starling flocks... there's surely more of these beauties to be found out there.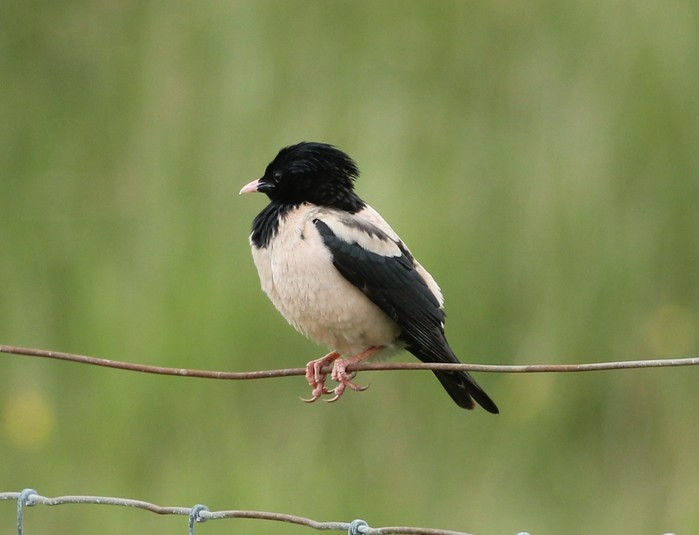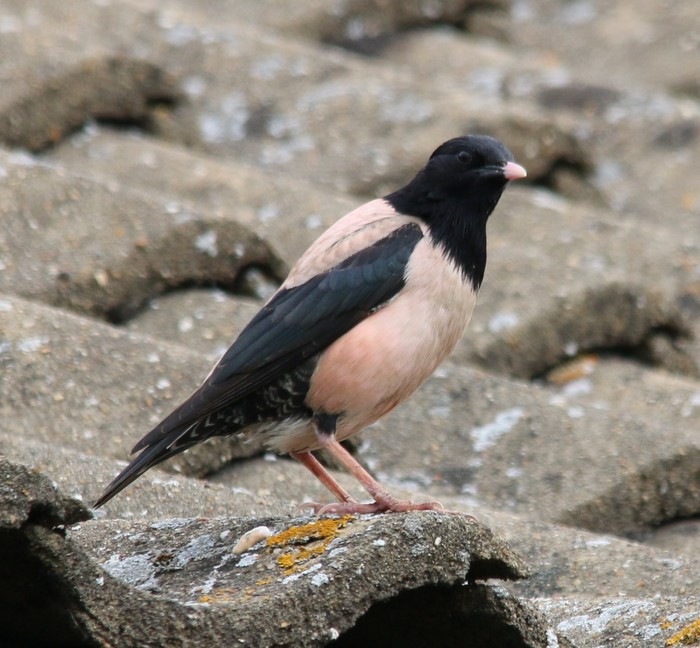 An adult Citrine Wagtail considerably enlivened midsummer in Highland at Balnakeil on 18th-19th. Other traditionally autumnal Scottish fare came in the form of single Common Rosefinches at Frakkafield (Shetland) on 18th, and Crianlarich (Forth) on 23rd, the latter a singing first-summer male.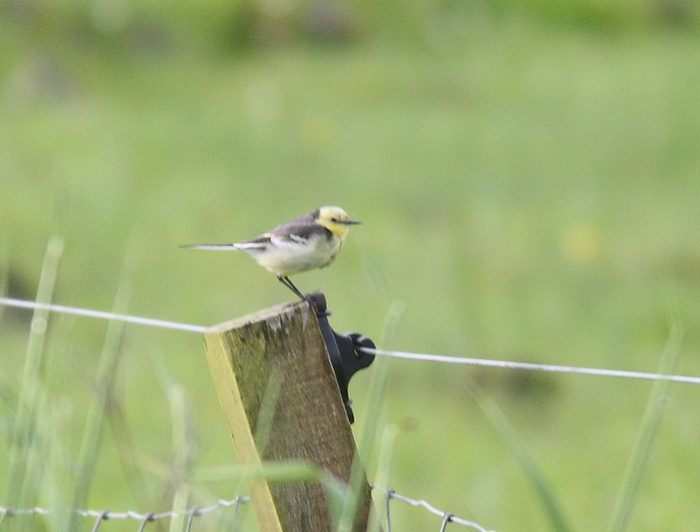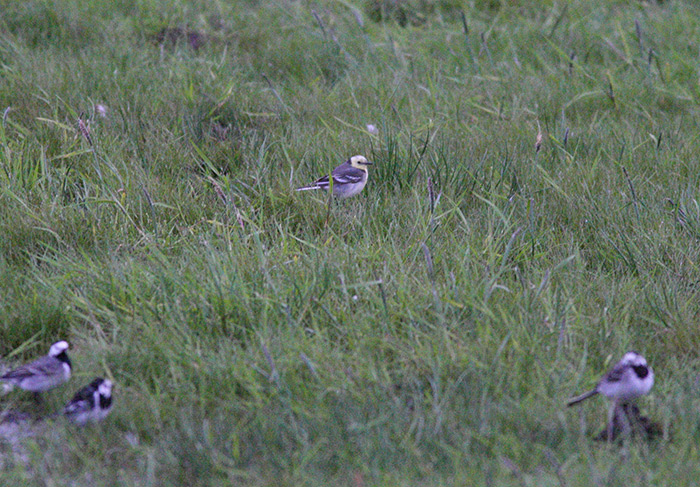 As we cross the cusp of late June into early July this coming week, it's fair to say that we're now firmly in the territory of it-could-be-an-absolute-monster in the coming week. Records from the dim and distant (and not so distant) past of Yellow-nosed Albatross, Sooty Tern, Pallas's Sandgrouse and Lark Sparrow all hint at what's theoretically possible if the all the right planets align.
Meanwhile, back in the real world and firmly away from the realms of admittedly delicious fantasy, the last week of June is traditionally a good time for Red-footed Falcon and Gull-billed Tern. After a spring and early summer that's featured any number of tasty terns, one of the latter would certainly further enhance the year's proceedings...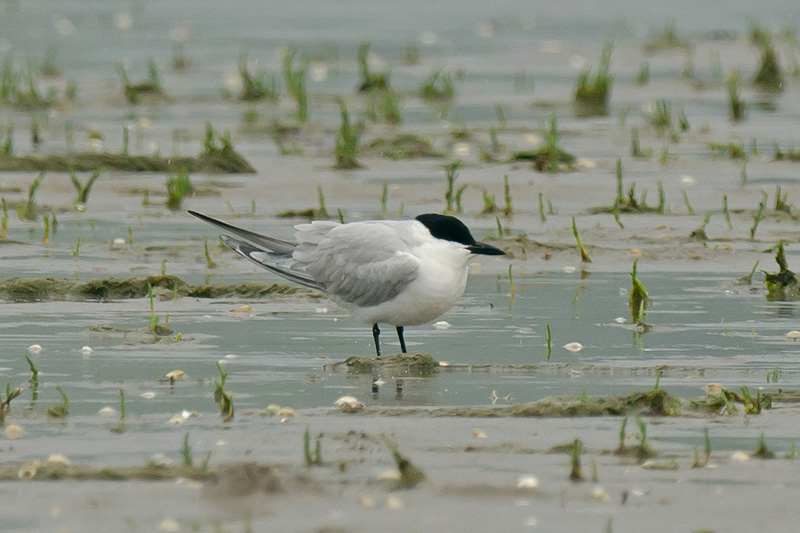 Jon Dunn
25 June 2014


Hen Harriers need YOUR help
Author, naturalist and environmental commentator Mark Avery has recently launched an e-petition to ban driven grouse shooting in order to protect Hen Harriers. In just the first four weeks it has over 5,500 signatures.!
If you haven't already done so, please take a few minutes to read Mark's compelling case to ban driven grouse shooting and sign the e-petition
Mark, in conjunction with the recently established group Birders Against Wildlife Crime (BAWC), are also organising a day of peaceful protest against the ongoing persecution of this enigmatic raptor. Hen Harrier Day will take place on Aug 10th, just two days before the start of the grouse shooting season, at a number of sites across northern England. Chris Packham has just this week confirmed that he will be attending the Derbyshire protest, and Rare Bird Alert will be there too.
If you want to see an end to the persecution of Hen Harriers on British uplands then please come along and show your support. Full details of Hen Harrier Day can be found on Mark's website and the BAWC website
Thanks for your support and we hope to see lots of you there.
Many thanks to this week's contributors for their photos, videos and sound recordings.
Jim Dickson, Chris Griffin, Mike Malpass, Charlie Inkster, Mathew Eade, Vern Wright, David Carr, David Parnaby, Frank Golding, John Hall, Gary Thoburn, Neil Alford, Andrew Hood, Peter Stronach, Michael Trew, David Williamson, Allan King, Pete Mella, John Nadin, Mick Davis, Martyn Hayes, Steve Williams, David Broderick, David Aitken, Roger Riddington, Brian Henderson, John Bowler, Andy Williams, Ben Moyes, Peter Stronach, Steve Young.
Contributors websites
If you have contributed to our round-up and would like your banner here please send us one (700 x 130 pixels) and your website address and we will be delighted to include it.