Weekly round-up: 11 - 17 June 2014
The week at a glance
Adult Black-winged Pratincole flirts with birders in the north-east
Shetland's first Bridled Tern lands on Fair Isle
North Ronaldsay's second Scops Owl found 122 years after the last one
Drake Black Scoter in Cleveland
How many Short-toed Eagle reports does it take to change a Rarity Round-Up? News continues to filter in from across the south of England
Norfolk's male Spectacled Warbler remains on territory at Burnham Overy
Ross's Gull still summering in Devon, whilst in Kent and West Sussex we hear the patter of tiny Black-winged Stilt feet
Summer time, and the living is easy... unless of course you're expecting a breather in the succession of fabulous birds that have been found so far this year. In which case you were bang out of luck this week. With a large area of high pressure parked over Britain and Ireland for much of the week, some top drawer birds turned up in fine weather conditions – if this week was an ice cream, it'd be one in a waffle cone with a flake stuck in it. It was that good.
Black-winged Pratincole
Any thoughts of a lull in midsummer proceedings this week were immediately dispelled by the discovery of a pratincole at Hauxley NR (Northumberland) on 12th. Whilst June is the favoured month for Collared, it quickly transpired that this particular bird was in fact a considerably rarer Black-winged Pratincole. Which would have been lovely, had the bird's stay not been painfully brief – in a matter of minutes, it had flown off. End of story, but for those fortunate enough to have been at Hauxley at the time.
Twenty four hours later, and it was time to do it all over again. The mega alert chimed: the bird was now at Saltholme RSPB in Cleveland. And then... it wasn't. A half hour pause to catch its breath and away it went again, heading south. Whither next?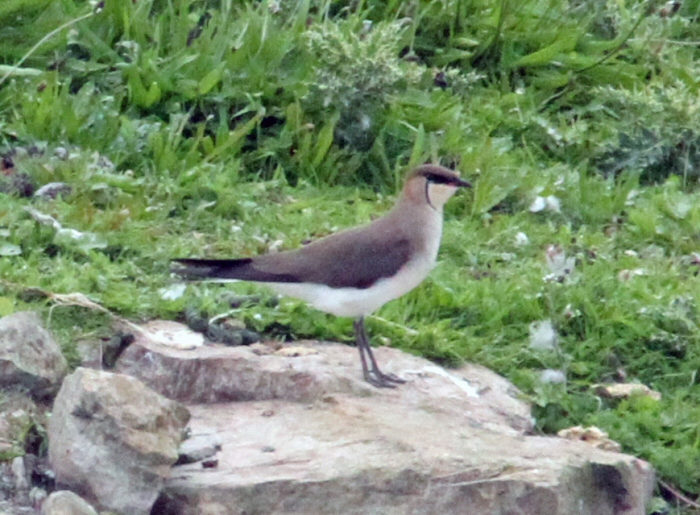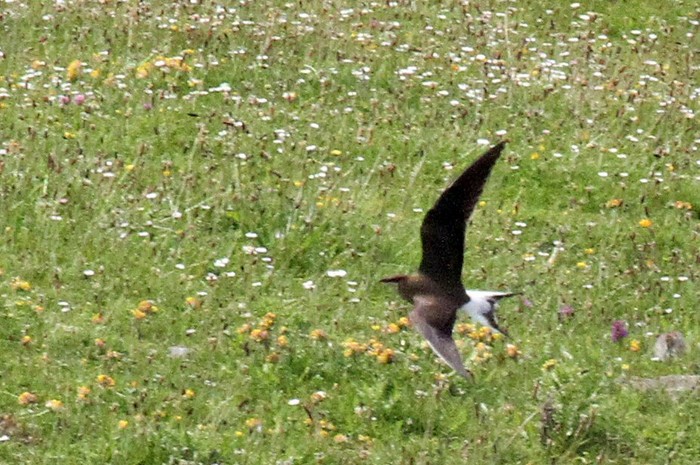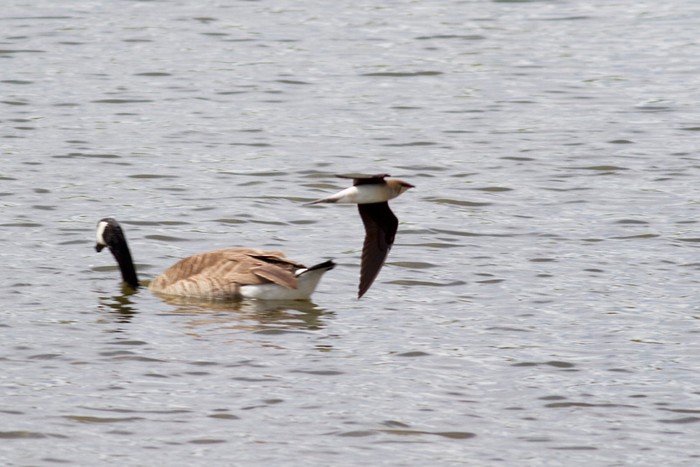 With just 36 accepted previous records for Britain, Black-winged Pratincole remains a genuinely rare bird; even more so when one looks at the pattern of those prior records and sees that, after being nearly annual in the 1990s, since 2001 there have been a mere four records, and some of these involved the same wandering bird. To put this into perspective, in the same period the statistically rarest of all Oriental Pratincole has been almost as numerous in Britain.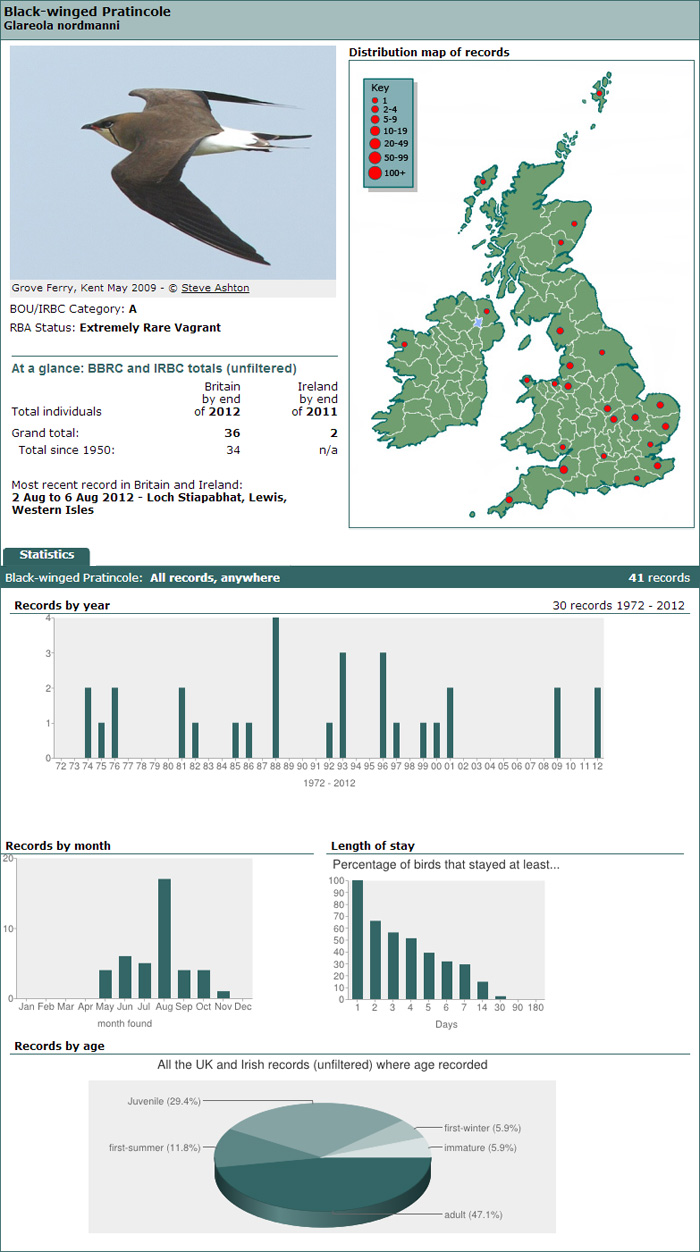 Bridled Tern
Even by Fair Isle's high standards, it's not been a bad spring thus far. Birds of the calibre of Caspian Stonechat, Cretzschmar's Bunting, Hermit Thrush and Calandra Lark. That sort of thing. (And never mind a supporting cast that included the likes of Collared Flycatcher in its number). If we were nit-picking, the only thing left to do was provide a first for Shetland. With a certain inevitability, that's just what the magic isle did in the early afternoon of 16th when a cracking Bridled Tern pitched down amongst the terns on Buness. Fair Isle shoots, and scores.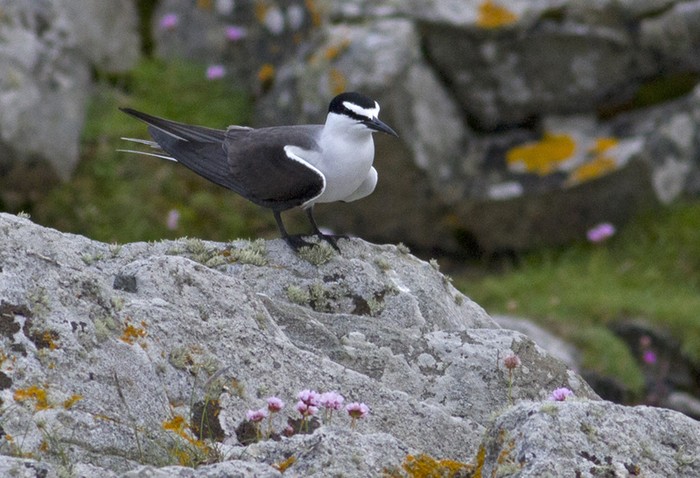 Of course, after last year's ultra-obliging bird in Northumberland on the Farnes, the species is hardly long overdue a showing in the UK as a whole. As far north as Shetland is a different matter, and not a few Shetland birders (not least, me) will be hoping that this bird follows the Farne individual's sterling example and hangs around for a while; given that there's a fair chance this is the self-same bird, that doesn't seem an entirely groundless hope. The bird was still present there on the morning of 17th, but then headed north… and was back on the magic isle by the evening.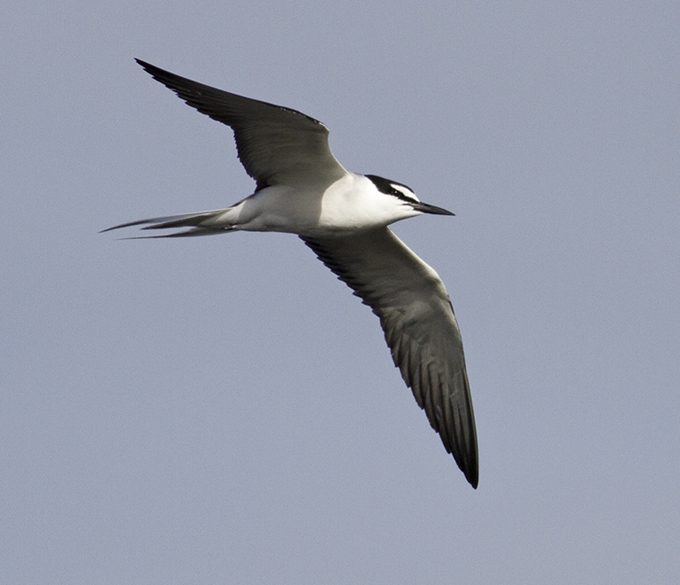 As a final aside, showing that Fate does enjoy her little jokes, just five minutes before the news broke I was showing a group of visiting birders an Arctic Tern colony off Bressay, a little further north in the main Shetland archipelago. It was a hot, still summer's day out on the water, and never have the barely-uttered words "one of these days there'll be a Bridled or a Sooty Tern up here" seemed more prophetic shortly afterwards! I should try picking Euromillion lottery numbers next.
Scops Owl
Orkney's enjoyed six subsequent records of Scops Owl since the islands' first on North Ronaldsay way back on 2nd June 1892. With none of the latter records having been on North Ronaldsay (and almost half of the national records in the current century having come from further north, in Shetland), it's fair to say the island was more than a little overdue another occurrence of this charismatic small owl, and finally the long drought was broken this week with one found there on 15th.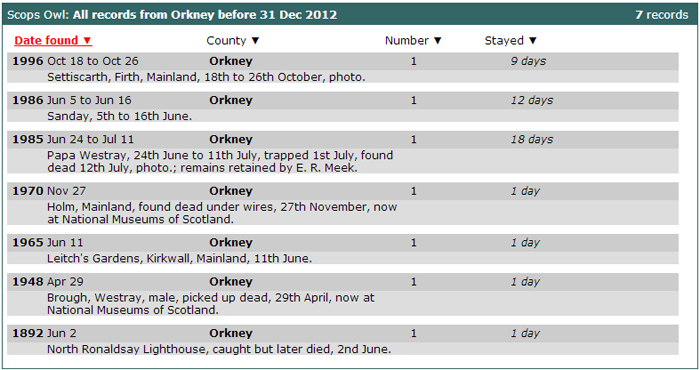 Trapped and ringed early in the morning of 15th, and still there in the small hours of 16th, this was the first for Orkney since 1996. On a national basis the species enjoyed a good run over the two decades post 1995, with records coming more or less annually during that period. The last widely twitched individual was that in Oxfordshire at Thrupp in 2006 and 2007; most other latter-day records have involved brief individuals in faraway places. In that regard, the North Ronaldsay individual could be said to be typical… This always feels like a species that might just be a tricky one to catch up with in Britain or Ireland, and North Ron's regulars will be feeling pretty pleased with themselves this week, though doubtless wondering at their neighbour in the north's ability to overshadow even a bird of this magnitude…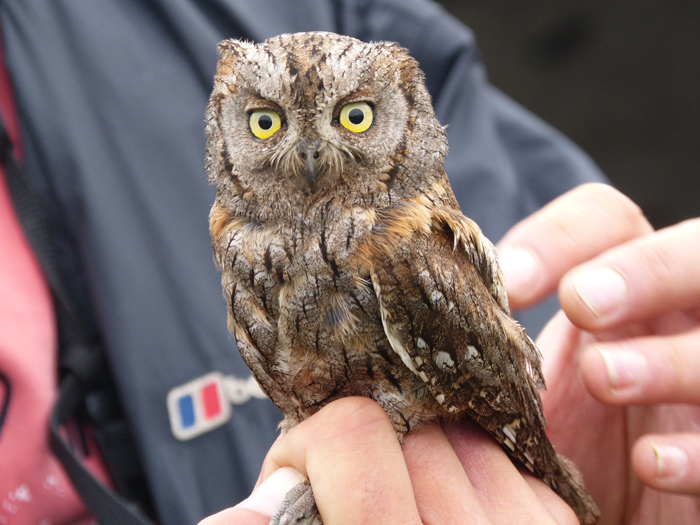 Black Scoter
Just when it looked like all going quiet on the rare duck front, Cleveland's first Black Scoter was found off Redcar on 16th, and was still present on 17th. A cracking drake, this is only the 12th for Britain, so despite one or two having been readily available of late, numerically this remains a bird of the highest order.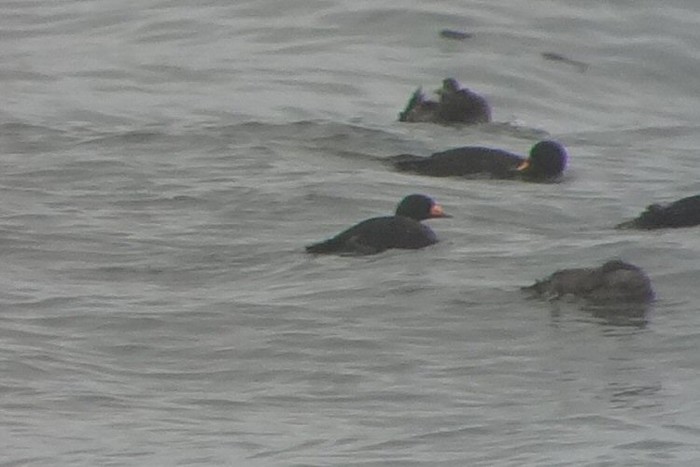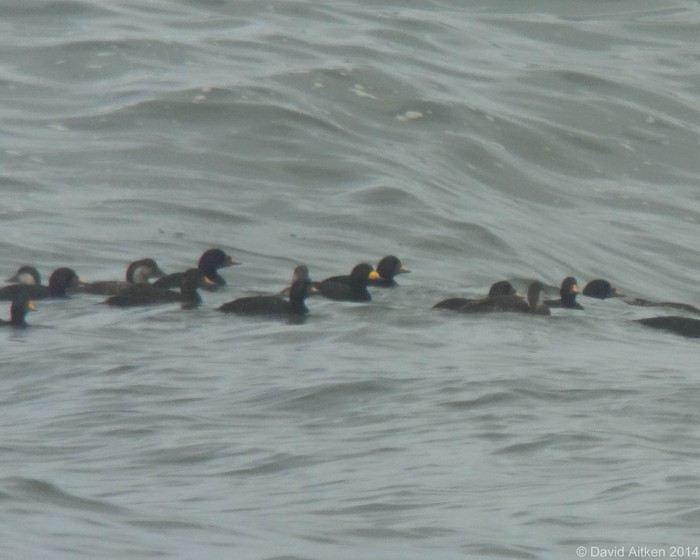 With scoters of all hues and species now seemingly on the menu for the keen eyed flock-scanner, finding one of these smart ducks (or indeed, one of their even rarer brethren) seems a realistic prospect wherever scoters gather. Past records have come from both the east and west coasts of Britain. A good way then to top up your tan, and banish any summer doldrums - though this week, with the calibre of all the rarities being found across the land, you'd have to ask "what summer doldrums?".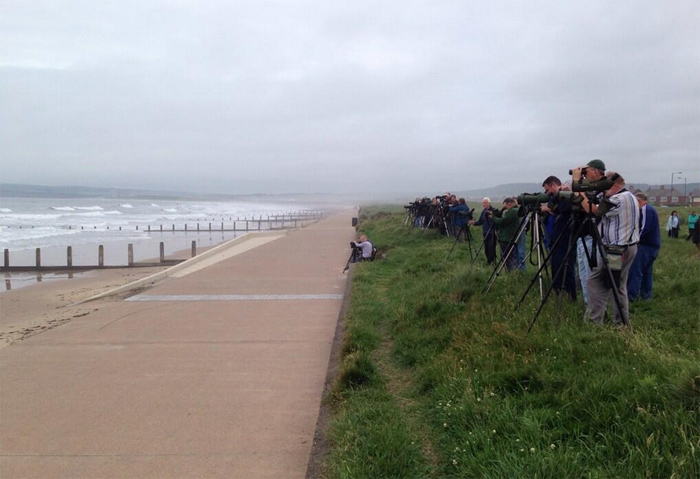 Short-toed Eagle
Hands up who despairs of the confusion rare raptors seem to cause in Britain? It's not just me then. We've passed through the spring spasm of possible Booted Eagle reports, and the annual string of Eleonora's Falcon reports is yet to begin. For now, we're in the midst of the latest new thing, the Short-toed Eagle season. It seems that no sooner is a given raptor species in the collective birding consciousness than they're popping up all over the shop. It's easy to be cynical, but every so often the real deal is found, seen well, multiple-observed, photographed, and irrevocably inked into the record books. (Unless of course it's a Booted Eagle, in which case there's quite some way to go yet).
What then to make of this past week's reports of Short-toed Eagle? Following last week's reports from Hampshire and East Sussex, the new week kicked off with a small flurry of records – a possible bird over Swaffham Bulbeck in Cambridgeshire in the early morning of 11th; then a bird seen over Bradwell Bird Observatory (Essex) in the late morning of the same day; and then 10 minutes later another report from Essex of a possible bird over Blue House Farm EWT. The following day a second-summer was reported in the evening from near Beaulieu in Hampshire. Then on 13th, a second-summer bird was reported again from Hampshire, this time over Hatchet Pond. Whatever was going on?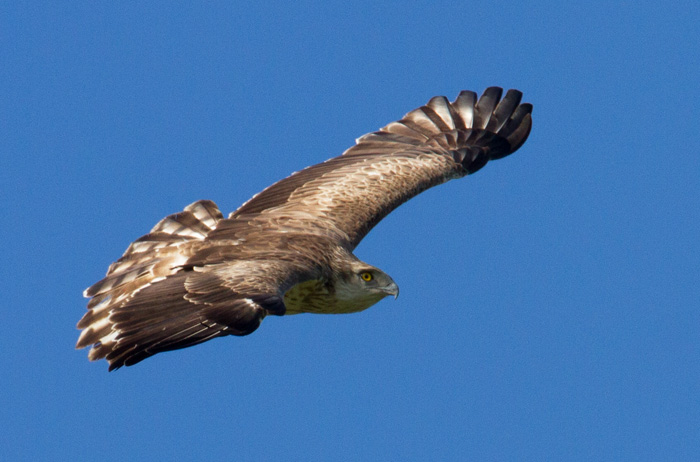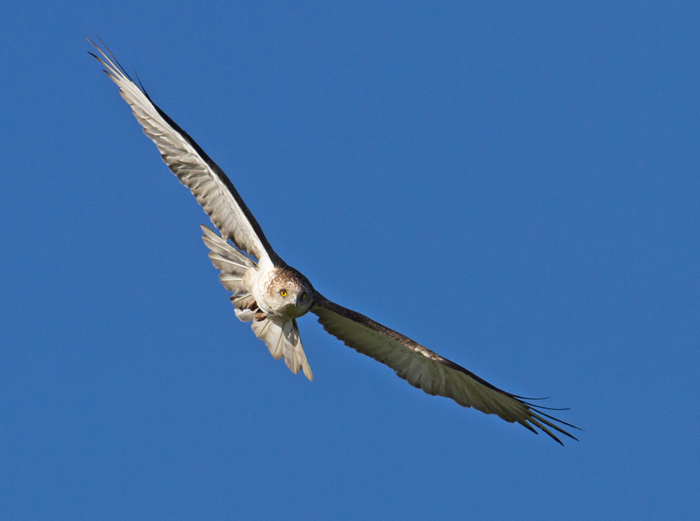 Was this the Dorset bird heading east (and then west again), bouncing off the coast, loath to make another sea-crossing in a hurry? Could there in fact be more than one bird involved? There's nothing like a two-bird theory, and it's been a while since we've had one. Rumour has it that the Essex bird had a darker head than the confirmed previous weeks' Dorset and Hampshire individual.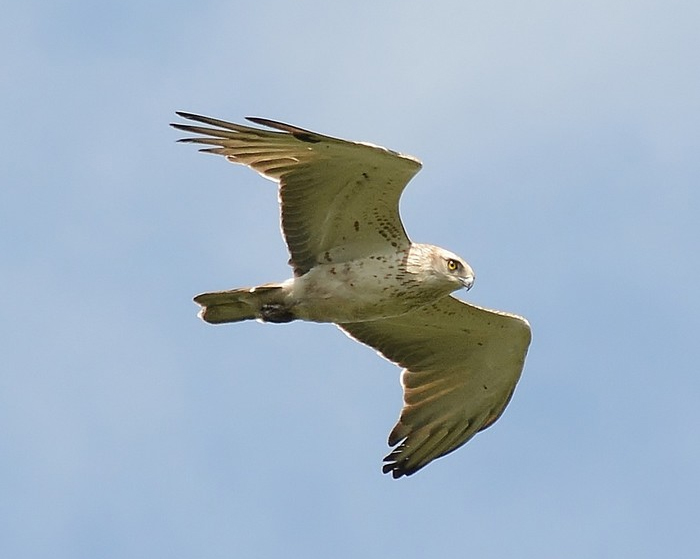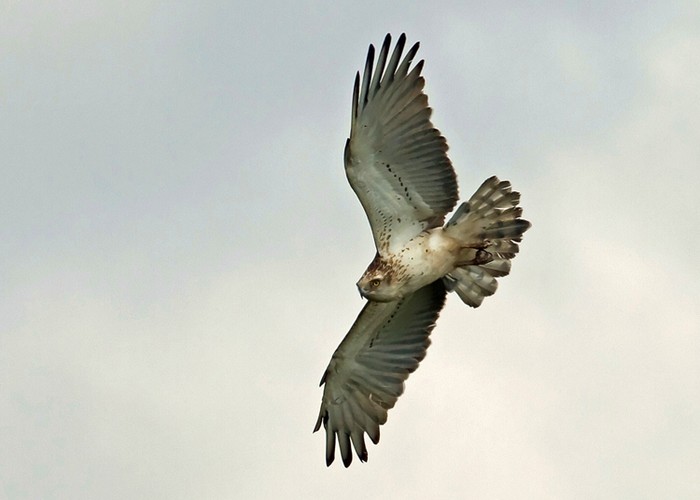 What's for certain is that the wandering second-summer bird was semi-settled in East Sussex on 15th-17th, being seen in flight and perched in the Wych Cross area of Ashdown Forest on those days, allowing birders another bite at this particularly juicy cherry. As noted in previous weeks' Rarity Round-Ups, there's plenty of suitable habitat for a Short-toed Eagle in the south of England during midsummer, so perhaps this bird won't be in a hurry to depart our shores just yet. Expect more sightings in the coming days…
Spectacled Warbler
With a stay now logged at 16 days, Norfolk's well-marked Spectacled Warbler at Burnham Overy has comfortably eclipsed any previous British individual for duration, and doubtless for confiding popularity too. Combining a confiding nature with having spanned two weekends in situ, there's never been a better opportunity to catch up with the species in Britain. When I think back to the restricted viewing conditions and the frayed tempers that heralded Britain's second (accepted) record on the morning of 27th April 1997 at Landguard in Suffolk, this particular male bird seems a very different proposition altogether.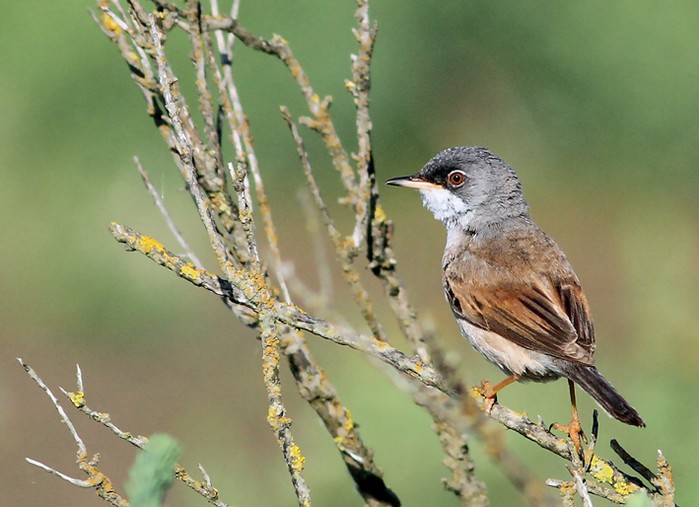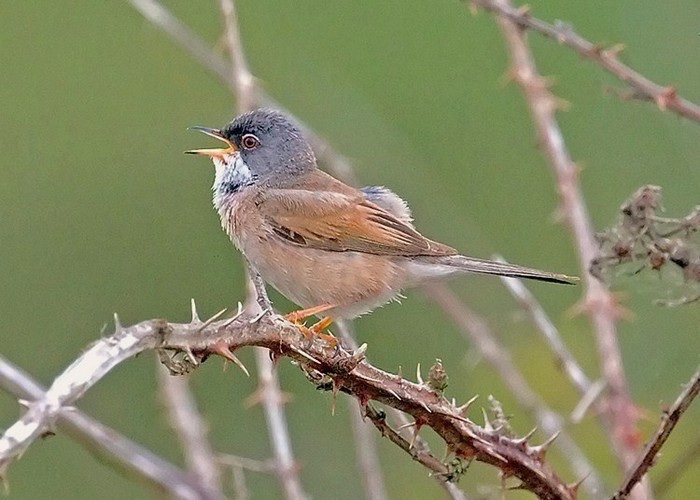 Ross's Gull and Black-winged Stilts
And finally this week, down in Devon the summering Ross's Gull continued to pitch its towel on the sun-loungers and monopolise the pool of mid-summer gull news all week long.
While that normally High Arctic-loving individual may be feeling the heat this week, we close the headlines with happy news from a species that's finding southern Britain entirely to its liking – the two pairs of Black-winged Stilts breeding in Kent and West Sussex respectively hatched out their chicks in the past few days, the first successful British breeding attempts for the species in 27 years. At the time of writing it seems as if the Kentish birds have four chicks safely out, and the Sussex birds three chicks. It's early days yet, but fingers are firmly crossed that they safely fledge. Well done, those stilts. Sammy would have been proud of you.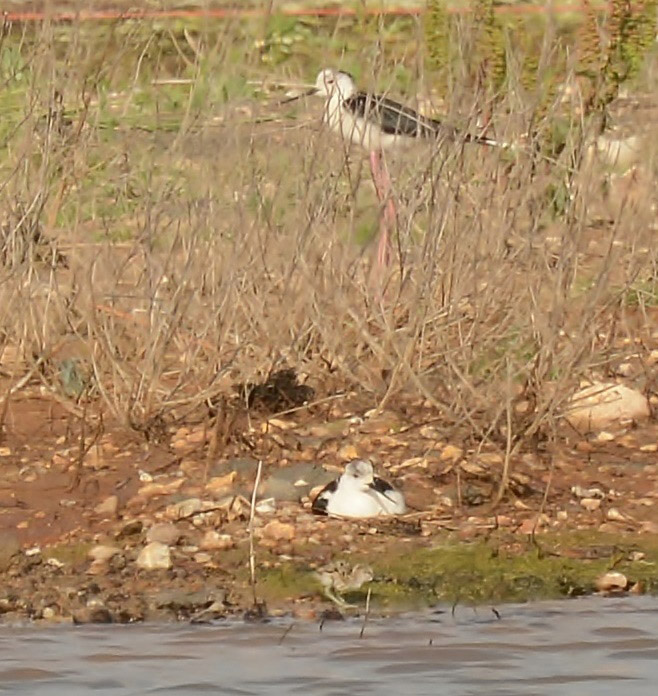 After last week's relative Balearic Shearwater largesse things were much quieter on that front this week, with just a handful of records logged, a possible past Sheringham (Norfolk) on 12th, and four off Dawlish Warren (Devon) on 15th. Meanwhile, where skuas were concerned a few late Long-tailed Skua were seen on 14th: past Portland (Dorset), East Chevington and the Farnes (Northumberland); and in Scotland, past Torness Power Station (Lothian) and Loch na Muilne RSPB on Lewis (Western Isles). A further bird was noted on 15th, off Newbiggin-by-the-sea (Northumberland).
With just the one White Stork seen this week (in Somerset at Chilworthy on 17th), it mostly fell to Night and Purple Herons to dominate the news.
The 12th saw a threefold arrival of Night Herons with birds reported from Rainham Marshes RSPB (London), Cosmeston Lakes (Glamorgan) and Pitville Park in Cheltenham (Gloucestershire). The Gloucestershire bird was still present on 13th, while the Glamorgan individual was seen again on 15th.
A Purple Heron was in Dumfries & Galloway at Loch Ken on 12th, and the following day saw a further bird logged down in Wales on the Gann Estuary in Pembrokeshire.
Where egrets were concerned, Tacumshin (Co.Wexford) retained the long-staying pair of Cattle Egrets, these birds still being present on 15th at least. Great White Egret numbers were a little up on the previous week, with around a dozen records from across the the UK; Somerset dominated the proceedings with four birds noted at Ham Wall RSPB on 12th. Elsewhere, singles birds were seen on the Ythan Estuary (Aberdeenshire) on 11th; Hauxley NR on 12th, and Beadnell Bay (Northumberland) on 13th; Teignmouth (Devon), Burnham Overy and Holme (Norfolk) on 14th; and Swillington Ings (West Yorkshire) on 15th (with a probable further bird that day in Dorset in Poole Harbour).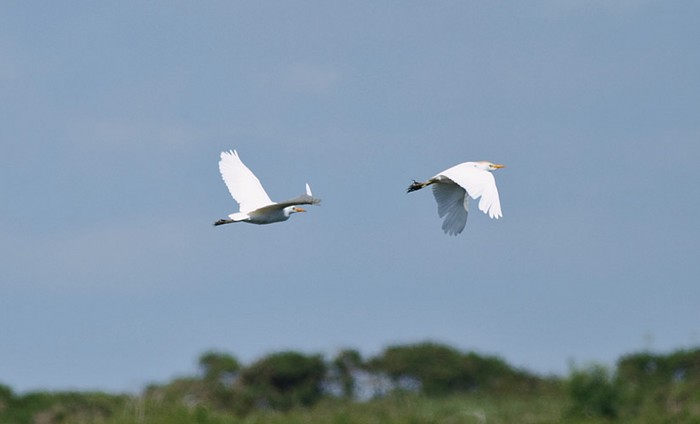 The numbers of Spoonbills reported the length of the UK remained strong, with no fewer than 35 birds logged at a conservative estimate from 10 counties. (Keeping tabs of the fluid population on the north Norfolk coast, for example, is challenging to say the very least!) Suffice to say, where Norfolk was concerned, the peak count came from Cley on 13th where an impressive 12 birds were noted. Elsewhere, notable counts came from Cambridgeshire (where a flock of five birds were to be found at March Farmers on 14th-15th); Reculver (Kent), with three birds past there on 11th; and from Alkborough Flats (Lincolnshire) with three birds there on 14th-15th.
Scotland put up a good showing for the north with individuals seen on 11th at Loch of Strathbeg RSPB (Aberdeenshire); at Findhorn Bay (Moray) on 14th-17th; on 14th also at Montrose Basin (Angus); and on 15th-17th at Loch of Mey (Highland).
Glossy Ibises continued to be a novel summer fixture in Britain and Ireland – in England, lingering birds were at Egleton NR (Leicestershire) until 13th, Coward's Marsh (Dorset) and Otmoor RSPB (Oxfordshire) until 15th, and wandering South Yorkshire's Dearne Valley and at Rutland Water (Leicestershire) until 17th; whilst in Ireland, a singleton continued to be seen at Coonagh (Co.Limerick) until 14th. This last bird had national company on 14th with another individual noted in Co.Roscommon at Lough Finshinagh.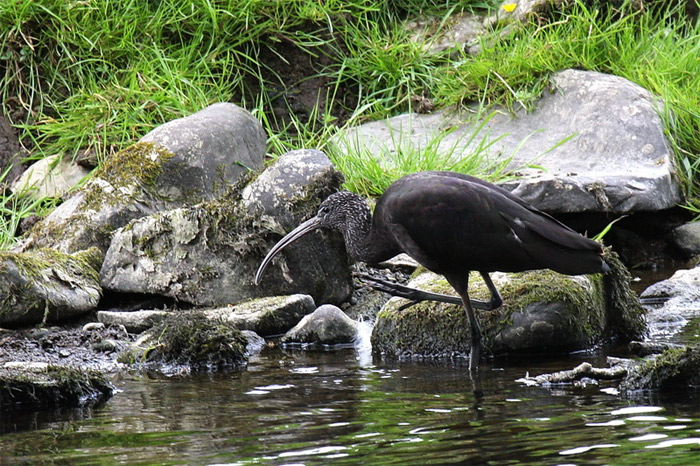 Back in England, three birds were seen at Slimbridge (Gloucestershire) on 12th, with single birds noted past Gibralter Point (Lincolnshire) on 13th, at Farlingon Marshes HWT (Hampshire) on 14th-17th, at Frampton Marsh (Lincolnshire) on 14th-17th. Scotland meanwhile laid claim to a single bird this week at Cambus (Forth) on 11th.
Finally, Common Cranes remained in thin supply, with just four birds making the news: two birds seen heading north over Langley Marshes (Norfolk) on 11th, and single records from Tophill Low (East Yorkshire) on 12th, and over Frensham Great Pond (Surrey) on 14th.
It felt a little like winter all of a sudden this week where ducks in particular were concerned, with not only new birds being reported, but in some variety too. So with no further ado, it's time to make like it's cold and miserable outside, and take a look at the wildfowl.
A Red-breasted Goose was seen once more on Lewis (Western Isles) at Loch Stiapavat on 13th.
Three drake American Wigeons were noted in Scotland: one individual remained at Loch na Reivil on North Uist (Western Isles) until 16th, while other birds were seen at Port Allen (Perth and Kinross) on 12th, and Loch of Strathbeg RSPB (Aberdeenshire) on 14th-15th, with a drake Blue-winged Teal also present at the latter site on 14th-16th.
The drake Green-winged Teal remained in Ireland at Tacumshin (Co.Wexford) until 16th, whilst another drake was on Lough Beg (Co.Derry) on 15th. Lough Beg also held onto two Ring-necked Ducks, with a male and a female being noted there on 15th. Scotland retained a drake Ring-necked Duck at Murton GP (Angus) until 17th, with another noted in Highland at Loch Tarbhaidh on 11th.
The long-staying drake Lesser Scaup in Cheshire at Frodsham remained all week, with a second drake being found in the county at Sandbach Flashes on 16th-17th. Meanwhile in Ireland at Lough Beg (Co.Derry) a further drake was noted on 12th-15th.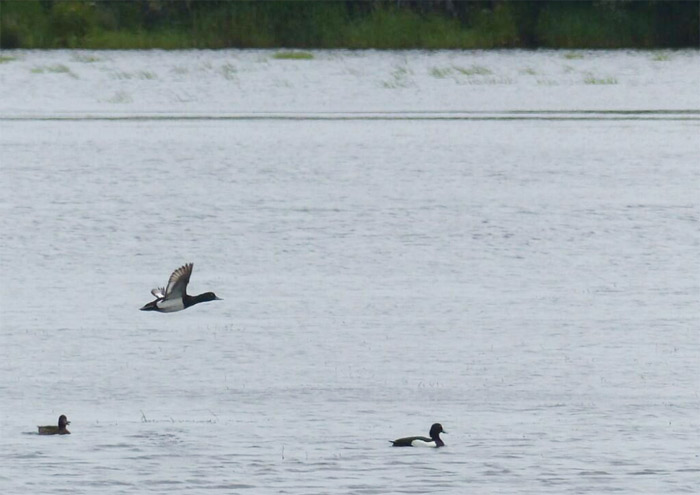 Blackdog (Aberdeenshire) held onto a drake Surf Scoter on the sea until 15th, while a female remained in Dunnet Bay (Highland) on 13th.
Last but by no means least, the drake King Eider remained on Aberdeenshire's Ythan Estuary until 15th at least.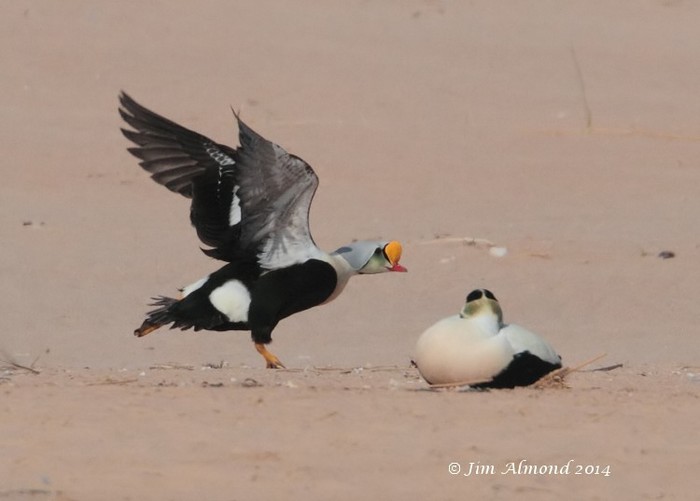 News this week was, of course, dominated by the arrival of the aforementioned all-too-brief Black-winged Pratincole and the safe arrival of the hopefully destined-to-fledge Black-winged Stilts in West Sussex and Kent. That said, there were one or two other shorebirds to catch the attention in the relative calm before the imminent autumn storm of shorebird migration. (So much to look forward to... truly, the fun never ends).
Whilst a fine midsummer Pectoral Sandpiper like the one at West Yorkshire's Swillington Ings on 15th-16th is always a pleasure, the most eye-catching wader of the week was perhaps the Grey Phalarope that lingered on North Ronaldsay's Gretchen Loch in Orkney on 13th-17th. I sometimes find myself patriotically stubborn where prefering English over American species names is concerned (no jaegers for me, thank you very much!), but where this latter species is concerned I have to say I think the Americans have it bang on the money. Red Phalarope does the species' striking summer plumage so much more justice. The Orcadian bird, whilst not in full summer garb, nevertheless had enough clues in it's plumage as to just how funky these superb little waders can look at their best. One to seek out if the opportunity ever presents itself...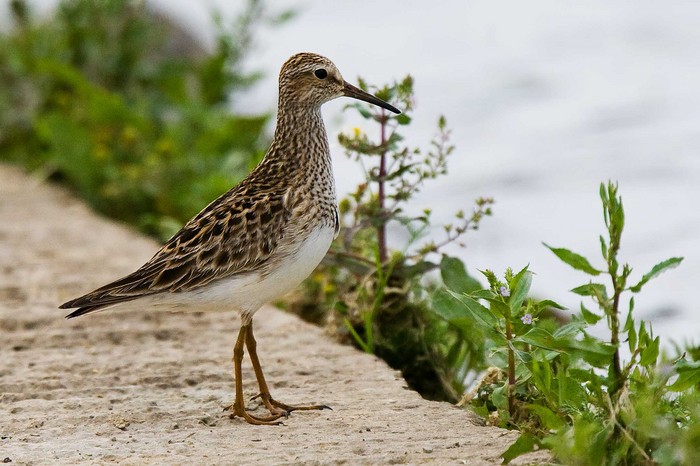 Sticking with pahalaropes, away from their usual northerly haunts, some Red-necked Phalaropes were seen in England this week, with a probable bird reported from Balscote (Oxfordshire) on 11th; a bird on the QEII reservoir (Surrey) on 12th; one at Eyebrook reservoir (leicestershire) on 13th; one reported again in Gloucestershire at Slimbridge on 15th; and a fine female in Norfolk at Cley on 16th.
Another probable Pectoral Sandpiper was seen briefly at Abbotsbury (Dorset) on 17th before flying off.
Devon continued to prove a rare gull magnet this week with the settled Ross's Gull and first-summer Bonaparte's Gull both present at Bowling Green Marsh all week, and joined by a second first-summer Bonaparte's Gull on 13th. One or other of these individuals was hanging out at Dawlish Warren on 15th-17th.
As we would expect, numbers of white-winged gulls dwindled away to next to nothing, with very little to report. Glaucous Gulls just about outnumbered Iceland Gulls: three reports of the former species were forthcoming, being singletons at Ardivachar Point still on South Uist (Western Isles) until 13th; at Burry Holms (Glamorgan) on 14th; and at Peninerine on South Uist on 15th. Iceland Gulls numbers were down by two-thirds on last week, with just two birds seen: one in the Western Isles still on Harris at Northton until 14th, and one still on Tresco (Scilly) on 11th.
Away from the considerable exotica and excitement up on Fair Isle this week, other rare tern news came from Cemlyn Bay (Anglesey) on 16th, where an adult White-winged Black Tern was gracing the lagoon into the evening and through the following day.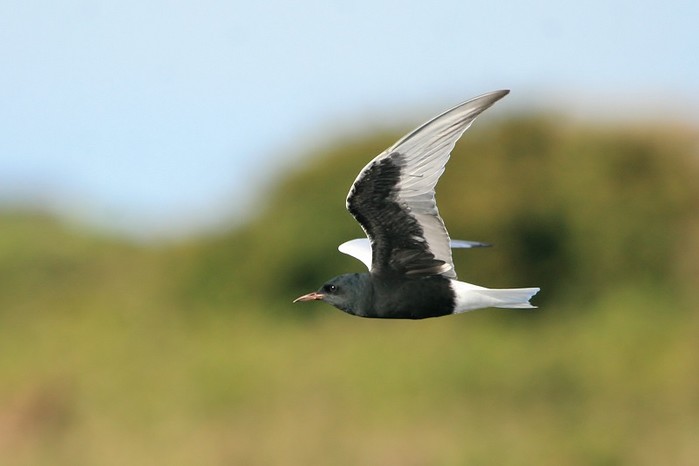 While raptor news revolved, inevitably, around the wandering Short-toed Eagle(s) this week, a fair number of reports of Black Kite were logged in the meantime: one was seen in Hampshire at Stoney Cross Plain on 12th, with two further possible individuals noted that day, in Brixham (Devon) and over Felixstowe (Suffolk); Suffolk dominated the news the following day with an individual seen first over Bawdsey Quay and latterly Alderton – this bird was finally seen well enough to reveal it was ringed, thereby posing all sorts of questions about its provenance. A second bird was seen that day in Suffolk along the coast at Walberswick, whilst much further north one was seen on Shetland at Culswick. One was over Portsdown Hill (Northamptonshire) on 14th, with a further probable individual seen that day in East Sussex at Ringmer. An unconfirmed report of two birds came from Polyphant (Cornwall) on 15th. Raptors… rarely wholly straightforward, it seems.
A dark morph Honey Buzzard kicked off proceedings for that species this week, being seen in Norfolk at Burnham Market on 11th. Thereafter, on 12th, further individuals were logged in Norfolk at Felbrigg Hall, in Kent at Cheriton, in Gwynedd over Bardsey, and in Lincolnshire at Gibralter Point (and again at the latter site on 13th). Another bird was seen on 13th in Dorset at Lodmoor. A wandering bird was tracked in Cornwall on 15th at various locations - Amalveor Downs, Land's End, Sancreed, and St Just – and another bird was seen back in Norfolk that day at Holkham Pines. One was noted in Cambridgeshire over Gog Magog Golf Course on 17th.
A first-summer female Montagu's Harrier was seen on 11th in Norfolk over Burnham Overy Marshes.
Shetland dominated the new arrivals where rare warblers were concerned this week, with Fair Isle (almost inevitably, this year) in the thick of things, sporting both Western Subalpine Warbler and Blyth's Reed Warbler on 13th. The same day saw a further two Blyth's Reed Warblers arrive on Shetland mainland, singing birds at Scatness and nearby Virkie, both remaining until 14th. A further possible bird was reported from Scarborough (North Yorkshire) on 14th. North Ronaldsay (Orkney) hit back on 17th with a male Western Subalpine Warbler trapped and ringed there.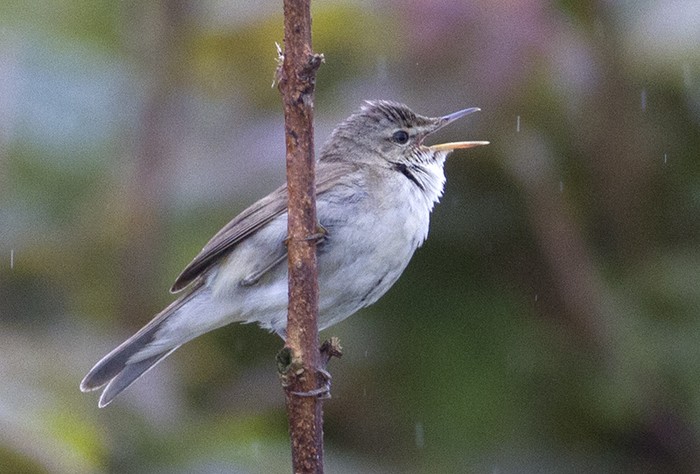 Still in situ was the singing male Greenish Warbler at Tyninghame Bay (Lothian) until 16th, while singing Savi's Warblers remained at at Loch of Strathbeg RSPB (Aberdeenshire) until 16th, and Walberswick (Suffolk) until 15th.
Marsh Warbler numbers were down on the previous week, with Fair Isle (yes, again) leading the pack with three birds present there on 14th, and at least one bird present on the surrounding days, finishing the week with two present on 17th. Elsewhere in Shetland two birds were on Unst at Norwick on 12th, and a single bird was on Trondra on 14th. North Ronaldsay (Orkney) held a singing bird all week, and another songster was at Walberswick (Suffolk) on 13th.
An Icterine Warbler previously ringed there on May 30th popped up again this week on 11th at Donna Nook (Lincolnshire) – where had it been hiding in the interim?
One Golden Oriole was reported this week, a female / first-summer male on St Mary's (Scilly) at Porth Hellick Pool in the evening of 17th.
Just two reports of Bee-eaters were logged in the past days, both heard only but not seen: one was reported over Hilbre Island (Cheshire) on 11th, with the other probable report from Potton (Bedfordshire) on 13th.
A trio of Hoopoes were noted this week: one in Aberdeenshire at Mintlaw on 11th; one in Devon at Soar on 13th; and one in Wiltshire at Ashton Keynes on 15th-16th.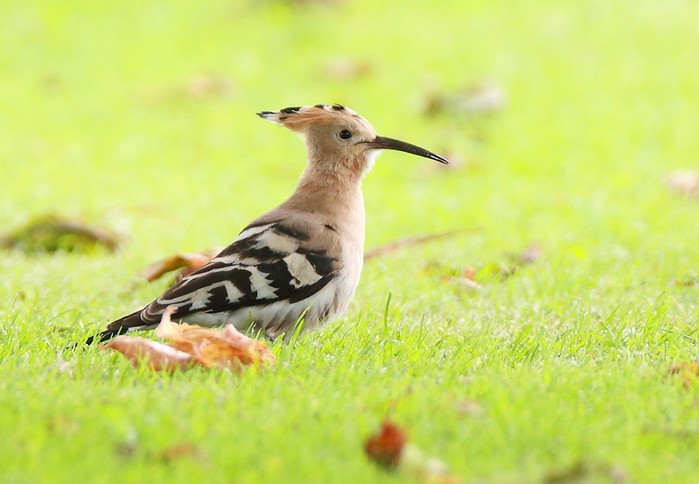 A Lesser Grey Shrike tops the shrike news this week, continuing Unst's strong spring showing this year at Baltasound (Shetland) on 16th-17th. Continuing the recent run of the species, a new Woodchat Shrike was found this week in Pembrokeshire at St Martin's Haven on 12th.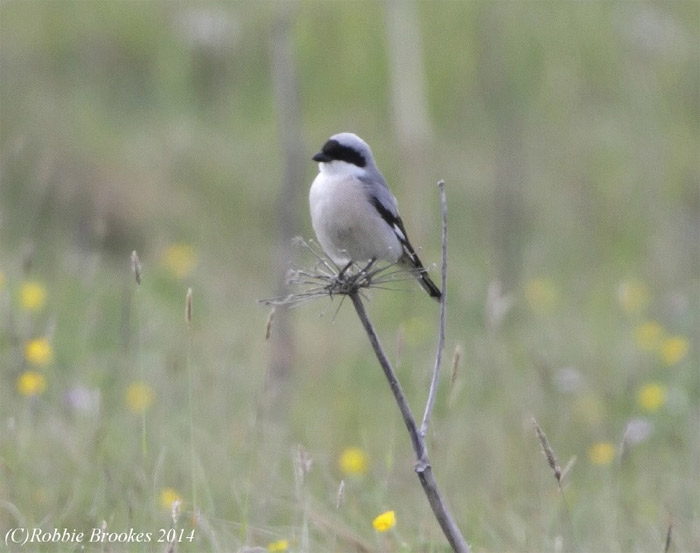 There was a sense of the calm after the storm of recent weeks where Red-backed Shrikes were concerned this week, with numbers failing to climb into double figures. Single birds were logged on St Mary's Island (Northumberland) and Fair Isle (Shetland) on 11th; at Thursley Common (Surrey) on 13th; and on Unst at Norwick (Shetland) and on Orkney at Stromness on 14th. Fair Isle meanwhile stole the week's laurels with three birds noted there on 13th.
A single Red-breasted Flycatcher was seen this week, on the Western Isles at Bornish on South Uist on 16th.
Dorset provided the year's first Thrush Nightingale on 13th, a singing bird buried deep in cover in the Top Fields – so deep in cover that it was heard only, and remained unseen for the duration of its short stay.
The auguries were all there last week for a good summer for Rose-coloured Starlings, and with reports continuing to come in this week, the signs look good for a few more of these smart bubblegum pink shockers to be found in the coming days. Six were logged this week: at Greinetobht on North Uist (Western Isles) on 11th; at Bunessan on Mull (Argyll and Bute) on 12th-14th; at Bo'Ness (Forth), and Carrickfergus (Co.Antrim) on 15th; and at Inishbofin (Co.Galway) on 15th-17th, and Lowestoft (Suffolk) on 15th-17th.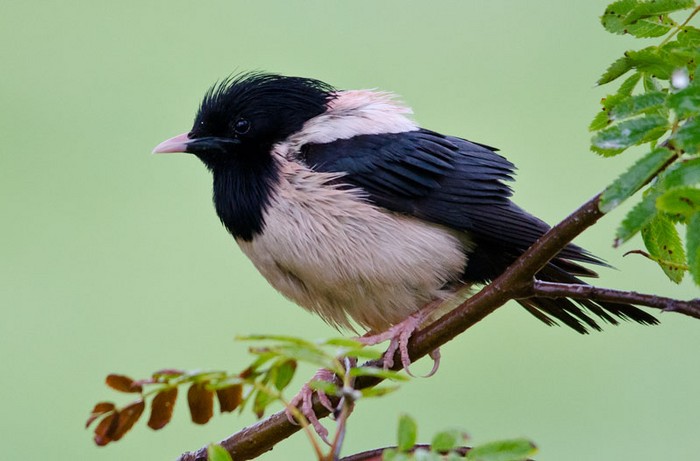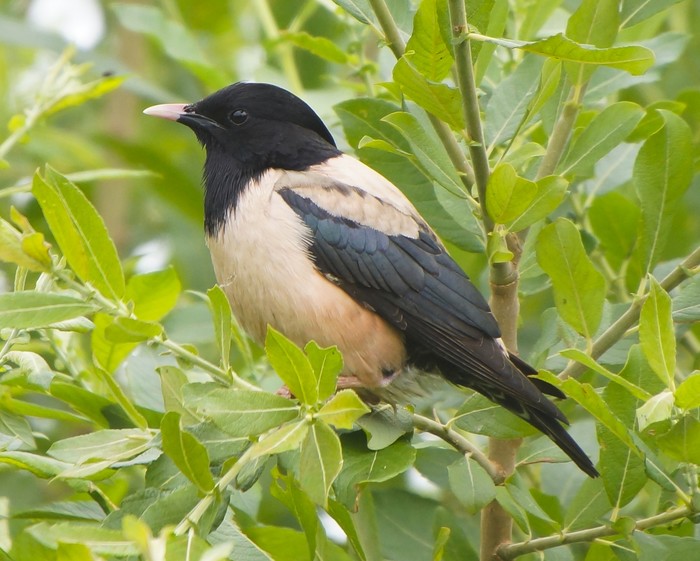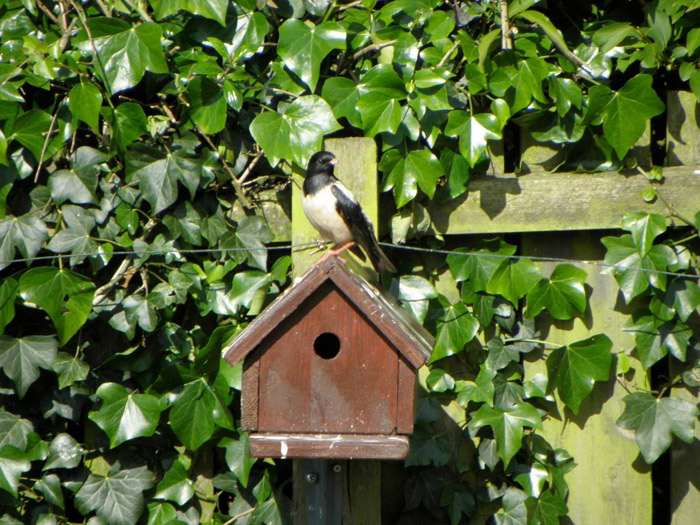 In Cornwall, a brief Shorelark was at Portgwarra on 16th.
Fair Isle hosted one of the week's three Common Rosefinches on 11th, with another bird recorded on the same day in the Western Isles at Greinetobht on North Uist. One was in Ireland at Inishbofin (Co.Galway) on 17th.
Once again a male Serin was noted on Scilly this week, seen St Mary's on 14th-15th. This sighting was somewhat overshadowed by the trapping and ringing of a late Rustic Bunting elsewhere on St Mary's at Porthellick on 14th – with October being the prime month for the species on Scilly by a country mile, it comes as little surprise that this was the first June record for the islands. Last week's prediction of Black-headed Bunting seemed like coming true with a report of a possible bird in Devon at Chagford on 12th – but alas for this tipster, that report didn't firm up any further.
And finally, two female Two-barred Crossbills were reported again in Lothian at Tyninghame Bay on 11th. You have to wonder if more of these are yet to come out of the nation's woodwork…
So what of the coming week? The past records suggest that even if this is, technically, the midsummer week of the year, where shorebirds are concerned autumn is already getting under way. Giving some succour to anyone who is feeling this past week's Black-winged Pratincole was unsportingly brief in its appearances are past records of Black-winged, Collared and Oriental Pratincoles - a good forthcoming week for pratincoles, then.
Greater numbers of another shorebird species stand out from the pack though – and given that both of its commoner brethren have been reported this past week, it seems like a decent punt to hope for a smart female Wilson's Phalarope in the coming days. The last one to turn up in the period was at Old Hall Marshes in Essex for 15 days, so fingers crossed the next one is as settled.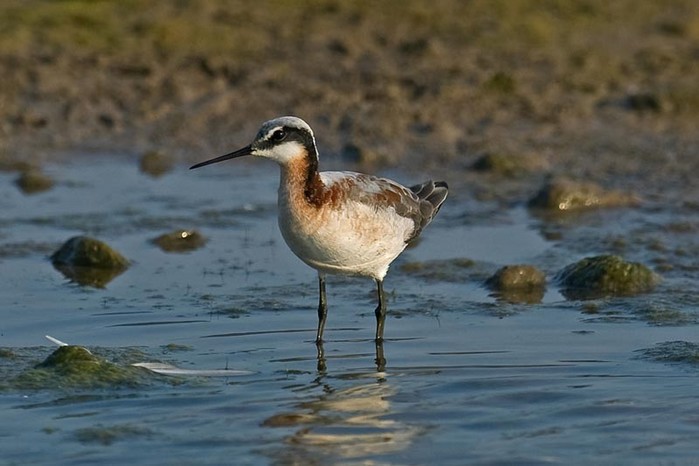 Jon Dunn
18 June 2014


Many thanks to all our contributors for their photos, videos and sound recordings.
Hector Galley, Tim Mason, Steve Ashton, Roger Riddington, Tommy Hyndman, North Ronaldsay Bird Observatory, Tony Dixon, David Aitken, Nick Tonge, David Cuddon, Mick Davis, David Carr, Jonathan N, Garry Bagnell, Penny Clarke, Mike Robinson, NaturalFx, Mike Buckland, Paul Kelly, Graham Catley, Jeff Larkin, Jim Almond, Chris Downes, Nick Smith, Zac Hinchliffe, David Parnaby, Steve Minton, Roger Riddington, Hugh Harrop, Jack B, Michael Trew, Neil Duggan, Robbie Brookes, Martin Cade, Bryan Rains, David Borderick, Jean Robson, Simon Colenut Steve Young.
Contributors websites