Weekly round-up: 02 - 08 Apr 2014
The week at a glance
Drake Baikal Teal stays in Cambridgeshire... but not for too long
The second Great Spotted Cuckoo of the spring lands in Devon
Fair Isle's spring Red-flanked Bluetail rolls into a second week on Shetland
The wintering American waterbird trio remain on station, with the Highland American Coot and Hebridean Pied-billed Grebe bolstered by the re-emergence of the Scilly Sora on St Mary's
And finally... it's game over for Kent's Chinese Pond Heron, but the story's only just beginning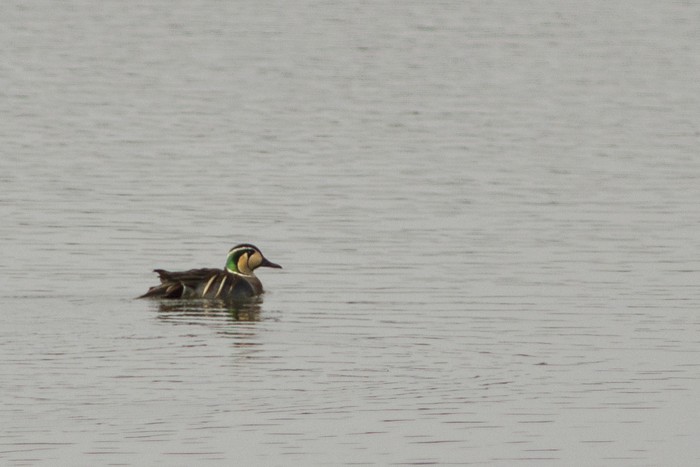 Baikal Teal
Rare ducks were doing the decent thing this week and not sticking around long enough to harm their credentials. While the ether was abuzz with debates about what constituted a good case for a wild British Wood Duck, said drake had departed from the Outer Hebrides leaving Cambridgeshire's Baikal Teal to carry the baton for Rarest / Most Unlikely Duck of the Week (delete as appropriate and according to your conscience).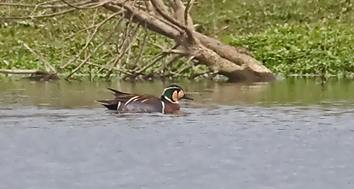 The dandy and popular drake remained at Fen Drayton until 5th when it made a move, briefly, onto the Ouse Washes, and thereafter... onwards to who knows where. The reasonably short stay won't have done anything to harm its credentials with those who arbitrate on such matters. Meanwhile, despite also being a handsome species commonly kept in captivity, the prospects for the much briefer Wood Duck are somewhat more uncertain, if rather predictable. The reputedly significant, burgeoning and wandering feral population of them in the UK are probably doing the species' prospects for admittance onto the British list no favours whatsoever. More contentious listing news to come later in the headlines, controversy fans!
Great Spotted Cuckoo
Hot on the heels of the first for the year came a second record of Great Spotted Cuckoo this week in Devon at Beer Head on 4th; truer to form for the species than the bird in Pembrokeshire in March, this was to be a one-day bird and only available for those in the southwest who were able to react fast. This was Devon's 4th record of the species, and the first since 1998; it's been 16 years since it was last available in the county, and to the chagrin of those who rely on the weekends for their birding passes, this one wasn't inclined to linger. The first two records for Devon both came in 1990; perhaps this spring, early as it still is, has another individual of the species up its sleeve. But will it be in Devon?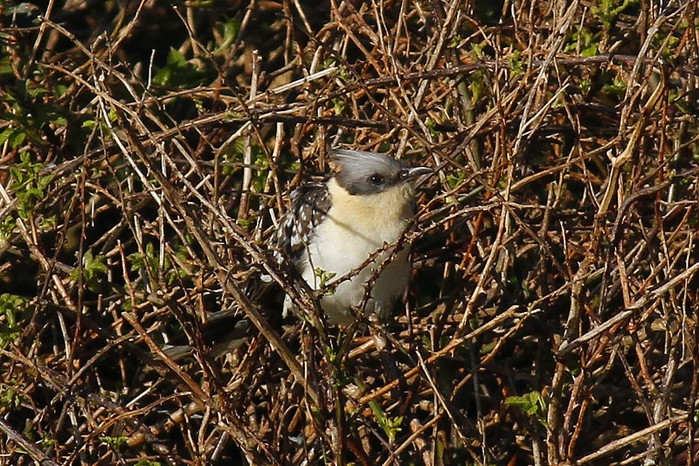 Red-flanked Bluetail
Meanwhile up in Shetland the sun's been shining this week, and while memories of the grim winter there begin to fade, the grass is only just beginning to show signs of growth and the county's understandably still some way behind the rest of the country where migration's concerned. Still, Fair Isle is as always at the vanguard of all things migration-related in Shetland, and birds have begun to trickle through there. While the floodgates are yet to properly open in the north (a Mistle Thrush in my fields doesn't really cut the mustard, does it?) last week's smart Red-flanked Bluetail popped out of the woodwork again on the magic isle on 5th.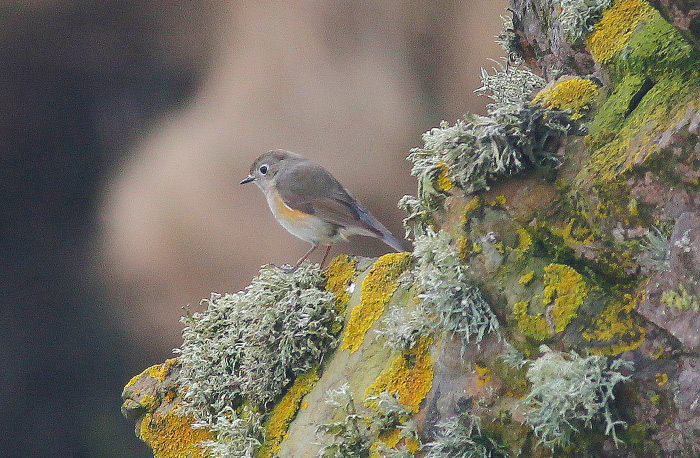 With the species becoming a nailed-on certainty in recent autumns, we're surely due a few more spring records of this becoming Tarsiger in the years to come. It's hard to remember just how iconic and rare this species was some 20 years ago. Perhaps a spring bluetail is the new autumn bluetail for the rarity hunter? How the mighty are fallen...
American Coot, Pied-billed Grebe & Sora
Staying in the north, in Highland the American Coot remained happily ensconced (and apparently en-Moorhened) on Loch Flemington until 8th, rapidly chasing down the 100 day stay marker. Meanwhile at Balranald RSPB on the Outer Hebrides the wintering Pied-billed Grebe remained on North Uist until 7th at least. The final part of the American wintering waterbird triumvirate crept back out into the open down in the far southwest during the week with the Sora showing more or less daily once more on St Mary's, Scilly, in the latter half of the week.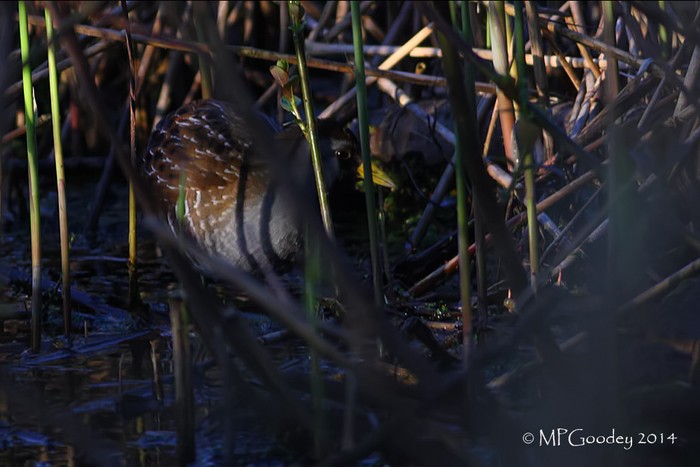 Chinese Pond Heron
And so we come to the end of the headlines, and how better to finish a week that was somewhat dominated by birds from past weeks' Rarity Round-Ups, and with some taint of controversy over one or two of their origins, than with... a bird that had featured largely in past weeks, and came with so much baggage it surely had a steamer trunk somewhere about the place to carry it all in...
Yes, of course, it could only be the Chinese Pond Heron in Kent, a bird that managed to singlehandedly combine all that was contentious about latter-day British birding. A bird that broke onto the birding nation's consciousness with some initial blurry online photos... that defied specific identification until a final (probable) consensus coalesced online... and one that looked set to remain of unknown origin; could it have come from a captive origin elsewhere in the region? Or was it thousands of miles from home? Who knew? (Cough Wood Duck cough).
After a period of no news from Kent, it seemed as if the answers to some or all of those questions would have to remain a best guess. Obscurity (and notoriety) beckoned. But now, thanks in all likelihood to a handy neighbourhood Fox, the story has taken a new and dramatic twist. News trickled out that the bird had been refound (in pieces) on March 25th. Bits of it were being retrieved for analysis. Perhaps appropriately for a bird that had caused so many birders to lose their heads, it had lost its head. Some flight feathers remained... These would be enough for some DNA analysis, but was there enough good material to use for stable isotope analysis for clues to its origin... That remains to be seen.
So it looks like some sort of resolution of the Chinese Pond Heron conundrum may be coming in due course, and all thanks to that hungry neighbourhood Fox - in a twist to the old bird collectors' adage, what's hit's history, what's missed's mystery.
Aberdeenshire roared back into prominance this week with another epic tally of White-billed Divers off Portsoy on 6th, with at least 14 birds recorded there. Elsewhere in Scotland single birds were noted off Handa Island (Highland) on 5th, and Burghead (Moray/Nairn) on 4th, the latter bird sharing the site that day with a King Eider, a nice double whammy.
A Pacific Diver was present on the 5th off Kilcolgan Point at Tawin in County Galway.
As was the case last week, other seabirds of note were few and far between, with just a few Balearic Shearwaters to show for observers' efforts: four birds off Gorran Haven (Cornwall) on 6th; and singles elsewhere in Cornwall off St Ives on 7th, and off Dorset's Mudeford on 8th.
Lingering English Glossy Ibis remained at the start of the week at Chasewater (Staffordhshire), Lowdham and Collingham Pits (Nottinghamshire), Grove Ferry (Kent), and Brownhills (West Midlands) on 2nd. The Chasewater bird flew into roost that evening, but wasn't reported subsequently; while the Lowdham bird was seen there again on 3rd and Collingham Pits held onto their bird until 8th. The Brownhills bird was last reported on 6th, and the Grove Ferry bird on 8th. Further single birds were recorded in England from St Helens (Isle of Wight) on 4th, Gillan Creek (Cornwall) on 5th, Lewes Brooks (East Sussex) on 6th, and Moira (Leicestershire) and Kingsbury Water Park (Warwickshire) on 8th.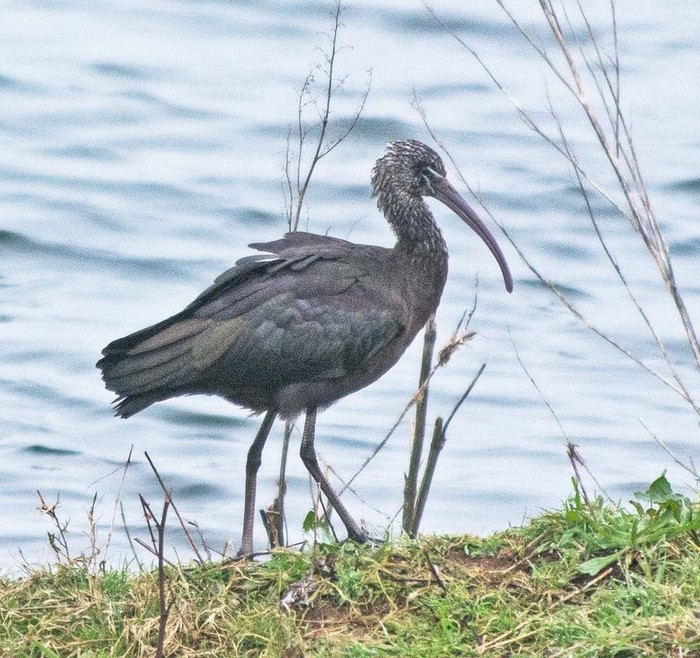 The only multiple record came from Ireland with two birds remaining at Cartron (Co.Sligo) on 3rd; meanwhile singles remained at Ballycotton (Co.Cork) on 2nd and Coonagh (Co.Limerick) on 3rd. A final singleton from Ireland was at Co.Antrim's Glynn from 3rd-6th.
Two Cattle Egrets were recorded this week, both on 4th. The faithful Buckinghamshire bird remained present in the fields around Steeple Claydon, whilst in Cornwall one was at Connor Downs.
Cornwall laid claim to the week's only Purple Heron with a bird remaining at Millbrook on 2nd-3rd.
Numbers of Great White Egrets fell away once again this week, down to some 18 birds across the country with the only multiple record concerning two birds still at Ham Wall RSPB (Somerset) on 5th. Otherwise it was all singletons, with lingerers at the magnificently named Dog-in-a-doublet (Cambridgeshire) and the more sedate Stanwick (Northamtonshire) on 2nd-6th; at Frampton Marsh (Lincolnshire) on 2nd-8th; and Fairburn Ings (West Yorkshire) on 2nd-3rd. Other lingerers were to be found at Marshside (Lancashire) on 3rd-5th, Hornsea Mere (East Yorkshire) and Frodsham (Cheshire) on 4th-5th, and Loch of Strathbeg (Aberdeenshire) on 7th-8th. Single bird and single day reports came from up and down the land: at Cantley Marshes (Norfolk) on 3rd; Chestfield (Kent), Cowards Marsh (Dorset) and Minsmere (Suffolk) on 4th; at Loch Davan (Aberdeenshire) on 5th; at Shapwick Heath (Somerset) on 7th; and at Watermead CP (Leicestershire) and Preston (Lancashire) on 8th.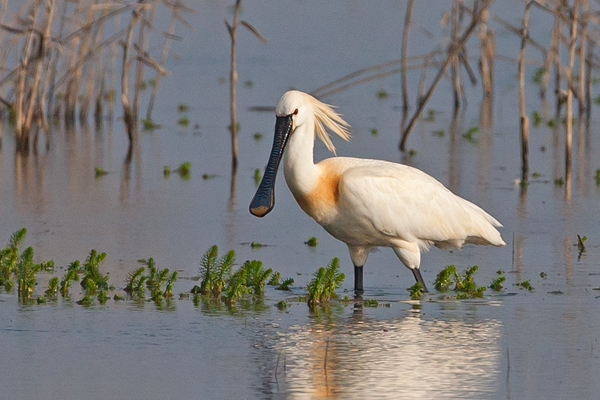 Spoonbill numbers remained more or less static with some 23 birds accounted for in 13 counties during the course of the week. Multiple records involved three birds on the Beaulieu River estuary (Hampshire) on 5th, and duos at Pagham Harbour (West Sussex) also on 5th, and Brownsea Island (Dorset) on 8th. Single birds included lingering individuals at Minsmere (Suffolk) on 2nd-4th, Titchfield Haven (Hampshire) on 3rd-4th, Cuckmere Haven (East Sussex) on 3rd-6th, Cliffe Pools (Kent) on 3rd-7th, Ouse Washes RSPB (Cambridgeshire) on 5th-6th, and Bowling Green Marsh (Devon) on 6th-7th.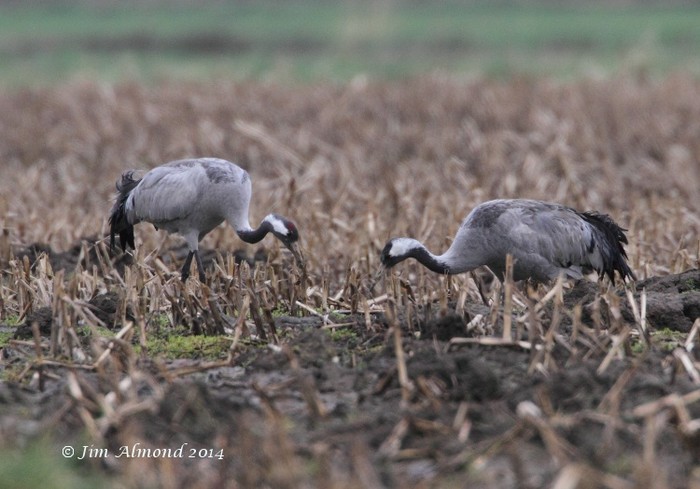 It was all about the flyovers with Common Cranes this week, with proceedings kicking off with one over Belhaven (Lothian) on 3rd. The 5th was the peak day to have your head craned (ooh, sorry) skywards – single birds were noted over Breydon Water (Norfolk), Edmondbyers (Co.Durham), Filey Brigg (North Yorkshire) and Flamborough Head (East Yorkshire) during the course of the day. The 6th saw two birds noted over Stourbridge (West Midlands).
The Todd's Canada Goose (form interior) remained in Co.Louth at Lurgan until 7th.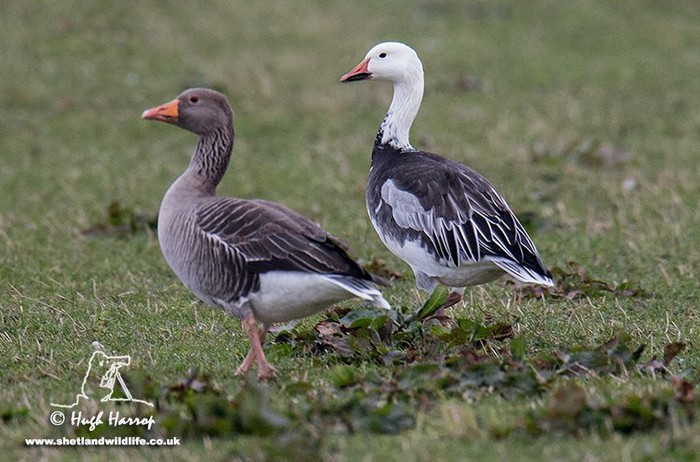 Snow Geese records involved, in the main, lingering duos in Scotland: two white morphs at Rattray Head (Aberdeenshire) and two blue morphs at Breahead (Clyde), both until 5th; and the mixed white and intermediate pair at Tayinloan (Argyll) until 8th. The exception to this happy pairdom was the blue bird remaining on the Orkney mainland at Evie on 2nd.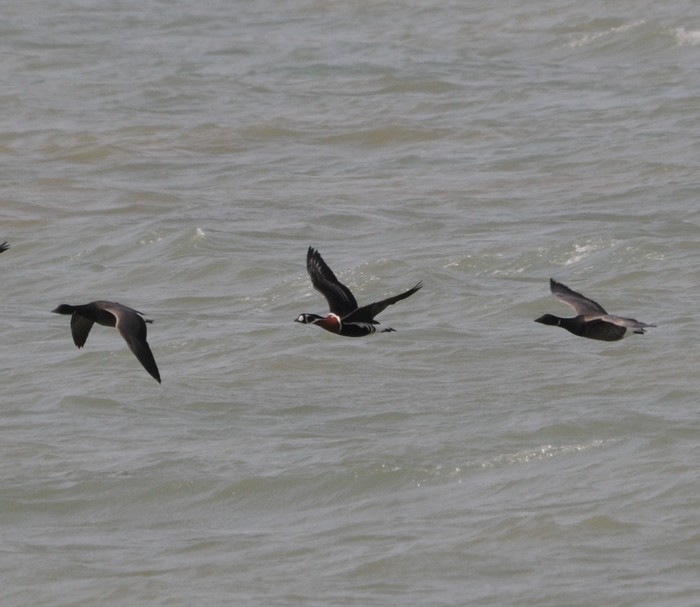 Dorset's Red-breasted Goose made local yearlisters contesting the annual Albatross Cup in Dorset happy with a short stay at Stanpit Marsh on 2nd-3rd. An individual was tracked on 3rd moving east along the south coast, being logged first passing Selsey Bill (West Sussex) and then Splash Point (East Sussex) that day.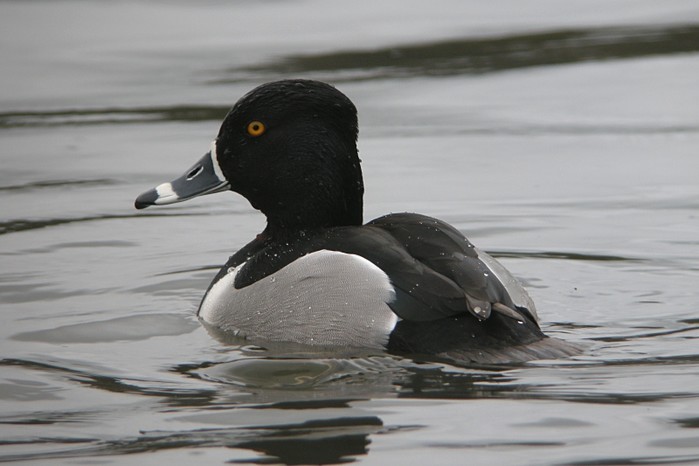 With no Lesser Scaup reported this week, it's straight onto the Ring-necked Ducks to get us under way with the ducks. Just four birds were recorded, these being females at Langais on North Uist (Outer Hebrides) on 2nd-7th and Ouse Washes RSPB (Cambridgeshire) on 5th-8th; and drakes at Loch of Asta (Shetland) from 2nd-8th, and at Newton Lake (Lancashire) on 7th.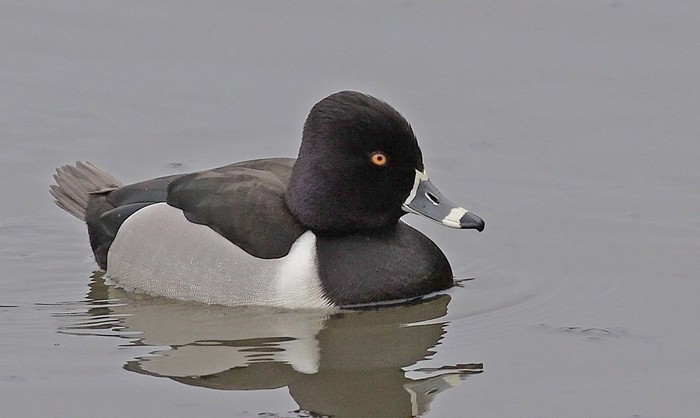 The female Ferruginous Duck put in another all-too-brief appearance at Dagenham Chase (London) on 2nd; whilst a somewhat more obliging drake was at Gosforth Park (Northumberland) on 6th-8th.
The only confirmed American Wigeon this week was in Cambridgeshire, the first-winter drake remaining at Pymoor until 3rd.
Ten drake Green-winged Teals were recorded throughout the week, with some by now familiar faces remaining installed on their favoured water bodies, and a new face or two for the sake of variety. In Glamorgan, Kenfig's bird was there all week long; in Dumfries and Galloway, Caerlaverock's wintering bird was there until 6th at least. Burton Mere Wetlands (Cheshire) laid claim to a bird on 2nd still, while Morton Bagot (Warwickshire) held a bird until 3rd, and Loch Gruinart on Islay (Argyll) one until 4th. Also on 4th a bird was noted at Meols (Cheshire). Lough Swilly's bird in Co.Donegal put in another appearance on 5th. Perhaps the bird noted in the county earlier in the year put in an appearance at Blashford Lakes (Hampshire) on 6th-8th, while a definite back-out-of-the-woodwork was the drake seen again at Loch Gretchen on North Ronaldsay (Orkney) on 7th. Finally on 8th a bird was recorded far away in Essex at Mucking Flats.
A stronger showing of King Eiders this week with five birds noted, all in Scotland bar the female still in Ireland at Blacksod (Co.Mayo) on 4th. Scottish birds were a female reported in Highland at Loch Erribol on 3rd and the female at Ruddon's Point (Lothian) still on 5th; and drakes at Burghead (Moray/Nairn) on 2nd, and off Uyeasound (Shetland) on 5th.
With no returns from Wales, reports of Surf Scoters remained somewhat thin on the ground with a mere six birds logged in the week. Scottish drakes were off Musselburgh (Lothian) on 2nd-8th, and Rerwick Head (Orkney) on 3rd. In the southwest of England, the young birds were still in Brand's Bay (Dorset) until 5th and Mount's Bay (Cornwall) until 7th, with a first-winter drake also off Dawlish Warren (Devon) on 8th. Over in Ireland, a first-winter drake was again at Courtmacsherry (Co.Cork) on 6th-7th.
There was nothing to report in the Shorebirds category this week. Not a sausage. Must try harder...
In a week that was very quiet on the Larid front, the lingering adult Bonaparte's Gull in Cardiff was pretty much the star turn on 2nd-3rd.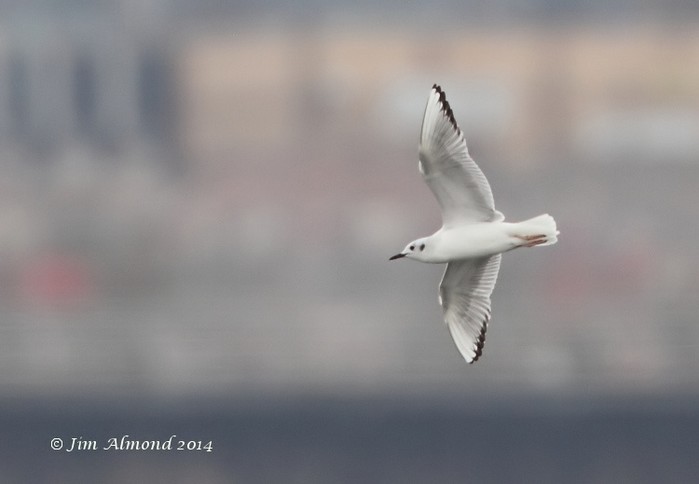 Moving swiftly on to Ring-billed Gulls, and we'll move all too swiftly through the weeks records – a mere four birds were recorded, all in Ireland: a first-winter at Black Rock Strand (Co.Kerry) on 4th; and in Co.Cork an adult at Cuskinny Marsh 4th-5th; an adult at Timoleague on 6th-7th; and a first-winter in Cork City on 8th. And that was that.
Kumlien's Gull numbers fell away this week as white-winged gulls of all complexions abandoned Britain and Ireland in their droves. Just six birds were logged, all singletons bar a duo at Fendrod Lake (Glamorgan) on 5th. English records came in the form of the lingering West Sussex juvenile at Littlehampton until 7th, with another juvenile noted at Exmouth (Devon) also on 7th. Scotland and Ireland each accounted for one bird apiece, respectively at West Loch Ollay on South Uist (Outer Hebrides) and Carnsore Point (Co.Wexford), both on 6th.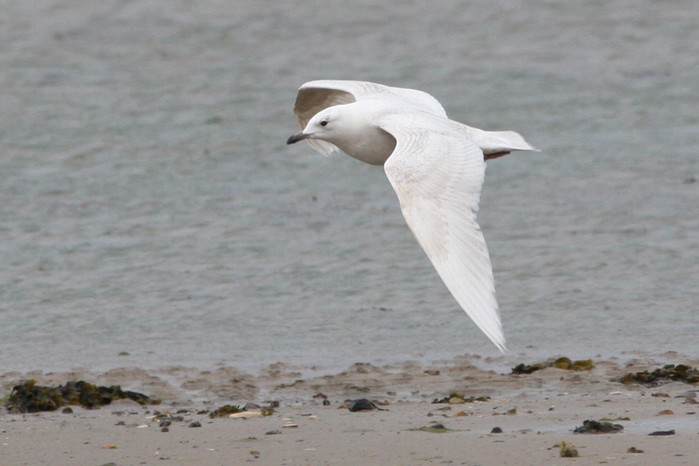 Numbers of Iceland Gulls dropped by roughly a third from the 66 of last week to 43 this week. Notable counts of multiple birds involved trios at Balranald, North Uist (Outer Hebrides) on 2nd, and Richmond Bank (Cheshire) and Killybegs (Co.Donegal) on 4th; and duos at Reenard Point (Co.Kerry) on 5th, and at Timoleague (Co.Cork) and Ardivachar Point, South Uist (Outer Hebrides) on 6th.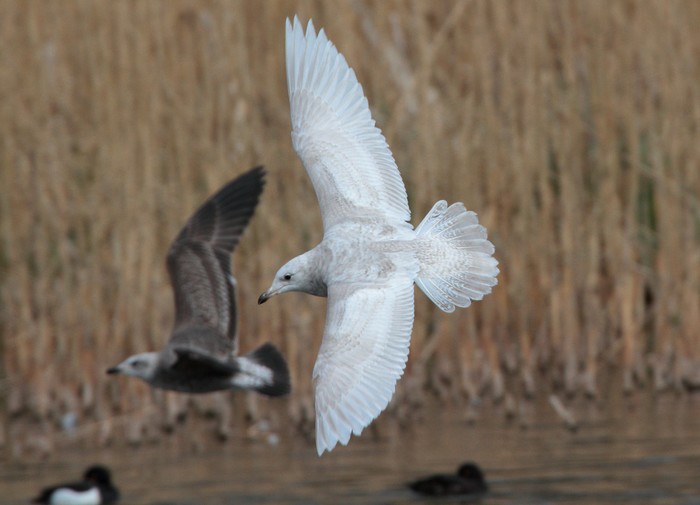 The situation was much the same with Glaucous Gulls during the week, with numbers down from 55 individuals last week to 33 in the current period. Notable counts for this species were topped by a trio at Howmore on South Uist (Outer Hebrides) on 2nd-6th; duos were seen at Timoleague (Co.Cork) on 2nd, Blue Anchor (Somerset) on 3rd-7th, and on Bardsey (Gwynedd) on 6th. Definitely a feeling of spring in the air, and winter fast becoming but a distant memory.
Raptors this week involved a classic early spring mix of a couple of lingering wintering birds (the two Rough-legged Buzzards again from Waveney Forest on 5th-6th) and a report of a southern overshoot – a Black Kite over Leicester (Leicestershire) on 2nd. Doubtless more of the latter in the weeks to come...
And so to the passerines, where the aforementioned Great Spotted Cuckoo found itself in good company with a variety of other classic southern overshoots.
The week closed out with a flyover Bee-eater reported from Angmering (West Sussex) on 8th. Before that though Wryneck had moved much further north with a record from Spurn on 4th-5th.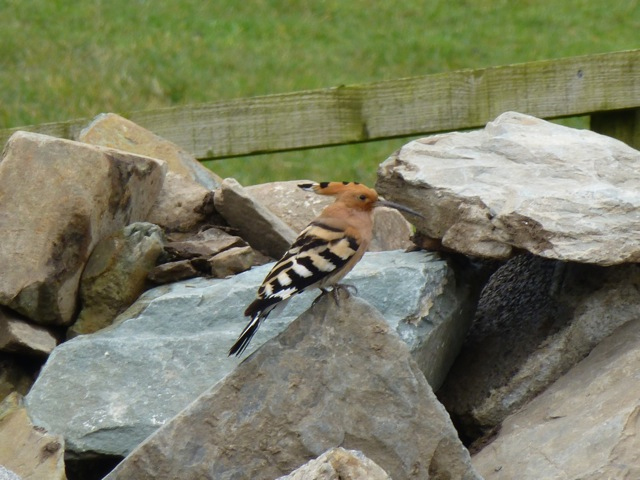 Hoopoes meanwhile continued to put in a good double-figure showing with 13 birds recorded from as far north as Dumfries & Galloway (which hosted two birds, one at Monreith on 4th-8th, and another at Leswalt on 6th-8th). Ireland had two birds also, at Mizen Head (Co.Cork) on 2nd-5th, and Wicklow Town (Co.Wicklow) on 5th. England however enjoyed the lion's share with birds recorded at Snodland (Kent) all week long, and elsewhere at Galmpton (Devon) on 2nd; Nocton (Lincs), Durlston Head (Dorset) and Polgigga (Cornwall) on 3rd; Colyford (Devon) on 4th; Rye (East Sussex) on 5th; and coincidentally, at Sandhurst (Berkshire) on 6th and Sandhurst (Gloucestershire) on 8th.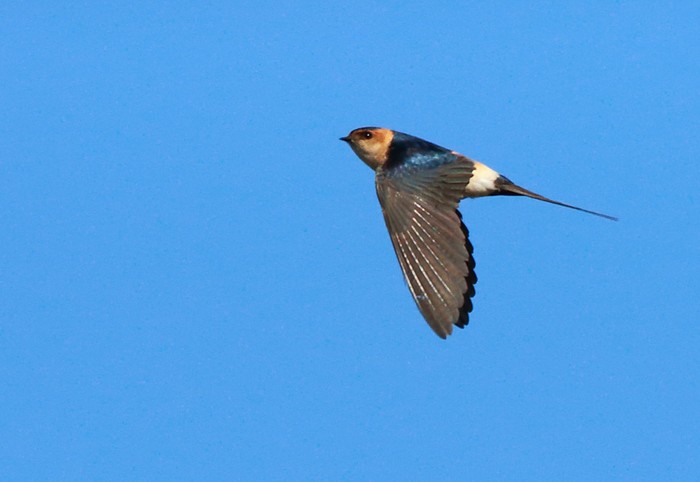 Completing the southern feeling this week were three cracking Red-rumped Swallows: two in East Yorkshire at Flamborough Head and Easington respectively on 5th, and an obliging bird in Dorset at Lodmoor on 5th-8th. Whilst this charming hirundine species hasn't been considered a 'proper' rarity by the BBRC since 2005, it's still surely one of the highlights of any spring days birding, and a properly satisfying self-find. A glance at the statistics shows that it's on its way to being a genuinely rare bird again – annual records soared from 1987 – 2005, but since then numbers have fallen back to their pre-1987 levels, averaging somewhere under 10 birds per annum. April and May are by far the prime months to see one in Britain, so keep your eyes peeled at the merest waft of a southerly airstream...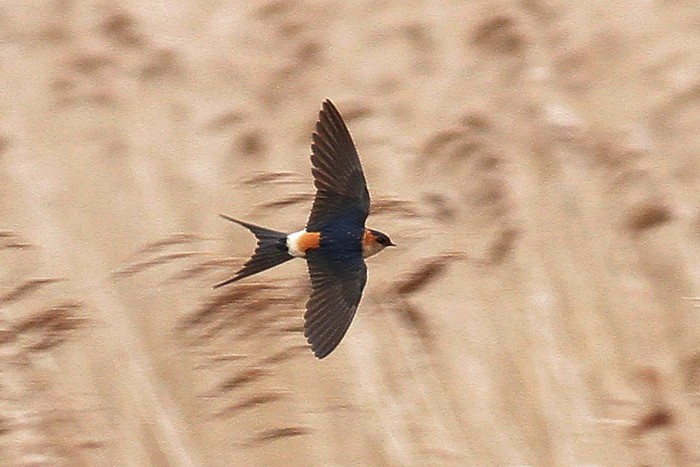 Back to what's left of our wintering passerines now, and in Kent the Dungeness Hume's Yellow-browed Warbler continued to be reported intermittently until 8th. There were three Yellow-browed Warblers reported during the week, these being lingering birds at Gwennap (Cornwall) until 3rd, and Studland (Dorset) and Ponsanooth (Cornwall) until 4th. The week's other notable wintering warbler remained at Oulton Broad (Suffolk), with the Dusky Warbler remaining there until 8th.
Norfolk's wintering Richard's Pipit was reported once again at Gramborough Hill, Salthouse on 5th.
Just 11 Great Grey Shrikes were logged during the week, a reflection perhaps of birds beginning to think of abandoning their winter territories. Familiar faces included those at Thorne Moors (South Yorkshire) and Crabtree Hill (Gloucestershire) until 6th, and Ibsley Common (Hampshire), Hopwood (Worcestershire) and Holme (Cambridgeshire) until 8th. Birds on the move were logged in Orkney with an individual on North Ronaldsay on 2nd and another on Mainland on 7th at The Shunan.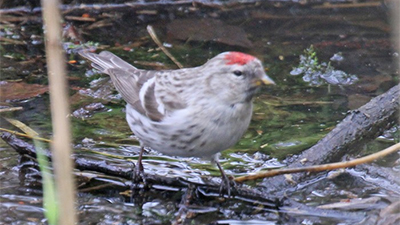 A few semi-respectable flocks of Waxwings were discovered in Scotland this week, with flocks of 10 and 16 seen in Aberdeen (Aberdeenshire) on 2nd and 8th respectively, 10 in Dundee (Angus/Dundee) on 3rd-5th, and 16 in Kirriemuir (Angus/Dundee) on 5th-6th. Elsewhere, England's best showings were two flocks of six birds apiece, in Sothall (South Yorkshire) on 3rd and Rawdon (West Yorkshire) on 5th.
The wintery flavour continued with a Coues's Arctic Redpoll found at Waters' Edge CP (Lincolnshire) on 6th-8th, hanging out with Mealy and Lesser Redpolls for purposes of comparison and consideration of what's really a valid species.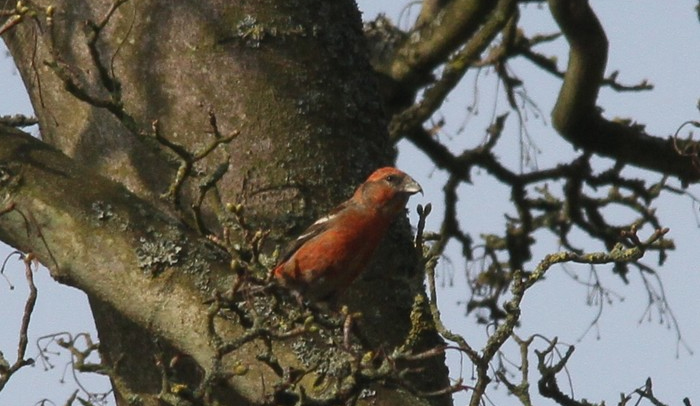 And finally, to Two-barred Crossbills. The popular Greater Manchester male remained at Dove Stone RSPB, on Saddleworth Moor on 5th-7th. The Broomhead Reservoir (South Yorkshire) flock had dwindled to two males by 2nd, and just one male seen there on 5th. A male was seen again in Kent in Hemsted Forest on 5th, while three birds remained at Lynford Arboretum (Norfolk) on 5th-6th, with two birds still there on 8th. At least one remained in Shropshire's Wyre Forest on 8th.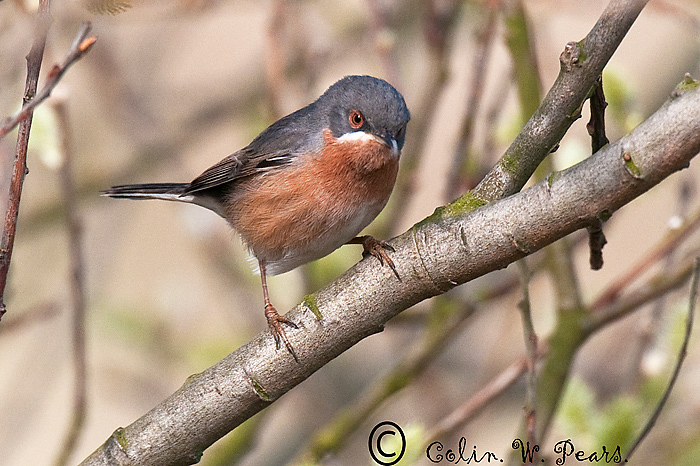 What then of the week ahead? A hint of a southerly wind could see a good chance of any number of goodies turning up - Red-rumped Swallow, Black Kite, Alpine Swift, and Black-winged Stilt are all distinct possibilities.
However, we're coming into prime time for a spring Subalpine Warbler - with 21 records logged in the coming week in past years, that's where my money is going this week. (Though with my dismal lack of success in last weekend's Grand National, that might not qualify me as much of a tipster)...
Jon Dunn
09 April 2014


Thanks to this week's contributors for their photos and videos
Richard Greasby, David Carr, Brett Spencer, Mark Rayment, Martin Goodey, Robin Brace, Robert Wilson,
Jim Almond - Shropshire Birder
,
Hugh Harrop - Shetland Wildlife
,
John Gale/Tom Gale
, Matthew Eade, Chris Batty, Nick Isherwood, George Petrie/Nature in Shetland, Allan Chard, Dorothy Davey, Michael Trew, Simon Spavin, Paul Lawrence, Colin Pears.