Weekly round-up: 19 - 25 Mar 2014
The week at a glance
Snowy Owl hits the Essex coast
Autumn feel in Suffolk with a new Dusky Warbler and the reappearance of the Olive-backed Pipit
Scotland keeps hold of the Highland American Coot and the Hebridean Pied-billed Grebe for another few days
Pembrokeshire's first-summer Great Spotted Cuckoo lives on to another weekend…
Another comparatively quiet week passes us by then but there was still lots for folk to go at countrywide.
The moist warm air was pushed south by a ridge of high pressure that came down from northern climes, bringing sunshine and cooler winds by day (along with some chilly wintery showers) and some frosts by night (a reading of seven below zero coming from Northumberland over the weekend being the coldest temperature in Britain for a year).
…and that run of slightly chilly, slightly-below-the seasonal-average-temperatures weather kept station over most of the country throughout the week, but it still left the door open for a common migrants while a few new rarities were also logged too.
That said, the lead birds of the week had a decidedly autumnal and wintery feel to them.

Snowy Owl
After an autumn and winter that saw frequent news of continental Snowy Owls pop up every once in a while (a significant push actually), it seemed as though the months from the tail end of 2013 and on in to the early days of spring 2014 would, once again, be a typically bare affair where the species was concerned along the English east coast.
Not a species that is likely to feature too high on the potential "finds" list for birders on that side of the country, the appearance of one along the seawall at Mucking (Essex) on the sunny morning of 24th was a startling surprise, not least for the person who chanced upon it before it headed inland over the Thames and away in to the hinterland.
To date, there has been just one record of Snowy Owl in Essex, seen at Sewardstonebury between March 2nd-23rd 1963, so this week's bird is clearly massive for the county. English birds remain a rare treat ~ despite over 560 birds being accepted and a significant spread of birds across England (21 counties boast records of the species though many of them are truly ancient ~ for instance Norfolk leads the pack with 14 records, but only one of those has come in the last 75 years or so) it remains a true top-drawer rarity with the most recent accepted records coming from Cornwall in 2009 and 2008 (the long-staying bird around Zennor and Sennen), the oiled, clearly ship-assisted (aren't they all?) individual at Felixstowe between October and December 2001, with a one-day bird in Cumbria the same year and the young male seen in Lincolnshire, Norfolk, and East Yorkshire between December 1990 and March 1991.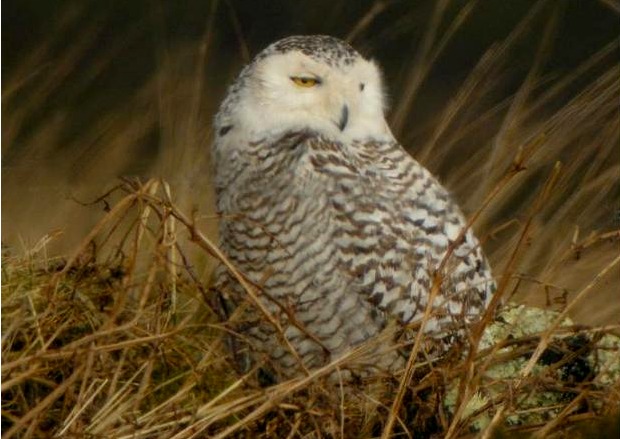 With the proximity to the port of Tilbury to the find-site, it seems as though ship-assistance could be the favoured route for this particular vagrant, though a North Sea crossing from the continental Europe can't be discounted ~ it's a great time of year for that other Arctic ermine-clad assassin to be on the move, so…
Dusky Warbler & Olive-backed Pipit
In Suffolk, a particularly striking eastern double had folk rubbing their eyes to check that they hadn't had a brief flirtation with H.G Wells' Time Sled as the bird news there on March 19th had more in common with the bird news you'd perhaps expect from the east coast county on October 19th…
First up came the excellent find along the south side of Oulton Marshes, near Lowestoft ~ a Dusky Warbler ~ which was seen off-and-on throughout the rest of the day and also during the morning of 20th and then through to 25th.
Prior to the species removal from the Rarities List in 2005, there had been just one other March occurrence, one found at the Royal Portbury Dock in Somerset on March 6th 2004, a bird that remained in the area until at least April 13th that year.
Suffolk boasted 16 accepted Dusky Warbler records before 2005 ~ with a surprising number of "winter" birds noted. The first was found at Kessingland on December 30th 2002 (which stayed for eight days) with the second also at the same site two years later, discovered on December 2nd 2004, it remained until April the following year (clocking up 138 days on site). Also in late 2004, a second Dusky Warbler was found in the county, spending four mid-December days at Bawdsey with a third for that particular winter being found on January 4th 2005 at Trimley Marshes. Suffolk's most recent record came in November 2011 when one was seen at Shingle Street.
Funnily enough there are no accepted records of "new" birds being found in the months that sit either side of March ~ none for February or April ~ but there were five in January and six in May.
Perhaps more surprising than the Dusky Warbler was the reappearance in gardens at Leiston on 19th of the Olive-backed Pipit first seen there (for one day only) on February 15th. The Suffolk bird was seen again on 20th, late in the evening but a brief search on both 22nd and 23rd proved to be fruitless.
With the bird's brief reappearance, we may as well revisit a few of the words documented when the Olive-backed Pipit was first seen last month ~ "Winter records of this super khaki-coloured tail-pumper are, though not exceptional, still thin on the ground ~ there are four listed for January (in Shetland in 1988, County Cork in 1991, Essex in 1994 and Devon in 1997), while February shows two records ~ one spending 19 days in the car park area at Lynford Arboretum in Norfolk and, most famous of all, the amazingly popular bird in a birder's garden at Bracknell in Berkshire, almost 30 years to the day to the Suffolk bird."
Great Spotted Cuckoo
After becoming increasingly moiré elusive as last week's review period drew to a close (seen just briefly on 18th) there was what appeared to be some sad news on 20th when local birders around Giltar Point near Tenby reported a conversation with the green-keeper at the golf course the bird had been favouring throughout its Welsh residency ~ the previous day (19th) had seen the discovery of a dead bird, grey with a long tail, which appeared to indicate that the popular first-summer Great Spotted Cuckoo had shuffled off this mortal coil.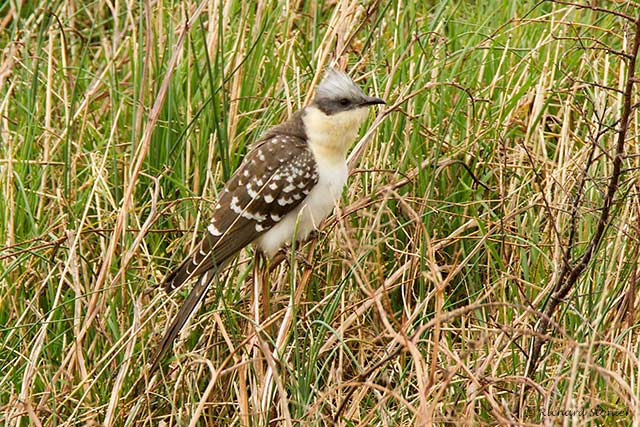 But no!
'Twas not the Cuckoo that had met his or her avian maker, it turned out that the bird that had taken the Norwegian Blue approach to life in the fast lane was actually a Magpie ~ and to prove the point, the Great Spotted Cuckoo promptly performed around the golf course across the weekend of 22nd-23rd.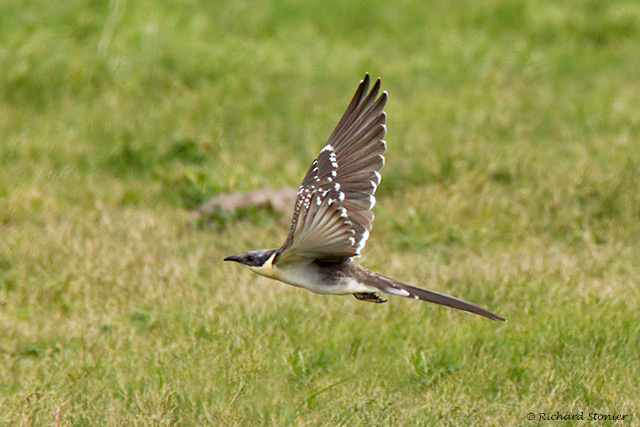 Without being too black and macabre about the matter,if Pembrokeshire's bird, the 14th Great Spotted Cuckoo recorded in March had pegged it, it would have become the fifth one to die, or be found dead, out of that particular set of records ~ it would join the deceased records from the Isle of Man (one found freshly dead there in March 1963), dead on the tideline on Dublin's North Bull Island (in March 1983) and in 1990 when the well-twitched bird at Dawlish Warren from March 20th-28th was found dead on 29th and an adult that was picked up at Sandwich Bay, in Kent, on March 29th that year. Thankfully, this year's bird hasn't joined that list just yet and let's hope that any mentioned of being deceased doesn't, errrr, put the kiss of death on it…
American Coot & Pied-billed Grebe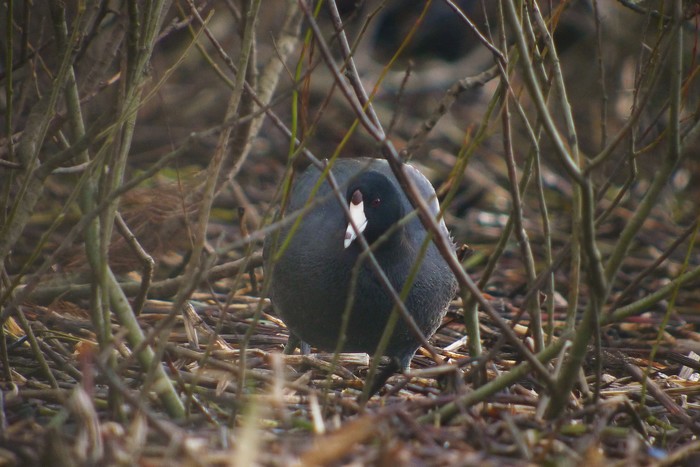 Almost inevitably now, the Highland American Coot remained in the headline news this week ~ still present to 25th and still showing no signs of departing Loch Flemington just yet, making it 79 days not out…while on the Outer Hebrides, on the waters of Loch nam Feithean at the Balranald RSPB on North Uist, the wintering Pied-billed Grebe was also in place for a few more days, present on 23rd ~ a date that sees this particular individual strolling nicely past the century mark, 107 days and counting.
After the quietest week on record where seabirds were concerned last week, we have a couple of things to report from the last seven days. On the Isle of Skye, in the Narrows of Raasay, a Little Auk was seen on 21st and the following day saw a dark morph Pomarine Skua reported past Flamborough Head (East Yorkshire).

Over on Scilly, the adult Night Heron that arrived on St. Mary's towards the end of last week was seen again on 19th-20th ~ around Lower Moors and Longstone. The latter site also recorded the first Purple Heron of 2014 too this week, one seen heading towards Pelistry on the evening of 25th.
Scotland's two solitary Glossy Ibis remained in to another week ~ on North Ronaldsay (Orkney) to 22nd and again at Kinross (Perth & Kinross) to 25th. There were no birds this week in either the northeast or the northwest, so we head down in to Nottinghamshire where singles remained at Collingham Pits to 21st and Lowdham to 23rd. In Norfolk, a Glossy Ibis popped up at Hickling Broad NWT on 20th and in Cambridgeshire at least two birds were seen on the Ouse Washes on 23rd.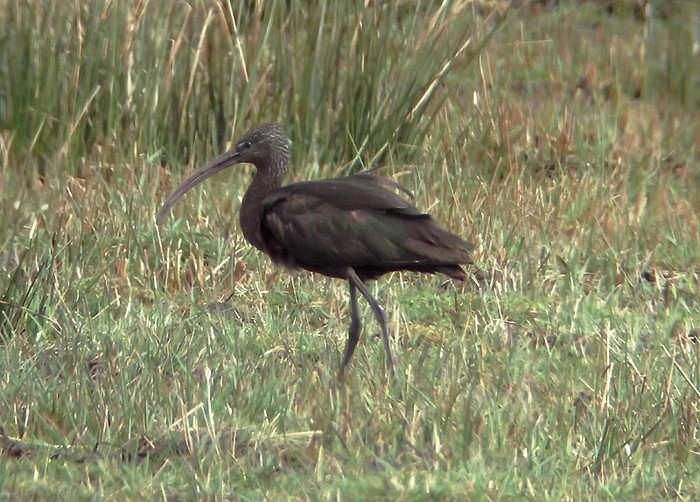 The southeast of England fared well this week ~ a minimum five birds seen in the region ~ with two again at Barnham (West Sussex) on 19th and again on 25th ~ weekend singles for Kent at Dungeness and Stodmarsh while on the Isle of Wight the bird at Adgestone was present on 22nd with the same bird moving a little way to the northeast, at Bembridge Marsh RSPB on 23rd. In the southwest, in Somerset, a Glossy Ibis was at Stolford on 22nd-23rd while Ireland's total for the week came to six ~ doubles for Armagh (at Lough Neagh on 22nd) and still in Sligo (at Ballincar to 24th) while the 23rd saw one a piece for Limerick (one again at Coonagh NR) and Wexford (one seen at Enniscorthy).
Ireland also hosted one of the week's three Cattle Egrets, sighted again from Hillsborough Park Lake (Co. Down) on 23rd (the first report since February 12th) while in Buckinghamshire the wintering bird was at Steeple Claydon to 20th at least. Another Cattle Egret was reported from Southwold (Suffolk) at dusk on 24th.
Great White Egrets managed to register around 18 birds countrywide with four birds (two twos) in Wales ~ at Wernffrwd and nearby Llanrhidian Marsh in Glamorgan between 19th-21st and at Llangorse Lake in Powys to 22nd ~ and a bare minimum five birds at three sites on the Somerset Levels (five at Meare Heath NR on 24th). Elsewhere there were singles in North Yorkshire (at Wheldrake Ings) on 22nd, in Northamptonshire (at Stanwick GPs) also on 22nd, in Norfolk at Hickling Broad on 19th, still at Cley NWT on 20th-21st, Ormesby Broad on 24th and Welney WWT on 25th while in the southeast, at least remained at Dungeness for much of the week, one was seen on the Kent/East Sussex border, at Scotney GPs, and another was a decent find in Oxfordshire, towards dusk at Farmoor Reservoir on 19th.
A minimum nine Spoonbills were around Poole Harbour (Dorset) on 21st, seen heading from Swineham GPs towards Middlebere in the afternoon, after half a dozen had been seen at the latter site earlier the same day. Three birds were still north Devon, at Wrafton, on 20th and birds were seen at three sites in Pembrokeshire between 19th-23rd (including two at Narbeth). New singles were reported from Blagdon (Somerset) on 22nd, Pennington Marsh (Hampshire) on 23rd and Sandwich Bay (Kent) on 24th, while lingering birds were at Vange Marsh RSPB and Wat Tyler CP (Essex) on 20th-23rd, Cuckmere Haven (East Sussex) and on the Isle of Sheppey (Kent) throughout the week and in Ireland still at Castle Espie WWT to 23rd at least.
Reports of Common Cranes away from their assorted breeding sites were few and far between this week ~ two were in fields near Haverhill (Suffolk) on 20th and two more headed over Swillington Ings (West Yorkshire) on 25th while lone birds were seen at Newcastle (Co. Wicklow) from 21st and at Bothal (Northumberland) on 22nd.
After two Small Cackling Geese (form minima) were reported from County Clare's Healy's Island last week, this week saw two Small Cackling Geese (the same two presumably?) reported from County Clare's Mutton Island, near Quilty, along with a Canada Goose sp. on 24th.
On the Scottish mainland, the pair of roaming blue Snow Geese popped up in the southern half of the country this week, seen with Pinkies near Netherton (Clyde) from 21st-24th. In Argyll, at Tayinloan the pair comprising an intermediate and a white bird remained to 24th as well and on Orkney, a blue Snow was again at Evie, on Mainland, on 23rd with another of the same in Angus on 25th, at the Montrose Basin.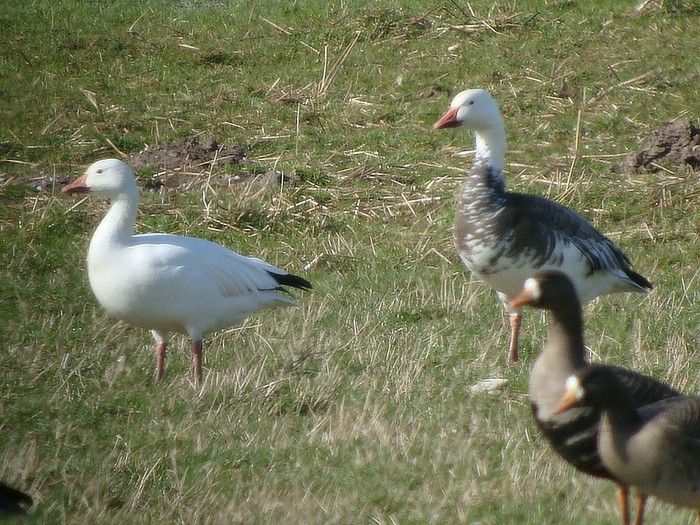 Still in Scotland and we head over to Dumfries & Galloway where the unringed Red-breasted Goose (of unknown origin) was at Mersehead RSPB and Loaningfoot to 19th while down in Dorset, another was reported in Poole Harbour, with Dark-bellied Brents, during the afternoon of 24th.
With the advancing spring drawing closer and closer, the number of Black Brants fell away to just three birds this week ~ regulars were noted on Roa Island (Cumbria) and the saltings at Stiffkey (Norfolk) (to 20th and 23rd respectively) while in Essex a new first-winter was a good find at Dengie on 24th.
The Highlands held on the drake Black Duck at Strontian throughout the week while two Lesser Scaups were also noted over the last seven days ~ in Staffordshire, the drake remained at Tittesworth Reservoir throughout the week while in Highland, the female was noted again at Alturlie Point on 24th.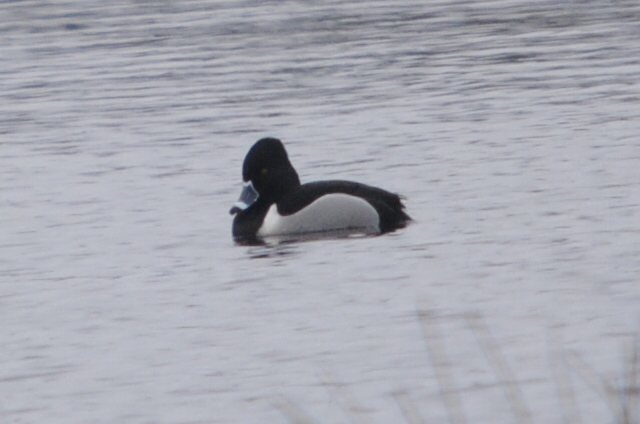 A new drake Ring-necked Duck appeared on Islay's Loch Ballygrant on 19th and single Irish drakes remained on Mayo's Carrowmore Lake to 23rd and Knockaderry Lake (Co. Waterford) to 25th. The week's only female was the regular bird on North Uist, seen on Loch Sandary also to 23rd.
Nine drake Green-winged Teals included new arrivals on Mainland Orkney, at Graemeshall, on 24th and at Kenfig NNR (Glamorgan) and Loch Gruinart, Islay (Argyll) on 25th while others were still in situ on Fair Isle (Shetland) to 22nd, at Morton Bagot (Warwickshire) to 23rd and Caerlaverock (Dumfries & Galloway), Newgale (Pembrokeshire) and Saltholme RSPB (Cleveland) all to 24th, with two at the Welsh site on 25th.
The first-winter drake American Wigeon was still on the Ouse Washes RSPB reserve (Cambridgeshire) to 19th while another remained at Reedy Flats, Lough Neagh (Co. Armagh) to 23rd.
Last week's new female King Eider found near Portnoo in County Donegal remained to 23rd while the second Irish queen of the week lingered off Blacksod in Mayo to the same date. The 23rd also saw a female King Eider still off the Lothian coast at Fidra while the lovely Shetland male was at Uyeasound, Unst to 22nd.
After several weeks of multiple Surf Scoters, the past seven days have seen a change back to singles only. An adult drake remained off the coast near Musselburgh (Lothian) from the start of the week and on 20th, the young drake was noted again in Mount's Bay (Cornwall). The wintering young female was still in Poole Harbour (Dorset) all week while in Fife, at Buckhaven, a new drake was found on 23rd.
As has been the case for so many weeks this winter, the only shorebirds of note this week were the Hampshire duo of Long-billed Dowitcher and Lesser Yellowlegs present at Keyhaven Marshes and Lepe CP to 22nd and 25th respectively.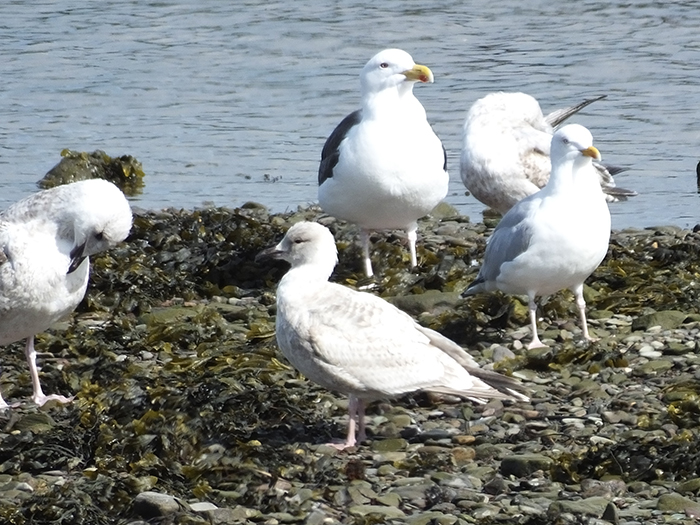 A potential juvenile-first-winter Thayer's Gull was found at Portmagee (Co. Kerry) on 23rd ~ if accepted it could become a first record for the county (to date five Irish counties ~ Cork, Antrim, Donegal, Mayo and Galway ~ have accepted records of birds thought most likely to have been Thayer's on their respective lists).
/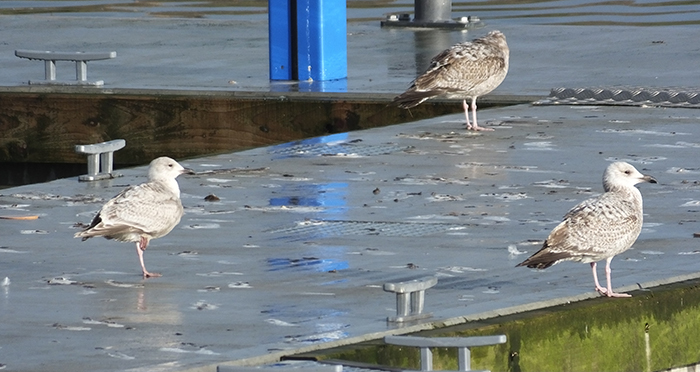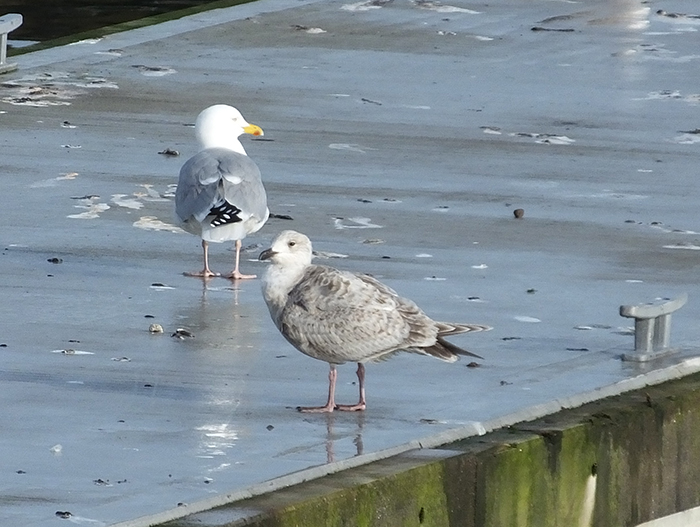 As has been detailed here during the course of the past few months, the winter of 2013/14 has been the best yet for this controversial (in all respects) species ~ birds at Cley, Killybegs, on the Gower Peninsula and on Islay all wracking up an impressive haul of Thayer's (or thayeri-lookalikes) and this week's find in Kerry can be added to that list.
Staying in Ireland, indeed staying at Portmagee for news of the continued presence of the presumed second-winter American Herring Gull, seen again there on 25th while at Mayo's Carrowmore Lake the presumed first-winter was still present on 23rd. Another was reported from Cornwall's Colliford Lake on 24th (tho' further information is sketchy at best).
County Down scored only its second-ever Laughing Gull on 23rd, seen along the beach at Groomsport, a couple of miles northeast of Bangor. The county's only other record came in the spring of 1995 when a first-year was present at Belfast Harbour Estate for over two months (from April 12th that year). It is, of course, tempting to link this week's bird to being the same first-winter Laughing Gull that spent several weeks around Ballycotton in Cork ~ the just off-of-north trajectory for a departing bird seems perfectly fine ~ and the last recorded date for the Cork bird was March 13th. In Cardiff Bay, the adult Bonaparte's Gull was seen daily between 20th-23rd.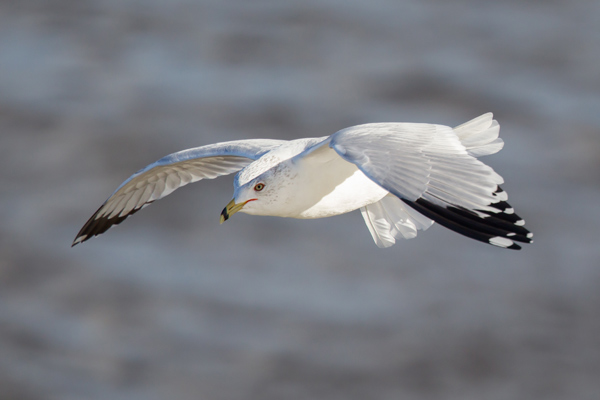 There were fourteen Ring-billed Gulls logged in Ireland this week ~ six were seen in County Cork, including three at Cuskinny Marsh NR on 23rd (a first-winter and two adults there) with further adults on Lough Aderra and in Cork City on 22nd and a first-winter again at Cork City Lough on 25th. A first-winter and adult lingered in Limerick City on 22nd and the same age-combo was still around Galway City's Nimmo's Pier to 23rd. Singles remained at Tralee Bay Wetlands (Co. Kerry) in Wexford harbour (Co. Wexford) and on the Mullet (Co. Mayo) through the week while King Eider watchers found an adult at Portnoo (Co. Donegal) on 20th.
Scotland's two single adult Ring-billed Gulls were at Newburgh (Fife) to 23rd and Dingwall (Highland) to 24th. The old-timer at Gosport was present to 22nd while the only other bird this week was an adult seen again on Blackpill Beach (Glamorgan) on 23rd.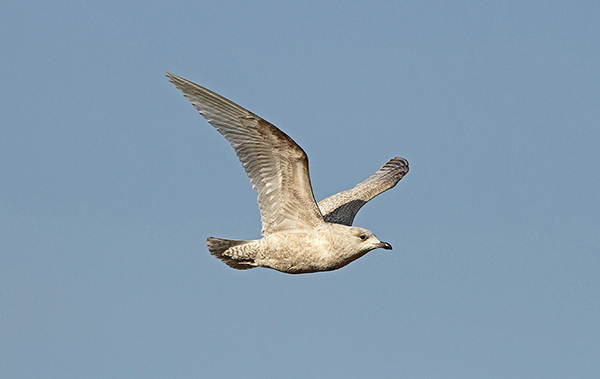 Falling away again this week were Kumlien's Gull ~ 19 recorded across Britain and Ireland over the last seven days. Scotland fared best, at least five birds seen ~ in Highland juveniles were at Achnahaird Bay and Mallaig on 25thh, when the young bird was still on Fair Isle with third-winters at Uisead Point (Argyll) on 19th and still on North Uist (Outer Hebrides) to 23rd.
Cornwall hosted at least three birds there, with a juvenile and adult at Drift Reservoir on 19th (with probably the same two around Mount's Bay and the area adjoining Drift to 24th) while another adult was found near Trevose Head on 22nd. Two birds were reported from Swansea (Glamorgan) on 23rd and 25th with new adults were found at Chew Valley Lake (Somerset) and Shirecliffe Tip, Sheffield (South Yorkshire) on 19th and the Littlehampton juvenile remained throughout the week.
In Ireland, two juveniles were at Ballycotton (Co. Cork) on 22nd and two more youngsters were on Annagh Beach, Mullet (Co. Mayo) the following day. Back in Cork, a juvenile Kumlien's was at Clonakilty on 23rd and in Wexford another juvenile was at Carnsore Point on 24th.
There were just under 60 Iceland Gulls recorded around Britain this week, 57 birds in 32 counties, with 18 birds noted in Scotland and 14 in southwest England the highest regional tallies. Up north, there were three birds in Highland and four on the Outer Hebrides while down south, up to six were noted in Cornwall with four in Somerset. Nine birds in the southeast and Home Counties included three each for Oxfordshire and Berkshire and Suffolk scored three of East Anglia's four records this week.
In Ireland, four Iceland Gulls were seen on 19th, including three at Killybegs (Co. Donegal) while four birds were seen in Kerry on 21st, including three at Reenard Point. Singles were noted in Cork, Down, Dublin and Wexford to the end of 22nd, while 23rd saw one each for Limerick and Mayo with one more for Cork and a couple more for Wexford.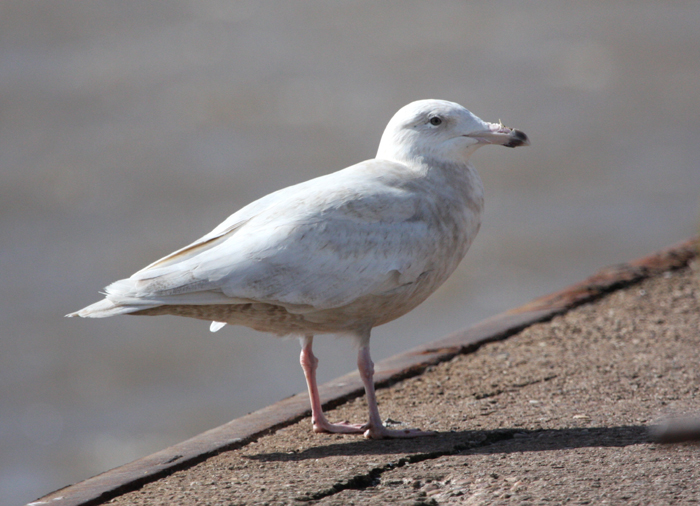 After a minimum 86 Glaucous Gulls last week across both Britain and Ireland, numbers dropped this week to around 61 birds, with 39 for the former and 24 for the latter. Top of the heap was Annagh Beach on the Mullet, where seven birds were seen on 23rd, with up to five each for both counties Kerry and Waterford through the week. Up to seven birds were noted around Shetland, while Cornwall clocked up eight with four for neighbours Devon. Singles and twos were spread widely with a tally of 21 British and seven Irish counties logging the species during the week.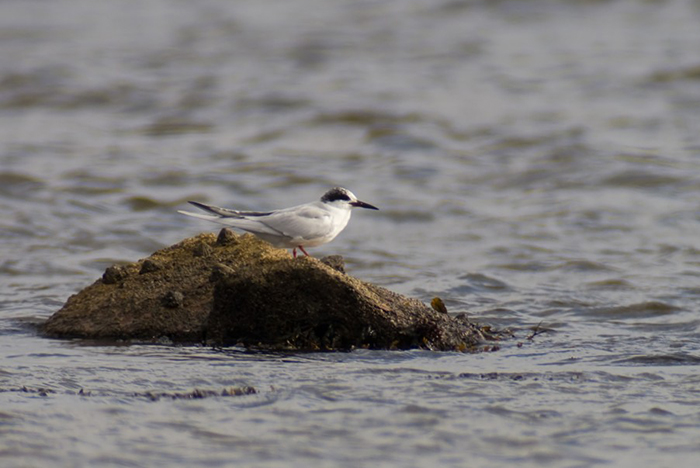 Finally, news from Galway of the reappearance of the wintering Forster's Tern that remained off the Claddagh beach, at Nimmo's Pier on 23rd-25th.
Presumed relocating White-tailed Eagles made the news in North Yorkshire and Suffolk this week ~ on the mornings of 21st and 22nd, an adult was noted at the Wykeham Forest (what a sight that must have been), while a juvenile was seen making an early morning fight over Hollesley (Suffolk) on 24th ~ surprisingly it wasn't seen again around the Suffolk or Norfolk coasts, so either made a break back over the North Sea or will appear through the spine of the country in the coming days.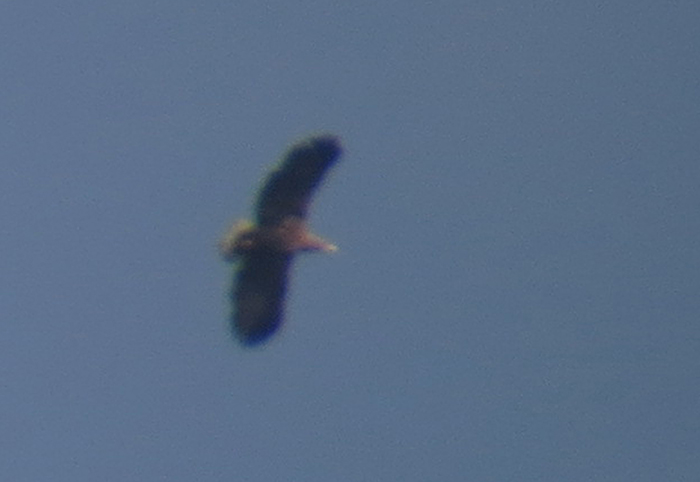 Early overshooting Black Kites were recorded at Bridgemary (Hampshire) on 20th and Dungeness (Kent) on 23rd while two Rough-legged Buzzards were reported as still present in the Waveney Forest (Norfolk) on 24th (one had been seen there at the start of the week) and two juveniles were again reported from Hameldown Tor, Dartmoor (Devon) on 23rd. Back in Norfolk, the bird seen recently at Ongar Hill, near King's Lynn remained to 19th while in Kent one was on the Isle of Sheppey, at Capel Fleet on 21st.

Hanging on for a few more days was the Ramsgate Hume's Yellow-browed Warbler, still on site until 23rd while "standard" wintering Yellow-browed Warblers remained at the Cornish sewage works at Gwennap and Ponsanooth (both to 19th), at Uffmoor Wood (Worcestershire) to 24th while a new bird was found in Bath (Somerset) on 22nd.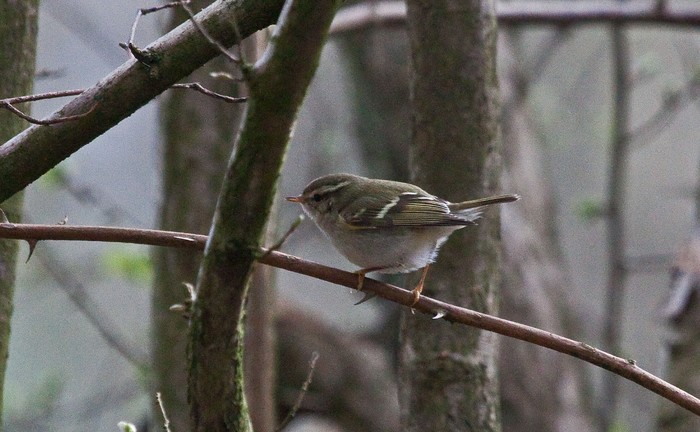 In Devon, a Richard's Pipit remained out-of-bounds at East Portlemouth to 21st and a new individual was located in East Sussex, at Newhaven Tide Mills on 24th while north Norfolk's elusive wintering bird was again at Gramborough Hill, Salthouse on 25th. Another wintering bird, the Hoopoe seen near Stranraer in Dumfries & Galloway, remained to 22nd while spring newbies were on Portland (Dorset) on 21st and on St. Agnes (Scilly) from 24th while birds left from last week were still at Lanreath (Cornwall) to 22nd and Snodland (Kent) to 25th. Another pink and black goodie was reported from private gardens on the Isle of Wight this week ~ where a Rose-coloured Starling was apparently coming to a feeding station at Wootton Bridge on 23rd.
Great Grey Shrikes remained popular, mostly in southern England where up to four were recorded in Hampshire's New Forest (at Hawkshill Enclosure, Shatterford and Ibsley Common on 19th with one at Bishop's Dyke on 24th) and two were still in Gloucestershire's Forest of Dean (at Cinderford and Woorgreens, also both seen on 19th).
Elsewhere through the week, single Great Grey Shrikes remained at Soussons Down, Dartmoor (Devon), Exford, Exmoor and Nether Stowey (Somerset), Wareham Forest (Dorset), Thursley Common (Surrey), Waltham Brooks SWT (West Sussex), Lower Bittell Reservoir (Worcestershire), Holme Fen (Cambridgeshire) and Cross Inn Forest (Ceredigion), while new were birds at New Galloway (Dumfries & Galloway) on 21st-23rd and Llyn Celyn (Gwynedd) on 24th, taking the tally to a respectable 17.
The only Parrot Crossbills reported this week were a flock of six in the Norfolk Brecks, at Grime's Graves on 19th (one a singing male apparently) and a single in Sherwood Forest NNR (Nottinghamshire) on 24th.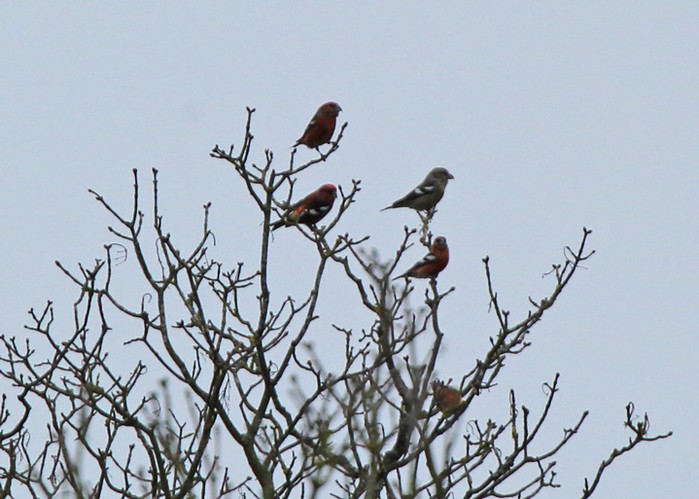 Back in the Brecks, at Lynford, a flock of four Two-barred Crossbills (two adult males, the "controversial" first-winter male and a female) were seen on 23rd with a fifth reported later the same day. Interestingly by the end of the review period, it was only the regular young male that remained…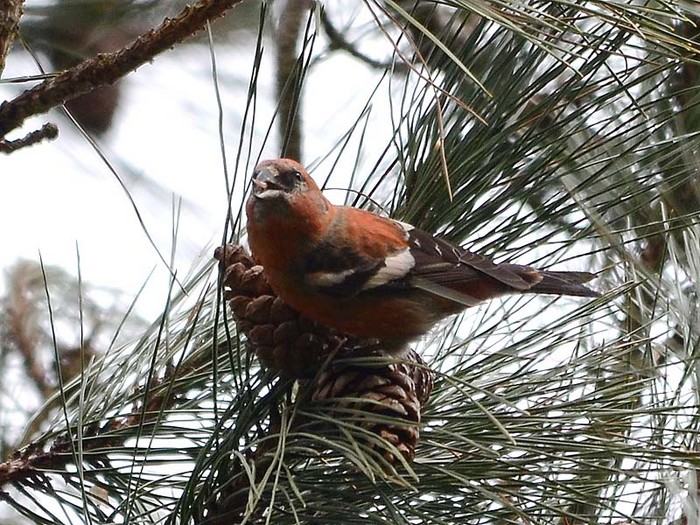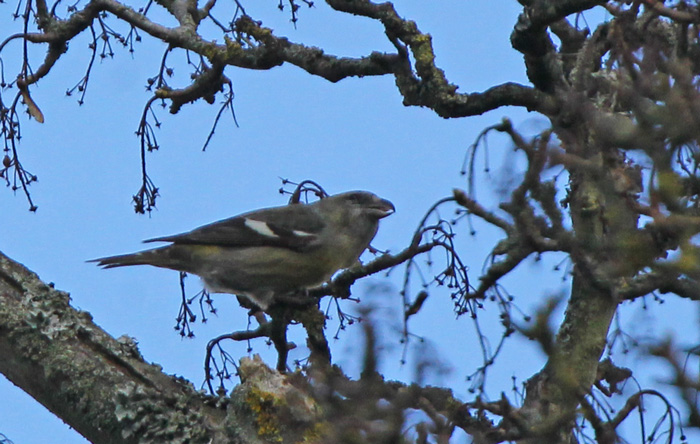 A further 15 birds were seen across the rest of the week, with six still at Broomhead Reservoir (South Yorkshire) on 21st (four of them males) and at least three were still in the Forest of Dean, at the Serridge Ridge on 23rd with three also at Buttonoak in Shropshire's Wyre Forest to the same date. Single males lingered at Broughton (Lincolnshire) to 23rd and Farnham Heath RSPB (Surrey) and Hemsted Forest (Kent) to 24th.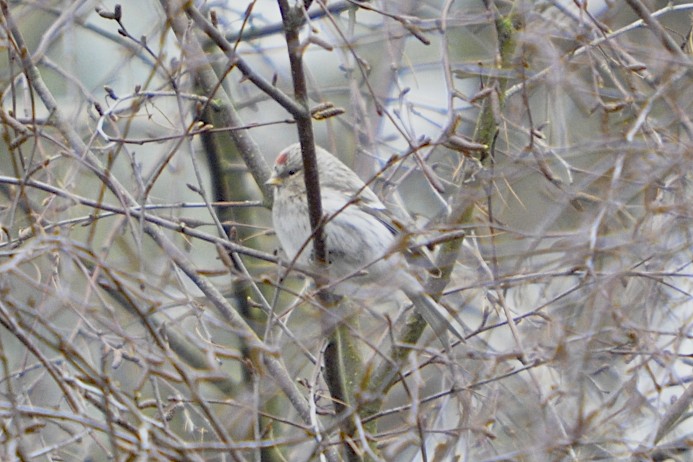 In Macclesfield, the Coues's Arctic Redpoll remained a popular draw for the birders in the northwest on and off throughout the week while overshooting Serins were seen in flight over Sandwich Bay (Kent) on 19th and singing briefly at Landguard NR (Suffolk) on 21st.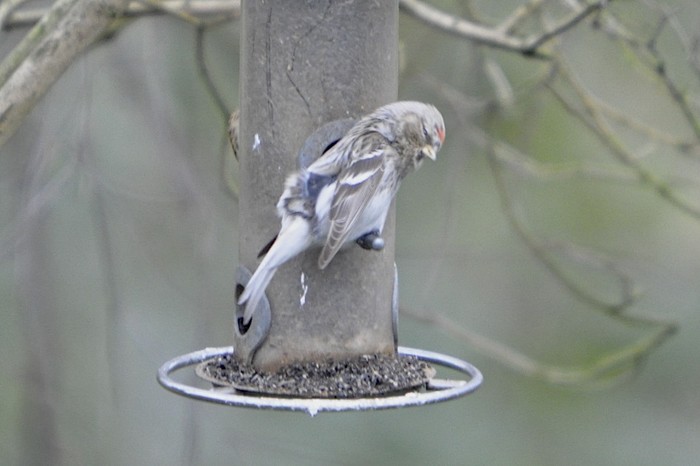 The dismal winter for Waxwings meant that only five birds were reported this week ~ four remained at Blackburn (Lancashire) until 24th and one was seen in flight over Cleveland on 21st.
It looks as though the cooling high pressure, with accompanying easterlies will keep us company (certainly along North Sea coasts for the next few days) so the chances of something like a lovely White-spotted Bluethroat increase once again as April approaches. If the weather tweaks itself to give a little boost from the south (as they say it might), those fancying a punt on a long-odds outside bet could do worse than to look to at Dorset, Kent, Essex or Suffolk for a Short-toed Treecreeper ~ two of the four March records have fallen in the period we're approaching.
Anyone wanting to find their very own Gyr should put in maximum effort in the week ahead ~ they've been recorded every day between March 26th-April 2nd, with seven on 31st and eight on 2nd.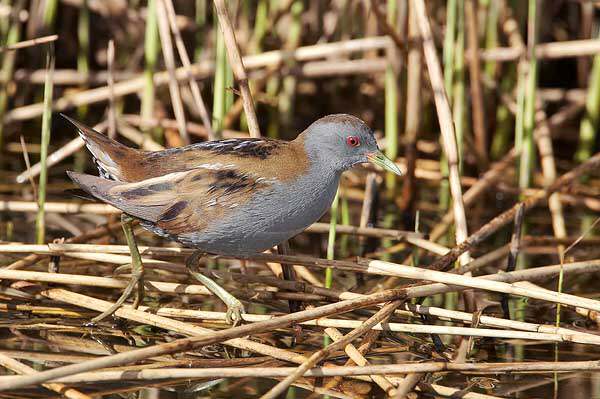 We're still in prime Little Crake time too, while those with a mind for the outrageous will remember Minsmere's male Lesser Kestrel on March 28th 2011, the reappearance of the incredible Ancient Murrelet on Lundy on March 30th 1992 and no rare fan worth their salt will forget that Britain's first Evening Grosbeak was found on St. Kilda on March 26th 1969…and with just one more since, a lingering garden bird in Highland in March 1980, we may just be on for a mega surprise as April Fools Day looms. A day which has its own little bit of history of course ~ known forever more as Belted Kingfisher Day of course…
...however, with two different Caspian Plovers in Scandinavia in the last two days of this week, well, maybe the chances of something sensational aren't so far fetched after all…
Mark Golley
26 March 2014


Thanks to this week's contributors for their photos and videos
Alan Lewis, Richard Stonier, William McBay Davie Abraham, Martin Scott, Edward Carty, Simon Knight, Gary Thoburn, Steve Duffield, Tom Gale, Patrick McDaid, Tom Cuffe, Brett Richards, Martyn Yapp, Sean Nixon, Keith Bilverstone, John Adshead, John Lee, Oriole Birding, R Harris.