Weekly round-up: 12 - 18 Mar 2014
The first-summer Great Spotted Cuckoo hangs on in Pembrokeshire
Scotland keeps hold of the Highland American Coot, the Hebridean Pied-billed Grebe and Argyll's American Herring Gull
…and we have a Savannah Sparrow hoax in West Sussex...
A curious week. A very curious week.
Plenty of birds were on offer as the weather generally remained fairly settled and favourable to more common March migrants and a few overshoots too.
Most of the action was of a wintering bent though ~ regular rarities from recent weeks remaining as popular as ever as the sun shone across much of the country and the winds hung around in the south or south-easterly direction.
As the latest review period wound down, the winds had moved back to the west and rain pushed across the northern half of the country while the south hung on to some sun and temperatures (in places) of almost 20 degrees C. Showery became the order of the day.

Savannah Sparrow
The dribble of early, early summer migrants continued throughout much of the week, with a change in wind meaning even that the dribble eased to a little bit of spittle by the end of the weekend but it could have been so different if some mega news early in the review period had been the real deal…
...yes we begin with another sorry incident that seems to becoming something of a modern day scourge in British birding (though it is far from being a new phenomenon)…the hoax complete with an accompanying photo to go with it.
It all started with a "who'd have thought it" moment on a delightful (on the east coast at any rate) lovely, placid, calm sunny Thursday. A moment that suddenly turned into a tranquil morning into a morning of mini-turmoil and general exclamations along the "WTF!" route.
…the species in question may not have been quite in the same bracket as the wintering Lincoln's Sparrow in Iceland of late, but what was being reported as British mainland's second Savannah Sparrow was definitely going to cause no little consternation, especially as no one, no one had seen it coming…
Early in the tumult, little was known other than the bird had been seen at Lancing, in West Sussex, by an apparently reputable observer at some point during the previous day ~ the 12th ~ so the chasing pack was already behind the game (and the sage, more-learned observers began, immediately, to smell a rat).
It then emerged that one image of the bird was in the public domain, via social media outlets, and there was no question that we were looking at a rather snazzy looking Savannah Sparrow. The location was also known now too, just north of Lancing at Lancing Ring LNR, so there was more to go on as the clocked ticked along to 9.30am…but as the clock ticked by, the early arrivals drew a blank. And continued to do so…
Closer inspection of the rather decent image quickly saw those early rat-sniffers getting an even more hefty rodent whiff wafting towards their noses and assorted birders with a knowledge of all-things barbed wire sussed that the type of two-pronged wire in the shot was only-ever available for purchase in North America.
Rumbled online, assorted social media accounts tumbled from view quicker than a pack of cards in a brisk nor'wester. The fun had been had, he'd been rumbled on site too by all accounts but not before a whole bunch of people had arrived in Sussex or were en route to the south coast. Time, effort and money wasted…
Real, bona fide Savannah Sparrows muster three birds to date here. The first British record, the famous "Ipswich" Sparrow was found at Portland Bill in Dorset in April 1982. Seen to fly in off the sea, this pallid form of the species (breeding on Sable Island, off the coast of Nova Scotia it was, once upon a time, split from Savannah but has been lumped for many years now) spent six days on site, singing occasionally from the limestone blocks that pepper the area and was last seen on April 16th.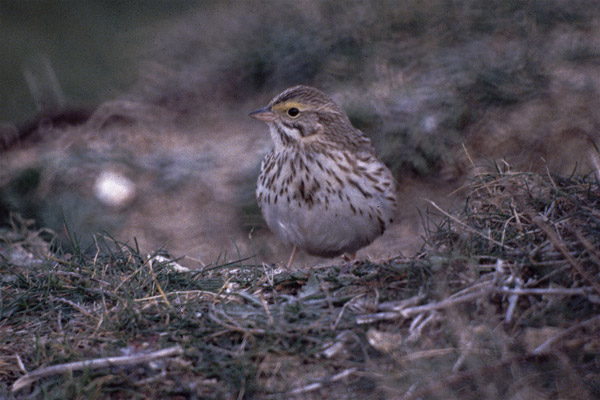 The second and third British records both occurred on Fair Isle. The first of them spent two days on the island from September 30th-October 1st 1987 and the third appeared there on October 14th 2003 (with some birders getting a monster listing Brucey Bonus ~ in the delicious shape of a first-winter female Siberian Rubythroat ~ halfway through the bird's six day stay).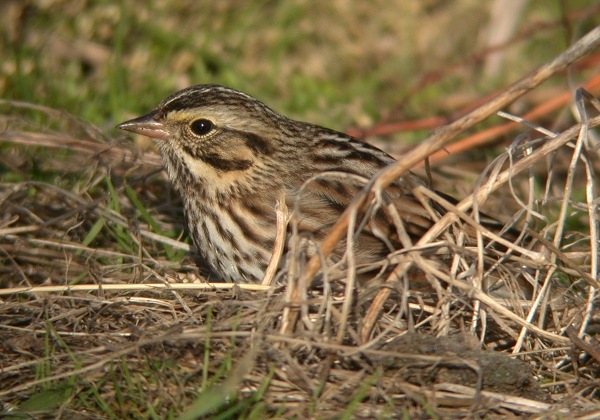 For now, we'll keep the rest of the sandwichensis powder dry, until the next one. The next non-hoax one that is…
Great Spotted Cuckoo
Back in the real world, Pembrokeshire's delightful first-summer Great Spotted Cuckoo remained near Tenby, at Giltar Point throughout the weekend to 17th (with a brief adjournment during the day on 15th and a brief report on 18th).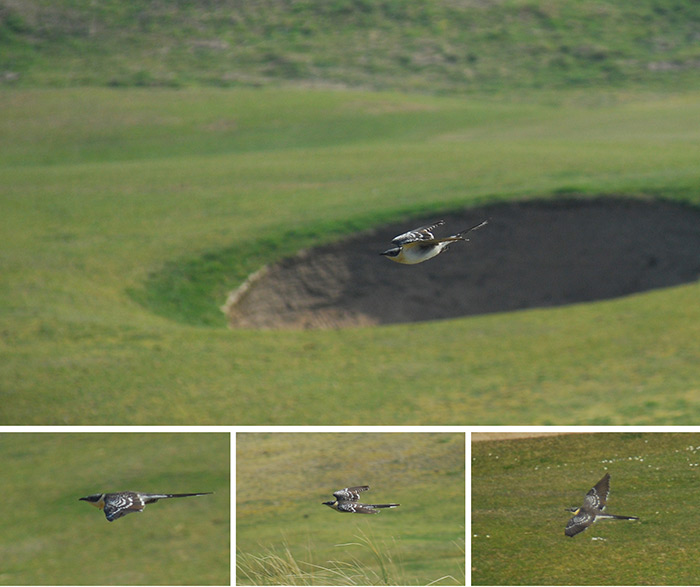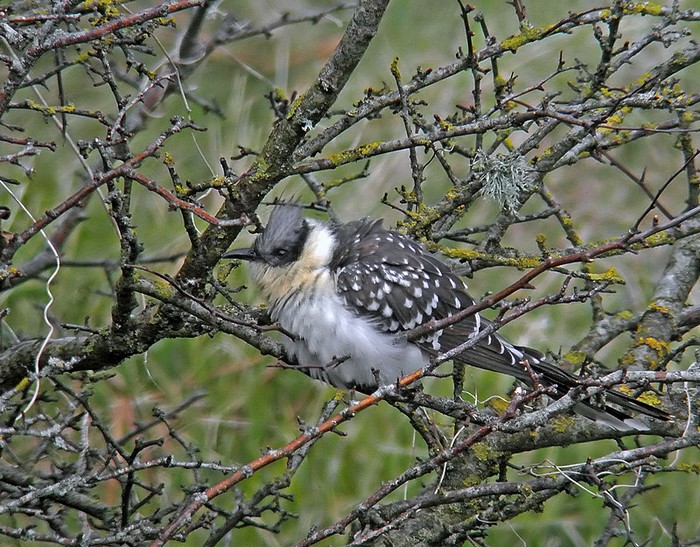 Eight of the 13 March Great Spotted Cuckoos to date have been one-day birds, while the only birds to hit a double figure stay were the individuals around Crows-an-Wra in west Cornwall in 2009 (16 days for that one, but it was missing for most of those…) and a definite 22 days for the Scilly bird (on St. Martin's) in 1993.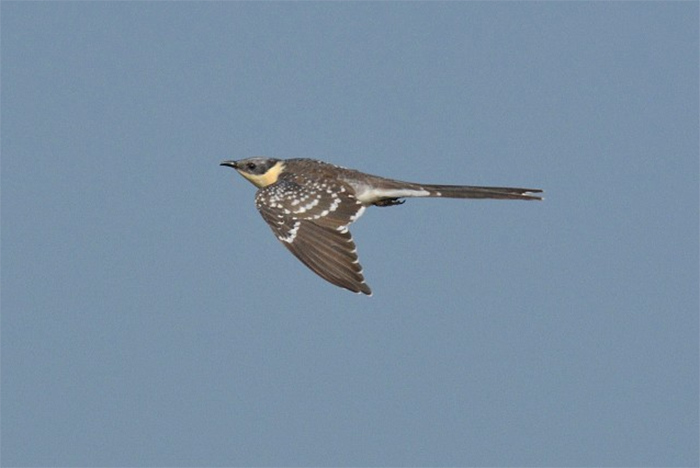 American Coot, Pied-billed Grebe and American Herring Gull
Scotland's continuing grasp on the best-of-the-rest was as strong as ever this week ~ the still-popular American Coot remained at Loch Flemington, in Highland, to 18th (clocking up a 72nd day in the process). Another waterbird that was still showing no signs of departing just yet was the Pied-billed Grebe that lingered at Balranald RSPB, North Uist (Outer Hebrides) to 18th while in Argyll the super first-winter American Herring Gull continued to entice birders to Campbeltown but the bird was a little less easy to predict than last week ~ though it did appear sporadically through to 15th at least.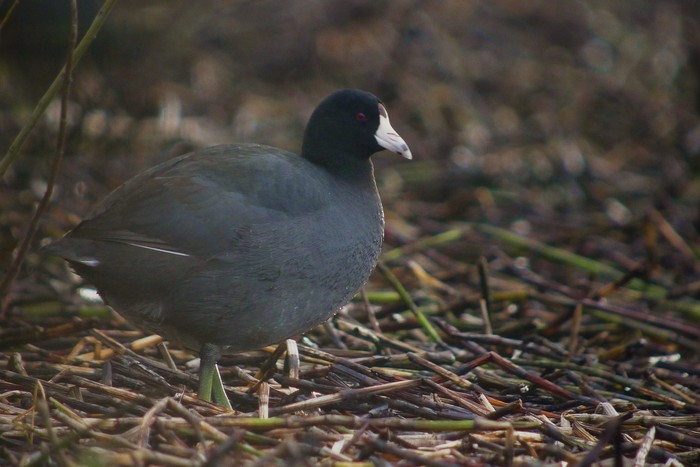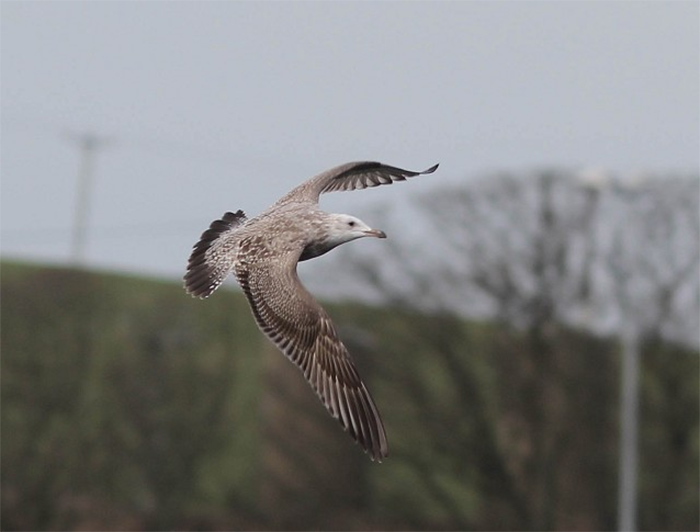 There was also belated news too from Donegal where at Killybegs another new first-winterAmerican Herring Gull was seen on 11th.
It seems to have been one of the quietest weeks off recent times out to sea this week ~ as the end of the weekend drew close, there wasn't a single seabird of note to report…

With a brief pulse of warmer air wafting a way towards southern England, it was nice to see that one of the easier to predict mid-March overshoots did just what was hoped of it ~ an adult Night Heron making landfall on Scilly, heading over Hugh Town on St. Mary's during the late afternoon of 17th and seen again towards duck the following day around Lower Moors. Hopefully this may be the first of many…
Across Britain and Ireland this week the Glossy Ibis scores-on-the-doors were 13-in-12 for the former and 7-in-5 for the latter…
On Orkney, the lone bird remained on North Ronaldsay to 17th and in Perth & Kinross, at Kinross, last week's county mega reappeared on 14th (having last been seen there on 9th). County Durham's birders saw the chance to enjoy this increasingly more regular species with the arrival of a new bird at Middleton St. George on 13th while in Cleveland, another was seen heading over Saltholme RSPB on 15th.
In the northwest, a lone Glossy Ibis flew over the motorway at Stanlow on 16th while Nottinghamshire saw at two birds at large in the county this week ~ one remained at Lowdham to 18th with another present at Collingham Pits and then Longford Lowfields RSPB between 14th-18th. Two singles were logged in East Anglia ~ at Lowestoft (Suffolk) on 12th and on the Norfolk side of the Ouse Washes on 15th while southeast England saw birds linger at Adgestone (Isle of Wight) and Dungeness (Kent) to 14th and 15th respectively.
Celtic birds came along in the form of one at St. Ishmael's (Pembrokeshire) on 15th and in Ireland, their seven birds were divided across five different counties with two in Derry, near Newbuildings on 12th and two more still at Ballincar (Co. Sligo) on 13th. Single Ibis remained at Callinaferry (Co. Kerry) between 13th-15th and Timoleague (Co. Cork) to 15th while new was one at Coonagh NR (Co. Limerick) on 14th ~ though that was day 8 of the bird's stay). Cornwall also clocked one up on the clock too ~ seen at Gillan Creek on 16th.
In Buckinghamshire, the Cattle Egret was again at Steeple Claydon on 12th and then at Calvert Lakes on 15th and 17th. Numbers of Great White Egrets took a bit of a mid-March tumble ~ after 26 or more last week, in 17 counties, numbers fell to 17 birds in 11 counties through the last week.
Three were seen at Ham Wall RSPB (Somerset) on 12th with one at nearby Shapwick Heath NNR the following day and another at Greylake RSPB on 18th. In Kent, at Dungeness, two were present on 12th while three singles were seen in Norfolk ~ along the Yare Valley (at three sites, Buckenham Marshes, Strumpshaw Fen and Surlingham) on 12th, again around Cley NWT on 14th and still at Ongar Hill, near King's Lynn on 18th. Regular lone birds remained in Northamptonshire, Lancashire, Cheshire and Powys while singles were also recorded near Melbourne (East Yorkshire) on 12th, at Wheldrake Ings (North Yorkshire) on 13th and again in Aberdeenshire, at Loch Davan, on 12th, 15th and 18th and back along the Pocklington Canal (East Yorkshire) on 17th.
Spoonbills saw a hefty drop in numbers, mainly due to the fact that no big flocks were noted in Dorset…the southeast of England was leading the pack with half a dozen birds ~ three were at Selsey Bill (West Sussex) on 13th while singles were at Cuckmere Haven (East Sussex), Titchfield Haven NNR (Hampshire) and Wat Tyler CP (Essex). Five birds in East Anglia included three at Minsmere RSPB (Suffolk) on 13th with singles the same day along the north Norfolk coast at Cley and Titchwell while further north, one remained at Grainthorpe (Lincolnshire) to 17th. Six birds were seen in southwestern England, with just one was reported from Poole Harbour, at Brownsea Island on 16th with two over Christchurch Harbour (Dorset) on 17th. Further to the southwest, a Spoonbill was seen at the Walmsley Sanctuary CBWPS (Cornwall) from 13th-16th and two were near Velator (Devon) on 13th-17th.
At least three singles were recorded in Wales this week ~ at Newport Wetlands (Gwent), the National Wetlands Centre WWT (Carmarthenshire) and in Pembrokeshire on the Gann Estuary on 13th, on Skokholm on 14th and then at Dale on 16th-18th. Ireland's sole Spoonbill remained at Castle Espie WWT (Co. Down) to 17th.
Common Cranes were thin on the ground too this week ~ one was reported near East Chevington (Northumberland) on 13th, two were seen near Horsey (Norfolk) on 15th and one was also noted at Sandwich Bay (Kent) on 16th.
On the far western tip of Ireland at Healy's Island in County Clare, three Small Cackling Geese (the rare form minima) were reported on 12th with two still present amongst the Barnacle Geese there the following day.
Genuine minimas remain the most highly prized of all the species-in-waiting that lie with the vagrant Canada Goose/white-cheeked goose complex and there's no little confusion given that some refer to the annual-in-small-numbers form hutchinsii as a Cackling Goose too…
…talking of which ~ a lone Richardson's Cackling Goose was still being seen in Sligo this week ~ this time at Ballintemple on 16th and on the Mullet, a Canada Goose sp. was noted again on 18th. The same date also saw the Todd's Canada Goose reported again from Drumlemble (Argyll).
Far easier to wrap your head around are Snow Geese but this week saw just four birds noted ~ the now-popular pair of one intermediate and one white bird that were still on station at Tayinloan (Argyll) all week and the two white birds again at Loch of Strathbeg (Aberdeenshire) on 18th.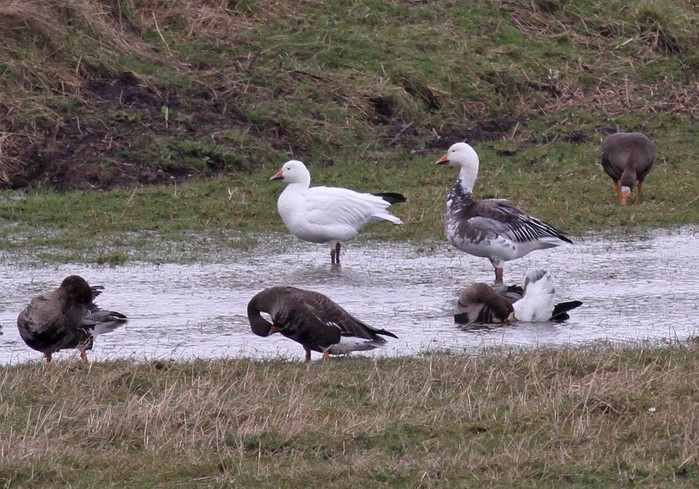 The new review period began with single Black Brants at Gibraltar Point (Lincolnshire) and at Ventry (Co. Kerry) and was followed by regulars at Roa Island (Cumbria) on 13th and on the Serpentine, Cley (Norfolk) on 14th with perhaps the Gib Point bird moving along to Frampton Marsh RSPB on 15th. The week concluded with two Brants reported at Ongar Hill (Norfolk) on 18th.
Quite what's going on with Red-breasted Goose in Dumfries & Galloway is anyone's guess but after an unringed, presumed wild, bird was seen at Loaningfoot at the end of last week, the new week began with the usual yellow-ringed escape in place on 12th-13th before it and the unringed bird both appeared at Mersehead RSPB on 15th (with the unringed bird again at Loaningfoot later the same day).
The drake Black Duck was still on the garden pond at Anaheilt, Strontian (Highland) to 15th while the only Lesser Scaup noted was the lingering drake at Tittesworth Reservoir (Staffordshire) to 15th.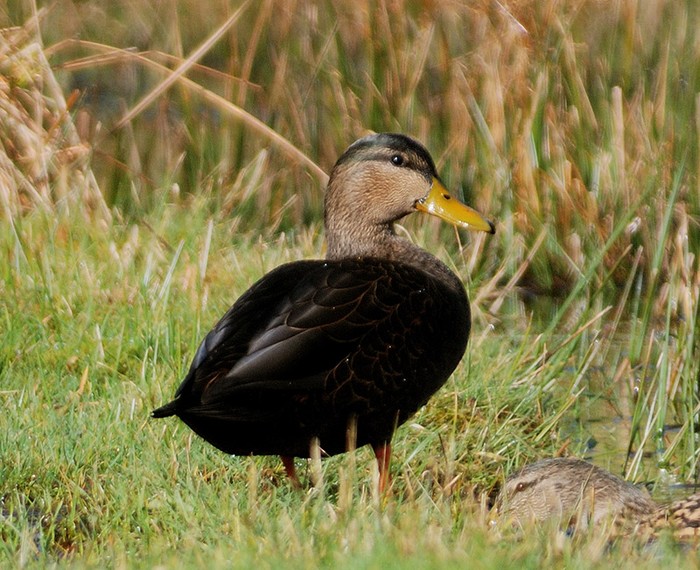 Single drake Ring-necked Ducks were noted at Loch o' th' Lowes (Ayrshire) on 12th and still at Ross Castle, Killarney (Co. Kerry) on 13th-14th while the female was still present on Loch Scaraidh, North Uist (Outer Hebrides) to 12th.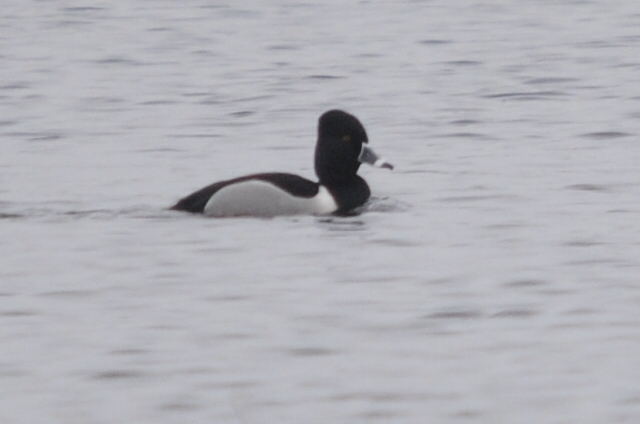 Despite numbers of Green-winged Teals falling below double figures for the first time in a wee while, the nine birds that were reported did include three new finds, two on 16th. Newbie #1 was at Fen Drayton RSPB (Cambridgeshire) with newbie #2 coming along at Morton Bagot (Warwickshire), the latter still in place until the end of the week, while Newbie #3 came along to Fair Isle (Shetland) on 18th. Otherwise it was as you were for singles in Scotland ~ at Mossblown (Ayrshire) to 13th and Caerlaverock (Dumfries & Galloway) to 16th, in Wales ~ at Newgale (Pembrokeshire) on 15th-16th, elsewhere in England ~ at Dungeness RSPB (Kent) to 12th and Saltholme RSPB (Cleveland) to 18th and in Ireland ~ at Blanket Nook, Lough Swilly (Co. Donegal) to 16th.
Cambridgeshire's first American Wigeon in over seven years (a first-winter drake) was found on the Ouse Washes RSPB on 14th and showed across the weekend for good measure. The last county record was a drake that wintered at Barleycroft GPs in 2006~'07. On the Outer Hebrides at Loch Borinish, South Uist the drake American Wigeon was seen to 12th and the drake at Udale Bay (Highland) was seen to 14th.
It is a rare winter when queens trump kings but that's precisely what's happened for much of the winter we're slowly emerging out of currently ~ and this week was no exception as female King Eiders continued to dominate ~ singles still off Yellow Craig CP (Lothian), Ruddon's Point in Largo Bay (Fife) and Cahermore (Co. Cork) throughout much of the week with a new female being discovered at Nairn Strand (Co. Donegal) on 17th ~ only the 10th for the county and, assuming a young drake seen in May 2012 is accepted, only the second in the Donegal since 1982 ~ while a lone drake was noted at Uyeasound, Unst (Shetland) on 15th-17th.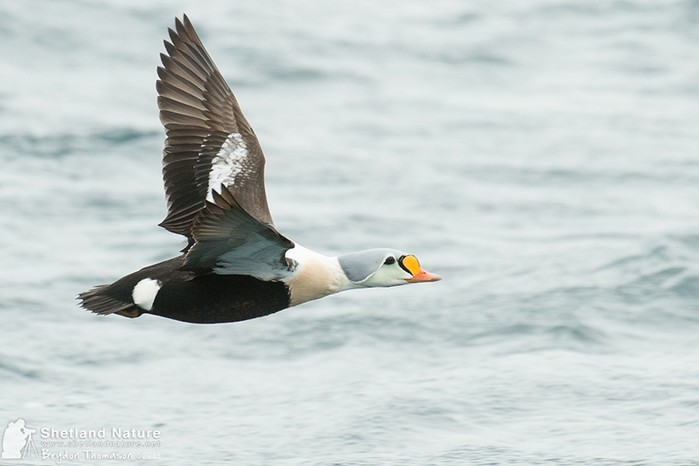 In Conwy, off Pensarn four adult drake Surf Scoters remained to 15th (with a drake again off Llanddulas on the same date) while further loners were still off Fisherrow, near Musselburgh (Lothian) and in Largo Bay at the start of the week while younger males loitered at Courtmacsherry (Co. Cork) to 15th and in Mount's Bay (Cornwall) to 17th.
Hampshire's wintering Nearctic shorebird double-act ~ the Lepe CP Lesser Yellowlegs and the Keyhaven Marshes Long-billed Dowitcher remained to 16th and 18th respectively and were the only waders of any note for the week.

It has been a quieter week for many groups this week and that was certainly the case for the gulls too ~ numbers dropping again as spring started to crawl towards us.
In County Cork, at Ballycotton the first-winter Laughing Gull was seen on 12th-13th while in south Wales, the adult Bonaparte's Gull was seen at Cardiff on 16th.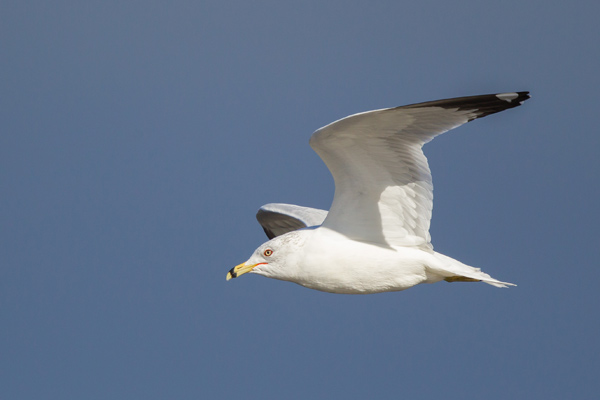 Ireland managed 11 or 12 Ring-billed Gulls in eight counties this week with two adults at Blennerville (Co. Kerry) on 12th and 17th, a first-winter and an adult were still at Nimmo's Pier (Co. Galway) on 15th and two single adults were seen in County Cork, one at Cuskinny Marsh on 15th with the other at Lough Aderra on 16th. Elsewhere, single adults were noted in counties Antrim, Dublin (probably two birds there), Louth, Waterford and Wexford ~ all of them winter regulars, with one also still on the Mullet (Co. Mayo) on 18th.
Two different adults were noted as "still present" in Scotland this week ~ at Dingwall (Highland) to 13th and at Newburgh (Fife) to 16th. Gosport's adult was around to 18th while in Wales a new adult was located in flooded fields at Llanrhystud (Ceredigion) on 15th and on the expansive sands of Blackpill Beach (Glamorgan), an adult was again seen on 16th.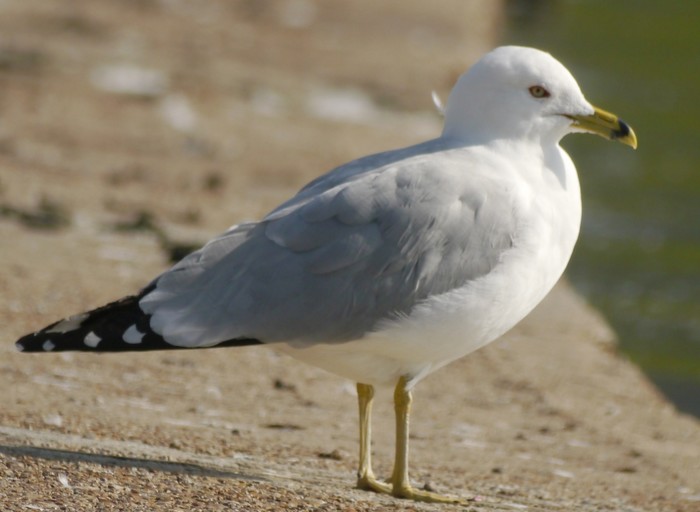 Numbers of Kumlien's Gull fell by half from last week's total ~ "just" 20 noted across the past seven days with 12 of those in Ireland. Up to four juveniles were seen in County Kerry (at Ventry, Dingle, Rossbeigh and Cahersiveen) and there were four birds for Cork (at Ballycotton, Kilkeran Lake, Garryvoe and Timoleague) and three for Clare (a juvenile and adult at Moveen, near Kilkee on 16th and a third-winter at Carrigaholt on 14th). Ireland's final birds were a lingering juvenile at Wexford's Carnsore Point and another youngster on Annagh Beach (Co. Mayo) on 18th.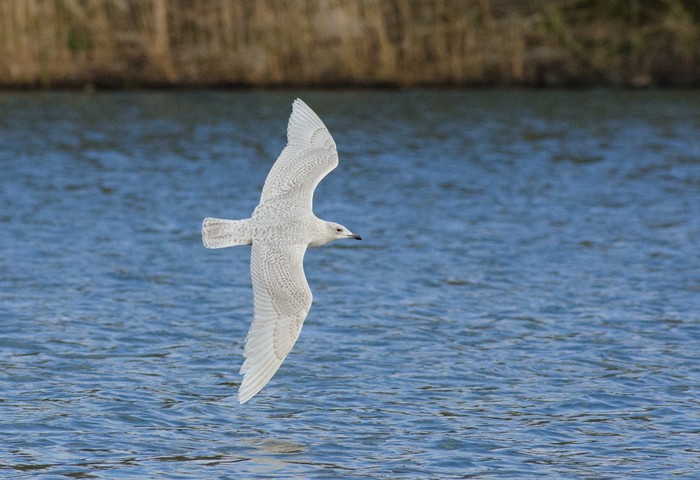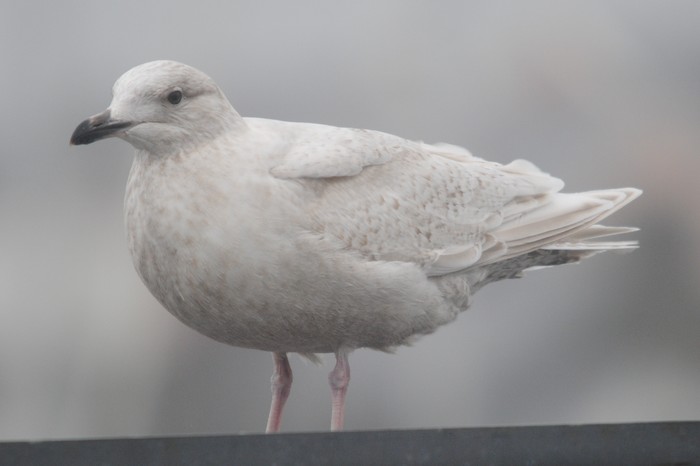 Four singles were seen around Scotland, a juvenile remained on Fair Isle (Shetland) to 18th and the second-winter at Loch Ryan (Dumfries & Galloway) was observed to 14th while others were a juvenile was noted at Stornoway on Lewis (Outer Hebrides) and a third-winter was found at Campbeltown (Argyll) on 18th. Two singles were in Cornwall as well, a juvenile at Sennen Cove on 14th and the adult again in Mount's Bay on 16th. The only other birds this week were a juvenile near Swansea (Glamorgan) on 17th while the juvenile that remained at Littlehampton (West Sussex) all week.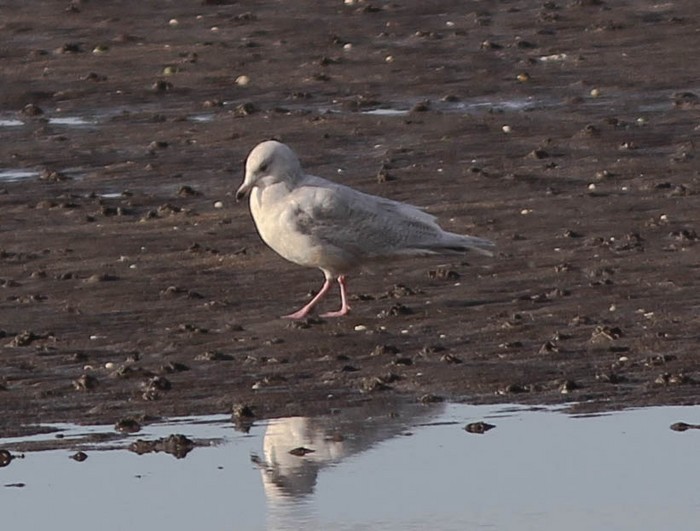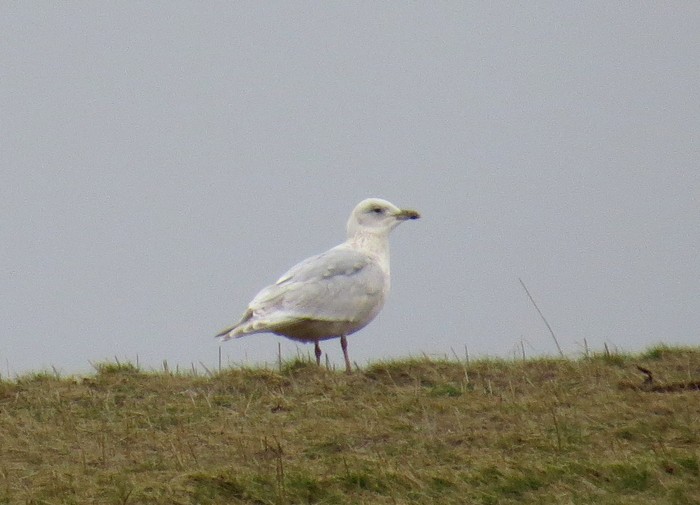 Scotland fared best of all where Iceland Gulls were concerned this week, 25 birds in seven counties including five at Campbeltown (Argyll) on 15th and four (from an overall Hebs tally of seven) in Stornoway Harbour on Lewis on 13th. A seasonal spike of up to 11 birds was noted in East Anglia, including perhaps as many as five different birds in Suffolk (with two in the roost at Great Livermere on 15th) while the southeast saw eight birds noted, including three in floods found straight outta Compton (Berkshire) on 17th. The southwest logged double figures again, around a dozen in four counties with five for Cornwall and four for Dorset, while three were six in the northeast, four for the northwest, three in the Midlands and only eight across Ireland.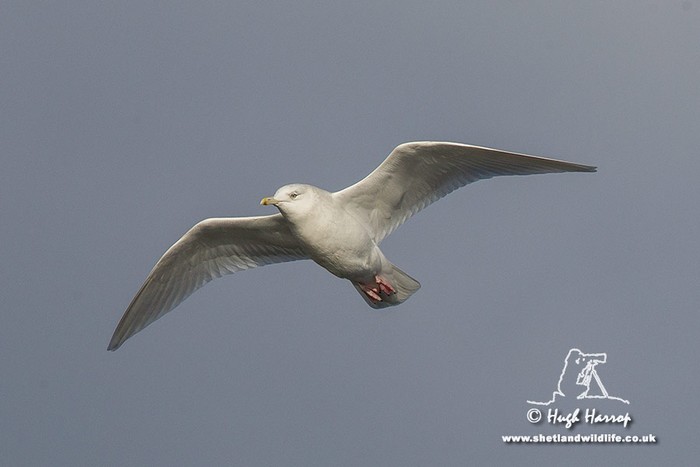 Along with a little rise in the number of Icelands, the week also saw a slight rise in the number of Glaucous Gullsreported ~ 86 in all (up from 75 or so last week) with Scotland again faring best ~ 32 logged with as many as 13 still on the Outer Hebrides, with four near Kyles Paible on North Uist on 16th the highest count of the week. Shetland managed up to 12 birds while Cornwall registered five of southwest England's seven birds. East Anglia and the southeast had five each and there were four in the northeast. In Ireland 27 birds were recorded including seven around Annagh Beach, on the Mullet, on 18th and half a dozen in County Cork (three of those at Cahermore on 15th) and there were also three at Waterford's Helvick Head on the same date.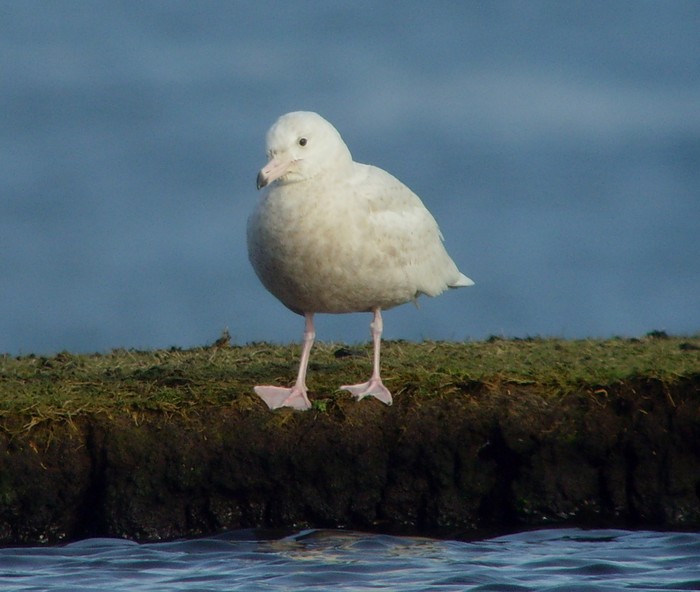 A Rough-legged Buzzard was seen heading over Sandwich Bay (Kent) on 12th and was followed by singles reported at Tibshelf (Derbyshire/Notts border) and then Rufford (Nottinghamshire) on 14th and at Edgefield (Norfolk) on 16th. The same date also saw two birds reported from Devon's Hameldown Tor on Dartmoor ~ still a very rare bird in the southwest ~ and there was an unconfirmed report of two more at Burnham Overy (Norfolk) on 18th while the recent bird in west Norfolk, at Ongar Hill, was still present on the same date.

We'll start off the passerine section with news of two wintering rarities that have proved somewhat elusive this week. In the West Midlands, the Dusky Warbler found at Great Barr, on the edge of Birmingham in late February was seen again in gardens with no public access on 17th (it was last noted on 9th) while in Cheshire, in Macclesfield, a suitably pug-faced Coues' Arctic Redpoll that first appeared on garden feeders sometime last week was seen again on 13th and then again on 16th ~ it could become one of the first county records since 1996 if accepted (and possibly only the third-ever for Cheshire).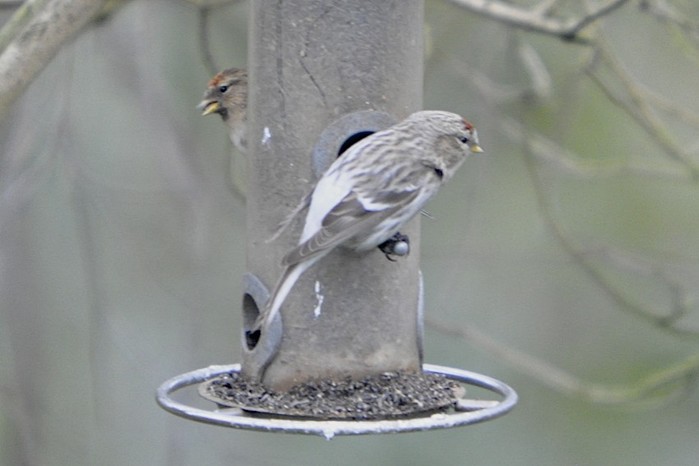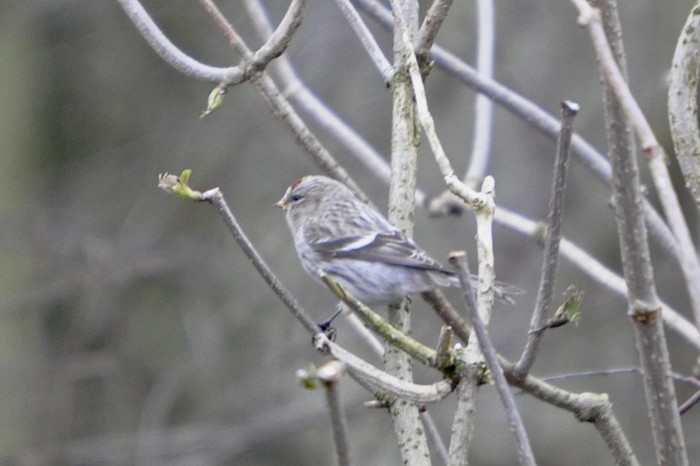 Whilst we're in winter finch-mode, we'll break with tradition to mop up the week's Loxia news here ~ or lack of it where Parrot Crossbills are concerned…one was reported as being present again at Kent's Hemsted Forest on 14th, four were reported in the woods at Sheringham Park (Norfolk) on 16th when two probables were reported from Buttonoak, in the Wyre Forest (Shropshire) and up to three have been reported as being present "recently" in the Budy area of Nottinghamshire. But there's been barely a peep of anything from Edgefield this week ~ are they finally all gone or are they just nesting?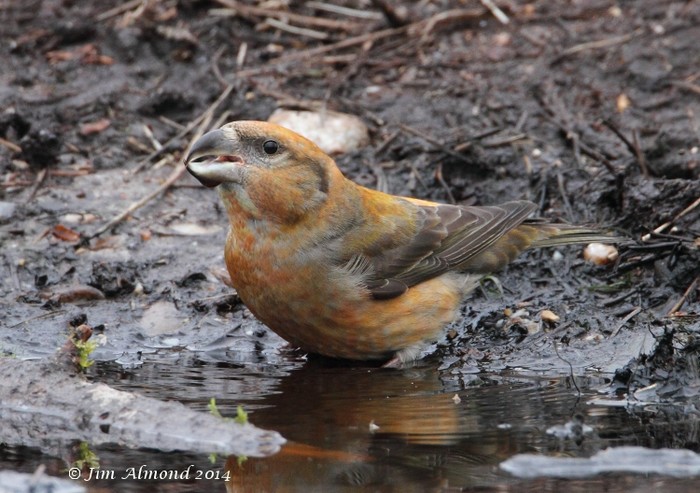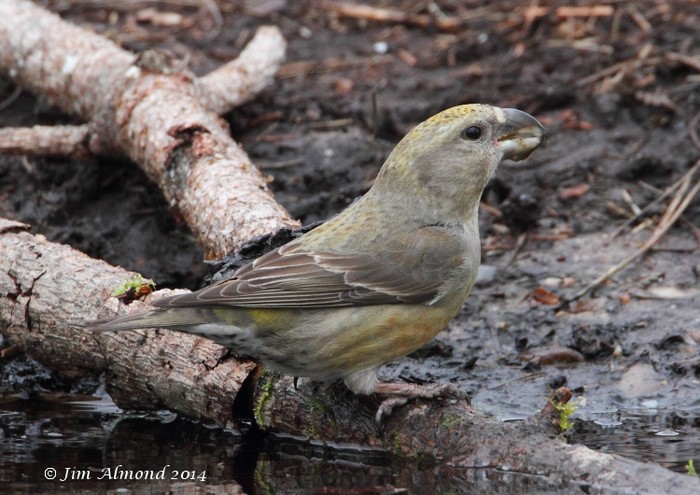 Two-barred Crossbills continued to be a significant draw this week, single males still in place at Farnham Heath RSPB (Surrey), Hemsted Forest (Kent) and Broughton (Lincolnshire) ~ all to 16th at least ~ and the lone female was again at Leith Hill (Surrey) from 16th-18th. The male in Surrey was observed courtship feeding a female Common Crossbill on 18th ~ what happens next remains to be seen…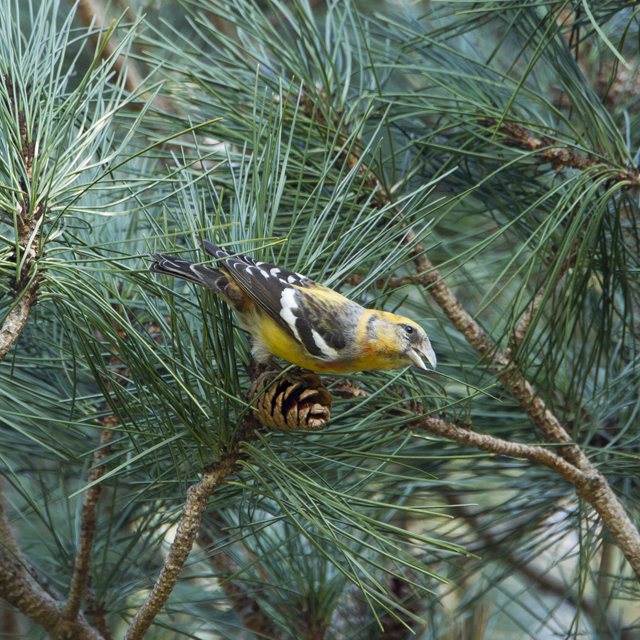 The 15th saw five birds noted at Broomhead Reservoir (South Yorkshire) while the flock in the Serridge Ridge area of the Forest of Dean saw a peak of 14 on the same date (a very tidy number this late in the winter) and later the same day in the Forest, near Cinderford, 10 birds were seen at Kensley Lodge. In Shropshire, at Buttonoak, four birds (including two males) were present on 16th with six at Broomhead on 18th.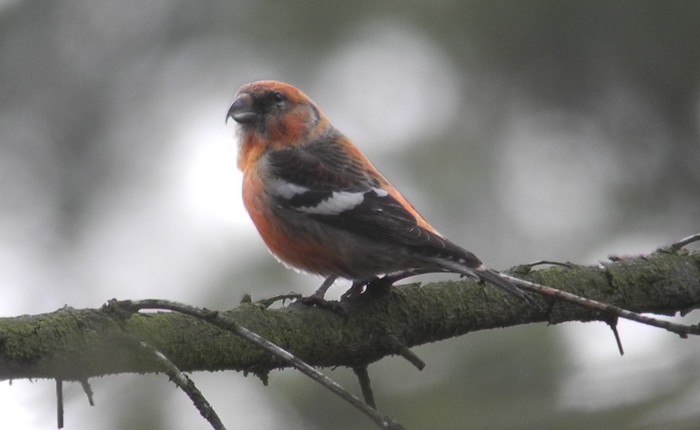 More wintering birdy-beasties this week came in the shape of two of the recent trio of Hume's Yellow-browed Warblers still being present, both of them in Kent (at Dungeness to 12th and Ramsgate to 14th) while Yellow-browed Warblers were recorded again at Gwennap (Cornwall) on 12th and Bruton (Somerset) and Uffmoor Wood (Worcestershire) to 16th.
Two Richard's Pipits were noted, one was found near Sheringham (Norfolk) on 12th and another was again at Keyhaven Marshes (Hampshire) on 16th and 18th. A Hoopoe seen near Stranraer (Dumfries & Galloway) on 14th had actually been present all winter, having first been seen in November 2013, while spring migrants from 2014 were seen at Ballycotton (Co. Cork) to 12th, at both Porthcurno and Polgiiga (Cornwall) on 13th ~ the latter bird presumably accounting for the bird nearby on 15th-16th) and still on Lundy (Devon) and again at Snodland (Kent) on 16th (with two on Lundy on 18th). In west Wales last week's surprisingly early arriving Wryneck was still at St. Brides (Pembrokeshire) to 13th.
At least nine Great Grey Shrikes were logged on 12th ~ two in the Forest of Dean (at Great Rissington and near Cinderford) and singles still at Soussons Down, Dartmoor (Devon), Nether Stowey (Somerset), Wareham Forest (Dorset), Ibsley Common (Hampshire), Lower Bittell Reservoir (Worcestershire), Holme Fen (Cambridgeshire) and Thorne Moors NNR (East Yorkshire).
Wales recorded several birds through the week, on 13th birds were at Cross Inn Forest (Ceredigion) and, new, at Lake Vyrnwy RSPB (Powys). The following day saw one appear at Crynant Forest (Glamorgan) with a second in the county at Mynydd Marchywel while one also remained at World's End (Denbighshire). The Principality's sixth of the week was another for Powys, seen at Craig Cerrig-gleisiad on 16th.
Back over the English border in Gloucestershire, three more Great Grey Shrikes were seen through the week ~ one was still at Staple-edge Wood to 13th, a singing male remained at Woorgreens NR to 14th and another was seen near the motorway at Cheltenham on 15th while elsewhere in southern England, more lone stickers were at Exford, Exmoor (Somerset), the New Forest (Hampshire) and Thursley Common (Surrey), with one appearing at Waltham Brooks SWT (West Sussex) on 18th.
The only figure to catch the eye where Waxwings were concerned was the 150+ reported at Cove Bay (Aberdeenshire) on 14th. Otherwise it was the lingering quartet in Blackburn (Lancashire) ~ present for another week ~ three in Aberdeen on 15th, nine in Forth at Doune on the same date and 16 at Ringinglow (South Yorkshire) on 17th that troubled the scorers.
Finally, hot on the heels of one Category E bird in Kent ~ the much twitched, much discussed, much dipped Chinese Pond Heron ~ comes another one, in the shape of a House Finch on garden feeders in Tunbridge Wells on 14th-15th.
There's allsorts of fun and games that could be had here ~ Kent has had two crackers from the Neartic in the same winter of 1989 of course ~ but this week's new attempt to break on through to the other side seems to have stalled almost before it got out of the blocks. No one fancied it as being anything other than being of captive origins but is is that simple?
Actually it doesn't matter how simple it maybe because the bird seen at Land's End and then Prawle Point during the spring, summer and autumn of 2010 was plopped in to Category E in last October's 42nd report from the BOURC.
The committee gave some detail in to the decision and there's a manuscript in preparation too but the paragraph below cuts to the chase ~ the road ahead for any House Finch is going to be a particularly tough one…here's the pithy bit of the statement.
"…but the known biology of House Finch does not make a strong case for unassisted vagrancy. A decision on the provenance of an individual bird is a call on balance of probability, and for admission to the list the balance of probability must be judged to be overwhelmingly in favour of natural occurrence in a wild state. For the House Finch, BOURC did not have sufficient confidence that this was the case. Category D was not an option for this bird, that Category being applicable only to birds that would otherwise be admitted to Category A. The record was therefore rejected and House Finch remains in Category E."
Will that duff heron fare any better?
There's changeable weather ahead, largely off the back of some westerly driven winds, so the window of opportunity may close a little on the migrant front.
The chance of a surprise is always there of course (one of the biggest recently being the photographed Oriental Turtle Dove in east Norfolk on March 19th 2012) as birds begin to set their assorted courses for their spring push in to or away from us. We're heading to prime time for Gyrfalcons and if conditions become favourable we could loop towards the cusp of a White-spotted Bluethroat or two.
If the weather really hit its stride ~ fingers crossed! ~ the amazing repeat of March 19th-25th 2002 could even come our way…during that period, along with a Gyrfalcon up north, a spectacular posse of rarities forged their way in to (mainly) southwest England. A dozen Alpine Swifts were logged during those seven days ~ including a flock of five in Cork City ~ while Cornwall and Scilly smashed everywhere else out of the park with an adult male Little Bustard on St. Agnes on 22nd, a male Western Black-eared Wheatear at Nanquidno on 23rd, a Scops Owl at Porthgwarra on 24th and a Pallid Swift on Bryher on 25th.
The first of that quartet is the most recent live example of the species and with the last twitchable individuals appearing on Shetland in 1998 and mainland Cornwall in 1996 well, there's a whole generation who'll venture forth when the clarion call goes up on that one…
Mark Golley
19 March 2014


Special thanks this week to Alan Hayden and Martin Cade for their help with the Portland Ipswich Sparrow shot. Thanks also to the rest of this week's contributors for their photos and videos
Chris Batty, Brendan Sheils, Nigel Talbot, Sean Foote, Robert Mitchell, David Abraham, Nick Smith, Chris Hind, David McGrath, Harry Murphy, Dennis Morrison, Edward Carty, Brydon Thomason, Simon Knight, Peter Triston, Mark Hipkin, Chris Hind, John Nadin, Hugh Harrop, John Adshead, Jim Almond, Mark Johnson, Darren Ward,