Weekly round-up: 19 - 25 Feb 2014
Presumed Chinese Pond Heron of unknown origin remains on offer in Kent
The American Coot still in Highland
…and the Pied-billed Grebe makes it into another week on the Outer Hebrides
Gloucestershire's first-winter male Red-flanked Bluetail continues to delight
Argyll's first-winter American Herring Gull sticks around, with another in Co.Mayo
...while Ireland racks up a trio of Ross's Gulls in Co.Cork, Co.Dublin and Co.Wexford
The week began with a reprieve from the constant storms for many, with some long overdue dry days and, almost unbelievably, sunshine. Alas it wasn't to last, and after catching its breath the Atlantic began to throw yet another series of intense low pressure systems our way.
With March just around the corner, snowdrops and daffodils beginning to make their presence felt, and the first murmurings in the news of hirundines on the south coast, Spring is almost upon us. It's just hard to remember that sometimes when the rain's lashing the windows yet a-flippin'-gain...
Chinese Pond Heron
We start the week's headline birds down in the Garden of England, where the presumed Chinese Pond Heron of unknown origins continued to lob around the damp gardens and fields of Saltwood in Kent. As discussed last week in the Rarity Round-up, you pays your money and takes your choice with this one: it's the nature of this listing game – one of these days one of those insurance-ticks you travel for is going to pay out. There'll be plenty amongst us who've been to see birds that were widely derided in the online ether at the time but latterly passed muster some months or years later. Hooded Merganser anyone?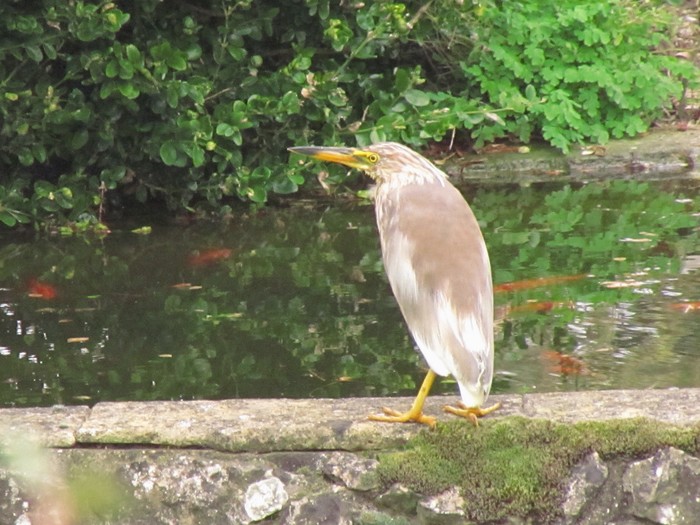 For now, the bird remains available for those who are prepared to make the effort. In the absence of some convenient material for DNA analysis, the absolute identity and provenance of the bird remain an incipient headache for the good folk of the BBRC and BOURC. With great power comes great responsibility, and all that. It's easy to be sanguine about this bird from all the way up here in Shetland with absolutely no earthly prospect of going to see it. If I was still living down in Kent? Yep, I'd be there, like a shot. Sometimes these things just have to be done.
American Coot & Pied-billed Grebe
All the way up to Scotland now, and the lingering Nearctic waterbird duo of the American Coot in the Highlands at Loch Flemington and the somewhat more inaccessible Pied-billed Grebe at the Balranald RSPB reserve on North Uist (Outer Hebrides). The latter bird was last reported at the start of the week on 19th, but the American Cootremains a daily fixture in the news reports, and an increasingly popular draw with birders. Even the Fair Isle Bird Observatory warden's been to see this one; if there's a gaping hole on your list next to this species, and with no suggestion that even the most subtle aesthete of an aviculturist in Europe would want to keep one of these, there's really no excuse.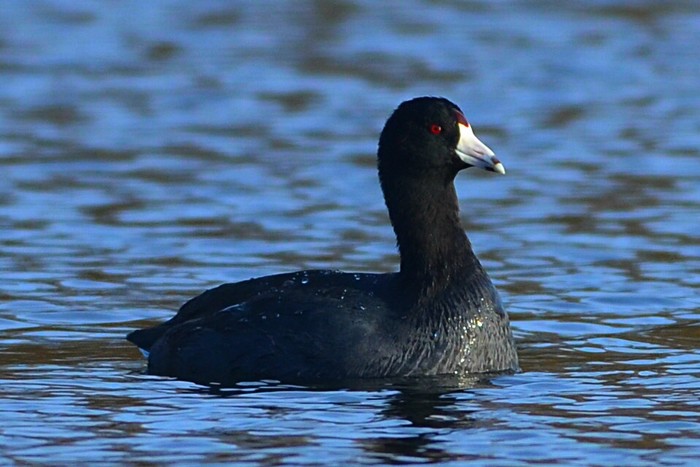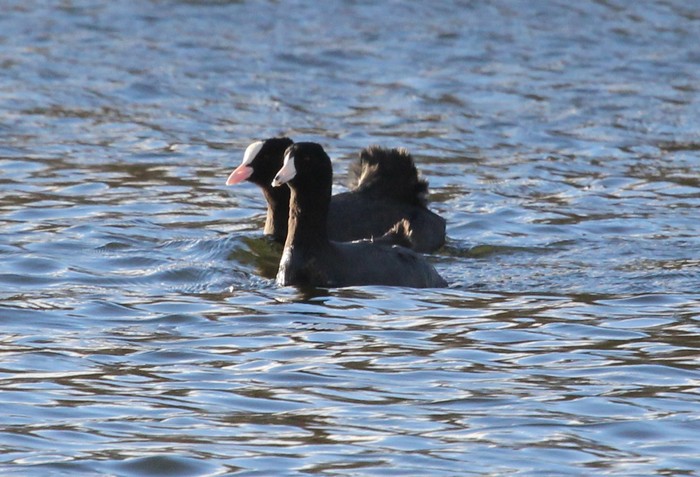 Red-flanked Bluetail
Away from the subtle charms of Scotland's Nearctic waterbird offerings, back down in Gloucestershire there was no denying the continuing star quality of the settled first-winter male Red-flanked Bluetail at Marshfield, still present on 25th. If these gems are good enough to brighten a dark day in autumn they're definitely up for the task in the late days of winter. Hard to resist, all told. It'd be lovely to think that, in line with their increasing occurrence in recent autumns, we might one day come to see one or two of these beauties overwintering with some regularity a la Yellow-browed Warbler.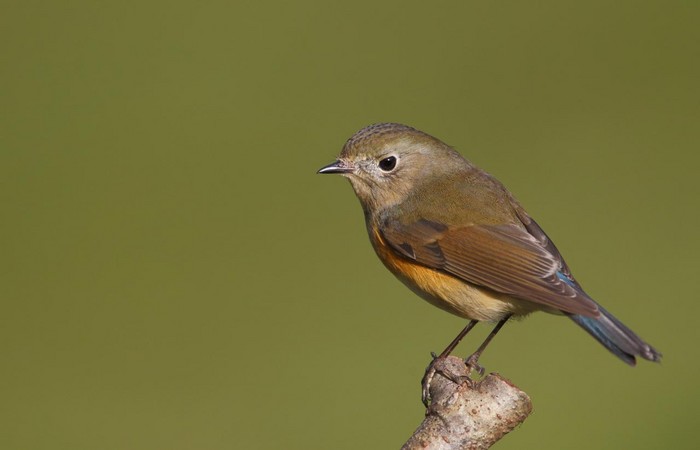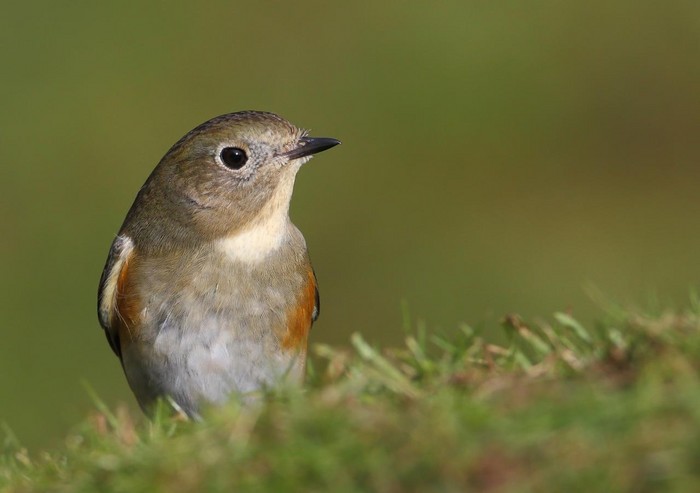 American Herring Gull
Back to Scotland, and back to subtle. (Though the laridophiles amongst us would doubtless argue that Scotland's lingering third mainland record of American Herring Gull is far less lurid and more hence more pleasing for the purist than any gaudy chat you care to mention...) Said gull was still around towards the end of the week, whilst another first-winter of the species was at Barnatra (Co.Mayo) on 21st also remained to week's end - both providing plenty of food for thought as to what else might have blown in off the Atlantic in the past weeks. It's all still to play for in the gull stakes, mark my words...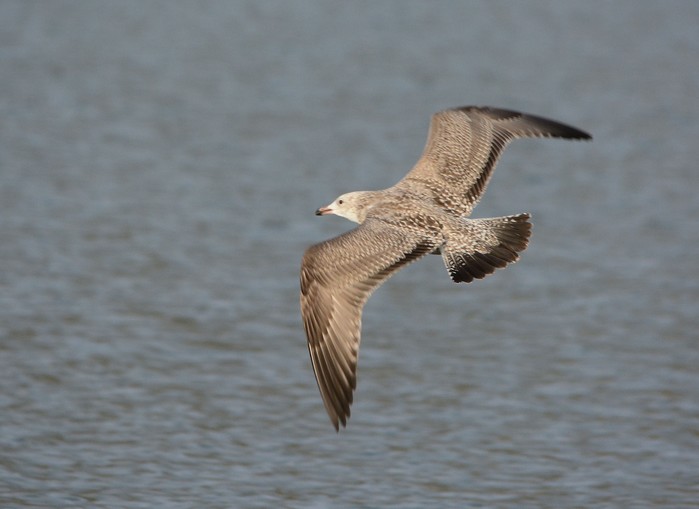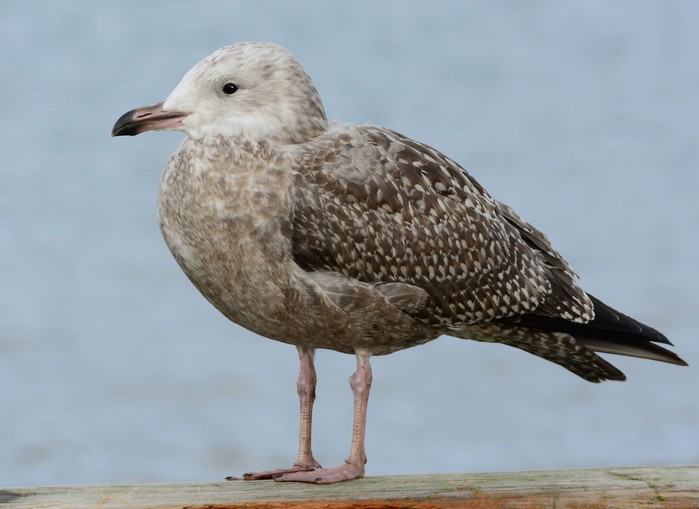 Ross's Gulls
IRBC Status: A
Accepted Irish records by 2011: 18
Most recent accepted record:
06 Jan 2005 - Nimmo's Pier, Co.Galway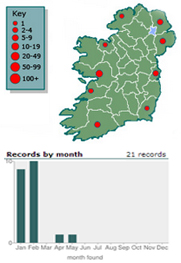 ... call me cheap, call me easily pleased, but while I can happily muster some excitement for a smithsonianus, what really floats my boat is the delicate beauty of a cracking Ross's Gull. For me, they've got it all – top looks, dainty structure, and bags of charisma. For this week, Ireland had it all – with not one but three records in the form of lingering birds at Kinsale Marsh (Co.Cork) until 25th and Poolbeg (Co.Dublin) until 23rd; and yet another new bird, a one-day wonder in Co.Wexford at Lady's Island Lake on 20th.
With just 18 on the books for Ireland by the end of 2011, and a pretty fallow period for records post the bonanza that was the 1980s and 1990s, Ross's Gull can add rarity to its list of charms too. We'll look back on this winter for both this species and Ivory Gull with some nostalgia in years to come. Here's hoping one or two more of either species crop up in the coming days and weeks. There's time yet.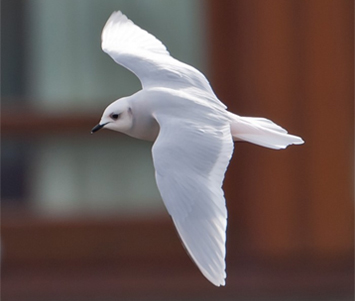 Ross's Gull, Kinsale, Co.Cork (© Michael John O'Mahony)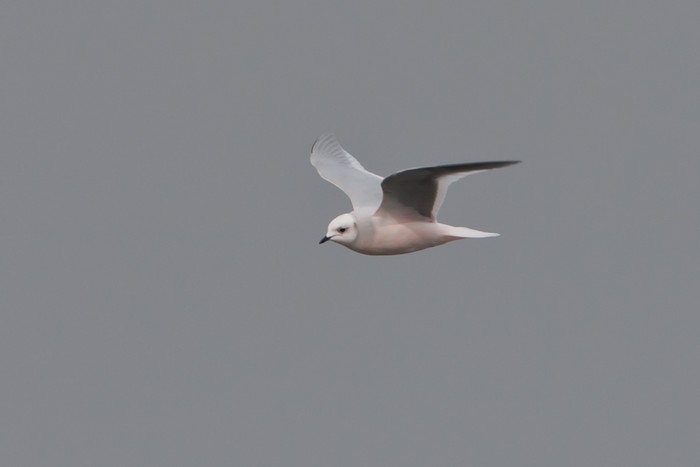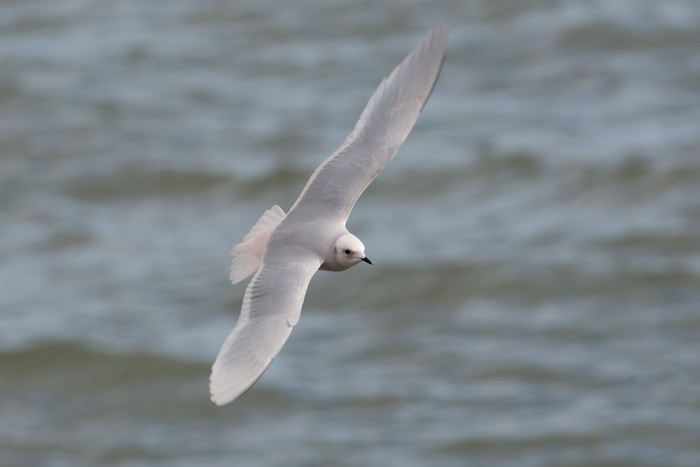 A really rather quiet week on the seabird front this week, with the undisputed star of the show being the reappearance in Ireland of the fine Pacific Diver on Lough Fea in Co.Tyrone on 22nd-23rd. In other diver news, two White-billed Divers were noted in Gruinard Bay (Highland) on 24th, precursors hopefully to a good spring showing for the species in Scottish waters.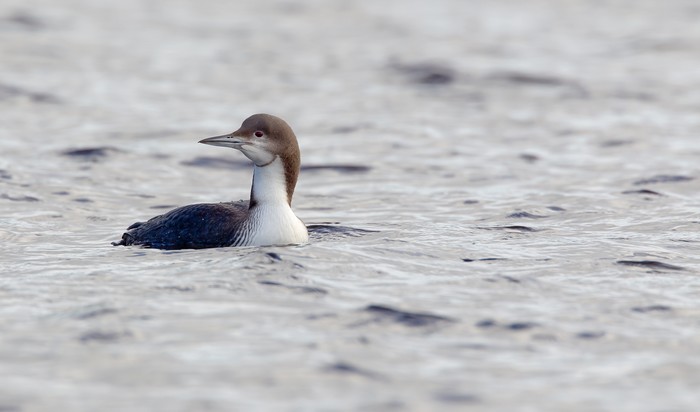 Beyond that though you had to look to a Pomarine Skua off Ram Head (Co.Waterford) and a Balearic Shearwater off Falmouth (Cornwall) on 19th for your seabird kicks. (Gulls aside, and more of those anon...)

Things have calmed down somewhat in the world of Glossy Ibises since the superheated closing days of 2013 and early 2014. That said, with birds reported from some 10 locations over the week, it was still not too shabby a showing by any means. Orkney kicks off proceedings in the far north with a bird noted on North Ronaldsay on 21st. With none reported from the rest of Scotland we're down into northern England for a single bird at Tynemouth (Northumberland) from 19th-24th.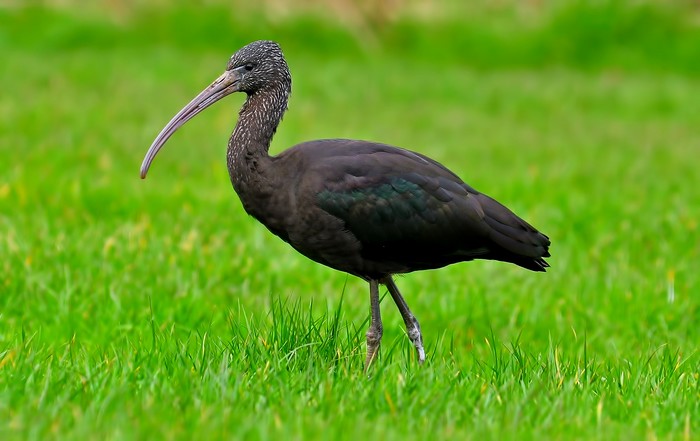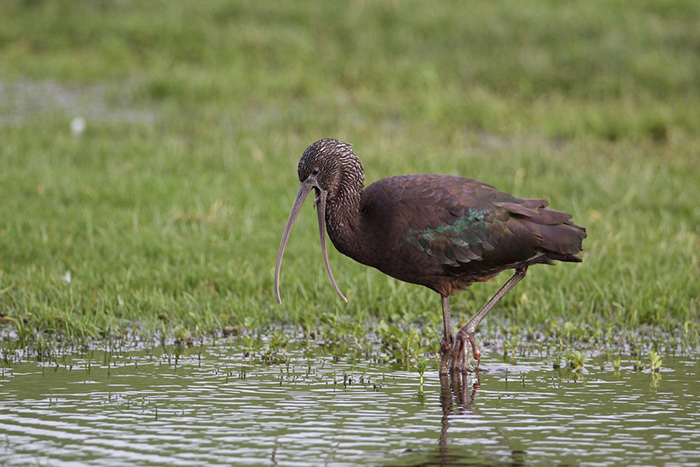 Staffordshire accounted for two reports on 19th, at Chasewater and a flyover at Tittesworth. In East Anglia on the same day the remaining bird was still seen at Martham (Norfolk), and the two birds were still finding Oulton Broad (Suffolk) very much to their liking – and remained at the latter site until 25th. Further single birds were in Cambridgeshire in the Hemingford Abbots area from 22nd-25th and at Dungeness (Kent) on 20th-24th, with presumably the same bird a short way as the ibis flies at Lydd on 23rd.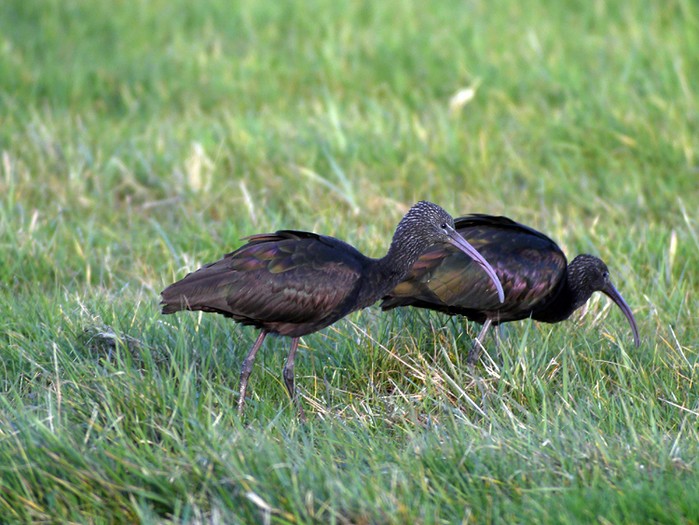 Ireland retained a single bird also, at Oxford Island (Co.Armagh) from 19th-23rd at least.
There were around 20 Great White Egrets reported from 12 counties this week, with some now familiar faces amongst them. Dungeness (Kent) remained a stronghold throughout the week, with four birds there on 20th and 25th. Nearby Rye Harbour (East Sussex) held two birds on 22nd. Other duos were at Llangorse Lake (Powys) on 21st, at Ditchford GPs (Northants) on 22nd, and at Catcott Lows (Somerset) on 25th. Elsewhere single birds were recorded at Warton Bank (Lancashire) on 19th and 24th; in Norfolk at Horsey on 19th and at Admiralty Point on 20th; Hale Marsh (Cheshire) and Swineham Point (Dorset) on 20th; at Summer Leys NNR (Northants) on 21st-23rd; Coate Water (Wiltshire) and Loch Kinnord (Aberdeenshire) on 22nd (the former still present on 25th); at Frampton-on-Severn (Gloucestershire), Ham Wall (Somerset) and Pitsford (Northants) on 23rd; the latter bird still there on 24th.
Staying with egrets, the only Cattle Egret of the week was the reappearance of the bird at Calvert Lakes and Steeple Claydon (Buckinghamshire) on 21st and 24th. Onto Spoonbills, where Dorset's Poole Harbour saw the lion's share of the action with a peak count of 24 birds on 19th – smaller counts of 20 on 20th and 17 on 23rd from Arne show that the flock contracts and expands from day to day with birds dispersing around the myriad creeks and bays of the large natural harbour. Three birds pitched down in the west of the county at Lodmoor on 24th, and had increased in number to four by 25th. Elsewhere Isley Marsh (Devon) was the only notable count with five birds there on 19th rising to six the following day. Outside of the southwest stronghold single birds remained faithful to Cuckmere Haven (East Sussex) and Vange Marsh (Essex) all week, as did the Irish bird at Castle Espie (Co.Down) until 22nd at least.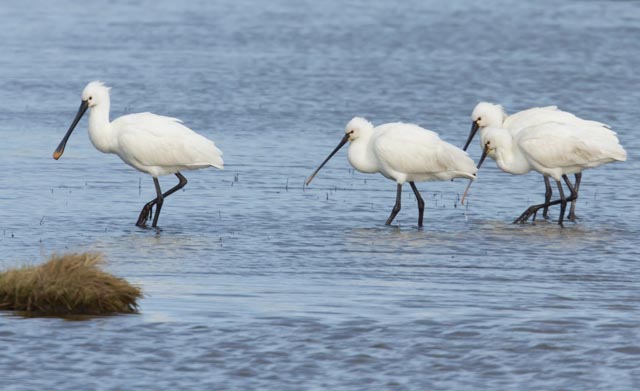 In Somerset, a flock of 11 Common Cranes was reported briefly at Isle Brewers on 23rd; not so very far away in Dorset the two young birds remained around Cheselbourne until 24th at least. In the North East two birds were tracked flying south over Nunthorpe, Greatham Creek and Dormans Pool (Cleveland on 22nd.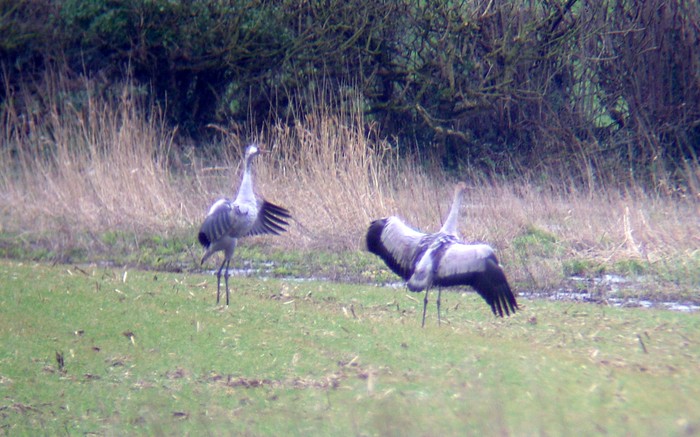 An initial single Richardson's Cackling Goose on Islay at Loch Gruinart (Argyll) on 19th became two birds on the island on 20th, with both birds still present on 25th. Elsewhere in Argyll on 21st a Todd's Canada Goose was at Campbeltown. A report of a further Richardson's Cackling Goose came from the Lower Test Marshes (Hampshire) on 24th.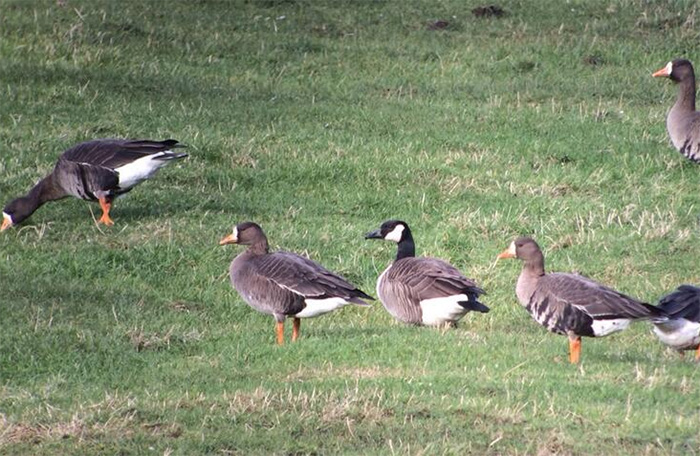 Reports of Snow Geese remained Scotland's sole preserve, with lingering white morph duos at Rattray Head (Aberdeenshire) until 24th and Garrynamonie, South Uist (Outer Hebrides) until 22nd at least. The mixed white and intermediate duo remained faithful to Tayinloan (Argyll) until 24th.
Things picked up again a little for Black Brants as the week progressed. From last week's feeble two birds, the new week scaled the dizzy heights of some four individuals. Keeping track of the adult(s) in north Norfolk proved a good workout, with records coming throughout the week from Titchwell, Burnham Overy, Blakeney, Stiffkey, Wells, Cley, Cockthorpe airfield... Far less complicated were singles at Dawlish Warren (Devon) on 19th-23rd, Roa Island (Cumbria) on 20th-21st, and Collimer Point (Suffolk) on 21st.
An adult Grey-bellied Brant put in a reappearance at North Bull Island (Co.Dublin) on 23rd and 25th.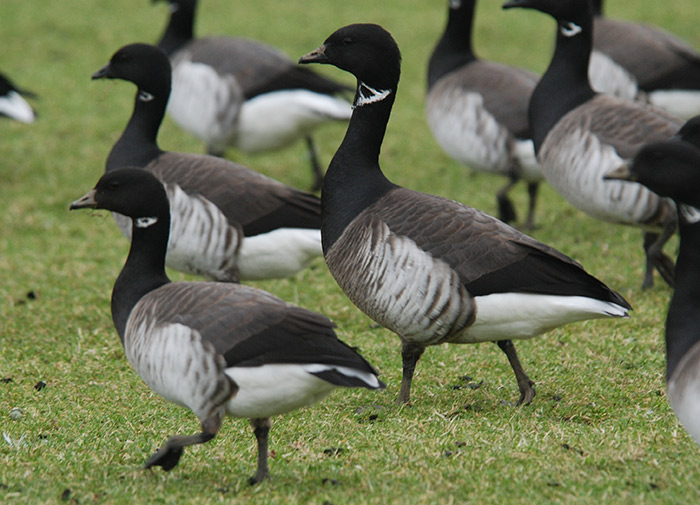 Last but perhaps not least in goose-news this week came a Lesser White-fronted Goose consorting with Greylag and Pink-footed Geese on 25th at Druridge Bay (Northumberland). Having tipped one of these to show up a couple of weeks ago, I'm hoping this one makes the grade – for now, it carries the 'of unknown origin' caveat. Since when was that an impediment to making a wildfowl judgement call...
In Highland, the adult drake Black Duck remained at Strontian to 23rd while in Ireland another drake was at Termoncarragh Lough (Co.Mayo) on 20th.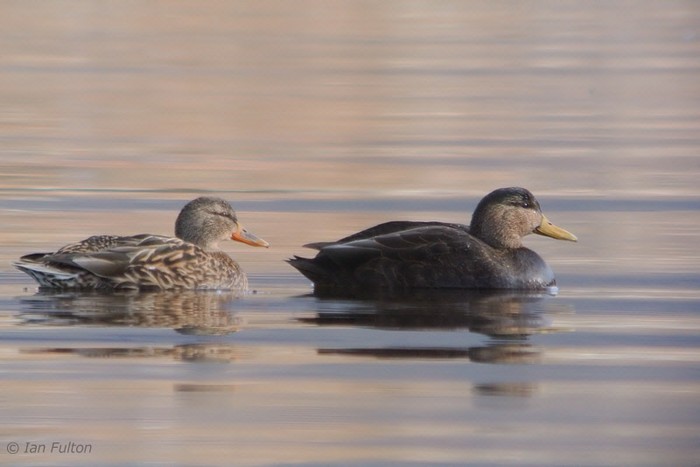 Thirteen drake Green-winged Teals were reported during the period with the reappearance of some familiar faces from the past few weeks. At the start of the week birds were still being recorded on 19th at Peterstone Wentlooge (Gwent), Lough Swilly (Co.Donegal) and Caerlaverock (Dumfries & Galloway), the latter remaining steadfast until 25th and being joined by a second bird elsewhere on the reserve on 24th. February 20th saw birds recorded again at Slimbridge (Gloucestershire) and Saltholme RSPB (Cleveland), the latter still there on 24th, and a new bird at Ravenstown (Cumbria). Hampshire's drake at Sopley was noted again on 21st, as were the birds on North Ronaldsay (Orkney) until 22nd and at Newgale (Pembrokeshire) until 23rd. The elusive Shetland bird reappeared on the Loch of Flugarth on 22nd, whilst on 23rd familiar drakes popped up once more at Broadwood Flash (Ayrshire) and Big Waters NR (Northumberland).
Lingering drakes accounted for the majority of the Lesser Scaups recorded during the week, these being the stalwarts at Tittesworth Reservoir (Staffordshire) until 25th and in Cornwall at Dozmary Pool until 23rd, and again at Loch Watten (Highland) on 24th; a further drake was reported from Highland on 24th-25th at St John's Loch.
It was all about lingering birds too for Ring-necked Ducks with old friends remaining on station at four sites: the female still on North Uist's Loch Scaraidh to 24th at least, and drakes still at Lough Baun and Carrowmore Lake (both Co.Mayo) on 19th, and at Wimbleball Lake (Somerset) to 24th.
There was a better showing of American Wigeons this week compared to last week, with four drakes recorded: in Ireland at Lough Neagh (Co.Armagh) still on 19th and in Co.Leitrim at Tullaghan on 21st-22nd; at Udale Bay (Highland) from 20th-23rd, with a hybrid American x Eurasian Wigeon also there to complicate matters slightly; and at Hodharrow RSPB (Cumbria) on 22nd.
It was all about the ladies where King Eiders were concerned this week, with three females recorded, two in Ireland and one in Scotland. In Co. Mayo, the queen remained enthroned at Blacksod until 23rd at least, while another queen was at Cahermore (Co.Cork) on 23rd. In Scotland the queen remained at Ruddon's Point (Fife) until 24th.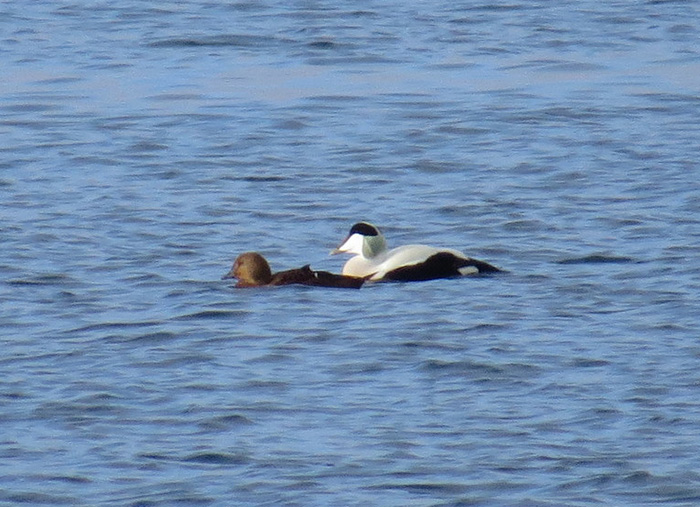 Numbers of Surf Scoters on the sea off Conwy's Pensarn continued to build momentum this week, with a peak of seven drakes on 21st augmented on 22nd by a female and a first-winter male. That's nine confirmed birds, and short odds that double figures are breached soon. Elsewhere, the southwest accounted for lingering youngsters in Ower Bay (Dorset) and Mount's Bay (Cornwall) until 24th at least. Drakes were reported from Prestonpans and Musselburgh (Lothian) on 19th and 21st, and from Newcastle (Co.Down on 21st and 24th, the latter being joined by a female on 23rd.

Slimmer pickings than ever for the Shorebird afficianado this week- with just Hampshire's Lesser Yellowlegs at Lepe CP still to report on 21st-24th (and a report of another at Pennington Marsh on 21st).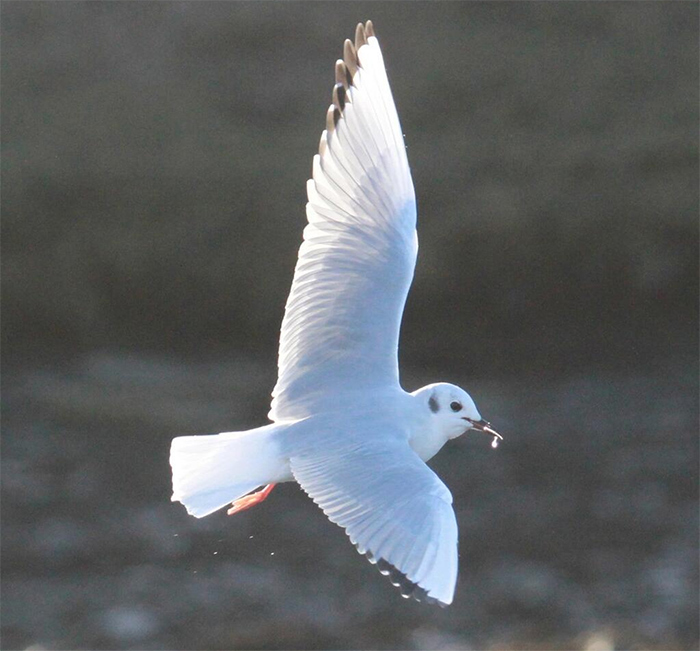 And so we come to the lovely rare larids that are proving such a feature of this long, wet winter. The week's headliners have already been discussed, but there was plenty of other good fare to be had. Competing for top billing with Highland's Franklin's Gull (still at Canna until 20th) were two first-winter Laughing Gulls, one seen again at Marazion (Cornwall) on 19th, and the other at Ballycotton (Co.Cork) on 20th-23rd. Meanwhile three adult Bonaparte's Gulls were recorded; the regular wintering bird still happily ensconsed at Dawlish Warren NNR (Devon) all week; the sporadic bird seen again at the Cardiff Heliport (Glamorgan) on 22nd and 24th; and a final adult at Thurso (Highland) on 25th.
Ireland and Ring-billed Gulls... with 16 birds recorded from 10 Irish counties (and no news from Co.Galway's stellar Nimmo's Pier amongst them), it continues to feel like a good winter there for the species. Cork (Co.Cork) led the charge with three birds (an adult, a first-winter, and a second-winter) there on 22nd. Elsewhere it was all single birds: adults seen at Drogheda (Co.Louth) and Drimnagh (Co.Dublin), and a first-winter on Achill Island (Co.Mayo) on 19th; adults at Belmullet (Co.Mayo) and Blackditch (Co.Wicklow) on 20th; an adult at Wexford (Co.Wexford) on 21st still; adults at Carrickfergus (Co.Antrim) and Kinsale Marsh (Co.Cork), and a first-winter at O'Callaghan's Strand (Co.Limerick) on 22nd; and adults were at Tralee (Co.Kerry) and Tramore (Co.Waterford) on 23rd, with a first-winter at Poolbeg (Co.Dublin) and a further bird at Greystones (Co.Wicklow) later that day.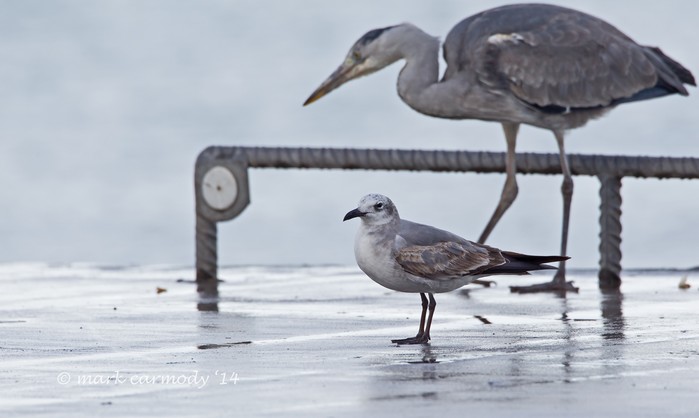 In Britain a 'mere' six birds were noted. In England, the adult remained in Hampshire at Gosport from 19th-25th; the second-winter remained at Audenshaw Reservoirs (Manchester) from 19th-22nd; and the adult was again at Crosby (Lancashire) on 20th. In Wales an adult was reported from the Teifi Estuary (Pembrokeshire) on 19th, with an adult again in the Llys-y-Fran Reservoir roost in Pembrokeshire again on 20th and 23rd. Finally in Scotland the faithful bird remained at Dingwall (Highland) on 20th at least.
And now, with a deep breath, to the white-wingers. First up are Glaucous Gulls, which continued to dominate the news in the way only large numbers of a large in-yer-face gull could. Numbers fell away compared to last week, with some 80 birds reported from Ireland alone – but this is all relative. 80 is still a lot of Glaucous Gulls... Stand-out counts came from Co.Mayo on the Mullet with seven birds on 22nd and Balderra Strand with seven birds on 20th; from Co.Wexford with 12 birds at Carnsore Point on 21st; and from Co.Kerry with 12 birds at Trabeg on 23rd.
Scotland accounted for around 30 birds, with the stand-out numbers once more in the west of the country: 11 birds were logged on Tiree (Argyll) on 21st, and seven on North Uist at Aird an Runair (Outer Hebrides) on 23rd. Wales provided some half dozen records with the notable count of three at Newgale (Pembrokeshire) on 19th. English counties provided the balance of some 50 birds, with a strong south-westerly bias to the records. While never approaching the tallies seen across the water in Ireland, trios were recorded at Mousehole (Cornwall) on 20th; at Marazion (Cornwall) on 23rd; and at Thurlestone (Devon) and West Bexington (Dorset) on 24th.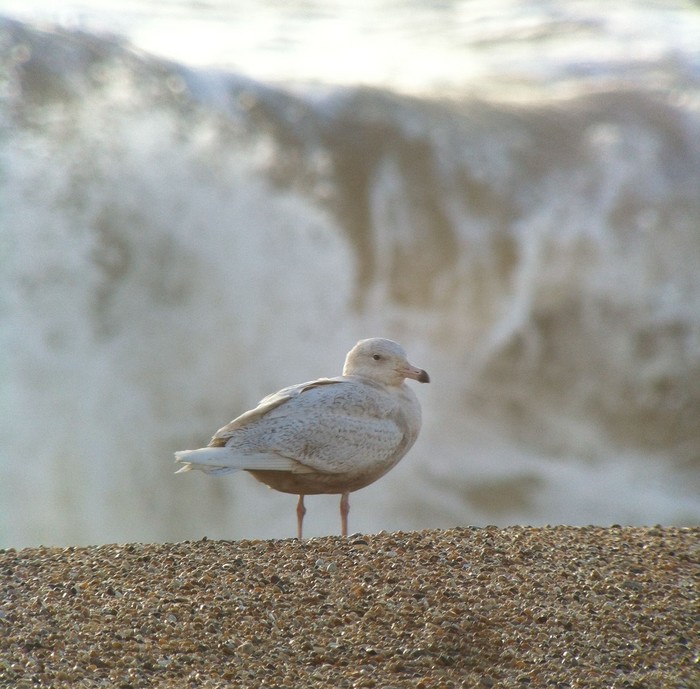 So, down on last week's impressive tally of 245+... but a very respectable ballpark figure of 165 Glaucous Gulls this week. Which isn't really bad at all.
Numbers of Iceland Gulls meanwhile continued to perform relatively poorly, with around 90 individuals noted across Britain and Ireland during the week. Ireland contributed around 20 birds, with notable counts coming from Killybegs (Co.Donegal) with five and six birds logged on 20-21st and 22nd respectively. Some 25 records came from Scotland, with a notable tally of four birds logged on Lewis in Stornoway harbour (Outer Hebrides) on 23rd. Wales accounted for a mere handful, with a duo on the Gower at Burry Holms (Glamorgan) on 23rd notable. England saw a wide scatter of records both coastal and inland, with some 50 birds including duos at a number of locations, and three birds at Richmond Bank (Cheshire) on 19th.
Kumlien's Gulls numbers remained strong in the period, with 40 birds overall a good return for the week. Ireland, as before, dominated proceedings with 20 individuals logged across six counties. Killybegs (Co.Donegal) was where all the hot gull action was to be found this week, with a mouthwatering nine Kumlien's Gulls to be had there on 22nd – four juveniles, four second-winters, and an adult. Another adult was seen elsewhere in the county at Malin Head on 21st. Co.Galway had two birds, an adult and a second-winter, at Rossaveal on 21st, and two juveniles at Ross beach on 23rd. Co.Kerry accounted for an adult at Reenard Point on 20th and 23rd, and juveniles at Kenmare and Kilmore Quay on 23rd. This leaves single juveniles logged at Balderra Strand (Co.Mayo) on 20th and at Carnsore Point (Co.Wexford) on 20th-22nd; and a second-winter at Kinsale Marsh (Co.Cork) on 21st.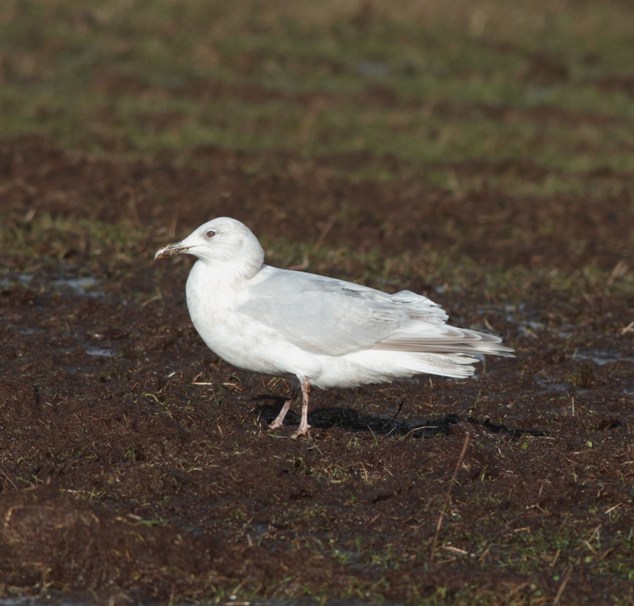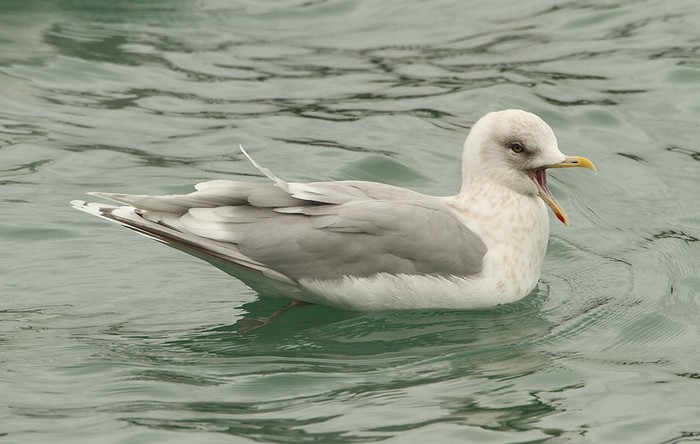 Wales enjoyed four and Scotland seven birds during the week. Newgale (Pembrokeshire) returned three birds until 20th (two adults and a juvenile) with just one adult thereafter; while a juvenile was on the Gower (Glamorgan) on 23rd. Starting in the very north of Scotland, a juvenile was on Fair Isle (Shetland) on 20th; two juveniles graced Argyll at Machrihanish on 20th and Drumlemble on 21st-22nd; a third-winter remained on North Uist at Hougharry (Outer Hebrides) on 23rd; and a pair of juveniles were at Scrabster (Highland) on 25th with a single juvenile elsewhere in Highland that day at Thurso.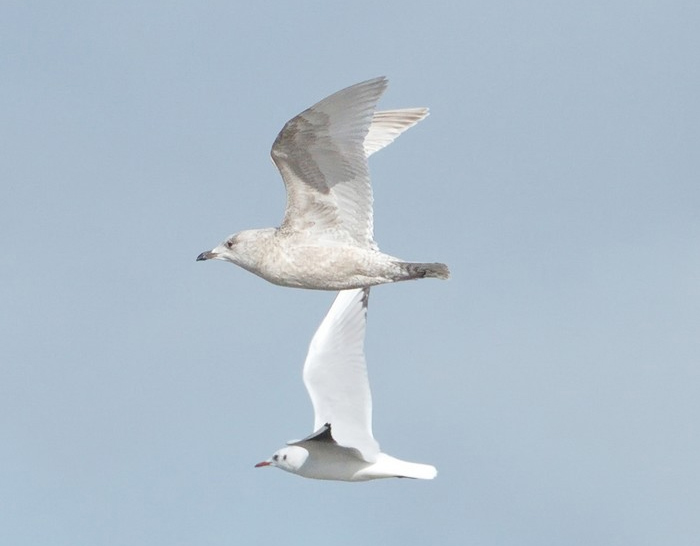 And so to England, where a number of obliging birds scattered far and wide ensured that anyone with a yearning to catch up with a Kumlien's Gull was in with a sporting chance. A probable adult was reported from Sheffield (South Yorkshire) on 20th-22nd, while in East Yorkshire a second-winter was at Tophill Low on 23rd. Elsewhere in the north the third-winter remained at Heaton Park Reservoir (Manchester) on 19th, and an adult was at Richmond Bank (Cheshire) on 25th. Moving south, three birds were on offer in the west country: in the general Penzance area of Cornwall an adult was mobile between 22nd-24th; another adult was at West Bexington (Dorset) on 21st, with a probable juvenile a way along the coast at Abbotsbury on 25th; and a juvenile was in Somerset at Wimbleball Lake on 23rd. Last but by no means least, in West Sussex at Littlehampton the juvenile remained until 24th.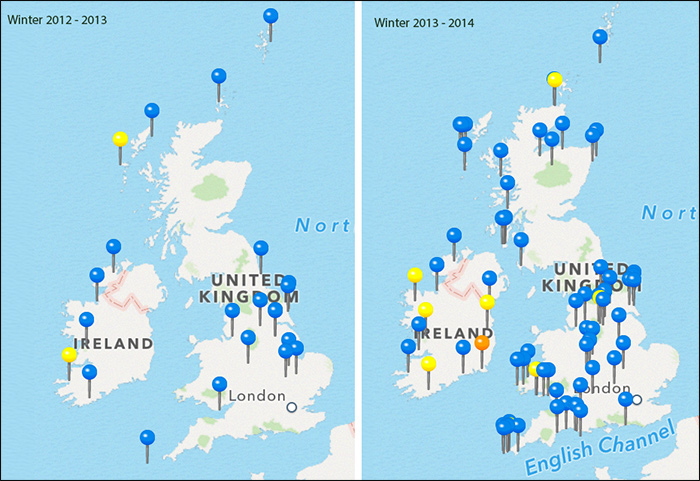 Away from all things gull-related, we finish this section with the first-winter Forster's Tern still in situ on the Mullet at Elly Bay (Co.Mayo) until 23rd at least. Ireland's back to enjoying a virtual monopoly on the species these days with just a four-day bird in Argyll in 2003 to show for the last 10 or so years elsewhere. I'm thinking there's a whole new generation of British birders who'd welcome another bird on this side of the Irish Sea... (Reminiscence alert – back in the halcyon days of 1995 it was just a formality to nip out of Aberdeen to the Ythan Estuary for the double of Forster's Tern and King Eider before heading up to Shetland on the ferry for the Black-browed Albatross. Happy days!)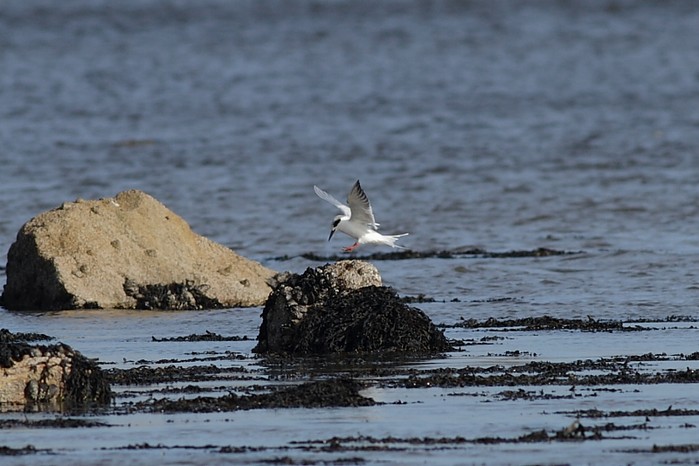 Rough-legged Buzzards put in a strong showing in Norfolk this week with two birds being reported regularly from Waveney Forest, and singles still at Ongar Hill and haunting the dunes of Burnham Overy, both until 25th at least.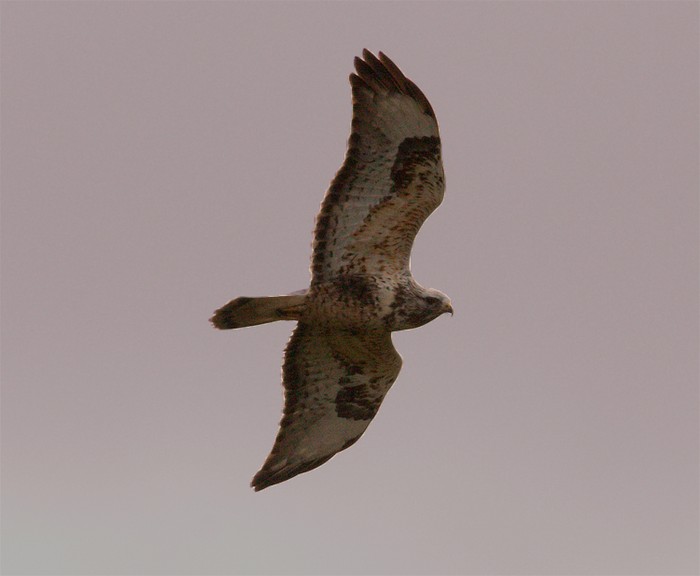 All three of the Hume's Yellow-browed Warblers recorded in recent weeks racked up another full week in the UK, in their respective winter homes of the trapping area at Dungeness and the cemetery at Ramsgate (both Kent) and at Hams Hall (Warwickshire). Reports of Yellow-browed Warblers have dried up somewhat in recent weeks (about the only thing in the UK that has...) with a mere three lingering individuals reported this week: at Carminowe Valley (Cornwall) on 23rd still; at Topsham (Devon) until 22nd, and at Uffmoor Woods (Worcestershire) until 24th. Meanwhile back in Kent the Pallas's Warbler was seen again in Folkestone on 21st-22nd.
Kent's winter purple patch continued during the week with the lingering male Penduline Tits finding the reedy margins of Hooker's Pit at Dungeness very much to their liking until 24th at least. Long-mooted as a potential colonist it's never really happened for them, but they're always a pleasure to see on these shores. Kent dominates past records laying claim to 56 of the UK's 270 individuals by the end of 2012.
News came back from DNA's Mt.Olympus this week (or the University of Aberdeen, as non-birders might prefer) on the sample taken a little while ago from the presumed "Eastern" Lesser Whitethroat near Prior's Park (Northumberland) – with DNA identical to several Kazakhstan specimens thought to be blythi, it seems as if this wintering warbler can now be safely assigned to race. With news of another wintering Lesser Whitethroat in Sheffield (South Yorkshire) also being trapped (on February 2nd) and yielding DNA suggestive of an eastern origin, many birders' gut feelings about late autumn and over-wintering birds of that species seem to be gradually acquiring some hard science to underpin them. Not that DNA is much use in the field on a windy headland in November, but still... it's nice to know. And with further birds of as-yet-undetermined origins reported on 24th in private gardens in Wyke Regis (Dorset) and St.Budeaux (Devon), in the absence of a definitive DNA sample we can but speculate as to where they're from.
With a bonanza of wintering warblers of all hues in Britain this year it seems almost remiss that there hasn't been a Dusky Warbler yet. Step forward the bird uncovered in Great Barr (West Midlands) on 25th...
No news again this week on the formerly reliable Rose-coloured Starling on Scilly, but the Serin on St Mary's continued to prove hard as nails, having weathered the latest battering storms and being seen again on 19th and 24th. News of another typically southern species toughing it out came from Carlow (Co.Carlow) on 23rd, with a Hoopoe reported as being present there for around a week previously.
With some easing of the recent foul weather conditions numbers of Great Grey Shrikes were back up to somewhere around what we'd expect, with 22 individuals logged during the week from 15 counties. Gloucestershire accounted for three birds, with two at Great Rissington on 22nd-24th, and a single at Staple-edge Wood on 23rd. Surrey also laid claim to three birds, at Papercourt GPs still on 19th, Thursley Common still on 21st-23rd, and newly at Woking on 22nd. Hampshire however took the week's laurels with four records: at Bolderwood on 19th, Kingsclere on 20th-24th, and at Bransbury Common and Shatterford on 22nd.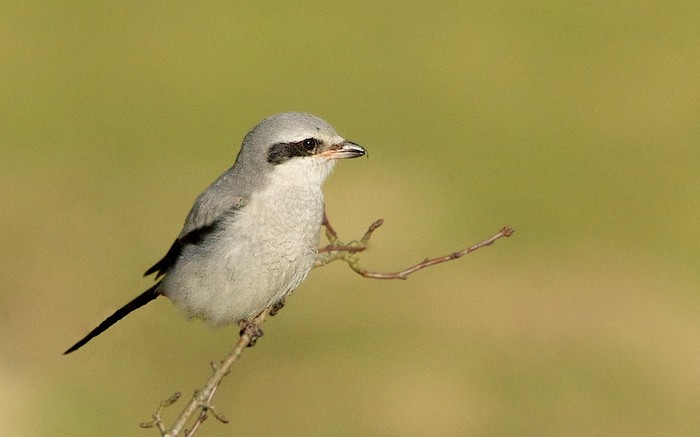 Two-barred Crossbills continued to feature strongly in the news this week with all the usual suspects present and correct. Wintering flocks remained all week in Shropshire's Wyre Forest (peaking with three birds still on 22nd); in South Yorkshire at Broomhead Reservoir (seven birds here on 19th and 24th); and along the Serridge Ridge in Gloucestershire's Forest of Dean (with a peak count of 14 birds on 19th). Single males remained in Kent at Hemsted Forest on 19th, and in Lincolnshire at Broughton all week long.
Norfolk dominated sightings of Parrot Crossbills throughout the week with two distinct flocks making up some big numbers – the established flock at Holt accounted for a peak of 16 birds on 21st-23rd; while in Waveney Forest numbers reported ranged from a minimum of eight on 19th to 18+ on 22nd. Elsewhere in East Anglia Suffolk recorded a single bird in King's Forest on 20th, and at least four birds in Ashby on 21st. Kent weighed back into proceedings with a small flock of six in Clowes Wood on 22nd increasingly eight birds on 23rd.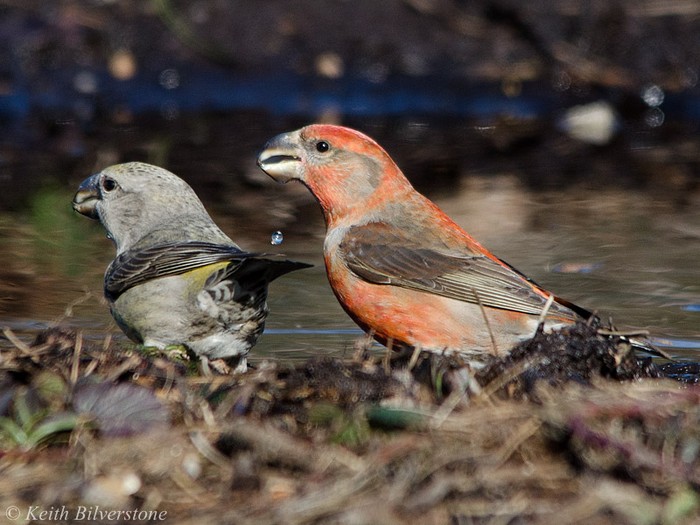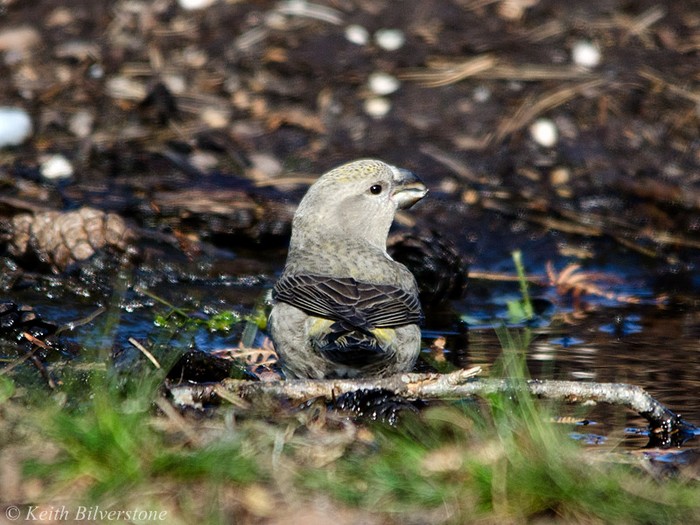 Least said, soonest mended in this poor winter for Waxwings... once the flock of 50 at Westhill (Aberdeenshire) on 19th-21st is discounted the week saw only one other flock (barely) reaching double figures – 10 birds in Ringinglow (South Yorkshire) on 19th-22nd. Apart from that a mere 30 birds were reported from elsewhere around the UK, and in dribs and drabs.
Time now to peer myopically into my murky crystal ball and have a wild stab at what the coming days might bring... (This is always a toss-up between opting for the safe, fairly predictable options, or some wild and wishful speculation. I fancy a bit of both this week...)
From the rarities of the past during the coming period, Steller's Eider on South Uist (Outer Hebrides) on February 27th-28th 1979, Glaucous-winged Gull at Ferryside (Carmarthernshire) on March 2nd-5th 2007 (I dipped that one...) and Black-and-white Warbler in Devon at Tavistock on March 3rd 1978 all stand out as of a rather higher calibre than their cohorts. While I'm sure none of us would sniff at the chance of any of those, it's the Steller's Eider that would I think be most gratefully received. Tempting though it is to conclude that as we've had our wildcard wintering American warbler already this year, and a top-drawer gull too, the duck is the last to fall... I guess that a repeat Steller's is firmly in the wishful thinking category.
(And as an aside, recent weeks' heron-related goings-on in Kent set me thinking about Snowy Egrets. Not a squeak have we heard since the wandering bird in west Scotland in late 2001 and throughout much of 2002. I wonder how many of us, hand-on-heart, look really closely at each and every one of those now-ubiquitous Little Egrets we see, so often mooching around distantly at the back of a creek or mere?)
Anyway, I digress... and meanwhile, back in reality: while past records suggest that more rare ducks and gulls are practically a nailed-on certainty this week, and a re-orientating American wader or two a distinct possibility, it's to Pine Bunting that my eye is inexorably drawn.
As well as being a classic late-autumn rarity, the species turns up with something approaching pleasing regularity amongst wintering finch and bunting flocks. Those of us of a certain vintage will look back with fondness at the wintering bird found in Dagenham Chase way back in the day in 1992. (Judging by the number of broken car windows that awaited us the day I was there, there's probably also a car stereo thief out there who looks back with fondness on the unexpected largesse a rare bird on his patch brought in '92...)
Anyway. My stolen stereo and the long-staying Dagenham bird aside, we're bang in the middle of the period when wintering Pine Buntings are unearthed, and there are two other records from the past in the coming week to provide inspiration – at Choseley (Norfolk) from February 28th – March 11th 2004, and at Filey (North Yorkshire) on March 3rd 2001. My advice? Get out and have a look amongst your local Yellowhammers this coming week. You may be pleasantly surprised.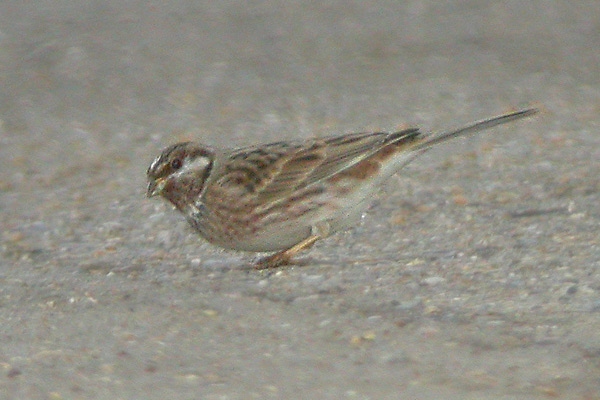 Jon Dunn
26 February 2014


Many thanks to this week's contributors for their photos and videos
Denise Murray, Andrew Hood, Tim Cowley, Michael McKenzie Steve Avery, Jim Dickson, Michael John O'Mahony, Richard Zamora, Mark Carmody, Jack Bucknall, Danny Porter, John Wall, Allan Reese, Paul Hindess, Tom Lowe, James Packer, Matthew Silk, Ian Foulton, Ian Forest, John Nadin, Dan Brown, Pat McDaid, Davey Farrar, Kris Gillam, Jessican Evans, Robert Flood, Stephen Duffield, Gary Thoburn, Paul Rowe, Dermot Breen, Graham Clarke, Alex Berryman, Keith Bilverstone, Steve Blain, Dave Hawkins,