Weekly round-up: 12 - 18 Feb 2014
Presumed Chinese Pond Heron of unknown origin remains in Kent
Durham's wintering Myrtle Warbler continues to draw a crowd
The American Coot hangs on in Highland
…and the Pied-billed Grebe does the same on the Outer Hebrides
Gloucestershire's first-winter male Red-flanked Bluetail lingers
…and an Olive-backed Pipit appears in Suffolk
Argyll secures a second first-winter American Herring Gull
…and the American Buff-bellied Pipit makes it to another weekend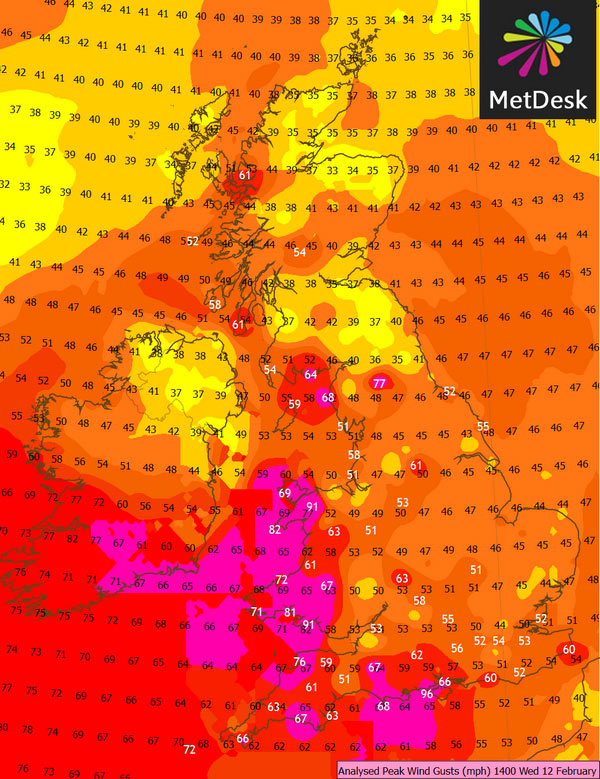 In many ways, birds took something of a back seat this week as the weather became the undoubted centre of attention for almost everyone (or so it seemed) as two more winter storms thundered their way across the Atlantic Ocean and the rolling news media revelled in sending poor drenched wind-blown souls to assorted seaside destinations to state the blindingly obvious.
The worst storms in this winter of perpetual autumn crashed in to the west and south coasts within just a couple of days of each other ~ a lightning fast deadly double act of fierce deep Atlantic depressions that sent barometers spiralling anti-clockwise as they smashed in to coastal regions like a wrecking ball through a breeze-block wall.
The Met Office issued a rare Red warning and the Irish coast, then those in west and north Wales took the first hit before the first low hurtled across northwest England on a dangerous Wednesday afternoon and evening. With little respite to hand, the second front followed on within less than 48 hours, with the English Channel coasts largely at the forefront of the spectacular weather action.
Gusts exceeded 100 m.p.h on several exposed headlands and even in Manchester, gusts of 98 miles an hour were logged as structural damage became ever more prevalent.
By the middle of the day on 15th, the situation was beginning to ease a little, the winds dropping to just below gale force for most of us and the prolific accompanying rainfall that joined hand-in-hand with the dangerous winds began to ease off too.
Drier, slightly more settled weather is on the horizon ~ and many will be hoping that that is the case and that some time will be on hand to start the clearing up operations in earnest.
Chinese Pond Heron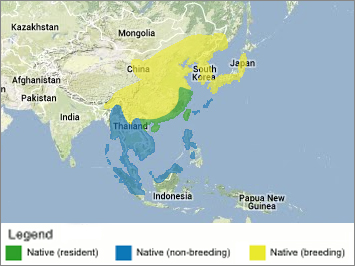 Source Birdlife International
Chinese Pond Heron breeds from Manchuria and east China west to Assam, North Burma and Japan, with northern breeders migrating to winter in the Malay Peninsula, Indochina, Borneo and Sumatra. Known vagrants include three records from the Bering Sea: on the Pribilof Islands in August 1996, Attu in May 2010, and on St Lawrence in July 2011, all 2,500 to 3,000 miles beyond the normal range of the species. As with other pond heron species, Chinese Pond Heron is known in captivity in Europe.

Away from all the weather-borne misery, the main talking point for those of a listing persuasion had veered away from an unequivocally wild little wood-warbler in the northeast to an unequivocally "of unknown origin" little Ardeloa heron that was beginning to play the game in the southeast.
Rather like a protracted game of cat and mouse, this particular twitching story has been bubbling away for two or three weeks now…
The bird had been seen in gardens around the edge of Hythe town centre in Kent during the middle of January and as the first pictures appeared online earlier in this month, the bird was (understandably) thought to be most likely a Squacco Heron. Soon though the ever-sifting sands of identification opinion began to edge along the metaphorical tideline towards a Pond Heron of some sort ~ a notoriously tricky group to nail to species when not in their resplendent summer garb ~ but the debate was, at that time, merely an interesting academic exercise given that news was old and scant and the bird itself was only seen in private gardens.
All that changed at the end of the last review period when, on 11th, someone cracked the clues and tracked the bird down to areas that were viewable to the public and it was then seen during each morning from 12th-14th, apparently becoming ever-more wary as more interest was being taken in it.
With more and more images coming to light, it started to become apparent that the bird was beginning to moult through some summer feathers and these were certainly pointing towards the Kentish mystery bird becoming a Chinese Pond Heron ~ a species already seen at least once before in Britain (in Norfolk and Hampshire in late 2004) but one that currently resides in Category E (as detailed in recent round ups and also in the RBA daily summaries).
...and that's when the fun and games began in earnest as all the usual questions were asked as to just how wild it was, were there any known in captivity, will it be accepted, should I stay or should I go now…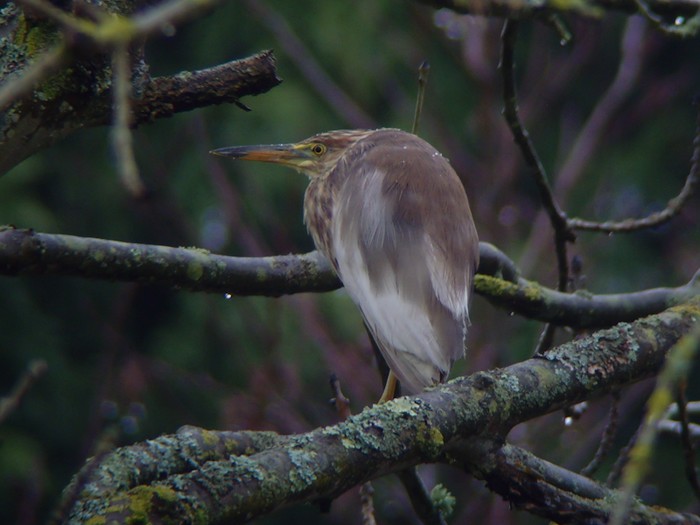 As the questions continued to revolve like the Magic Roundabout merry-go-round the one thing that wasn't in doubt was that if you don't go, you certainly won't be able to tick it. Yes, another case of stating the bleedin' obvious but that was the bottom line.
If you wanted to play the listing game where this bird was concerned, whether for fun or taking it rather more seriously, you had to be in it to win it and take a significant gamble that this was an insurance job that may just (eventually) pay out with another inky mark on your ever-growing piece of paper.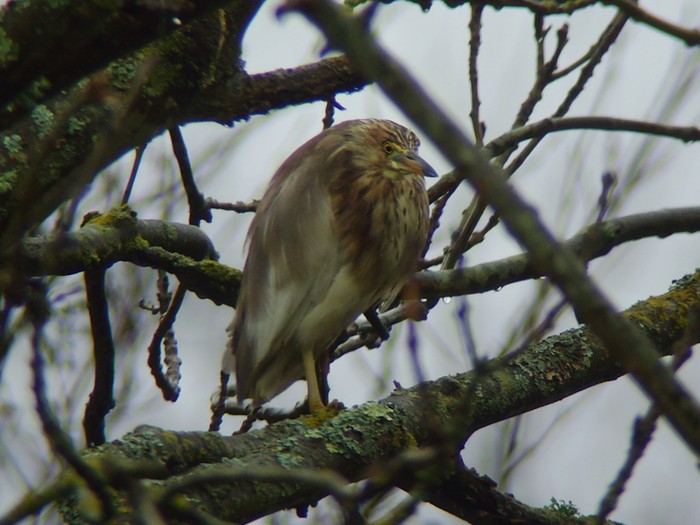 Those present on Wednesday, Thursday and Friday morning will have gone home suitably chuffed and relieved, those attendees on a stormy Saturday would have been left feeling rather more deflated (and also perhaps rather more inclined to assign the bird quickly and swiftly to the bin marked "escape") especially as news came to light the following day that the bird was (as many suspected and feared) still present, soggy and bedraggled in a garden not too far from the patient crowd. A further report on the 18th means many might be spending a second weekend in a row in the Garden of England.
Whether there's enough for, firstly BBRC to go on, in terms of identification, is one to discuss further (if it stays and drops more summer feathers in, the job becomes all the more straightforward of course). It may then fall to the BOURC to see if they'd like to pick up this particular heron-shaped ball and run with it.
We know that the Norfolk and Hampshire bird of 2004 was given the bum's rush and thrown to the wolves of Category E (a summer plumaged bird at the wrong time of year on small garden ponds in east and southern England all helping the ascent to the category in question) but will a bird in the right(ish) plumage on small garden ponds and adjacent river courses in southeast England in the middle of winter be reason enough to elevate the species up and notch or two?
…and maybe the Ardeloa heron seen at Horsey Mere in to the middle of December 2001 really ought to be looked at once again ~ the darkish mantle and heavily streaked breast made people ponder errrr the Pond Heron option at the time but it was accepted as Squacco Heron (with a first date from late September) while there are just three winter occurences of Squacco Heron to date ~ in Derry in November 1881, Dorset in January 1905 and Yorkshire in February 1902.
Anyway…
Sometimes the listing game is all about backing the right horse. Those who gambled on the Land's End House Finch have been left with nothing ~ what odds on the same outcome for this particular avian nag?
Despite presumed vagrant Chinese Pond Herons making it to islands within the Bering Sea on three occasions ~ as detailed by Chris Batty in the RBA Daily Summary of 11th February ~ there are also at least five, probably six rejected birds/known escapes across Europe in the three or four decades. With the illegal bird trade from eastern Asia still well to the fore, the fact that online researchers have found "none" listed for zoos and collections is borderline irrelevant.
Ladies and gentleman, place your bets…

Myrtle Warbler
Away we go to the northeast of England now and to High Shincliffe in County Durham where, holding court to all-comers was the hugely popular wintering Myrtle Warbler ~ still showing to 16th but, just as everyone thought it was in no hurry to depart the scene, it seemingly did just that, no sign during the morning of 17th.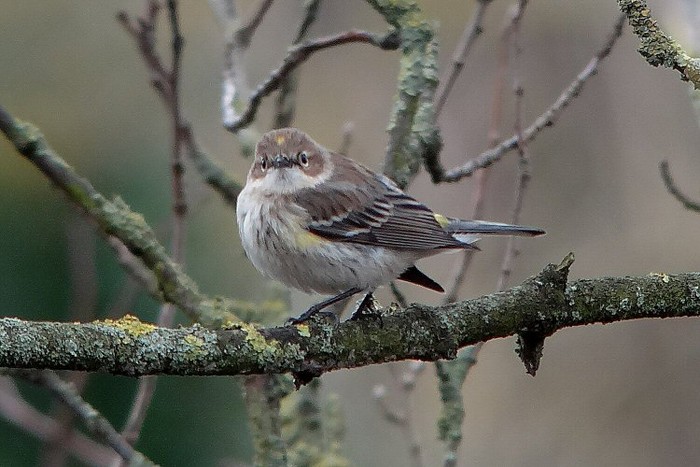 As discussed here last week, this is only the third record of the species on the British mainland ~ the first since 1994 ~ and this, along with a lot of British birders not doing the whole Irish thing (or not doing islands full stop) ensured that a healthy turnover of nouveau-listers inked in a little box with no fear of it being taken away from them (unlike anyone popping an ambitious cross next to the Chinese Pond Heron box).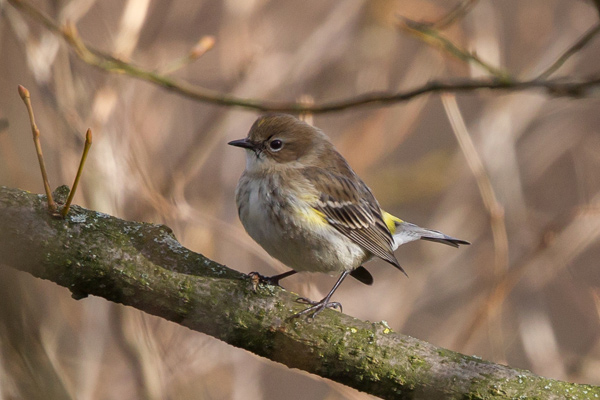 American Coot & Pied-billed Grebe
We'll double up on the two top Nearctic waterbirds again this week ~ the rather dinky American Coot continued to show to anyone willing to head to the Highlands and Loch Flemington until 18th ~ 46 days and counting now since he or she was discovered there back in early January while over on the Outer Hebirdes, at the Balranald RSPB reserve on North Uist, the wintering Pied-billed Grebe was still on Loch Scaraidh to 16th at least, present now in a third month after appearing on December 6th last year.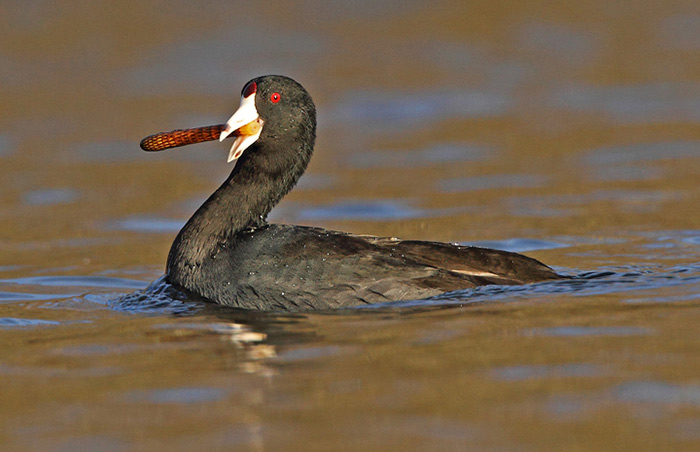 Red-flanked Bluetail
Almost as popular as the Myrtle Warbler was another wintering wonder ~ the delightful first-winter male Red-flanked Bluetail that continued to please and pose for those taking the trip along to the Marshfield area of Gloucestershire through to 18th. Dapper and chipper all in one go, this cheeky chappy certainly brought a bit of avian sunshine to a decidedly soggy part of the country.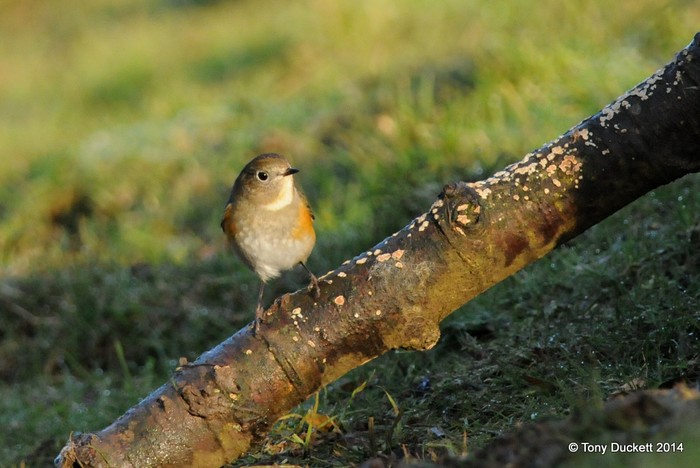 Olive-backed Pipit
Keeping the eastern flavoured wintering vibe going was the excellent Saturday afternoon find in Suffolk of an Olive-backed Pipit at Leiston.
Winter records of this super khaki-coloured tail-pumper are, though not exceptional, still thin on the ground ~ there are four listed for January (in Shetland in 1988, County Cork in 1991, Essex in 1994 and Devon in 1997), while February shows two records ~ one spending 19 days in the car park area at Lynford Arboretum in Norfolk and, most famous of all, the amazingly popular bird in birder John Parker's garden at Bracknell in Berkshire, almost 30 years to the day to the Suffolk bird.
The Bracknell bird caused allsorts of a commotion at the time ~ a wintering mainland OBP was big news back then ~ I've fond memories of twitching it in my half term week, heading up the M4 in Hugh Harrop's uncle Richard's BMW and joining the crowd on a chilly Wednesday (maybe it was Thursday…) to enjoy outstanding views of an amazingly confiding bird. Scoring an Iceland Gull at Theale Pits as we headed back to the southwest was also a result (we detoured off the M-way to make sure…). Happy days indeed…
Perhaps surprisingly, Suffolk has just five records of Olive-backed Pipit prior to this week's new discovery ~ all of then since 2000 when one was seen at Southwold for two days in mid-November of that year. Singles followed at Hopton in September 2001, at Thorpeness in October 2005, Lowestoft in October 2011 and, most recently, at Corton in October 2012 (another at Thorpeness last year has yet to be accepted).
American Herring Gull
Just 10 days after Dan Brown located only the Scottish mainland's second –ever American Herring Gull ~ a lovely looking first-winter at Campbeltown ~ then Eddie Maguire promptly rolled up in the same Argyll town and discovered a brand spanking new smithsonianus and an even nicer looking one than the bird seen on 6th-7th.
Local county recorder Jim Dickson kindly posted Eddie's images who managed to obtain two of the nicest images of the species that certainly I've seen from the UK or Ireland in many a recent year, capturing beautifully so many of the numerous field points that the ardent gullwatcher longs to find on a big, beefy gull like this.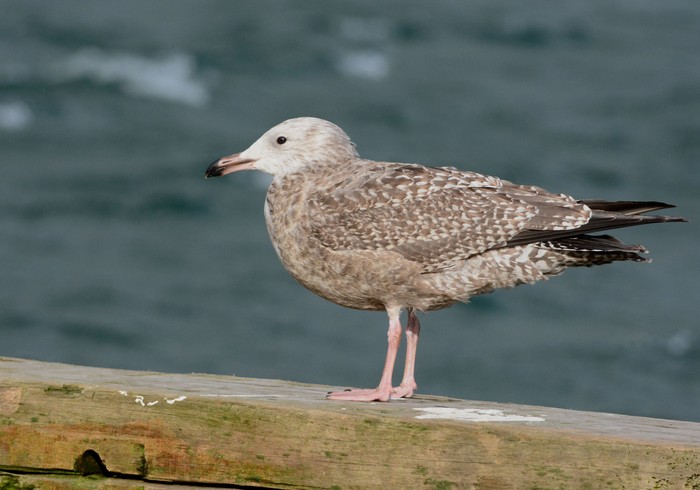 Thanks to Jim and Eddie for sharing such neat and tidy shots of such a stunning looking bird ~ needless to say I'm already looking forward to all the online grizzles when one of them appears in the RBA Rare and Scarce Bird Photograph of 2014 competition sometime in the early days of 2015…(smiley face, blah, blah, blah, zzzzzzzzz, etc.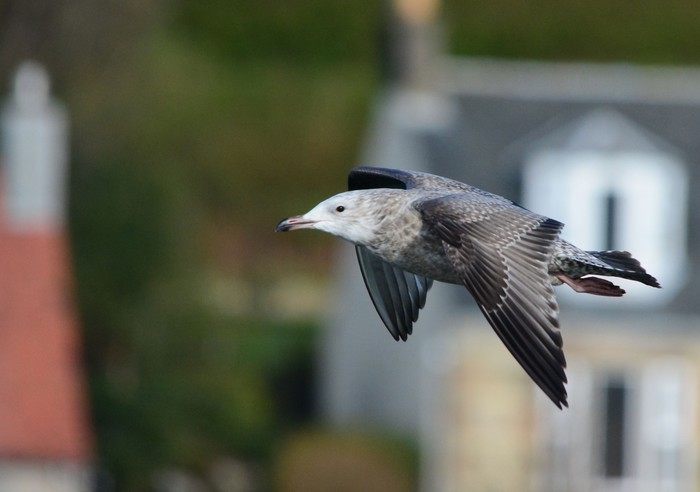 In Dan's account of his exciting find of the first Argyll bird of 2014, he made mention of what else could be lurking around Campbeltown and the surrounding west coast of Scotland. What else indeed, what else indeed…
American Buff-bellied Pipit
Although present for weeks and weeks, a species certainly still worth some sort of headline status was the American Buff-bellied Pipit that remained at Burton Marsh (Cheshire) through to 16th at least ~ continuing to allow super scrutiny and enjoy the subtle suite of characters that take it to high quality status.
Three White-billed Divers were located in the waters of Scapa Flow (Orkney) on the morning of 17th when one was also seen at St. Maraget's Hope, South Ronaldsay and also on Shetland, in Sound Gruney on Fetlar.
The nasty weather at the start of the week's review stirred up a handful of storm-blown pelagic waifs and strays. A first-winter Sabine's Gull was reported with Kittiwakes off Bowness-on-Solway (Cumbria) on 13th, a Pomarine Skua spent a couple of days off the coast of south Devon, at Shoalstone, on 14th-15th with another was seen off Rosemullion (Cornwall) on 17th and Leach's Strom-petrel was noted in Portland Harbour on 15th.
The same date also saw a Grey Phalarope noted in Northumberland, from Alnmouth and the wintering bird still in the same county, off Stag Rocks, Bamburgh on 17th, while Little Auks included five off Holm, Mainland (Orkney) on 14th and singles at Hemsby (Norfolk) and Broad Haven (Pembrokeshire) on 15th and Falmouth (Cornwall) on 16th.
The now familiar run from north to south for the week's regular fix of Glossy Ibis is next ~ numbers falling off again a little over the past seven days.
There's been no news from the Outer Hebrides on the North Uist bird and the rest of Scotland has drawn a blank so the northeast is the next stop and two were logged in the region this week ~ one was again at Saltholme Pools RSPB (Cleveland) on 15th and last week's bird at Chapel St. Leonards (Lincolnshire) was seen off-and-on to 16th at least. Sliding over to the northwest, three singles were reported over the last few days ~ one remained at Upper Thurnham (Lancashire) to 16th while the bird seen recently at Pennington Green in Greater Manchester was also still on site to the same date. New was a flyover at Lancaster on 15th.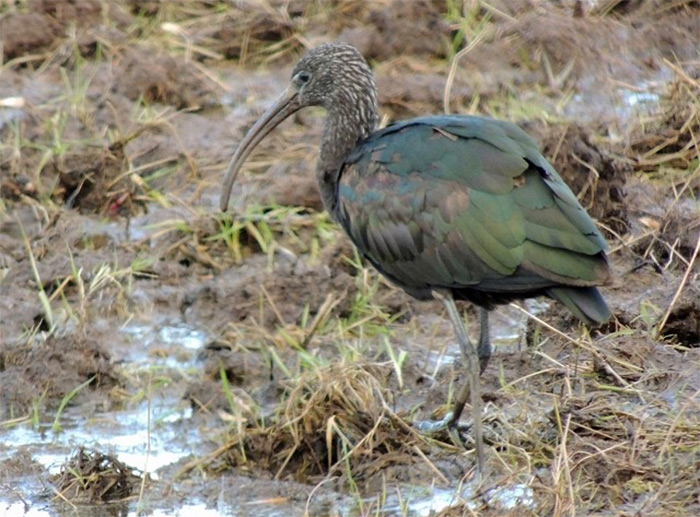 The Midlands saw a Glossy Ibis again appear late in the day at Chasewater (Staffordshire) on 14th and 16th-17th while in East Anglia there were still three lone birds to be seen, one remained around the Cley area (seen twice on Arnold's Marsh this week) to 14th at least while birds at Martham and Oulton Broad were still present to 16th and 17th respectively.
Two Glossy Ibis were noted in fields near Bognor Regis (West Sussex) on 16th and one remained around the expanse of wetlands at Dungeness RSPB (Kent) to 17th. The southwest saw a new bird arrive at Cornwall's Gillan Creek on 16th and across the Irish Sea, singles were at Lough Cowey, Portaferry (Co. Down) on 13th, Lough Neagh's Oxford Island NNR (Co. Armagh) to 16th and Ballycotton (Co. Cork) on 17th.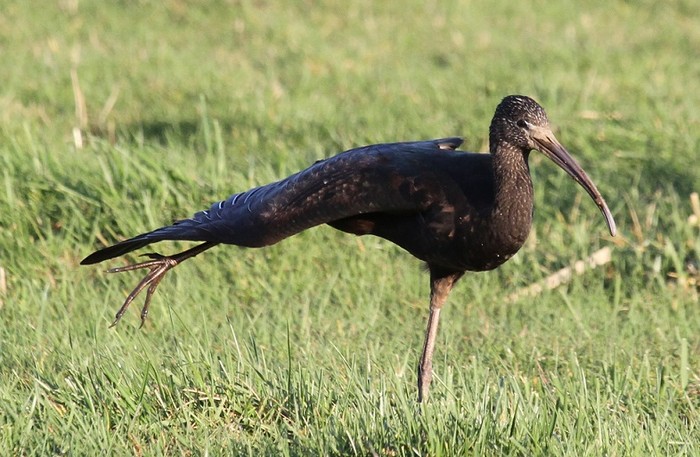 There were up to 28 Great White Egrets reported from 12 counties this week and, as expected, many were round-up regulars. Two sites scored three birds each ~ Dungeness (on 15th and 17th) and Ince Marshes (Cheshire) on 16th, while five sites registered two birds each ~ Llangorse Lake (Powys) and Southport (Lancashire) on 14th, Summer Leys (Northamptonshire) and Scotney GPs (East Sussex/Kent) on 16th and Shapwick Heath NNR (Somerset) on 17th. Elsewhere birds were logged in Wiltshire, Hampshire, East Sussex, Essex, Norfolk, Lincolnshire and Carmarthenshire and at further sites in Northamptonshire, Cheshire and Lancashire while one reported from Brow Well (Dumfries & Galloway) on 15th was interesting ~ the weather and location inviting vague notions of American Great White Egret.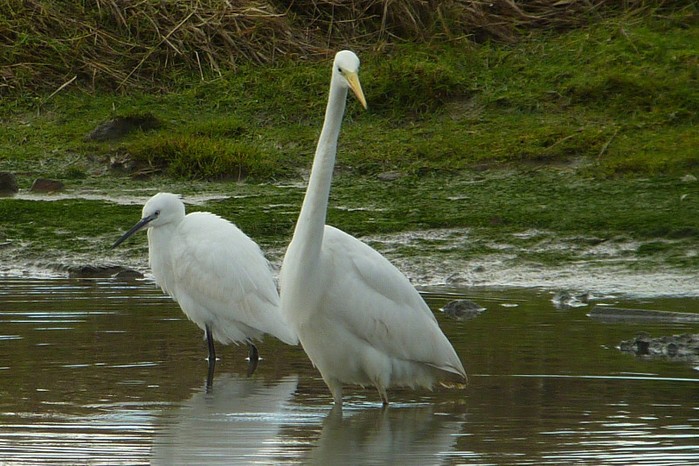 Two Cattle Egrets lingered this week, one still on Hillsborough Park (Co. Down), the other a long staying bird at Steeple Claydon, (Buckinghamshire) reappeared on 18th following a ten day absence. Spoonbills were thin on the ground too, given the lack of flock action (or at least news of flock action) from Poole Harbour ~ Samson's two and Wacker Quay's three were the only multiples recorded (the latter trio scooting over the birder to Plymouth on 17th) with singles noted from Devon, Dorset, East Sussex, Kent and Essex to Waterford and Down.
In Cambridgeshire, a flock of 11 Common Cranes were seen at Prior's Fen, on the Nene Washes on 14th with another joining the mix on 16th (with four at nearby Eldernell on the latter date with a further two near Wicken on 17th). Up to 10 have been seen recently at the Broadland roost at Stubb Mill while the winter youngsters remained around Cheselbourne (Dorset) to 13th when another twosome were seen at Uddington (Clyde). Irish singletons on 16th were seen at Murlough NNR (Co. Down) and again at Kilcoole (Co. Wicklow).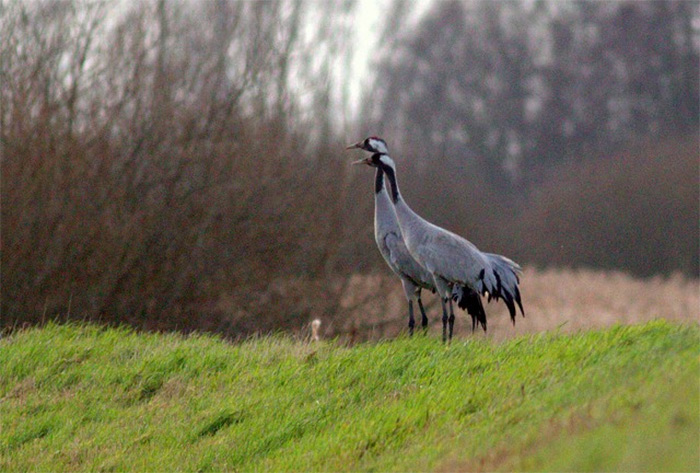 Keeping some Sunday company with a group of 20 flavirostris at Sheskinmore Lough (Co. Donegal) was a Canada Goose sp., while single Richardson's Cackling Geese were noted on Islay at Loch Gruinart RSPB on 15th and Bridgend on 16th and a Todd's Canada Goose was in Argyll, at Stewarton, on 18th.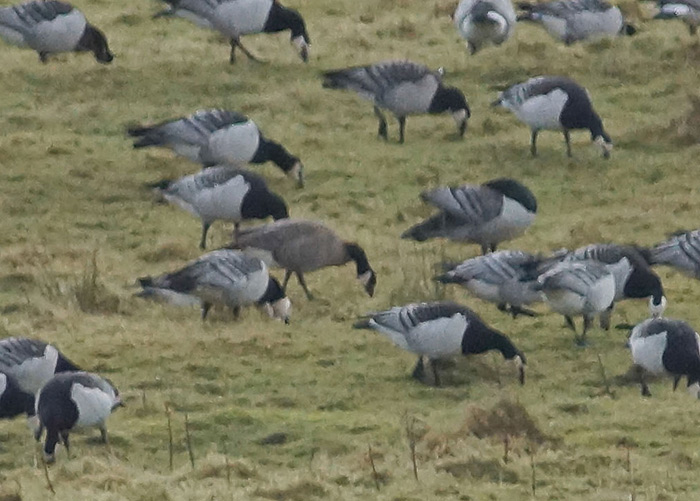 Two white Snow Geese remained at Rattray Head (Aberdeenshire) between 12th-14th with a pair also then at Loch of Starthbeg on 16th-17th. The mixed white and intermediate birds continued their winter break near Tayinloan (Argyll & Bute) to 17th while the two blue Snows were again at Braehead (Clyde), also on 16th. The only single bird of the week was also seen on the same day, a new blue bird on Orkney, seen near Evie on Mainland.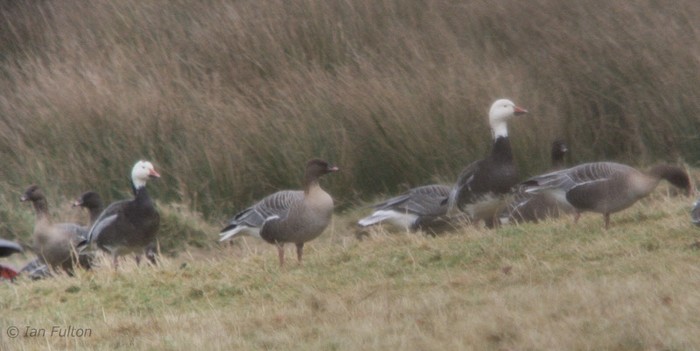 An ultra-quiet week this week for Black Brants ~ the whole week producing just two birds, at Rampside (Cumbria) on 14th and in Thornham Harbour (Norfolk) on 18th.
In Highland, the adult drake Black Duck was at Strontian to 18th while further to the south on the Scottish mainland, the drake Blue-winged Teal returned to the Threave Castle NR (Dumfries & Galloway) on 15th (it was seen last winter from November 30th 2012 to 29th March 2013 and seems likely to be the same bird that was first seen at the site in November 2010).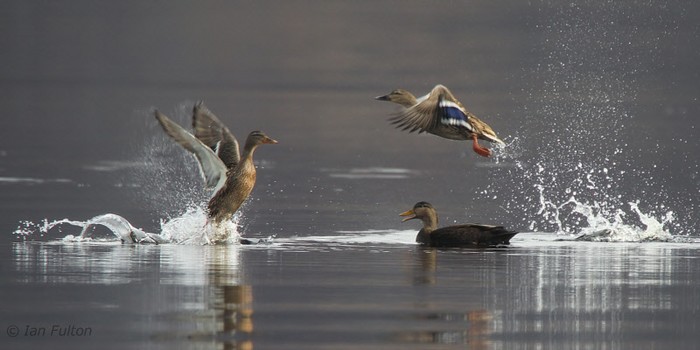 Seven drake Green-winged Teals were broadcast this week ~ including new birds on Orkney, at Loch of Tankerness on 14th and in West Yorkshire, at Swillington Ings on 16th-17th. Remnants from previous weeks remained at Caerlaverock (Dumfries & Galloway) from 12th-17th, Big Waters NR (Northumberland) from 13th-15th, Saltholme RSPB (Cleveland) from 12th-13th, Newgale (Pembrokeshire) from 16th-17th and Ham Wall RSPB (Somerset) to 15th.
A pair of Lesser Scaups were new on Galway's Lough Corrib, at Angliham, on 16th with the rest of the week's tally made up of three lingering drakes ~ all still at Dozmary Pool (Cornwall), Cosmeston Lakes CP (Glamorgan) and Tittesworth Reservoir (Staffordshire) to 16th ~ and a new female at Dunfanaghy New Lake (Co. Donegal) on 17th, with a pair of Ring-necked Ducks there for good measure.
Further afield, the female Ring-necked Duck was still sitting pretty near the rare small grebe on North Uist's Loch Scaraidh to 16th at least while lingering drakes were at Wimbleball Lake (Somerset) to 16th, Loch of Strathbeg RSPB (Aberdeenshire) and Carrowmore Lake (Co. Mayo) to 17th and Trabboch Loch (Ayrshire) and Knockaderry Lake (Co. Waterford) to 18th
American Wigeons could muster just two birds this week, both drakes, both in Ireland ~ the first was at Inishowen, on the Culdaff Estuary (Co. Donegal) on 15th while the other was on Lough Neagh (Co. Armagh) on 16th.
Shetland's regal pair of King Eiders were still in Bluemull Sound on Valentine's Day and on to 17th at least with the drake noted again off the coast of Nairn (Moray) on 12th. Queens were still being seen in Mayo's Blacksod Bay to 17th while further south, one reappeared in County Cork, at Lahilluan, near Cahermore, on 15th and was still there to 17th at least (she was seen most recently on January 19th). In Lothian, the two female King Eiders remained around the Gullane area (off Fidra and Eyebroughy) to 16th at least.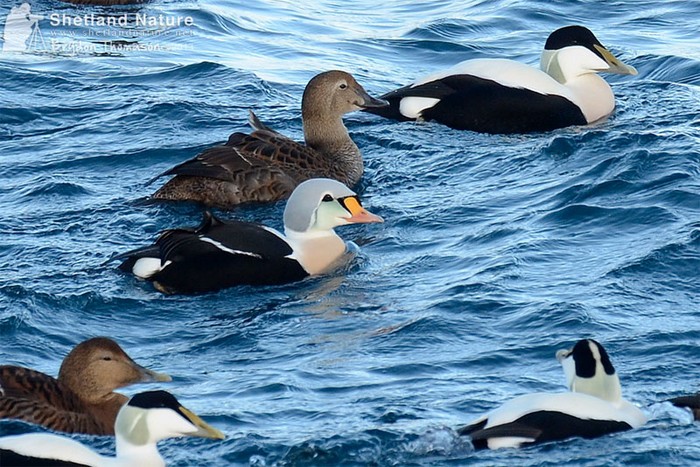 The impressive late winter gathering of Surf Scoters on the sea off Conwy's Pensarn got ever-more impressive this week ~ eight birds recorded there on 16th ~ seven drakes and a duck picked up during the morning. Elsewhere, the young drake remained in Mount's Bay (Cornwall) to the weekend as did the adult drake near Musselburgh (Lothian). In Dorset, one remained in the Poole Harbour area, in Ower Bay, to 15th.
Another slender week for the Shorebird fan ~ with just Hampshire's adult Long-billed Dowitcher at Pennington Marshes and Lesser Yellowlegs at Lepe CP to report (to 12th and 13th).

Lovely rare larids that were all in place to 16th this week included in Wales, the delightful first-winter Ross's Gull which remained a popular weekend draw at Aberavon, near Port Talbot (Glamorgan); Scotland's adult Franklin's Gull on the Island of Canna (Highland); Ireland's first-winter Laughing Gull still present and correct at Ballycotton and Devon's adult Bonaparte's Gull at Exmouth and Dawlish Warren NNR.
New though was the first-winter Laughing Gull seen in the early morning and late afternoon of 17th (and again on 18th) on the beach at Marazion (Cornwall) ~ the first in the county since one at the same site in May 2006 which signalled the final record of the incredible influx from November 2005 to May 2006 when up to 18 birds were accepted around the county, ten of them logged between November 3rd-9th.
Back in Ireland, the adult Ross's Gulls were seen again at Kinsale (Co. Cork) and Poolbeg (Co. Dublin) on 18th after not a sniff of either through the rest of the week..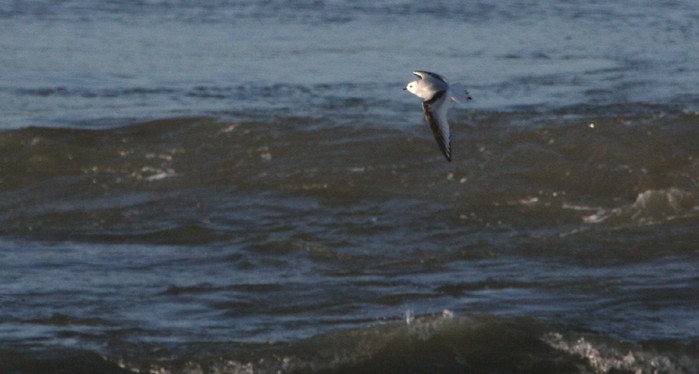 After 19 last week, Ireland's total of Ring-billed Gulls fell to 17 birds this week in eight counties ~ topping the list the quintet made up of four adults and a first-winter at Nimmo's Pier (Co. Galway) on 15th. and another four were at Blackrock (Cork) on 18th. There were twos a piece on 16th for Bantry (Co. Cork) ~ two second-winters there ~ Tralee Wetlands (Co. Kerry) ~ a second-winter and adult there ~ and Limerick City where the first-winter and adult remained in place from last week. Elsewhere through the week single adults were noted at Dundalk docks (Co. Louth) and in Dublin on 13th, at Portrush (Co. Antrim) from 13th-16th, on the Mullet (Co. Mayo) and Castletownbere (Co. Cork) on 15th, still in Wexford town to 16th and at Tramore (Co. Waterford) on 17th.
In Britain, numbers fell away markedly ~ just three birds noted. The adult was in the Llys-y-Fran reservoir roost in Pembrokeshire again on 15th and 17th and in northwest England, the second-winter Ring-billed was at the Audenshaw Reservoir roost (Greater Manchester) on 13th and the adult was again at Crosby (Lancashire) on 15th and 17th. The only other bird recorded was the adult that remained in Gosport (Hampshire) to 17th.
And so to Glaucous Gulls…
…a species which has quietly become one the stand out fixtures of the winter's birding events.
After logging some 115 + around the place last week, Ireland upped the ante once more this week with a whopping (approximate) tally of over 180 birds across a dozen counties through the last seven days. Undoubtedly the most eye-catching figure came from the western side of the Mullet peninsula were at least 40 birds were counted in the Belderra Strand area during 13th. The following day, another (?) 24 were seen on the beaches at the south end of the Mullet pushing the Mayo total soaring ~ and all from just one stretch of land!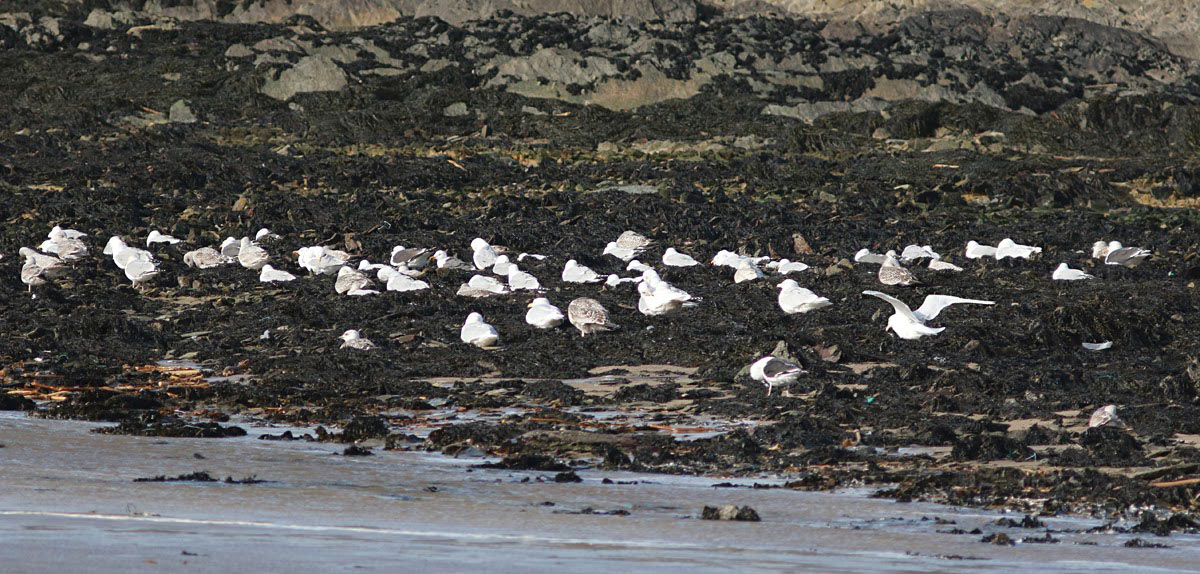 Smaller double figure hauls in Ireland included 11 at Ferriter's Cove (Co. Kerry) and 14 at Carnsore Point (Co. Wexford) on 13th, 11 at Beara (Co. Cork) on 15th and 10 at Killybegs (Co. Donegal) on 16th while a minimum of nine birds around Waterford on 15th deserves an honourable mention too.
Numbers of Glaucous Gulls fell away to around 21 birds in Scotland, with eight on the Outer Hebrides (six of them seen at Rubha Ardvule, South Uist on 14th), with six more recorded on Shetland. Half a dozen birds (all singles) were seen in northeast England, while only two were recorded in the northwest. In East Anglia, there were two singles for both Norfolk and Cambridgeshire, while the southeast saw four singles logged. Numbers spiked in southwestern counties, up to 25 seen in five counties including five in Devon and up to 14 in Cornwall ~ including five at Mousehole on 13th. The beach at Newgale held four birds on 14th from a Welsh total of seven while the Midlands could mange three.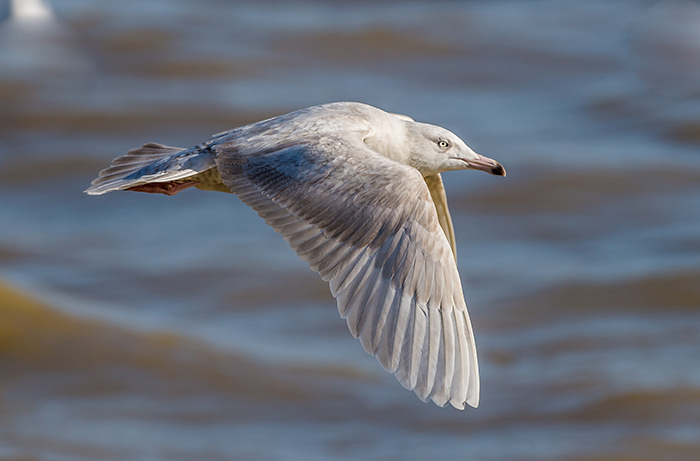 The figures listed above, 75 (give or take) when added to the Irish haul push the week's overall tally of Glaucous Gulls to a mouthwatering 245+. Fabulous stuff!
By comparison, numbers of Iceland Gulls were positively lowly, with just over 100 noted across Ireland and Britain through the week. As usual it was the former country that fared best, 50 or so logged there with a peak count of nine at Killybegs on 15th. Up to eight were seen in Kerry, six were seen in Cork with five in Waterford as birds were spread across eight counties.
In Britain, Scotland judged edged out the northwest of England in terms of "highest numbers" ~ 13 for the former, 11 for the latter three each for Shetland, Northumberland and North Yorkshire. There were half a dozen seen in both the southwest and the Midlands, with up to four birds in Staffordshire while a handful were seen in Wales, the northwest and southeast too.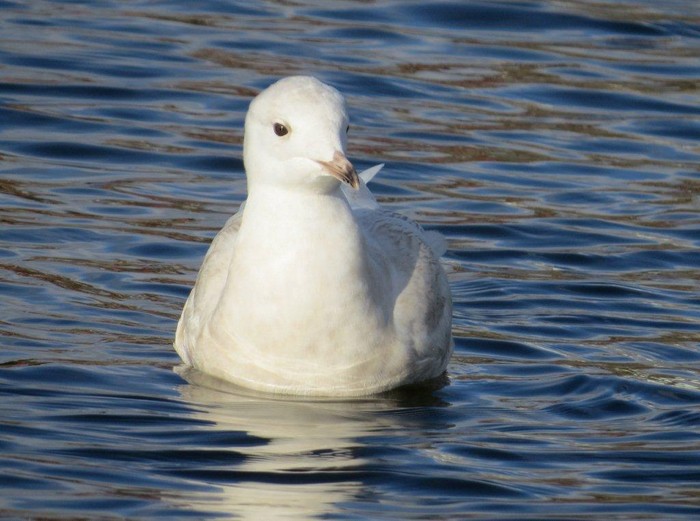 After a monster week last week, the numbers of Kumlien's Gulls dipped a little across the last few days, a total (a very respectable total in any other year…) of some 42 logged.
Up to 26 birds were seen across six Irish counties, with eight for Killybegs (Co. Donegal) on 15th the highest count of the week. As many as ten were recorded in Kerry (including five at three localities on the afternoon of 17th, with three at Inny Strand, followed by three on 18th at Dingle).Mayo scored four while there were two in Galway. Wales popped up with at least six birds this week, two adults and a juvenile were at Newgale (Pembrokeshire) on 15th-16th, one or two juveniles were seen between Burry Holms and Broughton Bay (Glamorgan) on 16th and Ross's watchers at Aberavon found an adult Kumlien's there, also on 16th.
Up to seven birds were seen in Scotland this week, while the northeast recorded two (the second-winter at Barmston in East Yorkshire ~ with it or another bird of the same age at Tophill Low on 17th ~ and the third-winter at Rufforth in North Yorkshire) with two or three in the southwest (the adult at Seaton in east Devon to 12th and one or two adults around Mount's Bay in west Cornwall to 17th). The striking juvenile remained at Littlehampton (West Sussex) all week while a third-winter was at Heaton Park Reservoir (Greater Manchester) on 16th-18th.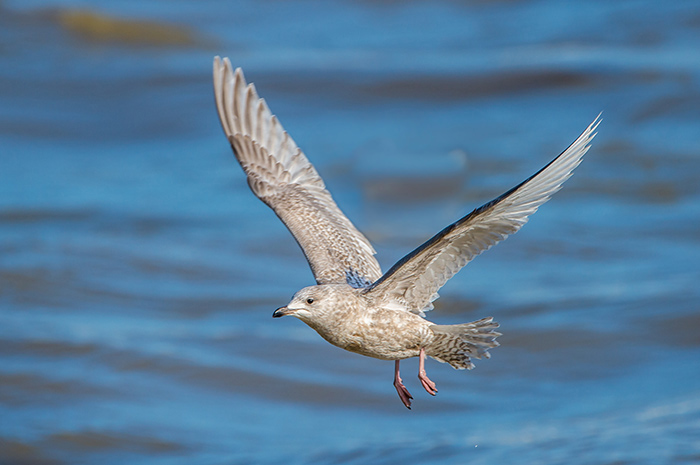 We'll round off this section with news that the first-winter Forster's Tern remained in Elly Bay, on the Mullet to 17th at least and the long-time rerturning adult was seen again in Galway Bay, from Nimmo's Pier, on both 15th and 16th.
Undoubtedly one of the stars of the show this week was the awesome Snowy Owl that appeared on the Shetland mainland, at Exnaboe on 14th. Captured beautifully by John Moncrieff, the bird was present for just a short while before headinmg north ~ a decent return for a monrning's otter watching, it is the first record for the islands in just under four years, the most recent bird being seen at Baltsaound in May 2010.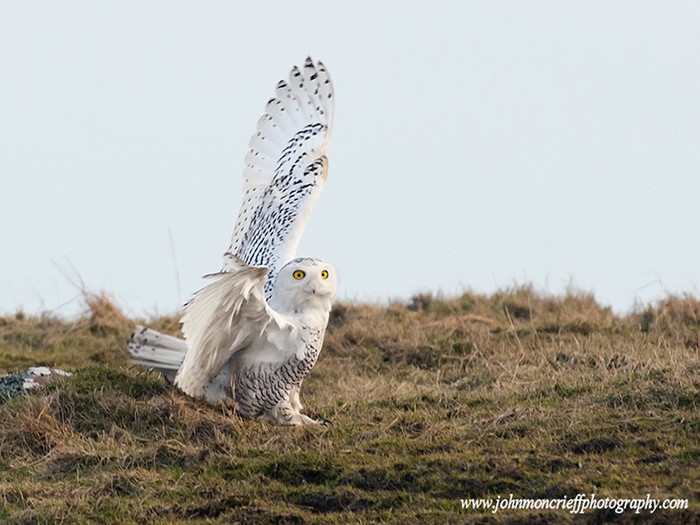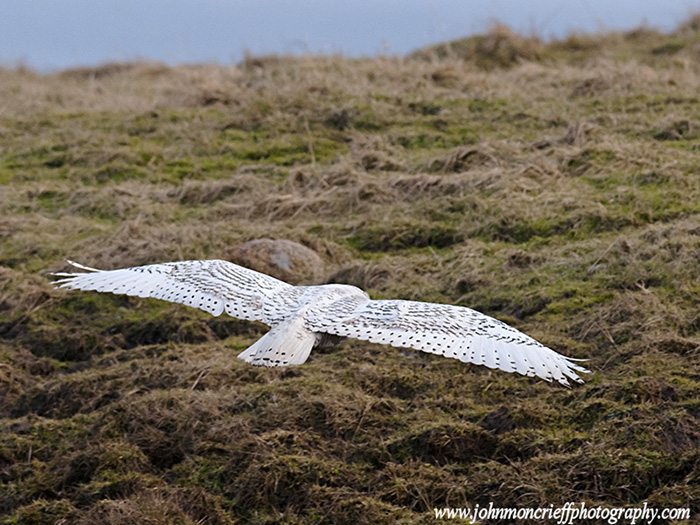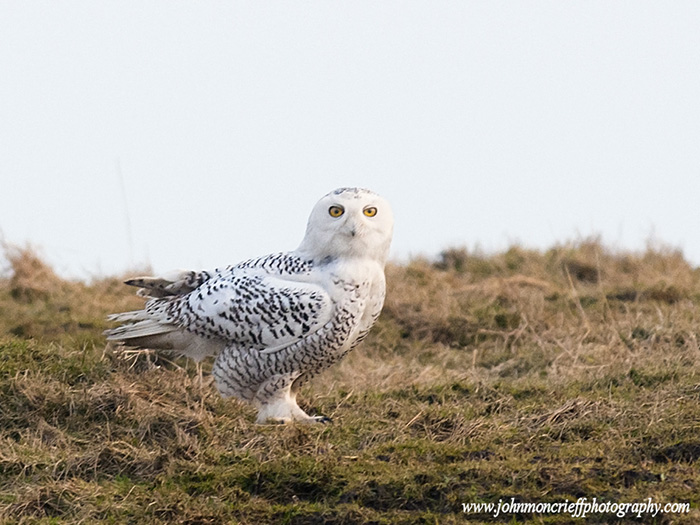 A Rough-legged Buzzard seen flying over Leith Hill (Surrey) on 16th will be a great county record (if accepted at local level) while more typical locations were Norfolk's Waveney Forest, the dunes of Burnham Overy (where singles were seen again on 16th) and still at Ongar Hill, near King's Lynn and also Sudbourne (Suffolk ) on 18th.
All three of the Hume's Yellow-browed Warblers recorded in recent weeks made it to the end of another weekend ~ the birds in Warwickshire (near Coleshill) and Kent (in the paddling pool-like trapping area at Dungeness and the drier confines of Ramsgate Cemetery) were all present and correct to 16th (the first bird present to the end of the week). Not too far from the latter of the Kentish birds, was the wintering Pallas's Warbler, seen again at Folkestone on 16th-17th and, after nothing for almost a fortnight. In Topsham (Devon) a new Yellow-browed Warbler was found in a garden near the recreation ground on 18th whilst Worcestershire's Yellow-browed Warbler was seen again at Romsley on 17th, with others still at Ponsanooth and Gwennap (Cornwall) on 18th.
Back to a very busy and very popular Kent and back to Dungeness where two metal-ringed Penduline Tits were seen from 15th-17th, present firstly near the ARC pits and the Hanson Hide before relocating to the reed-fringes of Hooker's Pit. The third bird of the week was a "heard only" from Ashcott Corner (Somerset) on 16th ~ if accepted (or seen again) it could become the 12 record (with 16 birds within that) for the county.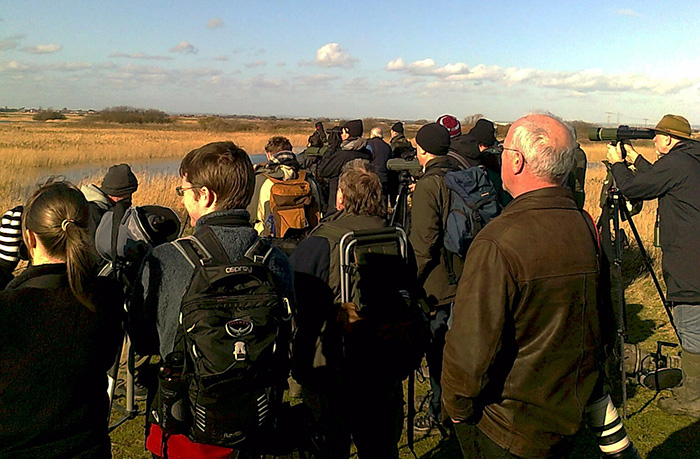 The presumed "Eastern" Lesser Whitethroat was still near Prior's Park (Northumberland) to 17th, and the same date saw the continued presence of the wintering Richard's Pipit near Salthouse (Norfolk).
Just ahead of the rough, rough weather hitting Scilly, a Serin was seen over Old Town on 12th and again on 17th ~ but there's been no news of the wintering Rose-coloured Starling this week.
The week'[s poor numbers of Great Grey Shrikes is presumably weather-related ~ just eight birds logged all week. Three of those remained in Gloucestershire, at Cinderford to 12th, Great Rissington to 16th and Staple-edge Wood on 18th, with singles in the New Forest (Hampshire), Holme Fen (Cambridgeshire) and Lower Bittell Reservoir (Worcestershire) to 16th and Cross Inn Forest (Ceredigion) to 18th while new was one at Papercourt Farm (Surrey) on 17th.
At least three new Two-barred Crossbills (a male and two females) were seen on Nercwys Mountain, near Mold (Flintshire) on 17th ~ a county first if accepted (and only a third-ever Welsh record after accepted birds in Powys in November 1912 and Denbighshire in March 1991.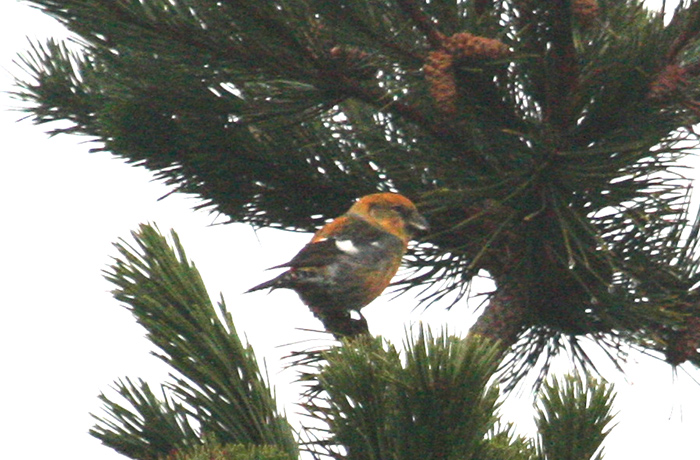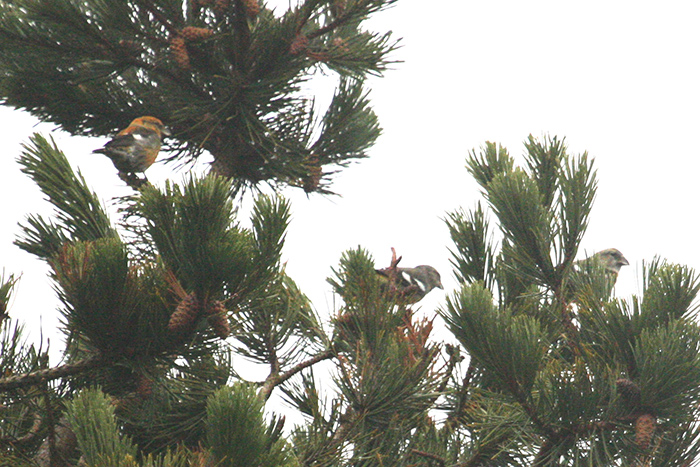 Elsewhere, the male Two-barred Crossbill remained at Broughton (Lincolnshire) to 16th, the female reappeared at Leith Hill (Surrey) on the same date while three were still at Buttonoak, in the Wyre Forest (Shropshire), two males lingered along the Serridge Ridge in the Forest of Dean (Gloucestershire) and seven (including five males) continued their winter hols at Broomhead Reservoir (South Yorkshire) throughout much of the week.
In north Norfolk, near Holt, the numbers of Parrot Crossbills ranged from two to sixteen during the week (the peak count coming on 14th) with just one other reported anywhere else, at Suffolk's Mayday Farm on 16th.
Given that we know that it really is a miserable Waxwing winter, we won't dither for too much longer ~ 22 birds were seen around Scotland through the week, while the "Myrtle Three" stuck around at High Shincliffe in Durham to 12th. The flock of 30 or more birds reported on the edge of Norwich on 14th was a turn up for the books (given how poor the winter has been) while the small flock of eight birds in Ipswich (Suffolk) proved popular over the weekend. The only birds to report ~ the quartet that lingered in Blackburn (Lancashire) to 16th.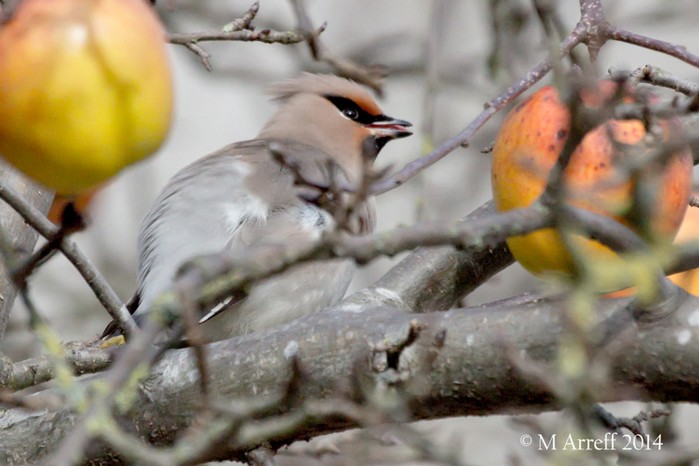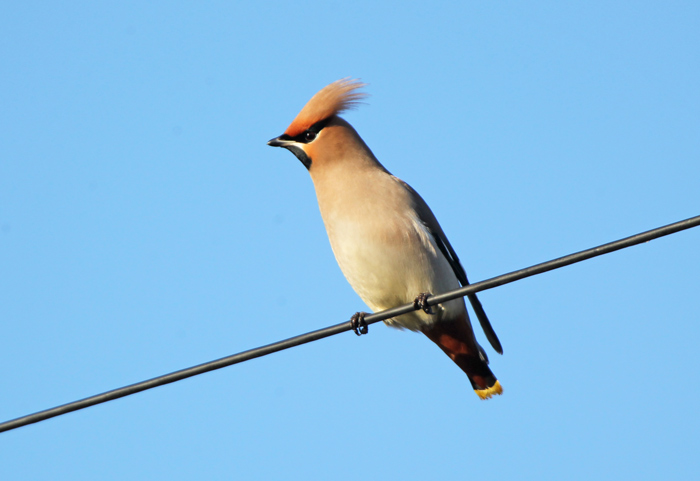 Settled, calmer and drier weather seems to be on the cards ~ but the winds seem destined to be routed eternally between the south and southwest. It all points to more birds from the Americas really ~ but surprises have come from different points of the compass throughout the days of yore.
Tacumshin's Baikal Teal of 2010 and, in particular, the Spurn Rock Bunting of 1965 are the species that one's drawn to for February 19th discoveries ~ neither seem likely in the days ahead though.
One of the nicest juvenile Thayer's Gulls to date was found in Cork on February 21st 1990 (no reason why we shouldn't clock up another soon) while that much-argued about, much doubted adult (tho' still accepted…) Thayer's was found in Donegal on February 22nd 1998. The 23rd of the month has yielded untold surprises (Baillon's Crake, Sociable Plover, Great Snipe and Great Spotted Cuckoo, so fans of the odd and curious may want to red-ring that one on the calendar while the 24th and 25th are positively dull by comparison…
But there is one species from the week ahead that still strikes a chord with many …the superb first-winter Cedar Waxwing found in Nottingham, amongst a massive flock (almost 1,000 strong) of Bohemian cousins, on February 20th 1996.
A mighty twitch ensued and the bird showed well amongst all the "chase me, chase me" fun and games on the East Midlands streets, through until the middle of March. Sadly for those listers not on the scene then, there've been just two further bites of the cherry ~ neither of them amongst Bohemian flocks, both of them autumn mega-vagrants (the one-day bird on Inishbofin in 2009 and last year's hush-hush garden bird on Tiree). And with so few wintering BW's this year, the odds are stacked high against another Cedar in a tree. But it has been a pretty wacky start to 2014, so who knows….
Until the next one, here's one I saw earlier…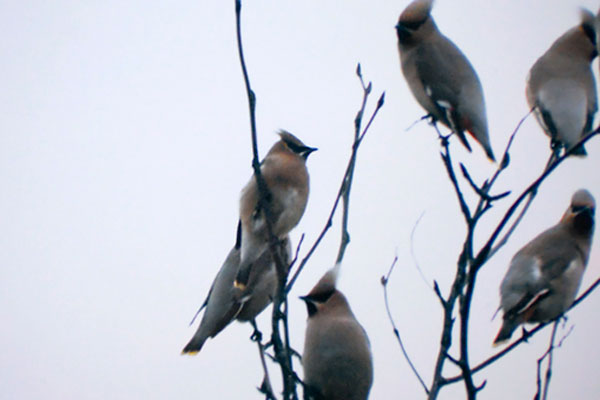 Mark Golley
19 February 2014


Many thanks to this week's contributors for their photos and videos
Lee Gregory, Tony Dixon, Simon Knight, John Dickenson, Steve Evans, Tony Duckett, Jim Dickson, Craig Morris, Graham Etherington, Martin Casemore, Rob Cockbain, Neil Rolph, Steve Percival, Ian Fulton, Brydon Thomason, John Gale, Michael O'Cleary, Davey Farrar, John Stanton, Gus Guthrie, John Moncrieff, Mark Hipkin, Geoff Morgan Mike Arrett, Sean Nixon,