Weekly round-up: 05 - 11 Feb 2014
Galway lands a superb near-adult Slaty-backed Gull for a shocking Irish first
Durham's garden birders uncover a wintering Myrtle Warbler
Spurn piles in with our first-ever winter Fea's Petrel record
Argyll & Bute scores an impressive young American Herring Gull
Scotland's American Coot lingers in Highland
…and the Pied-billed Grebe holds station on the Outer Hebrides
…while the first-winter male Red-flanked Bluetail remains in Gloucestershire
The general overview for the second week of the second month of 2014 was, in many ways, much the same as one or two of those that we've just waved a fond farewell too. It remained pretty wet, pretty windy and things for residents of many western counties were still very much on the grim side.
The general overview for birds recorded through the second week of the second month of 2014 was, by contrast, a glorious ray of sunshine despite the fact that the bird of the year (it may still be such come December 31st) was gone before we knew about it. That mini-factoid was a minor inconvenience if one takes a more holistic approach to the rare bird cycle ~ the first indisputable record of a supreme Pacific larid was reason to celebrate, no matter that it all came down to one observer…
And we thought that 2013 was a mad, crazy year for stonkers…
So…we're just six weeks or so in to 2014 and already there is an air of bonkersness about the initial 42 days of the new year. Quality has oozed from every pore so far and this week's selection has taken the ante and upped it once more, and in some considerable fashion to boot.
Slaty-backed Gull
Riding in on a blaze of (currently) belated glory was the first Irish record of a bird from quite the opposite direction to the one you may immediately think of, given the extreme Atlantic weather systems that have battered much of Britian and Ireland in the past however many weeks….
…there, almost as far to the west as you can go on the Irish coast, on the edge of Galway City was a stunning near-adult Slaty-backed Gull. A Slaty-backed Gull in Galway….what the flippin' flipper is that all about?!?
Photographs were taken at Waterside on the east side of Lough Corrib, a known location for gullers to head to as a pleasing alternative to the nearby Nimmo's Pier, on 8th and came to light ~ as is often the way nowadays~ via the power of the online birding community late on the evening of 9th ~ a day which proved fruitless in terms of further sightings. But it is early days ~ Galway Bay is choc-a-block full of places for this bird to hide and further sightings feel almost inevitable.
The single "on-the-deck" shot, along with a particularly telling flight shot, ticked every single box on the "suite of characters" checklist for a bob-on schistisagus ~ the overall feel was undoubtedly that of a Slaty-backed Gull with a primary pattern to die for. Size and structure, especially where the bill was concerned, led one Asian expert to suggest that this was a female. Whatever the sex, this was, undoubtedly, the real deal.
Slaty-backed Gull has an extremely large range, breeding in northeast Siberia, from Cape Navarin south to the northern tip of North Korea while their wintering range extends down to include the whole of the Korean peninsula, northeastern China, most of Japan and in to Taiwan. Whether this bird has come west and taken a jaunt "over the top" or headed east from Nearctic (several vagrants have been recorded in Newfoundland, so a further track east out across the Atlantic is a potential arrival route) is something of course we'll never know the answer to, but it is fun to speculate a little bit. It could also have been knocking around the Western Palearctic for a while and just not picked up as a younger bird…
The Western Palearctic's first Slaty-backed Gull, an adult, was discovered in Lithuania in November 2008 before, remarkably, being relocated in Latvia a few months later by Aberdeenshire-based gull guru Chris Gibbins. Further records have followed from Iceland (in May 2012), Finland (in November 2012) and Belarus (in December 2012) while here, well, we all know the story…
To date, there is of course just one other record on these shores, the much-discussed bird at assorted Essex gulling locations through January and February 2011. That particular bird generated more chat than almost any other species bar the ill-fated, now binned Slender-billed Curlew and, much as was the case with online witch-hunt with the Curlew, the same voices that shouted loudest about that bird also seemed to "win" the debate re:- the Rainham, Hanningfield, Vange and Pitsea bird.
The debate swirled round and round and round ~ the overall paleness of the bird being the main bone of contention (see the adjacent "compare and contrast" shots of the Galway and Essex birds), though most other elements of the bird's appearance were deemed well within the species' range. As it stands, there's still no decision from any committee on the Essex Slaty-backed Gull but there's presumably every chance of it making the grade and on to Category A.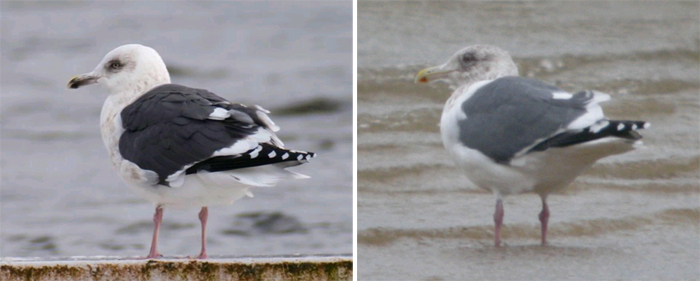 A handful of folk are still a little wary of it, the spectre of another species influence (and genes) is something that still requires a measured, cautious approach, but most of those who connected in those grey, murky winter days at Rainham will vouch for the bird's credentials and feel-good factor.

Myrtle Warbler
BOU/IRBC Status: A
RBA status: Extremely rare
Accepted British records: 17
Accepted Irish records: 13
Most likely to occur in: October
Most recent accepted record:
10 - 11 Oct 2010 - Inishmore, Co.Galway
From east to west now for the second surprise package of the week…
The RSPB Big Garden Birdwatch has many, many splendid points in its favour ~ increasing awareness of the commoner (or what were once common) garden attendees being uppermost on the impressive list of good things to come from the all-inclusive weekend-long survey.
The corporate PR machine has done a particularly fine job of late ~ showing a certain savvy in the way that it has pushed the annual garden birdwatch event in to the mind of the general (non-birdwatching) public. Results are often revealing and, as this week has proved, sometimes throws up a supreme surprise in the most unexpected of locations of a species that many were most appreciative of…
The story began to unfold on Friday…the Twittersphere emblazoned with a record shot of an unequivocal Myrtle Warbler perched atop a coconut in a garden "somewhere in County Durham". The shot had been taken over the BGB weekend and had been sent through the HQ for a bit of "what's this then" action. An astonishing record given the location and, with a little bit of negative news the same day, it seemed as though the trail had gone cold.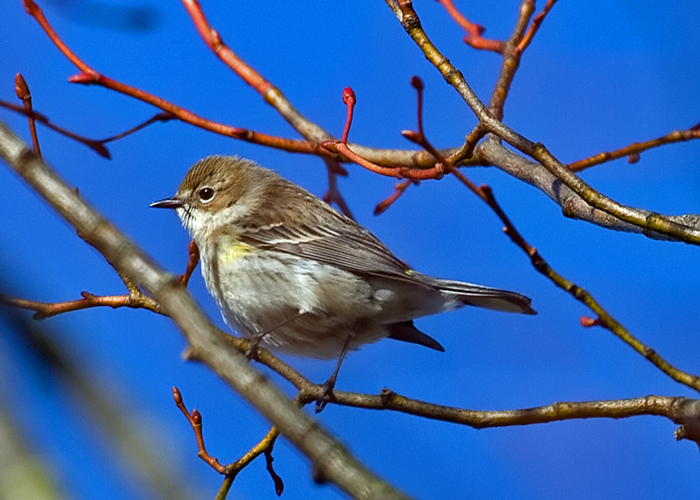 That chill was, of course, only temporary, as the pack started to sniff harder and harder in to unearthing the bird ~ after all, this is Durham in early February so where's a Myrtle Warbler going to go? It had to still be in the area (wherever that was) and the after-dark Saturday evening news of the bird's continued presence was a boon, more so given the "access is being negotiated" tag on the end…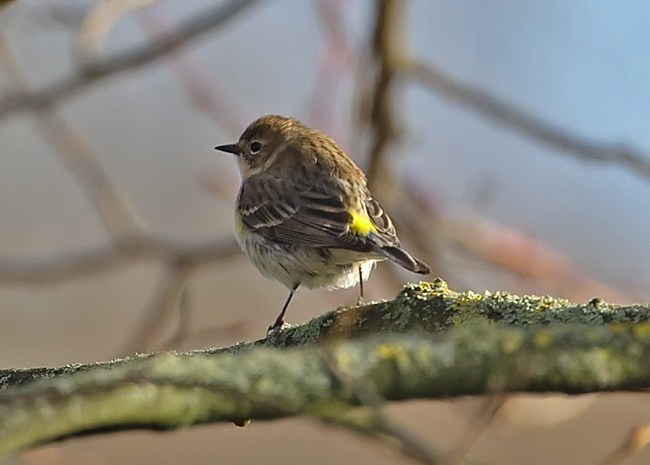 Just as the last bit of toast and marmite was being snaffled over Sunday breakfast, the claxon sounded ~ not only was the bird still there, the public had now been cordially invited to High Shincliffe, just a couple of miles away from Durham itself to come and enjoy the first Myrtle Warbler on the British mainland since 1994. Happily the bird behaved through 9th and on to 10th and 11th.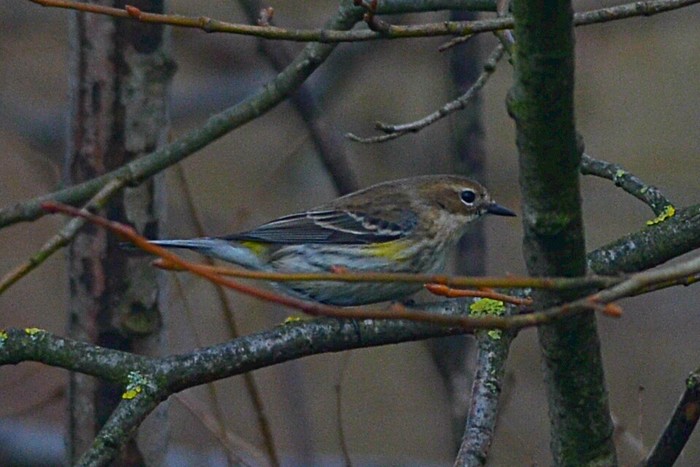 The past couple of years have seen a little wave of these subtle, rather delightful little American wood-warblers find their respective ways across the Atlantic ~ in 2012, one appeared on Dursey Island, off the coast of County Cork to be followed by two birds on Inishmore, off the coast of Galway a couple of days later (famously becoming arguably the rarest ever runner-up prize in the Dipping Stakes after the overnight flit by the Western P's first-ever Eastern Kingbird.
Inishmore scored again last year too, one found there in very late October, the day after another was located on Lundy Island and now, less than five months on from there, comes the first for the northeast of England and only the third-ever for Mainland.
Any birder worth his or her salt will remember that Britain's first Myrtle Warbler was a wintering bird in a garden at Newton St. Cyres, near Exeter in Devon ~ seen between January 4th to February 10th 1955 (the young male was picked up dead on the final date) while our only other mainland bird was almost 20 years ago ~ a two-day bird in Bristol's Eastville Park in the middle of November 1994.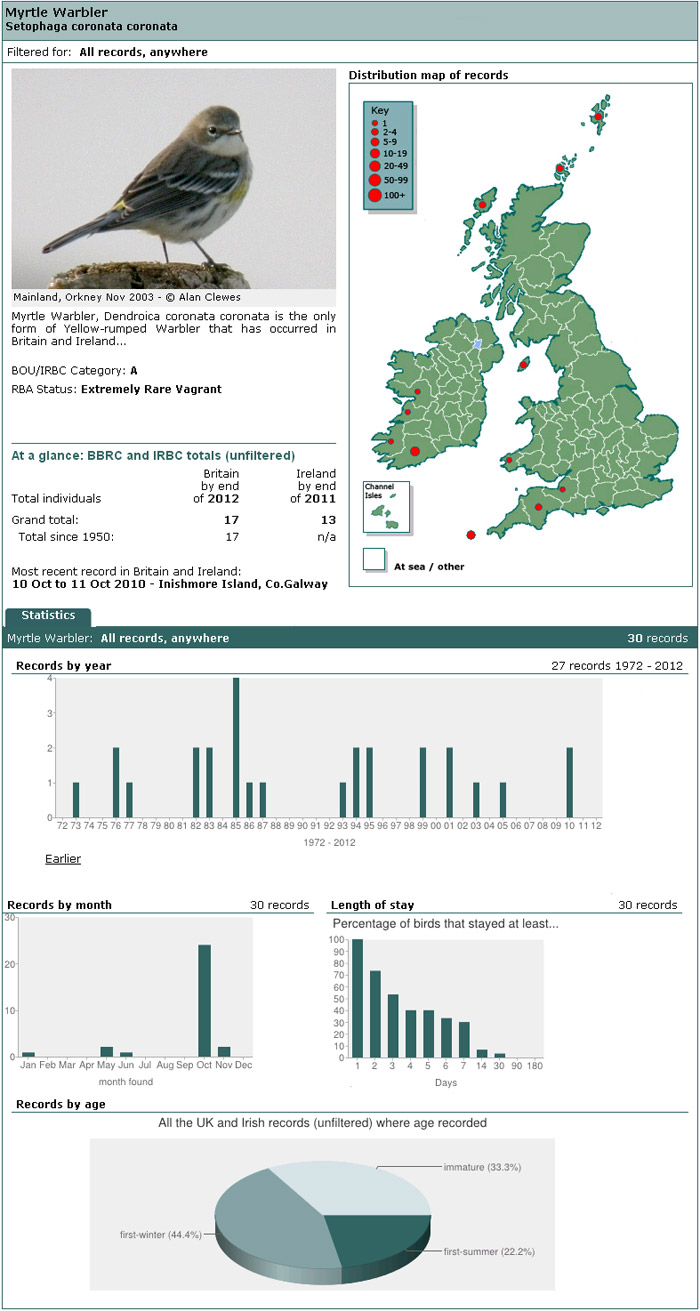 Prior to the half dozen records mentioned above, there are 30 accepted records of this Nearctic traveller for Britain and Ireland ~ until the end of 2010, Cork has managed 10 accepted records with Scilly coming along in second spot with five. The far flung islands off the Scottish coast (Outer Hebrides, Orkney and Shetland) have managed two each but there's never been a sniff of one anywhere in the east which makes this record all the more remarkable.
This week's top bird may not have the same allure as the most famous wintering American mega warbler ~ Kent's awesome Golden-winged Warbler ~ but there's no doubting that this is a bird of the highest calibre and adds yet more stardust to what has already been a rather hectic and frantic opening six weeks of 2014.
Fea's Petrel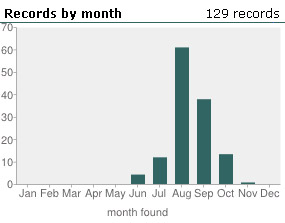 Earliest accepted record:
11 Jun 1996 - Gwennap Head, Cornwall
Latest accepted record:
19 Nov 1999 - St.Mary's Island, Northumberland
Coming along as more of a "gadzooks" than "gadfly" (remember that expression?) moment was the third head-scratching turn-up-for-the-books piece of news for the week ~ when a Fea's Petrel was reported heading, first north, then south past Spurn on the morning of 10th.
This amazing record absolutely stands out from the Fea's/Zino's crowd and was watched off and on for several minutes just after 9am. If submitted and accepted, this will become the first mid-winter record of a Pterodroma in British or Irish waters. Currently there is on November record on the books ~ seen from the coast of Northumberland on November 19th 1999 ~ and then you leap (via a close-in though rejected fly-by off Cley in March 1992) ~ to four June records, the earliest of which came from Cornwall's Gwennap Head on the 11th of the month in 1996.
It would be somewhat disingenuous to question the identification of the Spurn bird, given the calibre of many of the seawatchers there, but the mind can't help but wander and wonder at other potential (mega, mega) options…we know, for instance that the very similar Desertas Petrel have been tracked to wintering areas off the Brazilian coast, the Cape Verde Islands, the southeast coast of the USA and also in the waters of the central South Atlantic.
The world's go-to seabirding expert, Scilly resident Bob Flood has kindly commented more on this fascinating record….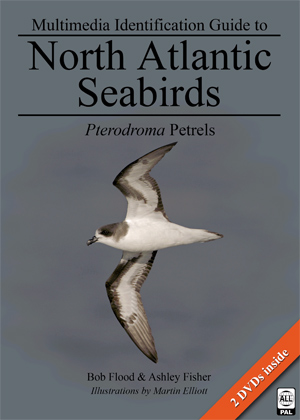 "I am not particularly surprised by the Spurn Fea's. Desertas Petrel has been data logged between Azores and Southwest Approaches in February, although most birds data logged were in the South Atlantic in February. Cape Verde Petrel is still breeding in February, incubation foraging or foraging for chick provisioning at the moment. Data loggers show they forage north beyond the Canaries, although only very few birds have been tracked. Cape Verde Petrel could well visit our waters at this time of year. I suspect that intensive seawatching at this time of year, as occurs in August/September, would give rise to a few more records."
Many thanks to Bob for taking time to pen a few words ~ anyone who doesn't own the two supreme multimedia volumes produced by Bob and fellow Scilly seabirding whizz Ashley Fisher ~ "Storm-petrels and Bulwer's Petrels" and "Pterodroma Petrels" would do well to invest in the magnificent books and absorb every ounce of knowledge that lies within.
With the mad weather we've endured of late and the amazing spread of unexpected birds recently, almost anything feels possible…and the smart money still has the fabled Cahow (Bermuda Petrel) as a potential addition to the British or Irish Lists sooner rather than later.
Exciting times folks, exciting times….
American Herring Gull
Given the relentless blitz of Atlantic weather systems that have pulsed relentlessly across from the Eastern Seaboard in the past few weeks (months even…) it is actually something of a surprise that there have been so few American Herring Gull records.
Last week came news of a first-winter at Cobh, this week came news of another new first-winter smithsonianus ~ this one found in flooded fields not far from Campbeltown, in remote Argyll & Bute on 6th.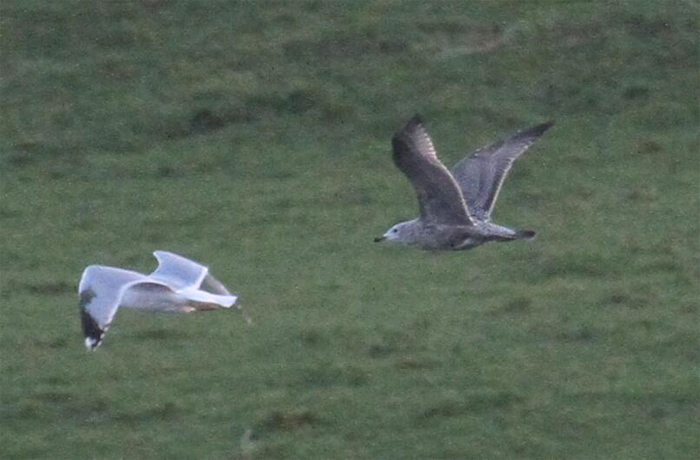 The bird, the second for the county following one on Tiree for almost three months from March 2007, was still present the following day ~ and posed long enough for a few more snaps to be taken ~ all of which revealed a rather funky smoky beauty ~ lurching towards what the old-timers amongst us would call a "fruit bat" (based entirely upon the ultra-striking beast that lurked around Scilly sometime around the whole "Spotless Starling" thing…).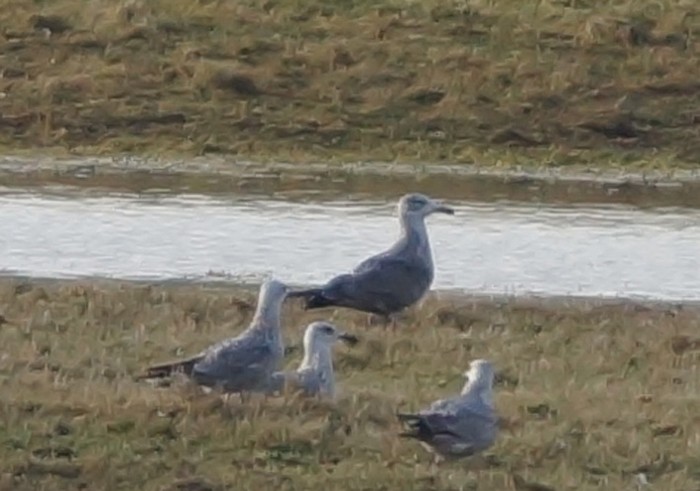 American Herring Gull becomes tougher to nail beyond their first-year, many have tried and failed to prove birds of older ages (despite them being eminently "do-able"), but anyone who pulls one of these out of the bag should be suitable content and happy with their work. Gulls remain rather low down the list of favoured families for a mass of birders (unless they are cute and spotty, dainty and pink or a mega) but the joy of regular scanning, scanning, scanning of your local flocks can sometimes reap rewards…c'mon who wouldn't want to find a Smickers that's as nice as this one?
American Coot & Pied-billed Grebe
In other Nearctic news this week, the waterbirds remain high on the list of species of special note.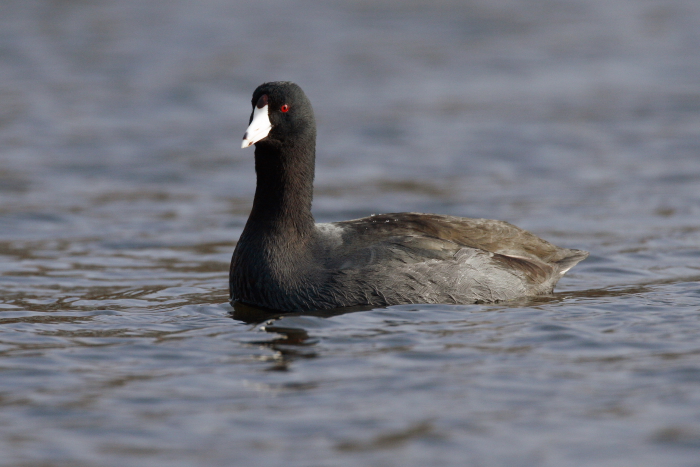 Still seemingly enjoying the increasingly long Highland fling was the American Coot that remained to the weekend and beyond at Loch Flemington, while across on the Outer Hebrides, the wintering Pied-billed Grebe was on the lochs of the Balranald RSPB reserve until 10th at least.
Red-flanked Bluetail
Prior to the unveiling of Durham's gem, there was little doubt that the one bird that was garnering most attention this week was that first-winter male Red-flanked Bluetail on the Gloucestershire/Wiltshire border ~ merrily flicking its deep cobalt rear-end across the two counties, at Marshfield until 11th.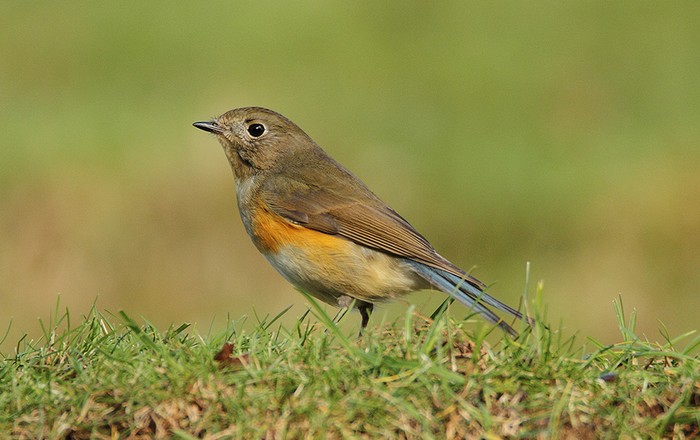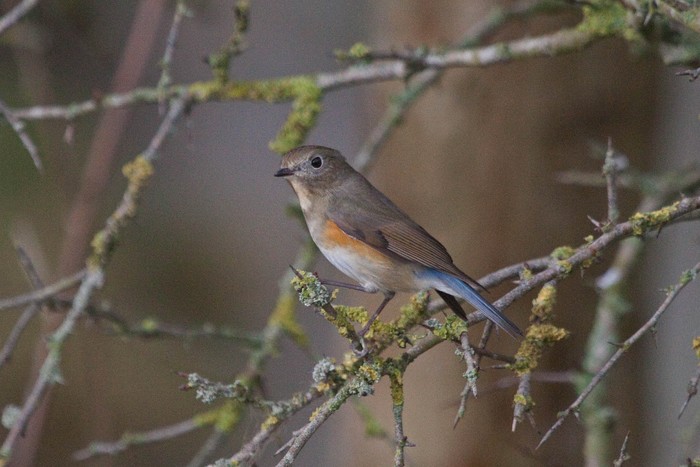 American Buff-bellied Pipit
Last, but by no means least in our opening salvo of rares, we head back to the US for our final headline act ~ well, actually to Cheshire of course and to Burton Marsh where the ever-popular, ever-showy American Buff-bellied Pipit remained all present and correct until 10th in a stay that mirrors the twosome in the south of England last winter.

February 7th saw three different single White-billed Divers listed ~ off the coast of Lewis on the Outer Hebrides, one was seen off Tiumpan Head, with further records coming from Shetland, one on Loch of Snarravoe on Unst and also from Highland where one appeared off Sandside Bay, remaining there to 10th at least. As the week progressed, a second bird was seen around Unst and another was noted on Fetlar, both of these reported on 10th.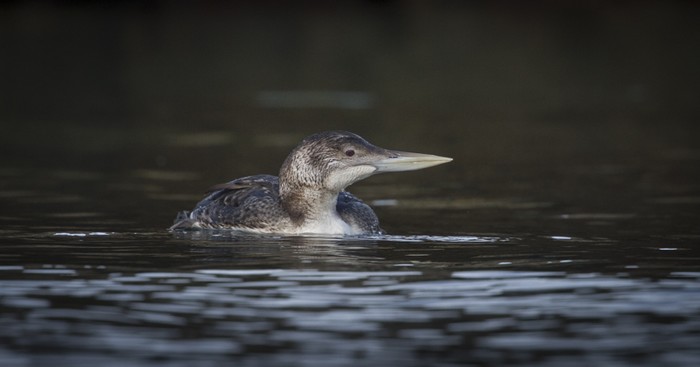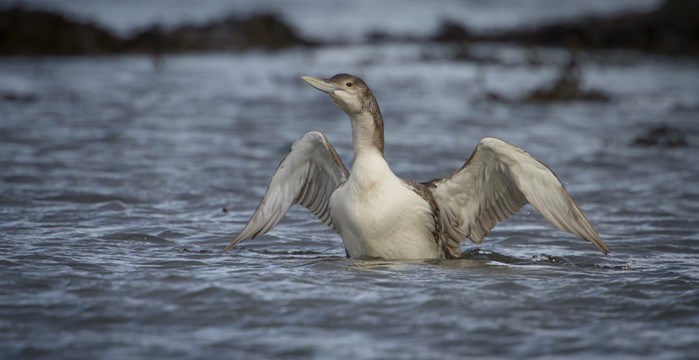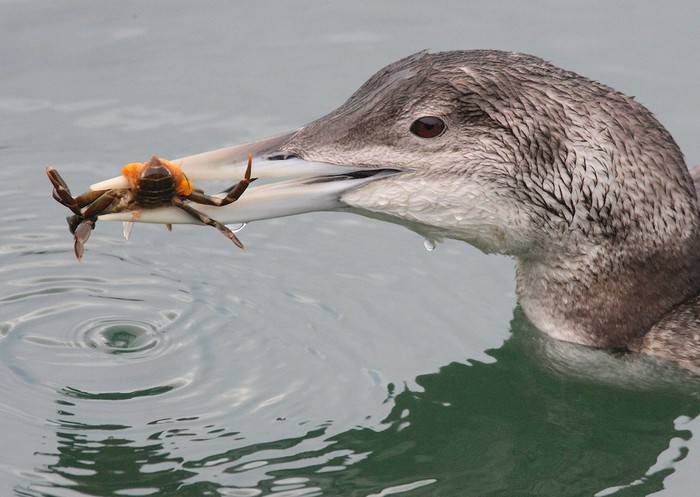 A Leach's Strom-petrel was picked up in a garden on Mizen Head (County Cork) on 7th and another was seen at Hastings (East Sussex) the same day, while a Balearic Shearwaters was seen heading past St Ives Island (Cornwall) on 9th with three off Scilly the following day.
The lingering Grey Phalarope remained off Stag Rocks, Bamburgh (Northumberland) to 11th and on 9th another head north past the seawatching hide at Spurn (a mere appetiser for what was to follow…). Four Little Auks were noted at Minard, on Loch Fyne (Argyll & Bute) on 6th and another was reported in Wales, north past Aberystwyth, on 8th. The last one of the week was seen from Watermill Cove, at the north end of St. Mary's (Scilly) on 10th.
From north to south, we'll take a spring through those now ubiquitous Glossy Ibis that have become part and parcel of the birding scene here now.
On the Outer Hebrides, a single bird was logged around the Balranald RSPB reserve on North Uist from 5th-10th and was Scotland's sole record this week. Dropping in to the northeast region (and right at the far southern end for that matter) where a Glossy Ibis was found at Cleethorpes (Lincolnshire) on 5th with others reported in the same county, at Whisby and Chapel St. Leonards, later in the week.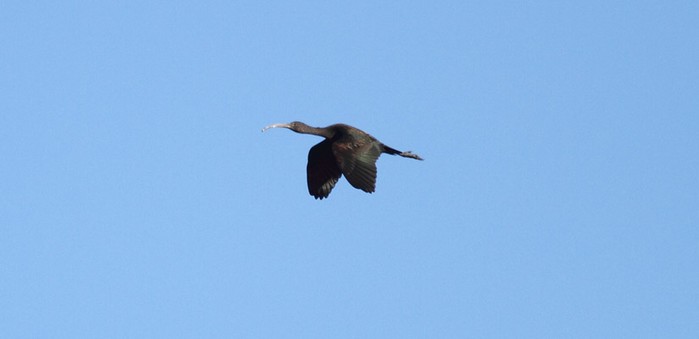 Over the Pennines to Lancashire, where the stayer remained at Upper Thurnham (Lancashire) to 9th while in Wales one was found in Gwent, at Chepstow, on 10th. The Midlands lone offering was one on the Staffordshire/West Midlands border, over the M6 toll road (well, why not) near Burntwood on 9th (this isn't too far from Brownhills where one has been residing for a while this winter) while East Anglia held on to three regulars ~ two in Norfolk (still in Cley's Glaven Valley and the Broads' Martham) and in Suffolk (still at Oulton Broad).
Just one Glossy Ibis was seen in the southeast, still at Dungeness RSPB (Kent) to 9th while four Irish counties registered the species this week ~ one remained at Derrymacash, Lough Neagh (Co. Antrim) from 5th, a new bird was in County Offaly, at Shannonbridge on 6th (having first been seen in late January) while the 7th saw one each for Cork (at Ballycotton) and Wexford (still on the South Slob ~ with it or another over Wexford town on 9th).
Perhaps as a consequence (to one degree or another) of the continuing rise of floodwaters in some parts of the UK, numbers of Great White Egrets fell away markedly this week ~ plummeting from the typical mid-20's of most winter weeks to a meagre 10.
There were two each for Southport (Lancashire), Summer Leys (Northamptonshire) and Dungeness (Kent). The latter two counties also hosted singles at Pitsford and Ashford respectively, while others remained at Castle Acre (Norfolk) to 6th, Coate Water Park (Wiltshire) and Hornsea Mere (East Yorkshire) to 9th and on the sodden Somerset levels to 11th.
Single Cattle Egrets remained around Steeple Claydon and Calvert Lakes (Buckinghamshire) to 8th with another still at Hillsborough Park (Co. Down) also to the same date. The Dorset Spoonbills managed only a dozen as a maximum count this week, in Arne Bay on 6th with ones, twos and threes dotted around the rest of Poole Harbour through the week. A single bird was seen at Grainthorpe (Lincolnshire) on 6th with more loners following at Mudeford (Dorset) on 7th at Cromane (Co. Kerry), Wat Tyler Country Park (Essex) and Cuckmere Haven (East Sussex) on 8th and Dungarvan (Co. Waterford) on 9th.
In Norfolk, three Common Cranes were seen near Horsey on 7th while the two first-winter birds remained around the Cheselbourne of Dorset to 8th at least. Another duo of Grus were logged near Meigle (Perth & Kinross) on 9th and one flew across Garron Point and then Whitehead (Co. Antrim) on 11th.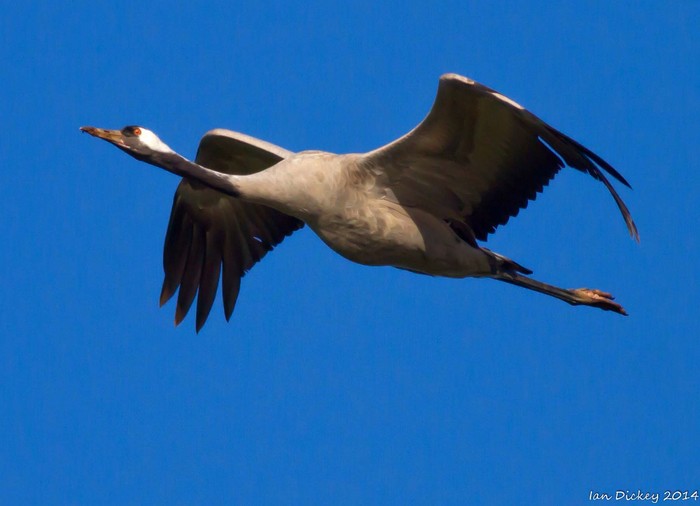 Finally the well documented Ardeloa heron (most likely a Chinese Pond Heron) became available to the masses north west of Hythe (Kent) at Saltwood on 11th. Britain's only other record of Chinese Pond Heron was a 'hushed-up' adult at Eccles (Norfolk) on 31st Oct 2004, which then later turned up at East Dean (Hampshire) on 13th Nov. Following assessment by BOURC it was assigned to Category E, thought to have been an escape from captivity. To date there have been six European records of Chinese Pond Heron, Norway (autumn 1973), Hungary (August 2000) and Finland (July 2007 and August 2012), all of which have been assigned to Category D. Present as it is on the mainland, in southern England, the Kent bird may prove to be a cheap insurance policy for many in the coming days and weeks but what chance of it paying out...

The week began with a Canada Goose sp., still out on the Mullet, at Cross, on 5th and this was followed by a Richardson's Cackling Goose on the traditional goose fields of Sligo, at Ballyconnell on 7th and then on 8th on Islay at Eorrabus and Port Askaig and on 9th on the same island when singles were either side of Bridgend.
Seven different Snow Geese were recorded during the first two days of the new review period ~ two white birds remained on South Uist on 6th when the mixed pair of a white and intermediate bird were still at Tayinloan (Argyll & Bute). The next day saw two white Snows now at Rattray Head (Aberdeenshire) and also the wintering bird in County Kerry was seen again at Carrahane Strand. The fourth pair of the week were the blue birds that remained in Clyde, at Braehead then Carnwath to 10th.
As with a few other things this week, numbers of Black Brants fell away a little over the past seven days ~ just four birds noted. New was one at Kirton (Suffolk) on 9th while the other three were all familiar individuals ~ the first-winter was at Kilnsea, Spurn on 5th-8th and adults stayed put at Roa Island and Walney Island (Cumbria) to 9th and also along the Exe Estuary, at Dawlish Warren, to the same date.
Almost a year to the day since he was last seen at Strontian, the Highlands' drake Black Duck was back again on his favourite waterway on 5th, remaining to 11th. First noted in the summer of 2011, this particular bird has been a somewhat sporadic visitor to the area, appearing again in December 2012 and heading away again sometime after February 10th last year. Over in Mayo, the drake Black Duck still found Termoncarragh Lough to his liking to 10th while a drake Green-winged Teal wasn't too far from him either, still present there on 5th.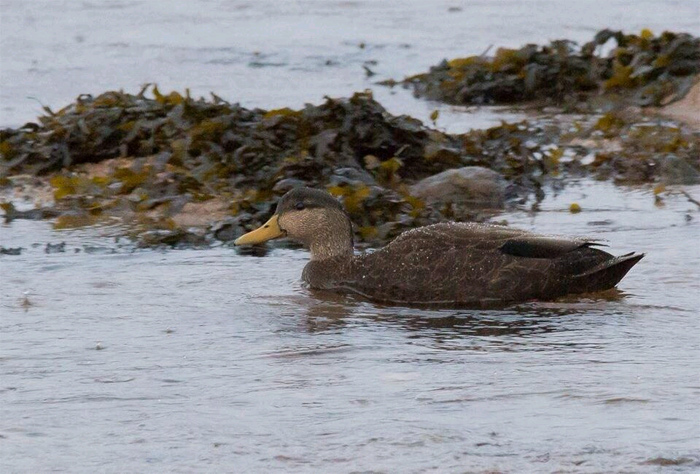 A new drake Green-winged Teals was found at Big Waters NR (Northumberland) on 5th when one was also still to be seen at Saltholme RSPB (Cleveland). Scotland still held one at Caerlaverock (Dumfries & Galloway) to 9th when another was found on Benbecula's Loch Mor (Outer Hebrides). Wales were represented by a drake at Peterstone Wentlooge (Gwent) from 7th with another Irish record coming from Blanket Nook, Lough Swilly (Co. Donegal) on 9th. In soggy Somerset, a Green-winged Teal remained at Ham Wall RSPB for much of the week while the second newbie of the week came at Derbyshire's Willington GPs from 8th.
It was compact and bijou set of "old faithfuls" where Lesser Scaups were concerned ~ drakes remained at Dozmary Pool (Cornwall), Cormeston Lakes CP (Glamorgan), Tittesworth Reservoir (Staffordshire) and Loch Watten (Highland), all to 10th while the adult female was loitering on Loch Bee, South Uist (Outer Hebrides) to 8th at least.
Two islands up from the Loch Bee female Lesser Scaup was a female Ring-necked Duck, still on North Uist's Loch Scaraidh to 10th. Two single drakes were on the Scottish mainland this week ~ still at Trabboch Loch (Ayrshire) and Meikle Loch and Loch of Strathbeg RSPB (Aberdeenshire). The southwest of England saw one each for Somerset (where the drake stayed on Wimbleball Lake) and Devon (the female still at Burrator Reservoir) while two more were noted in Ireland ~ a drake on Sligo's Lough Arrow on 6th with another drake on the Mullet, again on Carrowmore Lake on the Mullet on 8th.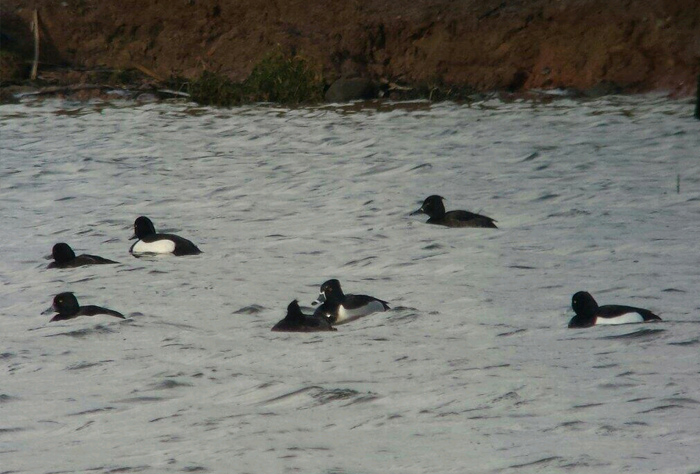 There was a slight rise in the selection of American Wigeons on offer this week ~ all of them drakes (have we forgotten how to do females?) ~ with regulars still at Udale Bay (Highland) and Tullaghan (Co. Leitrim/Co. Donegal) to 5th and 7th respectively ~ while last week's new bird in Wales was still at the Newport Wetlands site in Gwent to 8th. The following day saw the drake again pop up for Westray on Orkney and a new drake was at Loch Bornish, South Uist on the same date.
Their Royal Highnesses the drake and duck of King Eiders graced the waters of Shetland's Bluemull Sound on 10th. The two females continued to show around the Gullane area of Lothian to 8th and the female was still to be seen at Blacksod, on the Mullet (Co. Mayo) to 10th.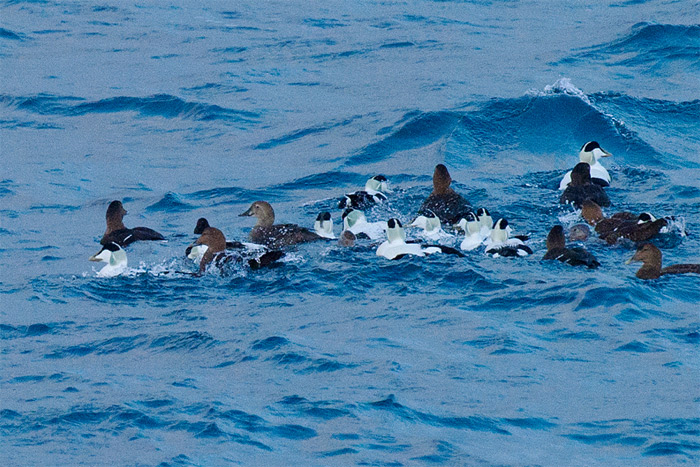 There was a healthy flotilla of Surf Scoters on the Conwy coast this week ~ five drakes and a duck logged off Pensarn on 10th. The start of the review week saw the first-winter female still in residence off Peninerine, South Uist (Outer Hebrides) and then a new drake was found in County Down's Dundrum Bay on 7th. A further adult drake was noted again off Fisherrow, Musselburgh (Lothian) on 8th while new was a young drake in west Cornwall, in Mount's Bay from 9th-11th.
Once again, the week's only shorebirds of note both belonged to Hampshire ~ the elusive adult Long-billed Dowitcher was back on Pennington Marshes on 8th while the wintering Lesser Yellowlegs held station at Lepe CP to 10th.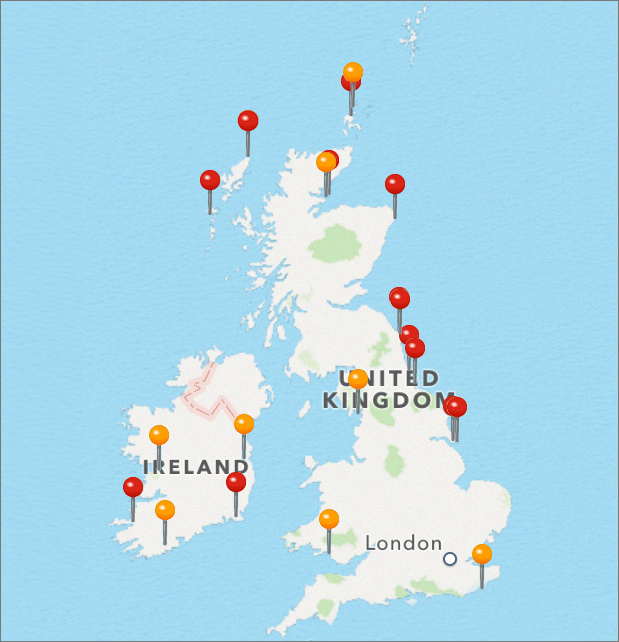 This winter will be remebered for some while to come as an historic, record-breaker in terms of the numbers of Ivory Gulls that have been unearthed but it now also turning in to a rather good winter for that most exquisite of High Arctic waifs and wanderers, the Ross's Gull.
This week has seen four birds recorded and, for good measure, three of them were new arrivals.
First up was the reappearance of the adult in County Dublin, seen on the South Bull Wall, alongside the Liffey, on 7th-9th. Next came a great find in south Wales, a super new first-winter discovered at the mouth of the River Afan, near Port Talbot (Glamorgan) on 8th where it showed (off and on) to 11th.
This is only the second record for the county ~ following on from one on Blackpill Beach on February 10th 2002 ~ and also becomes only the fifth record for the Principality, the first was seen in Fishguard Harbour on February 15th-16th 1981, the second was found at Aberystwyth on December 30th 1994, the third (and only real sticker) appeared around the Porthmadog and Black Rock Sands area in north Wales for nine days in mid January 1995 and then came the Blackpill bird. Twelve years on and Welsh birders now have a fifth to enjoy.
The second and third new Ross's Gulls of the week, both of them aduilts, both appeared on the afternoon of 9th ~ one spent a few hours aroud the Leighton Moss RSPB reserve in Lancashire and another drifted through Kinsale (Co. Cork), reappearing there the following day too.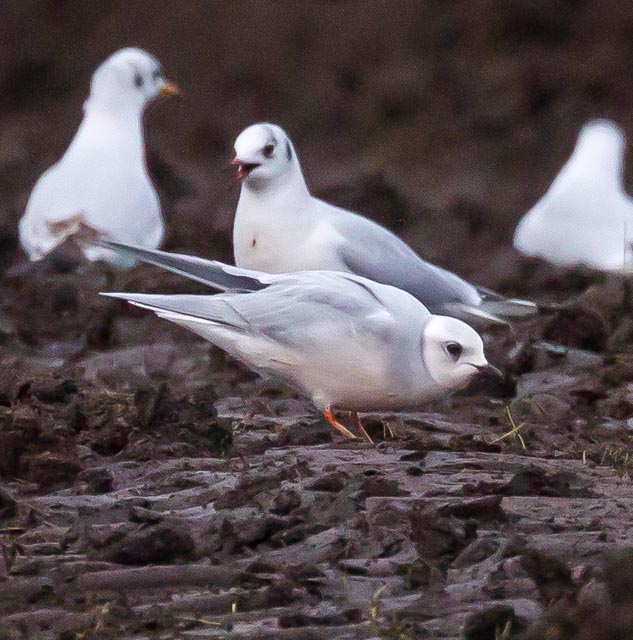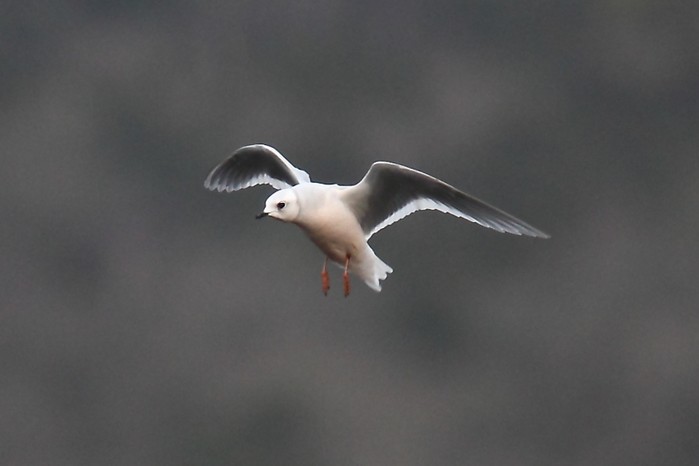 Lancashire has now clocked up six of these beautiful gulls ~ the first was found in 1983, with further singles following along in 1988, 1994, 1995 and, most recently, the early spring of 2008, while Cork has now climbed to three records ~ the only two to date were a first-winter seen at Cobh on February 24th 1985 with the other following on exactly ten years further on, when an adult was found on Cape Clear Island on February 24th 1995.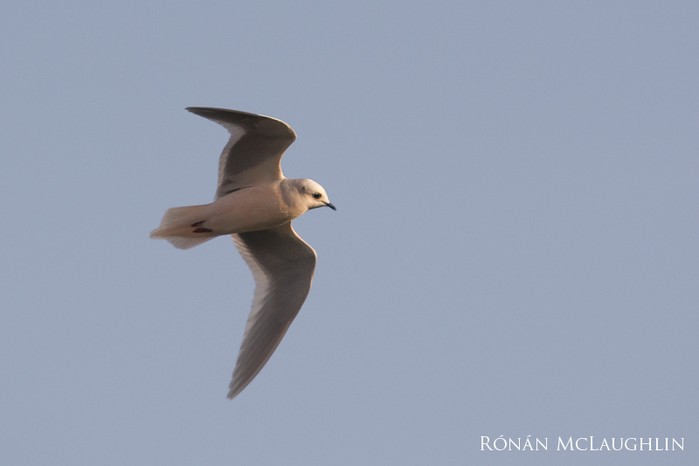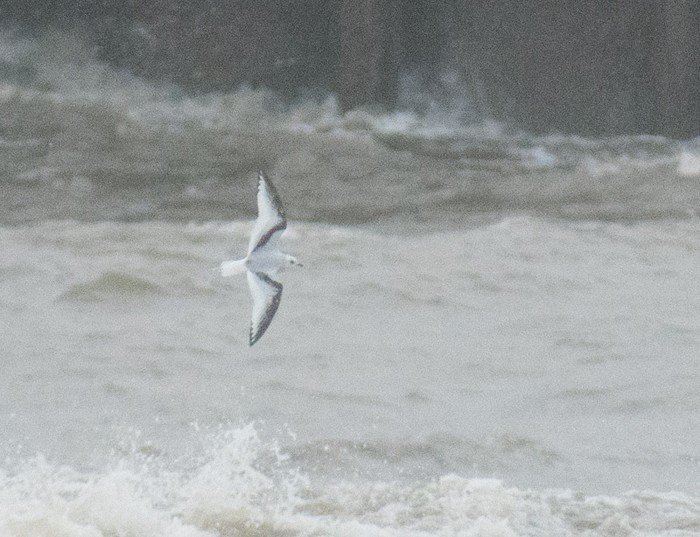 Staying briefly in Cork, the first-winter Laughing Gull remained at Ballycotton to 9th while the predicted-two-weeks-ago Franklin's Gull finally made a show on the unlikely surroundings of the Island of Canna (Highland) on 9th. It transpired the following day that the bird had actually been around for some three weeks or so and, remarkably becomes the second for the island. The first (and also the first for the Highlands as a whole) was found on Canna on July 5th 1981 and was found moribund on the 11th of the month. The region's only other accepted Franklin's Gull, a first-summer, spent two mid-May days at Drumbeg in 2011.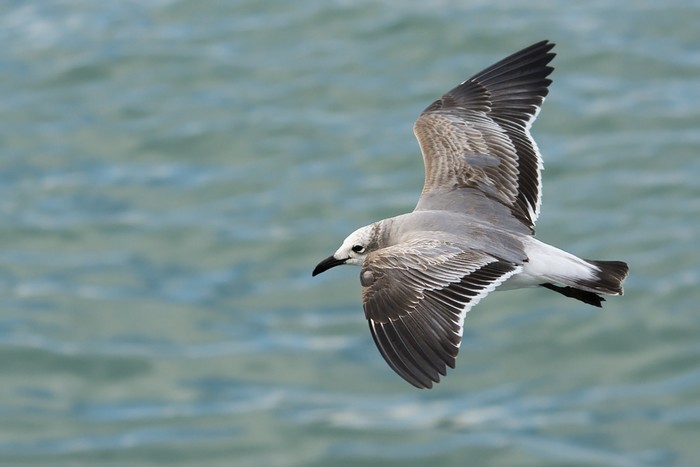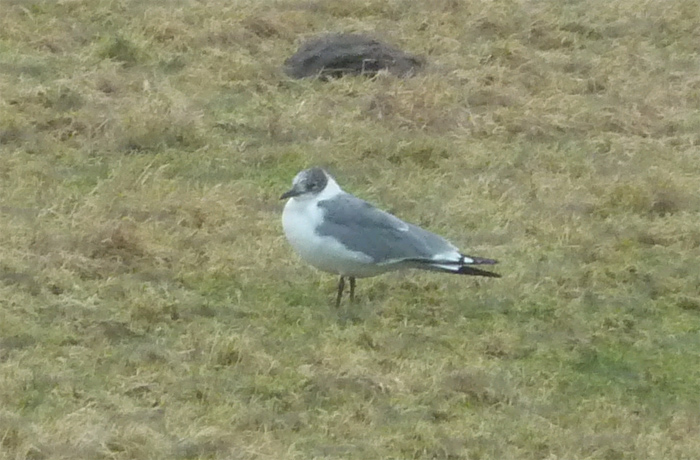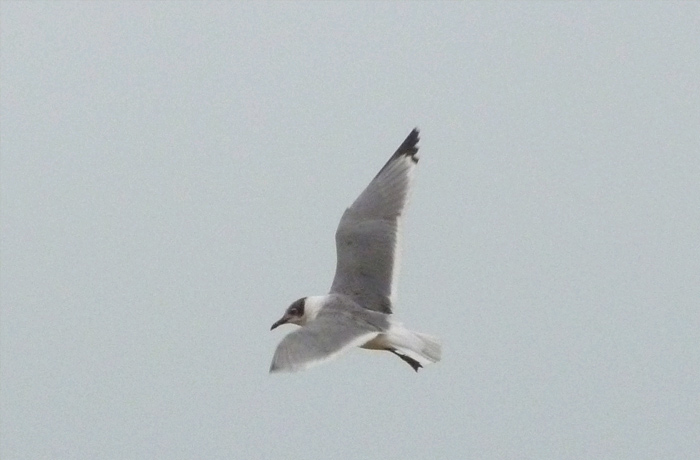 Mopping up the hat-trick of rarer US gulls is the wintering adult Bonaparte's Gull in Devon, still present around the Dawlish Warren area to 10th while the less-frequently observed adult in south Wales was again noted around Cardiff's heliport on 9th.
By the end of 10th, there were a minimum 19 Irish Ring-billed Gulls on offer from nine counties including three (two adults and a second-winter) at the Tralee Wetlands (Co. Kerry) and three more (two adults and a first-winter) at Nimmo's Pier (Co. Galway). In County Dublin, two adults were at Sandymount Strand on 6th and first-winters were logged on 9th at Swords and Poolbeg.
Three adults and a first-winter bird were seen around County Cork through the week (the youngster noted at Ballinglanna on 8th) and in Limerick City, two birds (and adult and first-winter) were seen along the River Shannon on 9th. In Mayo, on Achill Island, the first-winter was still present on 9th while adults were also recorded in Antrim, Mayo (chalk up another one for the Mullet), Wexford and Waterford.
Numbers were rather more patchy away from Ireland ~ the adult was continuing the winter residency at Dingwall (Highland) to 11th while in the northwest of England, the second-winter bird popped in to the Audenshaw Reservoir roost (Greater Manchester) on 6th and again on 10th, while an adult was reported again at Crosby (Lancashire) on 7th.
The adult Ring-billed Gull was still amongst the Llys-y-Fran roost in Pembrokeshire on 9th and the old-stager in Walpole Park, Gosport was still around on 8th. Further to the southwest, a new second-winter was located at Somerset's Chew Valley Lake on 8th and further west still in Cornwall, first-winters were at Sennen on 9th and Padstow on 11th.
There were around 200 Glaucous Gulls noted this week, a mightily impressive tally, with Ireland faring wonderfully well again with a figure around the 110-115 mark recorded over the past seven days.
Top of the heap comes the magnificent Mullet where a count of at least 23 birds was made through the day on 1oth ~ an awesome figure. Next in line came the always engaging Killybegs up in delightful Donegal ~ 10 birds there on 8th with nine the following day (and an almighty haul of Kumlien's and Iceland Gulls, more on those in a minute). A further 10 were ween around the Mullet (Co. Mayo) on 5th with eight more on Achill Island on 9th.
At least 22 Glaucous were found in County Kerry, including fives at Ferriter's Cove on 6th and Dingle on 9th, while some 18 or so were clocked up in Cork through the week. Galway managed 11 or so, including five at Murvey on 6th and there were up to eight in Waterford too.
Scotland's tally of around 36 birds was made up mainly of birds on the Outer Hebrides, 21 or more noted there, including five at Aird an Runair, North Uist on 5th and four each for Rubha Ardvule and Peninerine, both on South Uist, on 9th. Further south, numbers were spartan by comparison through the spine of the country, though four in North Yorkshire, at Rufforth Airfield, on 10th was of note as were the dozen reported in the southeast of England and the (up to 25) which were found around the southwest, with Cornwall taking the lion's share, including four in Mount's Bay on 7th.
By dark on 10th, we'd reached the 101'ers for the number of Iceland Gulls recorded in Ireland and Britain, spread across 32 counties (up markedly on last week's numbers). Once again the former nation dominated the proceedings and, as with the bigger white-wingers above, there were two sites that stole the show.
This time it was Killybegs that held the highest total of the week ~ 13 birds counted around the area on 9th (comprising four adults, two 3w's, a single 2w and six juvs) with the Mullet gullers scoring eight the following day. They made up half of the Irish total of 42 birds, with up to nine in Cork and six in Kerry making up some of the rest of the numbers.
Scotland fared pretty well, 23 of the British total of 59+ birds rattled in there with seven in Highland and five on Orkney of note. Dropping south, there were nine for the far southwest (up to six of them in Cornwall), eight for the northeast (with three for North Yorkshire) and seven in the southeast (including two in both Oxfordshire and London), while three at Cheshire's Richmond Bank on 6th and 10th was also well worth noting.
The impressive recent spell of Arctic gulls has seen a definite upward spike in records this week ~ the best numbers for some time ~ and nothing reflected this better than the outstanding number of Kumlien's Gulls that were recorded this week ~ the eye-popping 10 birds at Killybegs on 9th being the absolute highlight where this general distinctive form are concerned.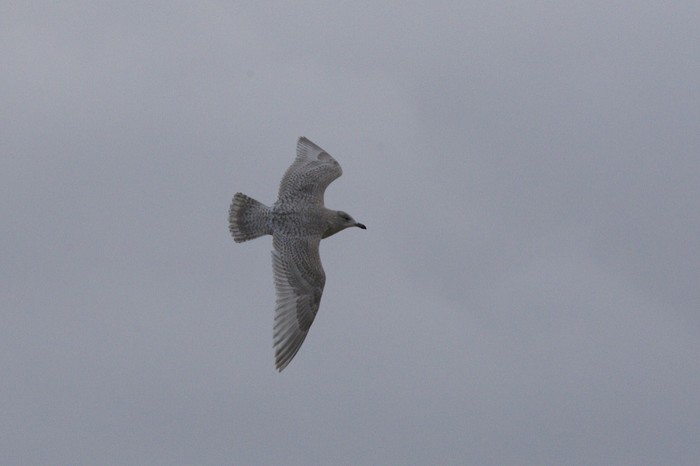 The Killybegs 10 were made up of two adults, a lone third-winter, three second=-winters and four youngsters ~ and they were presumably pretty newly-arrived too (there was just one bird around as the week began, rising to eight by 8th with the double figure peak the next day. The numbers of Glaucous and, particularly Iceland Gulls at Killybegs also rose sharply as the weekend approached ~ a clear indication of the fresh blood on site.
Elsewhere around Ireland at least 15 more Kumlien's Gulls were discovered including five in County Kerry (including three different birds in Dingle Harbour between 6th-9th), a minimum of three on the Mullet, up to four in County Cork, and singles in Dublin and Wexford, with an additional bird in Donegal, at St. John's Point, on 9th.
With 25 on the board already, we move in to Britain where a further 14 can be added to the weekly haul. Two juveniles remained at Scrabster (Highland) to 7th while three birds were seen around Yorkshire over the past seven days ~ the adult at Broomhead Reservoir in the South, the third-winter at Rufforth in the North and the second-winter at Barmston in the East.
Single juveniles were seen at Richmond Bank on 6th and 10th, Littlehampton (West Sussex) from 8th-11th, Torr Reservoir (Somerset) to 9th and on the Tiefi Estuary (Pembrokeshire) on 9th ~ that was one of four birds in the county that day, where the adult remained on the beach at Newgale and two juveniles were again noted in the Llys-y-fran roost (where several different birds have been recorded across the past few weeks). In the far southwest, an adult was present in Mounts Bay from 6th-8th at least and another adult appeared in Devon, at Exmouth, on 10th with presumably the same individual drifting east to Axmouth on 11th.
With all this gull-galore mullarkey ~ the superb Azorean Yellow-legged Gull was still in Wexofrd on 10th too ~ it was easy to forget that there was also still a very respectable tern to be had (should you have been willing to follow the muse laid out here a couple of weeks ago) in the shape of the first-winter Forster's Tern that lingerd in Mayo's Elly Bay until 10th.

A couple of weeks ago a white Gyr was reported five miles to the NNW of Wick ~ this week, on 5th, a white Gyr was noted a couple of miles to the southwest of Wick suggesting that somewhere in the expansive Flow Country nearby there's a spectacular ermine-clad executioner still out there somewhere.
As with so many other weeks this winter, the Rough-legged Buzzard quota over the past seven days was the domain of East Anglia. In Suffolk, one was noted at Sudbourne on 8th while Norfolk saw single individuals remain at Ongar Hill Farm, near King's Lynn from 8th-9th, in the Waveney Forest to 9th with another reported from Choseley on 10th.
The triumvirate of Hume's Yellow-browed Warblers all decided that the British winter was still very much to their liking ~ Warwickshire's first remained around the Coleshill area of the county throughout the week while the Kentish duo were at Dungeness and Ramsgate to 10th and 11th respectively.
The wintering Pallas's Warbler stuck around in Kent too, still at Folkestone from 6th-9th while, perhaps surprisingly, it was blanks all around where Yellow-browed Warblers were concerned, after numerous weeks of activity. In the northeast, the presumed "Eastern" Lesser Whitethroat remained along the edge of Prior's Park (Northumberland) to 10th.
The wintering Richard's Pipit continued to show itself from time to time around the edge of Salthouse's Gramborough Hill to 10th while further unseasonal fare included the Scilly combo of first-winter Rose-coloured Starling and first-winter male Serin on the edge of Hugh Town, on St. Mary's to 10th.
A dozen or so Great Grey Shrikes were up for grabs this week ~ three were still being reported around Gloucestershire, at Great Rissington, Cinderford and in the Forest of Dean, near Ruspidge through the week ~ while two birds were in Wales, both of them in Glamorgan, again at Llwyn-on Reservoir on 6th and near Neath on 10th. Singles were also seen in Herefordshire (at Norton Canon) from 7th-9th at least and also still in West Sussex, Worcestershire, Cambridgeshire and South Yorkshire.
Numbers of Two-barred Crossbills fell away a little this week (maybe they are all busy pairing up and beginning some potentially historic nesting carry-on) with two in the Wyre Forest (Shropshire) on 9th, three still around the forest at Broomhead Reservoir (South Yorkshire) to 6th and eight again along the Serridge Ridge in the Forest of Dean (Gloucestershire) on 7th. Last week's new young male Two-barred remained at Hoveton Hall (Norfolk) to 11th while over the Wash (and up a bit), a young male was discovered in the pines at Broughton on 9th where it remained to 11th (and so giving all Lincs listers the chance to secure the species for their county total ~ the only accepted record to date is an ancient bird from 1889, though a female was seen briefly at Rimac at the start of last summer's invasion).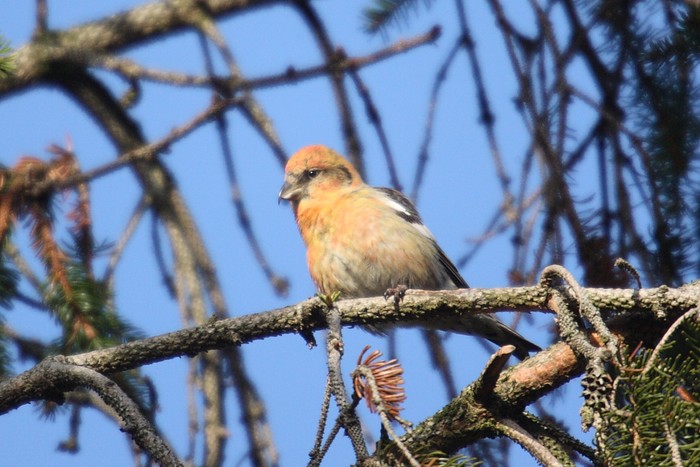 Parrot Crossbills were recorded from just two locations this week ~ 14 each for both Nottinghamshire's Budby Common and Norfolk's Edgefield Woods ~ though numbers at the latter site did vary a little, but 14 seemed to be the acceptable number for the week.
Wrapping things up, as usual, is Waxwings which had the now expected poor showing. Birds were peppered thinly across the north and east of Britain, barely crawling to the north side of 70 birds in all, with just two double figure groups reported ~ 11 in Forfar (Angus) on 5th and 20 near the Tyne Tunnel in Jarrow (Co. Durham) on 6th. For those taking in the adjacent wood-warbler in the same county, there were also three "padding" Waxwings there too.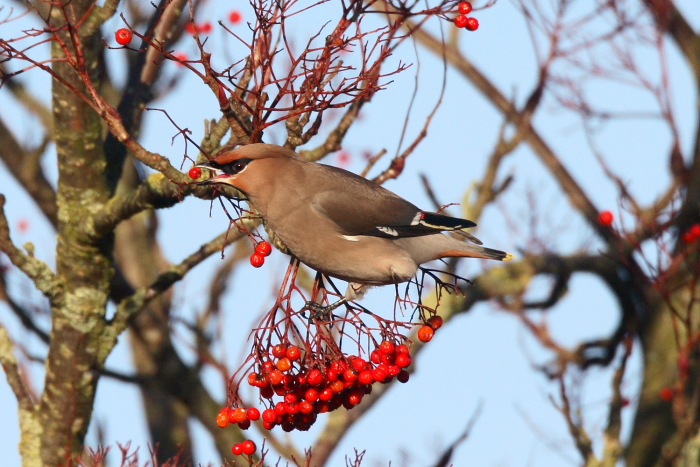 What's ahead? Weatherwise, more of the same by the look of it ~ the threat of yet more deepening Atlantic lows, along with attendent wind and rain are on the ever-approcahing horizon along with the potential for some more snow too. The worst of the weather seems likely to bust through the west coast as this review goes "to press".
Birdwise it feels as though we may be on for yet more white-winged gulls, perhaps more gulls from the west too, while an extra Ross's Gull here and there doesn't like the maddest thing to throw out there.
The fact that the Irish west coast has managed to produce a freshly arrived, though freshly deceased American Purple Gallinule and a fantastic Slaty-backed Gull within a week of each other shows how this predicting game is a fool's business. The former species has been mentioned here a couple of times lately but the latter ~ no, that hadn't figured on the radar (certainly not in Galway at any rate).
That said, who'd have predicted the reappearance of the Oriental Turtle Dove in the middle of Oxfordshire on February 12th 2011? Or the Valentine's Day delight of a live Rock Bunting in Kent in 1905? Or the Dusky Thrush in the West Midlands from February 17th 1979.
Expect the unexpected is clearly the order of the day ~ so bearing in mind the weather and considering some of the species logged of late, let's go for the appearance of a new Glaucous-winged Gull while keeping everything crossed that somewhere there's a Black-tailed Gull forging it's way through along the same route as this week's extraordinary find in Galway...it has that sort of vibe right now....
Mark Golley
12 February 2014

Many thanks to this week's contributors for their photos and videos
Bob Flood, Tom Cuffe, Michael O'Cleary, Davey Farrar, David Carr, Andrew Hood, Steve Williams, Justin Carr, Alan Clewes, Dan Brown, Jim Dickson. Andrew Jordan, Gary Thoburn, Martin Yapp, Karen Munro, Peter Stronach, Chris Griffin, Paul Kelly, Ian Dickey, Martin Casemore, David O'Connor, David James, Rory Whytock, Brydon Thomason, Jon Worthington, Chris Batty, Ronan McLaughlin, Mark Hipkin, Stewart Connor, Ed Carty, Harry Ramm, Sean Wileman, Andrew Jordan.