Weekly round-up: 08 - 14 Jan 2014
2013 may be over, but the quality birds keep on coming:
belated news of Britain's 1st Stejneger's Scoter photographed in Lothian on Boxing Day
An Ivory Gull lingers in Ireland at Tacumshin
While in Glamorgan last weeks Thayer's Gull remains at Burry Holms
The 4th mainland record of American Coot remains in Highland…
Britain's first midwinter Marsh Sandpiper continues to tough it out on North Uist
While Britain's 4th Short-billed Dowitcher hangs on in there on North Ronaldsay
Like a particularly bothersome zombie, 2013 was the year that just wouldn't lie down and go quietly. As Britain's birders caught their breath in the second week of the New Year, and went about the serious business of filling in the blanks on those empty yearlists, 2013 lurched back into the frame with news of a first for Britain photographed in Lothian in the closing days of the year. Whenever will it all end?
Meanwhile, the rest of the country caught its breath with a period of relatively normal weather for the time of year, or what passes for normal in winter in Britain and Ireland these days. Flood warnings remained in place all over the UK as the week began, and despite some fine days around the weekend it was back to poor, wet weather in many areas as the week closed. Nothing yet, fortunately, on the scale of the wintery conditions that prevailed on the other side of the Atlantic…
White-winged Scoter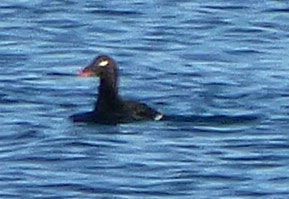 Perhaps it was all for the best. Just think of the strain that would have been placed on many birders' relationships in the famously already-tense days of Christmas had news of top-drawer rarities at opposite ends of the country broken simultaneously on Boxing Day 2013. I am betting that most would still have raced to Dorset for the Brunnich's Guillemot, but how many would have opted instead for Britain's second White-winged Scoter all the way up in Lothian? (Or gone for one and then on for the other?) It'd have been marital carnage.
As it was, news of the latter having been photographed at Musselburgh (Lothian) on December 26th only came to light this week, and a crisis had passed before it had even begun. The last (and Britain's first accepted) White-winged Scoter was further north still, spending June 11th-23rd 2012 playing hide-and-seek amidst the rafts of scoters off Murcar (Aberdeenshire). Lothian, in the holiday season, might have represented a slightly more accessible option for some. Alas though, it wasn't to be.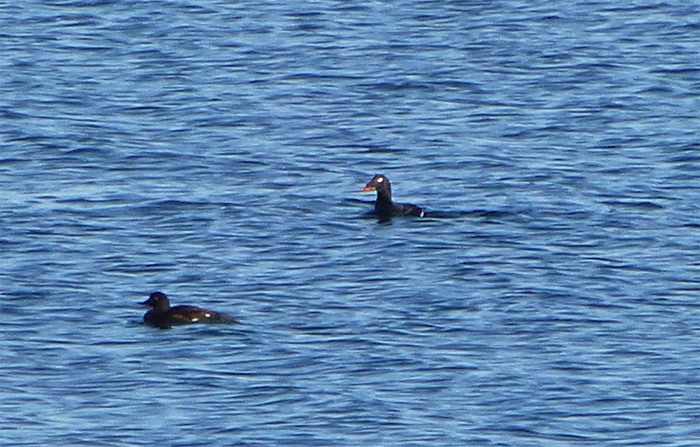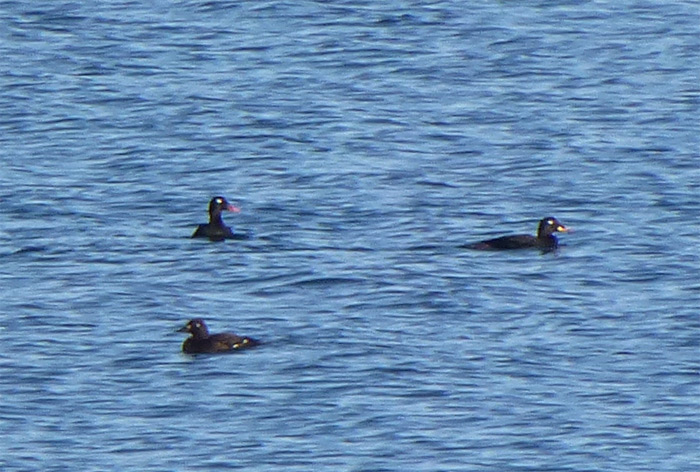 Stejneger's Scoter has previous form in our waters, a drake having been seen off Rossbeigh (Co.Kerry) in March and April 2011. This though was the first record of the stejnegeri subspecies for Britain. The current BOURC taxonomic situation lumps stejnegeri with the North American deglandi White-winged Scoter but the smart money is on stejnegeri receiving the nod for full species status, having discernible physical characteristics and a reproductively isolated population breeding in central and eastern Siberia. Suffice to say, a reappearance of this eagerly anticipated bird will be most welcome.
Ivory Gull
Far more obliging, and almost expected now after the largesse of the past few weeks, was an Ivory Gull found in Ireland at Tacumshin (Co.Wexford) on 8th. Present all week until 14th at least, this is only the 18th record of the species in Ireland, and just the second for Co.Wexford following one seen alive in Wexford Harbour on March 25th 1983, and found dead there the following day. Irish birders will have been pleased to finally get in on the action of this year's invasion, and with a bird in better fettle than the last in the county some 30 years ago.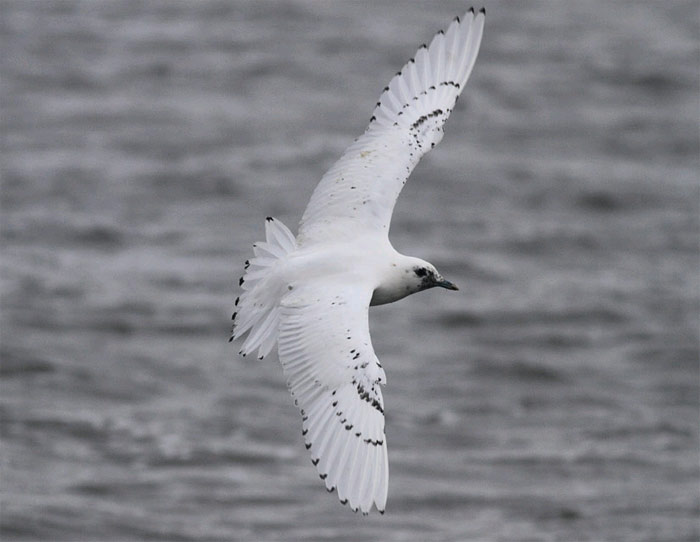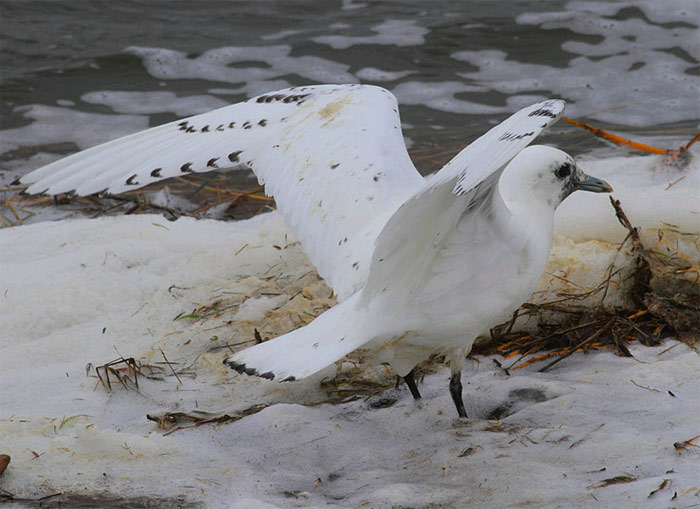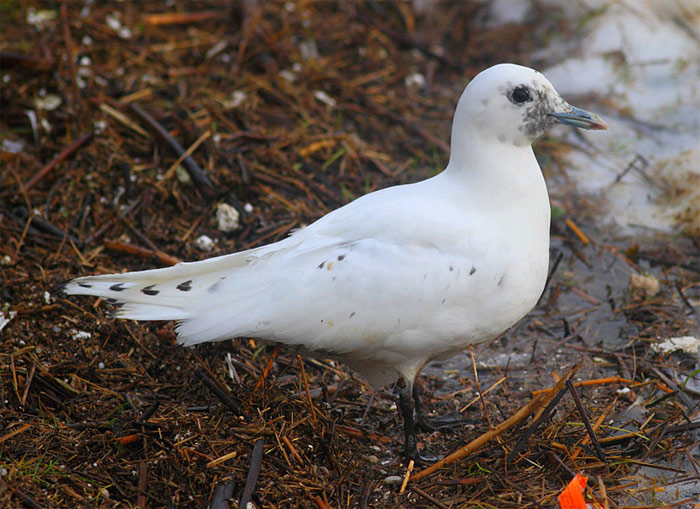 Thayer's and American Herring Gull
Lingering birds from last week were headed up by the Thayer's Gull at Burry Holms (Glamorgan) which stayed put in somewhat more clement weather conditions until 11th at least. Alas no further reports were forthcoming from the same site of any putative American Herring Gulls, but this is clearly a large gull site to watch. (Also of interest here in the past fortnight was a Nelson's Gull, the hybrid lovechild of Glaucous and Herring Gulls, proof positive that it's not just Aythya ducks that are partial to a bit of headache-inducing inter-species fumbling).
American Coot
In Highland, Britain's 7th American Coot remained faithful to Loch Flemington, and continued to lure birders to appreciate its subtle charms. The finder's account captures perfectly the feelings of excitement and disbelief any of us who've been fortunate enough to find a good bird know all too well, and should serve as a welcome spur (if one were needed) to get out this winter and check what we might otherwise consider unremarkable habitat. You just never know what you might find lurking out there…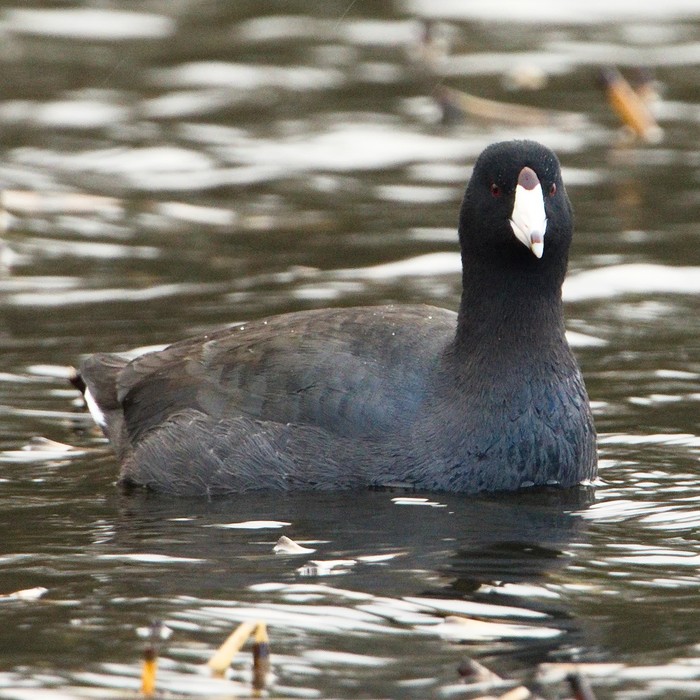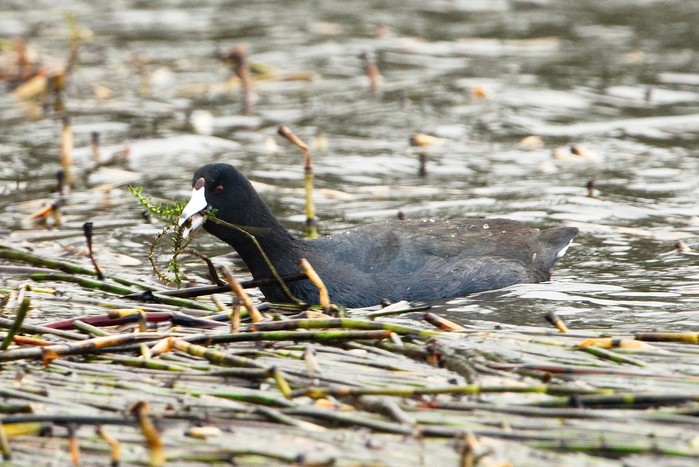 Marsh Sandpiper and Short-billed Dowitcher
And staying in Scotland, and staying on the subject of inspiring birds that just go to show that we can never take anything for granted where rare birds are concerned, the Marsh Sandpiper at Rubh' Arnal, North Uist (Outer Hebrides) popped up again on the 9th, and was still present there on 13th. Quite what this bird is doing here at this time of year is anyone's guess. Every bit as tenacious is the Short-billed Dowitcher that continues to be reported sporadically from North Ronaldsay (Orkney), still present on 10th at least. Heaven help anyone planning on doing a British 'big year' in 2014 – there's some significant island-hopping in the offing.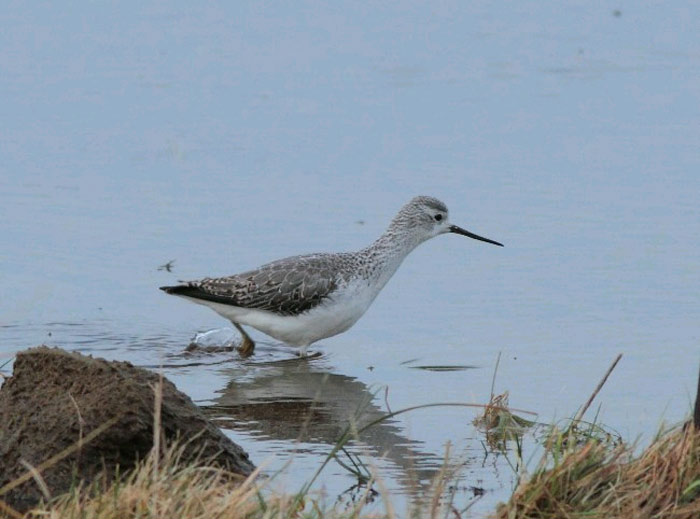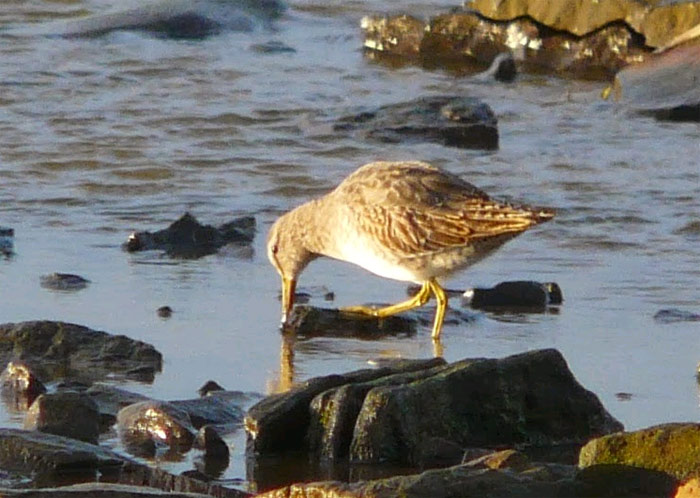 The Brixham (Devon) adult White-billed Diver continued to show exceptionally at close quarters at the start of the week, before relocating on 10th-14th off Berry Head. Another adult showed well in more anticipated northerly waters off St Margaret's Hope, South Ronaldsay (Orkney) from 11th – 14th.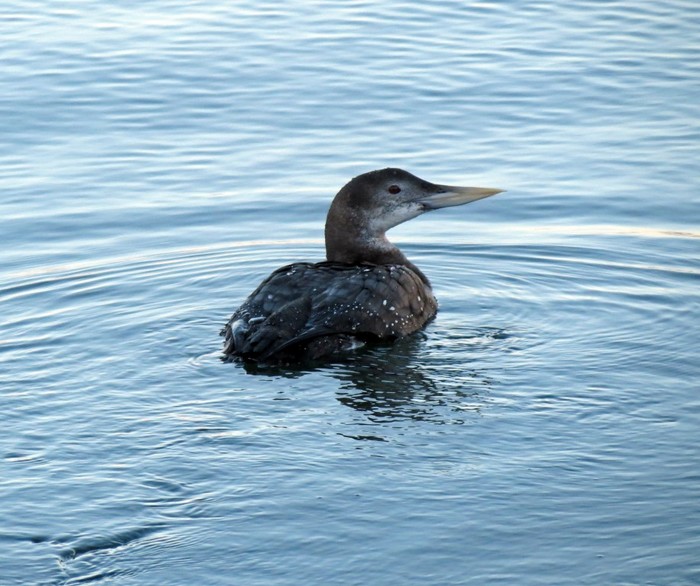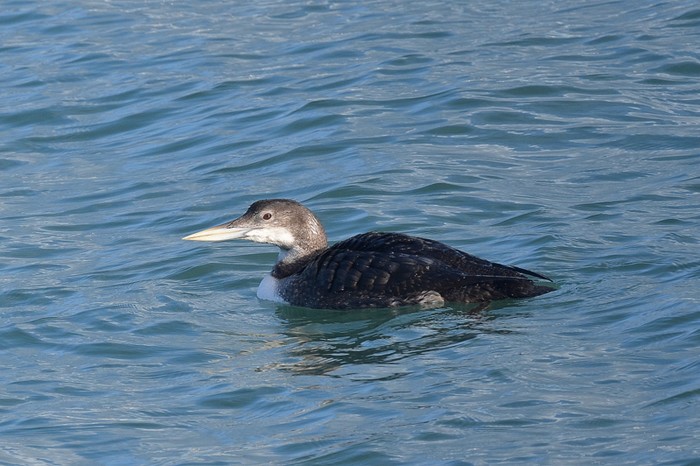 A single Pomarine Skua was seen passing Strumble Head (Pembrokeshire) on 8th, while single Balearic Shearwaters were noted from St Mary's (Scilly) on 8th and 11th; Snab Point (Northumbs) on 9th; off Druridge Pools (Northumbs) on 10th; from Rosslare (Co.Wexford) and Sennen Cove (Cornwall) on 11th; from Helvick Head (Co.Waterford) and Coverack (Cornwall) on 12th; and off Falmouth (Cornwall) on 13th. Three birds were recorded off St Ives (Cornwall) and two off Carnsore Point (Co.Wexford) on 9th.
Just a handful of Little Auks were reported around the coast of Britain and Ireland, with birds noted from the far north in Shetland (in Bluemull Sound and Basta Voe, Yell on 10th, and Scord on 14th) to the far southwest off Scilly (two off St Mary's on 11th) and Cornwall (off the Lizard on 12th), and in the west off Rosslare (Co.Wexford) on 8th.
Glossy Ibises continued to pop up in the least expected places, as well as some of the more likely candidates, with around 40 individuals appearing to be involved. Given the species is happy looking for invertebrates in just about any damp area of grassland, and given just how many damp areas of grassland there are in Britain and Ireland at the moment, how many more of these are lurking unseen out there? (I'm dreading the moment when one of my non-birding friends in Shetland tells me about the 'funny black Curlew' they saw a week or two ago…)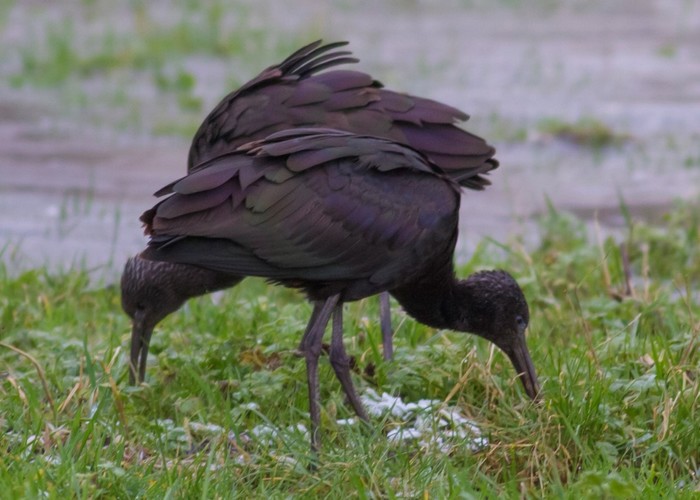 Multiple birds were recorded at Stodmarsh (Kent) with two birds on 12th and two at Swale on 14th; at Daliburgh, South Uist (Outer Hebrides) with two birds until 12th at least; at Boldon Flats (Co.Durham) with two birds from 10th-14th; and in Ireland with two birds at Castlemartyr (Co.Cork) on 8th and in the Rosscarbery area (Co.Cork) from 8th-11th, and three birds at Tacumshin (Co.Wexford) from 11th-13th at least.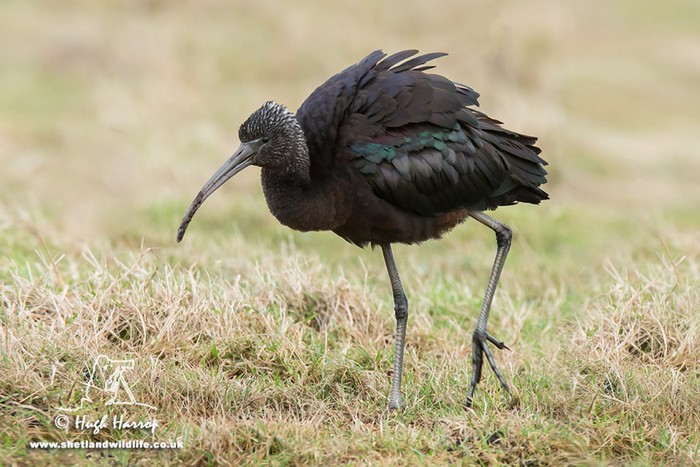 Long-stayers included single birds at Kingsmill Lake (Cornwall) until 10th; at Tregony (Cornwall) until 14th; at Oulton Broad (Suffolk) until 14th; in Weymouth (Dorset) until 14th; at Cork City (Co.Cork) until 12th; around Dungeness (Kent) until 12th; Balranald, North Uist (Outer Hebrides) until 10th; North Galson, Lewis (Outer Hebrides) on 8th still; Westhoughton (Manchester) until 13th; South Slob (Co.Wexford) until 12th; Frensham Manor (Surrey) until 11th; Langford (Bedfordshire) until 10th; Brownhills (West Midlands) until 13th; and Bicester (Oxfordshire) still on 8th. Other single birds were reported from Carnan, South Uist (Outer Hebrides) on 10th; the Otter estuary (Devon) on 8th-9th; intermittently from Wat Tyler CP (Essex) from 8th-11th; at Courtown (Co.Wexford) and Cresswell Pond (Northumberland) on 9th; in Norfolk on the 10th at Welney, Great Yarmouth (until 11th) and in the Titchwell/Cley area (until 13th); at Earith (Cumbria) and Lough Atedaun (Co.Clare) on 12th; and on Tiree (Argyll) on 13th.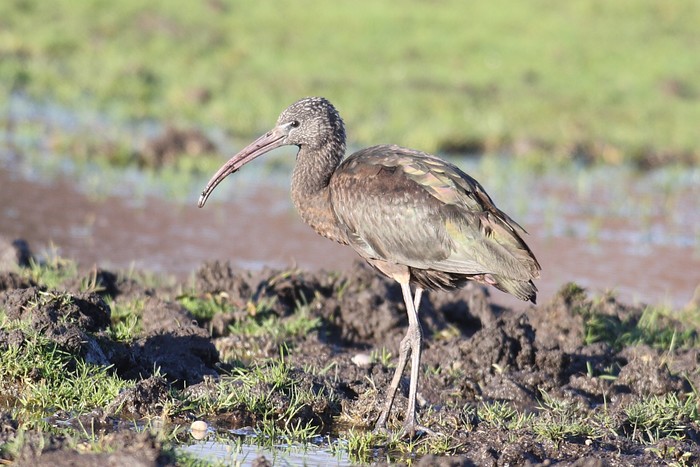 The perfect example of the conundrum that's trying to keep track of Glossy Ibises with a strong case of wanderlust came from Shetland, where last week's bird on Unst was intermittently reported from that island this week; and it, or another one, was also seen off and on in the far south of the archipelago at Spiggie. The two birds (if two there are) were never seen on the same day in both locations. So is this just coincidence, or is one intrepidGlossy Ibis really commuting back and forth up the not inconsiderable length of Shetland? Who knows…
Reports of Great White Egrets appeared to fall away somewhat – perhaps everyone's attention was focused on trying to find an ibis on their local patch – with around 20 birds recorded from 13 counties, and from in the most part the now usual suite of winter sites. Dungeness (Kent) hosted five birds on 8th, and elsewhere duos were reported from Hornsea Mere (East Yorkshire) on 8th, and Summer Leys (Northamptonshire) on 12th.
The Buckinghamshire Cattle Egret remained settled in the Steeple Claydon area until 13th at least, while down in Devon the Clennon Valley Lakes bird settled in Stoke Gabriel until 13th at least, and over in Ireland one bird continued to be reported until 13th from the Seafield area of Co.Waterford.
Mirroring Great White Egrets numbers of Spoonbills reported fell away this week, with the Dorset stronghold of Poole Harbour noticeably lighter than in recent weeks, with a mere 13 birds from Shipstal Point on 12th and three at Lytchett Bay that same day. Elsewhere in the southwest, numbers at Isley Marsh (Devon) peaked at eight on 11th, and in Scilly the two birds remained on Samson on 8th. Single birds accounted for the remainder of the 32 birds recorded.
The pair of young Common Cranes remained in Dorset in the Tolpuddle area all week; elsewhere single birds were reported from Theale GPs (Berkshire) on 8th, Martin Mere (Lancashire) on 13th, Loch Skerrols, Islay (Argyll) and Cam (Gloucestershire) on 14th. In Ireland, a single bird remained at Kilcoole (Co.Wicklow) on 8th.
Two Richardson's Cackling Geese (form hutchinsii) were recorded at Malacleit, North Uist (Outer Hebrides) on 11th.
Black Brants were as ever widely distributed, with birds recorded in 9 counties across England and Ireland. Reports from Norfolk came from Cley Marshes on 10th and Burnham Overy on 11th; from Suffolk at Collimer Point on 10th; and from Essex at Paglesham Lagoon again on 8th. The individual remained at Lower Halstow (Kent) until 13th at least, while Hayling Island and the surrounds accounted for an adult between 8th-10th. In Devon at Starcross another adult was in situ on 9th-10th. Meanwhile in the north the Roa Island adult was reported until week's end on 14th, and the bird seen previously at Kilnsea (East Yorkshire) was there again on 12th. Ireland's sole representative this week was an adult lingering at Scraggane (Co.Kerry) until 10th.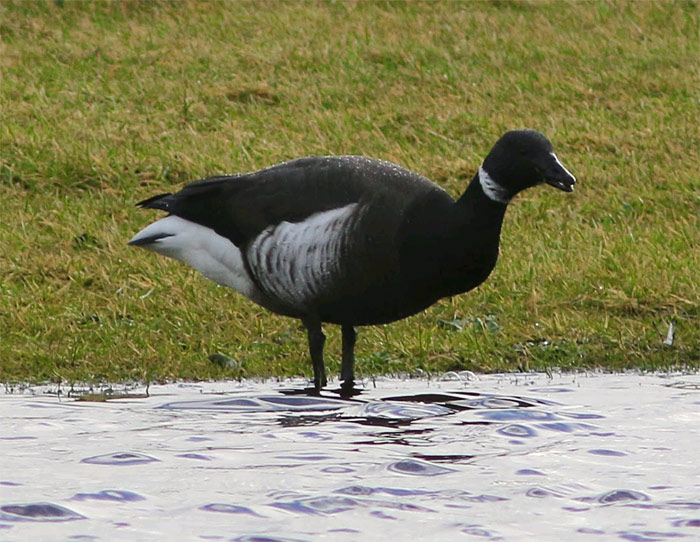 It was a good week for Snow Geese with eleven birds recorded: a blue morph in Ireland at Larne Lough (Co.Antrim); and in Scotland a white morph still at Loch of Strathbeg (Aberdeenshire) until 14th, a white and an intermediate morph at Tayinloan (Argyll) until 12th, a white morph at Crimond (Aberdeenshire) on 10th, two blue morphs at near Forth (Clyde) on 13th, and the white morph still at Carrahane Strand (Co.Kerry) and two further birds on South Uist (Outer Hebrides) at Boisdale both on 14th. England's sole record came from Penrith (Cumbria), with two birds reported on 12th. Much further south, a Red-breasted Goose was recorded again in Hampshire at Pennington on 13th. p>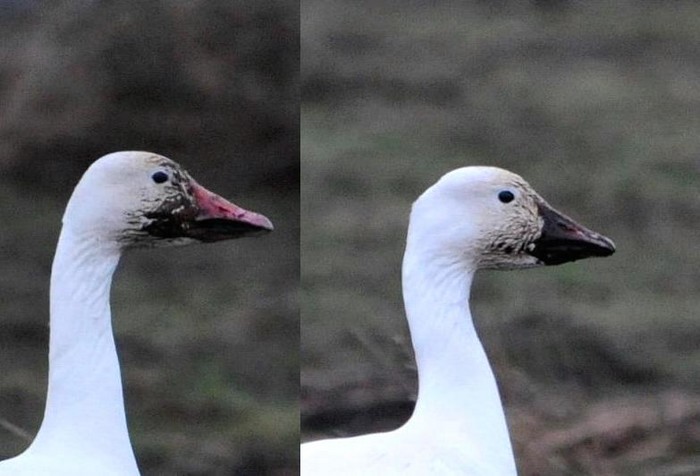 Green-winged Teals reached double figures during the week with a number of lingering birds augmented by yet more new finds to reach a total of 13 birds in all. Regular birds reported included the individuals at Hickling Broad (Norfolk) and Sopley (Hampshire) until 8th at least; at Martnaham Loch (Ayrshire) and North Cave Wetlands (East Yorkshire) until 12th; and on North Ronaldsay (Orkney), Caerlaverock (Dumfries & Galloway), Loch a' Phuill, Tiree (Argyll) and Newgale (Pembrokeshire) until 14th. Further birds were recorded from Termoncarragh Lough (Co.Mayo) and Neumann's Flash (Cheshire) on 8th, the latter remaining until 13th at least; from Coot Loch, Benbecula (Outer Hebrides) on 10th; and from Holy Island (Northumberland), Fairburn Ings (West Yorkshire) and Bude Marshes (Cornwall) on 12th, the latter remaining until 14th.
Eight Ring-necked Ducks were recorded, all drakes apart from the female at Eyebrook Reservoir (Leicestershire), this bird remaining on site until 12th at least. Elsewhere, a drake was found at Wimbleball Lake (Somerset) from 11th-13th, and Scotland accounted for a single bird at Meikle Loch (Aberdeenshire) still on 8th. Ireland meanwhile accounted for lingering birds at Milltown (Co.Cavan) on 8th, and Castleward (Co.Down) on 9th still; and further birds at Carrowmore Lake (Co.Mayo) on 10th, Oxford Island (Co.Armagh) on 12th, and Ballyshunnuck Reservoirs (Co.Waterford) on 13th-14th.
The drake Lesser Scaup stayed true to Cardiff Bay (Glamorgan) all week, with the drake in Cornwall at Dozmary Pool still present on 9th. Up in Scotland the female remained at Alturlie Point (Highland) until 14th, with another female on Loch Bee, South Uist (Outer Hebrides) from 8th-14th. Finally, at Loch Watten (Highland) the drake remained until 13th at least.
American Wigeons remained at Loch of Strathbeg (Aberdeenshire) and Tullaghan (Co.Leitrim) until 10th, whilst on Orkney the drake was still on Loch Saintear, Westray on 8th. A further two drakes were recorded in Ireland at, respectively, Lough Neagh (Co.Armagh) from 11th-13th, and on the Culdaff estuary (Co.Donegal) from 11th-12th.
The almost obligatory weekly wildfowl of unknown provenance category was filled this week with a report of a probable Marbled Duck from Stanwick GPs (Northamptonshire) on 13th but not subsequently.
Far more concrete were King Eiders, with the female remaining in Lothian off Fidra until 13th at least, a drake reported again from the Bluemull Sound (Shetland) on 10th, a first-winter drake reported from Musselburgh (Lothian) on 11th, a drake still off the golf course at Nairn (Moray) on 14th, and in Ireland the female recorded all week at Blacksod (Co.Mayo).
Welsh Surf Scoters continued to dominate the news, with singles recorded at Llandulas (Conwy)on 13th, at Morfa Bychan (Gwynedd) on 11th-12th, and Amroth (Pembrokeshire) on 12th, before Llandulas roared back into form with four drakes on 14th. In Scotland single drakes remained at Musselburgh (Lothian) until 13th and Ruddon's Point (Fife) until 12th at least, and the young bird remained in Brand's Bay (Dorset) until at least 10th. Meanwhile in Ireland, a female was recorded at Coolbaun (Co.Cork) on 12th.
Joining the magnificent lingering Short-billed Dowitcher on North Ronaldsay (Orkney) and Marsh Sandpiper on North Uist (Outer Hebrides) the stalwart Lesser Yellowlegs remained at Lepe CP (Hampshire throughout the period. This line-up of shorebirds is what passes for normal in the current winter period!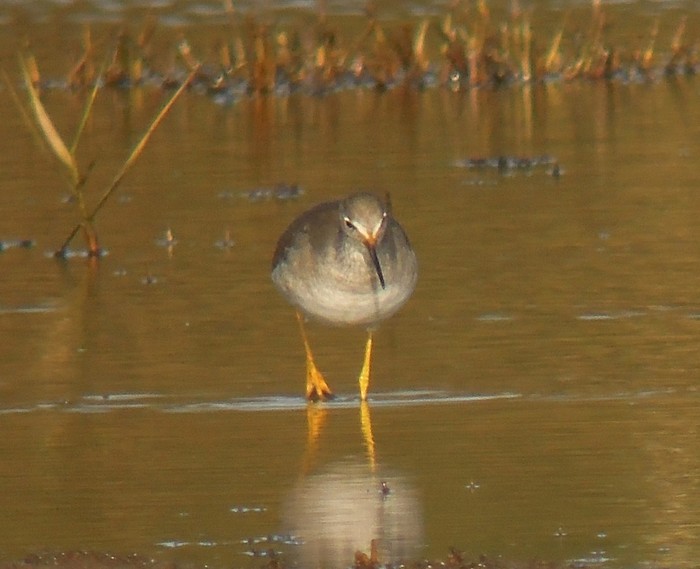 Ross's Gull almost made last week's Rarity Round-up prediction come true when an adult was reported all-too-briefly past Dungeness (Kent) on 13th. Would that this had stuck around… Other rare gulls were represented by the wintering adult Bonaparte's Gull in south Devon seen off and on in the Dawlish Warren area throughout the period, and another adult at the Cardiff Heliport (Glamorgan) on 12th.
Kumlien's Gulls included the long-staying second-winter again at Barmston (East Yorkshire) on 10th-11th, and a juvenile again at Kilmore Quay (Co.Wexford) on 12th. Elsewhere, a juvenile was at the irrepressible Burry Holms (Glamorgan) on 10th-11th, while at Newgale (Pembrokeshire) a possible juvenile was recorded on 8th-9th and a definite adult on 10th-11th. A probable adult was at Cotswold Water Park (Gloucestershire) on 10th, and the adult was again at Wintersett gull roost in West Yorkshire on 12th. The Outer Hebrides' white-winged gull hotspot of Rubh' Arnal on North Uist laid claim to a third-winter on 9th. In Ireland meanwhile a juvenile was reported on 10th and 13th from Crookhaven (Co.Cork); a possible adult in Cork City on 13th ; and a juvenile and a probable adult at Inch (Co.Kerry) on 11th-12th.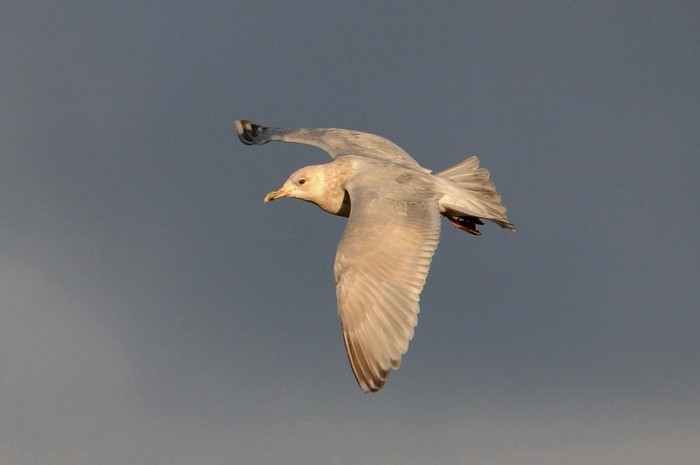 Records of both Glaucous and Iceland Gulls remained fairly numerous throughout the week, particularly in the far north-west.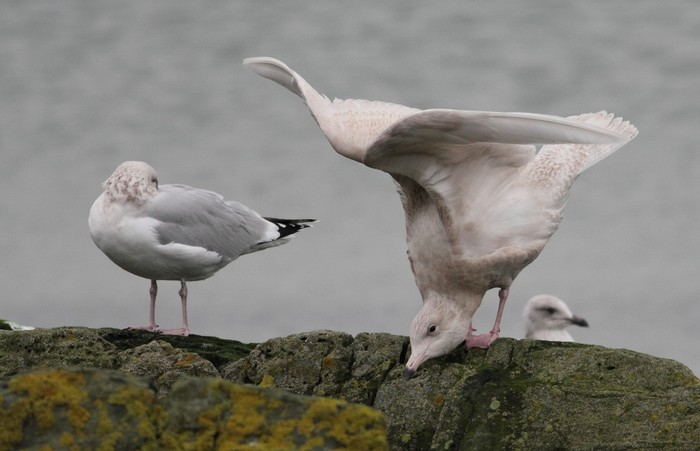 As in the previous week, around 100 individuals of Glaucous Gull were reported from some 40 counties, with North Uist (Outer Hebrides) a particularly fruitful location with seven birds at Rubh' Arnal and two at Hougharry on 9th, three birds at Loch na Reivil on 11th, and singles elsewhere on the island during the course of the week. Elsewhere multiples included two birds at Feohanagh (Co.Kerry), two at Carnsore Point (Co.Wexford) and two at Marazion (Cornwall) on 8th; two birds on Hog Island (Co.Clare) on 9th; three birds at Newgale (Pembrokeshire) on 10th and 12th; a magnificent seven birds at Inch (Co.Kerry), three at Clonakilty (Co.Cork) and three on Tiree (Argyll) on 11th; two birds at Corbally Road reservoir (Co.Antrim) and three birds at Sidegate Landfill (Northamptonshire) on 12th; five at Askernish, South Uist (Outer Hebrides) on 13th; and six birds feeding on a dead Sperm Whale at Kildonan, South Uist (Outer Hebrides) on 14th. One bird at Omey Strand (Co.Galway) on 13th had to make do with more modest fare, finding slim pickings on a dead dog…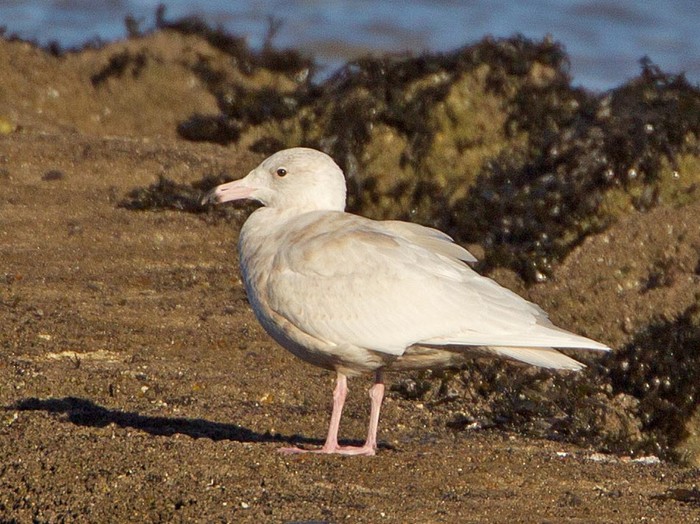 Slightly fewer Iceland Gulls were reported, with approximately 75 individuals coming from all around Britain and Ireland. Multiple records came in the form of four birds at Richmond Bank (Cheshire) on 8th; three birds on 8th rising to four birds at Rubh' Arnal, North Uist (Outer Hebrides) on 9th; two birds at Loch Oire (Moray) on 9th; two birds on Hascosay (Shetland) on 10th; three birds at Inch (Co.Kerry) on 11th; and two birds in Stornoway harbour on 12th.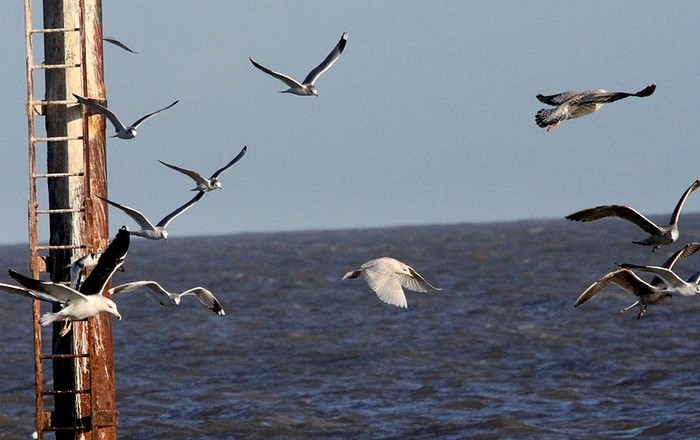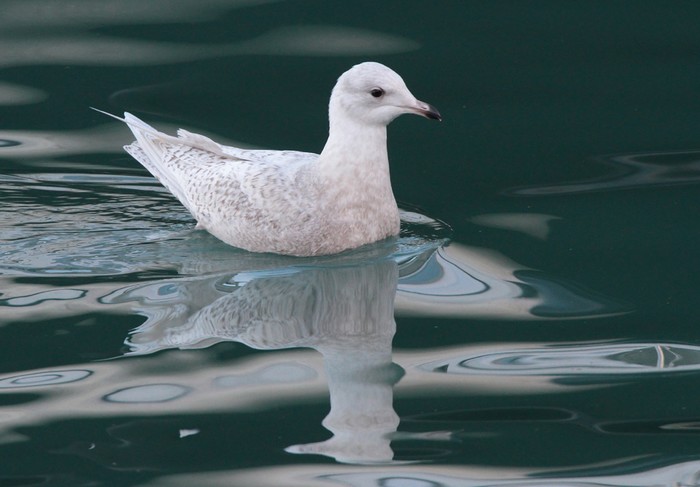 14 Ring-billed Gulls were recorded in the period, with Ireland as accounting for two-thirds of them. Out of Ireland, the regular adults were in Gosport (Hampshire) until 13th and Dingwall (Highland) until 14th. A first-winter was at Loch of Skene (Aberdeenshire) on 11th, and a second-winter at Newgale (Pembrokeshire) on 12th. Another Welsh bird was reported at Borth (Ceredigion) on 11th-12th. Back in Ireland it was business as usual, with Cork City (Co.Cork) heading the honours with three birds (an adult, a first-winter and a second-winter) present on 11th, closely followed by Tralee (Co.Kerry) with two birds (an adult and a second-winter) on 11th also. Other previously seen adult birds were at Portrush (Co.Antrim) on 10th-13th, Nimmo's Pier (Co.Galway) on 13th, and Bray (Co.Wicklow) on 11th still. Elswehere a second-winter was at Clonderlaw Bay (Co.Clare) on 8th.
Two Sabine's Gulls were recorded, both juveniles, at Nethertown (Cumbria) on 10th and Dungeness (Kent) on 12th.
Wintering Rough-legged Buzzards continued to be seen from the Waveney Forest mound (Norfolk) until 13th at least (there still being at least one and sometimes two birds visible from here); at Orford Ness (Suffolk) still on 8th, and from Wallasea Island (Essex) again on 10th-12th. A probable sighting came from Hampshire with a record from Martin Down on 9th.
Still topping the bill in the passerine news were two Kentish Hume's Yellow-browed Warblers: the bird in the trapping area at Dungeness bird observatory (Kent) remained until 12th at least, whilst the bird present in Ramsgate Cemetery since December 29th 2013 firmed up into a Hume's this week, and remained present until 13th at least. A further bird was reported from Southwold (Suffolk) on 13th.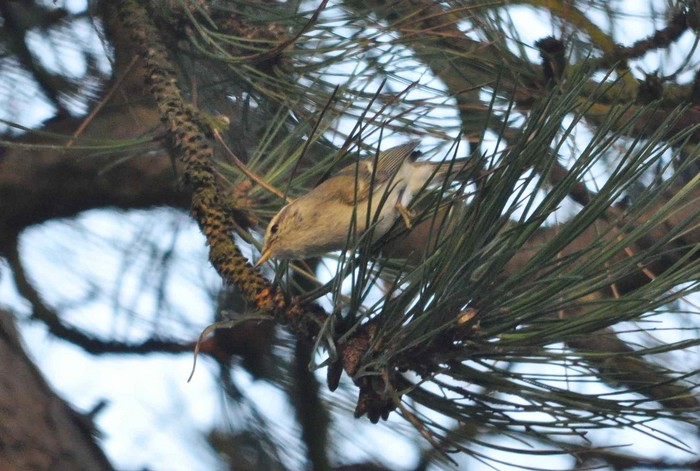 Overwintering Yellow-browed Warblers continued to be recorded, exclusively in the southwest with a total of nine birds reported – and none from Scilly this week. Two birds were still at Torpoint (Cornwall) on 11th, and elsewhere in the county one was at Carminowe Valley on 9th-10th, and one at Gwennap sewage works on 14th. Up-country in Devon the Clennon Valley Lakes bird remained on site all week long, and another was found in Exeter on 11th. In Somerset, the Sutton Bingham reservoir bird showed well at times until 13th, and at Studland (Dorset) a bird remained until 13th at least also. Finally, on the very edge of what can justifiably be called the southwest, another bird was turned up at Lower Test Marshes (Hampshire) on 11th. All of which begs the question of just how many Yellow-browed Warblers are hanging out with tit flocks in damp, scrubby woodland in the south-west this winter?
In a sign of the times, the Lesser Whitethroat of probable eastern form in Tynemouth (Northumberland) remained in its favoured garden until 13th when it was trapped and a DNA sample taken to be sent for a definitive analysis as to its precise identity. The bird was still present on 14th.
Numbers of wintering Great Grey Shrikes remained strong, with 19 birds reported from 15 counties, including three from Gloucestershire, and two apiece from Surrey and Hampshire.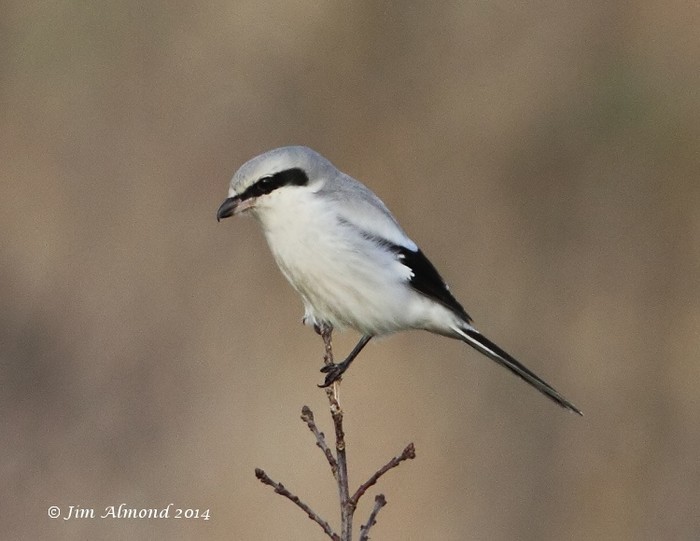 The Buff-bellied Pipit turned up again at Burton Marsh to the delight of the year-listers, this welcome reappearance being seen from 9th-14th. The Richard's Pipit at Kelling (Norfolk) remained present though somewhat elusive at times until 12th, while another was reported from Rhoscrowther (Pembrokeshire) on 9th, and one was on the Lizard (Cornwall) on 11th.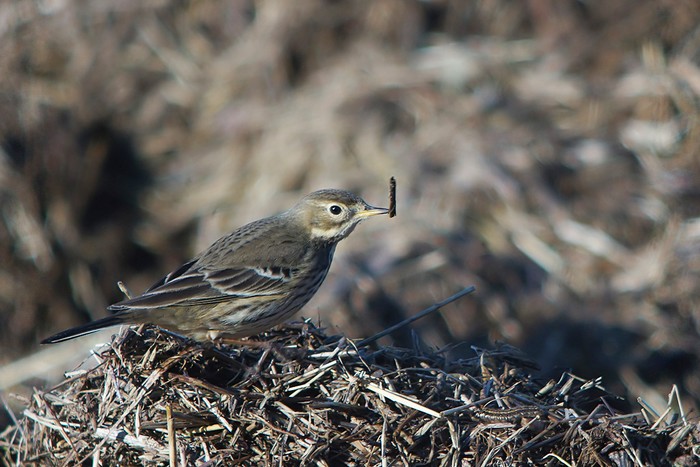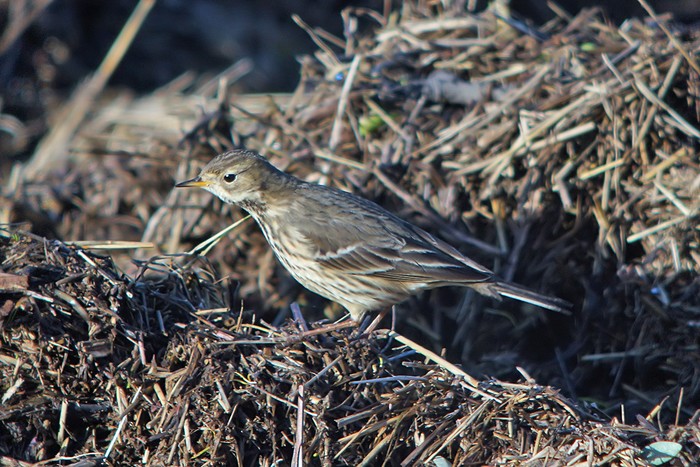 Reports of Waxwings were sporadic and patchy at best, with the best flock being one of 70+ birds in Aberdeen (Aberdeenshire) on 9th. Elsewhere, the pick of the more accessible flocks were 10 birds at Harwood Dale (North Yorkshire) on 8th-10th, and a flock of fluctuating size that peaked at Jarrow (Co.Durham) between 8th-14th with 34 recorded on 10th. Elsewhere numbers recorded were around 30 overall, not including the intriguing report of three putative Cedar Waxwings at Thorpe St Andrew (Norfolk) on 7th...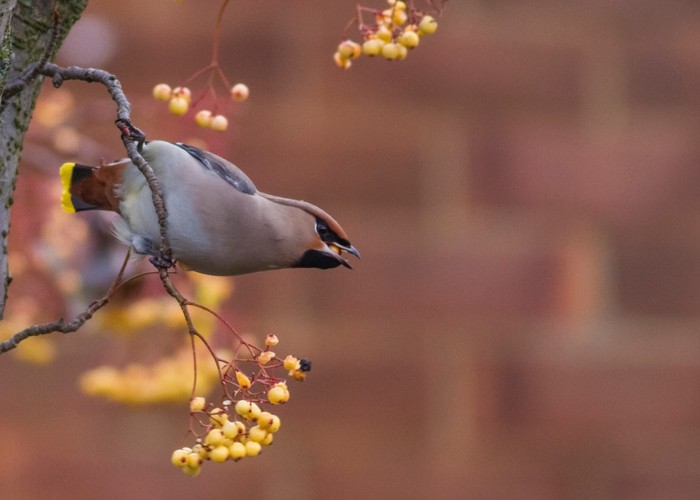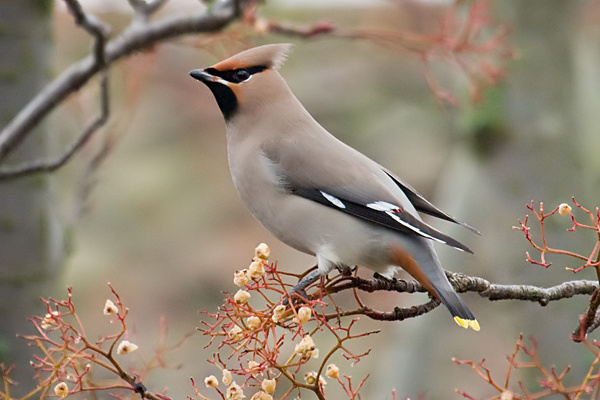 The first-winter Rose-coloured Starling on St.Mary's (Scilly) remained all week long, looking set to see out the winter in the isles.
Coue's Arctic Redpolls began to tease with reports of two possible birds this week, one at Hemsted Forest (Kent) on 9th-13th and another at Cinderford (Gloucestershire) on 12th. As anyone who's seen pale Redpolls in autumn in the northern isles will attest, being sure of anything other than a hornemannii requires a high level of proof to satisfy oneself.
And so, last but not least, to theLoxias. Parrot Crossbills continued to delight at several now reliable locations, with the Budby Common (Nottinghamshire) flock of 14 birds steadfast throughout the week, and in East Sussex the Ashdown Forest flock numbered at least nine birds on 11th, while at Mayday Farm (Suffolk) 11 birds were still present on 8th and at least two remained on 11th at least. The lone male at Hemsted (Kent) was still being reported on 10th. In Norfolk, a female in Waveney Forest on 10th-13th was joined by a male on 12th-13th, while eight remained at Holt on 14th.A final possible single bird was reported from The Lodge at Sandy (Bedfordshire) on 9th – come on you RSPB staffers, get out there in your lunch hours and clinch this one!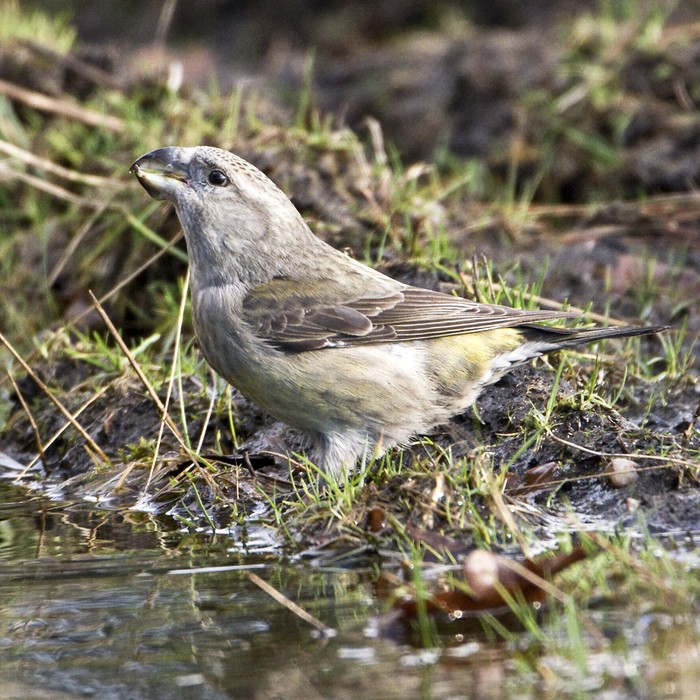 Two-barred Crossbills remained available too this week, with the usual suspects being still being reported throughout the period: at least four birds on the Serridge Ridge (Gloucestershire) on 11th with seven recorded there on 14th, and a magnificent 15 birds reported from Crabtree Hill (Gloucestershire) on 13th; three birds in the Wyre Forest (Shropshire) until 12th at least; and seven birds remained at Broomhead Reservoir (South Yorkshire) on 14th. In Norfolk, the male was reported again from Lyndford Arboretum on 5th; a further report came from Gloucestershire of a male at Nagshead RSPB on 10th, and at least one was heard calling distinctively at Swinley Park (Berkshire) on 8th.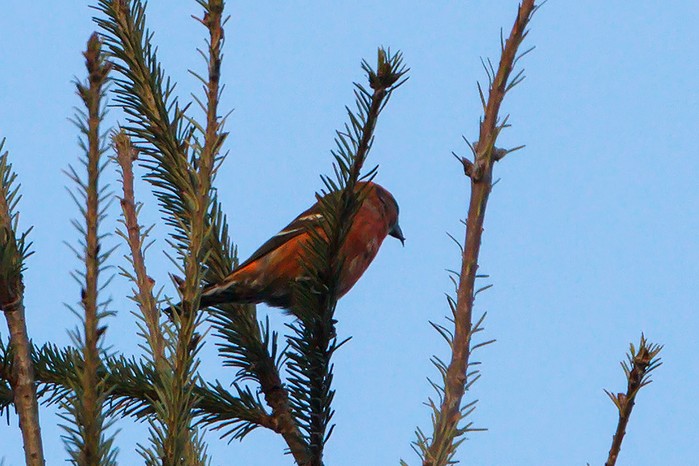 And what might we expect in the week to come? Hopefully not another near-miss like last weeks Ross's Gull... A look at the historical record says this week is a good one for a glittering array of rare ducks, with the likes of Harlequin, Black Scoter and, Canvasback and Bufflehead all putting in an appearance. Any of the above would do nicely...
Eyes cast enviously across the Channel towards Holland this past week will be hoping the Caspian Plover there at Nieuw Noord Bevelandpolder is pushed our way, but the stand-out species in the statistics is Gyr Falcon, with eleven records over the period – another white morph bird in the south would be most welcome.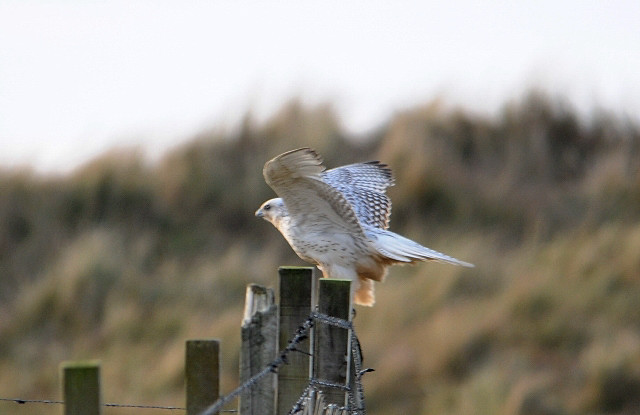 Jon Dunn
15 January 2013

Thanks to this week's contributors for their photos and videos
Sarah-Louise Selly, Owen Selly, Paul Kelly, Brian Orr, Paul Rowe, Steve Williams, Steve Duffield, Mark Warren, Paul Higson, Chris Bromley, Josh Marshall, Phil Sharp, Hugh Harrop, Sean Wileman, Michael O'Clery, Davey Farrar, John Kemp, Mark Palmer, Peter Phillips, David Potter, Chris Baines, Allan Chard, Phil Gaywood, Jim Almond, Tristan Reid, Darren Robson, Peter Beesley, Ian Goodall,