Weekly round-up: 24 Dec 2013 - 07 Jan 2014
The ultimate Christmas present from the far north available for all to see – a long-staying Brunnich's Guillemot in Dorset
Gulls galore in Glamorgan – a double whammy of Thayer's and American Herring Gulls
The 4th mainland record of American Coot found in Highland…
…while elsewhere in Scotland, a male American Kestrel was the one that got away
A fortnight is a long time in rare bird news, but the last week of December and the first week of January would surely be quiet… In any other year that might have been the case, but 2013 was the year that was destined to go out with a bang and not a whimper; and 2014 seemed set to pick right up where its predecessor had left off.
The weather over the period was characterised by a succession of ferocious winter storms that left no part of the country unscathed. Yet amidst the periods of torrential rain and screaming wind there were times of sunshine and calm, and some good – nay, brilliant - birds came out of the woodwork.
Brunnich's Guillemot
Any week that sees lingering Ivory Gulls relegated to the supporting cast can't be bad at all. And while aforesaid gulls remained at Patrington Haven (East Yorkshire) and Eoropie, Lewis (Outer Hebrides) it was another seabird from the far north that stole the laurels. Ask any birder who made the long trek north for the last twitchable Brunnich's Guillemot in Shetland in 2005; this has traditionally been one of the more difficult birds on the British list to catch up with. To do so has, for all but the fortunate few who've chanced upon one elsewhere, always meant heading north to Scotland, and hoping against hope that the target won't have died or moved on. We all know how it is; Brunnich's are hard to see in Britain...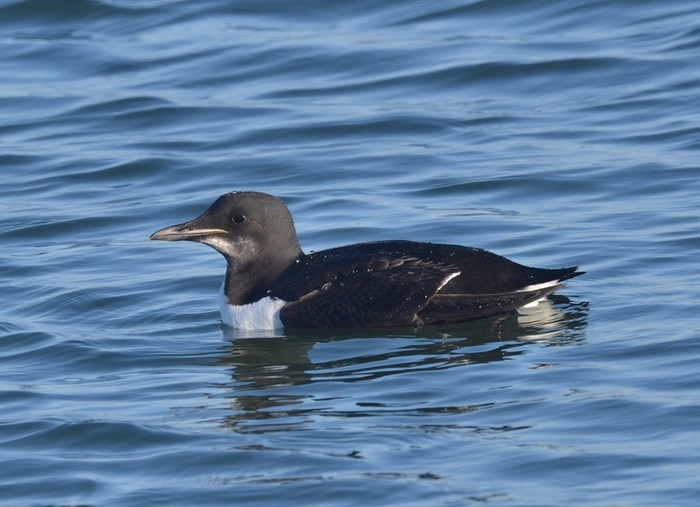 Well, yes and, after the events of 26th-30th December, no. How many birders must have thought their Christmases had come 364 days early when news broke on Boxing Day of a Brunnich's Guillemot not only alive and showing well, but on the south coast? Better yet, the bird stuck around until the 30th, and showed ridiculously well at times. As one appreciative pilgrim from Suffolk put it –"I've always wanted to see one but never thought that it would be this good, close, in England, or warm and sunny". Yes, even the foul weather let up for some to enjoy this charismatic bird.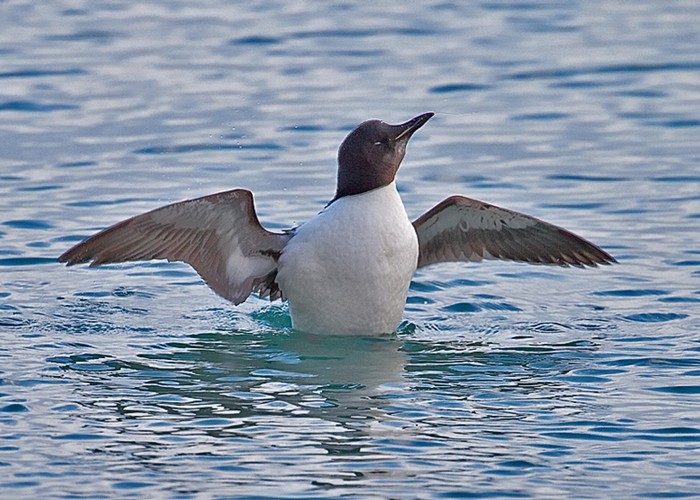 Given the species' tendency to be seen for one day only, in Scotland, or to be picked up as a tideline corpse (usually also in Scotland), you missed this one at your peril. It's safe to say that there won't be another this easy for a long time to come. Much more typical was a tideline corpse picked up near Eshaness (Shetland) on 28th – or was it? While plumage, wing shape and bill markings all suggested Brunnich's, the bill size was more in the court of Common Guillemot. Hybrids between the two species are not unknown, so the ultimate identity of this ex-guillemot will rest upon DNA analysis.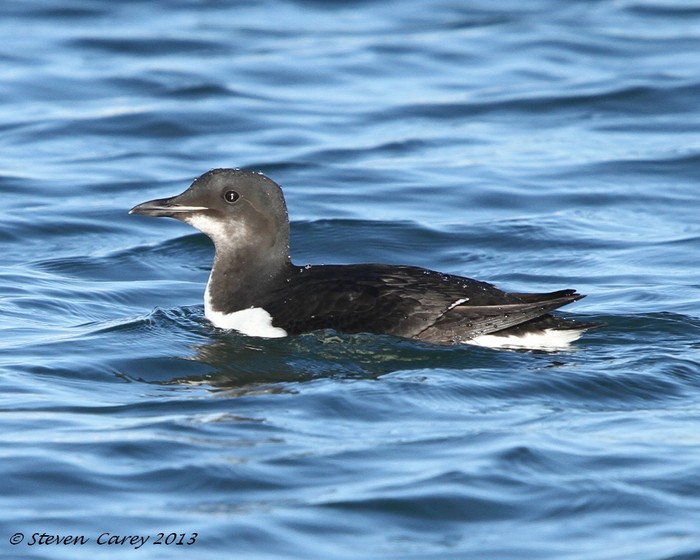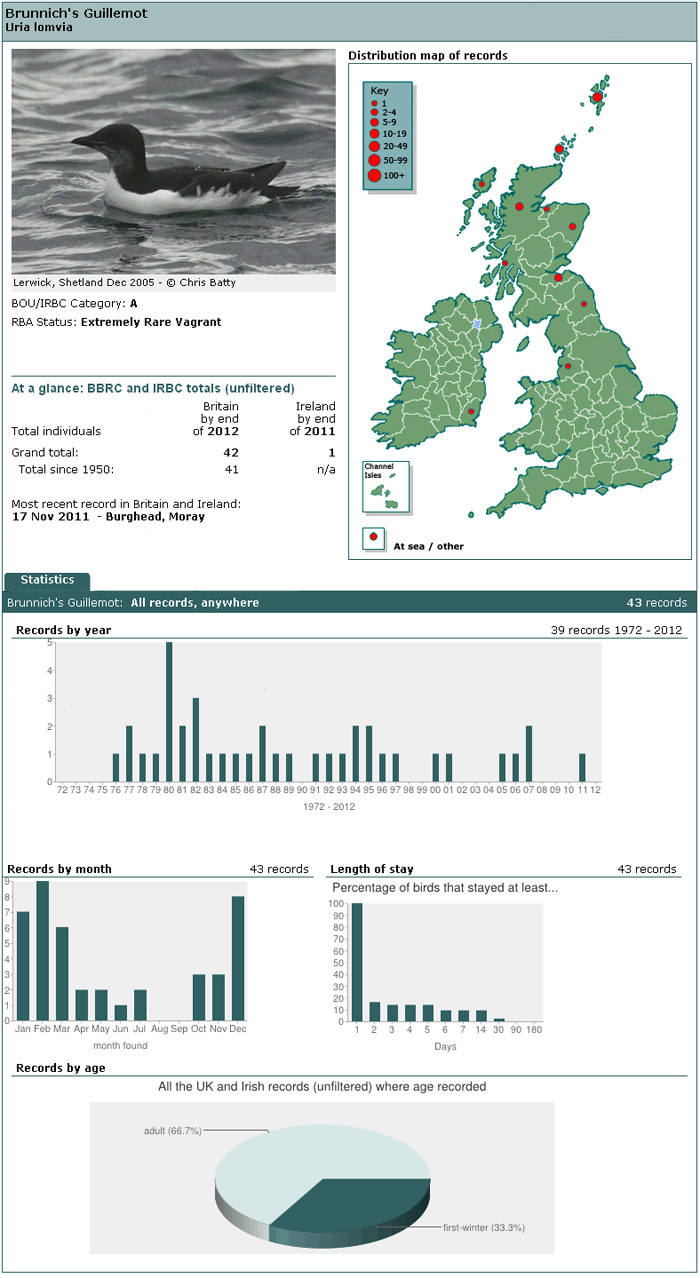 Thayer's and American Herring Gulls
Winter is, of course, traditionally a time for spending long, happy hours checking through large flocks of large gulls. Expectations are usually set fairly low, and who hasn't gone home happy after finding an Iceland or a Glaucous Gull? (And this past fortnight, many have done just that; more of which later…) Of course, every laridophile hopes for something much rarer, and at Burry Holms (Glamorgan) on 4th-5th January lightning struck not once, but twice.
First out of the blocks on 4th was a juvenile Thayer's Gull, and this was closely followed at the same site by a first-winter American Herring Gull. Both obligingly remained until 5th at least; the weather conditions on 6th were somewhat challenging, though both birds were reported on that day also. For now the destiny of Thayer's Gull on the British list remains in the hands of BOURC, but with this record adding more momentum to proceedings it's surely only a matter of time before the species takes its place amongst its congeners. (The Irish, as discussed in a previous Rarity Round-Up, have less qualms and, for now, more records on the books).
American Herring Gull is a rather different kettle of fish where acceptability is concerned, though Ireland unsurprisingly claims the lion's share of records to date. Having both species readily at hand at one site on the British mainland at the same time was a terrific start to the new year for all fans of larids.
American Coot
Meanwhile, up in Highland, Britain's 7th American Coot was found on January 5th on Loch Flemington, and still present on 7th. With the notable exception of the, at the time, much-appreciated individual at Stodmarsh (Kent) in 1996 British records of this subtly pleasing species have shown a distinctly northerly bias, and this latest record fits the ongoing pattern. That said, it's only the 4th mainland record (the last being 10 years ago in Dumfries & Galloway on Castle Loch, Lochaben) with subsequent records having all been on the western or northern isles – and this one is the first British record for around nine years, so it deserves some attention. Unfairly dismissed by some as rather underwhelming, another American Coot in the south of England would surely be much appreciated – time to pay a little more attention to those Coot flocks…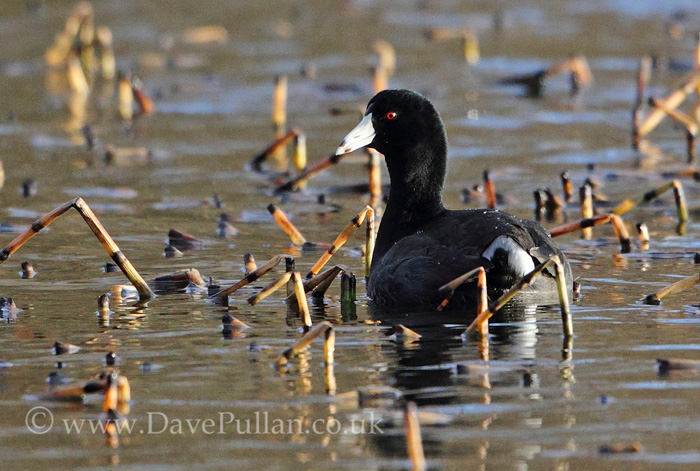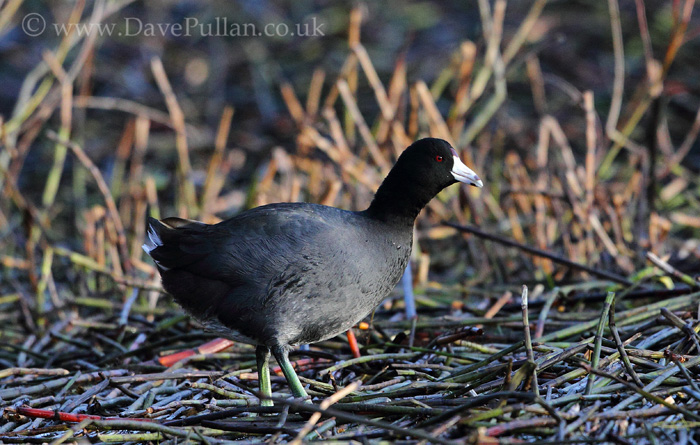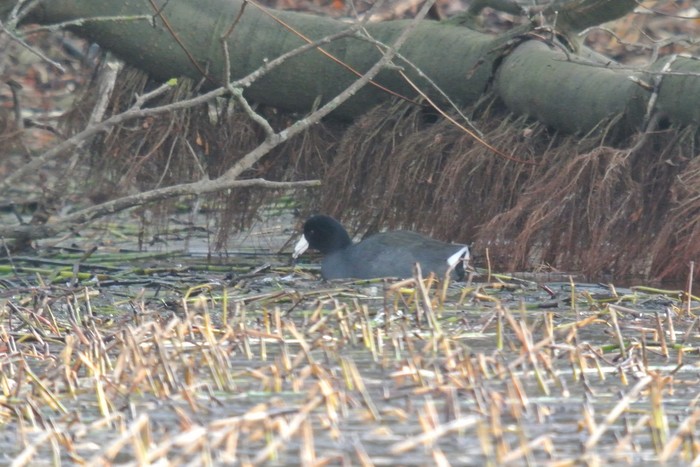 American Kestrel
And last but by no means least, Scotland lays claim to the first properly heart-stopping breaking news moment of the year. I nearly choked on my coffee when news flashed up on Bird Alert Pro of a male American Kestrel on January 1st near Bridge of Allen (Forth). The species is, of course, eye-wateringly rare in Britain and Ireland, with only 2 records dating back to 1976 – a male on Fair Isle (Shetland) from 25th-27th May; and a female on Bodmin Moor (Cornwall) from 13th-28th June. From such a small sample, who knows what 'typical' dates for the species look like in the UK? Could a midwinter bird have a wild origin? Alas the issue is clouded by escapes from captivity, as the birds from Landguard (Suffolk) in November 2010 and Old Hunstanton (Norfolk) in October 2005 attest to only too well. For now, this latest record remains unrelocated, and is perhaps best consigned to the category of the one that got away…
Rather eclipsed by the enormity of the events in nearby Dorset, elsewhere along the south coast in the last week of December another bird from the far north was deservedly drawing a crowd well into the New Year – a magnificent White-billed Diver showed exceptionally at Brixham (Devon) from Christmas Day until 7th January. Such an opportunity to readily see in the south of England a bird more usually associated with the extremities of Scotland was every bit as unprecedented as the nearby Brunnich's Guillemot, and was eagerly seized upon by many. Meanwhile, in the species' traditional quarters of Shetland, regular wintering birds were recorded in the Bluemull Sound on 28th December, and off Kirkabister on 5th January.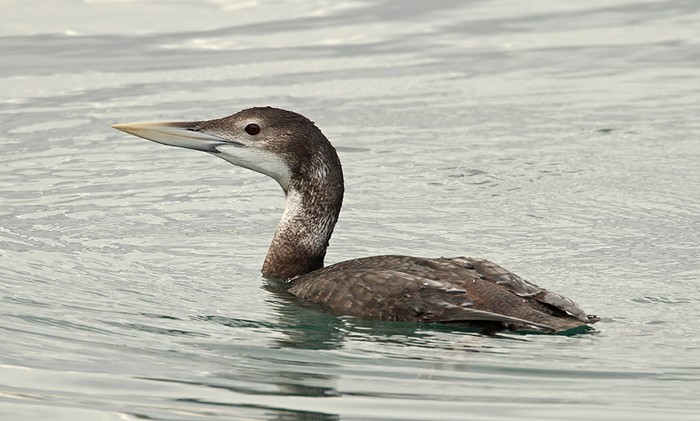 A flurry of Pomarine Skua records occurred across the period with singles reported in December from Landguard (Suffolk) on 27th, Durlston (Dorset) on 29th, Winterton (Norfolk) on 30th and Scoughall (Lothian) on 31st. January kicked off with singles off Thorpeness (Suffolk) on 1st, Frinton-on-sea (Essex) and Kessingland (Suffolk) on 2nd and 6th, and Ardishaig (Argyll) and Portland (Dorset) on 3rd.
Balearic Shearwaters were recorded with some frequency as the year closed and the new year began, with approximately 110 individuals noted. While most records concerned single figure counts, 12 or more were recorded off St.Mary's (Scilly) on 30th December, and some 30 birds off Porthgwarra on 4th. Also reported from Porthgwarra that day was a possible Yelkouan Shearwater and a couple of Little Auks; not a bad haul for a midwinter seawatch…
Little Auks were reported elsewhere around the coast of Britain and Ireland, and as far through the English Channel as Dorset. While most of the approximately 40 birds recorded were single birds, a significant movement of the species was noted from Anstruther (Fife) on 27th December with 18 birds past there in the space of one hour.
It seems strange to recall a time when in order to see a Glossy Ibis in Britain your best bet was to stand on the exposed and chilly Lampen Wall at Stodmarsh (Kent) and wait for one of the regular roosting birds to fly briefly by. It wasn't a very satisfying experience, and at the time there were unsubstantiated rumours of captive origin swirling around that tainted the whole thing somewhat. Fast forward to this winter, and it seems as if nowhere in Britain or Ireland would be an unlikely place to stumble across one…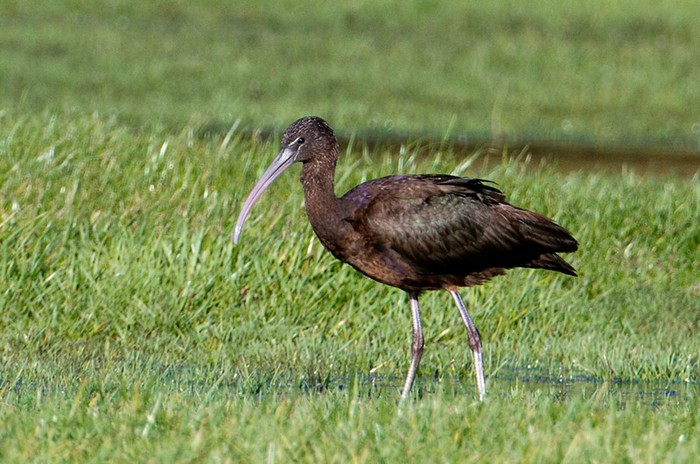 Keeping tabs on the numbers involved is challenging, to say the least, with some mobile birds obscuring the clearer picture presented by those obliging birds that have stayed on-station for days at a time. An estimate of some 35 birds being involved is probably conservative. Long-stayers included single birds at Kingsmill Lake (Cornwall) from December 24th - January 4th; at Tregony (Cornwall) from December 24th-29th (with two birds there on 27th); at Slimbridge (Gloucestershire) from December 24th-27th; at Oulton Broad (Suffolk) from December 24th - January 6th; at Broadhempston (Devon) from December 24th-28th; in Weymouth (Dorset) from December 25th - January 5th; at Langskaill Plantation (Orkney) from December 25th - January 6th, and at Loch of Swannay from December 26th-28th; at Lowdham (Nottinghamshire) from December 26th until January 5th; at Westhoughton (Manchester) from at least December 29th - January 6th; at Deeping Lakes (Lincolnshire) from December 30th - January 2nd; at Loch Watten (Highland) from January 1st-4th; at Frensham Manor (Surrey) from January 3rd –6th; at Langford (Bedfordshire) from January 4th-7th; and in the Outer Hebrides in the Balranald area from December 28th - January 1st, Kilauley from December 29th - January 4th, North Galson from December 29th - January 5th , Berneray from January 2nd-4th, and Balivanich from January 1st-6th - this latter record involving three birds.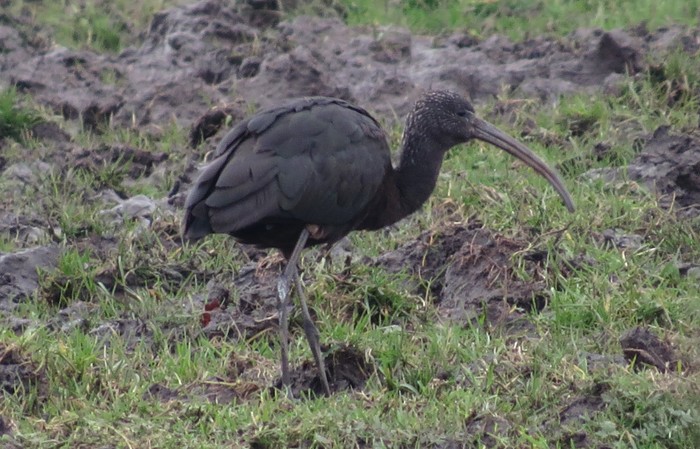 Pairs of birds were recorded at Goonhilly Downs (Cornwall) on December 28th-29th, the Otter estuary (Devon) on 7th, and Rosscarbery (Co.Cork) on January 5th-6th. Elsewhere in Ireland single birds settled at Cork City (Co.Cork) from December 26th - January 6th; Westport (Co.Mayo) from December 30th - January 2nd; at South Slob (Co.Wexford) from December 31st - January 5th; and at Portmagee (Co.Kerry) from December 31st to January 3rd.
Further single bird / single day records came from 25 counties in all across the country, occasionally (as in the Stodmarsh and Dungeness areas of Kent) suggesting further settled but generally elusive birds, but more often suggesting birds on the move around the country. Evidence of this restless wandering came from the far north on January 6th, when a single bird arrived on Unst (Shetland); the selfsame day that five birds arrived on the Faroe Islands. Something profound is happening in the world of Glossy Ibises...
Great White Egrets, their thunder stolen somewhat by Glossy Ibises, were still a fixture in many of their now established winter quarters. Records spanned 20 counties, predominantly in England and Wales, but from as far north as Dinnet (Aberdeenshire) and involved some 40 birds. Multiple-bird records came from Llanrhidian Marsh (Glamorgan) on December 29th (two birds), Hornsea Mere (East Yorkshire) on December 31st (two birds), Pitsford reservoir (Northamptonshire) throughout the period (three birds), Westhay Moor (Somerset) on 6th (four birds) and from the Dungeness area throughout the period, peaking with a count of seven birds on January 4th.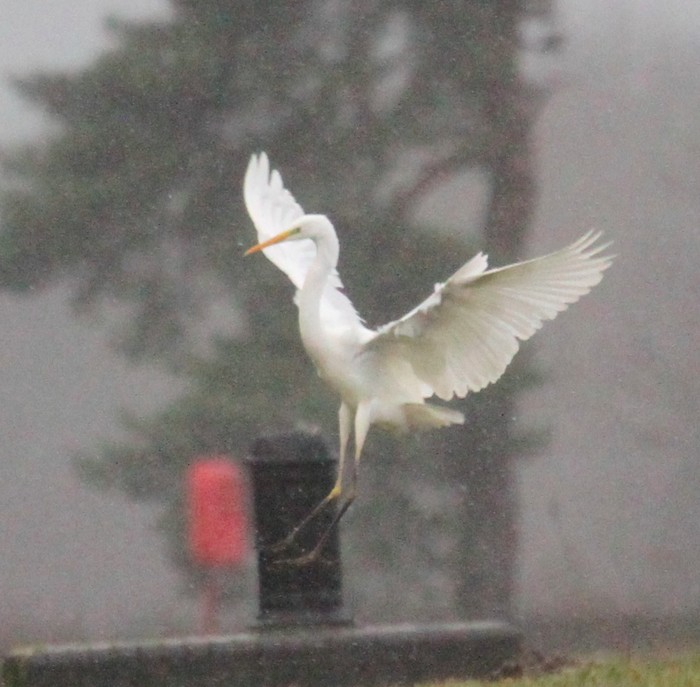 In Buckinghamshire, the Cattle Egret remained in the Steeple Claydon area until January 6th at least, roosting amongst the Cormorants at Calvert Lakes. Meanwhile down in Devon one remained at Clennon Valley Lakes until Christmas Day. Over in Ireland in the Seafield area of Co.Waterford numbers recorded fluctuated between December 24th and January 4th, but on the whole appeared to involve 3 birds and variations of the same; and one was recorded again at Hillsborough Park (Co.Down) on December 31st. Finally, one was reported from Amble Marshes (Cornwall) on January 3rd.
Numbers of Spoonbillsreported from Poole Harbour (Dorset) remained constant with a respectable peak count of 23 birds from Shipstal Point on January 2nd. Elsewhere in the southwest birds present at Isley Marsh (Devon) during the period peaked with a count of eight on December 28th; and three birds on the River Lynher (Cornwall) and two birds on Green Island and Samson (Scilly) seemed omnipresent into the New Year. Meanwhile in Ireland, two birds were recorded at The Cunnigar (Co.Waterford) on December 26th. Elsewhere widely scattered single birds in southern England and Ireland added to the flocks to record an overall total of some 45 birds, spanning 11 counties in all.
Away from the traditional Norfolk stronghold, Common Cranes were represented by the lingering pair in Dorset in the Tolpuddle area until January 6th at least, a single bird at Kilcoole (Co.Wicklow) from December 27th - January 2nd, and the small flock of five birds again at Guyhirn (Cambridgeshire) on December 27th.
Two Richardson's Cackling Geese (form hutchinsii) were recorded, one remaining in Ireland at Lissadell (Co.Sligo) on December 28th, and one in Scotland on Islay (Argyll) at Uiskentuie on January 1st. A Todd's Canada Goose (form interior) was noted in Cumbria at Cardurnock from December 28th – January 5th.
Black Brants were again widely distributed, with birds recorded in 12 counties across England, Wales and Ireland. The regular bird remained nailed-on in the Cley area of Norfolk (with another reported from King's Lynn on January 6th), as did an individual at Lower Halstow (Kent), while two birds roamed around Chelmondiston (Suffolk) throughout the period. Essex accounted for two further records, on December 24th on Canvey Island, and January 5th at Paglesham Lagoon. Moving across the south coast, Hampshire accounted for records on 27th at Sturt Pond, and in the Farlington area from January 1st-4th. A further record came from over on the Isle of Wight on January 1st in Newtown harbour. The sole record from the southwest came in the form of the lingering bird at Dawlish Warren (Devon) from December 24th – January 3rd. Wales' sole representative was a bird noted in Glamorgan at Landimore on January 5th, while the individual noted for some weeks in Cumbria remained faithful to Roa Island from December 28th into the New Year, until January 7th. Elsewhere in the north an individual was recorded at Kilnsea (East Yorkshire) from December 27th at least until January 1st. Across in Ireland birds remained at Rosslare (Co.Wexford) and Ardtermon (Co.Sligo) on 26th, the latter being noted as still present on 30th; and a further bird was at Killala Bay (Co.Mayo) on December 28th.
The presumed escape first-winter Ross's Goose was reported again from Marshside RSPB (Lancashire) on January 5th. The white morph Snow Goose remained at Carrahane Strand (Co. Kerry) to January 1st at least while elsewhere in Ireland an intermediate morph was reported from Inch Levels (Co.Donegal) on January 2nd. In Scotland two white morphs were at Loch of Strathbeg (Aberdeenshire) on December 30th, and a further two birds (a white and an intermediate morph) were at Rhunahaorine Point (Argyll) on January 2nd. Scotland also accounted for a smart Red-breasted Goose at Southerness Point (Dumfries & Galloway) from January 3rd-5th.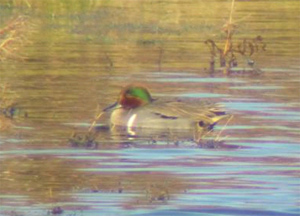 Green-winged Teals reached double figures during the week with a number of lingering birds augmented by some new finds from as far south as Dorset to as far north as Shetland. Birds remained at Loch of Kinnordy (Angus) until December 27th, on North Ronaldsay (Orkney) until January 3rd, at Caerlaverock (Dumfries & Galloway) until 7th, North Cave Wetlands (East Yorkshire) until 5th, and at Hickling Broad (Norfolk) until 6th. Further birds were recorded at Isley marsh (Devon) on Decmber 26th; at Newgale (Pembrokeshire) from December 26th – January 4th; in Gloucestershire at New Passage from December 27th-29th and Slimbridge from 30th – January 2nd; at Loch of Flugarth (Shetland) from December 28th-31st; on Tiree at Loch a Phuill (Argyll) from December 29th-31st; at Brockholes NR (Lancashire) on December 31st; and heralding the New Year at Loch of Strathbeg (Aberdeenshire) and Hurn (Dorset) on January 1st, the latter bird crossing the border into Hampshire and being noted from Sopley until 4th at least; at Mersehead (Dumfires & Galloway) on 2nd; and Broadwood Flash (Ayrshire) on 5th – this last bird sharing its chosen patch of water with a drake Ring-necked Duck.
The remaining nine other Ring-necked Ducks recorded also involved, in the most part, drakes with exceptions being lingering females at Eyebrook Reservoir (Leicestershire) until January 6th, Burrator Reservoir (Devon) until December 31st, and a further female at Lough Owel (Co.Westmeath) on December 28th. Elsewhere in Ireland drakes were recorded at Lough Rea (Co.Galway) still on December 28th and Lough Doo on Achill Island (Co.Mayo) on 29th; at Milltown (Co.Cavan) on 29th; and at Lough Sheelin (Co.Cavan) and Castleward (Co.Down) on January 2nd, the latter still reported from there on 4th at least. Scotland accounted for the remaining two drakes seen, at Meikle Loch (Aberdeenshire) again on January 2nd and at Broadwood Flash (Ayrshire) on 5th.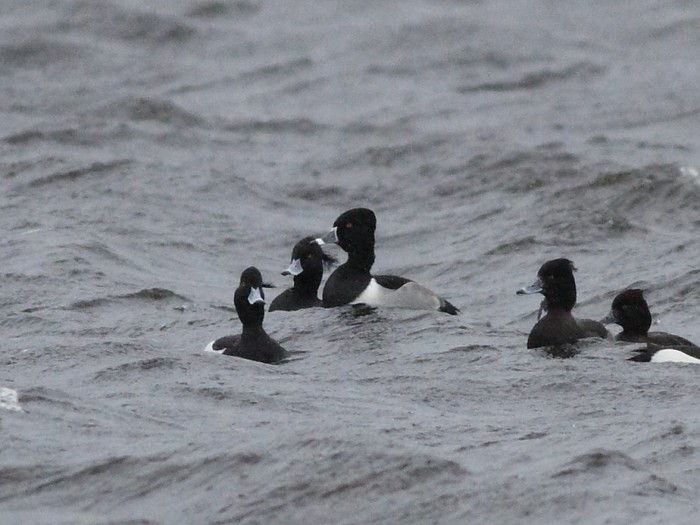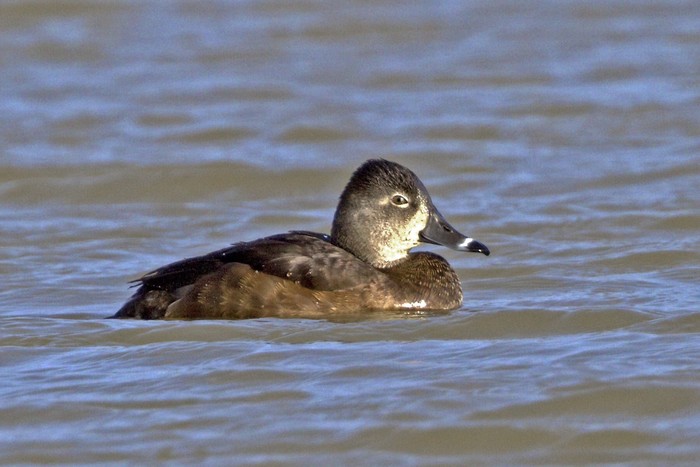 The drake Lesser Scaup in Cardiff Bay (Glamorgan) continued to find Wales very much to its liking and was still there until January 1st at least. Elsewhere, birds were noted in Highland at Alturlie Point on 1st–7th and at Loch Watten on 2nd; and in Cornwall at Dozmary Pool from December 29th until January 3rd. How times have changed since the late 1980s when Lesser Scaup was a hard-come-by rarity…
American Wigeons put in a good showing over the period with birds remaining at Udale Bay (Highland) until January 5th and Loch of Strathbeg (Aberdeenshire) until January 6th; at Tullaghan (Co.Leitrim) until January 4th, and Fenham Flats (Northumberland) until 1st. Up in Orkney a bird saw the New Year in on Westray at Loch Saintear, present from December 30th – January 1st; and at Decca Pools in Cheshire a drake shared the site with a probable Marbled Duck on 5th…
…which leads rather nicely to the unringed and fully-winged drake Wood Duck at Ynys-Hir RSPB (Ceredigion) on 6th, and the familiar sound of a lid being prised off a can of worms about what passes for acceptable in terms of wildfowl provenance… (The less said about the presumed escaped Hooded Merganser in Dorset (at Radipole) and the bling-wearing and bread-friendly individual in Cornwall (at Newquay) over the festive period, the better. As the catchphrase of a popular TV series about UFOs in the 1990s famously said – the truth is out there – but so, clearly, are some ducks of rather dubious origin). In the Wood Duck's favour, it's unringed and fully-winged; against it, well, it's a Wood Duck…
In Scotland, the female King Eider remained in Lothian off Fidra until January 5th at least, whilst up in Shetland a drake was reported from the usual wintering site in the Bluemull Sound on December 28th.
The Welsh wintering stronghold for Surf Scoters continued its dominance in the periods reports, with three drakes noted at the regular site of Llandulas (Conwy) on December 31st, and two birds still at Morfa Bychan (Gwynedd) on 28th; elsewhere in Wales a further drake was noted in Rhossili Bay (Glamorgan) on 29th. In Scotland single drakes remained at Musselburgh (Lothian) and Ruddon's Point (fife) until January 5th at least, and the young bird remained in Brand's Bay (Dorset) until 4th at least. Across the water in Ireland one remained at Courtmacsherry (Co.Cork until January 7th, and at Garron Point (Co.Antrim) from December 29th – January 1st.
A final honourable mention must be made of the Pied-billed Grebe up on North Uist (Outer Hebrides); neither a goose nor a duck, but hanging on in there on the warer at Balranald until January 2nd at least.
Given the time of year, the period was surprisingly strong for records of unusual shorebirds, with some top-drawer rarity seasoned with some distinctly unseasonal (and wayward) records. In terms of rarity, star billing (numerically at least) must go to the Short-billed Dowitcher on North Ronaldsay (Orkney) recorded once again on December 28th and again on January 7th. However, in terms of eyepopping unlikelihood the Marsh Sandpiper found on North Uist (Outer Hebrides) on December 30th (and remaining there at Rubh' Arnal until January 4th) takes a lot of beating. Only the second record ever for the Outer Hebrides (the first was also on North Uist, for two days back in October 1994), the real surprise is the time of year – a completely unprecedented and most impressive midwinter record.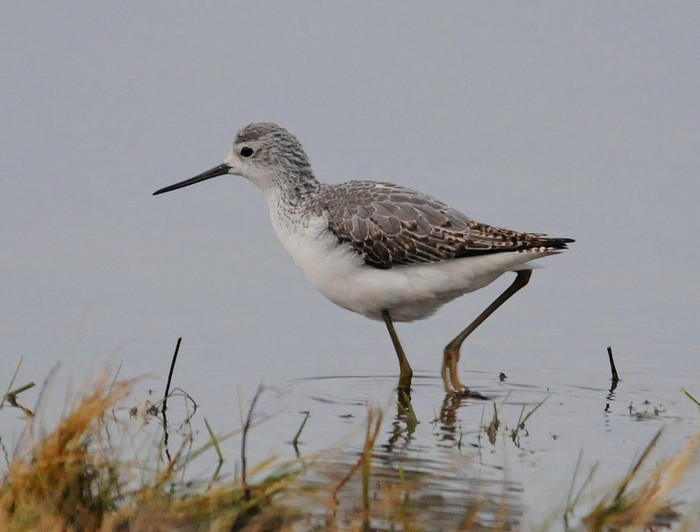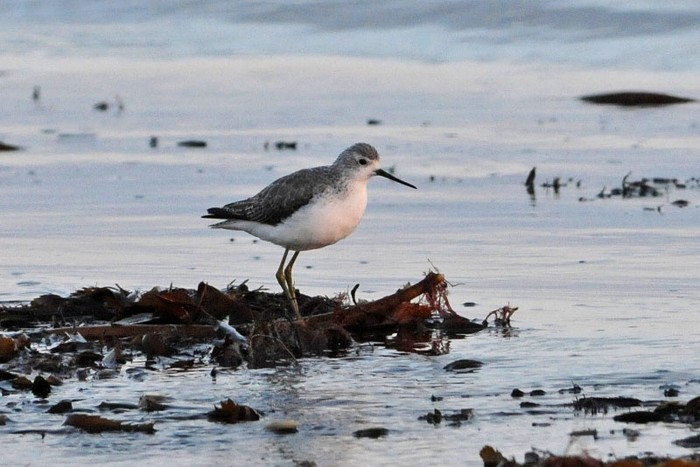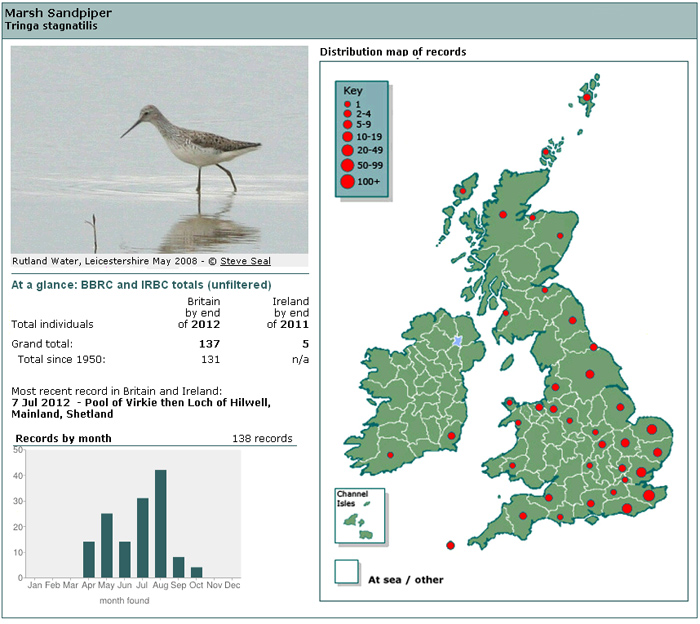 North America was represented by the faithful Lesser Yellowlegs at Lepe CP (Hampshire throughout the period, and in Ireland a Pectoral Sandpiper at Ardmore Point (Co.Armagh) still on December 24th and a Baird's Sandpiper in Ireland at Blennerville (Co.Kerry) on December 28th; the latter, like the North Uist Marsh Sandpiper, a most unseasonal record.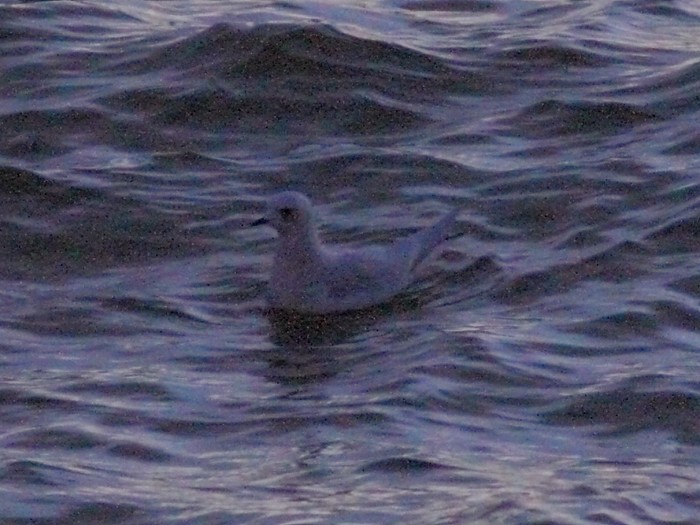 Ivory Gulls had become (almost!) passé by the advent of Christmas, with lingering birds at Patrington Haven (East Yorkshire) until December 25th, and at Eoropie on Lewis (Outer Hebrides) from 20th-29th. A further record heralded the start of 2014, with one reported from Hartlepool Headland (Cleveland) on 4th. And on the same day, after the largesse of these beautiful gulls in recent weeks, a Ross's Gull finally put in an overdue appearance at Salthill (Co.Galway). The last long-stayer was back in 2008, and we would all surely welcome another good year for this dainty and attractive species like 1995 or 2002 when multiple and accessible birds arrived in the first three months of the new year.
The wintering adult Bonaparte's Gull in south Devon was seen off and on in the Dawlish Warren area throughout the period, reported until January 6th at least. A first-winter bird was recorded in Argyll at Loch Gilp on 5th.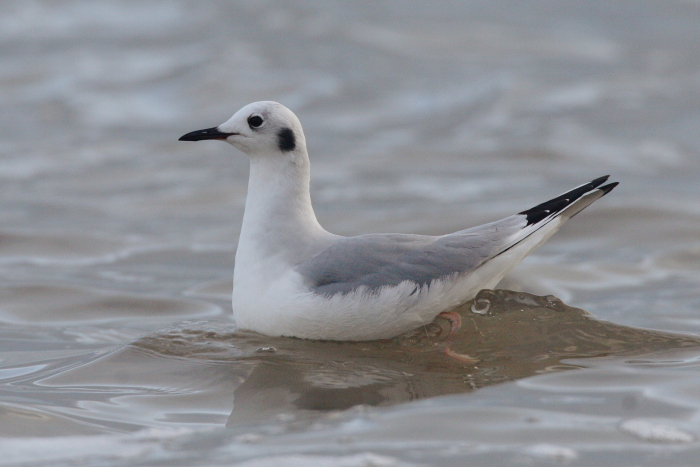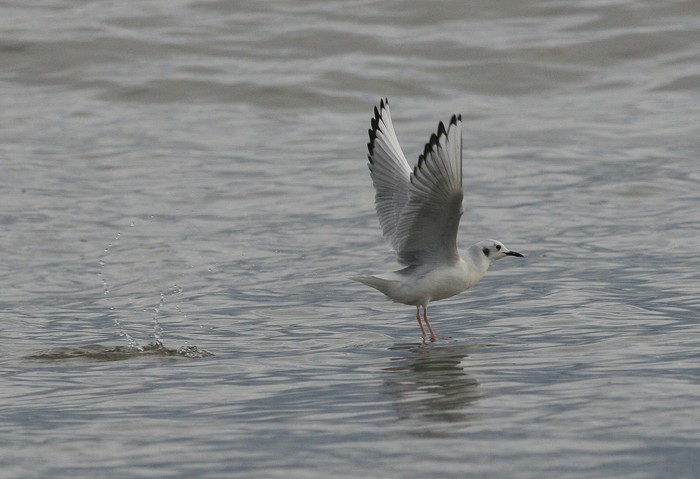 Kumlien's Gull records increased, in line with the upswing in Iceland Gulls recorded in the period. The second-winter remained at Barmston (East Yorkshire) until December 27th, and what was presumably the same bird was recorded at Bridlington on January 5th. Elsewhere in Yorkshire an adult was at Broomhead and Langsett reservoirs (South Yorkshire) from December 31st – January 4th, and an adult was at Wintersett reservoir (West Yorkshire) on 7th. Scotland accounted for three records, second-winters at Collieston (Aberdeenshire) and Soulset Loch (Dumfries & Galloway) on December 28th, and a juvenile at Nethybridge (Highland) from January 1st-2nd. The remaining five birds recorded were all in Ireland, a juvenile at Kilmore Quay (Co.Wexford) on December 29th-31st; a second-winter at Nimmo's Pier (Co.Galway) on December 30th; an adult at Killybegs (Co.Donegal) on January 3rd; at Reenroe (Co.Kerry) on 4th; and a juvenile at Anascaul (Co.Kerry) on 7th.
Records of both Glaucous and Iceland Gulls were numerous throughout the period in what felt like a good if not record-breaking winter for both.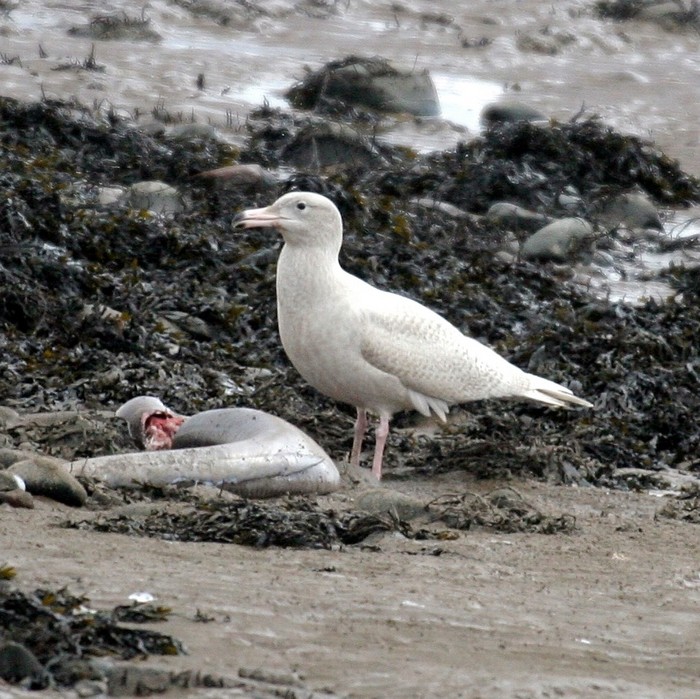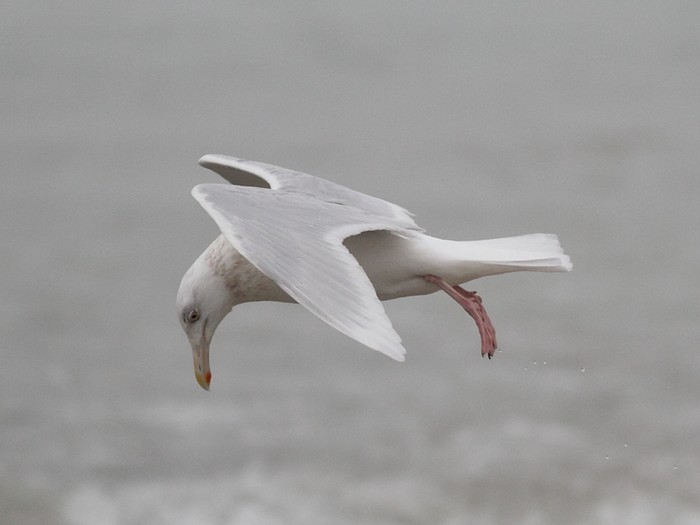 Honours were spread evenly between the two species, with around 100 individuals of each reported over the period, from all parts of Britain and Ireland including in the south-western and south-eastern extremities as Cornwall and Kent got in on the action. For both species, birds were reported from around 40 counties, so too numerous to list in exacting detail. Suffice to say, a bit like the urban myth about one's average proximity to rats in London, wherever you were in Britain and Ireland in the past fortnight you probably weren't very far away from a Glaucous or an Iceland Gull.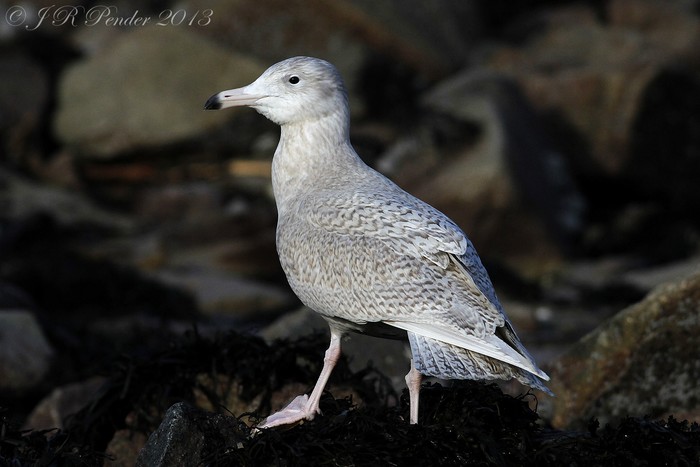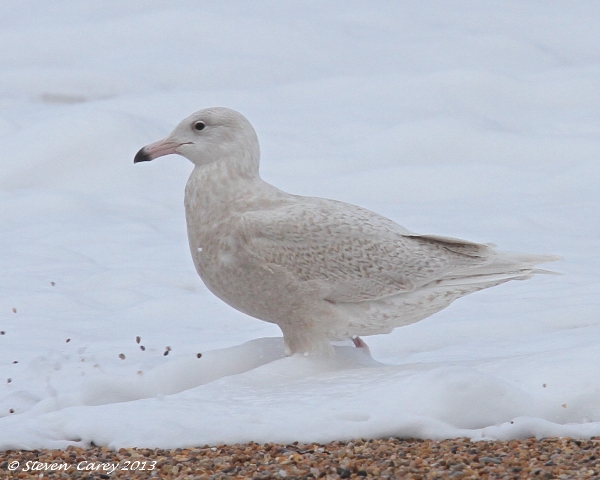 Multiple birds were noted at several sites. Where Glaucous Gull was concerned, two birds were at Reenard Point (Co.Kerry) on December 24th; on North Uist (Outer Hebrides) on 26th and January 5th; at Tramore (Co.Waterford) on 27th; Chasewater (Staffordshire) on 29th; at Milton tip (Cambridgeshire) on 31st; Newgale (Pembrokeshire) on January 2nd-3rd; and at Balderra Strand (Co.Mayo) on 6th. Higher counts from individual sites came from Killybegs (Co.Donegal) where three birds on 27th had risen to five by January 3rd; from Foula (Shetland) with four birds on 2nd and seven birds on 6th; from Rubh' Arnal, North Uist (Outer Hebrides) with three birds on December 31st-January 1st; from Cnoa a Lin, North Uist (Outer Hebrides) with four birds on 31st; and Tiree (Argyll) with three birds on January 4th.
In the case of Iceland Gulls, counts of two birds were noted at Reenard Point (Co.Kerry) between December 24th and January 3rd; at Tanholt GPs (Cambridgeshire) on December 24th; at Hoveringham GPs during 26th-29th; Collieston (Aberdeenshire) between December 28th and January 2nd; at Greencastle (Co.Donegal) on 29th; and Rubh' Arnal, North Uist (Outer Hebrides) between December 30th and January 2nd; at Cnoa a Lin, North Uist (Outer Hebrides) on 31st; from Nethy Bridge (Highland) on January 1st; Richmond Bank (Cheshire) on 4th , and Rufforth (North Yorkshire) on 5th. Higher counts from individual sites came from North Uist (Outer Hebrides) with three birds on December 26th and Killybegs (Co.Donegal) on January 3rd.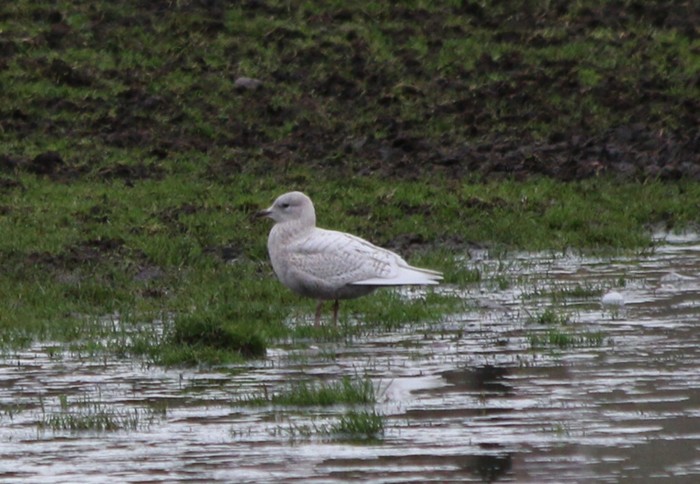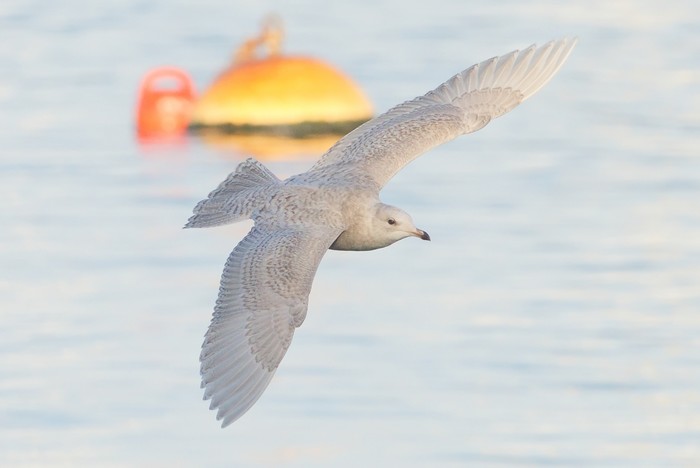 Up to 23 Ring-billed Gulls were recorded in the period, with Ireland enjoying the lion's share of them – all but four were there, these being the regular adult in Gosport (Hampshire) until January 7th, presumably a different adult 30 miles away at Winchester sewage farm (Hampshire) on December 27th, another adult at Crosby Marine Park (Lancashire) also on 27th, and the adult still at Dingwall (Highland) on 7th. In Ireland the adult remained at Carrickfergus (Co.Antrim) until 5th; further single adults were noted at Lurgan Green (Co.Louth) on December 26th; at Tramore (Co.Waterford) from 28th until January 4th; Blennerville (Co.Kerry) from 40th until January 1st; Portrush (Co.Antrim) on 29th; still at Castletown Berehaven (Co.Cork) on January 2nd; and at O'Callaghan's Strand (Co.Limerick) again on January 5th. Multiple birds were recorded in Cork City (Co.Cork), where at least three birds were recorded during the period - an adult, a first-winter, and a second-winter; in Dublin (Co.Dublin) where two birds were noted at Merrion gates on January 2nd; at Tralee (Co.Kerry) where a second-winter was recorded on December 30th, and an adult and a first-winter on January 1st; and at Nimmo's Pier (Co.Galway) where two adults and a first-winter were reported on January 5th.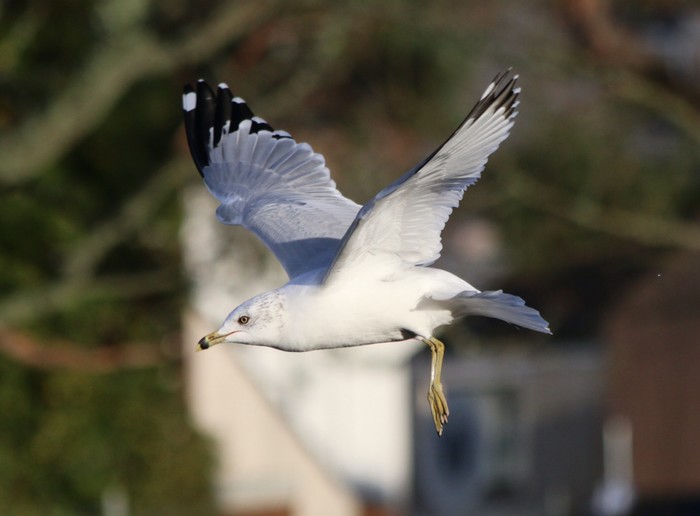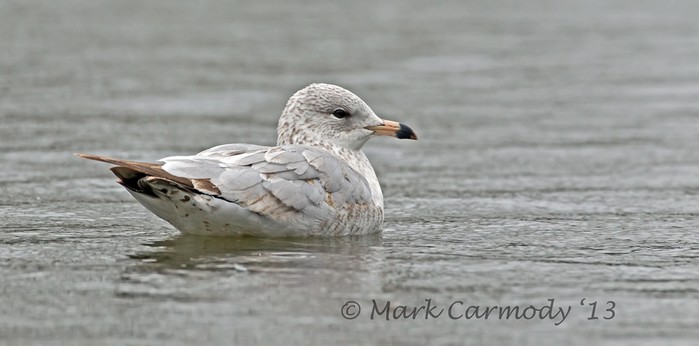 Two Sabine's Gulls were recorded, both juveniles. A fine record for Buckinghamshire came in the form of a bird at Weston Turville reservoir on January 4th-5th, a dream find for a local inland patch worker; while another bird was noted at Kennedy's Pass (Ayrshire) on 5th.
Reports of American Kestrel aside, the pick of the fortnight's raptor new were two Gyr Falcons, with one reported from Poolewe (Highland) on January 1st, and another bird at Stromness (Orkney) on 2nd.
Wintering Rough-legged Buzzards continued to be seen from the Waveney Forest mound (Norfolk) until 6th at least (there being at least one and sometimes two birds visible from here); and at Orford Ness (Suffolk) until 5th at least. Other reports came from North Wootton (Norfolk) on December 29th, and from Wallasea Island (Essex) on 5th. More tentative reports of possible birds were logged from the Glenshee Ski Centre (Highland) and Budworth Mere (Cheshire) on 2nd.
Headlining the passerine news were two Hume's Yellow-browed Warblers: the Northamptonshire bird remained tucked away on the private Kelmarsh estate until December 24th, but more accessible and more obliging for those kicking off their 2014 yearlists was another bird in the trapping area at Dungeness bird observatory (Kent) from 2nd-4th.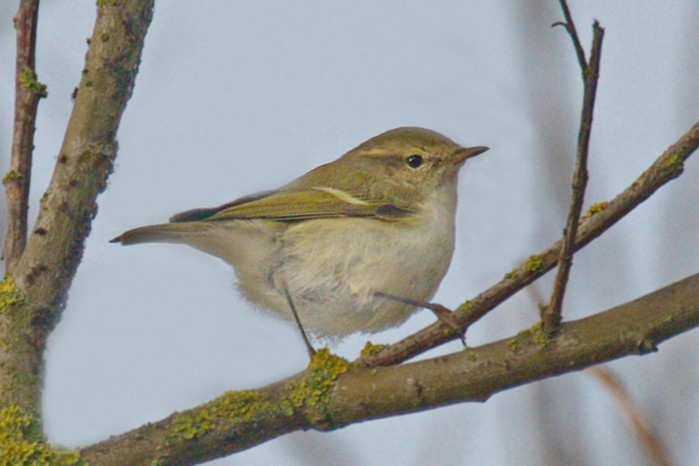 Overwintering Yellow-browed Warblers continued to be seen, mainly in the relatively mild southwest. Two birds remained happily ensconced on St Mary's (Scilly) on December 26th, with at least one still there into January; and two birds were still at Torpoint (Cornwall) until 2nd. The Clennon Valley Lakes (Devon) bird remained on site until 7th; and the bird at Studland (Dorset) was present until 6th at least. Just over the Dorset border, a bird at Sutton Bingham reservoir (Somerset) was a good find amongst a roving tit flock on 3rd, remaining until 5th at least. Potentially needing to be made of sterner stuff was a bird much further east at Ramsgate cemetery (Kent) from December 29th – January 6th at least – this bird, initially reported as Yellow-browed, had by the afternoon of 7th had a shadow of doubt cast over it – could this be another Hume's after all?
Final warbler news concerned a Lesser Whitethroat probably of an eastern form in Tynemouth (Northumberland) from January 4th-7th.
Wintering Great Grey Shrikes were prominent in the passerine news (and indeed, on many a hunting vantage in their chosen territories). Reports came in from 17 counties, with four birds in Gloucestershire particularly noteworthy. Readily accessible birds right through the fortnight included individuals at Hopwood (Worcestershire), Holme (Cambridgeshire), Bradbury (Co.Durham), and Budby Common (Nottinghamshire). The latter, combined with the continuing presence of a flock of Parrot Crossbills would have made for a particularly fine winter day's birding for anyone in the area.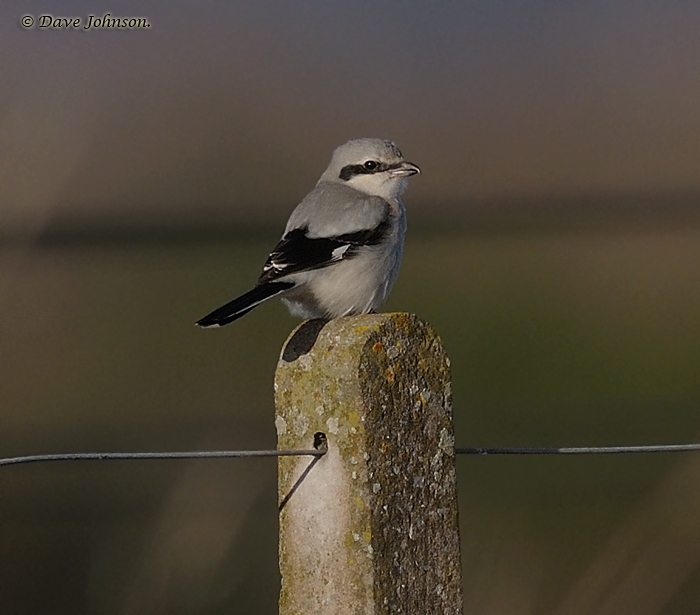 Birds remained on station in Hampshire, Gloucestershire, West Sussex, Surrey, Cambridgeshire, Nottinghamshire, Staffordshire and Powys. New birds were found at Hambridge (Somerset) and Bassingham (Lincolnshire) on 7th, and remained through the weekend into the new week. In Dorset the Morden Bog bird was joined by a second individual on 10th.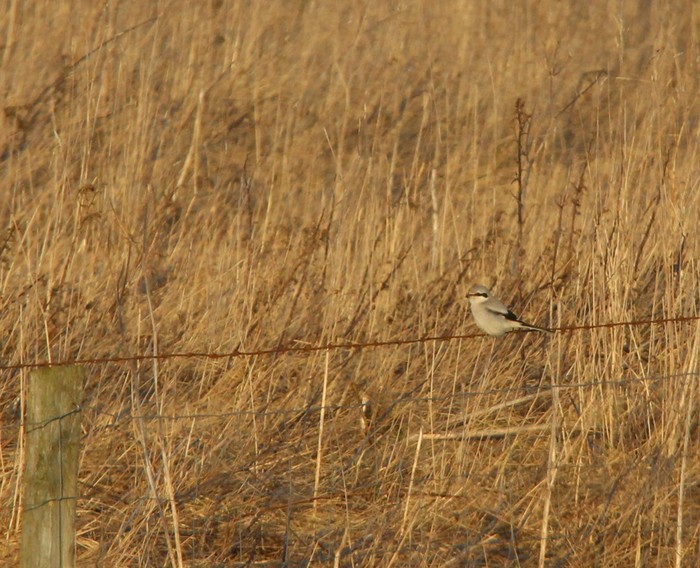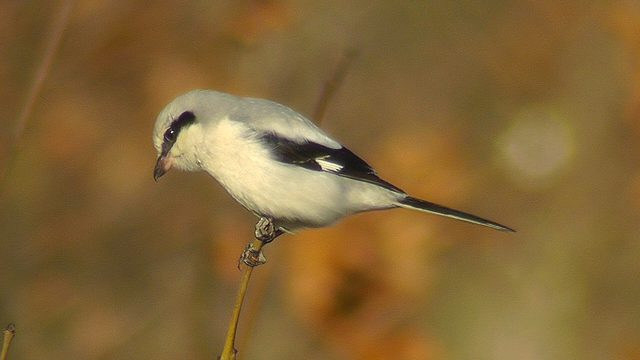 The Buff-bellied Pipit remained at Burton Marsh right through the Christmas period, last being recorded on 31st. A good bird for those in the northwest to go and try out that new camera Santa brought... It proved to be a good fortnight for Richard's Pipits with a long-staying bird at Kelling (Norfolk) present until January 7th, a further bird reported from Great Yarmouth (Norfolk) on December 31st, and two birds reported flying overhead calling at Eyebroughy (Lothian) on January 4th. The Kelling bird proved deservedly popular.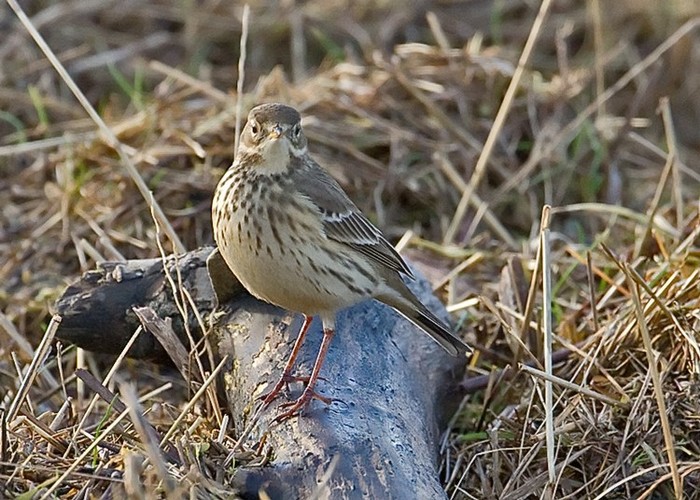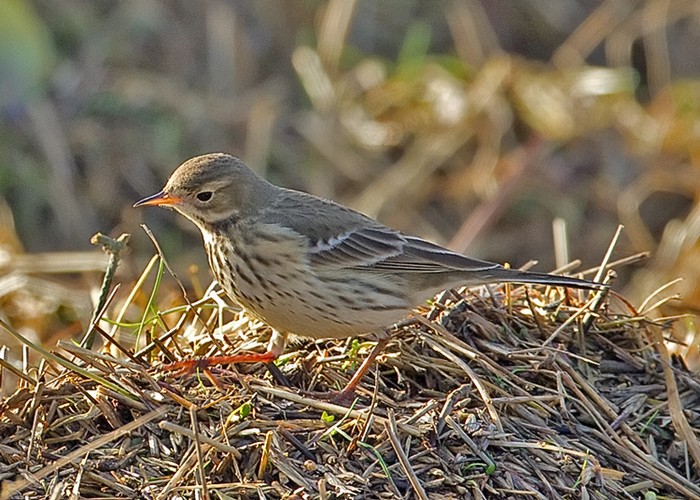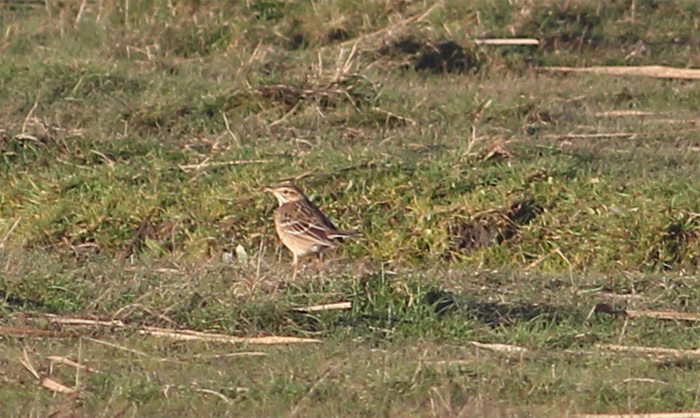 That other unseasonal over-winterer, the Hoopoe continued to be reported from Abergele (Conwy) until December 26th, but not thereafter.
Reports of Waxwings picked up, with a predictably northerly and easterly bias; many reports concerned small flocks of up to a dozen birds, so this doesn't feel like a mass irruption yet by any means. But still… some are better than none, and he who's bored of Waxwings is bored of life itself. More notable flocks included some 30 birds in Sheffield (South Yorkshire) on Christmas Day; 60 birds at Cults (Aberdeenshire) on 27th; and 40 birds at Jarrow (Co.Durham) on January 5th.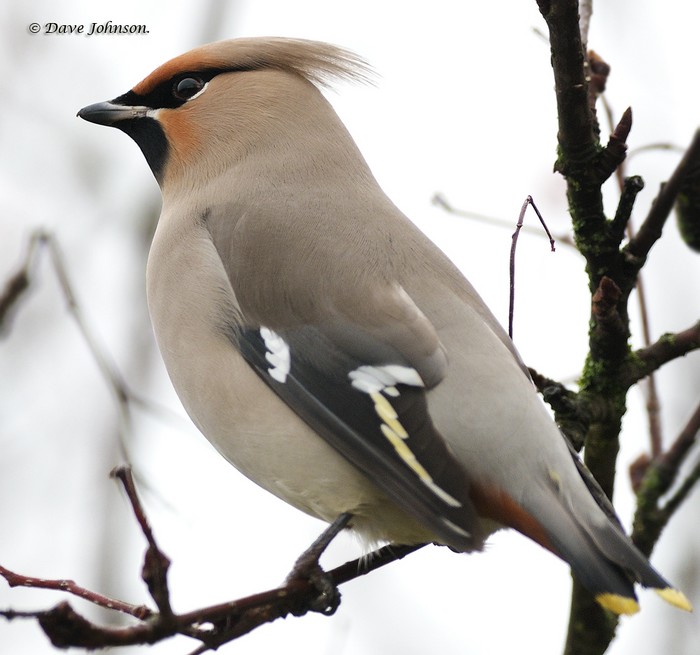 The first-winter Rose-coloured Starling on St.Mary's (Scilly) remained site-faithful until January 7th. Also on St.Mary's was a male Serin on 4th-6th. Elsewhere, other finch news concerned a possible Arctic Redpoll at Lineholt (Worcestershire) on December 29th-31st, and a more definite Coue's Arctic Redpoll at Hillwell (Shetland) on 30th.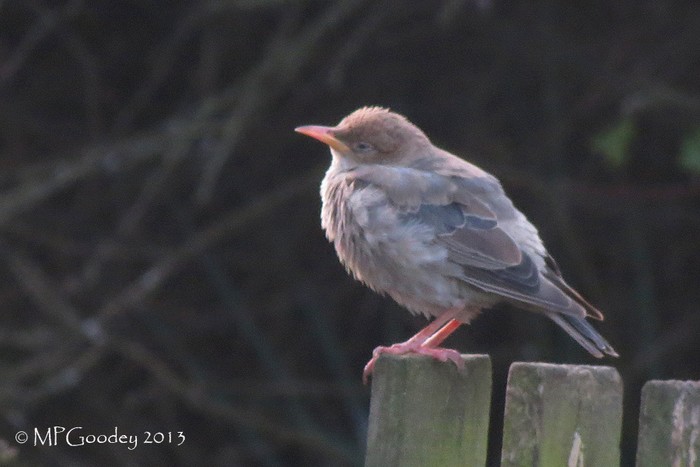 And last but by no means least, we come to the real stars of this winter – those rare Loxias.Parrot Crossbills continued to delight at several locations, with the Budby Common (Nottinghamshire) flock of 14 birds reliably present throughout the fortnight. Elsewhere the Holt (Norfolk) flock still held eight birds on December 27th, with 10 reported there on January 2nd; nine birds comprised East Sussex's contribution in Ashdown Forest until 6th at least; Mayday Farm (Suffolk) stayed in on the action with at least 20 birds on December 28th, and eight from January 5th onwards; and the lone male at Hemsted (Kent) was still being reported on 2nd. Possible Parrots were reported from Cannock Chase (Staffordshire) between December 28th and January 2nd, from Lindley Wood reservoir (North Yorkshire) on 2nd, and from Hanchurch Woods (Staffordshire) on 4th. If I was a betting man I'd have money on there being more out there to be found…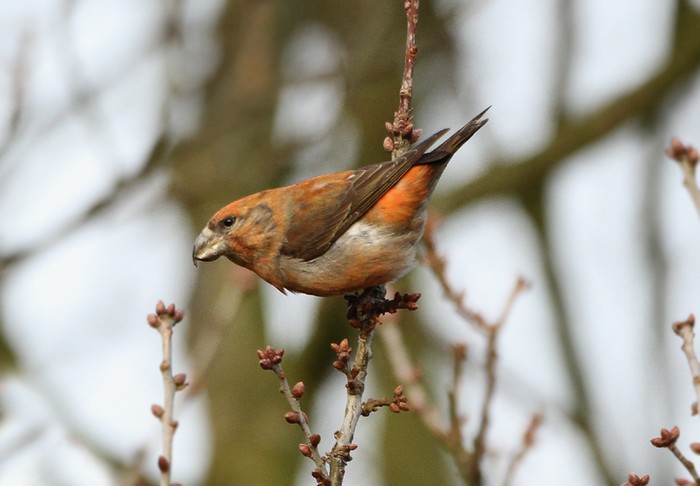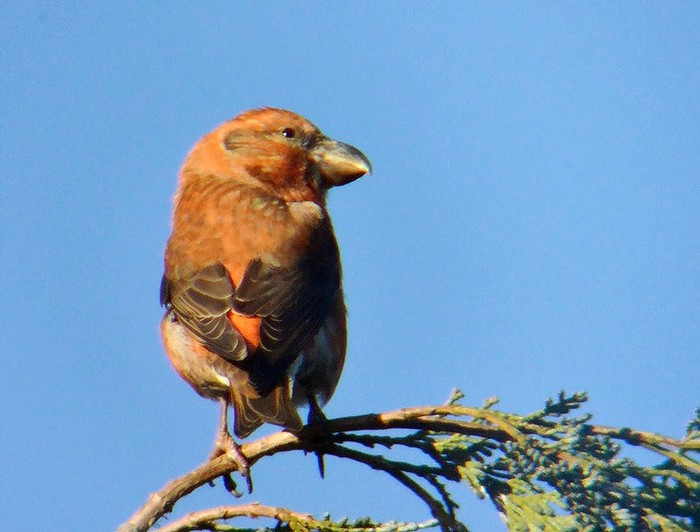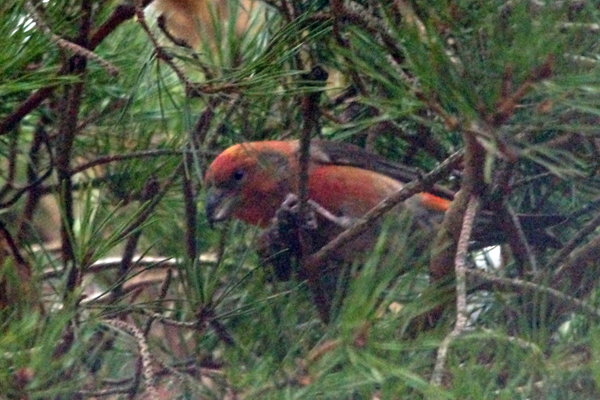 Two-barred Crossbills remained much in evidence too, with the usual suspects being reported throughout the period: two birds on the Serridge Ridge (Gloucestershire) until 2nd, and between four and twelve birds reported from Crabtree Hill (Gloucestershire) until 5th at least; three birds in the Wyre Forest (Shropshire) until 6th at least; and between seven and twelve birds at Broomhead Reservoir (South Yorkshire) until 7th. In Norfolk, the male was reported again from Lyndford Arboretum on 5th.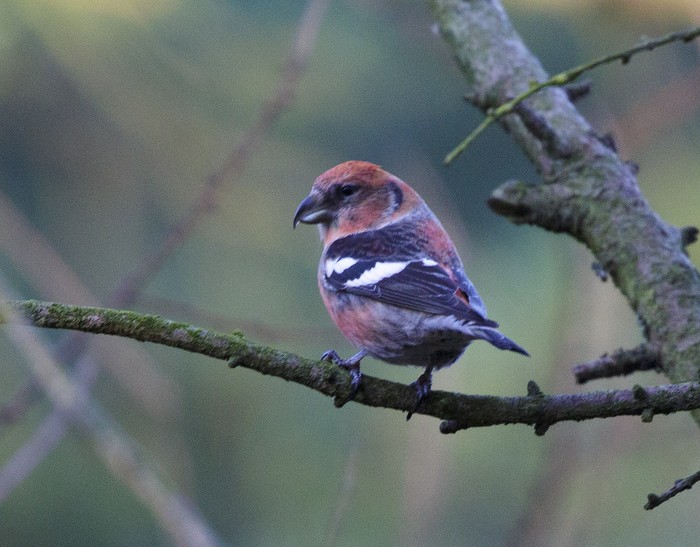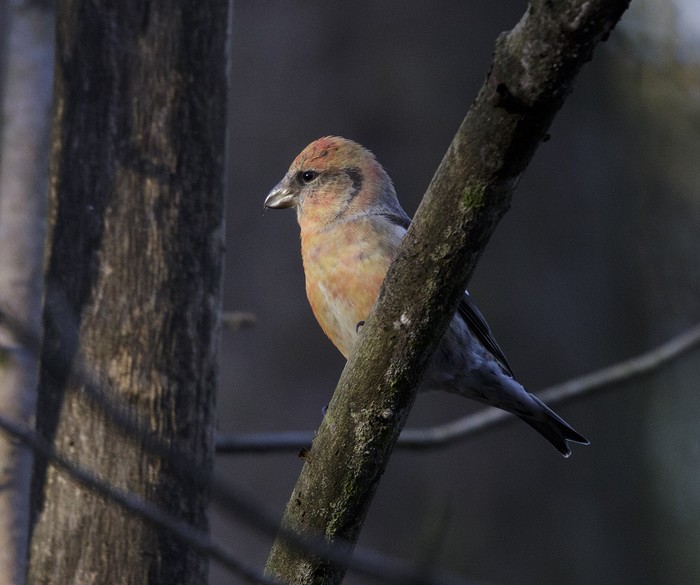 Hand on heart, when I agreed to compile this double-bill of Christmas and New Year rarity news, I thought it might be fairly quiet. Yes, a lot of people would be out and about seeing what there was to be seen, but this was midwinter and there wouldn't be a lot to report... And how wrong I was!
So what of the coming week? I've had my fingers burned now, and am not expecting the second week of January to be without incident after all... I'd love to think that events in Co.Galway might prove an omen, and the coming days might involve another cute Ross's Gull. Historically this week has been a good one for wintering Black-throated Thrushes, and it's been a while since we enjoyed a good winter for them turning up in suburban gardens. So get checking that cotoneaster bush in next door's garden...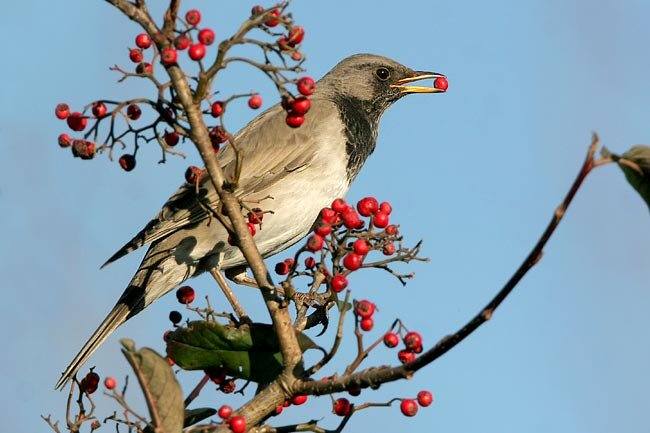 ...and meanwhile we'll all brace ourselves for more Glossy Ibises. I don't think we've heard the last of them yet this winter by a long chalk.
Jon Dunn
08 January 2013

Thanks this week's contributors for their photos and videos
Chris Bromley, David Carr, Steven Carey, Martin Cade, Dave Pullan, Simon Eaves, Gary Thoburn, Sean Foote, Alan Tate, Neil Fox, Bob Ford, Graham Etherington, David Williamson, Dermot Breen, Peter Beesley, John Kemp, Steve Seal, Andrew Jordan, Peter Stanfield. Michael O'Cleary Kerry Birding Blog, Brian Henderson, Joe Pender, Steven Carey, Toby Green, Paul Rowe, Mark Carmondy, Peter Hackett, Dave Johnson, Ellis Lucas, Phillip John Parsons, Nigel Rogers, Martin Goodey, Steven Fryer, Barry Woodhouse, Luke Dray, Graham Catley, Kit Day.
Contributors Websites