Weekly round-up: 10 - 16 Dec 2014
The week at a glance
Ireland's first Naumann's Thrush makes a brief appearance in Co.Cork
Another beautiful Ivory Gull blows into the Western Isles
Yorkshire's first Blyth's Pipit remains settled for another week
As does the male Eastern Black Redstart down in Scilly
And finally, a pair of Trumpeter Swans are found in Suffolk...
What exactly is a 'weather bomb'? I only ask as last week the north of Britain was, by all accounts, hit by the fallout of one. As the winds of what Orkney, Shetland and the Western Isles would consider a bad but not particularly exceptional storm abated, hopes were modestly raised that something interesting might have blown in… and the definition of a weather bomb became clearer – a weather bomb appears to be a storm of hyperbole whipped up by the national media.
In any other week, the Arctic gem that appeared on the Western Isles would have been a worthy top headline. But 2014 and south-west Ireland had other ideas.
The week ahead looks set to be a traditional December mix of chilly bits and sunny bits, courtesy of a ridge of high pressure, and then a spot of milder weather coming in off the Atlantic. Almost anything could happen, but prospects of a white Christmas currently look rather slim. We'll all settle for a white-winged Christmas, obviously.
But enough teasing. It's time to get our teeth into this week's tasty confection of birds.
Naumann's Thrush
When news broke on 13th of a Naumann's Thrush in Co.Cork at Ballyhooly, there will have been a sharp intake of breath amongst birders of all vintages. It's been 17 years since the last one, in Chingford (London) in 1997, and a venerable 24 years since the first, in Chingford in 1990. To say we were overdue another one, and somewhere other than Chingford, would be an understatement to rival the hyperbole of the weather news that preceded it.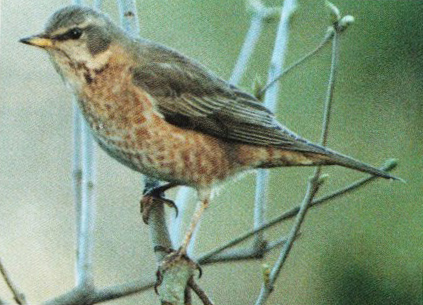 Sadly, this latest bird wasn't playing ball, and after being seen for some 10 minutes it was away with the Redwings it had presumably come with and was lost to sight. Fingers will be crossed to the point of cutting off all circulation that this one's re-found in the coming days; but given the restless shifting of winter thrush flocks through the countryside, needles and haystacks spring to mind, and we'll none of us be holding our sharply intaken breath.
Time though to take an (admittedly short) walk down memory lane where Naumann's Thrush is concerned. The two previous accepted British records are a matter of record, and fit neatly enough into a fairly typical midwinter eastern thrush pattern of occurrence. Both were found in January and, as we may have mentioned, both were in Chingford. Technically, the first was in Woodford Green, and the second bird was in South Woodford, but the fact remains both were, in a coincidence that to this day feels a little uncomfortable, within a couple of miles of one another.
Still, there was never anything concrete to suggest that this was anything other than a spectacular coincidence, and there have been a handful of other midwinter records from elsewhere in Europe. Our first one stuck around for nearly two months… it'd be lovely if our one next managed a little longer than 10 minutes.
Ivory Gull
After recording a mere four Ivory Gulls in the 20th Century, the Western Isles have already got the current century off to a flyer where that species is concerned, with last winter's delectable duo on Lewis and North Uist taking the tally up to five birds. One found this week on Benbecula at Balivanich on 13th takes the archipelago's score up to a nice round half dozen, and the century has barely warmed up yet... Are they becoming more regular, or is this a reflection of increased observer coverage on the islands?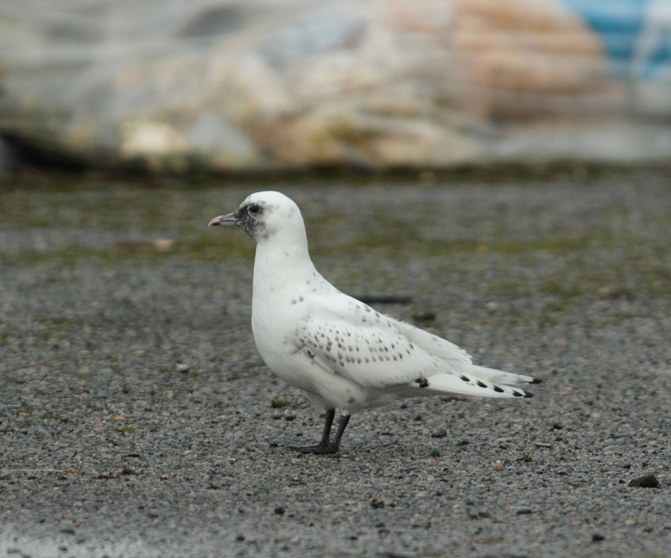 Whatever the reason for the upsurge in recent records, nobody's going to quibble about the opportunity to spend some time watching one of these gorgeous gulls. Heaven knows, I'm practically drooling just looking at the photos of this latest first-winter bird. Is there any more gorgeous gull of any age than these? (My ever so slightly tongue-in-cheek prediction for the coming week aside...) I know I'm not alone in hoping that there's one or two more Ivories found in the coming weeks, and hopefully somewhere a little more readily accessible than (the admittedly lovely, and always worth a visit) Western Isles.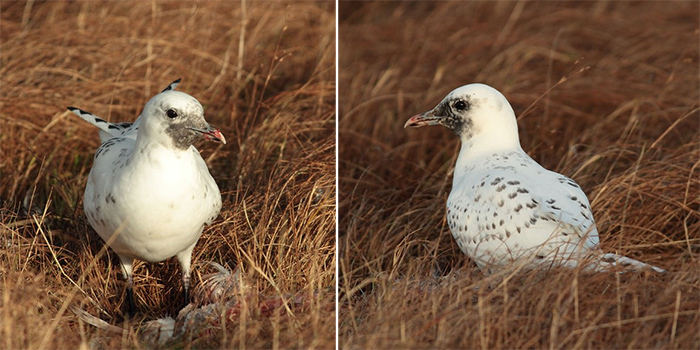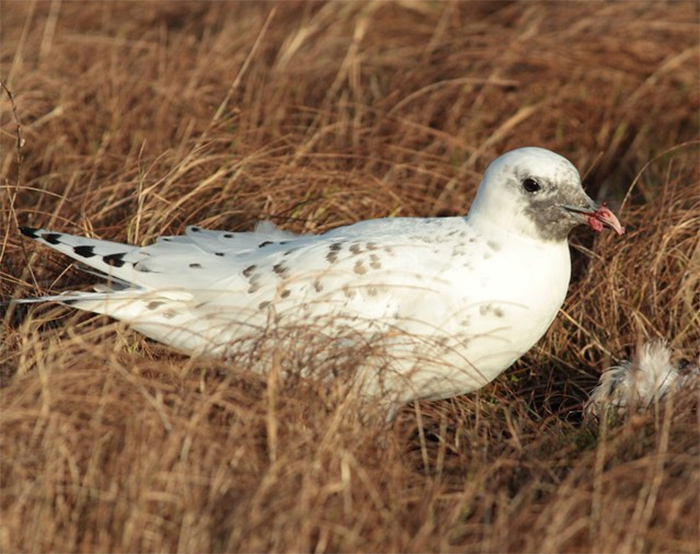 Blyth's Pipit
As heralded in last week's Rarity Round-Up, Yorkshire continued to enjoy it's first ever Blyth's Pipit all of this week at Pugney's CP. With a little reflection, I'm probably not alone in being somewhat surprised that it's taken Yorkshire this long to land one, and had I been a betting man I'd have put money on the first being on some easterly headland or peninsula.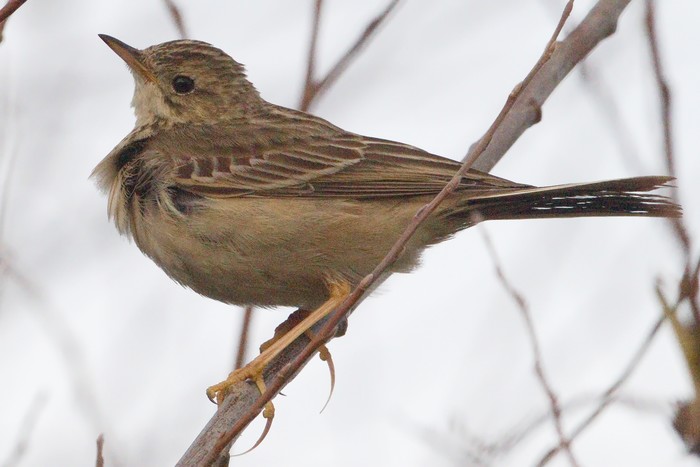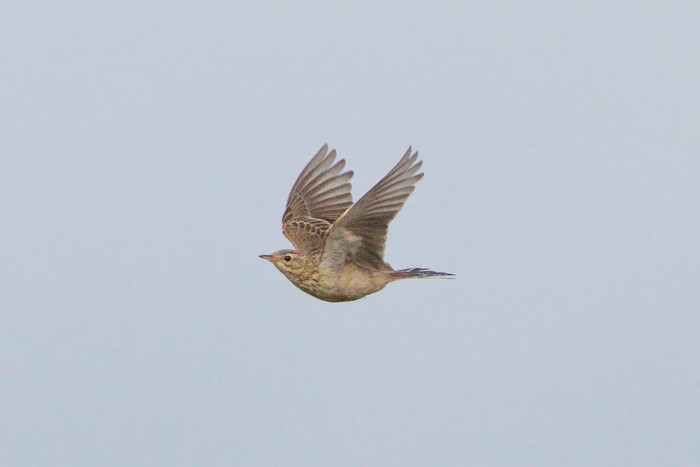 Which just goes to show a fool and his money are soon parted, and I'd have been very wrong indeed – and more pertinently in a week in which we prise open the lid on the tin labelled 'Britain's previous Naumann's Thrushes, this bird serves to remind us that rare birds can and do get found at unlikely inland locations. Who knows... maybe Yorkshire's second will be found nearby in 2021?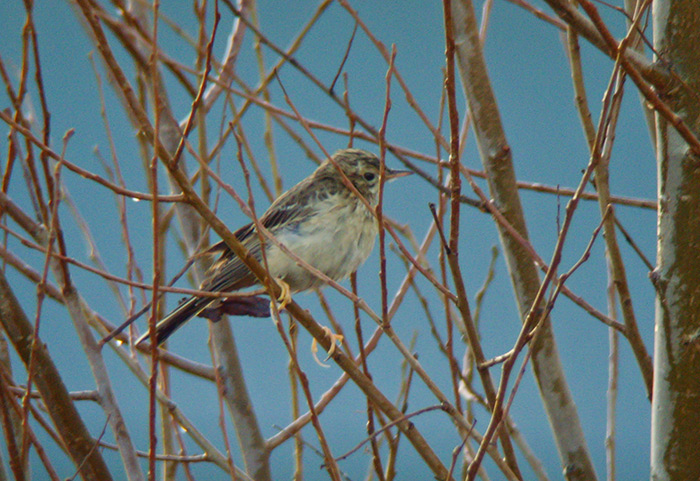 That's getting a long way ahead of ourselves though – and in the past week, Yorkshire's first remained skulking in the long grass at Pugney's, occasionally showing well for the patient and the fortunate.
Eastern Black Redstart
Sticking with the theme of sticking birds, the Eastern Black Redstart remained a stuck-on certainty on St. Mary's (Scilly) this week. This is surely a far dandier chat to be the poster-boy of Christmas than the humble Robin? I certainly know which I'd rather have on my Christmas cards, and am deeply jealous of the Scilly resident birders for having this little beauty on daily offer to them. Swap you an Iceland Gull?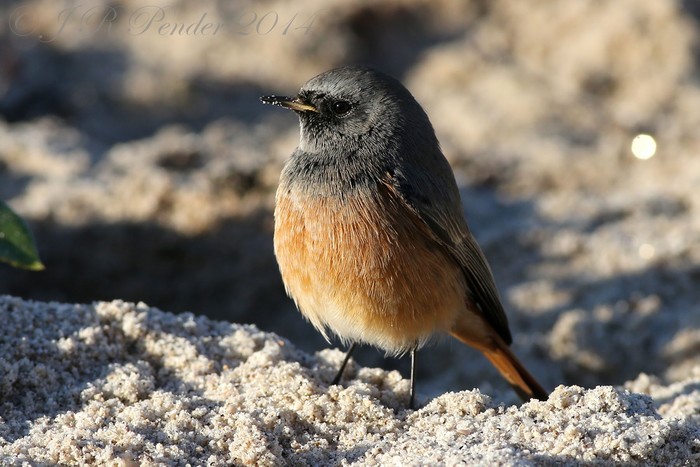 Trumpeter Swans
There was a certain dreadful inevitability about my Ross's Goose soapbox moment last week. Those sentiments along the lines of giving otherwise blameless (wild-acting, fully-winged and un-blinged) wildfowl the benefit of the doubt were always going to come back and haunt me. I just didn't expect them to come quite so soon...
So what do we make of a fine pair of adult Trumpeter Swans at Boyton (Suffolk) on 13th-16th? Apparently unringed and warier than the accompanying herd of Mute Swans, this pair of undeniably handsome birds are, on the face of it, unlikely candidates for vagrancy. The species' contracted North American range is decidedly westerly, and with the population a shade of what it once was, a goodly proportion of the extant birds are short-distance migrants at best. Matters are clouded still further by the known existence of the species in captivity in Britain, and indeed they've even bred ferally in Britain in the past decade.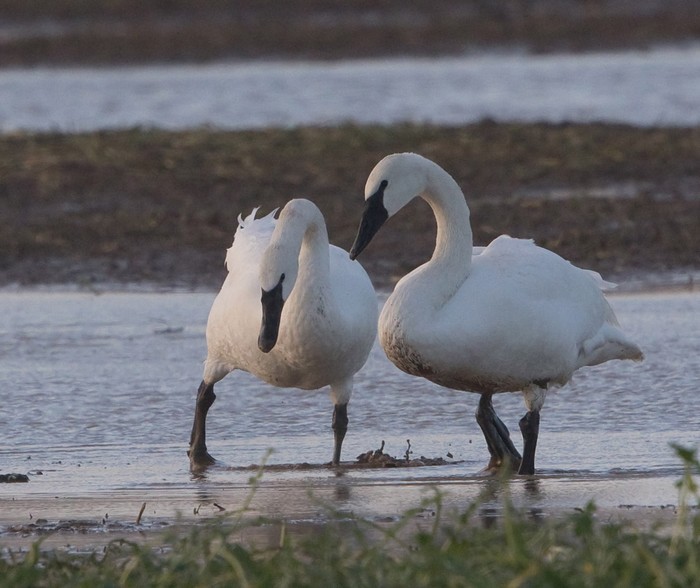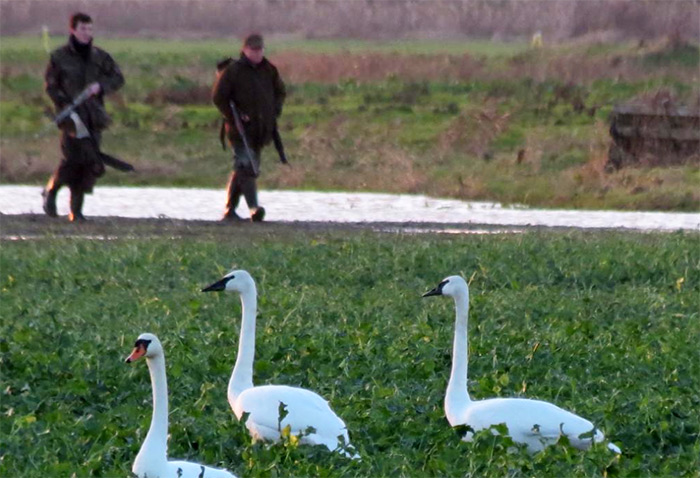 And yet, and yet... North America's had a vicious cold snap to start the winter, the wild population is gradually recovering and, y'know, that whole weather bomb thing... Or could it be that, just like the mass hysteria that surrounded last week's weather event, certain of Britain's birders are getting a little carried away in these heady days of ever bigger lists and fewer forthcoming ticks? 2014 has delivered Chinese Pond Heron, Common Bulbul, American White Ibis and now these. In my defence, at least last week's Ross's Goose has some reasonable precedence!

A more modest showing of Little Auks this week, with around 50 birds in all logged – the peak count being 13 birds noted past St.Abb's Head (Borders) on 13th.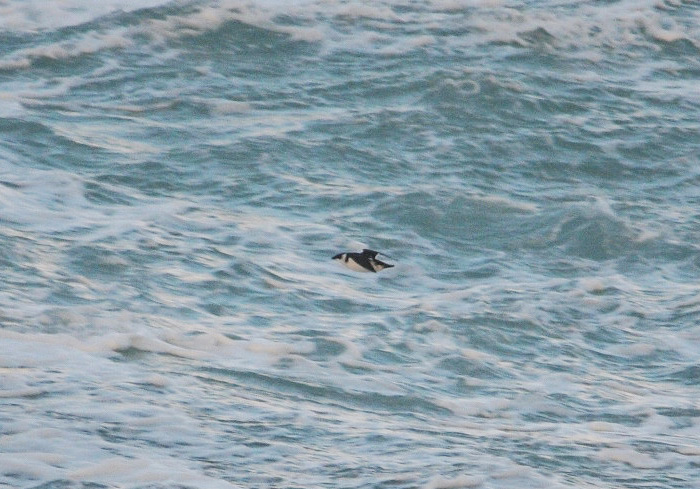 Still no Pomarine Skua for me this week, and the house list languishes on 174 species (this, of course, being the news you've all tuned in for). Elsewhere, numbers fell away after last week's largesse to a shade under 30, with most of these being scattered individuals. Peak count came from Flamborough Head (East Yorkshire) on 16th, when eight birds were logged. St.Abb's Head and Spurn (East Yorkshire) shared the honours on 13th with the week's other notable tallies - notching up four birds apiece that day. Three passed Strumble Head (Pembrokeshire) on 11th, but were eclipsed somewhat by a juvenile Long-tailed Skua noted on the same seawatch.
Topping the long-legged beasties this week was a juvenile Purple Heron reported from Somerset's Ashcott Corner in the afternoon of 10th.
The same regular Cattle Egrets remained in Kent and Cheshire this week, with the pair still at Dungeness all week, and the Cheshire bird still at Burton Mere Wetlands RSPB on 10th, and at Frodsham on 13th-16th.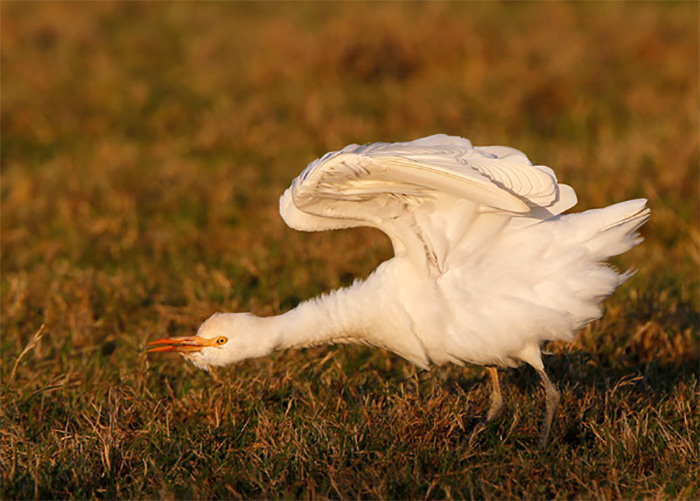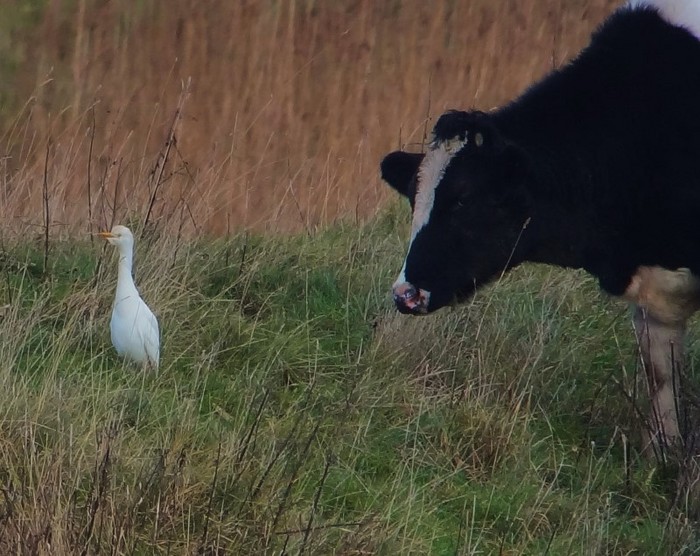 Kent remained the place to be for Great White Egrets, with birds present daily at Dungeness, with a peak count of four on 13th-14th. Three were at Lakenheath Fen RSPB (Suffolk) on 11th-12th. Elsewhere duos were noted at Rutland Water (Leicestershire) still on 10th (with one there until week's end) and at Ham Wall RSPB (Somerset) on 13th-16th.
Single birds remained elsewhere in Somerset at Chew Valley Lake until 16th; at Blashford Lakes (Hampshire) until 15th; at Lower Farm GPs (Berkshire) on 13th and 16th; in Northamptonshire at Summer Leys and Pitsford Reservoir until 12th, with another bird noted at Ditchford GPs on 12th also; in Lancashire at Lunt Meadows NR until 13th and Crossens Outer Marsh again on 15th, with another report coming from Leighton Moss RSPB on 10th; at Paxton Pits NR (Cambridgeshire) still on 13th-16th; still in Wales at Llangorse Lake (Powys) on 12th, Llanrhidian Marsh (Glamorgan) again on 14th, and at Dinefwr Pools (Carmarthen) on 15th; and in Ireland again at Lough Corrib (Co.Galway) on 13th-15th.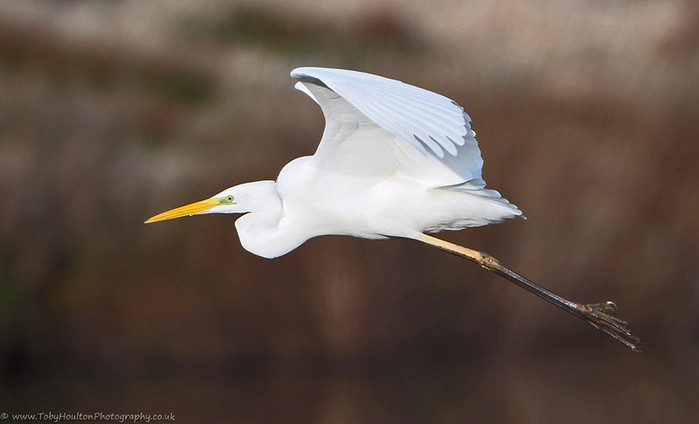 Other singletons were noted this week on 14th at Chilham (Kent) and Ouse Fen RSPB (Cambridgeshire), and on 16th again at Rye Harbour (East Sussex).
Exceedingly quiet again this week where ibises were concerned – skirting swiftly past the American White Ibis which remained at Sevenoaks Wildfowl Reserve (Kent) until 15th, the week's only Glossy Ibis was one noted on 13th and 15th at Tramore (Co.Waterford).
Dorset continued to scale dizzy heights this week serving up a storming count of Spoonbills this week – a massive flock of 40 birds noted at Shipstal Point on 10th, with a more modest 19 noted there on 15th. Brownsea Island Lagoon returned a paltry 12 birds on 15th (which, not so long ago, would have been a highly respectable count by British standards), while there were four birds that same day at Middlebere and a singleton at Holes Bay on 16th.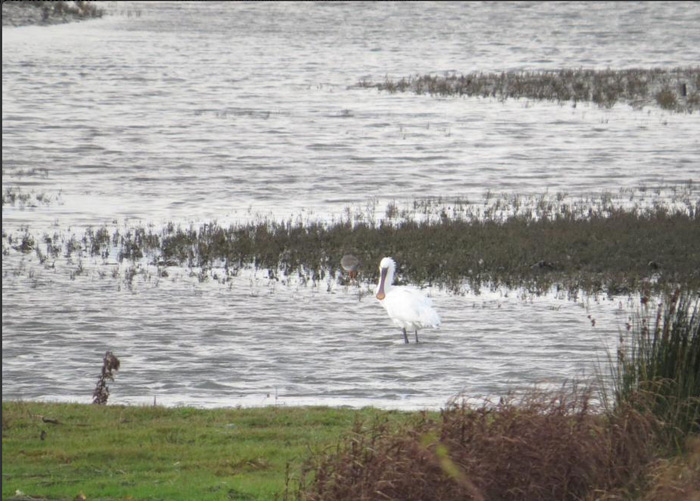 Away then from Hardy country, and the crumbs from the table were to be found predominantly scattered along the south coast: three birds at Isley Marsh (Devon) again on 15th; the single bird at Oxey Marsh (Hampshire) still until 15th; and the three birds in Pagham Harbour (West Sussex) mainly to be found at Church Norton until 15th. Ireland meanwhile accounted for two birds at Dungarven (Co.Waterford) still on 13th-14th, and a single bird still at Castle Espie WWT (Co.Down) on 10th-13th.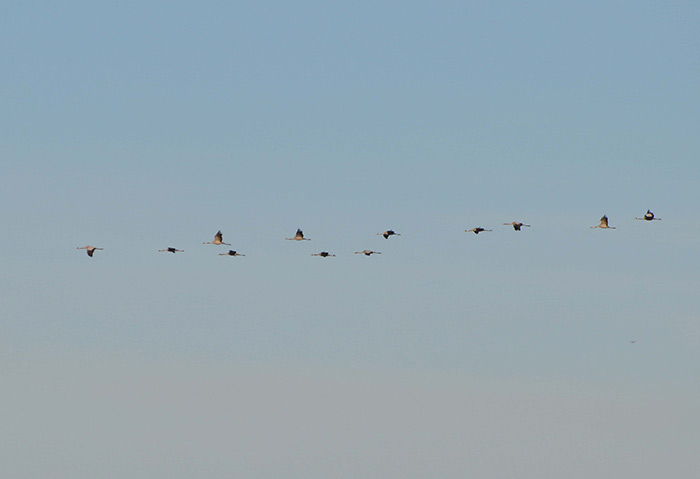 Ireland accounted for the week's extralimital Common Cranes, with two birds seen at Baldongan (Co.Dublin) on 12th-13th, and a single bird at Ballydehob (Co.Cork) on 15th.
Christmas is coming, and the goose (count) is getting fat. Norfolk's Lesser Snow Goose remained a-wandering around points various in the county this week, and was joined in the Snow Goose news by two blasts from the recent past – white morphs in Cornwall at Walmsley Sanctuary on 14th, and in Lancashire on the River Lune on 14th – both birds having last been reported from their respective counties in late November.
In Ireland, the Lesser Canada Goose remained at Wexford's North Slob until 14th.
And so to Black Brants, and the meatiest rare goose count of the week – this was Branta with all the trimmings – five birds noted in Essex at Dengie Marshes on 14th. Familiar single birds were noted again in Devon in the Exminster area all week, at Medmerry RSPB (West Sussex) again on 10th, mooching along the North Norfolk coast all week, and in East Yorkshire at Sammy's Point again on 13th. In Hampshire, an adult was noted at Gosport on 12th-13th, and in Ireland one was one North Slob (Co.Wexford) on 16th.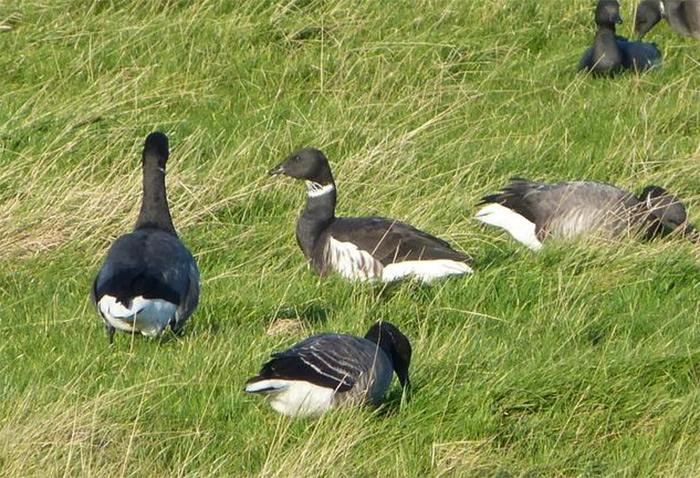 The drake Surf Scoter remained off Musselburgh on 10th-13th, while the first-winter drake was off Stutton Ness (Suffolk) on 14th-16th. Meanwhile, sharp eyes at Old Colwyn (Conwy) picked out nine birds from the masses of scoter on the sea on 16th.
The drake Ferruginous Duck was still at Blashford Lakes HWT reserve (Hampshire) on 10th, with another drake found in Derbyshire at Carr Vale NR on 13th.
The familiar Welsh drake Lesser Scaup in Cardiff Bay (Glamorgan) resurfaced this week on 13th-14th, while a first-winter drake was in Scotland at Trabboch Loch (Ayrshire) on 15th-16th, and a drake was on Linlithgow Loch (Lothian) on 16th.
Eight Ring-necked Ducks were reported this week: the stand-out record being at Lough Leane (Co.Kerry) where numbers had risen to three birds on 16th. Other Irish drakes remained at Kinnegar Shore (Co.Down) on 11th-14th, Loughrea (Co.Galway) on 13th, and Carrowmore Lake (Co.Mayo) on 15th; and in Scotland, the drake remained on Tiree at Loch a' Phuill (Argyll & Bute) on 13th. Meanwhile a possible drake was reported from Dorset's Radipole Lake on 10th.
If Ring-necked Duck numbers were down a bit this week, something catastrophic had happened to Green-winged Teals - a mere three were reported. The Caerlaverock (Dumfries & Galloway) bird remained there all week. Elsewhere, drakes remained on Banton Loch (Clyde) still on 15th (with the drake Wood Duck still there by way of company) and at Loch Sandary on North Uist (Western Isles) on 12th.
Six American Wigeon were noted during the period, with the two females remaining on the Gannel Estuary (Cornwall) all week and a drake at Yelland (Devon) on 12th and 16th. Scotland accounted for two drakes, at Meikle Loch (Aberdeenshire) on 13th-16th and at Cloddach Quarry (Moray) again on 14th respectively. The final bird of the week was in Ireland, a drake on Harper's Island (Co.Cork) on 14th.
<!—Section Title -->
Quiet again this week where shorebirds were concerned – the Spotted Sandpiper remained back on the radar at Inverallochy (Aberdeenshire), seen there on 14th again, while another blast from the recent past resurfaced in Co.Dublin on Rogerstown Estuary on 16th, where the Lesser Yellowlegs last reported in mid November was seen once more.
A nother brace of Grey Phalaropes were recorded at opposite ends of the country on 14th: one was at Deerness (Orkney) until 16th, while the other was down in Hampshire at Hill Head.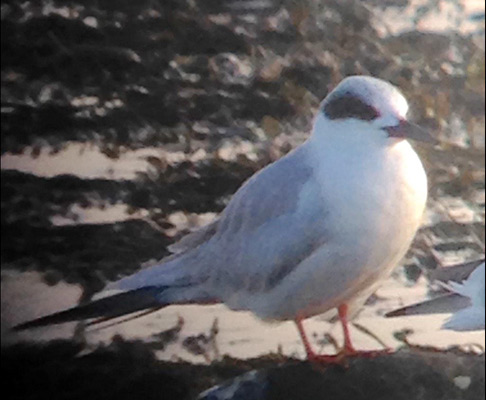 The mesmerising loveliness of the Benbecula Ivory Gull aside, best of the rest where gulls and terns are concerned this week would be the return of the regular Co.Galway adult Forster's Tern this week, being picked up for the first time in this winter period at Mutton Island on 15th. It's been said before, but with the loss of the Ythan Estuary (Aberdeenshire) bird, this species has become decidedly hard to come by in Britain, and once this Irish individual fails to return the species is going to be trickier still for the new generation to connect with.
In Devon, the faithful adult Bonaparte's Gull remained at Dawlish Warren NNR on 13th-14th.
Top of the pile amongst the week's Ring-billed Gulls has to be the adult, identified from photographs, found at Chasewater (Staffordshire) on 13th and again on 16th. Elsewhere in England the regular adult was again in Hampshire at Walpole Lake, Gosport until 14th at least, and the Scottish adult remained at Dingwall (Highland) until 12th at least.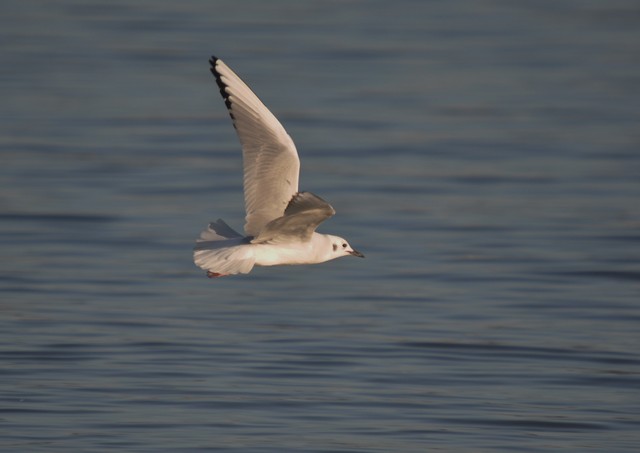 Ireland, as always, enjoyed the lion's share of Ring-billed Gulls this week: single birds were noted at Dun Laoghaire (Co.Dublin) on 10th, Tramore (Co.Waterford) again on 11th-14th, Cuskinny Marsh and Cork City (Co.Cork) on 13th, and Bray (Co.Wicklow) on 14th.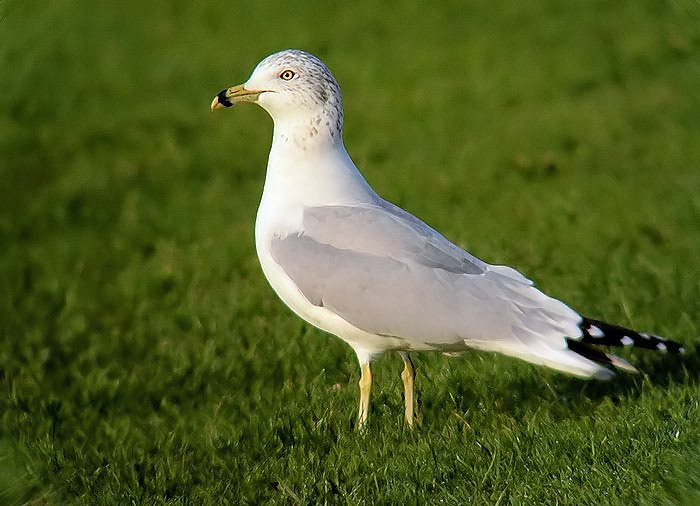 Things remained static where numbers of Glaucous Gulls and Iceland Gulls alike were concerned, with some 14 individuals of the former recorded again this week from the length and breadth of the country, with honours split fairly evenly with four in England, four in Scotland, and six from Ireland; and 13 Iceland Gulls recorded: four from England, five from Scotland, and the remainder from Ireland. A similar geographic breakdown for both species, but as with Waxwings (more of which shortly) this isn't proving to be a classic winter just yet for white-wingers.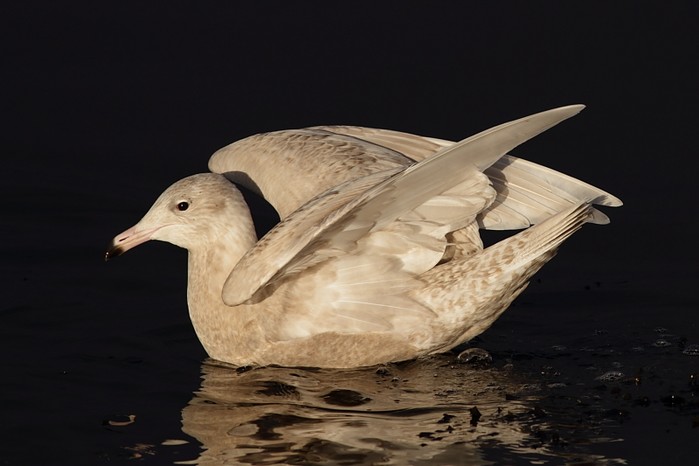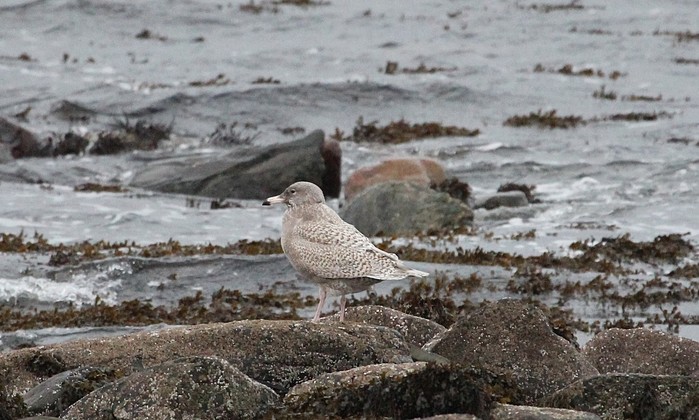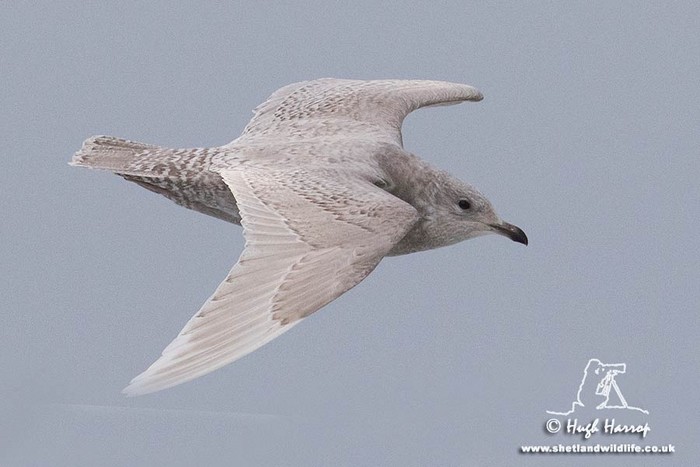 One species that is most definitely having a moment this winter in Britain is Rough-legged Buzzard, and this week continued the recent positive trend with good numbers of these smart Buteos recorded.
Starting in Norfolk, two birds were again at Burnham Overy on 10th with at least one there daily thereafter. Elsewhere in the county individuals were seen at Cromer on 12th and Halvergate Marshes on 15th still. Individuals remained in Cambridgeshire at Holme Fen NNR on 11th-15th, and in Lincolnshire at Frampton Marsh on 11th – with a bird at Heckington on 15th.
One remained in the Sleddale (Cleveland) area on 12th-15th, while in South Yorkshire one remained in the Broomhead Moor vicinity on 13th-15th. A possible bird was reported from Oakham (Leicestershire) on 12th, with confirmed birds at Quarrington Hill (Co.Durham) on 13th and Spellbrook (Hertfordshire) on 14th. The settled birds remained at Wallasea Island (Essex) on 10th-14th and Jevington (East Sussex) on 13th-14th. One was seen at Aveley (Essex) on 13th, and a further possible bird was seen at Radipole (Dorset) on 12th. Finally, up in Scotland individuals were seen again at Mennock Pass (Dumfries & Galloway) on 12th-16th, and at Fetteresso Forest (Aberdeenshire) on 11th.
Topping the passerine bill this week were Devon's Penduline Tits - three birds flitted back and forth around Bowling Green Marsh and Darts Farm RSPB reserves all week, last being seen (at both sites) on 15th.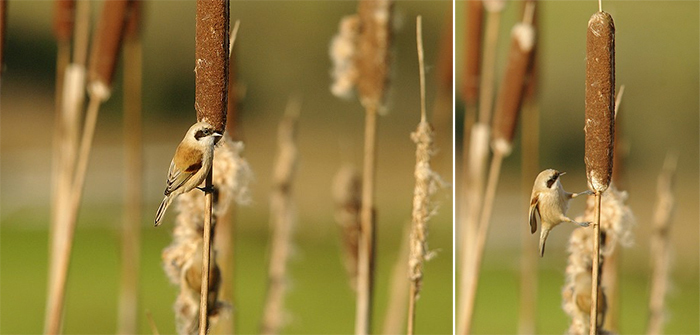 A dramatic reduction in reports of Yellow-browed Warblers in the southwest saw just three birds logged this week – an individual still on St.Mary's (Scilly) until 16th, the settled bird at Broadsands (Devon) until 16th, and a trapped and ringed bird elsewhere in the county at Hallsands on 11th-13th.
In Dorset, Portland Bird Observatory continued to prove attractive to the Barred Warbler that remained there all week. Has a Barred Warbler ever overwintered in Britain?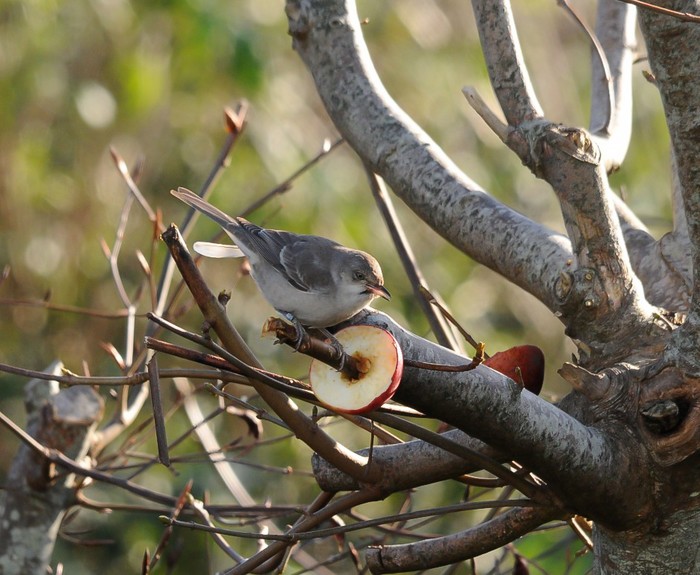 Faster than you can say shreep we rattle through the passerines and wind up with Richard's Pipits - numbers were slightly down on the past fortnight, but some stalwarts remained constant. One bird remained in Somerset at Stolford on 13th, while nearby in Dorset the Redcliff Point bird was still present on 10th-15th. The individual at Horse Eye Level (East Sussex) was still there on 13th-16th; in Norfolk one was at Breydon Water on 14th, while the Cloughton bird was noted again in North Yorkshire that same day. One was reported on 13th in West Yorkshire at Mount Tabor, but with no sign of it there the following day; and a further possible bird was noted briefly in Kent at Shell Ness in the morning of 14th.
Great Grey Shrikes account for the most substantial showing where interesting passerines are concerned this week, with a number of regulars augmented by yet more new birds coming out of the woodwork. Numbers more or less held steady, with 20 birds noted in the course of the past seven days.
Working our way east to west across the south of England for starters, the Chilham (Kent) bird remained present until 16th; birds remained in Ashdown Forest (East Sussex) on 10th still, and in West Sussex at Iping Common on 13th; in Hampshire, reports came again from Milkham Enclosure on 13th and Ocknell Plain on 15th-16th. The Crabtree Hill (Gloucestershire) individual remained on 10th-13th.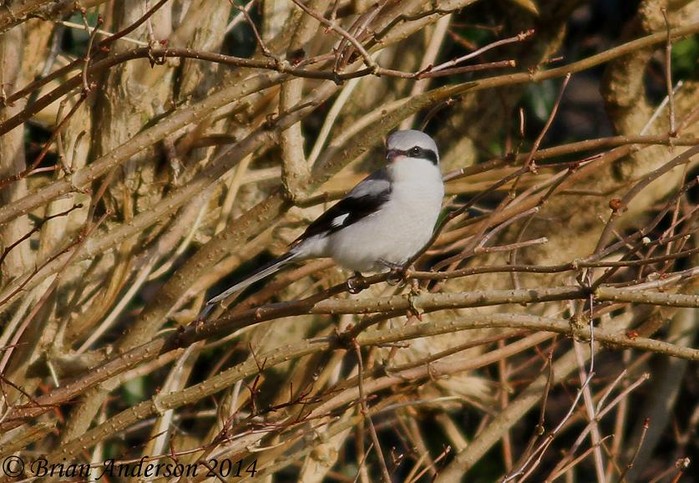 In Norfolk, the bird remained at Roydon Common on 13th-14th, and again in the Grime's Graves area on 12th-16th. Heading north, birds remained at Lytham Moss (Lancashire) on 13th-16th and in South Yorkshire, at Thorne Moors on 14th-15th and Agden Reservoir on 16th.
Further birds were reported as the week progressed on 11th in Aberdeenshire at Fetteresso Forest; in Dorset on 12th at Chamberlayne's Heath; on 13th at Aylesbeare Common RSPB (Devon), Beeley Moor and Howden Reservoir (Derbyshire), Clocaenog Forest (Clwyd), and Horwich (Manchester) – the latter bird for at least its sixth day; on 14th-16th from West Hartford (Northumberland); and on 15th from Afan Forest Park (Glamorgan).
And so to Waxwings which, in the absence of any sizeable flocks, finish the week with less of a bang and more of a discreet whimper – just 22 birds were reported nationwide, and of these the only flock of note were the dozen birds in Leicestershire at Ulverscroft Priory on 10th.
The week ahead
And so another week's Rarity Round-Up draws to a close. Christmas is now almost upon us, and so it's time to have one last go at predicting what's to come in the run-up to the festive season.
Last week's prediction was the stuff of fantasy, so what better this week than a dose of reality – and reality comes no realer than young gulls. Mm-hmm. You've gotta love 'em. Benbecula's Ivory Gull for example may prove to be the forerunner of another one this week – there have been seven records from the coming days in the past.
But my money this week is on someone turning up a good-looking first-winter American Herring Gull - with six past records for the period, it's numerically hot on the heels of the Ivory. Five of those have been in Ireland, with the sixth on Scilly, and all have been since 2005 – and with the recent and forthcoming transatlantic winds, I reckon one of these would be a good bet.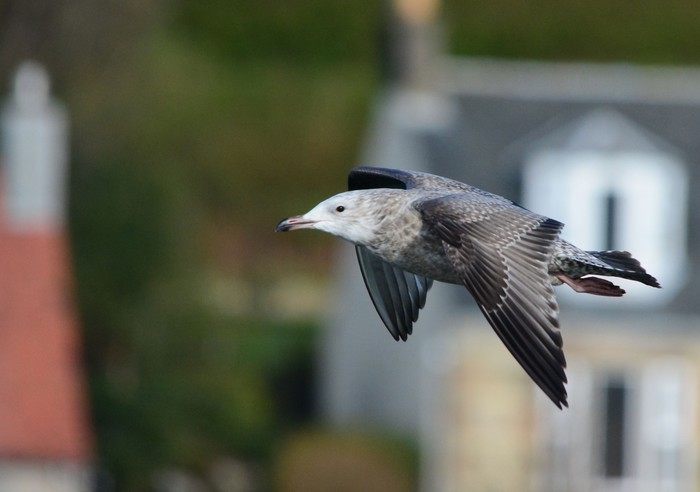 And what says Christmas more than spending a few hours standing in the cold staring at hundreds of gulls on the local landfill, reservoir or estuary? It's beginning to feel a lot like Christmas-ochism...
Jon Dunn
17 Dec 2014


Thanks to all of our contributors for their photos, videos and sound files.
Steve Duffield - Western Isles Wildlife, Dermot Breen, Hugh Harrop Shetland Wildlife, Martin Cade - Portland Bird Observatory, Oriole Birding, Paul Rowe, Lee Gregory, Alex H Jones, Joe Pender, Martin Goodey, Nicholas Brown, Lee Evans, John Kemp, Mike Buckland Tony Broome, Toby Houlton, Kezzy Armstrong - WWT Castle Espie, Nigel Crowhurst, Marcus Nash, Tom Murtagh, Simon Thurgood, Barry Woodhouse, Andy Williams, Dave Stone, Brian Anderson, Jim Dickson.
Contributors websites Check out our contributors website for more great photos and news