Weekly round-up: 03 - 09 Dec 2014
The week at a glance
The third Blyth's Pipit of the autumn found in West Yorkshire
Cracking male Eastern Black Redstarts remain in Scilly and North Yorkshire
A male Desert Wheatear in Norfolk complements two females in Cornwall...
…and staying in Cornwall, the returning Pacific Diver remains available
Both the Kerry and North Uist American Coots stick around for another week
And finally, a Ross's Goose pitched down in Lothian to raise some eyebrows and some pointed questions alike
As 2014 began to breathe it's last, it finally felt a lot like winter this week – frosty mornings, snow on the high ground, the sort of northerly wind that cuts through you like a knife...
But don't be fooled – the old year still had some life in it yet, and with a number of lingering quality birds augmented by a few new arrivals, there was still enough of a vital spark to induce us all to put on an extra layer and venture outside. It's not time for hibernating indoors with a jumbo packet of mince pies and a bottle of port just yet.
The aforementioned snow flurries and biting northerlies dominated much of the weather news this week, but as the week closed out the jet stream began to make itself felt once again with some feisty weather coming in off the Atlantic.
The coming week then may be more than a little unsettled, not least for the Western Isles who look set to take a battering on Wednesday – but what of the past seven days countrywide? With no further ado, here's your birds.
Blyth's Pipit
Way back when, some twenty years ago (nostalgia alert), many of us unblocked Blyth's Pipit on the St. Mary's golf course (Scilly) and laid to rest the uneasy ghost of the Skewjack Pipit. At the time, this was a really big deal – and far from an easy call (good manners forbids me from naming the well-known individual who emphatically told me the St.Mary's bird was definitely just a Richard's - but he was happily holding court later that evening in the Porthcressa telling anyone who'd listen how it was obviously Blyth's, and he'd known it for what it was immediately). Which little anecdote serves to demonstrate that we all had a lot to learn back then, one way or another.
Fast forward to 2014, and in the intervening years we've all got a lot more comfortable with these large pipits and, by the time news broke this week on 8th of a Blyth's Pipit in West Yorkshire, there had been a shade over twenty records of these super-pipits in Britain. Roughly one a year then... and this week's one, still present on 9th and hot on the heels of individuals on Scilly in October and Pembrokeshire's first in November, is the third this year – and the first for West Yorkshire, or indeed, any part of Yorkshire. A really top drawer bird, and an early Christmas present for the finder.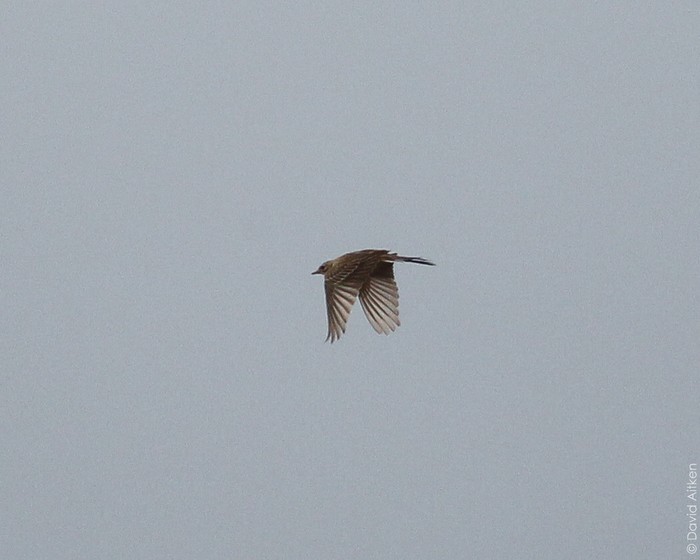 Blyth's Pipit, Calder Wetland, West Yorkshire, sound recordings by Martin Garner - Birding Frontiers
Blyth's Pipit, Calder Wetland, West Yorkshire - site map.
For live up-to-the-minute birdnews subscribe to our birdnews services or try a free trial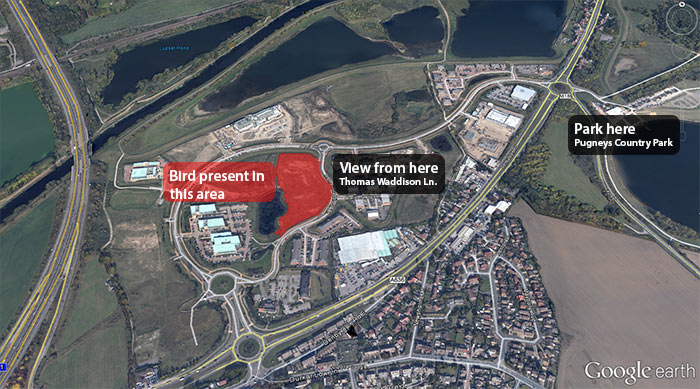 Blyth's Pipits in 2014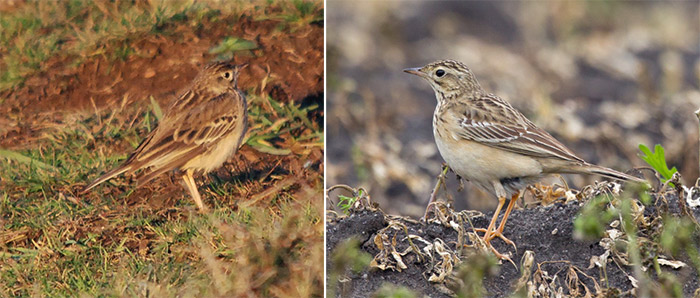 Offically accepted Blyth's Pipit records in Britain and Ireland up to 2013. Taken from our Previous Records Database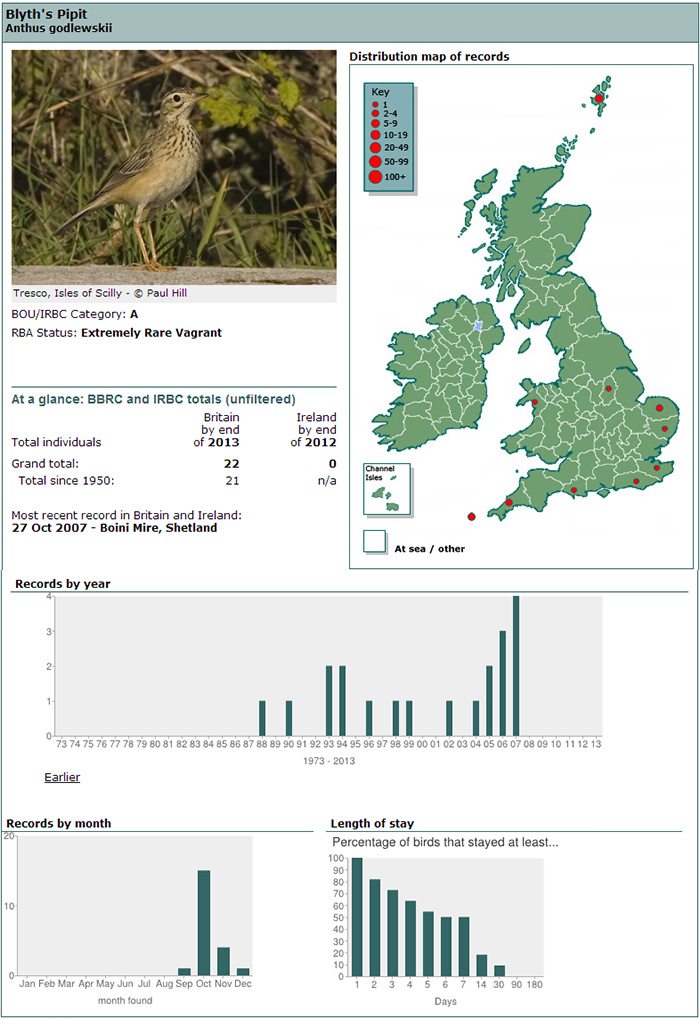 Blast from the past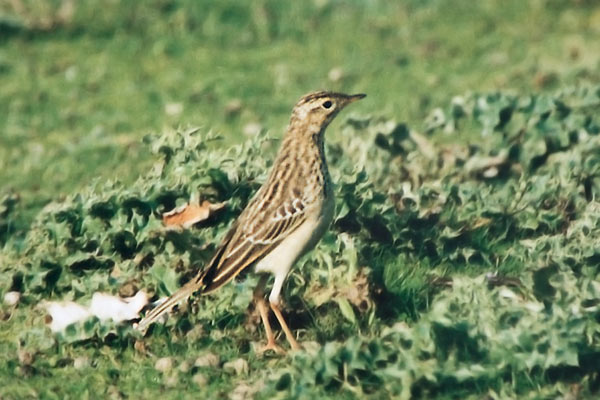 Eastern Black Redstart
Doing the splits is very much the flavour of the month (the decade?) these days – and while most of us aren't capable of carrying off such eyewatering manoeuvres (you need to be very, very handy at DNA analysis for starters), there's no denying the impact they generate – bigger lists, for those that keep score; and a heightened awareness of the diversity of 'familiar' species.
The thing is – and let's be honest here – some of these potential species-in-waiting err on the subtle side. (Exhibit A: Eastern Skylark in the field? Just don't go there). That's a slander that certainly can't be levelled at the male phoenicuroides Eastern Black Redstarts found last week on St. Mary's (Scilly) and at Scalby Mills (North Yorkshire). Both of these gorgeous-lookers remained into this week, with the Scilly bird enjoying the subtropical delights of St. Mary's until 9th.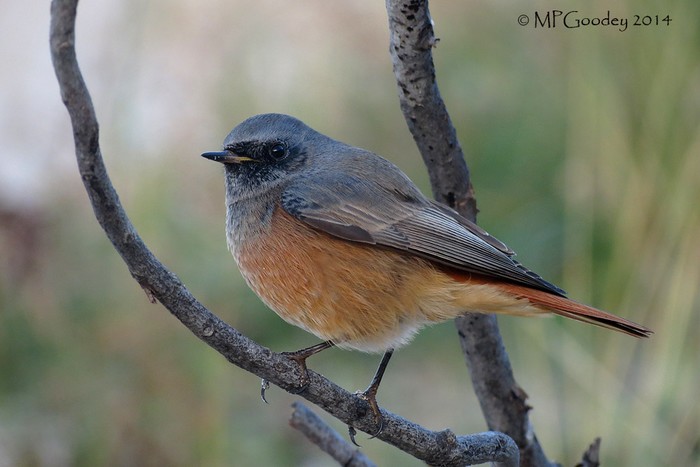 This smart species-to-be is surely at the forefront of many a rarity hunter's mind nowadays – and as what we traditionally think of as autumn bleeds ever later into early winter, this is a new and exciting possibility to keep the enthusiasm going as the days shorten.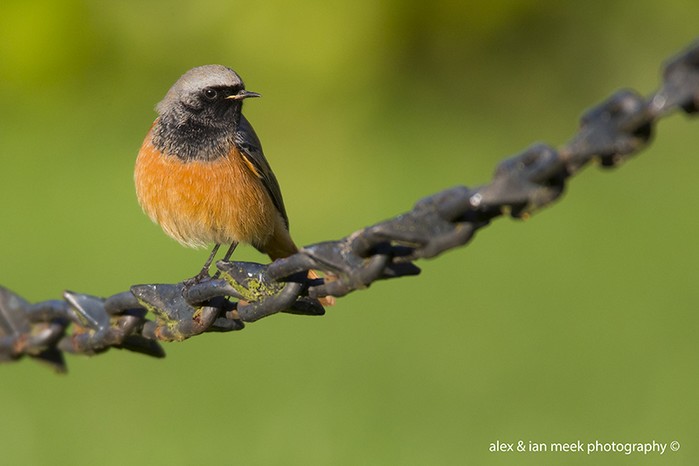 Desert Wheatears
More traditional late autumn fare turned up last week with the discovery of a female Desert Wheatear in Cornwall at Porthgwarra. This week, proving that anything Cornwall can do, Norfolk would like to think it can do better, a splendid male was found at Winterton Dunes on 5th. Cornwall, naturally, bit back with another female, this time briefly on The Lizard on 7th. Like buses, you wait years for one in Kernow and then two come along almost at once...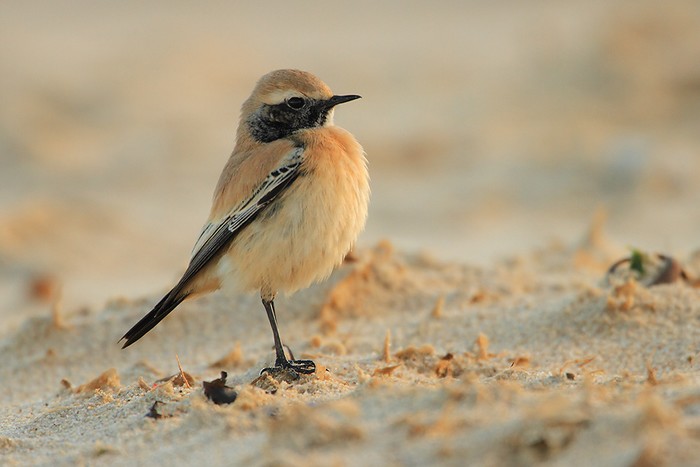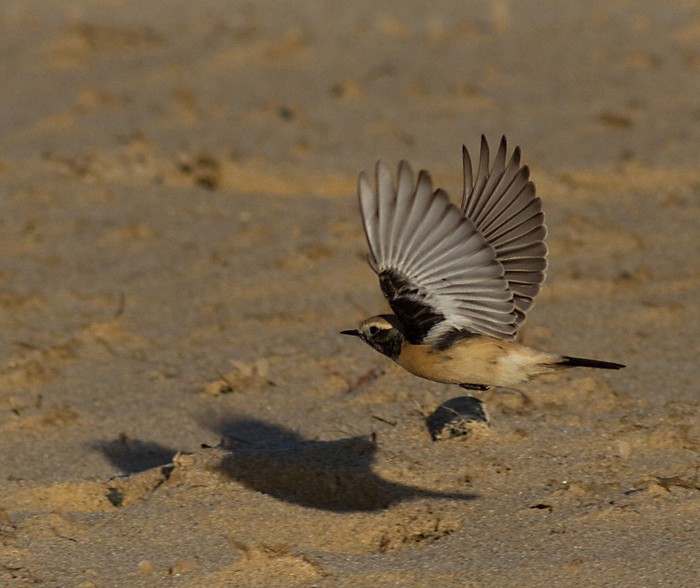 With the Porthgwarra bird sitting tight until the end of the week, the newly arrived Norfolk bird stayed until 7th and provided eastern birders with yet another weekend opportunity this autumn to spend some quality time with this always engaging and photogenic species.
Pacific Diver
For anyone with a mind to head west, the freshly returned Pacific Diver in Cornwall's Mount's Bay remained a pit-stop worth making until 6th at least – though as anyone who's spent any time scoping for seabirds in anything less than mirror-calm conditions will attest, knowing something should be out there is one thing – actually finding it and satisfying yourself that it's 'the boy' is quite another thing entirely. Selfishly, I wish the Grutness (Shetland) adult bird of not so very long ago had proven to be as accommodatingly site-faithful as the Cornish bird has been...
American Coot
There's not a great deal to be said about this week's lingering duo of American Coots on North Uist (Western Isles) and at Lough Gill (Co.Kerry), apart from tipping our hat respectfully to the North Uist bird after an absence of news from there last week. They're both still on their respective bodies of water, and look likely to remain there for some time yet. Carry on...
Ross's Goose
...and make way for what qualifies these days as a much more interesting kettle of wildfowl altogether – the adult Ross's Goose that pitched down in Lothian at Dunbar on 7th-8th with a load of Pink-footed Geese. What could possibly be contentious about that?
(I probably shouldn't, but, you know what? I think I will...)
Ross's Goose - has any wildfowl species had quite the rocky road to acceptance as a genuine vagrant (and hence, admission to Category A of the British list) as this one? Apart from, perhaps, Hooded Merganser and that particular endurance test, as we all know, ended happily ever after.
If a colourful, popular with aviculturists right across the UK and Europe-wide North American species like Hooded Merganser can finally find favour with BOURC and get a webbed foot in the door of the British list, surely Ross's Goose is pushing at an open door? Anything less would seem terribly like an uneven playing field where the British list is concerned. And once on the list... short of sporting an unfortunate bit of leg-bling or being several primaries short of a full wing, passing muster with BBRC seems pretty straightforward.
But just what does a Ross's Goose have to do to find initial favour with BOURC? Heaven knows there've been some individuals in the past that looked and felt like the real deal – and equally, there have been some obviously duff ones too. Just like Hooded Merganser, Bufflehead and even the likes of the much less contentious Blue-winged Teal - there are some bad apples out there amongst all wildfowl species, for what it's worth.
There surely comes a time when a pragmatic approach needs to be adopted where this species is concerned? If it looks wild, isn't obviously tame or showing signs of captivity, is in a likely place at a suitable time of year, and is consorting with other wild geese in a blameless manner... that has to be good enough, yes? (It works for Snow Goose after all, and what's good for the goose is surely good enough for the gander). It just needs a little bravery (and consistency) from those who would tell us what's hot and what's not.
For now, Ross's Goose remains firmly parked in the cul-de-sac marked Wood Duck, Cinnamon Teal et al. And that seems both inconsistent and a shame.
A reasonable showing of around 75 Little Auks rewarded hardy seawatchers in 13 counties this week, with the bulk of them recorded down the east coast as far south as Norfolk. North-western Scottish waters accounted for a handful of records, and a notable singleton made it to Old Colwyn (Conwy) on 7th. Otherwise the only double figure tally came from Flamborough (East Yorkshire) where 15 hurtled by on 3rd.
On to my favourite of all the skuas, and my current house-list bête noire - Pomarine Skua. Despite my best efforts in the past few weeks I can't see one from the kitchen window... but I seem to bump into the same juvenile bird with monotonous regularity elsewhere around the island. Heyho. Enough of my woes – how did the rest of the country fare this week?
Rather well, as it goes: some 70 birds were recorded this week from 11 counties, including singletons as far south as Hengistbury Head (Dorset) on 3rd and Dungeness (Kent) on 4th. Notable counts came on 3rd from Mablethorpe (Lincolnshire) with 12 birds past; and Spurn (East Yorkshire) where 15 birds were logged. Titchwell (Norfolk) enjoyed a good day on 6th when 14 birds headed past.
Cornwall accounted for three Balearic Shearwaters past St.Ives on 7th, and a further two past Lizard Point and a single off Mousehole on 9th.
Kent's two Cattle Egrets remained happily ensconced at Dungeness until 9th, while up in Cheshire at Burton Mere Wetlands RSPB the singleton also stayed put until 9th.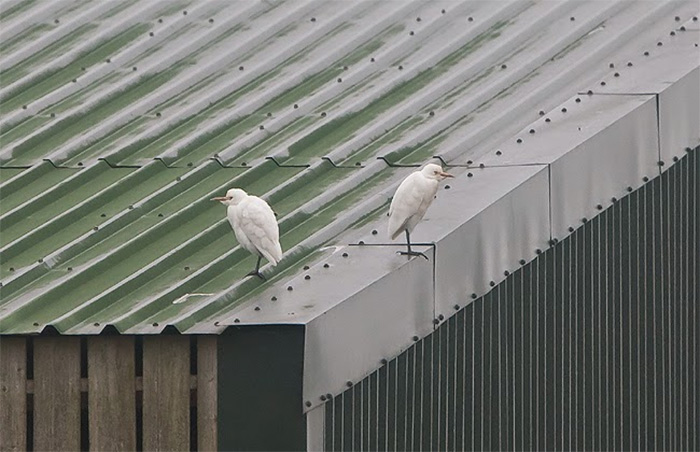 Back in Kent, numbers of Great White Egrets never scaled the dizzy heights of last week, with numbers at Dungeness fluctuating throughout the week between two and seven birds. Given the myriad network of pools and drainage channels in the area, there's plenty of habitat for the odd one or two to lose itself in and mooch around unseen; and you'd not get long odds against the individual noted at Rye Harbour (East Sussex) on 6th having taken a short flight along the coast from Dunge.
Moving further west, one remained at Blashford Lakes (Hampshire) until 9th, and one was at Hartland Moor (Dorset) on 7th. In Somerset, three birds were seen at Shapwick Heath NNR on 3rd, and one remained at Chew Valley Lake on 3rd-9th. Single Welsh birds were noted on 7th at Llangorse Lake (Powys) and Dryslwyn (Carmarthen).
Northamptonshire accounted for records from Stanwick GPs on 4th, Summer Leys on 5th-9th, and at least one at Pitsford Reservoir on 7th. One was again at Linford NR (Buckinghamshire) on 5th; Rutland Water (Leicestershire) held two birds on 5th-6th; and Cambridgeshire returned single birds at Fen Drayton and Wicken Fen on 6th, and Paxton Pits NR on 7th-8th.
Further singletons were noted in Essex at Foulness and Abberton Reservoir still on 6th; in Norfolk at Attleborough on 5th; and in Suffolk two birds were reported from Lakenheath on 6th.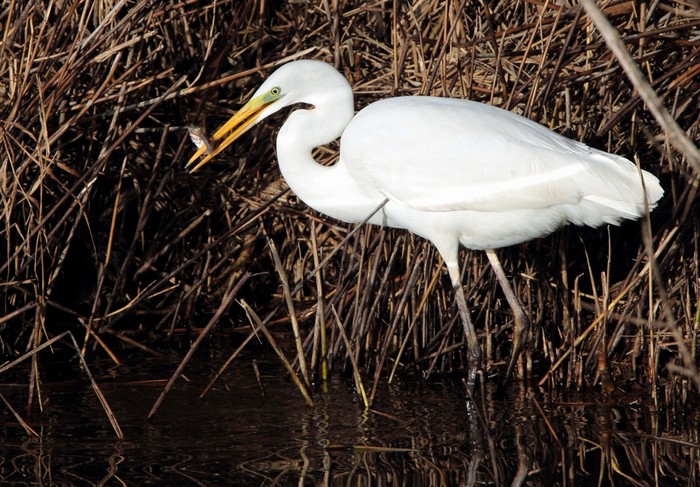 Two birds were in Lancashire at Marshside RSPB on 4th, and elsewhere in the county one was again at Lunt Meadows NR on 6th. Single birds were reported from Cheshire at Frodsham on 6th and Ince Marshes and Burton Marsh on 7th. East Yorkshire accounted for the last of the English records this week, with one at Skeffling on 6th. A single bird was noted in Ireland at Lough Corrib (Co.Galway) on 7th-8th – giving a final tally of around 38 Great White Egrets across the recording area this week.
Still fairly quiet on the ibis front this week with the settled Glossy Ibis at Lincolnshire's Frampton Marsh RSPB (present until 7th) augmented by a flyover at Lympne (Kent) on 8th. The American White Ibis continued to find the cosy environs of the Sevenoaks Wildfowl Reserve (Kent) to its liking and stayed there until 9th.
Taking away the mighty Brownsea Lagoon (Dorset) count of 32 Spoonbills on 5th leaves a more modest tally of spatula-faces this week. (Dorset also accounted for the week's other highish tallies: seven over Poole bus station on 4th, and 14 in Holes Bay on 7th). Dorset notwithstanding, the best of the rest were the three birds that lobbed around West Sussex's Pagham Harbour, favouring Church Norton this week; elsewhere, in Hampshire one was on Oxey Marsh on 7th and at Lymington on 9th. Ireland meanwhile had singles in Co.Down at Strangford Loch still on 3rd and Castle Espie WWT on 5th; and at Dungarvan (Co.Waterford) on 6th still, with two birds there on 9th.
The week's peak counts of Common Cranes came on Sunday 7th, with 15 noted at Billockby (Norfolk) and eight that day at Eldernell (Cambridgeshire); and 12 at Nene Washes RSPB (Cambridgeshire) on 9th.
We've already kicked proceedings off a bit of a Paddington hard stare at the Lothian Ross's Goose and the baggage it's carrying with it, so we'll not spend too much time or energy on the week's other Ross's offering, the possible that flew over Chester (Cheshire) on the morning of the 4th.
Moving swiftly on then to the far less controversial matters of Lesser Snow Goose - the adult that arrived in Norfolk late last week at Holkham spent this week lobbing around various points in the north of the county with Pink-footed Geese before winding up on 9th back at Holkham again. Looks wild, is doing everything right... and the pragmatic approach is to assume that it's probably wild. See? Easy, isn't it?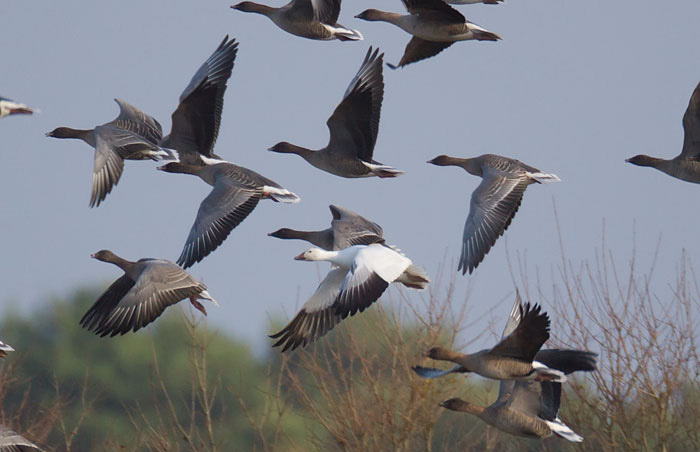 Sticking with 'lesser' geese, over in Ireland the Lesser Canada Goose remained at Wexford's North Slob until 7th. A minima Ridgway's Canada Goose was seen at Arlington reservoir (East Sussex) in the afternoon of 4th before departing south with a flock of 61 less interesting Canada Geese.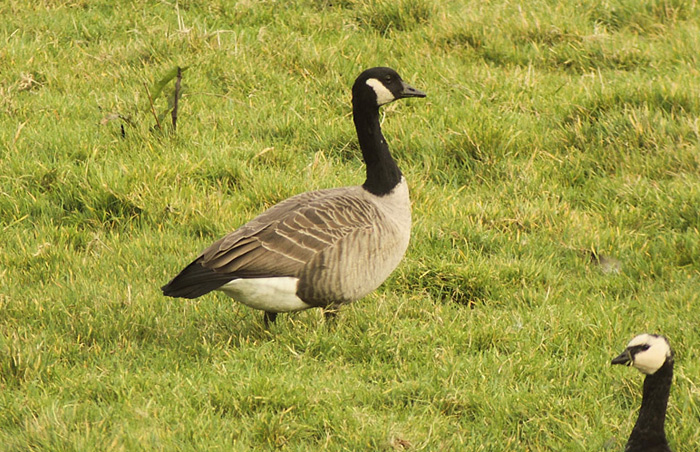 Black Brants stayed resolutely below double figures this week, with birds noted on 3rd at Barrow Harbour (Co.Kerry), Cley (Norfolk), and Pagham Harbour (West Sussex); on 4th and 7th at Salthouse (Norfolk) and on 4th-5th at Darts Farm RSPB (Devon); at Selsey Bill (West Sussex) on 5th-8th , and Easington (East Yorkshire on 5th-6th; on 6th at Farlington Marshes (Hampshire) and Medmerry RSPB (West Sussex), the latter until 7th; on 7th on Hayling Island (Hampshire), West Mersea (Essex), and back down on Exminster Marshes (Devon), the latter bird still there on 9th. A further bird was in Suffolk on King's Fleet on 9th.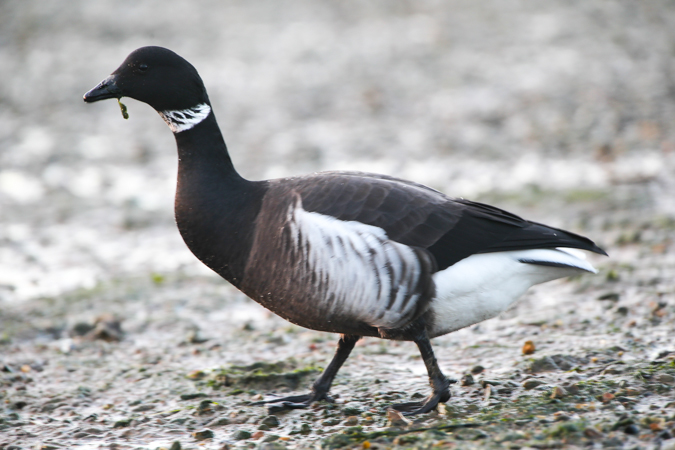 The female King Eider at Ruddons Point (Fife) remained until 6th, with a drake Surf Scoter there also on 4th, with one further south at Musselburgh on 5th. In Essex, the first-winter drake was off Wrabness from 3rd-9th, and in their Welsh winter stronghold three drakes remained off Old Colwyn (Conwy) until 8th at least.
Blashford Lakes HWT reserve (Dorset) continued to prove attractive to the drake Ferruginous Duck for all of this week, while it was slim pickings for Lesser Scaups - the drake remained in Ireland at Lough Gill (Co.Kerry) on 5th-6th, while in Wales, The Saddled One was again noted at Llangorse Lake (Powys) on 7th. (I know, I've stolen that shamelessly from your usual correspondent, Mr Golley. What can I say? Like a vintage Christmas cracker joke, it's too good not to use again).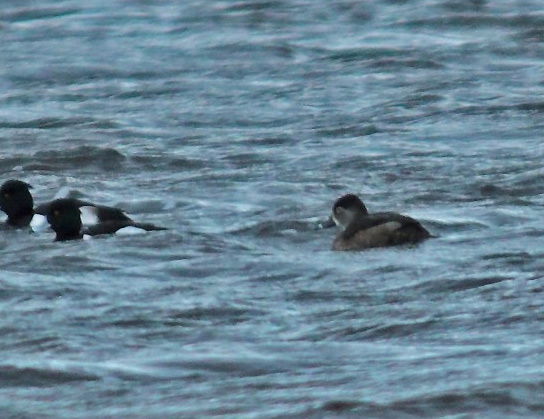 A modest lift in numbers of Ring-necked Ducks this week, with four of the week's seven being in Ireland – the female still at Glencar Lake (Co.Leitrim) on 3rd-6th; a first-winter drake in Co.Donegal at Durnesh Lake on 5th; and drakes at Kinnegar Shore (Co.Down) on 6th-8th still, and at Milltown (Co.Cavan) on 8th.
A female was in the Western Isles at Loch Sandary on North Uist on 7th, and a drake was on Tiree's Loch a' Phuill (Argyll & Bute) on 8th still. England's sole representative continued to cruise around Paxton Pits NR (Cambridgeshire) until 8th at least.
Six of the week's 10 Green-winged Teals hailed from Scotland, and our run through them starts with Old Faithful, the Caerlaverock (Dumfries & Galloway) bird still there on 3rd-6th at least. I've only been doing these Rarity Round-Ups for a year now, but I already know that this bird is a dependable winter staple... Elsewhere, drakes were recorded on Banton Loch (Clyde) still on 3rd (with the drake Wood Duck still there too for added colour...); at Mersehead RSPB (Dumfries & Galloway) on 4th-7th; on North Ronaldsay (Orkney) again on 4th; on Broadwood Flash (Ayrshire) on 6th; and at Loch Sandary on North Uist (Western Isles) on 7th-8th.
Elsewhere, individuals were noted in Wales on the Dyfi Estuary (Ceredigion) on 7th still, and in Ireland at The Gearagh (Co.Cork) on 3rd-7th and Tacumshin (Co.Wexford) on 6th-7th.
While England failed to return any carolinensis this week, it did better for American Wigeon with the two females remaining on the Gannel Estuary (Cornwall) all week, and a drake seen (from a kayak) in Devon at Morwellham Quay on 3rd. Another drake was still in Shetland at Loch of Collaster on 6th, and one remained in Ireland at Tullaghan (Co.Leitrim) on 7th.
<!—Section Title -->
Ever so, ever so slightly more action where shorebirds were concerned this week – with two North American waders lighting up the headlines: a Lesser Yellowlegs on Dorset's Brownsea Island on 8th and, after a leave of absence from the news of around a month, the Spotted Sandpiper that was last reported from Inverallochy (Aberdeenshire) in early November was again seen there on 7th.
A couple of Grey Phalaropes conclude matters: one seen briefly at Minsmere (Suffolk) on 4th-5th, and one in Ireland at Balderra Strand (Co.Mayo) on 8th.
The second-winter Laughing Gull at Ballycotton (Co.Cork) on 6th leads the charge where gulls are concerned this week, ably assisted the same day by the faithful adult Bonaparte's Gull in Devon at Dawlish Warren NNR.
Topping the (ring) bill this week was once again Nimmo's Pier (Co.Galway), with no fewer than four Ring-billed Gulls recorded there – two adults and a second-winter on 6th, and a further first-winter logged on 7th. Elsewhere in Ireland single birds were noted in Co.Wicklow on 3rd at Bray, and in Co.Waterford at Tramore on 4th-8th. Hampshire's regular adult bird frequented Walpole Lake, Gosport until 7th at least.
Slim pickings once again this week where white-wingers were concerned, with little change numerically from last week's scores on the doors. Where Glaucous Gulls were concerned, some 14 individuals were noted and seven of these were, predictably, in Scotland. In England, the northerly theme continued with three logged in Northumberland, and two intrepid individuals ranging as far south as Essex and Cornwall respectively. Ireland accounted for two further individuals in Co.Fermanagh and Co.Mayo.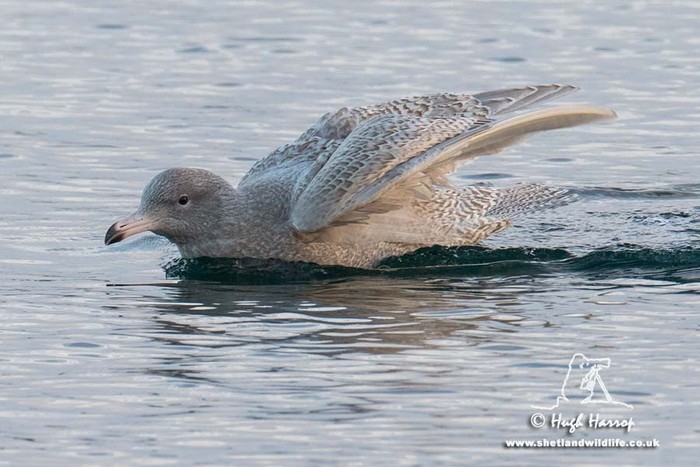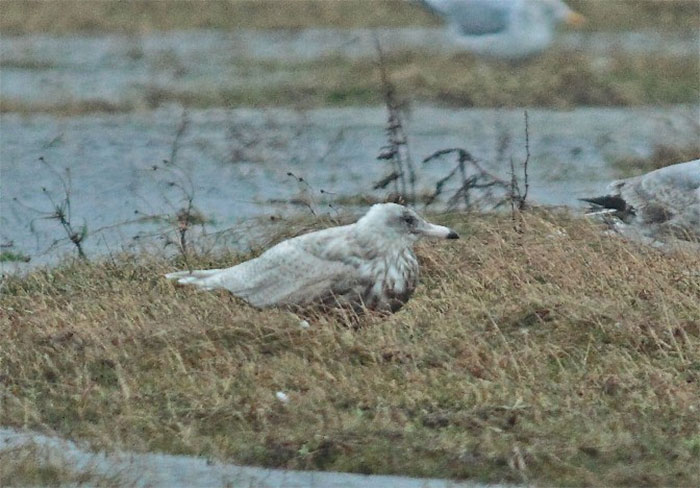 Similarly meagre fare was to be had with Iceland Gulls, with around a dozen of these recorded. Again, a shade under half (five birds) were in Scotland, with Shetland accounting for two individuals, and Highland two also. The remainder were scattered across England's north and midlands.
"At least" seemed to be the flavour of the week where Rough-legged Buzzards were concerned, with unobliging birds at several sites clearly not cooperating quite as nicely with their observers as those observers might have wished. Reading between the lines, it sounded as if some 20 birds were at large this week. Maybe more...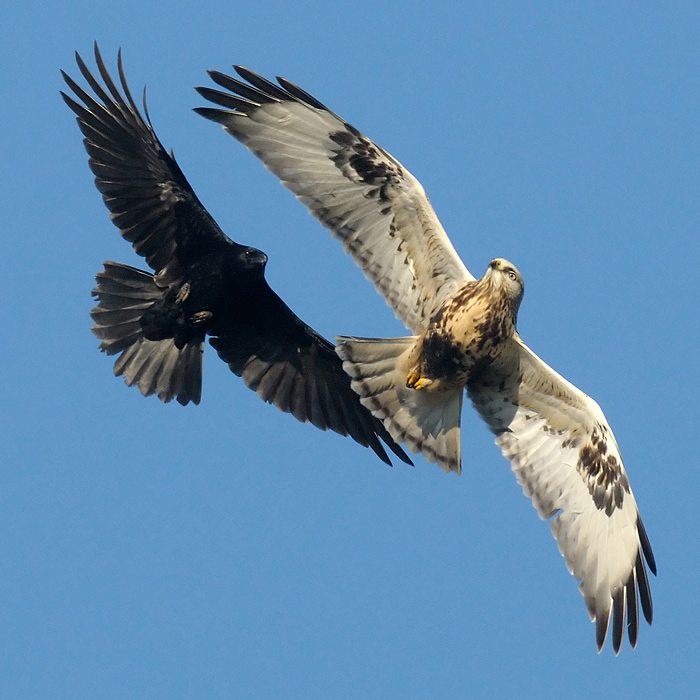 Starting with Norfolk, where the potential for overlap was perhaps highest – birds were noted throughout the week from Breydon Water, Halvergate and Burnham Overy, with at least one bird at the latter site and a definite two there on 9th. One remained at Braughing (Hertfordhshire) on 3rd; singles also remained at Holme Fen NNR (Cambridgeshire) on 3rd-8th; Jevington (East Sussex) on 3rd-8th; and at least one at Sleddale (Cleveland) on 3rd-8th.
One was still at Frampton Marsh (Lincolnshire) on 5th, and one was at Broomhead Moor (South Yorkshire) on 5th also – with two birds there on 6th.One was noted at Beachy head (East Sussex) on 5th. South Yorkshire accounted for a further bird at Agden Reservoir on 6th, with one reported again that day from Theddingworth (Leicestershire), and Wallasea Island (Essex) – the latter bird until 7th. Currie (Lothian) and Eggleston (Co.Durham) each had a singleton on 7th; on 8th single birds were noted at Grindale (East Yorkshire), Harthope Valley (Northumberland) and Brampton (Carlisle), with two birds recorded that day at Greenfield (Manchester); and on 9th, a further probable was noted in East Yorkshire near Goole.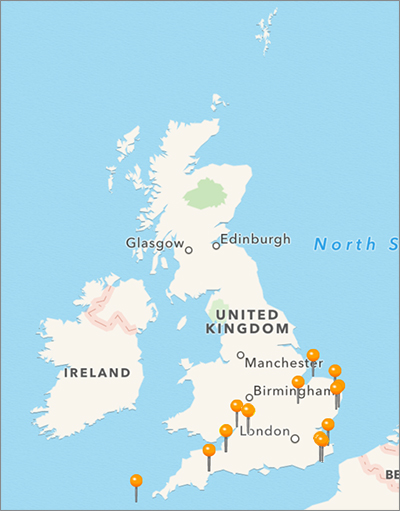 There was a sense this week that winter was properly coming upon us (last gasps of Desert Wheatears and Blyth's Pipit aside. Numbers of interesting passerines continued their recent downward plunge, with one pleasing exception – step forward, you Penduline Tits.
I'm not sure whether five Penduline Tits exactly qualifies as an irruption, but a female in Cambridgeshire at Ouse Fen RSPB on 4th heralded a small arrival across the south of England in the following days – two birds at Darts Farm RSPB on 5th (rising to three birds at Bowling Green Marsh RSPB on 7th-9th, with presumably two of these birds noted again at Darts Farm RSPB that morning also…) and a further singleton in Wiltshire at Cotswold Water Park on 6th – this latter bird being only the second record of the species for Wiltshire.
October and November are, classically, the peak time for the arrival of Penduline Tits from the Continent, with December being unremarkable compared to the rest of the year, with the exception of the midsummer lull. That these birds arrived in the first week of the month, on the cusp of November, fits neatly into the historic pattern of peak arrival.
Warbler-wise things remained much on a par with last week, with the single Dusky Warbler remaining settled in Cornwall's Kelynack valley through the week, and providing some cause for cautious optimism for those yearlisters keen to get 2015 off to a flyer. Meanwhile a probable Dusky was reported from Shropshire's Priorslee Lake on 3rd; alas there was no sign of it there the following day.
Where Yellow-browed Warblers were concerned the southwest of England continued to dominate proceedings with all bar one of the week's eight birds seen in the region. Starting on Scilly, one was on St. Mary's on 6th; moving up into Cornwall, one was at Helston Loe Pool on 5th, and one was at Porthgwarra on 9th. Devon accounted for a further two birds, these being reported all week more or less daily at Paignton and Broadsands. Our journey up-country concludes in Dorset, where on 5th two birds were on Portland, and a single bird was trapped and ringed at Broadstone. Much further afield in Orkney, a probable Yellow-browed was at Evie on 7th.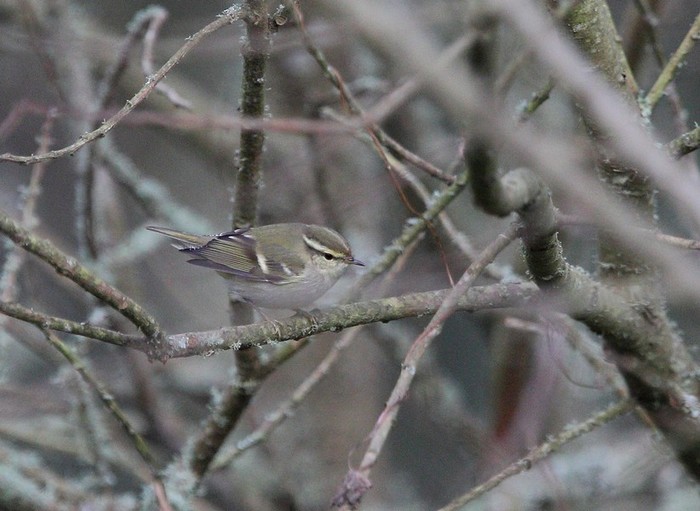 Back in Dorset, Portland Bird Observatory's lush garden (and apples) proved a hard habit to kick for the Barred Warbler that remained there all week.
And so to the murkier side of warblers (and wagtails) – after last winter's incontrovertible Lesser Whitethroats of eastern origins, eyes are very much peeled again in the early winter period this year. Sure enough, a possible halimodendri Desert Lesser Whitethroat was on Little Orme (Conwy) on 7th. As the scales fall from our eyes, the times they are definitely a-changing where what's recognisable in the field is concerned...
And as with those divergent Lesser Whitethroats and Black Redstarts, so with Yellow Wagtails - a possible Eastern Yellow Wagtail was on the beach at Whitburn (Co.Durham) on 3rd-4th. It's achievement enough to find any rare bird – but clinching them is quite another matter. As our knowledge grows, our boundaries are expanding, and all this at a time when it seems as if there are ever more easterly vagrants finding their way to Britain – we live in interesting times.
Further ifs, buts and maybes came in the form of a plentifully-caveated report of an unconfirmed, possible Red-flanked Bluetail in Lancashire on 3rd at Leighton Moss; and the following day in Cornwall at Kelynack Valley a possible American Robin was reported.
Richard's Pipits put in a good performance this week, with half a dozen birds in all recorded. The three individuals in Somerset at Stolford remained until 7th at least, with two reported from there on 8th and at least on still there on 9th, while in North Yorkshire the single bird remained at Cloughton to 7th, and in East Sussex on the Pevensey Levels until 8th. A further individual was in Dorset at Redcliff Point from 3rd-8th.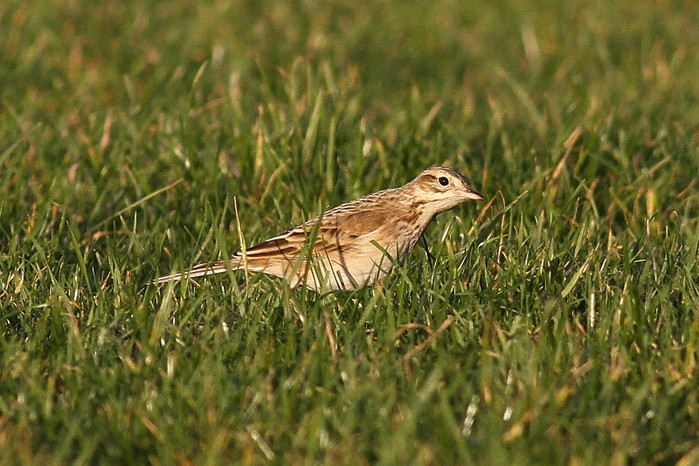 This week's tally of Great Grey Shrikes was as near as matters a carbon copy of last week's, or at least as far as the bald statistics go – 23 birds noted from 18 different counties. That doesn't tell the whole story though, as they included in their number several new birds amongst the bulk of newly settled individuals on winter territories.
Starting in Scotland, one was trapped and ringed in Teindland Forest (Moray) on 6th. Moving south of the border, Cumbria's Dalton Crags held onto an individual until 8th at least, whilst the bird remained in North Yorkshire at Langdale Forest until 6th. South Yorkshire's birds remained on-site into the new week, with the individual at Thorne Moors still on 3rd, and the other bird at Agden Reservoir until 7th at least. Across in Lancashire, two birds remained at Grindleton and Lytham Moss respectively all week, and finishing up for the north of England reports was one in Derbyshire at Church Wilne Reservoir on 7th.
Wales accounted for two birds, one still at Lower Neuadd Reservoir (Powys) on 4th, and one in Carmarthen at Usk Reservoir on 5th-7th. The individual remained in Worcestershire at Bredon Hill on 3rd, and one was at Normanton Holmes (Nottinghamshire) on 7th. One remained in Gloucestershire at Crabtree Hill until 9th, with one seen at Steeple-edge Wood on 7th.
Over in East Anglia, Roydon Common (Norfolk) held it's bird all week, and one was at Berner's Heath (Suffolk) on 3rd. Surrey accounted for birds on the Commons at Thursley still on 4th and Frensham on 6th. My old stamping ground of Chilham (Kent) held a bird all week; East Sussex provided an individual still in Ashdown Forest until 7th at least. Moving west, one remained in Iping Forest (West Sussex) on 7th also. We finish in Hampshire, where one or two individuals lurked at Milkham Inclosure and Ocknell Plain throughout the week.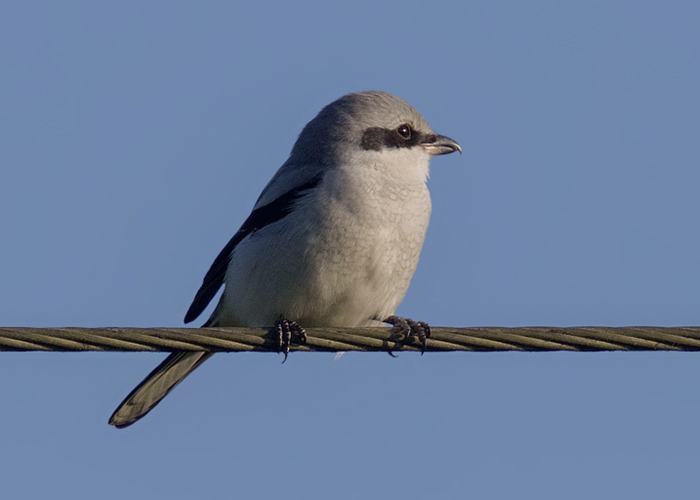 Three Hoopoes continued to defy the odds this week, with varying degrees of success. Individuals remained in Devon at Dawlish until 7th, and in Dorset on Portland until 6th – at which point the latter was found dead. Not an ex-Hoopoe was the individual seen elsewhere in the county at Durdle Door on 8th.
Further pink splendour came from Bristol with the resplendent adult Rose-coloured Starling continuing to delight in the early part of the week, still there until 5th.
In the absence of any interesting finches, we finish with Waxwings, and still little sign of a big winter for these big-barnetted beauties: of the 70 birds reported from nine counties, the largest confirmed flock was a paltry six birds at Seaton Pond (Co.Durham).
The week ahead
And so another Rarity Round-Up draws to a close. Time for your own correspondent to crack open that bottle of Christmas port and put his feet up for another week. (For that read "drown his sorrows after yet another week of not adding Pomarine Skua to the house list at the weekend whilst the wretched bird spends weekdays bothering the Kittiwakes in the bay outside").
So, what predictions for the coming week will be springing into my port-fuelled dreams? Or more accurately, safe wildfowl bets aside, what wishful thinking can we indulge in?
Given the calibre of the birds seen lately a short hop, skip and a jump away over the other side of the water in north-west Europe, there's some considerable daydreaming mileage to be had thinking about the likes of White-crowned Black Wheatear and Black-faced Bunting...
Were two species ever more polar opposites in the good looks stakes? From the improbable dapperness of the wheatear to the many shades of brownness that's the bunting, they couldn't be less alike if they tried. What they do share is pukka old skool rarity value. Thirty two years after the event in Kessingland (Suffolk) the wheatear is now the stuff of myth for British birders, but even the bunting is hardly commonplace.
It's been twenty years since Britain's first, the famous over-wintering individual at Pennington Flash (Manchester), and since then there have been four more, but none easily seen – and there have none in the past 10 years, a time during which other eastern species have been occurring with increasing frequency.
Black-faced Bunting then feels like a blocker in the making – and a generation of younger birders will be eagerly awaiting the next one. Of course, the coming week's weather looks all wrong for one here. But who's to say one hasn't already made landfall and is just waiting to be found? The recent bird in Germany on Heligoland gives some cause for hope...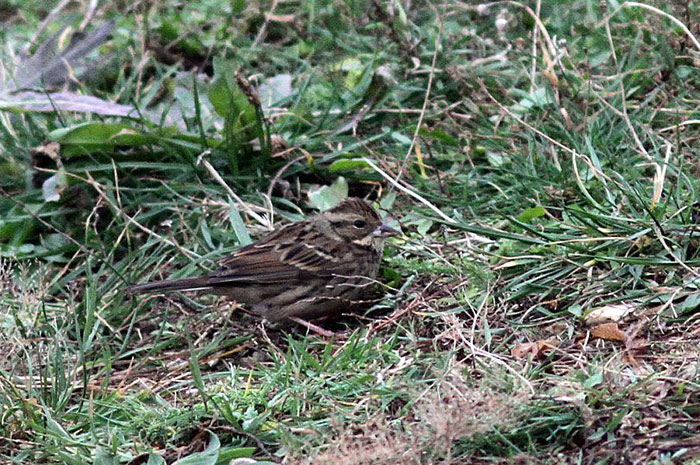 Jon Dunn
10 Dec 2014


Thanks to all of our contributors for their photos, videos and sound files.
David Aitken, Martin Garner - Birding Frontiers, Mike Young Powell, Simon Knight, Paul Hill, Alan Tate, Martin Goodey, Ashley Fisher - Scilly Pelagics, Alex Meek, Rob Holmes, Harry Murphy, Sean Foote, Michael O'Clery, Davey Farrar - Kerry Birding, Brian Turner, Martin Casemore, Allan Chard, Steve Gantlett - Cley Birds, Paul Kelly - Irish Bird Images, Sean Nixon, Steve Duffield - Western Isles Wildlife, Dermot Breen, Hugh Harrop Shetland Wildlife, Ian Curran, Brian Stone, Alan Doidge, Martin Cade - Portland Bird Observatory, Brett Spencer, Steve Ashton, Micha Arved Neumann.
Contributors websites Check out our contributors website for more great photos and news