Weekly round-up: 12 - 18 Nov 2014
The week at a glance
Little Bustard in Dorset steals all the headlines…
North Uist lands the second American Coot of the month, while Kerry's first already looks like set for the winter
Last week's Grey-cheeked Thrush remains on Mainland Shetland
The Cornish Isabelline Shrike still in place, a new bird arrives in Dorset
Devon's fourth Hume's Yellow-browed Warbler found on the English Riviera…
…with others confirmed on a busy Sunday in Suffolk and Aberdeenshire…
Extraordinary November Black Stork heads through Essex and settles in Suffolk
Remarkably unseasonal Roller photographed in County Cork too…
Late news too ~ a presumed Blyth's Pipit found in Pembrokeshire
This was a week which, at one point, seemed destined to be burdened by the deafening scrapping of the biggest, bulbul-shaped barrel you could ever start staring in to the bottom end of ~ the young and the restless eager to salvage something for the tail end of the year.
You can't blame anyone for investigating the options, its actually rather useful that people are prepared to investigate (at great length) the options and, of course, hope always springs eternal…
…however (you can guess what's coming…) this always felt as if the Bulbul was going to be the wrong horse to back ~ a bit like sticking a tenner on Peter Griffin's fateful nag "'Til Death" in the Quahog Derby ~ it seemed that this was going nowhere but that didn't stop the tiniest bit of rabble-rousing for the cause (you thought the clamorous push for the Kentish Pond Heronwas bad…).
As the dippers in south Gloucestershire tried to bat away the Saturday pain of missing a Common Bulbul by initially debating tales which may or may not have included wearing some naughty green plastic appendage and which may or may not have been centred on ship-assisted "vagrant" (CLUE:- it absolutely did have the former), there was a vote from some round these parts to let the online forum obsessives carry on about the whys and wherefores of that particular escape, while the bona fide "Category A" gubbins can be dealt with in earnest…
…so that's where we'll go ~ this was one of those mid-November weeks that offered up an interesting variety and mix of vagrants, migrants and wintering species and, just when it seemed as though the week would fall just short of that single, solitary prize bird to make jaws drop a little, well, you know the story…
Here we go then ~ a couple of the headliners won't take long to take care of ~ both species where dealt with at some length last week and, to be honest, there's not much more to say about either of them, but the main attraction ~ now that's a different matter…so let's crack on and get down to it…
Little Bustard
There we are then ~ another of the target species mentioned as a long-overdue prediction in more than one of the autumn's reviews only went and did it ~ Little Bustard in Dorset.
Sweet!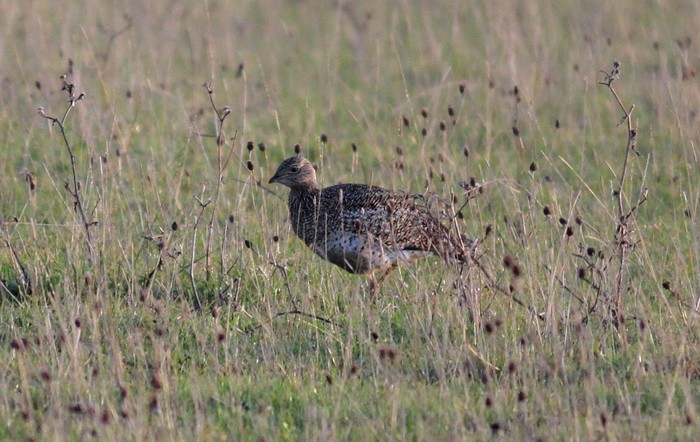 Finders in the field:
Little Bustard, West Bexington, Dorset
"...Alarm bells started ringing as soon as we set eyes on the bird. It was obviously smaller than it had looked in flight and was short-necked, delicate looking with a dainty bill; and what about that flight action…..It can't be a Little Bustard can it?..."
The widely dotted map and hard facts of over 200 accepted record of this brilliant and thrilling overshooting vagrant really don't tell the story of the species recent acquired, genuinely mega status ~ status which is, of course, why so many folk dropped everything to head swiftly towards West Bexington on the sunny morning of 18th (and so many more rued their luck at a midweek find of such a high calibre.
Dorset's new arrival is the first Little Bustard to be seen here for over 12 years ~ our most recent bird being the adult male found on Scilly, on St. Agnes on March 22nd 2002, a bird that really wasn't up for grabs unless you happened to be on the islands.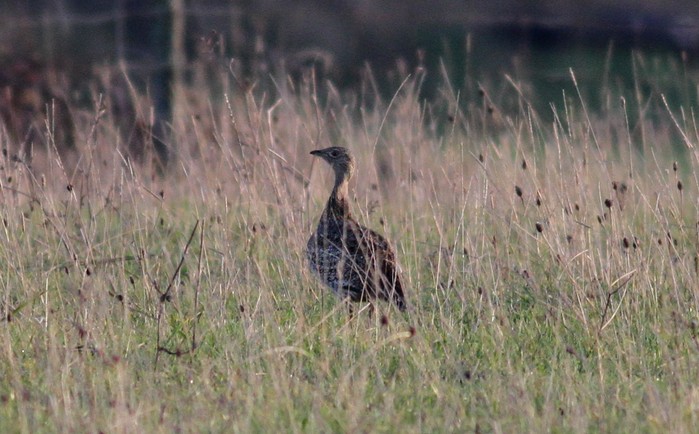 The three birds noted through the 1990's were split 2:1 between Shetland and Cornwall ~ a female Little Bustard was seen on Mainland Shetland on October 4th-6th 1998 but was then injured and sadly died in care a couple of days after. A four-day bird around the Lizard in late October 1996 proved to be particularly popular ~ moving swiftly around the crop fields and stubble and a nice Cornish tick to boot ~ while a male spent November 5th-6th 1994 on Fair Isle.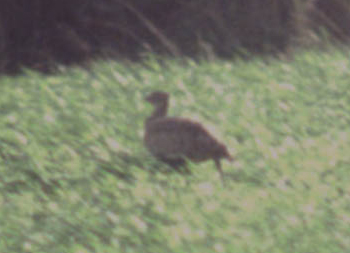 Orkney recorded a male Little Bustard on North Ronaldsay for a day in May 1989 and 1987 saw the remarkable arrival of three birds at Sudbourne (Suffolk) on December 20th, with the much twitched Dorset bird at Cowards Marsh obliterated many New Year celebrations at the end of the same year ~ relocating to Sopley, just over the border in Hampshire and moving around the county boundary until January 5th.
(Hitching back over the moors at dusk, hot-foot from a full-on session in Plymouth, back home to Okehampton to collect optics and then on to a early morning rendezvous at the Granada Services in Exeter genuinely was a sobering experience...and awesome views of the Little Bustard ensured no hangover whatsoever…).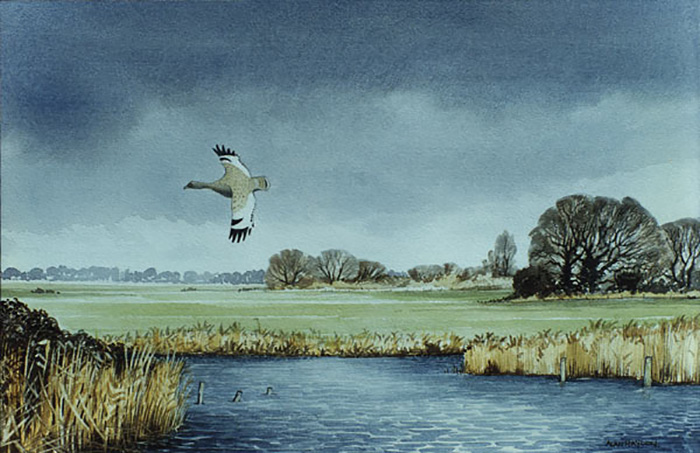 Before all that 80's carry-on, Scilly saw a late October bird arrive on St. Agnes, moving to St. Mary's at the start of November 1975 and then you tail off back in to the 60's. The vast majority of the 204 accepted records to date have fallen before the turn of the 20th Century, 137 in all, which really starts to put the decline in records in to context. Nine birds from 1975 to 2014 is a pretty slim return…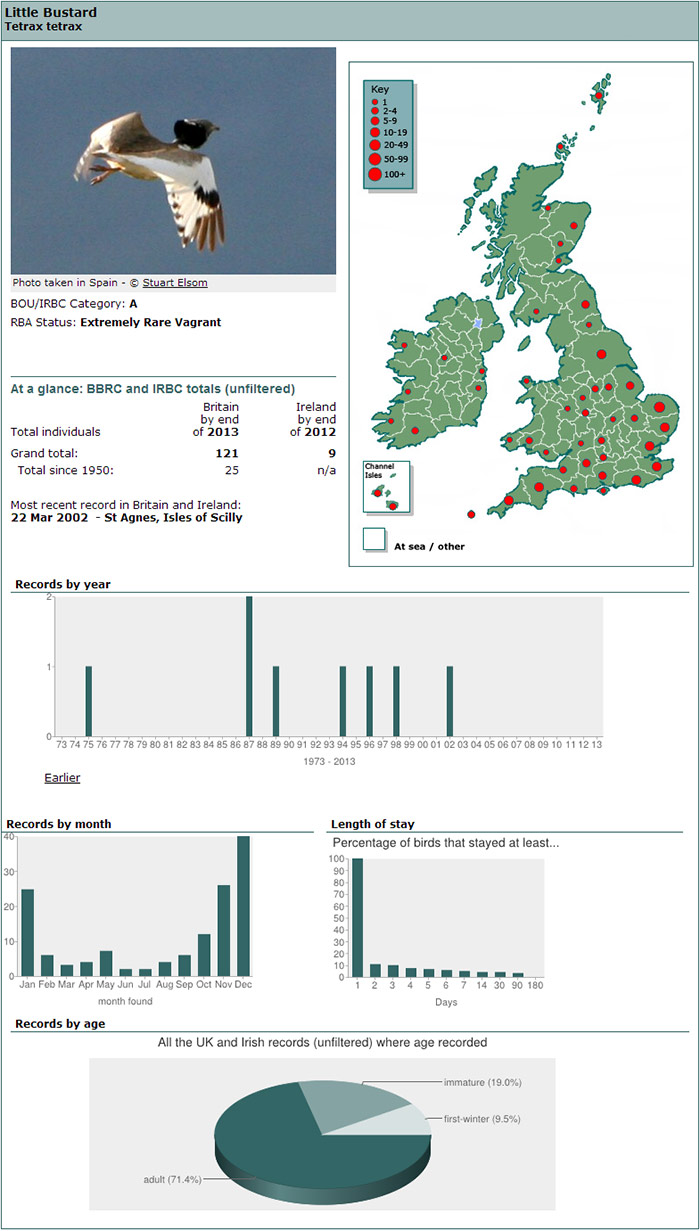 American Coot
Up until around 9.15am on the final day of the review, it looked as though the rarest species of the week was going to be a repeat of last week's rarest species of the week (and seems likely to be the rarest species of the week for some time to come ~ no disrespect but let's hope not) ~ but at least we've some "new news" to impart because the past seven days has provided news of not one but two American Coots.
The newest arrival to the late autumn vagrant party was the American Coot found on Loch nam Feitham, on the Balranald RSPB reserve on North Uist (Outer Hebrides) on 16th ~ potentially the third accepted record for the islands. ~ and one that was still in place on 17th-18th.
The previous two records came on South Uist (on West Locah Ollay) between January 25th and April 7th 2004 with the second (perhaps the first returned to the Hebs?) noted on Benbecula (on Coot Loch) from February 25th to April 6th 2005.
More recently, just under two years ago, on November 26th 2012, came an afternoon-only report of an American Coot, showing well at Eilean nan Ramh, South Uist ~ a bird that was apparently described well but which ended up being rejected by BBRC. Interestingly, just two days after the Uist sighting, an American Coot was found at Murlach, in County Galway. Coincidence?
Meanwhile, the first Kerry record of this extreme vagrant remained towards the east end of Lough Gill through to 17th at least and, for those taking a look, there was a Nearctic double on offer too, thanks to the continued presence of a drake Lesser Scaup around the sizeable waterway situated not too far from Castlegregory, due west of Tralee.
Grey-cheeked Thrush
On Mainland Shetland, at Rerwick, the obliging Grey-cheeked Thrush remained in the garden of local resident Teri Miller until 18th, clocking up a 11 day stay in the process.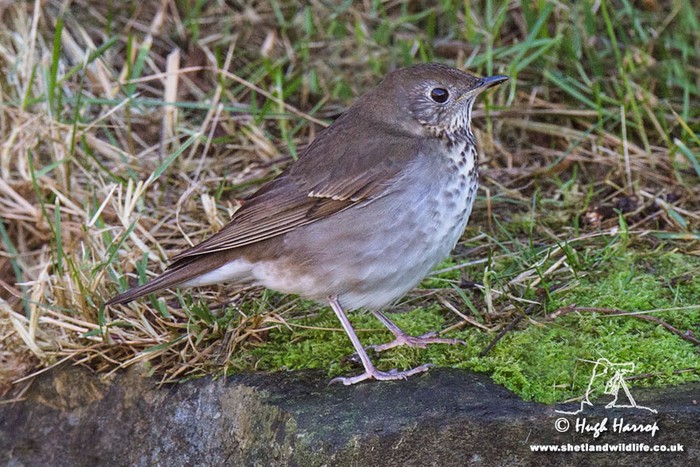 This makes it, comfortably, the longest-staying Grey-cheeked Thrush on the islands to date (out of 10 birds in all) ~ prior to this showy specimen, four days has been the longest stay recorded, one stopping on Foula from September 27th-30th 2003.
(See, told you a couple of these headline herberts wouldn't take too long…)
Isabelline Shrike
In west Cornwall, the still-discussed first-winter Isabelline Shrike ~ that had the air of a Turkestan for many, but a hybrid Red-backed X Isabelline for some ~ was still to be found around Pendeen up until the 16th.
A fascinating looking bird, there was actually room to manoeuvre for those on both sides of the intriguing identification debate but, as yet, no one's made an overly assertive bolt for the door marked "hybrid" ~ that in itself would be a significant conclusion to finally settle upon.
What this particular Pendeen Isabelline Shrike does do is to, once again, draw attention to the rather messy, oft-debated and largely unresolved, aspects of red-tailed shrike taxonomy.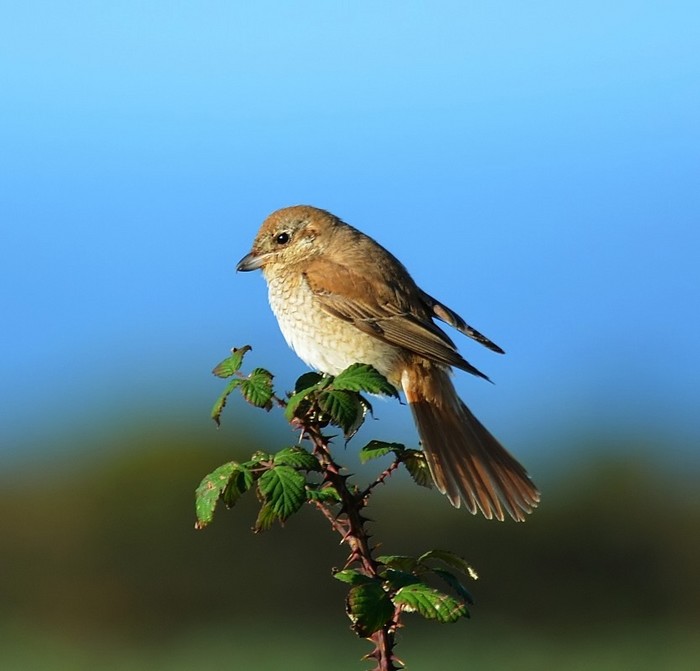 Despite much study over the past three or four decades, we're still not too much further on down the line as to exactly where birds like this current individual sit ~ so like a Turkestan in some images, so not like any type of pure Isabelline in others…
…but that's not to say all those authors who feel confident that there really should be a three-way split of the group (Daurian, Turkestan and Chinese ) aren't still correct ~ its just that birds (like these?) are an occasional fly-in-the-ointment.
It should also perhaps be noted that it isn't too unexpected to see a contentious bird somewhere on our shores every once in a while, shrike hybrids have been known of for some while too of course…
Whilst we're here, we'll just mop up something that The Listmaster General took to social media to post about last week's review….I mentioned that, if accepted, this would be the fourth record for Cornwall ~ the previous records were listed from Zennor in October 1989, Porthgwarra in June 2002 and St. Just in October 2011.
This is, currently, indeed correct ~ that trio of birds are, too date, the only accepted records from the county. Last year's beautiful October male (Daurian), also coincidentally seen at Pendeen, has yet to be given the green-light officially so, for once, was left out of the blurb.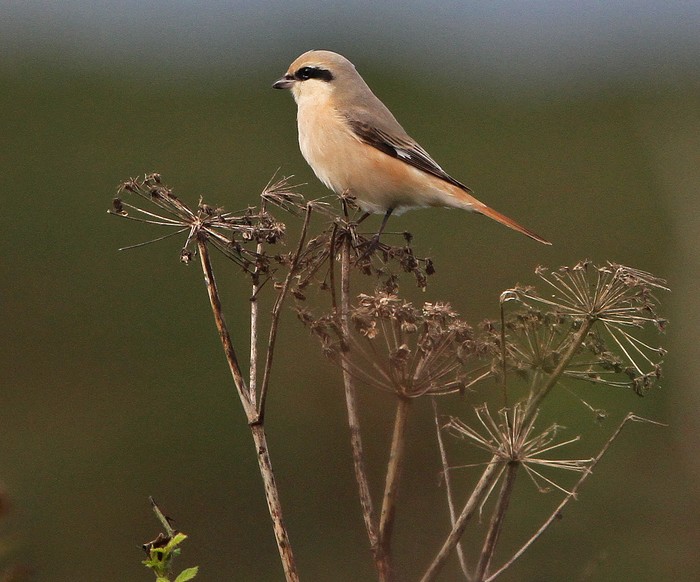 So, we could be on five Cornish birds this time next year…once the paperwork's done. All clear? Good, let's move on then shall we? ...
…and actually move just two county coastlines to the east, to Hengistbury Head in Dorset, where a new first-winter "Daurian" Isabelline Shrike was found on 15th ~ the sixth for the county and only the second Dorset bird in the past 16 years. This week's new bird spent a couple of days on site, present only to the end of 16th.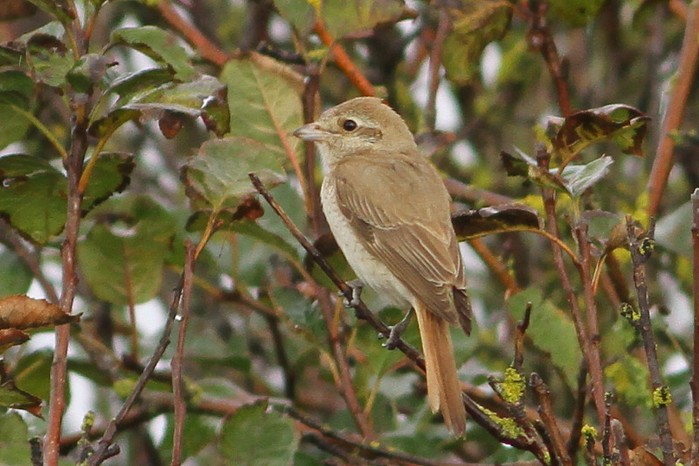 Dorset's most recent record was the storming adult male Daurian Shrike , found at Portland Bill on October 23rd 2012, where it showed off to any number of admirers for five days in all.
Prior to that, its Time Machine, errr, time and whizz back to an 11 day first-winter isabellinus at Durlston Country Park from October 12th-22nd 1988 and a popular-at-the-time adult female phoenicuroides in the Top Fields (if memory serves me right…) at Portland from September 15th-23rd 1985.
Dorset's second-ever record was another apparent phoenicuroides, trapped at Winspit a couple of days in to an 11 day stay in mid-October 1978, while the first county record ~ and only the second-ever for Britain ~ was an adult female isabellinus caught at Portland Bill on September 10th 1959.
Last week's review logged both the total of November records of any of the two forms known to have occurred here and also the number of Issy Shrikes found this autumn ~ so those figures can now go 16 occurrences for the month over the years and the 2014 haul is now six individuals ~ the window of discovery stretching from September 15th to November 15th.
Nice.

Tripping the light fantastic back to the Portland adult male of October 2012 ~ that bird is one of three adult males being looked at by the BOURC in order to determine of any is acceptable as Britain's first Daurian Shrike . The others under review are singles on Fetlar in September 2002 and the one day bird at Cliffe in October 2012. Doubtless that fantastic Pendeen bird of 2013 ought to be in there too…
Hume's Yellow-browed Warbler
Last week's end-of-review bletherings made note of 19 historic records of Hume's Yellow-browed Warbler in previous November 12th-18th periods ~ and, hurrah, the hopes of the odd one finally making it here this autumn came to fruition on a busy little spell on 15th when one was found in the quarry at Berry Head (Devon) ~ a site that has also hosted two of the county's four records of the species we've just left behind (what's not to love about bunking off A-Level English and Geography for a Monday morning lifer a matter of ooooh, just the 30 years ago this month…).
Anyway. Before the nostalgia kicks in some more and takes me to an all together better time, focus remains firmly on the now and this week's Devonian Hume's didn't linger too long ~ initially seen as an "either"/"or" around 9am, the bird was seen a couple of times up until 11am, when the ID was firmed up but unfortunately, it promptly did a bunk and off it went.
If it gets the thumbs up, this will become only the fourth record in the county and the first since an eight day bird was seen at Seaton Hole in late November and early December 2005. Before that, two wintering singles, seen in consecutive years at the start of the 90's ~ both in Plymouth, from January 13th to March 10th March 1992 and, before that, on January 10th to 24th 1991.
The second Hume's Yellow-browed Warbler of the weekend was found at Bawdsey (Suffolk), also on 15th (though it wasn't seen for long and disappeared quick smart) but obliged by showing again the following morning, becoming, if accepted, the sixth county record.
This is a reasonably new species to the Suffolk list, the first two were both found in October 2003 ~ at Sizewell and Southwold ~ with the other three all following in the "big year" of 2011, all three found between November 13th-19th that year, includinmg two in Lowestoft.
Bird three was heard off-and-on at the Loch of Strathbeg RSPB (Aberdeenshire) on 16th ~ following on from a probable at Collieston the previous day.
The county total of Hume's to date lies on six records, the first coming 20 years ago, at Bullers of Buchan, with the other five all appearing in the last 10 years, including two November birds in 2008. The most recent bird came in the bumper autumn of 2011, present at Foveran from November 12th-19th.
Needless to say, as those previously mentioned stats., above hinted at, November is unquestionably the month in which to see Hume's Yellow-browed Warbler ~ of the 133 acceptances through to the end of last year, 74 were found in November, with October lagging behind in second place with 30 with December next on 17.
Yes, there's still time for more…
Black Stork
Ok, so here's one for you…
When was the last November Black Stork?
The 70's? Nah. The 60's then? Nah. The 50's? Nah. Nah. Nah. Nah. Nah.
Sometime after the war then?
Well, yes, sort of and you'd be getting much warmer if you guess at it being sometime just after the First Italian War of Independence and another bit of anti-bourgeoisie how's-your-father was being had in France ~ Britain's last November Black Stork was shot in Dorset in 1849.
A well deserved Headline Bird debutant then, thanks to the remarkable appearance of one that took in two counties within two hours on 15th ~ heading over Wigboro Wick Farm, near St. Osyth (Essex) at around 12.45, before looming up over Trimley Marshes SWT (Suffolk) an hour and forty-five minutes later…
The following morning saw the Black Stork emerge from the Suffolk gloom, again in place at Trimley where it was rapidly established to be a colour-ringed juvenile. The bird continued to show through much of the morning but was lost to view during the afternoon before moving a few miles to the northeast, to Hazelwood Marshes SWT on 17th.
A quick Sunday morning peep at the colour-ringing database brought up a few options…and it appears that this amazing bird has come to East Anglia from Germany. Hopefully there'll be more news on exactly where soon.
There are just three records in all for the month~ along with the bird expunged in Poole Harbour in November 1849, you can add another incurring the same fate in the same area on November 22nd 1839 with the third shot bird pre-dating these, killed in southeast Cornwall, on the River Lynher on November 5th 1831.
This week's amazing bird will become the 10th record for Essex and the 18th for Suffolk ~ the latter county's most recent record came just lat year when two adults were seen over Westleton Heath on May Day 2013, while the former county last recorded the species on June 23rd 2008, when one was seen over Shoeburyness.
Roller
Pretty much on a par with the late, late Black Stork is Cork's juvenile Roller seen and photographed near Drinnagh on 16th ~ potentially just the fourth record for the county and the first-ever November record for Ireland (and only the third anywhere, ever…).
Previous Cork Rollers feature just one recent record ~ photographed at Aghada on September 26th 2011. The previous two are old in the extreme ~ one from "pre-1900" near Dummanway, the other shot in October 1884 near Skibbereen.
The only other November records of Rollers anywhere within Britain and Ireland are, just like the trio of ancient Stork records, both from the 19th Century ~ caught at Rainham Marshes on November 8th 1888 and seen on Orkney, on Westray, on November 10th 1890.
After all that black-and-white entertainment with a decent passage of Little Auks along the east coast last week, the rather gentle and benign conditions of the past few days meant that numbers, unsurprisingly, dropped down to just over 340 in all (before the 17th ~ a day which is detailed at the end of the section).
Of that figure, 111 were counted passing Flamborough Head (East Yorkshire) on 16th and a further 77 of them were seen passing Eyemouth (Borders) on 12th, easily the highest single figures anywhere this week. Two further double figure totals were logged, 11 Little Auks passing Embo (Highland) on 14th and 10 from Spurn on 16th.
The 100-odd birds were noted from the coast of East Yorkshire on 16th pushed the county total up to around 150 for the week, with 28 next door in North Yorkshire, while Lothian recorded 12 through the week. Elsewhere, it was ones and twos, from Aberdeenshire right down to one off Thurlestone (Devon) on 12th.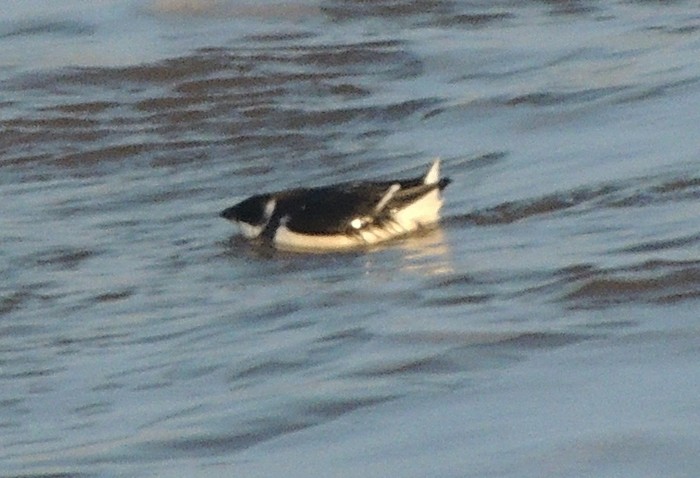 Pomarine Skuas also featured heavily during the seawatching sessions of the week just gone and there were still a reasonable number noted countrywide over the last week. A total of around 235 in all was reported ahead of a busy 17th, including at least 57 in Highland, with a week-high count of 35 off Lybster on 14th, with 12 off Embo on 13th as well. In Moray, 19 flew past Lossiemouth on 15th and Devon's 25 through the week was helped along the way by 11 off Berry Head, also on 15th. Flamborough's seawatchers logged 22 on 16th, with 14 from Filey Brigg as well.
Birds were widely spread elsewhere, from the four Poms in Cornwall to the four Poms in Shetland, with ones and twos dotted on the coasts of the west, the south and the east side of the country, with Kent faring best, with 16 through the week.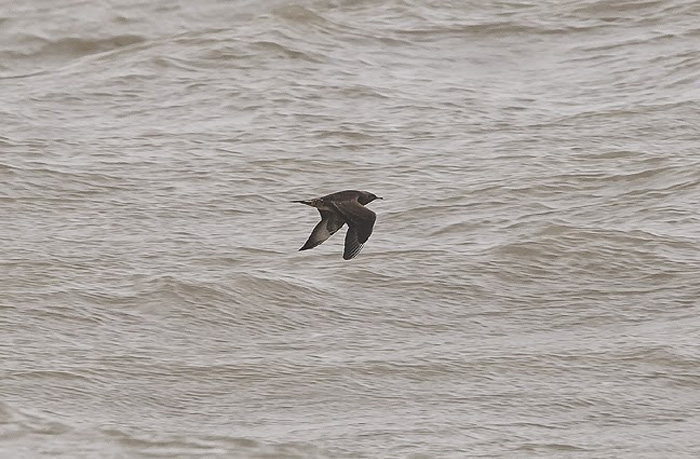 There were just a trio of late Long-tailed Skuas to report ~ one each for Devon, seen from Slapton on 13th, Lothian and Moray, heading past Barns Ness and Lossiemouth respectively, both seen on 15th.
As with a couple of the species above, Sabine's Gull was also in late autumn short supply this week ~ one was noted, again from the southwest in the breezy weather on 12th, seen from Prawle Point with the only other record this week coming from Seaton Carew (Cleveland) on 17th.
The same Prawle seawatch produced a couple of Balearic Shearwaters with just seven more following ~ two seen from Mousehole on 13th when one was also off Berry Head, with the last ones of the week heading by Rosemullion Head (Cornwall), also on 13th and Pendeen (three there) on 17th.
By the end of 15th, 22 Grey Phalaropes had been noted from 13 counties around the country, primarily along the east coast once more, including threes off Dalgety Bay (Fife) on 14th and Filey Brigg (North Yorkshire) on 15th. Three singles were recorded off the coast of Kent, one made it down to Bere Alston (Devon) on 14th, and west coast singles were found on 15th at Morecambe (Lancashire) and Mochras (Gwynedd). In London, last week's Grey Phalarope lingered at Beddington SF to 15th.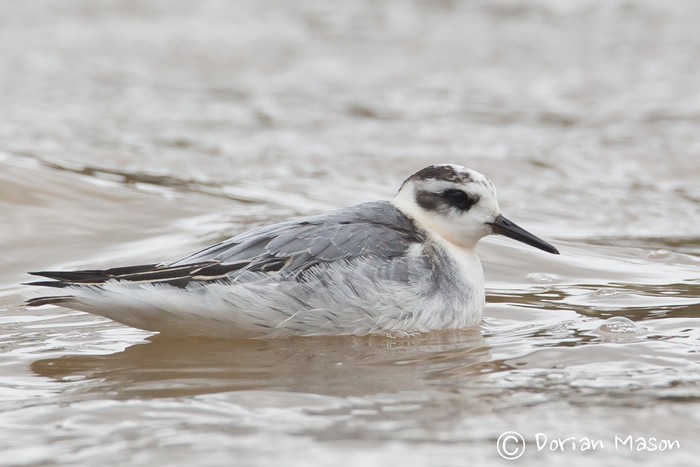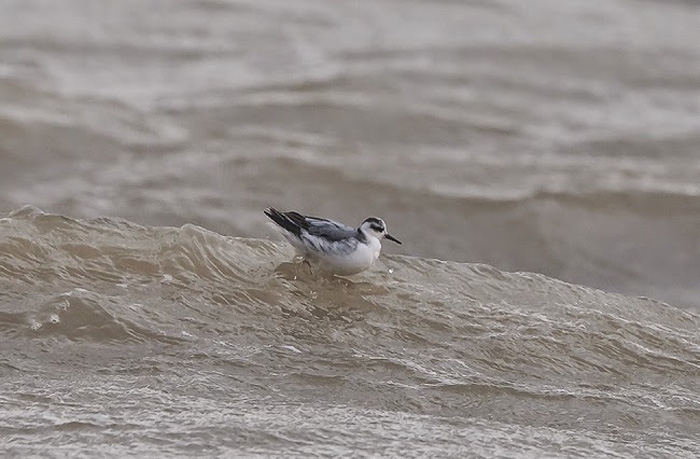 The week's only Leach's Storm-petrels were seen off Dungeness, both heading past the fishing boats on the morning of 13th.
November 17th ~ Auks and Skuas…
All the signs were there that there could be another push of both Little Auks and Pomarine Skuas along the northeast coast of England on 17th ~ and this was borne out by a few more decent counts of the two species from East Yorkshire, Durham and Northumberland.
Flamborough produced a total of 55 Little Auks and 59 Poms, while two morning hours off Whitburn produced 200+ Little Auks, 33 Pomarine Skuas and a single Long-tailed Skua ~ the close-of-play tallies reaching 313 for the auks and 62 for skuas…
Further to the north, there were 87 Little Auks and 36 Pomarine Skuas noted from Newbiggin-by-the-sea while the largest haul of Little Auks for the week was the 862 counted heading past the Farnes (along with a Grey Phalarope and an excellent 102 Poms). There's one final strong haul of the beefy skua to mention for the day too, 99 seen off Lothian's Hound Point while Filey birders also logged another Grey Phalarope.
Along with a few phalaropes and petrels, Dungeness was taking on the look of Egret Central this week ~ the two Cattle Egrets there becoming three on 15th with five, then seven Great White Egrets around the vast site through much of the week too.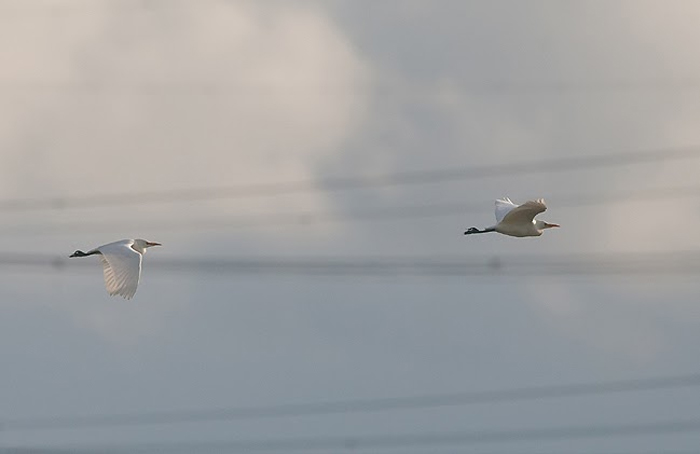 The only other Cattle Egret this week was the inevitable presence of the singleton at Burton Mere Wetlands RSPB (Cheshire) that remained all week (along with one of Cheshire's four Great White Egrets, with two more at Hale Marsh on 13th).
The week's tally of the latter species was around the 45 mark, from 23 counties, with three at Crossens Outer Marsh (Lancashire) on 18th, doubles in the Midlands still at Leicestershire's Rutland Water and Northamptonshire's Pitsford Reservoir on 12th and 13th, while two were also noted at Llangennech (Carmarthenshire) on 12th and at Abberton Reservoir (Essex) and Llanrhidian Marsh (Glamorgan) on 16th.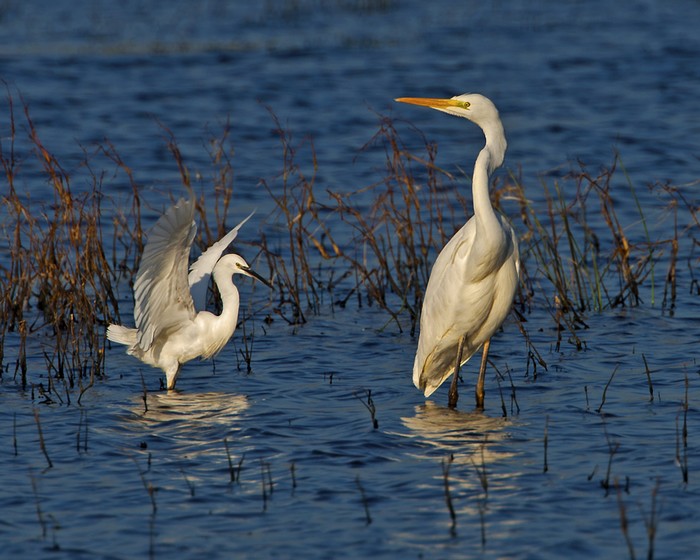 A Great White Egrets seen heading over St. Martin's (Scilly) on 14th was the first on the islands since October 2012 and this may well have been the bird seen the following day at Sancreed, on the Cornish mainland. Also of note were new inland birds at Corley (Warwickshire) and Rye Meads RSPB (Hertfordshire) on 15th while an Irish lone bird was noted at Cahore (Co. Wexford) on 12th-16th.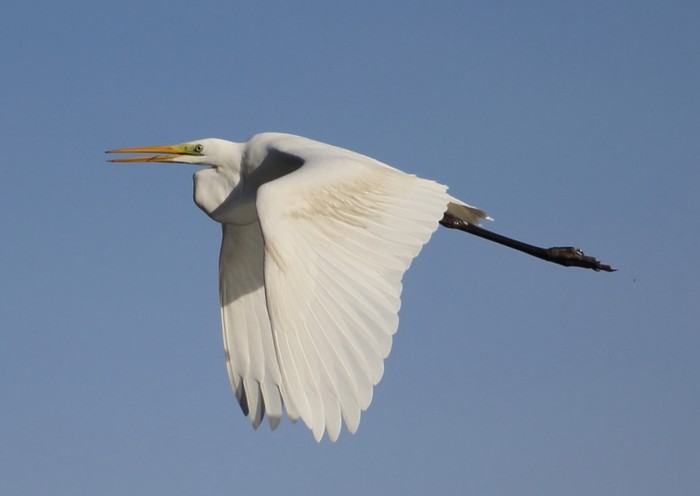 The triple bill of single Glossy Ibis noted through the past two or three weeks was, once again, the only news where this weekly regular is concerned ~ the weekend of 15th-16th bringing news of the continuing presence of birds at Wat Tyler CP (Essex), Frampton Marsh RSPB (Lincolnshire) and Tramore Backstrand (Co. Waterford).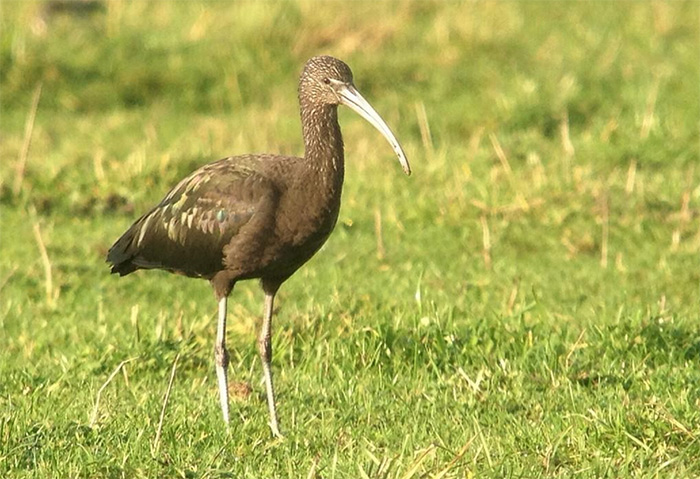 The long-returning adult Spoonbill was still at Cromane Point (Co. Kerry) on 12th-13th, with others recorded in West Sussex (two at Pagham Harbour on 14th and then four at Pilsey Island on 15th before heading over Farlington in neighbouring Hampshire later the same day), Suffolk (one at Gedgrave on 15th), Devon (four at Exmouth on 16th ~ hot foot from further along the south coast?), with 37 still in Poole Harbour, also on 15th.
The wandering Common Crane that pottered every which along the Norfolk coast at the end of the last review period gave it one final west-to-east flypast over the Cley NWT reserve on 12th. The only other birds noted this week were the Cambridgeshire birds around the Nene Washes ~ peaking at 12 at Eldernell on 15th ~ and two along the coast of Dorset, over Cogden Beach on 18th.
Finally, news of the (now) long-staying first-winter Purple Heron that remained at North Warren RSPB (Suffolk) to 18th, the same date seeing a new bird appear at Capel Gwyn (Anglesey).
Orkney's first Red-breasted Goose remained around the Loch of Harray, Tormiston, on the main island through to 16th, still enjoying the company of some 400 Greylag Geese on site.
In Lancashire, the adult Lesser Snow Goose was seen at Banks Marsh on 14th and Martin Mere WWT on 15th, while the same date saw a single white Snow seen at Muir of Ord (Highland), also on 15th and also in the company of the wild Greylags.
In Wexford, the wintering parvipes Lesser Canada Goose remained at the North Slob NNR throughout the week while further Branta action came in the form of two more Lesser Canada Geese which were an excellent find at Lynn Point (Norfolk), on a particularly grotty 16th around the East Anglia coast.
A Black Brant was still to be around the grazing meadows and winter wheat fields at Cley to 18th, with singles reported in Essex from Holland Haven on 13th-14th and Goldhanger on 15th, with one making it down to the Exe Estuary in Devon the same day, seen from Exmouth.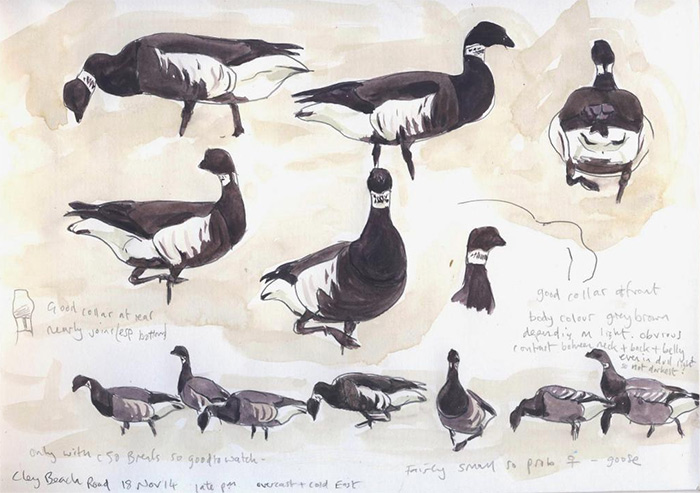 The 16th saw news of the continuing presence of the Brant at Kilnsea (East Yorkshire) and also at Shell Ness, Sheppey (Kent), with a new bird reported on the Isle of Wight, at Newtown Harbour NNR on the same day.
In north Wales, an eye-popping nine Surf Scoters were reported from Old Conwy on 15th ~ a total consisting of seven adult drakes and two ducks ~ with two drakes the following day at Pensarn. The week ended with five drakes and a first-winter bird again off Old Conwy on 18th.
A new adult female was seen heading past Dawlish Warren (Devon) on 12th, while last week's first-winter drake Surfie on the Essex and Suffolk border remained at Stutton and Wrabness to 18th. The second-winter drake remained in Norfolk's Holkham Bay to 18th (with a second reported there on 16th) and in Scotland, the adult drake lingered off Musselburgh (Lothian) to 15th. Ireland also hosted a singleton this week, a female again noted at Reenroe (Co. Kerry) on 16th.
The adult drake Ferruginous Duck that returned to Blashford Lakes HWT (Hampshire) last week was seen through to 16th while the female at Brogborough Lake (Bedfordshire) was present to 14th, before appearing again on 18th.
In Northamptonshire, the juvenile or female Ring-necked Duck was still on Wicksteed Park Lake, Kettering at the start of the week and on to 16th, while the first-winter drake was on Islay's Loch a'Phuill (Argyll & Bute) for much of the week. In Ireland, the drake found last week at Lough Skean, on the border of Sligo and Roscommon, was seen again on 15th with further drakes were on Galway's Lough Rea on 16th and Kerry's Lough Leane on 18th.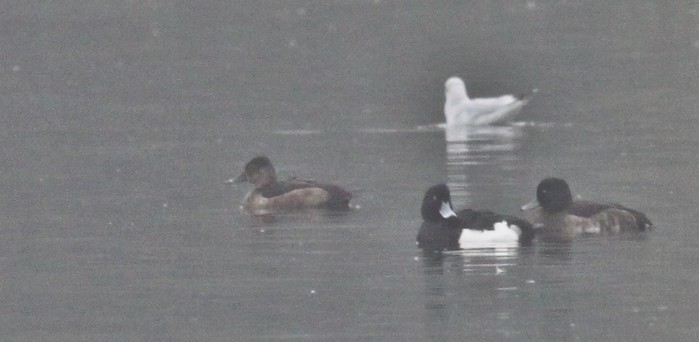 We've already touched upon the continuing presence of the drake Lesser Scaup on Kerry's Lough Gill, so its straight on to the Portugeuse nasal-saddled wintering drake on Llangorse Lake (Powys) to 14th while the second Welsh bird of the week was the regular drake at Cardiff Bay Wetlands (Glamorgan) up until 16th at least.
The long-staying female Blue-winged Teal-type remained in Northumberland, at Castle Island along the River Wansbeck through to 13th at least. This controversial bird has been present since early September and although nothing has been mentioned about it of late, there remains (for many) a question mark over the bird's purity.
The WWT reserves at Slimbridge and Caerlaverock continued to host drake Green-winged Teals at the start of the new review period, with the organisation's third representative present at Martin Mere (Lancashire) on 13th.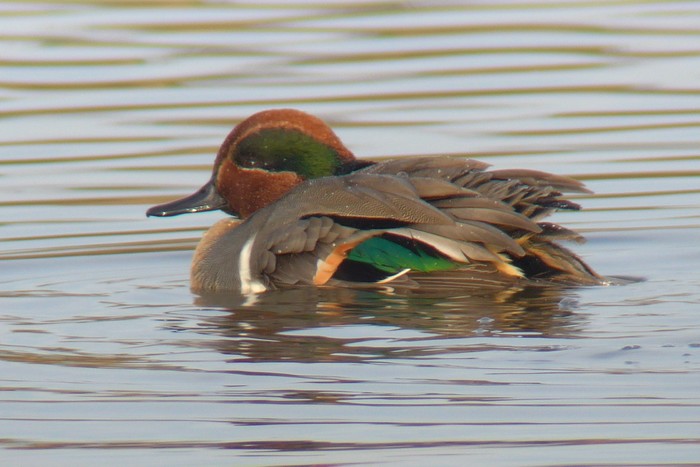 Those three birds were part of a weekly total of just seven birds ~ the other four were seen at Ynys-hir RSPB (Ceredigion), still present on 12th-15th, at Witcham (Cambridgeshire) on 14th, new on Foula (Shetland) on 14th and still on North Ronaldsay (Orkney) to 15th.
There wasn't much to report in terms of American Wigeons this week ~ the only birds noted to the end of the weekend were a new female found in north Cornwall, present on the Gannel Estuary from 15th-17th and the Irish drake still along the Drowes River, on the border of Leitrim and Donegal to 16th.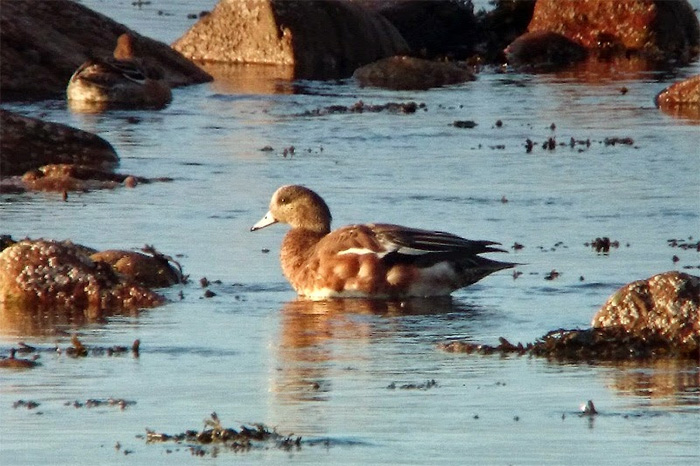 <!—Section Title -->
There was very little by way of shorbird news this week ~ the only two birds reported being the juvenile Lesser Yellowlegs that remained on the Hayle Estuary (Cornwall) and the Rogerstown Estuary (Co. Dublin) through to 15th and 16th respectively.
The popular roosting adult Franklin's Gull continued to make nightly appearances in the gull gatherings at Blashford Lakes HWT nightly from 13th-18th.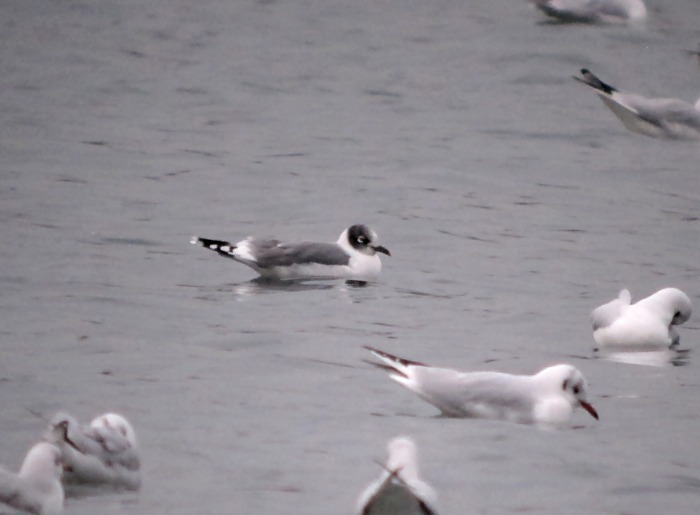 The showy first-winter Ring-billed Gull continued to perfom around the airfield on St. Mary's (Scilly) throughout the week and a new adult was found on Tresco on 16th.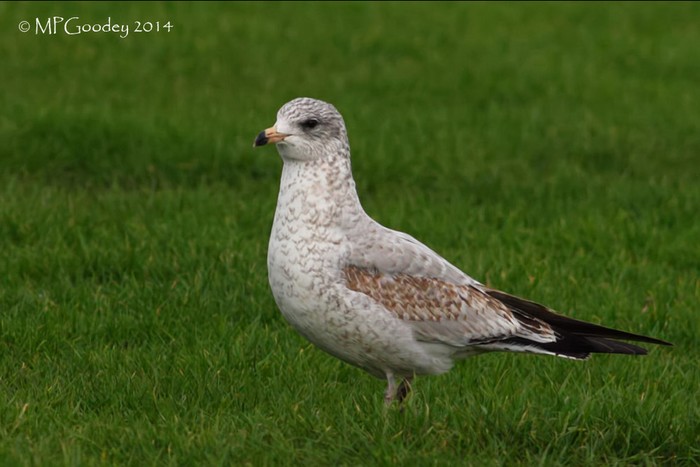 The recently-returned, wintering adults at Dingwall (Highland) and Walpole Lake, Gosport (Hampshire) showed to 14th and 15th at least, while the first appearance of Galway City's Nimmo's Pier in a review is a welcome event, two adult Ringos there from 16th, with the same date seeing an adult noted at Blackrock, in Cork City. The week concluded with the wintering adults noted as present at Portrush (Co. Antrim) and Crusietown Strand (Co. Louth) on 18th.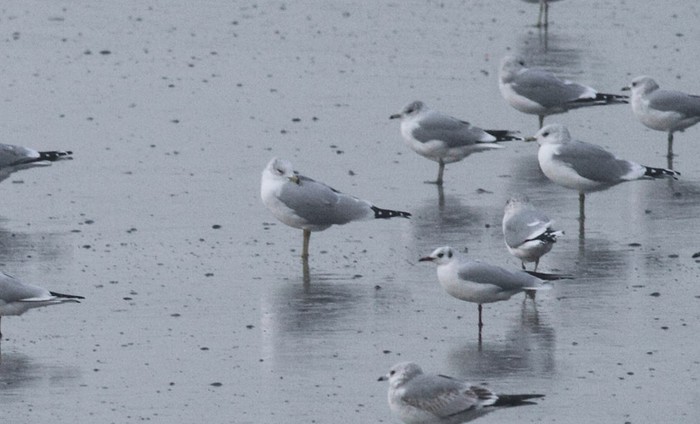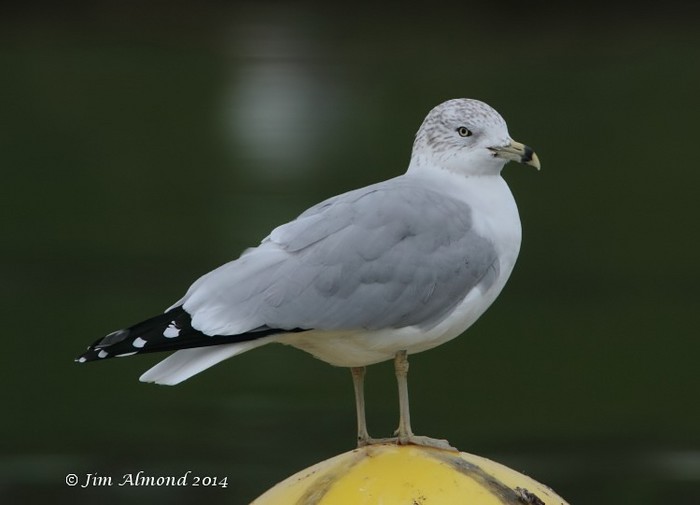 A minimum of ten or eleven Glaucous Gulls were logged across the last seven days, with half of them seen at the north end of Lewis, between Butt of Lewis and Loch Stiapabhat on 15th (after three juveniles were seen in the same area on 12th). One or two adults was seen at two sites in Suffolk during the week, at Landguard on 12th and Ness Point, Lowestoft on 15th, while others were noted at Lossiemouth (Moray) and Bere Alston (Devon), both on 12th, on Foula on 14th, Sligo on 17th and Highland on 18th.
Iceland Gulls again "out-performed" their big boy cousins, with gullers at Lossiemouth scoring four of the week's 12 or so birds on 15th (comprising an adult and three juveniles). The week started with two noted between Butt of Lewis and Loch Stiapabhat on Lewis, and two singles were seen on Shetland on 15th, with another on 17th. England's three birds were reported from the Barnes WWT Centre in London on 13th, at Sandbach Flashes (Cheshire) on 14th and still near Lincoln on 14th-15th.
After a on-night stand at West Yorkshire's Wintersett Reservoir last week, the presumed adult Azorean Yellow-legged Gull made its way to Fairburn Ings this week, seen in the roost there on 15th.
A couple of late showing Black Kites were found at the start of the week this week ~ the first was seen at Welsh Hook (Pembrokeshire) on 12th (where one was noted in the spring of 2012) with the second following the next day, seen at Goxhill Haven (Lincolnshire).
A word of warning followed soon afterwards ~ a jesse-wearing youngster had recently escaped from a collection in Northamptonshire, so that's something to bear in mind if you happen upon one in the next few days…
In Clyde, a juvenile White-tailed Eagle first seen at Elvanfoot at the end of October was seen again on 14th, 16th and 18th ~ its precise origins remain unknown.
The number of Rough-legged Buzzards reported this week fell away a little as wintering birds stuck it out in favoured locations as the transient visitors made their collective ways elsewhere.
Some 25 birds were reported through the week, with the northeast of England still leading the way, with at least nine birds around the region. Two lingered at Sleddale, near Guisborough at the start of the week, with new twos appearing at Timble (North Yorkshire) on 13th and the Harthope Valley (Northumberland) on the same date, the latter in place to 15th at least.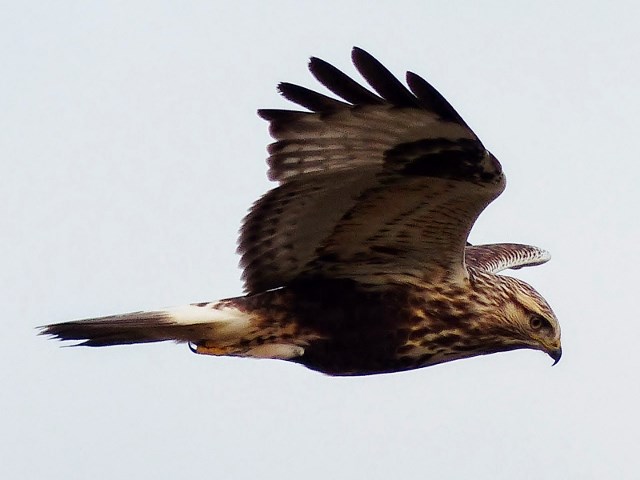 Single Rough-legs were also logged in Lincolnshire (at Frampton Marsh RSPB), South Yorkshire (still at Broomhead Moor, with two on 18th) and in East Yorkshire (the tame youngster residing near Bridlington).
At least six Rough-legged Buzzards were seen in Norfolk, including two still around Breydon Water on 15th-18th, with at least two still around the west end of Holkham and the Burnham Overy area throughout the weekend, with loners reported from Halvergate Marshes on 12th and west of Morston on 13th. In the southeast, the juvenile at Hay Street (Hertfordshire) showed daily as did the popular bird at Eastbourne (East Sussex).
The last six of the bunch were all in Scotland ~ two in the Lammermuir Hills (Lothian) were seen to 15th at least, one was over Norwick, Unst (Shetland) on 13th with a second Shetland bird seen near Sumburgh on 17th. Another Roughie was noted again in Dumfries & Galloway, at Mennock Pass, on 16th-17th and, rounding things off, a bird on Islay, at Port Charlotte on 18th.
Old, New, Borrowed and Blue…
Bumped from top spot this week is Desert Wheatear, the week's first offering was the tame female at Gorleston-on-Sea (Norfolk) present to 14th ~ presumably it could only deal with a daily menu of mealworms for so long…
..after the old, we're straight in to the new, in the shape of the fifth Desert Wheatear of the autumn, a male discovered at Montrose (Angus) on 16th ~ a more-than-significant find for the county, being the first modern day occurrence, the other noted almost 127 years ago, seen in late December 1887 near Arbroath. Fortunately it lingered to 18th too.
Also fresh in this week was the first-winter male Siberian Stonechat was found by the academy buildings of Sunderland AFC on 12th ~ though quite which brings more pleasure, a perky rare chat or the headless-chicken performances of Messers Mannone, Brown & Co., is one for further debate ~ at least the bird stuck it out to 18th. Down on the Isle of Wight, last week's new arrival remained at Seaview to 14th.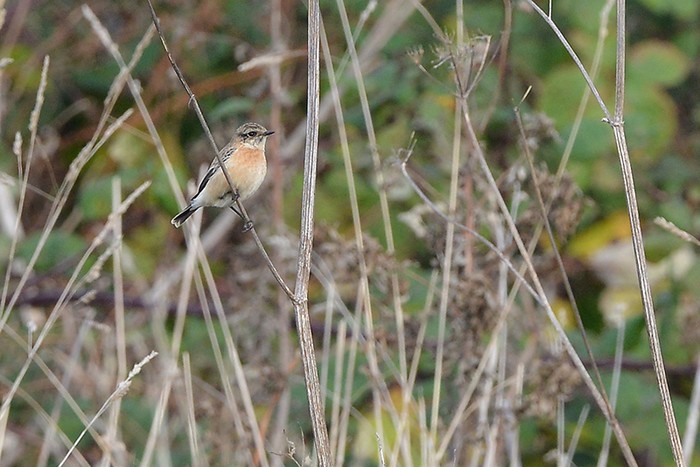 Dusky Warblers also started to come in to their own this week, at least four birds noted with the first being a sometimes elusive bird which popped up on Portland on 12th (where it stayed to 16th) while Suffolk managed a two-bird weekend ~ the first was found at Hollesley Bay RSPB on 15th and was followed the next day by one at Landguard NR (both of which were still present on 18th). The final individual of the "tac"-ing quartet was found at Kelynack (Cornwall) on 16th (and which was also still in place to 18th).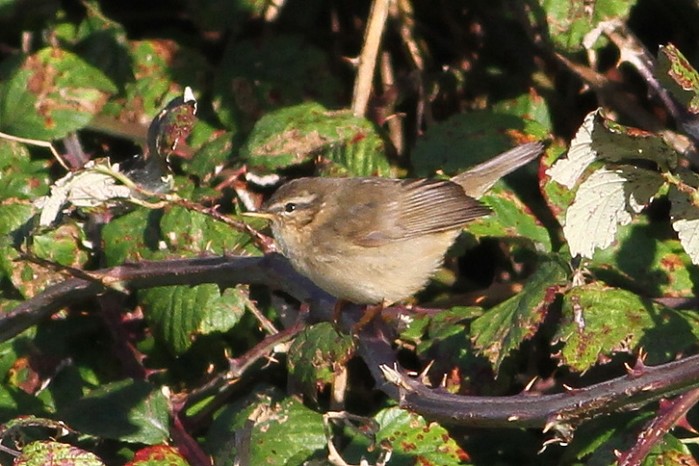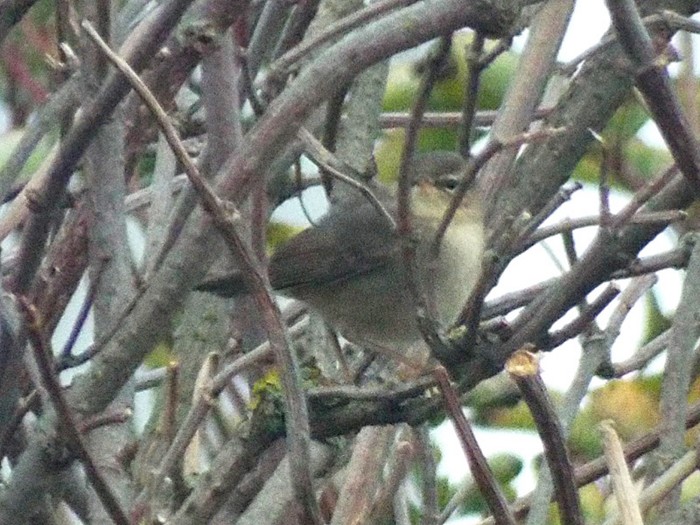 What else was new this week?
….well, a Pallas's Warbler in Northumberland, at Whitley Bay on 15th was certainly fresh in, as was the juvenile Common Rosefinch at the Machrihanish Seabird Observatory (Argyll & Bute) on 12th and the Serins noted on 15th at Sandy Point (Hampshire) and Pagham Harbour (West Sussex), on 16th over Bockhill (Kent) and 18th, at Polgigga (Cornwall).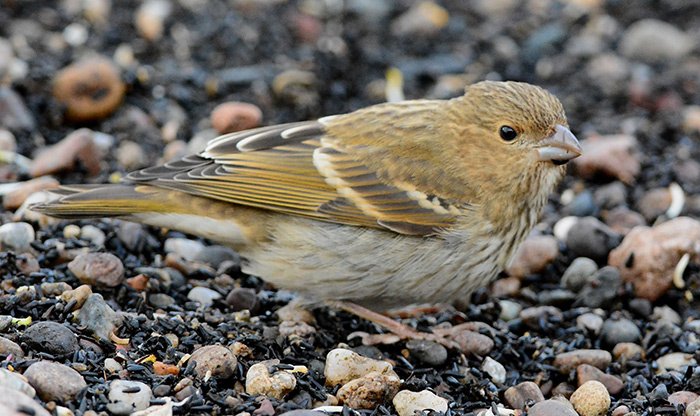 Much the same could be said ~ in terms of new arrival status ~ of the Little Bunting that was discovered on Foula (Shetland) on 14th, the Shetland Olive-backed Pipit at Toab, Mainland on 17th and what may prove to be our final Red-breasted Flycatcher of the year was noted on Skokhom (Pembrokeshire) on 13th.
Borrowed from last week is Cambridgeshire Richard's Pipit remained at Fordham to 16th at least, occasionally showing rather nicely in to the bargain. Two south bound in-flight only Dix were reported in Norfolk early in the week, at Breydon Water on 12th and over the cliffs at Hunstanton on 13th, with singles further north seen in North Yorkshire, at Cloughton on 15th-17th and in Northumberland, at Newton Point, on 16th. The week ended with two further new arrivals, at Seasalter (Kent) and Wilsic (South Yorkshire), both noted on 18th.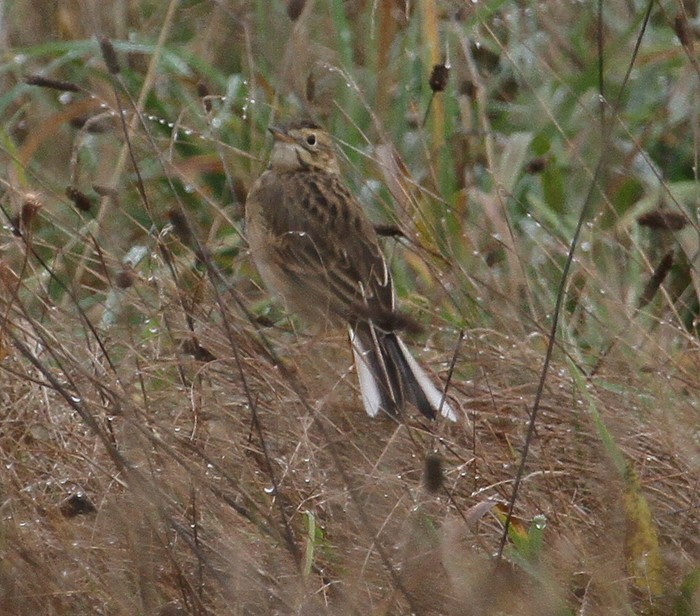 Yellow-browed Warblers managed to produce a week-tally of 27 birds in all ~ with 18 of those rooted in southwest England, including eight in Cornwall, with a minimum five for Scilly (all seen on 16th) and three for Devon (including another one in Clennon Valley, Paignton) and two in Dorset.
Singles were seen in Kent, then East Yorkshire, County Durham and Northumberland, with Scotland seeing arrivals at Forvie (Aberdeenshire) and on the Outer Hebrides, at Stornoway, on Lewis on 15th and then, back in the northeast, at Nigg Bay, on the outskirts of Aberdeen on 16th-17th. Most notable though, the Black Country bird in Wolverhampton on 18th.
And so, finally, to….
…Red-flanked Bluetail (phew!) and news that the bird found on the 1st of the month at Geosetter, on the Shetland Mainland, was still in place on 17th ~ seldom do autumn birds stay this long and none of the islands' 32 accepted birds to date (not including those found in 2014 of course) have managed anything longer than four day stays so far ~ making this late arrival all the more interesting.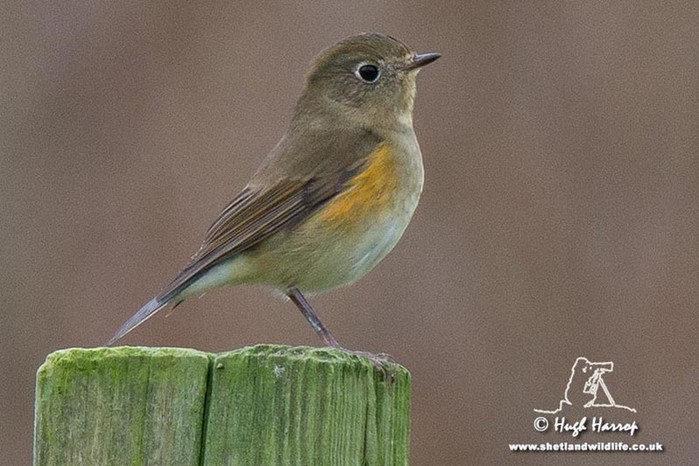 Actually, aside from the wintering bird that spent 35 days or so on the border of Gloucestershire and Wiltshire in February and March this year, there have been just three other double-digit lingerers ~ 10 days for both the famous Winspit Bluetail in October and November 1993 and one in Devon, at Berry Head in October 2005 (though it was missing for several of those…) and an 11 day stopover in East Yorkshire, at Spurn, in October 2009. The current Shetland birds beats all previous autumn records ~ wonder how many more it'll stick on the clock?
Sub-section Shrike…!
Always deserving of a place far from the madding crowd are the eternally ace Butcher Birds and this week saw the first-winter Red-backed Shrike sticking it out in west Cornwall, present at Tregeseal to 16th at least.
Great Grey Shrikes meanwhile managed a total of at least 23 birds through the week, recorded from 17 counties. Four birds were recorded in Wales, including two trapped and ringed at Brechfa (Carmarthenshire) on 14th @ with others in the Principality at Glyndyfrdwy (Denbighshire) on 12th and Llanwrst (Conwy) on 14th whilst two singles each were noted in Gloucestershire, Hampshire, Norfolk, Lancashire and Shetland.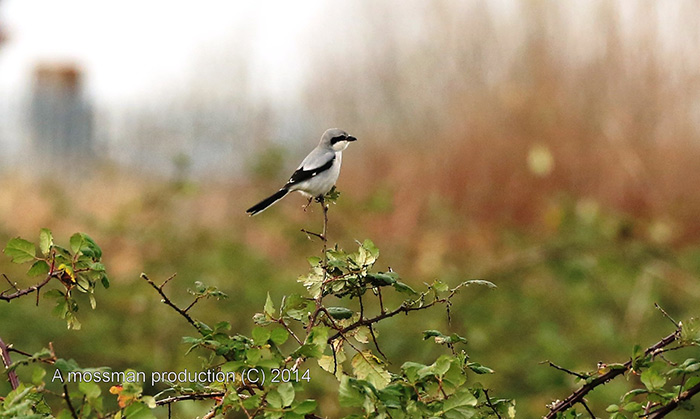 Further lone birds were reported from West and East Sussex on the south coast, through Surrey, Berkshire and Bedfordshire in the Home Counties, Worcestershire in the Midlands and Lincolnshire and East Yorkshire on the east side of the country.
Last but not least…
Nearly there now, the home stretch beckons and first up in the final section is the Wryneck that continued its November sojourn on Skokholm to 12th at least (having appeared there on October 22nd).
Following on from an unconfirmed report of a Hoopoe in Cleveland on 12th, an southwestern duo were noted at both Dawlish Warren NNR and Portland on 15th with a third for the region, another brief one too, was noted at Connor Downs (Cornwall) on 16th. The Portland bird appeared again on 17th-18th with the Dawlish individual popping up again on 18th ~ and there was news too of the week's fourth ~ on private land in Dover (Kent) ~ from 12th-17th at least.
The only juvenile Rose-coloured Starling of the week remained in gardens at St. Buryan (Cornwall) to 12th (tho' there was an unconfirmed report of one in Somerset as well) while there were around 20 reports of Waxwings, which included ten in Elgin (Moray) on 18th, four on Mainland Shetland, at Lerwick on 13th, with another quartet on 15th in Montrose (Angus). A couple of unconfirmed reports came from North Yorkshire and South Yorkshire (15 at Northallerton and 30+ in Sheffield) but, basically, they remained exceptionally thin on the ground. Finally, to draw things to a conclusion, a report of two Penduline Tits from the RSPB reserve at Strumpshaw, in east Norfolk on 18th.
The week ahead
There we go then, a week with a couple of exciting surprises within as the transition to winter becomes ever-more apparent.
Is there still life in the old November dog yet? A spin through the archives suggests so…November 19th being awash with untold true megas…not least the Worth Matravers Wallcreeper that arrived on this date in 1969, spending the next 151 days on site…
Being realistic, it seems as though that particularly prized and much-sought after species is to elude us for goodness knows how much longer, so we should again perhaps think of more of the same in the week ahead as east and southeast winds find there way to us off an increasingly large high pressure running off through Europe.
There should be one or two more Hume's Yellow-browed Warblers, perhaps a few Pallas's or Dusky Warblers maybe, while there still remains the chance for one last Desert Wheatear or Pallid Swift.
…and we could just sneak in one last eastern star? We're still waiting for a Brown Shrike for instance…and it feels as though a late Blyth's Pipit wouldn't be a miss given the weather that's sitting across the east coast for the first two or three days of the new review period (typically, post this being written, the must-be-a Blyth's bird in Pembrokeshire surfaced ~ found at St. David's Head on 18th, a potential second record for Wales and a county first) …and neither would maybe a Black-throated Thrush (or better)…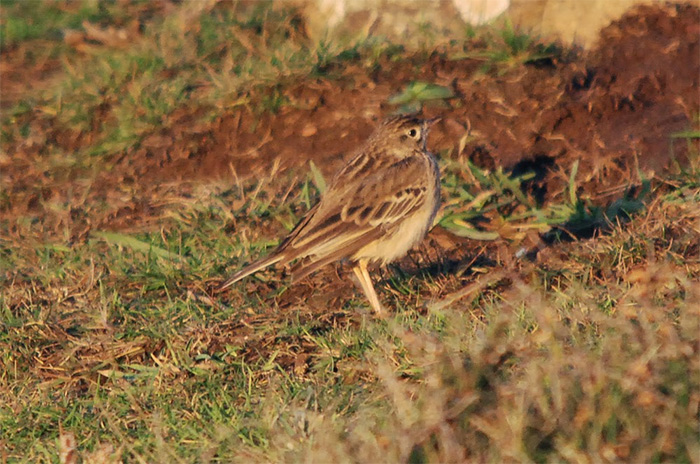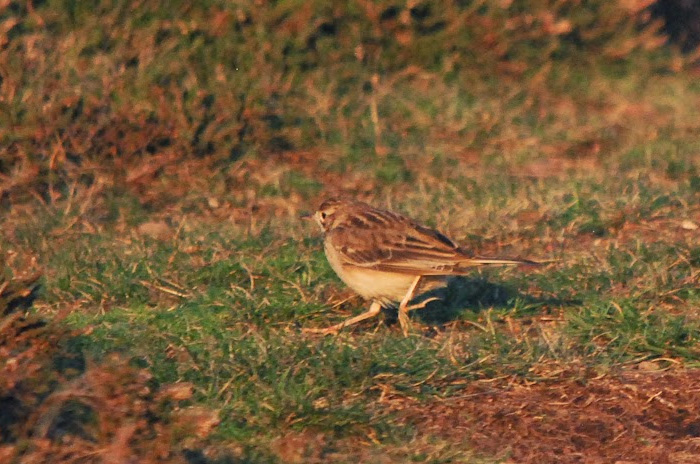 More on this Blyth's next week
Or what about a repeat of the devalued, but still ultra-rare Barrow's Goldeneye? The Novembers of 2005 through to '07 produced records (from Scotland and the north of Ireland) and a seven year gap is now worthy of Mega status once more…
Mark Golley
19 Nov 2014


Special thanks this week to Alan Hayden for allowing us to use his watercolour, painted soon after he discovered the Cowards Marsh Little Bustard in the late 80's. Thanks also to Hugh Harrop for more video of the cheeky Grey-cheeked Thrush in Rerwick.
Thanks also to the rest of our contributors for their photos, videos and sound files.
Mike Morse, James Lowen, Stuart Elsom, John Rowe, Trevor Guy, Peter Moore, Gary Thoburn, Peter Triston, Mike Langman, Matthew Deans, Erich Hediger, Martin Casemore, Dorian Mason, Paul Scoullar, Simon Kidner, Toby Collett, James McCallum, Drew Lyness, Sam Northwod, Dermt Breen, Adam Hartley, Martin Goodey, Paul Kelly, Jim Almond, Alan Whitehead, Gus Guthrie, Peter Moore, Martin Cade and Portland Bird Observatory, Jim Swalwell, Eddie Mcguire, Paul Lawrence, Brian Henderson, Phil Boardman, Ron Hindhaugh, Mike Young-Powell.
Contributors websites Check out our contributors website for more great photos and news