Weekly round-up: 05 - 11 Nov 2014
The week at a glance
Kerry lands the fourth American Coot for the Republic of Ireland
The third Shetland Grey-cheeked Thrush of the autumn found at Rerwick
There's a triple helping of Desert Wheatears along the east and southeast coast
Britain's fourth-ever November Citrine Wagtail drops on to the beaches of East Yorkshire
The Shetland Red-flanked Bluetail holds station to Bonfire Night and beyond
…with another new Mainland Bluetail on offer as well!
…and the north wind (finally) did blow ~ and thousands of Little Auks delight folk all the way along the east coast
Yes, the long awaited late autumn northerlies brought a distinct chill to North Sea coasts as the new review week began, greyish skies and strong, chilly winds blowing allsorts of loveliness down towards seawatchers dotted along the east coast.
…and once that front had pushed its way past us, a pulse of southerly air took in behind it and that too began to produce further entertaining and exciting birds, a pattern that continued through to the end of the week, when the winds took on more of a southeasterly bent.
Generally it was a fairly dry, save for the downpours that headed from west to east over parts of the weekend. Get caught in some of that and you'd know about it…
American Coot
Despite the rather extreme rarity value that American Coot still holds, the overall appearance ~ a bird certainly lacking in the pizzazz stakes ~ and number of extreme long-stayers ~ there've been plenty of chances at this species now ~ means that there'll be limited interest as and when they appear on our side of the Atlantic.
…and the first day of the new review week saw the appearance of Ireland's fourth American Coot ~ on Lough Gill, not to far from Castlegregory in County Kerry, a pleasing county first for those involved and a find that really shouldn't be sniffed at, it is, after all, a proper mega….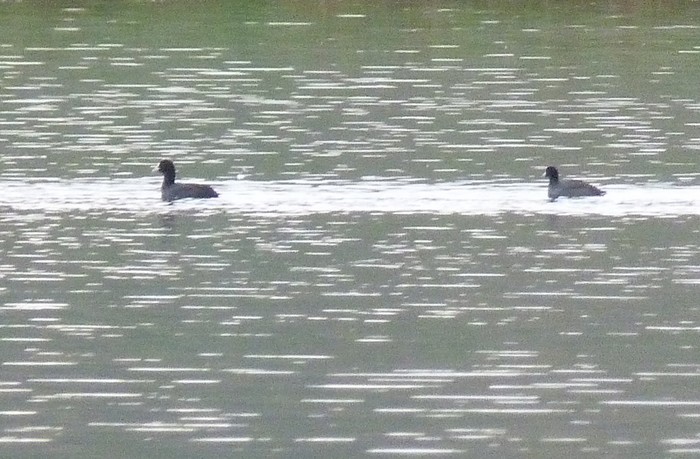 This is, of course, the second of the year where this long-haul Fulica is concerned ~ the popular bird that spent four months at Loch Flemington, in Highland between early January and mid-April drew a number of birders to a beautiful part of the world ~ many of those who headed north not having taken the plunge with a couple of Ireland's most recent records (for all sorts of reasons)…
Those two recent Republic rares were noted in Mayo, on Termoncarragh Lake, between November 2010 and April 2011, with Galway securing the county's first in November 2012, when another long-staying bird was found at Murlach, Ballyconnelly (lingering, as some seem to do, through to April).
Ireland's first American Coot was the Western Palearctic's first American Coot ~ spending a couple of months at Ballycotton (Co. Cork) ~ from February 7th to April 7th of 1981 on site.
Britain's first was the heavily twitched bird found in (have a guess….) April 1996 at Stodmarsh, with the second British record following in (ah, go on, take another punt…), April 1999, at South Walney NR (Cumbria) ~ as mentioned previously here, that bird arrived on a day when many 100's of birders were enjoying the Swithland Crag Martin.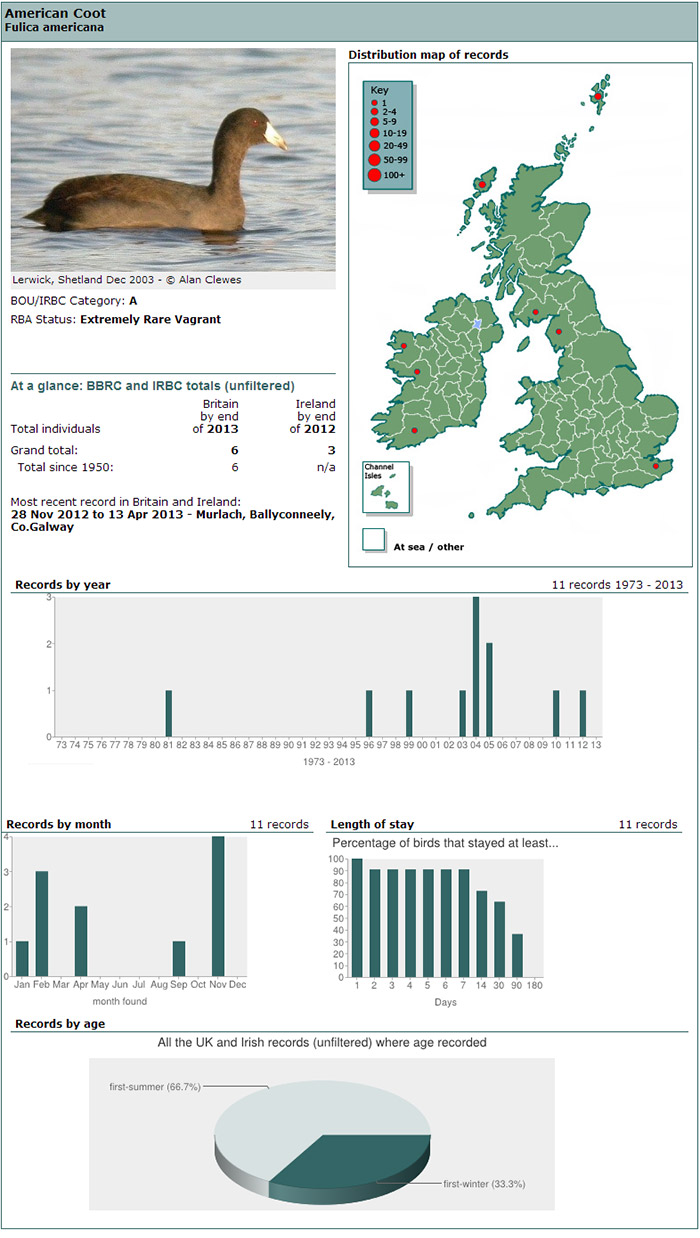 All subsequent British records have come from Scotland ~ on Mainland Shetland in the winters of 2003/'04, returning again the following year for the winter of 2004/'05. What was assumed to be the same bird was back in the autumn of 2005, but with an altogether shorter stay of eight days.
Two further American Coots were seen in the first part of 2004, one spending 74 days on South Uist ~ leaving the site in….I think you an work that out now…with the second of the early days of the year appearing in Dumfries & Galloway, at Castle Loch, Lochmaben from February 10th-17th. The appearance of an American Coot on Benbecula's Coot Loch in February 2005 was rather fun, and that bird stuck around to the first week of April too.
We'll find out soon enough if this week's outstanding find (some would say that it's fair play to anyone who looks at a Coot in the first place) decides to spend a winter on Kerry waters…still present to 11th, there's money on the table already that this will feature for months to come…
Grey-cheeked Thrush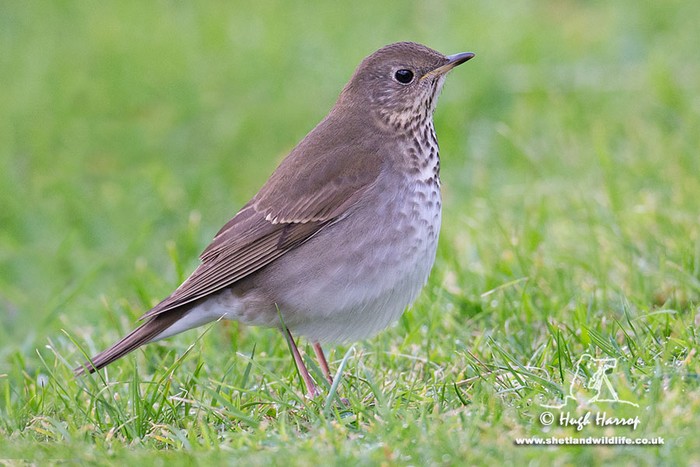 Whilst 2014 may not have been an absolute classic where vagrant passerines from the Nearctic are concerned, one or two species have fared pretty well, and foremost amongst that small number of select species is Grey-cheeked Thrush.
This week saw the appearance of the autumn's fifth individual ~ duly chalking another one up for Shetland in the process ~ found on Mainland, at Rerwick on 8th.
This superb find was made by a typically sharp-eyed Shetland resident, Teri Miller, during the first part of the morning, hopping around the base of her rose bushes in her garden. Knowing it was definitely different, but not knowing quite what it was that had taken up temporary residence, she messaged local birder (and rare-snapper supreme) Hugh Harrop who duly went along to check it out…
…and, sure enough, Teri's hunch that this was indeed something altogether different was soon confirmed ~ Grey-cheeked Thrush it was. This was yet another individual that couldn't help itself from performing superbly well for all those taking a trip to Rerwick to enjoy Mainland Shetland's second record of this classic late autumn long-haul vagrant ~ as noted recently, the other was a two-day bird at Voe in October 1982.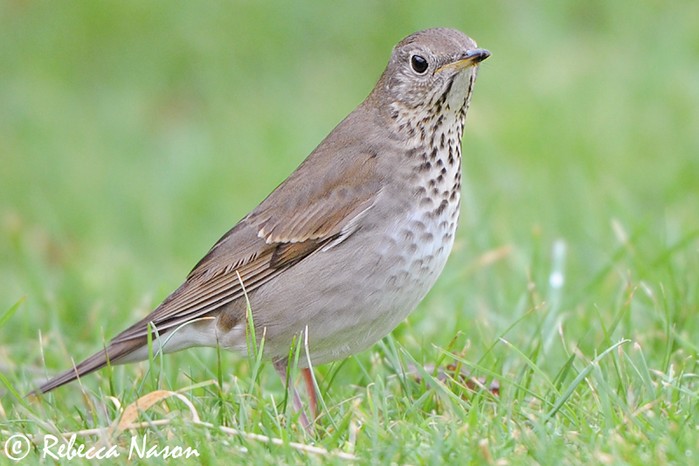 Of those five records so far this autumn, three have been found around Shetland ~ the first was on Fair Isle on October 24th-25th, with the second being located on Fetlar on October 29th ahead of the Rerwick bird this week, while the other two records have also come from Scottish islands ~ the Barra bird of October 23rd arriving just a few hours ahead of the North Ronaldsay post-Black-billed Cuckoo individual….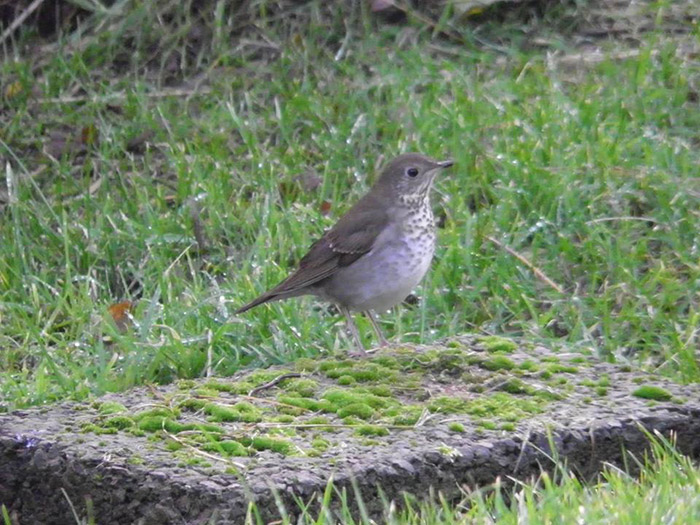 This recent trio of Shetland birds, plus last year's Fair Isle bird, has eased the islands in to double figures for Grey-cheeked Thrush records ~ but they still trail the 27+ accepted records for Scilly.
The impressive quintet of the School of 2014 equals the five-bird haul of 1976 (four birds arriving between the 14th and 16th of October, three for Scilly and one for Cornwall, with a fourth Scilly bird appearing on 21st) ~ but still lag some way behind the already-mentioned-here-recently dozen records of 1986…
Teri's cracking garden bird remained to 11th and is only the fourth November Grey-cheeked Thrush record ~ the others being a moribund first-winter male at Lossiemouth (Moray) on November 26th 1965, the remarkable Norfolk record of a trapped and ringed bird in the Thetford Forest on November 10th 2004 and equally remarkable inland find at Northaw Great Wood (Hertfordshire) from November 13th-26th 2005.
Desert Wheatears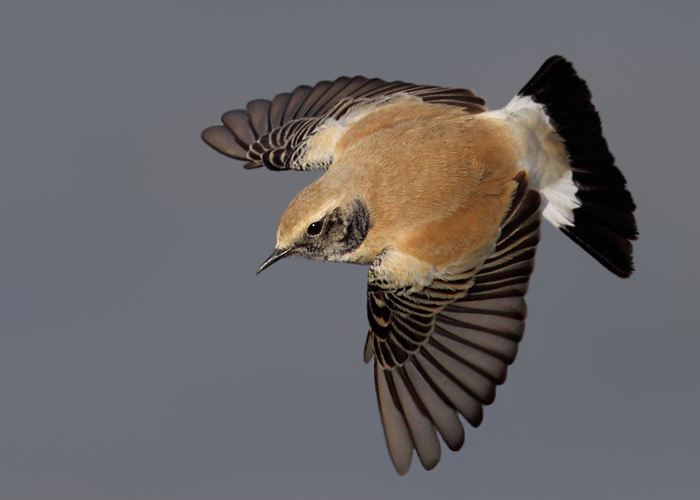 They were a long time comin' but, as predicted, we're finally seeing a small number of the ever-welcome Desert Wheatear making there way across the seas to make landfall on our shores.
The first of 2014 was found just a few days ago, on Skomer (on October 28th) and after a hefty northerly had done its business, the calmer, more southerly airflow of 6th deposited two super first-winter males on to the respective coastlines of Suffolk and Kent, with a young female appearing in east Norfolk soon afterwards.
Up until the end of 2013, there had been 145 accepted records of this cracking wheatear, and this week's young bird in Lowestoft was only the fourth-ever for Suffolk and the first there for six years ~ the most recent record to date came from Easton Bavents from November 4th-10th 2008.
Remarkably, the same site also hosted Suffolk's second Desert Wheatear, present there from November 29th to December 1990. The first for the county was found at Landguard on October 20th 1987 and having spent four days on site, it promptly relocated Prawle Point (Devon) just two days after leaving East Anglia.
The second Dessie of 6th was found in southeastern England, at Reculver (Kent), a county that has fared rather better than Suffolk where records are concerned ~ this week's new individual will be the 15th in all, since the first was found at St. Margaret's in (surprisingly) April 1989.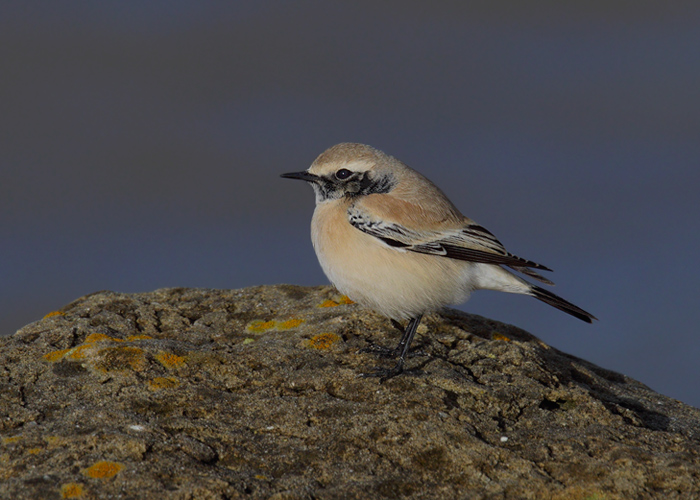 Five were found during the 1990's ~ one was seen in late November 1991, with two in the autumns of both 1997 and 1998 (each year seeing one noted at Reculver, the bird in 1998 being another spring bird, seen at the end of March).
Reculver's third Desert Wheatear was found in November 2003 (another year with two in the county) and a further six (excluding the newbie from 2014) have appeared in the past decade, five of them coming in November.
Swinging back to East Anglia, the week's third Desert Wheatear was located not a million miles away from the bird in Suffolk ~ the female found at Gorleston-on-Sea, in the far eastern corner of Norfolk, on 8th was separated from the Lowestoft male by less than 10 miles and a simple county boundary.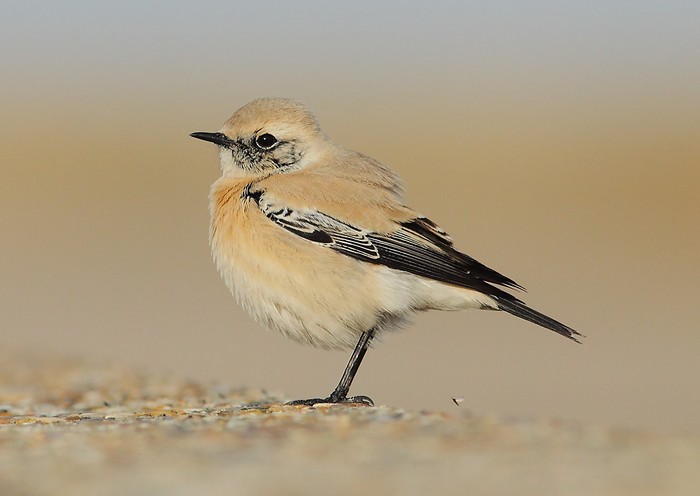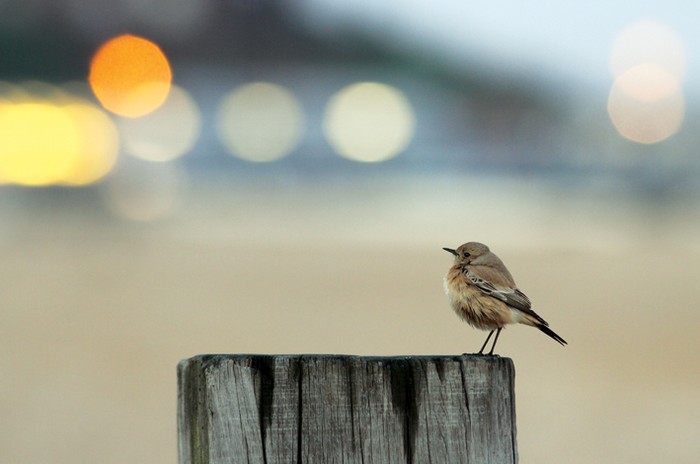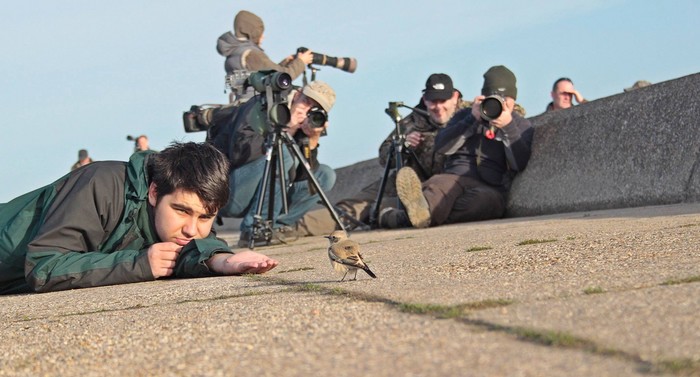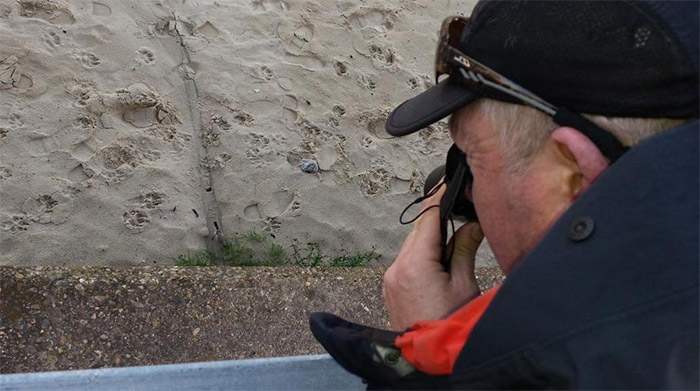 Compared to Suffolk, Norfolk has a particularly good track record where this species is concerned ~ this week's female is the 17th county record to date but the first since 2011 and is only the third in the past decade.
Predicting a November Desert Wheatear is the birding crystal ball equivalent of brandishing a loaded shotgun in to a barrel of our fishy friends so likely are they to appear here ~ of those 145 acceptances to date, a monster 84 have been seen in Month #11 of the year, including the recent big November of 2011, when 12 birds were found between the 3rd and 25th.
Funnily enough, having said all that, you don't have to go back too far to find a blank year ~ 2009 seeing a big, fat zero chalked up and before that, the next "nil points" was way back in 1992.
In terms of stickability, this week's trio were recorded as follows ~ the Reculver and Lowestoft males both lingered to 9th (the three-day rule in full swing) while the Gorleston female remained to 11th.
Citrine Wagtail
Making a headline debut this week is the super discovery of a first-winter Citrine Wagtail(-type) on the beach at South Landing, Flamborough Head (East Yorkshire) on 5th, a bird which remained, off and on, to 9th.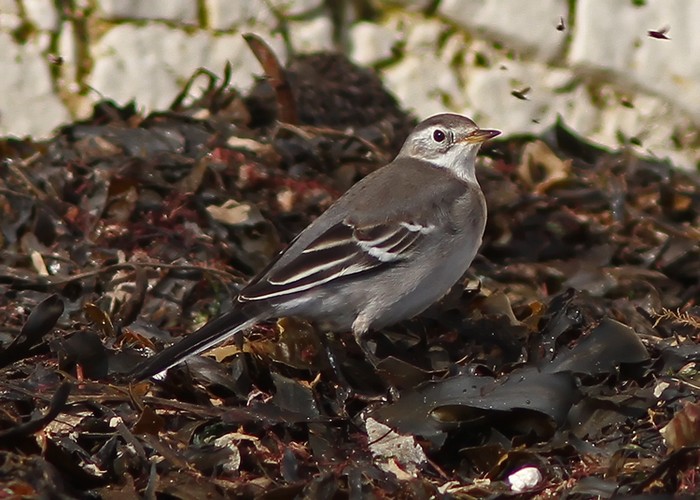 With 328 on the books up until the end of 2013, there's no real surprise that this subtle, always-classy rarity hasn't figured here before but a rare November record is certainly worth noting away from the madding crowd of general passerine malarkey…
This week's bird was a particularly striking individual ~ with an atypical orange-hued bill base (in a possible nod to some sort of flava influence or, as a rather more sexy alternative, of this bird being an extreme far eastern Citrine) and different sounding call note (with expert analysis still leaning towards citreola) there was much to enjoy in the discussion of this cracker.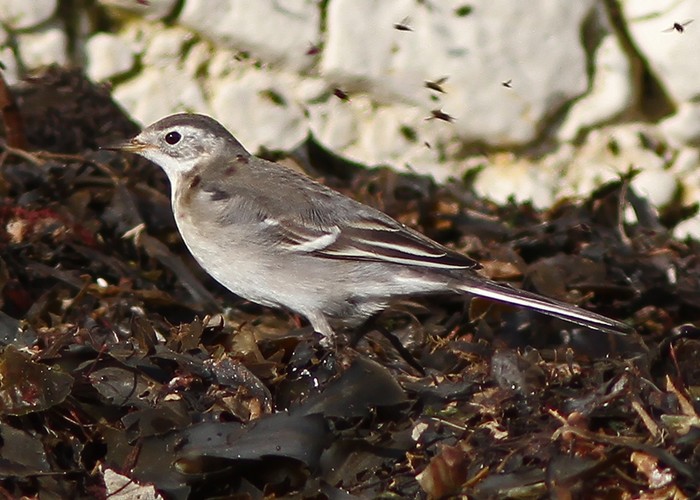 To date there have been six Citrine Wagtails in East Yorkshire, four at Spurn and two at Flamborough, so this week's seventh edges the latter site one step closer to level pegging. Prior to this week's bird, Flamborough's other records were of a first-winter between September 27th-30th 2002 and a first-summer male on May 19th-20th 2012.
November Citrines are a desperately thin on the ground ~ Norfolk boasts two of just three, seen at Welney WWT on November 16th-17th 1980 and at Holme on November 14th 2012. The only one in the month was a four day bird inland at Pitsford Reservoir (Northamptonshire) in November 1996.
Red-flanked Bluetail
The temptation to hoof this particular species out of the top of the charts this week wasn't overly strong ~ what's not to love about a Red-flanked Bluetail?
Keeping it short and sweet, so we can move swiftly on towards Alcidesville, Shetland's fourth of the autumn remained on the Mainland, at Geosetter to 10th ~ will it be the last of the year, or is there still a little cerulean tailed surprise in store for someone, somewhere?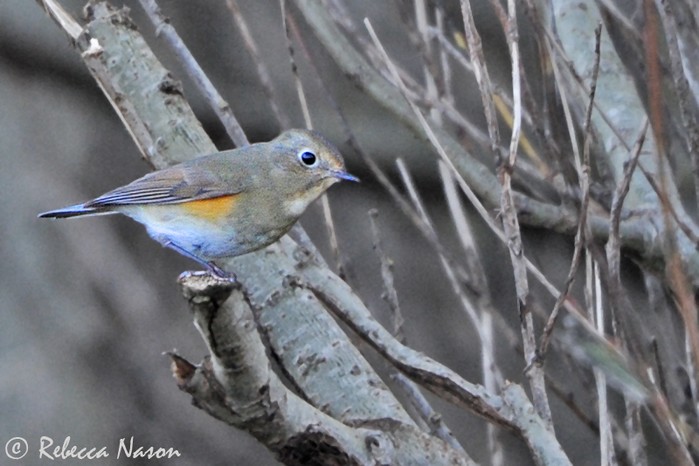 …well, the question was answered in the affirmative almost as soon as the metaphorical ink on the words above had dried on the metaphorical page…Mainland Shetland securing yet another Bluetail ~ found on the 8th at Voe ~ taking the island total for the autumn to five (discovery dates now spread between September 19th to November 8th) and the sixth on Shetland this year (after the relocating spring bird on Far Isle).
Little Auks
Having had untold late nights sponsored by Ibuprofen throughout the autumn months as the totting up of things such as Yellow-browed Warblers were all-consuming affairs, the approach towards the ever-fabulous Little Auks will be thorough if a little more restrained (I do, remarkably, have a life…).
The overnight swift-switch of winds from southwest to brisk northerly, through the wee small hours of November 4th into 5th was always going to be good news for east coast seawatchers and the prospect of some tidy number of Little Auks seemed almost assured…
…and that was exactly the case as the strong winds blowing right over the top of the Norwegian coast swept a mini-tidal wave of this oh-so-cute black and white waif cascading down parts of the North Sea with, as is so often the case, the coastal sites of Northumberland, County Durham and East Yorkshire being extremely productive across not just the very cold and breezy 5th, but the slightly more relaxed 6th too.
The big numbers, the four figure numbers were highest on the Farnes, where a 2921 were counted heading north there on 5th ~ 1500 of them logged by 10 am. Other counts of note from the Northumberland coast on the same day were 507 off St. Mary's Island and 365 from Seaton Sluice. The next day saw 1200 bundle past North Blyth by 1130 am, while 316 flew past Newbiggin in a single morning hour, with the end-of-day haul numbering 832. Birders at Seaton Sluice logged a further 228 birds, with 100 in just three-quarters of an hour at Hadston.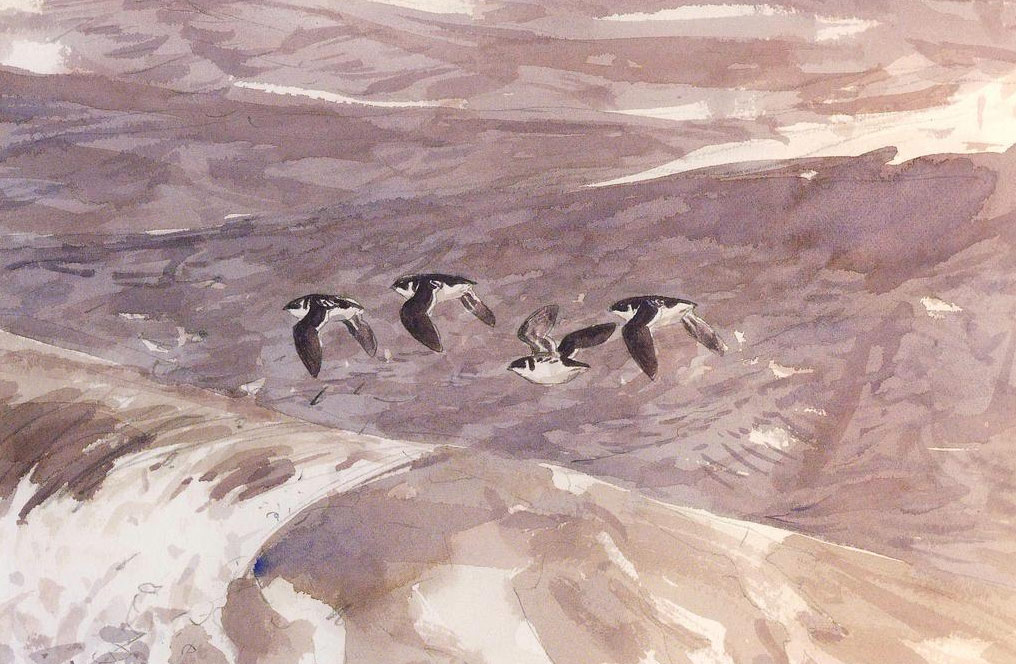 Some 980 Little Auks were counted from Flamborough Head (East Yorkshire) on 5th, with 720 there on the morning of 6th (500 of those within the first 90 minutes or so of daylight). Spurn seawatchers saw 334 pass by their patch on 5th while, further north, 128 and 247 were the respective scores for Filey and Kettlestone (North Yorkshire).
In County Durham, at Whitburn, a total of 1376 was posted for 5th, with a further 1000 heading north by 11am the following morning (with the day total ending up on 1162). Cleveland's highest count was way down on the counties either side of them, 60 or so off Hartlepool Headland on 5th, while at the south end of the northeast region, a decent count of 92 birds from Gibraltar Point was Lincolnshire's best offering of 5th. The morning of 6th saw a few still hurrying along the coast, including 62 birds noted from Barton-upon-Humber.
Over the Wash and along the north Norfolk coast ~ where numbers fell away again ~ it was the 73 birds noted off Sheringham that represented the highest total on what was a brilliant seawatching day in the county. At least 45 were seen during the afternoon off Cley, with a further 40 there during the first couple of hours of a cold, crisp 6th.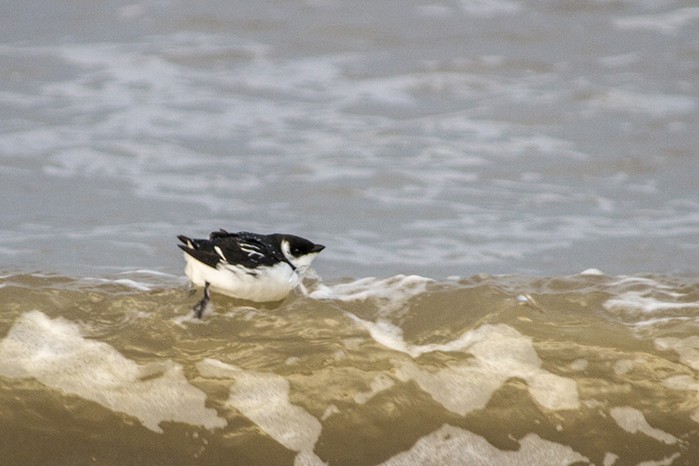 A handful of Little Auks made it further south still, seen in West Sussex, Kent and Essex, while the only "wrecked" bird was found in West Yorkshire, at Anglers' Country Park on 6th, a bird which was eventually taken into care.
As the week progressed, so did the circle of sightings for the species, birds recorded from northern Scotland through to south Devon in what has been an excellent week for this cracking auk.
On Shetland, the morning of 10th brought news of a White-billed Diver offshore from Kirkabister, Mainland ~ a site that has been treated to several records of this banana-billed beauty in the past three or four years.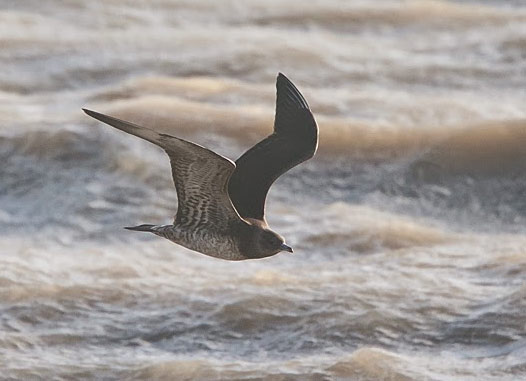 Along with all those cute-as-you-like Little Auks caught up in the blast of much-anticipated northerlies on 5th were a hefty number of Pomarine Skuas, littering the North Sea coastline from North Yorkshire to Norfolk with some decent totals in several places…
…and none was better than the impressive day total of 166 off Cley beach through a day when the sea was just full of birds! Birders at Sheringham logged 84 through the same day, with 59 at Horsey, 45 from Weybourne and 23 off Holme.
Numbers were lower further north, with 37 off Flamborough Head (East Yorkshire), 32 off Filey (North Yorkshire) and 23 off Spurn being the larger totals on a day when 100's of birds were noted.
Barely any were recorded ~ bar ones and twos ~ on the east coast on 6th, but now it was south coast counties that started to score some numbers.
In Devon, Berry Head seawatchers recorded 42 Poms on 6th, with Portland Bill birders recording 32. Passage increased by 8th when 67 passed Berry Head (along with 37 each for Hope's Nose and Teignmouth and 26 from Shoalstone). Away from Devon, 26 were seen from the Lizard (Cornwall). After a day or two of single figures, Berry Head popped in a further 42 birds on the breezy southeasterly day of 11th.
Caught up amongst all this early November pelagic-feasting were 16 reports of juvenile Long-tailed Skuas ~ five of those mentioned coming from Norfolk's cool and breezy coastline on 5th, singles noted off Scratby and Holme, while three were seen from Weybourne. Singles followed off Dungeness on 7th and 8th, with the same date seeing a double for Devon's Berry Head, with further lone birds off Lizard Point (Cornwall) and Milford-on-Sea (Hampshire). The final birds of the week were recorded off Whitburn (Co. Durham) on 9th and both Berry Head and Hope's Nose (Devon) on 11th.
The stormy weather of Bonfire Night's daylight hours produced a couple of Sabine's Gulls amongst the tens of 1000's of Kittiwakes moving down the east coast ~ juveniles logged from Hornsea (East Yorkshire) and at Shell Ness, on the Isle of Sheppey (Kent).
Six more followed through the remainder of the week ~ two were found on 7th in Wales, off the islands of Ramsey and Bardsey, with another off the latter on 9th, while two were noted in Dorset ~ an adult heading past Portland Bill on 8th with the final day of the review week seeing a singleton noted at Mudeford Quay on 11th. The same date also saw a juvenile reported from the Oban to Tiree ferry, seen in Gunna Sound.
Just under 200 Balearic Shearwaters were seen around Cornwall over the past seven days, including upwards of 176 on 8th alone. The largest count that day came from Lizard Point, with 55 off Mousehole, 20 from Pendeen and 17 from Pendennis Point, near Falmouth (doubtless the south coast tallies were open to a touch of repetition here and there). Over 30 birds were noted in Devon this week, with seven in Dorset and singles for Scilly, Pembrokeshire and West Sussex.
The late autumn gales produced a decent final flurry of Grey Phalaropes this week ~ upwards of 75 listed through the week from 24 counties, with the blustery 5th scoring 24 (from nine counties) alone.
Four were seen from Flamborough Head (East Yorkshire) on that day (from a county total of six) with Norfolk also managing half a dozen birds on the same date, including three from Sheringham. The next day saw three Grey Phalaropes appear at South Gare (Cleveland) and further threes were seen in Devon, at Dawlish Warren NNR on 8th and Hope's Nose on 11th~ with up to 12 recorded in the county through the week.
Singles were spread far and wide after that, from a couple of birds in Cornwall to one on Shetland, but most reports were from the east coast, with notable singles seen at London's Beddington SF on 8th-11th and at Rother Valley CP (South Yorkshire) on 9th. Ireland managed a couple, in Donegal and Waterford, while Wales managed just one, off the coast of Gwynedd, a first-winter that was trapped and ringed on Bardsey on 11th.
Also caught up in some of the more turbulent conditions were six single Leach's Storm-petrels ~ one was noted passing Holme (Norfolk) on 5th and was followed by birds off Ramsey Island (Pembrokeshire) on 7th, Hurst Beach (Hampshire) and Portland Bill (Dorset) on 8th and, still in the latter county, off Branksome Chine on 11th, when one was also reported from Dungeness.
Found towards the end of the last review period, the late juvenile Purple Heron remained at the North Warren RSPB reserve (Suffolk) through to 9th.
New this week was the Cattle Egret that appeared in the meadows adjacent to Rutland Water (Leicestershire) on 11th ~ the first in the county for over three years, since a summer bird at Eyebrook and Rutland in August 2011. Elsewhere, two birds remained at Dungeness RSPB (Kent) to 8th at least and the seemingly resident singleton at Burton Mere Wetlands RSPB (Cheshire) was noted to 7th at least.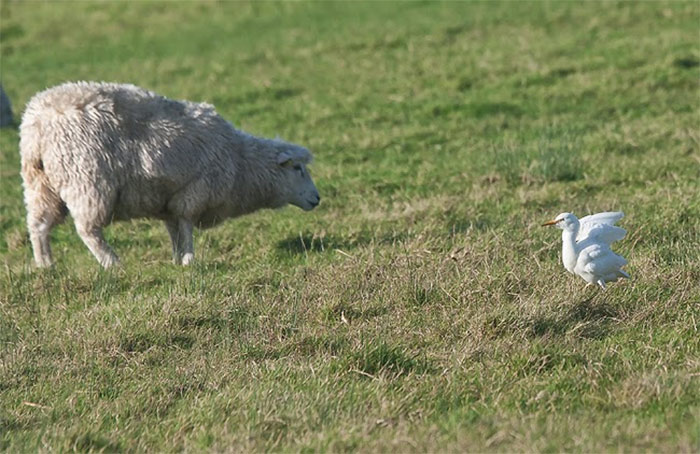 Falling just one bird shy of the 50 mark was Great White Egret, the week's total of 49 birds being spread around 19 counties in England and Wales.
Kent was the highest scoring county, 11 of the southeast's 16 birds noted there, with six at Dungeness on 8th and two each for Bough Beech Reservoir (also on 8th) and on Sheppey, still at Capel Fleet on 9th. At least six birds were in Somerset (probably more), with four at Shapwick Heath NNR on 10th, while a minimum of eight were seen around East Anglia, including twos in Cambridgeshire at Ouse Fen from 7th-9th and on the Cam Washes near the end of the week.
Three singles were in Norfolk, with the same number logged in both Lancashire and Cheshire. There were five birds each for the Midlands and Wales ~ Great White Egret duos seen at Rutland Water and Pitsford Reservoir in the former and Llangorse Lake and Llanrhidian Marsh in the latter.
There was little to report on the Glossy Ibis front this week, singles remaining at Wat Tylet CP (Essex) to 7th, Tramore Backstrand (Co. Waterford) to 8th and Frampton Marsh RSPB (Lincolnshire) to 9th.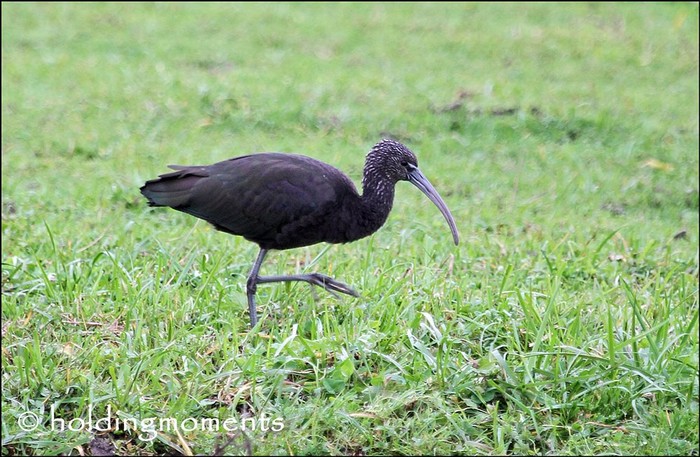 Causing a bit of a commotion on Shetland were the three Spoonbills seen heading over Mossbank, Mainland on 5th ~ the first record for the island since March 6th 2007. Two birds were noted at Pagham Harbour LNR (West Sussex) from 8th and there were also singles still in East Sussex, Cornwall and Kerry, while the wintering flock in Dorset peaked at 46 birds this week, seen at Arne RSPB on 5th.
The Cambridgeshire Common Crane flock was still 20 strong this week, seen around the Nene Washes area throughout the period. In east Norfolk, 14 Cranes were noted over the Acle Bridge on 6th and around the Broads a maximum of just eight was reported from the Stubb Mill roost at Hickling Broad NWT on 7th. The 11th saw a roaming bird track along the north Norfolk coast, from Holme in the west to Upper Sheringham in the west, heading east over Cley and then back west as the evening light faded to dusk.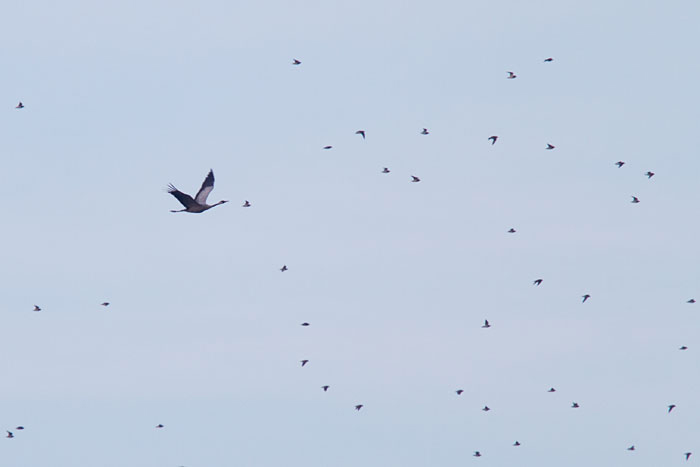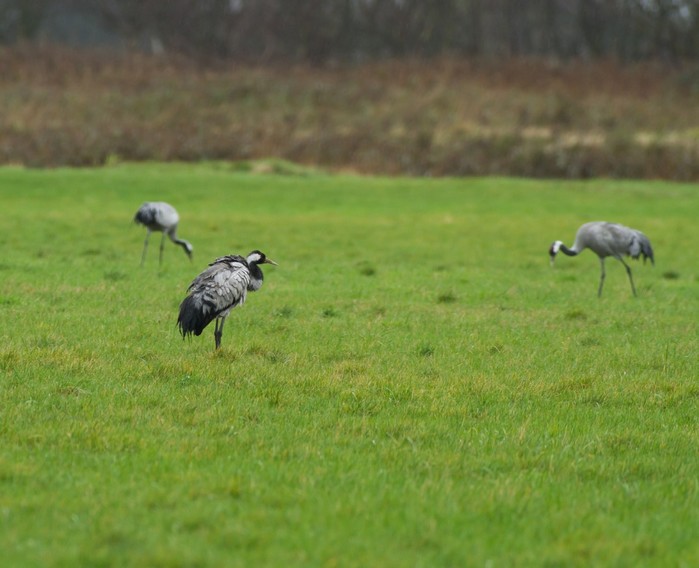 The only Crane reported away from East Anglia was the singleton at Colliford Lake (Cornwall) on 5th.
What could well prove to be the first Red-breasted Goose for Orkney joined up with a flock of some 400 Greylag Geese at the south end of Loch of Harray, Mainland on 10th, moving a little to Tormiston the following day ~ the islands are enjoying a very decent run this autumn, this first following hot on the heels of last week's most recent wildfowl first for Orkney, the fine drake Bufflehead.
On the Scottish mainland, the pair of intermediate Snow Geese remained at Loch of Skene (Aberdeenshire) to 5th while the following day in Highland, two Snow Geese joined up with a flock of feral Canada Geese at Cuil Bay.
In Lancashire, the Lesser Snow Goose moved to Formby Moss on 5th and spent the next four days at neighbouring Downholland Moss, last noted there on 9th amongst the wintering Pink-footed Geese.
It was "as you were" with the week's white-cheeked geese records ~ single Richardson Cackling Geese remained at Loch Gruinart, Islay (arguyll & Bute) to 5th at least and one was still at Lissadell (Co. Sligo) to 8th, while in the southeast corner of Ireland, the parvipes Lesser Canada Goose was still on the North Slob NNR (Co. Wexford) to 9th.
A new (probably returning) adult Black Brant was seen at Cley (Norfolk) on 8th (and again on 11th) and was one of at least seven or eight birds recorded through the past few days. Also new were singles at Barrow Harbour and Spa (Co. Kerry), both on 6th, at Sudbourne (Suffolk) on 8th and South Swale LNR (Kent) on 9th, while regular Brants remained at Ferrybridge (Dorset) on 5th and Kilnsea (East Yorkshire) and The Naze (Essex) to 8th.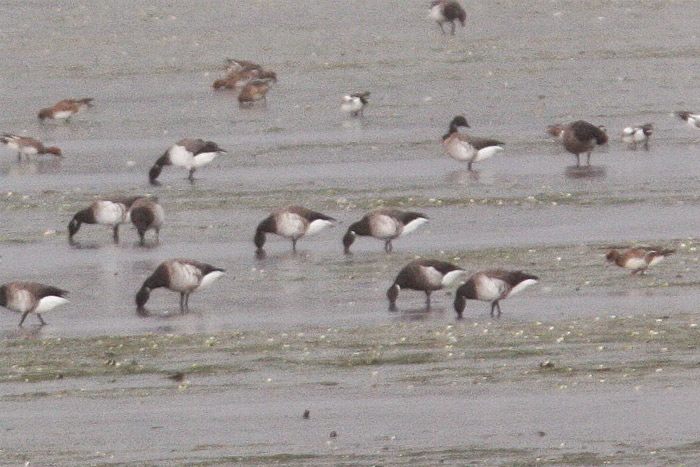 Surf Scoters had a decent showing this week, with at least 13 birds logged, including a hefty haul from north Wales of five adult drake and a young drake off Old Conwy on 9th (after a lone drake had been seen of Llanddulas on 6th).
New birds were found on the Suffolk/Essex border, near Stutton on 5th, a juvenile which remained in the general area throughout the rest of the week (and becoming a big county tick when on the Essex side of the water…only the second ever there) and also fresh in was a first-winter drake off the Fleet, near Abbotsbury on 9th-10th, the second in the county this year.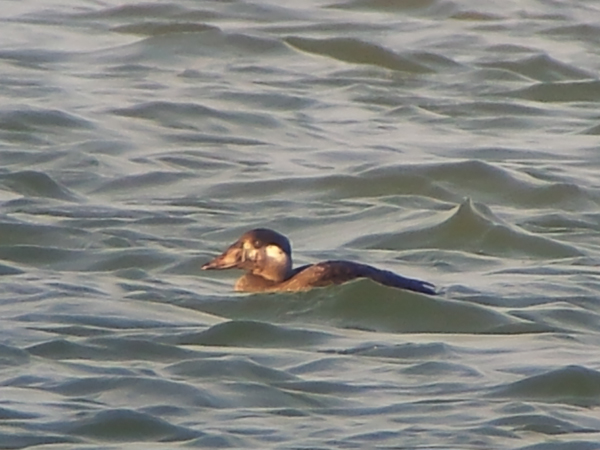 In Scotland, a pair of Surfies remained in Lunan Bay (Angus) to 9th and the lone drake at Musselburgh (Lothian) was in place to the same date.
Still finding the expansive waters of Norfolk's Holkham Bay very much to his liking was the second-winter drake Surf Scoter who clocked up another week on station when noted on 11th.
Back again after several weeks away was the adult drake King Eider in Moray's Burghead Bay, seen again on 8th-9th ~ he was last reported here in mid-October.
Also appearing on favoured territory this week was the adult drake Ferruginous Duck that made its first appearance of the late autumn period at Blashford Lakes HWT (Hampshire) on 10th ~ it has been a very sporadic visitor to the site since December 2011, and was present earlier in the year to March 5th. In Bedfordshire, a female Ferruginous Duck was a neat find at Brogborough Lake on 11th.
Another neat discovery this week was the female Ring-necked Duck found at Wicksteed Park Lake, Kettering (Northamptonshire) on 8th, a bird which lingered to 11th. Last year, the first Ring-necked Duck in the county in an age was found at Stanwick on November 20th ~ could it be one and the same?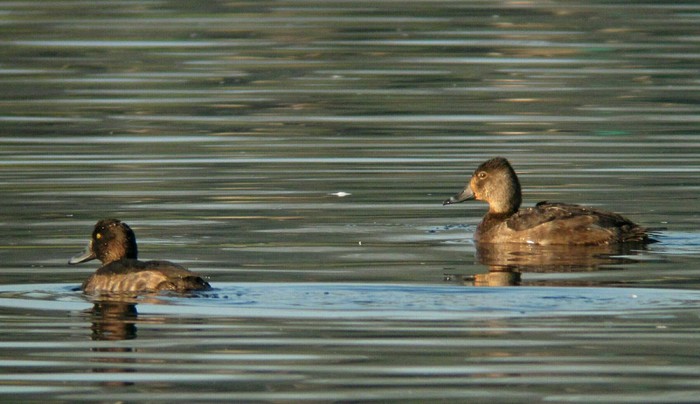 Also new were the mini-flotilla of three drake Ring-necked Ducks at Lough Gara, Inch (Co. Sligo) on 8th, with a fourth drake in the county on the same date, this one seen at Lough Skean. The only other records of the week were lingering young drakes at Loch of Skene (Aberdeenshire), present to 5th and still on Loch a'Phuill, Islay to 11th.
All four of last week's drake Lesser Scaups were noted at one point or another during the past few days ~ the bird at Wraysbury GPs (Berkshire) remained to 6th while the two Welsh representatives were at Cardiff Bay Wetlands (Glamorgan) and Llangorse Lake (Powys) to 9th. Across in County Kerry, on Lough Gill, the Lesser Scaup stuck it out all week.
In Northumberland, the oft-talked about female Blue-winged Teal remained at Castle Island, on the River Wansbeck to 9th, while Green-winged Teals saw a distinct rise in numbers across the past seven days ~ 11 spread widely across Britain and Ireland.
In Scotland, a new drake was found at Muckle Roe on 9th, while one continued to loiter on neighbouring Orkney, still on North Ronaldsay to 10th. On the Scottish Mainland, a new arrival was found at Loch of Strathbeg RSPB (Aberdeenshire) on 9th, while the bird at Caerlaverock WWT (Dumfries & Galloway) was in place throughout the week.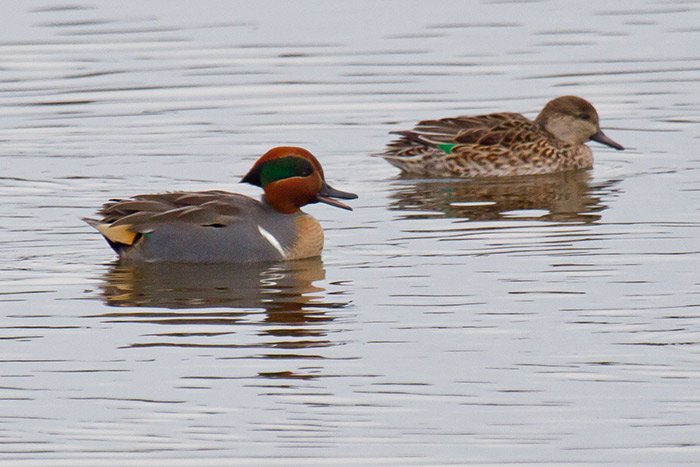 In Wales, fresh carolinensis stock was found at Conwy RSPB on 9th and Ynys-hir RSPB (Ceredigion) on 11th, while Ireland's only bird was found at Blankey Nook, Lough Swilly (Co. Donegal) on 9th.
The remaining four birds were all new to England ~ at the Abbotsbury Swannery (Dorset) from 6th-9th, at Neumann's Flash (Cheshire) on 8th, Berry Fen, Cambridgeshire on 9th and Slimbridge WWT (Gloucestershire) on 10th.
The drake American Wigeon found last week on South Uist (Outer Hebrides) was still on Loch Bornish to 8th. Scottish islands accounted for the week's two new arrivals as well, seen on the Shetland Mainland, at Loch of Collaster on 10th, with one located on the same date at Mill Dam, Shapinsay (Orkney). In Ireland, on the border of Leitrim and Donegal, the drake American Wigeon was again on the Drowes River on 9th.
Three last week ~ three this week. That's the state of affairs for our weekly peek at Lesser Yellowlegs records with the Irish juveniles at Poulnasherry Bay (Co. Clare) and the Rogerstown Estuary (Co. Dublin) sticking it out to 5th and 9th respectively. The Cornish youngster was on the Hayle Estuary throughout the week.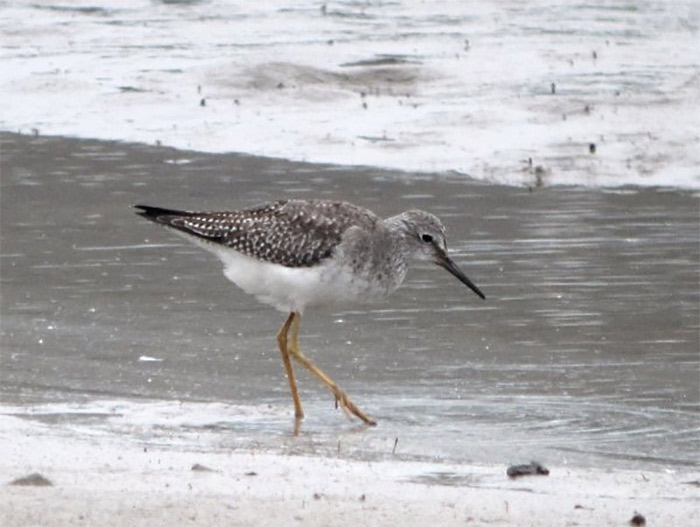 Keeping faith with a potential wintering site was the juvenile Spotted Sandpiper at Inverallochy (Aberdeenshire), still in situ to 9th and was the only other shorebird of note this week.
Yes, winter is on its way...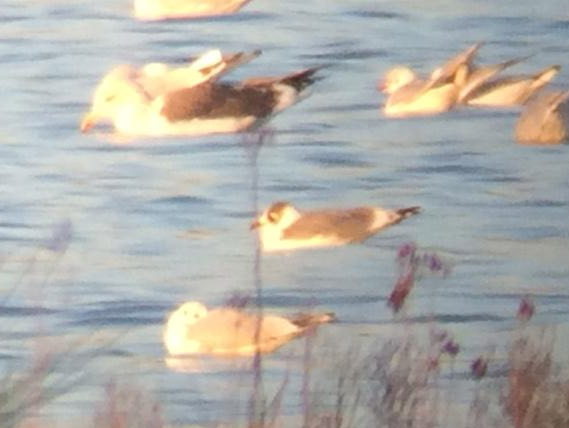 Hampshire's first Franklin's Gull for 44 years made daily late-on appearances on the waterways of Blashford Lakes HWT throughout the week, sometimes behaving and performing for a while, sometimes showing only very briefly. In Cork, the second-winter Laughing Gull was at again at Ballycotton on 7th while the adult Bonaparte's Gull at Dawlish Warren rounded off another week where the Nearctic hat-trick was bagged ~ present on the south Devon coast on 9th-10th.
The new week began with adult Ring-billed Gulls noted at Walpole Lake, Gosport (Hampshire) and Carrahane Strand (Co. Kerry), both seen on 5th. These two were followed by a further two adults at Cruisetown Strand (Co. Louth) on 8th, a newly arrived first-winter on the airfiled on St. Mary's (Scilly) and the regular adult at Portrush (Co. Antrim), both noted on 9th ~ the Scilly bird could be the first on the islands for five years ~ this week's bird still present on 11th, a date which also saw the first report for a wee while of the wintering Ringo, still in Dingwall (Highland).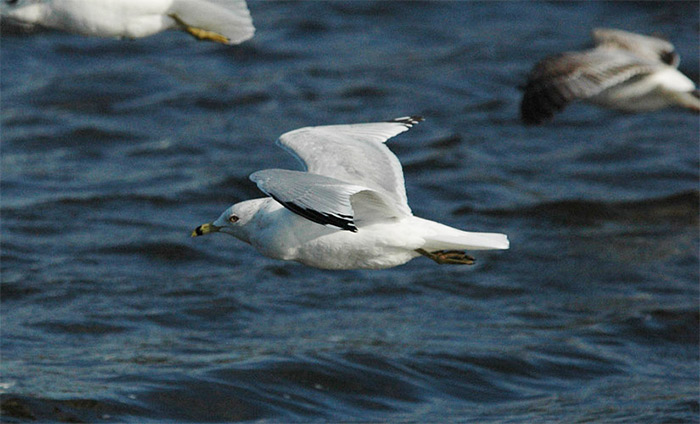 Ten of the twelve Glaucous Gulls reported this week were seen around Scotland, including four different birds around the northern end of Lewis ~ three birds seen on 6th and three also logged on 9th (consisting of three + juveniles and a second-winter). Two were seen in Shetland and Aberdeenshire, and there were loners for Fife and Moray. Further singles were noted in Donegal and Northumberland.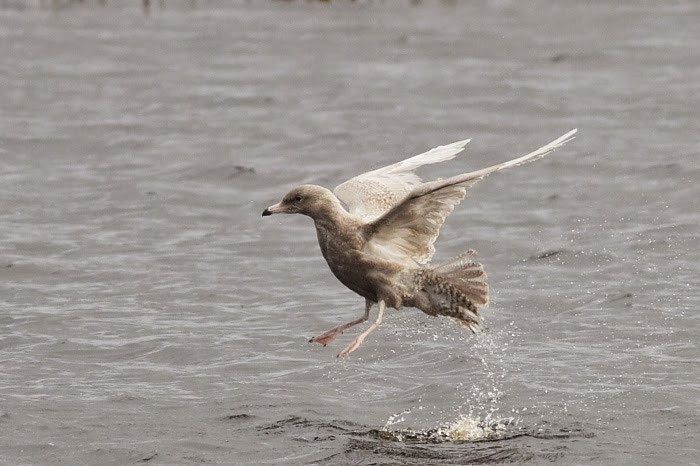 The pattern of Iceland Gull distriubution wasn't too far away from their big bruiser cousins ~ a minimum thirteen reported, with at least ten in Scotland, with between two and four on Lewis through the week. Shetland held three, Aberdeesnhire two, with ones in Highland, Moray and Ayrshire. Two further singles were seen in Antrim and a juvenile was noted in Lincolnshire as the week drew to a close.
What may well be the adult Azorean Yellow-legged Gull seen last week in Cambridgeshire could have moved to West Yorkshire, one reported from the gull roost at Wintersett Reservoir on 9th. Another adult was reported at Pegwell Bay (Kent) on 7th ~ neither of this week's birds were seen again.
In Highland, the male Snowy Owl was seen again at the Camster Windfarm at dusk on 6th. The rather different looking juvenile Pallid Harrier remained at Steart WWT (Somerset) to 7th but, as has been the case for the past two or three weeks, much of the attention in RaptorWorld was focused on …
...Rough-legged Buzzards.
There were still 30 or so of these extremely popular nortehrn visitor on the go this week, with the northeast of England still leading the way, upwards of 11 birds noted in the region. As many as five were seen in North Yorkshire, including two on the biorder with Cleveland, seen at Guisborough on 9th. Two or three were seen in the hills of South Yorkshire and lone birds were in Northumebrland, Cleveland, Lincolnshire and still near Bridlington (East Yorkshire) ~ the juvenile there becoming a rapid delight to photographers and birders alike.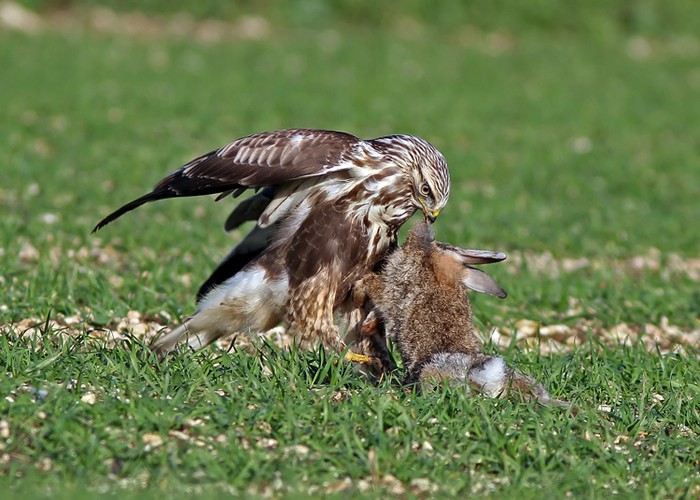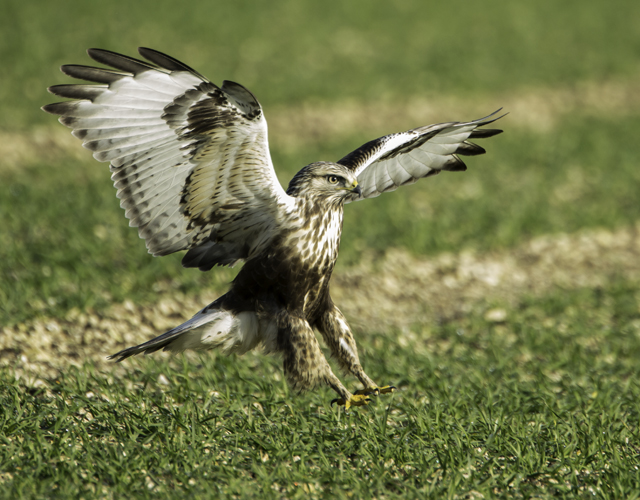 A minimum seven Rough-legged Buzzards were seen around Norfolk, including up to three still in the Breydon Water area in the early part of the week, with at least two still in the Holkham and Burnham Overy area of the north coast. Two singles were seen in west Norfolk too ~ one remaining at the Welney WWT reserve to 11th while a new individual flew over Snettisham Coastal Park on 10th, then Admiralty Point, near King's Lynn on 11th.
Elsewhere, further Rough-legs included six in Scotland (two singles on Shetland and two together at Whiteadder Reservoir in Lothian), four in northwestern England, including two over Saddleworth Moor (Greater Manchester) on 9th, one in Derbyshire and five in southeast England, including the popular young bird at Braughing (Hertfordshire), present daily to 11th.
Quality new arrivals…
In other weeks this autumn, the appearance of an Isabelline Shrike would perhaps have merited an ascent to the Headline Act status, but this week isn't quite one of those, but that should in no way detract from the terrific find uncovered in deepest west Cornwall…
The Turkestan-type looking first-winter bird was found at Pendeen on 9th, reappearing briefly on the final day of the review week, November 11th.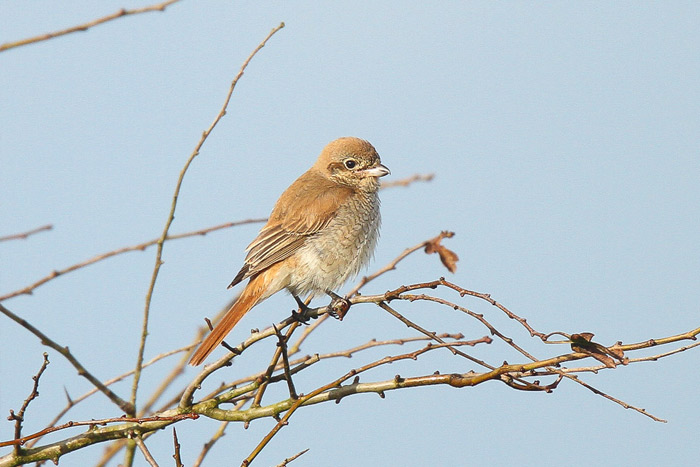 With an array of images available there was debate as to just which form was involved ~ with Turkestan being the favoured choice for many, but there was also a shout out for this bird being a potential Red-backed X Isabelline hybrid. Did this have more to do with the wildly different colour tones of some images or some of the near-anomalous features…?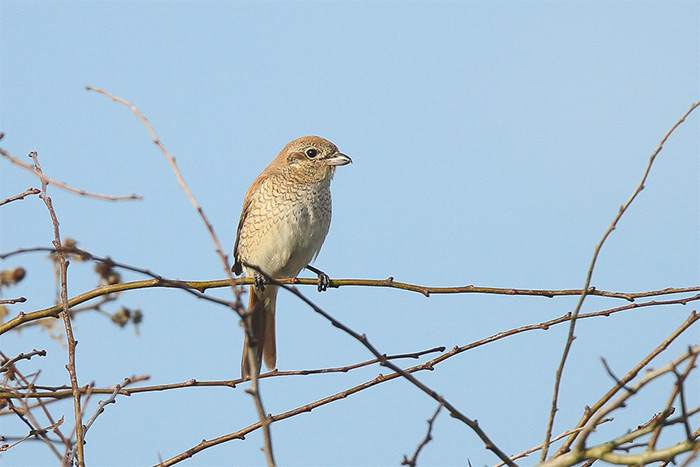 A desperately rare bird in Cornwall, this will become the fourth for the county ~ the first was seen at Zennor in late October 1989, the second (a first-summer male) spent a day at Porthgwarra on the unusual date of June 26th 2002 with the most recent individual on site at St. Just on October 25th 2011.
November has produced 14 previous Isabelline Shrikes before this super-looking Pendeen bird, the first of which was the spectacular (old-school) adult male "speculigerus" that spent a couple of November days at Anderby Creek (Lincolnshire) in 1982 (acting as a splendid supplement to the Gibraltar Point American Redstart).
The autumn haul so far for 2014 is now on a none-too-shabby five ~ starting with the adult female on Orkney in mid-September and including the three birds that arrived within three days in mid-October, in Norfolk, East Yorkshire and Kent ~ but is highly unlikely to catch the nine birds recorded in 2011 and 2006.
Siberian Stonechats have been in modest supply and after the brief spurt of interest in the dark bird on Fair Isle recently, we seem to back in maurus territory this week thanks to two new arrivals several hundred miles apart ~ the first at Seaview, on the Isle of Wight, from 6th-9th (a bird thought not to be the recent Hampshire one) , with the second making landfall at Newbiggin-by-the-sea (Northumberland) on 8th.
Despite conditions that seemed to suit a drift of Red-rumped Swallows, the warm southerlies that kicked in post-northerly gales yielded just one fresh juvenile/first-winter, found at Dungeness (Kent) on 6th.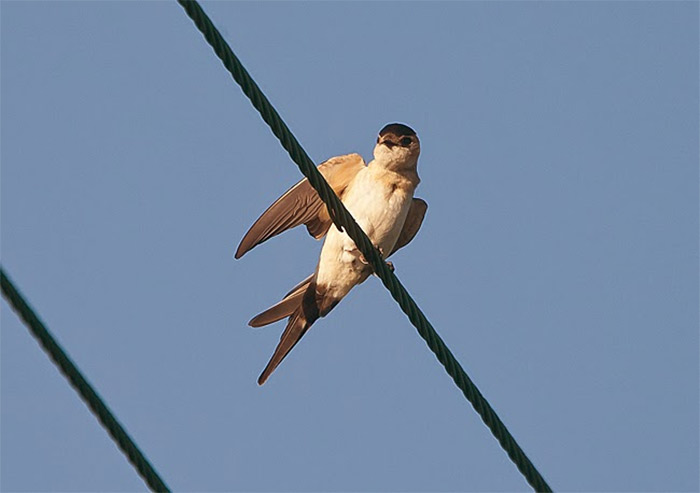 …it would be remiss at this point whilst hirundines are on the go to ignore the striking appearance of what may have been an "Eastern" House Martin at Whitburn (Co. Durham) on 10th ~ photographed by ex-pat expert Richard Crossley, the striking bird, complete with requisite extreme white uppertail coverts, may well be the first example of the form lagopodum anywhere in the Western Palearctic (…Britain still awaits the first record of Asian House Martin Delichon dasypus ~ that's going to be such a big call when its made…).
A brief Olive-backed Pipit was noted under conifers at Buckland, near Thurlestone (Devon) on 9th which, if accepted by the county records committee, will become only the sixth record for the county to date. Devon's first O-b P was discovered on Lundy in October 1989, with the second occurring at Prawle on October 15th 1996.
The four months between January and April 1997 saw a very popular national draw in the form of a wintering bird in Brixham, while Lundy has claimed the final two Devonian records ~ in the Octobers of 2009 and 2012.
Prior to removal from the BBRC Rarities List in 2012, there were 38 records of Olive-backed Pipits for November, from a total in excess of 400 birds in all.
While in pipity-mode, there was news from further west still of a Red-throated Pipit flying over Sennen (Cornwall) on 9th ~ but there was no further sign after the initial sighting.
The week concluded with an Irish surprise ~ a first-winter female Subalpine Warbler located between Carne and Churchtown (Co. Wexford) on 11th ~ only the third autumn record in a county that has over 25 accepted birds on the books (both of those were found in September, one in 1933 the other in 1954) ~ and a bird which seems to be the first Irish record for the month too.
This too is a species that was struck off theBBRC Rarities List, in 2005 on this occasion and to that point just nine November Subalpine Warblers had been found, just one of which arrived later than this week's Irish bird ~ found at Whitley Bay on November 16th 1984.
The only Little Bunting of the week was found at Whitburn Coastal Park (Co. Durham) on 5th ~ could it be the last of the year?
Lingering goodies and a few more newbies…
With a Grey-cheeked Thrush and two Red-flanked Bluetails on Shetland, it was easy to forget that the lovely first-winter male Pied Wheatear was still hanging out at Haroldswick, on Unst until 9th.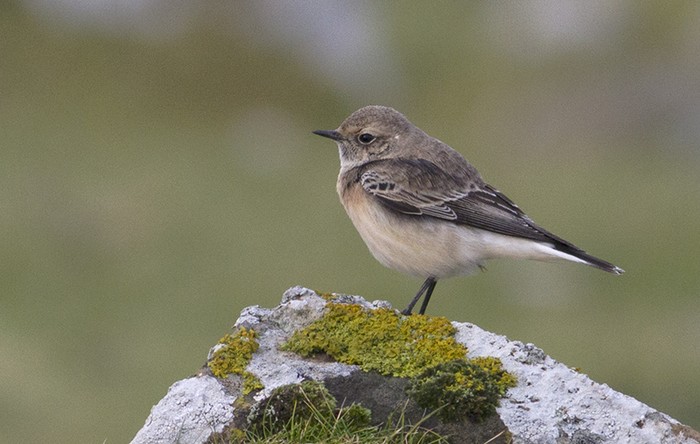 …and a further little bit of quality around the islands came courtesy of a Dusky Warbler at Sandgarth, Mainland on 9th. Also new were two or three Pallas's Warblers ~ one or two were seen in Wells Woods and the nearby Holkham Pines (Norfolk) from 5th-8th, with the other bird being noted briefly at the bottom of the Sheepcote Valley (East Sussex) on 9th.
Back on to the Northern Isles, we come to the only Short-toed Lark of the week, a lingering bird still present on North Ronaldsay (Orkney) to 11th while Shetland hosted the final of seven new Richard's Pipits located through the week, seen on Unst on 11th.
Two new birds were present at Ryhope (Co. Durham) on 9th (with one still there the next day) and singles were found at Happisburgh (Norfolk) on 6th while the productive 9th also saw Richard's Pipits uncovered at Llandudno (Conwy), Shell Ness, Sheppey (Kent) and Cloughton (North Yorkshire). The sole remnant from previous weeks was the inland bird at Fordham, (Cambridgeshire), still present throughout the last seven days.
Two new Red-breasted Flycatchers round off this little section of the review ~ a late male was found at Rendall , Mainland (Orkney) on 8th with another appearing at North Hallsands (Devon) on 9th.
Left-over warblers…
After weeks of significant tallies of the always-lovely Yellow-browed Warblers thankfully, at long last, numbers have finally begun to really tail off ~ the birding communities of Britain and Ireland managing just 25 examples of the Phylloscopus Pocket-Rocket, noted from 16 counties.
A dozen were logged in southwest England, with five in Cornwall, three on Scilly (including two on Tresco on 5th) and two each for Devon and Dorset. Two birds were present on the Mullet (Co. Mayo), also on 5th with another in Kerry, at Tralee on 8th while Scotland's two birds were present on North Uist and North Ronaldsay. Four singles were noted on the east coast, from Suffolk to East Yorkshire while the final records coming from Gwynedd, Pembrokeshire, East Sussex and Hampshire.
Along with the newly arrived young Subalpine Warbler, Wexford also hosted a late Barred Warbler, seen northwest of Gorey from 7th-9th. Two more were noted on the latter date ~ reported from a garden in West Kirkby, on the Wirral and on Fetlar (Shetland).
Shrikes in situ
Suffolk's long-staying first-winter Red-backed Shrike in Lowestoft was still taking callers though until 9th ~ with negative news coming forth on 10th. In Dorset, one was reported on consecutive days in gardens at Portesham on 10th-11th with the latter date seeing the third of the week alighting at Tregeseal (Cornwall).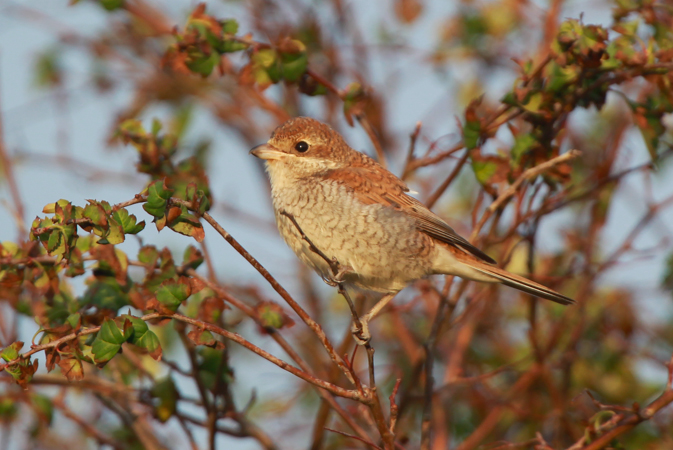 Some 27 Great Grey Shrikes were recorded in 20 counties this week, with up to four on Shetland and two on Orkney ~ both the latter on North Ronaldsay on 7th. Seven were noted in southeast England, a couple were in Lancashire, South Yorkshire and Norfolk, while two singles were seen in Wales (in Conwy and Ceredigion).
Miscellaneous mash-up …
What could well be the final Wryneck of 2014 was found at Porthgwarra (Cornwall) on 9th while perhaps the same could be said for one of the four Hoopoes reported too ~ one lingered around Somerset's Dunster Beach to 5th and was followed by one at Barton-upon-Humber (Lincolnshire) on 6th-7th, a northerly bird on Shetland, in Lerwick, also on 6th and in south Devon, at Exmouth on 7th.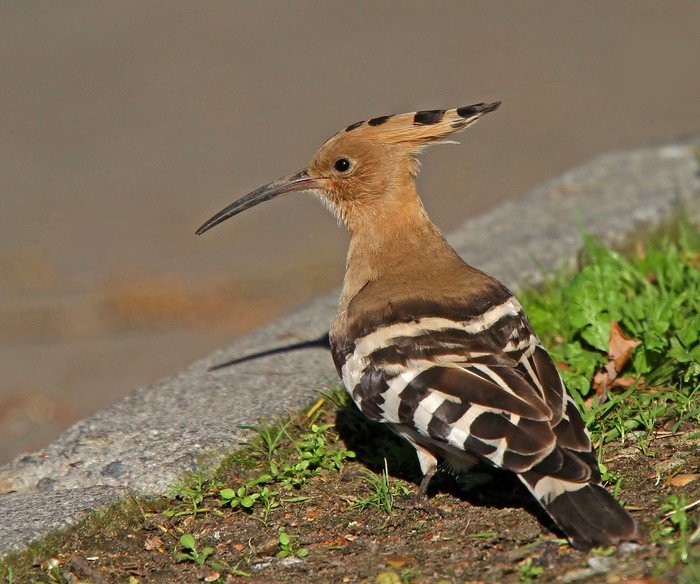 After a strong last couple of weeks, there's just two Rose-coloured Starlings to report this week, one still present at St. Buryan (Cornwall) and a new bird in St.Ives both on 11th.
Big news in Gloucestershire this week was the report of what could be the county's first Penduline Tit, seen and heard in flight over the Gloucester canal at Frampton-on-Severn on 7th. Let's see how it fares at the committee level…
There's still no push of Waxwings, so we may be on for another poor winter. Early days yet of course, so for now the only highlights from a meagre 18 birds countrywide were two in Dundalk (Co. Louth) on 11th, four in Montrose (Angus) on 9th and six at Banchory (Aberdeenshire) on 10th.
The week ahead
Sunshine, showers and further south or southeast winds seems to be the order of the next few days ~ weather that could still be conducive to a cheeky little surprise. Shetland appears to be in the firing line for yet more southeasterlies ~ surely they're not going to land one final mega are they? Well, if anywhere does, it'll be Shetland or, after the autumn they've had, maybe North Ronaldsay.
In truth, it still feels like rare wheatears are top of the pile, more
Deserts
could find a way to the birder's table this week, but after that, where do you look?
Well, it seems unlikely that we'll hit a second Varied Thrush anytime soon ~ that exquisite misfit in the Nanqudino valley was found on November 14th 1982 ~ there are better chances of perhaps one more Red-flanked Bluetail or Pied Wheatear making it to our shores in the next seven days.
Rare shrikes are still lodged in the back of the mind, could we be on for the second Steppe Grey Shrike of the autumn? And it feels weird not to have collected a Brown Shrike somewhere ~ a recent mega that feels like part of the avian furniture nowadays.
With optimum conditions, you'd also be hoping for a flurry of Hume's Yellow-browed Warblers too ~ its prime time for them now, with 19 located historically in the seven days that lie ahead. That said, it seems unlikely that this November will emulate the stunning total of November 2011 when 14 humei were found…
…that was a bumper year too for the aforementioned Desert Wheatear, 12 seen within the same 30 days ~ and along with a sizeable haul of those two species came an even-more exciting option ~ Eastern Black Redstart ~ two of which were recorded through the dates that lie ahead, at Margate in Kent and on Holy Island in Northumberland.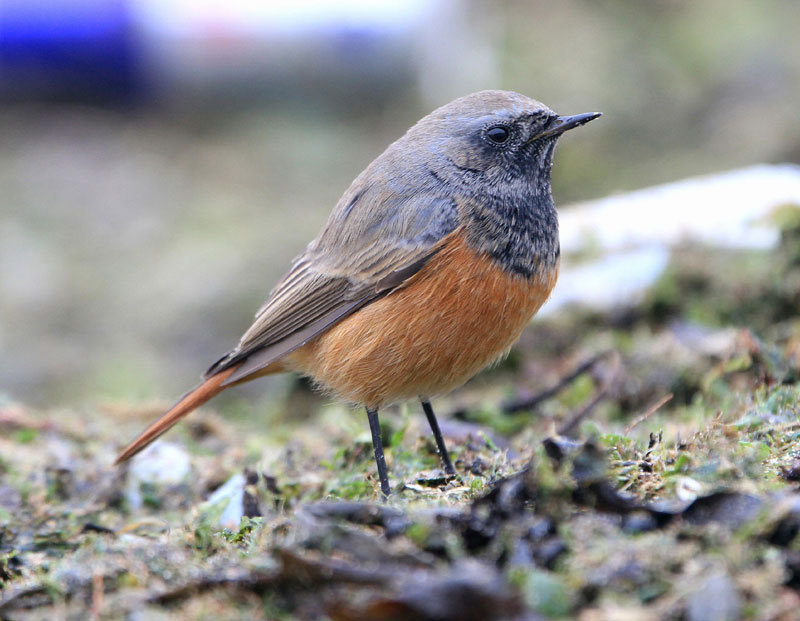 If there's a little surge of the warbler and the wheatear keep everything peeled for something all the more rare…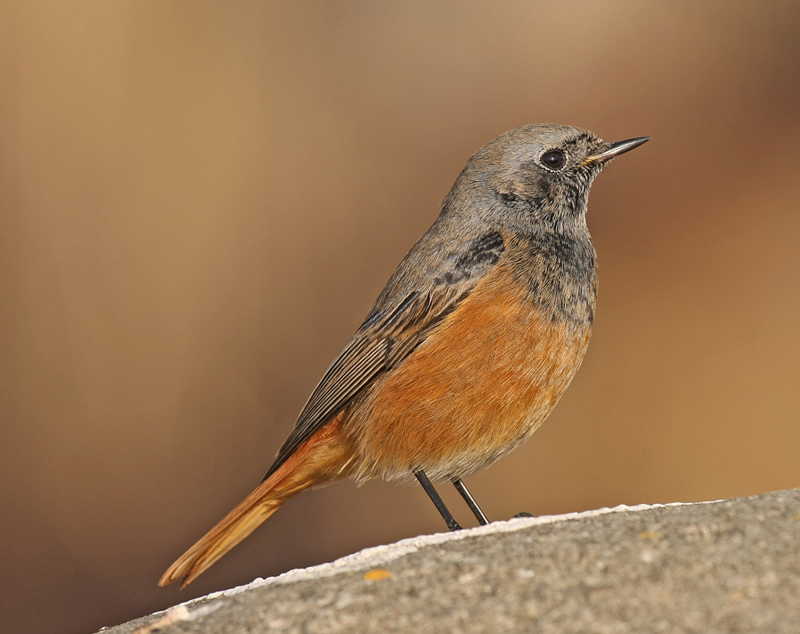 Mark Golley
12 Nov 2014


Special thanks this week to Teri Miller and Hugh Harrop for the story and images of the Rerwick Grey-cheeked Thrush and to Brian Field for his images of the Pendeen Isabelline Shrike.
Thanks also to the rest of our contributors for their photos, videos and sound files.
Martin Cade and Portland Bird Observatory, Davey Farrar, Alan Clewes, Rebecca Nason, Steve Ashton, Tony Davidson, Penny Clarke, David Carr, James McCallum, Richard Greasby, Martin Casemore, Paul Hindness, Keith O'Hagen, Steve Gantlett, Peter Bullett, David O'Connor, Mark Williams, Peter Garrity, Adam Hartley, Amy Robjohns, Paul Kelly, Dermot Breen, David Carr, Mark Johnson, Roger Riddington, Sean Nixon, Reston Kilgour, Dave Hutton.
Contributors websites Check out our contributors website for more great photos and news