Weekly round-up: 18 - 23 Dec 2013
Possible female Steller's Eider a potential early Chrimbo cracker in Lothian….
Cheshire's first American Buff-bellied Pipit draws a crowd….
Drake Falcated Duck returns to Oxfordshire
Patrington's popular Ivory Gull lingers all weekend
…while belated news of Hampshire's first Pied Wheatear emerges too….
On the Outer Hebrides, the Pied-billed Grebe remains on North Uist
The holidays are coming!
As the mild, then cold, then very wet and very windy weather hurtled towards us quicker than an amphetamine-fuelled reindeer sleigh-team, its time to take a look at the pre-festive treats that were on offer.
…and treats there were, and a near-miss too amongst another very neat and tidy set of scarce and rare birds, spread widely across Britain and Ireland.
Steller's Eider
Over the past decade or so, there have been assorted possible, probable and even hoax Steller's Eiders but this week we seemed to have been offered up the real deal…certainly for a couple of Sunday hours at least until the demotion to a more lowly "p" status began.
Found during the early afternoon of 22nd off Port Seton (Lothian), the (now possible) female Steller's Eider sat on the sea for ten minutes or so before flying off - it could have become the first accepted record anywhere for just over 13 years, but it looks as though that wait may go on a while longer now.
That's because later in the day, the noble observer had a few second thoughts and started to question the call they'd made earlier in the day - a call that is to be admired for its honesty rather than castigated as a perceived "mistake" - but with all the above, and below, written as soon as the Mega Alert sounded (and the potential "cut" button hovered over for a while), I decided to leave things as they were and allow the bimble-fest of words to stand proud (doubtless I'll haul them all out again when there's a pretty drake somewhere)…
Our most recent record, and the only twitchable bird in the past 30 years, was the female that spent three days off the coast at Hopeman (Moray) in the middle of November 2000. Since then have come those assorted possibles and probable, as well as that bonkers hoax from North Wales in 2009, one that took several days to be sussed out…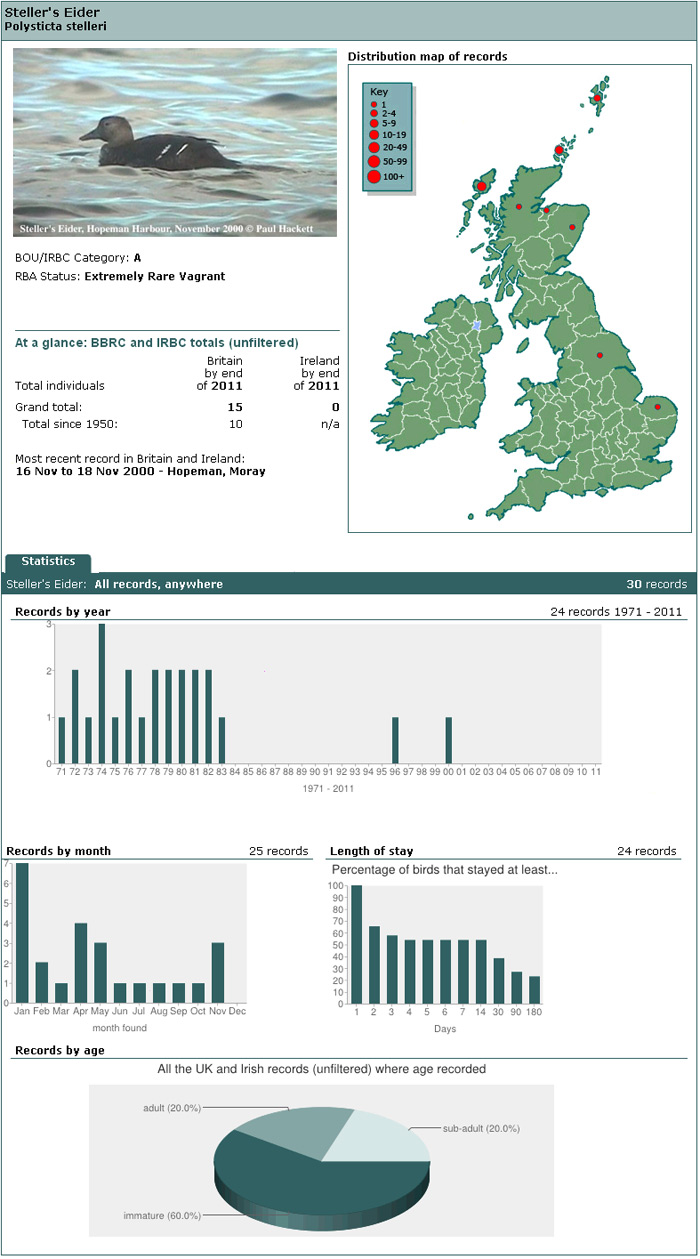 Prior to that Moray bird, this had been a species in the shortest of short supply - the wing of a male was found on the Shetland tideline on Fetlar in March 1996 and before that, time takes us back to the famous long, lingering drake Steller's that spent from May 1972 to August 1984 around the coast of South Uist - the trek to the western isles a staple for many birders of that era.
Another male was also seen in the same (rough) time frame as the Hebs drake but a lot less frequently - first found on Orkney in 1974, what has always been listed as the same bird appeared again in 1978, where it was seen infrequently through to July 1982.
Britain's first Steller's Eider was shot off the east Norfolk coast in February 1830 (it can still be viewed at the Castle Museum in Norwich) with the second following along in 1845, shot at Filey (North Yorkshire) in August that year. A gap of 102 years followed, two males (an adult male and immature male seen on Orkney in January 1947) and was followed quickly by another Orcadian bird, another male, in November 1949.
A further three singles followed during the next 22 years - in Highland in September 1959, Aberdeenshire in November 1970 and on Fair Isle in June 1971 - and, aside from those previously mentioned lingerers and more recent records, the only other Steller's Eider here was a female on North Ronaldsay in 1976.
Just 13 birds ever then and a "sticker" would definitely have been welcomed by many dozens of birders across the Festive Period…but it looks as though now it won't be the case.
After last week's Major League All-Stars were utterly dominated by a couple of markedly different yet both utterly glorious Gulls, fans of the "LBJ" had something to cheer this week with the arrival of a new Nearctic passerine - made all the better by choosing an English mainland location and at a weekend too.
American Buff-bellied Pipit
Yes, the star find of the last week before Chr*stm*s (now that it looks like the Eider is going backwards and not forwards) was Cheshire's first American Buff-bellied Pipit - found at Burton Marsh on 20th, with confirmed news out the following day with the bird showing well until a Sparrowhawk spook during the morning of 22nd saw it take its leave (hopefully it may not have moved too far though).
We're knocking on the door of, roughly, a half-century of these still trixy pipits here now - but a quick look at the map shows just how rare they remain on the British mainland. Of those 50-odd records so far, there have been just half a dozen records prior to this week's new arrival.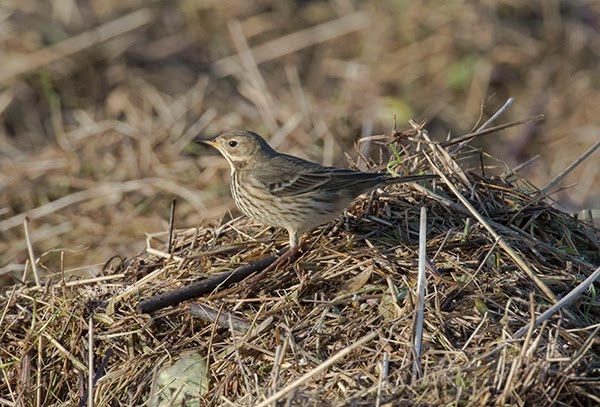 The first of these was the popular bird found in Lincolnshire, at Wyberton, in early December 2005, a bird that lingered for almost two months into the early part of 2006. More popular still (and easier to see) was the obliging three-dayer at Oxfordshire's Farmoor Reservoir in early October 2007 and a lingering bird was seen later the same month on the Cornish mainland, around the Nanzijal and Sennen area, with a one-day bird following in Sussex, along the beach at Newhaven, in 2011.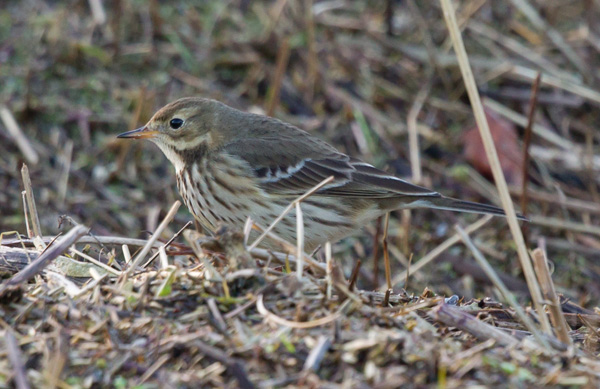 Fortunately for those who don't do islands and who weren't listing when any of that little quartet were on the go (obviously not all were twitchable either) the two birds that spent weeks and weeks around Queen Mother Reservoir (Berkshire) from mid-December 2012 and on in to early February this year gave ample opportunity to score…
All of that should take nothing away from this, still, very impressive discovery, a first for not only the county, but the northwest as a whole.
For birders who were listing in a rather different era, the first chance to enjoy this subtle, though pleasing Anthus was the bird that spent 11 days in the bulb fields adjacent to the airport on St. Mary's (Scilly) in October 1988. A second Scilly bird, a Paul Holt special, identified on call when in flight, was found on St. Agnes, before decamping to firstly Tresco and then St. Mary's in October 1996. The Lincolnshire bird was next (hence the popularity of that one) and, since 2007, a massive 40 or more have been found, including 13 in 2007 alone - an incredible surge in records, most of which surely has to be down solely to increased observer awareness.
The first British record actually dates all the way back to 1910, with a specimen caught on St. Kilda in September of that year. Ireland's first was found on Great Saltee Island (Co. Wexford) in October 1951, with Fair Isle hosting a one-day bird in September 1953 to be followed, 14 years later, by another one-dayer, this time in Wicklow, near Newcastle, in October 1967.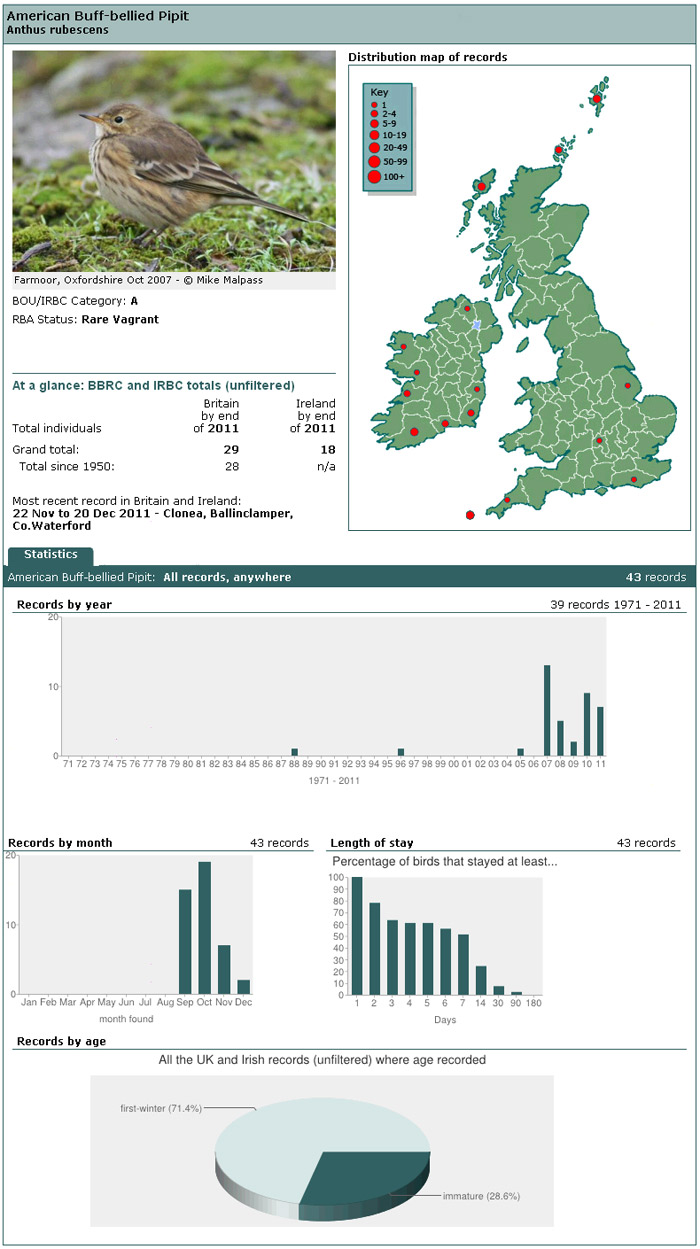 Given the recent form, there's nothing to suggest anything other than a continuing upturn in the number of records of this North American vagrant - but how long we'll have to wait for a nailed on japonicus Siberian Buff-bellied Pipit remains to be seen - there have been contenders in the past but we've yet to see the real McCoy. With all sorts of mad, off-the-scale Far Eastern ultra-megas we've seen here over the past decade, surely it can't be too far away can it?
Falcated Duck
Talking of Far Eastern megas, we'll head to Oxfordshire where, for the second December in a row, a drake Falcated Duck has appeared on the inland waters of the county this week - found this week at Dix Pit, near Stanton Harcourt on 21st and still present the following morning, this stunning duck screams "tick me!"…
Ahhh, if only it was that simple. If only it was a Hooded Merganser…
Last December, what must surely have been the one-in-the-same bit of Asian ducky bling appeared at Farmoor Reservoir on 9th and stayed to 13th at least (a suitably appropriate vagrant-feeling mini-sojourn in middle England) so it will be fascinating to see what happens this time around (a stay of a day and a bit feels good for starters). Questions will be asked about suitable carrier species that it may be with (last year Mallard were amongst the chosen ones) but, as we know with other very rare waterfowl, that may not mean anything at all and in Japan they can be a park lake bird.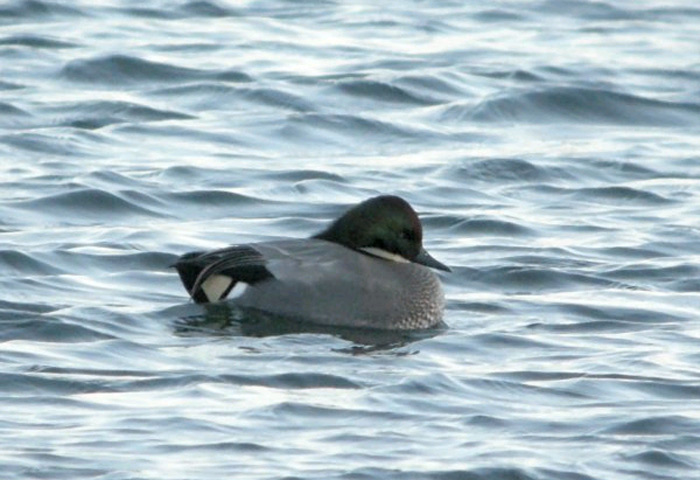 There are now several accepted records of Falcated Duck, all currently residing in Category D (used as a "holding category" remember….), some of which now rest in the hands of the BOURC. It would be fair to say that this remains a largely conservative committee and there seems little reason to expect an upgrade from D to A for this particular species anytime soon, although they have sprung the odd surprise in the relatively recent past (here we go again, out comes the soapbox with Hooded Merganser emblazoned across it)...
Of course BOURC are not there to serve the wants of twitchers (which is fair enough, there are other outlets for lister-friendly listing "needs") but the irony of seeing an accepted record of the other ultra-mega duck from the east, Baikal Teal from the very same site that this week's Falcated Duck is currently bobbing around on, is delightful in the extreme.
Ivory Gull
There's no such whoo-haah where East Yorkshire's lovely young Ivory Gull is concerned - suitably obliging across the weekend, this bird was one of the most popular birds of recent weeks and rightly so. These spotty strays from Arctic climbs are so engaging and often so tame too, that you can't fail to be excited by the news of one, wherever and whenever it should appear.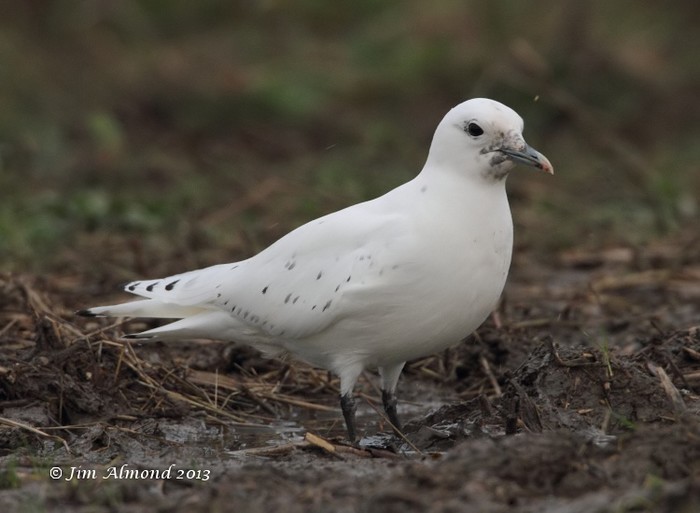 The Patrington Haven bird remained around until 23rd at least, allowing ample opportunity for photographers to show off their skills for the ultimate shot - whilst making it on to the Spurn List too as it headed down beyond Sammy's Point.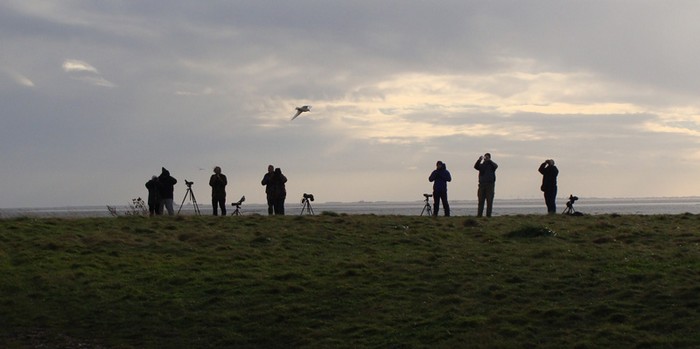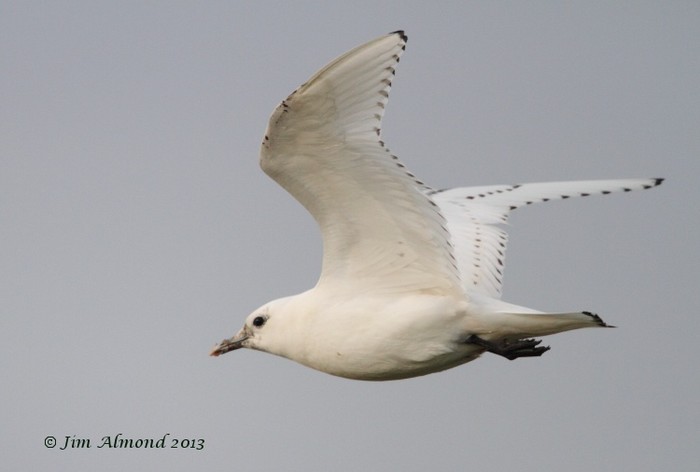 Pied Wheatear
Belated news now from Hampshire where the county's first Pied Wheatear was noted at Monk Sherborne from 7th-17th. Information is sketchy - seen off and on for several days by farm labourers at Rookery Farm it was eventually seen by a birder very late in the stay and was thought to have possibly been a Desert Wheatear…fortunately the shots were good enough to enable a re-identification almost as soon as they were seen in public.
Only two Pied Wheatearshave ever been found in the final month of the year prior to this one - a female at Preston, Paignton (Devon) from December 4th-6th 1983 (I dipped that one, twice, an afternoon jaunt after "Mock" O Levels was unsuccessful, as was the follow up the next afternoon too… ) with another first-winter female, at Tynemouth (Northumberland) on December 8th-14th 1998, so Hampshire's bird has joined an elite little group.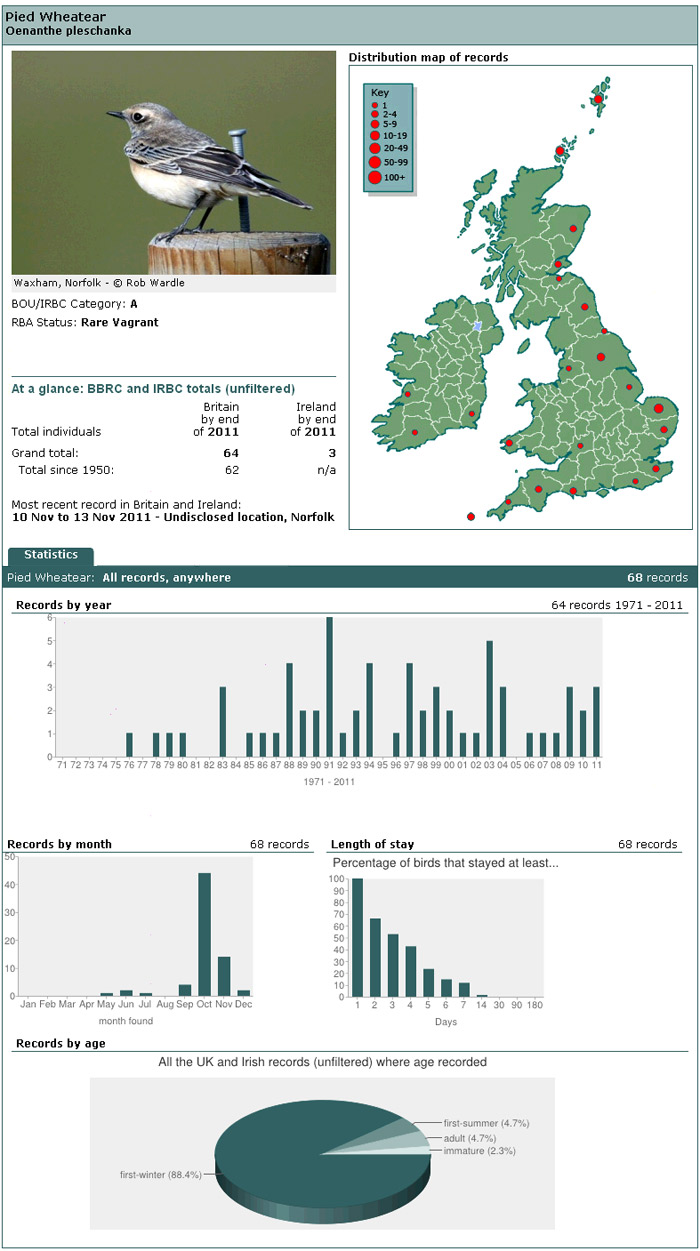 The grand total of accepted records until the end of 2011 - just 68 since the first was shot on the Isle of May in October 1909. Indeed, in the grand scheme of things it wasn't that long ago (just three decades) that this species would have warranted "mega" status - eight birds noted from 1909 to 1980, three in Scotland, three in England and one each for Wales and Ireland - the appearance of a female between Sheringham and Weybourne in the late autumn of 1983 was, therefore, particularly popular.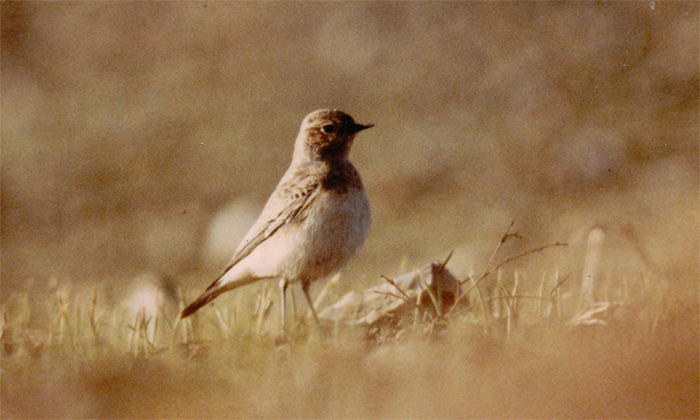 The intervening 30 years following that particular Norfolk bird have seen a further 64 identified - a total that includes last year's two (in Northumberland and Shetland) and this autumn's trio (on Bardsey, in Nottinghamshire and now Hampshire) - and has included 10 in the last three years. That, just like, American Buff-bellied Pipit numbers, its quite an upturn in fortunes…
Pied-billed Grebe
Finally to North Uist where the Pied-billed Grebe was still present on Loch nam Feithean, Balranald RSPB reserve until 19th.
A double bill of White-billed Diverswas seen again in Shetland's Bluemill Sound on 20th and were, comfortably, the best pelagic birds of the week.
Coming as something of a surprise though was the Cory's Shearwater that headed across Weymouth Bay on 23rd, but given the weather, maybe a lost big shear wasn't quite so odd as it first seemed. And much the same could be said about the Sabine's Gull seen in Plymouth Sound on the same stormy southwest day. Single Balearic Shearwaters were logged in southwest England (three in Devon and one in Cornwall) through the week (and another was seen in West Sussex) with 25 counted in two hours off St. Ives Island on 22nd. Single Pomarine Skuas were logged in Lunan Bay (Angus) on 20th and off Burial Island (Co. Down) the following day.
New this week was the Grey Phalarope in the harbour on Tory Island (Co. Donegal) on 18th while two single birds from last week lingered at Hornsea Mere (East Yorkshire) and Carnfunnock (Co. Antrim) to 22nd at least. The only Little Auks this week were the two or three seen from Hengistbury Head (Dorset) on 21st.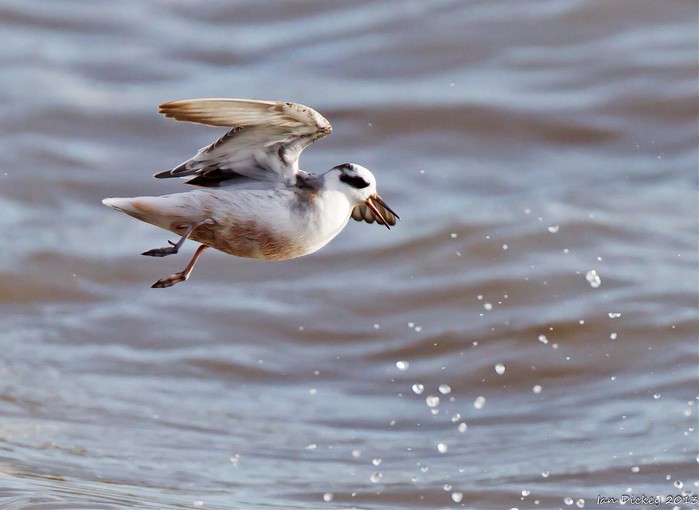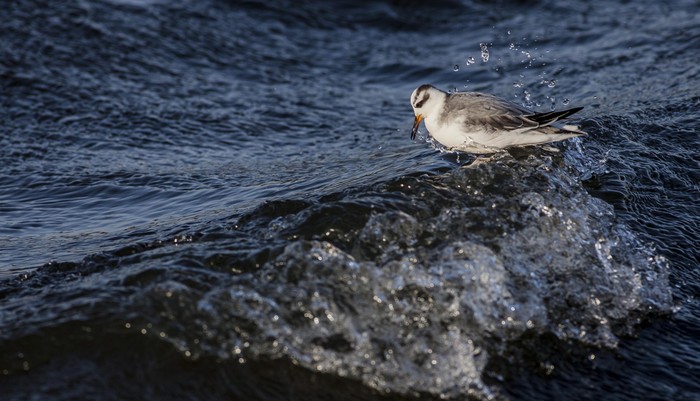 The mini-invasion of Glossy Ibis continued this week, with birds spread far and wide across Britain and Ireland.
In Scotland, seven birds were seen - two singles for Orkney, still on Mainland, at Birsay to 22nd, with a new arrival on Westray on 19th while on the Outer Hebrides three were seen at Clachan Farm on North Uist on 19th and two remained at Daliburgh, South Uist to 21st.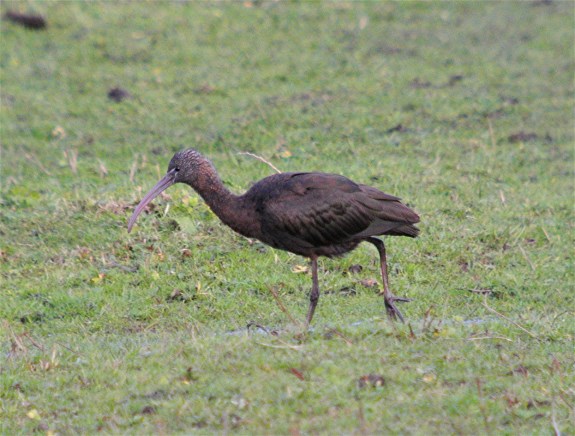 The northwest of England saw a single bird remain near Freckleton (Lancashire) to 21st at least and in the West Midlands, one was noted each morning over Clayhanger Marsh from 18th-20th and also near Pelsall to 22nd. Sightings from Staffordshire came from Norton Canes on 20th and Chasewater on 22nd.
East Anglia's sole representative was seen at Oulton Marshes from 19th-23rd while the southeast saw one linger at Dungeness (Kent) to 18th.
In the southwest of England, singles were at Tregony, near the Fal River (Cornwall) from 19th and at Broadhempston (Devon) on 20th-22nd while in Ireland, two Glossy Ibis were still at Dunfanaghy (Co. Donegal) on 20th, with one each for counties Kerry and Cavan - the former hosting one at Akeragh Lough from 19th, the latter at Lough Ramor on 21st. A dead Glossy Ibis was also found on Donegal's Tory Island this week.
Eleven counties played host to Great White Egrets this week and, as is so often the case, Dungeness was head and shoulders above everywhere else with six still there on 18th. There were doubles all round for Pitsford (Northamptonshire), also on 18th (with three there again on 22nd), at Llangorse Lake (Powys) and Hoveringham Lakes (Nottinghamshire), both to 21st, at Hornsea Mere (East Yorkshire) until 23rd and also Burton Marsh (Cheshire) - the latter county seeing birds recorded at five different sites during the week.
Further singles were logged in Lancashire (at Warton Marsh on 19th), Warwickshire (at Middleton Lakes RSPB) on 19th, in Northamptonshire (again at Earls Barton on 22nd), in Norfolk (on the River Ouse, near King's Lynn on 19th and by the River Tiffey, near Wymondham on 22nd), in Wiltshire (still at Coate Water Park on 22nd) and in Somerset (at Creech St. Michael on 20th and Ham Wall RSPB on 21st).
Remnant single Cattle Egrets from recent days lingered at Calvert Lakes RSPB and Steeple Clayden (Buckinghamshire) to 22nd and Devon's Clennon Valley to 23rd. Elsewhere in Devon, a new bird was found amongst the cows near Stoke Gabriel and two fresh arrivals were found near Bunmahon (Co. Waterford) on 21st with another reported the same day from Wexford, in fields near Gorey.
Two Spoonbills remained on Scilly, off Samson to 20th, with singles still at Vange (Essex), Cuckmere Haven (East Sussex) and Castle Espie WWT (Co. Down) all on the same date. The previous day, one was seen in Dorset, along the Fleet, at Ferrybridge while three lingered at Wacker Quay, on the River Lynher (Cornwall) to 22nd with one still at Cromane (Co. Kerry) to 23rd.
In a slim week for Common Cranes the only ones reported were the two first-winters in Dorset, at Cheselbourne and Dewlish to 22nd and nine at the Broadland roost at Stubb Mill, also on 22nd.
In Cumbria, a Todd's Canada Goose surfaced again this week at Skinburness on 20th (presumably it is the same bird that was seen in the county last month).
The Red-breasted Goose seen last week on the Isle of Wight remained at Shalfleet and the nearby Newtown Harbour NNR until 20th (while the bird on Jersey, suggested here as perhaps being the Hampshire & IOW bird seemed to dispel that particular thought by being present on the island on 22nd - tho' maybe it left the Isle of Wight to go back south…?)
The groovy first-winter Black Brant (still a rare plumage here) remained around the Spurn Peninsula to 22nd - a pleasant padder for Gull twitchers…
Elsewhere adults were noted on 18th at Titchwell RSPB (Norfolk) and again at Ferrybridge (Dorset), with the 19th and 20th seeing singles logged as still present at Lower Halstow (Kent), Roa Island (Cumbria) and in Hampshire, at Sturt Pond and near Emsworth. In Wexford, another adult was seen at Rosslare Back Strand on 21st with one again at Dawlish Warren (Devon) on the same day and three Brants were counted amongst a sizeable Dark-bellied flock at Paglesham Eastow (Essex) on 22nd.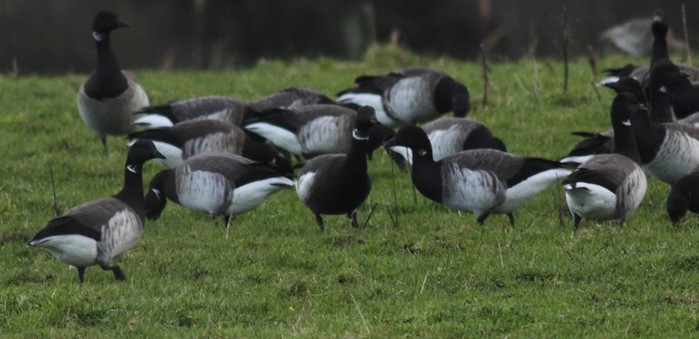 In northeast Scotland, the two white morph Lesser Snow Geese were still present at Loch of Strathbeg RSPB (Aberdeenshire) on 20th while on the west coast of Ireland, the white bird remained at Carrahane to 23rd.
Three drake Green-winged Teals remained in Scotland this week - at Loch of Kinnordy RSPB (Angus) to 18th and on North Ronaldsay (Orkney) at Caerlaverock WWT (Dumfries & Galloway) to 23rd.
A new bird was at North Cave Wetlands (East Yorkshire) between 19th-23rd while Norfolk's Green-winged Teal remained at Hickling Broad to 22nd.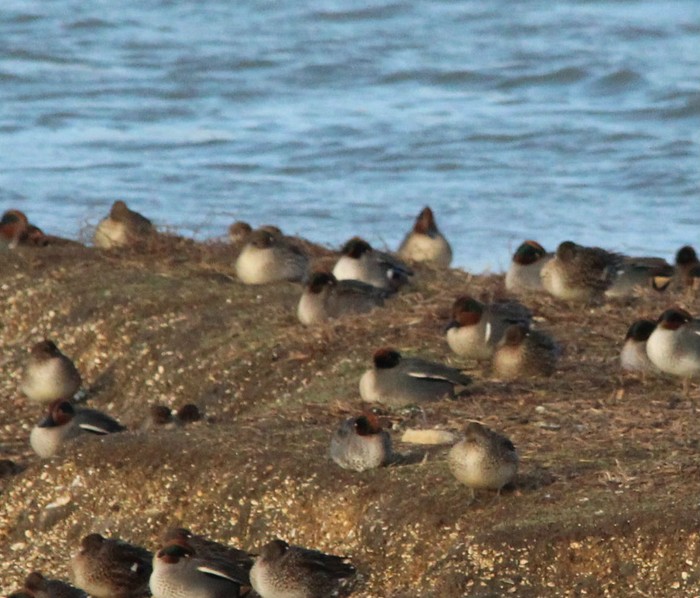 Just two Lesser Scaups were noted - the drake seen at Cardiff Bay (Glamorgan) on 19th and 22nd, with the female again at Alturlie Point, near Inverness to 22nd. Three Ring-necked Ducks were also seen - a drake was found on Lough Shivnagh (Co. Donegal) on 18th and a female (re-?)appeared at Leicestershire's Eyebrook Reservoir on 22nd (she was first seen here in November) and in Devon a female at Burrator Reservoir on 20th had actually been present for a week or so beforehand.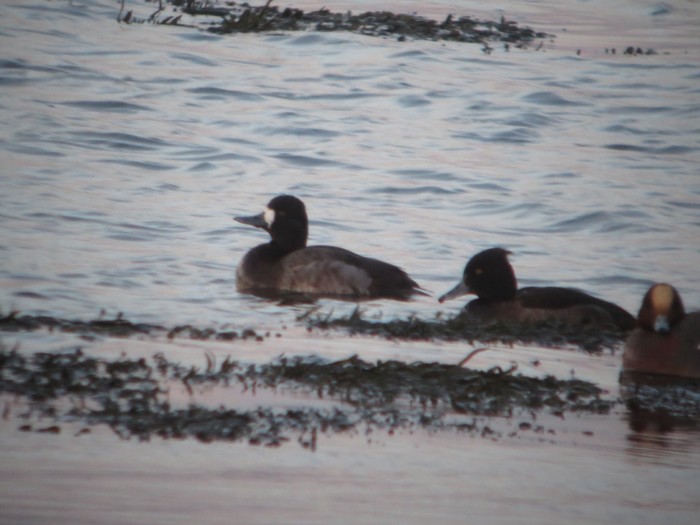 Last week's drake American Wigeon was still at Burton Marsh RSPB (Cheshire) until 19th (quite a week they've had…) and another that was present last week that also lingered was the drake at Loch of Strathbeg RSPB (Aberdeenshire), also to 19th. New was yet another male, at Fenham Flats (Northumberland) on 22nd, the first in the county since one at Cresswell in April 2011.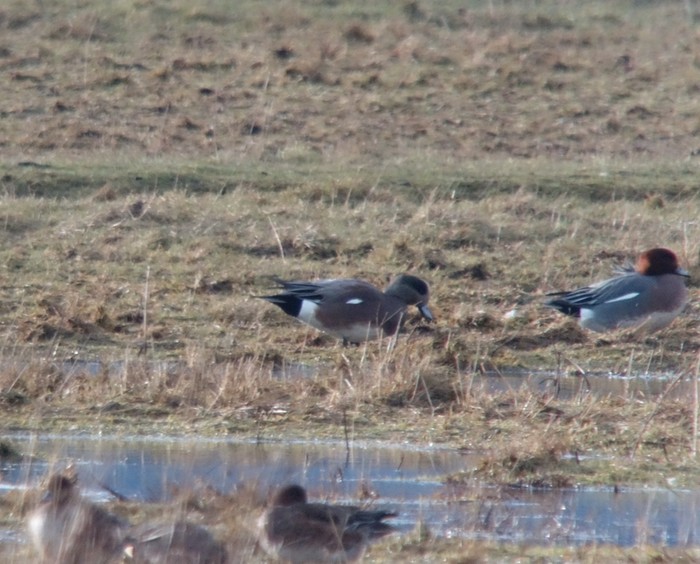 Lothian's female King Eider was somewhat overshadowed by the potential mega cousin elsewhere in the county this week, but a lone Queen remained off Gullane until 21st while on Shetland, a drake was in Bluemill Sound, Fetlar on 20th.
Back to the Scottish east coast and again to Lothian where not long after someone clapped eyes on the duck at Port Seton, a drake Surf Scoter was also noted - Surfie, King and a possible Steller's Eider in one county in one week - that's some going….
The previous day, a drake had also been noted near Mussleburgh (also in Lothian) while in Dorset, the first-winter was still in Poole Harbour, at Studland to 18th at least and three drakes remained off the coast of north Wales, at Llandulas, to 22nd.
The week's lone star of the Shorebird State was Hampshire's Lesser Yellowlegs that remained at Lepe CP until 20th.
In Devon, the adult Bonaparte's Gull was again at Dawlish Warren on 22nd.
There were fewer reports of Ring-billed Gull this week - with just four reports from Ireland until the end of the weekend (or anywhere else come to that) and all of them were familiar birds to this report - on 20th, the first-winter was still at Nimmo's Pier (Co. Galway) and the adult and second-winter were again at Tralee Bay Wetlands (Co. Kerry) while single adults remained in Antrim, at Carrickfergus and in Limerick City, both to 22nd.
The only Kumlien's Gull reported this week was the second-winter that was at Barmston (North Yorkshire) to 22nd at least, while around 38 Iceland Gulls were logged across Britain and Ireland - 14 of them seen around Scotland, including five on Shetland (two on Mainland and two on Unst) along with four birds (an adult and three juveniles) in Stornoway harbour on Lewis (Outer Hebrides) on 19th.
Up to three different Icelands were recorded at Rufforth Airfield (North Yorkshire) while two were seen at Cheshire's Richmond Bank on 19th. Two birds were also seen in Worcestershire during the week (in a total of five for the Midlands) while Ireland's nine birds included three at Killybegs on 19th and two again at Kerry's Reenard Point on 21st.
As with previous weeks, numbers of Glaucous Gulls were lagging behind those of their slender chums - around 2 noted to 23rd. Shetland hosted six (with three juveniles on Fair Isle on 18th) with three in the northeast of England, three in East Anglia, one in the southeast, three in the southwest (one each for Devon, Cornwall and Scilly), five through the Midlands and four in Ireland, three of them in Donegal, including two at Killybegs on 19th.
In east Norfolk, the adult and juvenile Rough-legged Buzzards were still at the Waveney Forest to 19th, with one there on 20th - with another (?) seen along the river at Reedham on 22nd. The only other bird this week was the lingering individual that remained at Orford Ness (Suffolk) to 20th.
The only other raptor record of any note elsewhere was an unconfirmed report of a Gyrfalcon at Insh Marshes RSPB (Highland) on 21st.
In the Midlands, in Northamptonshire, the Hume's Yellow-browed Warblers remained on the private Kelmarsh estate until 22nd at least (there remains no general access), while wintering Yellow-browed Warblersincluded at least four birds in Cornwall - still near Loe Pool, Helston and also Gunwalloe on 20th, when two were also noted at Torpoint - birds which had been in place for at least three weeks. The other bird seen this week remained at Clennon Valley Lakes (Devon), present there to 22nd.
Norfolk's Richard's Pipit remained amongst the inundation debris at Kelling Hard to 20th with the wintering Hoopoe in North Wales remaining at Pensarn (Conwy) for another week.
Up to three different Great Grey Shrikes were at large in the Forest of Dean through the week - at Cannop Ponds on 19th-21st, near Ruspidge on 21st and near Cinderford on 22nd while singles were in the adjacent counties of (to the south) Wiltshire (on Salisbury Plain on 20th) and (to the north) in Worcestershire (near Bittell, also on 20th).
Further single Great Greys through the week were seen in Staffordshire, Lincolnshire, Cambridgeshire, Suffolk (a new bird near Eleveden on 20th), Hampshire and Dorset.
Nottinghamshire's 14-strong group of Parrot Crossbills remained at Budby Common throughout the week while East Anglia's big-billed ensemble included up to 11 still around the area of Holt Country Park and the nearby Lowes to 22nd, 10 still at Mayday Farm on 20th and eight in the Tunstall Forest on 19th.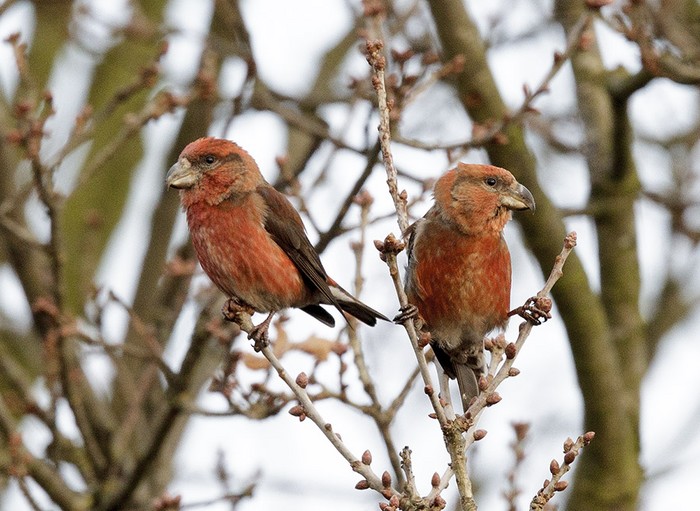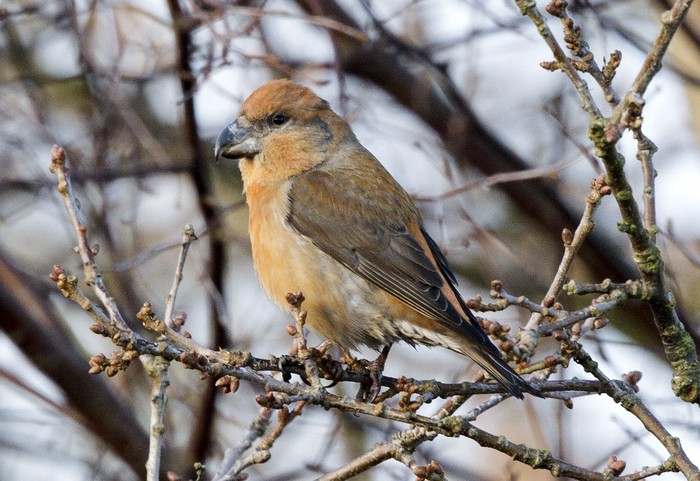 Away from the flock action here and there, single Parrot Crossbills remained at Chamber's Farm Wood, near Bardney (Lincolnshire) between 18th-20th, again at Broomhead Reservoir (South Yorkshire) on 22nd when another lone bird was found in the woods of Herefordshire the same day, with a female at Wapley Hill.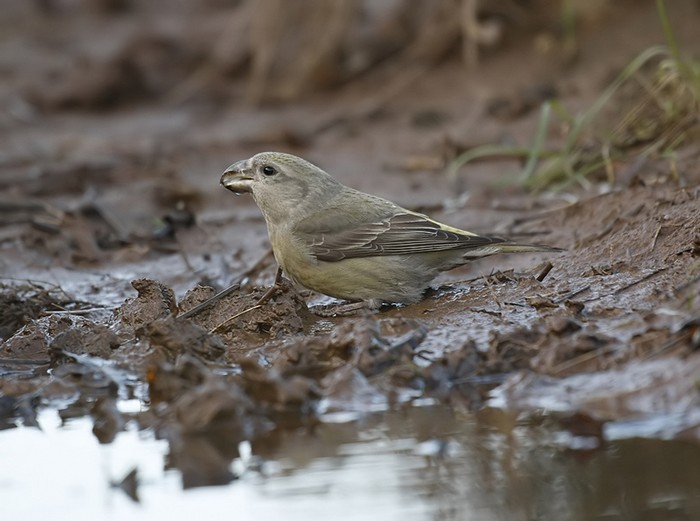 At least 26 Two-barred Crossbills remained in England this week, split across three, now familiar sites. The bulk of the birds remained along the Serridge Ridge, in the Forest of Dean (Gloucestershire), 15 still there on 20th, while the group at Broomhead Reservoir was still numbering at least eight birds (five of them males) through the early part of the week. The final trio remained at Buttonoak, in Shropshire's Wyre Forest, the two males and single female present to 22nd.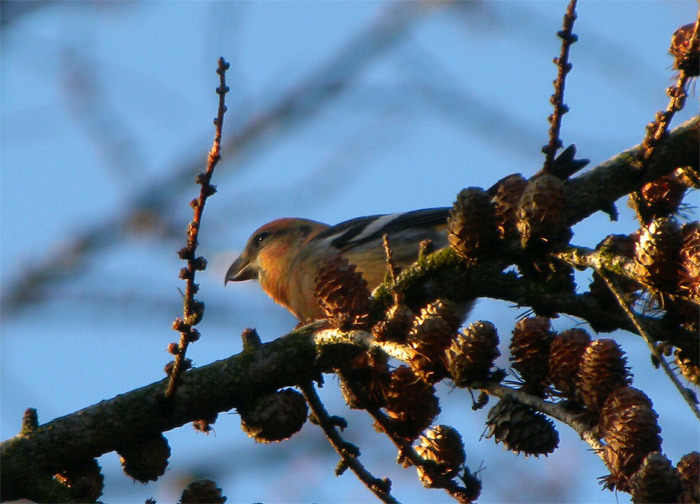 The far southwest of England held on to two of the week's three Rose-coloured Starlings - first-winters lingering at Marazion (Cornwall) and on St. Mary's (Scilly) to 20th and 23rd respectively. Norfolk's popular wintering bird remained to 22nd at least and another was reported in Warwickshire, at Coleshill, on 18th.
Finally then, we come to the final bits of bird news of an often manic 2013. This week has seen a upward spike in numbers of Waxwings recorded in this second winter period with the first three figure flock notched up for good measure too.
That group, 230 or more, was noted in the Kincorth area of Aberdeen on 22nd and followed on from a couple of flock of 50 or so elsewhere are the Granite City earlier in the week. A further four Scottish counties recorded Waxwings over the past seven days, but numbers were in single or low double figures.
The northeast of England saw just under one hundred birds noted, in five counties, with flocks of 20+ in North and South Yorkshire and also Cleveland too. Another group of 20 were seen at Stourbridge (West Midlands) on 23rd.
There we are then - done and dusted for another year. The short term forecast, in the immediate days after Christmas suggests nothing other than another potentially damaging ever-deepening Atlantic storm heading our way - heavy rain and high south to southwesterly winds to the fore again. But it could bring birds…
...and with so many birders having a bit of time off work, it can be a productive time of year - Christmas Eve has yielded many goodies over the years, including American stars such as the lovely American Robin at Inverbervie in 1988 or the Slate-coloured Junco in the New Forest in 2011.
December 25th's most eyecatching species remains the single observer Siberian Thrush in Great Yarmouth in 1977, while there have been two each for Killdeer and Sociable Plover too.
Further in to the Holidays, New Year's Day is full to the brim with great birds but two ancient records really stand out - the Allen's Gallinule caught on a fishing boat off the east coast of Norfolk in 1902 (we had to wait 110 years for the next one, that extraordinary record from Portland in February 2002) and, earlier still, on January 1st 1897, our one-and-only White-faced Petrel caught on Colonsay.
..and with the wild weather ahead, let's go for another Black-bellied Storm-petrel-type as the surprise package for the final days of 2013. The storms aren't dissimilar to the conditions that plonked one off Severn Beach in late November 2009, with Norfolk's rejected Fregatta that appeared on December 10th 2007 after another fierce Atlantic front rattled in to us. Given the year that it has been and the curios that it has thrown up continually through the last 12 months, a surprise like that wouldn't come as much of a surprise at all…
Special thanks from me this week go to Brian Egan in the RBA office who gets everything "technical" review-wise ready, week in week out. It wouldn't look half as nice without him. Thanks also to the RBA newshounds, Chris, Stuart, Will and Pete who have the answers to any questions I may have had...
Thanks too to Andy Stoddart and Jon Dunn who have covered the review for me when my brain needed a rest and thanks to those of you who have passed on kind comments about the reviews too, they really do make it all worth while.
Lastly many, many thanks to everyone who has offered up news and been kind enough to post photos on the website or emailed shots to me. They really do make all the difference.
Enjoy the holidays, we'll be back with more of the same and a double-header on January 8th.
Mark Golley
24 December 2013

Thanks this week's contributors for their photos and videos
Paul Hackett, Phil Woollen, Simon Knight, Mike Malpass, Adam Hartley, Jim Almond, Espen Quinto-Ashman, Sean Foote, Rob Wardle, Graham Etherington, Steve Duffield, Ian Dickey, Phil Sharp, Steven Nuttall, John Chapple, David O'Connor, Mike Langman, Paul Kelly, Ellis Lucas, Toby Green, David Aitken, Graham Catley, Dave Hutton, Lynne Demaine, Bob Flood,
Contributors Websites