Weekly round-up: 20 - 26 Nov 2013
The week at a glance
Britain's fourth Caspian Stonechat identified on Scilly
American Robin arrives on the Outer Hebrides
The Western Orphean Warbler remains in west Wales
..and the first-winter Short-billed Dowitcher lingers on North Ronaldsay…
New male Northern Harrier photographed in Cornwall
…where the Pacific Diver continues to be seen too…
Most of us saw the first hint of proper early winter weather this week as a northerly airflow set itself up across much of the country but fortunately, most areas enjoyed sunshine and blue skies to make the cold and crisp conditions all the more enjoyable.
There were showers around and frost too, and the review period ended with a swathe of cloud parked across many areas as slightly milder air started to push in from the west.
The weather may have become a little cool, but there was still no sign of any chilly spells where birds were concerned…as great birds kept getting unearthed to keep the "rare thermometer" nicely in the red.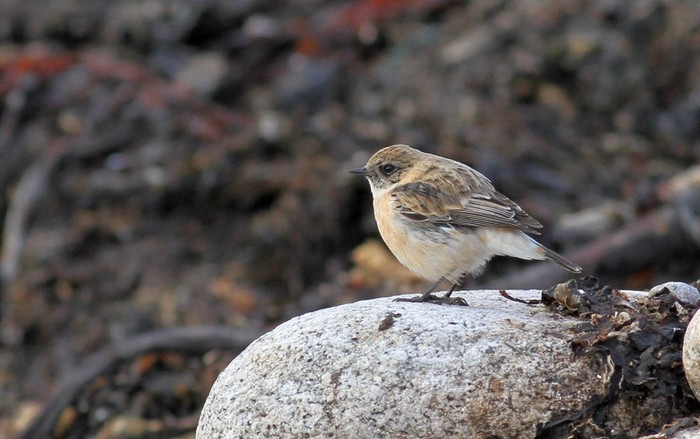 Caspian Stonechat
New bird of the week #1 was actually a bird that had first been seen and reported last week ~ what was listed as a first-winter male Siberian Stonechat on St. Agnes in last week's review morphed in to an all together much-rarer thing by dusk on 21st ~ Scilly's first, and Britain's fourth, Caspian Stonechat (form variegatus or hemprichii ~ read on for more detail) present for its fifth day at St. Warna's Cove.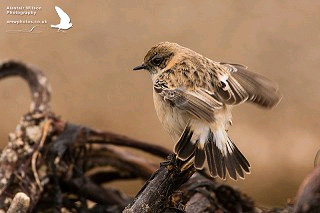 Though not yet an official split here in the UK, it must surely be only matter of time before the BOURC Taxonomic Sub-committee perhaps take another look at their relatively recent split of Stonechats and ease the form variegatus away from the Siberian bed that it currently rests in (maurus and stejnegeri making up the remainder of the forms most relevant to UK listers).
Birders who headed to Portland last year to see Britain's first confirmed Stejneger's Stonechat (present on October 24th-26th 2012) will doubtless have got their collective thinking caps on as to how to get to St. Agnes in a hurry. Anyone who dipped the Great Blue Heron or twitched the "Spotless Starling" would know that a winter twitch is easily do-able ~ so the journey to the southwest could begin…
Very few people managed to see either of Britain's other three Caspian Stonechats ~ the startling young male at Porthgwarra in October 1985, in Suffolk, at Landguard Point where another young male was seen in September 1993 and, most recently, the one day spring bobby-dazzler of a bird beside the Pool of Virkie on the Shetland Mainland in the first week of May 2006.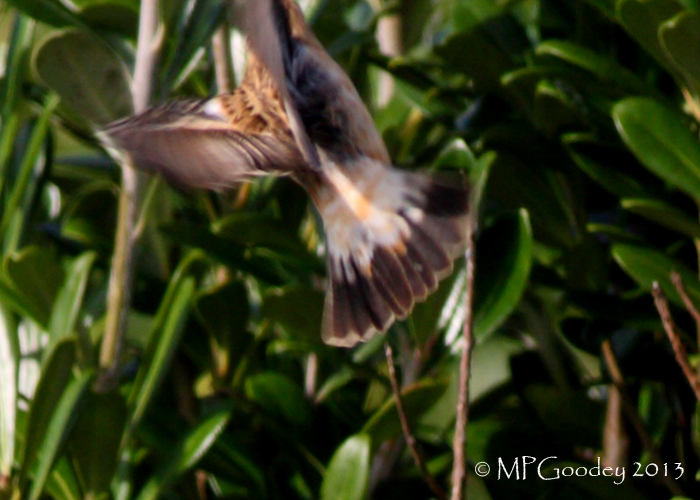 The Scilly bird certainly seems to have drawn a significant array of insurance collectors through until 26th but it must be said that, as cute as he may be, he looks to be a slightly different less-striking beast compared to that first bird at Porthgwarra (and, on tail patterns alone, the Shetland bird too) ~ odds must be high that this 2013 bird is from a different part of the Caspian Stonechat range compared to the 1985 individual at least. Is it down to variation with the form or is the Scilly bird closer to the armenicus end of the scale and part of a cline?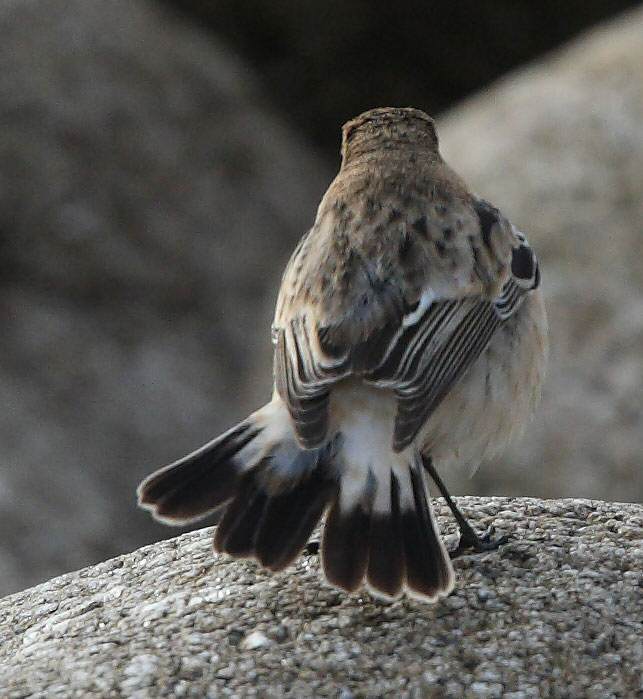 What have the authorities said about variegatus in recent years? Well….
…here's a brief extract from the RIACT (Racial Identification Amongst Changing Taxonomy) article that appeared in British Birds 99: 609-645.
"More research into potential intergrades between variegatus and both maurus and rubicola is needed, while the race S. t. armenicus should also be considered; nonetheless, we feel that it is safe to continue to record birds showing the distinctive appearance of variegatus".
…and there's this from the BOURC, in an article in Ibis 103: 4 post the Siberian Stonechat split.
"Pending further analysis, variegatus, armenicus and indicus are provisionally retained as conspecific with S. maurus".
…and this, the most up-to-date analysis from Svensson et al 2012 where the authors addressed the Taxonomy and nomenclature of the Stonechat complex Saxicola torquatus sensu lato in the Caspian region. Bull BOC 132(4): 260–269.
"SUMMARY.—We discuss the taxonomy of the Stonechat, the accepted broad species Saxicola torquatus, and find convincing reasons for recognising three species: European Stonechat S. rubicola, Eastern Stonechat S. maurus and African Stonechat S. torquatus. The nomenclature of the taxa breeding in the Caspian region is revisited and, based on an analysis of the original type descriptions and all relevant literature, and of four preserved specimens of Ehrenberg's taxon hemprichii from 1833 now in Berlin, we conclude that the name variegatus should not be applied to the taxon breeding north of the Caucasus but instead to the population in eastern Turkey and Transcaucasia, present-day armenicus. This places armenicus in the synonymy of variegatus, the latter having priority. Thirdly, a name is required for the north Caspian population. The name hemprichii is the oldest available and valid name for this population. "
Phew! Got all that?
So, whether it's variegatus or hemprichii, there's every chance that there'll be more movement where this is concerned and it certainly isn't the last we've heard on the complex world of Stonechats...
…and there's surely a chance that a further two armchair ticks will be borne from the current Siberian Stonechat complex.
And you thought gulls were a teasing mish-mash…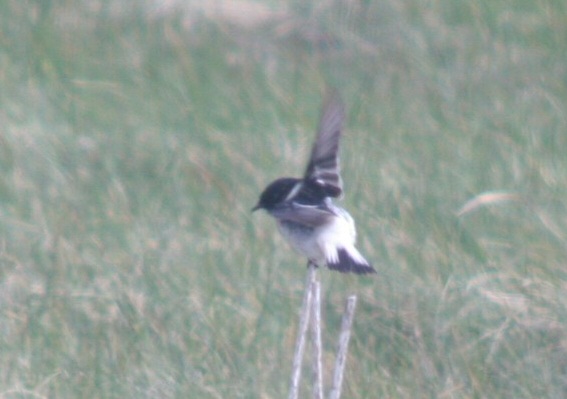 American Robin
New bird of the week #2 was another bird that had been present for a fifth day before being well and truly noted ~ this one being the American Robin finally identified at South Loch Eynort, on South Uist (Outer Hebrides) during the afternoon of 21st and which was still present on 25th.
The third record of the species of the autumn, following on from the two found in the far southwest of England, on Tresco and The Lizard, this week's fresh arrival is only the second record for the Outer Hebrides, following on from a month-long stayer on the remote St. Kilda in January and February 1975.
2013 now becomes the fourth year to have seen the appearance of three American Robins ~ the only others being 1966 (birds seen in Dorset in January, Surrey in February and Dumfries & Galloway in May), in 1982 (a freshly dead bird found in County Down in January, and live birds on Foula and Lundy in November) and, most recently, 2006 (seen in London from January to March, Highland in May and Tresco in October).
We're now up to 37 records for the species ~ 11 of them since 2000 ~ while there have now been eight November American Robins including the first "modern-day" record on Lundy in 1952, while this week's Hebrides bird is the latest November to date ~ the previous seven have appeared between 3rd to 14th of the month.
Western Ophean Warbler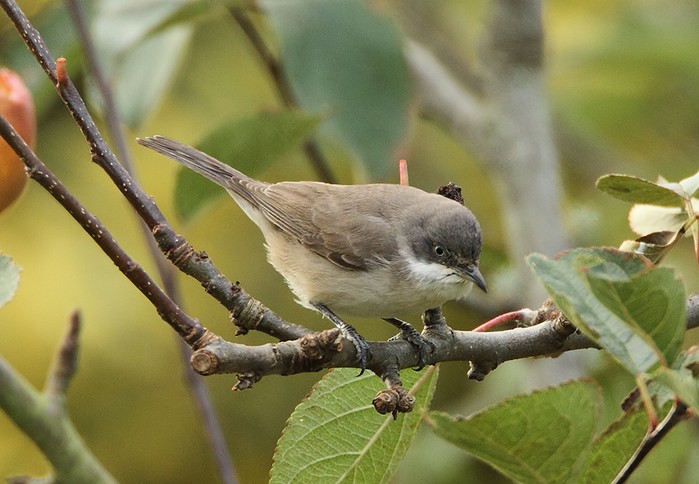 In Pembrokeshire, at Orlandon Kilns, near Marloes, the popular Western Orphean Warbler was still being seen around the garden of Peter and Rosemary Royle up until 24th ~ when, once again, the Royle's opened up the house to visiting birders. That actually seems to be it though for this particular Pembs. rare ~ there was seemingly no sign of the bird through 25th.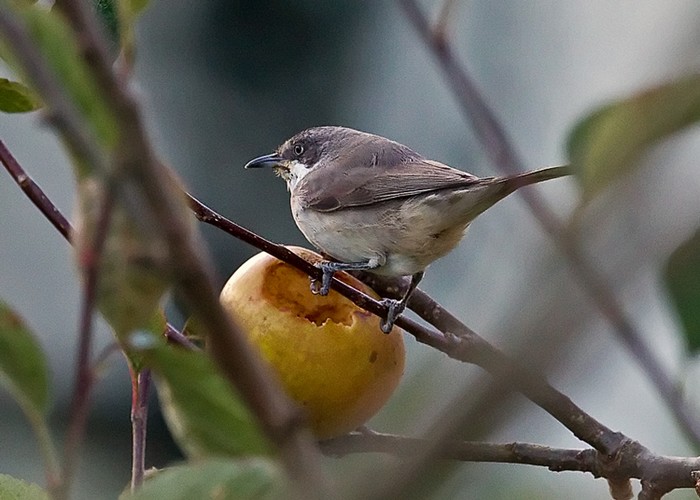 The bird seemed to show well throughout the weekend and anyone who missed the Cleveland bird in 2012 really ought to have done the job with this species now ~ whenever the next one appears it will, most likely, become one of those megas that may struggle to draw the crowds ~ simply because of two showy birds in quick succession. You wouldn't have thought that 18 months ago…
…the 2013 WOW has also managed to raise over £1100 for the Skokholm fund that the Royle's wanted the bucket money to go towards. Good job all round. Take a well-deserved bow everyone.
Short-billed Dowitcher
On North Ronaldsay, Orkney's first Short-billed Dowitcher, the dinky moulting first-winter, was seen on 20th, 22nd and 23rd which appears to have been it's last day on the island ~ two days of negative news followed. It could relocate to somewhere else in the island group or will it "do a Rosehearty" and appear somewhere well to the south in the next few days? Time will tell…
Northern Harrier
Coming up as a very strong contender for Bird of the Week, the gorgeous male Northern Harrier photographed at Men-an-Tol ~ a beautifully rugged Bronze Age monument on the moorland in west Cornwall, not far from Madron ~ on 24th.
Local birding photographer Bob Sharples was on hand to fire off a selection of images of this stunning bird ~ and I'm grateful to Bob for allowing me to show a couple of them here.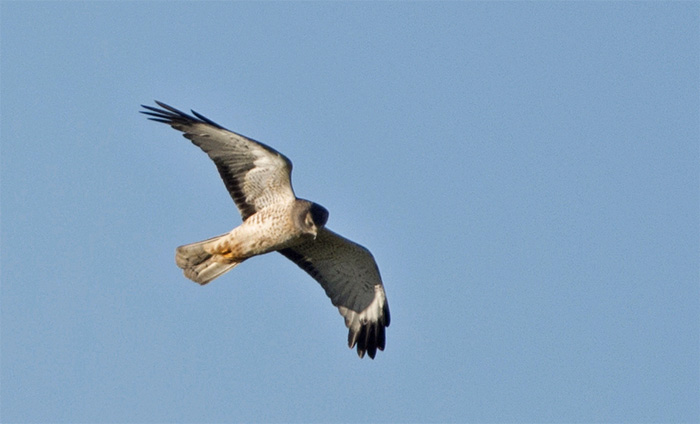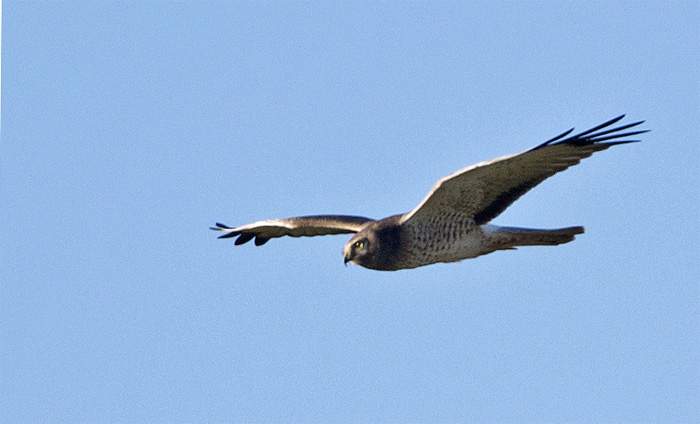 For more shots of the bird check out Bob's blog http://bobsharplesphotography.blogspot.co.uk/ or take a look at his website http://www.bobsharplesphotography.co.uk/
This week's Cornish bird is the third older (i.e) grey male Northern Harrier to be found in Britain and Ireland. The first was the beauty photographed above Selset Reservoir in County Durham in September 2009 with the second appearing at Wexford's Tacumshin in October 2011.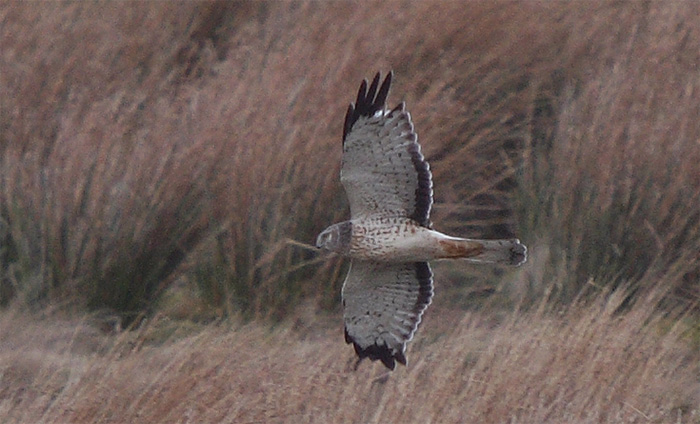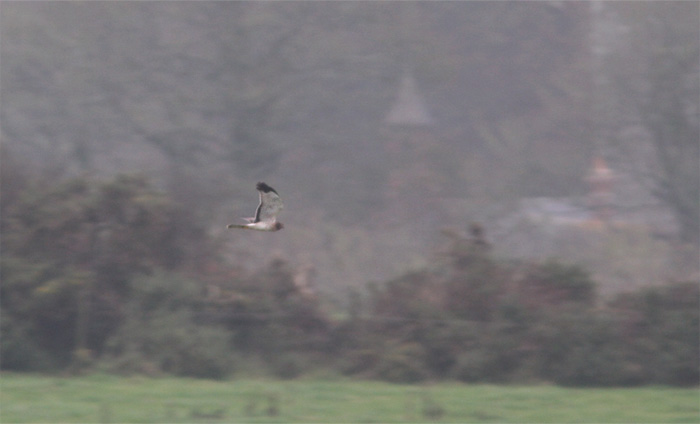 Elsewhere in Internet-land, there has ~ again ~ been discussion as to the specific status of Northern Harrier. Regular readers of this review may remember that on several occasions this issue has been touched on here, so it is perhaps worth re-iterating it one more time.
As it stands, neither the BOU or the AOU recognise Northern Harrier as a separate species (although the IOC do).
The paper that will, basically, confirm that a "split" is an appropriate course of action was written several years ago (one author is British) and has already been presented to "The Auk" (the AOU quarterly journal). It was returned to the authors for minor tweaks, tweaks which, once signed off by the editors of said journal, will really start the ball rolling.
Bob Sharples' Men-an-Tol bird has been looked for since but hasn't been seen again, although there's presumably a chance that it could be located in a harrier roost somewhere in the county in the near future perhaps. Many people would welcome the chance to have a an encounter with a male like this ~ controversy still hangs like a distant shadow over Norfolk's juvenile male (arguably a better looking Marsh Hawk than some) while the Cambridgeshire bird of the last few weeks still doesn't look as good as many suggest it is (though it is, presumably, still within the NH ballpark).
Pacific Diver
Elsewhere in Cornwall, the adult Pacific Diver was seen on several days through the week, still off Pendower beach in Gerrans Bay until 25th at least.
On Shetland, in Bluemull Sound, the White-billed Diver was seen again from the ferry running between Yell and Unst on 20th ~ judging by Brydon Thomason's shots it was pretty close too…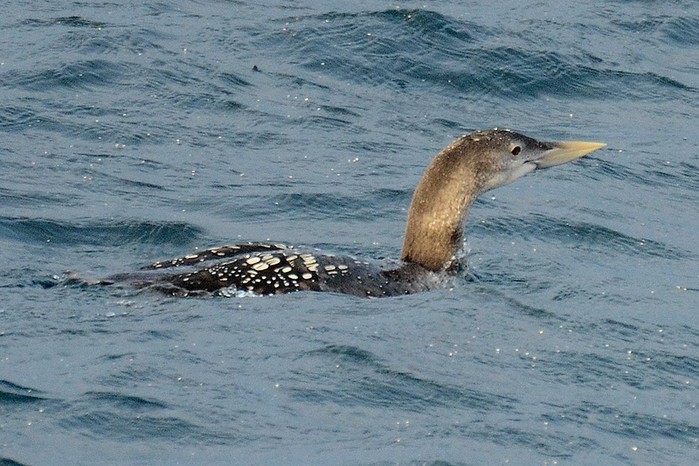 A couple of very late juvenile Long-tailed Skuas were logged along the east coast as a pulse of briskish northerly winds blew down the North Sea ~ singles reported from St. Mary's Island (Northumberland) and Whitburn (Co. Durham) on the afternoon of 21st with a third off Gorleston (Norfolk) the following day. At least 14 Pomarine Skuas were noted along the east coast on 21st as well, with three each for Farnes and Southwold and a further 10 or so followed until 25th ~ all of those coming in North Sea counties, spread from North Yorkshire to Suffolk.
Three Leach's Storm-petrels were seen through the week, two in Lincolnshire ~ at Huttoft Bank and Gibraltar Point on 21st and 22nd respectively ~ with the former date seeing one appear off Long Nab, Burniston (North Yorkshire). Birders on the Scillonian III saw 18 Balearic Shearwaters on 25th ~ four more were reported elsewhere including a late North Sea bird off Filey (North Yorkshire) on 22nd ~ and birders on the open seas off Cornwall also managed a Little Auk on the same boat crossing on 25th.
Despite the shove of chilly northerlies down the North Sea, this wasn't really going to be a wind for wrecks of Little Auk (perhaps coming a little too late for big numbers?) with some 60 or so recorded through the week, 34 of those counted down along North Sea coastal counties on 21st, including 12 past Farnes and nine from Whitburn. A further 27 were seen through the remainder of the week with three off St. Ives Island (Cornwall) on 24th the only ones to catch the eye.
Herons, Egrets and Allies
Up to dozen Glossy Ibis were noted through the last few days ~ the two roosting juveniles at Slimbridge WWT remained in the area to 24th (after a little excursion to Coombe Hill Meadows NR on the afternoon of 23rd).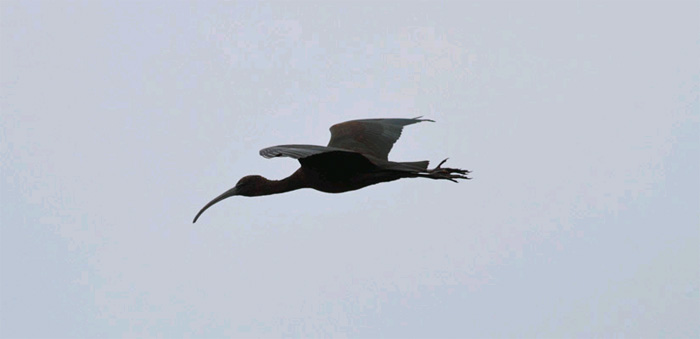 Coincidentally, two Glossy Ibis were seen arriving at Hengistbury head and Christchurch Harbour (Dorset) on 24th (where they remained to the end of the week) and twos were also then seen at Pennington Marshes (Hampshire) on 25th and Chew Valley Lake (Somerset) on 26th. Could any of these duos be the Gloucestershire two?
"New" singles this week were found alongside the River Calder (Lancashire) and Tacumshin (Co. Wexford) on 22nd, at Callow Rock SWT (Somerset) on 23rd and over Sandbach Flashes (Cheshire) on 25th, while lingerers from previous reviews remained at Lowdham (Nottinghamshire) and Dungeness RSPB (Kent) both to 24th at least.
In County Down, the returning Cattle Egret was again at Hillsborough Park Lake on 26th and Great White Egret numbers remain pretty consistent around the 25 mark.
At least four were at Dungeness on 24th, three were again at Pitsford Reservoir (Northamptonshire) on 25th and there were two each for Llangorse Lake (Powys) and the marshes around Southport (Lancashire) on 23rd-24th. New singles appeared in Poole Harbour (Dorset) on 20th, at Dinton Pastures CP (Berkshire) on 21st, across West Bay, near Bridport (Dorset) on 22nd, Ashford (Kent) on 23rd and Spurn (East Yorkshire) on 26th, with more lone birds recorded in a further nine counties (including two more in Wales) to the end of the week.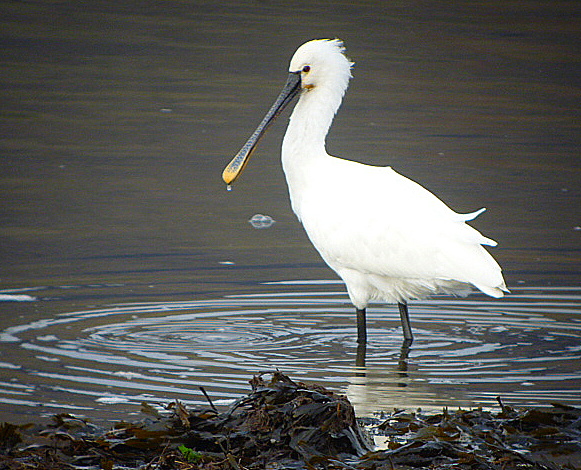 27 was this week's magic number for all things Spoonbill related in Poole Harbour this week, counted in Holes Bay on 22nd. Elsewhere in southwest England, regular wintering sites in north Devon (at Isley Marsh) and southeast Cornwall (the River Lynher) continued to host five and three respectively, with singles along the south coast at Lepe CP (Hampshire), Pagham Harbour (West Sussex) and near Newhaven (East Sussex) and new was a single Spooner at Hanningfield Reservoir (Essex) on 26th. In Ireland the Spoonbill remained at The Cunnigar, Dungarvan (Co. Waterford) and also at Cromane (Co. Kerry) while in County Down, last week's bird at Castle Espie WWT died on 20th ~ only to be replaced (almost Lazarus-like) by a new bird there on 24th.
A whopping 18 Common Cranes were at Nene Washes RSPB (Cambridgeshire) on 25th, beating Norfolk's best effort of 12 at the Stubb Mill roost on 23rd. Back around the Cambridgeshire Washes, at least five birds were noted at Guyhirn on 22nd while new was a single bird in Wicklow, at Newcastle from 23rd and two birds were at Welney WWT (Norfolk) as the week came to a close.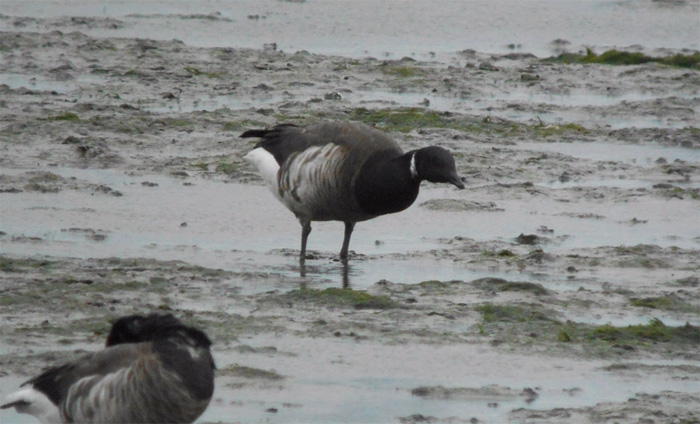 A couple of Richardson's Cackling Geese were seen at Bridgend on Islay on 24th while in Ireland, the adult Grey-bellied Brant-type remained at Kilbarrack (Co. Dublin) until 25th at least.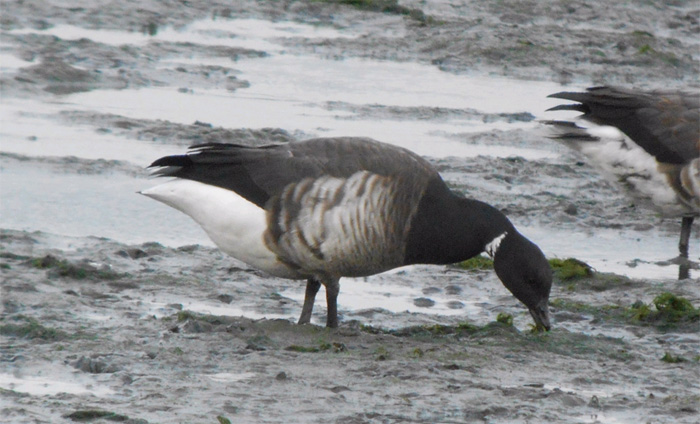 Cley's Black Brant was an ever-present this week with other wintering birds still on the Exe Estuary, at Dawlish Warren, on The Fleet (Dorset), at Farlington Marshes (Hampshire) ~ with two birds there on 25th. New individuals appeared at Harty Ferry (Kent) and Castlegregory (Co. Kerry) on 24th and Roa Island (Cumbria) on 26th with another reported from Burnham Overy Staithe (Norfolk) on 25th (although seasoned Norfolk Brent watchers will be only too aware of the decent look-alike hybrid gander that has been in that same general for several winters now). Back in Hampshire, the Red-breasted Goose moved to Pennington Marhses on 23rd and was still there the following day.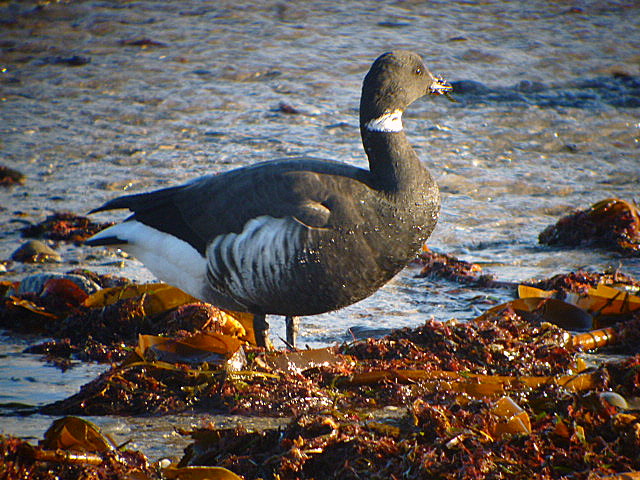 The presumed escape first-winter Ross's Goose remained at Marshside RSPB (Lancashire) to 25th while the presumed wild white Snow Goose remained at Carrahane Strand (Co. Kerry) to 23rd. There was no news from Aberdeenshire on any of their Snows while the two regulars of recent weeks remained at Tayinloan (Argyll & Bute) to 26th.
Three new lone drake Green-winged Teals were recorded through the last seven days ~ one was reported from the Nunnery Lakes NR, Thetford (Norfolk) on 20th and was followed by birds on Shannon Airport Lagoons (Co. Clare), also on 20th and at Loch of Lintrathen (Angus) on 24th. Three more left-overs remained too ~ at Gretchen Loch, North Ronaldsay to 24th and Caerlaverock WWT (Dumfries & Galloway) and Rutland Water (Leicestershire), both to 26th.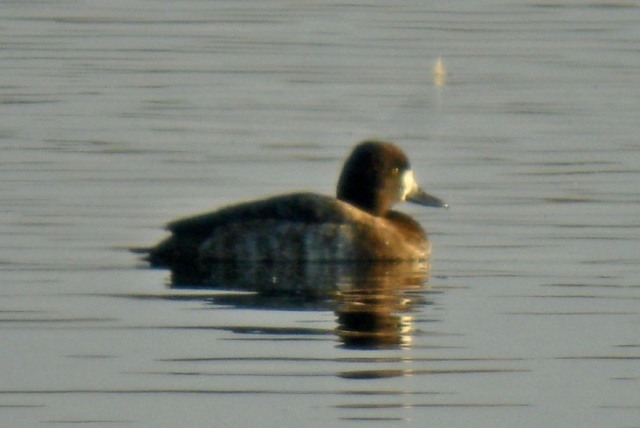 New for the week was the female Lesser Scaup found at Loch an Daill, South Uist (Outer Hebrides) on 24th ~ still a very rare bird on the islands (eight records now, though there's some sort of duplication and doubling up in the occurrences of 2006 and 2007, involving returning birds) and the first there since March 2008.
In Wales, the drake Lesser Scaup was back in Cardiff Bay (Glamorgan) from 23rd while Irish birds were the first-winter female that remained at Murlach, Ballyconneely (Co. Galway) to 22nd and the drake still on Kerry's Lough Gill on 25th.
Hampshire welcomed back a drake Ferruginous Duck to Blashford Lakes HWT from 22nd ~ the bird was first seen here at the end of 2011, remaining to the end of February 2012, before coming back on November 12th 2012 where it was seen sporadically through until February this year.
The female Ring-necked Duck seen at Stanwick GPs (Northamptonshire) on 20th had presumably ventured over the border from Leicestershire while a new drake was on Lough Ea (Co. Donegal) on the same date. The only other Ring-necked Ducks seen this week were also Irish birds ~ a drake was on Lough Owel (Co. Westmeath) on 24th, another drake was back at Ross Castle, near Killarney (Co. Kerry) on 26th when the young drake was noted as still present on Lough Gill.
Ireland held three of the four American Wigeons including new drakes on Lough Neagh (Co. Antrim) from 22nd and at Malin (Co. Donegal) on 23rd. The drake remained at Tullaghan (Co. Leitrim) to 22nd with Scotland's single representative was still at Udale Bay (Highland) on 21st.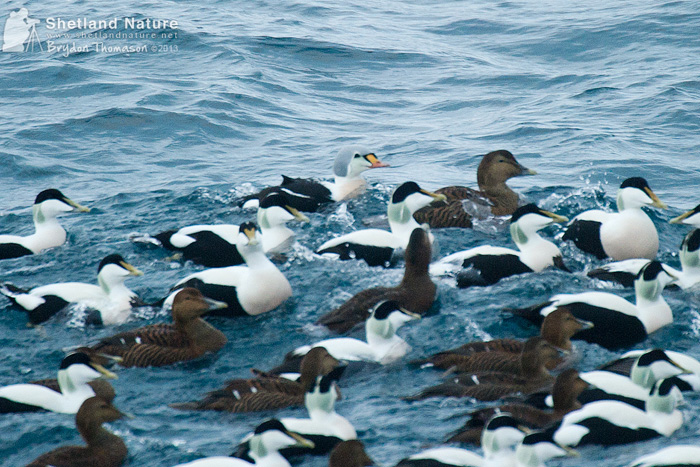 A second-winter drake King Eider was found in the waters off Fetlar (Shetland) on 20th and was still present the following day. A female was a great find in Blacksod Bay (Co. Mayo) on 22nd, where it remained to 26th ~ only the sixth for the county, following on from a young drake on Inishkea earlier this year and a first-winter drake, also noted on the Mullet in December 2008. Mayo's only other records where a pair of young birds in March 1985 (near Belmullet) and off Achill Island in December 1892. This week's Mayo female less than two weeks after one flew south past the bottom end of South Uist ~ it couldn't be the same one could it?
Three single Surf Scoters were noted on 21st ~ the female at Morfa Bychan (Gwynedd), the juvenile in Brand's Bay, Poole Harbour (Dorset) with a drake in Fife's Largo Bay, off Ruddons Point. The 22nd saw mention of the juvenile male again off Courtmacsherry (Co. Cork) and the two drakes were still off Llanddulas (Conwy) the following day. Back in Cork, a Surf Scoter was also noted from Ballinwilling Strand on 24th.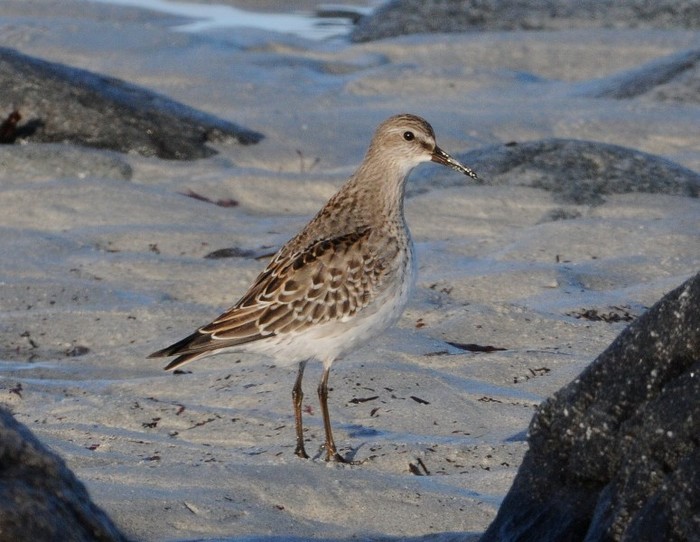 The adult White-rumped Sandpiper was at Frampton Marsh RSPB (Lincolnshire) until 22nd while on the beaches of South Uist, the juvenile was seen again on Ardivachar Point on 24th.
The adult American Golden Plover remained in the fields near Sennen (Cornwall) to 25th while Hampshire's Lesser Yellowlegs was at Lepe CP throughout the week. Over in Antrim, alongside the already mentioned American Wigeon on Lough Neagh came the first Pectoral Sandpiper for almost a month ~ seen on 23rd it will probably the last time the species is mentioned until maybe May 2014.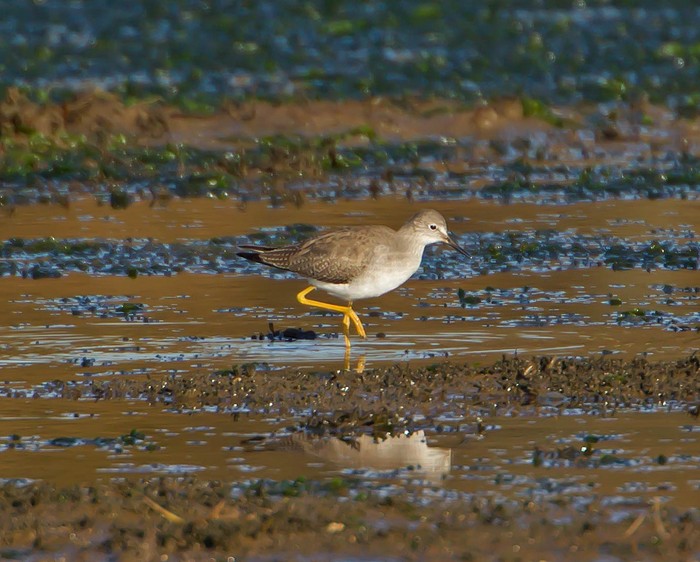 The wintering adult Bonaparte's Gull in south Devon was still spending much of the week around Dawlish Warren, seen there from 22nd-25th at least.
A new juvenile Kumlien's Gull was at Killybegs (Co. Donegal) on 23rd along with a juvenile Glaucous Gull. That was one of 20 recorded over the past seven days from 14 counties and included two on Lewis, at Port Nis, on 21st, singles on Foula and Unst on 23rd, fly by juveniles off Whitburn on 21st and 24th and two birds still on Norfolk's north coast (at Cley and Edgefield throughout and off Cromer on 23rd). Others were noted on Orkney, Highland, Northumberland, Lincolnshire, South Yorkshire, Staffordshire (two there), Cambridgeshire and County Waterford.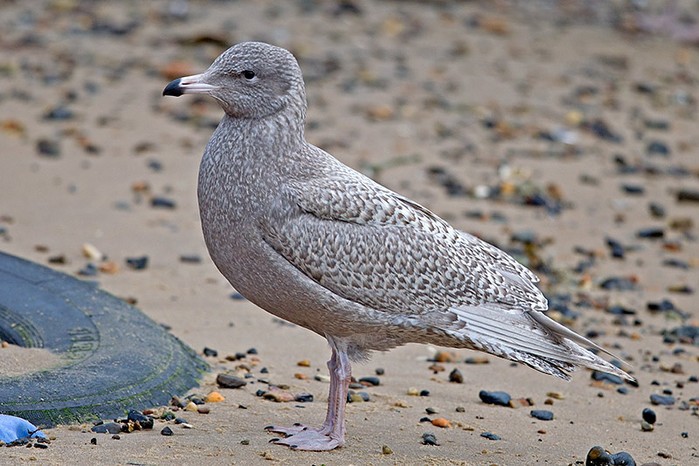 Iceland Gull
numbers weren't too far away from those of their larger white-winged cousins ~ 20 recorded, including two youngsters in Northumberland, two in North Yorkshire and also on Orkney, along with four singles in the Midlands (from Derbyshire and Nottinghamshire, through the West Midlands and Worcestershire to Staffordshire). In southern England, birds were noted in Buckinghamshire (at Calvert Lakes), Kent (over Gillingham) and East Sussex (around Piddinghoe Pond) with Ireland recording three separate birds ~ one each for Antrim, Kerry and Wexford.
Ireland claimed seven of the nine Ring-billed Gulls logged this week including three (an adult, a second-winter and a first-winter) along Nimmo's Pier (Co. Galway) on 24th (where the Forster's Tern was also seen again on the same day).
A second-winter remained at Tralee Wetlands (Co. Kerry) to 23rd at least and Antrim's adults were still at Carrickfergus and Portrush over the weekend. Further adults appeared at Timoleague (Co. Cork) on 22nd and Ardcavan (Co. Wexford) on 24th.
The nice little run of white Gyrfalcons continued this week with another new bird found at Ferriter's Cove, Ballyferriter (Co. Kerry) on 24th.
A second bird this week was a (pale-headed) grey juvenile that was photographed in East Yorkshire, alongside the Humber at Paull Holme Strays towards the end of the afternoon of 24th. The "Of Unknown Origin" caveat has to be applied but the photographed has said that it was ring and jesses-free, so there's every chance that it may have been wild (Assuming it wasn't a back-cross falconer's hybrid…).
To date, Yorkshire (as a whole) has nine accepted Gyrfalcon records on the books, the most recent being one around Easington and Spurn in September 1983 ~ and that was the first accepted record since 1892! Several have been reported in recent years and either came to nothing or where thought/known to be escapes. What happens to this week's bird is anyone's guess.
Less likely to be questioned is the Snowy Owl that was again on St. Kilda, at Hirta, on 24th while although there's no debate as to where the lingering Black Kitein and around the Dungeness area has come from, the dates are pretty unseasonal ~ reappearing on 23rd it was still present on 26th.
What seems to be Britain's only wintering Rough-legged Buzzard remained at Orford Ness (Suffolk) from 23rd-26th.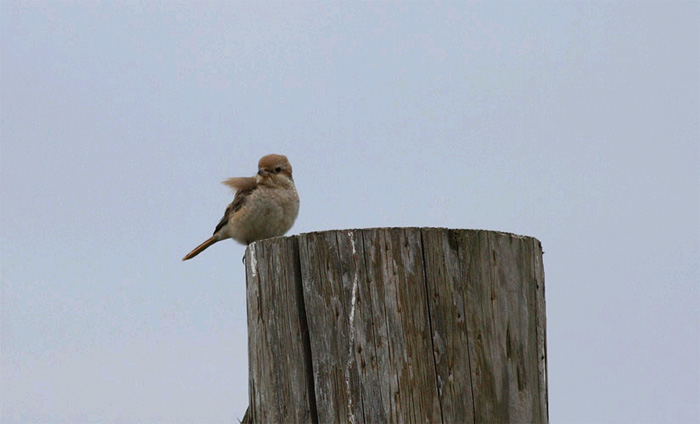 The fifth Isabelline Shrike for Ireland leads the way in the all-things-passerine listings this week ~ found in paddocks around the edge of Lady's Island Lake (Co. Wexford) on 24th, the bird was still present the following day becoming the second county record in to the bargain.
Wexford's first was Ireland's first, found on November 20th 2000 on the North Slob where it stayed for 20 days. Cork scored in successive years ~ on the Old Head of Kinsale in mid-October 2006 and Mizen Head in mid-October 2007 with Mayo recording the most recent until this week ~ a one day bird on Achill Island in October 2009.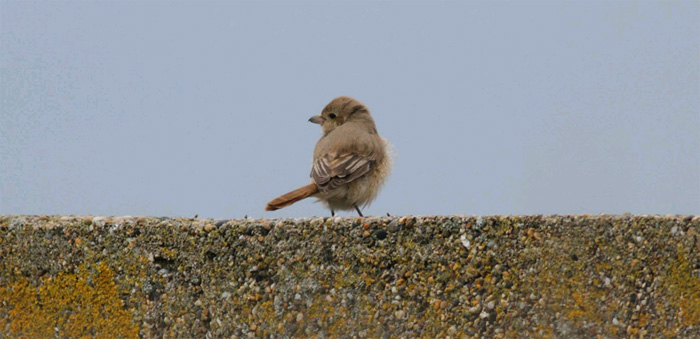 Until the end of 2011, there were 94 accepted records of Isabelline Shrike ~ no splits here of course, things still seem waaaaaaay too complicated at the moment (or, perhaps, misunderstood). Of those 94 acceptances, 14 have come in November ~ the first, that amazing Anderby Creek bird in 1982 (mentioned here recently of course) with three more following in the 80's, including one that moved from north Norfolk to south Devon in 1987. Four November Issy's were seen in the 1990's (including two in '97) with five coming after that, including three in 2000 itself (in Orkney, East Yorkshire and Northumberland).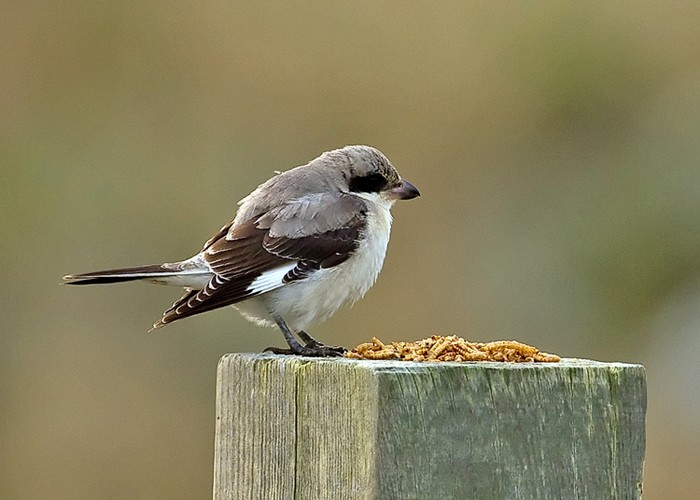 Northumberland's first-winter Lesser Grey Shrike showed well throughout the week while around 21 Great Grey Shrikes included five in Wales ~one each for Gwent, Powys and Denbighshire and two for Glamorgan (at Llwyn-on Reservoir and near Llanbradach, both on 21st), singles reported from four different sites in Hampshire (three in the New Forest),with three in Gloucestershire and two for Dorset. Elsewhere, lone birds ranged across the country from West Sussex, Oxfordshire and Hertfordshire to Cambridgeshire through Derbyshire and up in to East Yorkshire.
Two new Dusky Warblers were late arrivals this week ~ one at Quendale on Mainland Shetland on 22nd was followed by one at Spurn (East Yorkshire) on 23rd. Also new was a Barred Warbler at Dubar (Lothian) on 23rd while at least half of the week's 11 Yellow-browed Warblers were to be found in southwest England ~ one remained around Porth Hellick to 24th and Lower Moors to 26th, while three were on the Cornish mainland (at Truro on 22nd, Church Cove on 23rd and near Loe Pool, Helston on 24th) with one still in south Devon, at Clennon Valley Lakes.
Further inornatus records came from Wales ~ in gardens at Llantrisant (Glamorgan) on 20th and trapped at the Teifi Marshes NR (Ceredigion) on 25th ~ and also Kent (one reported through the week at Margate), West Yorkshire (a nice inland find in Leeds on 22nd), Norfolk (along the trail at Titchwell on 24th) and Dorset (one in the "Bluetail valley" at Winspit on 26th.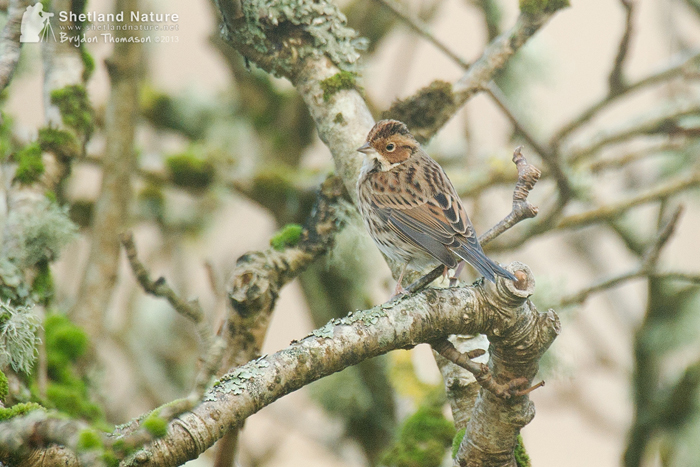 Back on to Shetland briefly and at Halligarth on Unst, a Little Bunting was found on 23rd and was still present the following day. After a pretty strong late show last week, there were only three Richard's Pipits to report across the past few days. A single bird remained at Winterton (Norfolk) to 20th with further reports coming from Chislet (Kent) on 21st and a heard-only bird reported at South Huish (Devon) on 26th.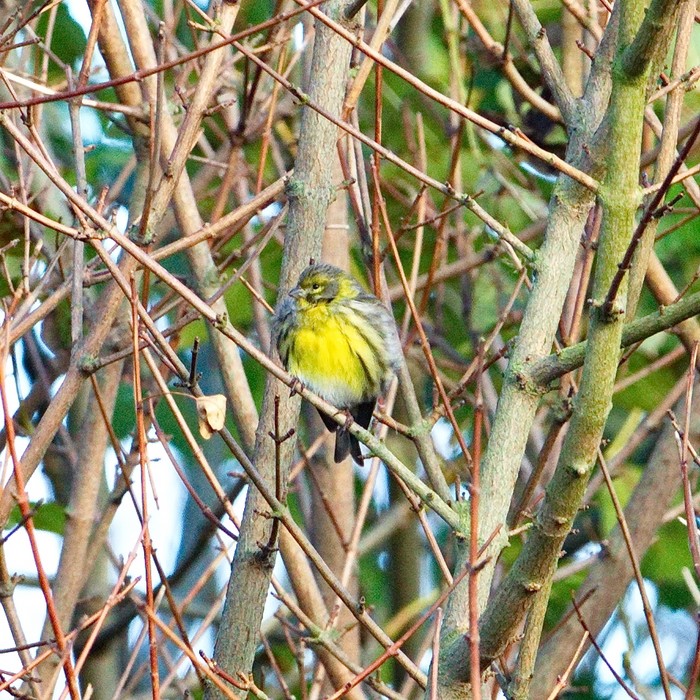 The first-winter male Serin was at Flamborough Head (East Yorkshire) throughout the week (though it seemed to go missing during the morning of 26th) and Hoopoe reports came from Snodland (Kent) and Arnside (Cumbria), both on 24th.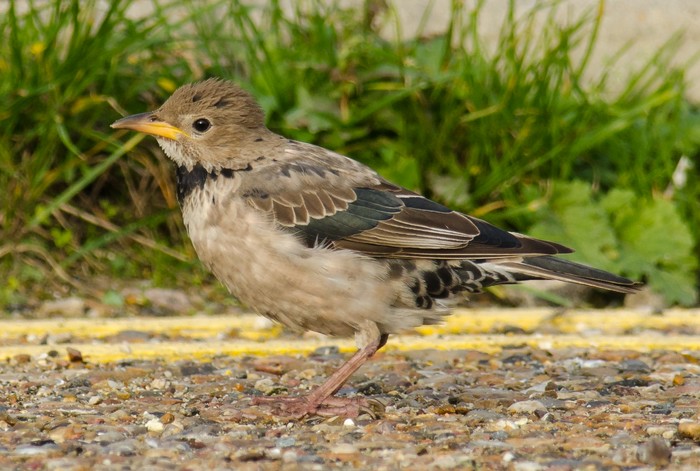 The first-winter Rose-coloured Starling spent another week on the east coast of Norfolk, present at Caister-on-Sea all week, while ever-present in the north of the county, the popular gathering of a dozen Parrot Crossbills, still in Holt Country Park to 26th.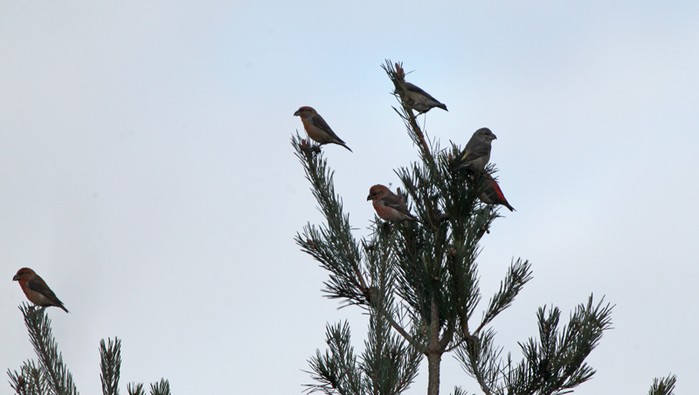 Norfolk's posse of Parrots wasn't the largest flock recorded this week though ~ that honour fell to neighbouring Suffolk, where up to 16 were seen in Tunstall Forest. First news was of 10 birds (including eight males) during the morning of 23rd and the figure to 14, then 16 during the afternoon of 25th. These represent the first Parrot Crossbills in the county since the invasion year of 199o/'91 when up to a dozen were noted around the Mayday Farm area.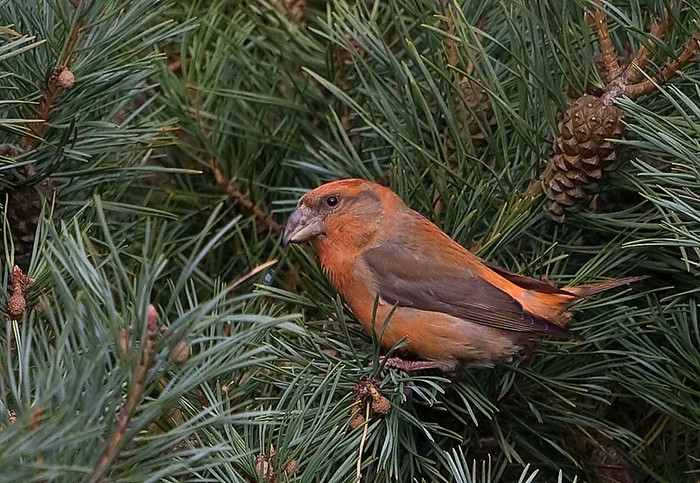 A male Parrot was reported as still present at Slufter's Inclosure (Hampshire) to 22nd, with a male still in Kent's Hemsted Forest to 24th at least. The same date saw a female appear in Ashdown Forest (East Sussex) with a female Two-barred Crossbill there the previous day ~ a potential county first. Another new bird was reported with Crossbills at Ideford Common, in Haldon Forest (Devon) on 23rd ~ the county's last accepted record was in the same area in October 1990 (the other being seen on Lundy in August 1972).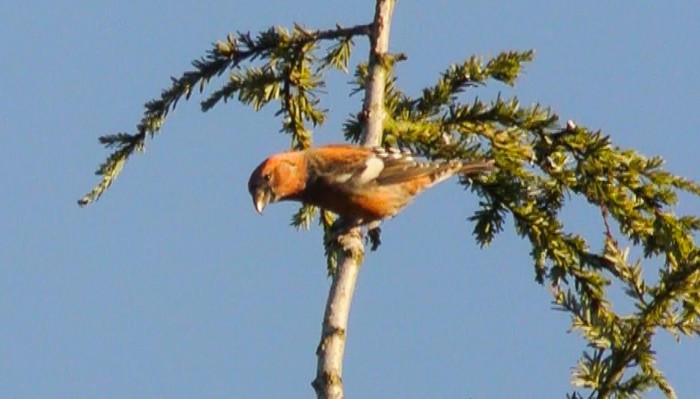 In the Forest of Dean, at Kensley Lodge near Cinderford at least 10 Two-barred Crossbills remained to 26th (including eight males) while lone males remained at Hemsted Forest to 24th and Lynford Arboretum throughout the week. The elusive female at Leith Hill (Surrey) was seen sporadically to 26th.
The poor late autumn and early winter numbers of Waxwings was again striking this week ~ Scotland holding almost all of the meagre tally of some 150 birds. At least 75 of them were counted around Elgin (Moray) on 22nd, with another 4o at Forres ~ also in Moray ~ on 25th. Below the line, there was a single for Northumberland, two briefly in East Grinstead (East Sussex) on 20th and in Kent, four were over Lydd on 23rd and five went over Broadstairs on 25th.
As the final days of November ebb away, the chances of more megas grows slimmer with each sunrise but the fat lady hasn't necssarily stepped up to the microphone just yet...
Britain's first-twitchable Green Heron was found at Stone Creek on November 27th 1982 (what a commotion that caused) as did the Britain's first-twitchable Grey-tailed Tattler 12 years to the day in 1994 (that'll draw a crowd and half when that pops up again, even though over 2,500 saw this one).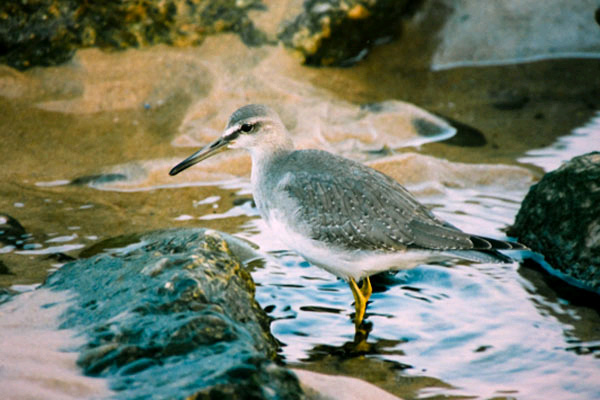 November 28th has recently produced the much-admired first-winter Western Sandpiper at Cley (in 2011) while Suffolk's drake Bufflehead at Hevingham Hall Lake arrived from somewhere on November 29th 1997. Shetland's ever-so-popular Brunnich's Guillemot is, arguably, the star bird of November 30th (found in 2005).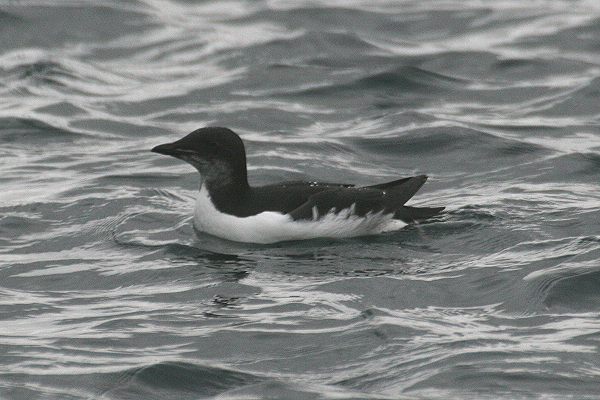 December 1st top bird was the well-twitched (at the time) White-throated Sparrow at Duncrue Marsh in Belfast in 1984 (that freezing cold night in a Portacabin on Larne Docks with four other student listers from Plymouth Poly still won't leave my mind…) while December 2nd 1991 was the arrival date of the notoriously suppressed Baltimore Oriole in Essex while Norfolk's first Black & white Warbler, at How Hill on December 3rd 1985 is undoubtedly the most eye-catching find of that particular date.
Next week sees a new hand at the tiller ~ Shetland birder Jon Dunn pops himself in to the hot-seat. And with late news of a Nutcracker as an "unconfirmed report" in Kent, maybe Jon will have lots of new news for you...
Enjoy it all!
Mark Golley
27 November 2013

Many thanks to this weeks conributors for their photos and videos.
Stuart Piner,
Alistair Wilson
, Ashley Fisher/Scilly Pelagics,
Martin Goodey
, David Boyle, Steve Minton, Steve Duffield/Western Isles Wildlife,
Gary Thoburn
, David Carr,
Bob Sharples
, Mark Newsome, Killian Mullarney, Brydon Thomason/Shetland Nature,
Paul Kelly - Irish Bird Images
, Fionn Moore, Niall Keogh, John Kemp/Western Isles Wildlife, David Potter,
Chris Upson
,
Paul Rowe
, David Rounce, Sean Nixon, Nicholas Brown, Mark Hipkin, Alan Tate/AA Bird Photography, Chris Batty,