Weekly round-up: 30 Oct - 05 Nov 2013
The week at a glance
Shetland's first-winter Cape May Warbler still on Unst
Highland's Mourning Dovestill on Rum
Cornwall's Hermit Thrush still in the far west
Scilly's American Robin still on Tresco
Scilly's White's Thrush still on St. Agnes
Cambridgeshire's presumed Northern Harrier still in the Fens
…while new is the second American Robin in four days, this one on the Lizard
…and a Black-browed Albatross tours past the same part of Cornwall
…as a delicious flock of Northern Long-tailed Tits hits Unst
The hoped for last-gasp outrageousness failed to materialise this week as, despite the presence of nine outstanding rarities and masses more besides, things started to feel the tiniest bit flat.
There were spits and spots of new excitement and some curious movers with a more Arctic-bent but the weather was largely dominated by another deep low pressure system that scooted across the Atlantic as Saturday dawned. The rain and gusty 60-70mph winds (and occasional spectacular thunderstorms) barely got a look in on the news as it was "only" other bits of Britain and Ireland that were affected ~ the southeast of England was fine, so there wasn't much of a story to be had….
The wind and rain turned to the first snowfall of the late autumn over the Scottish mountains, as the subtle change from season three to season four edged forward just that little bit more. Slowly but surely, the autumn is drawing to close. Winter is coming.
And the key word this week is … still …
It's Saturday morning as I start this bit of the review and, so far, the signs are all looking as though this may finally be a quieter week where the arrival of brand new monster rares are concerned despite the fact that the weather still favours new arrivals from the west. Will there be any new arrivals to match the extraordinary, almost once-in-a-lifetime, seven days of quality that came along last week?
Well…by the time you begin reading this sometime on Wednesday afternoon, we'll know a lot more.
…but my brain and four (or five, when I'm being clever) typing fingers will be desperately hoping that there's a little respite ahead. It'll be good to stop tippy-tapping words about birds I've not been for as well…
Anyway. Failed twitcher grizzlings aside, we'll work through the headline birds in rarity order this week, so Unst is the starting point for a swifter than normal run through this week's particular top picks.
Cape May Warbler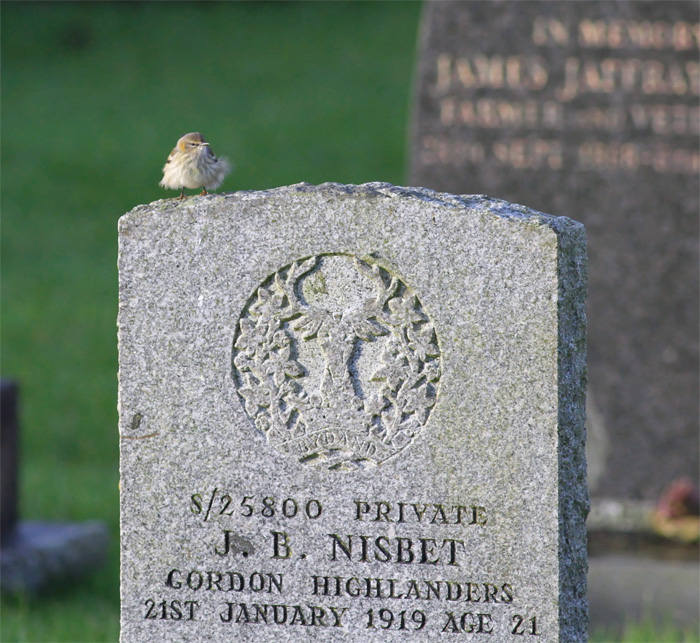 The first-winter female Cape May Warbler continued to show well and perform to all her attendant visitors, from far and wide, to 2nd ~ as the last leaves of October turned to the first frosts of November, the CMW show finally seems to have drawn to a close.
A stay of over a week then, and a decent number of birders managed to head to our most northerly island to collect this truly outstanding Britain second, a bird that provided a wonderful finale (or is it?) to the best-ever Shetland autumn on record.
Essex birder and photographer, Paul Rowe captured a very nice selection of images of the Cape May Warbler seeing off the local avian competition, here are just a few...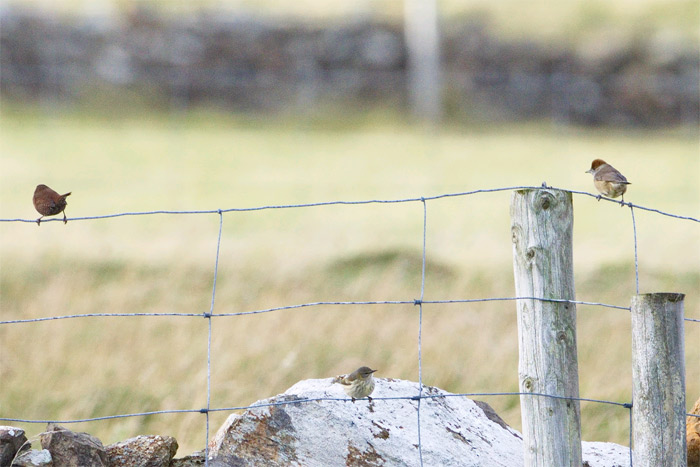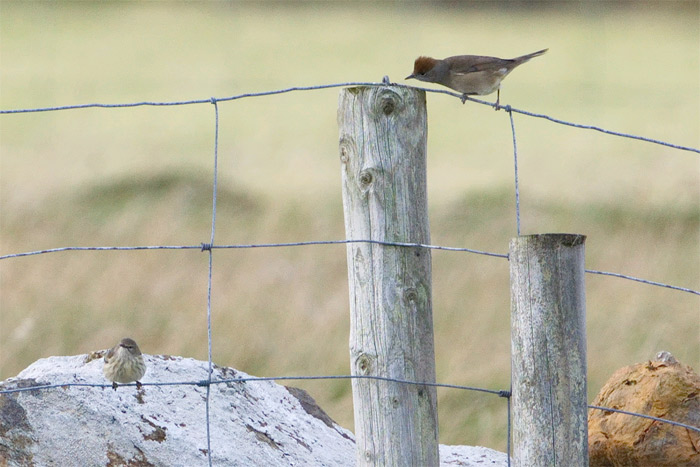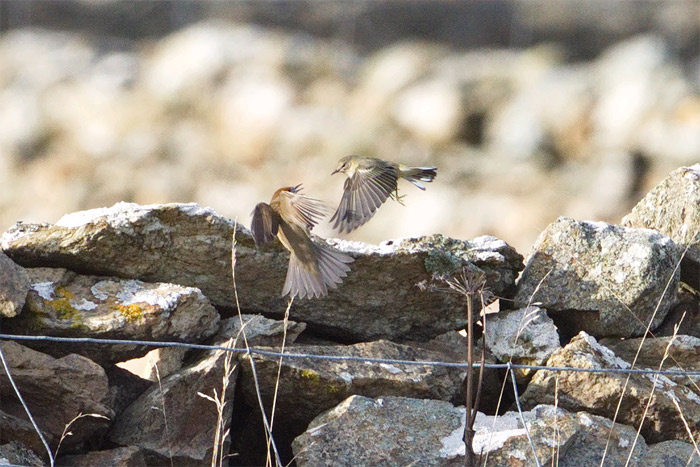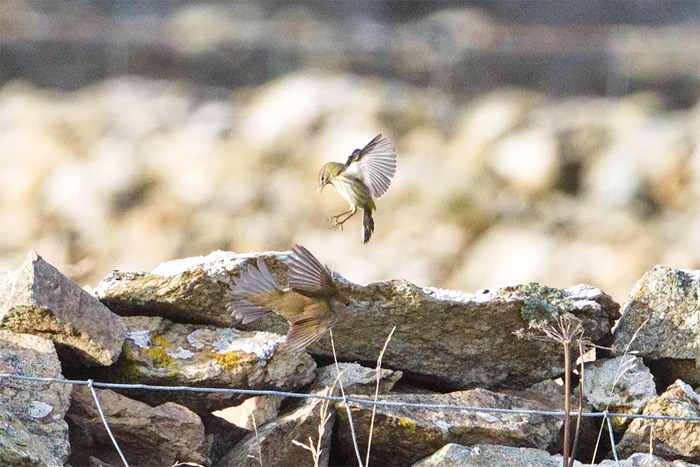 Mourning Dove
From a northern isle to a western isle and over the sea to Rum where, again, to the delight of many playing catch up with the next particular species, the cute Mourning Dove stuck it out until 3rd in the garden of Rock Cottage, at Kinloch.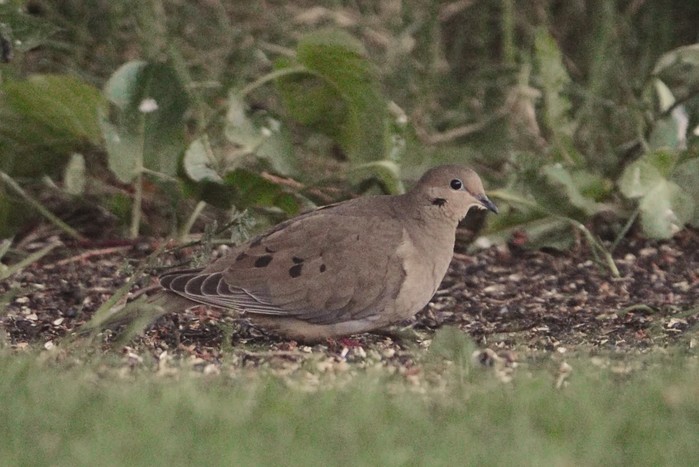 Sometimes not always that easy to see, playing hide-and-seek in the conifers, the bird remained in apparent good health and with seven days on the clock, it has overtaken the one-day stays of the Calf of Man and Garinish birds of 1989 and 2009, as well as the first bird on the Outer Hebrides (the Carinish individual was seen for three days). Still out in front are the 10 days of the second North Uist bird ~ at Carnach in October and November 2009 ~ and the Inishbofin 14 day-er from November 2nd-15th 2007.
Hermit Thrush
For those who limit themselves to mainland megas (out of principle, financial, work or family commitments) the first mainland Hermit Thrush that arrived at Porthgwarra at the end of last week's review period proved to be a particularly popular end-of-autumn attraction at the start of the new week ~ still present on 1st, often showing nicely, as the many photos and videos testify.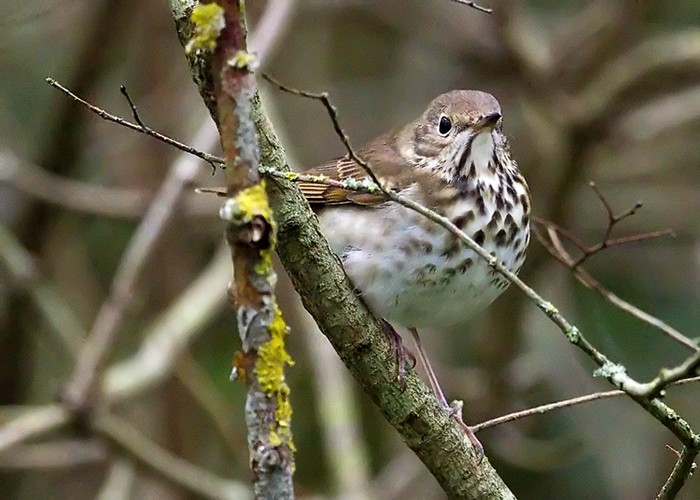 This Cornish first, and 11th for Britain and Ireland, hasn't had a particularly good track record in terms of being a "sticker" ~ eight of the ten records before the PG bird have been one- or two-day birds (four of the former, four of the latter) while the other two birds have both lingered for eight days each ~ on Tresco in 1993 and on Barra in 2010 (though both went missing and were assumed to be the same individuals when they reappeared).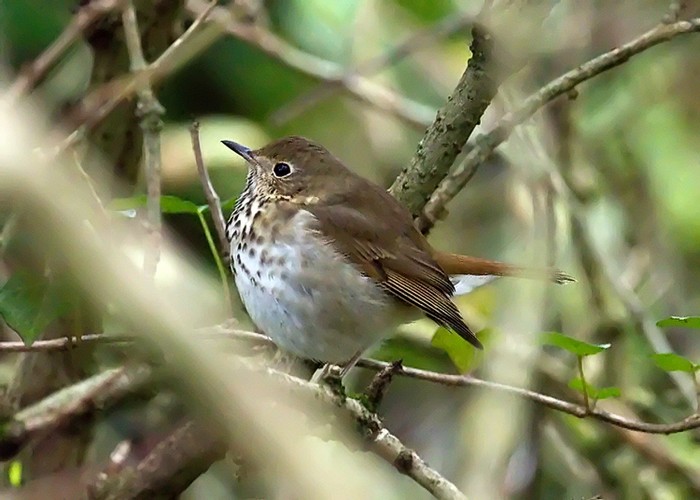 American Robin
Talking of Tresco, the first-winter female American Robin remained on the island until 4th at least ~ not really drawing much of a crowd, due to the lingering birds mentioned here last week ~ but it remains an exceptional rarity that will always cause some sort of a commotion.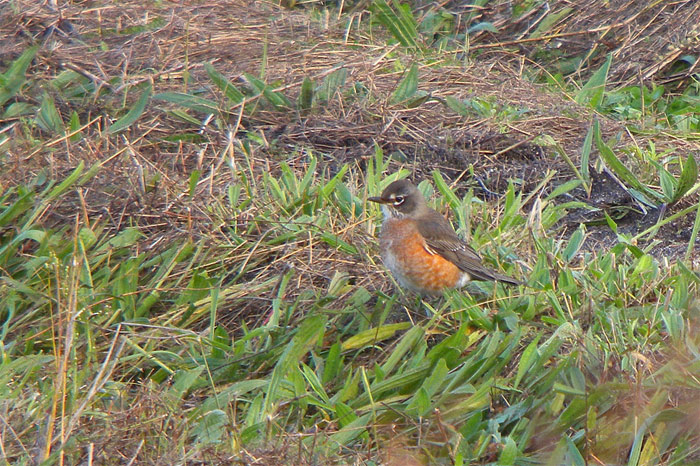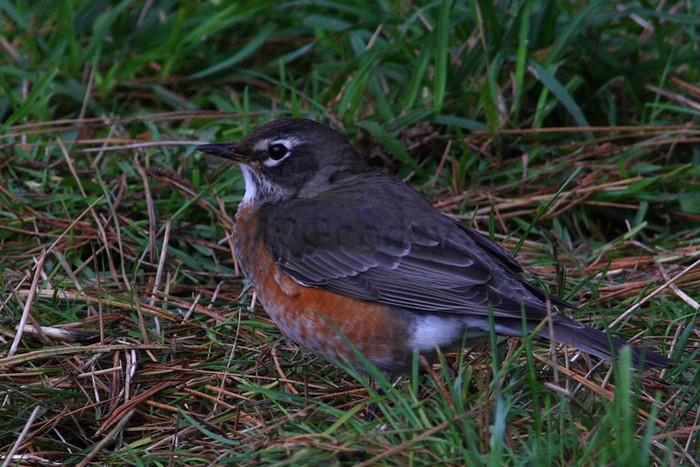 White's Thrush
Nipping across The Roads to St. Agnes where the funkier-than-funky White's Thrush continued to hang around The Parsonage and surrounding area until 1st.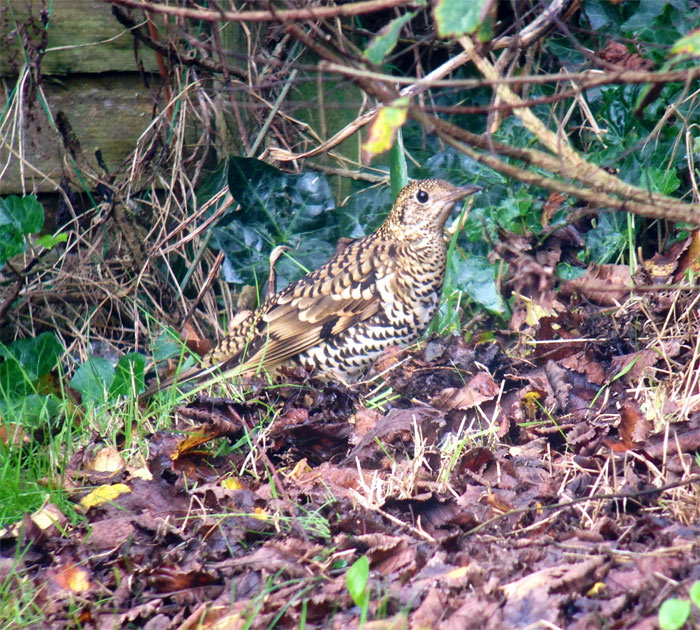 If this is a new bird, as seems to be the general thought, this fifth for the islands has managed a seven day stay so far, which eases past those of the 1886 and 1965 Tresco birds and the one day bird present on St. Agnes at the start of October this year.
However, if it is the same bird ~ a significant "if" ~ it will be 31 days and counting, and catching up with the 1999 Agnes individual that managed 35 days from October 6th-November 9th.
North-west birder Steve Williams has kindly written an account of this find which you can read here.
Back over on the Cornish mainland, the second American Robin within the space of four days was found in an area with general access on the Lizard on 1st ~ perhaps a little surprisingly, this could be just the 2nd record for Kernow, following on from the popular bird at Godrevy, near St. Ives from December 2003 in to February 2004.
Black-browed Albatross
The day after the Robin lurked in a local garden, seawatchers at Bass Point, also on the Lizard peninsula, scored one of the most exciting of all seawatch birds ~ Black-browed Albatross ~ an immature heading by just before 1pm.
With optimum conditions along the south coast, there was actually half a chance of one of these passing past a headland somewhere from Cornwall to Kent ~ there have been three records from the northwest corner of France in the last few days, so it seems completely appropriate to view Cornwall's bird as a Breton bird (and there was also a report of an on-the-sea immature off Devon's Baggy Point on 4th).
To date, the county has recorded only three previous records of Black-browed Albatross ~ the first passed St. Ives Island on October 5th 1982 while the second and third records were both observed from Porthgwarra ~ in August 1988 and July 2009.
Northern Long-tailed Tit
Back on Shetland ('natch), no sooner had the apparent departure of the Cape May Warbler been established, then a prompt set of replacements loomed up on Unst on 3rd ~ in the scrumptious marshmallow-headed guise of five Northern Long-tailed Tits.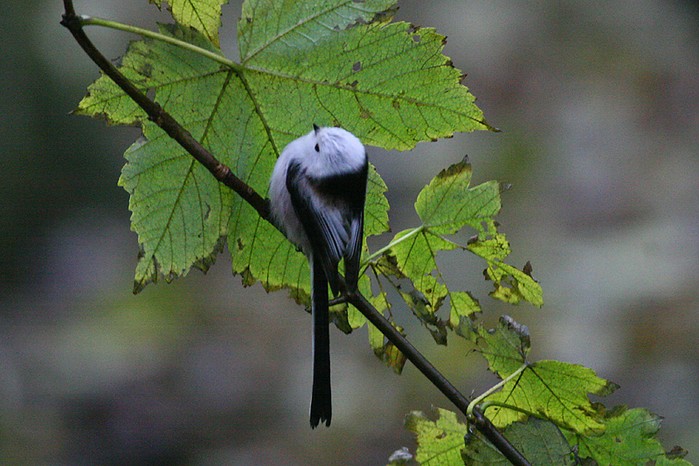 Found at the Halligarth Plantation, this quintet of snowball-topped psychedelic pink-and-black feather-clad lollipops looked to have performed wonderfully well through the afternoon and are the first on the islands for over a decade ~ with two remaining to 4th.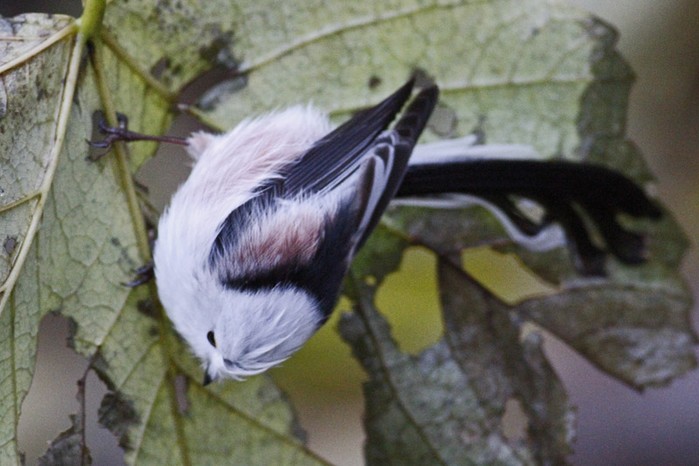 Most people's first encounter with this particularly special form was on Suffolk's Westleton Heath in the early winter of 2004, with at least three not long afterwards in Lewes (East Sussex) and Warley (Essex). Since then, twitched Northern Long-tailed Tits have included two at Easington (East Yorkshire) in October 2005 through to April 2006, two at Southwold (Suffolk) in October 2010, up to five at Dymchurch (Kent) in January-March 2011 and Luddenham Dean (West Yorkshire) in January-February 2012.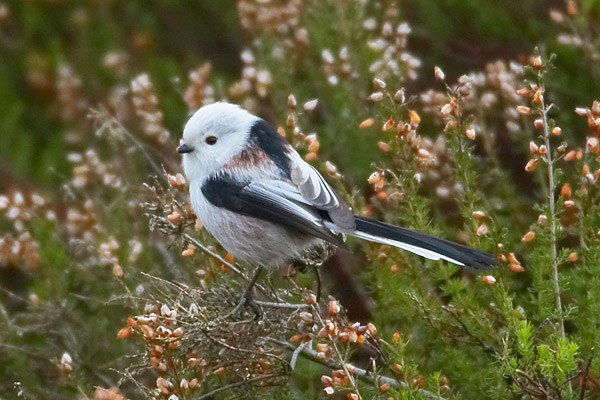 Northern Harrier
Finally, for this section, Cambridgeshire's presumed juvenile female Northern Harrier remained around the Ouse Washes RSPB reserve until 4th at least. There's been no news of the young male at Tacumshin.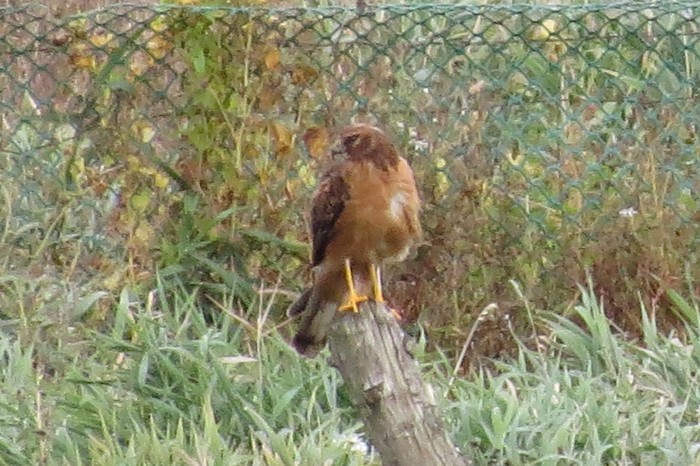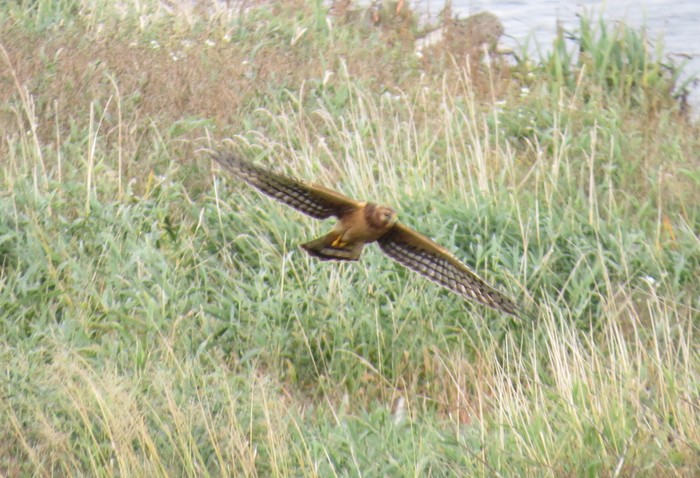 In what we already know is our best-ever year for Fea's-type Petrel, yet another one was chalked up on the 2013 scoreboard as Ireland's first November record was noted from Ballycotton (Co. Cork) on 1st.
Between them, Cork birders have logged a mighty nine Pterodroma records this autumn ~ starting with the amazing three from Galley Head on July 31st, with singles following off the same site on August 17th, at Mizen Head and at sea, some 100 miles south of Fastnet on 22nd, again at Mizen on September 15th then Dursey Island on 23rd with the final one coming this week.
As was mentioned with last week's late bird off the boat back from Scilly, the latest-ever Fea's was seen from St. Mary's Island and then the Farnes on November 19th 1999.
The adult White-billed Diverremained at Castlegregory (Co. Kerry) to 1st ~ the third county record, following on from birds in October 1996 (off Brandon Point) and March-April 2011 (off Cromane Point).
Leach's Storm-petrels were dotted around the coasts of Britain and Ireland in very small numbers ~ ten birds seen, with singles off Kent on 31st, Cork on 1st, Cornwall on 2nd, Devon and Dumfries & Galloway on 3rd and, well after dark, under the lights of the quay on St. Mary's (Scilly) on 4th. On 5th, a Leach's headed past Samphire Hoe CP (Kent) and two birds were noted from Ogmore-by-Sea (Glamorgan) on 2nd and Strumble Head (Pembrokeshire) on 3rd as well.
In the waters just off Scilly, on 30th, an adult Sabine's Gull was noted drifting between St. Mary's and Samson and was followed by a wonderfully showy bird near Burton Bradstock (Dorset) on 1st-4th with presumably the same bird back at Chesil Cove on 3rd and Osmington Mills on 4th. Two birds were also seen from Ballycotton on 2nd while in Kent, singles were logged off Shell Ness, Sheppey on 4th and Dungeness on 5th.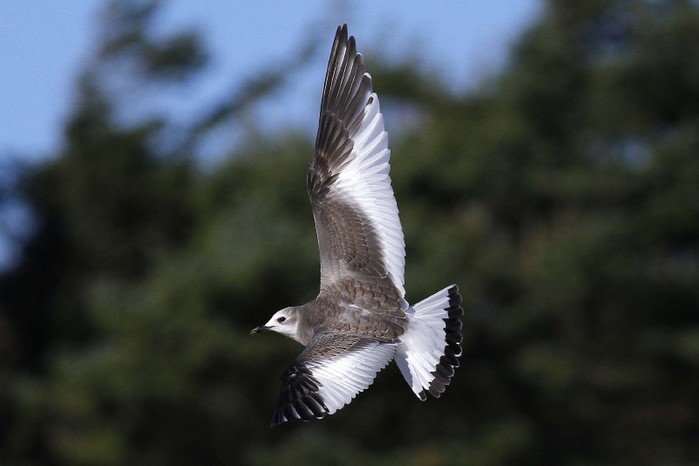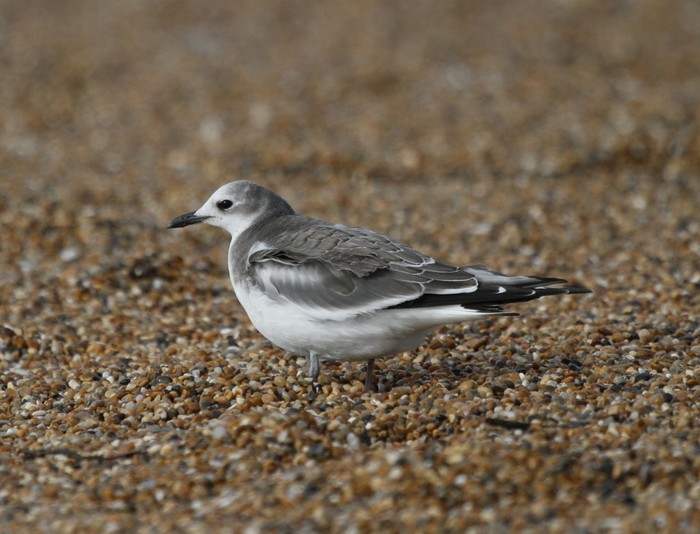 A Long-tailed Skua was reported from Whitley Bay (Northumberland) on 2nd and was followed by six off Strumble Head on 3rd while the week's 65 or so Pomarine Skuas included five from Ballycotton on 2nd and Thorpeness (Suffolk) on 4th.Threes, twos and singles were noted from Devon and Cornwall, into Wales and also the Scottish east coast.
The Gronant Grey Phalarope stayed put until 1st with the Roadford Reservoir Grey Phalarope lingering to 4th. Working through the rest of the week ~ there was one on Benbecula (Outer Hebrides) on 31st and three south of Dursey Island (Co. Cork) on 1st. The second day of November saw lone birds appear at Dublin's North Bull Island, Cambridgeshire's Ouse Washes and Cornwall's Sennen Cove, with three off St. Ives Island too. Three more Grey Phals headed past St. Ives on 3rd, with one off Pendeen while singles seen in East Sussex, at Newhaven and Thurlestone Bay (Devon). On 4th another was seen at Cley and then Salthouse (Norfolk).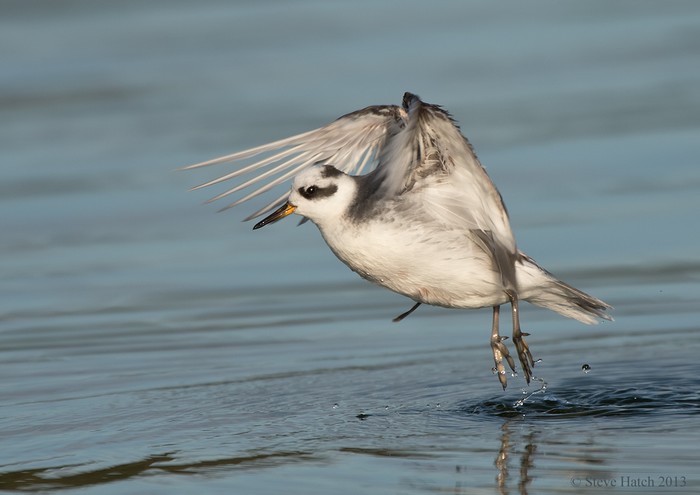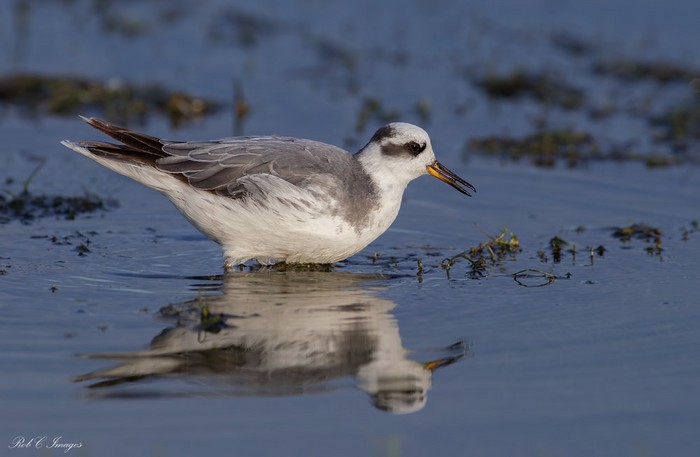 The breezy and gusty conditions along the coast of Cornwall produced a few decent early November totals of Balearic Shearwaters ~ after 17 from Penberth on 31st, 18 were seen from Sennen Cove and 19 were off Towan Head on 2nd, with 65 from St. Ives Island the same day. The next day 56 had headed by the same site by 9.15 with 47 from Pendeen by the same time and the latter site produced the highest count of the week, 75 passing by on 5th.
Three Little Auks popped up prior to 5th ~ one was seen on Fair Isle on 31st, another was off Pennan (Aberdeenshire) on 2nd, one flew past Pendeen on 3rd and on the final day of the week singles were noted over Dunwich (Suffolk), off the pier at Cromer (Norfolk) and at Skaw, Whalsay (Shetland), with at least seven seen from the Good Shepherd as it headed between Fair Isle and Sumburgh with 11 passing North Ronaldsay.
The new review week began with at least seven, perhaps eight Glossy Ibis around and about the place ~ the three juveniles remained at Marshside RSPB (Lancashire) early in the morning of 30th before heading off (they were seen later over Crosby Marina), while singles were noted at Dungeness, Hartlepool and six sites in Essex ~ Holland Haven, Frinton-on-Sea, Abberton Reservoir, Vange Marshes, Bowers Marsh RSPB and Fisher's Green NR.
On the first day of November, a single Glossy Ibis appeared in Suffolk and Aberdeenshire, at Minsmere RSPB and Hollesley RSPB, along with the Loch of Strathbeg RSPB and one remained in Norfolk, at Welney WWT.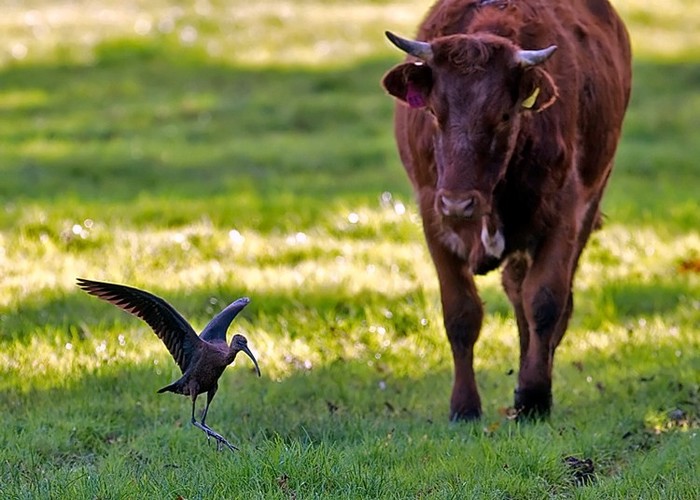 It was only a few days ago that Worcestershire hosted the second-ever county record of the species (at Upton Warren on October 23rd) and now they've had two more ~ a duo arriving at Lower Moor on 2nd (with one still in place the following day and then both present again on 4th). Also new on 2nd was a Glossy Ibis at Lowdham (Nottinghamshire) ~ the county has three accepted records to the end of 2011, the most recent coming in September 2009 ~ and what may have been the same bird had actually been seen at Southwell the previous day. Another single bird was in neighbouring Derbyshire, on the outskirts of lovely Bakewell, also on 2nd (a county that has scored eight times prior to this, including four accepted records since 2006).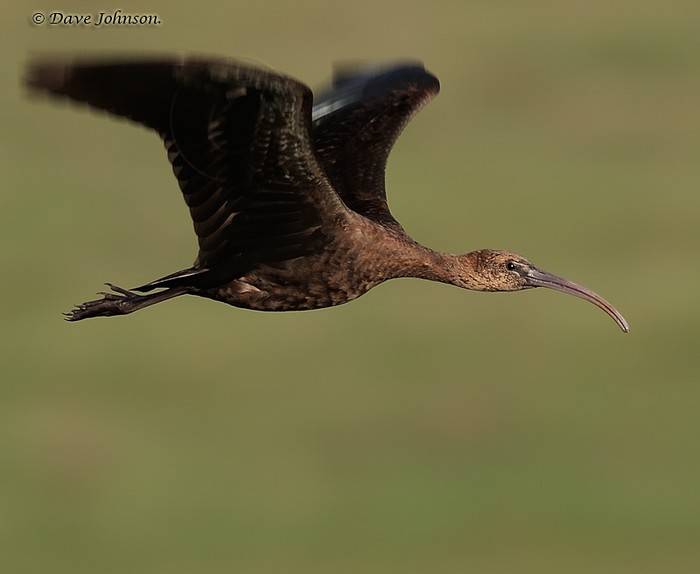 However, the "Flock of the Week" award goes to the seven noted over Nosterfield NR (North Yorkshire) on 2nd and they were followed by new birds on 5th at Rye Meads RSPB (Hertfordshire) and two at Slimbridge WWT (Gloucestershire). The bird in Hertfordshire is only the fifth for the county ~ previous birds coming in October 1826, November 1881, November 1887 and near London Colney in September 2009. Gloucestershire has had six records prior to this week ~ five of those coming in the 2000's, including the wonderful flock of 17 spring adults at Saul Warth in April-May 2007.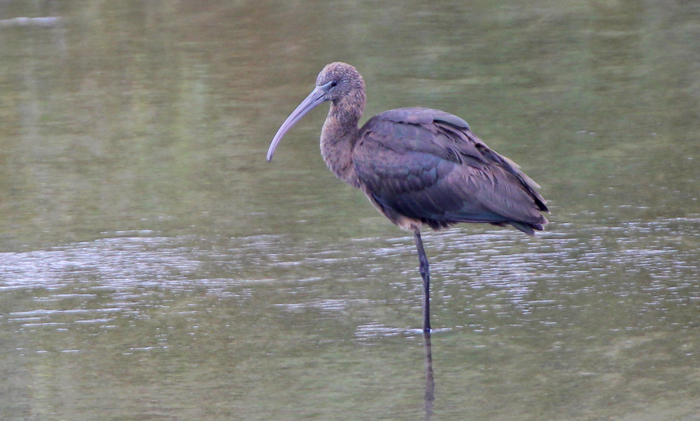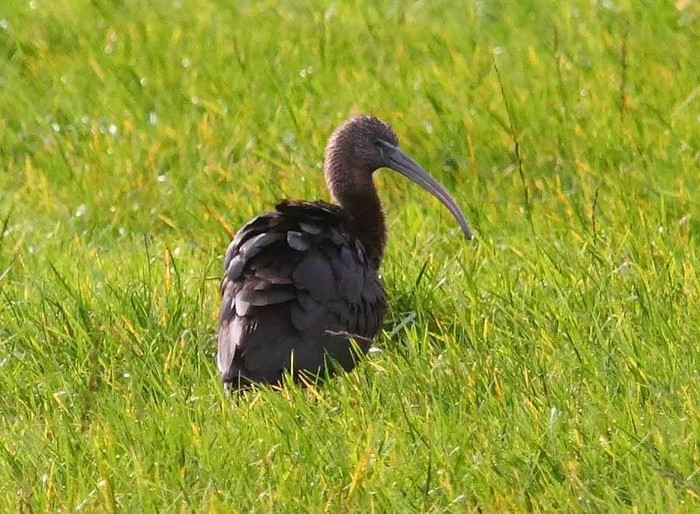 Single adult Cattle Egrets remained at Wallasea RSPB (Essex) and Harty Ferry, Sheppey (Kent) until 2nd and Great White Egrets managed at least 18 birds on 30th alone, spread across 14 counties with three birds around the Somerset Levels/Avalon Marshes and two each for Minsmere RSPB, Hilbre Island on the Wirral, along with the Cheshire marshes and East Yorkshire's Hornsea Mere. Many of the singles had been seen previously (from Kent to Cumbria, though a bird at Fishguard in Pembrokeshire was certainly new) while the remainder of the week saw a further 22 or more logged (minimum), including four at Dungeness RSPB on 31st and Ham Wall RSPB on 1st with three at Pitsford Reservoir (Northamptonshire) on 31st. Singles were dotted from Cornwall to Powys and Glamorgan to Norfolk ~ there's every likelihood that this species will, once again, become a staple of the review in the months ahead.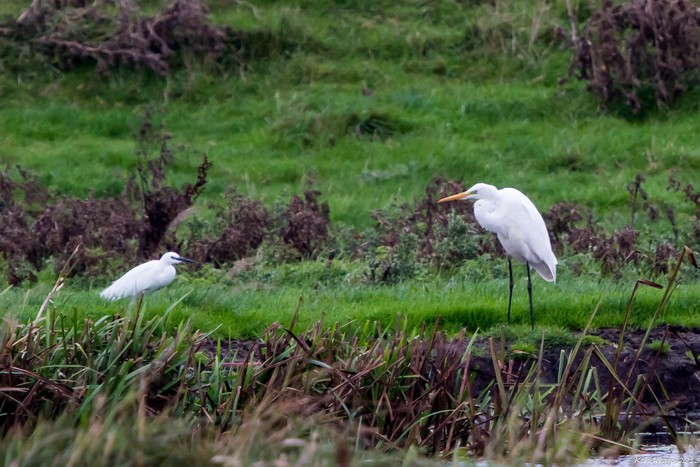 The Poole Harbour Spoonbill flock stayed at 26 birds this week, seen at Arne RSPB on 30th, with five at Yelland (Devon) from 1st, four at Bowers Marsh RSPB (Essex) on 31st, three still at Jupiter Point (Cornwall) on 30th and two again on Scilly at the start of the week as well. Five were also reported from Saltholme Pools RSPB (Cleveland) on 5th.
Single Spooners were also noted in West Sussex, at Church Norton and Pagham Harbour (on 30th-31st) and still in Dumfries & Galloway (at Piltanton Burn) and Co. Waterford (at the Cunnigar, Dungarvan).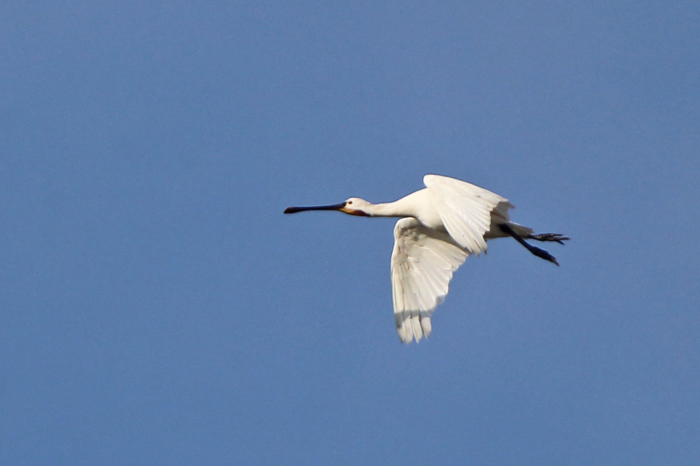 The Norfolk Broads Common Crane flock was 27 birds strong, seen heading out from their roost near Potter Heigham very early on the morning of 31st (for the fourth day in a row too). Elsewhere, four birds were at Guyhirn (Cambridgeshire) ~ also on 31st ~ with singles again at Myroe Levels, Lough Foyle (Co. Derry) on 1st, with the bird at Slimbridge WWT (Gloucestershire) throughout much of the week.
No news on any type of Cackling Goose or Canada Goose this week so we'll march right along to Lesser Snow Geese ~ at Tayinloan (Argyll & Bute) the intermediate-blue male and the white female pair remained with the when-will-they-split-them Greenland White-fronted Geese to 31st at least. In Aberdeenshire, at least three Snow Geese remained at large in the county ~ the pair of blue birds were still at Loch of Strathbeg RSPB to 30th (with one still on 1st) with another blue Snow at Loch of Skene, also on 30th.
Elsewhere in Scotland, a white Snow Goose was found near Crail (Fife) on 30th (where it lingered to 1st) with another seen in Highland, near Beauly, on 2nd. The only other bird noted this week remained in County Kerry, at Barrow Harbour, until 4th.
The returning wintering Red-breasted Goose was around the Milford-on-Sea area of Hampshire throughout the week while the same Black Brants from previous weeks became this week's Black Brants ~ still at Kilnsea (East Yorkshire) to 3rd, Ferrybridge (Dorset) to 4th ~ two birds were again noted there early in the week but, as mentioned last week, a hybrid has been reported from the site recently too ~ and Dawlish Warren (Devon) to 5th.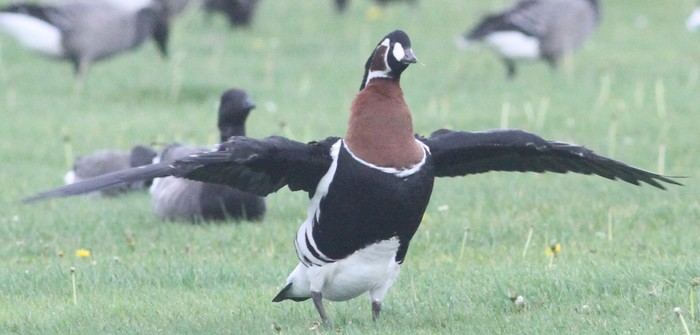 Somewhere between October 29th-31st, the Lincolnshire Three became the Lincolnshire One, as only a single drake Blue-winged Teal remained at Boultham Mere ~ and he was still there on 5th.
Four new-for-the-autumn drake Green-winged Teals were found in the Celtic Nations this week ~ three in Scotland (at Caerlaverock WWT from 31st, Loch Leven RSPB also on 31st and Loch Gruinart RSPB on Islay on 3rd) and one in Ireland (on Cork's Shanagarry Marsh on 2nd).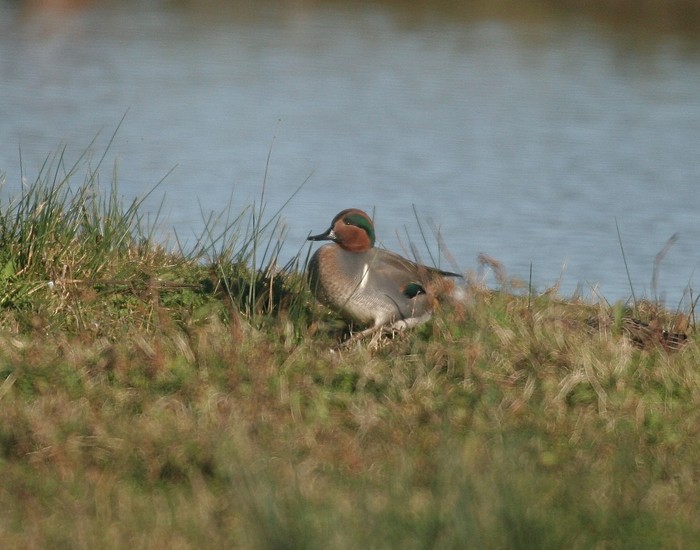 A returning drake Lesser Scaup was back at Chew Valley Lake (Somerset) on 4th while there were several Ring-necked Ducks on offer through the week.
The review week began with the drake still on Loch o' th' Lowes (Ayrshire) and young birds remaining on Loch Leodasay, North Uist (Outer Hebrides) and Wilstone Reservoir (Hertfordshire) and on 31st the drake was seen again at Ballyshunnock Reservoir (Co. Waterford). In Sligo, two drake Ring-necked Ducks were found on Lough Gara on 3rd with the juvenile or female resurfacing at Leicestershire's Eyebrook Reservoir on the same day.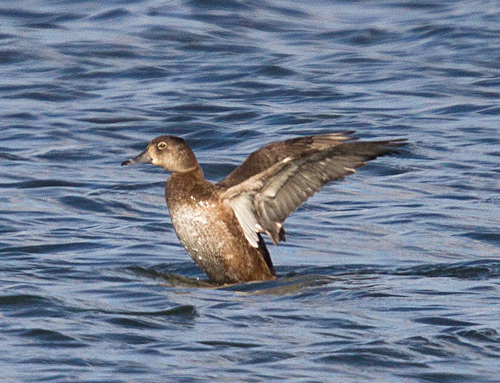 Returning drake American Wigeons were back in Highland's Udale Bay and at County Leitrim's Drowse River, in Tullaghan on 30th and 31st respectively while, out at sea, the drake Surf Scoter was still off Llanddulas (Conwy) on 30th with a juvenile at North Bay, Ardivachar, South Uist the following day. In west Cornwall, a morning seawatch on 3rd saw another juvenile Surfie noted ~ passing Rumps Point, St. Ives and, half an hour later, Pendeen (and all before 9am). Over in Cork, a female Surf Scoter was at Courtmacsherry on 3rd-5th.
The tail-end of the latest brisk pulse of Atlantic weather yielded a neat little flourish of late White-rumped Sandpiper records this week, with the headlines going to the little flock of three (two adults and a juvenile) found on the Hayle Estuary (Cornwall) on 1st. Two birds remained until 3rd, with a single present there on 4th.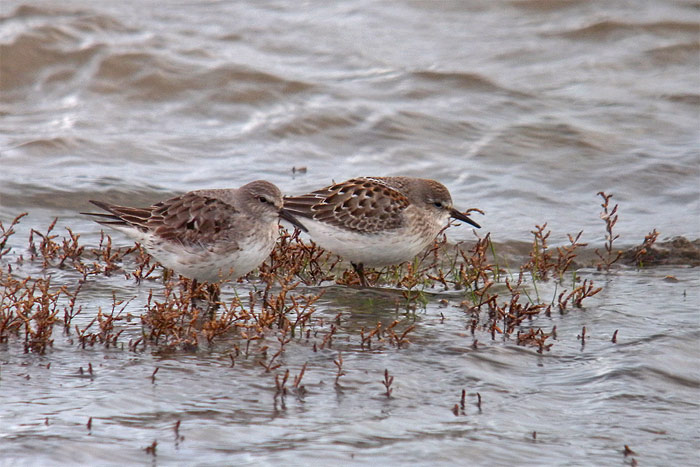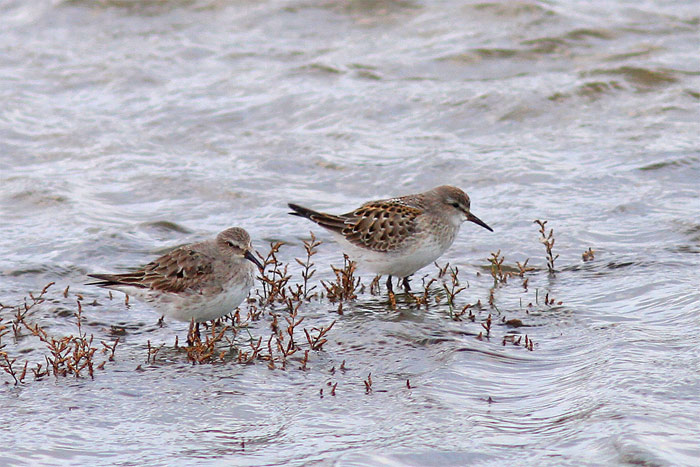 More new arrivals were found at Ballycotton (Co. Cork) on 31st, Frampton Marsh RSPB and then Gibraltar Point (Lincolnshire) on 1st and 2nd (possibly the same bird, it was back at the former site on 4th) with another on North Uist on 3rd and a fly-by at Dawlish Warren (Devon) on 5th. Elsewhere on the Hebrides, the juvenile at Ardvichar Point, South Uist was present on 30th (with two there on 5th) while last week's juvenile at Marazion was last seen on 30th.
Back at Ballycotton, an American Golden Plover was found on 2nd when the week's second americana was discovered at Kirkistown (Co. Down). Number three followed on 4th, a juvenile showing well at Kilnsea before heading off south.
In Hampshire, the Long-billed Dowitcher was noted again at Pennington Marsh on 30th and was the only other shorebird of note this week.
Coming as something of a surprise at lunchtime on 4th was news of a Ross's Gull on Westray (Orkney) ~ an adult present in the Bay of Swartmill. The first Ross's of the year, it is the first anywhere for almost two years, following on from the showy adult in Ardglass Harbour in January 2012.
Orkney's most recent record of the Double R (Rhodostethia rosea) was an adult on the Mainland, at Loch of Tankerness, in April 2005. All other island records came in the autumn of 1997 ~ a first-winter was on North Ronaldsay on October 2nd with an adult there on November 16th. What may have been the same bird was then seen at Point of Ayre, Deerness, on Mainland, six days later, on 22nd.
In Northumberland, the adult Bonaparte's Gull found at Bamburgh towards the end of the last review period has had a little gallivant up and down the county coastline over the past few days ~ noted at both Budle Bay and Bamburgh on 30th, then Seahouses on 31st and then Inner Farnes on 1st-2nd (becoming a first for the islands in the process).
Down in Devon, at Teignmouth, the returning adult Bony's was still around the seafront until 5th.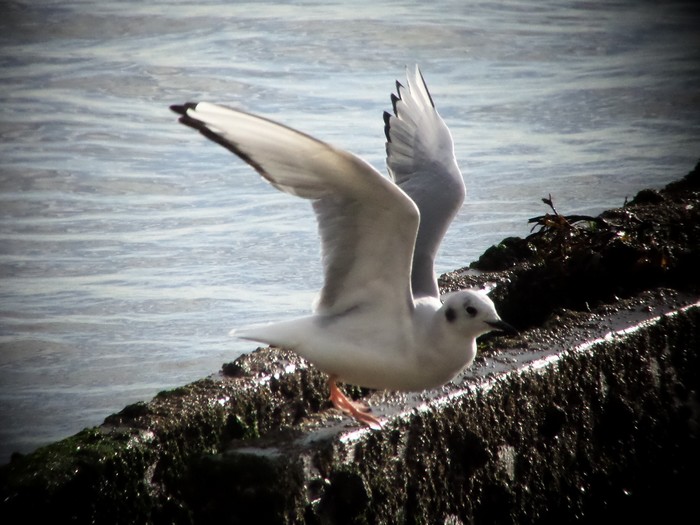 One particular Ring-billed Gull was celebrating its 10th year anniversary this week ~ the adult was back in Gosport (Hampshire) from 3rd where it was first noted on November 20th 2003. A "near-adult" was at Mallaig (Highland) on 30th and an adult was found at Cruisetown Strand (Co. Louth) on 2nd. Hampshire's second of the week appeared at Ibsley Water Meadows on 4th.
The arrival of the Orkney Ross's Gull may have appeared to have come out of nowhere but actually a few signs were there that a northerly gull, of High (Ne)arctic stock, was on the way came with a mini-influx of Glaucous Gulls on Shetland ~ up to nine birds noted between 1st-3rd. Two birds were seen on Fair Isle on the former date and two were at Clumlie, on the Mainland on the latter, with a further four around Mainland over the three day period (the other bird was found at Cullivoe on Yell).
Two Glaucous Gulls were seen near Butt of Lewis (Outer Hebrides) on 4th with another at Loch Stiapavat the same day. Singles elsewhere were seen on the Isle of Grimsay, North Uist on 2nd, Lacken Pier, in Mayo, on 3rd, Winterton (Norfolk) and Corraduff (Co. Galway) on 4th and Landguard (Suffolk) on 5th to make a total of 17 for the week. By way of contrast, just two Iceland Gulls were found, on Fair Isle on 1st and at Deerness, Mainland (Orkney) on 2nd.
There was a little late news from Ireland, where a third-winter Azorean Yellow-legged Gull was found at Rosscarbery on 29th while in Britain, the roving adult in the East Midlands spent a couple of evenings roosting at Rutland Water, on 30th and 31st before hitting the Stanwick roost on 4th.
Over in Galway, back for winter #11, was the adult Forster's Tern, present again at Claddagh Beach on 4th.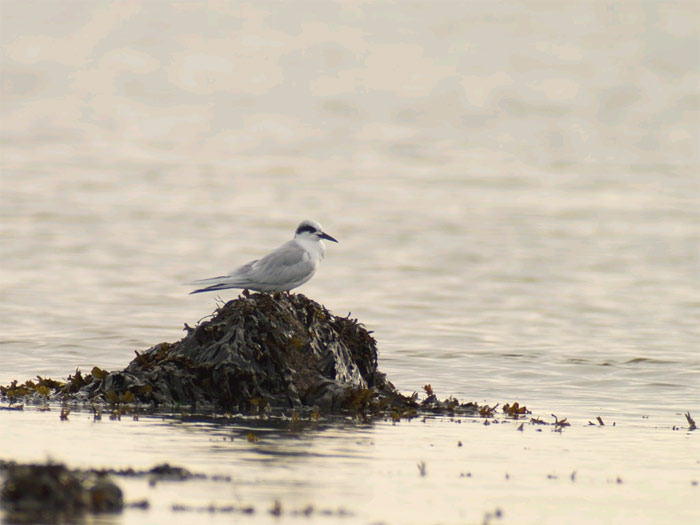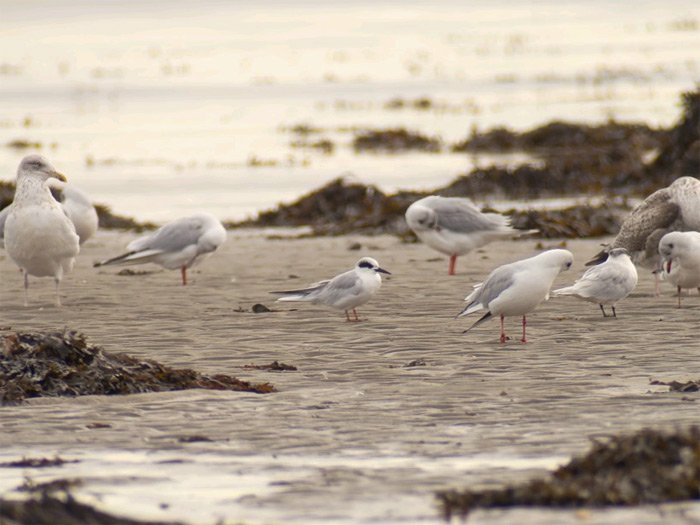 Yet another clue as to the imminent appearance of the Westray gull was the discovery of a white Gyrfalcon on the beach at Evie, Mainland Orkney on 2nd.
The Rough-legged Buzzard at Orford Ness (Suffolk) proved to be a weekend draw for some with further singles noted in Norfolk, at Horsey (Norfolk) ~ one "in-off" there on 31st and East Dereham and Holkham NNR on 3rd, while in Lincolnshire, one was at Rimac on 31st and Long Sutton on 4th, with another reported at Havant (Hampshire) on 3rd and Goldsitch Moss (Staffordshire) on 5th.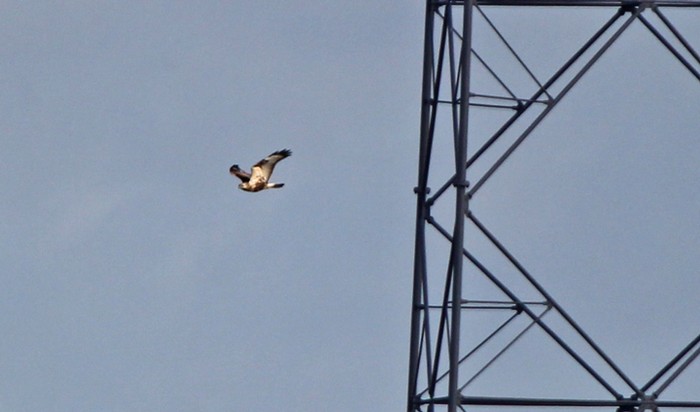 The Glorious 12th Red-flanked Bluetail of 2013 was a super late, late October find (on the last day of the month) on Orkney's North Ronaldsay ~ discovered by Observatory staff member Mark Warren on a day when the island was buffeted by winds of 50mph.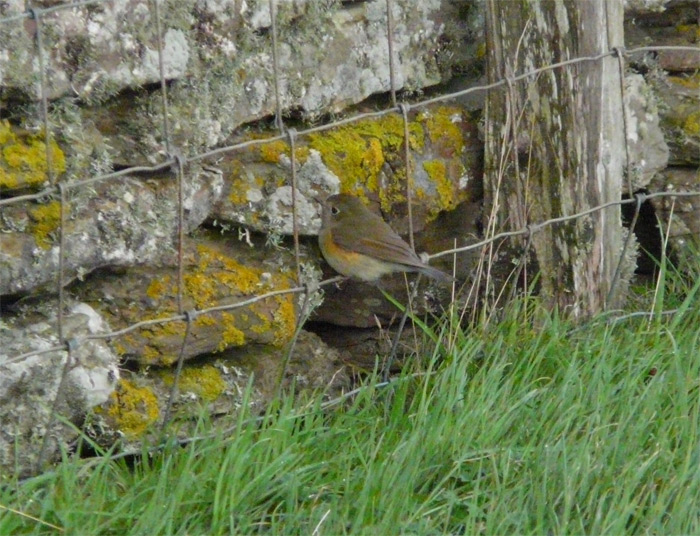 This becomes the second island record ~ the first was present for two late September days in 2008 ~ and it is the second for Orkney this autumn (following one on Westray in the middle of last month).
Shetland and Norfolk have scored three Bluetails each this autumn to compliment Orkney's double and singles in Suffolk, East Yorkshire and Fife while Norfolk is top of the heap for the year ~ bird number four was found in the spring at Horsey (and another was reported around the same time on the north coast too).
Rather rarer than Red-flanked Bluetail again this year is Rustic Bunting and the arrival of a male at Cove Bay (Aberdeenshire) on 1st became the 10th record of the species in 2013.
This week's bird was seen again on 3rd but not subsequently, and will become only the fourth-ever in the county and the first for 20 years when a male was at Rattray Head on June 1st 1993. Earlier Aberdeenshire records came at Drums on October 5th 1986 and Torphins in late March 1905, a male and female obtained around the end of the month. Elsewhere, North Ronaldsay scored a Little Bunting on 30th and it was followed by one on Tresco on 31st and another at Quendale, Mainland (Shetland) on 2nd.
A one-day Paddyfield Warbler found on St. Agnes on 30th will become the eighth record for Scilly (and a first for Agy itself). Prior to this new arrival, St. Mary's had laid claim to five of the previous seven records (in 1974, 1983, 2001, 2005 and 2006) with one for Tresco (in 1988) and Gugh (in the first week of November, 2002).
Also on St Agnes this week (also on 30th) was last week's Dusky Warbler while the first-winter Subalpine Warbler was still showing around the fields near Longstone to 5th. The second Dusky Warbler was an outstanding find in the West Midlands, at Marsh Lane NR, near Hampton-in-Arden from 1st-4th ~ only the second record for the county, following ion from one in Tipton in November 1996. A third was reported off and on through the week at Kenidjack (Cornwall).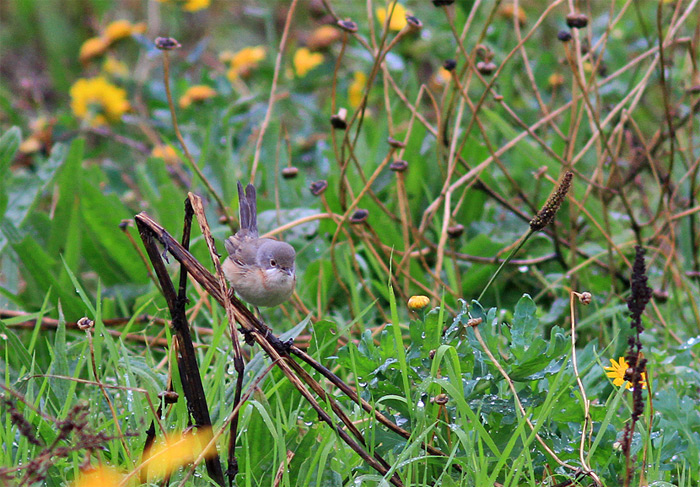 In Scotland, at Mire Loch (Borders), the male Sardinian Warbler was showing no signs of departing just yet, being still present and correct on 2nd, 39 days and counting since his reappearance in the last week of September. Once accepted, it will be interesting to see if the length of stay is cited as 30th June, then again from September 25th to (for instance) 2nd November or whether he'll be listed as being present throughout. If that is the case, it will be 126 days from arrival on June 30th and November 2nd ~ if that's the option, then the Mire Loch bird will become the longest-staying Sardinian Warbler on record ~ beating the 102 days of the male at Skegness in from October 2003 to January 2004, the 111 days of the male on the Shetland Mainland from July to November 1992 (almost mirroring this year's bird) and also the 112 current record-holder, another male, at Filey in June to October 1993.
Only three single Pallas's Warblers were recorded this week ~ still at Atherington (West Sussex) on 30th and then at Birling Gap (East Sussex) on 2nd and Content Farm, St. Mary's (Scilly) on 4th. Yellow-browed Warblers numbers have been falling by roughly 50% for the past couple of weeks ~ after just over 200 two weeks ago, the total dropped to 101 last week. The past seven days have seen that figure fall (roughly) in half again, 46 birds logged with the southwest of England taking the majority of them once again.
Up to 15 were seen in Cornwall, including three at Kenidjack on 31st, with seven in Dorset, four for Scilly and three for Devon. Cork's six birds were split four on Cape Clear on 30th and two on Mizen Head on 1st, with one making as far west as Galway's Slyne Head, also on 1st. Five east coast birds included three in Norfolk (two of those being in Hunstanton from 30th) while notable singles were seen at Angle (Pembrokeshire) on 1st and West Yorkshire's Wintersett Reservoir on 30th.
Spurn's lingering Barred Warbler continued to enjoy itself on the coast of East Yorkshire to 5th, while another bird from previous days remained at Burravoe, on Yell, until 31st. Off the Welsh coast, a young Barred Warbler was found on Skokholm on 31st (and was present the following day too) while the final bird of the week was found at Churchtown (Co. Wexford) on 4th.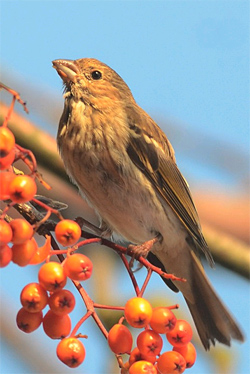 A couple of Red-breasted Flycatchers appeared during the last days of October and first days of November ~ new birds noted in Holy Vale, on St. Mary's (Scilly) on 31st with singles in the far west of Cornwall at St. Levan (Cornwall) from 31st-4th and at Tregeseal, near St. Just on 2nd, while on Inishmore (Co. Galway) the bird found last week in Kilmurvey Wood remained to 31st.
The Fair Isle Olive-backed Pipit was still on the island on 2nd with the same date seeing the appearance of the only Red-throated Pipit this week, seen at Burnham-on-Sea (Somerset).
A dozen Richard's Pipits were spread from Cornwall to Shetland with three birds noted in Lincolnshire ~ two at Donna Nook on 30th and one at Gibraltar Point NNR on 3rd ~ two each for Cornwall and Shetland (at St. Levan and Par in the far southwest and at Levenwick and on Fair Isle in the far north) with singles on Tresco (Scilly) on 31st, Barmston (East Yorkshire) and Sidestrand (Norfolk) on 1st, Malltraeth (Anglesey) on 3rd and Hartlepool (Cleveland) on 4th.
Along with several other scarce autumn migrant species, numbers of Common Rosefinches fell away again this week with just two birds noted ~ on North Ronaldsay on 30th and at Bridlington (East Yorkshire) on 4th-5th. Southwest England held four of the five Wrynecks logged in the last seven days, seen in Plymouth and Dunster on 30th, Pendeen on 4th and Prussia Cove on 5th, with the fifth of the week out on Dursey Island (Co. Cork) on 1st.
A couple of late Hoopoe were reported from Harpsden (Oxfordshire) and on Flat Holm (Glamorgan) on 5th while a few late Red-backed Shrikes were also noted ~ an adult male reported at Thorne Moors (South Yorkshire) on 30th and was followed by a juvenile on St. Mary's (Scilly) from 31st, at Pagham Harbour (West Sussex) from 1st, at West Sandwick, Mainland (Shetland) on 2nd and Flamborough Head (East Yorkshire) on 3rd.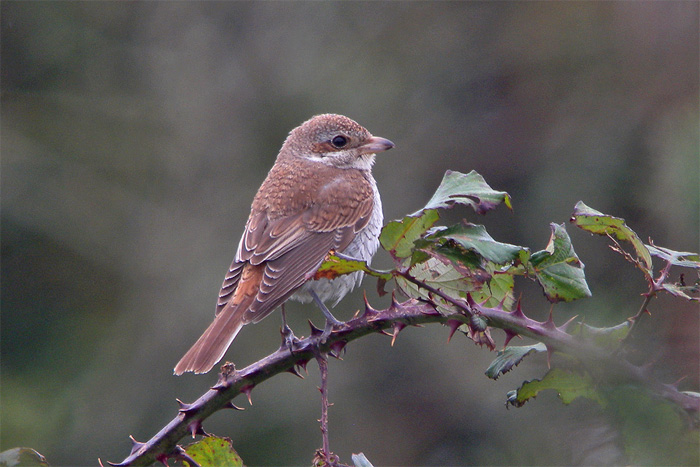 Great Grey Shrike numbers looked to have taken a slight rise on last week ~ up to 26 birds reported this week including birds reported from five different sites in Hampshire (mainly in the New Forest), two in West Sussex, Surrey, Cambridgeshire and Oxfordshire (at Balscote Quarry NR from 30th and in Abingdon on 31st), with notable late migrants appearing at Spurn on 30th, Urafirth (Shetland) on 1st and Bolt Head (Devon) on 4th (with a second in the county on 5th). Singles were also seen in Powys, Worcestershire (at Defford Airfield on 2nd), Kent, Bedfordshire, Nottinghamshire, Derbyshire, South Yorkshire, North Yorkshire and Cumbria (at Brampton, on 4th).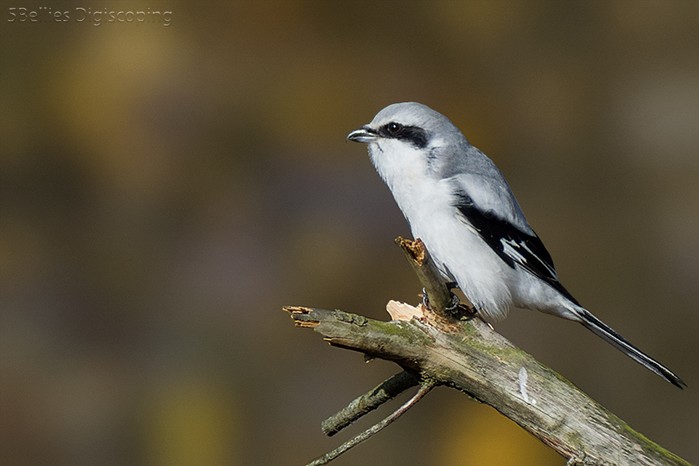 All of the recent juvenile Rose-coloured Starlings hung around in their respective haunts that little bit longer this week ~ on St. Mary's (Scilly), at Marazion and Penzance (Cornwall), Caister-on-Sea (Norfolk), Port Nis, Lewis (Outer Hebrides) and Tory Island (Co. Donegal) ~ the Hebs bird still present to 4th, the Cornish one to 5th.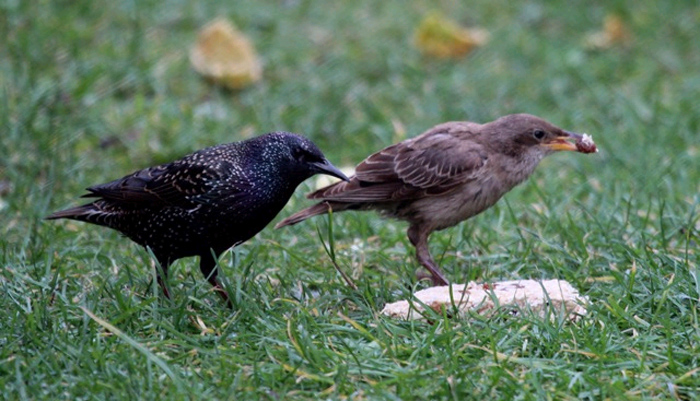 Three single Two-barred Crossbills were seen at three sites this week ~ the female was again at Leith Hill (Surrey) throughout the week, while a male was again at Broomshead Reservoir (South Yorkshire) on 2nd. In the Brecks, a male remained at Lynford Arboretum to 4th. In Kent, seven Parrot Crossbills were noted at Grain on 2nd, with the same number still at Hemsted Forest on the same day, with one there on 3rd. As the review period drew to a close, the birds seemed to have dissipated to zero…
At Dungeness, a Penduline Tit lingered until 30th and on Unst, the Black-bellied Dipper seen in mid-October was noted again at Hermaness on 2nd and 4th.
The round-up concludes with news of around 140 Waxwings noted countrywide, the bulk of which were in the Northern Isles. The largest group was 30, seen at Stromness, Mainland (Orkney) on 4th, with 20 at Castlehill (Highland), 15 at Kirkwall (Orkney), 15 at Scrabster (Highland), 14 at Lossiemouth (Moray) and 12 at Brae, Mainland (Shetland) all on 5th. The only other birds reported were at Livingston (Lothian) on 30th and (remarkably) far to the south, at Abingdon (Oxfordshire), also on 30th and over Landguard NR (Suffolk) on 5th.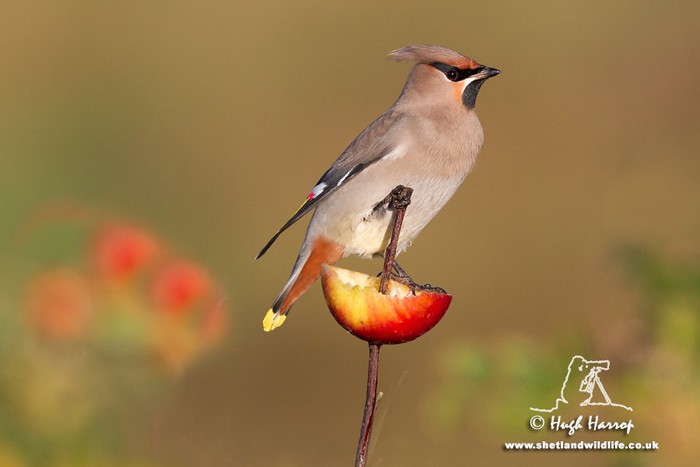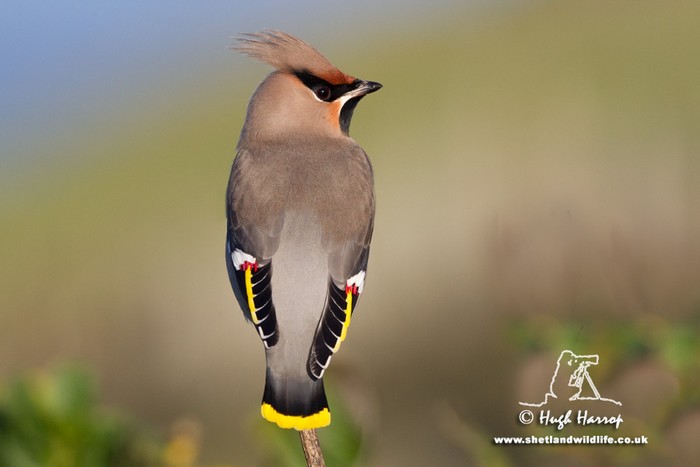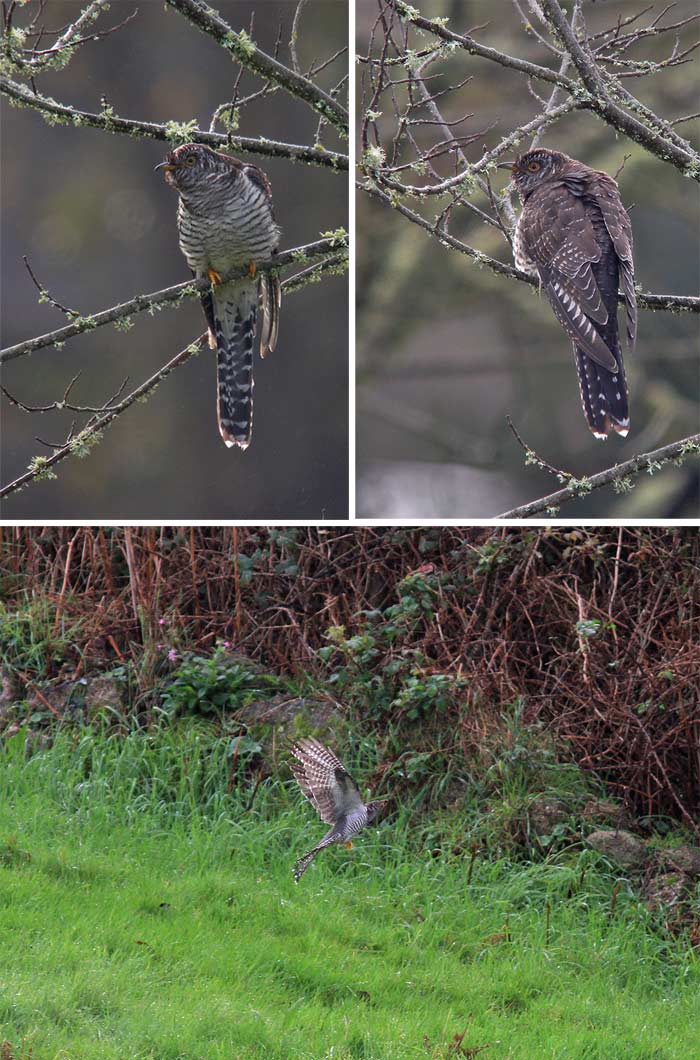 With the weather in the days ahead looking far from inspiring ~ birders on the east coast look as though they can kiss goodbye to any lingering hopes of, say, a late rare wheatear or a lost Hume's Yellow-browed Warbler (as a for instance, seven have been found on November 7th alone) it is the western side of Britain and Ireland that will be best placed for anything out of the ordinary. A Nearctic gull or two or maybe a Killdeer is on the agenda for the next few days.
Any number of super birds have appeared from the west and the east in the second week of November ~ Lincolnshire's American Redstart arrived on 7th (in 1982) with the Spurn Pine Grosbeak arriving on 8th (in 2004) with another on the Shetland Mainland on 9th (in 2000). One species, more than any other though, catches the eye ~ November 7th 2006 was the day that the Long-billed Murrelet was first seen off the coast of south Devon, at Dawlish. If you missed it, you really may struggle to get this one back....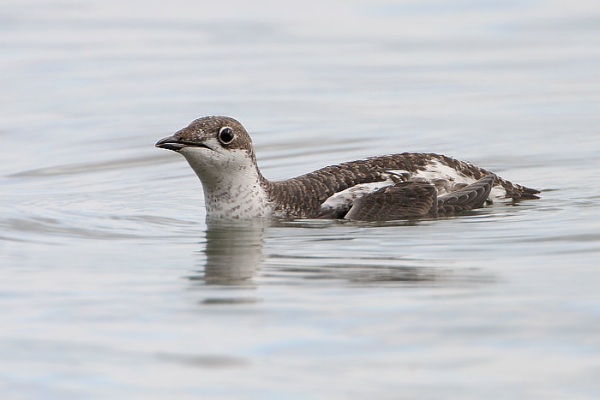 An additional section this week with some rare mammals being sighted around the British Isles. In East Anglia the Humpback Whale seen off the Norfolk coast last week as again seen this week but further south into Suffolk. Observed off Minsmere and Dunwich it would appear that the animal has been in the area since the end of September at least when it was photographed off Dunwich. So for all those who have not yet caught up with it you may well get another bite of the cherry!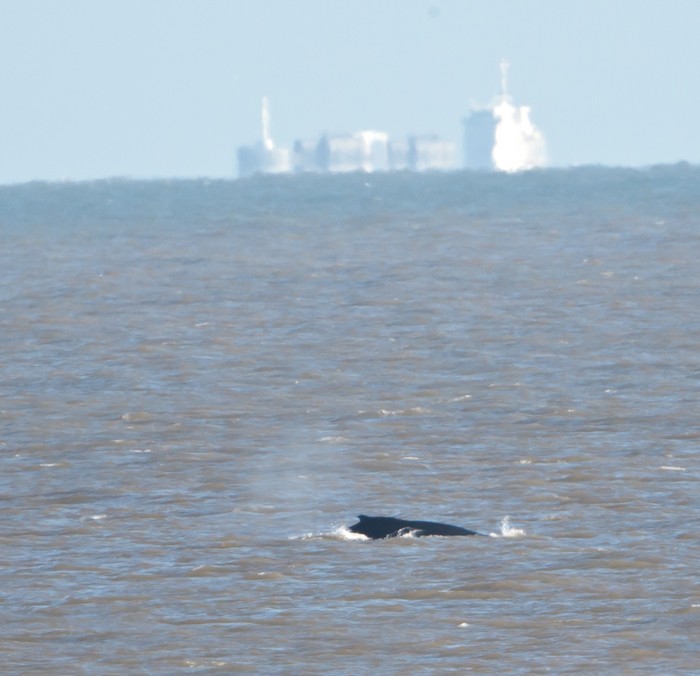 Although Killer Whales can been seen regurally around the coast of Shetland Isles it must still be one of the wildlife highlights in the British Isles. To photograph and even video them hunting seals must be an even more remarkable sight, but that is exactly what Tommy Hyndman on Fair Isle managed to do this week. Check out his fantastic photos and video below.
And with Movember upon us the Bearded Seal on Yell is still present. Six days in it's 10/10 for length but needs a bit more body I think!
Mark Golley
06 November 2013

Special thanks this week to Pete Morris for his super set of rarities and late movers and shakers on Scilly and in West Cornwall. Also grateful thanks to Mark Warren and the North Ronaldsay Bird Observatory.
Many thanks to the rest of this weeks conributors for their photos and videos.
Hugh Harrop, Mark Rayment Paul Rowe, David Carr, Paul Wren, Martin Goodey, Steve Williams, Rob Fray, Jack Levene, Neil Fox. David O Connor, Brett Spencer, David Aitken, Steve Hatch, Robert Cross, Dave Johnson, Sean Nixon, Tony Davison, Ken Clegg, Neil Cowley, Brian Henderson, Andrew Moon, Ian Miller, Paul Kelly, Tom Cuffe, Mark Warren, North Ronaldsay Bird Observatory, Jim Nicholson, Nature in Shetland, Andrew Hood, Gary Loader, Tony Marr, Roobie Brookes, Kit Day, John Saxton, Tommy Hyndman,
Contributors Websites