Weekly round-up: 16 - 22 Oct 2013
The week at a glance
Semipalmated Plover becomes a Hampshire first and for West Sussex as well
Male Siberian Rubythroat in "not the rarest bird of the week" shock as Fair Isle lands a fifth….
Scilly's first Pallas's Grasshopper Warbler reported from Gugh
…while the islands' sixth Sora remains on Tresco and the seventh appears on St. Mary's
Tacumshin's latest juvenile Northern Harrier remains in to the new week
…then Cambridgeshire strikes with a Northern Harrier-type too…
Cork scores a second Grey-cheeked Thrush in a fortnight
Stunning-looking Eastern Yellow Wagtail remains in Donegal
…and Fair Isle lands a late, late Lanceolated Warbler
STOP PRESS: And as we go to print Britain's second Cape May Warbler has been found on Unst, much more to follow on this next week
Another week gets chalked off the 2013 calendar as autumn's advance continues at far too rapid a pace.
The birds on offer across the past seven days were as varied a mix as any week from the past couple of months ~ a blend of the stunning, the subtle, the taxing and the teasing.
Much of the country was stuck beneath a swathe of strong southerly winds, sometimes bringing belts of heavy rain with them, but temperatures remained above the seasonal average.
There were a few places that were getting just the conditions they were hoping for and those with an eye for weather patterns and vectors would have taken a look at the forecast for the Northern Isles for the weekend just gone and on to the next day or two and seen some high quality conditions ~ take a look online at the maps heading to Shetland for October 18th onwards ~ and predictions of great birds there were right on the money.
But even the far north of Britain's rarity-supreme couldn't eclipse (in terms of rarity and identification skills) the bird of the week….
Here we are again then….
Semipalmated Plover
You'd hate to say that there was a little bit of a lull in proceedings as the new review period week began, but that was how it felt ~ a lull in modern day birding is, of course, a period which is stuffed to the brim of rares and the occasional mega too ~ but in the big-hitting battle of which species garners most attention ~ an almost mid-Atlantic romper-stomper of a Western Palearctic 1st ~ in the shape of a ludicrously alluring Yellow-throated Warbler on Azores ~ or the all-together more dowdy-looking Semipalmated Plover in Hampshire and West Sussex…well, it seemed to be a no contest. Which is a shame for shorebird fans everywhere.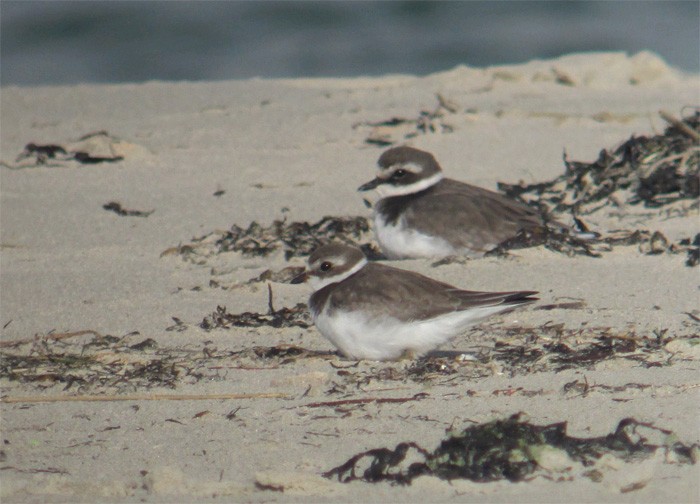 Inevitably, gaudy wood-warblers from the Americas will beat humdrum little wading birds from the same (roughly) direction every time but as Corvo is rather closer to the point of origin for the Warbler than Hampshire is for the Plover, well, the job of your round-up writer is made so much easier…and, add in that as sizzling a find as the paintbox CMF warbler maybe, the discovery of a SEPL is something that comes from right out of the top drawer of the file marked "rare finding and tricky ID's"…
Not coming in quite like a hurricane, more like a tornado, Hampshire's Semipalmated Plover was found on the morning of 17th at Black Point, on Hayling Island ~ picked up on call and then present for an hour, it headed off with half a dozen Ringed Plovers. Let's hear more about this outstanding discovery from the finder, Andy Johnson.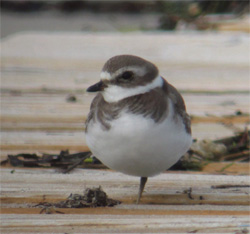 As normal, I went to see what was gathering at the Black Point high tide wader roost, but from the bottom of the causeway I could see a fisherman at the end had already flushed everything, and a couple of dog walkers were finishing off the job.
Nevertheless I went up to Sparkes Marina to see if there was anything left. When I got there I could see there were about 20 Ringed Plovers flying around. Then I heard a clear, unequivocal "Chewit!" I looked to where the noise came from to see the last two Ringed Plovers take flight – one clearly a lot smaller than the other! They flew round and round for what seemed an eternity, but eventually landed on the near edge of the mud, around 60m away.
I swung my 'scope onto them and got onto the smaller bird to specifically look for a white wedge above the gape… it was there! Clear and obvious!! Elation turned to edginess, however, as they quickly took flight, and joined three more flying round and round again. Eventually all five settled at the far end! My only choice was to walk all the way down Wittering Road and back up the causeway to Hayling Island Sailing Club. This takes at least 20 minutes, during which I was thinking "if they've flown off by the time I get there, then that's that! If they're still there, I'll nail it!!"
I got to the spot, and they were still there… got myself into position about 45m away, scope up, start from the left "Nope… nope… no… GOTCHA!!" Britain's 4th ever Semipalmated Plover!!!
Despite rather too much online caution being exercised, this bird was only ever in one ballpark and that was the one marked "mega". Happily the following day, for everyone gathered on the south coast, bang on cue, the bird was seen again in the same spot on the next daytime high-tide and it is destined to become the fourth accepted British record ~ and sixth in all ~ coming hot on the heels of the lovely first-winter found last September on South Uist.
…and, as predicted by the locals, the bird also made its way across the border in to West Sussex too, seen at Thorney Island at various times of the day from 18th-20th to double up as a duel county first. The bird (and birders) also managed to avoid the freak bit of weather that zapped across Hayling Island on the morning of 20th ~ this birding lark is all go eh?!?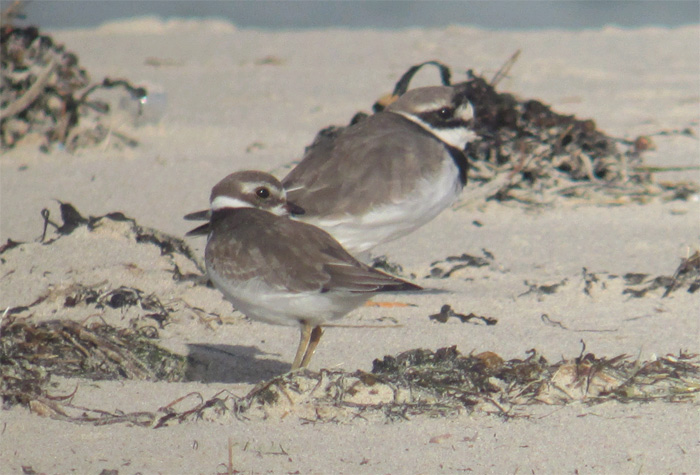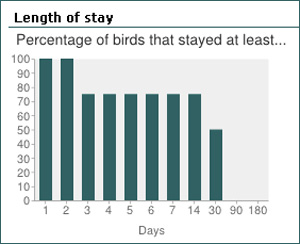 That previously mentioned Uist Semipalmated Plover was the first to reach British shores since the returning bird at Dawlish Warren of April to September of 1997 and the spring of 1998 (from the end of March to mid May).
The Dawlish bird, a first-summer when it appeared initially, was a puzzle that took some time to unravel, but eventually stayed long enough for the local's perseverance to win out and secure a top class bit of ID work (as is the case with all of them so far…).
Britain's first Semipalmated Plover was found and identified by rare-finding guru Paul Dukes (he's also got the UK's only Wood Thrush to his name), on the beach at Periglis on St. Agnes (Scilly) during October 1978, the bird staying there for just over a month.
Ireland has two accepted record of this tough-to-nail little wader ~ a two-dayer in County Donegal, on Aranmore Island in October 2003, with the second, the well-documented (and well-twitched) bird around Ventry Harbour, in County Kerry, from September 24th to October 15th 2011.
Three birds in three years is a particularly good return for a species this rare and this tough to sort conclusively, with a few other claims bumbling around over recent years too (possibles and probables and suppressed birds too ~ apparently), this is a bird that looks set to become just a tinnie-tiny bit more frequent than it once was. But there are no guarantees of course…
Siberian Rubythroat
Male Siberian Rubythroat. News of one of these crimson cut-throat beauties will always draw an audible gasp and the Monday afternoon Mega was no different to the reaction that has greeted the other fanfares announcing the appearance of this long-held "ultimate Sibe". It remains a species which will always have the "Wow Factor" and, even first glance at the Tweeted Obs., picture of this week's stormer drew collective sighs and sobs.
This remains one of the ultimate rarities for British listers and although a fair few have scored the species in the past decade, there are 100's more still waiting for that (much-wanted) mainland sticker.
Fair Isle has now hosted five of our ten calliope records to date ~ #1 was Britain's #1, listed at the time as perhaps a dull young male (with traces of red in the throat that weren't seen in the field) on October 9th 1975. #2 was the three day first-winter female on October 17th-19th 2003 with a five day female following on at #3 on October 23rd 2005. A gap of almost seven years followed until last autumn's elusive #4, a female, also found on October 23rd and now on October 21st 2013, we have Fair Isle's #5 and the first red-throated male….and what an absolute peach he looks too…
Britain's only mainland individuals (there's just the two of those sadly) have always been dogged by the C word….(not the ultra naughty sweary one but ~ in birding terms ~ a worse one still…controversy.
Coming 22 years after the FI bird of 1975, the one-day Sunday afternoon male at Osmington Mills in Dorset, on October 19th 1997, will always have the finger of suspicion waggling over it in terms of just where it came from (the rumour mill has always indicated some sort of shady shopping purchase ~ allegedly) while the invite-only private showing in an urban garden in Sunderland in late 2006 has often been the subject of much birding ire.
Back on Shetland, there have been three further Rubythroat records, all of them males ~ one picked up freshly dead by the roadside at Bixter on October 25th 2001, while the now-you-see-it, now-you-don't male in the iris beds of Foula on October 5th 2007 remains our earliest ever. And then came that 13 day stonker at Gulberwick, on Mainland, from October 19th 2011.
The good news is that we've had eight Siberian Rubythroats in 11 years. The even better news is that, currently, they are annual (2011, 2012, 2013). The bad news (for many) is that eight of the 10 are Shetland birds. Dig deep people and dreams can come true!
And if you fancy your chances of seeing (or even finding) one of these (still) Ultra Megas, best give Mr. & Mrs. Parnaby a ring and check out the availability in the Obs., between October 9th-23rd ~ that's the current Fair Isle Rubythroat window of opportunity….or alternatively, charter a plane ~ as a few folk did on 22nd ~ and get the most outrageous views of one of the most outrageous species on the British List for your £500. Money well spent.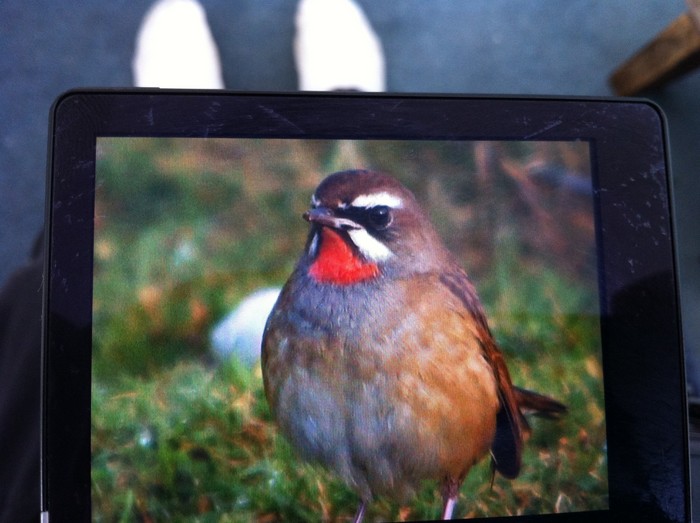 Pallas's Grasshopper Warbler
The week kicked-off with mid-afternoon news (on 16th) of a Pallas's Grasshopper Warbler over on the pretty little island of Gugh, just across the bar from the (arguably) prettier still St. Agnes.
This is a potential first record for Scilly and the ten or so observers will have to get their heads together to make sure that the description is water tight, particularly if no photos exist (the "new way ahead" seems to infer that if you don't get a photo, you don't have a record ~ so all us old dinosaurs who rely on field notes and sketches are destined to become obsolete…).
To date, the most westerly and southwesterly records of this Old World long haul vagrant from eastern Asia have come from County Cork's Cape Clear Island (on October 8th 1990) and Dorset, at Portland Bill on September 13th 1996.
If the Scilly bird firms up at Committee stage, it will also become (as well as a famous 1st for the archipelago, potentially taking the Scilly list to 439) one of the latest Pallas's Grasshopper Warblers on record too….it just sneaks ahead of a bird on Shetland on October 14th 2002 but falls just short of Britain's second latest-ever record, seen on Fair Isle on October 19th 2001. The latest record came off the coast of Northumberland, on the Farnes, on October 26th 1985.
Sora
Meanwhile, over on Tresco, the Sora took a couple of days off from the Great Pool (as the water levels rose) before reappearing there on 17th where it remained to 22nd. Remarkably on 19th came news of a second Scilly Sora ~ this one on St. Mary's, at Lower Moors ~ which had been RFP'ed (reidentified from photos) the same day. A Spotted Crake had been reported from the Shooter's Pool on Lower Moors since October 5th ~ seen daily to 10th ~ before being reported again on 19th. Doubtless more will become clear, but was it a Sora all along? Someone will let us know.
Anyway, this current scenario echoes the happenings of 1991 when a multi-observed Spotted Crake at Porth Hellick was "RFP'ed" several days later, in the dark evening depths of the Porthcressa, when someone cast their eyes across the "for sale" photos on display ~ luckily that Sora remained for a week or two, while Bird 2 of 2013 did a bunk almost straight away.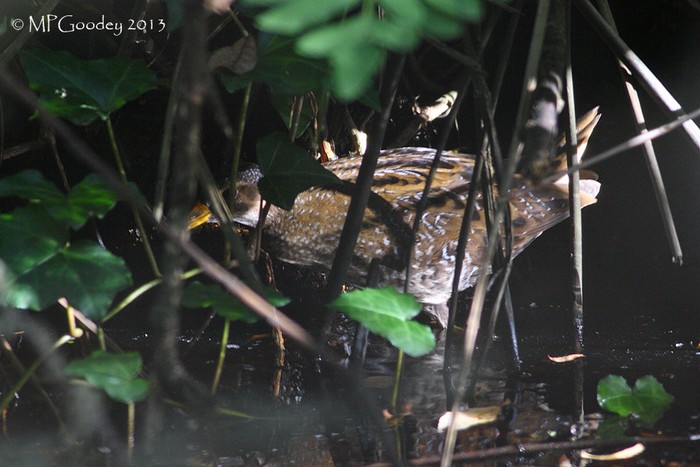 This year now becomes only the second-ever to have had two Soras in the same 12 month period, matching the efforts of 1982 when singles were found on St. Mary's (a gripping one day bird in late September) and on Shetland (an unavailable one day bird on Foula).
The Tresco individual is the first Sora for seven years, following on from the well-twitched bird at Gibraltar Point (Lincolnshire) on March 2006.
That bird, along with the three others recorded on the British mainland, have all proved to be significant draws ~ at Attenborough Pits in Nottinghamshire in December 2004, Stover Country Park in Devon for the first four months of 2000 and, most famous of all, the Pagham Harbour bird of October – December 1985 ~ a super-showy bird and one that drew 100's of admirers to Sussex by virtue of being, pretty much, the first twitchable Sora (tho' the two day bird on Tresco in 1983 could argue the toss about that, likewise the bird on St. Agnes in 1973…).
Northern Harrier
…talking of arguments, it will be interesting to see where the discussion goes with the status of Northern Harrier…the astounding find of yet another bird at Tacumshin last week may perhaps draw some nay-sayers out of the woodwork and ask the question "what's going on!?!".
Actually it seems to be a pretty fair question to ask as it is an absolute head-scratcher as to how one single site in southeast Ireland can now have scored six Northern Harriers since October 2010.
The first was the super juvenile female that spent the winter and much of the following spring on site departing in late May 2011 after arriving on October 31st 2010 (just a few days after the juvenile male in Norfolk). In the autumn of 2011, a second-winter male arrived on October 9th with a new juvenile on October 26th ~ both birds staying in the area until the middle of November.
Last year came birds four and five ~ a juvenile male found on October 6th with a juvenile female following on two weeks later and, like the original Tacumshin hen bird of 2010, the 2012 individual remained through until the spring of 2013.
Now we have bird six, another juvenile male and he remained on site until 20th at least. Then, remarkably came news of what appears to be another Northern Harrier, this one photographed on the Ouse Washes (Cambridgeshire) on 20th ~ having initially been seen there a couple of days previously, when it was reported as a potential Pallid Harrier.
Why this incredibly upturn in records in Wexford and mainland Britain? We've had two accepted Northern Harriers in Britain (as well as the Cambridgeshire bird) in a similar time span to the Wexford six (the male in Durham in September 2009 as well as Norfolk's young male) and a number of others are in the frame as fitting the bill too. Increased observer awareness may be part of it (certainly where the first young males were concerned) and all of the features laid out as being key to the correct call in terms of form, age and sex are all holding tight at the moment.
...and, presumably, they will continue to do so until someone comes up with absolute concrete evidence of European Hen Harriers showing the exact same features as those shown by Northern Harriers (especially the characteristic juveniles and males). Likewise those who will offer forward the hybrid option (one that gains momentum with every new record) will need to find the breeding pair first ~ a tough call here of course ~ and then take it all from there. Interesting developments are on the cards though ~ along with the still delayed "splitting" paper (come on chaps, chop, chop!), the current Tac., Marsh Hawk managed to offer up further clues for the lab when an impressive, ummmm, "evacuation" was collected and mailed to Doc Martin for his appraisal. Breath will be baited to see what analysis comes forth from the north….
Meanwhile, there is so far, nothing to suggest that any of the accepted birds to date ~ in Ireland or in Britain ~ are anything other than Bob On Northern Harriers. They all look the ticket, so maybe something weird is happening with them on the other side of the Atlantic. Certainly after no birds between the very early 1980's and the end of the first decade of the 2000's it does seem pretty weird to have such an extraordinary set of records….but that is birding in the 21st Century for you…
The Cambridgeshire bird looks the part ~ expert comment from Ireland and America certainly favours hudsonius, but some out there are wondering whether it is absolutely cast-iron. Let's see what more photos and more debate bring…if it isn't a Northern (as some people think) it is a massively instructive bird (and one that spells trouble ~ with a capital T for some other records). If it truly is a Northern (as some people think), then the amazing run continues and the envelope for what constitutes a hudsonius is (gently) pushed open that little bit wider.
Grey-cheeked Thrush
In County Cork, hot on the heels of the Dursey Island Grey-cheeked Thrush of October 3rd (adjacent to the same garden on that held the first-winter male Wilson's Warbler) came the second of the month on 17th ~ found in the willows at Mizen Head.
All bar one of Ireland's seven accepted Grey-cheeked Thrush records have come from Cork ~ the first was found on Cape Clear Island in October 1982 and was followed by further records on the Cape in 1988 and 1990, with the first mainland county record coming in October 2005, when one was found on Old Head of Kinsale.
The same year saw Cape Clear register another, with a Swainson's Thrush or Grey-cheeked Thrush there in October 2007. Dursey's first was found in 2011 while the only other Irish record was at Loop Head (Co. Clare) in October 1991 ~ indeed all of Ireland's seven records have appeared between October 6th to 29th.
Eastern Yellow Wagtail
Away up and in to the northwest of Ireland for more news on the gorgeous-looking Eastern Yellow Wagtail that remained on Tory Island, off the Donegal coast, to 20th at least. The bird looks the part and Irish birders who have heard the calls say it sounds the part too ~ it certainly has a distinct "feel-good" factor about it ~ but without some sort of sample being obtained, there could be a significant "T junction" ahead…
Down the years there have been a host of reports of "Eastern Yellow Wagtails" ~ the late Peter Grant pointing out a striking wee beastie in a ploughed field on the edge of the golf course on St. Mary's in the mid-1980's sticks in my mind ~ and, more recently, a bird favoured by many as a strong candidate spent several days in fields at Pelistry, also on St. Mary's, in October 2010.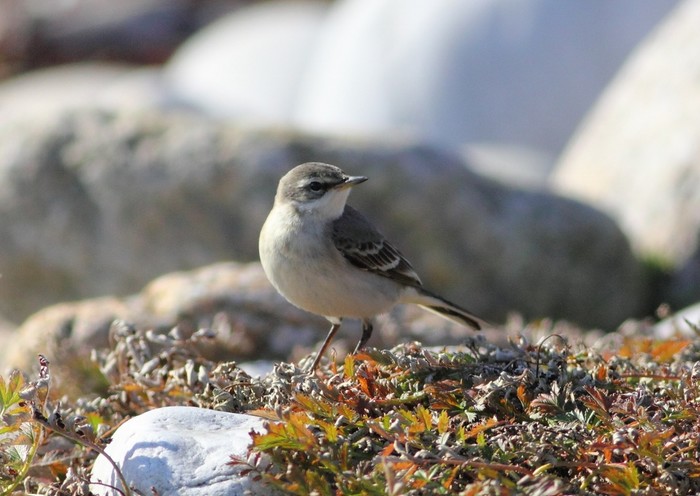 That bird was followed by the real deal ~ the first irrefutable Eastern Yellow Wagtails for Britain, found at Colyford (Devon) on December 4th 2010, where it remained until 19th. The bird was trapped and ringed and the DNA work showed that the bird (a male) was definitely from the eastern group of Yellows (incorporating tscutschensis, taivana and macronyx) and was closest to the first named form.
For more on that particular bird check out the following links….
http://birdingfrontiers.com/2010/12/05/eastern-yellow-wagtail-in-devon/
http://birdingfrontiers.com/2010/12/14/the-call-of-the-devon-flava-wagtail/
and also here…
http://birdingfrontiers.com/2011/03/18/hot-news-eastern-flava-in-devon/
What lies ahead for the Irish bird? Who knows. And will Eastern Yellow Wagtail ever be split? Again, who knows….
Lanceolated Warbler
Lanceolated Warbler as we know is, pretty much, Shetland's bird. And this week saw something like the islands 112th (give or take one or two) occurrence of the species pop up on the inevitable Fair Isle during October 20th.
It is actually getting to the point where it is kinda hard to find something to say new about the lovely little Lancie but with sound of the barrel being scrapped (just a tad) it can be noted that this is one of around 40 Shetland records of Lanceolated Warbler during October and becomes the fourth-latest one ever ~ Orkney and Shetland share the honours in terms of latest-ever ~ on Pentland Skerries on October 26th 1910 and Bressay on October 26th 2004 ~ with another on Shetland on October 24th 1925.
With the weather as it was, there were quiet times in Seabird Alley this week ~ 14 Balearic Shearwaters headed past Berry Head (Devon) on 16th with eight off Pendeen (Cornwall) the same day. Those two figures seemed miserly compared to the significant tally of 127 off Devon's north coast the following day ~ noted from Hartland Point ~ and most of the week's remaining records centred around the far southwest (from Dorset to Scilly). There were a dozen each for Pendeen and Porthgwarra on 20th with 27 off Lundy Island and 11 more at Berry Head on 21st (the only other double figure counts this week). Single figures were logged along the English south coast in West Sussex and Kent, on the east coast at Flamborough, the Welsh coast (in Pembrokeshire and Gwynedd) and also the Irish coast too ~ with a couple of records from Wexford.
Single Leach's Storm-petrels were noted in Hampshire (flying through Southampton Water on 18th) and Cork (off Ballycotton on 19th) while the only Long-tailed Skuas this week appeared off Mudeford Quay (Dorset) on 16th, in Yorkshire, at Filey and Flamborough on 19th and Berry Head on 22nd. Flamborough saw 13 Pomarine Skuas pass by on 19th ~ the sole double figure count of the week ~ with fours in Highland at Tarbet Ness (Highland) on 17th and Embo on 18th and five from Berry Head on 22nd. Singles were recorded in five other counties, spread from Devon to Lothian.
Bardsey laid claim to a Sabine's Gull, an adult drifting past the island on 20th and a juvenile was seen at Seaton (Devon) on 21st. Some 10 Grey Phalaropes included two off Cork's Ballycotton and Devon's Start Point on 19th, singles on 18th and 20th at Cley (Norfolk) and an inland bird on Carsington Water (Derbyshire) on 19th. The week's six Little Auks (four singles and a two) were confined to Scottish islands ~ Barra on the Outer Hebrides, in Bluemill Sound and off Sumburgh on Shetland and on North Ronaldsay on Orkney, with the last in The Minch ~ its almost the Hebs ~ on 21st.
Fair Isle may have had countless numbers of Lanceolated Warbler across the decades but Purple Heron is an all-together different kettle of fish ~ until the appearance of a juvenile over Hjukni Geo on 16th there had been just three previous records of the species on the island, all of them appearing between 1965 and 1970.
It seems slightly strange to think that the island has now had the same number of Purple Herons as it has had Siberian Rubythroats…. (ok, so let's make that five F.I. Rubythroats now shall we! You can see how all this stuff gets put together throughout the week…).
Down on Scilly, the juvenile Purple Heron that flew over St. Mary's on 19th was presumably the same individual that has been around the island in previous weeks.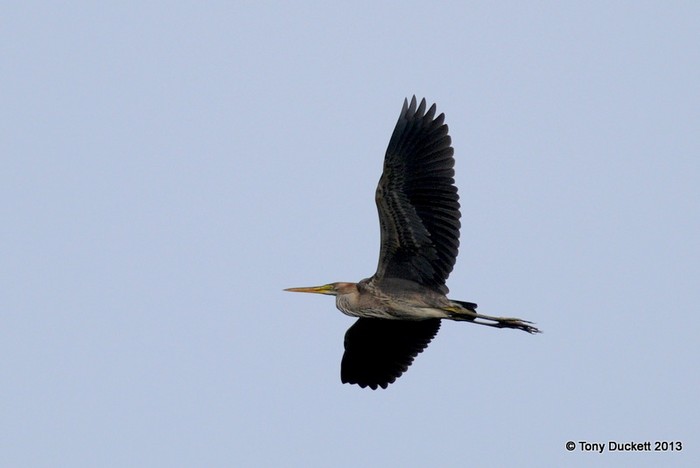 There were four fours of Glossy Ibis this week ~ the popular quartet remained near Bolton (Greater Manchester) to 22nd, with Cumbria's foursome again at Milnthorpe on 17th and another same-sized group was at WWT National Wetlands Centre in Carmarthenshire on 16th (with two still there on 20th). A new bunch headed along the Norfolk coast during the morning of 18th ~ seen initially over Brancaster, they were tracked all the way around to Sea Palling in the space of two-and-a-quarter hours (which included a stop-off at Warham Greens).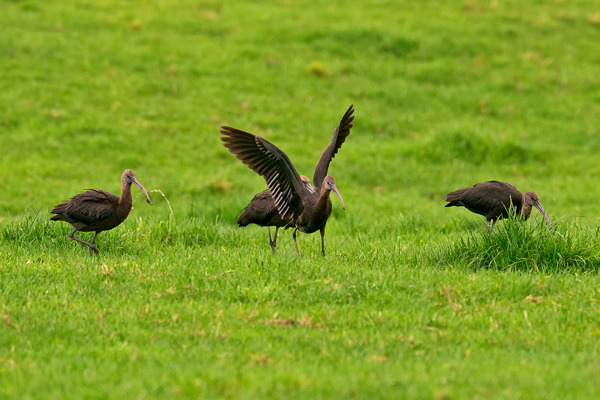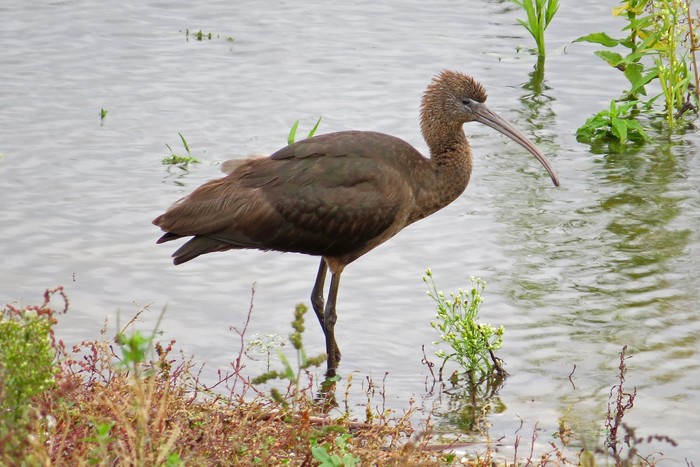 The previous day had seen another Norfolk bird appear, spending some time inland at Pensthorpe while another was at Welney WWT on 19th. In Essex, singles were at Wat Tyler CP on 16th-17th and then Abberton Reservoir on 20th, while in Kent one remained at Dungeness to 17th when another at Stodmarsh on the same day. On the Isle of Wight a
Glossy Ibis
was seen at Freshwater on 19th and there were still two at Ham Wall RSPB (Somerset) on 16th-17th and the juvenile was at Blagdon until 16th. Finally, in Gloucestershire, one was noted at Slimbridge WWT on 20th.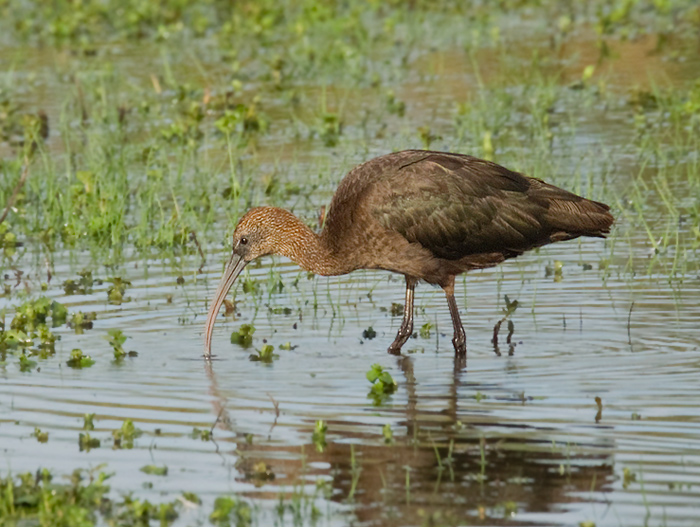 Kent was host to the only Cattle Egret of the week ~ seen on the marshes at Harty Ferry on Sheppey to 18th while the number of Great White Egrets noted this week nudged just in to the low 30's.
Dungeness was at the top of the pile with seven birds seen on 17th, while three still at Minsmere (out of a Suffolk total of five). There were twos noted at Ham Wall RSPB (Somerset) on 19th, near Frodsham (Cheshire) on 20th and still at the National Wetlands Centre (Carmarthenshire) on 21st while Norfolk registered up to four singles (at Aldeby, Acle and Horsey Mere in the east of the county and in the north of the county, at Thornage). Two or three birds were seen around Yorkshire through the week and the best of the rest included one over Sidcup (London) on 16th.
In Dorset the week's maximum count of Spoonbills in Pool Harbour was 28 ~ seen at Arne RSPB on 22nd. Just four more ~ a two and two singles ~ were reported, seen at the National Wetlands Centre WWT and Abberton Reservoir on 20th with two on Scilly's Green Island on 22nd.
Common Cranes were in pretty short supply too ~ seven birds noted from four sites this week. Two were on the Nene Washes in Cambridgeshire on 21st and three remained at Hatfield Moors (South Yorkshire) until 18th. One remained with the released birds at Slimbridge for much of the week and a single Crane flew over Scrooby (Nottinghamshire) on 17th.
With the slight Scilly confusion about the Sora and Spotted Crake carry-on, singles of the latter were seen at Porth Hellick on 16th and on Lower Moors from 20th (that bird was conclusively a Spotted)….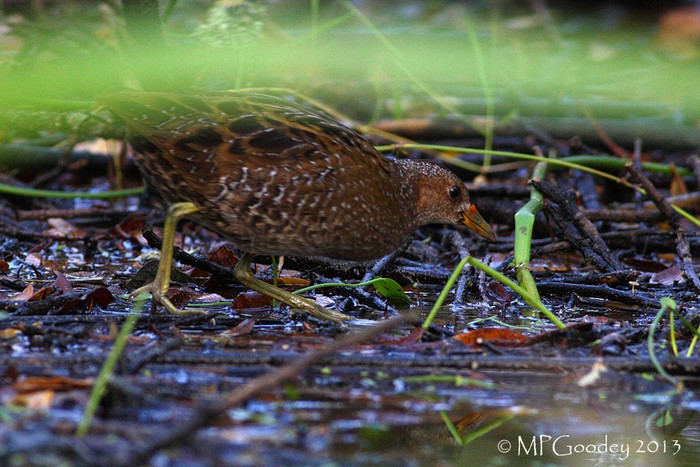 First of all, we'll rattle through the lovely rare geese that are with us currently...first up to Islay where at least two Richardson's Cackling Geese were noted during the week ~ one was at Loch Gruinart RSPB from 16th-21st with one at Loch Indaal on 21st too, with two at the former location on 22nd. In Northumberland, a potential Todd's Canada Goose spent a few minutes at Low-Newton-by-the-Sea on 20th, before flying south with a small group of Barnacle Geese.
Two Lesser Snow Geese (an intermediate blue male and a white female) arrived at Tayinloan (Argyll & Bute) on 16th where they stayed to 21st at least. Further white Snows (in the company of Pink-feet) were seen over Rhyl (Denbighshire) on 16th and in Lothian, near Kingston from 20th-22nd (with a visit or two to Aberlady Bay as well). Over in Ireland, a white Snow Goose remained in County Kerry to 22nd.
In Hampshire, the Red-breasted Geese remained around Milford-on-Sea throughout the week and single Black Brants were logged in Blakeney Harbour (Norfolk) and on the Fleet (Dorset) at the start of the week ~ with two at the latter site on 18th ~ with singles following on at Kilnsea (East Yorkshire) from 19th-21st and at Shoeburyness (Essex) on 20th.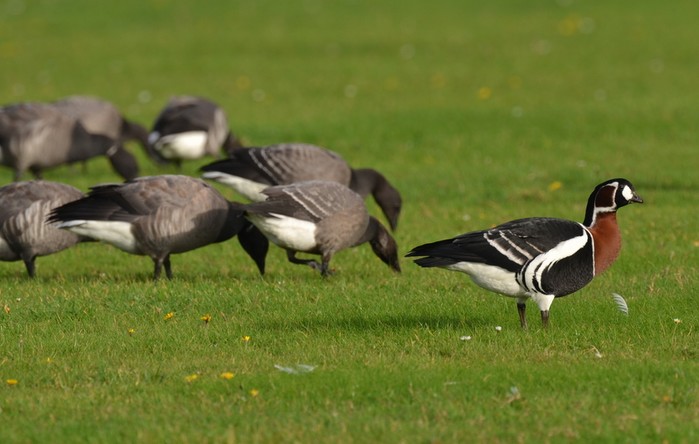 Six Blue-winged Teals were recorded this week ~ the trio of drakes (two old, one young) remained at Boultham Mere (Lincolnshire) for another week, while the Scottish lingerer was at Frankfield Loch to 18th. In Ireland, an eclipse drake was at Rahasane Turlough (Co. Galway) on 19th and a drake was seen heading in off the sea at Ballycotton (Co. Cork) on 20th. Green-winged Teals could manage three birds this week, at Carsington Water (Derbyshire) from 19th-21st, Martin Mere WWT (Lancashire) and Blanket Nook, Lough Swilly (Co. Donegal), both on 20th
The drake Lesser Scaup at Pennington Flash CP in Greater Manchester appears to have been last seen on 17th (no sign of the two days following that) while the drake in Cardiff Bay remained to 22nd. All of last week's Ring-necked Ducks remained in to another week this week ~ the juvenile on North Uist (to 17th) and the female-types at Slapton Ley in Devon (to 21st) and Eyebrook Reservoir in Leicestershire (to 22nd) while an American Wigeon was again seen at Loch of Strathbeg RSPB (Aberdeenshire) on 22nd.
A drake Surf Scoter was in Largo Bay (Fife) on 20th and was the only seaduck of note.
The sharp eyes of east Norfolk birding legend Peter Allard picked up a moulting Pacific Golden Plover out on the mud at Breydon Water RSPB on 19th ~ yet another exceptional find for this county stalwart. It will become the 10th for Norfolk and is the first fulva in Norfolk since July 2009, a summer adult that was also at Breydon and this becomes the third record for the site.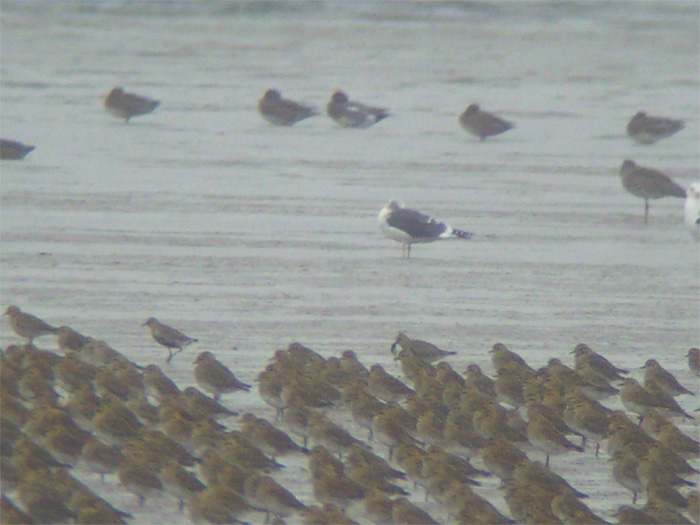 American Golden Plovers this week included two singles at Tacumshin ~ an adult on 18th and a juvenile on 19th ~ with another juvenile lingering at Rahasane Turlough (Co. Galway) on 16th. Another was reported from Machir Bay, on Islay, on 17th while the final one of the week, a moulting adult was on Dursey Island on 22nd.
Hugh Harrop was on hand to capture some lovely images of the juvenile White-rumped Sandpiper at Boddam, on Mainland Shetland present from 17th-21st. The second of the week was found at Snettisham RSPB (Norfolk) on 21st, a site that is enjoying a decent run of this long-winged traveller. The only Baird's Sandpipers noted was the juvenile still hanging around Black Rock Strand in Kerry, present there until 22nd.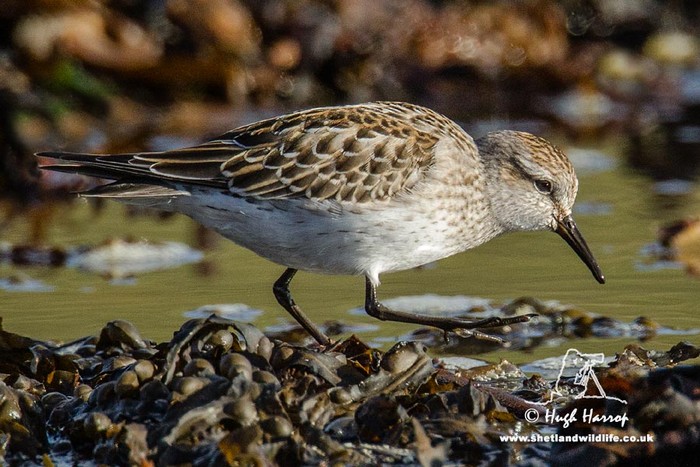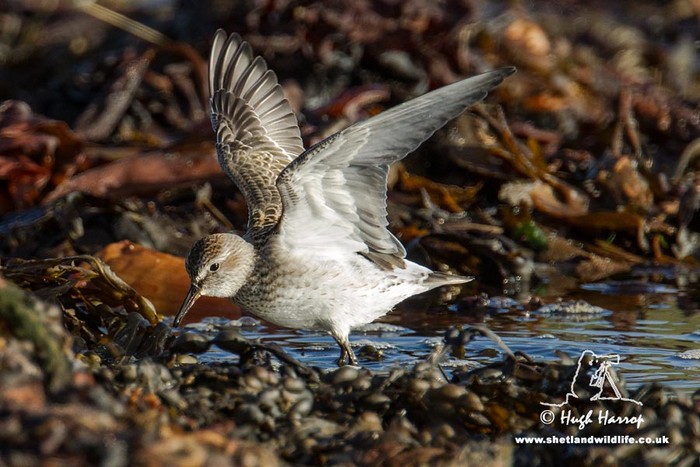 Hampshire's adult Long-billed Dowitcher was at Keyhaven Marshes for much of the week while there were three Pectoral Sandpipers on offer ~ on the marshes alongside the River Exe on 16th, at Rutland Water (Leicestershire) on 17th and again at Frampton Marsh RSPB (Lincolnshire) on 20th. The only Dotterel in the last seven days was the bird still at South Stack RSPB (Anglesey) on 17th.
An adult Bonaparte's Gull was found at Rush (Co. Dublin) on 17th and the same site was also paid a visit by the adult Forster's Tern on 19th and 22nd (with visits to Rogerstown Estuary and Portrane Point too). Dublin was also home to one of the week's only Ring-billed Gull, an adult on North Bull Island on 18th-19th. The second was an adult at Galway's Nimmo's Pier on 22nd.
The presumed Azorean Yellow-legged Gull was again at Stanwick (Northamptonshire) on 19th while white-wingers included three Glaucous Gulls on Shetland on 21st (two on Foula and one on Yell) with one at Dungeness on 16th. A juvenile Iceland Gull was also reported from Kent, flying over Hemsted Forest on 19th while more expected locations for singles were Bantry Bay (Co. Cork) on 20th and North Ronaldsay (Orkney) on 21st.
In Northumberland, an adult winter Whiskered Tern spent a few minutes on the rocks near Bamburgh on 19th ~ potentially only the fifth ever county record and the first since 1977. October records of this super marsh tern remain rare too ~ only seven accepted to date, the most recent being the moulting juvenile/first-winter that spent time at Titchwell in October 2006 (before a little trip along the coast to Cley).

A late Honey Buzzard was reported over Rainham Marshes RSPB (London) on 16th. Rather more typical of the advancing seasons were the three individual Rough-legged Buzzards reported from near Hartlepool (Cleveland) on 19th, with another on the same date at Orford Ness (Suffolk) and at Beadnell (Northumberland) on 21st.
Megas aside, the bird that generated the most debate this week was the on-off ID conundrum presented (once again) by an autumn swift….
A juvenile swift around Hartlepool Headland from 17th-22nd came under some pretty intense scrutiny, both in the field and within the online birding community. Pallid Swift was the original call ~ the correct call ~ but there were momentary wobbles and even a flip-flop moment on 18th when the ID was changed (not by the original observers) to Common. The next morning, the first call was reinstated and from then on everyone has agreed on just how tough these autumn birds can be.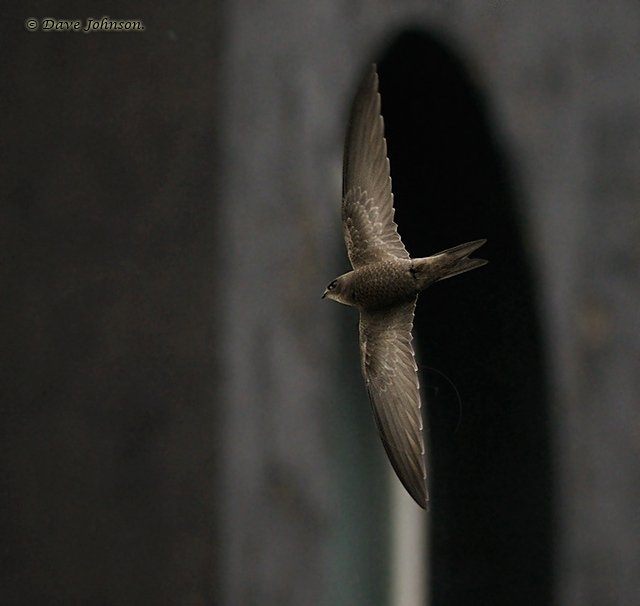 A few "swift sp" notices were posted and then on 22nd, another Pallid Swift was identified at Winterton (Norfolk) ~ where one was widely twitched during the October influx of 1999 ~ and all bar two of the 43 October records of the species have come since 1999. How many "swift sp" within that time which were decided to be Commons were actually Pallids? Do we get Common Swift at this time of year at all? Anyone who has grappled with one, in various lights and at various distances, will vouch for the chameleon-like nature of the look of a flying October swift ~ they remain a tough challenge and a big call, despite knocking on the door of 50 records in the month.
Also still causing the occasional Q & A online session are those lovely, rare "red-tailed Shrikes ~ I'm so old-fashioned, whatever next portlandica terns….? ~ and a few questions as to the specific (or at least sub-specific) identity of at least one of the week's "Isabelline Shrikes" were raised. The bird in question was found on Whalsay (Shetland) on 17th, where it remained to 19th. Eventually, Daurian was the consensus and a lovely-looking thing it was too.
Much the same could be said for the second new arrival this week, found at a very productive Donna Nook (Lincolnshire) on 20th ~ this too was also thought to be a Daurian Shrike ~ and becomes the fourth record for the site, following on from birds in 2003, 1990 and 1978 (which was Lincolnshire's first). There have been two other "Issys" in Lincs., ~ the most recent coming at Gibraltar Point in 2010, along with the stunning adult male at Anderby Creek in 1982 (widely twitched at the same time as the Gib Pt. American Redstart. That '82 bird was long-held to be of the doomed form speculigerus (that breeds in Mongolia) but was proposed (in 2000) to be regarded as synonymous with L. i. isabellinus ~ which we know as Daurian Shrike of course. Whatever that '82 bird was, it was a belter…try and track down a shot or two of it and you'll see for yourselves…
The new week brought a further three Red-flanked Bluetails to our attention ~ a first-winter was found in gardens on Westray (Orkney) on 18th and will be only the fourth record for the islands, all of them coming since 2008. This week's bird remained to 21st at least. The second newbie on 18th was found in East Yorkshire, at Spurn which becomes East Yorkshire's (and Yorkshire as a whole) eighth Bluetail and all of those have occurred since 2007. Completing the hat-trick this week was the bird found at Upper Voe, on the Shetland Mainland, on 20th-21st ~ taking Shetland's overall tally to 31.
Last week's Red-flanked Bluetails at Sizewell (Suffolk) remained until 17th and there was also news of an additional Norfolk bird from last week too ~ trapped and ringed on Weybourne Camp on 13th, bringing the county up to three birds in two days (along with the Happisburgh and Warham individuals).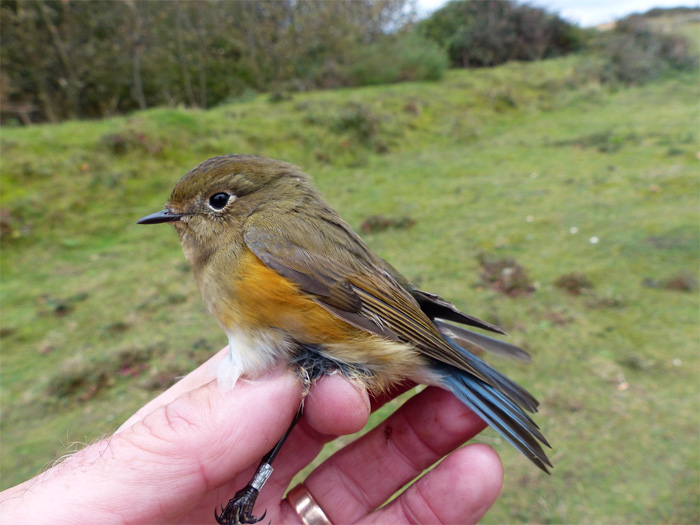 This is the third Weybourne Camp Bluetail ~ all of them trapped and ringed ~ and all coming since 2007. Norfolk as a whole has now recorded 19 Red-flanked Bluetails, 16 of them in the last six years.
Ireland's fourth Thrush Nightingale was discovered lurking on Dursey Island (Co. Cork) on 22nd ~ and, like the two Nearctic vagrants it follows on from, it too was found in Scott's garden. County Cork is the only Irish county to have registered the species ~ the previous three were all found on Cape Clear and all were October birds (in 1989, 1990 and 1999).
Orkney's second Paddyfield Warbler of 2013 was found near Kirkwall on 21st, following on from the spring bird on North Ronaldsay in May. That's six now for the islands overall. Not wanting to be outdone, birders on Fair Isle produced one on 22nd ~ becoming the latest of Shetland's 35 or so other records (there have been just three October records there before now). It is also the 22nd Paddyfield for the island!
Further south and on to the Scottish mainland, the popular male Sardinian Warbler continued to show in Borders, at Mire Loch, near St. Abb's Head, throughout the week.
There's been a strong showing from Dusky Warbler over the past seven days, a grand total of 11 logged and recorded across the country. Three singles were in Norfolk, lingering birds from the previous week were at West Runton and Weybourne (the latter trapped, ringed and released on 18th) with a new bird at Sea Palling on 19th. Two birds were found at Filey (North Yorkshire) on 17th while East Yorkshire registered two ~ at Aldbrough and Spurn, both on 18th. Further north, Hartlepool Headland's excellent run continued with a one-day Dusky on 19th and one was seen at Fife Ness Muir (Fife) the same day. Wales and Ireland also picked up singles too ~ both arriving on 17th near Caernarfon (Gwynedd) and at Hook Head (Co. Wexford).
Radde's Warbler were far harder to come by ~ only four recorded during the week. The first two were found at Shingle Street (Suffolk) and Whitburn (Co. Durham) on 16th and were followed by birds on 19th on St. Agnes (Scilly) and Mire Loch ~ birders there on the day also logging not only Radde's and Sardinian Warbler, but also a Pallas's and Yellow-browed Warbler for good measure....
Three Western Bonelli's Warblers continued to show themselves this week ~ back on Orkney, one remained at Burray to 17th, further north one was still at Hamister, on Whalsay (Shetland) to 19th while, now in a supporting role to the Swift, the WBW continued to please visitors to Hartlepool Headland throughout the week.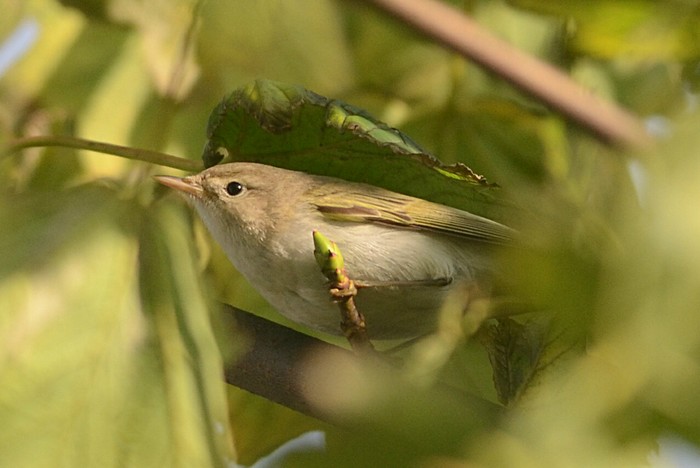 Two of the three locations mentioned for the last species also held on to singles of the next species ~ Blyth's Reed Warbler ~ too, with birds remaining on Orkney's North Ronaldsay and Shetland's Fair Isle, both to 16th.
Pallas's Warbler numbers dropped away as the weather began to favour other things, 12 reported through the week. Two were in Scotland (at Mire Loch and Sands of Forvie NNR), four appeared in the northeast (at Saltfleetby, Scalby Mills, near Hunmanby Gap and, on 22nd, at Hauxley NR and Whitley Bay), three more were in East Anglia (one for Norfolk ~ at Holkham Pines and two in Suffolk ~ at Lowestoft and Minsmere) with two more in Kent (at Kingsdown and Margate).
The not-quite-as-sexy Yellow-browed Warbler mustered just shy of 200 birds this week (195 the count, give or take a repeat or two here and there). A quick whizz through in temrs of regional breakdown shows Scotland faring best with at least 52 recorded, inlcuding 21 or more on Shetland while four were seen at St. Abb's Head on 19th and eight were logged in Fife. The northeast registered 41+, including a minimum 12 in North Yorkshire, with six at Filey on 19th. As many as 14 were in Norfolk, out of East Anglia collective 18, 15 were in the southeast and the southwest picked up at least 39, with Scilly adding perhaps 25 or more to the score. Gwynedd put half a dozen of Wales' 11 on the board, there was an inland bird in Leicestershire while 10 of Ireland's 18 were found in Cork.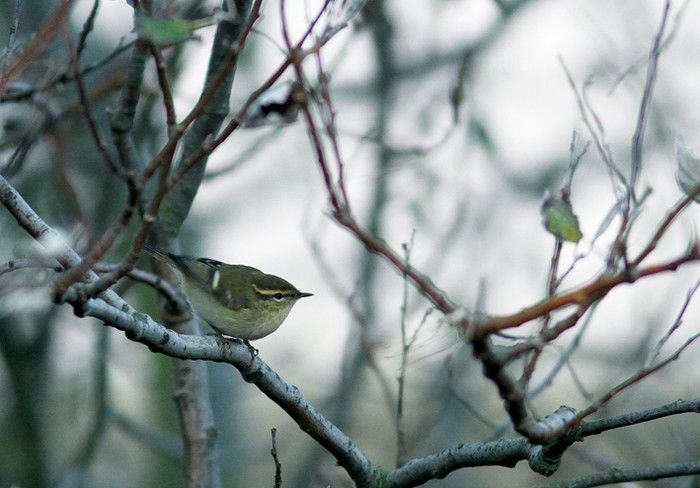 A late-ish first-winter Citrine Wagtail was found on the Shetland Mainland, at Fleck, on 17th where it remained to the next day and two of the week's eight Olive-backed Pipits were found around the island chain ~ on Mainland, at Vidlin on 19th and Fair Isle on 20th ~ and two more were found at Flamborough Head (East Yorkshire) on 17th. Another OBP remained on the Farnes until 18th while further island records came from North Ronaldsay on 20th and Skomer on 21st ~ the first in Pembrokeshire since October 22nd 2002, which was also on Skomer (the island claiming three of the four records in all). By way of contrast, Red-throated Pipits were, once again, in very short supply, the only record this week was of one still on Fair Isle from 16th-21st. The last one of the week was at Thorpeness (Suffolk) on 20th.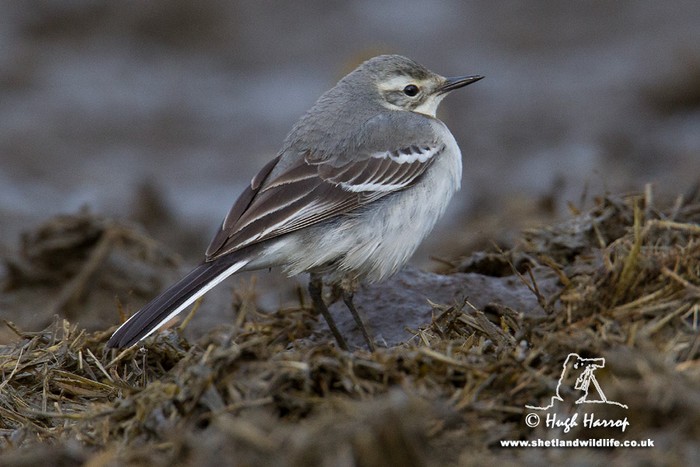 In the first decent autumn for Siberian Stonechats since the long-time-coming split, two more new east coast arrivals were found this week ~ at Scalby Mills (North Yorkshire) from 16th and Howick (Northumberland) on 20th-22nd. Three Bluethroats were recorded ~ again there was one each for North Ronaldsay and Fair Isle (on 17th and 19th) with the latter date seeing another appearing again at Whitburn (Co. Durham). Also of note was the news of a dead male Bluethroat being picked up in Derby city centre on 15th ~ that's quite some record.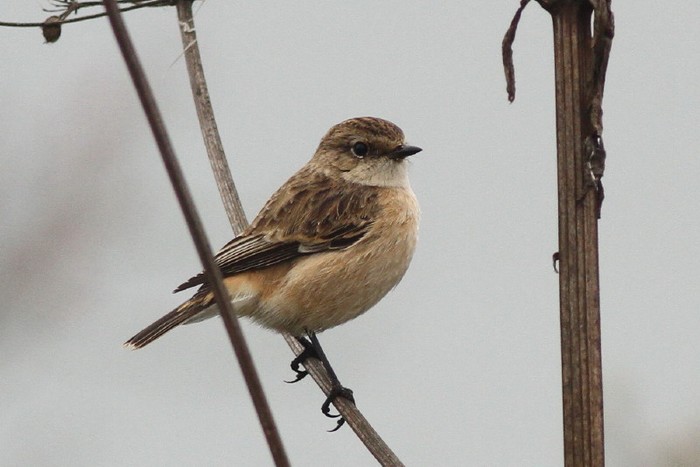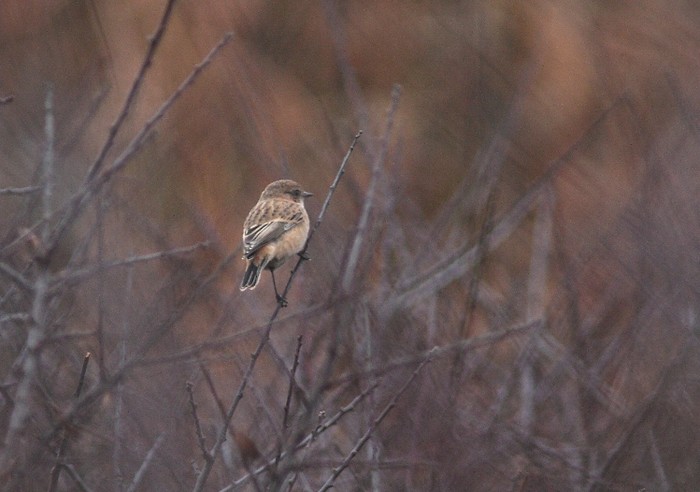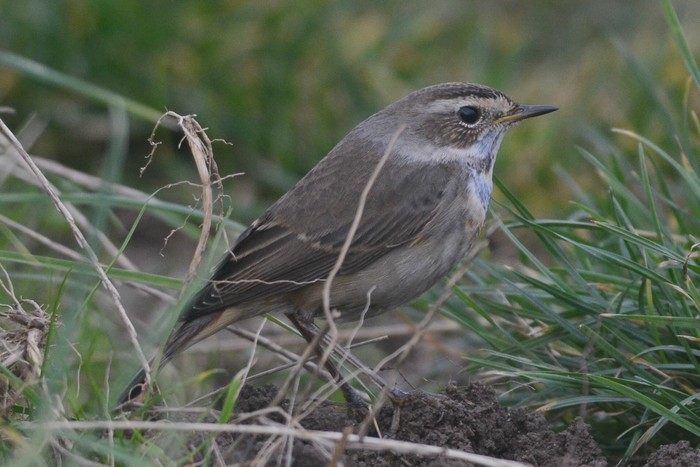 Over 30 Richard's Pipits were recorded in another strong week for the species. At least five were seen in Lincolnshire, with twos at both Donna Nook and Gibraltar Point on 17th (with two again at the latter site on 20th). Three more sites recorded twos this week ~ North Ronaldsay, Long Nanny (Northumberland) and Porth Joke (Cornwall) ~ while Kent and Norfolk scored three singles each. The remainder were spread (in classic fashion) from Scilly to Shetland, with notable birds being found on Colonsay (Argyll & Bute) on 18th and Tory Island (Co. Donegal) on 20th.
Leftover Short-toed Larks at the start of this week were still on St. Agnes (Scilly), at Portland Bill (Dorset) and Ballycotton (Co. Cork) while new was one reported from Ceredigion, at Llanon, on 19th. Three Common Rosefinches were noted too ~ at Norwick, on Unst, on 16th and on Barra and Scilly on 20th.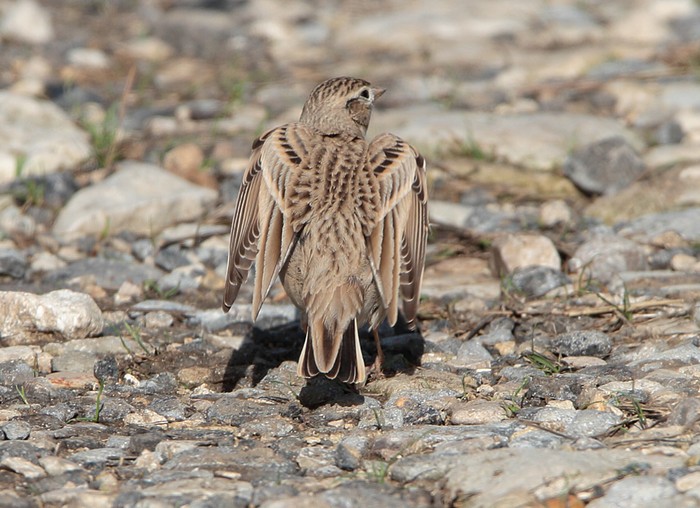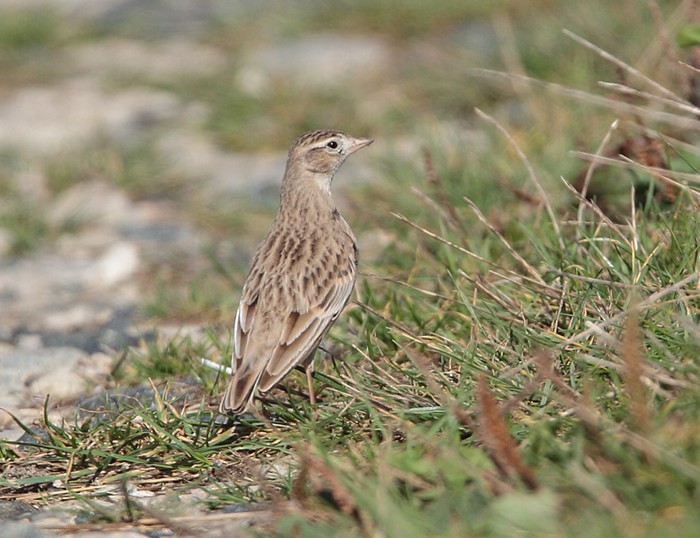 Over 20 Red-breasted Flycatchers appeared through the week with a cracking four in the space of 24 hours (on 18th-19th) in County Cork being most notable. Two singles were found on Dursey Island with singles on Brow Head and Mizen Head as well. Up to five were seen around Shetland ~ two on Fair Isle, two on Mainland and one on Yell ~ while both East Yorkshire and Northumberland collected two apiece. There were further singles on Scilly, in Cornwall, North Yorkshire, County Durham, Highland, the Outer Hebrides and also County Waterford.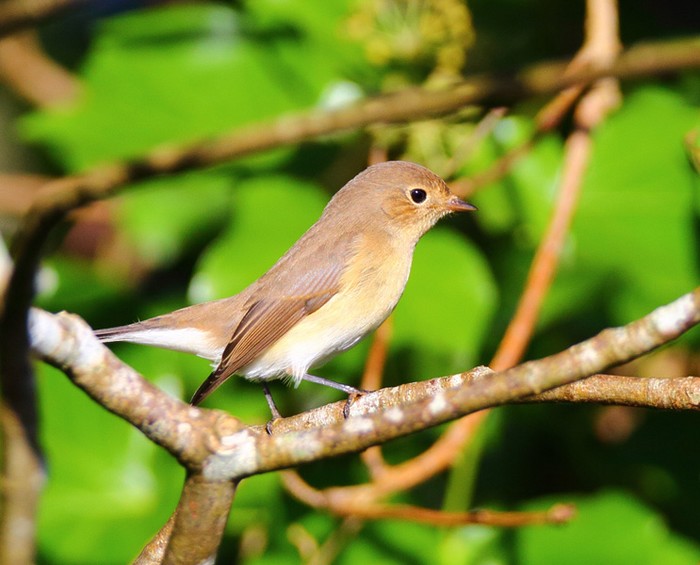 The week saw five Barred Warblers on the books ~ at Kilnsea and Spurn on 17th, on Bryher (Scilly) on 19th, Belmullet (Co. Mayo) on 20th and North Ronaldsay on 21st while Wryneck scored the same, with singles on St. Mary's and St. Agnes (Scilly) with further birds at Porthgwarra (Cornwall) to 16th when one was found at Pitlochry (Perth & Kinross) with the Mullet popping up again with one at Tarmon on 20th.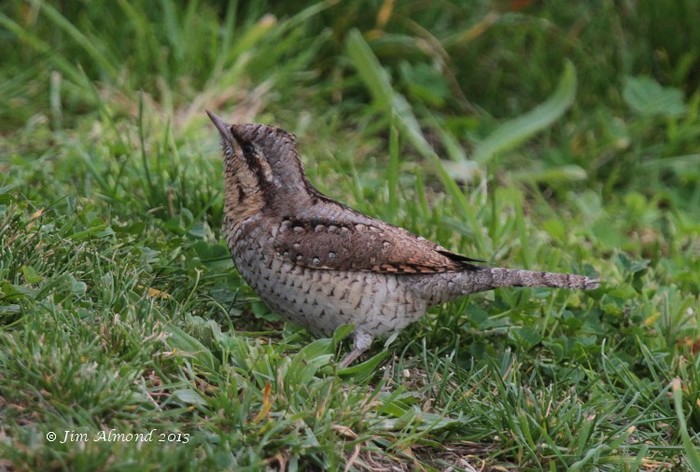 Only one Red-backed Shrike was seen this week and it was a lost soul for sure, seen at Loch Gruinart RSPB on Islay on 19th-22nd (tho' it turned out it had been around since 14th). A second bird was found dead at Sumburgh Head on 22nd. Great Grey Shrikes on the other hand continued to push on after a remarkable mini-invasion in the past few days ~ this week there were still at least 38 noted, with East Yorkshire and Lincolnshire the prime locations once more. Four birds (minimum) were around Spurn on 16th and he same date saw five more recorded in Lincolnshire, with two each for Gibraltar Point and Tetney Lock and one for Donna Nook. The following day, Donna Nook hosted three with two singles elsewhere in the county. At least 11 Great Grey Shrikes were noted around the Home Counties and in to the south east, while Norfolk managed five and Suffolk three. One reached as far south as Dorset and two were found in the northwest ~ in Lancashire and Greater Manchester (one at Astley Moss on 20th).
Several Hoopoes were found through the last seven days, starting with one on the beach at Greencastle (Co. Down) on 17th. A couple of reports from Lincolnshire and Worcestershire came next (on 17th and 18th) with one at Sneaton (North Yorkshire) on 19th next in the mix. In Nottinghamshire, a Hoopoe was found at Annesley Pit Top on 20th (where it stayed until 22nd) and this was followed by singles in Highland and County Durham, the latter (at Bishop Auckland) was present to the end of the review period.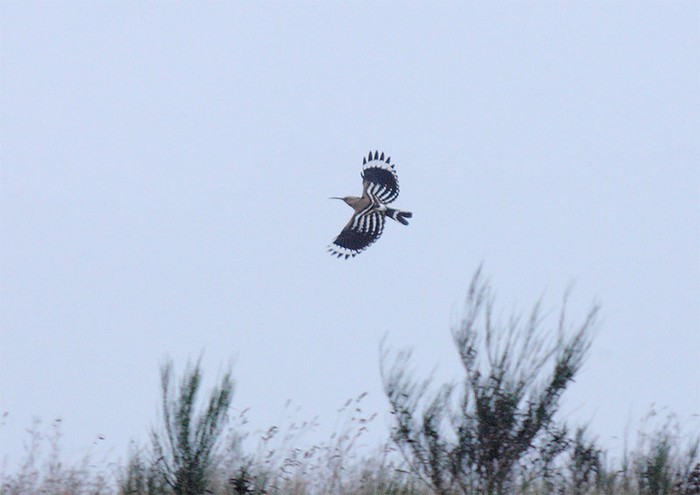 The first couple of days of the new week saw Rose-coloured Starlings remain in place at Marazion (Cornwall), Caister-on-Sea (Norfolk), Port Nis, Lewis (Outer Hebrides) and Tory Island (Co. Donegal). On Scilly a youngster was around St. Mary's again from 17th with it or another back on St. Agnes on 19th. The Norfolk and Cornish singles were present to 22nd.
Two male Two-barred Crossbills continued their holidays in the Norfolk Brecks for a few more days ~ still at Lynford Arboretum on 18th while another male was found at Hemsted Forest (Kent) on 17th. The same site, in a triple (minimum) Crossbill species hit, also held one or two Parrot Crossbills at the start of the week, with the flock building to six by 20th (four males and two females). They all remained until 22nd when they were joined by another to make it seven. A female was reported in Wells Woods (Norfolk on 19th, followed by a further report of four later the same day. The latter site also hosted a handful of female Northern Bullfinches through the week with one for North Ronaldsay and two for Fair Isle as well.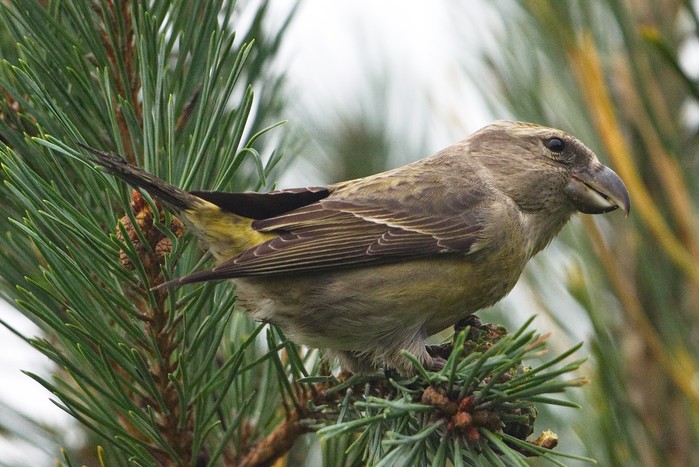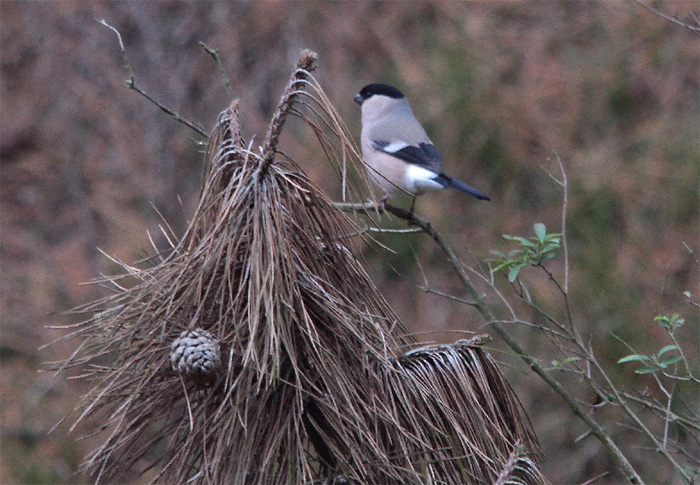 Shetland was home to the only confirmed Hornemann's Arctic Redpoll of the week, seen at the swinister Burn, Sandwick on 20th while Coues's Arctic Redpoll were reported from South Gare (Cleveland) on 16th-18th, North Ronaldsay on 17th (that one was trapped and ringed), at Quendale, Mainland Shetland on 20th and on Barra on 21st. A bird at Sprun that was first thought to be a Coues's appears to have been a Mealy after all.
http://www.spurnbirdobservatory.co.uk/sightings/
Five of the week's eight Little Buntings were seen on 16th ~ two were seen within the Spurn recording area (at Sammy's Point and Kilnsea), two more were on Brownsman Island, Farnes and one also remained at Quendale on Mainland Shetland. Two new birds arrived on 19th, on North Ronaldsay and at Flamborough Head while the final bird of the week was seen at Aird Mhor, on Barra (Outer Hebrides) on 22nd.
Finally, along with a Black-bellied Dipper at Grimness, South Ronaldsay (Orkney) on 22nd, a dribble of ones and twos of Waxwings numbering 12 in total, dotted around from Lincolnshire to Shetland and was, perhaps, a sign of where the next chapter of the autumn may take us.
A peak at the weather head offers little clue as to what may wing its way in to Britain and Ireland as October draws her last gasp. The current mid-range forecast suggests a few mini-pulses of Atlantic weather with westerly winds trying to take charge for a few days to come.
If the Atlantic systems were slightly more fierce than they appear to be ~ well, we could be on for another Ovenbird ~ there have been two in the week ahead, including the delightful bird on Scilly in 2004. Common Nighthawks have managed seven birds between October 23rd-29th and there have been nine Chimney Swifts too (amongst a host of Nearctic rarities.
Our first Masked Shrike was discovered in Fife on October 29th 2004 while most eye-catching of all ~ Bimaculated Lark ~ the three day bird on St. Mary's found on October 24th 1975. With just one more since, appearing on Fair Isle less than eight months after the Scilly bird, in June 1976, we get closer and closer to the Ruby Anniversary with not a single sniff of another.
…and let's not forget the power of 23rd ~ the eastern Holy Trinity of Siberian Rubythroat, Siberian Blue Robin and Rufous-tailed Robin have all appeared on that date in the past….
Mark Golley
23 October 2013

Special thanks this week to Andy Johnson for his images and account of his brilliant find in Hampshire. Also thanks to Killian Mullarney, Paul Kelly at Irish Bird Images and Mark Newsome for Northern Harrier-related matters, David Parnaby and the Fair Isle Bird Observatory and also Garry Taylor and the Spurn Bird Observatory.
Many thanks to the rest of this week's contributor's for their photos and videos
Ashley Fisher, Tommy Hyndman, Kevin Kelly, Martin Goodey, James Hanlon, Peter Phillips, Tony Duckett, Steve Young, Adrian Kettle, Steve Ashton, Chris Bromley, Lee Gregory, Hugh Harrop, Dave Johnson, Paul Hindess, Jason Atkinson, Sue Hepton, Moss Taylor, Richard Wilson, Andrew Hood, Penny Clarke, Rob Stonehouse, Ray Scally, Andrew Hood, Allan Chard, Michael Trew, Jim Almond, David Parker Paul Rowe, Andrew Bloomfield, Roger Riddington, Glen Tyler.