Weekly round-up: 18 - 24 Sept 2013
The week at a glance
Wilson's Warbler wings its way to Cork's Dursey Island
Extraordinary near-repeat for Eastern Kingbird in County Galway
Newly arrived Baltimore Oriole makes it a Happy Thursday on Unst
The Kerry Elegant Tern goes AWOL, then comes back and switches sides to Clare…then goes back to Kerry
Hampshire and Orkney record respective first Brown Shrikes
2013's 1st Pallas's Grasshopper Warbler arrives on Out Skerries
…and Orkney welcomes a River Warbler on the same day…
Mayo's adult Pied-billed Grebe remains in to another week
The continuing vibe of a full-tilt, non-stop autumn was all too obvious this week with an almighty array of crackers to contend with….and it looks as though it is set to be much the same way in the days ahead.
As was hoped for at the end of last week's review, the weather gave us conditions to suit (initially) birds from the west as they headed over the Atlantic before it did the classic switch to nigh-on optimum conditions for species moving across the vast swathes of Siberia….
Without further ado, let's get on with it…you've all seen the weather forecasts through the week, so I don't need to ramble on about them anymore…
Wilson's Warbler
Some birds don't need waffle by way of introduction and this week's Wilson's Warbler fits snuggly in to that particular camp.
Just as with Britain's first (and, of course, still one-and-only) Wilson's Warbler, the bird found this week on County Cork's Dursey Island was a super male ~ resplendent in olive and sulphur garb topped off with his own, neat and tidy, little black kippah.
However, unlike the Cornish bird of 1985, this snazzy sometimes-showman had the good Grace to linger long enough for Ireland's top listers (accompanied by a number of British counterparts) to take the cable car across the water, complete an eight mile there-and-back yomp to the far west end of the island and secure views of what remains a massive Western Palearctic rarity.
Last week's review concluded with the line "Indeed, September 20th is something of a monster date for BIG American passerine rares"… "it suddenly becomes a date for the superstitious rare-finder to pop a great big red ring around…" ~ with a nod to four outrageous Nearctic woody-wanderers that have made themselves known on that date ~ and, as the claxons blared Wilson's Warbler on Dursey Island on September 20th 2013, it seemed as though the crystal ball reading had been polished and honed to an awesome finite excellence…!
…soon enough though (boo!), it became apparent that the bird had actually first been noted on 18th and again briefly on 19th, but apparently not seen well enough on either date for a definitive identification to be made. Fortunately, that changed on 20th, conclusive views were finally forthcoming and Dursey Island notched up another Irish first and birders eventually got the chance to enjoy this beautiful, highly prized uber-vagrant….(and I'll claim it as a winning draw on the predictor front…!)…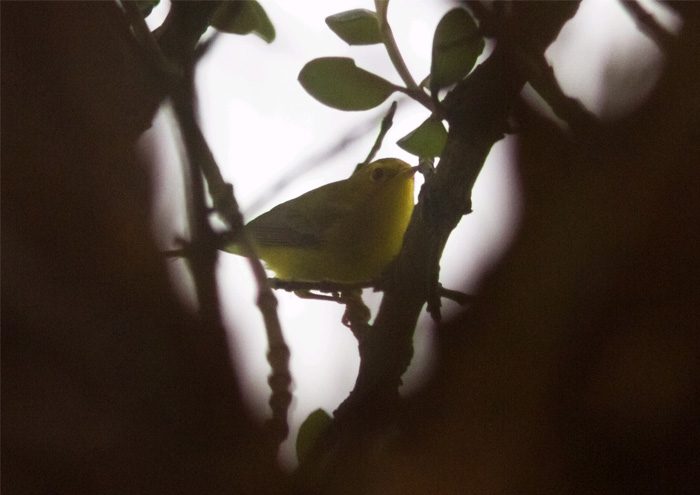 Britain's sole Wilson's Warbler was found by one of the southwest's premier stalwarts Roger Smaldon in the trees and bushes around the pretty church at Rame, in the far southeast of Cornwall, on October 13th 1985. It too proved elusive, but along with fellow Devonian legends Vic Tucker and Bob Burridge, they tracked down Roger's briefly seen luminous wood-warbler (after over two hours of searching) and the identity was confirmed ~ Wilson's Warbler, the first for the Western Palearctic.
Only ten birders managed to see the bird during the course of the afternoon ~ it was even seen going to roost but sadly, Monday morning dawned with empty trees and no mega.
…this was, clearly, pretty disappointing for those on site but equally frustrating for those around Scilly who were awaiting news with baited breath…all sorts of phone calls and hushed huddles could be seen around the town square in Hugh Town that Sunday night as assorted groups concocted plans to make good their collective escapes to Cornwall if the bird was available the following day.
Ron Johns magically managed to secure a charter helicopter should the bird have been present and the cavalcade was all ready to roll….the bird thought otherwise and rather than score a big lifer in Cornwall on 14th, most of us contented ourselves with a new Olive-backed Pipit on Tresco or further views of Yellow-billed Cuckoo while others scurried to Ireland for attempts on Philadelphia Vireo, Scarlet Tanager and American Redstart ~ all of which were on offer (of sorts) in County Cork. Which all brings us , neatly, full circle to the Dursey bird of 2013 which departed overnight on 20th ~ how lucky was it that the bird stayed for the four days that it did…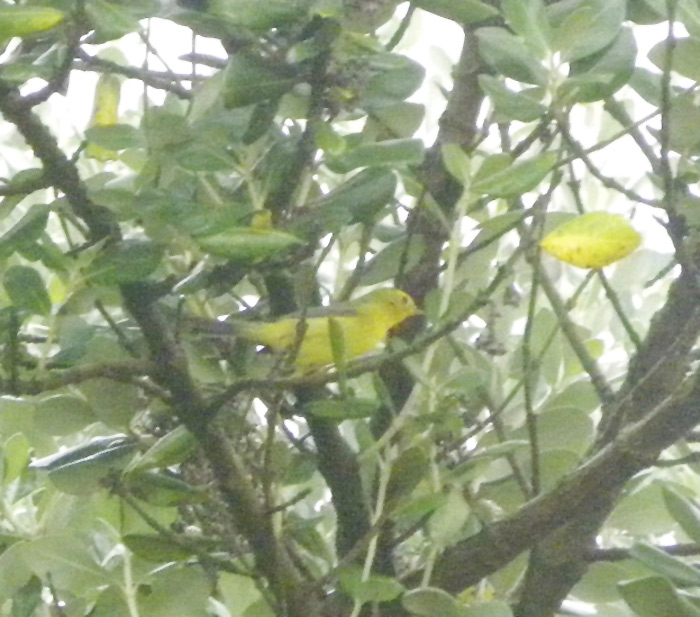 Wilson's Warbler is named after the noted naturalist and ornithologist Alexander Wilson who was born in Paisley in 1766 and eventually left Scotland for America in 1794. A weaver by trade he turned to teaching once settled in the United States and it was in Pennsylvania that his interest in birds (observing and illustrating them) was encouraged and he embarked on a nine volume project to record the bird of America. He died during the preparation of the final volume having completed over 260 species accounts, 26 of them previously undescribed. Along with the warbler, other familiar species to take his name include the Storm-petrel, Phalarope, Snipe and Plover.
Eastern Kingbird
Then, as the lights were dimmed on a frantic week and the review was being rested gently on a downy, soft pillow upon (near enough) completion, Anthony McGeehan went and ruined it all with his fabulous discovery of the Western Palearctic's second, Ireland's second and Galway's second Eastern Kingbird, on Inishbofin, during the late afternoon of 24th.
McGeehan is one of birding's very finest wordsmiths ~ so I wouldn't dream of attempting to convey any of the undoubted excitement, wonderment and joy that must have washed over him upon his setting eyes upon this incredible repeat…
We're just 11 days shy of the 1st anniversary of Hugh Delaney's Western Pally 1st on Galway's Inishmore and arguably this week's find is almost on a par with the first ~ appearing as it did in benign, gentle, calm Atlantic weather.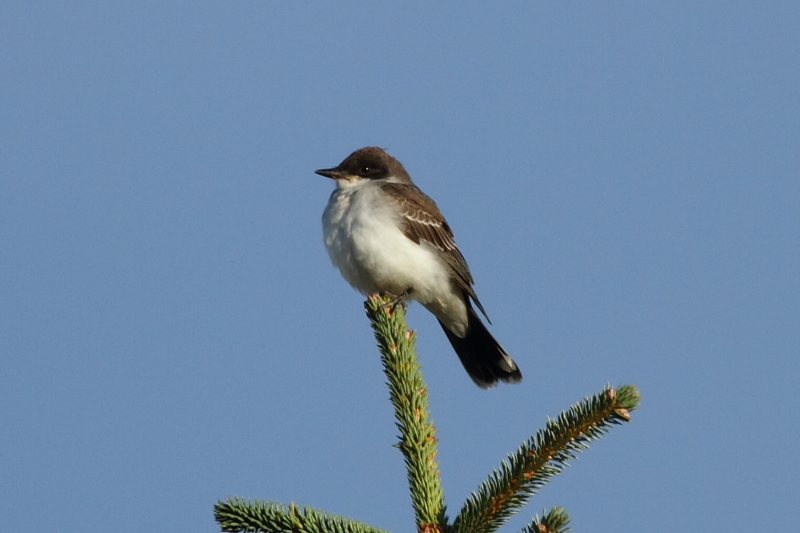 There was no hint of another massive bird from the Nearctic appearing as this week wound down, so the assumption must be that it may well have dropped down from Iceland or perhaps Faeroes after making some kind of landfall around the same time as the Wilson's Warbler or the (upcoming) Baltimore Oriole…it could have plonked down somewhere in Mayo or Donegal but would it then try to re-orientate out to sea? Seems unlikely, but who knows…
Inishbofin lies some forty to fifty miles to the north, northwest of Inishmore and was host to Ireland's first Cedar Waxwing for a day in October 2009 and the first Mourning Dove in November 2007 (both birds touched ~ to varying extents ~ by the hand of McGeehan) and it has also welcomed Blyth's Reed Warbler in October 2012, White's Thrush in September 2009 and Red-eyed Vireo in September 2005.
Three stunning American megas in the space of six years is a spectacularly good hit-rate…goodness knows what went missed in all the decades that observer coverage was lacking…
There was, it seems from a few informed locals way up in the north, more mystery surrounding the Fetlar Black & White Warbler than you'd find in a tired old Agatha Christie novel (or Ian Rankin or Val McDermid for you modernists out there), so it was good news to see the autumn kick on once more with the arrival of another top quality Nearctic passerine on Shetland on the morning of 19th.
Baltimore Oriole
Baltimore Oriole was the species in question and it was found at one of Unst's regular rarity haunts ~ the trees and bushes around at Halligarth, Baltasound ~ to become the 26th record of this super Icterid for Britain and Ireland.
Regular readers of the review ~ those who wade through the copious amounts of lists, facts, figures and occasional bit of pointless drivel ~ will know that I'm a bit of a fan of coincidence and a bit of symmetry and ~ HURRAH! ~ there's more than just a little bit of that were this wee beastie is concerned….
To date, Shetland has landed just two previous records of Baltimore Oriole ~ the first (and the very first record for Britain) was caught alive at ~ daa daah ~ Baltasound on September 26th 1890. And in a delightful follow-up quirk, Shetland's only other record was found on Fair Isle on September 19th 1974 ~ exactly one year shy of the 40th anniversary of the islands' most recent record. Ahhh, you got to love stats sometimes….!
After that very first Baltasound bird, there was an almighty gap until the next Baltimore Oriole ~ 68 years in fact when an immature female was found on Lundy in early October 1958 with the same small Devon island becoming the only place to ever record two together (on October 17th 1967, one of them died) during a decade which saw nine accepted records ~ ranging from Sussex in October 1962 (an adult male at Beachy Head) through the Isle of Man in 1963, Cornwall in October 1966 and three May days in 1968, Pembrokeshire in 1967 when Scilly scored their first, one trapped on St. Agnes, with the second also there the year after. In 1968 a first-winter male was found dead in Coventry and, perhaps unsurprisingly, remains the one and only record for Warwickshire ~ it wouldn't though, be the only wintering bird…
During the 70's Baltimore Oriole became rarer still, just two birds recorded compared to those nine records from the 60's ~ Pembrokeshire getting it's second (a male in May 1970) with the Fair Isle September '74 the only other bird that decade.
Many listers first opportunity to twitch the species came in September 1983 when a first-year female (often held up as a potential Bullock's Oriole at the time) settled on St. Agnes for just shy of a fortnight and it was Agy that yielded the next twitchable one too ~ a vivid young male in October 1988 (which followed one on the Outer Hebrides a few days earlier).
Two wintering birds came next ~ a first-winter female at Roch, Pembrokeshire for four months from January 1989 was enjoyed by 100's of birders after tricky circumstances were negotiated and an open invitation was offered. The same couldn't be said for the first-winter male at Westcliff-on-Sea in Essex from December 2nd 1991 to March 24th 1992 ~ the invite going out to, well, not quite so many for that one as the county's infamous suppressive tendencies at the time hit rock-bottom.
Bryher hosted the next two Baltimore Orioles in the Septembers of 1996 and 1999 to drag the tally for the decade to a lowly three.
The 2000's can now boast six ~ with Ireland's (long overdue) first arriving at Baltimore (Co. Cork) in October 2001 (with the second following along in October 2006, this one also in Cork, but on Cape Clear) while the wintering male in Oxfordshire in 2003 was another massively popular bird and, yet again, another example of how big twitches can work in tricky situations…
The final two were the male in gardens at John O'Groats in May 2007 and, making it seven from 25, the two-day male on St. Mary's, around the Garrison, on September 20th-21st 2011.

Amazingly, this week's Shetland Baltimore Orioles reappeared on 23rd after three days of no sightings, back again at Halligarth.
Elegant Tern
In County Kerry, the near-adult Elegant Tern was playing the odd game or two with birders at the start of the week. A day long search (give or take) on 18th brought nothing but negative news and then, typically (especially where this species is concerned ~ as I know only too well, four or five dips at three different widely spaced locations over the years…) it was back for a short time on the beach at Beale Point on the morning of 19th and then headed across the Shannon the following day ~ appearing in Rinevella Bay, near Carrigaholt in County Clare ~ before heading back to Kerry where it remained until the end of the week.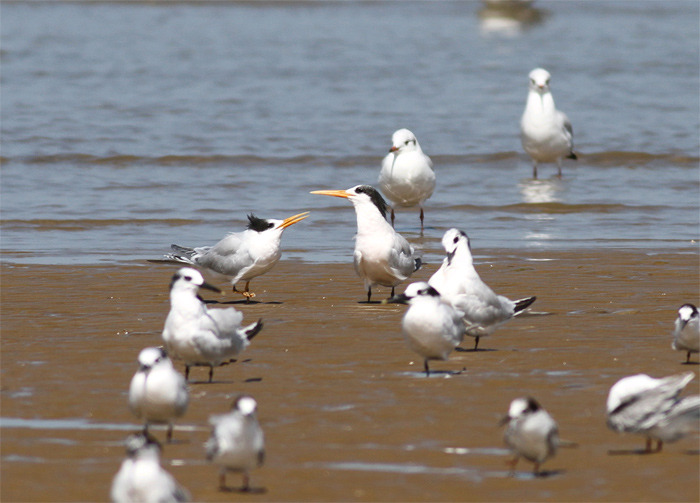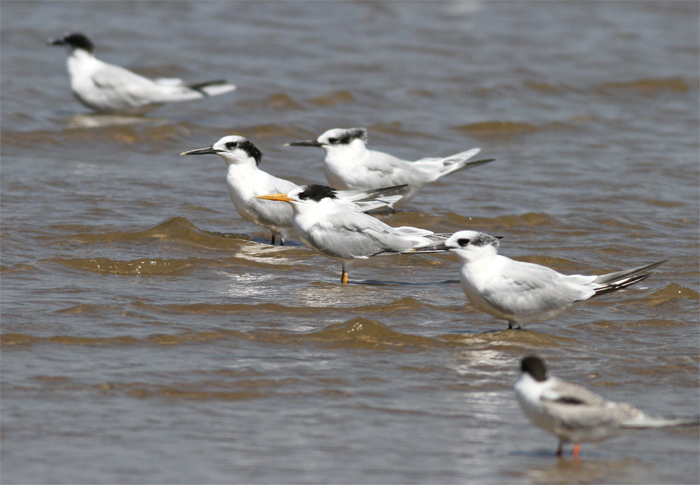 Brown Shrike
Within the grand scheme of things, it wasn't that long ago that a fair numbers of birders were trundling merrily to Kerry to collect their first example of one of this week's other new star birds ~ Brown Shrike ~ but much has changed in the 14 years since that Irish first at Ballyferriter.
Hampshire was the first county of choice for this particular, eminently popular, long-haul eastern vagrant, appearing at Hook-with-Warsash on 20th, first thought to be probably a Red-backed, it didn't take long for the bird's all-together much rarer guise to be uncovered.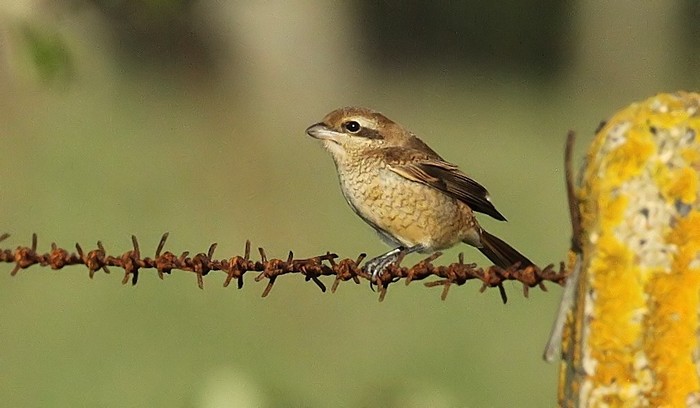 Here's more on the exciting event from finder, patchworker Bob Marchant…
"On the morning of 20th September I was on my local patch at Hook-with-Warsash just after 08:00 hoping for some migrant activity in the calm following the previous afternoon's high winds and rain. Chiffchaffs were quite numerous and hirundines were assembling on overhead wires, a few Yellow Wagtails, Meadow Pipits and common warblers were around and a nice Hobby perched up until mobbed by a Jay.
As I approached Chilling sub-station at 09:55 a couple of Common Whitethroats were dodging around the bramble bushes and there perched up was a shrike. This was a first for me on the patch in twenty years, having missed the 2001 Red-backed Shrike and I thought at last I've got it back. The bird was some 50m away and with a brief sighting through the scope I assumed I had finally ticked Red-backed Shrike. The light was poor with the scope just catching the sun and in a brief two minute view I noted the dark mask, vermiculated underparts and brownish upperparts and tail. It looked good for a juvenile but it disappeared for some twenty minutes before reappearing further away in cover alongside the Solent Way footpath. I texted a few locals giving out the news of a probable juvenile Red-backed Shrike. The bird then flew and disappeared over the bramble patch and out of view.
I moved up to the footpath and refound the bird along the fence line adjacent to the brambles. It was now some 80 to 100m away but in better light and, as a few birders started to arrive, more detail could be made out and it was now becoming apparent that the bird had more of the features of a first winter Brown Shrike – chestnut crown, brown upperparts (not noticeably vermiculated at that range), dark-centred tertials with pale edging, long brown tail with reddish base/rump, a short primary projection reaching only to the lower end of the reddish patch, buff-coloured underparts with noticeable vermiculation (when not in bright sunlight). The dark mask also continued in front of the eye, though to a lesser extent and tapering down towards the bill. The tail though having a pale tip had no white edging along the length (as in Red-backed Shrike) and bare parts appeared grey, with a dark tip to the bill. All these points were confirmed with birders gathering on the scene and with reference to the 2nd edition of Collins Bird Guide, the news was put out as a probable 1w Brown Shrike.
The bird fed frequently from the fence, mainly catching insects on the ground and at one point was noted to have bathed returning to its perch in a somewhat bedraggled state to preen. Habitually it would cock its tail.
The bird continued to range at some 80 – 100m and was difficult to photograph, however some good digiscoped images by Alan Lewis, Andy Johnson and others support the identification of this bird as a Brown Shrike in moult from juvenile to 1st winter.
I had to leave the site at 13:45 and due to other commitments was unable to visit over the weekend, but I believe the bird was not to be seen after the Friday evening."
This will become the 14th record of Brown Shrike of the species for Britain and Ireland and the rise through the ranks from full-blown Mega to nothing much more than an eyebrow raiser comes entirely through the meteoric rise through the ranks since the start of the millennium…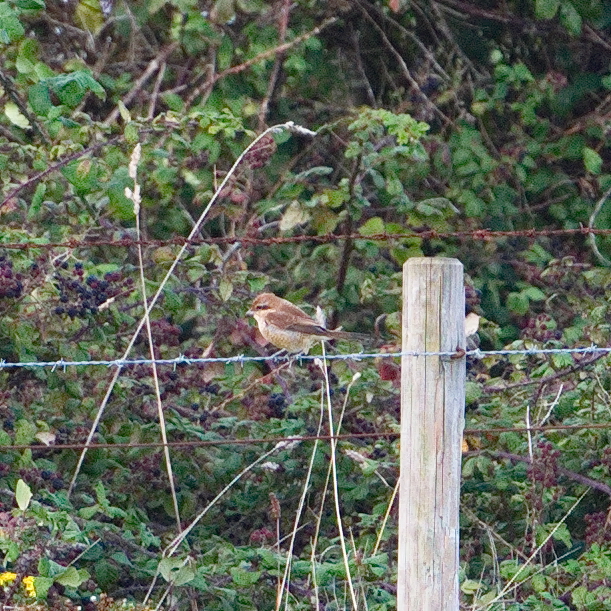 …a rise which continued once more, as the week drew to a close with the discovery of Britain's 15th and Orkney's first-ever Brown Shrike on North Ronaldsay ~ superb reward for the hard working Observatory staff and birding visitors alike. After several hours of tracking and distant views, the initial gut instinct was confirmed…Brown Shrike it was.
Prior to 2000, there had been just two records, separated by 14 years ~ the first was an adult male found on the Shetland Mainland, at Sumburgh on September 30th 1985 (even being seen by Britain's #1 at the time, Ron Johns, quite by chance) and was followed by the previously mentioned adult female at Ballyferriter in November and December 1999.
Shetland's second came along in October 2000, trapped on Fair Isle, and Scilly's one and only record, the retrospectively identified bird on Bryher from September 24th-28th 2001 followed soon afterwards. Shetland's third Brown Shrike, another adult male, was found on Whalsay on September 19th 2004 and then the first for the British mainland arrived at Flamborough Head on September 24th 2008 with the second for the year noted on South Uist in November.
2009 set a precedent with three birds recorded between September 26th and October 11th. The first spending two days on the Lizard, the second ~ Shetland's fourth ~ spending a day at Geosetter, while bird three, also found on October 11th becoming the start attraction for the 84 days to come, at Staines Moor in Surrey.
Cornwall's second Brown Shrike, and the first (and only) spring bird to date, was at Sennen Cove for a day in May 2010 with the autumn of that year produced Flamborough's second ~ the only site so far to record more than one of these outstanding vagrants.
…and now comes Hampshire and Orkney's first records….the ninth and tenth in just eight years and the 12th and 13th since 2000. Why the sharp spike in numbers? A two-fold thing ~ the usual two-fold thing presumably, as a westward range expansion is coupled with significantly increased observer awareness. More seem guaranteed to follow…and that record of three in year is under threat already…
Pallas's Grasshopper and River Warbler
September 23rd saw the arrival of the first Pallas's Grasshopper Warbler of the autumn ~ found on Shetland's Out Skerries. As with several other eastern vagrants, Shetland remains the place to try and encounter this famously skulking and tricky Locustella. Of the 49 accepted records (up until the end of 2011) the islands boast a whopping 38, ten of them coming between 2006 and 2011 (with one on Fair Isle yet to appear on the official record).
Of the five Pallas's Grasshopper Warblers reports last year, four were on the British mainland, with two reported in Durham and one each for Cleveland and Aberdeenshire and history shows two accepted for Norfolk and Northumberland (one of those was on the Farnes) and singles in Durham, East Yorkshire and Dorset. Ireland has two accepted records ~ the first in 1908 on Rockabill Lighthouse, the second on Cape Clear Island in October 1990.
On the same day that Shetland grabbed one neat and tidy Locustella, Orkney obliged with another ~when a River Warbler was found on North Ronaldsay. Although not being quite as high profile as the delightful Pallas's Grasshopper Warblers, River Warbler remains rarer by around 10 records ~ 40 birds on the books until the end of 2011.
The first Orkney record of the species was found on North Ronaldsay on September 15th 1995 with the second (and only other until this week) was a twitched singing male at Evie, on the Mainland, in June 2008. As with the previous rare warbler, Shetland remains dominant with records of this species too ~ 20 of the 40 accepted birds to date have been found on there.
Twitchable mainland records have been pretty thin on the ground but recent birds in Highland (in June and July 2009) and Norfolk (in July 2010) proved especially popular.
Pied-billed Grebe
We started in Ireland and so we'll conclude there too for the final headline bird this week ~ over on Achill Island in County Mayo, the adult Pied-billed Grebe remained on Sruhillbeg Lough to 19th.
The outstanding autumn for Fea's Petrel continued this week with a single heading south past Dursey Island on 23rd (the seventh in Cork since the end of July) with another reported from the Fishguard to Rosslare ferry on 21st.
A seawatch off Kilcummin Head on 18th yielded two Wilson's Storm-petrel (along with 76 Leach's and 3 Storm Petrels) while 12 of the week's 15 Great Shearwaters were seen from a Scilly pelagic on 19th ~ with singles on another pelagic off St. Mary's the following evening, Ram Head (Co. Waterford) on 22nd and Pendeen (Cornwall) on 23rd.
Some 30 Long-tailed Skuas were logged through the week, with 14 off Kilcummin Head in Mayo on 19th, with three from Bridges of Ross (Co. Clare) the same day. Two birds were noted off Spurn on 18th and Sizewell (Suffolk) on 21st with singles spread from Kerry to Norfolk and South Uist to the Wirral.
Kilcummin's seawatch on 19th also produced 12 Pomarine Skuas with six off Clare's Bridges of Ross and five off Kerry's Brandon Point the same day. These were part of the total of 55 birds in 18 counties the accumulated over the course of the week, with four off Spurn (East Yorkshire), also on 19th, the "highest" tally on the British mainland.
Balearic Shearwaters drifted past the south coast in some numbers again this week ~ Portland Bill leading the way once more with 61 on 18th and 150 there on 19th. The same day saw 96 pass Prawle Point (Devon) with 38 off Dawlish Warren and 25 from Pendeen the third and fourth high scoring totals on the same day. The following day saw 20 recorded from the Scillonian III and then 25 past Pendeen on 22nd with 50 in an hour of Porthgwarra on 23rd.
Just over 50 Sabine's Gulls were noted through the week with half of them off Brandon Point (Co. Kerry) on 19th when six were seen off a Scilly pelagic (a further four were noted on another evening bash on 24th) and two past Bridges of Ross. Another five were logged off the Fishguard – Rosslare ferry on 21st with ones and twos down the west coast from the Outer Hebrides to Cornwall.
Once again, Grey Phalaropes were spread far and wide and, again, they were pretty much confined to the western coasts of Britain and Ireland (bar singles on the Isle of Wight and off the Suffolk coast). Numerous counties saw ones and twos appear but it was (typically) Mayo and Clare that plundered the double figures scores registered this week with 15 off Kilcummin Head and 17 from Bridges of Ross on 19th while a chunky 87 were counted off Annagh Head on 22nd (in just three hours).
Also caught up in some remnant seawatching action were Leach's Storm-petrel. The first day of the new week saw 172 birds recorded with the already mentioned total of 76 from Kilcummin leading the way, with 27 for Hilbre Island on the Wirral and 22 from Strumble Head (Pembrokeshire) leading the way. Bridges of Ross chipped in with 44 on 19th while another 20 (at least) were seen from Hilbre Island. Numbers fell away as more settled, high pressure, conditions set in with 12 off South Uist's Ardvule Point on 20th the only other double figure tally of the week. The only other oddment this week was the first Little Auk of the autumn, seen off North Ronaldsay on 19th.
Cumbria's first Black Stork since 2008 was seen circling over Portinscale on the afternoon of 23rd before drifting off towards Bassenthwaite ~ it could become the third in the county since the start of the 2000's (along with that 2008 bird another was seen in 2006), with previous records coming in 1995, 1994, 1985.
In the southwest of England, a flock of 11 Glossy Ibis was also of particular note on a busy Monday 23rd ~ seen at the Torcross end of Slapton Ley before heading north. This impressive flock may have been involved in the slighter smaller group (of eight birds) seen at South Huish, near Thurlestone, the previous evening although nine (eight of them juveniles) were present there on the morning of 23rd (with another at Aveton Gifford) and roosted there again in to 24th. A third flock, again smaller too, was at Torpoint (Cornwall) on 22nd as well ~ four birds there ~ and Cornish singletons were on the Camel Estuary on 23rd and Lizard Point on 24th…the (almost expected) push out from Donana is on again….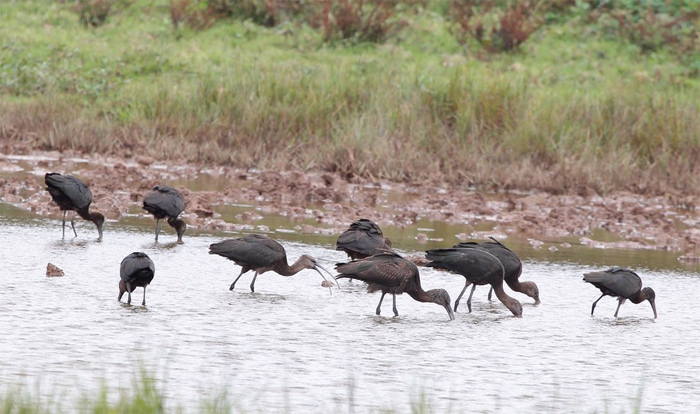 At Meare Heath NNR in Somerset, the regular bird remained to 22nd at least with another noted in the county on the same day, along the Axe Estuary at Weston-super-Mare and 23rd saw a Glossy Ibis fly over Catsford Common.
As with several weeks of late, it was Meare Heath that also recorded the highest total of Great White Egrets across the last seven days ~ eight birds there on 21st, with one at nearby Shapwick Heath on 18th.
New arrivals were seen at Peterstone Wentlooge (Gwent) on 21st and, on 23rd, at Rye Harbour NR (East Sussex) and Rainham Marshes RSPB (London) while there were still two each for Denge Marsh, Dungeness and Bembridge, on the Isle of Wight. Singles lingered at a further four sites from the start of the week ~ in Cambridgeshire at Fen Drayton RSPB and Wicken Fen NT, in East Yorkshire at Hornsea Mere and in Hampshire, at Blashford Lakes HWT.
The Cattle Egret was at Tetney Lock (Lincolnshire) until 24th while at least 18 Spoonbills remained in north Norfolk ~ 10 at Titchwell and eight at Cley were seen at around the same time of the morning on 21st (with nine of these at Stiffkey Fen on 21st). Three birds were at Lodmoor RSPB (Dorset) on 19th and two were seen at the traditional wintering spot of Isley Marsh RSPB in north Devon on 18th. Single Spoonbills were reported from Dorset, Hampshire, Kent, Suffolk, Lancashire and South Yorkshire in England and in Wales, at WWT Wetlands Centre (Carmarthenshire).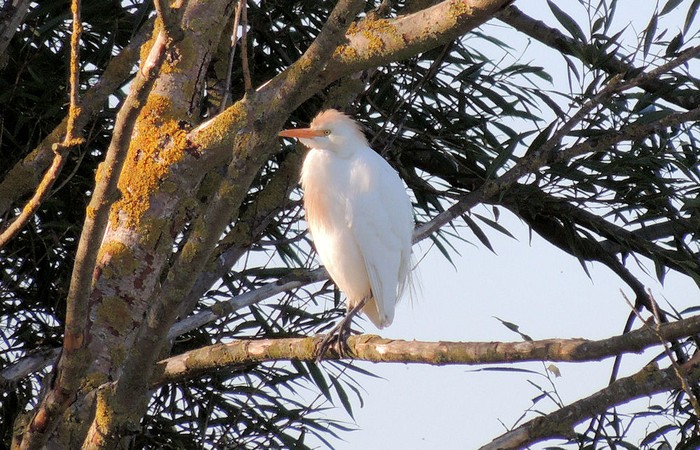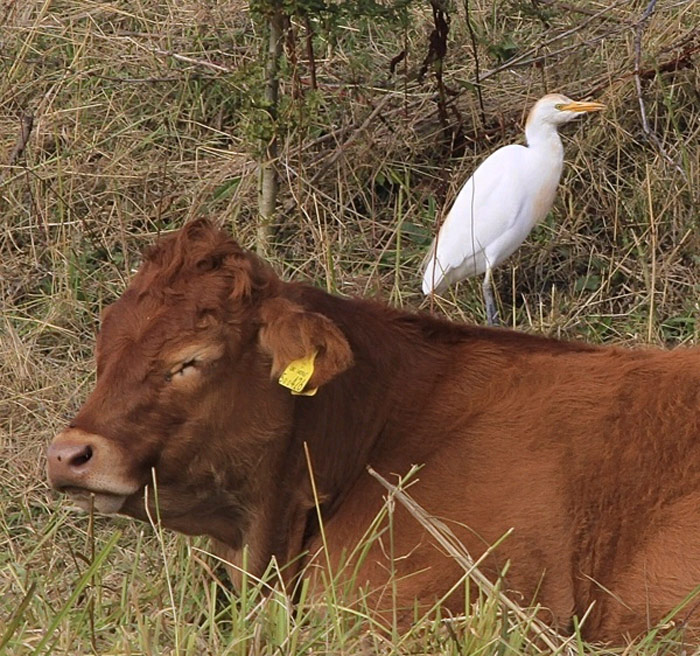 The new review period began with the single Common Cranes continuing to like the respective surroundings of Slimbridge WWT (Gloucestershire) and Blithfield Reservoir (Staffordshire) and they were followed by two over Beddington Sewage Farm (London) for a while during the afternoon of 19th, one over Castelconnell (Co. Limerick) on 20th with further lone birds still on the Rogerstown Estuary (Co. Dublin) and at Baltasound, Unst on the same day, with two (the Beddignton two?) over Beachy Head (East Sussex) as well.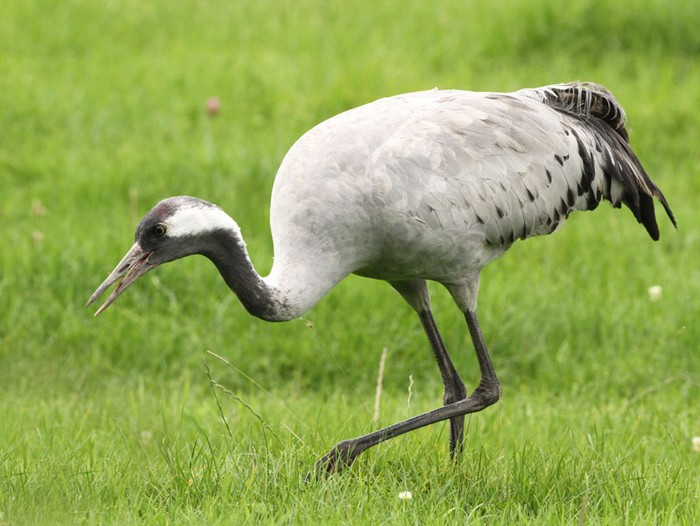 In Hertfordshire, a
Crane
flew over Wilstone Reservoir on 22nd while two were at Wicken Fen NT and on 23rd, three birds were seen over Queensferry (Lothian). In the Norfolk Broads, 29 were counted at Waxham on 19th.
A new Spotted Crake was a nice find on the Axe Estuary Wetlands, Seaton (Devon) on 18th (where there were two singles last year too) with a second fresh arrival appearing at Blacktoft Sands RSPB (East Yorkshire) on 21st. Leftovers from previous weeks remained at Longholme Lake (Bedfordshire) to 22nd and Oare Marshes (Kent) to 23rd.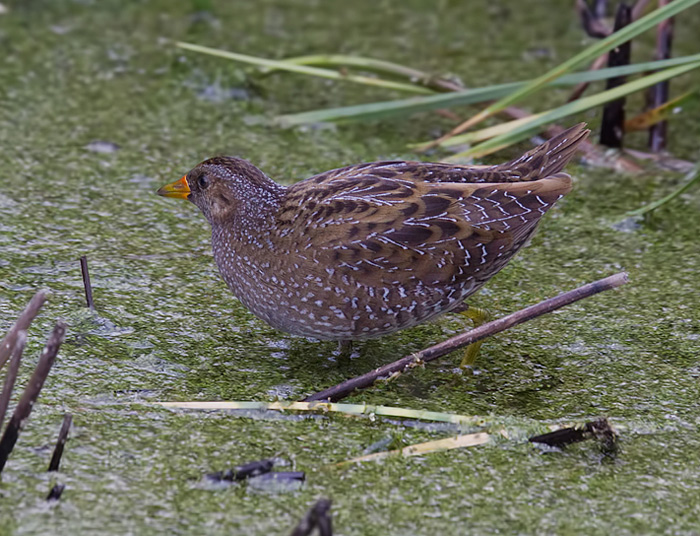 Shetland hosted four separate migrant Corncrakes through the week ~ on 18th one was seen at Sumburgh, on 19th another was at Bakkasetter (also on Mainland) while Fair Isle popped one in on 21st before the third Mainland record was found at Loch of Spiggie on 22nd. The only bird recorded away from Shetland was at Holland Haven (Essex), also on 22nd.
The onset of autumn can be signalled by many things in the birding scene of Britain and Ireland ~ gross American wood-warblers, skulky Eastern warblers, seabird wrecks, visioble migration ~ but one of the surest signs of the shift in to autumn proper is the arrival of Pink-footed Geese.
These gorgeous little grey geese have been arriving along the east coast for a week or two now and a newly-arrived flock of some 5,000 Pinks on Sanday (Orkney) on 22nd also brought a particular nice trio of additional travellers ~ three "Cackling" Canada Geese joining the Icelandic flight.
In Kerry, what was presumably the same Snow Goose seen at Carrahane on 16th appeared at Black Rock Strand on 24th ~ the likelihood remains high that this one is the real deal.
Lingering rare ducks this week included the trio of juvenile Blue-winged Teals at Boutham Mere (Lincolnshire) until 23rd (with the returning drake still at Frakenfield Loch to 22nd at least), the drake Black Duck still on Lough Doo, Achill Island (Co. Mayo) to 18th, the drake Lesser Scaup back at Pennington Flash CP (Greater Manchester) on 22nd after a few days away, with a returning drake back in Gwent, at Bryn Bach CP on 21st (the same bird was last seen here on April 20th this year).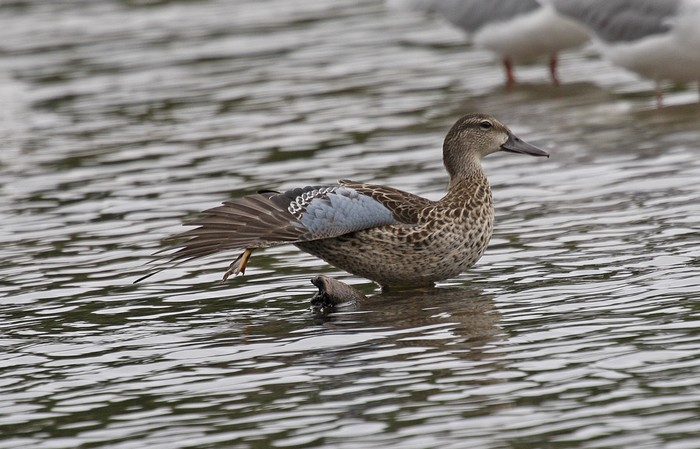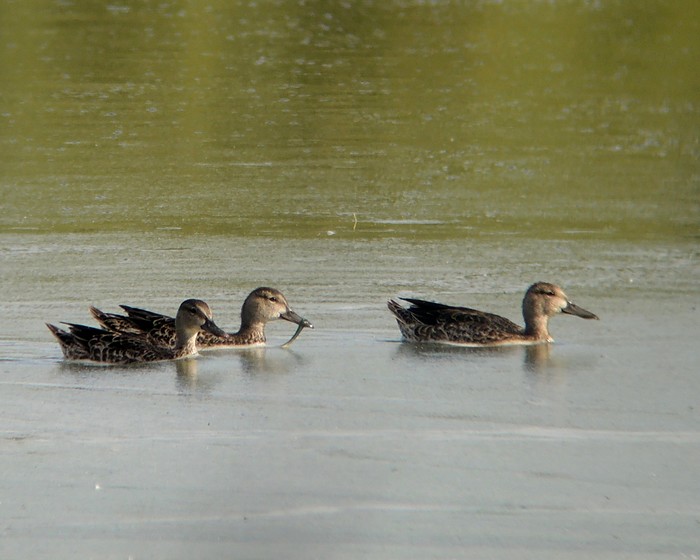 A new female Ring-necked Duck was seen at Cross Lough, Louisburgh (Co. Mayo) on 22nd while lone drakes remained at Loch of Clickimin, Mainland (Shetland) to 19th and Meikle Loch (Aberdeenshire) to 22nd. The only Ferruginous Duck was the female still on Chew Valley Lake (Somerset), present to 24th.
The first King Eider for a couple of months, an eclipse drake, was found off Burghead (Moray) on 18th (and remained to 22nd at least) while Surf Scoter was represented by single drakes off Blackdog (Aberdeenshire) on 20th and again in the Sound of Taransay in the Outer Hebrides on 23rd.
Another week and another handful of fresh-in Semipalmated Sandpipers to report to nudge that impressive autumn total along a little further. First came an adult on the shore at Hoylake, on the Wirral, on 21st with two new juveniles appearing in Ireland the following day ~ chalk another one up for Tacumshin (joining an already present lingering youngster) and also to Pilmore Strand in Cork as well.
In Dorset, the juvenile Semi-P was again noted in Poole Harbour, on Brownsea Island on 19th. Assuming this week's trio are new, we're up to 26 birds so far this autumn…
The week's four Baird's Sandpipers were all to be found along the west coast of Ireland. Last week's newly arrived bird at Killala (Co. Mayo) remained to 18th and was followed by a new juvenile at Ventry Harbour (Co. Kerry) on 19th (which hung on until 23rd at least) and two juveniles at Blanket Nook, Lough Swilly (Co. Donegal) to the end of the week.
Just for a change, a new Wexford Lesser Yellowlegs wasn't found at Tacumshin (!), it arrived on the North Slob WWR on 18th and was still present on 23rd. The day after Wexford's bird, it was Galway's turn with the appearance of a juvenile at Murlach (the winter home of the American Coot of course) and that bird also lingered to 23rd at least.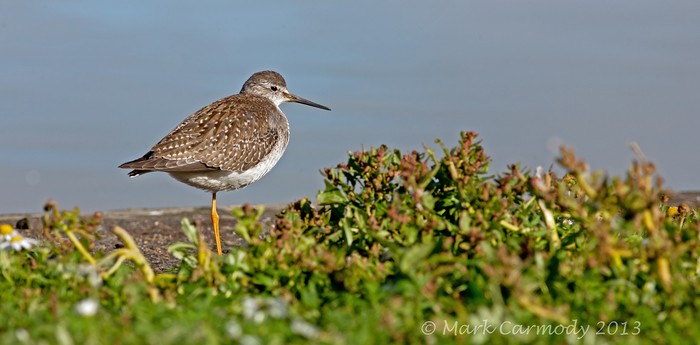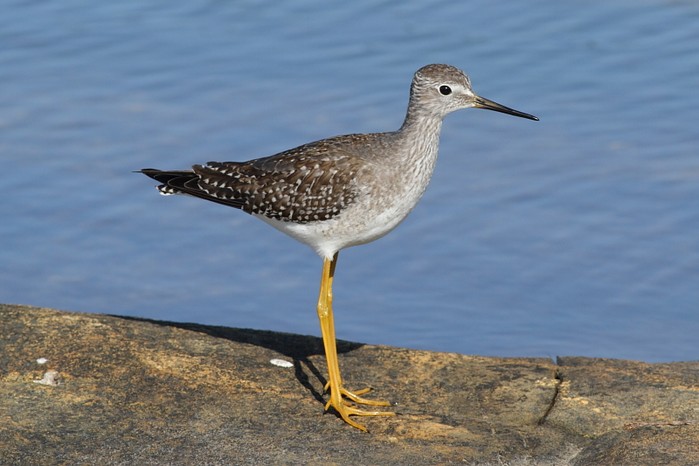 Elsewhere the Lesser Yellowlegs was still around the Exe Estuary for much of the week and the bird found on Shetland recently was back on the Pool of Virkie on 21st. The long-staying adult at the National Wetlands Centre in Carmarthenshire was seen again on 22nd while what was presumably the West Canvey Island bird from last week popped over the water to Cliffe Pools RSPB (Kent) on 23rd-24th ~ which is pretty significant for listers there ~ the last accepted record was almost 12 years ago, at Oare Marshes in October 2001. That bird and the one preceding it, also at Oare Marshes in May 1999, were one day birds ~ Kent's last lingering 'legs was a 27 day bird at Cliffe in March & April 1999.
There were a whole heap of American Golden Plovers dotted around the place this week ~ at least 17 on offer including four "twos". Running through the week ~ on 18th, one was noted at Lady's Island Lake (Co. Wexford) with birds found last week at Portnaluchaig (Highlands) and Kilkee (Co. Clare) still present while one on Sanday (Orkney) was a new bird (and was joined by a second on 22nd).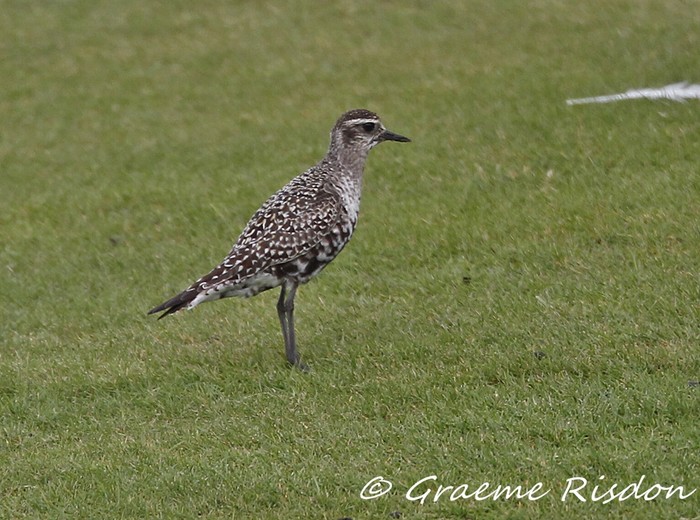 New on 19th were adults on St. Mary's Island (Northumberland) and at Bakkasetter on the Shetland Mainland, reappearing at Fleck later in the day. Two birds were present at the latter sit the next day when one flew over Hugh Town, on St. Mary's, and Irish new arrivals were found at Rahasane Turlough (Co. Galway) and Derrybeg (Co. Donegal). Along the way in Derry itself, two adults remained at Myroe Levels.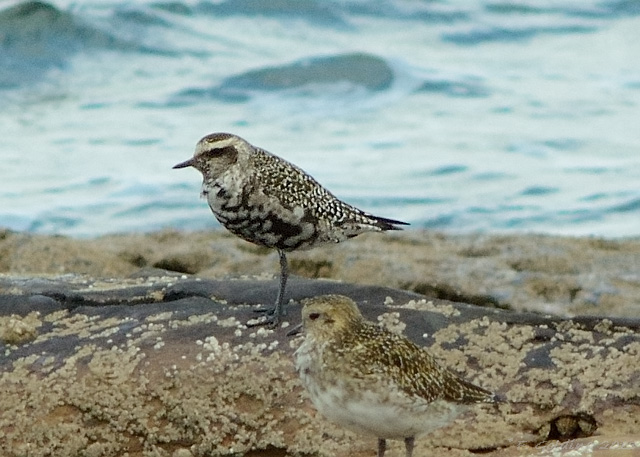 The marvellous Tacumshin was graced by two adult American Golden Plovers on 21st and 22nd saw one seen on Tiree and also at Holbeach St. Matthew (Lincolnshire) with the week concluding when another new Irish individual arrived at Carrahane Strand (Co. Kerry).
The popular and ever-so elegant first-winter Wilson's Phalarope was at Cley Marshes NWT (Norfolk) until 19th while a grand total of eight Buff-breasted Sandpipers were noted on 18th ~ in a weekly score of 10 or 11.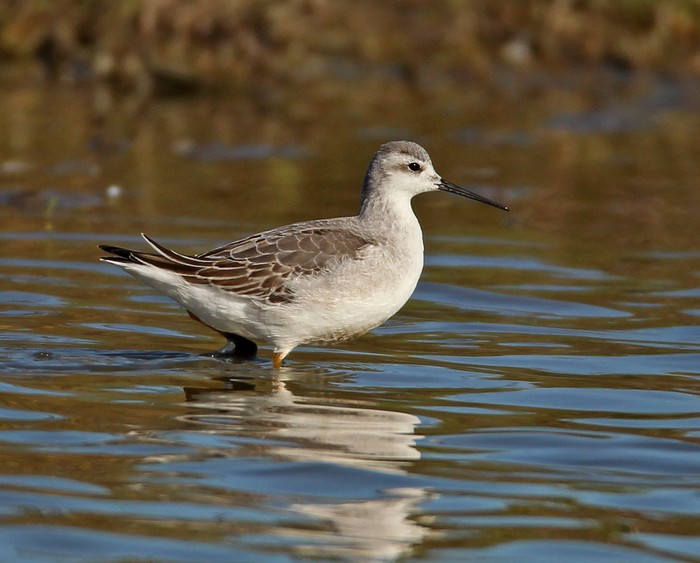 New on the first day of the review period was one at Spurn (East Yorkshire), Rutland Water (Leicestershire), St. Mary's Airfield (Scilly) and Sanday (Orkney) while two on Myroe Levels and singles at Davidstow Airfield and Tacumshin were remnants from last week. Two further new lone birds were found later in the week ~ at Slimbridge WWT on 20th and on Old Head of Kinsale (Co. Cork) on 22nd with another reported from Margate (Kent) on 24th.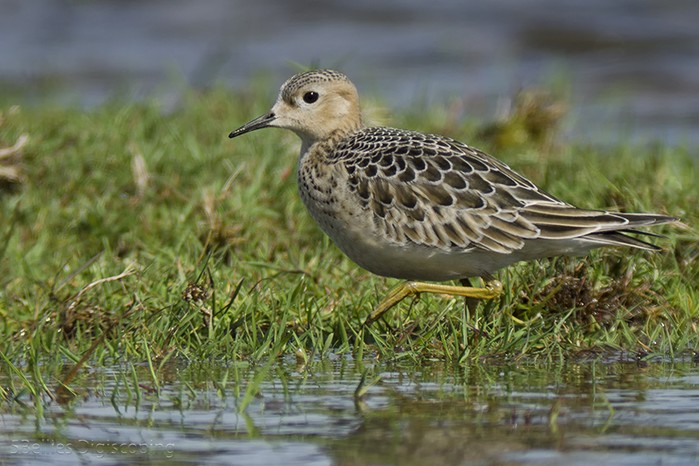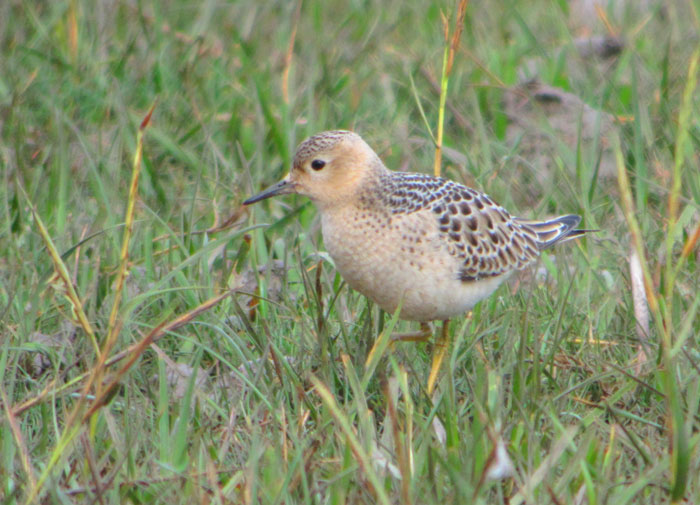 Pectoral Sandpiper numbers were a little lower than last week ~ 25 logged by end of 24th around Britain, with 10 around Scotland (including two on Foula and two singles around the Outer Hebrides), at least four in the Midlands and four in East Anglia the higher scoring regions. Three were noted in the North East, two in the South East and in the South West, while the bird in Greater Manchester, at Rumworth, was still present for much of the week.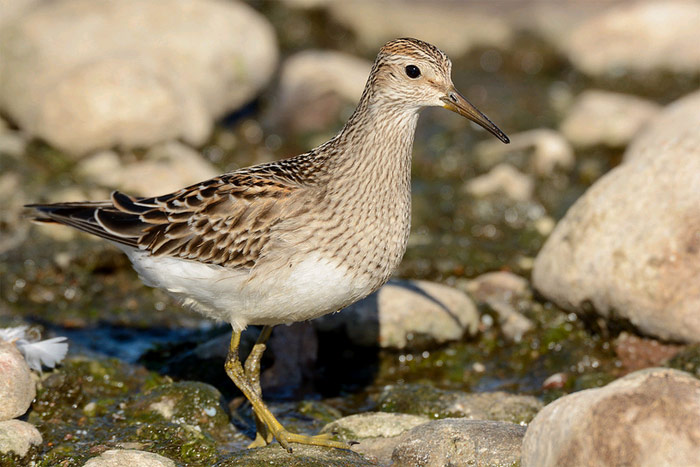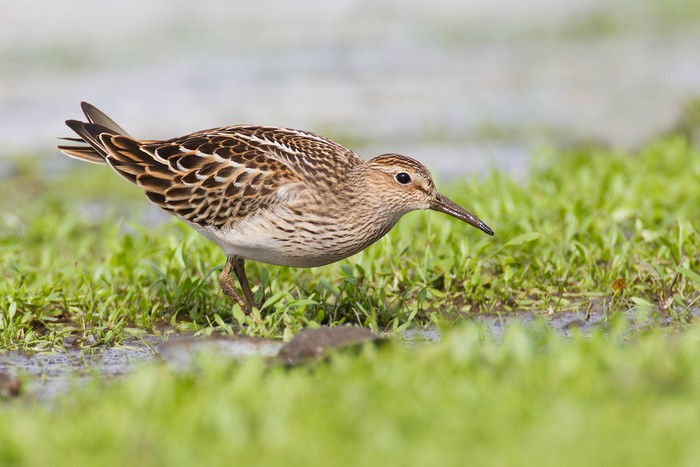 In Ireland, a further four Pectoral Sandpipers were seen ~ two juveniles were in Smerwick Harbour (Co. Kerry) from 21st and singles arrived in Cork and Mayo.
A Temminck's Stint at Frampton Marsh RSPB (Lincolnshire) on 21st was late-ish while just two Dotterels were seen, on Scilly (on St. Mary's) and in Derry (at Myroe Levels), both to 22nd. Another was "heard-only" over Porthgwarra on 24th.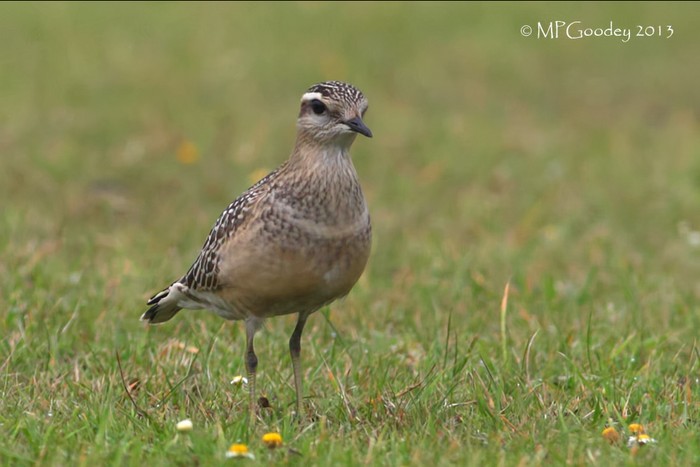 The first Laughing Gull of 2013, an adult, was a neat find on Sanday on the morning of 19th ~ once submitted and accepted, this will become the third record for the islands, following on from an adult at Stenness in May 1991 and a long-staying adult around South Ronaldsay in the summer of 2005. This week's bird remained in the area until 21st.
Last week's first-winter Bonaparte's Gull noted as a (sharp-eyed) fly-through on St. Mary's on 15th reappeared on the beach at Lower Town, St. Martin's on 18th before trundling over to St. Mary's again on 20th, spending time in Porthcressa Bay before heading off around the Garrison. As mentioned last week, this is only the fourth for the islands ~ previous records coming in 1990, 2006 and 2009.
Two of the adult Bonaparte's Gulls seen last week remained around for some of the time this week too ~ still in Lancashire, at Heysham to 20th and in Devon, at Teignmouth to 24th.
In County Cork an adult Ring-billed Gull was at Cuskinny Marsh on 18th while elsewhere in the Republic, two singles were in Kerry (an adult at Black Rock Strand and a second-winter at Blennerville, both on 19th) with another adult at Galway's Nimmo's Pier (also on 19th) while a further second-winter was at Spanish Point (Co. Clare) the following day.
In North Yorkshire, the adult Ring-billed Gull was again at Nosterfield NR on 18th while the adult in Highlands, at Dingwall, lingered to 19th at least.
Three single Iceland Gulls were recorded over the week (in Kerry, Sligo and on Shetland) while a Glaucous Gull reported on the Isle of Man (at Peel) early in the week was later noted as a possible Kumlien's Gull.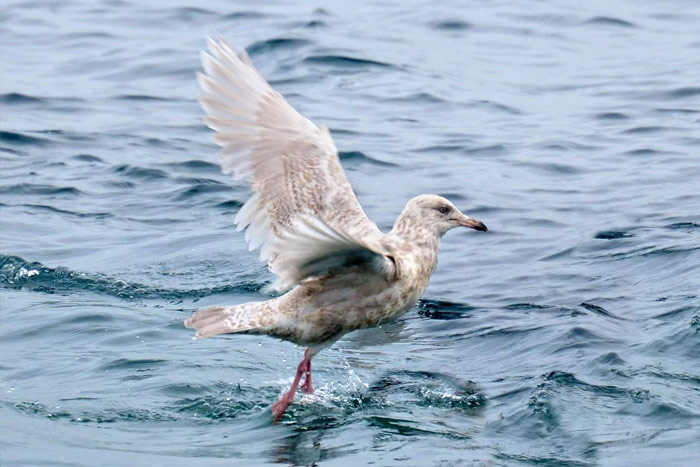 Back for the third autumn appearance in a row at Rutland Water this week was the adult Azorean Yellow-legged Gull ~ seen there on 20th. In 2011, this distinctive individual was seen sporadically between October 20th and November 5th while last year the bird was noted between October 12th and November 3rd.
The week's only White-winged Black Tern ~ a juvenile ~ was found at Tacumshin on 18th where it remained to 24th. This is the second for the county this year, following an adult at nearby Lady Island's Lake in May.
Unusual birds of prey were pretty thin on the ground this week ~ two Red-footed Falcons were reported, a female at Aldborough (Norfolk) on 20th and a male over the WWT Wetlands in Barnes (London) on 21st.
Along with the Red-foots, there were just eight Honey Buzzard were reported with singles at Saltfleetby (Lincolnshire) on 18th, Marloes Mere (Pembrokeshire) on 19th, Unstead (Surrey), Dungeness (Kent) and Thorney Island (West Sussex) on 20th on the Essex/Hertfordshire border, at Holyfield, on 21st with reports also coming from Great Ryburgh (Norfolk) on 20th and Nottingham on 22nd.
…and that was that….brief respite….deep joy….
As has been the case in recent weeks, it is a pretty tough call to know just where to start with the passerines ~ the mix is as wide and as varied as you'd expect (and hope for) in the third week of September ~ and with that in mind, one of the (newly-installed) classic late September birds will get us going….
Not so long ago it was Yellow-breasted Bunting and Lanceolated Warbler that dominated the hopes of Shetland-bound birders but now, although those two species remain up there for many (almost as also-rans compared to the longed-for megas that are almost expected) there's a new kid on the block ~ Hornemann's Arctic Redpoll.
The first of the autumn was found at Hoswick, on Mainland Shetland, on 21st where it stayed to 23rd (and was typically photogenic too). A second bird was found on Unst, at Skaw on 23rd with a third on Fetlar, at Funzie, on 24th (with it or another elsewhere on the island later the same day).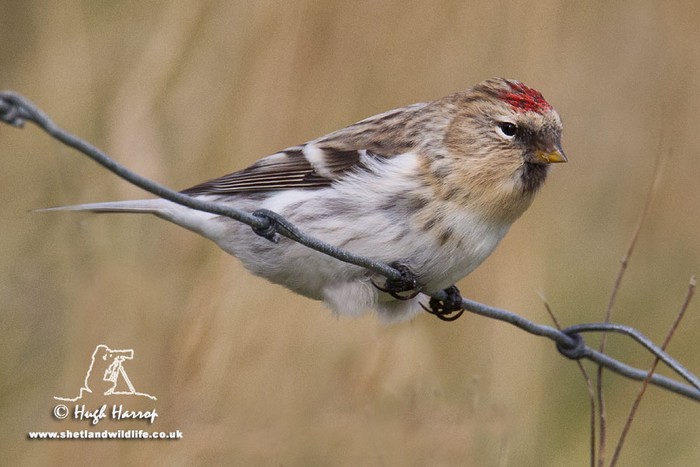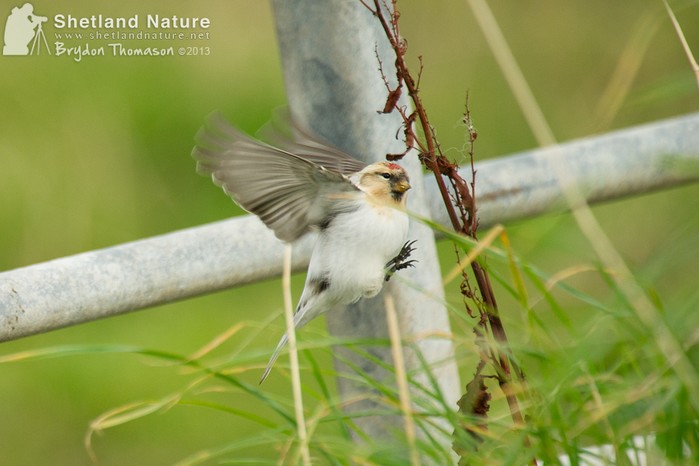 We'll run through a few more Shetland birds while we're at it ~ a nice, early Olive-backed Pipit was in the plantation at Northmavine, Collafirth (home to the P*ne Gr*sb*ak earlier this year….the pain still lingers…) on 23rd ~ one of the earliest records for the islands in fact (only two or three can beat it, the earliest ~ prior to removal from the Rarities List was a photographed bird on Fair Isle on September 20th 2001).
The fabled Northern Isles have seen Blyth's Reed Warblers hit the groove in a pretty significant way this week ~ five birds recorded between 20th-23rd. First up was one at Quendale on 20th with one on Foula on 21st following on soon afterwards. Two birds were found around Shetland on 22nd, at Scatness on Mainland and Norwick on Unst, with the fifth found on Ronas Head, Voe on 23rd.
Birders on Shetland also can't seem to get enough of Arctic Warblers this month ~ they're up to 10 birds in the last 19 days now after the arrival of singles on Unst on 19th (at Muness) and 23rd (at Lund), the second and third on the island in just over a week (following on from a bird at Baltasound on 11th) and on Mainland bird at Scalloway and Bigton (on 19th and 24th respectively). Orkney scored too ~ one was trapped and ringed at Rendall, also on 19th.
This week's first Unst bird was found by Brydon Thomason, not long before he bumped into the Baltimore Oriole! That's really a rather tasty double-bill….
Fair Isle has recorded four birds so far this month, that three-in-three-days record on 4th-6th and that was followed by another on 13th. Shetland's other record this month came along at Maywick on 5th. As discussed here recently, the islands have some outstanding history with this deliciously chunky and robust Phyllosc., ~ by the end of 2011, 170 of the 325 records had been found on Shetland (don't ask me about the % ~ Maths CSE Grade 3 me, remember?) and this last few days already exceeds the seven bird tally of 2011 and isn't too far away from 2010's either…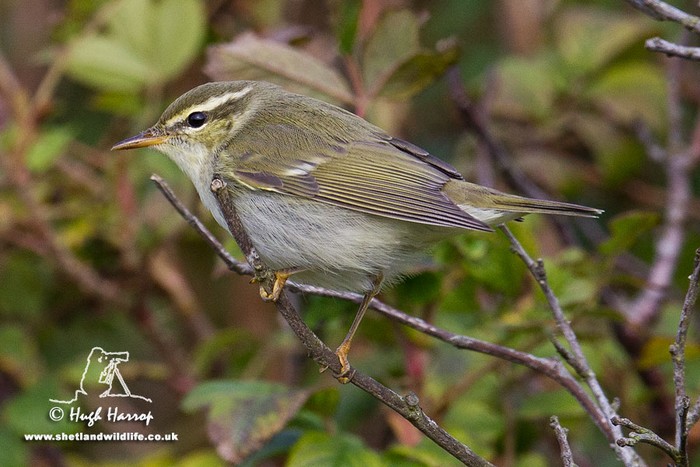 On the same day as Shetland's seventh and eighth of the autumn popped up, Orkney welcomed the islands' first Arctic Warbler this year when one was trapped and ringed at Rendall, on Mainland. Up until the end of 2011, there had been 21 accepted records ~ the most recent of those came in September 2005 but there was of course one on North Ronaldsay in August 2012 which will doubtless appear in the BBRC Rarities Report any day now.
In classic Shetland style, as a top-drawer rare from across the Atlantic was making landfall on 18th, some spritely waifs from the montane forests of temperate Asia were also coasting in to the Northern Isles ~ Yellow-browed Warblers starting to make a move in, despite what (at first glance at least) looked to be less-than-ideal conditions (the conditions were pretty good actually, much as those described briefly at the end of last week's review), with nine arriving around the islands on 18th ~ with two each for Fair Isle, Whalsay and Sumburgh with singles on Mainland, at Skeld, and on Foula and Unst. The same day also saw two make landfall on Orkney, one at Deerness and another on North Ronaldsay.
More were to follow across Shetland throughout the following day and, by dark, at least 22 birds had found their way on to islands. Seven birds were counted across Yell and a minimum six were recorded on a busy Unst (four at Baltasound and two at Muness) while Fair Isle managed three and Foula two while across on Orkney, Sanday registered four.
As the week progressed (and, for Shetland in particular, the weather improved with each passing day) numbers of Yellow-browed Warblers began to rise. At least 30 were seen around the islands on 20th, including at least seven at Quendale and also on Fair Isle, with four on Unst as well, with numerous singles and twos as well. Over on Orkney, four were seen on Sanday on 19th and three were on North Ronaldsay on 21st.
It wasn't long before the odd one or two also began to fall further south ~ there were two each for Northumberland and North Yorkshire (both of those at Filey), as well as two for both Norfolk and Suffolk by the end of 23rd. Another two Yellow-broweds were found on Bardsey Island (Gwynedd) on 23rd and two were found in Great Ormes Head (Conwy) on the same day, while Durham, North and East Yorkshire were amongst east coast counties graced by these ever-popular little warblers on 24th...
As darkness fell on our final day of the review week it was becoming ever-more apparent that something very special could be just around the corner for Yellow-browed Warbler ~ leading the charge the 20+ on Fife's Isle of May with a whole spread of birds around Shetland (including eight at Baltasound, six at Voe and six on Fetlar) while a further four more were seen around the Farnes.
And more are surely on their way ~ in Norway, on Værøy, a monster fall of 160 was recorded on 22nd and these were part of a total for just three small spots in northwest Norway alone of some 300 birds. With around 350 in Finland too, there seems every likelihood that there will be some heavy, heavy arrivals across the Northern Isles, and further south too, in the days ahead…
Continuing Pembrokeshire's outstanding set of autumn birds so far comes only the third county Booted Warbler ~ found on Ramsey Island on 23rd. Both of the accepted records of the species to date in Pembs have been in September ~ the first was found on Skokholm on the 23rd of the month in 1993, the second came on 14th in 2000.
The second of the week, and another Irish mega, was found on Hook Head (Co. Wexford) on 24th ~ potentially just the fifth record for the country and the first since one in Waterford in 2006 (the others appearing in Donegal in 2003 and Mayo and Cork in 2004).
….that new high "year tally" for the species remains most certainly on too…12 to date (not including the debated Climping bird) ~ 13 is the record…
A Bonelli's Warbler sp., was seen briefly at Burray (Orkney) on 23rd while back on Shetland, Citrine Wagtail #24 of the autumn was seen on Foula on 23rd with a new Western Subalpine Warbler was found on Mid Yell, near Linkshouse on 24th. An increasing eastern vibe picked up some more with the arrival of a Siberian Stonechat on Bardsey Island (Gwynedd) on 24th, the first Welsh record for aeons…
There was a very decent showing of Red-breasted Flycatchers this week ~ around Shetland there was a minimum of eight birds, one on Fair Isle on 19th became two on 21st, with the same trick occurring at Sumburgh on 20th and 23rd. Singles on the latter date were recorded at Voe, Geosetter, on Out Skerries and Foula. Further south, in Cumbria, a Red-breasted Flycatcher was trapped at South Walney NR on 20th while Bardsey Island recorded two singles, an adult male on 21st with a second bird there on 23rd, In North Yorkshire another was trapped and ringed at Filey on 24th with one on Holy Island (Northumberland) and two arrived on North Ronaldsay the same day.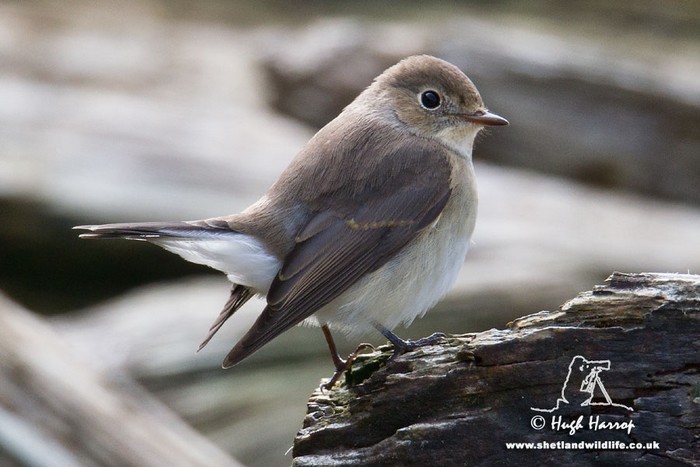 Common Rosefinches were also around and about the place in decent numbers too ~ on North Ronaldsay there were four present on 23rd, with another Orkney bird found at Burray on 22nd. Shetland was dominant tho' ~ an absolute minimum of 19 noted around the island group, with three on Fair Isle on 18th and 22nd, up to four around Unst through the week, three on Foula on 24th, two on Out Skerries on 22nd and at least six around mainland.
Dropping down the east coast a few hundred miles and to Great Yarmouth where a Rosefinch was a brief visitor to the cemetery on 22nd with one on the same date at West Bexington (Dorset). Drifting up to the northwest, a juvenile spent the week on Bardsey while two were found on Donegal's Tory Island on 22nd and then one was seen on Cork's Knockadoon Head on 24th.
All bar one of the week's nine Bluethroat records came from Shetland, all of them arriving between 20th-22nd. Two were present on Fair Isle on 21st, with singles the same day on Mainland at Boddam and Scousburgh, with another on Foula. On 22nd, singles appeared at Cunningsburgh, Fladdabister and Exnaboe. The odd-one-out was seen on North Ronaldsay on 24th.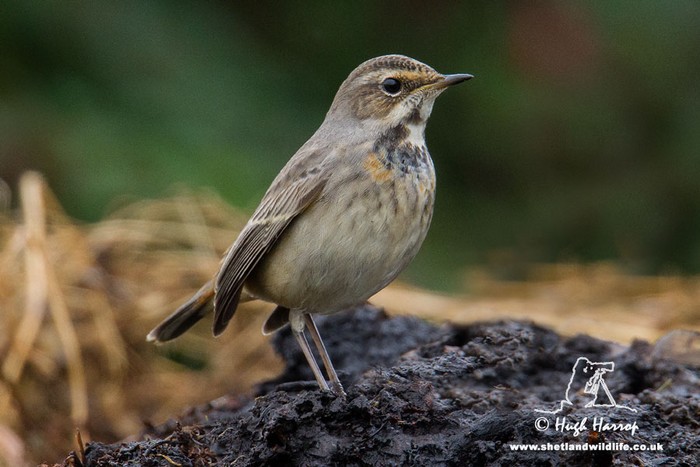 …and Exnaboe was also home to the sole Short-toed Lark noted across the past seven days, present on 21st-22nd and it was also one of the two places on Shetland to hold the only Richard's Pipits this week ~ one found there the same day as the Bluethroat, with the other record coming from Unst on 19th.
We'll wander back to warblers and mop up the remaining scare species on offer this week. There was one Marsh Warbler each for Orkney and Shetland (North Ronaldsay and Out Skerries) while 10 of the 15 Barred Warblers noted were on Shetland, including four on Fair Isle on 21st when singles were at Tresta and on Foula. Further singles there were seen on Unst on 22nd and Cullivoe, Yell on 23rd with two at Bigton on 24th, while Orkney recorded birds on North Ronaldsay and Birsay, on the Mainland on 19th and 23rd respectively.
On the English mainland, single Barred Warblers were at Easington and Spurn (East Yorkshire) on 21st and 24th while one made it Portland Bill on 22nd.
Last week's Icterine Warbler on the Garrison, St. Mary's lingered throughout much of the week with the only other birds arriving on Sanday (Orkney) on 19th and at Flamborough Head (East Yorkshire) on 24th. There were just two Melodious Warblers as well ~ one was on Bardsey on 18th with the other at Portland Bill on 23rd-24th.
Suffolk's popular first-winter Lesser Grey Shrike remained between Leiston and Sizewell until 23rd while Red-backed Shrikes mustered 17 birds, nine of them on Scottish islands ~ six for Shetland, two for Orkney and one for the Outer Hebrides ~ with inland singles in Berkshire and Staffordshire, with coastal birds in Northumberland and Norfolk while five were seen in the southeast, including two at Thorney Island (West Sussex) on 22nd-23rd and one was seen in Wexford on 24th.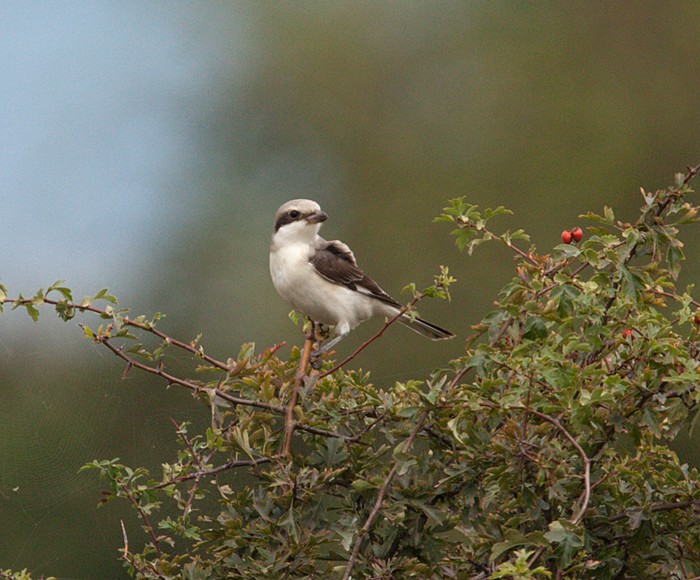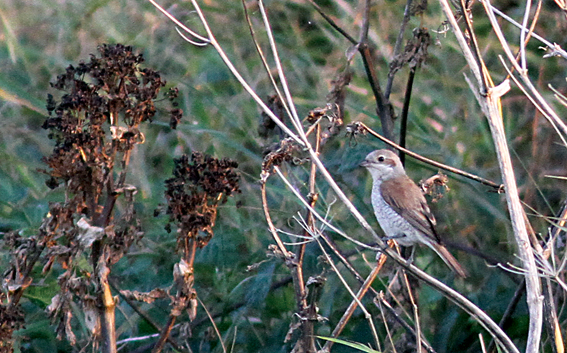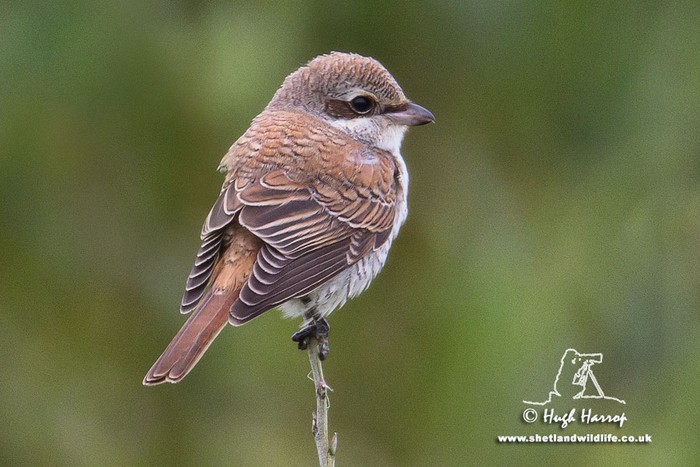 Wrynecks numbered around 30 individuals through the week, including a minimum 11 in the southwest (two each for Dorset, Cornwall with St Martin's on Scilly grabbing four on 24th alone ~ at least seven were around the islands that day), while Wales collected five, three of them in Pembrokeshire (including two on Skokholm on 24th) with three in the southeast, two in East Anglia and one in Yorkshire. One also made it right out to County Mayo on 23rd, seen near Belmullet.
Colourful birds from the Med this week were represented by a Red-rumped Swallow at Wakering Stairs (Essex) on 22nd, a Golden Oriole way out on Barra (Outer Hebrides) on 23rd and a Hoopoe in the valley at Nanquidno (Cornwall) on 24th.
In Devon a juvenile Rose-coloured Starling was new at Dawlish Warren on 18th with another seen on St. Martin's (Scilly) the same day. Further fresh arrivals were found in Cornwall on the Lizard on 21st and Marazion on 24th and also on the same day, over on at St. Catherine's Point (Isle of Wight). Lingering youngsters from last week remained at Caister-on-Sea (Norfolk) and St. Agnes (Scilly), both to 23rd.
Quite where the Two-barred Crossbills have been lurking in the Norfolk Brecks is anyone's guess but this week, at least four birds were present at Lynford Arboretum ~ two males and at least two female/juvenile types ~ on 20th, with a female and two juveniles there the following day. In South Yorkshire, a minimum four Two-barred Crossbills remained at Broomhead Reservoir to 23rd while new was one at Valyie on Unst on 22nd (with perhaps a second at Skaw the day after).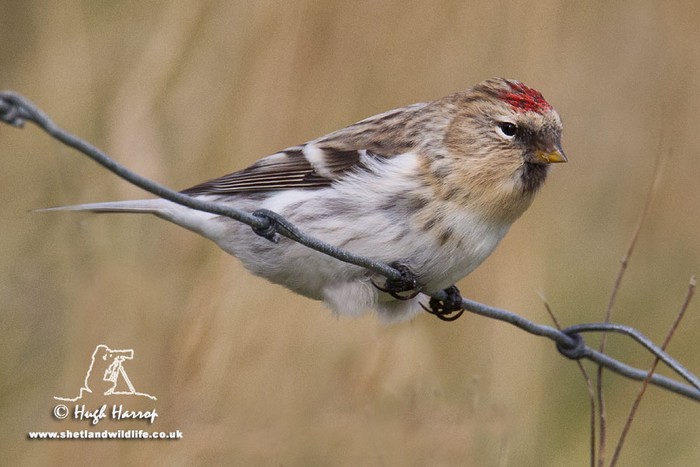 Until 24th, the only Ortolan Bunting of the week was seen on Hayling Island (Hampshire) on 21st but then two followed as the week concluded ~ on St. Mary's (Scilly) and Sumburgh Head (Shetland) while, rather aptly, we'll end with another species that limited itself to Shetland, where two Little Buntings found themselves at home on Foula from 19th-21st and another popped up on Fetlar on 24th.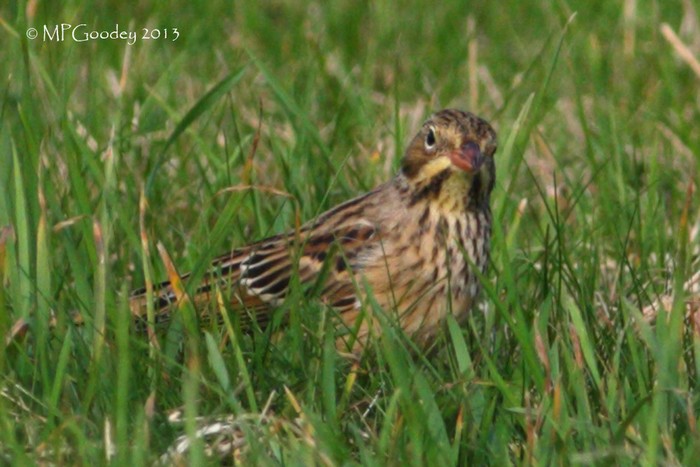 Yet another mammoth week done then. The weather map shows a huge vector of scrumptious airflow way off in to the back of the Russian beyond and it seems to be angling itself (currently) right on to Shetland....the smart money would be on the islands dominating the proceedings once again in the week ahead.
The first Bluetails are due any day now (particularly with the weather map as it is...) and we're heading towards rare Eastern thrush time too ~ both Siberian and Eye-browed have made their way to the Northern Isles on September 25th, with two White's and a Black-throated on 26th, another White's on 27th and another two on 28th, along with a further Siberian on the same date.
September 29th is another big one, along with a further White's Thrush we've also had our only twitchable Red-throated Thrush ~ the superb and much-admired first-winter male at the Naze (a scary 19 years ago…gulp..!).
The run of almost daily White's Thrushes over the years for the week ahead continues with one on September 30th (another on Shetland of course) and four on assorted October 1st's over the decades, with two more Siberian Thrushes on the same date too.
The first day of the new month also has Siberian Blue Robin to its name as well ~ the freshly dead bird on Foula in 2011. Yes, we're getting in to some heavy duty megas now…
…talking of which, if the weather turns to Way Out West ~ there'll be 100's of folk hoping for a reappearance of Yellow-bellied Sapsucker ~ Britain's first and only record of this wonderful woodpecker coming along on September 26th 1975. With just one since, out on Cape Clear Island in October 1988, there's a bunch of people waiting for another.
Or....
We could finally land one of these....
...the 30th anniversary has just come along since this "most wanted" species graced the stone walls and bare trees of Bressay....
And Hawk Owls are on the move, right now.
On your marks, get set....
Mark Golley
25 September 2013

Special thanks this week to Tom Shelvin and Victor Caschera for sharing their shots of the Dursey Wilson's Warbler and to Bob Marchant for his Brown Shrike account.

Also thanks this week to Mark Warren and the staff at North Ronaldsay Bird Observatory, Trevor Williams, Mark Edgeller and Hugh Harrop from Shetland Wildlife

Many thanks also to the rest of this week's contributors for their photos and videos.
Pete Antrobus, Dermot Breen, Ian Cowgill, Darren Ward, Davey Farrar, Clare Fuller, Paul Rowe, Joe Pender, Steve Duffield, Alan Doidge, Mike Harris, Tom Victory, James Lees, Steve Ashton, Dave Hutton, Gill O'Neill, Mark Carmody, Graeme Risdon, Frank Golding, James Spencer, Ian Clarke, Gary Loader, Barry Farqharson, Ivan Ellison, Martin Goodey, Bill Callow, Paul Kelly, Robbie Brookes, Steve Minton, Mike Pennington, David Parnaby, Graham Clarke, Penny Clarke, Steve Arlow