Weekly round-up: 04 - 10 Sept 2013
The week at a glance
Black-and-white Warbler finds itself on Fetlar
Farnes strike it lucky with a Yellow-breasted Bunting…
…then a Fea's Petrel flies by Inner Farne too
…with the same bird tracking north through to Highland….
County Clare notches up a second Barolo Little Shearwater in a week
Cheshire's adult Stilt Sandpiper continues to please….
…as does Mayo's adult Pied-billed Grebe
The first Aquatic Warbler of the year appears in Devon
Contrasts. This week was all about contrasts.
There were mega birds. There were common birds. There were pretty birds. There were dull birds. Whichever little envelope you fancy popping things in to, there were ~ once again ~ lots and lots of them….so all was good
And with the contrast in the birds came marked contrasts in the weather…
September 5th saw the thermometer peak at just under 31 degrees C on the edge of London (that's nearly 87 degrees Fahrenheit) for the hottest day recorded in the month since 2006. Compare that with the cool, damp and markedly unpleasant 14.5 degrees C (under 60 degrees Fahrenheit) that most of the east scored on a soggy 10th (not included the wind factor with the strong Nor' nor'westerly gale).
Contrasts indeed.
There were stacks of birds to think about though, as the first Nearctic passerine of the autumn was reported and the wave of shorebirds from across the Atlantic rose as every day went by. But there were the first signs that birds were being drawn in from the "true east" as well as the week ended. Autumn is starting to move through the gears.
Black-and-white Warbler
Black-and-white Warbler. What else can you say? Four words that still send tingles of excitement pulsing through even the coldest of twitching hearts.
It isn't the rarest of the American wood-warblers that many dream of discovering, there are, of course, several species who's rarity is far exceeded by the double figure tally of Black-and-white Warbler but none of them, none of the are as charming, beguiling, and so goddamn sexy as this one…this is a bird with the funk. Funk by the bucketload. Funk with a capital "F"…
This is the tale-of-the-tape ~ the 17th for Britain and Ireland was found during the evening of 6th in the willows around Funzie, on Fetlar ~ and, once submitted and accepted, it could become the second record for Shetland, and the first live one to boot.
The first British record was found dead, during the middle of October 1936 near Tingwall, on the Shetland Mainland and a further 39 years would elapse until Britain's second (and first living one) arrived on Scilly, in September 1975, in what remains one of the all-time classic years for "Yanks" and "Sibes".
(…remember too that September 6th was picked out last week as a date to remember ~ Britain's first Tennessee Warbler making landfall on Shetland in that autumn of '75).

Back to the B&W show ~ Scilly pulled in a second in September 1977 and then came the remarkable record from the middle of Devon (near Tavistock) on March 3rd 1978. Ireland's first followed later the same year, in October, on Cape Clear Island.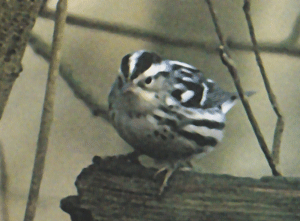 Six birds appeared through the 1980's ~ on Skomer (Pembrokeshire) on September 10th 1980, with a freshly dead corpse was found at Mylor Bridge, near Penryn (Cornwall) on the exceptionally early date of September 1st 1982 coming along next. Living live birds followed in the next three years ~ 1983 saw a one day bird arrive on the Lizard, in 1984 a three-dayer was in the forests of Derry from September 30th-Ocotber 2nd and then came the amazing discovery, in December 1985, of a wintering Black-and-white Warbler at How Hill, near Ludham (Norfolk).
When news broke about that last bird, there was general incredulity all round…a Black-and-white Warbler in the Norfolk Broads…"whoever found that must be on something" was the vibe coming forth before too much was known about it (and, fittingly, the site had a splendid line in Psilocybin in the grounds ~ apparently ~ so some teenage listers told me….so maybe they were right after all…).
The bird was often seen in plantations along tracks for which the word quagmire was invented for, but everyone went home happy (even if they were cold and muddy). That 12 day stay was much appreciated….
Less than two years later came Devon's second, an eight day bird at East Prawle from October 8th-15th and there were none until an exceptional three over the course of 18 October days in 1996 ~ still to this day one of the most unpredicted and remarkable multiple arrivals of any Nearctic passerine ~ a two-day bird at Beachy Head (East Sussex) on October 2nd-3rd was followed by a showy, very popular first-winter male on St. Mary's from 5th-14th, with a first-winter female on Tresco from 20th-25th.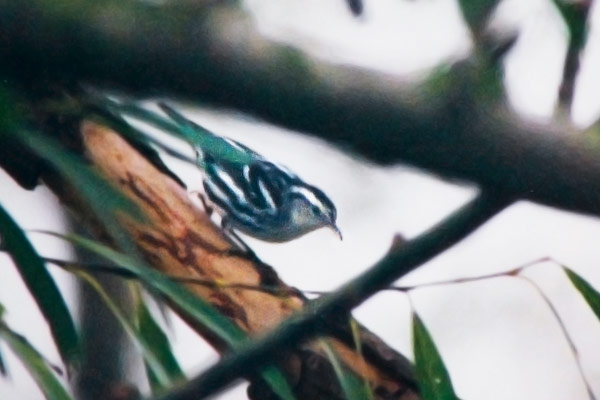 The fourth bird of 1996 was almost a carbon-copy of the How Hill happening 11 years previously ~ Norfolk scoring an astounding second Black-and-white Warbler on the edge of Norwich, at Whitlingham Lane, from November 9th-15th. And that was it ~ no more records for nigh-on 16 years, until an uber-obliging first-winter male performed in Lower Moors on St. Mary's from September 17th-21st 2011. Multi-twitched. Multi-photographed. Multi-admired.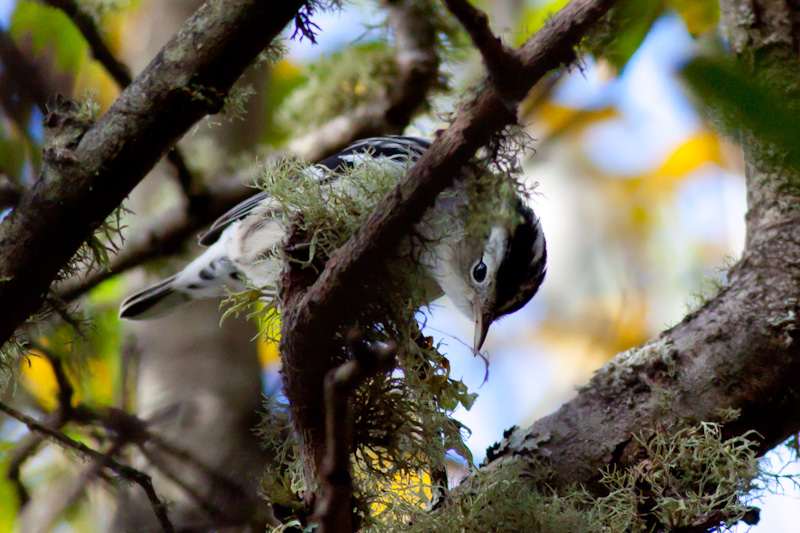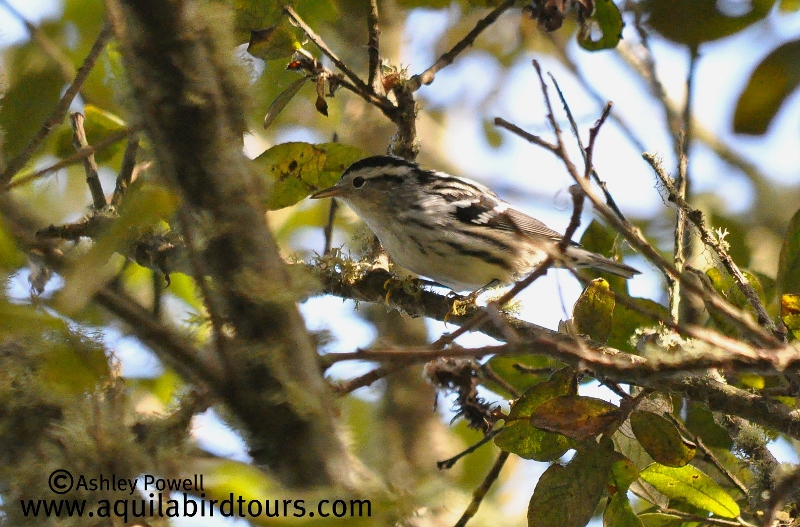 September is king ~ it now has eight of 17 records on the list. Scilly has five of the 17, Devon, Cornwall, Norfolk two each, likewise the same goes for Ireland and now Shetland too.
But all the facts and figures, the stuff and nonsense that you've just read, are all superfluous in many ways. This is one of the most devilishly exciting birds on the British & Irish List. It is that simple.
…phew…all that wordage and not a single mention of the word "humbug"…oh….DOH!
Sadly, for Shetland listers, grim weather meant that September 7th at Funzie was a blank day for all concerned. No more sign. But it is a cracking way to begin the 2013 Nearctic Wood-warbler-fest.
Going back just 48 hours and the early running in the "Bird of the Week" stakes was made entirely by a species that is now, globally, teetering closer and close to the edge of serious, serious problems…
Yellow-breasted Bunting
Yellow-breasted Bunting was this week elevated by Birdlife International from status "Vulnerable" to status "Endangered" ~ meaning that the species is "considered to be facing a very high risk of extinction in the wild".
Stark and sobering words, which kind of makes the appearance of a vagrant off the coast of Northumberland something akin to an also-ran in the grand scheme of things. But this is a species that, whatever the poor prognosis, remains a classic early September bird here and one that, due to that mounting population crash (thought to be entirely due to trapping on the wintering grounds) a highly prized listers target nowadays.
This week's Yellow-breasted Bunting was found on Brownsman Island, on the Farnes during the sunny afternoon of September 5th ~ the 11th record for the islands but the first for just over 10 years (the last there was seen on September 1st 2003).
With increasingly poor conditions drifting in late on, it became clear that there'd be no access to Brownsman the following day ~ galling because plans were in place to allow birders to visit ~ and it became all the more frustrating for travellers on 6th, when the bird was seen again during the afternoon…but still the grot meant that the hoped for twitch to the island remained off.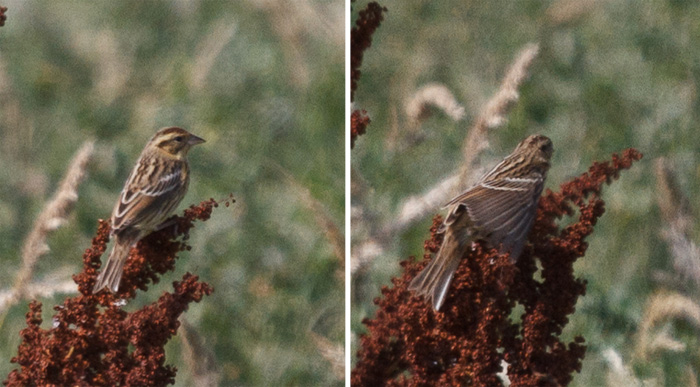 There have now been 11 birds found around the Farnes and make up all bar one of county total of 12 ~ since the first was found in 1972.
The rapid decline in records of Yellow-breasted Bunting in Britain and Ireland is one that most birders are all too familiar with ~ from 2004 to 2013 there have been just 12 records (boosted by four in 2006), with blank years in both 2007 and 2012. Indeed the recorded total since 2007 is just six individuals…
Prior to 2004, things were a little healthier ~ there were six records each for 2003 and 2002, with three in 2001 and seven in 2000. The best performing years for this subtle, quietly stunning Emberiza were 10 in 1977 and a record 11 in 1994 and with numerous years boasting seven, eight or nine within the same period, the contrast in numbers is clear.

With around 232 accepted records, it seems weird that the species should be deemed a Mega, but given how hard they've become and the fact that, generally, it is Shetland that rules the roost where Yellow-breasted Bunting is concerned, it quickly makes sense. Records on the mainland remain highly prized…
Given that the Farnes is, errr, clearly an island (!), the last mainland record remains the brief bird noted at West Runton (Norfolk) on August 26th 2008. Prior to that, during the 00's, were birds at Portland Bill, on September 3rd 2003, Norfolk's Scolt Head Island (let's not get too picky, it is basically mainland….isn't it?) and Colne Point in Essex in September 2002 and at Balcomie, in Fife, in September 2000.
A further 20 records on the British mainland stretch way back to Britain's first-ever record ~ found at Cley on September 21st 1905 ~ and very few of those have been twitchable. A handful of Spurn's five birds have lingered long enough to be seen by a wider audience than just nearby locals, while a grotty female type at Holme in September 1992 stayed for a couple of days and drew a significant crowd.
…and those crowds stem, of course, from the fact that Yellow-breasted Bunting has been, very much, in the domain of Shetland. A whopping 150 records have come from the islands where, for decades, Fair Isle reigned supreme ~ many birders investing time and money on the island during the 1980's and 1990's at least, to set their sights on two "regulars" ~ Yellow-breasted Bunting and Lanceolated Warbler. Many went home happy too….
County totals away from Shetland are punier than a puny thing ~ tho' actually some are actually quite impressive….Fife has 16 accepted records, with 13 of those coming from the Isle of May, Northumberland we know now has 12, Yorkshire (as a whole) boasts eight, Scilly has seven (including four from 2000 to present day), Norfolk six while Devon and Dorset have three a piece. Ireland's five records are split 3 to 2 between Cork and Donegal.
Feas Petrel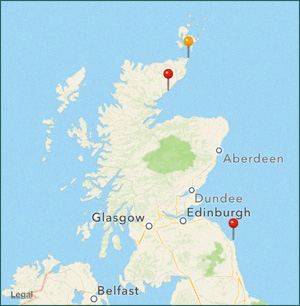 Less than 24 hours after the arrival of the Bunting, birding rangers on Inner Farne clocked up the second Fea's Petrel of the year for the islands (from the boss's bedroom window, as you do), following on from the bird tracked heading north past Newbiggin and Beadnell on July 22nd. The July individual was noted passing north of Staple Island, this week's was seen just west of Inner Farne, again heading north.
This will be the seventh record of the species for the islands, since the first appeared in 1993, four of which have been tracked on a northward journey.
..and talking of being tracked on a northward journey, this particular Fea's Petrel continued through the North Sea to Highland on 8th ~ seen first from Helmsdale (around teatime) and, as dark was descending having turned left at John O'Groats, passing Duncansby Head.
This will become the first-ever record for the Scottish mainland ~ the three previous records coming from North Ronaldsay in September 2002 and October 2010, with another from Labost, on Lewis (Outer Hebrides) in August 2007.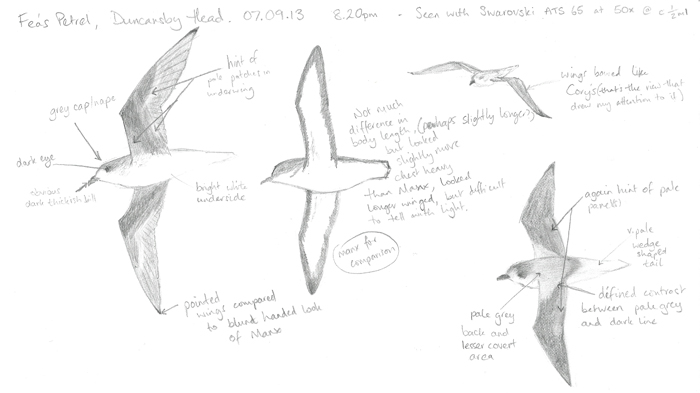 Barolo Little Shearwater
Seawatchers at Bridges of Ross reported the second Barolo Little Shearwater in County Clare within eight days on 7th ~ following on from the bird so beautifully portrayed by Robert Vaughan last week (seen nearby Bridges at The Fodry), another headed past the illustrious site around midday on 7th ~ if accepted it could become the 11th for Clare and 10th for Bridges.
Stilt Sandpiper and Pied-billed Grebe
Getting the mop out, we'll whizz swiftly through a couple of the recent birds of note. Last week's lead bird, the moulting adult Stilt Sandpiper in Cheshire, remained at Sandbach until 7th, drawing visitors daily throughout its stay. Fewer folk would have gathered to say "howdy" to the adult Pied-billed Grebe on Achill Island (Co. Mayo) but it was still behaving and performing to 9th at least.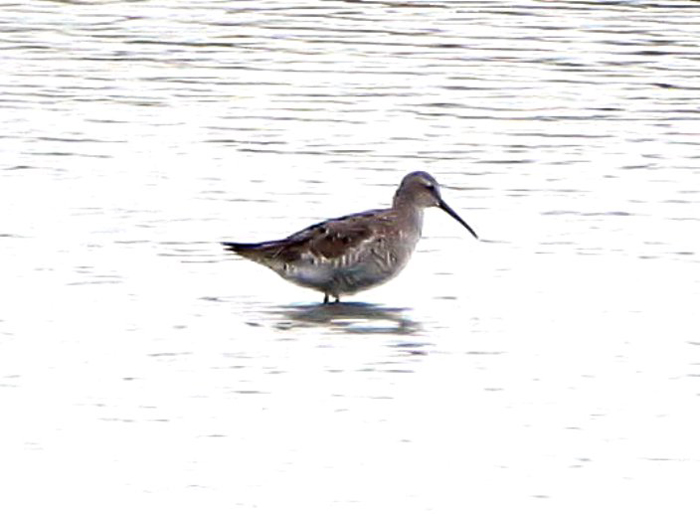 Finally, we'll head back to another species that is carefully monitored by Birdlife International. Aquatic Warbler is listed as "Vulnerable" by the organisation, the population crashed by 40% in just 10 years to the start of the 2000's, due to habitat destruction (land being drained for agricultural requirements and peat extraction amongst others) ~ and this week saw the arrival of the first of 2013.
Aquatic Warbler
There was little surprise to see that the year first was found at one of the traditional spots for the species, Devon's South Milton Ley. Although annual here, Aquatic Warbler remains a tricky customer to encounter and one that requires a fair amount of guile and patience to see. Despite the annual status here, it has been a very slow year so far and, for the moment, certainly this week, Aquatic Warbler is worthy of headline status.
It was one of those curious weeks where, apart from a Fea's Petrel and a Barolo Shearwater it was a little bit quiet out at sea (certainly until 9th….).
No big shears were recorded, so we'll go straight to Balearic Shearwaters. Pendeen fared best with a cracking tally of 172 birds passing there on 5th (along with a vast count of 30,000 Manx Shearwaters in twelve and half hours), with 56 there the next day. On 7th 81 birds were counted off Portland Bill, with 39 from Dawlish Warren and 19 from Dungeness also of note and 43 were seen from Porthgwarra on 8th.
At the start of the week, 44 were notched up from Berry Head on 4th with Porthgwarra seeing 33 pass by there the same day. Single figures were recorded from a further 15 counties or areas ~ from the Isle of Wight and East Sussex on the south coast, through Norfolk and Suffolk in the southern North Sea, up to East Yorkshire, Durham and Northumberland. In Scotland birds were recorded in Borders, Lothian and Angus, in Wales it was Pembrokeshire and Gwynedd while in Ireland, both counties Clare and Down registered Balearics this week too.
By the end of 8th, around 20 Long-tailed Skuas had been noted ~ the only multiples coming from a survey vessel in the English Channel (four birds noted off the ship on 7th), St. Mary's Island in Northumberland (three there on 6th) and from Bridges of Ross (two there on both 7th and 8th). All others were singles, noted from Suffolk to Fife, Lothian and Aberdeenshire.
A wet and windy 10th saw the hoped for heavy movement of seabirds through the southern North Sea falter to a large degree, but the week's total of some 20 Long-tailed Skuas was enhanced by a further 28 or so, including seven past Gibralter Point NNR (Lincolnshire), five off Tynemouth (Northumberland), up to seven around the coast of Norfolk ~ with six reported through the day off Sheringham, along with two juveniles at nearby Cley and another was off Hemsby, three off Long Nab, Burniston (North Yorkshire) Singles were also noted at Druridge Bay (Northumberland), Hornsea, Spurn and Flamborough in East Yorkshire and Tankerton in Kent.
Pomarine Skuas were (give or take) four times as numerous as Long-taileds ~ 77 recorded by the end of 8th, with the spread of locations taking in the east coast from Suffolk to Aberdeenshire, along the south coast from Cornwall to Kent and on the west coast through Wales to Clare and around to Antrim and up to Dumfries & Galloway. Maximum scores were six off Whitburn (Co. Durham) on 5th and five each for Flamborough Head (East Yorkshire) on 6th and St. Abb's Head (Borders) on 7th. A further nine or ten were seen along the east coast on 10th.
Bridges of Ross clocked up two Sabine's Gullson 4th with singles following at Gairloch (Highland) on 5th, Flamborough Head on 6th and on 7th, birds were reported from Whitburn, Tynemouth, on the beach at Lough Foyle (Co. Derry) and in Smerwick Harbour (Co. Kerry). The only bird of 8th was a juvenile off Porthgwarra while on 9th singles were noted in Pembrokeshire, at Trewent Point and County Dublin, on Bull Island. The week ended with one through the Swale and Reculver (Kent) and also Spurn (East Yorkshire) on 10th.
Somerset was very much to the fore with an array of herons and similar things this week ~ new was a Purple Heron reported heading east across the M5 (between Avonmouth and Clevedon) during the morning of 8th while a little further down the motorway, at Durleigh Reservoir, the Glossy Ibis was in place throughout the week until a trip over Meare Heath on 10th.
Nine Great White Egrets were counted at Meare Heath NR on 6th, with six at Shapwick Heath NNR on 9th (with five at Ham Wall RSPB on the same date). Away from Somerset, four birds remained at Minsmere RSPB (Suffolk) to 4th (with three there to 9th) with a further two in the county at Hazelwood Marsh on 5th. Two singles were still in Cambridgeshire (at Wicken Fen NT and Fen Drayton RSPB ~ both to 7th), while in Nottinghamshire a lone bird was continued to roam the county, appearing at Attenborough and Netherfield during the morning of 8th and down by the river, the Trent that is, on 9th.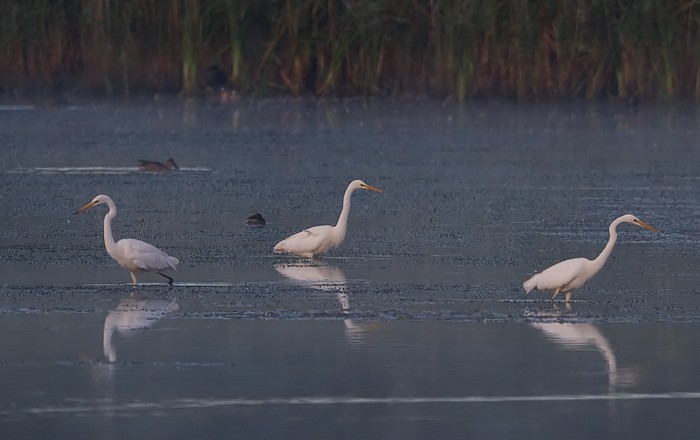 Further remnant Great Whites from previous weeks were still at Dungeness (two present there on 8th), on the Isle of Wight (again, two present there on 8th as well) and again at Wheldrake Ings YWT in North Yorkshire, while new were birds in Leicestershire, at Watermead CP and Cossington Meadow on 4th, in Dorset where one was reported off Portland Bill on 6th and back in Yorkshire, at Hornsea Mere on 8th.
Meanwhile, in the south of the latter county, the first-summer Night Heron remained at Old Moor RSPB until 4th with late news of another, at Amwell (Hertfordshire) on 7th. A Cattle Egret was at Tetney Lock (Lincolnshire) on 7th-8th, but wasn't seen subsequently.
The Norfolk coast reclaimed the highest numbers of Spoonbills noted this week ~ 19 at Titchwell RSPB on 4th becoming one of the highest counts anywhere this year. Seven were at Cley the following day, while numbers at Titchwell fluctuated in low double figures until the weekend at least ~ with nine at nearby Thornham Point on the evening of 7th.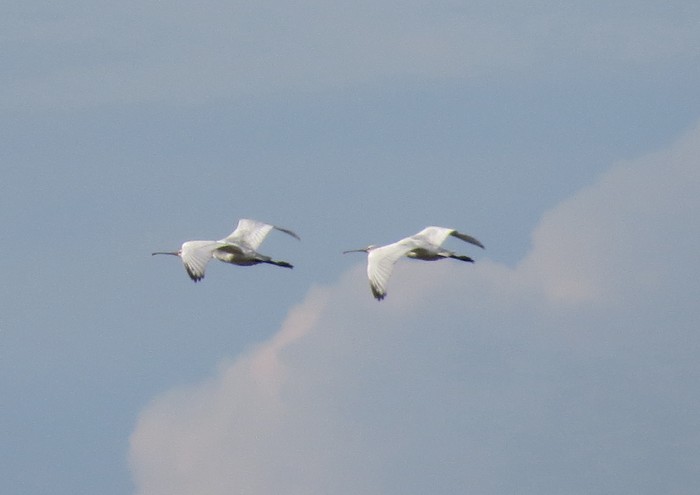 Eight birds were at Brownsea Island (Dorset) on 6th when five were still around Alkborough Flats (Lincolnshire) while just three were noted at Havergate Marshes in Suffolk on 8th. Two birds flew over Dungeness on 10th and in Devon, single Spoonbills were seen at Bowling Green Marsh RSPB and at Ashford on 4th and at Pottington, along the River Taw, on 6th. Further singles were at the WWT Wetlands Centre (Carmarthenshire) and Pagham Harbour (West Sussex) on 5th, Old Moor RSPB to 7th and West Canvey Marsh (Essex) on 10th.
The sole representatives for Common Cranes this week were (initially) three birds again at Welney WWT (Norfolk) on 5th and 7th with (presumably) a further three over the other side of the Washes border, at Ouse Washes RSPB (Cambridgeshire), also on 7th. Then came singletons on the Rogerstown Estaury (Co. Dublin) and over Elton Reservoir (Greater Manchester) on 9th, then at Ballyhaunis (Co. Mayo) on 10th.
In another strong week for Spotted Crake, ten birds were noted across the past seven days ~ most of which were actually birds from last week but three new arrivals were found too. Fresh in to Warwickshire, at Napton Reservoir, on 4th came the county's second Spotted Crake in just a few days ~ the bird found at Ladywalk NR was still present to 8th (with the individual at Napton present to 5th). Also new were singles at Wilstone Reservoir (Bedfordshire) on 7th-9th, Cliffe Pools RSPB (Kent) on 8th-9th and Lower Farm GP (Berkshire).
Elsewhere in Kent, a Spotted Crake lingered at Grove Ferry with others still at Eyebrook Reservoir (Leicestershire), Netherfield Lagoons (Nottinghamshire), Ynys-hir RSPB (Ceredigion) and East Chevington NWT (Northumberland).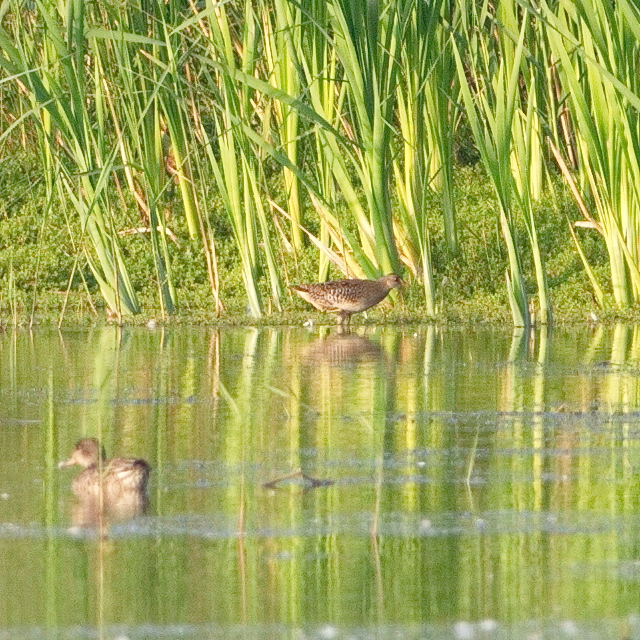 It has also been another tidy week for migrant Corncrakes too ~ one was on Fair Isle on both 4th and 5th with singles on Brownsman Island, Farnes on 6th, on 7th, at Sammy's Point, near Easington (East Yorkshire), Portland Bill (Dorset) and Land's End (Cornwall) and on 8th in the Sheepcote Valley (East Sussex) and Skomer Island (Pembrokeshire).
On Achill Island, off the coast of Mayo, the drake Black Duck that appeared in the third week of August (on the current haunt of the Pied-billed Grebe, Srhuillbeg Lough) repositioned itself to Lough Doo from 7th.
The eclipse drake Lesser Scaup continued to draw people to Pennington Flash CP (Greater Manchester) throughout the week, while two of last week's four drake Ring-necked Ducks remained in to a new review period ~ the bird at Bishop Middleham (Co. Durham) present to 7th while the bird at Dunbar Quarry (Lothian) was still around to 9th.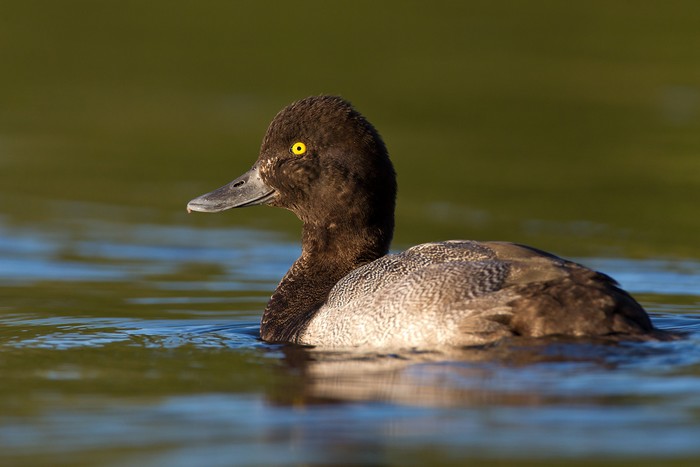 Both the juvenile female and adult male Ferruginous Ducks continued to find the vast expanse of Chew Valley Lake to their individual tastes for a few more days this week ~ both "she" and "he" was around to 9th.
In Scotland, at Clyde's Frakenfield Loch (not far from the majestic Fags, Mags and Bags hometown of Lenzie....check it out Radio 4, Thursday 6.30pm...), an eclipse drake Blue-winged Teal was found on 7th and was still there the following day and on to 10th. It seems highly likely that this could be the very same drake that has been seen not far away, at Bridgend Farm Pools sporadically since September 2011. In Co.Limerick late news on 4th of an adult drake present on 3rd at Coonagh.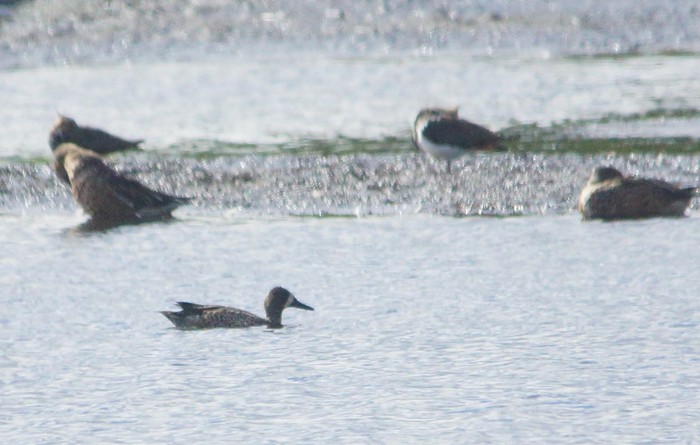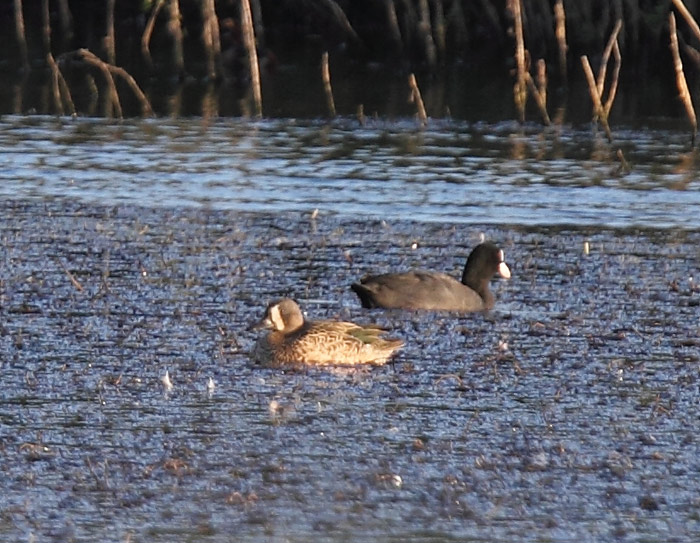 Surf Scoters
this week included the drake that remained in the Sound of Taransay, Harris (Outer Hebrides) to 6th and three birds (a drake and two ducks) off Blackdog on 8th.
Adding to last week's superb early autumn of 13 birds came a further six or seven new Semipalmated Sandpipers ~ with three for England, at least two for Scotland, and two more for Ireland too.
England's three fresh arrivals were found at Hampshire's Keyhaven Marshes on 6th, Cornwall's Marazion on 7th and Kent's Dungeness on 10th. Scotland's newbies, both juveniles, were found on Tiree (Argyll) on 6th ~ at Balephetrish and Gott Bay, with the latter still present the following day. Another was reported from Ardvule, South Uist on 9th. while the latest new birds in Ireland were found in County Mayo, at Louisburgh, also on 7th and in Wicklow, at Blessington, on 9th-10th .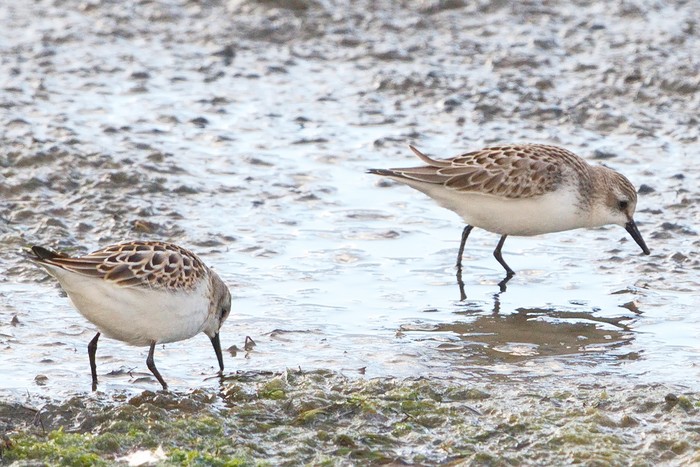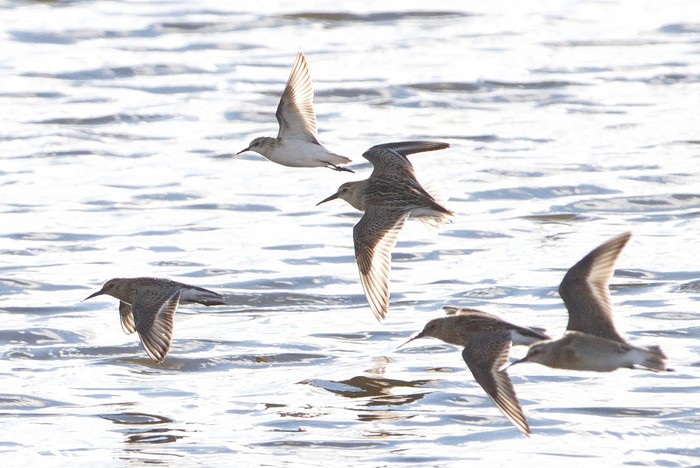 Two of Argyll's four previous records of Semipalmated Sandpiper have come from Gott Bay (within a four day period between September 6th-9th ~ I'm diggin' that symmetry thing again…), with the county's only other records also falling in the same week in September 1999, different juveniles at Loch Gruinart between 9th-11th.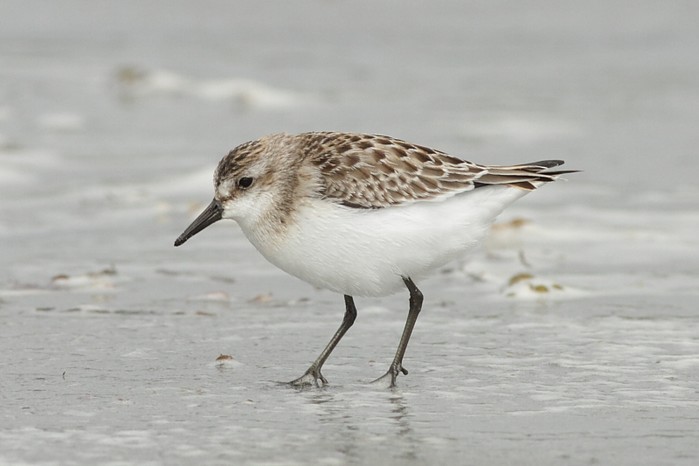 Hampshire also has four birds on the county list prior to this week's new arrival ~ and Keyhaven (like Gott Bay) has scored two of the previous four (in September 2011 and July 1994) with Farlington and Pennington claimimg the other two to date (in September 1995 and September 2006 respectively). Nearby in Kent, birders there have only had two chances of the species before now ~ a six-day adult at Elmley in July 1984 and a one-day bird in the epic autumn of 2011.
Cornwall has 10 accepted records since the first was found on the Hayle Estuary in September 1978 ~ indeed eight of the ten records so far have appeared in September, with two for October. Mayo too boasts a figuire of 10 accpeted records, but Ireland's most rugged and glorious county has hosted 16 birds ~ including a monster 11 in 2011, with three twos and a four (at Srhuill Lough) boosting the haul. Wicklow's Blessington bird is though a county first.
The running total currently stands at 20 ~ and with a distinctively Westerly vibe coming along in the next week or two (if long-range forecasts are to believed) that haul from 2011 could be under threat.
At least two Semi-P's remained at Tacumshin at the start of the new review period while, back in Mayo, the adult at Aughinish Island was still around to 7th at least. In Dorset, the juvenile popped up again at Abbotsbury on 4th-5th while the adult captured so nicely by Richard Crossen last week on the Gann Estuary (Pembrokeshire) remained to 5th having had a little company from another baby Nearctic traveller the previous day...
...and that came in the form of a juvenile Lesser Yellowlegs that spent a few hours on the Estuary on 4th ~ departing just before 7pm (and it may well have been noted heading over Skokholm earlier in the morning too). Elsewhere in Wales, the adult remained at National Wetlands Centre WWT (Carmarthenshire) to 9th and one was found at Dawlish Warren (Devon) on the same day.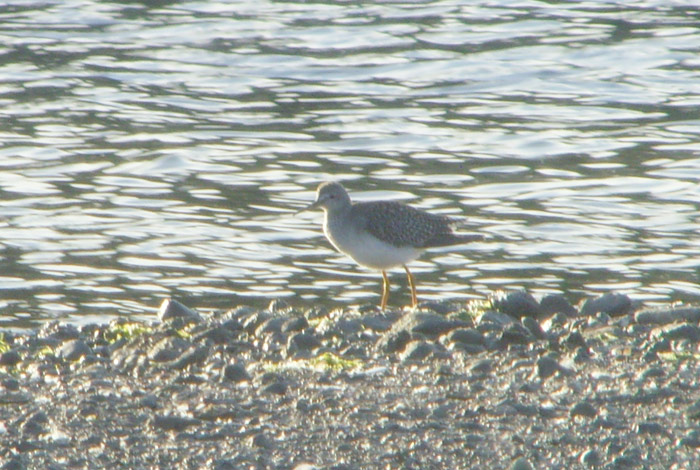 Seven new Baird's Sandpipers were found over the past few days, two of them on 5th ~ an adult at Ballyferriter (Co. Kerry) and a juvenile at Loch a'Phuill, Tiree with the third at Davidstow Airfield (Cornwall) on 7th-8th (along with a White-rumped Sandpipers in a mirror-image of the double occurrence at Stithians in the autumn of 1988).
Baird's number four, another juvenile, spent seven mid-morning minutes on the Wash, at Snettisham RSPB (Norfolk) on 8th before departing. Number five was found on the beach at Annagh Head (Co. Mayo) on 9th and then on 10th, two were found together at Stoneybridge on South Uist.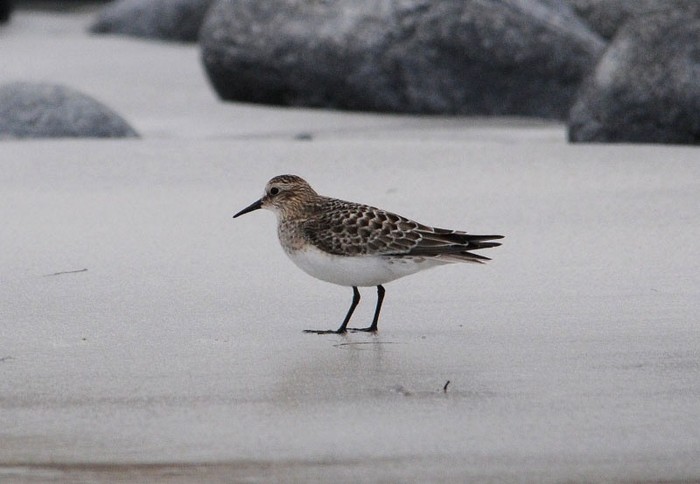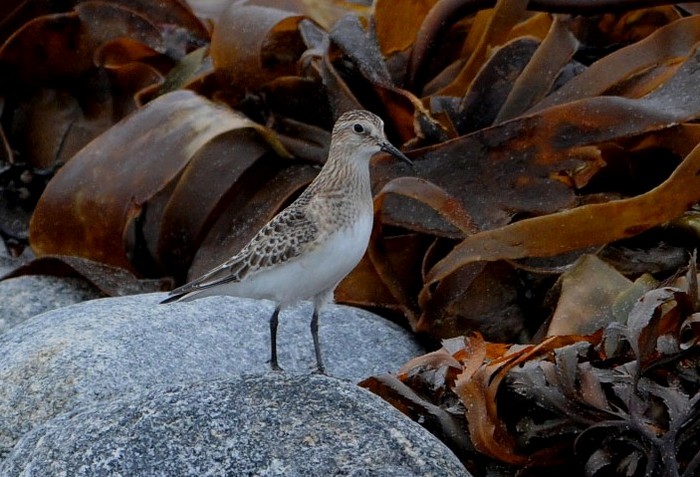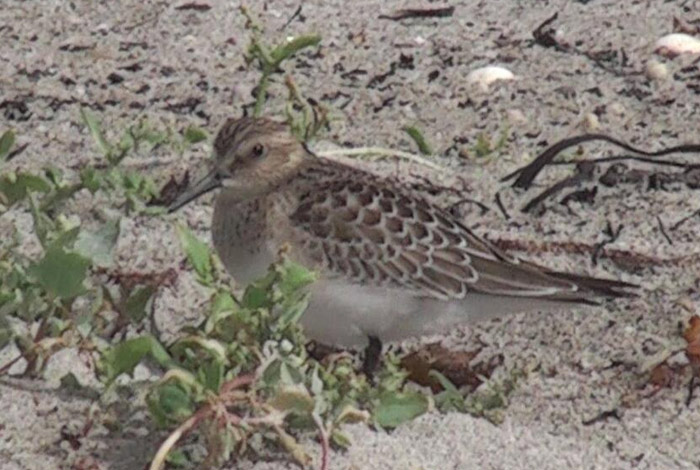 Three lingering White-rumped Sandpipers remained in to this week ~ at Blanket Nook, Lough Swilly (Co. Donegal) and the Swords Estuary (Co. Dublin) to 4th and at East Chevington (Northumberland) to 9th, while the only new bird is mentioned above (birders at Davidstow on 10th also noting a probable Semipalmated Plover there, which flew off early morning ~ a suppressed SEPL was reported to have stayed for several days at the same site last autumn too…)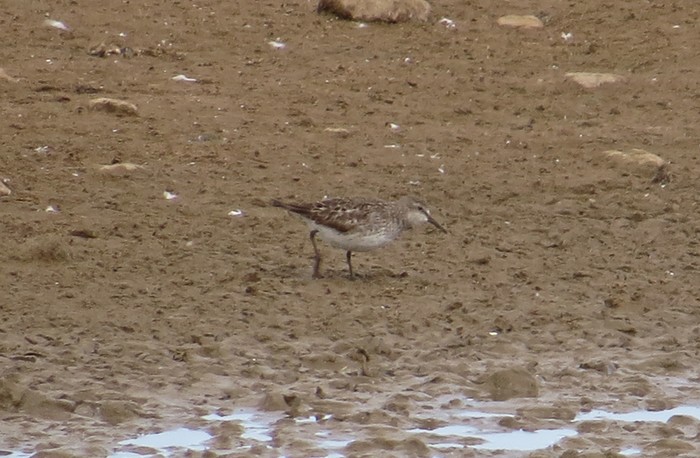 County Derry welcomed a new juvenile Wilson's Phalarope on the afternoon of 8th ~ found at Lough Beg it will become the sixth record for the county, five of them recorded at this week's site, while another leggy shorebird reappeared at Keyhaven Marshes in Hampshire ~ the Long-billed Dowitcher back again on 9th (having last been seen there on August 23rd).
The run of new birds in hot-foot from the Atlantic included adult American Golden Plovers on Tiree, at Sandaig on 5th ~ with the autumn's first juveniles on the island at Ruaig and Greenhill on 9th ~ with a new adult at Middleton on the same day) and also at Tacumshin (Co. Wexford) on 7th and Sennen Cove (Cornwall) on 9th-10th. Last week's adult on South Uist, at Loch Bornish, remained to 4th and on nearby Benbecula, a new bird on 10th took the week's haul of fresh arrivals to seven. Over in East Yorkshire, a "Lesser Golden Plover" flew over Kilnsea on 8th, but managed to evade a specific shout…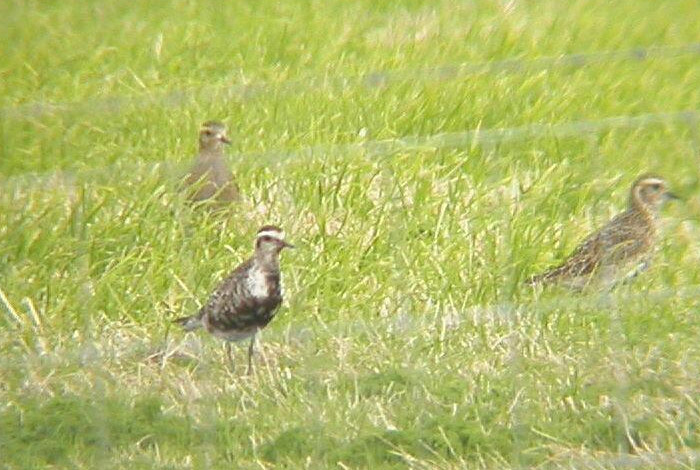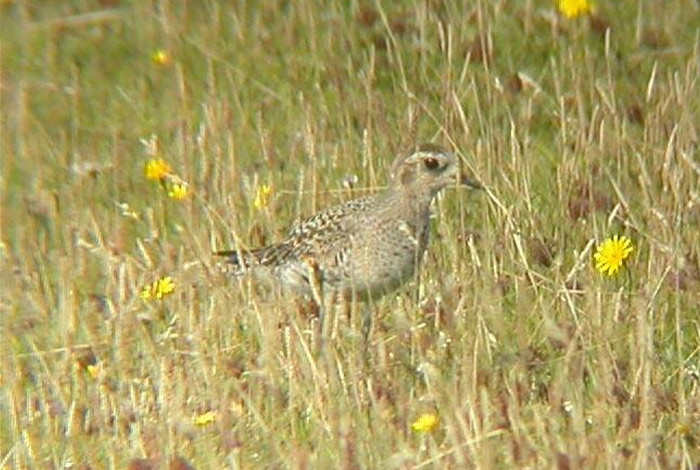 One of the big winners this week was Buff-breasted Sandpiper with up to 16 new birds appearing and all of them (unsurprisingly) with a decidedly westerly feel to their locations.
Bird one this week came to Saito, near Hermaness on Unst (the same outcrop that was perched upon by many a birding behind as we all gazed down the dizzying cliffs to view the wonderful Black-browed Albatross all those years ago) and was followed by the first of up to seven birds around the Outer Hebrides, this one at Loch Bornish, South Uist on 5th. This was followed by two at Northton, South Harris and one on North Uist on 6th and up to three on South Uist on 7th ~ at Bornish Machair, Kilaulay and West Loch Ollay.
A Buff-breast was reported from Davidstow Airfield on 7th while the following day saw half a dozen make landfall ~ two juveniles were on the airfield at St. Mary's (Scilly), three singles were discovered in Ireland (on the Rogerstown Estuary in Dublin, at Mweenish Island in Galway and over Shanagarry in Cork) while a brief encounter was had on the Ribble Estuary (Lancashire) ~ less than 15 late-lunch minutes on the clock before the bird skedaddled. Helpfully though, it was back on site the following day. Not wanting to miss out, Tacumshin then landed a juvenile on 9th to take the tally to 16.
Numbers of Pectoral Sandpipers shot up too as the Nearctic influence took hold ~ up to 17 were found around Scotland, including two in Clyde through the week and up to four or five on the Outer Hebrides on 9th alone (at least three had been seen earlier in the week around the Uists too). Other singles included finds out on the Ardnamurchan Peninsula (Highland) on 7th and also on Tiree, as well as Shetland's Foula.
Eight birds arrived in southwest England, with four in Cornwall (two of them at Siblyback Reservoir on 6th) and two on the Devon border at Upper Tamar Lake on 7th. Four singles were seen in Northumberland while three were together at Idle Valley NR (Nottinghamshire) from 5th (and two singles were noted around the county on 4th-5th, at Misson and Kilvington). Another inland bird was uncovered at Paxton Pits NR (Cambridgeshire) on 8th while one was at Leighton Moss RSPB (Lancashire) on 9th.
In Ireland, at least nine further Pecs were found, with four together at Wexford's Tacumshin on 10th with two on Galway's Lough Corrib while two singles were in Cork and another in Sligo.
By comparison Temminck's Stint managed a miserly two ~ one was at Letham Pools (Fife) on 7th-10th with the second found at Nosterfield NR (North Yorkshire) on 8th-10th.
Five single Dotterels were noted this week ~ one flew over Soar (Devon) on 5th and the same day saw another found at Ynyslas (Ceredigion). The following day saw one arrive at Myroe Levels (Co. Derry) with another at Bockhill Farm (Kent) on 7th-8th. The final bird of the week stopped briefly at Hatfield Moors, South Yorkshire on 10th before heading off south south-west.
In the east Midlands, a juvenile White-winged Black Ternwas a popular weekend attraction at Attenborough NR from 5th-9th ~ the first in the county since July 2004 ~ while another juvenile was a brief visitor to Gormanstown Strand (Co. Meath), also on 5th, potentially the third county record, following two adults at Lough Owel in May 2004 and a juvenile at Gormanstown in September 2011. There's also every chance that the Meath bird was the same as the juvenile seen recently in nearby County Louth.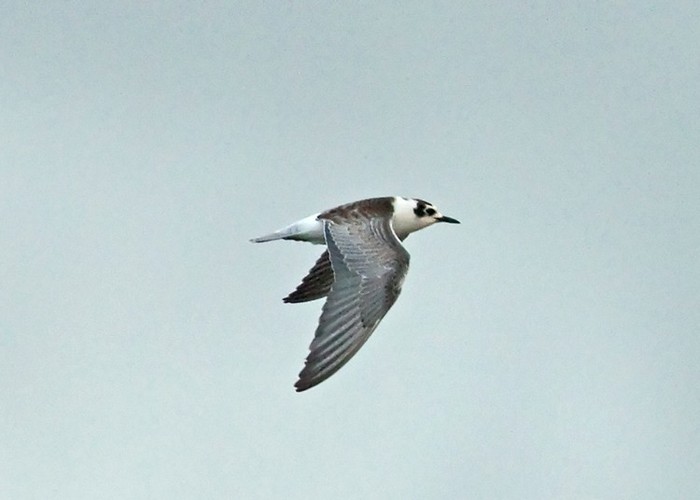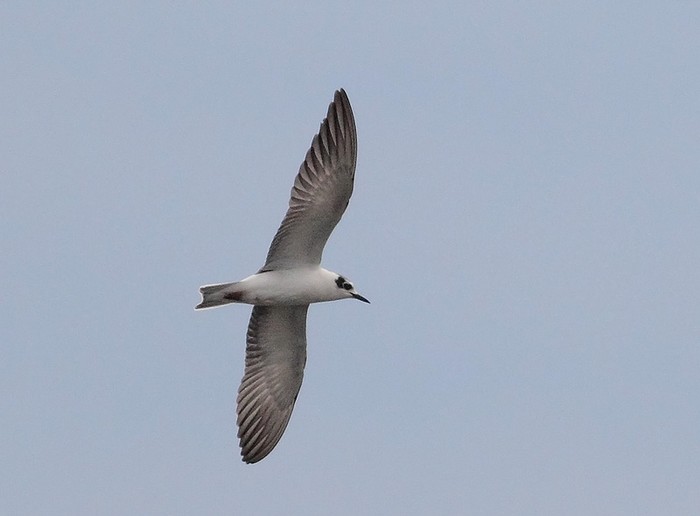 A new Ring-billed Gullwas at Barrow in Kerry on 9th when a second year was still at Blennerville. In Highland, the adult was again in Dingwall on 5th.
One of the most surprising birds of the week was the grey Gyr seen flying past Brandon Head (Co. Kerry) on 8th ~ the most recent of the 12 accepted county records to date was also a grey morph, a bird that spent nine April days in the Brandon Bay area in 2005. September has provided 21 previous records of this much-admired raptor, but there hasn't been an accepted one for 30 years ~ since one along the Spurn Peninsula in 1983.
In Berkshire, a juvenile Black Kite was seen at Lower Farm GP, near Greenham Common, on 6th while the only Montagu's Harriers this week was a juvenile that passed through Trimley St. Mary (Suffolk) on 8th and a ringtail noted at Sandwich Bay (Kent).
Honey Buzzards mustered around 12 birds this week ~ on 4th, singles were seen at Maltby (South Yorkshire), St. David's (Pembrokeshire), Shepperton (Surrey) and at South Milton Ley (Devon) and they were followed by three birds on 5th including two singles (one early, one late) at Abbotsbury (Dorset) and another over Ipswich (Suffolk). After a blank 6th, a lone bird was reported from Sidcup (London) while 8th saw birds noted near Loftus (Cleveland), Grove Ferry NNR (Kent) and in Derbyshire, at Carr Vale NR. The week ended with one at Thurlestone (Devon) on 9th and Bury Down (Berkshire/Oxfordshire border) on 10th.
Back over in Ireland, to top and tail Raptor Roundup, we go to Donegal's Arranmore Island where the male Snowy Owl remained above the Two Lakes area until 6th at least.
As has been the way recently, it is a pretty tough call to know where to go first in terms of passerines….lots of strong contenders to lead the way, some rarer than others, but we like warblers here, so let's start there...
It has been a pretty tidy last couple of weeks for Western Bonelli's Warbler ~ after two during the big fall weekend (in Norfolk and Kent) a further three were found this week, the first of which added another one to Norfolk's growing tally.
Found in brambles just to the west of the old seawatching hut site, near Great Stony Low on Blakeney Point on the damp evening of 6th, this becomes the first Western Bonelli's in the famous Cley square of TG04 ~ the bird of May 14th 1988 was actually only accepted as a Bonelli's sp., .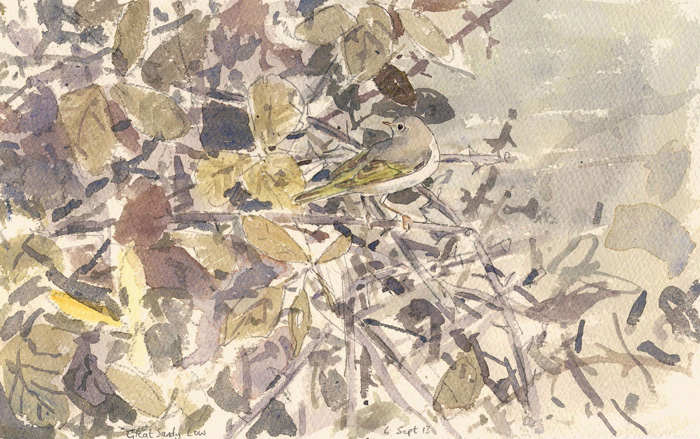 To date, Norfolk has 11 accepted records of Western Bonelli's Warbler (not including this year's two of course), with four accepted Bonelli's sp., . That first Eastern feels long overdue.
Western Bonelli's Warbler number two was found at Virkie on the Shetland mainland on the morning of 8th while the third followed later the same day on Pembrokeshire's Ramsey Island ~ a great find and one that will become only the third county record of the species following on from one on St. David's Head in October 2011 and, Britain's first, a female trapped and then killed on Skokholm on August 31st 1948 ~ things were rather different back then….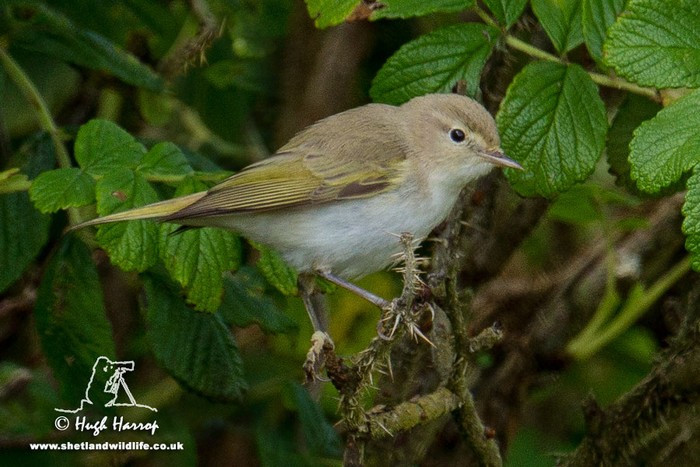 Also coming in a mob-handed this week were four Arctic Warblers, but rather than spread themselves from Shetland to Norfolk and Wales, they all decided to pop up on Shetland, with all bar one making a beeline for Fair Isle.
Three different birds were seen on consecutive days on the island ~ the first was trapped and ringed at the Gully trap on 4th and was followed by an unringed bird up at the North Light on 5th with the 6th providing another new arrival at Pund. The fourth bird was found on Mainland, at Maywick on 5th.
Up until the end of 2011, Shetland had amassed 170 records of Arctic Warbler ~ over half of the overall accepted total for Britain and Ireland. Annual numbers have been pretty consistent over the past four years ~ 10 were seen on Shetland in 2009, with 11 in 2010, 7 in 2011 and 9 in 2012. So far, in 2013, there have been five ~ this week's four and a summer bird on Whalsay in late June.
By contrast to the pulse of borealis this week, the rather more demure wing-barred cousin, Greenish Warbler could manage just a single record, one remaining on Unst, at Skaw, until 5th.
Back over to Fair Isle, where the first Blyth's Reed Warbler of the autumn was trapped and ringed on 7th ~ the fourth on Shetland this year so far. There have been 60 records around the islands up until the end of 2011, with 43 of them coming since the start of the 2000's.
Also still hanging around on Fair Isle was the male Western Subalpine Warbler who seemed to be still enjoying his current island surroundings, present there until 8th at least while at least two Icterine Warblers were noted there on 4th-5th. The only other Ickys this week was on an island at the other end of the country ~ on St. Mary's (Scilly) on 7th with perhaps two there on 9th.
The only Marsh Warbler was trapped and ringed on North Ronaldsay (Orkney) on 7th, with the first of the week's 12 Barred Warblers also present there on 5th. The same day saw two birds drop in on Fair Isle, with another reported from Wanstead (London). On 6th, a single bird was seen at Vaul, on Tiree (Argyll) and the following day saw two individuals arrive in Lothian, at Barns Ness and Skateraw, along with further singles in Cleveland (at Seaton Carew) and on Scilly (at Porthcressa on St. Mary's). Two more followed on 8th, on Skokholm (Pembrokeshire) and Unst (Shetland) with one on Fair Isle on 9th.
Then, rounding off all things warbler-wise, sneaking in on the last day of the review period, nipping in to the north fo Shetland, the autumn's first Yellow-browed Warbler, seen on Unst on 10th.
Another species that has fared very well in the past two weeks is Citrine Wagtail ~ 19 recorded in those 14 days ~ and the running total for autumn 2013 went up by a further three this week.
First up, a first-winter at Windmill Farm CBWPS on the Lizard, from 4th-8th which was followed by another Cornish bird at Marazion Marsh RSPB on 10th ~ the second for the site within three weeks. In Wexford, at Cahore a Citrine Wagtail was seen on 7th with Shetland getting in on the act again with one at Skaw, Unst on 8th with it or another over Norwick on 9th. Down at the southern end of the Shetland mainland, the first-winter remained around the Virkie willows until 5th. We're now up to a minimum 22 and counting…Shetland then rounded the week off with a Little Bunting on Fair Isle on the morning of 10th.
Flocks of Ortolan Buntings are a precious, rare commodity in this day and age, so the four that made a flying visit through the Top Fields at Portland on 5th must have felt like a true "blast from the past". Further sightings around the Portland recording area through the rest of the week included one on 6th, up to three at Suckthumb Quarry on 7th with another at Helen's Field on the Bill itself. Elsewhere, one was found at Whitminster (Gloucestershire) on 8th when another appeared on the airfield on St. Mary's. What may have been the same bird was then seen on the Porthcressa side of Penninis Head on 10th.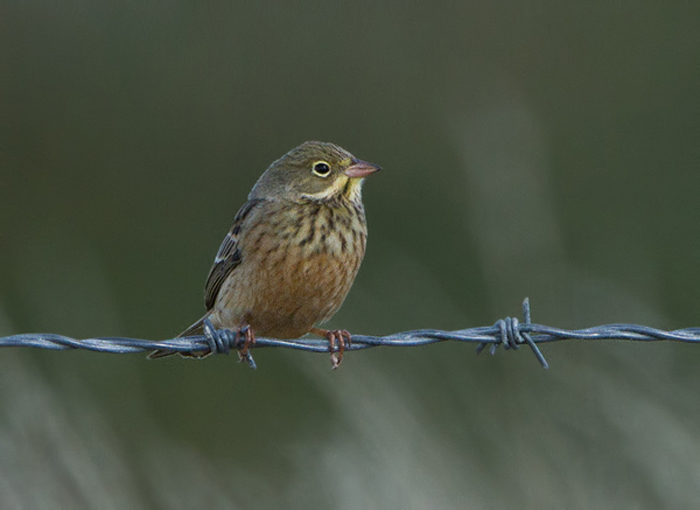 A Thrush Nightingale (or a very good look-a-likey) proved to be an elusive skulker on Holy Island (Northumberland) on 7th while a Tawny Pipit spent a little time at Rye Harbour NR (East Sussex) on 5th and a Richard's Pipit flew west over Wark (Northumberland) on 8th ~ there's not too many of those this year…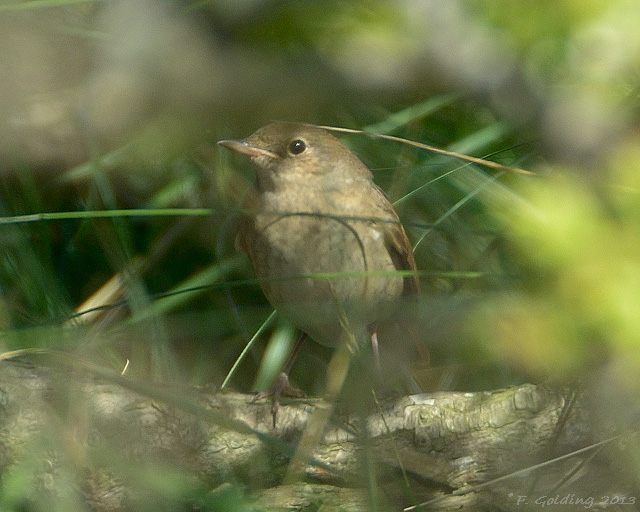 After two outstanding showings in the last fortnight (125 and 88 the respective totals) Wryneck numbers dropped by over half the latter figure to some 42 birds this week, with the far southwest of England faring best with 16 birds recorded from Dorset to Scilly with six in Dorset itself (including two at Hengistbury Head on 5th and again on 10th), three were in Somerset and Devon, while Cornwall and Scilly had two each.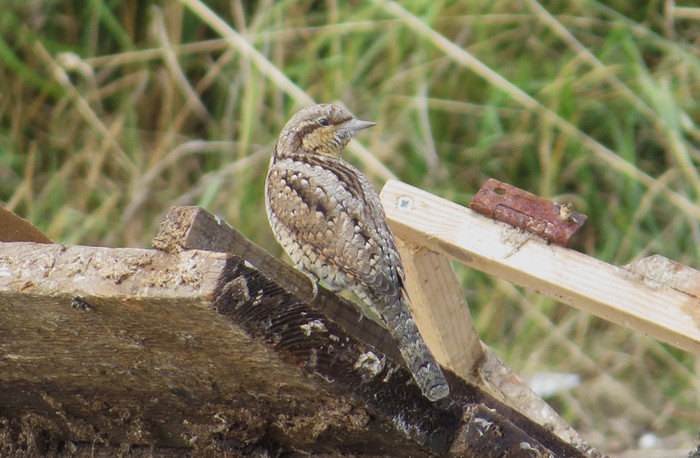 Next came southeast England, eight birds there including one at Wanstead Flats (London) from 6th-9th, eight were seen in the northeast, with as many as four around the Spurn Peninsula, at least three were in Wales, two were in East Anglia (one each for Norfolk and Suffolk) while Ireland's first of 2013 was on Mizen Head (Co. Cork) on 4th.
Another species which, like Wryneck, has fared well in the past couple of weeks is Red-backed Shrike and this week, just like the former species, there was a tailing off of records, with 20 birds noted countrywide. There were five in Scotland and the southeast of England, including four in Essex and the popular, wonderfully photogenic bird at Rottingdean (East Sussex), with up to four in the northeast (two each for East Yorkshire and Cleveland), four in the southwest and ones in East Anglia and Wales (on Skokholm).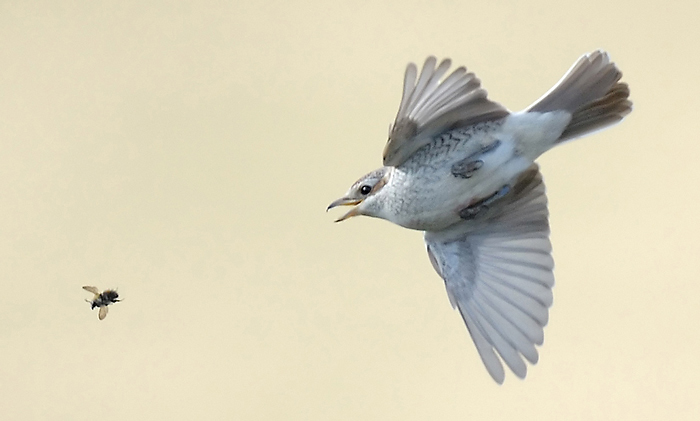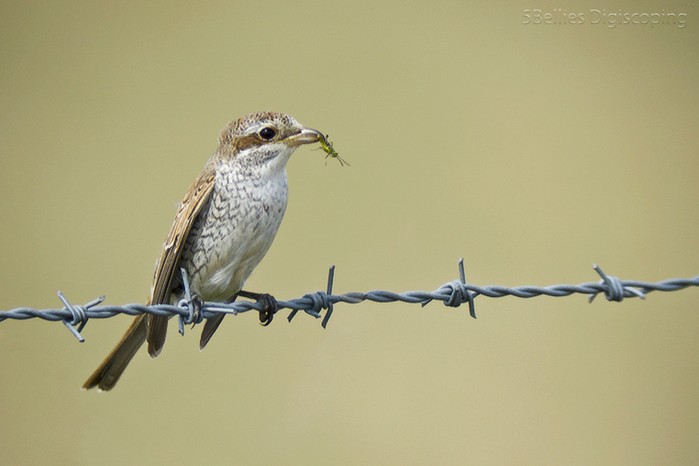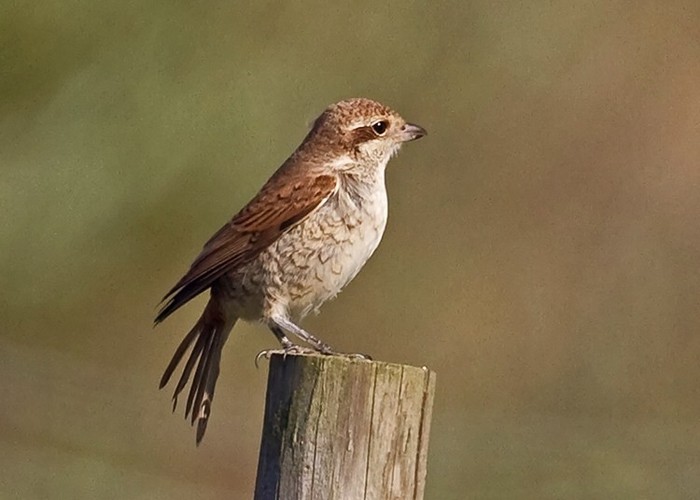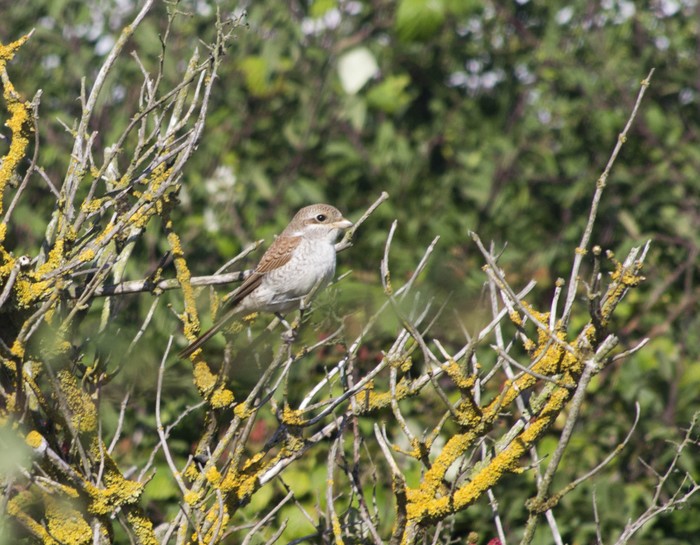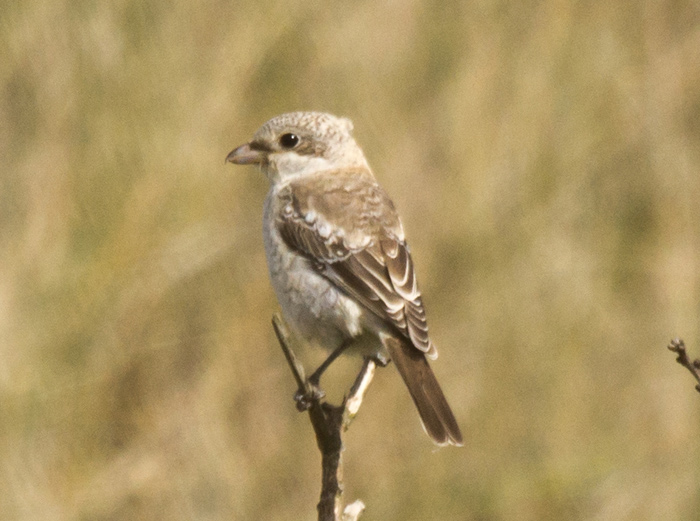 County Cork hosted both Red-breasted Flycatchers this week, at Galley Head and Mizen Head, both seen on 4th, with one of the week's 21 Common Rosefinches at the latter site on 4th too.
Shetland was, again, leading the way with Rosefinches though, with a minimum four on Out Skerries on 6th and Fair Isle on 8th with two singles on Mainland, at Virkie and Sandwick, with another on Unst across the weekend. Two more appeared as the week concluded at Exnaboe on 10th. Orkney managed at least two as well, both on North Ronaldsay on 4th.
Elsewhere, a juvenile Common Rosefinch at Wormwood Scrubs in west London was an outstanding find on 8th while more expected were up to four around Spurn, Kilnsea and Easington across the Migration Weekend held there, with singles at Seaton Sluice and South Gare (Cleveland) and Whitburn (Co. Durham) over the same period of 6th-8th. The final bird of the week was found "over the top" on Donegal's Tory Island on 9th.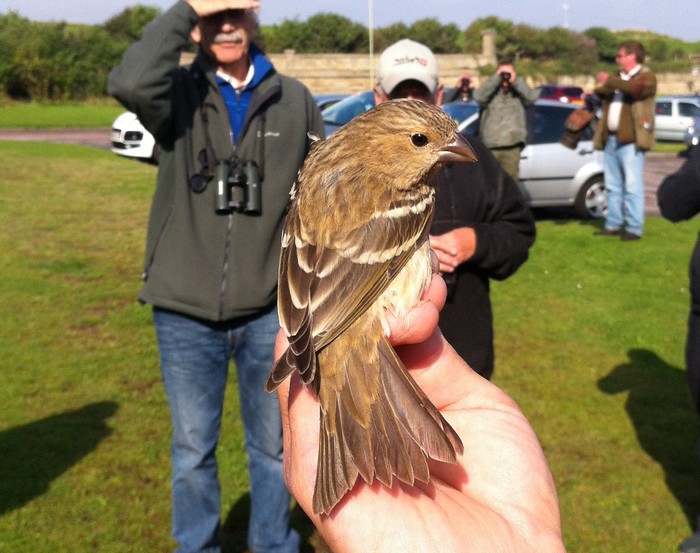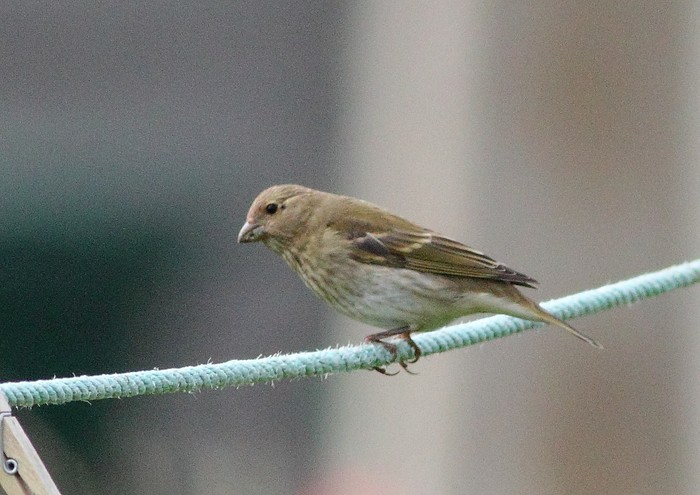 Looking a little lonely with nowhere really to go (in terms of where they sit in the round-up) are the two Red-rumped Swallows noted on 4th ~ one was seen near Sennen Cove (Cornwall) and another was reported from Hampshire, at Old Alresford. A third bird was reported from wires at Challacombe (Devon) on 9th too.
In Wales, the adult Rose-coloured Starling was seen again at St. David's (Pembrokeshire) on 6th and a juvenile was on Lizard (Cornwall) on 10th while the week draws to an end with the Broomhead Reservoir Two-barred Crossbills ~ three birds (a male, female and juvenile) still in place on 8th with five the next day, while a new bird, an adult male was seen in the Highlands, at Glenborrodale, on 6th.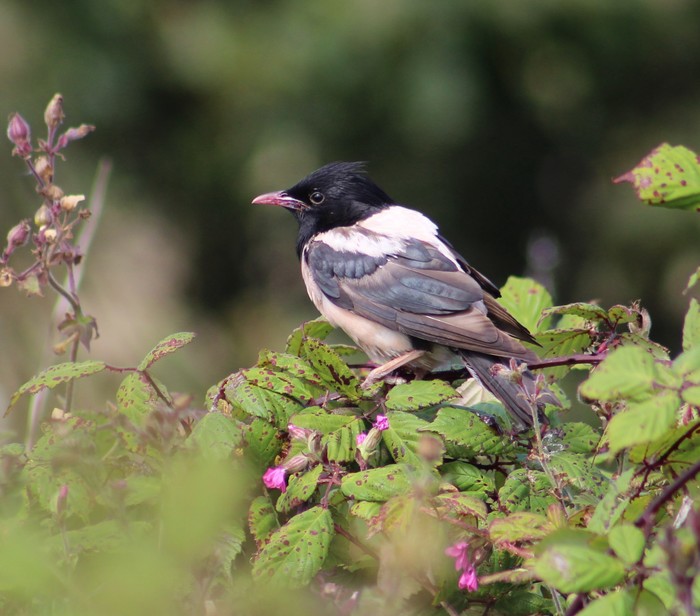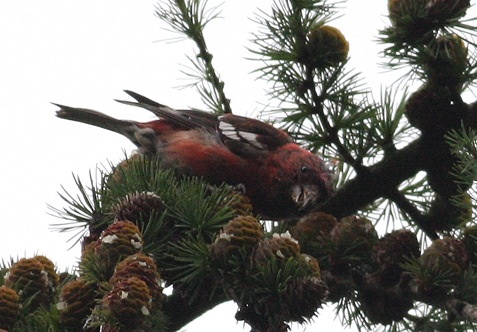 There we are then ~ another mammoth week done & dusted. The keen-eyed will have noticed that one of last week's featured birds did appear this week, though the Purple Martin rocked up 100 miles or so on the wrong side of the North Sea (at Katwijk, on the west coast of the Netherlands instead of, say, Minsmere) while it looks as though an interesting assortment of other "US" goodies may have also ventured across the Atlantic, with news of a Chimney Swift in Portugal on 4th, a probable Philadelphia Vireo in Norway on 6th and a Black-billed Cuckoo on Azores on 9th (23 years and counting since the last one of those here…) ~ it is a strong opening salvo from the west….a very strong opening salvo…
The weather, as it stands, suggests we could be on for more American or Canadian treasures in the next few days ~ historical top-billing goes to our only Summer Tanager on Bardsey from September 11th-25th 1957 and our most recent Blackburnian Warbler, chalk another one up to St. Kilda chaps, an unobtainable one there from 12th-14th September 2009. Almost as also-rans are Yellow Warbler, Northern Waterthrush and Black-and-white Warbler, while the four Common Nighthawks recorded between September 11th-17th are almost to be ignored (if you can possibly ignore this mega…). And the flood of shorebirds will get bigger and bigger too.
Eastern superstars shouldn't be ignored either, often they can sweep over the top of violent low pressures and flood in to the Northern Isles, so its a heads-up for them as well as the gairsh, colourful invaders from the west.
But, let's not forget that there is one bird that stands out, even amongst the illustrious compnay listed above ~ September 16th will be the 4th anniversary of the (select your own superlative here) Oare Marshes Tufted Puffin. Ranking as one of the most outstanding of all finds EVER here, if you go out and can beat that, you deserve a very big cake indeed. At the very least…

Mark Golley
11 September 2013

Special thanks this week to James McCallum for sharing his delightful watercolour of the Blakeney Point Western Bonelli's. Also many thanks to Pete Morris for permission to use his classic shot of the How Hill Black-and-white Warbler. Many thanks to the rest of this week's contributors for their photos and videos.
Steve Young, Alan Tate AA Bird Pix Will Soar, Ashley Powell, Graeme Duncan, Will Scott - Farne Isleands NT, Chris Griffin, Paul Thomas, Nocholas Brown, Neil Fox Paul Rowe, Ican Ellison, Pete Hines, Andrew Russell Thomas Tarpey Dermot Breen, Paul Kelly Irish Bird Images, Dave Astins, John Kemp, Dave Suddaby, Andrew Kinghorn, John Bowler, Roger Ridington. Paul Kelly, David Carr, Tony Davison, Hugh Harrop - Shetland Wildlife David Parnaby - Fair Isle Bird Obs Mike Pennington, Carl Day Martin Cade - Portland Bird Obs Frank Golding, Ian Curran, Gary Loader, Steven Spowart David Rounce, Peter Phillips Paul Lifton, Mark Stirland, Murray Wright