Weekly round-up: 21 - 27 August 2013
The week at a glance
Two more Fea's-type Petrels noted, both off the Irish coast
Summer adult Pied-billed Grebe appears again in Mayo
Aberdeenshire nips in with a Black-headed Bunting
South Yorkshire's mega flock of Two-barred Crossbills remains
…but the news is dominated by an outstanding late August east coast fall….drift migrants everywhere.
Hold the front page! This has been a week with no new Megas!
There's officially been no single distressing/exciting "bleep", buzz or parp from pagers or smart phones over the past seven days but that's not to say that this hasn't been a week jam-packed full of action…oh no, no, no, far from it….
It actually made a nice change not to be confronted with a screen full of outrageous birds ~ outrageous seabirds mainly ~ as the summer seems to have been dominated by one incredible pelagic record after another.
This was a week where there were no bostin' Petrels or T*op*c*i*ds to unhinge the frantic listers wallets or minds…
…it actually became a week in which we could finally shift away from what some would have as the greatest conspiracy theory since the Apollo Moon landings (the single image RBT initially widely "bootlegged" at the start of proceedings, not unlike a long-lost Grateful Dead gig).
That one photo promptly offered up more questions than answers (questions mainly asked by those "up the cliff") ~ "it doesn't look that low down or that close", "was that what the sea looked like that day" and they were quickly followed quickly by (from the rest of the twitching community) "how the flippin' flipper did 40 (or maybe 70, depending on who you believe…) observers manage to miss a bloody Tropicbird!".
Ahhhh, it was nice to have a couple of weeks away from all this! Still, there's work to be done and a whole heap of great birds, in excellent conditions, need to be detailed, so in the words of the Ramones….
"Hey! Ho! Let's Go!"
Headline birds - the drifters and the vagrants
Yes, here we are again then as the final full week of the month trundles merrily along to a pretty full-on conclusion…..and with such an awesome combination of fabulous fall weather and all the drift migrants and classic late August rarities you could possibly imagine, we'll do things a little differently this week….taking centre stage, some of those birds that began to surge across the country from the start of a very busy holiday weekend.
Citrine Wagtail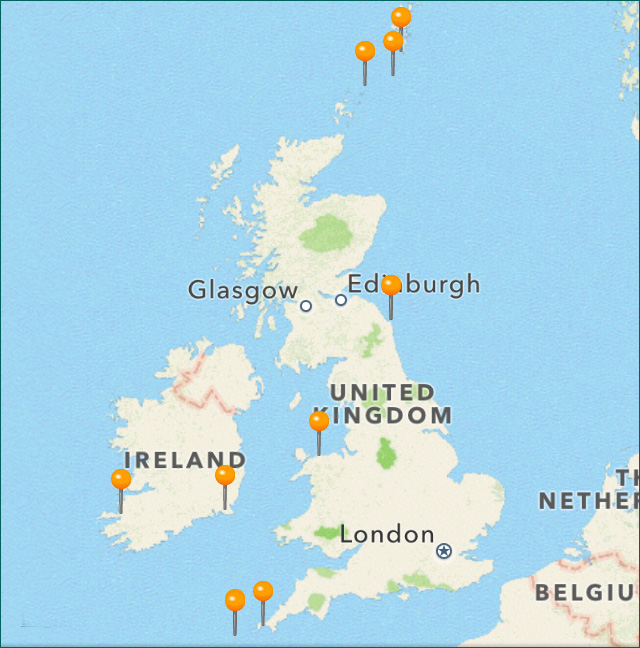 This was the species that was, pretty much the vanguard of the week's drift arrivals ~ eight new birds found between 22nd-24th following on from the still-present first-winter that remained on Fair Isle to 21st (having been collected ~ tho' thankfully not in the scientific sense ~ by a number of Petrel twitchers).
The week's crop began to grow following the appearance of four west coast birds on 22nd ~ the first was discovered at Conwy RSPB in north Wales and was followed by three birds in Ireland, where two were found at Tacumshin and one made it to County Kerry, appearing at Black Rock Strand (all three Irish birds still present to 24th, with the Tacumshin two still present on 26th).
Records of multiple Citrine Wagtails at the same spot at the same time are hen's teeth rare ~ a quick perusal of the record books shows just three previous occasions when the species has doubled up ~ the first was on October 15th 1966 at Dorset's Stanpit Marsh, the second was at Da Water, on Fair Isle, on September 27th 2007 and the third (and most recent occasion) was at….Tacumshin ('natch) on September 2nd-10th 2011.
Back to this week's haul and birds five and six were found on 23rd, on Inner Farne and Marazion Marsh RSPB, while number seven was found on St. Mary's (Scilly) on 24th with number eight making a brief appearance at Quendale (Shetland) on the same day. A bird on Tresco's Great Pool on 26th could well have been the St. Mary's bird and, whether it was or wasn't, the arrival of a second bird later that morning bumped up the overall tally by at least one more (and chalk another one up for the "Citrine double"). And that figure continued to rise (12 and counting) with new arrivals on North Ronaldsay, also on 26th and the second of the week for Inner Farne on 27th.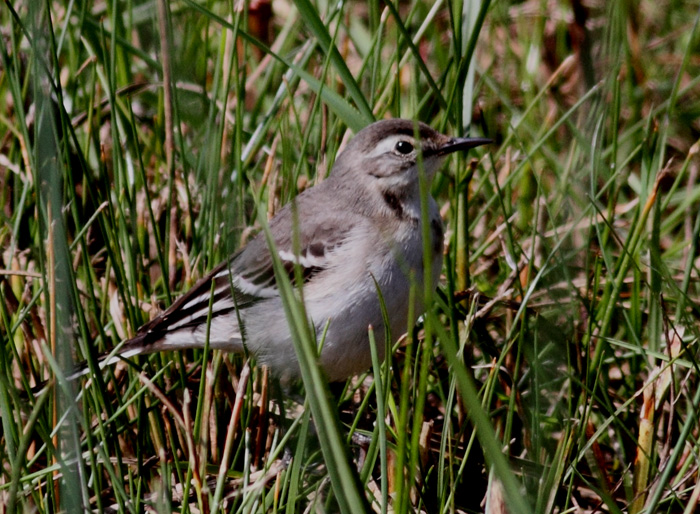 There have now been over 300 records of this supremely elegant and (where first-winters are concerned) beautifully subtle species since Britain's first was trapped on Fair Isle in September 1954. The same island registered the second to sixth records too, with mainland eventually seeing one arrive, at Minsmere, in October 1964.
Ireland's first Citrine Wagtail was found at Ballycotton (Co. Cork) in October 1968 and it has now been recorded in every year since 1966, a remarkable run.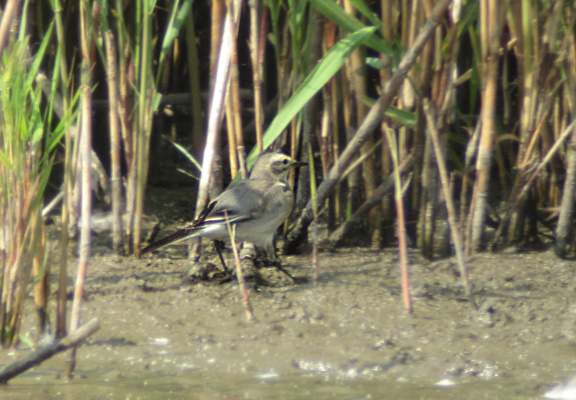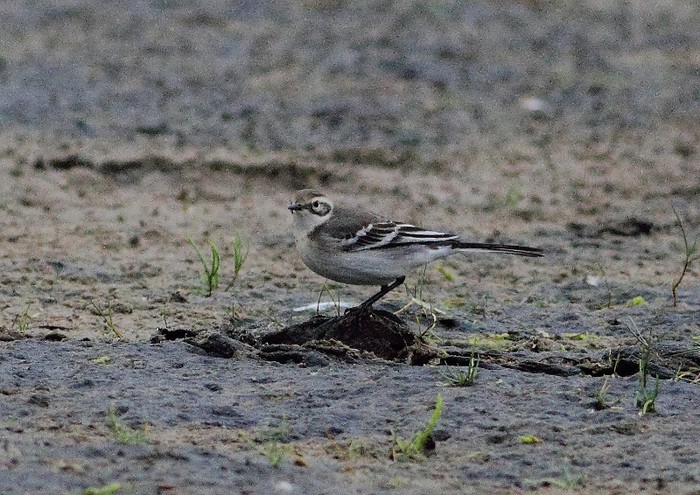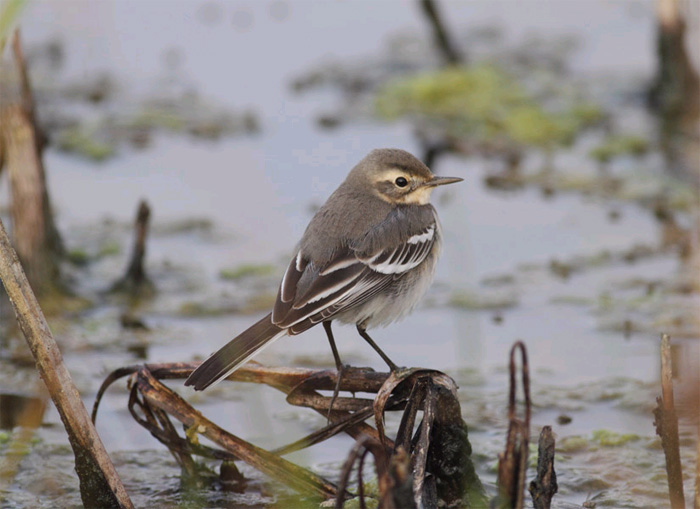 Interestingly, prior to the start of the 1990's (in the grand scheme of things, not that long ago), there were just over 50 accepted records on the list. A further 250 or so have been seen in the past 23 years, showing not only just how familiar observers have become with both young birds and spring birds too (males unmistakable of course….) but the numbers also suggest that the westward push in range continues at some pace.
Booted Warbler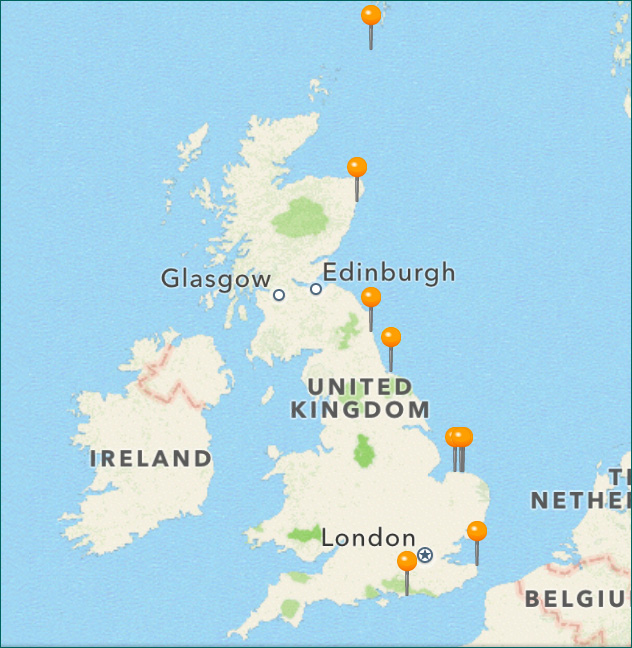 Significantly more unusual that the leader of this week's pack is Booted Warbler and three birds were found in the space of three days at the start of the review period. And they were just the start of it….
First up, a showy bird on Fair Isle on 22nd (there have been 12 accepted records on the island up until the start of 2012 ~ out of a grand Shetland total of 38) with further arrivals popping up along the east coast at Hadston Carrs, Druridge Bay (Northumberland) on 23rd-24th and then in Norfolk, along Blakeney Point, at Long Hills, on a hectic, frantic 24th.
The same county then notched up a second bird on 26th, when one was discovered in the dunes at Burnham Overy with a brief third on 27th near Stiffkey ~ assuming the last one wasn't the first one (having just "dropped off" Blakeney Point) it would an incredible trio in such a small section of the Norfolk coast in just four days.
Northumberland has four previous records of Booted Warbler ~ three on the Farnes (in 1990, 1996 and 2005) with another at Bamburgh in September 2010. Norfolk now has 11 on the books (eight of them in the past 10 years) and this week's bird is the fourth on Blakeney Point since the site's first (a singing male) was found there in June 2007.
Both Northumberland and Norfolk also have one record of the (still) crunchingly rare Sykes's Warbler ~ both of them August birds too ~ at Druridge Bay on 15th-16th August 2010 and at Sheringham on the afternoon and evening of August 23rd 2002. The next few days certainly have the potential for another to add to the seven August records to date….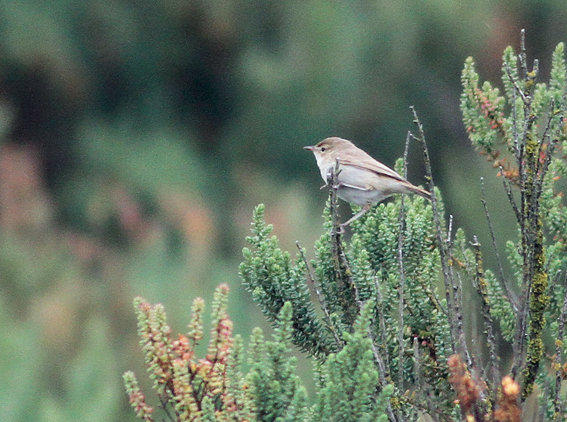 The next Booted Warbler of the week arrived at Drums (Aberdeenshire) on 26th ~ just the third county record and the first in almost 19 years (the previous two were seen in October-November 1993 and November 1994) and was followed by a further two on 27th ~ at Pegwell Bay (Kent) and Climping Beach (West Sussex).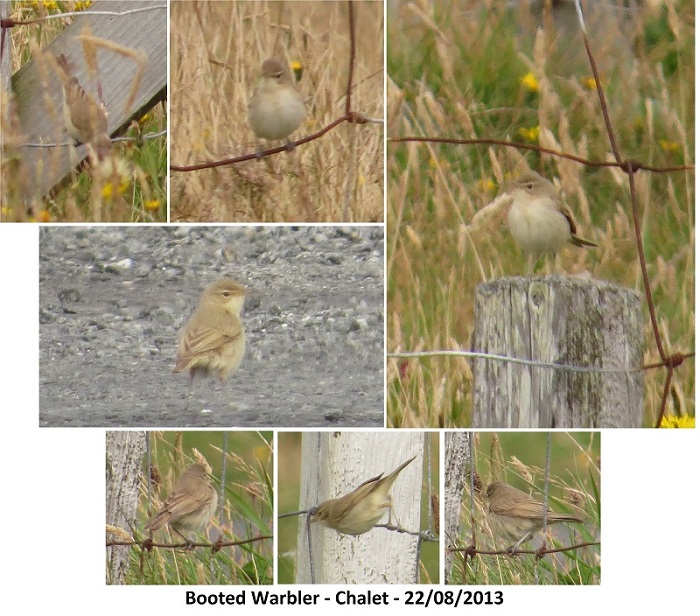 To date, there have been nine accepted records of Booted Warbler in Kent, the most recent appearing in August 2008, while Sussex has registered four birds prior to this week's individual, which is the first since two birds arrived at the end of September 1996.
The highest number of the species in a year came in 1993, when 13 birds were found, including seven in six days between September 14th-19th. If all this week's birds seen are submitted and accepted, the "eight in six days" will become a new record for Booted Warbler and we are game on for a record-breaking year for the species full stop. Let's see what the rest of the autumn brings…
Greenish Warbler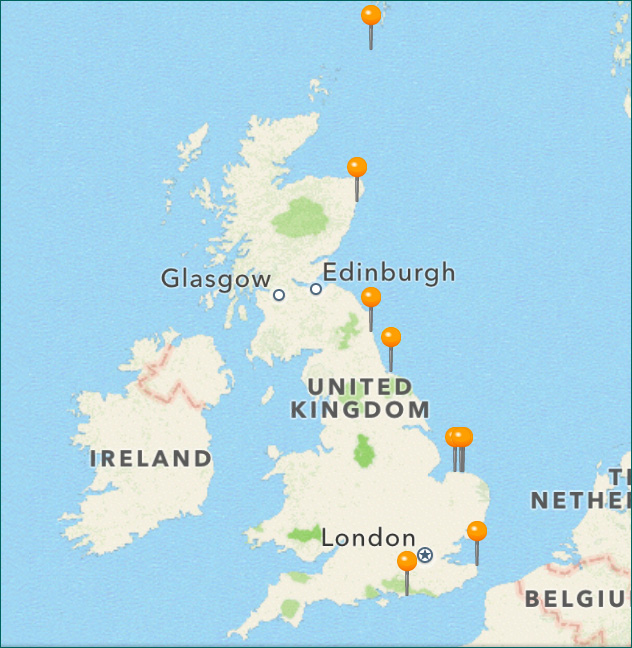 This is, arguably, one of the classic late August fall birds and with the weather being nigh-on-perfect for them as the weekend approached, it was a species that was obviously going to drop all the way along the east coast…
Between teatime of 23rd to the early afternoon noon on 25th, 26 birds had made themselves known and the track of birds in those three days was almost as classic as the conditions that brought them.
The majority of birds appeared on the Northern Isles and the far northeast of Scotland and then, slowly, birds managed to filter their way further south, appearing in the far northeast of England before dropping right down into East Anglia by Day 3.
Arriving first was a single bird on North Ronaldsay (Orkney) on 23rd, with four more appearing on the same day ~ on Shetland, at Ham, on Foula, and at both Sumburgh Farm and also Sumburgh Head on the Mainland with the fifth of the day at Girdle Ness (Aberdeenshire).
Seven birds were uncovered on 24th ~ and it was Aberdeenshire that fared particularly well, a further four birds noted near Collieston (a singing male), near Boddam, in Aberdeen itself (near the Bridge of Don) and out near Girdle Ness, at Loriston Country Park. Two Greenish Warblers made themselves known in Highland, at Tarbet Ness and Lybster while the Farnes bagged one out on the Brownsman.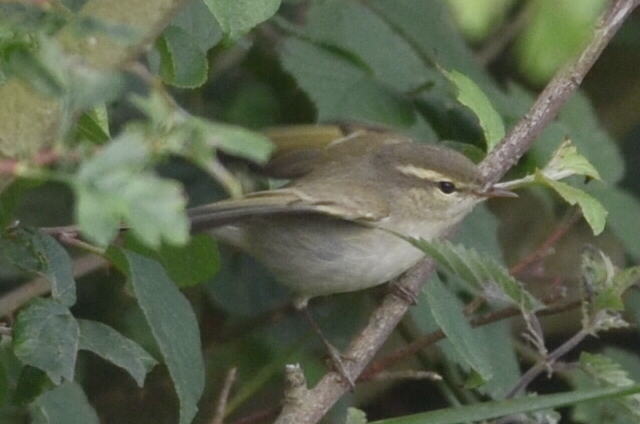 On 25th, Aberdeen's birders found their sixth and seventh Greenish of the weekend ~ a new individual was found at Loriston Country Park and another popped up at Blackdog. Further down the east coast came new arrivals at Tynemouth (Northumberland), Scarborough (North Yorkshire), Flamborough Head and Easington (East Yorkshire), Stiffkey Campsite Wood and Burnham Overy Dunes (Norfolk) with three making it to Suffolk as well, two found in Lowestoft, at the North Denes and Flycatcher Alley with a third at Corton. Shetland clocked up another four ~ two new ones were on Mainland, at Hoswick and Quendale, with the third on the day on Whalsay and the fourth on Out Skerries.
By the afternoon of 26th, the haul of this delightful Phylloscopus rose to 32 ~ six new arrivals discovered during the morning. The first appeared on North Ronaldsay (Orkney) and was followed by two on Fair Isle, a second bird on Foula, one in County Durham, at Marsden Quarry along with a singing male in London, at Woodford Green.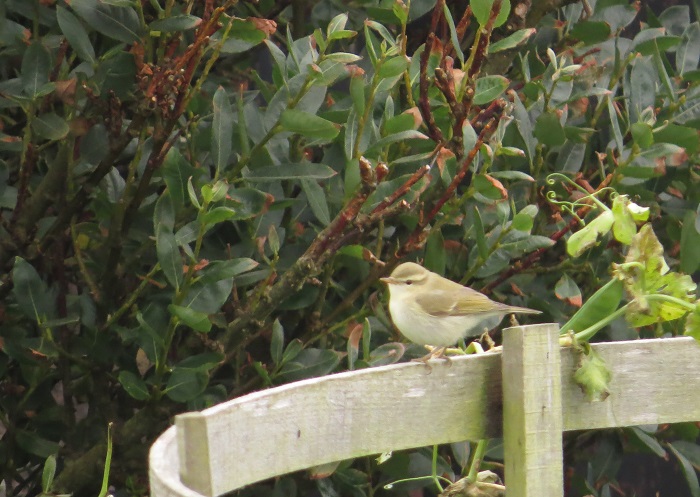 …and the week concluded with four further newbies ~ in East Yorkshire, at Flamborough Head, in Norfolk at Horsey ~ a singing male found there ~ along with one in Kent, at Sandwich Bay and finally another for Shetland, on Fetlar to take the grand total to 36. Impressive stuff!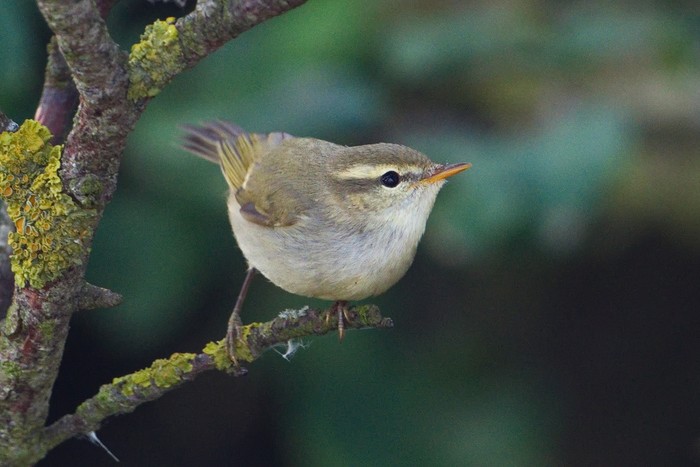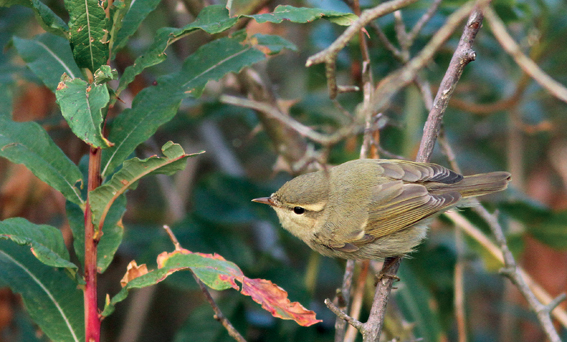 Greenish Warbler long departed the BBRC list, coming off in 2005 and, even at that point, there had been well over 400 birds. Despite that eight year absence, the species remains not only a popular draw whenever and wherever they appear, but still also an identification challenge to many.
How did all these birds come to pass? A swift peep at what was coming our way screamed "fall" around Thursday afternoon last week, but let's take a more detailed look at how one of the most amazing arrivals for decades came about. Here's Andy Stoddart's view...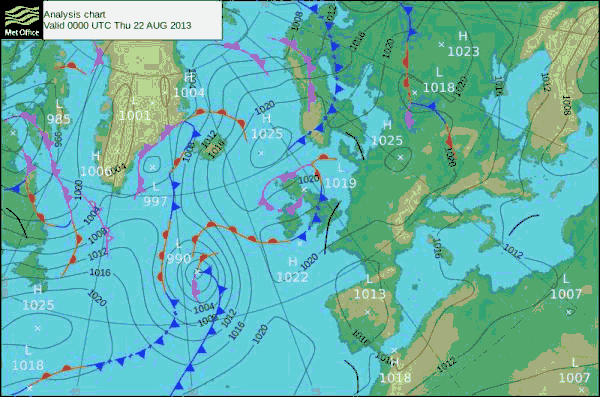 The development of a Scandinavian high pressure on the night of Thursday 22nd finally ushered in some continental air. The wind on Friday 23rd was south and then southeast along North Sea coasts. Birds in eastern England were few though conditions were ideal for bringing birds to northeast Scotland, where five Greenish Warblers were found before the end of the day. The same evening, however, Wrynecks started appearing in north Norfolk.
By the early hours of Saturday 24th a small low pressure area had developed over southeast England and the near-continent. The feature was made most obvious by the northward passage of bands of heavy, sometimes torrential, rain through eastern England. With the Scandinavian high pressure still in place, conditions were now better, with the wind in East Anglia and Yorkshire veering from northwest into the north whilst in northern Scotland the southeasterly vector remained. Bird numbers in eastern England were now higher, with Wrynecks featuring particularly prominently, and in northern Scotland the arrival of Greenish Warblers continued.
On Sunday 25th the low pressure centre lay a little further south and there was a stronger northeasterly flow into eastern England all the way from the Baltic. This brought the largest numbers of birds here, especially during the afternoon. As is typical in late August, Pied Flycatchers, Redstarts, Whinchats, Wheatears and Willow and Garden Warblers predominated though Wrynecks were again most prominent and Greenish Warblers now appeared further south too.
Conditions remained similar on Monday 26th though the low pressure had now largely dissipated and bird arrivals continued, albeit at a lower level. Tuesday 26th saw much slacker conditions as a high pressure began to nose in from the west and, as a consequence, a further reduction in new arrivals.
...so, here are some of the other main players from the fall action....
Another always-popular species, at least 38 were found up until the middle of the Bank Holiday period, with Scotland performing best, at least 16 birds noted there with up to 10 on Shetland, two on Orkney (both on North Ronaldsay) and three in Aberdeenshire, while another was found in Fife, on the Isle of May on 24th. At least three, probably four, birds were noted around Flamborough Head (East Yorkshire) with two or three more elsewhere in East Yorkshire, as well as three in North Yorkshire and two more in Cleveland, and Lincolnshire, with one for County Durham and Northumberland.
Its toss-a-coin-time in terms of which species come next ~ so we'll take a look at Icterine Warbler first of all.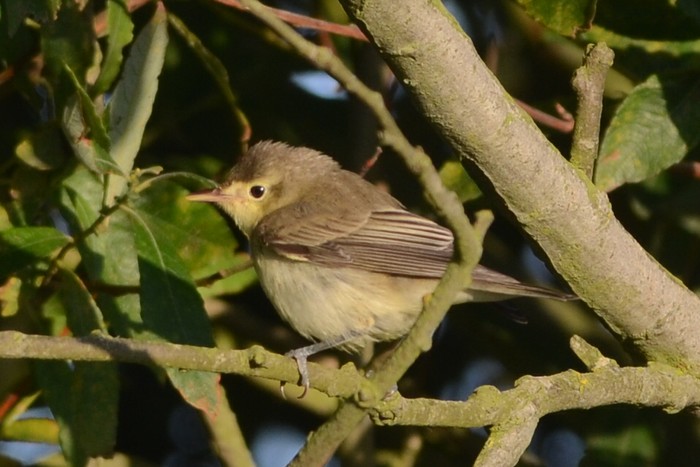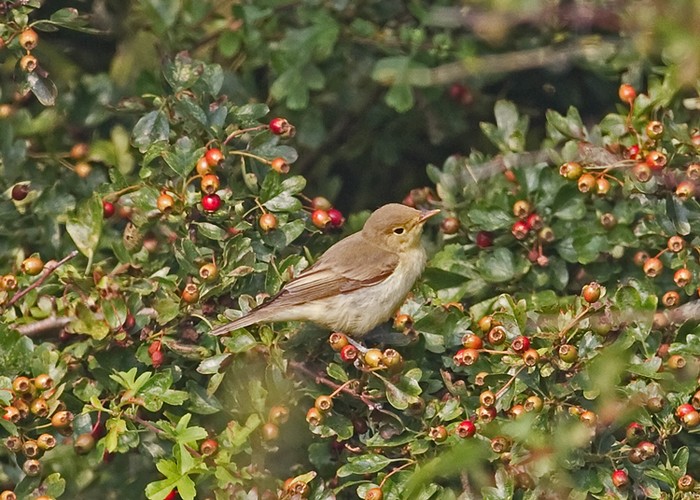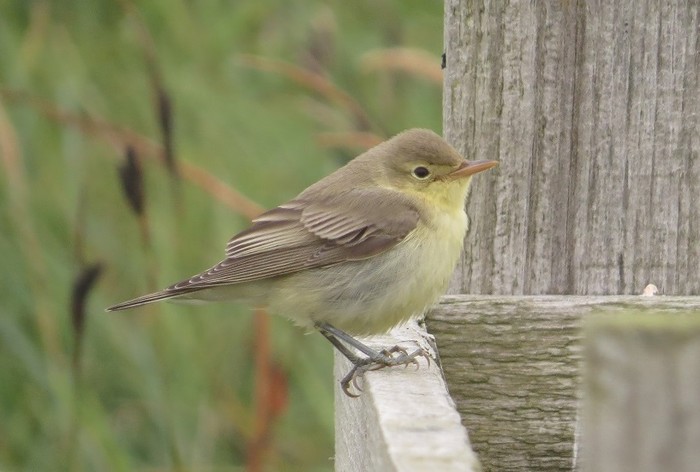 Over in East Anglia, Norfolk registered four, including one in the tiny clump of bushes behind the three main hides on the Cley NWT reserve on 24th-25th and two on Blakeney Point, with one at Landguard Point (Suffolk) on 25th. Two more Icterine Warblers appeared in the southeast of England, on Tresco (Scilly) and at Southwell, on Portland.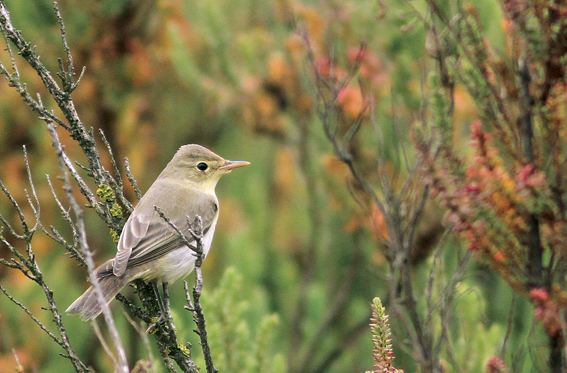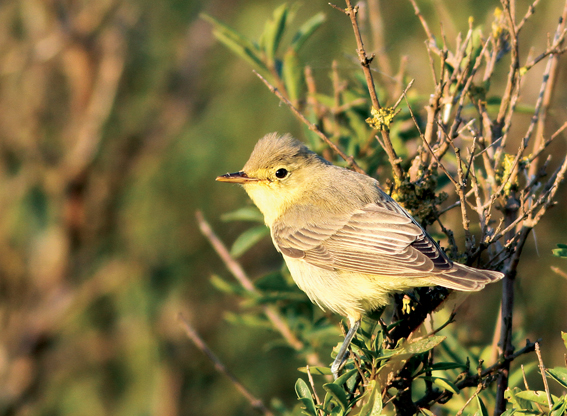 The final day of the Bank Holiday continued to produce records of numerous Icterines, at least four were at Flamborough and an eye-popping seven noted around Spurn (including three at Easington), with new singles dotted from Shetland to Norfolk. A quick tot up shows at least 21 birds on 26th alone ~ the total for the whole fall event now exceeding 50, a score that rose again with a couple of extra new birds arriving in Shetland and Norfolk.
Everyone loves watching a Wryneck and those awesome August conditions were perfect for seducing a mass of these delicious drifters across the North Sea. At least 125 birds made landfall in the week ~ starting off with 12 along the Spurn Peninsula on 24th ~ from the Point itself through to three at Easington. Amazingly that figure was duly doubled and smashed out of the park the following day, a whopping 27+ (27!!!) birds present and those birds were part of a tally of a bare minimum 35 birds in the northeast that day, with a further three or four in East Yorkshire, five in Lincolnshire (including four at Gibraltar Point) with two in Northumberland and North Yorkshire and a single for County Durham.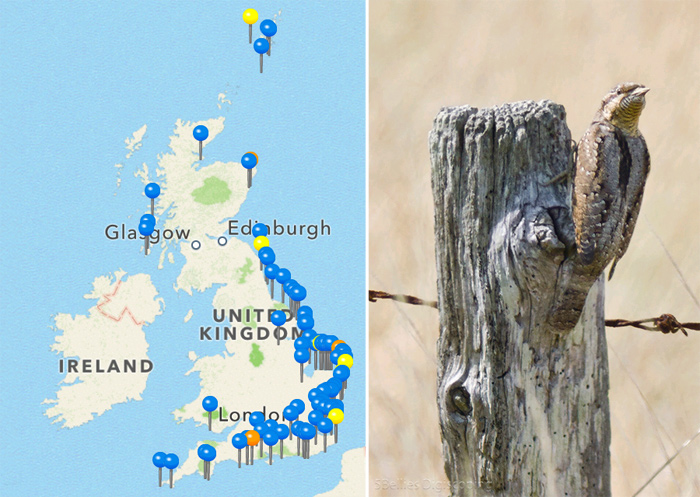 Norfolk and Suffolk managed at least 39 Wrynecks between them by the middle of 25th ~ 24 in the former and 15 in the latter (including a minimum of 10 on Blakeney Point and five at Minsmere on 25th) while in the southeast, Kent managed six of the region's 11 birds. Scotland could only score six (with four on Shetland) and two were seen in the southwest (at Soar in Devon and Porthgwarra in Cornwall).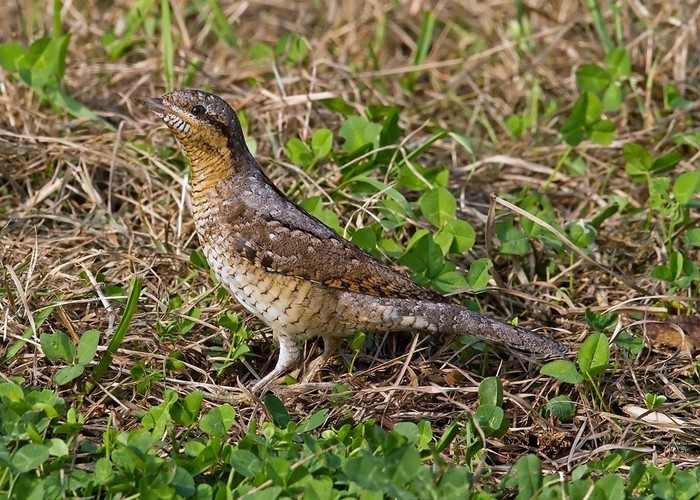 It got a little hard to keep track of just what was going on as the week went on, birds easily capable of shifting themselves around, but it was noticeable that birds were being picked up further to the south and west, appearing in (amongst other spots) Hampshire, Dorset and Devon. A remarkable showing and easily one of the best Wryneck returns for many, many years.
At least 20 Barred Warblers were also in the mix ~ eight of them on Shetland, including two around Sumburgh on Mainland Shetland on 24th, while two were around the Spurn area on the same day.
The 25th also saw another four appear on Shetland, three on Mainland and one on Foula and elsewhere, further singles were noted in Fife (on the Isle of May), at Hoswick (Northumberland), Whitburn (Co. Durham), Long Nab (North Yorkshire), Flamborough Head, Kilnsea and Spurn again (East Yorkshire), at Holme and Kelling (Norfolk) and North Foreland (Kent).
There were further lovely fall birds noted across the weekend, some rarer than thoes detailed above ~ but we'll leave them for the passerines section of the round-up.
Time now for normal service to resume....!
They've almost become so frequent this summer that (for one week only) there's a slight demotion for Fea's Petrel. Two more were seen this week ~ the first was noted off Cork's Mizen Head and the second was seen way out off the Irish coast, some 100 miles to the south of Fastnet, also on 22nd.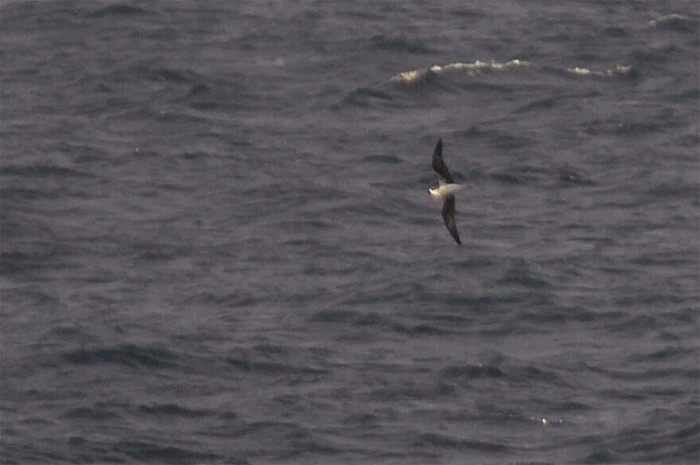 The Fastnet haul of seabirds noted that day was mightily impressive too ~ around 1,000 of both Cory's and Great Shearwaters, along with a Wilson's Storm-petrel, six Sabine's Gulls, half a dozen Long-tailed Skuas and 50 Pomarine Skuas too.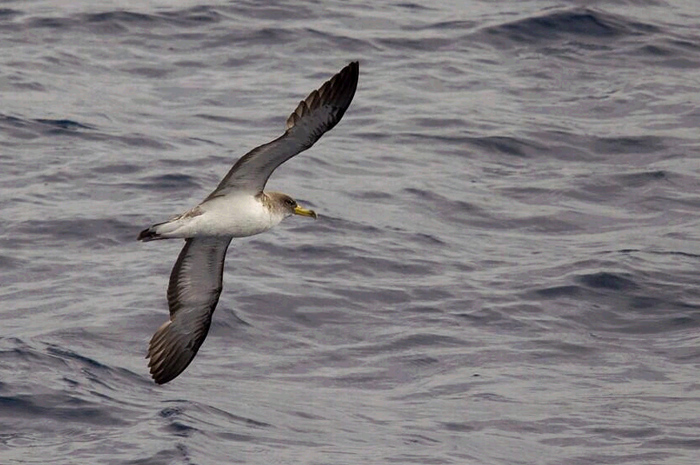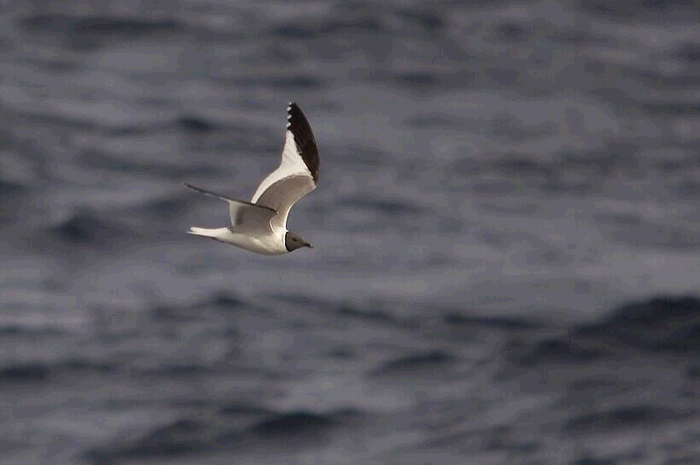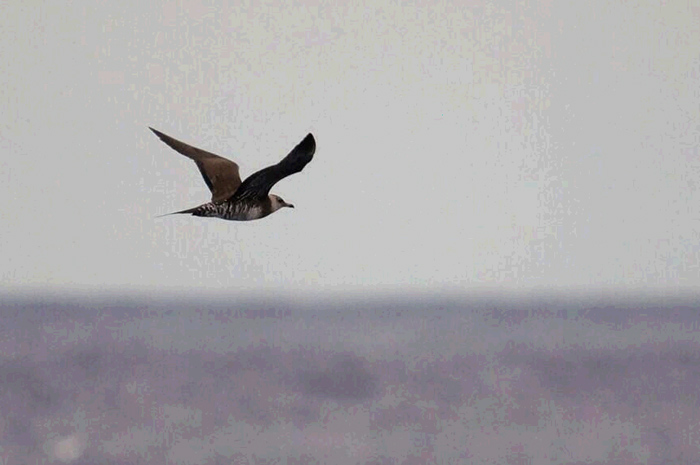 Two further Wilson's Storm-petrels were noted, one off Mizen Head on 21st and the last puff of west coast seawatching weather (for now) yielded another single for Bridges of Ross (Co. Clare) on 24th.
Several single figure counts of Great Shearwaters came from the Irish coast this week and (along with a couple of extra at-sea counts off the coast of Cork, 21 and 48 some 80 miles off Dursey Island) the high counts were 35 from the Old Head of Kinsale on 21st, 49 off Bridges of Ross on 23rd and, back in Cork, 290, in four hours, from Galley Head on 21st.
The same seawatch produced a very fine total of 1,117 Cory's Shearwaters (while over 320 were seen from the Old Head of Kinsale) with seven seen from the Scillonian III on the same date (21st). Three were noted on a Scilly pelagic the following day, with singles in Cornwall and Pembrokeshire on 24th and a single was seen from Filey, Flamborough and then, just over an hour later, at Spurn on 25th.
A total of at least 50 Sabine's Gulls were seen through the week ~ with Bridges of Ross producing the major score of the week, 19 there on 23rd (after a single on 22nd and seven on 21st). A remarkable four were reported for ten minutes or so in Aveley Bay, Rainham Marshes RSPB (London) on 25th ~ with one of these, or another, at Barking Bay the same morning, while further multiples included three at Loch Gairloch (Highland) on 21st. Cork and Kerry registered three each and there were singles in Scilly, Cornwall, Merseyside (at Formby on 24th) and at Slimbridge WWT (Gloucestershire) on 25th, along with an extra Highland bird or two as well.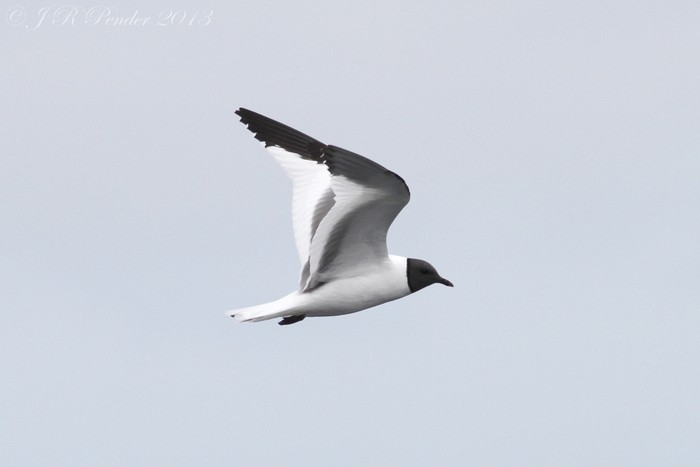 A peppering of Long-tailed Skuas were noted down the east coast, including half a dozen in East Yorkshire (three off Spurn during the weekend with a couple off Flamborough as well) and a dark juvenile was found inland at Orgreave (South Yorkshire) on the morning of 24th. Six or seven birds were reported in Norfolk (including two twos off Gramborough Hill, Salthouse and Blakeney Point on 25th) while singles were noted off County Cork and County Clare.
Aside from the at-sea half century of Pomarine Skuas, there were no big numbers anywhere else this week ~ upwards of a further 65 birds were noted in 13 British and Irish counties during the week, including reports of seven and then eight off Salthouse (Norfolk) on 24th. Five were seen over St. Abbs Head (Borders) on the same date and at least nine were noted in East Yorkshire to 25th and five were reported off Cley on 27th.
The week's only Grey Phalaropes were seen from Strumble Head (Pembrokeshire) and on a Cork pelagic on 25th, while Balearic Shearwaters began to edge further in to the North Sea ~ a dozen in less than two hours off Cley on 24th was definitely of note, while 17 at Dungeness (Kent) on 23rd was also of note. In Dorset, at Hengistbury Head, 21 birds were counted on 24th but Portland trumped everyone with a count of 106 for the same day, with another 22 there the next day.
Leicestershire's second Black Stork spent a few minutes circling over Rutland Water on the afternoon of 22nd ~ the county's first (there were actually two birds together) were seen at Husband's Bosworth on July 18th 1991.
One of Norfolk's rogue White Storks was still on the free-flying loose this week, seen at Breydon Water on 21st-23rd while of rather better provenance (presumably) was the long-staying first-summer Night Heron at Old Moor RSPB (South Yorkshire), on site to 27th.
A Cattle Egret at Frodsham (Cheshire) from 23rd was a good county record ~ the first since April 2009 ~ while the Marloes Mere Glossy Ibis clocked up a few more days, present to 22nd at least. A new bird appeared on the Somerset Levels, at Ham Wall RSPB on 25th but with no sign of the Marloes bird the same evening, could they be one in the same?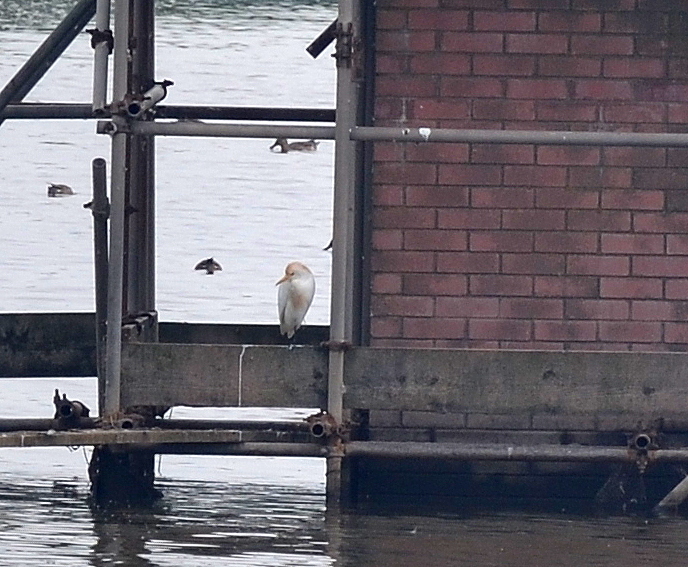 There was a bare minimum nine Great White Egrets on the Somerset Levels this week ~ that was the number present at Shapwick Heath NNR on 22nd (when there were also two at nearby Ham Wall RSPB). Also in the Westcountry was a single bird at Epney (Gloucestershire) on 25th.
In the southeast, two Great White Egrets remained on Brading Marshes (Isle of Wight) to 25th with one at Dungeness to 24th. East Anglia registered four singles (one each for Cambridgeshire and Suffolk, with two in Norfolk), while last week's bird at Wheldrake Ings (North Yorkshire) lingered to 27th and another was seen in flight over Southfield Reservoir (East Yorkshire) 22nd with a Red Rose bird appearing on the Ribble Estuary (Lancashire) on 25th. Another leftover from last week was the inland bird at Drayton Bassett (Staffordshire) ~ that bird remained to 24th before moving to Warwickshire's Middleton Lake.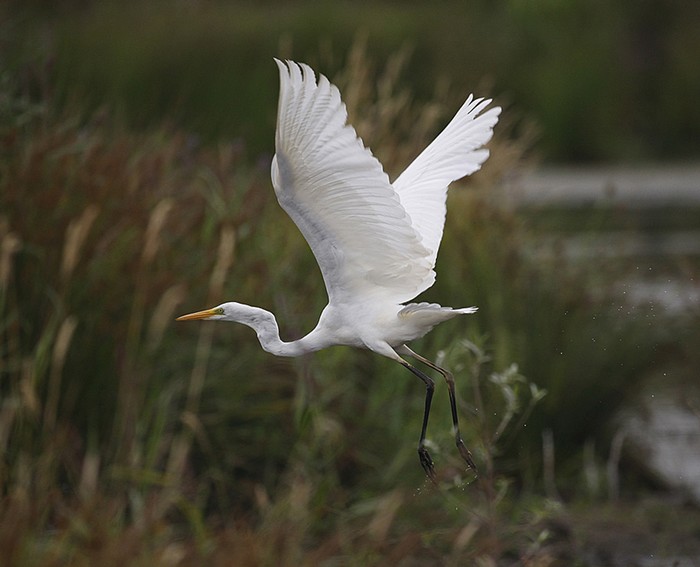 Norfolk still bossed the numbers of Spoonbillaround the country this week ~ peak counts of 13 for Titchwell RSPB (on 22nd) and eight for Stiffkey (on 23rd) with six at Holme on 26th, while two more were at Cley in midweek. Elsewhere, seven birds were setting up shop for the winter ahead in Poole Harbour from 23rd while six appeared again at Alkborough Flats (Lincolnshire) on 26th. There were twos for Slimbridge WWT, Gibraltar Point NNR and Hampshire's Keyhaven Marshes, while a couple of birds were seen on the Scottish east coast, in Lothian and Forth. Other single birds were noted from Somerset to South Yorkshire and Essex to Carmarthenshire and Gwent.
The (again) successful Common Cranes were still at Hatfield Moors NNR (South Yorkshire) at the start of the week, while three lingered around the Cambridgeshire Washes to 25th. On 27th, single birds were noted heading south over Filey (North Yorkshire) while the summering first-summer remained on Unst (Shetland).
In Northumberland, the long-staying juvenile Spotted Crake remained at East Chevington NWT to 27th with last week's arrival at Chew lingering in Somerset until 24th. New birds were found at Grove Ferry NNR (Kent) on 24th and at Netherfield Lagoons (Nottinghamshire) on 27th. Shetland registered four migrant Corncrakes ~ pleasingly alliterative singles for Fair Isle, Foula, Unst and Fetlar on 23rd, 24th 26th and 27th respectively.
Geese & Ducks (and, for one week only, Grebes)
At the Ouse Washes RSPB in Cambridgeshire, the lingering eclipse drake Blue-winged Teal as still in place on 26th, while the summering drake Ring-necked Duck was at Scorton (East Yorkshire) to 24th when the other eclipse drake noted lately as seen again at Barns Ness (Lothian). Down in Somerset, the drake Ferruginous Duck was showing at Chew Valley Lake to 27th.
As usual at this time of year, the only Surf Scoters this week were both noted in Scotland ~ a female was seen feeding offshore from Portlethen (Aberdeenshire) on 21st with a drake in Lunan Bay (Angus) on 22nd.
Finally, in Mayo, a summer adult Pied-billed Grebe appeared again on Srhuillbeg Lough, Keel, on Achill Island ~ what must be the same bird was seen here for a day in mid-May this year and it could even be the individual that county's first appeared at Lough Baun in October 2012.
With so much attention falling on the east coast monster-fall, it was easy to forget that Nearctic waders were beginning to make themselves known this week ~ best of all was the appearance of a juvenile Semipalmated Sandpiper at Tacumshin on 21st.
This is one of the earliest juveniles on record ~ the earliest ever was found on August 13th at Belfast Harbour Estate (Co. Down) in 1996. Next comes Tacumshin's earliest effort, a young Semi-P found there on August 15th 1981, with one on the Fleet (Dorset) on August 20th 1989 and others on the same date on South Uist in 2009 and Waterford in 2011, the next earliest juveniles on the record books. Further birds of the year to appear on August 21st were seen in County Dublin in 1996 and County Cork in 2008.
More new arrivals this week included a juvenile Baird's Sandpiper at Blanket Nook, Lough Swilly (Co. Donegal) on 25th and another new bird at Owenahincha (Co. Cork) on 26th, adult White-rumped Sandpipers at Snettisham (Norfolk) on 22nd and on the beach at Periglis, St. Agnes (Scilly) on 25th, lone adult American Golden Plovers at Erris Head (Co. Mayo) on 22nd and Loch Bee, South Uist (Outer Hebrides) on 26th while a Long-billed Dowitcher was new on the Amble Marshes (Cornwall) on 25th.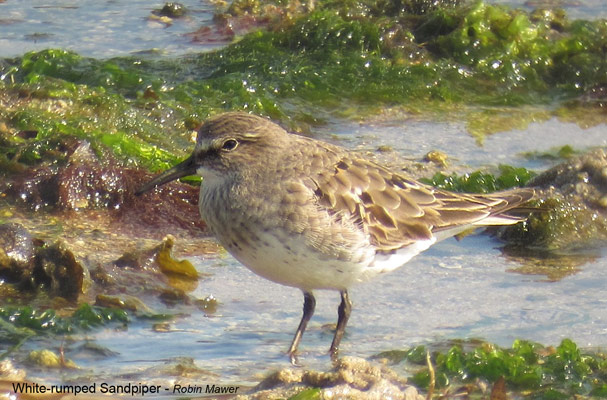 Hampshire's Long-billed Dowitcher, at Pennington Marsh, was seen briefly on 23rd while last week's brand new juvenile Wilson's Phalarope on the Isle of Skye reappeared in Broadford Bay on 21st.
Further Nearctic leftovers this week were the Lesser Yellowlegs at the National Wetlands Centre WWT (Carmarthenshire) and in Wexford at Tacumshin (both present to 26th at least) while the latter site continued to host three Buff-breasted Sandpipersto 24th, with one there to 26th. Another Buff-breast was new to Burray on Orkney from 22nd and also at the traditional stop-off point at Davidstow Airfield (Cornwall) on 26th.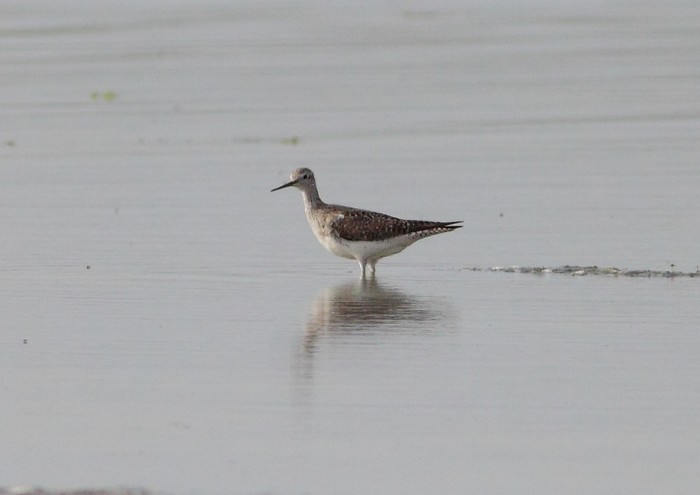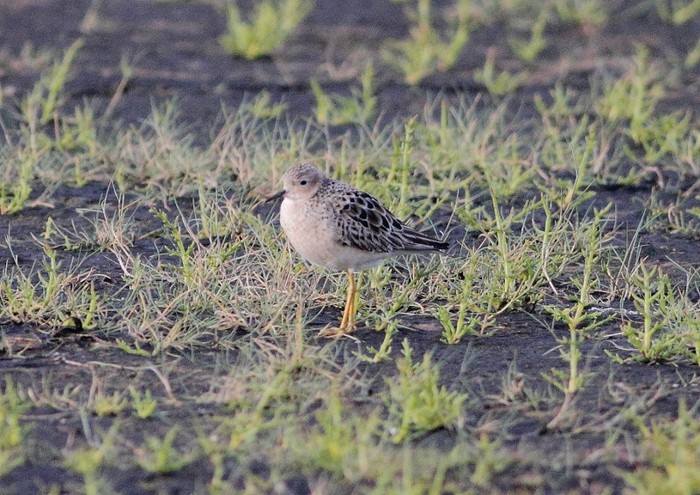 Pectoral Sandpipers mustered six birds at the start of the review period ~ at Treraven Meadow (Cornwall), Ham Wall RSPB (Somerset), Reculver (Kent), Saltholme Pools (Cleveland), Low-Newton-by-the-Sea (Northumberland) and Dundalk Docks (Co. Louth) and they were followed by a flyover at St. Abb's Head (Borders) and another at Loch of Strathbeg (Aberdeenshire) on 24th.
In Norfolk, the juvenile Red-necked Phalarope at Cantley Beet Factory remained to 23rd and the following day, after one flew west past Weybourne, a juvenile appeared on Cley's North Scrape. The third of the week was found in London, on the King George V Reservoir from 23rd-25th.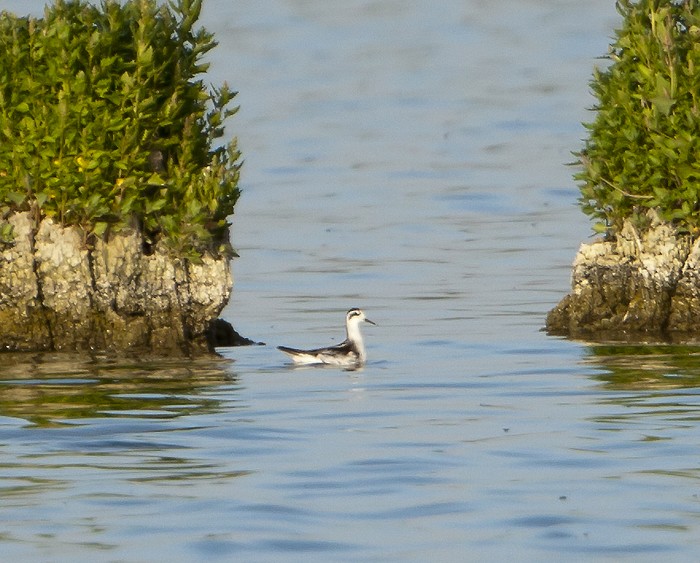 Two Temminck's Stints were found on 24th, at Fairburn Ings (West Yorkshire), Hatfield Moors (South Yorkshire) and Oare Marshes (Kent) and all three remained to 26th. Around 10 Dotterels were noted through the week, with singles in Cumbria, Cornwall and Cork, with two at Landguard NR (Suffolk) on 24th while in north Norfolk after a lone bird at Cley on 24th, four were reported at Salthouse on 25th.
Back at Tacumshin, an adult Caspian Tern was found on 23rd for a one day visit while in County Louth, a juvenile White-winged Black Tern at Cruisetown Strand from 24th was the first of two youngsters to appear this week, the other taking in a day-trip to Hanningfield Reservoir (Essex) on 25th. What may well have been the Cruisetown Strand bird appeared off Clogher Head on 26th (tho' it may well have been a second of course).
In Lincolnshire, an adultFranklin's Gull was reported from Frampton Marsh RSPB on 25th ~ but there were no further reports subsequently (and last summer saw a weird hooded Common Gull hybrid along the same stretch of coast…).
The adult Bonaparte's Gull remained at Heysham (Lancashire) from 21st-26th at least while an immature Ring-billed Gull was still in Cork's Bantry Bay on 24th , an adult Ringo was at Dingwall (Highland) on 26th and another was at Traigh Ghrianal, Tiree on 27th.
In northwest Ireland, the male Snowy Owl continued his summer hols out on Arranmore Island (Co. Donegal) to 26th.
Three Honey Buzzards showed themselves at the Welbeck Raptor Watchpoint (Nottinghamshire) on 21st (with two there on 22nd), while singles were reported through the week in Kent (at Reculver, Stodmarsh and near Folkestone), London (over Woolwich) and in North Yorkshire (seen near Bagby).
Five Montagu's Harriers also appeared this week ~ a ringtail at Cheddar Reservoir (Somerset) on 23rd was followed by a first-summer male again at Blacktoft Sands RSPB (East Yorkshire) on 24th while in East Anglia, a juvenile was reported at Minsmere RSPB on 25th and a ringtail was seen near Mundesley (Norfolk) on 26th. The final bird of the week was noted coming in-off the sea at Pevensey Levels, also on 26th.
Pick of the bunch though was the female Red-footed Falcon noted heading over Felixstowe Ferry (Suffolk) during the middle of the morning on 27th.
One of the rarest birds to be caught up in this week's sensational fall was the Black-headed Bunting seen well in the weeds around the Girdle Ness allotments in Aberdeen on 25th ~ if accepted it will become only the second record for the county, following on from a six-day autumn male at the Loch of Strathbeg in October 2005.
Another eye-catching species from the weekend was Western Bonelli's Warbler ~ two arriving over the course of 25th-26th ~ the first found in the hedges around Happisburgh (Norfolk) on the morning of 25th (reappearing later that evening) with the second bird coming in to Kent, at Hope Point on 26th.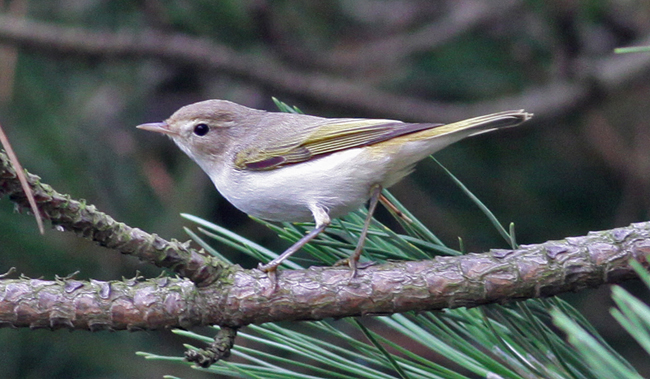 To date, Norfolk has recorded 11 Western Bonelli's (this week's is the 12th) and is the fourth record since May 2010 (the most recent county bird was at Cromer on the very similar date of August 26th-28th 2011). Kent trails Norfolk, the Hope Point bird could be the eighth record for the county ~ the most recent was, like Norfolk, found in August 2011, on 24th, at Dungeness.
Another gem of a Phyllosc., is Arctic Warbler and tucked away amongst the weekend's Greenish was Durham's fourth-ever record of the species at Whitburn on 26th. Initially named as the latter rather than the former, the bird was re-identified from some decent photos late in the day and becomes the first in the county since one in Sunderland in October 1991. Fortunately for the local listers, it played the game and decided to hang on to the following day.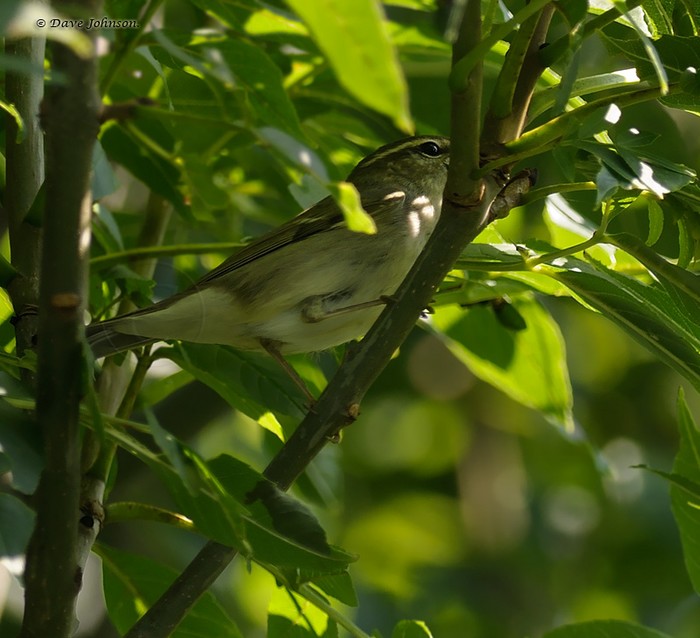 More warbler action came in the shape of a singing male Iberian Chiffchaff briefly at Portlooe, in southeast Cornwall on 25th, but there was no further sign after that…
East Yorkshire laid claim to the first two Ortolan Buntings of the manic weekend ~ at Buckton on 25th and then Flamborough Head on 26th, when Portland also scored , one noted along the East Cliffs. Dorset's second followed the next day, in flight over Durlston CP.
A Bluethroat was a nice find in the Burnham Overy Dunes complex on 25th while over the water in Lincolnshire, a Short-toed Lark at Gibraltar Point NNR on 25th-27th ~ a huge county rare. A second Short-toed Lark was found on Mainland Shetland on 26th at a busy Sumburgh.
Further oddments during the week included an Alpine Swift in Lisburn (co. Antrim) on 22nd, four Red-breasted Flycatchers, at Skinningrove (Cleveland) and Flamborough Head (East Yorkshire) on 26th with two along the Spurn Peninsula ~ at Kilnsea on 22nd and at Spurn itself, also on 26th. The same day, and the same spit of East Yorkshire land, produced a new Subalpine Warbler, a great find at Sammy's Point.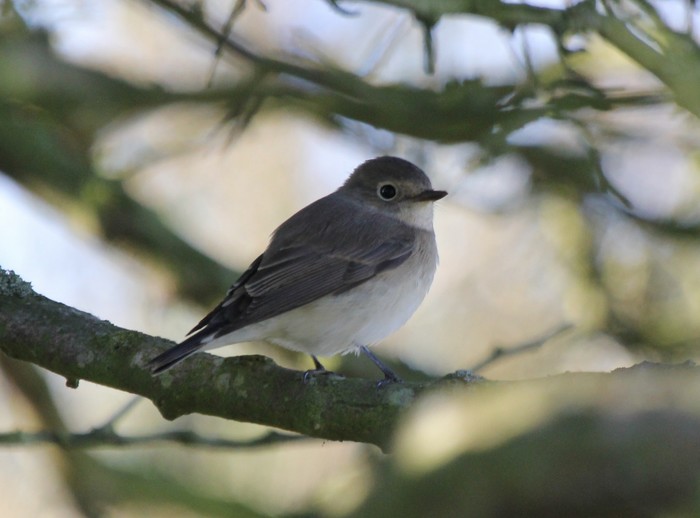 Fair Isle's lingering Western Subalpine Warbler remained to 26th at least and a Marsh Warbler was also seen on the island on 22nd. The Bank Holiday Monday then saw Fair Isle bag their umpteenth Thrush Nightingale (they've had well over 50) ~ the third of the year so far there and Orkney also bagged a Sprosser this week ~ one trapped at Graemeshall, Mainland on 26th.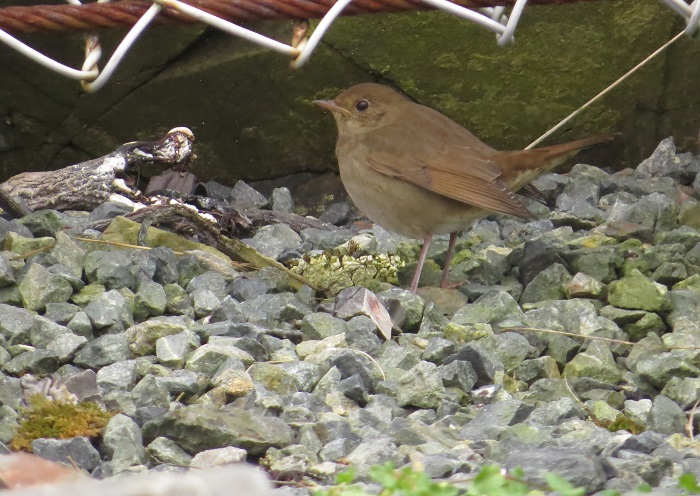 Back to Shetland which also hosted the only other record of Marsh Warbler this week ~ seen on Foula on 25th while in stark contrast to the overwhelming mass of Icterine Warblers, there was just one Melodious Warbler this week ~ seen on St. Mary's (Scilly) on 22nd.
Back to the famous fall ~ and along with a selection of headliners, the weekend saw the arrival of at least 38 Red-backed Shrikes. Scotland claimed a baker's dozen and the northeast of England went one better with fourteen (with six in Aberdeenshire and at least nine in East Yorkshire) with four for Kent and Norfolk and three in Durham. An inland bird at Paxton Pits (Cambridgeshire) on 27th was not only a nice find but also an indicator of perhaps a few more to come away from the coast in the coming days.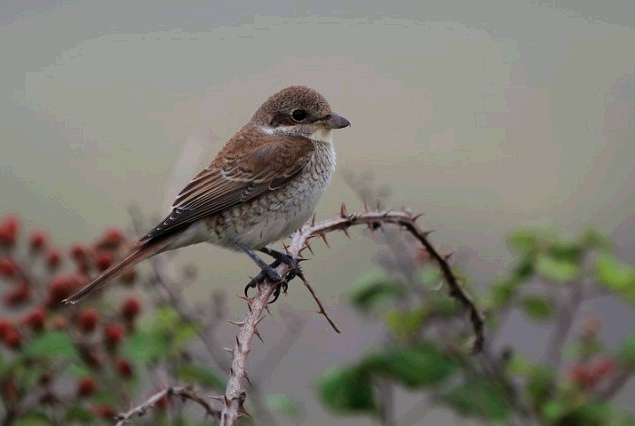 There were 11 or 12 Common Rosefinches mixed up in all the madness too ~the first dropped in on Fair Isle on 21st and was one of six on Shetland this week, with two each for Whalsay and Unst on 25th with another on Out Skerries on 26th. There were singles for the Farnes and Easington on 24th, Blakeney Point on 25th and (again) at Easington and Spurn on 26th.
In Hampshire, a lingering Hoopoe was noted at Shirley Holms from 24th (it had been in the area for around 10 days prior to that). Further burnt pink and black beauty came in the form of the adult Rose-coloured Starling found in Pembrokeshire, at Whitesands Bay on 22nd, reappearing from 25th.
Finally this week, the Broomhead Reservoir flock of Two-barred Crossbills continued to be a major draw throughout the week ~ on 21st it became clear that nine birds were present ~ there were now two adult males on site, along with three adult females and four juveniles. Earlier in their stay, at least five juveniles had been reported, so the number present must have been at least 10.
The appearance of at least three new birds (the male and two adult females) is fascinating and makes you wonder if anymore may find their way to South Yorkshire. If they do, how do they now how to find their wing-barred buddies?
Down in Norfolk, at Lynford Arboretum, a juvenile Two-barred Crossbills was noted on 21st but a county record-breaking flock of at least six stole the limelight when they appeared in the trees around Weybourne Station on 22nd.
Quite a week then which although lacking that massive mega was arguably rather more fun ~ if you were out and about in some superb east coast conditions. Early indicataions are that the weather will break down slowly over the course of the next few days with Atlantic fronts skirting the Irish and Scottish west coast before something rather more lively pushes in behind by the weekend...
What will come along with the cooler west, nor'westerly airflow? Well, another flush of seabirds could be on the cards and there's an outside chance of an early mega US wood-warbler too (for instance, we've had four late August Yellow Warblers and two Northern Waterthrushes) . And of course, there should be a few more Nearctic shorebirds too....

Funnily enough though, two of the most significant shorebirds found over the years in the period we're heading towards were both from the opposite direction, a double Eastern Palearctic wowsa coming within three late August days in 1982 ~ the Saltholme Pools Long-toed Stint appearing on 28th and the Sker Point Little Whimbrel from 30th.
What a lot of people wouldn't give for one, or both, of those two to do a repeat performance....
Mark Golley
28 August 2013

Many thanks this week to Andy Stoddart and Penny Clarke and to all the other contributors for their photos and videos.
Brian Mellow, Robin Mawer, Peter Phillips, Paul Kelly, Alex Rhodes, Andrew Hood, Paul Rowe, David Carr, Martin Cade, Gary Loader, Adrian Kettle, Ronan Mclaughlin Joe Pender, Eric Dempsey, Chris Bromley, Dave Hutton, Gordan Carle, Robin Mawer, John Saxton, Brendan Ryan, Dave Johnson, David Aitken, Dave Andrews, Brian Marshall.