Weekly round-up: 14 - 20 August 2013
The week at a glance
Red-billed Tropicbird off Cornwall
Fea's Petrels off Cornwall, Devon, Cork and Clare
Swinhoe's Petrel still on Fair Isle
Macaronesian Shearwater off Kerry
Bridled Tern back on the Farne Islands
Two-barred Crossbills still in the news
More Booted Eagle reports
This week saw a relentless run of mild westerlies, generally moderate in strength though the wind increased with the arrival of a fast-moving Atlantic depression on 17th.
Red-billed Tropicbird
After a summer of superlative rare birds, the pattern of über-rarities continued in dramatic fashion. As easily predicted last week, it was seabirds which stole the show, for in the wake of this year's already astonishing Ascension Frigatebird and Bulwer's and Swinhoe's Petrels came another astonishing discovery – a Red-billed Tropicbird .
This dramatic bird was seen by a single observer off Pendeen, Cornwall at 0845 on 18th down below the traditional watchpoint, close inshore with Gannets and Great Skuas, even lingering for a while and allowing itself to be photographed. Imagine the surprise then of the assembled crowd above who discovered shortly afterwards that this once-in-a-lifetime bird had passed them by unseen! Birding is full of such amazing stories - and that's what makes it so absorbing of course - but this one you really couldn't make up. Part tragedy, part comedy, it is either disastrous or hilarious depending on your approach to such things and, perhaps particularly, where you were at the time.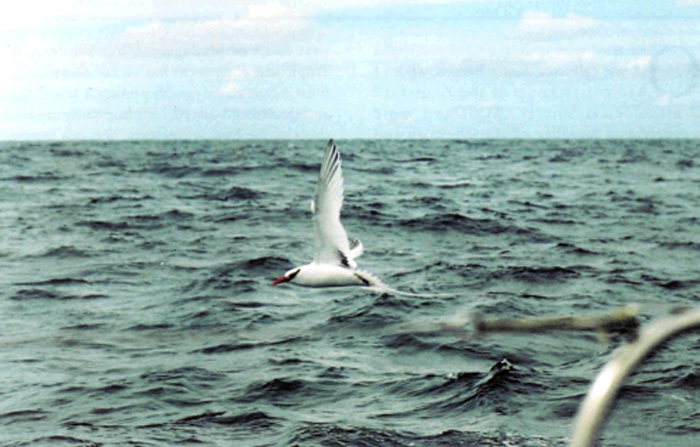 There have only been a tiny handful of previous records of this tropical water species in or around Britain - the first was photographed from a sailing boat 32 km SSE of Scilly on 7th June 2001 with a further record off Guernsey on 16th September of the same year. The next year one was seen from the Scillonian 6.5 km east of Scilly on 29th March and then 1.5 km off the Lizard, Cornwall on 21st April. Most recently, one was photographed at sea off Cork on 8th September 2009. There is clearly little pattern to these records though they all fall between March and September. This week's bird was the first to have occurred in August.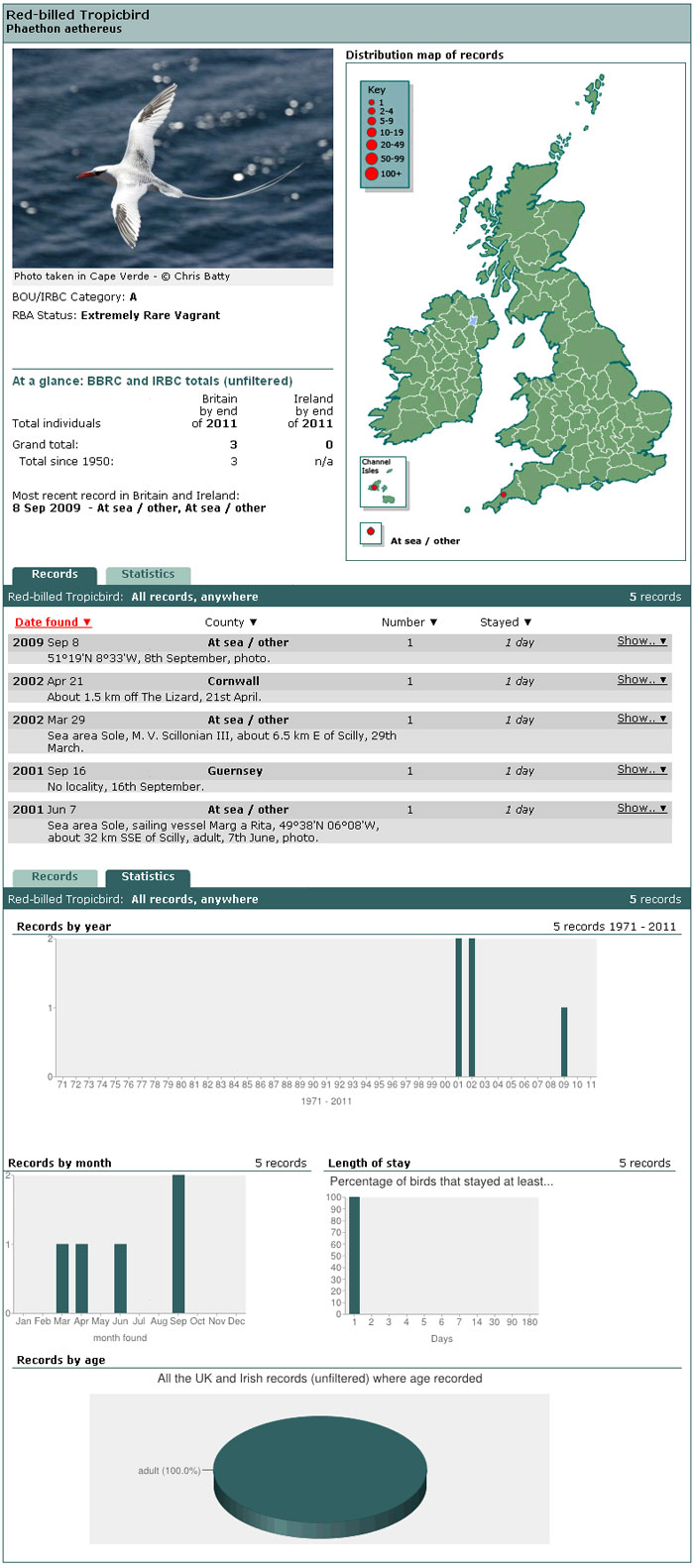 Fea's Petrel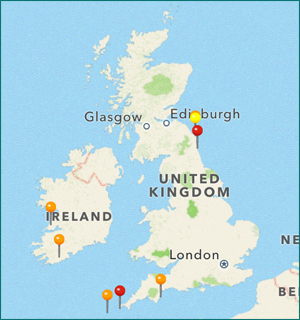 The other obvious highlight of the week was a superb run of Fea's Petrels . The first one was off Porthgwarra, Cornwall at 1650 on 14th, followed by another off the now-traditional site of Bridges of Ross, Clare at 1647 on 16th. The 17th was to prove the best day, however, with no fewer than four birds logged – off Bridges of Ross at 1040 and 1741, off Berry Head, Devon at 1215 and off Galley Head, Cork at 1226. Finally, on 20th, came another, seen passing around Loop Head, Clare from 1320 to 1335.
Despite the taxonomic and identification difficulties associated with the Cape Verde/Desertas/Zino's Petrel group, seeing one of these dynamic seabirds must surely be one of the most exciting seawatch experiences you can have. Fortunately, occurrences of this fabulous Pterodroma are increasing, with no fewer than 47 British records to the end of 2011 and an amazing 73 in Ireland. The first was on 5th September 1974 off Cape Clear Island, Cork, the next on 15th October 1983 off Dungeness, Kent. Then, a bird which passed Porthgwarra, Cornwall three days running on 12th-14th August 1989 broke the dam. Since then the species has not missed a single year. As expected, most have been in the west but a surprising number (around 15) have entered the North Sea. As this year, mid-August is by far the best time, followed by September, October and July. To date, three British birds have been accepted as Fea's Petrel (i.e. Cape Verde or Desertas Petrel, not Zino's Petrel).
Recently-published population estimates for the three 'Fea's Petrel' taxa make interesting, if worrying, reading. All are rare, Cape Verde numbering 250-500 pairs on four of the Cape Verde islands, Desertas Petrel 160-180 pairs on Bugio and Zino's, rarest of all, only 65-85 pairs on Madeira. It therefore seems remarkable that they should be seen so regularly off Britain. Presumably this means that we are not seeing extreme out-of-range birds but that instead British waters are increasingly part of their normal range. It would be wise to keep an open mind over which taxa are reaching us – all three seem feasible targets, as is, it would appear from geolocator data, that most desired Pterodroma of all, Bermuda Petrel.
Swinhoe's Petrel
Still amazing, though now slightly 'old news', the Swinhoe's Petrel was still on Fair Isle and still twitchable for the most intrepid. It was trapped again on the mornings of 14th and 15th, heard in the early hours of 16th and trapped again on 17th though with petrel-ringing now in abeyance, this will be the end of this year's saga. Doubtless the nets will be out again next summer though.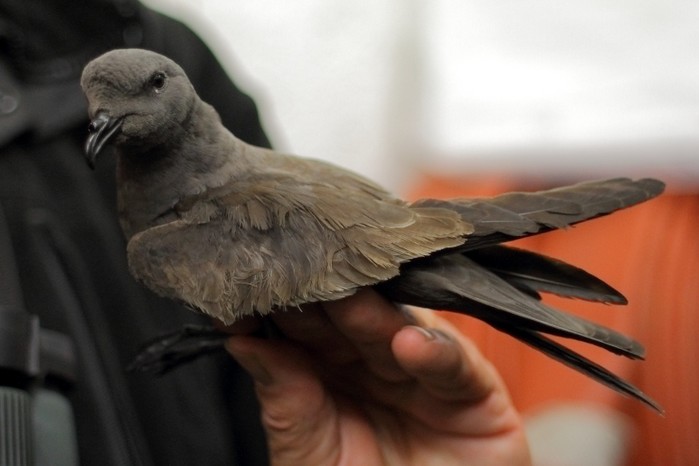 Macaronesian Shearwater
Yet another seabird highlight was a Macaronesian Shearwater (presumed baroli) off Kerry Head, Kerry at 1005 on 19th. Though always a hard bird to prove, no fewer than 63 have been accepted for Britain with another 22 for Ireland. This is the fourth record for Kerry, the other three all being off Brandon Point.
Bridled Tern
Last week's wish that the Bridled Tern had begun to head south once more came true on 15th when it reappeared briefly at its previously favoured location on Inner Farne, Northumberland in the early afternoon of 15th and then again on 16th. Thought to have gone, it then reappeared in the late morning of 19th.
Two-barred Crossbill
Two-barred Crossbills were still in the news this week. The flock at Broomhill Reservoir, South Yorkshire continued to grow during the week. Six were logged on 14th then an amazing nine on 15th – 2 adult females, six juveniles and a superb adult male. At least seven were still present next day, with six still showing on 18th and 19th and at least seven again on 20th. Only two recent flocks have been bigger, both on Shetland during the large influx of 2008. Going back further in history, however, a flock of twenty was in Bedfordshire in 1890. A hint that this autumn's influx might not yet be over came in the form of another juvenile on North Ronaldsay, Orkney on 19th.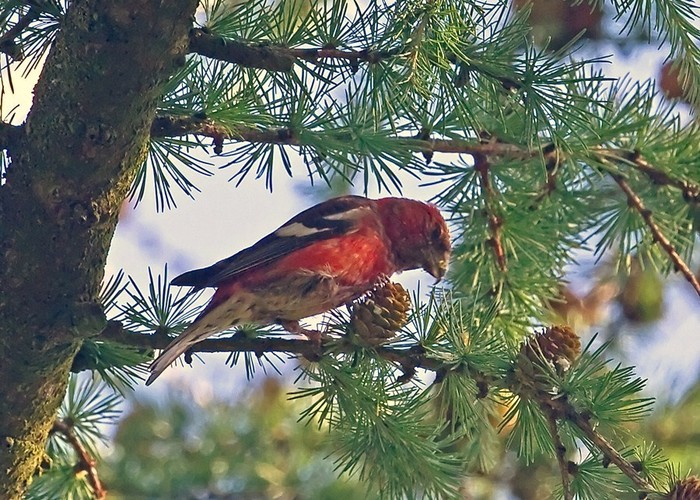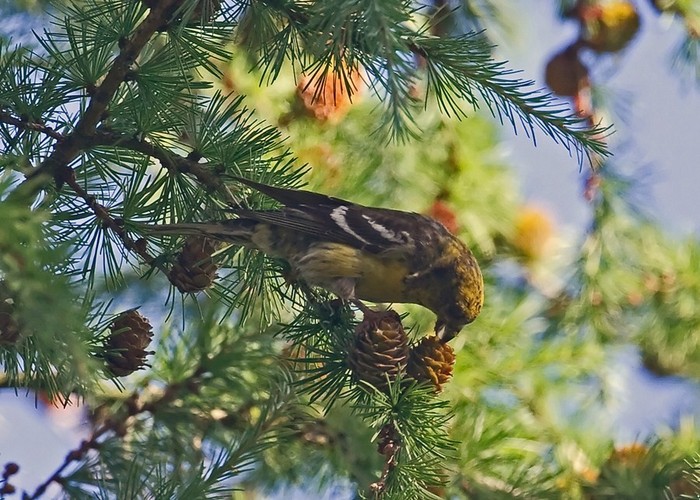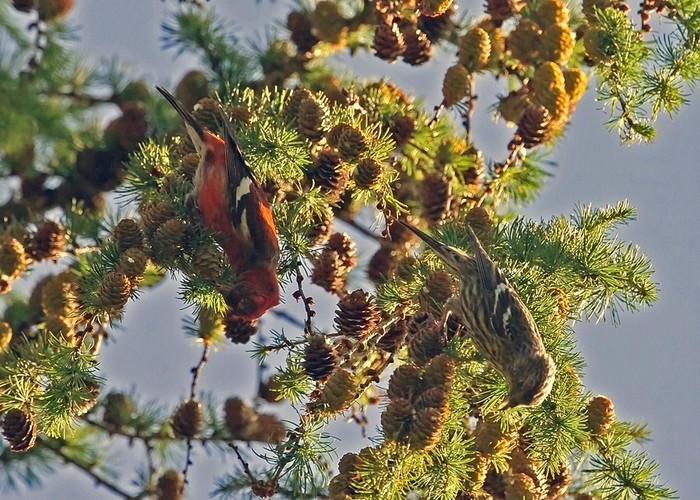 Booted Eagles
Booted Eagles continued to tease this week, with a report of a pale morph bird over Donington-on-Bain, Lincolnshire on 16th, swiftly followed by a belated report of a pale morph bird in off the sea at Bracklesham Bay, West Sussex on 9th August.
A Wilson's Petrel off Scilly on 15th was the next-best find in a week dominated by seabirds but the rest of the story goes to large shearwaters. Small numbers were widely seen off Ireland and Southwest England for most of the week but the big numbers were off a few chosen Irish headlands.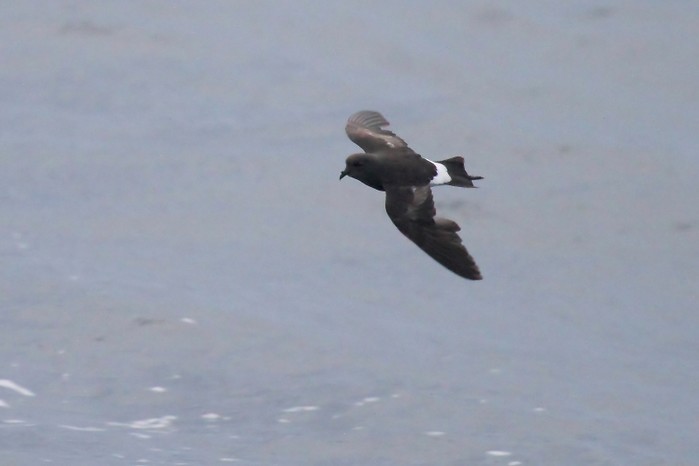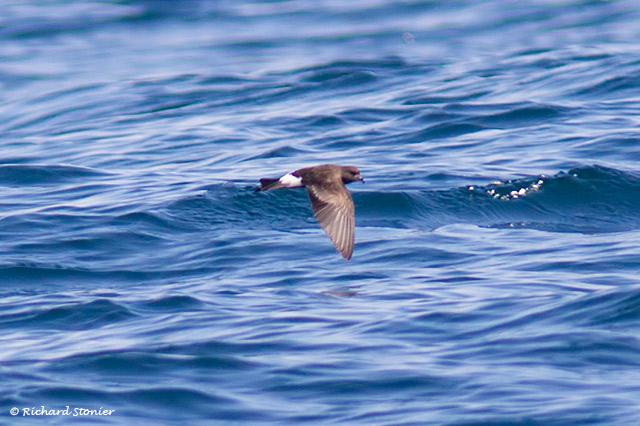 94 Great Shearwaters passed Bridges of Ross, Clare on 16th, on which date there were also 109 west of Valencia Island, Cork. The big day, however, was 17th with 614 past Bridges of Ross, 84 west of Dursey Island, Cork, 73 off The Mullet, Mayo and 62 off Brandon Point, Kerry. Numbers were well down on 18th with 'only' 85 past Bridges of Ross though 132 passed The Mullet, Mayo and 87 were west of Dursey. On 19th, 55 were south of Toe Head, Cork and 57 passed Galley Head, Cork on 20th. Totals were much lower in England, 17 off Porthgwarra, Cornwall on 17th being the largest count.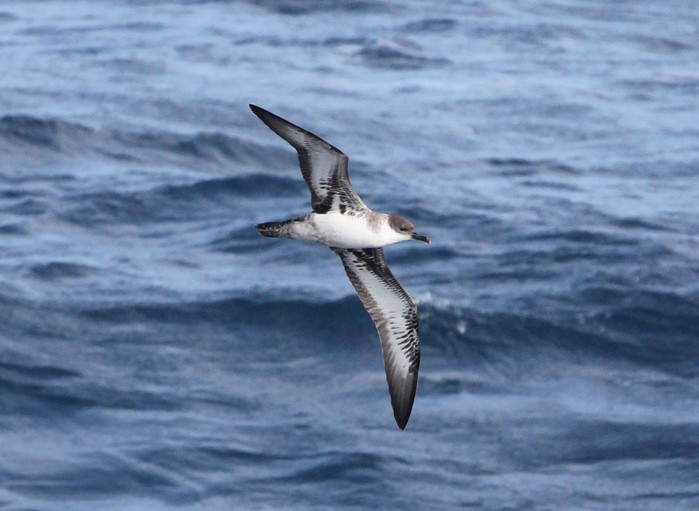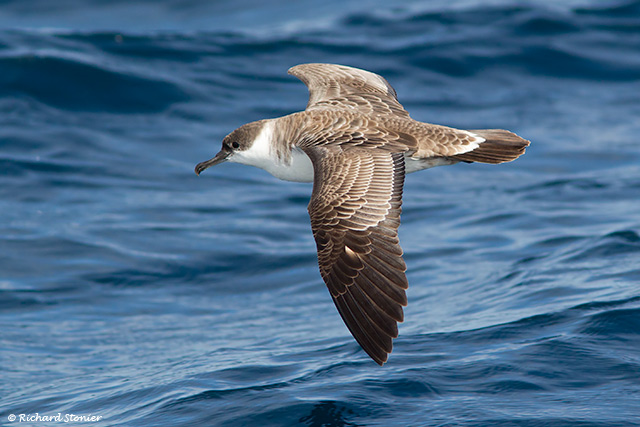 Cory's Shearwaters were also in evidence, the highest count on 17th being 34 west of Dursey. From land, nine passed Brandon Point, Kerry, six passed Bridges of Ross and five passed Porthgwarra on the same day. On 18th, 19 were off Bridges of Ross, 18 off Scilly and nine west of Dursey and then on 19th 37 were off Scilly. The week ended with much more impressive numbers, however – 800 passed Galley Head, Cork in the evening of 20th. A single off Spurn, Yorkshire on 17th was the only North Sea record.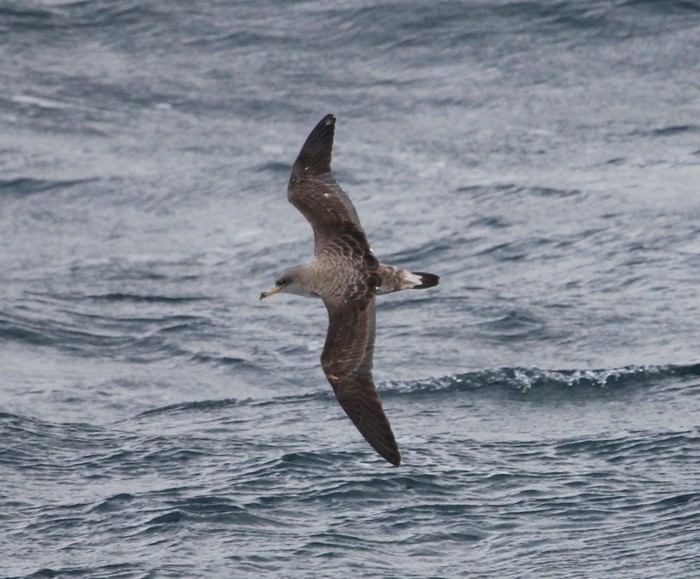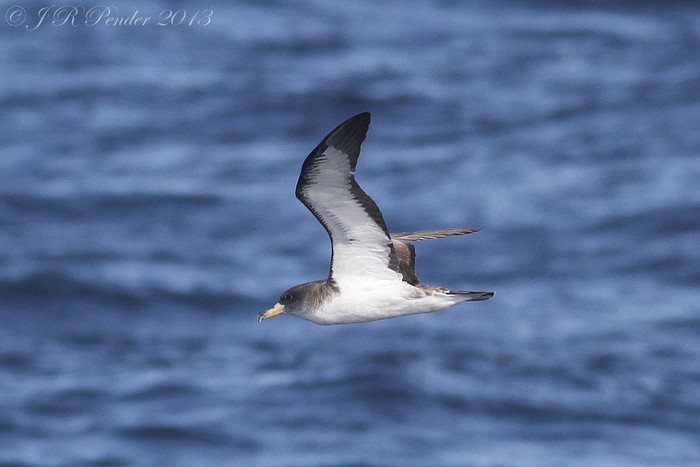 The other notable species in these movements was Sabine's Gull . Sightings were widespread in Ireland and Southwest England but numbers were not large though nine flew past Bridges of Ross on 17th and 11 passed there next day. A single North Sea bird was off Bawdsey, Suffolk on 19th.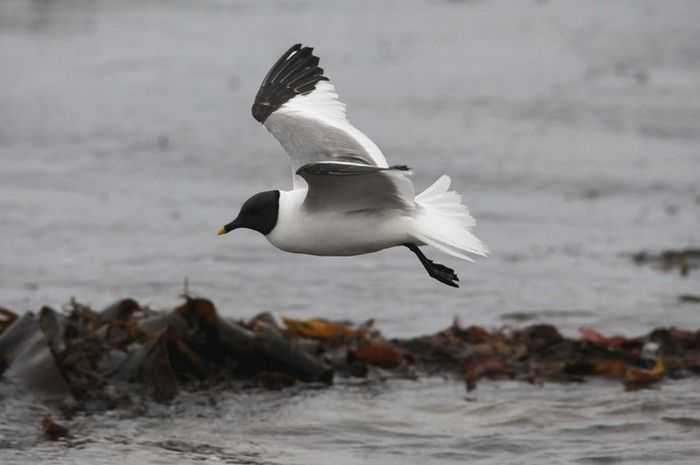 Seabird action in the North Sea was almost non-existent but single Long-tailed Skuas were off Flamborough, Yorkshire on 14th, Lowestoft, Suffolk on 17th to 19th and off Canvey Island, Essex on 18th. Ireland managed two singles – off Bridges of Ross on 19th and Galley Head, Cork on 20th.
A Purple Heron on Tresco, Isles of Scilly on 18th was probably the best heron of the week but Great White Egrets were most prominent, particularly the remarkable sight of twelve at Shapwick Heath, Somerset on 20th. Singles were at Dingle Marshes, Suffolk, Dungeness, Kent, Wheldrake Ings, Yorkshire, Blashford Lakes, Hampshire, Fen Drayton and Wicken Fen, Cambridgeshire, Horsey and Hickling, Norfolk and West Bexington, Dorset while two frequented Brading Marshes, Isle of Wight.
Other heron interest included the Cattle Egrets still at Oare Marshes and Elmley, Kent and another over Fethard-on-sea, Wexford on 20th. Theand the Night Heron still at Old Moor, South Yorkshire. Also still present all week was the resident Glossy Ibis at Marloes Mere, Pembrokeshire.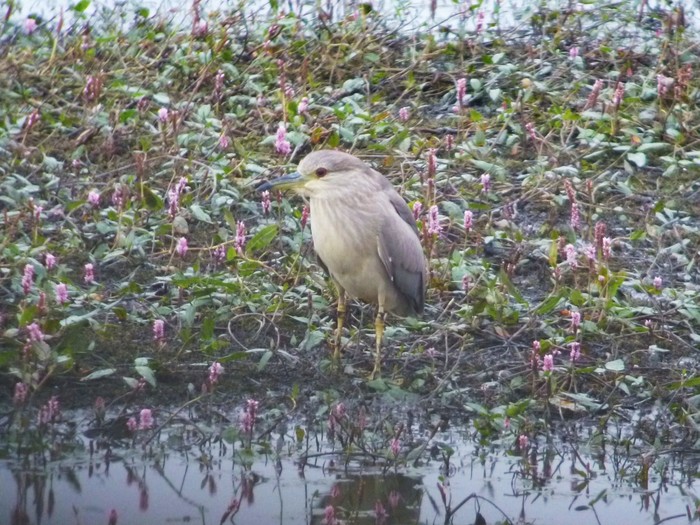 The eclipse drake Blue-winged Teal remained on the Ouse Washes, Cambridgeshire to at least 18th whilst a new bird – an adult female – was found on North Ronaldsay, Orkney on 17th. In Ireland, the drake Black Duck was still at Achill Island, Mayo on 20th. Ring-necked Ducks were more obvious this week too with singles at Finntown Donegal on 17th and 18th and at Lough Beg, Derry and Catterick, Yorkshire on 18th. Further south, the long-staying drake Ferruginous Duck was still at Chew Valley Lake, Somerset whilst, at sea, three Surf Scoters were off Blackdog, Aberdeenshire on 18th.
The only notable raptor was a female Red-footed Falcon at Saltfleetby, Lincolnshire on 18th.
A Spotted Crake was at Chew Valley Lake, Somerset on 14th.
As also predicted the number of American waders picked up this week, particularly in the run of westerlies behind the low pressure which arrived on 17th. The pick of the bunch was a Wilson's Phalarope in Broadford Bay, Skye on 16th to 20th but in overall numbers, it was Pectoral Sandpipers which stole the show. These were seen as follows: Dundalk Docks, Louth on 14th and 15th, Newton Pool, Northumberland on 14th to 20th, Tacumshin, Wexford on 14th to 17th, Reculver, Kent on 16th to 20th, North Ronaldsay, Orkney on 17th and 18th, Abberton Reservoir, Essex on 18th, Holy Island, Northumberland on 18th and Dorman's Pool/Saltholme, Cleveland on 18th to 20th.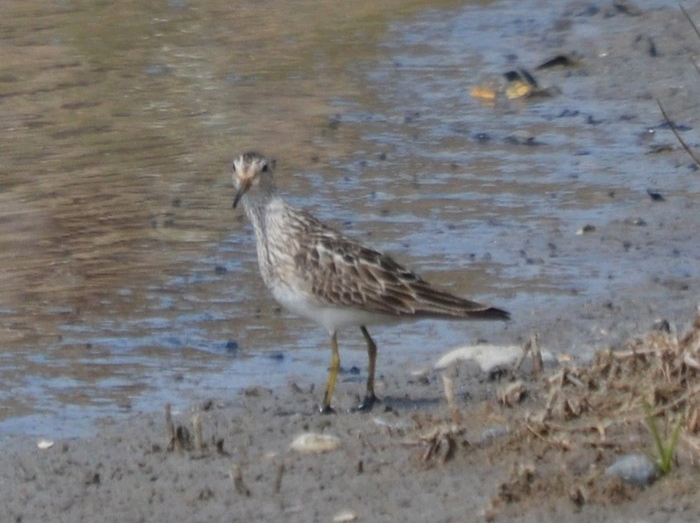 Also new were an American Golden Plover at The Mullet, Mayo, a Lesser Yellowlegs at Tacumshin, Wexford and a White-rumped Sandpiper at Cruisetown Strand, Louth, all on 20th. Two other Lesser Yellowlegs had arrived on 19th – one at Kinneil Lagoon, Forth and the other at St. Anthony, Cornwall. In Ireland, the three Buff-breasted Sandpipers remained at Tacusmhin, Wexford to 19th, with another at Streedagh Point, Sligo on 18th and then one at Pennington Marshes, Hampshire on 20th. Leftovers included the long-staying Long-billed Dowitcher at Pennington Marshes, Hampshire to at least 19th and the Lesser Yellowlegs at the National Wetland Centre, Camarthenshire also to 20th.
As for Palearctic waders, the Temminck's Stint was still at Oare Marshes, Kent to 17th with another at Donna Nook, Lincolnshire on 16th. A single Dotterel was still on Bryher, Isles of Scilly to 18th and Red-necked Phalaropes were at Gibraltar Point, Lincolnshire on 17th and Cantley Beet Factory, Norfolk on 18th to 20th.
Bonaparte's Gulls again dominated the gulls news, with the long-staying second-winter at Oare Marshes, Kent to 15th at least and the adult making another reappearance at Heysham Power Station, Lancashire on 17th, 18th and 20th. Meanwhile, another adult was found at Cresswell Pond, Northumberland on 14th, apparently fully-hooded and therefore not the same as the regular Durham bird featured last week. In Ireland a first-summer Ring-billed Gull was at Tralee on 16th and a Glaucous Gull at Dungarvan Waterford on 18th.
The male Snowy Owl was still on Arranmore Island, Donegal to 18th.
Passerines and Near-Passerines
A Bee-eater over Fleetwood, Lancashire on 14th was a surprise but less surprising was the almost total lack of continental passerine interest. Fair Isle dominated the news with a Citrine Wagtail still present from last week, joined by another on 17th and at least one still there to 20th. Also still there was the summering Western Subalpine Warbler and the autumn's first Barred Warbler on 16th and Common Rosefinch on 19th and 20th.
Elsewhere, a Marsh Warbler was trapped at Hollesley Marshes, Suffolk on 15th, the Short-toed Lark was still on Bryher, Isles of Scilly to 20th (with a Wryneck on St.Mary's also on 20th), juvenile Woodchat Shrikes were at Gibraltar Point, Lincolnshire on 17th and Harrington Airfield, Northamptonshire on 20th and, in Suffolk, an Icterine Warbler was at Bawdsey on 19th.
Next week looks to be dominated the same westerly flow for the first couple of days but then eastern England and Scotland should get their turn for some passerines. Given the date, a Greenish Warbler or two seem on the cards, and maybe some more Two-barred Crossbills?
Andy Stoddart
21 August 2013

Many thanks also to this week's contributors for their photos and videos.
Roger Barnes, David Carr, Lewis Thomson, Richard Stonier, Andy Williams Joe Pender, John Kemp Steve Furber, Mick Davis, David Parnaby. Mike Alibone.