Weekly round-up: 17 - 23 July 2013
The week at a glance
Fair Isle tape-lures draw in a Swinhoe's Storm-petrel
Scotland's first mainland Rock Thrush lands in Aberdeenshire
Followed by news of a gorgeous male Mongolian Plover in Moray
The Bridled Tern settles down again in Northumberland
And the same county scores a multi-observed fly-by Fea's or Zino's Petrel too
A putative Black Scoter in Norfolk played hard-to-get…(in every sense)
An unprecedented influx of Two-barred Crossbills in East Anglia stuns many
Monday sees probable dark phase Booted Eagle and Bonelli's Eagle noted in Norfolk and Kent
The stats say it all.
It is now the warmest spell of weather since 2006 ~ over 20 consecutive days of temperatures at 28 degrees C or above have been recorded somewhere in the UK this month as "level 3" heat wave warnings were issued across large chunks of the country, as the hot weather moved from east to west as the weekend beckoned and back again towards the end of the review period.
The mercury revved up to a shade over 32 (90 in Fahrenheit) at Northholt on 17th and it stayed pretty hot for a few days after that too (peaking at around a grimly hot and sticky 34 degrees on 22nd.
Not everywhere basked in the sun ~ once again, weak weather fronts drifted over the extreme northwest of Scotland and along the cooler east coast, sea frets came and went on gentle to moderate north-easterly breezes. Weather that would produce birds too…
A change is on the way though as, inevitably, the hot air collides with moisture and storms (maybe flash floods) are sure to follow but, for the most part, it was all a bit too warm and sticky.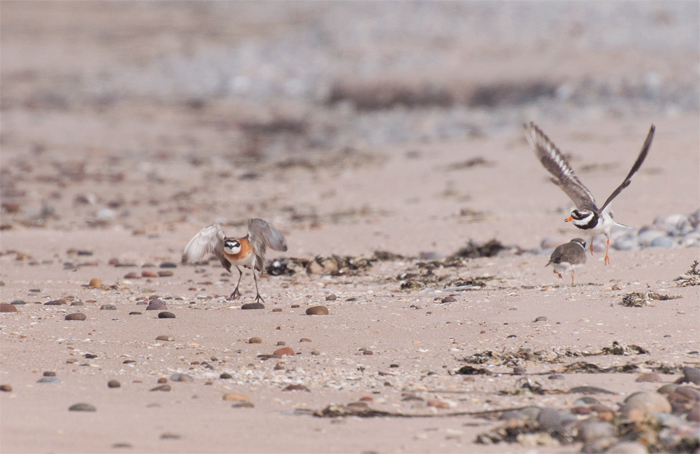 Headline birds
So that's the end of the lull then….
Seven short-lived days of a little bit of this and a little bit of that in the World of Rares came and went and, with the sun beating down across vast swathes of the country, thoughts of kicking back, enjoying home success in the Ashes test or the Tour de France, charting England's lacklustre efforts at the Women's Euros, maybe a bit of the Open Golf (there's a sporting bent here right? But hey, there were plenty of cutaways of the Gannetry on Bass Rock at the latter…) were taking priority, along with (for many) dreams of escaping the sweltering cities and inland conurbations to make for the more chilled climes of the coast….
It seemed as though there'd be plenty of time to consider anyone of the above as the birds news as the current review period began, had that easy-going feel about it once more. Get the barbie out, stick on the summer mix tape (you've all got the Barracudas "Summer Fun" on there…?) until…."beep beep"… two words, "MEGA ALERT" were repeated within around an hour or so on the afternoon of 18th.
Let's attempt to mop up that first "Mega" before going anywhere else in a slightly back-to-front and upside-down summation of the major birds from the last seven days or so…
"Out of the blue, and in to the black"
And so goes the song from the wandering, sonic Canuck legend and it was Norfolk that was key to that self-same scenario as, from the bluest of big blue skies dropped what county listers (and more besides) hoped would be the blackest of drake Black Scoters, offshore at Titchwell's RSPB reserve.
Initially seen a few hundred yards offshore, the bird (a first-summer drake) drifted east, and out, as the tide dropped and the task of being in the BS comfort zone got tougher and tougher.
Opinion was split on top of the dunes that first afternoon, many happy to see it and have it, although the tentative consensus for those who tried to fathom out what was going on (at great distance) was that the "wow factor" was absent ~ the shape, pattern and amount of orange on the bill didn't feel right for Black Scoter but distance and light conditions really didn't help anyone's cause. It felt, at one point, as though things were heading towards Morfa Buchan territory…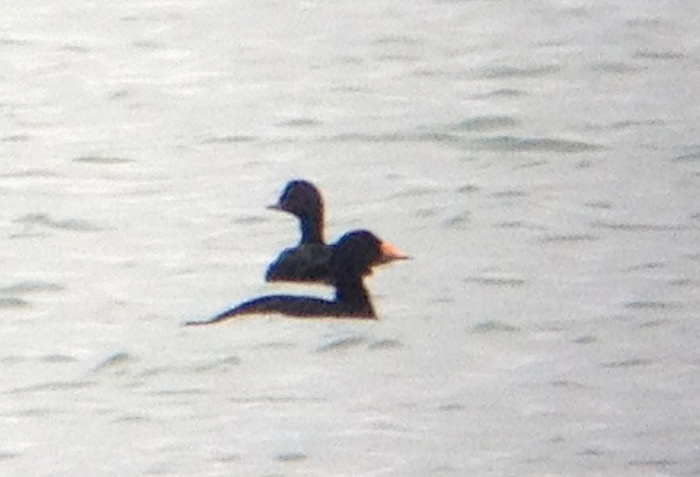 Or were they?
Thoughts ebbed and flowed each day and the feel good factor towards the bird truly being Norfolk's first Black Scoter increased during the afternoon of Day 2.
Whilst the bird lingered on site, the discussion continued. Early bird observers on the morning of 21st reported a Scoter with a lot of yellow on the bill close inshore and they weren't impressed with it as being the big Norfolk rare. The discussion started as to whether it was the same bird as previous days and the whole process began to whither on the vine from that very moment on…and continued to do so later that evening as observers from day 1 saw it again. Same bird and Common Scoter was the identification.
Black Scoter or Common Scoter, the pleasing thing was that the original observers (who appear to remain in the Black camp) had the good sense to spread the word quickly and efficiently and allowed people to get to the site promptly so as to make up their own minds ~ far better that than the other options that could have been taken…and, let's not forget, the finders also saw it the best part of at least half a mile closer inshore than most, so they'll know if they are happy. It'll need a fair wind with the Rarities Committee now, but if the description appears water tight, well, you never know…
Anyway, that was Mega Alert #1…the 18th's #2 followed soon after and was a much easier one to deal with….
Until the end of April this year, Rock Thrush had popped itself gently in to the category of a "most wanted" rarity for many listers. The female that arrived at Kilnsea on April 25th this year was the first twitchable individual since a brief bird in Devon in 2004 and a five day autumn stayer on Bryher in 1996.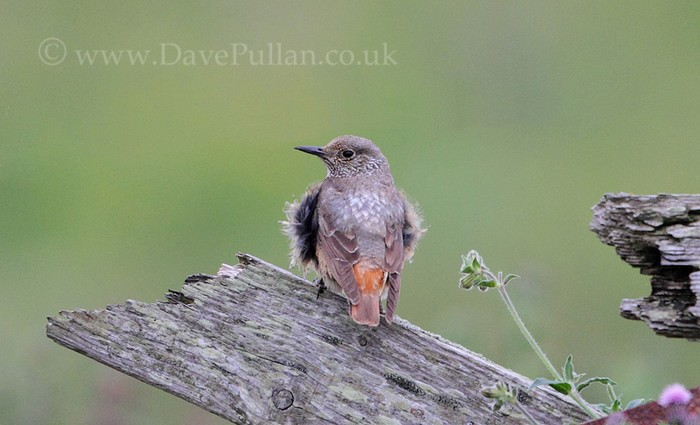 The East Yorkshire bird was only present for a couple of days (doing a familiar Friday flit) and this week's outstanding discovery of a first-summer male Rock Thrush at St. Fergus, in Aberdeenshire, has proved just as welcome a find as April's individual.
For Scottish birders, this was a rarity right of the top drawer, a first for mainland and the first anywhere in the country since a young male was found on Fair Isle on June 30th 1970.
There have been five previous records in Saltire land ~ the first arrived on Orkney, at Pentland Skerries, on May 17th 1910 and the island theme continued with two in five years on Fair Isle in the early 1930's (one in November 1931, the other in October 1936) and then, in the summer of 1962, one was found on Hirta, in the Hebrides.
The date for this week's Scottish Rock Thrush is pretty amazing too ~ the first ever in July from 30 records. May is the out and out champion with 14, June follows with five and April has four. There have been two each for September and October, one in November along with that wacky February date for the Minster bird of 1983. This week's bird remained to 21st.
Whilst mainland Rock Thrush is an absolute belter of a mainland bird for the Scots, the status of Mongolian Plover (the ultra-distinctive mongolus form of Lesser Sand Plover) is bordering on common by comparison and the afternoon of 19th brought news of Scotland's third "Mongo", a gorgeous male seen and photographed on the east beach at Lossiemouth (Moray) on July 16th.
Margaret Sharpe was in the finder's hot seat and she has kindly taken the time to tell us more about her sensational discovery….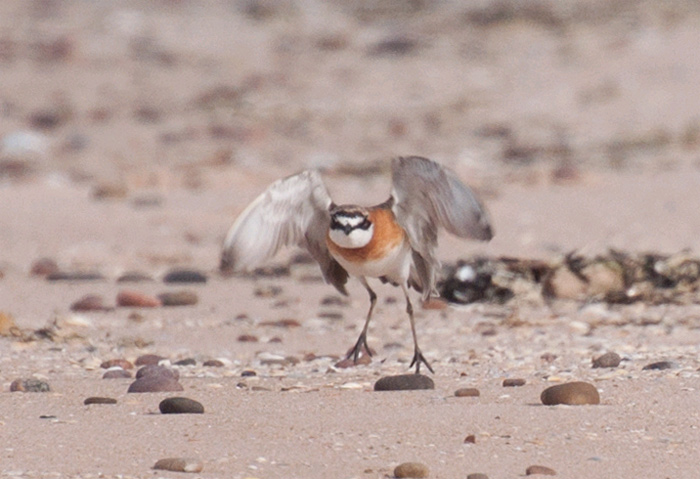 "Since the 4th July, Sanderling numbers have been increasing on the beach here at Lossiemouth. I have a particular interest in Sanderling, ever since spotting a colour-ringed individual back in 2009. From that, I learned about the existence of the International Wader Study Group and their on-going Sanderling project, www.waderstudygroup.org
"Lossiemouth beaches are just some of the many stop over sites in the UK, used by migrating Sanderling (and other waders) en route to or from Greenland and the North, and it's also a convenient beautiful place for a spot of regular birding! So, having already observed three colour-ringed Sanderling in as many days, the start of this year's autumnal migration on the 4th was already turning out to be pretty exciting…"
"It was during an early evening Sanderling session on the 16th July, when the 'unusual' plover came into view, standing slightly apart from three Ringed Plovers on the beach. The first thing that struck me was the red chest blush that set it obviously apart from its neighbouring plovers. So I inched forward, prone on the sand for a closer look. It was now very evident it was definitely something different, I have to confess then, I had no inkling of just how sensational a wader it would be."
"I had a vague memory of a similar wader published in 'Shorebirds of the Northern Hemisphere' by Richard Chandler. So, after that surge of adrenaline, 'that only something special in the view finder' can bring, I seized the moment with my camera. Not daring to breathe and hoping against hope the camera settings wouldn't need fiddling with, I managed to get a run of shots good enough to identify it properly back home later."
"Its legs were noticeably longer than the Ringed Plover, and it appeared to have a gold coloured forehead/crown. It seemed quite edgy, and the Ringed Plover present were rushing and chasing one another which seemed to add to the unsettledness. It took off a few times, once landing closer about 30 metres from me, but then disappointingly, further along the beach, and then finally again, until I lost sight of it. Back home much later, the first thing I did was head straight for the books, and that was when I realised that it was indeed a very special find, a Mongolian Plover!"
With thanks to Martin Cook of www.birdsinmorayandnairn.org and to Bob Proctor for assistance in confirming the ID.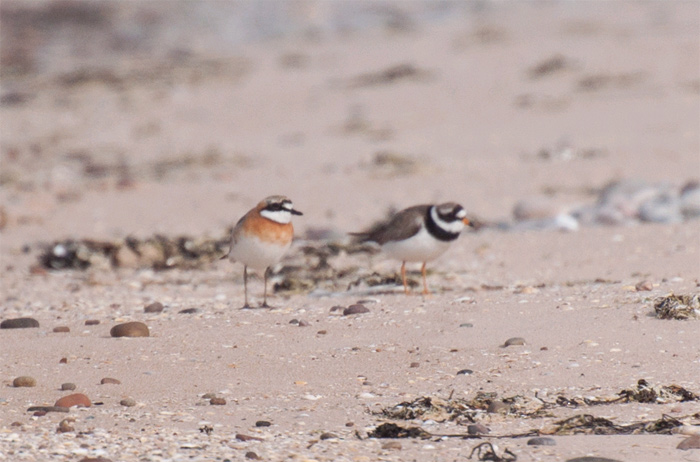 Any Lesser Sand Plover would be greeted with much glee these days ~ the combined total for the two forms (the split will come…) currently stands at five, with two Lessers and three Mongolians on the scorecard, with the most recent of either form coming in July 2004, the ultra-smart two-day male MP at Aberlady Bay.
A year before that, from July 22nd-28th, came a male Mongolian Plover at Keyhaven Marsh in Hampshire, which had followed two birds of the form atrifrons ~ a female at Rimac (Lincolnshire) in May 2002 and the controversial (tho' not to the finder…) male at Pagham Harbour in August 1997.
At the time, the West Sussex bird was the first Lesser Sand Plover for Britain and Ireland and was accepted as such. However, it was superceded by another famously debated bird ~ a two-day male on the Don Estuary (Aberdeenshire) in August 1991.
The Granite City bird was initially thought to be a Greater Sand Plover and remained such (despite a whole heap of discussion and comment to the contrary) for almost 10 years. The record was reviewed not long after the Pagham bird was accepted and soon afterwards, the Don bird retrospectively became Britain's first LSP of any flavour.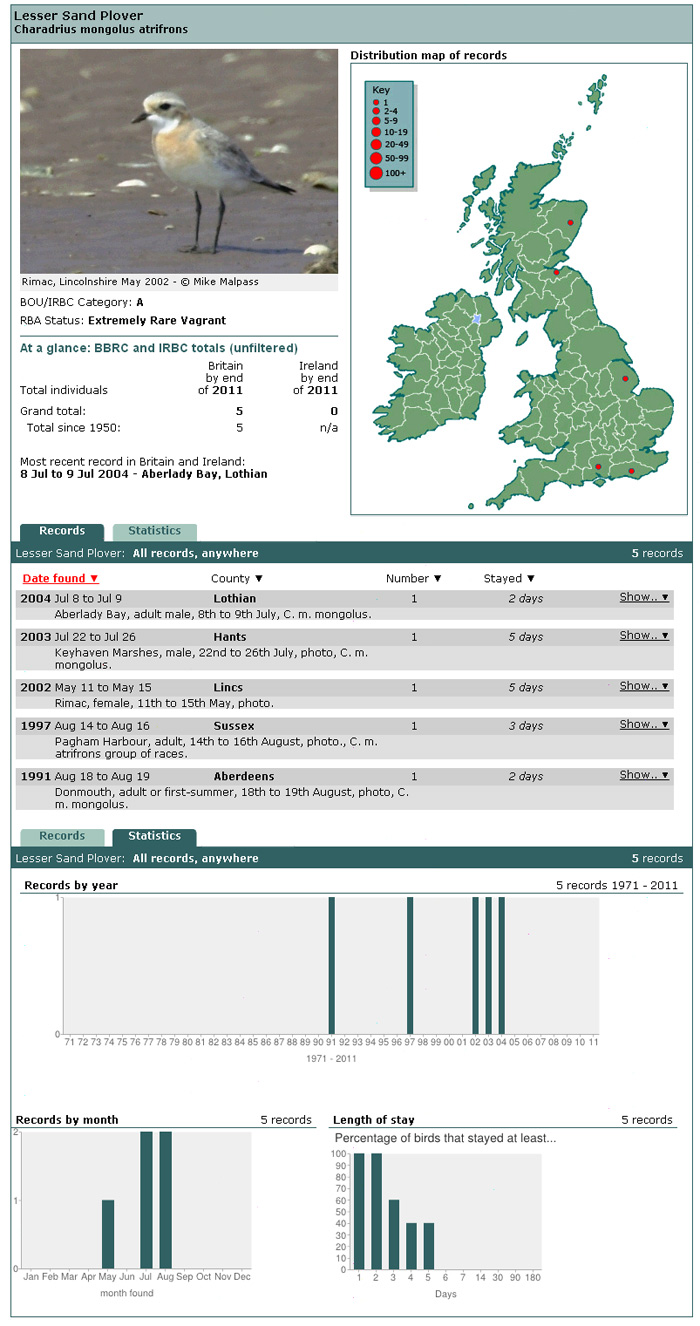 Scotland's hold on being the centre of attention bounded forward once more thanks to a further Mega Alert on the early morning of 21st ~ a Swinhoe's Storm-petrel had been heard around the nets in a petrel-ringing session during the wee small hours on Fair Isle.
A month ago this almost forgotten species got a name check here with "remember them" question. Well, the staff from Fair Isle Bird Observatory hadn't as they played numerous petrel species calls during their weekend ringing sessions (actually they've been playing Swinhoe's calls for the last three years…) and at around 2.40am on 21st one of the Assistant Warden's picked one up calling just offshore (possibly on a small outcrop) but despite responding a few times, the bird wasn't seen and it then moved off and away.
The famously erratic Swinhoe's Storm-petrel appearances at the petrel-ringing sessions at Tynemouth between 1989 and 1994 are the stuff of legend ~ the first record came on July 23rd 1989 with another trapping following on three nights later. In the four Julys that followed, a female Swinhoe's Storm-petrel was trapped on single nights in 1990, '91 and '92 with 1993 being the year that many people struck it lucky ~ the bird was caught on three nights between July 21st-29th ~ and in July 1994, the bird was caught on both 23rd and 25th.
After that, nothing until July 1st 2000 when, out of nowhere, one was trapped on Great Skellig Rock (Co. Kerry) and then just over a month later, another Swinhoe's was caught at Cove (Aberdeenshire). Our most recent record came from around 12 miles south of Scilly, on 21st July 2005, meaning the gap between the Scilly and Fair Isle birds was exactly eight years to the day.
The only other record, indeed the first record, was a bird seen off Bridges of Ross (Co. Clare) on August 15th 1985, while this may well be overtaken by the still-under-review Peter Harrison Chalice pelagic bird of August 1988, called a Matsudaira's Storm-petrel after the first analysis of images was made and then called in to review, as a Swinhoe's many years later…smart money still has it as being closer to the former (or another dark-rumped species) rather than the latter.
Right then. Where next? Let's go to Northumberland…
The morning of 22nd was already full of surprise ~ the first news of the day was of the Fair Isle petrel and before the clocked tick-tocked to 9.30, came the second "MA" of the day…a Fea's Petrel had been seen, very close inshore off Newbiggin-by-the-sea as it headed north ~ a remarkable record given the utter lack of suitable seabirding weather countrywide…
With the local grapevine in full swing, the bird was picked up some 90 minutes later, flying along the edge of a sea-fret at Beadnell and then was picked up off Staple Island, on the Farnes.
This will be the sixth record for Farnes and the eighth record for the county as a whole ~ the first coming in September 1993 and the most recent appearing in 2009. All of those were accepted as Fea's or Zino's Petrel and a look at the online images of this bird ~ snapped off Beadnell ~ had a vague whiff of Zino's about them…
Back on Inner Farne (which remained a priority destination for many) the Bridled Tern continued to show well to visitors on 17th-23rd (showing most frequently in the afternoons) ~ as it entered the third week of a somewhat erratic stay here.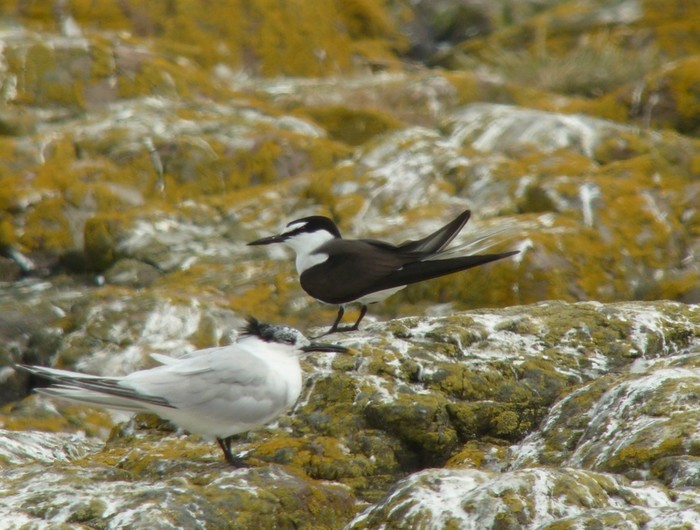 Other long-staying individuals have been almost as unpredictable in appearances ~ the 23 day bird at Cemlyn in July 1986 was the easiest to catch up with, while the 39 day bird around Scilly (in July and August 1991) and the 49 day bird around the Northumberland coast (primarily on Coquet Island), also in 1988 were really tough to connect with.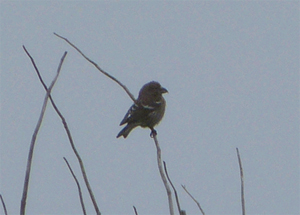 Two-barred Crossbills are always something that normally only birders in the Northern Isles could possibly hope to chance upon through the mid-summer period of late June and on in to August. It had been a quiet time so far, one was seen on Orkney on July 1st and another was noted in County Durham on July 7th giving hope to people south of the Scottish border that more may follow. For the best part of two weeks nothing did follow. Then it all changed…
The two or three hours from lunchtime to teatime on 20th produced the start of an unprecedented push of Two-barred Crossbills into East Anglia, with Norfolk recording the lion's share over the days that followed. First up was a juvenile on Gramborough Hill, Salthouse that quickly moved off west. Around the same time, another juvenile was found at Holme and then, around an hour later, an incredibly confiding young male was found near the beach car park at Cley (which lingered for slightly longer than most, just 45 minutes or so. The two birds in the Cley square were the first there since September 1969 ~ a local mega!!!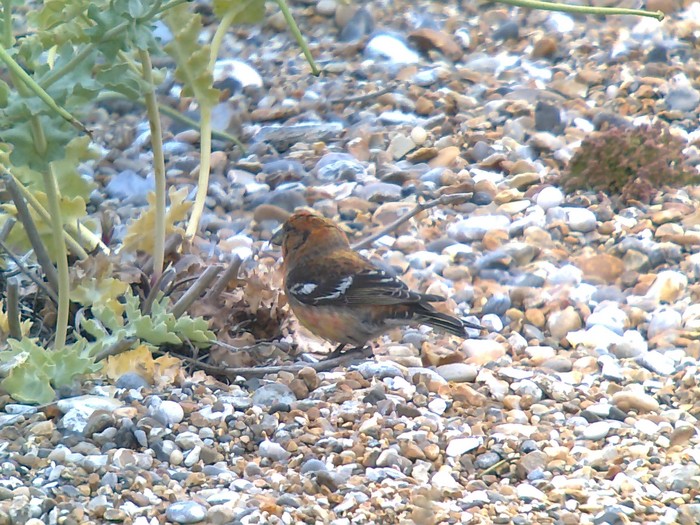 Bird four appeared soon afterwards, another male and another for Holme while there are reports of a further two for Scolt Head Island around the same time. Suffolk also collected a couple, two together for less than minutes at Havergate Island. The day finished with minimum of six birds and here's Andy Stoddart take on how, and why, they got here…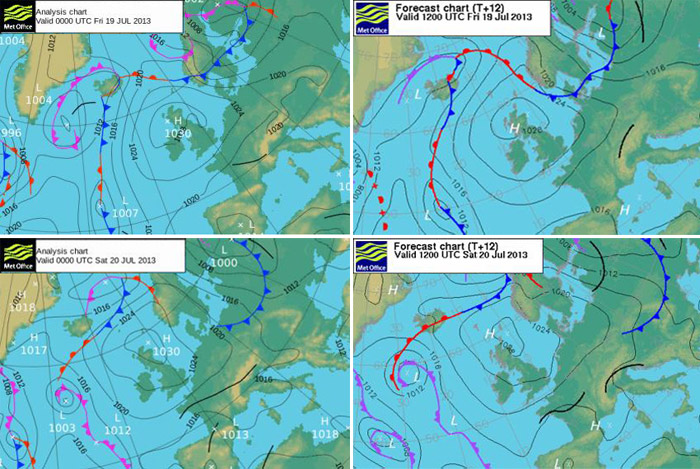 No further sightings followed during the morning of 21st and it felt as though the exciting pulse of birds was over and done with. But as people started to look in favourite Crossbill haunts in Norfolk, more rare birds were uncovered.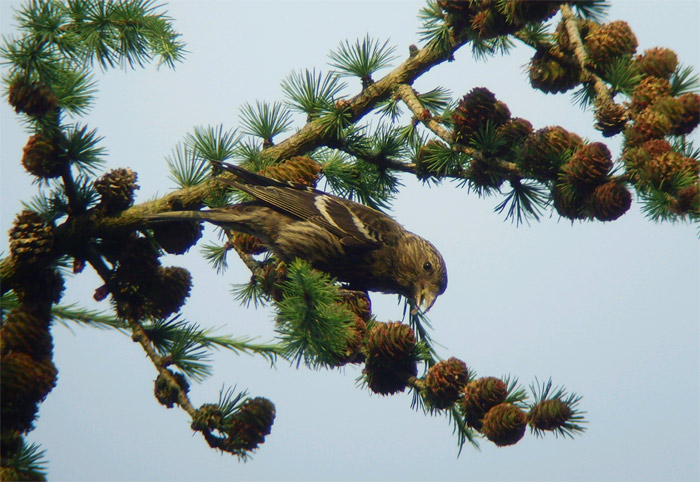 A juvenile Two-barred Crossbill at Lynford Arboretum was followed quickly by a second and then a third ~ an adult female and two juveniles ~ and all were still present the following day (with experienced observers reporting four in the afternoon, an additional juvenile noted), with two juveniles present on 23rd. Back to 21st and back on the north coast, two birds were reported from Kelling.
Another record from Kelling popped up on 22nd, one seen near the main coast road before flying west and then another juvenile was found during the morning on nearby Kelling Heath where it remained to 23rd.
If all the Norfolk birds are "gen" then there could have been as many as 14 birds in the county ~ which is more than the whole historic total ~ current standings are at a Spinal Tap 11, following the recent acceptance of a photographed male at Lynford in 2012.
Funnily enough, it wasn't actually Norfolk that started this particular wing-barred ball rolling ~ that honour fell to Spurn, where a juvenile Two-barred Crossbill was photographed a few hours before they pitched down further to the south. An amazing influx so far south. Could more follow or will it just be loitering lingerers that emerge from now on?
Well, it didn't take long for an answer ~ Shetland didn't want to be left out and a newly arrived female at Wester Quarff, on Mainland, on 23rd could be the start of something special in the Northern Isles once more…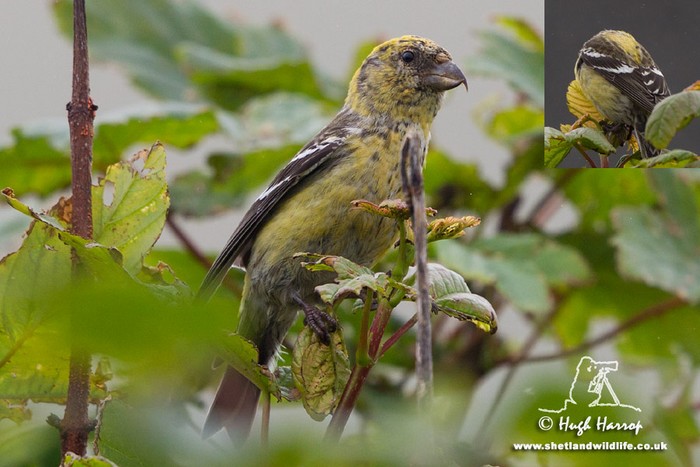 Two-barred Crossbill influx July 2013 - view in a larger map


The final headline acts of the week were two BOPS, both seen on a scorching 22nd. First up a Booted Eagle seen around the back end of Holt Lowes (Norfolk) for five minutes prior to midday, eventually drifting off to the south. The bird was found by RBA reviewer and former BBRC man Andy Stoddart who takes up the story…
"On 22nd July I was at Holt Country Park/Lowes as usual, looking for butterflies. At about 1130 I casually scanned to see how many of the local Buzzards I could see when I saw a Buzzard-sized raptor soaring quite low to the northeast. However, its wing-beats and its wing-set suggested that it might not be a Buzzard. It was, instead, much more kite-like but as I continued to watch it, it became obvious that this was no kite either.
Fortunately the bird circled and glided around for some time, allowing views for around five minutes before it finally drifted off, still quite low, to the south. During the time the bird was in view there was ample time to consider the obvious candidate species – Buzzard, Marsh Harrier, Honey Buzzard, Red Kite and Black Kite.
However, the bird did not readily fit any of these species but instead the size, structural and flight action characters were, it became slowly apparent, more similar to those of Booted Eagle! This was clearly a disturbing conclusion so I tried to add some plumage detail. Fortunately, the bird's upperside caught the light more as time went on and as it turned in the sky it revealed a 'four ovals' upperpart pattern formed by pale wing covert and scapular patches.
Whatever it turned out to be, clearly a bird looking like this needed to be mentioned ASAP so I phoned out the news as a 'probable' to get others looking for what was obviously an interesting bird at least. Mark Golley and Richard Millington were sufficiently inspired to put in time and effort to look for it and saw it a little later." Andy Stoddart
…indeed we did…after speaking to Andy as soon as the news had appeared on the pager, RGM and I headed off to the area, taking to the countless ridges around the area to the south of Holt Lowes ~ focusing mainly on the land behind Edgefield. We did two or three large circuits, extending the search out towards Matlaske and Plumstead as well, seeing several Buzzard, and Red Kite, but there was nothing to match Andy's bird. After a couple of hours or more, we pitched up back at the inland end of Edgefield Tip. Gulls and corvids were looking anxious and as Richard and I mused on what was the cause, I picked up a raptor heading (roughly) due south overhead. We went through precisely the same elimination process as Andy had done ~ clearly this wasn't a run of the mill BOP ~ detail was tough to see in such harsh light with the bird drifting away, but what plumage detail was seen certainly didn't fit your bog standard bird of prey that we see throughout the year in Norfolk. And neither did the bird's shape, flight manner and overall demeanour. The wing shape, tail length and shape, along with carriage and vaguely Kite-like (rather than Buzzard-like) vibe all suggested that not only where we looking at Andy's bird, but that his initial ID was also correct. The bird drifted away from us, over the minor road and continued to drift slowly inland (without a single flap) and was lost to view...MAG…
…and later the same afternoon came a report of a probable first-summer Bonelli's Eagle drifting north over Walderslade (Kent).
Raptor sightings such as these are pooh-poohed by all and sundry but it isn't always the case that they are duff. The weather has been pretty extraordinary of late and the summer has already thrown up some crazy, crazy birds…so why not a mega eagle or two as well?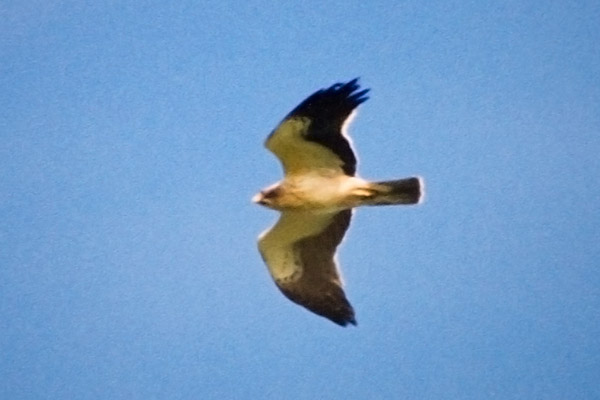 At some point, someone will get some images of one of these claims and then a few folk may have to take a nibble on a slice of pie named humble. Until then, we'll all just have to wonder if the much-maligned Booted Eagle that bounced around Ireland and Britain like an avian pinball during 1999 and 2000 could actually have been the real deal rather than Category D fodder it ended up as….
Seabirds
A single Cory's Shearwater flew past Melmore Head (Co. Donegal) on 17th while numbers of Balearic Shearwaters began a steady rise off Portland Bill ~ 18 noted on 17th followed by 19 on 18th and then 22 on 19th. Singles, twos and threes were noted from four other English counties (East Yorkshire, East Sussex, Devon and Cornwall (where five were seen from Porthgwarra on 23rd), with one in Ireland too, seen off Kilcoole (Co. Wicklow) on 20th.
A sub-adult Long-tailed Skua flew south past Spurn on 19th when an adult was noted heading north off Beadnell (Northumberland). In a pretty decent week for Pomarine Skua (considering the date) over 50 birds were noted across 12 counties, with Whitburn (Co. Durham) leading the way with 19 birds all told, which included 11 on 21st (after seven there on 20th). Northumberland scored 14, including six off St. Mary's Island on 20th, while five were off Spurn on 21st. Birds made it as far down the east coast as Cley, Thorpeness and Southwold with west coast birds were seen in Cheshire and Dumfries & Galloway, with one across the Irish Sea, off County Down.
Herons, Egrets & allies
This week's Little Bittern watch at Ham Wall RSPB (Somerset) produced a single male on 17th, two males on 18th and one of each on the 20th. Further sightings of at least one male continued to 23rd when at least three males were noted.
In South Yorkshire, at Old Moor RSPB, the first-summer Night Heron originally seen towards the end of last month, made a surprise re-appearance on 17th and was seen again on both 19th and 20th. At least seven Great White Egrets were noted this week ~ new was one at Lodmoor RSPB (Dorset) on 19th, while two birds were at Ham Wall RSPB on 20th. At least one remained around the Dungeness area, while lingering birds remained at Burton Mere RSPB (Cheshire) to 17th, Waterbeach (Cambridgeshire) to 22nd and at Brading Marsh RSPB (Isle of Wight) to 23rd.
Two sites in Kent recorded Cattle Egrets this week, although it seems likely to actually be one in the same bird. First up was a bird at Oare Marshes on 19th and that was followed by sightings, only some five miles away, back at Elmley on 20th and 23rd. In Ireland, at Randalstown (Co. Antrim) a Cattle Egret was seen on 23rd. The Glossy Ibis at Marloes Mere remained to 22nd while there was late news of another at Warton (Lancashire) on July 13th.
Norfolk hosted a bare minimum 25 Spoonbills this week ~ 16 were at Titchwell RSPB and nine were noted at Stiffkey Fen on 17th. Three were also at Cley the same day but whether they were Stiffkey birds, no one knows. Cley's maximum count this week was 14 birds on 19th, while three were in Blakeney Harbour on 18th and one was at Strumpshaw RSPB on 22nd.
Five Spoonbills were at Alkborough Flats (Lincolnshire) on 23rd and there were two each for Rainham Marshes RSPB (London) and Grove Ferry NNR (Kent) on 22nd. Singles were noted from Loch of Strathbeg (Aberdeenshire) through to Denaby Ings (South Yorkshire), across in to Wales were singles lingered at the Newport Wetlands (Gwent) and also the National Wetlands Centre (Carmarthenshire) and on in to Suffolk (one seen at three sites in the county this week) and down to Slimbridge WWT in Gloucestershire. In Ireland, one was at Tramore Backstrand from 19th and two were found at Tacumshin (Co. Wexford) on 20th.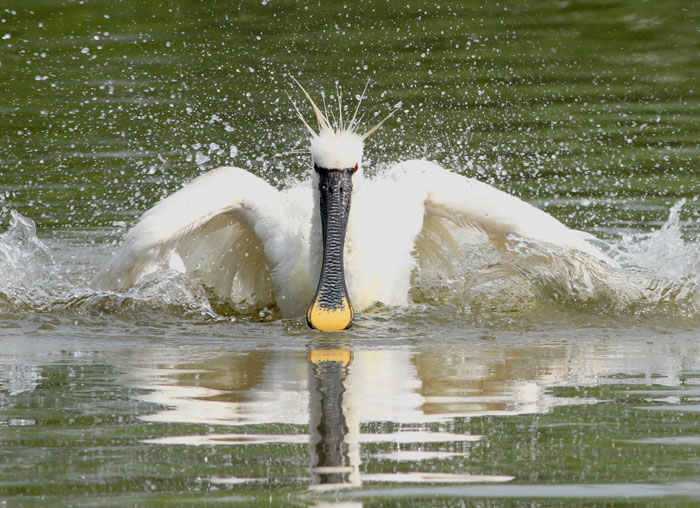 Three Common Crane were again at Welney WWT (Norfolk) on 20th with nine at Lakenheath RSPB (Suffolk) on the same day. Two birds flew over Haddenham (Cambridgeshire) on 21st and on 22nd a single Crane was seen in fields near Compton Bishop (Somerset).
Lone White Stork records this week (carrying the unfortunate, though necessary O.U.O caveat) came from Brockworth (Gloucestershire) on 18th and at Wardley (Co. Durham) on 22nd.
Geese & Ducks
In a very quiet week for all things quacky, the star turn was most certainly a Black Duck at Killelton Polder (Co. Kerry) on 23rd ~ the fourth record for the county (after three returning birds between 1996 to 2011).
The only Ring-necked Ducks seen were the female at Mullagh, on Lough Beg (Co. Antrim) on 21st-22nd and the summering drake in North Yorkshire, still at Brompton-on-Swale to 23rd, while a drake Ferruginous Duck was found at Burwell Fen (Cambridgeshire) on 22nd.
Just a single drake Surf Scoter was noted off Blackdog (Aberdeenshire) this week (on 20th and 21st) while there was no news at all on the Ythan Estuary King Eider…
As I said, quiet in quackers corner….
Shorebirds
New this week were the third and fourth White-rumped Sandpipers of 2013 ~ an adult appearing at Lodmoor RSPB on 17th (where it stayed until 20th), followed by another at Blennerville (Co. Kerry) on 22nd.
In Leicestershire, at Rutland Water's Egleton Reserve, the popular adult summer Pacific Golden Plover remained in place for the first couple days of the new review period, last sent here on the evening of 18th. There was also some belated news from East Sussex regarding the species ~ one present at Rye Harbour NR on 1st was identified from photos on 23rd ~ if accepted it will become just the second county record, following a first-summer at the same site 10 years ago, in April 2003.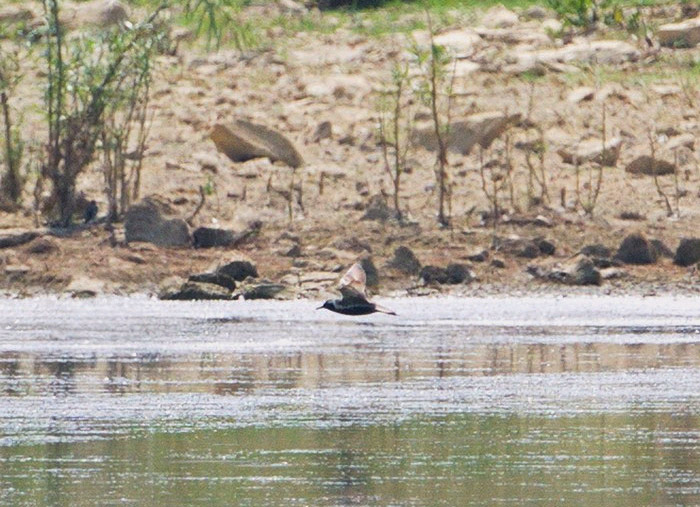 In Wales, at the National Wetlands Centre WWT in Carmarthenshire, the Lesser Yellowlegs was present and correct to 21st at least.
Both of last week's Pectoral Sandpipers remained on station early in the new week, the Vange Marshes bird still present on 18th while the Rainham Marshes individual was in place to 19th. Eight new arrivals were found at Belvide Reservoir (Staffordshire) and North Ronaldsay (Orkney) on 19th, at Pennington Marshes (Hampshire) and Alkborough Flats (Lincolnshire) on 20th, Letham Pools (Fife) and Belfast Lough RSPB (Co. Antrim) on 21st and, finally, at Minsmere RSPB (Suffolk) and on Fair Isle (Shetland) on 23rd.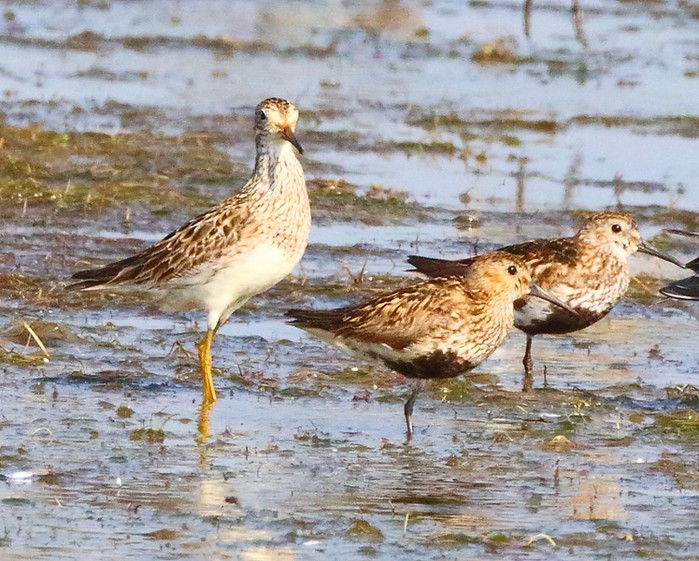 The two Temminck's Stints found this week were both seen in the northeast of England ~ at East Chevington NWT (Northumberland) on 19th and then at Saltholme Pools RSPB (Cleveland) from 20th-23rd.
Gulls and Terns
No doubting that the Gull of the Week award goes to the beautiful third-summer type Baltic Gull that was watched for an hour on the North Scrape at Cley NWT (Norfolk) around lunchtime on 20th.
This was another striking example of fuscus and it joins the slowly growing list of Baltic Gulls seen and photographed in East Anglia where, for those in the know, it is becoming apparent that this often-dinky form is an annual vagrant ~ perhaps only one or two a year ~ but they are coming and they are here. Now!
As ever, the "no ring, no record" stance is an easy one to take, but even the hard-line Larophiles in the Netherlands have conceded that yes, fuscus can be identified in the field without the aid of a Finnish ring.
Small, dark female intermedius remains the next default setting in the argument, but when you know your summer LBBs inside out, and know the pitfalls, a bird like the beautiful Cley fuscus make the call that much easier. It was practically Pratincole-like when in the company of two intermedius and, let alone looking like a different form, it looked like a completely different species...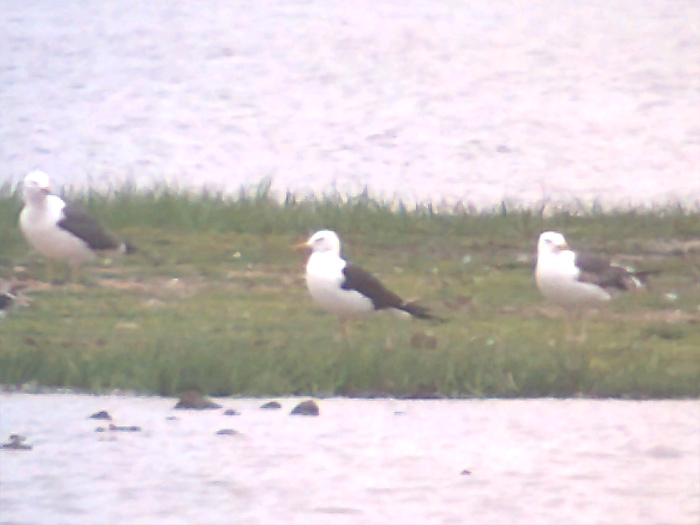 …and as the week drew to close, a second bird, a first-summer, was found in the gull fields of Lincolnshire, near Brigg. The one photo doing the rounds certainly seems to point towards another fuscus...relevant ID boxes duly ticked...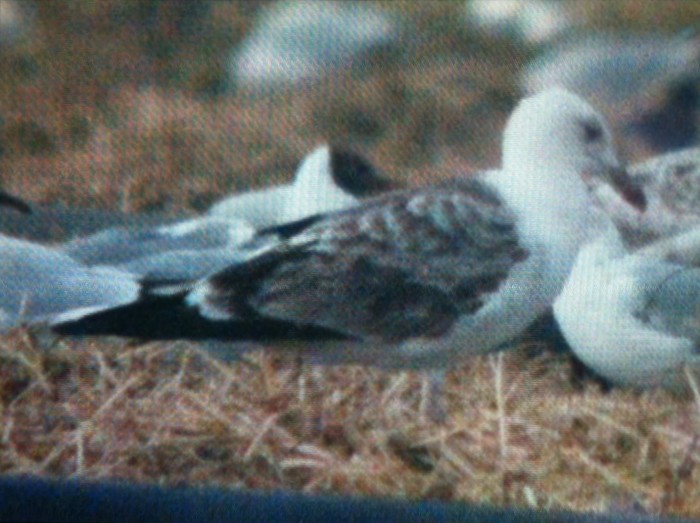 Mindset folks, it is all about the mindset of how these things are approached… accentuate the positives and it'll be just fine…
Lancashire's adult Bonaparte's Gull remained at Red Nab, Heysham to 22nd, while the summering youngster at Oare Marshes NR (Kent) was seen throughout the week. Another was reported from Sennen (Cornwall) on 17th and a first-summer at Rye Harbour (East Sussex) on 20th could be only the sixth record for the Sussex's combined.
Both of the week's two Ring-billed Gulls were noted in Ireland ~ the second-summer remained at Black Rock Strand (Co. Kerry) to 20th and an adult was at Nimmo's Pier (Co. Galway) on 21st where an Iceland Gull was also seen on the same date. Elsewhere in the Republic, the summering Glaucous Gull was at Helvick Head (Co. Waterford) on 20th and the popular Gull-billed Tern remained at Tacumshin to 20th.
Raptors
The male Snowy Owl remained on Arranmore Island (Co. Donegal) this week, seen there on 19th. A Black Kite was seen at Allen Dale (Northumberland) on 17th while single Honey Buzzards were reported over Hardmead (Buckinghamshire) on 18th, with birds in Dorset again at Hilfield on 20th and at Poole the following day.
Passerines
Late, late news this week came from Wales where a singing male Iberian Chiffchaff had been noted at a garden in Pwll, near Llanelli (Carmarthenshire) on July 8th ~ the bird had been present for some 12 weeks beforehand too. This species remains a desperately rare bird in the Principality, with just one accepted record to date, the 40 day bird in Wentwood Forest (Gwent) from May 10th 2010.
On Fair Isle, the male Western Subalpine Warbler continued his summer vacation at Schoolton, present to 23rd at least while the only Common Rosefinch was also on the magic isle, present to 17th.
A few nomadic midsummer Red-backed Shrikes were discovered this week ~ new males found at Donna Nook and Gibraltar Point (both Lincolnshire) on 21st and 22nd respectively, with a third male at Easington (East Yorkshire), also on 22nd. The female found last week at St. Fergus (Aberdeenshire) was present to 21st, giving Rock Thrush listers a nice little padder in to the bargain.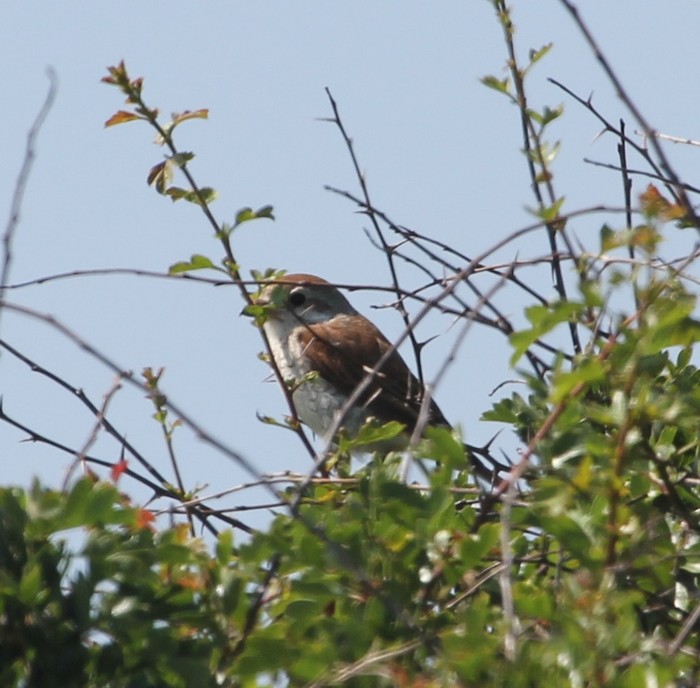 In Shropshire, a Bee-eater flew over Aston Pigott on 20th while a brief singing male Golden Oriole at Abberton Reservoir (Essex) on 17th brings this wacky topsy-turvy round up to a grinding halt ~ a bizarre week where the major birds were almost the sum total of what was around the country…
Right, that's that....what on earth can the next few days bring...the mind has been boggling at the extraordinary run of birds in recent weeks (some of them predicted here, 'natch) so, with a lingering peek in to the Crystal Ball of Rares we see....
...we see a quite few days to be honest...there are lovely shorebirds and seabirds to be mused upon once more ~ July 27th has produced two Sharp-tailed Sandpipers (in Kent in 1985 and County Cork in 2003) while 28th claims two Fea's or Zino's Petrels along with a rare accepted Madeiran Strom-petrel (the Scilly bird of 2007). Britain's second Red-necked Stint was found at Cley on July 29th 1992 and, well, that's about it…
Will the madness continue next week?
Stay tooned folks, stay tooned...
Mark Golley
24 July 2013
A special thanks this week Margaret Sharpe for sharing her thoughts and images of the Moray Mongolian Plover.
Thanks also to the rest of this week's contributors for their photos and videos.
Hugh Addlesee, Martin Cook, Lee Gregory, John Furse, Garry Taylor,
Spurn Bird Observatory
, David and Maureen Blackmore, Andy Stoddart,
Davey Farrar - Kerry Birding Blog
,
Dave Pullan
, Steve Evans,
Hugh Harrop - Shetland Wildlife
, Mike Malpass, David Aitken,
Peter Simpson - Blue Sky Birds
,
Alan Tate - AA Bird Pix
,
James Lees
,
Joe Stockwell
,
Paul Rowe
Michael Trew, Tom Lowe, Andy Williams,