Weekly round-up: 10 - 16 July 2013
The week at a glance
The Bridled Tern heads south and then reappears back up north…
Unconfirmed report of the juvenile Ascension Frigatebird from Argyll
Somerset's trio of Little Bitterns remain in place for another week and become four as the week ends…
It seems that, finally, things seemed to have calmed down a little this week, as the weather stayed (for just about everyone) fine and dandy and the birds decided that maybe a midsummer lull wasn't such a bad thing after all. It gave them a rest, and it gave many birders a rest too…
As everyone dusted down their very best Poula Fisch "Scorchio!" impression for the inevitable outing to greet the warm to very warm (even hot) weather, temperatures for much of the country were indeed on the scorchio! side, nudging through the 30 degree C mark for the first time this year.
The sizeable area of high pressure doesn't seem as though it will shift anytime soon, so everything appears to be set fair for a cracking bit of summery weather ~ though some thunderstorms and areas of damp weather across the far northwest of Scotland and the Northern Isles, looks set to take the edge off things for some.
Actually, aside from the return of a midsummer mega in the far northeast of England, this week has mainly been notable for the re-appearance of that hot ole blues cat, Slim Pickings…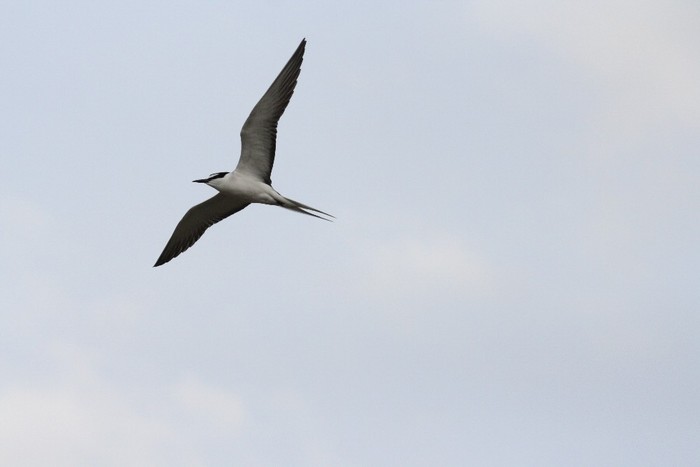 Headline birds
Yep, with rather less drama to report than in recent times, there was still the odd surprising moment of note this week, not least the continuing game of hide-and-seek that one of the summer's most popular birds has been engaging with over the last seven days.
The Bridled Tern seems to have been having a fine old time of it in recent weeks. After a heading south, fly-by, seawatch sighting off Flamborough Head (East Yorkshire) on 10th and with no further sightings in the following 24 hours or so (either from Spurn, the Lincolnshire or East Anglian coasts), it seemed as if the trail had gone cold and that this pelagic mega-roamer had gone and done a (slightly premature) bunk.
…wrong!
Visiting birders to Inner Farne during the middle of the afternoon of 13th duly pulled this trixy avian rabbit out of the hat once more ~ there, again, was the Bridled Tern roosting by the jetty for half an hour or so before heading away and off around the island.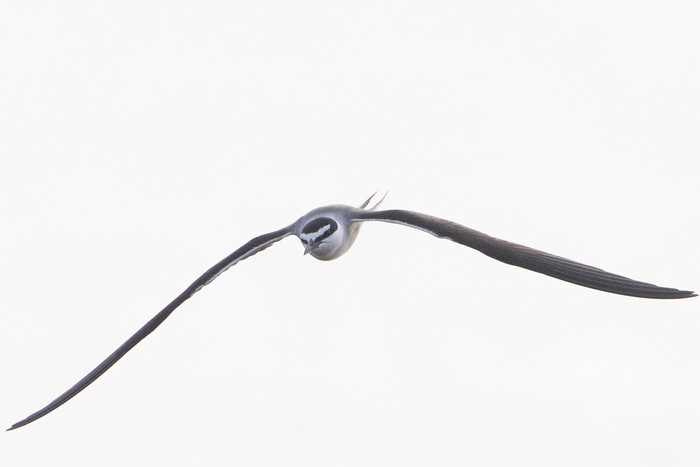 A blank morning followed the next day but the afternoon proved to be far more successful, the bird showing well at the jetty once more, where it remained, off and on, throughout the day and on in to the evening. A similar pattern of afternoon showings continued on both 15th and 16th and gave those who'd fared badly in the past fortnight a chance to throw their hat in to the Bridled ring once again.
That afternoon pattern seemed popular with bird and birders, but just how long will it continue?
Flamborough's sighting will become the second record of a fly-by Bridled Tern ~ one was seen passing there on August 18th 1992 (a bird that initially been seen around Coquet Island, in Northumberland, four days beforehand; the 2013 bird was seen off Coquet the day before it flew by Flamborough).
As a whole, Yorkshire has now registered four records ~ both of East Yorkshire's records come from Flamborough, with West Yorkshire and North Yorkshire holding one record each ~ at Fairburn Ings in June 1994 and Scarborough in October 1990.
This highly pelagic species has already clocked up a few hundred miles since it appeared in Northumberland on July 1st and taken in three counties and half a dozen sites in to the bargain as well. There's nothing to indicate that there is more than one bird involved here, but there is a second Bridled Tern not that far away in western Europe ~ when the British bird was off Coquet Island (on July 9th), another was found in the Vendee region of France.
No one can guess quite what the bird will do next, where it will appear and for how long. As with a few other rarities over the years, the only predictable thing about this individual is the unpredictable way that it behaves…
Late news emerged on 10th of an unconfirmed report of the juvenile Ascension Frigatebird from Rhunahaorine Point (Argyll & Bute) the previous day. Not much more is known about the sighting, but the site isn't that far from Islay (as the Frigatebird flies) and it seems entirely plausible that the year's "best bird" could have easily eased a way along the Scottish coast without being noticed.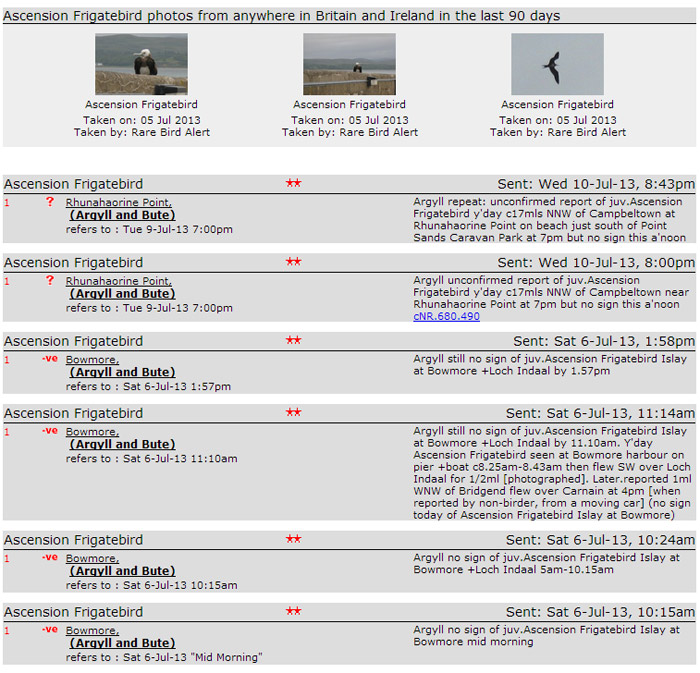 Down in Somerset, the Ham Wall Little Bitterns continued to show throughout much of the week, the two males and single female were all seen from the reserve's viewpoint on 11th, with a male and female on 13th and a single male there the following day. They were back up to the full triple quotient on the morning of 16th and then, remarkably, a third male was seen during the afternoon of the same day ~ an amazing British first for adult male LB's….
The ancient scripts say we've had a number of twos over the years (there are over 530 accepted records to date) and there was a three in Kent, near Deal, in the spring and summer of 1947. A further trio were shot at Frome (Somerset) in the spring of 1886 and a breeding three (a female with eggs inside) along with two males, were shot near Crediton (Devon) in 1808. And last year, at the same site of course, there were two pairs reported. Fantatsic stuff!
As yet, there's still no sign of a Junior or two to add to the growing numbers in Somerset but, fingers crossed, the pitter-patter of baby Bittern feet won't be too far away…
Seabirds
Hot and sunny generally = no seabirds…and that was pretty much the case this week…
Two Long-tailed Skuas were seen in the Humber, off Spurn (East Yorkshire) on 14th, with a Pomarine Skua noted there later the same day. A further four single Poms were seen through the week ~ on 10th, birds were noted from Whitburn Coastal Park (Co. Durham) and Inverkeithing (Fife), with another off Whitburn on 11th, when a further single was logged flying past Hauxley (Northumberland) on the same day.
Two Grey Phalaropes were found a mile and a half or so off Buness on Fair Isle (Shetland) on 11th, while single Balearic Shearwaters were seen off Annet and Bryher (Scilly) on 10th and 11th, Cogden Beach (Dorset) on 11th and Exmouth (Devon) on 12th. At Portland, off the Bill, two single Balearic Shearwaters were noted on 12th and two birds were seen on the morning of 15th.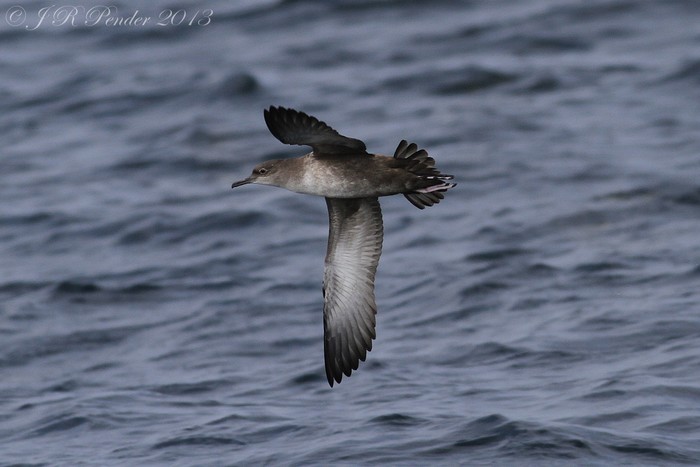 In Highland, a Sabine's Gull was seen at sea, some four miles off Staffin Island on 12th.
Herons, Egrets & allies
Seven single Great White Egrets were reported this week ~ on Somerset's Avalon Marshes there were two for Ham Wall RSPB on 10th and one for Shapwick Heath NNR on 11th and birds noted in previous weeks remained at Brading Marsh RSPB (Isle of Wight) and Burwell Fen (Cambridgeshire), both to 13th, with one again at Dungeness (Kent) on 14th. New arrivals were seen at Burton Mere RSPB (Cheshire) on 12th and around the Breydon Water area (Norfolk) on 15th.
In Kent, a Cattle Egret flew over Elmley on 13th and was noted amongst the local Kentish cows on 15th, while around the corner on the south coast, a Glossy Ibis headed across the WWT at Arundel (West Sussex) on 11th. In west Wales, at Marloes Mere, the second-summer Glossy Ibis was still present and correct to 15th at least.
There was a minimum of 17 Spoonbills along the Norfolk coast on 13th ~ eight at Cley and nine at Brancaster were seen at, pretty much, the same time, while the largest single groups of the week were at Titchwell RSPB ~ 10 birds on 12th (a group that included four juveniles) with 13 there on 16th (when five were at Cley). A further three juveniles have been seen at the latter site, so signs are promising (in the extreme) as to just how well the small colony at Holkham, some eight pairs, has fared so far this year.
In Hampshire, three Spoonbills were at Needs Ore Point on 13th, while two singles were seen in Wales during the week ~ at the National Wetlands Centre (Carmarthenshire) from 10th and still at the Newport Wetlands (Gwent) on 11th. The other birds noted this week, both loners, remained at Frampton Marsh RSPB (Lincolnshire) to 10th and Slimbridge WWT (Gloucestershire) throughout the week.
The only Common Crane report this week came from Marston (Lincolnshire), one in flight there on 11th and in Warwickshire, a White Stork headed over Coventry on 16th.
Over in Ireland, in County Cork, a Spotted Crake was found at Ballycotton on 13th.
Geese & Ducks
North Yorkshire's roving eclipse drake Ring-necked Duck popped up at Brompton-on-Swale on the evening of 10th where it remained to 15th. The long-staying eclipse drake at Dunbar Quarry (Lothian) was still in place to 13th and a female was found at Mullagh, on Lough Beg, in Derry on 14th.
Single drake Surf Scoters were seen at Blackdog (Aberdeenshire) and Rhunahaorine Point (Argyll & Bute) on 10th (with two drakes at the former site on 15th) while the summering, now eclipse, adult drake King Eider was on the Ythan Estuary on 10th as well.
Shorebirds
The Midlands first-ever Pacific Golden Plover was a terrific find on the Egleton Reserve at Rutland Water (Leicestershire) on 15th, where it showed throughout the day, but had taken leave of the area as a new day dawned. However, wherever it spent much of the day couldn't have been to the bird's liking as it was back to the original spot by the middle of the evening on 16th.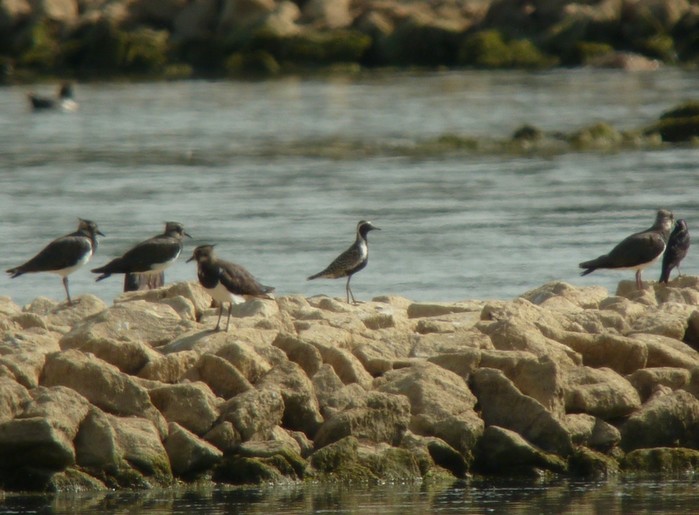 Rutland now boasts Leicestershire's first (and only) records for both fulva and dominica, the American Golden Plover appearing there on November 2nd 1996.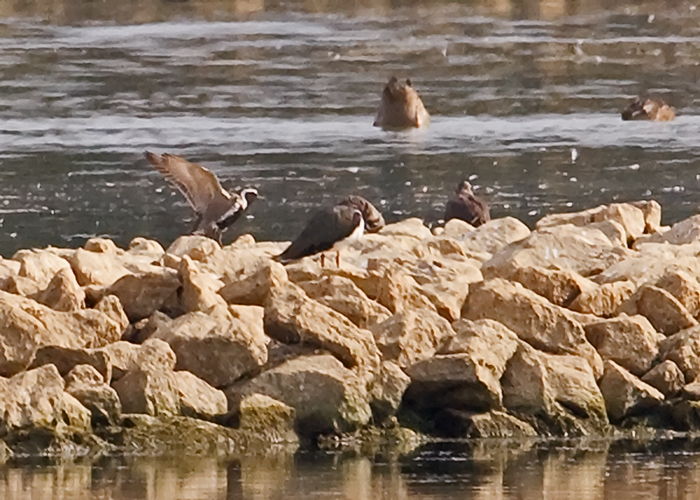 A look at the map of occurence shows, pretty clearly, that the East Coast acts as some sort of a buffer for species such as Pacific Golden Plover making it further inland (the Yorkshire coast has four records, Lincolnshire three, Norfolk an impressive nine ~ almost a tenth of the total accepted records ~ with two each for Suffolk and Essex, with four in Kent as well).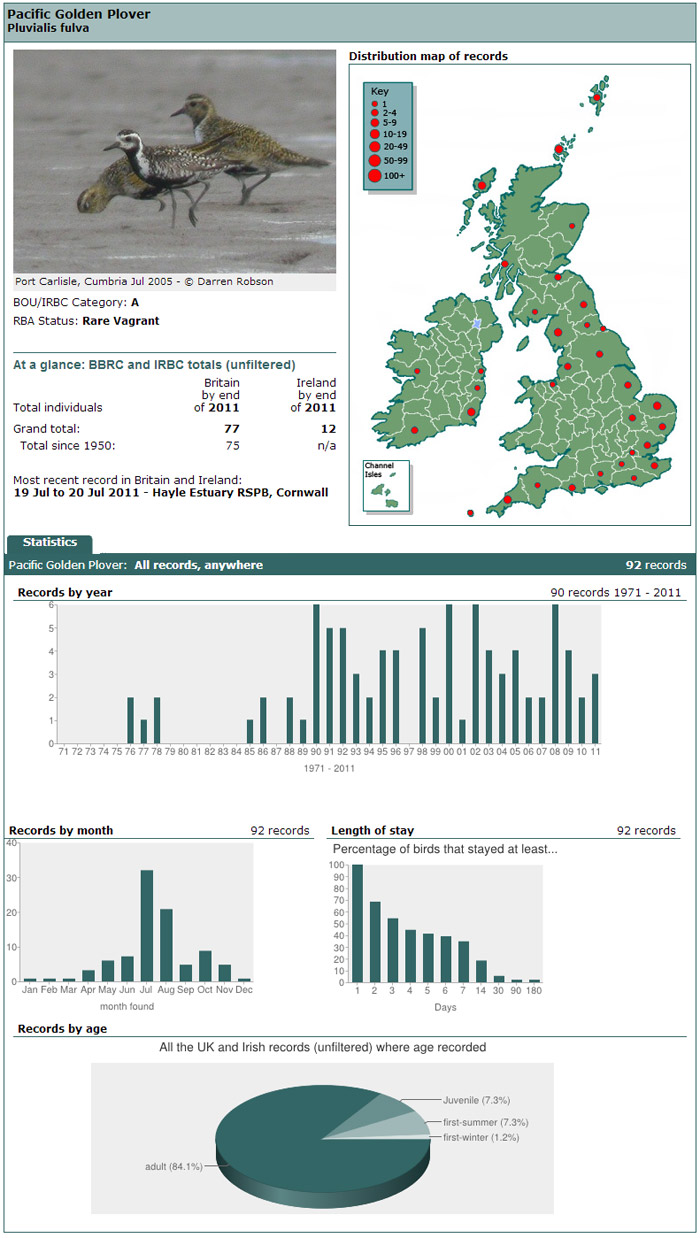 Inland PGPs remain a massively rare event ~ two have been found in Cambridgeshire (in 1996 and 2004) with southern singles in Surrey (way, way back in 1870) and in London (at Beddington SF) on May 2nd 2010. Perhaps all the sunny weather seduced this particular wandering wader to zap over the east coast and carry on to the Midlands?
In Wales, the Lesser Yellowlegs remained at the National Wetlands Centre WWT (Carmarthenshire) through to 16th and on the same date, another was found on the Wexford coast, at Rosslare Back Strand.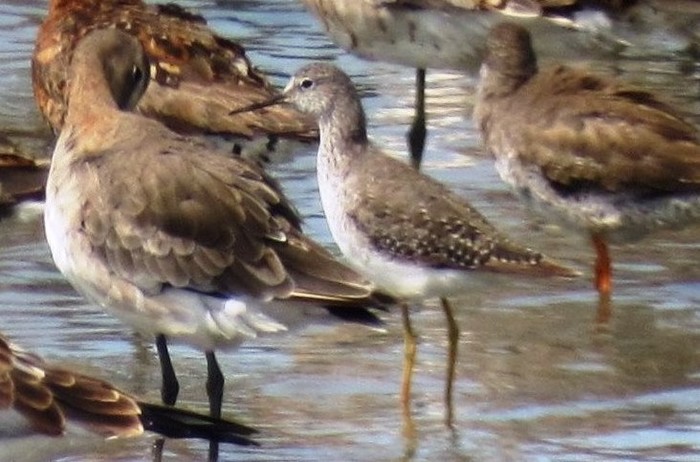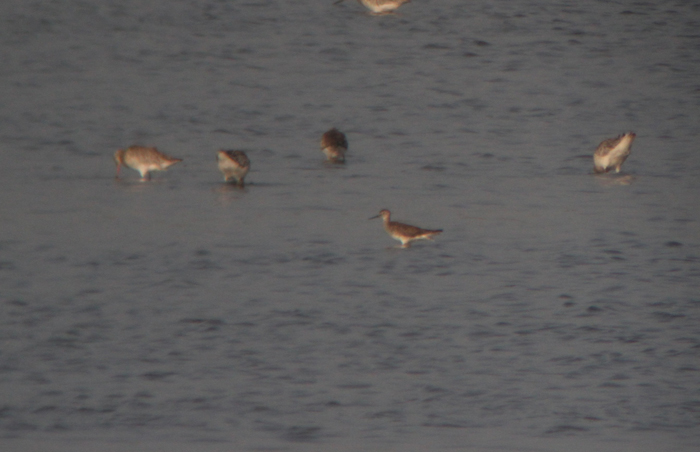 Two single Pectoral Sandpipers were at Rainham Marshes RSPB (London) from 11th-16th and Vange Marshes (Essex) on 14th-15th. In Northumberland, at Derwent Reservoir, the Temminck's Stint found at the end of last week was still present on 11th and on Shetland four Red-necked Phalaropes paid a brief visit to Pool of Virkie on 16th.
Although this bird actually featured in last week's RBA roundup, finder Killian Mullarney's atmospheric images of the Tacumshin Terek Sandpiper are too good to ignore. Present for just a handful of evening hours on July 9th, this is the first record of Terek Sandpiper for this astonishing site and it becomes the second to appear in Wexford (the first was at Rosslare Back Strand in August 1996). The county joins Kerry and Dublin in hosting two of this very special shorebird.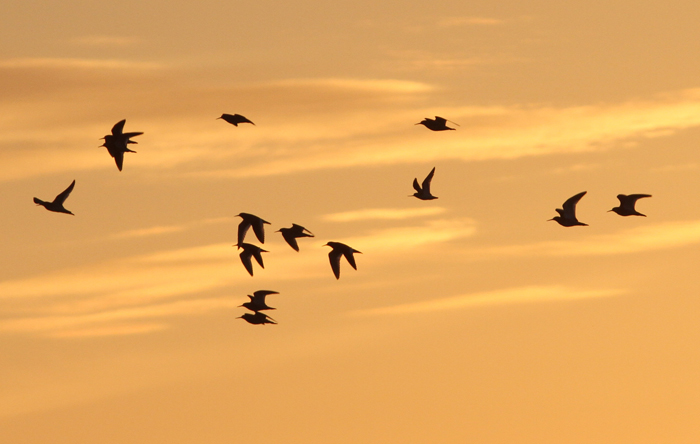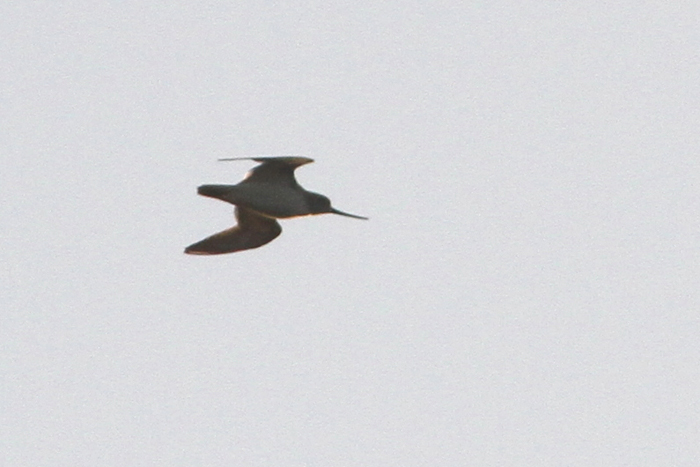 Gulls and Terns
One of last week's two Gull-billed Terns remained at Tacumshin (Co. Wexford) through to 16th. Off the coast of Norfolk, a Caspian Tern was noted heading north past Hopton-on-Sea on 10th before sauntering slowly northwest along the seafront at Walcott the following day.
In Lancashire, an adult Bonaparte's Gull was at Red Nab, Heysham on the afternoon high tide of 14th, reappearing on the afternoon of 15th where it remained to throughout much of the following day ~ potentially the 12th record for Lancashire and Merseyside, but the first since one or two were noted in the region in May 2008. The summering bird at Oare Marshes NR (Kent) remained to 12th at least.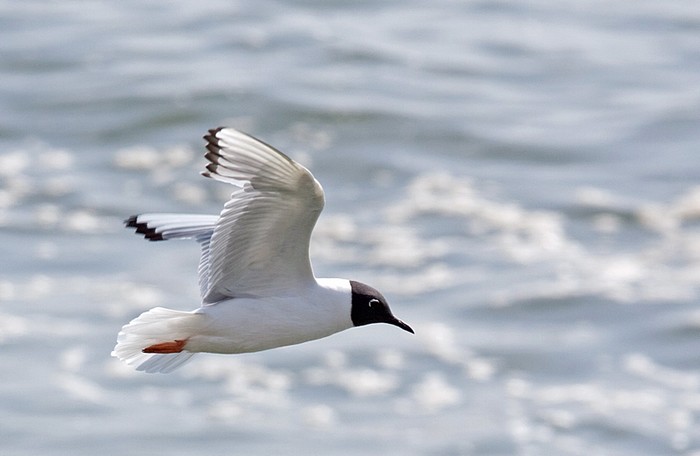 As with last week, it was Ireland that hosted both of the week's Ring-billed Gulls ~ the second-summer found at Black Rock Strand (Co. Kerry) last week remained to 14th while the first-summer bird in Wexford, at Rosslare Back Strand, was noted again on 13th.
Raptors
A Black Kite lingered in the area around Sancreed and Drift Reservoir (Cornwall) through to 13th. In Norfolk, a Honey Buzzard was again noted at the Swanton Novers raptor watchpoint on 12th with another drifting over Hilfield (Dorset) on 14th. The only other birds of prey of note this week were a male Montagu's Harrier near Blofield (Norfolk) on 10th, with a ringtail at Grimston (East Yorkshire) on 15th.
Passerines
In what has, undoubtedly been one of the quieter weeks of recent months, passerines were pretty thin on the ground...
On Fair Isle, a Marsh Warbler lingered to 13th, along with a Common Rosefinch trapped and ringed there on 11th. Another Marsh Warbler was trapped and ringed on North Ronaldsay (Orkney) on 10th while further Rosefinches this week were the lingering singing adult male still at Loch Tummel, near Pitlochry (Perth & Kinross) through to 15th, with another male seen on a bird table near Thirsk (North Yorkshire) on 10th.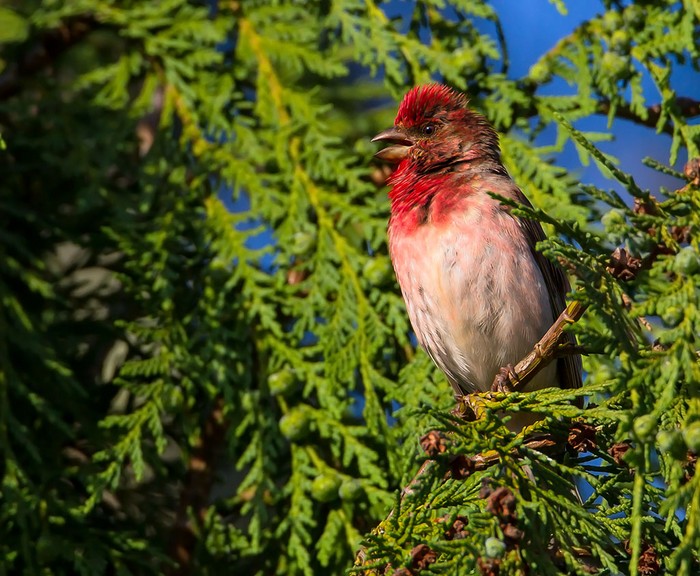 In Cornwall, a Melodious Warbler was reported from St. Buryan on 11th, while two new Red-backed Shrikes arrived at the tail end of the review period ~ a female was at St. Fergus (Aberdeenshire) on 14th-16th and a male was a surprise find in Norfolk, at Burgh Castle, on 15th.
Also in Norfolk came late news of a Hoopoe at Stow Bardolph on 8th-9th with this week seeing another arrive near Rosslare (Co. Wexford) on 13th-14th. The only Golden Oriole of the week was found near Tetney (Lincolnshire) on the afternoon of 15th while on the Isle of Skye, at Camaschroisd, an adult Rose-coloured Starling appeared on 16th-17th.
A quiet week then, generally speaking, but we're entering a potentially busy time of the year again. Returning waders should be the focus of attention again, a mass of outstanding species have been found over the years in the week that is about to follow.
Britain's first-ever Semipalmated Sandpiper was found on Arnold's Marsh, at Cley, by long-time Holme warden Peter Clarke 60 years ago to the day, on July 19th 1953 (a further 267 ~ to the end of 2011 ~ have followed, tho' Norfolk has managed just three more).
Since then, we've had allsorts of shorebird fun ~ from Black-winged Pratincole to Greater Sand Plover and Upland Sandpiper to Red-necked Stint.
Britain's first-ever Red-necked Stint was found at Blacktoft Sands in East Yorkshire on July 22nd 1986 while the sixth appeared at Pool of Virkie, on Mainland Shetland, on July 18th 2000. Currently we're on 11 accepted records (in Britain and Ireland) and with singles already this month in Sweden (on July 3rd) and Denmark (on July 14th) we could be on for another….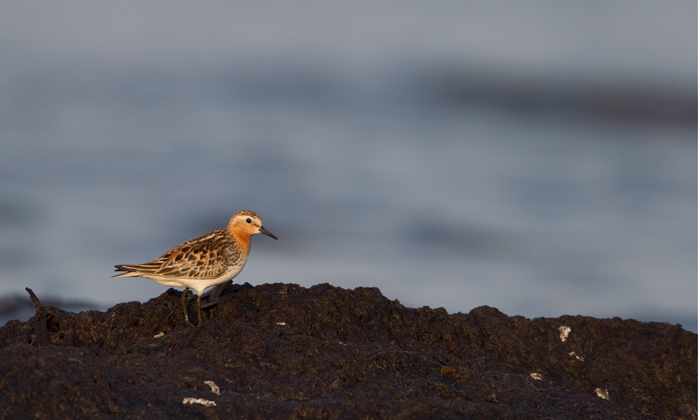 Also, we can't have a July "here's hoping for..." prediction without mentioning
Blue-cheeked Bee-eater
(again…!) ~ there have been two birds in the week ahead and both of them have occurred in Kent. The county's first was seen near Dover, at Church Hougham, on July 18th 1989 and the second, and most recent record anywhere, was the Bockhill Farm bird, seen on July 22nd 2009 (and that's another one I dipped…).
One of these days, one of these days....
Mark Golley
10 July 2013
This week has been a momentous one for all those involved with the "Stop the Badger Cull" online e-petition.
The number of people who have so far pledged their opposition to the Government's plan has now exceeded 258,270 which was the previous highest number of people to have signed any Government e-petition. It closes in the first week of September, so if you haven't put your name to it yet, please go to the website below and register your opposition to the cull.
Sign the petition here and visit the Stop The Cull website to see what else you can do to make a difference

Many thanks to this weeks contributors for their photos and viceos
James Hanlon,
Paul Rowe
,
James Spencer
,
James Packer - The Somerset Birder
,
Joe Pender - Sapphire Pelagics
,
Lauren Tucker
, Killian Mullarney, David Aitken, David Carr, Robin Mawer,
Mark Hipkin
, Roger Riddington, David Talbot, Thomas Melton,
Ronny Malm
.