Weekly round-up: 03 - 09 July 2013
The week at a glance
Holy Smoke Batman! Juvenile Ascension Frigatebird appears from nowhere on Islay…
Bridled Tern continues to tease and please and heads south too...then goes back north…
…while the breeding pair Little Bitterns get some company
Great White Egrets fledge two young in Somerset too
"Blimey, whoever said summer's here were boring?" ~ with those words, the RBA Roundup of 26th June was launched. Prophetic words indeed…
After a slightly shaky start as the new review period began, a sizeable high pressure system cast a cheery glow across almost the whole country as the weekend came along and a glorious few days ensued ~ clear blue skies, the brightest of sunlight and very warm temperatures ~ although in parts of the far northwest and northeast of Scotland (mainly the islands) there was light rain and grey cloud. But for many, temperatures on 7th soared towards the hottest of 2013 so far, nudging towards 30 degrees C.
A little wobble followed along the coast of some eastern counties (murk, mist and the occasional finest waft of feather light drizzle cast a dull shroud around the Norfolk coast for instance), and temperatures fell away there too ~ almost 10 degrees cooler in some places ~ but southeast England, south Wales and many parts of Scotland maintained scores in the mid to high 20's.
With little suggestion that the high pressure is about to slip away too far away from us, the odds are on the sunshine and warmth remaining for a while to come too…
Headline birds
"We've seen a funny bird on the pier…."
Quite so sir, quite so….
The life of the RBA round-up reviewer is kind of a funny one ~ hours on end spent sitting at a QWERTY keyboard with a computer screen as your best friend, tippy-tapping away about the ragged and glorious array of neat birds, cool birds, rare birds and, occasionally, mega birds that rock up on a weekly basis (even megas do seem to appear weekly nowadays...).
After most things are done and dusted (let's not say polished, things always lose their lustre if they are too polished…) with the body of the text, attention frequently falls on coffee, Cley Deli's Sticky Pear & Ginger cake and the hope that, please, no more late-breaking megas come my way as another spin of "Psychedelic Pill" sees me out to the last job of the week ~ what to mention at the very end of the review by way of what quality birds we've had in the past…and what we would dearly love to see in the very near future…
Last week was just such a week. The who-haa with the Needletail had died down (literally) and the emphasis had shifted to the Farnes and their wonderful Bridled Tern. A few musings on rare waders and Bee-eaters drew the 5000+ words proceedings to another close.
There was though, brief hesitation when reviewing the records from early July ~ the words Ascension Frigatebird stared back at me from the data base of rares from bygone days. Despite being the Diamond anniversary of this amazing record, it felt totally and utterly bonkers to include the species in a list of what we all could keep a watchful eye open for…with a wry smile and a thought of "no, that's ridiculous, totally and utterly ridiculous", I moved on to safer territory and blithered on about Sooty Terns.
Then, as a relentless sun beat down on a glorious Norfolk day of July 5th, with The Undertones perfect, punky chords of "Here Comes The Summer" bounding around the front room like a noisy, boisterous puppy, the simultaneous (ominous) bleep of phone and pager meant that something special was afoot….
There, in two big words, the very bird I'd laughed at last week. It was an almost hallucinogenic jumble of letters but, with a shake of the head, a rub of the eyes, and brisk expletive, there was no doubting that the letters really did add up to two words ~ Ascension Frigatebird.
"Can 2013 possibly get any more crazy?" roared the listing collective.
Well, yes it can, and yes it had. The gobsmacking news in full was that a juvenile Ascension Frigatebird had been photographed, in flight and on the pier, at Bowmore, on Islay during the morning of 5th. Unbelievable scenes!!!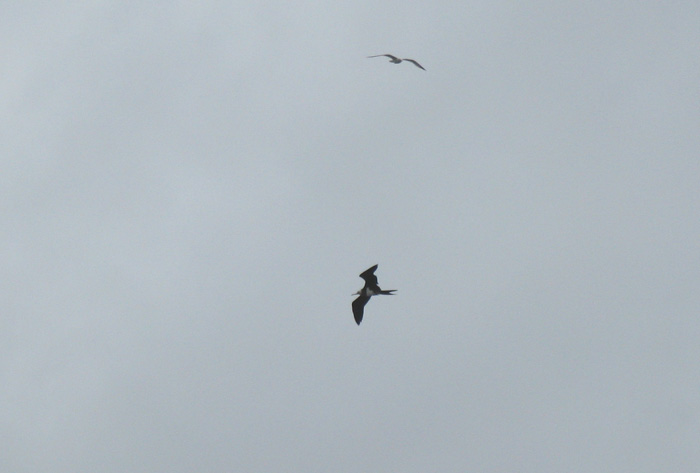 The timeline seems to be thus ~ the bird was initially seen landing on the pier (where it was initially photographed) by a visiting couple from Norway and was quickly noticed by a couple of local fishermen who mentioned the bird to holidaymaker Jim Sim, who was on a pre-breakfast saunter by the harbour wall at Bowmore, sometime around 8am. He took a few snaps, chatted about the bird with the fisherman (the bird had been seen around one of the boats at the same time) and, after breakfast he returned (some time around 9-ish) and the bird eventually took to the air, being harassed by gulls and was last seen about half a mile to the south, heading over Loch Indaal.
The Sim family, clearly wondering what on earth they had seen, eventually arrived at Loch Gruinart RSPB just before lunch and showed the wardens there the images on the back of the camera.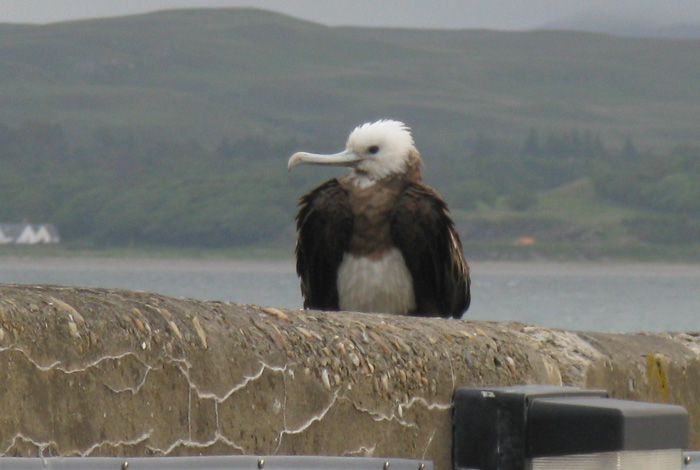 The rest, as they say, is history….
Before anything emerged as to exactly what had happened in terms of timings and the bird's current "was it or wasn't it still there" status, charters were being booked ~ at least one to arrive the same afternoon ~ and ferries and all other possible travel options were being investigated.
Once news of the (by then) almost five hour absence in the area become known, the charter was promptly un-booked, and a few folk then decided against a ten hour plus haul from England to Scotland and beyond and on to Islay…further reports came to nothing ~ the 4 o'clock in-flight sighting actually came from a non-birder in a moving car (while another report around a boat at least meant that we all know now what a "gunwale" is, hooray for Google!) ~ and the 40 or so birders who chanced their collective arms on a day out on Saturday (fair play to them) had a fruitless day out.
The Western Palearctic's first record of Ascension Frigatebird took almost 50 years to be recognised (in the ID sense) ~ picked up exhausted in a fishing net at Loch a' Phuill, on Tiree on July 10th 1953, the bird lasted only until the same evening. The corpse was sent to the (then) Royal Scottish Museum in Edinburgh, where it was identified as an immature female Magnificent Frigatebird and was duly accepted as such.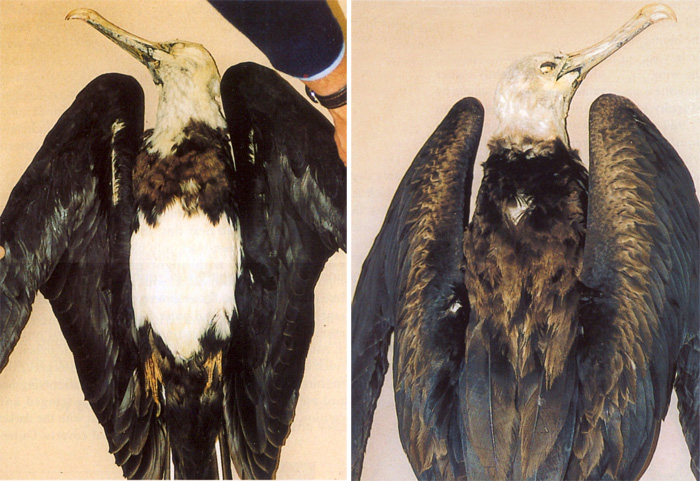 …and that is how it stayed until Grahame Walbridge and Bob McGowan, along with Brian Small, were involved in a review of records that pre-dated the existence of the BBRC (the committee was formed in 1958). The work undertaken within the review process by Grahame on the Tiree Frigatebird threw up a number of identification issues and the plumage, morphology and measurements all indicated that, far from being a Magnificent Frigatebird, the July 1953 record was actually an Ascension Frigatebird ~ the record was duly re-circulated to both the BBRC and the BOURC, the identity accepted, with a full paper appearing in British Birds in February 2003.
Now, just a handful of days short of the 60th anniversary, we had a second. And not that far from where the first was either….truly extraordinary stuff.
There are two accepted records of Magnificent Frigatebird to date, a storm-blown immature found exhausted at Scarlett Point, Castletown, on the Isle of Man, in December 1998 with an adult male picked up in a field (after more severe storms) near Whitchurch (Shropshire) on November 7th 2005. The bird was picked up and taken to Chester Zoo, but died there on November 9th.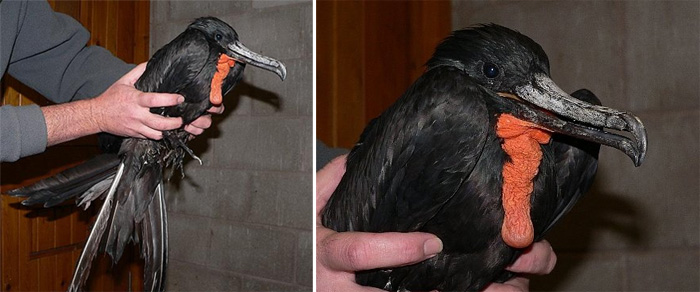 What must have been the Shropshire bird was seen on the Welsh side of the Bristol Channel, over Flatholm, the previous day (though that bird is accepted only as a Frigatebird sp.) and is one of 10 accepted records of Frigatebird that wasn't identified to specific species level (though the number of birds involved is actually only eight).
The first of those was seen at sea, from on board the S.S Mauretania, some 150 WSW of the Irish coast, in May 1953, with further records coming from Aberdeenshire in 1960 and 2010, Cape Clear Island (Co. Cork) in August 1973, County Dublin in both June 1988 and June 1989, while one was tracked from Cornwall to Skomer and then County Dublin (again!) between June 13th-22nd 1995.
Smart money has this week's contender for "Bird of the Year" reappearing again. Where, and when, is ~ as ever ~ anyone's guess…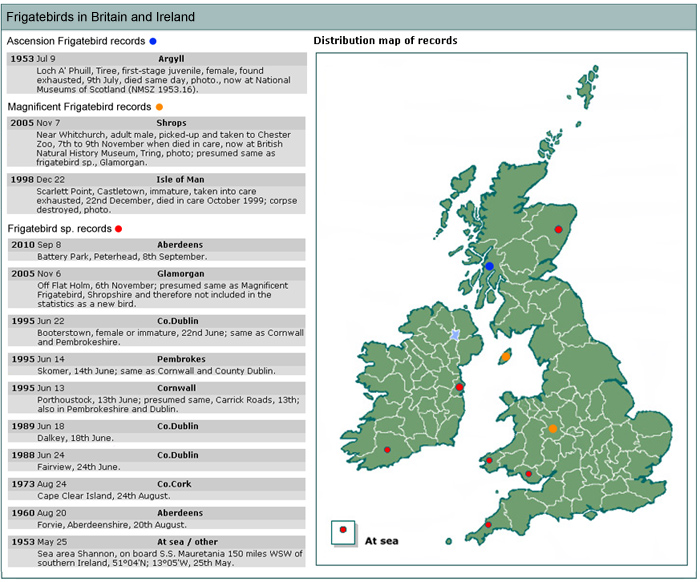 Meanwhile, the developing story of the mobile Bridled Tern is all rather tranquil and (almost) mundane by comparison to the wild goose chase that ensued with the AF.
The superb Onychoprion showed a little less regularly at the start of this week's review as it had at the end of last week's, but visitors to Inner Farne on 3rd weren't going to go home disappointed. Things got trickier on 4th, with just a couple of confirmed sightings through the day and then, by 5th, nothing….normal service had resumed for the rangers….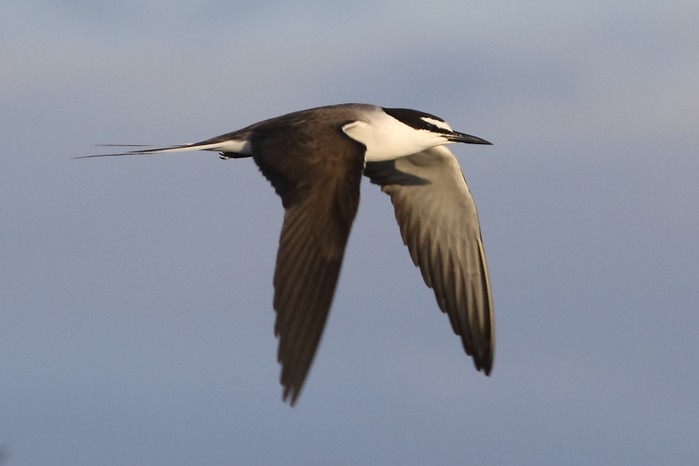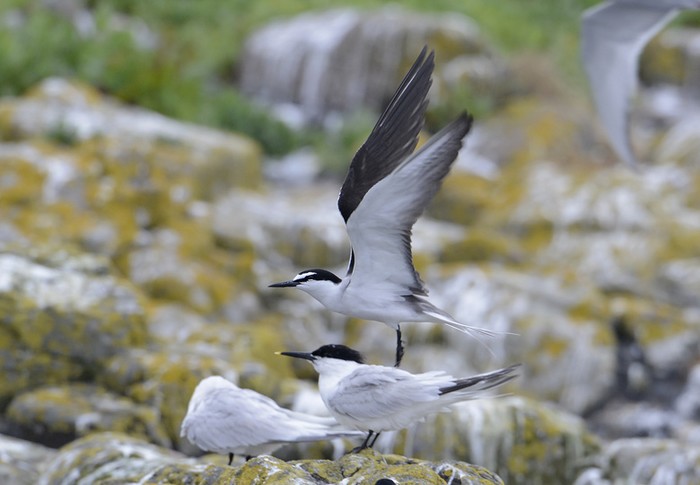 …and that was because the BT had already pushed south (tho' still in Northumberland), appearing during the early afternoon of Friday 5th at Cresswell Ponds NWT where it played cat and mouse for the rest of the day, coming and going out to sea and back (between Cresswell and East Chevington NWT) before heading out to sea towards dusk.
Those same C & M games continued on 6th, a host of dippers present at the Ponds until news broke ~ around lunchtime ~ that the Bridled Tern had moved a further 50 miles to the south, appearing at Saltholme Pools RSPB (Cleveland), where it lingered for around an hour before heading back out in to the Tees Estuary.
Five hours later and the bird was back in Northumberland…appearing, once again, at East Chevington NWT where it stayed until 8pm, and where it was noted early the next morning before a further afternoon visit to Cresswell. By Monday afternoon (8th), it felt as though the trail had gone cold once more, but up it popped again, albeit briefly, back at East Chevington, circling the pools before departing out to sea.
The week concluded with the Bridled Tern appearing offshore from Coquet Island RSPB, just under a mile or so off the Northumberland coast ~ still within striking distance of several mainland sites in the county…
Quite how far, and how soon, it will really push further south is anyone's guess, but birders from Yorkshire to Norfolk and Suffolk will be increasing shades of "Red Alert" ~ just in case ~ Flamborough, Spurn, Gibraltar Point, Scolt Head, Blakeney Point, Cley's Arnold's Marsh and Minsmere would all be appropriate fly-by or stop off points. STOP PRESS ~ at least one of these proved to be correct Wednesday am!!!
…and while Norfolk is in play, we'll skip swiftly and merrily past the news that the single observer of the last week's Blakeney Ortolan Bunting feels now that it may have been a Grey-necked Bunting after all, while the possible adult Great Black-headed Gull reported briefly at Titchwell during the early evening of 4th makes you scratch your head and wonder just what's going on out there. Strange times, truly strange times…
The pair of Little Bitterns at Ham Wall RSPB reserve (Somerset) showed through the first couple of days of the week and then, out of the blue, came news of a second male being seen there from 5th. All three birds were noted over the following few days and here's hoping that some reed-clambering juveniles will pop up soon too…
Just along the road at Shapwick Heath NNR, there has been some more great news regarding rare herons and breeding success ~ two juvenile Great White Egrets were seen on 6th, along with four adults, making it the second year successful year for the species at the site, after two nests fledged at least four young birds (three and a one) last summer.
These are exciting times indeed for all those involved with the fantastic Avalon Marshes.
Seabirds
With that big high pressure plonked over much of the country for much of the week, and with little in the way of breezy conditions, it wasn't too much of a surprise that (bonkers Frigatebird aside) there really wasn't much to report in the way of hot seabird action this week.
Off Portland Bill, single Balearic Shearwaters were noted on 4th and 5th, with two past there on 7th and three on both 8th and 9th. Pomarine Skuas numbered up to five ~ one was seen from the Good Shepherd, a mile north of Fair Isle, on 4th, with another the same day past Walney Island (Cumbria). The following day a single was seen off the coast of Northumberland, at Snab Point (with it or another later the same day off Cresswell), while two were seen distantly from Dawlish Warren (Devon) on 6th. In Scotland, two Leach's Storm-petrelswere trapped and ringed at Montrose (Angus) on the evening of 8th/9th.
Herons, Egrets & allies
In County Donegal, a Cattle Egret was seen at Porthall on 4th ~ the bird reported as being present for some six weeks beforehand. With this site less than four miles as the egret flies from St. Johnston, where a Cattle Egret spent much of December to March, it seems highly probable that these are one in the same bird…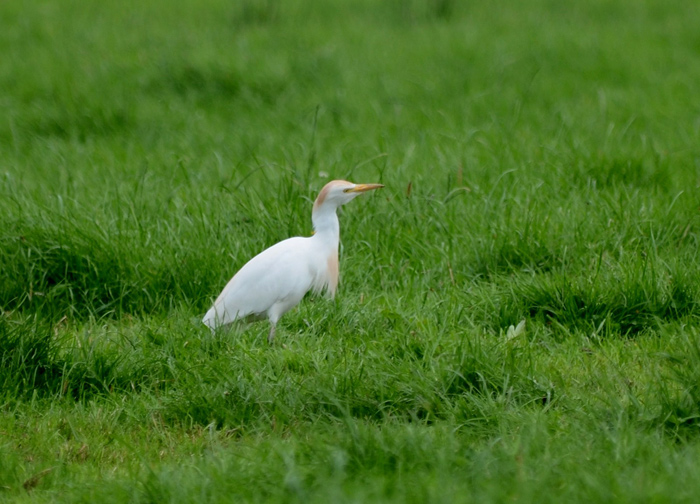 The second Cattle Egret of the week was at Oare Marshes (Kent) on 3rd.
A White Stork, of unknown origin, was noted heading north over Sywell Airfield (Northamptonshire) on 5th and the second-summer Glossy Ibis was still at Marloes Mere (Pembrokeshire) to 6th ~ with rare negative news following for 7th ~ but it was around again on 8th-9th.
Away from the super Somerset news, a further eight Great White Egrets were reported this week, with three singles in Kent leading the way. The first was noted at Lade GP, heading towards Dungeness, on 3rd, another was at Capel Fleet on 4th with the third at Grove Ferry on 6th. Two singles were in Suffolk on 5th, last week's bird at Carlton Marshes SWT and one at Castle Marshes SWT, east of Beccles while on 4th, there was one for Cambridgeshire, near Waterbeach (which was seen again on 9th), and one for Essex, at Heybridge. The final bird of the week was found at Brading Marsh RSPB, on the Isle of Wight, on 6th, where it remained to 8th.
In Norfolk, at Cley, eight Spoonbills, two of them juveniles, were seen during the evening of 5th, with three juveniles around the NWT reserve the following day. The week ended with at least eight again present on the Serpentine, just off the East Bank. Singles elsewhere in the county were seen at Titchwell RSPB and also Horsey, one reported there on 7th with two at Burnham Overy Staithe and Holme's Redwell Marsh on 9th.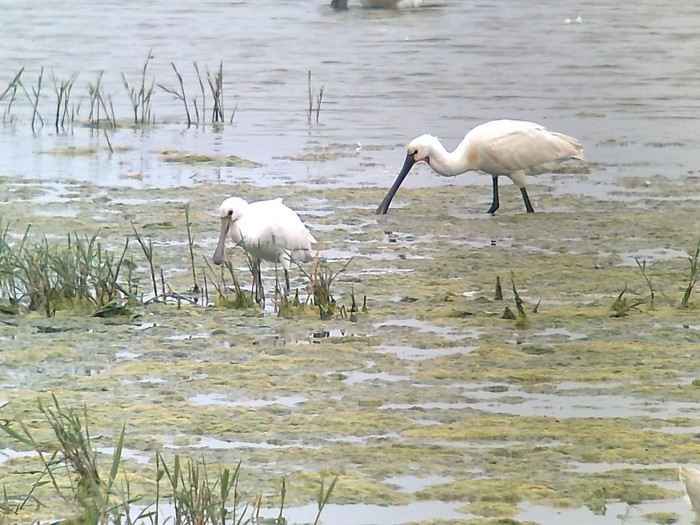 Two birds were at Minsmere RSPB (Suffolk) on 4th, while a bird at Cotswold Water Park (Wiltshire) was a nice inland summer find on 6th. Single Spoonbills remained at Pagham Harbour (West Sussex) and Slimbridge WWT (Gloucestershire) to 3rd and 8th respectively, with the landlocked roamer in South Yorkshire present at Denaby Ings on 5th-6th. The final birds of the week were at the Newport Wetlands site (Gwent) on 6th-7th and both Frampton Marsh RSPB and Alkborough Flats (Lincolnshire) on 9th.
The Common Crane seen recently in Northumberland remained around the Rayburn Lake area to 5th at least while the summering bird on Unst (Shetland) was again at Baltasound on 6th.
Geese & Ducks
The eclipse drake Ring-necked Duck that has been wandering around in North Yorkshire for the last few days was back at Scorton on the evening of 4th, while the other two recent drakes ~ at Oxford Island NNR (Co. Armagh) and Dunbar Quarry (Lothian) were also still knocking around their respective haunts this week, the Irish bird to 6th, with the Scottish one to 8th.
Three different Surf Scoters were seen off Blackdog and Murcar Golf Course (Aberdeenshire) through the week (though not all at the same time) ~ an adult and first-summer drake, along with a female, present through to 7th at least. The adult drake King Eider remained on the nearby Ythan Estuary to 8th.
Shorebirds
Things have been a little quiet at the marvellous rares hotspot Tacumshin recently, barely a thing heard from there for almost three weeks (since a male Red-backed Shrike was seen in mid-June). However, you can't keep this truly outstanding site out of the news for long and this week it landed two very high quality rares ~ a couple of Gull-billed Terns (more on those shortly) and, on the evening of 9th, Ireland's sixth and Wexford's second-ever Terek Sandpiper .
This is just the second Terek of the year so far (the first appeared at Rye Harbour on May 25th) and was initially found in Forgotten Corner (with a flock of Redshanks) and was watched almost until dusk. Wexford's first appeared at Rosslare Back Strand in August 1996 (and lingered for over a month) and the county now joins both Dublin and Kerry on two records each., with Ireland's most recent record coming from Blennerville from July 11th-22nd 2010.
North Ronaldsay made it two nice waders in the space of around a week this week ~ hot on the heels of the summer Pacific Golden Plover on July 1st (the ninth found there) comes the very first Lesser Yellowlegs for the island, seen during the evening of 6th.
Initially, it looks as if the bird gave everyone the run-around, eventually settling down on Gretchen Loch for a while before departing to the north (there's one that Fair Isle missed!). The possibility that it was the bird seen briefly on Mainland Orkney on June 29th must be considered too…
The second Lesser Yellowlegs of the week was found at the National Wetlands Centre WWT in Carmarthenshire on 7th, where it continued to show the following day too. This will be the first summer record of the species in the county ~ where there have only ever been two prior to this week's bird. The first was found at Cydweli Marsh in September 1990 (where it stayed for some six weeks) with the second arriving at Laugharne in November 2000 (where it stayed for almost six months).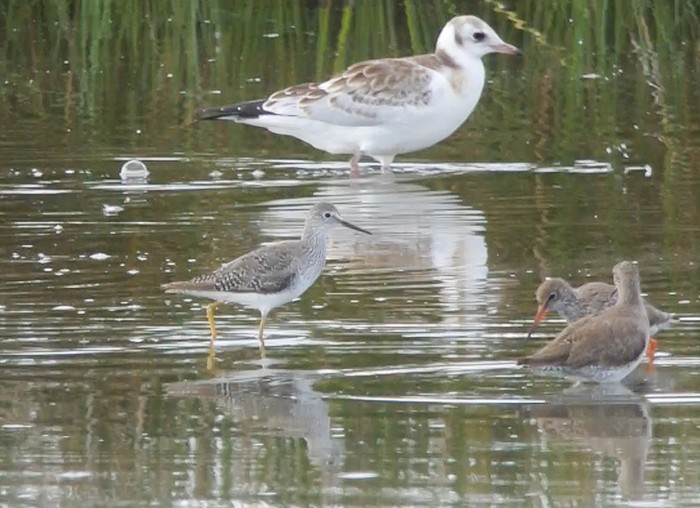 Still in Wales, a Pectoral Sandpiper was found at Newport Wetlands on 8th, when another appeared at Maer Lake (Cornwall). The third record this week came from Frampton Marsh RSPB, one seen there on 4th.
The Temminck's Stint found on 2nd at Rigifa Pool, near Cove Bay (Aberdeenshire) was in place all week, seen to 9th, with a second bird at Derwent Reservoir (Northumberland) on 3rd-5th.
Back to Orkney, where North Ronaldsay scored three Red-necked Phalarope on Ancum Loch on 4th, the only record this week.
Gulls and Terns
As well as scoring a cracking wader this week, birders at Tacumshin also enjoyed two showy Gull-billed Terns that arrived around The Patches and Forgotten Corner on 3rd. They remained on-site throughout the weekend and on to 8th, with at least one to 9th.
There have been six records of the species in Wexford prior to this week's double bill, five of them coming from Tacumshin. The first was found there at the end of June 1990 and was followed by one in 1996, with two birds there (an adult and a presumed second-summer) from June 4th-9th 2000. An adult at the North Slob broke the Tacumshin stranglehold on Wexford records in July 2004, but order was restored the following year, with one present at "Tac" on July 16th 2005.
The six Wexford birds made up over a third of the accepted records for Ireland (to the end of 2011) ~ where there were 16 on the books.
Not far along the Irish coast from Wexford, next door in County Waterford, an adult Bonaparte's Gull flew east between Whiting Bay and Ardmore ~ potentially the third record for the county ~ the first and second (perhaps even the same returning adult) were also seen around Ardmore, in October 2007 and September 2007.
In London, a presumed returning Bonaparte's Gull, a superb looking second-summer, was found at Cross Ness on 6th where it remained to the following day. In May last year, two first-summer birds were present and it seems highly likely that this individual is one of those...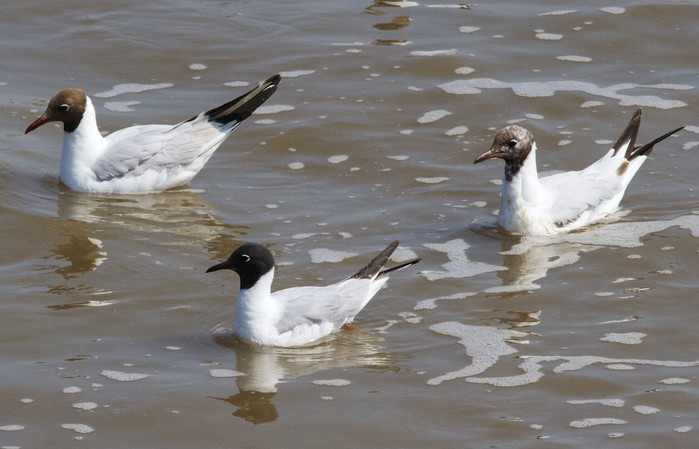 Further to the east, at the Oare Marshes NR in Kent, the summering first-year Bonaparte's Gull was still present for much of the week, in place to 7th at least. The only Ring-billed Gulls of the week were a first-summer bird seen in Bantry Bay (Co. Cork) on 6th and a second-summer at Black Rock Strand (Co. Kerry) on 8th.
As Roseate Terns started to spread themselves around a little this week, one found amongst roosting terns, sometime after 10pm, on 6th at Fair Isle's South Light was certainly of note ~ only the third record ever for the island, and perhaps only the 10th ever on Shetland as a whole.
Raptors
The sporadically reported (for obvious reasons I guess) male Snowy Owl was again at Hirta, St. Kilda (Outer Hebrides) on 3rd. The same date brought news of another of these most marvellous of owls, one seen for an hour or so at the northwest end of Rousay (Orkney), perched on a dry-stone wall near Blackhamar.
As the week came to a close, a trio of Black Kite records from Cornwall on 9th ~ the first was noted in the far west of the county, near Drift Reservoir, heading over Sancreed mid-morning (seen again there in mid-evening), with the second appearing in north Cornwall, at Camelford just before midday and the final bird of the day (perhaps the original one from Drift?) seen drifting north over Lizard village during the middle of the afternoon.
Single Honey Buzzards were reported from the raptor watchpoints at Hykeham Forest (North Yorkshire) on 3rd and Swanton Novers (Norfolk) on 7th, with singles elsewhere over Ouse Fen (Cambridgeshire) and Dover (Kent) both on 6th. Also in Kent, and also on 6th, a young male Montagu's Harrier was noted at Elmley Marshes RSPB.
Passerines
It takes a brave soul to claim a flyover Two-barred Crossbill but such a shout came out from Whitburn (Co. Durham) on the morning of 7th ~ a female or immature heading southwest over one of the resident bird-finders garden just as the kettle boiled and the Marmite was being spread across the Sunday toast.
To date there are just two accepted records of this irruptive vagrant for Durham ~ a photographed juvenile was at Old Cassop on September 17th 2008 while the first county record came way back in January 1943, a party of five birds present for 19 days at Wolsingham.
As audacious a claim as a flyover TBXB may be, if you know your crossbill calls, well, you may have half a chance…and if you get half a view too, then so much the better.
Fair Isle clocked up their fifth Subalpine Warblers of the year so far on 6th ~ an unringed male seen around Skerryholm and the Haa ~ and follows on from the recent female in the Plantation, two trapped males around the Observatory and, the one that started the ball rolling, a female on May 25th.
...and, still hanging around the island, on the now exceptional date of 6th, were two Marsh Warblers and on 8th, an Icterine Warbler was found for good measure too.
Down in Devon, a Melodious Warbler was a great summer find in the nets at the Velator NR, near Braunton, on 5th, while on the opposite side of the county, at Newton Abbot, the possible margelanica Lesser Whitethroat remained in place to 4th (there was negative news on 8th).
There were four Common Rosefinches on offer this week ~ two long-staying individuals remained on Anglesey, at Port Eilian to 3rd with the adult male at Loch Tummel, near Pitlochry (Perth & Kinross) throughout the week. New were singles on Fair Isle on 6th and a singing first-summer male was at Donna Nook (Lincolnshire) on 8th.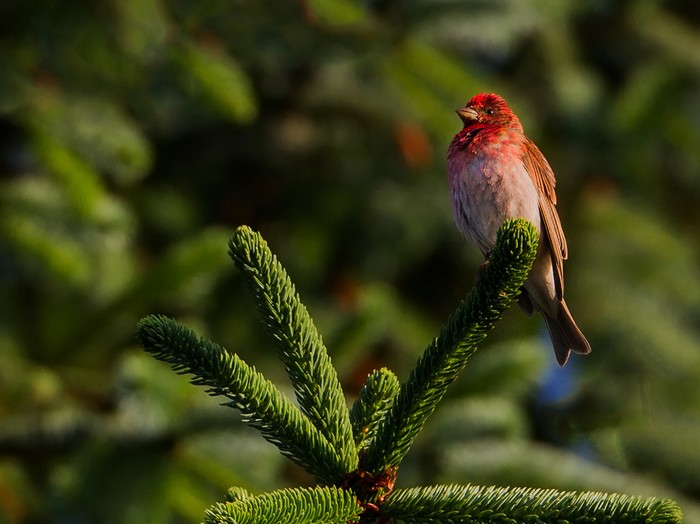 A Hoopoe was reported flying north at Hoylake, on the Wirral, on 6th, following a "probable" over the M65 in Lancashire the previous day. One pink and black bird there was little doubting was the adult Rose-coloured Starling that remained north of Finstown, on Mainland Orkney to 4th, before appearing at Evie a couple of days later.
In North Yorkshire, a male Red-backed Shrike was at Filey on 9th, while three Golden Orioles see out the review this week ~ one remained on North Ronaldsay to 3rd, with further reports, from the same day coming from Ringwood (Hampshire) and Lyveden New Bield (Northamptonshire).
...and so, we get to the end of another extraordinary week....what's in the zone for the week ahead...well, while some of us still long for that next sticking Blue-cheeked Bee-eater ~ there've been two (the relocating Humberside bird that pitched up in the middle of nowhere in Lincolnshire on July 12th 1989 (cold sweat time, 24 years on) and Scilly on July 13th 1921 ~ there really isn't anything to match the plainly crackers Frigatebird in terms of rares from bygone days….
There is however the only modern-day mainland record of Caspian Plover to play with. An adult, of indeterminate sex, spent July 12th-13th 1988 at Aberlady Bay ~ where, upon departure, it became the subject of a mini-debate as to what it was....some observers (to this day) wonder if it could have been a Lesser Sand Plover. Anyway, that's all by the by, the record books show it as a bona fide Caspo, one of only five ever and many who saw it remain happy with it. The last two have both been on Shetland (in June 1996 and May 2008) and we're certainly due another one soon.
...and if it was sticking mainland bird, anywhere south of John O'Groats, a lot of people would be very, very happy.
Let's see what happens...
Mark Golley
10 July 2013
Shetland is now well established as The place to see Orcas in Britain and with this fantastic looking Bearded Seal currently in residence now is a great time to head north and add some new species to your mammal list!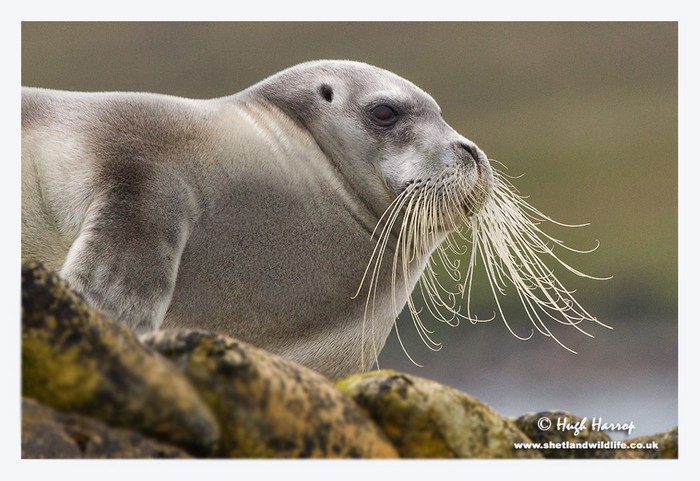 Special thanks this week to Jim Sim for his Ascension Frigatebird photos and also to Dave Wood for his help with the Islay record. Also a special mention to Bob McGowan for allowing us to use his photos of the 1953 Tiree bird from the British Birds article.
Many thanks also to the rest of this week's contributors for their photos and videos.
Mark Warren - North Ronaldsay Bird Observatory
Alison Woodbridge - North Ronaldsay Bird Observatory
, Dr.Mark Eaton, Chris Batty, Mike Malpass, Craig Shaw,
Joe Cockram - Avalon Wildlife
, Mark Hipkin,
Paul Kelly - Irish Bird Images
, Tony Brown, Thomas Melton,
Hugh Harrop / Shetland Wildlife
,
Contributors websites