Weekly round-up: 26 June - 2 July 2013
The week at a glance
Delight and despair for the Hebridean White-throated Needletail…
Inner Farnes lands a mega ~ Bridled Tern pleasing many
Kent scores big with a Black-winged Pratincole
Male Sardinian Warbler trapped on Scotland's east coast
The breeding Little Bitterns remain on territory in Somerset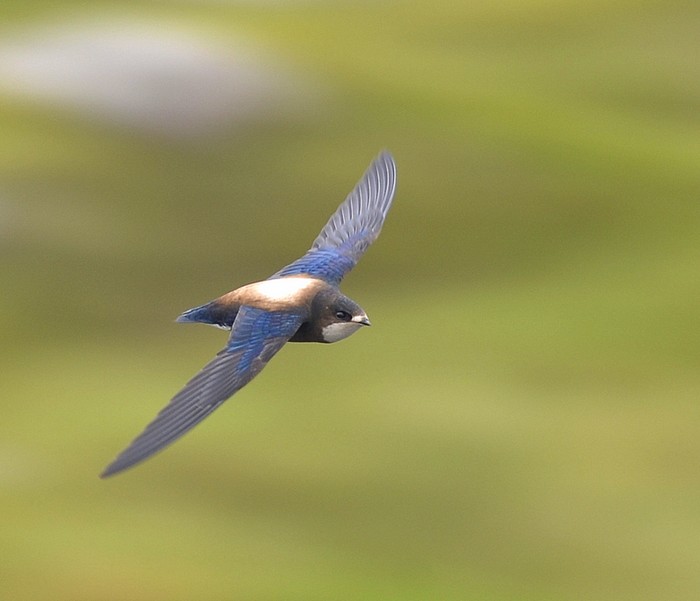 The pessimist might suggest that summer came and went this week. A couple of sunny days across much (but not all) of the country at the weekend saw temperatures climb in to the warm mid 20's but as the round-up period drew to a close, a wriggly Atlantic weather system looked set to cross the country, bringing heavy rain with it for good measure.
That warm, muggy air was being pulled all the way from the tropical Atlantic of south and central America but the week ahead promises shows an area of high pressure building over almost everywhere bar the far north of Scotland, with wall-to-wall sunshine one the cards.
Birdwise, it has been pretty busy, with some cracking new arrivals to take an extended look at.
However, there's really only one story this week, one that almost everyone is familiar with now, a story that dominated most rare-obsessed birders minds' for days after the fateful outcome of a big twitch to the Hebrides. The appearance, at the end of the week, of the third "grip-back" bird in less than three weeks must have cheered up some glum souls though. Blimey, whoever said summers here were boring?
Headline birds
The King is dead ~ long live the King!
We all know the story by now….
One of the most thrilling birds on the British List made a first appearance in over two decades at the end of last week and was in place at the start of this week's new review period too. Dozens of birders journeyed to the Outer Hebrides to marvel at the exceptional species involved, a bird that gave truly exceptional views.
…and then it all went horribly, horribly wrong.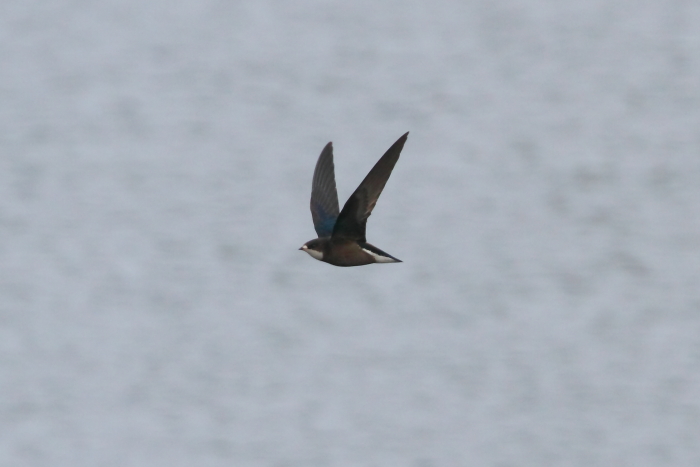 As astounding images were relayed to the watching birding community, via social networking sites and birding blogs, the twitching community was sent in to a frenzy ~ spectacular shots bringing vicarious pleasure to those unable to journey to the Hebrides and to those who have "been there, done that" with White-throated Needletail.
Then, of course, came the saddest twist in the tale, the sad twist in the Needletail if you like, as the first day's twitch to Harris became the one and only day's twitch to Harris as this most marvellous of airborne raiders met an untimely end, as a collision with a single wind-turbine dealt it a fatal blow.
…and yet it had all started so well.
News of the once-in-a-lifetime find for two genuine "old-school" birders ~ respected author Mark Cocker and Slender-billed Curlew guru Adam Gretton ~ was out in plenty of time on Tuesday (25th) to enable those who could to start an immediate trek north to Harris for one of the monster birds on the British List, White-throated Needletail.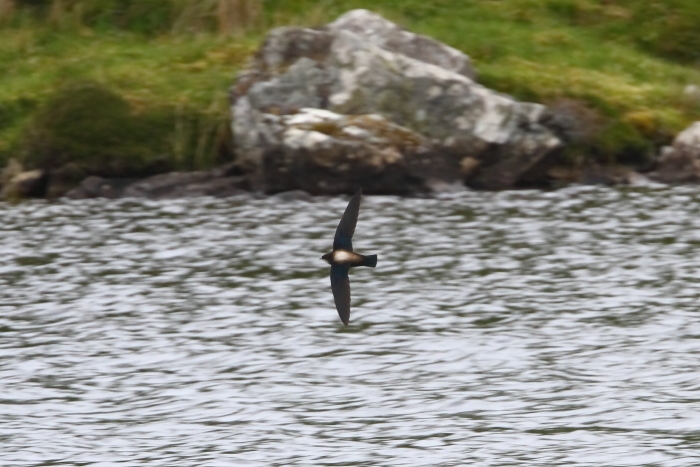 On the day that Mark and Adam made their remarkable discovery, the bird performed around the harbour and beaches at Tarbert and was seen well in to the early evening. After a (presumably) heart-stopping and utterly deflating burst of "yes its still there, oooops, no isn't" early morning news on 26th, by mid-morning the White-throated Needletail was showing (and then some) to the south of Tarbert, at Loch Direcleit ~ close to where an unidentified, large swift "with white on" had been seen on 24th. By all accounts, the bird performed with the utmost style here, whizzing in and out of the modest gathering, skirting low over the loch before putting on the sonic boosters and careering up over the road and nearby hillsides.
After a couple of hours, until around 1230, the Needletail departed south and went missing for at least two hours….this in itself wasn't unusual for the species, certainly not in terms of previous island vagrants ~ the Shetland bird of 1984 and the Orkney bird of 1988 did exactly the same thing, lost for hours on end, increasing the heart rate and stress levels for anyone present…
Just before 3 o'clock, the Harris 2013 bird was refound a little further to the south, over the moorland to the west of Loch Drinisadair, where it continued to perform through the afternoon.
At around 5.20pm, a pager message went out mentioning the following….
"W. Isles. White-throated Needletail still 4.30pm Harris c3mls SSE of Tarbert + north of Scadabagh over Loch Plocrapol near small wind turbine at end of "Golden Road".
No one could have predicted that less than half an hour later, that "small wind turbine" would have such a significant impact (in every sense) on so many people. The White-throated Needletail had been involved in a deadly collision with the local community turbine and for all those present ~ or who had been there through the day ~ an epic day took a sour, and desperately sad, turn for something beyond the worst.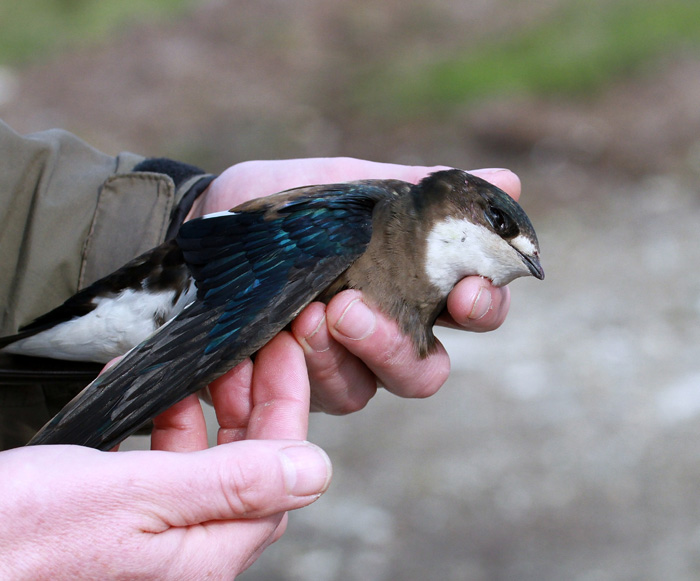 Almost immediately (almost inevitably), with little by way of facts to hand, many people (who weren't on site) began to rail against wind farms and everything they stand for. There was also a remarkable, unparalleled outpouring of grief for the newly departed mega, the like of which has never, ever been seen before (not for a lost, vagrant wanderer of a bird at least).
The evening progressed with more vilification against the wind farm industry, which then morphed in to the whole Green Energy debate with a side route taken into the cul-de-sac of the overall size of the carbon footprint for those who had headed to Outer Hebrides (which was an interesting avenue to explore).
Still, those assorted hot potatoes aren't for developing further here ~ what we do know is that the White-throated Needletail joins a small group of publicly observed "final moment" rares ~ the Church Norton Trumpeter Finch (snaffled by a Sparrowhawk), the Garrison Gray-cheeked Thrush (munched by a moggy ~ that even made it to the Book of Heroic Failures and became almost a comedy figure) and the Lincolnshire White-billed Diver that suffered fatal internal injuries after taking a fisherman's line and hook at Tattershall Bridge in March 1996. The final trio of this quartet never garnered the same level of emotional outpouring as the Needletail causing some to question other's sense of perspective.
In the cold light of day, the fact is that countless vagrants to Britain and Irish shores will die ~ (for instance, 31 of 71 Yellow-billed Cuckoos have been found moribund or freshly dead) ~ but the circumstances of this spectacular bird's passing and the fact that it remains, for many, the ultimate rare on the British and Irish list, has given the story a curious twist or two.
For those lucky enough to have connected with the Hebrides bird this week, it instantly became "the best bird ever". That sentiment rings true for all those who twitched the Loch of Hillwell bird in 1984 and the Hoy bird in 1988. If you see one, it simply will become the best bird you'll ever see on these shores. There is just nothing to compare with this awe-inspiring powerhouse flyer.
…the question now of course is "how long until the next one?"
For many of those who scored on the Needletail at the start of the round-up period, a second mega was unblocked as the round-up period drew to a close….who said this time of year was dull!
Bridled Tern has spent almost as long waiting-in-the-wings for the New Generation as the turbo-boost flying machine, it has been 25 years since the last truly twitchable individual (a twenty-three day bird at Cemlyn Bay, Anglesey, in July 1988) ~ so the mid-afternoon, midsummer Mega Alert on July 1st would have sent many in to a tailspin….destination Farnes!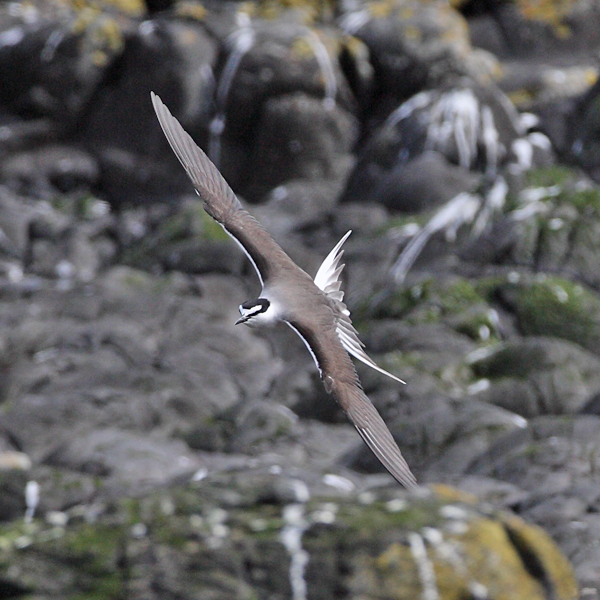 The bird was first noted around the jetty on Inner Farnes (Northumberland) at around 2.30 and was watched for a short time, less than half an hour, before heading off north. A number of people decided that they may as well gamble heading to Northumberland for a re-appearance later the same day ~ and with boats organised, off they went and duly scored as the Bridled Tern performed wonderfully well through much of the rest of the evening.
The bird also continued to show well through 2nd as well, allowing many people to enjoy one of the nicest terns on the British List in some of the very nicest surroundings.
One of the co-finders of the bird, Norfolk-based birding photographer Rob Wilson, has kindly passed on his thoughts from the day….
From the Finder - Rob Wilson recalls his thoughts
I arrived on Inner Farne with my wife and daughter at approximately 1.45 with an extended landing which would allow a more leisurely visit to photograph the usual Puffins and Arctic Terns. My wife went ahead as she was keen to photograph the Puffins. I thought I would try and photograph Arctic Terns with the wide angle, so slowly walked towards the lighthouse.
At approximately 2 :40, a very dark winged tern flew past me, at a range of about 40 yards, and I immediately thought I was seeing things. At this point Will Scott was running down from the lighthouse shouting "Bridled or Sooty Tern flew towards the Jetty"!!! At this point I realised I had seen the same bird and we both dodged through the many day trippers as we ran to the jetty.
As we arrived, the bird was flying around the rocks and, from first impressions, I shouted "it's a Bridled Tern". The bird was now settled on the rocks and Will ran for a field guide to confirm the ID. On his return, he confirmed my initial gut reaction~ this was indeed a Bridled Tern!
The bird was showing very well and did two more short flights and briefly came closer before departing to the north at 2.57. The bird was on view for approximately 17 minutes but came back later in the evening.
What a great day and one that brought almost as much excitement as my first in Essex in 1991 at Hanningfield Reservoir!
…meanwhile, on top of Inner Farne, looking after visitor's questions was National Trust Ranger Will Scott…with eyes wide open, here's how he came across a mega…
From the Finder - Will Scott also recalls his thoughts
The 1st of July was a classic Farnes day; sunshine and stacks of breeding seabirds. Not necessarily conditions conducive for mega-rares. My role that day was to roam Inner Farne overseeing the droves of visitors and answering questions. While I was doing just that a tern appeared from the southeast, rising above the ridge on the islands east side. It was distant but as it banked, revealing a dark trailing edge to the underwing and crazy shape, I knew something mental was unfolding.
Mid-sentence I lifted my bins, just in time for it to bank a second time, crucially displaying an all dark back and wings! I literally couldn't believe my eyes! Bridled or Sooty Tern! My dream bird to see, let alone find was there gliding in front of me! The bird drifted around momentarily before dropping towards the jetty and out of sight. No! Panic set in. Having managed to note the tapering white behind the eye I racked my brain as to which out of Sooty and Bridled showed this feature, having never seen either. Leaving the bewildered visitor high and dry, I began running down the island screaming indecipherable words down the radio, alerting others to this fresh-in stonker.
Arriving at the jetty, a sharp-eyed colleague relocated the bird as it circled the beach in a confused manner, calling away. Despite looking very black in the extreme sunlight the tapering white hinted Bridled. Rob Wilson, who happened to be on the island, and had seen the bird over the meadow was hot on my heels, managing to grab some valuable record shots and punted that it seemed good for Bridled.
Finally the bird alighted allowing the paler mantle to be seen, I became happy it was Bridled! Bloody Bridled Tern! I must be dreaming! Being ever cautious I ran to check the book and instantly confirmed that it was indeed the first Farnes record of Bridled Tern! Pandemonium ensued with the bird showing excellently for half an hour before disappearing. Knowing this species' tendency for one day visits my heart sank, thinking that could be it, gone forever.
Luckily I relocated the bird that evening as it returned to the rocks around the jetty after presumably an afternoon's fishing and showed well until late evening. Amazingly the bird was still present the next day, displaying to Arctic Terns, much to their bemusement, allowing us to share this amazing bird with visiting birders from far and wide!
To keep up to date with life on the Farnes, check out Will's Blog http://dub-birder.blogspot.co.uk/ and also the National Trust blog http://farnephoto.blogspot.co.uk/
As it stands there are 29 accepted records of Bridled Tern on the British List, but the species is actually rarer still than that figure suggests….
Britain's first Bridled Tern was found dead at Dungeness in November 1931. The second, third and fourth birds were also corpses ~ a freshly dead individual was found in Glamorgan in September 1954, another was found in Somerset in October 1958 while in April 1977, a fresh wing was found on Lundy.
The first live sight record was a two-day bird, a first-summer, at Stromness (Orkney) in August 1979 and was followed by a bird on the Calf of Man in September 1980 and a seawatch bird off St. Ives (Cornwall) in October 1982.
The first twitchable bird, an apparently sickly two-day bird, inland at Rutland Water (Leicestershire) in June 1984, was immersed in famous controversy (it was oft-reported that it was "hoofed" from the island early on Day 2 by a well-known big lister…) and was followed by another a month later in Dorset.
Next up was the very popular, hugely twitched long-stayer (23 days) at Cemlyn Bay from (oooo, coincidence!) July 1st 1988 with second bird, at the same time (from July 12th) in Northumberland, seen on four occasions on Coquet Island between July 11th and August 28th, while taking a trip Aberdeenshire in early August and then Cleveland a few days later. The following year, 1989, what was presumably the same bird was back in Northumberland, seen at Hauxley and also Seaton Sluice.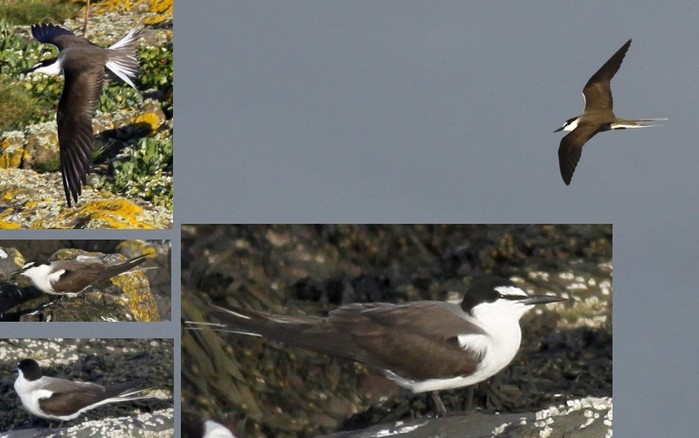 Further multiple sightings of Bridled Tern followed in 1991, one seen in both Essex and Kent on June 2nd (with it or another around Scilly for over a month later the same summer), in 1992 when one was again on Coquet Island (on August 14th) before appearing off Flamborough Head four days later. Three records from 1993 may have all been one bird (no proof tho'), but the record from 1994 could be linked ~ seen inland at Fairburn Ings (West Yorkshire) on June 3rd, the same bird appeared later the same day at Foulney Island and became the last twitchable Bridled Tern in the process.
What may even have been the same bird was then on Tiree for 10 days at the end of June and in to July 1994 but just three accepted birds have followed since ~ in Angus in 2003, Essex in 2006 and again in Northumberland in 2010. All were noted on one day only individuals.
With almost the entire day of 26th comprising solely of news of White-throated Needletail a second, very high calibre, vagrant that appeared on the same day barely got a mention as Kent scored the fourth Black-winged Pratincole for the county, at Shell Ness/Swale NNR.
Initially noted as a Pratincole sp., the bird eventually showed well enough for specific identity to be clinched, but departed during the late afternoon, high and to the west.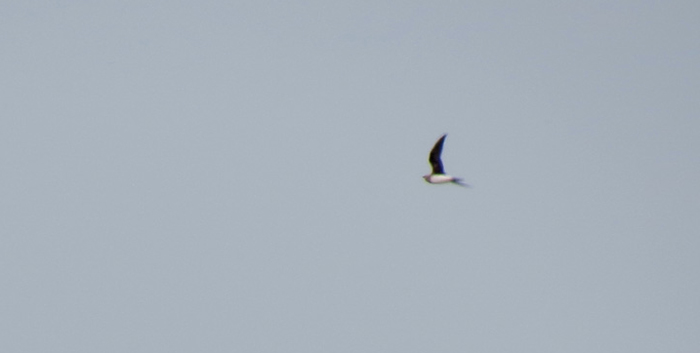 Kent's most recent Black-winged Pratincole was seen at Reculver in May 2009 ~ the 16 day stay allowing many people to catch up with this tricky customer ~ before it relocated to west Norfolk a few days later. Earlier records came from Harty Marshes (almost in the identical spot to this week's bird, 25 years ago to the day, in June 1988) with the county's first appearing at Sandwich Bay in late August 1969.
Until the end of 2011, there had been just 39 accepted records of the species in Britain (Ireland still awaits a first one) with two well-documented birds following last year ~ at Burton Mere (Cheshire) and on Lewis (Outer Hebrides).
Perhaps more surprising still than the Kentish Pratincole was the male Sardinian Warbler which was trapped and ringed at St. Abb's Head (Borders) early on the morning of 30th at the reedbed end of Mire Loch. This is only the second record of the species on the Scottish mainland, the other appeared at Fife Ness Muir in October 2005.
This super Sylvia has become pretty tricky to catch up with recently ~ between the start of 2006 to the end of 2011, there were just four accepted records of Sardinian Warbler compared to 18 accepted birds between 2000 and the end of 2005. The last twitchable record was the late female at Berry Head (Devon) in November 2008 and there have been a total of 81 in all since the first British record occurred on Lundy in May 1955.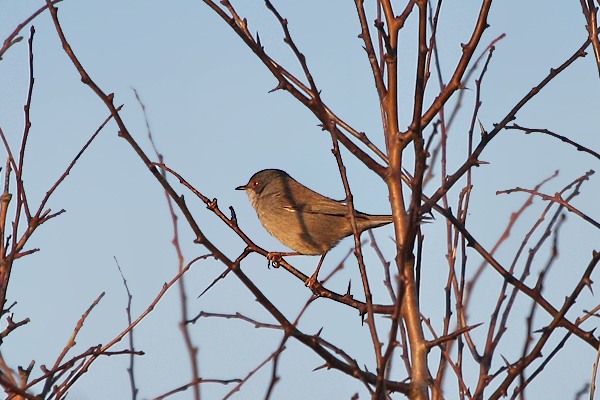 There have been a dozen June records in total, four of them (excluding this week's bird) have arrived at the back end of the month ~ a summering male at Gibraltar Point appeared on June 30th 1979, a male was at Sandwich Bay on June 22nd 1988, another summering male (a first-summer) was found at Filey on June 27th 1993 and a male was found the following year on Fair Isle on June 24th.
Scotland now boasts 14 records of Sardinian Warbler, but 12 of them have arrived on islands ~ seven on Shetland, three for Orkney, one in the Outer Hebrides and another on the Isle of May, off the coast of Fife.
In Somerset, at Ham Wall RSPB reserve, the female Little Bittern from the breeding pair there was noted on 28th and 29th, while both birds were seen on 26th and 30th. One was also noted in flight on 2nd.
Seabirds
With relatively benign conditions for much of the week, there was little by way of seabirding goodies to be had….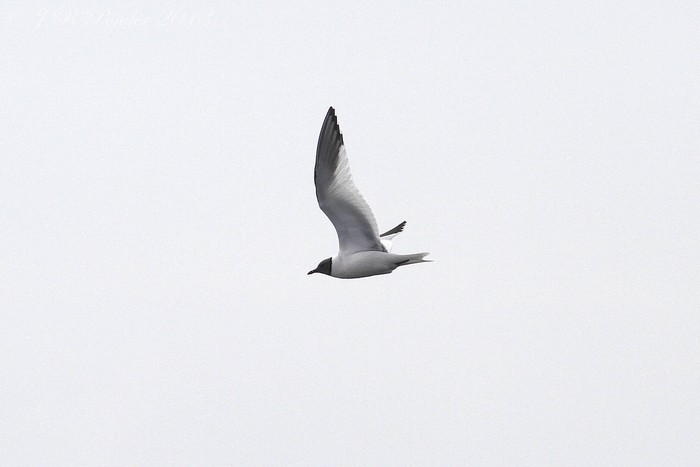 A first-summer Sabine's Gull was seen from onboard the Lundy ferry on 27th. Off the east coast of Yorkshire, a Cory's Shearwater flew south past Spurn on the evening of 28th and again on the morning of 29th, with another noted from Strumble Head (Pembrokeshire) on 30th. Off the coast of County Galway, a Great Shearwater was seen heading past Inishbofin, also on 30th.
Two single Pomarine Skuas seen on 29th, off Low Newton-by-the-sea (Northumberland) and Clare Island (Co. Mayo) along with another Irish bird of Galley Head (Co. Cork) on 2nd and a single Balearic Shearwater off Portland Bill on 2nd were the only other seabirds of note this week.
Herons, Egrets & allies
Still at large in the Forest of Dean (Gloucestershire) this week is a Black Stork, seen on 1st at New Fancy View the bird has been lying low somewhere in the area since it was seen in the forest, over Staple-edge Wood, on June 25th. This is only the second record of the species for the county, the first was seen near Cirencester in July 1995.
In South Yorkshire, a Night Heron was found at Old Moor RSPB, in the Dearne Valley, on 26th, heading off high to the southeast just after dusk, late that evening. Across in East Yorkshire, the Purple Heron at Tophill Low NR was seen daily between 26th-30th while in south Wales, the very elusive, seldom-seen Purple Heron at Kenfig NNR was noted again on 26th. A third individual was at Dungeness RSPB (Kent) on 1st.
At least four Great White Egrets were seen at Shapwick Heath NNR (Somerset) on 26th and in Cambridgeshire, a single bird remained on the Ouse Washes RSPB until 28th at least. The first day of the weekend saw just one more reported ~ at Carlton Marshes SWT (Suffolk) and the week concluded with another single in Cambridgeshire, at Burwell Fen and one at Gibraltar Point NNR (Lincolnshire), both on 2nd.
Three Spoonbills were seen off and on around Cley this week (mainly appearing late and departing early) but were joined by a newly-fledged juvenile on 1st. Further Norfolk loafers (away from the breeding colony) were noted at Welney WWT and Titchwell RSPB (on 26th, 27th and 1st respectively).
Across the Wash and along the Lincolnshire coast, two birds where seen at Alkborough Flats on 30th, with four there on 1st, while in Scotland, the lone bird was again on the Eden Estuary, near Guardbridge (Fife) on 26th when further singles were still in place at Slimbridge WWT (Gloucestershire) and in the Dearne Valley (South Yorkshire).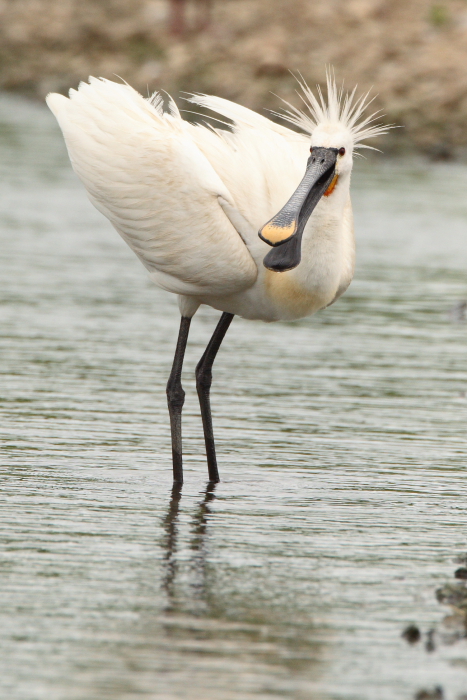 Two first-summer Spoonbills remained at Pennington Marshes (Hampshire) on 27th and on 28th one was seen at Filey Dams YWT (North Yorkshire) ~ with one again at the Newport Wetlands (Gwent) on the same date. Back on the south coast, a single Spoonbill was at Pagham Harbour and Church Norton (West Sussex) on 1st.
The second-summer Glossy Ibis was at Marloes Mere (Pembrokeshire) until 1st while the Common Crane near Kilmacolm (Clyde) was seen again on 28th, when two birds were seen circling over Suffolk's Benacre Broad (with another on the border with Norfolk, near Barnby on 30th) and on 29th, a single bird was in Northumberland, in fields near Wingate. Shetland's summering first-year remained at Baltasound, Unst to 30th at least before being noted at nearby Skaw on 2nd.
Two single singing male Spotted Crakes were heard this week ~ the first was noted at Loch of Kinnordy (Angus) during the evening of 27th (And again on 30th) with the second bird audible over the weekend of 29th-30th at Thorne Moors RSPB (South Yorkshire), and still present on the evening of 1st-2nd.
Geese & Ducks
There were three drake Ring-necked Ducks to report on this week ~ all of them birds from previous times. In Lothian, the bird at Dunbar Quarry was noted between 26th-2nd, while in North Yorkshire, last week's drake at Catterick Racecourse remained to 30th and the Armagh individual, at Oxford Island NNR on Lough Neagh, was seen to 2nd.
In Norfolk, a drake Ferruginous Duck was seen at Strumpshaw Fen RSPB on 28th ~ the usual hybrid caveat applies to all birds seen in the county nowadays. Less likely to prove stressful was the still present drake at Chew Valley Lake (Somerset), in place to 29th.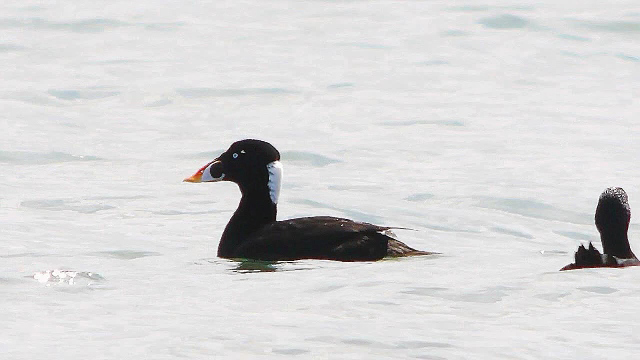 A nice midsummer surprise for birders in North Yorkshire this week came in the handsome guise of a splendid drake Surf Scoter, found in Filey Bay on 26th and still present, and often showing well, to 1st. An even better find came at Lake Vyrnwy RSPB (Powys) on the morning of 2nd ~ an adult drake Surf Scoter bobbing around near the dam at a site still some way from the coast. It couldn't have made a cross-country stop-off after leaving Yorkshire could it?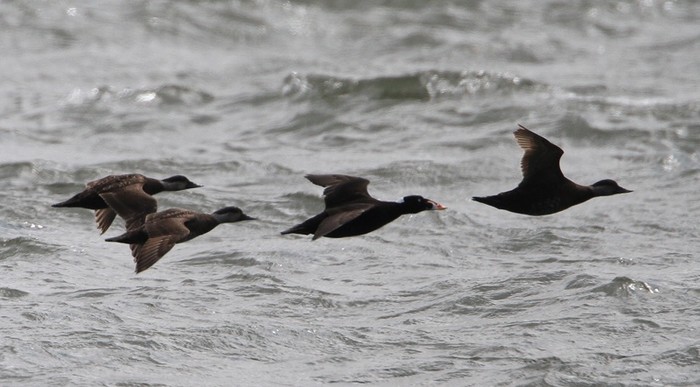 Another fine drake was found off Rhunahaorine Point (Argyll & Bute), also on 26th, while elsewhere in Scotland, on the east coast, at least three different birds were noted between Murcar Golf Course and Blackdog, an adult and first-summer male, along with an adult female, making up the numbers through the first part of the week at least.
...and, not far away, the summering adult drake King Eider was on the Ythan Estuary to 30th at least.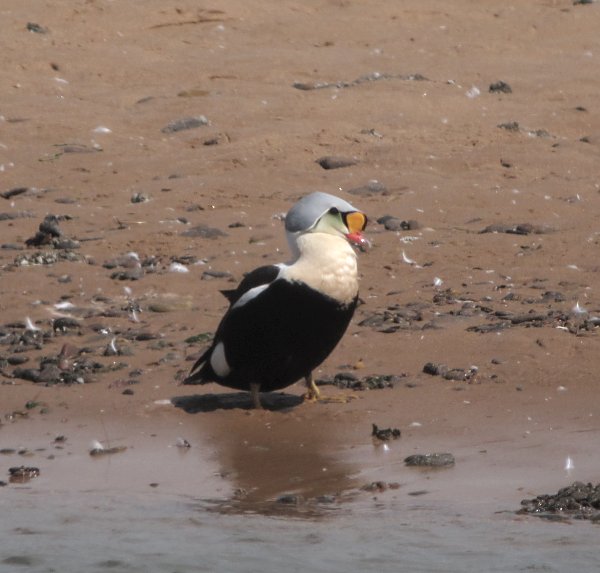 Shorebirds
Two new shorebirds on 29th made the running where all things wader-wise was concerned this week, though one was a "reported" only while the other was a seemingly all-too-brief visitor....
First up, at Orford Ness in Suffolk, came a report of a Pacific Golden Plover but further information was a little hard to come by. As it stands there have been just two accepted records of this always popular vagrant in the county ~ the first spent six days at Levington, on the River Orwell, from August 26th-31st 2005, with the second record appearing for just a day at Havergate Island on August 3rd 2008.
The second find of 29th was Orkney's sixth-ever Lesser Yellowlegs ~ discovered at The Loon RSPB reserve on Mainland, it follows on from a summer bird on the same island last year (on July 30th-31st). There have been two other records of the species on Orkney during the 2000's, in September 2007 and September 2003, both found at Loch of Tankerness, with further singles in Birsay Bay in October 1999 and (Orkney's first) in September 1991, also at Loch of Tankerness.
Staying on Orkney and over to North Ronaldsay where July 1st saw the arrival of a 100% confirmed Pacific Golden Plover, a superb adult in the fields at Sandar during the middle of the morning.
North Ronaldsay has a fantastic record where this species is concerned ~ prior to this week's bird, eight of Orkney's nine previous records have been found on the island (from the first in 1991 to the last, in 2011), out of a grand total for Scotland of 27 accepted records. The Outer Hebrides, with six, and Shetland with four, trail in North Ronaldsay's PGP-wake....!
A female Dotterel was something of a surprise on St. Martin's (Scilly) from 27th-29th, while the only Pectoral Sandpiper of the week remained at Beacon Ponds (East Yorkshire) to 27th.
In Norfolk, a Temminck's Stint popped in to Cley Marshes for a couple of minutes on the evening of 26th, quickly departing to the west, while last week's bird in Fife, at Letham Pools, near Ladybank, reappeared on 27th and remained to 29th (having last been seen on 24th). Birds three and four for the week were at Scaling Dam Reservoir (Cleveland) and near Cove Bay (Aberdeenshire) on 2nd.
In Cambridgeshire, a Red-necked Phalarope was on the Ouse Washes on 28th and another (a male) was seen at Loch a' Phuill, on Tiree (Argyll & Bute) on the same day.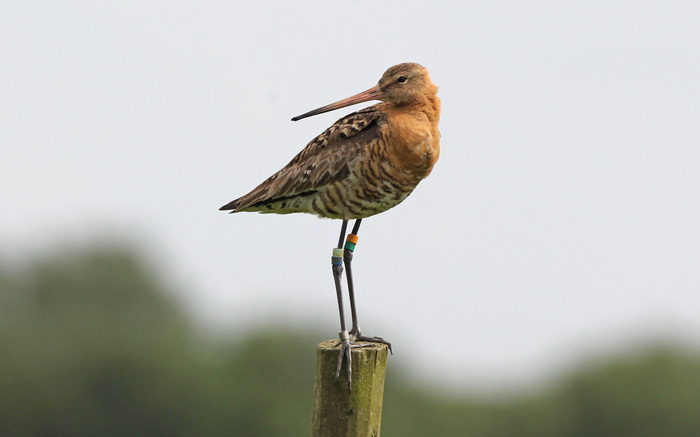 Gulls and Terns
Last week saw the first-summer Bonaparte's Gull clock up a full calendar month on site at Oare Marshes NR in Kent ~ and this week showed no signs of any imminent departure ~ still present all week to 2nd.
Over in County Kerry, a first-summer Ring-billed Gull was noted at Blennerville on 27th while a remarkable (for the middle of summer) threesome were seen at Lurgan Green (Co. Louth) on 29th ~ an adult, second- and first-summer birds all present there (with two in place the following day). In Scotland an adult Iceland Gull was seen on the beach at Dornoch (Highland) on 28th.
Aside from a few wandering Roseate Terns, including one seen from the Uig to Lochmaddy ferry in Highland on 28th, there were very few others gulls and terns of any note…
Raptors
Raptors were, like several other groups this week (not unexpectedly) in pretty short supply this week ~ Honey Buzzards were again noted at the raptor watchpoint at North Hykeham in North Yorkshire) on 26th (two there on 1st), with further singles over Walthamstow (London) and Samphire Hoe (Kent) on 27th while the traditional raptor watchpoint at Welbeck (Nottinghamshire) scored a single bird on 29th and again on 30th. Another bird was also reported over Margate Cemetery (Kent) on 26th and one was at Hollesley Bay (Suffolk) on 30th.
Away from (the precious few) breeding sites for Montagu's Harrier, the only birds noted were a ringtail that headed past The Warren, Spurn (East Yorkshire) on the morning of 29th, with two singles, both ringtails, seen along the Spurn Peninsula, around the same time, during the early evening of the same day. A male was seen at Grass Point, on Mull (Argyll) on 30th ~ an outstanding record for the island of what remains a rare bird in Scotland.
Passerines
July 1st isn't the sort of date that you would associate with a newly arrived Ortolan Buntingbut that appears to be the case this week when a male Ortolan was seen along tracks on Blakeney Freshes (Norfolk). Unfortunately news didn't emerge until later in the evening and there was no sign of the bird the following morning.
If submitted, and then accepted, by the Norfolk Records Committee, this will become the first-ever July record of the species for the county ~ the latest spring bird (in modern day terms) was found at Cley on May 30th 1994, with the earliest autumn record coming on Blakeney Point on August 13th 1977. The date of this record, along with the constant desire for megas, meant that Grey-necked Bunting was at the forefront of many people's minds when they first heard about it….one day, one day…
While summer buntings aren't to be expected, the occasional Two-barred Crossbill isn't so unusual and the first of 2013, a male, was seen on Eday (Orkney) on June 30th. Twenty birds have been seen on the islands, in a group of 14 records, with four together on South Ronaldsay in August 2008 the largest group noted ~ part of 10 birds recorded around Orkney that summer.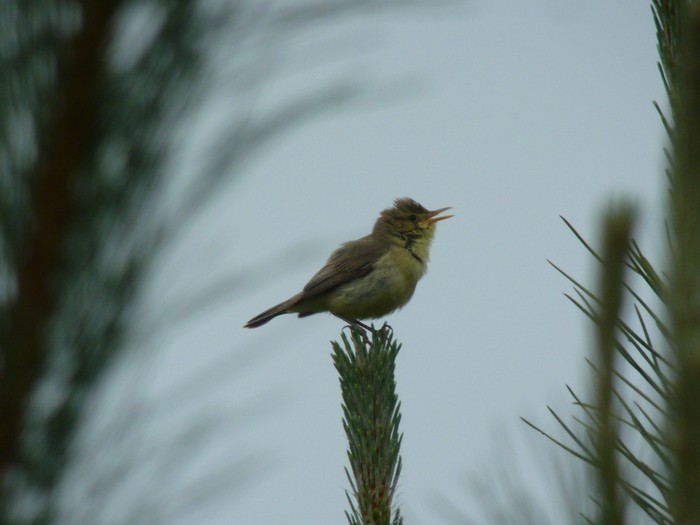 In Nottinghamshire, the singing male Melodious Warbler remained at Tiln GP for much of the week (negative news came along on 2nd) and it, deceased swift and gripped-back tern aside, remained one of the most popular birds of the week (territorial male Melodious Warblers have been spectacularly thin on the ground…indeed, it is hard to remember the last one anywhere…!).
Two Subalpine Warblers were seen on Fair Isle to 26th, a female appeared briefly in the Plantation and a first-summer male in the Observatory garden, with the male still in place on 27th. News also emerged this week of another Shetland "Sub-A", found on Foula on June 19th (where there was also a very late Red-breasted Flycatcher on 22nd, along with a Marsh Warbler.
Back on Fair Isle, a curiously high tally of five Marsh Warblers were seen on 26th (with four still there the following day) while a singing male remained at Uig, on the Isle of Skye, to 26th.
In Essex, the third June male White-spotted Bluethroat of 2013 was seen "recently" at Wat Tyler Country Park, but there was no sign on 27th. One was unusual, two even more so, but a third? Goodness….what's that all about?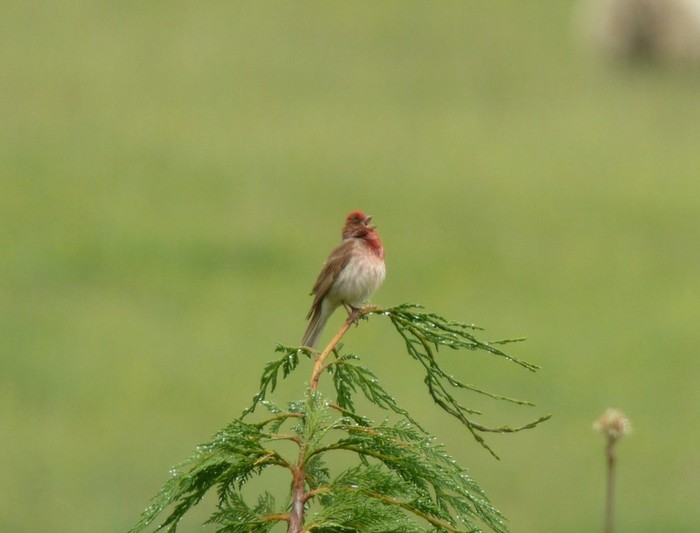 Three single Common Rosefinches were noted during the past seven days, at least two of them being males leftover from recent weeks. The striking adult male was still on song at Loch Tummel, near Pitlochry (Perth & Kinross) to 30th while the brown first-summer male remained on Anglesey, at Port Eilian throughout the week. Another was also noted again on North Ronaldsay (Orkney) on 27th.
Late male Red-backed Shrikes were seen at East Chevington NWT (Northumberland) on 26th, at Leighton Moss RSPB (Lancashire) on 27th and St. Abb's Head (Borders) on 1st and a female was seen near Norwich, at Hellesdon, on 2nd.
Single Golden Orioles were reported during the week at Weacombe, near Williton (Somerset) on 27th, Gibraltar Point (Lincolnshire) on 30th and Wraysbury GP (Berkshire) on 2nd, with the long-staying bird on North Ronaldsay present to 1st at least. The same day also saw the appearance of a Short-toed Lark on Shipman Head Down, Bryher (Scilly) ~ the second of the year for the site, one was noted there in April.
Back on Orkney, a good week for the islands was completed with the arrival of an adult Rose-coloured Starling north of Finstown, on Mainland on 2nd.
Once again, the roundup concludes with news that the possible margelanica Lesser Whitethroat remains at Newton Abbot (Devon), still present on territory throughout the week.
A few things catch the eye for the up-coming week ~ we're heading in to White-tailed Plover territory, singles seen on July 3rd 1979 (in Dorset) and on July 7th 2010 (in London, before roaming far and wide after that), while three Sooty Terns have appeared ~ the well twitched bird of 2005 arrived on July 5th, while July 9th claims two, one off the south Devon coast in 1979, and one in Kent and East Sussex in 1984. A Norfolk Eleonora's Falcon was a highlight of July 6th 1987, while Scotland's second Mongolian Plover, a stunning adult male, was found at Aberlady Bay on July 8th 2004.
And, for the third week in a row (not that I have a thing about them, just endless tales of woe…), Blue-cheeked Bee-eater makes itself known (if only, if only…) ~ the first-ever twitchable record coming at Cowden (East Yorkshire) on July 8th 1989. Someone managed not only to miss it in "Humberside" (as it was then) but also contrived to dip when it was refound in Lincolnshire a couple of days later (and that's not the only horror story with that particular species...).
Mark Golley
3 July 2013
Alan Shaw, Barry Wright, Andy McKee, Chris Bromley, Chris Batty, Stuart Piner, David Aitken, Sean Nixon,
Adam Hartley
,
Andy Jordan
,
Joe Pender - Sapphire Pelagics
, Bob Laughton, Mark Rayment, Mark Stirland.