Weekly round-up: 19 - 25 June 2013
The week at a glance
It had to happen eventually….White-throated Needletail makes first appearance for 22 years...
...STOP PRESS: After delighting birders throughout the day, the Needletail was picked up dead after been seen to fly into a wind turbine
Delightful female Wilson's Phalarope remains on the Isle of Wight
Norfolk's Roller hangs on for another day or two….
The breeding Little Bitterns in Somerset still going strong…
…and a Yelkouan Shearwater-type breezes past the coast of Cork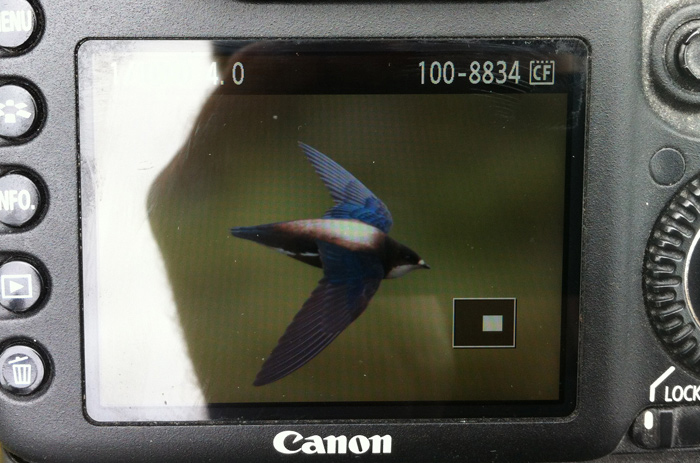 …so, take a deep breath…and relax…(maybe…)
After all that fun and games and blocked roads in deepest, darkest Suffolk last weekend, with an additional technicolour East Anglian Brucey-bonus on the edge of north Norfolk's prettiest town boosting the general rares carry-on for good measure, the pace for new birds and the all-important headline birds was practically sloth-like as the third week of June ground to a somewhat predictable halt ~ quicker than you can actually say "somewhat predictable halt"… well, almost…
But, as is often the case with this "funny" time of year, it is all about perspective ~ sure, there may not have been a new monster-rare for everyone to go slightly loopy about at the weekend (as has been the case with the spring's two big birds so far), but a quick glance through what's about to follow shows that if you wanted to, you could see a fine array of quality Midsummer fare…
The weather decided to be (relatively) summery until The Longest Day ~ warm, largely sunny, often muggy conditions sat across much of the country (fresher, brighter conditions prevailed in Scotland and the northeast) as temperatures headed towards a 2013 high in the English capital as the mercury nudged 26 or 27 degrees.
No sooner had Midsummer's Day been and gone then an Atlantic low span in, bringing fresh sou'westerlies and a whole bag of showers to put a dampener on things.
As the week concluded, more settled conditions were approaching as wall-to-wall sunshine, along with pretty cool northwesterlies, was forecast ~ enough to see a rare shorebird or two topple in to the country somewhere…..
Headline birds
"Come with us now on a journey through time and space"…. proclaimed The Mighty Boosh, so with this week's rock'n'roll birding mega star ~ top of the pops on many, many people's "most wanted" list ~ we'll do exactly that…but not too far back…just a month or so ago…
This comes from the RBA review of May 15th-21st….
Y'know...when you've got to Needletail you kind of grind to halt don't you? How can you top that? It remains the ultimate British rare for those who've scored one and we are approaching prime arrival time. Sadly, the last sighting came in 1991 ~ and there's not been a sniff of one in the 22 years that have followed.
"…May 25th White-throated Needletail ~ the Quendale bird of 1984 appearing on that date….
Another record of the ultra-fantastic species (the same bird presumably) came on May 26th 1991 (seen in Kent, then also in Staffordshire, Derbyshire and Shetland…) and on May 27th 1985, one famously spent a little time over Fairburn Ings in West Yorkshire while, yep, you've guessed it, May 28th saw the appearance of the most-twitched (doubtless it really was one-and-the-same for years) White-throated Needletail to date ~ the bird on Hoy, that spent 12 days cavorting at high-speed around the island, dodging the occasional Peregrine attack….and drawing rounds of applause with every overhead pass it made. Happy memories indeed!!!
A long 22 years without another. That was, until now…
It is all a bit back-to-front, but the big news of the week, far bigger than last week's Pacific Swift news (sorry Suffolk chaps ~ interestingly that one ended up in Spain this week…) came hurtling headlong towards us just after afternoon tea was taken on the last day of the review period.
Tuesday June 25th 2013 will always be White-throated Needletail day. Actually, as it turns out, June 24th was actually WTN-day but no one knew that there was a hint of one in the air bar a handful of visiting folk to the Outer Hebrides ~ it was just a possible, seen briefly in poor weather and not nailed for sure ~ until the following afternoon.
On day 1, (24th) the bird was seen a mile or so to the south of Tarbert, at Loch Direcleit, on Harris. Day 2 (25th) and word was out as the bird zoomed over the harbour in Tarbert itself, twice, just prior to 4 o'clock. Forty minutes later it was seen along the shoreline, and performed around the cliffs near the harbour until at least 6.30pm. I bet it looked awesome!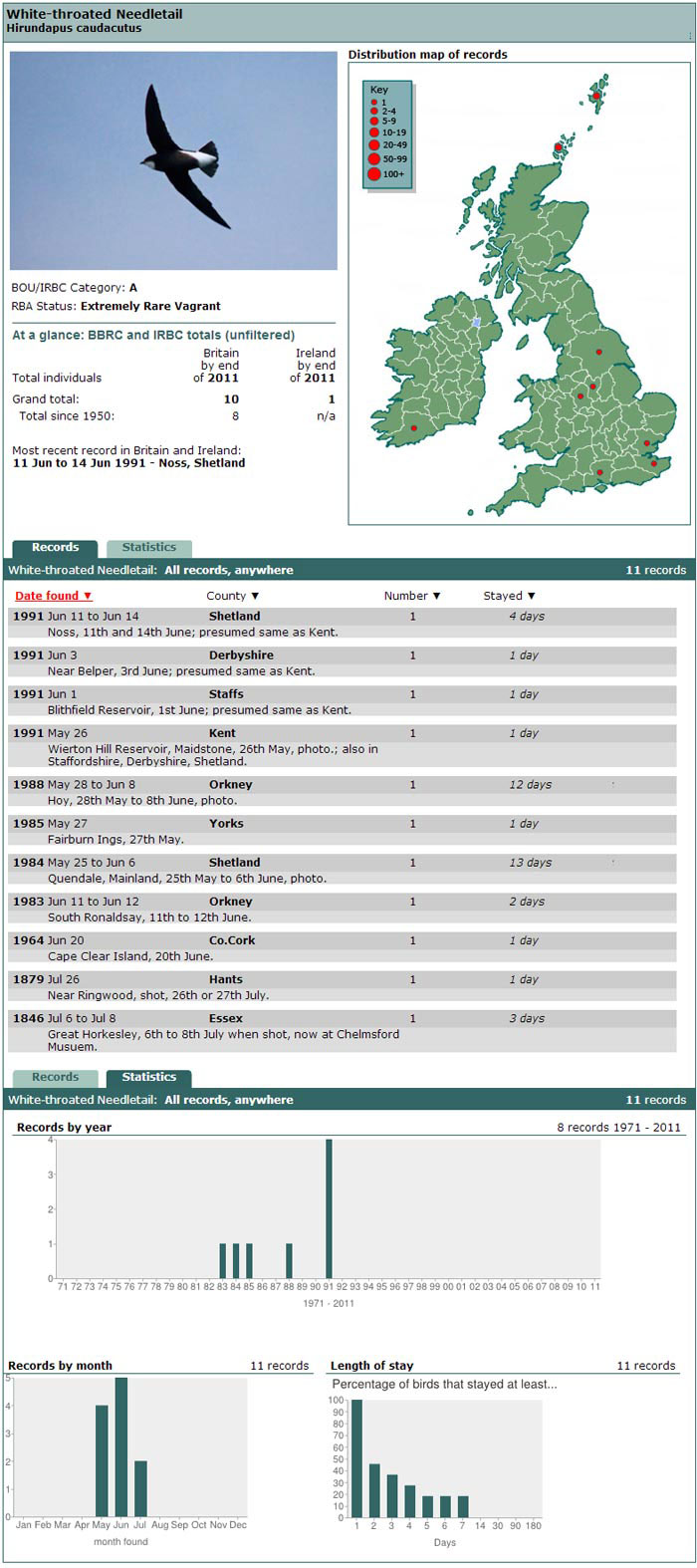 The tale of the tape (as touched on earlier) shows that Britain's first White-throated Needletail appeared in Essex, at Great Horkesley, for three days in July 1846 being shot on day three. The second British bird was also shot, in Hampshire in July 1879 then, 85 years later, came another, this one over Cape Clear Island on June 20th 1964. Orkney scored a two-day show in June 1983, with the Shetland bird spending 13 days around Quendale and Loch of Hillwell the following year. Fairburn in '85 and Hoy in '88 followed, while the four location spring showing of '91 (moving from Kent on May 26th to Staffordshire through Derbyshire and on to Shetland by June 11th) was the last appearance to date of this uber-flying machine.
Will it stay…who will get there first…will they score? One thing's for sure, this is one bird you really don't want to dip….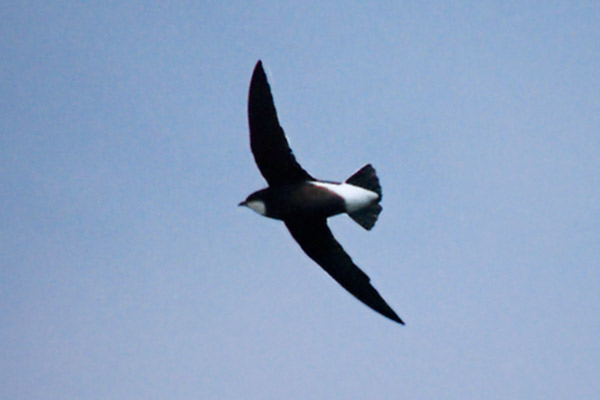 …prior to the mini earth-tremor created by the collective thud of a new twitching generation's jaws hitting the floor as the words "Needletail" stared back at them from their pager screens on Tuesday afternoon, we really had struggled for brand, spanking new major birds this week. Indeed until the "WTN" did the Tarbert thing, it fell to one of last week's late arrivals to be bumped up the running order and given second star billing….deservedly so too….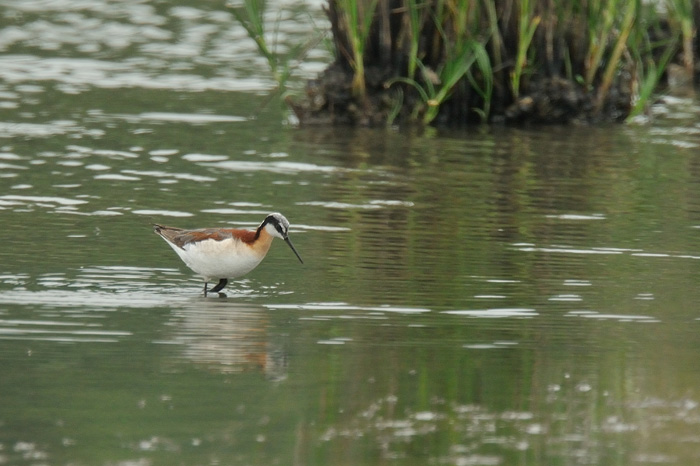 The stunning female Wilson's Phalarope that made a late entrance in to last week's review is well worthy of "Headline" status this week ~ found on the Station Pools, near Yarmouth on the evening of 18th, this delightful bird remained in place on the Isle of Wight to 23rd. As was mentioned last week, this is the first record for the island and is the first record anywhere along the south coast since a first-winter on the Exe Estuary in September 2009.
Up until the end of 2011, there were 335 accepted records of Wilson's Phalarope ~ with the first being discovered at Rosyth (Fife) in September 1954, a bird that spent 25 days on site. A further four were recorded during the 1950's while the 60's saw just one blank year (1960 itself) and at least 26 more birds added to the official statistics, including seven in 1967, which also saw the first-ever multiple record for the species here too ~ two birds together on Akeragh Lough (Co. Kerry) on September 9th 1967.
Things stepped up a gear or two throughout the 1970's ~ at least 87 birds recorded between the start of 1970 and the end of 1979. The first year to score double figures was 1971, with 10 birds noted, and the decade concluded with a monster 19 birds accepted for 1979, a total that included up to nine birds between August 21st-31st, with two at Dungeness on 27th, two at Wisbech Sewage Farm on 29th and two at Long Drag Pools on 31st ~ could any of them been the same two? Were they all the same two? Seems unlikely….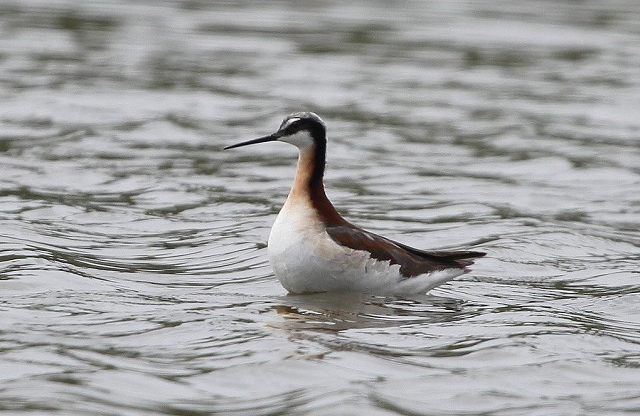 The impressive run of records continued throughout the 1980's as the species became a pretty regular rarity, with 113 in the decade including 16 in 1980, 12 in 1981, 15 in 1984 and 17 in 1985. Incredibly, for a species with such a pronounced spike in numbers recorded, 1986 saw a dramatic fall ~ just one bird seen all year (a two day mid-October bird at Ballycotton) ~ before, what was for the time, normal service was resumed in 1987 (a classic Nearctic autumn of course) when a still-to-be-beaten total of 20 birds were accepted (including 10 in the last 10 days of August mirroring, almost identically, the pattern of occurrence for 1979, which remains in second spot for highest numbers recorded overall). Indeed the 10 year period from 1979-1989 yielded an amazing 132 records, averaging just over 13 a year.
The past two decades have seen numbers fall away markedly by comparison ~ 53 Wilson's Phalaropes were accepted through the 1990's, the last "double figure" tally here being 15 in 1991, while the first blank year since 1960 came along in 1993. A mini-peak came in 1997, when nine were found, but it has been tough going since then.
The year 2000 drew another blank and the decade saw only 37 birds noted ~ just six were seen from the start of 2000 to the start of 2005 ~ but perhaps things are on the up (a little) now, seven Wilson's Phalaropes were seen in 2008, five were recorded in 2009 and 10 were accepted for 2010 (tho' two in 2011 suggests that the low numbers are likely to be more favoured in the next few years).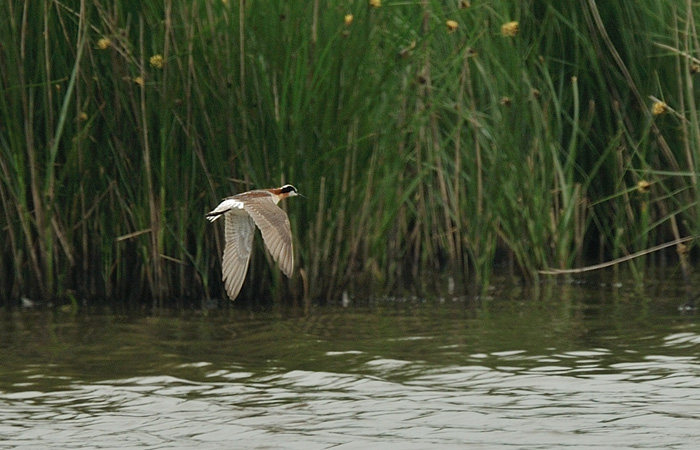 So, hopefully, all those who made the short crossing over the Solent over the weekend will have enjoyed this marvellous-looking bird ~ she's actually the first spring adult since the four-day adult female at Seaforth NR in May 2010.
From one "stat-attack" we'll dive headlong in to another ~ and dissect some of the figures that come along with the popular Roller that remained around the southern periphery of both Holt Country Park and the adjoining Lowes in north Norfolk, until the evening of 19th (with an unconfirmed report for early the next morning too).
When this bird appeared last week, mention was made of just how hard the species had become for Norfolk birder's ~ the current bird being the first in the county since a one-day bird at Holkham in July 1991 but was part of an overall tally of 32 county records.
…well, half of those 32 Norfolk birds were actually seen before the turn of the 20th century (one dating back to 1664!), with just eight birds seen between 1900 and 1970. A further six followed during the 70's and then Roller records fell away, almost completely, one spent two days at West Toft in June 1983 and was followed by the already mentioned Holkham bird on July 29th 1991 and then came that nigh-on 22 year gap to the Holt bird.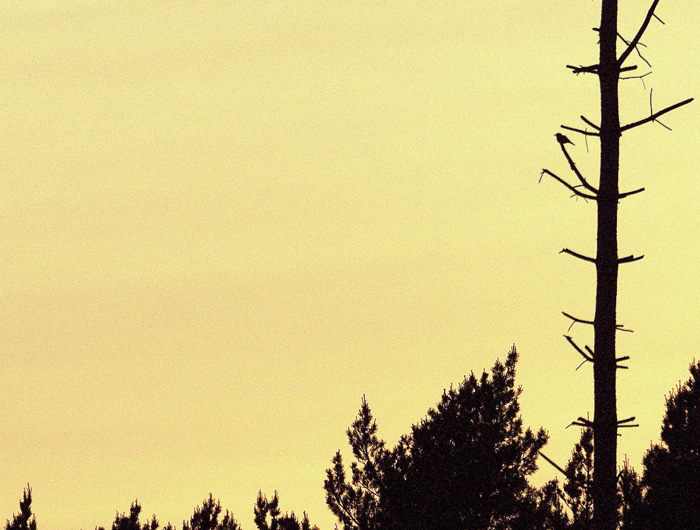 Funnily enough, the overall number of accepted Rollers to the end of 2011 was just one short of the number of accepted Wilson's Phalaropes ~ 334 to 335 ~ but the former species' records have stretched back over almost five centuries rather than just five decades…but both species saw a definite drop-off in records from the mid to late 90's onwards.
Elsewhere there was news that the breeding pair of Little Bitterns were still being seen occasionally from the allotted viewpoint at the Ham Wall RSPB reserve on the Somerset Levels ~ the fourth year in a row in which the species (the same pair?) has held court in the Avalon marshes reedbeds. Fingers crossed that this year's attempt (they are known to be nesting) will prove to be successful…time will tell of course.
The final headline act this week concerns the news of a Yelkouan Shearwater-type seen off Ballycotton (Co. Cork) on 22nd. This species is still pretty much in uncharted territory in British and Irish terms…there are no accepted records to date ~ a perusal at the most recent BBRC "Work-in-Progress" file (last updated in March 2013) shows that the photographed bird off Berry Head (Devon) on July 29th 2008 climbed the first hurdle at least, having been accepted by the Rarities Committee and is residing (still) with the BOURC.

Further pending Yelkouan Shearwater records on the BBRC file are one in Lothian in December 2009, off Porthgwarra in August 2010, from Cley in August 2011 and Dungeness in September 2011, while last year's bird off Whitburn, on the last day of August, has yet to make it to the files. And even if it does make it, there seems to be every chance that all records, including the Devon bird, may remain in Rarity Limbo-land as the intriguing "Menorcan Shearwater" cloud hangs across all potential claims of Yelkouan Shearwater here…

There's little doubt that a "good" Yelkouan Shearwater is easily separated from a "good" Balearic Shearwater but those pesky "Menorcans (with plumage and genetic characters that are intermediate between the former two species,) mean that many experienced seabird observers feel that they may not actually be separable in the field from any "good"-looking Yelkouan Shearwater ~ in a UK context at least.
Seabirds
The (almost) stormy conditions of the weekend of 22nd & 23rd perhaps produced slightly less than was to be expected (tho' a look at where the weather came from may suggest otherwise) and one of the pick of the pelagic goodies on offer were the single Sabine's Gull that flew past Porthcawl (Glamorgan) on the evening of 22nd and the adult noted from a Scilly pelagic on 24th and also the Cory's Shearwater that headed past Strumble Head (Pembrokeshire) on 23rd.
The final day of the review period saw a couple of notable Irish seabird records come forward ~ a Long-tailed Skua was seen from Kilmore Quay (Co. Wexford) while a single Leach's Storm-petrel was seen from Tory Island (Co. Donegal).
Balearic Shearwaters this week were in small numbers too ~ one was noted off the coast of Northumberland, passing Boulmer Steel, on 19th, with two from Portland Bill on 22nd and one off Mudeford (also in Dorset) on the same day. The windy weather of 23rd saw two pass by St. Ives (Cornwall).
The latter site also saw two Pomarine Skuas recorded on the same day from a week's tally of nine birds ~ two sub-adults were noted off Milford-on-Sea (Hampshire), also on 22nd, with singles on the same date seen from Peterstone Wentlooge (Gwent) and, in Glamorgan, past Lavernock Point and Porthcawl. Further singles were seen from Dungeness on 20th and Portland Bill on 23rd.
Herons, Egrets & allies
The week drew to a close with news of a Black Stork appearing in Gloucestershire on 25th ~ seen firstly circling high over Woorgreens Lake GWT before drifting south before appearing over Staple-edge Wood, in the Forest of Dean later the same morning.
In Somerset, a Night Heron has been seen "recently" around Ham Wall RSPB ~ to add to the impressive list of rare herons around the area ~ while in East Yorkshire, a Purple Heron was seen flying over Hessle, on the edge of Hull, on 19th before presumably the same bird relocated to Tophill Low NR on 24th. The same date saw the second Purple Heron of the week head west past Cromer Pier (Norfolk).
Nudging up five from last week, the number of Great White Egrets recorded over the past seven days was a lovely round dozen. Last week's singles at Pipps Ford (Suffolk) and on the Ouse Washes RSPB (Cambridgeshire) remained to 19th and 21st respectively, with new individuals noted at Oare Marshes and then Capel Fleet, Sheppey (Kent) and near Thurlby (Lincolnshire) on 20th, with two at Ynys-hir RSPB (Ceredigion) on 21st (after one was there the week before) and further singles were at Plymstock (Devon) on 22nd, over Beeston Common (Norfolk) on 23rd, along the River Liffey (Co. Dublin) and at Butley Mill (Suffolk), both on 24th and at Gibraltar Point NNR (Lincolnshire) and Stow Marsh (Essex) on 25th.
The ever-present Marloes Mere Glossy Ibis remained in Pembrokeshire to 24th while the decidedly shorter-staying Common Crane on Unst (Shetland) was still at Baltasound to 22nd. On the Scottish mainland, in Clyde, a single Crane was seen near Kilmacolm on 22nd and one was seen in the Norfolk Broads on 19th ~ doubtless one of the breeding birds from the area.
Once again it was the RSPB at Minsmere in Suffolk that hosted the biggest number of Spoonbills this week, seven present there on 19th. There were "twos" noted at Newport Wetlands (Gwent) ~ still present from last week and lingering to 23rd at least ~ Pennington Marshes (Hampshire) on 21st, Hickling NWT (Norfolk) on 22nd, when two were also on the saltings at Wells-next-the-sea (also in Norfolk of course), which doubtless came from the nearby colony at Holkham (where the first two juveniles are apparently about to fledge any day now).
Further singles were at Loch of Strathbeg RSPB (Aberdeenshire) and Slimbridge WWT (Gloucestershire) ~ both leftover from last week ~ with new birds noted at Wadebridge (Cornwall) on 21st-22nd, Woodspring Bay (Somerset) and Balmossie (Angus) on 23rd, inland at Otmoor RSPB (Oxfordshire) on 24th with another at Edenside (Fife) on the same date, with one still in South Yorkshire throughout the week.
Geese & Ducks
Shetland's drake Black Duck was last noted on 18th it seems, and the island's drake Ring-necked Duck was again at Loch of Hillwell on 20th. Further records of the species this week came from North Yorkshire, at Scorton GPs on 21st-23rd (paying a visit to Brompton-on-Swale on 22nd as well) before moving to Catterick Racecourse later on 23rd, Dunbar Quarry (Lothian) from 22nd and, on the same date, on Lough Neagh (Co. Armagh) ~ all of them drakes.
The drake Ferruginous Duck was at Chew Valley Lake (Somerset) to 19th while up the M5 at Slimbridge, the only drake Green-winged Teal of the week was found on 19th, where it stayed to 23rd at least.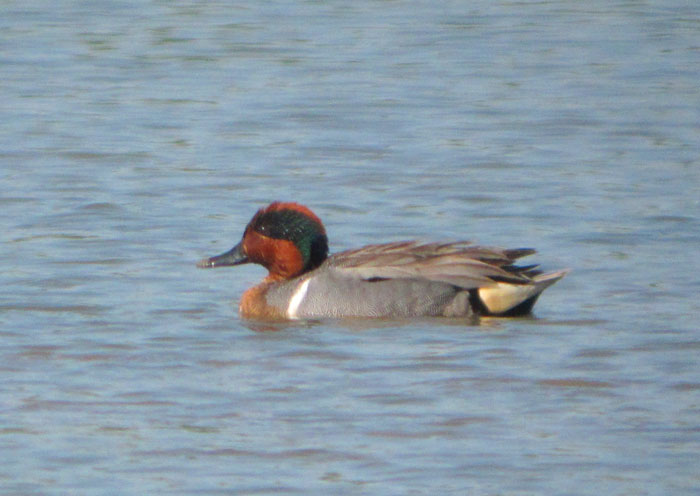 The (now) to-be-expected gathering of summering Surf Scoters off the coast of Aberdeenshire picked up this week with news of three birds (two drakes and a duck) amongst the commoner cousins off Murcar Golf Course on 22nd, one of which may well have been the drake seen from Girdle Ness, on the outskirts of Aberdeen, some five miles down the coast from Murcar, on 19th. Nearby, on the Ythan Estuary, the adult drake King Eider remained to 24th at least.
Shorebirds
On Angelsey, at Cemlyn Bay, a brief Buff-breasted Sandpiper was seen on 20th ~ the first on the island in nearly two years. A Pectoral Sandpiper was found at Burton Mere RSPB (Cheshire) on 19th where it stayed to 21st, with the only other records this week coming from North Ronaldsay (Orkney) on 22nd-23rd and Beacon Ponds (East Yorkshire) on 25th.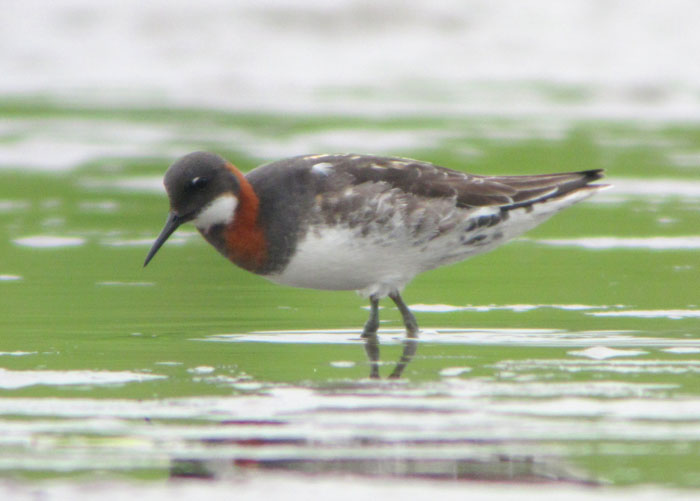 A Temminck's Stint appeared at Letham Pools (Fife) on 23rd-24th while a lovely female Red-necked Phalarope arrived at Slimbridge WWT on 20th with another seen on a pelagic trip out of North Shields (Co. Durham) on the evening of 21st. The third of the week was seen briefly at Aird an Runair, North Uist, also on 23rd and the fourth appeared on the sea, off Easton Bavents (Suffolk) on 25th.
Gulls and Terns
In Devon, a Gull-billed Tern spent the evening of 25th around Bowling Green Marsh, Topsham while earlier in the day, an adult White-winged Black Tern was noted from the ferry across the Sound of Harris (Outer Hebrides) ~ I wonder if the person who saw the Tern knew what was about to happen on the island they were heading towards?
This will be the first record of the species for the Hebrides since one was seen at Luskentyre (also on Harris) in June 2006 ~ that bird was only the sixth record ever.
The long-staying (summering) first-year Bonaparte's Gull remained at Oare Marshes NR (Kent) for another week and a first-summer Ring-billed Gull was noted on North Uist, at Loch Sandary, on 22nd.
On Shetland, a Glaucous Gull was at the Shetland Catch factory in Lerwick on 19th, a second-summer was noted at Dungarvan (Co. Waterford) on 22nd and a third-summer was at Lowestoft (Suffolk) on 24th. A juvenile Iceland Gull was on Tory Island (Co. Donegal) on 24th.
Raptors
Three single Black Kites were reported this week ~ the first was noted heading over the golf course at Bar Hill (Cambridgeshire) on 19th, the second was up on the Isle of Skye, at Bernisdale, near Portree on 21st with the third appearing in Northamptonshire, at Long Buckby, also on 21st.
In Suffolk, a male Red-footed Falcon was reported near Cattawade on 22nd with another male passing over Marston Vale (Bedfordshire) the following day. Two Honey Buzzards were reported from the Swanton Novers raptor watchpoint (Norfolk) on 23rd, with further north Norfolk birds noted over Salthouse Heath on 22nd and near Blakeney on 20th while in North Yorkshire, one was seen at the North Hykeham raptor watchpoint on 25th.
Earlier in the week, single Honey Buzzards were seen on 19th over Bardsey Island (Gwynedd), Wells (Somerset) and Waltham Brooks SWT (West Sussex) and this trio were followed by one over Nosterfield Quarry (North Yorkshire) on 20th with two singles reported from Margate (Kent) on 21st.
In the north of Ireland, a first-summer Pallid or Montagu's Harrier spent a couple of days (at least) on the Antrim Plateau to 21st, while a ringtail Monty's was at Ruckland (Lincolnshire) on 23rd.
Back in Ireland, the male Snowy Owl continued his summer holidays on Arranmore Island (Co. Donegal) to 24th at least.
Passerines
There may have been far rarer passerines on offer this week, but arguably the pick of the bunch was an unfolding ID puzzle slap-bang in the middle of the East Midlands.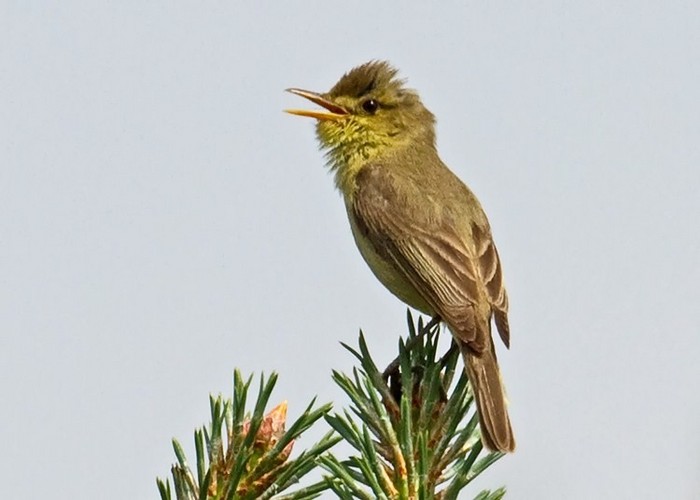 What started out as a singing male Icterine Warbler at Tiln (Nottinghamshire) on 20th switched identity (after due diligence was employed post-fleeting glimpses and occasional bursts of song) to a singing male Melodious Warbler on 21st (becoming a superb county first too) and remained on territory to 25th.
Key to the identification process ~ along with voice ~ the primary projection.
This bird (even on small images ~ for those who didn't travel to view the bird) showed a relatively short primary projection (which certainly piqued the interest) and better images indeed showed a shorter p.p than you'd see on a typical Icterine Warbler (beware of apparent shorter-winged "Icky's" tho'...).
Also of note was a) the brown appearance of the primaries (spring Icterine Warbler invariably appears darker and greyer in tone) and b) just how broad the primary bunch is (again compare that to the rather more "pointy" look that Icterine shows.) It seems rather easier with images in front of you ~ it would have been a tough call in the field at first…
Despite the distinctive pale wing-panel (often perceived to be a good indicator of an Icterine ), this is one of many "soft" features that actually have no bearing on separating spring Hippolais warblers here in the UK.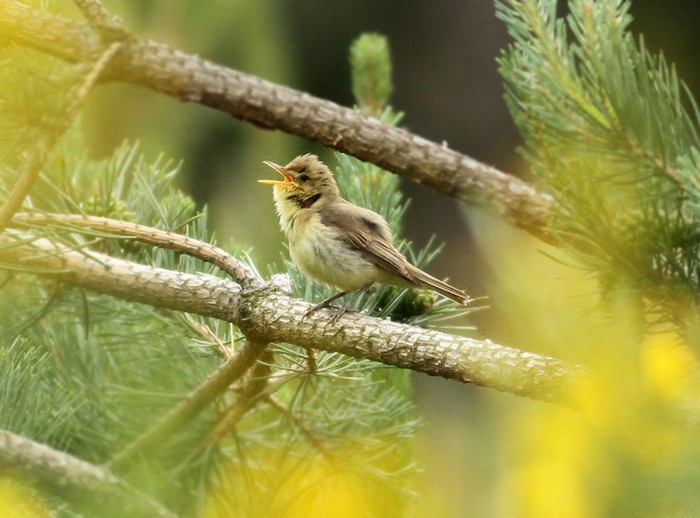 Spring Melodious can show the same features (as the Nottinghamshire bird does) and features such as wing panel, upper- and underpart colouration, leg colour and so on cannot be safely quoted as definitive features for either species.
It is (pretty much) primary projection or bust ~ and it seems likely that several spring Melodious Warblers may have slipped through the net over the years.
No such issues for the first-summer male Western Subalpine Warbler that remained on Fair Isle, in the Observatory garden for the whole week. Also joining him in the garden were at least two Marsh Warblers on 19th (at least three were on the island that day) with one there to 21st and two again on 23rd.
Also on Shetland this week, the fourth-ever June Arctic Warbler was found at Skaw, on Whalsay, on 23rd ~ all four records have come from Shetland too. The first June bird was trapped on Fair Isle on June 27th 1995, the second was seen on Foula on June 21st the following year with the third, another trapped bird on Fair Isle, was seen on June 22nd-23rd 2005.
This week's Skaw bird sits nicely in to the late June pattern of occurrence then ~ four records now between 22nd-27th of the month (and Shetland has also hosted six of the seven July records of Arctic Warbler too).
Elsewhere, further single Marsh Warblers included a trapped and ringed bird in Swindon (Wiltshire) on 20th, with another at Gibraltar Point NNR (Lincolnshire) and also on North Ronaldsay (Orkney), all on the same day.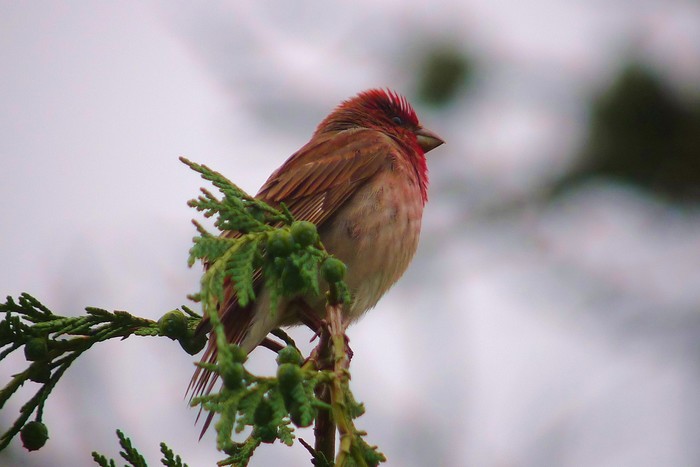 North Ronaldsay also saw two Common Rosefinches appear on 22nd, part of a weekly tally of at least six birds ~ on 19th, one was found on Great Saltee Island (Co. Wexford) with Shetland singles on Fair Isle and Unst, on 21st at Port Eilian, on Anglesey while last week's singing adult male still in good voice at Tressait (Perth & Kinross) across the whole of the last seven days. The week concluded with another singing male in Newcastle-upon-Tyne, one found next to one of the Metro stations in the city.
Late moving Red-backed Shrikes included a male at Tacumshin (Co. Wexford) on 19th, one at Burrafirth, Mainland (Shetland) on 20th, a male at Rimac (Lincolnshire) on 21st and up on North Ronaldsay, another male was seen on 22nd and a female on Fair Isle on 24th.
Back on North Ronaldsay the only Golden Orioles of the week, one on 19th became two on 20th, with one still in the Holland House area to 25th (and another was reported in Derbyshire, near Eckington, on 23rd). In Ireland, in County Roscommon, a Hoopoe was seen at Athleague on 24th.
Almost as much of a surprise as the male White-spotted Bluethroat in Norfolk earlier this month was the news of a singing male White-spotted Bluethroat at Martin Mere WWT (Lancashire) from 19th-21st. Present in a private area of the reserve, staff kindly allowed escorted walks in to the area to search for this outstanding midsummer find.
In Cornwall, the Woodchat Shrike found at Sennen Cove at the end of the last review period was still in place on 19th while a Bee-eater was a brief report from Nosterfield (North Yorkshire) on 20th while another was reported from the M6 near Lymm (Greater Manchester) on 23rd.
What was thought to be an Ortolan Bunting was seen briefly on Westray (Orkney) and a Serin was at Portland, in the Observatory garden, on 23rd and again on 24th. Rather more unseasonal were the two Waxwings that appeared in Edinburgh on 23rd.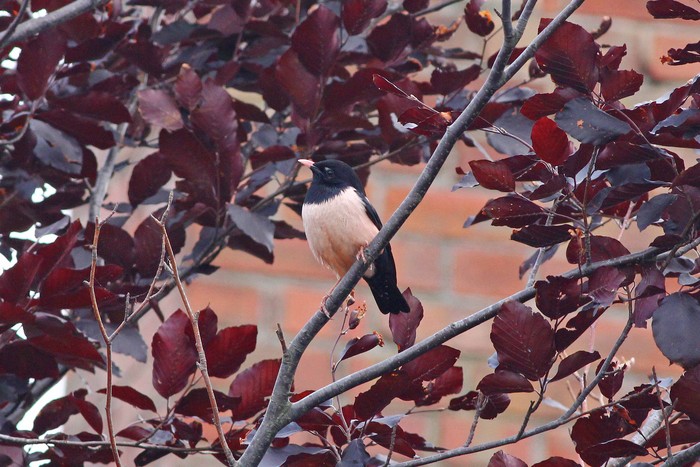 Almost as popular a draw as the north Norfolk Roller was the north Norfolk Rose-coloured Starling that remained at Wells-next-the-sea to 22nd. A scintillating adult male, it was the first twitchable adult to be noted in the county since the big invasion year of 2002 ~ at least seven were seen in June that year ~ including three together in Sheringham.
The first Black-headed Bunting for Dumfries & Galloway, a male, was photographed in a garden at Mainsriddle (to the north of Southerness Point) on 22nd and was then, remarkably, seen in a garden at Gatehouse of Fleet (some 25 miles due west of Mainsriddle) the following day. June is, of course, the prime month in which to see this always popular species, 67 of the 213 accepted records (up until the end of 2011) have come this month (with 53 in May and 25 in July).
Funnily enough, D&G was the last place to host a June male Red-headed Bunting ~ at Monreith on June 8th-9th 2004. A small handful of female-types have followed (under the Red or Black-headed Bunting) but this remains the one to have seen ~ almost 10 years on, the big question has to be where are they now? Why have they stopped coming?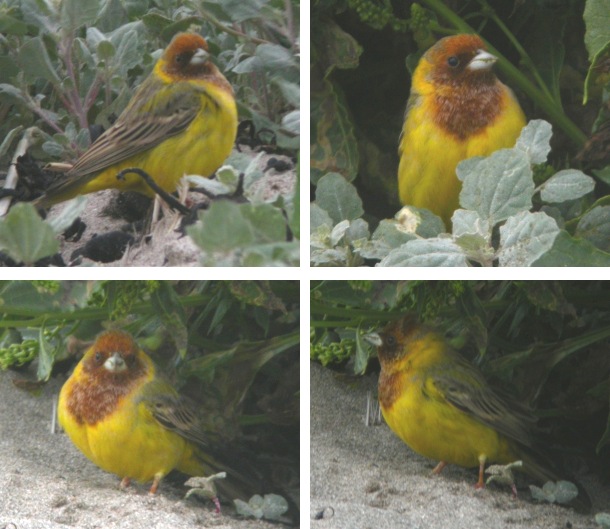 Finally, Devon's what-sort-of Lesser Whitethroat is-this debate rumbles on. And on and on and on....
Everybody knows that this was mega'ed as a Western Orphean Warbler early in June and then was swiftly corrected to being a Lesser Whitethroat which some observers thought had an atypical song while others suspected was from somewhere outside of the normal range of curruca.
It all seemed to have gone quiet ~ not the bird, just the debate, but it has gradually started to get some momentum again ~ mention has been made this week of, firstly, halimodendri and then, secondly, margelanica as being potential solutions to the puzzle. The evidence is all out there. You the jury can make up your minds as to whether the insurance terms are good enough for a journey to the southwest.
With no recent movement in Lesser Whitethroat taxonomy and birds as blatant as the superb November 2000 Redcar Desert Lesser Whitethroat (form minula) languishing in Committee no-man's land, any movement on the Devon bird will be a long time comin'…
What's next? Who knows but despite the general feeling that we are heading towards that (usually) shortish spell of midsummer doldrums, there could be shorebirds and seabirds in the offing to keep things lively. Last week, Blue-cheeked Bee-eater was high on the list of dream birds for the week ahead ~ and the same applies this week too ~ Devon has recorded the species twice on June 30th (in 1987 and 2009) while July 1st has produced (amongst other things) Britain's first Brown Flycatcher (on Fair Isle) and also, trapped on Great Skellig Rock, off the coast of Kerry, a Swinhoe's Storm-petrel . Remember them?
Mark Golley
26 June 2013
Special thanks this week to
Mike Langman
and Mark Darlaston for allowing us to use their excellent Yelkouan Shearwater information. Also thanks to Chris Batty and Dan Pointon for getting a field pic of the Needletail to us so promptly.
Many thanks also to the rest of this week's contributors for their photos and videos.