Weekly round-up: 5 - 11 June 2013
The week at a glance
River Warbler on Fair Isle
Collared Flycatcher on… Fair Isle
Roller on …….. Fair Isle
Paddyfield Warbler on Bardsey
Little Bitterns breeding again in Somerset
STOP PRESS: breaking news of a Pacific Swift in E.Yorks this morning and later in the afternoon, Lincolnshire, hopefully there will be more to follow on this next week
The weather was fairly slack this week. A puff of northeasterly winds at the beginning of the week soon became more northerly as a high pressure slowly drifted in from the west. With light winds and clear skies in the west temperatures rose but on east coasts (where the wind remained a northerly or a local northeasterly) it was unremittingly grey, cloudy and cold. Only on 11th did the pattern break with a sudden rush of mild Atlantic air.
Though early June is a traditional time for truly outrageous birds, this week saw nothing to get the tyres burning. There were some quality birds but nothing from the 'top drawer' and all the week's best birds were at far-flung island observatories.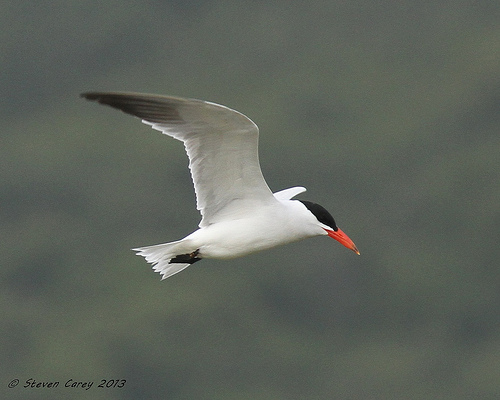 Headline birds
Fair Isle opened the batting for the week with a River Warbler at Schoolton on 5th and 6th. River Warbler certainly seems to be a 'Fair Isle bird' at the moment. The last British spring record was also on this blessed isle just last year at the same time, arriving on 11th June and then staying until 11th July. With only 40 records to the end of 2011, this is still a very rare bird but this is the 17th for Fair Isle!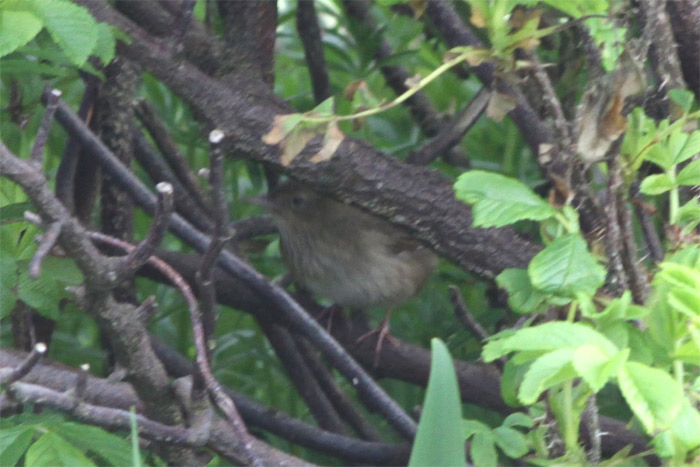 Fair Isle continued its 'purple patch' on 9th with a superb Collared Flycatcher . Following this spring's good run of 'out of range' Collared Flycatchers in northwest Europe (including three splendid males in Britain), it was perhaps no surprise to get another. This time, however, it was a female - less glamorous no doubt but certainly more instructive and, as it was trapped, the closest scrutiny of its primary bar and nape feather bases was doubtless possible. This is at least the fifth for Fair Isle but the first spring female there. Indeed there have only ever been three previous spring female Collared Flycatchers in Britain - on Out Skerries, Shetland on 25th May 1976, on North Ronaldsay, Orkney on 31st May 1999 and on Bryher, Isles of Scilly on 12th to13th May 2009.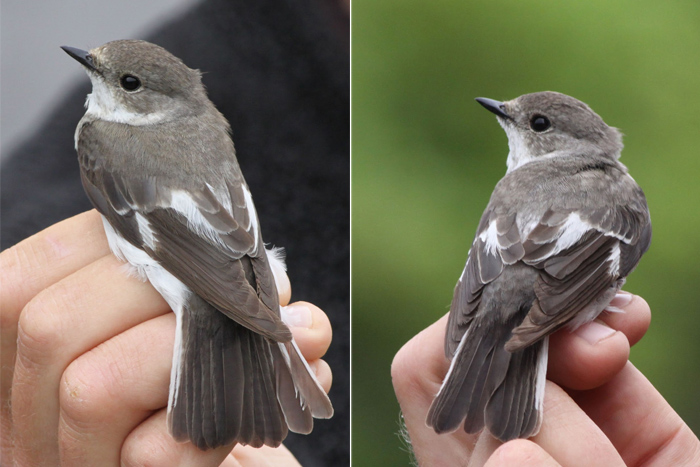 Finally, Fair Isle excelled itself with a third star bird on 11th - a gorgeous Roller . This is the eighth record for Shetland but only the second for Fair Isle, the first being on 22nd September 1981 (happy memories - I saw it!).
Also in contention for the week's star prize was the Paddyfield Warbler on Bardsey, Gwynedd on 7th - the third for the island and the fourth for Wales. Paddyfield Warbler seems to be a species 'on the up' these days, with a remarkable 83 records amassed to the end of 2011 - presumably a reflection of an expanding breeding range. A big clue that this may be the case is the increasing percentage of spring records, a situation closely paralleled in, for example, Citrine Wagtail. There have been a dozen spring records to date, almost all on Shetland though singles were on the Isle of May, Fife and (rather infamously) at Landguard, Suffolk in spring 1988 and, in a closer parallel to this bird, at Hilbre Island, Cheshire and Wirral, in June 2009. This is very much a late spring bird and June arrivals are proving to be the norm.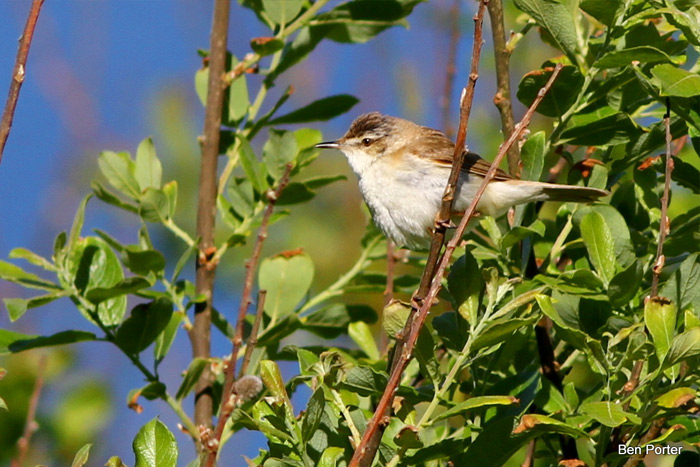 Also 'on the up' of course are herons and the very welcome news was released officially this week that Little Bitterns are again breeding at Ham Wall, Somerset, now for the fourth year running. A public viewpoint and protection regime have been set up. This remarkable area is fast becoming Britain's premier wetland site and is a fitting testament to those involved in its creation and management.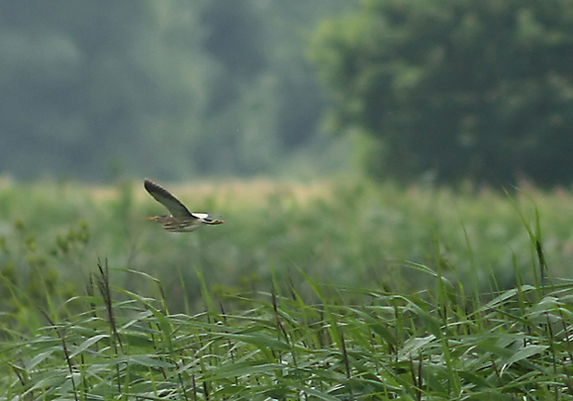 This week's Euronews provided ample evidence that spring migration was not over. On 10th a Grey-necked Bunting was found on Helgoland, Germany, the second for this site. Surely Britain is next for this species! Also of relevance was an Eastern Olivaceous Warbler and no fewer than 3 Paddyfield Warblers in Sweden whilst a Crag Martin reached Denmark. Further afield it was a story of extremely rare Iberian gulls with two Kelp Gull records in Portugal (one belated) and a Grey-headed Gull in Spain.
Seabirds
A notable feature of the week was the continued presence of Long-tailed Skuas in the northern half of the North Sea. Doubtless a result of the astounding passage through western Scotland in late May and the persistent northerly airflow, this was nevertheless a highly unusual, if not unprecedented series of records. Five birds passed Flamborough's 'Great White Cape' on 5th with other singles the same day off St. Mary's Island and Seaton Sluice, Northumberland and over Saltholme, Cleveland. Two more were off Flamborough on 6th with another off Collieston, Aberdeenshire. Then, on 7th, another 5 were logged off Flamborough with one also (more traditionally) off South Uist, Western Isles. Then, on 8th, singles passed Whitburn, Durham and Sunk Island, Yorkshire and others were off South Uist and Peterhead, Aberdeenshire on 9th and off Great Blasket, Kerry on 10th. Even more unusually, one was off Berry Head, Devon on 10th. By comparison, only three Pomarine Skuas were reported - off Portland, Dorset on 7th, the Butt of Lewis, Western Isles on 10th and Thurlestone, Devon on 11th. The only other scarce seabird to feature was Balearic Shearwater . Singles were off Bardsey, Gwynedd on 5th and Flamborough and Portland on 7th with 3 off Mudeford Quay, Dorset on 11th.
Herons, Egrets etc.
The best heron was a Squacco Heron at Brading Marsh and Bembridge, Isle of Wight on 8th to 10th.
The number of Great White Egrets remained at their traditionally lower summer level. Two were in residence at Ham Wall, Somerset with others at nearby Shapwick Heath, at Minsmere, Suffolk, Filey Dams, Yorkshire, Alkborough Flats, Lincolnshire, the Welsh Wetlands Centre, Camarthenshire, Tophill Low, Yorkshire, Marloes Mere, Pembrokeshire, the Ouse Washes, Cambridgeshire and Martin Mere, Lancashire.
Other rare heron fare was meagre. Cattle Egrets were at Hillsborough Park Lake, Down on 5th and over Doxey Marshes, Staffordshire on 9th, a Purple Heron at Kenfig, Glamorgan on 6th and single Night Herons at Cork City, Cork and Stoke Albany, Northamptonshire on 7th and near Minehead, Somerset on 8th.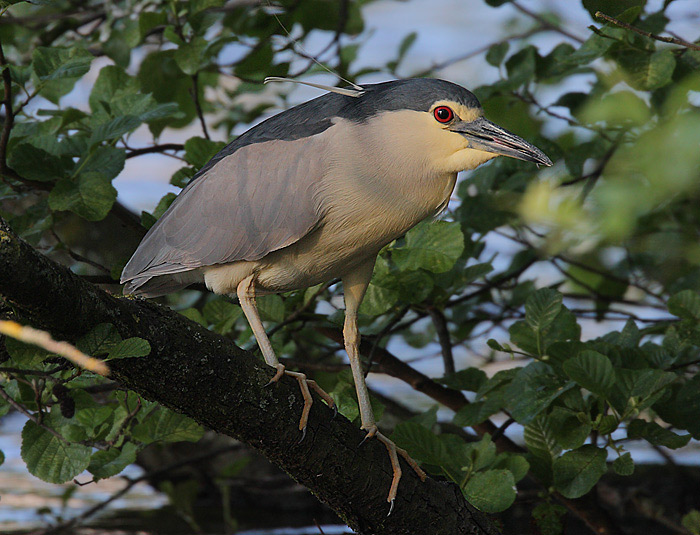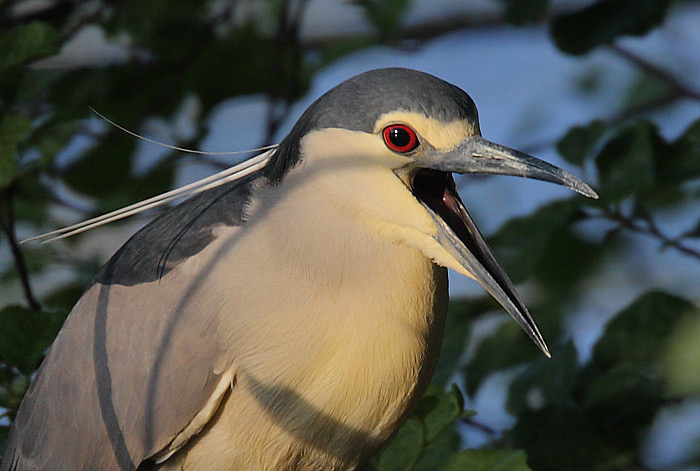 Other 'big birds with long legs' were the now seemingly resident Glossy Ibis at Marloes Mere, Pembrokeshire, a Black Stork over Pulborough Brooks, West Sussex on 6th and a White Stork over Bristol the same day.
Wildfowl
Rare ducks were also just that. An adult drake Lesser Scaup reappeared at St. John's Loch, Highland from 7th to the week's end whilst an adult drake Ferruginous Duck was also back at Chew Valley Lake, Somerset from the same date. A Ring-necked Duck was at Tophill low, Yorkshire on 5th and 6th.
The only rare dabbling ducks reported were a drake Black Duck at Loch of Hillwell, Shetland on 11th, a drake Blue-winged Teal at Kirkintilloch, Clyde on 5th and a drake Green-winged Teal on Mainland Shetland on 9th, whilst, at sea, single drake King Eiders and Surf Scoters bobbed off Blackdog/Murcar, Aberdeenshire and Inch Strand, Kerry.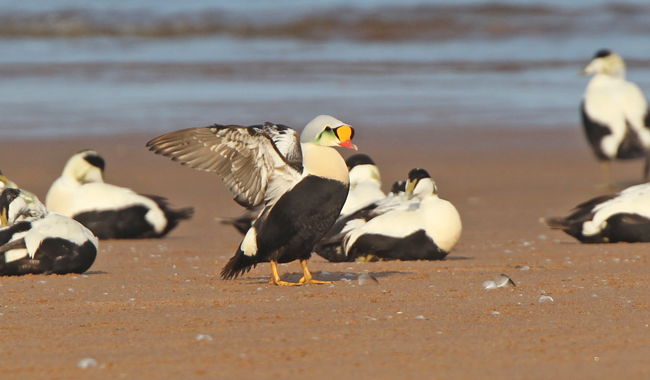 Waders
The best wader of the week was an American Golden Plover at Cuckmere Haven, Sussex on 11th. Also exciting was a White-rumped Sandpiper at Findhorn Bay, Moray on the morning of the 10th, with, amazingly, two there next day! Continuing the Nearctic wader theme, a Buff-breasted Sandpiper was at The Mullet, Mayo on 11th. Few other notable waders were seen, however. Red-necked Phalaropes were at Coombe Meadows, Gloucestershire from 5th to 9th and at Tacumshin, Wexford on 10th and Pectoral Sandpipers were on Westray, Orkney on 7th and 8th, at Frampton, Lincolnshire on 7th, at Meikle Loch, Aberdeenshire on 10th and on North Uist, Western Isles and at Cley, Norfolk (2) on 11th.
Temminck's Stints were on Fair Isle, Shetland on 7th and 8th with others at Frampton and at Grutness, Shetland on 7th. Finally, a Dotterel was at Tacumshin, Wexford on 6th to 9th.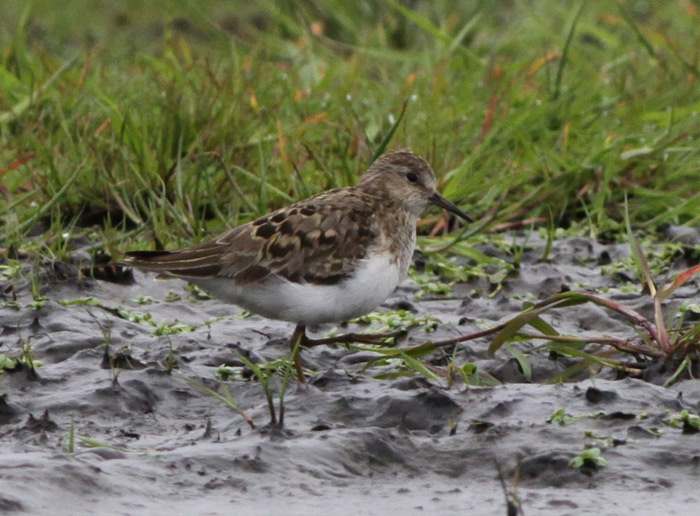 Gulls and Terns
The best gull of the week was the first-summer Bonaparte's Gull , still at Oare Marshes, Kent to at least 11th. Elsewhere, a first-summer Ring-billed Gull was on Tiree, Argyll and Bute from 5th to 8th, the first-summer was again at Scalloway, Shetland on 9th and a second-summer was at Kinnegar Shore, Down on 6th. Only 3 Iceland Gulls were reported - at Loch Stiapabhat, Lewis and Crowdy Reservoir, Cornwall on 5th and on Mainland Orkney on 8th.
Two rarer terns were noted, however. A Caspian Tern was at Testwood Lakes, Hampshire for the afternoon of the 9th, though news of its presence was only released once it had gone, but it reappeared at Radipole and then again at West Bexington, both Dorset, on 11th. In Norfolk a Gull-billed Tern was briefly at Kelling Water Meadow, Norfolk on the evening of 10th.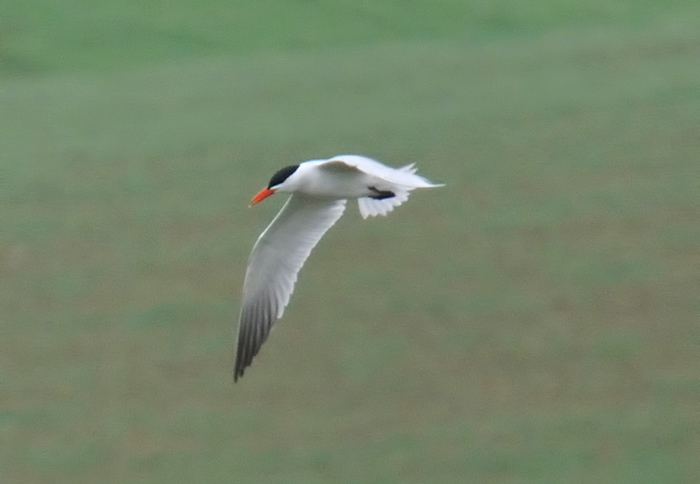 Raptors
With the long-staying male Red-footed Falcon at Lakenheath Fen, Suffolk unreported after 5th, attention switched to the female still nearby at Earith, Cambridgeshire to at least 10th. Black Kites were reported over Waddington, Lincolnshire on 7th and lingering at Faversham, Kent on 8th to 11th.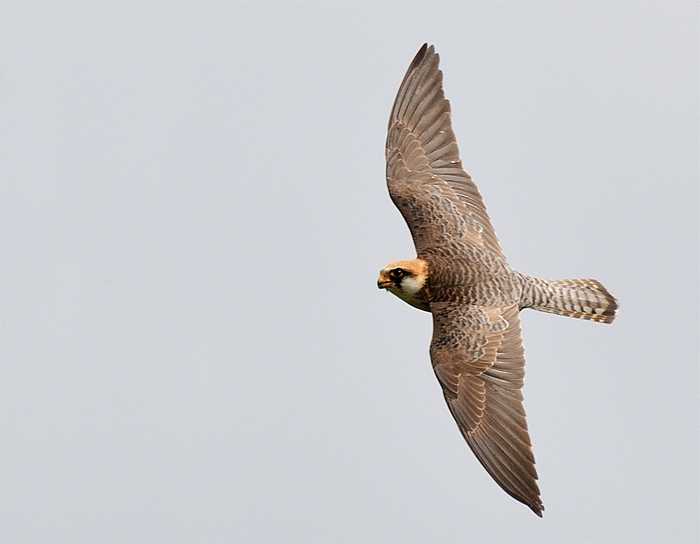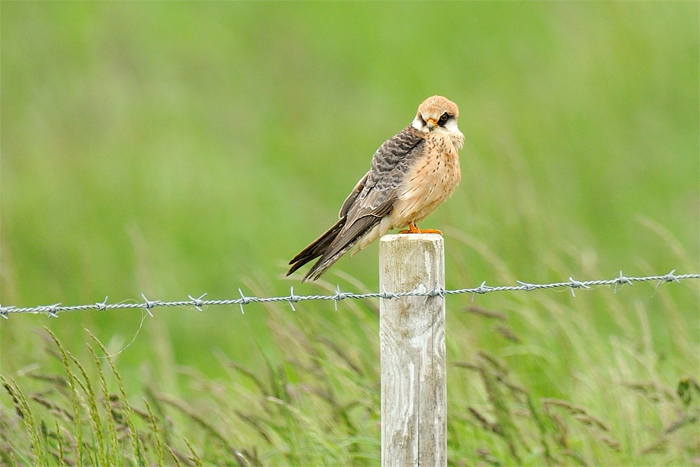 Owls
The male Snowy Owl was again on Arranmore Island, Donegal on 9th.
Passerines
Passerines stole the show this week with a good selection of typical late spring 'drifters'. In what is turning into a bumper spring for Red-backed Shrikes , about a further twenty made an appearance, all at east coast locations between Suffolk and Shetland apart from one on Bodmin Moor, Cornwall on 9th.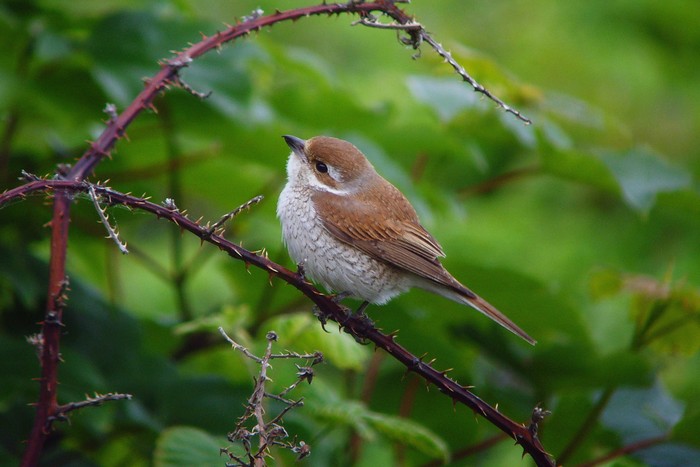 On cue, the typically late duo of Common Rosefinch and Marsh Warbler came to the fore too. Rosefinches were at Gibraltar Point, Lincolnshire on 6th to 9th, Spurn, Yorkshire on 6th and 8th and, on this latter date, single examples of this beady-eyed finch were recorded from Virkie, Shetland, Skokholm, Pembrokeshire, Brampton, Cumbria and Lundy, Devon. Finally, others were on North Uist, Western Isles on 10th and at Maybole, Ayrshire on 13th.
Two Marsh Warblers were at Spurn, Yorkshire on 6th and further birds were to be had at Flamborough and Filey, also Yorkshire, and Unst, Burrafirth, Virkie and Fair Isle, all Shetland, the same day. Another was at St. Mary's Island, Northumberland on 8th with others at Southwold, Suffolk on 9th to 11th, on North Ronaldsay, Orkney and at Dover, Kent on 9th and 2 at Flamborough, one at Spurn, one at Heysham, Lancashire and one at Carsington Water, Derbyshire on 10th. Finally one was on Fair Isle, Shetland on 11th.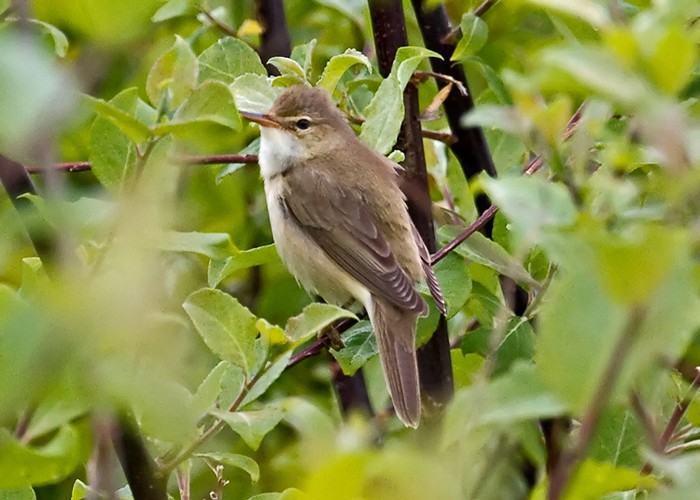 On 8th an Icterine Warbler was on the Farne Islands, Northumberland. One had also been on Blakeney Point, Norfolk on 5th, on which date last week's elusive Short-toed Lark was also found to be still present.
Back to the eastern European theme though, Fair Isle's Ortolan Bunting of 10th was a welcome appearance by a declining bird but perhaps the best bird from this direction was the singing Thrush Nightingale still at Easington, Yorkshire to 6th (when it was trapped) but a Grey-headed Wagtail at Mynydd Mawr, Gwynedd on 9th was a good bird for Wales.
Maybe a sign of things to come, a Rose-coloured Starling was on the Calf of Man on 8th to 9th. Another was then in Edmonton, London on 9th. From the same direction came a male Black-headed Bunting to Compton Down, Isle of Wight, also on 9th and still present to 11th.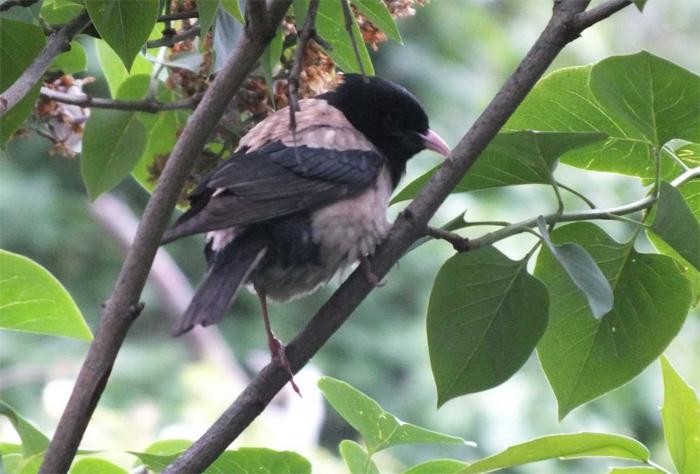 Golden Orioles still featured too, with singles near Penzance, Cornwall, at Kergord, Shetland on 6th and 9th, at Theberton, Suffolk on 7th and on North Ronaldsay, Orkney on 10th. Other quality southern passerines included Hoopoes at Martin's Haven, Pembrokeshire on 5th, Bridport, Dorset on 9th and Holland Haven, Essex on 10th, a Woodchat Shrike at Spurn, Yorkshire and a Red-rumped Swallow at Portland, Dorset on 7th, a Western Subalpine Warbler on Fair Isle all week and racially unassigned Subalpine Warblers on Skomer, Pembrokeshire on 5th and on the Great Orme, Conwy on 8th and 9th. Another Red-rumped Swallow was at Brading Marsh, Isle of Wight (over the Squacco Heron) on 9th.
Bee-eaters were (typically briefly) over Bradwell, Essex on 5th and Thorpeness, Suffolk on 6th but one at Pegwell Bay, Kent on 8th and 9th was much more of a crowd-pleaser.
In East Anglia, the Savi's Warblers were still singing at Lakenheath Fen and Minsmere, Suffolk to at least 9th but better still was the singing male White-spotted Bluethroat still at Cley, Norfolk to the end of the week.
Next week should see a further 'descent' into summer but it's still (just) not too late for a last spring surprise. Mark will update you next week….
Andy Stoddart
12 June 2013
Many thanks to this weeks contributors for the photos and videos
Steven Carey,
David Parnaby - Fair Isle Bird Observatory
,
Ben Porter - Bardsey Bird Observatory
,
Ray Scally
,
James Packer - The Somerset Birder
, Sean Nixon,
Garry Bagnell
, Roger Harris, Brian Harrison, Adrian Kettle, David Carr,
Yorkshire Coast Nature
, Keith Ross, Scott Mayson, James Newman.
Contributors websites