Weekly round-up: 17 - 23 April 2013
The week at a glance
Remains of a freshly dead Baillon's Crake found in Gloucestershire
Apparently unringed and un-tagged Great Bustard in Suffolk
Adult male Pallid Harrier breezes through Angus …and a youngster appears off the Welsh coast too
Wexford holds on to double Northern Harriers …probably….
Drake Harlequin still holding station in the Outer Hebrides
Somerset's Pied-billed Grebe remains in residence
Good push of scarce and rare spring overshoots through the week
The sun shone, the rain fell and the wind blew. It was warm, it was cool, it was a little chilly too. No doubting that we were in April....
As the week concluded there was a classic north/south divide ~ temperatures nudging just in to double figures from northern England in to Scotland, while to the south, a pleasant, warming 20 degress was had by many.
The warm front looks likely to drift away by the weekend, rain could drift south before the cooler air that the north has been putting up with tumbles down countrywide. Is spring's door about to be slammed shut again?
Whatever happens, there was a super mix of arrivals this week, though not all of them fared as well as others…
.
Headline birds
Dead birds don't normally make for headline news, but when the bird is a freshly deceased Baillon's Crake, well, that's a different matter.
What was left of a freshly snaffled corpse was picked up along the Canoe Trail at Slimbridge WWT (Gloucestershire) on the morning of 17th, and becomes only the second record of the species in the county, and the first-ever in the modern era ~ the only other record was killed at Over, near Gloucester sometime in 1882.
Early last autumn, a juvenile Baillon's Crake gave itself up to all comers at the RSPB reserve at Rainham Marshes, present from September 7th-22nd and sparked much interest in to just how far it may have travelled….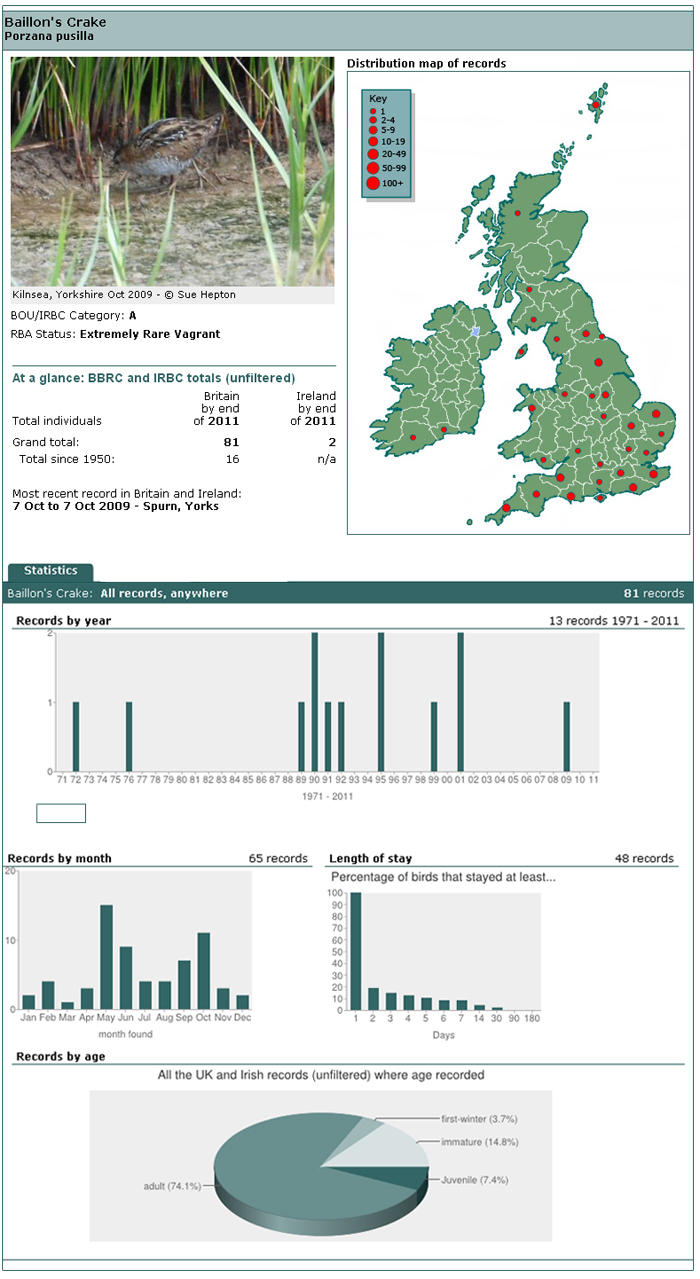 The Rainham bird appeared only a month or so after the RSPB announced some incredible news ~ during the first thorough census of potential Spotted Crake sites for well over a decade, a singing male Baillon's was recorded at one of the core breeding sites for the former species and, after wardens at other suitable locations were given the heads-up, a remarkable eight more singing males were located at four sites, with possibly two more sites involved as well.
The early summer of 2012 saw a supremely elusive male take up residence at Malltraeth Marsh RSPB from around May 23rd to at least June 4th ~ when access and news became all the more hard to get. Was this one of the sites involved in last summer's Baillon's bonanza?
Mid-June last year also saw Euro news of at least 21 singing male Baillon's Crakes at a single site in the Netherlands (at Eelderdiep, near Groningen) with a national total of at least 30.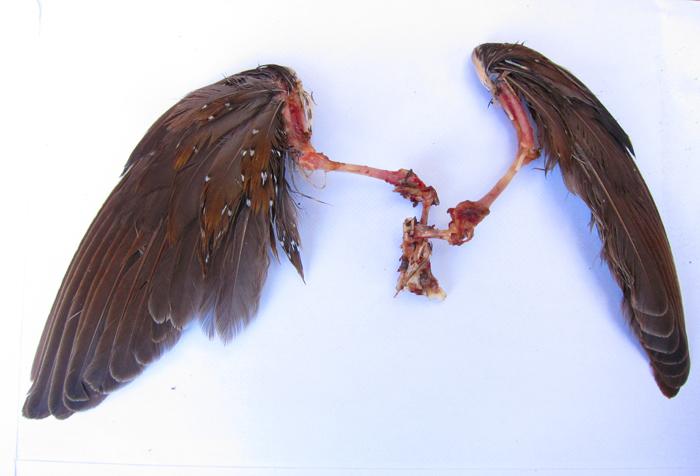 And, don't forget, that one of the major early spring surprises of last year was the one day Great Saltee Baillon's, present on March 24th. All three of last year's known about birds were twitchable and, add on the other known vagrant songsters, 2012 was comfortably the best-ever year for the species here. The big question is, of course, can 2013 exceed the double figure tally as, hopefully, the Baillon's Crake range expansion and dispersal continues ~ and will more sites be unearthed by keen-eared nocturnal souls?
You can brush on Baillon's Crake call on the excellent Xeno-Canto Wedsite here
The Gloucestershire bird may not have had a chance to give it a go, but hopefully it was the first of several more to come…
Intriguing news came from the picturesque Suffolk village of Lavenham this week ~ a local farmer finding a Great Bustard in fields on the edge of the village on the evening of 17th ~ the photographed bird flying off south towards Long Melford some time later the same evening.
The tantalising conundrum as to where it comes from has been much discussed of course. The Great Bustard Group, who are in charge of the re-introduction scheme on Salisbury Plain, has commented that, currently, five of their birds are unaccounted for at present, four of them are ringed and/or tagged, but there's one bird, an adult male, that is at large and he is untagged and unringed….(the birds apparently lose their tags quite easily).
Birds from Salisbury Plain are known to wander ~ in the past eight years singles, and occasionally multiples, have been recorded elsewhere in Wiltshire, along with a further seven counties, ~ Devon, Somerset, Dorset, Hampshire, Gloucestershire, Oxfordshire and Berkshire ~ which is why a bird in Suffolk has piqued some significant interest.
However, the plastic-fantastics of Wiltshire have also made cross-channel journeys too ~ for instance, earlier this year one was seen at Grues, Vendee in the middle of February, and that's not the first time they've headed south, away from the UK.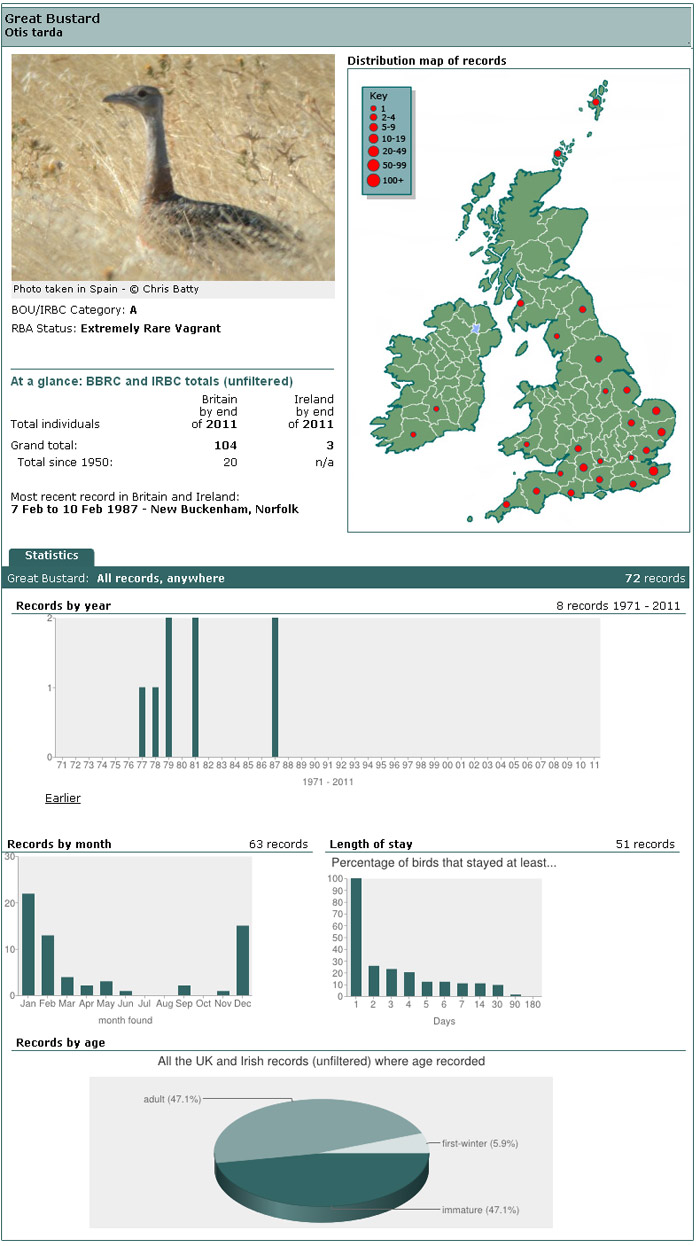 It is hard to imagine a bird like a Great Bustard going missing for long ~ but anyone who tried seeing the winter birds of 1987 (two in Norfolk, at least five in Suffolk) will remember that they weren't the easiest birds to connect with ~ many people who hadn't been listing when the famous male at St. Nicholas-at-Wade (Kent) was around between January to April 1987 (there was a long-time suppression in place too) finally caught up with the majestic species around the Theberton and Leiston area of Suffolk on a cold winter weekend in mid-February 1987 ~ the ooohs and aaahs as they appeared, ghost-like, in the winter wheat fields on that chilly early Saturday morning will live long in the memory for the gathered crowd...
...and with untagged and unringed introduced birds at large, and given their fondness to roam well away from their Wiltshire base, the question has to be asked as to whether any one of the hundreds of birders would dearly love to place Great Bustard on their list will ever have the chance of a known "clean" bird in the future. It seems unlikely...
In Scotland, the morning of 19th was enlivened by news of an adult male Pallid Harrier seen heading north over the sailing club alongside Forfar Loch (Angus). There are 19 days between the sighting of this week's bird and the amazing male photographed in Surrey on March 31st ~ could they be one in the same?
Only photos will help us out there, but given the increased frequency of this delightful raptor, there's as much chance that it could even have been the second male of the year.
There are currently five accepted mainland records of Pallid Harrier in Scotland, four of them being juveniles in the autumn of 2011 ~ two were seen within three days in Argyll in September 2011, with further birds seen in Ayrshire and Aberdeenshire in October of the same year. Scotland's first mainland record was a three day displaying male near Aberfeldy (Perth & Kinross) from May 5th 1993.
The second Pallid Harrier of the week appeared the following day (20th) ~ this one a juvenile over on Skomer, off the Pembrokeshire coast, potentially the first Welsh record of this now annual overshoot. The bird remained to the end of the morning of 21st and was twitched by six ~ three of whom dipped by getting the last boat over to the island!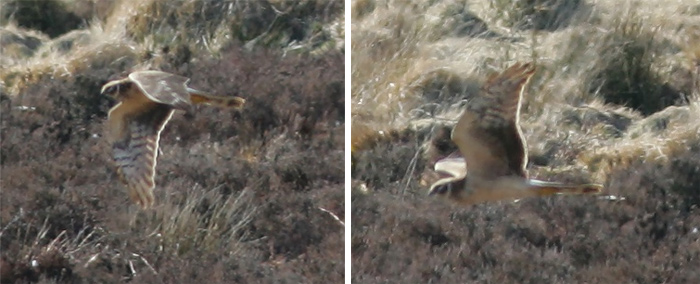 With these two and a couple of potential fly-overs in Norfolk over the last few days, there's no doubt that Pallid Harriers are on the move and we are all now becoming more and more accustomed to the (still slim) chances of encountering one, anywhere around the country, from spring to winter…
Wexford held on to their one or two mega-rare harriers this week ~ both wintering juvenile Marsh Hawks in place at both Cahore Marsh and Tacumshin on 20th (the female at the latter site was seen again on 21st too).
That said, there is discussion in Ireland as to the identity of the Cahore bird ~ patchworkers there are adamant that just one harrier has been present there this winter and its not a Northern Harrier. There are still no images of the bird reported there as a Northern Harrier, so there's little more to go on at the moment.
Clocking up two months on site this week were both the North Uist Harlequin and the Somerset Levels Pied-billed Grebe ~ the lovely duck spent another seven days off the coast near the Balranald RSPB reserve and the singing grebe on site at Ham Wall RSPB for the whole week too.
Seabirds
Off the coast of Aberdeenshire came exciting news of a veritable mass of White-billed Divers ~ an intrepid band of northeast Scotland's birding core took to the high seas off Portsoy on 21st and came home with more White-billed Divers than you could shake a stick at….
At least eight birds were seen from the pelagic jaunt onboard the M.V. Gemini Explorer as it headed out some two and a half miles north of this regular location for the species. Incredibly, up to a further 11 (11!) different individuals were seen from Portsoy itself (thought not to be any of the at-sea birds) with a further (minimum) of four some three miles to the west of Portsoy, at Sandsend. At least two birds remained in the area to the end of the week.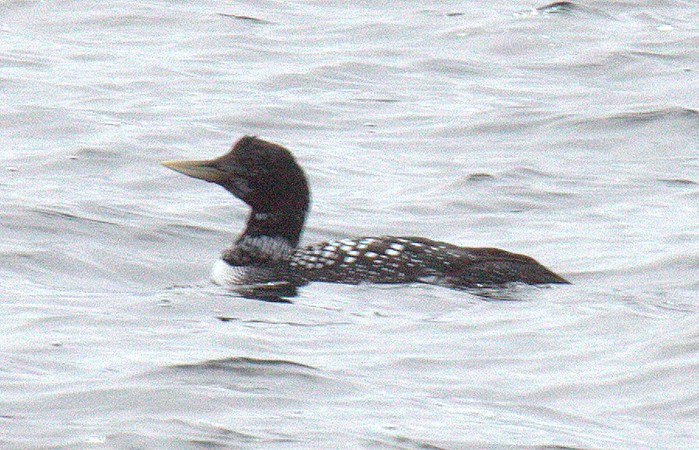 It all felt a bit tame elsewhere, but single ivory-billed Gavias were noted again off the coast of Lewis at Port Skigersta on 19th and 20th, the showy bird at Herston, South Ronaldsay (Orkney) remained to 22nd while new was a two day bird on Mull's Loch Na Keal (Argyll) on 19th-20th.
Two Balearic Shearwaters were noted off Mousehole (Cornwall) on 17th while some 70 Pomarine Skuas were spread across 12 counties, on the south and west coasts, with 10 past Bowness-on-Solway (Cumbria) on 18th and 25 off Aird an Runair, North Uist on 23rd being the highest single counts of the week.
Some late news from last week concerned an adult Long-tailed Skua on Lundy (Devon) on 16th while this week saw four unseasonal Sabine's Gull appear off the west coast on 17th-18th ~ the first arrived off St. Agnes (Scilly) and was followed by an adult in the Mersey estuary, at New Brighton (both on 17th) with singles in Cornwall on 18th noted at Pendennis, near Falmouth and also, on the north coast, from Pendeen. There were also two single Little Auks reported this week as well ~ at Clogher Head (Co. Louth) and at Wallasey, on the Wirral, both on 23rd.
Herons, Egrets & allies
Up to four Great White Egrets were seen in Norfolk during the week ~ at Holkham on 17th, again at both Horsey and near Bowthrope on 20th and then near East Dereham on 21st. Two birds remained at Dungeness (Kent) and last week's bird found at Yarmouth on the Isle of Wight was present to 22nd. Elsewhere in the southeast of England, singles were again at Old Hall Marshes (Essex) on 19th-20th, heading east past Selsey Bill (West Sussex) on 19th and flying over Brent Reservoir (London) on 20th.
In the Westcountry, the long-staying bird at Coate Water Park (Wiltshire) lingered throughout the week, three sites in Gloucestershire may have shared one-in-the-same individual (at Frampton on 19th, Slimbridge on 21st and then Coombe Hill Meadows NR on 22nd) with at least three sites in the Avalon Marshes complex hosting ones and two all week. Elsewhere, a Great White Egret was seen flying over Grimley (Worcestershire) on 23rd (perhaps the Gloucester bird) and an Irish record came from Tacumshin on 22nd.
A Cattle Egret spent half an hour or so in the paddocks adjacent to the cemetery in Margate (Kent) on 18th and another was seen at Grove Ferry NNR on 22nd, with the bird in County Down, at Hillsborough Park Lake, appearing again on 23rd. A Purple Heron was also in Kent on the same date, at Pegwell Bay. The week's only Glossy Ibis were last week's only Glossy Ibis ~ still at Warningcamp (West Sussex) to 22nd and Marloes Mere (Pembrokeshire) to 23rd.
The origins of the two Sacred Ibis seen on 20th at Breydon Water (Norfolk) is unknown and presumably dubious, but with a whole push of birds from the south this week, it is tempting to muse on whether these were "genuine" birds overshooting from perhaps one of the colonies in western France….(in the middle of the 2000's at least 3,000 birds had been counted in the country as a whole).
In the same part of Norfolk, another bird that's almost as hard to know whether its wild or not ~ White Stork ~ was seen at Breydon and then to the west of Great Yarmouth on 17th-18th. Two birds were then at Berney Marshes RSPB and Halvergate Marshes RSPB on 19th before heading east near Acle on 21st, appearing again on 23rd at Breydon Water.
Once again, the spectre of Thrigby Hall free-flying birds hangs over the Norfolk pair ~ but apparently all of the Hall's four free-flying individuals were still in place on 19th at least, so could they possibly be the same two that were seen in the area this time last year (assuming they too weren't from Thrigby). It has become all a bit messy to be honest….
The week's only other White Stork was seen in North Yorkshire, over Staveley NR on 19th and on 23rd when one flew over Caernarfon (Gwynedd).
Around 15 Spoonbills were reported during the week, with three at Middlebere (Dorset) on 19th and two at Minsmere RSPB (Suffolk) on the same date being the only multiple sightings. There were a couple of singles in south and west Wales (in Glamorgan and Carmarthenshire) and inland birds at Eldernell (Cambridgeshire) and Idle Valley NR (Nottinghamshire).
A sunny day in April in north Norfolk wouldn't be the same without a roaming party of Common Cranes taking a trip along the coast and on 20th, a larger-than-normal group of seven birds was tracked from Northrepps to Titchwell between 10:20 and 12:0.
The birds then headed out across the Wash, appearing over Gibraltar Point NNR some 20 minutes later, before continuing north and drifting over Donna Nook just under an hour after hitting the Lincolnshire coast.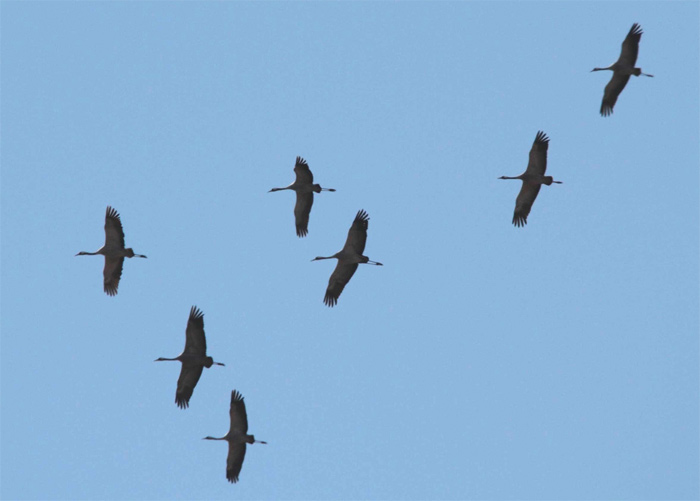 The following day what was presumably the same ever-so-slightly fragmented flock of Cranes, now a six and a one, were seen over Hartlepool (Cleveland) and Backworth Pond (Northumberland) with a single heading north over Long Nab, Burniston and Filey (North Yorkshire), Boldon (Co. Durham) and also again at Hartlepool. No one knows how much further north the six went, but by 23rd they were headin' south again, seen a mile or so offshore from Whitburn (Co. Durham).
Two singles may actually have been involved in the latter sightings, and the "extra" may have been a lone bird seen the previous day, again in Norfolk and again over Titchwell and Holme.
Earlier in the week, four Cranes had been seen at three sites along the Suffolk coast on 19th and small parties were also noted at three sites in east Norfolk. There were two birds each for Loch of Strathbeg RSPB (Aberdeenshire), Idle Valley NR (Nottinghamshire), Wicken Fen (Cambridgeshire), Welney WWT (Norfolk) and also Marazion Marsh (Cornwall) with a single bird over Oldbury Power Station (Gloucestershire).
A remarkable Corncrake showed well at Beachy Head (East Sussex) on 17th and again on 18th, with a second bird found at Stanpit Marsh (Dorset) on 23rd. A couple of Spotted Crakes were noted too ~ a singing male was at Trefeiddan Moor (Pembrokeshire) on 19th and the second was at Druridge Pools NR (Northumberland) on 21st-22nd.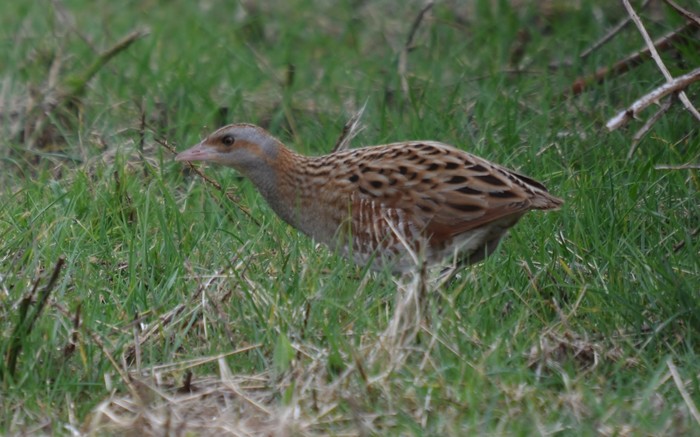 Geese & Ducks
Nottinghamshire's sixth-ever Lesser Scaup was a new arrival this week at Netherfield Lagoons on 20th-21st, moving to Holme Pierrepoint on 22nd ~ the third since 2000 (one appeared in 2008, the other in 2011) with earlier records in 1998, 1996 and the first, at Lound Gravel Pits on April 22nd-23rd 1990 ~ five of the six Notts., records have now occurred between April 15th-May 17th (the other was an October bird).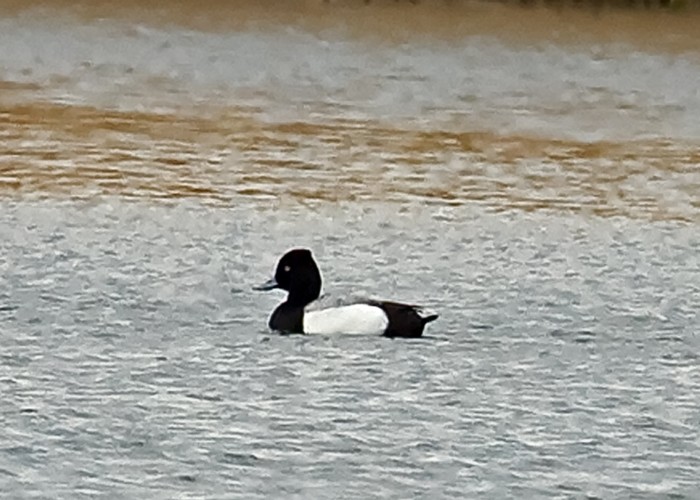 The week's remaining Lesser Scaups were all regulars to the review from recent weeks ~ from north to south they were the drake at Saltholme Pools (Cleveland) to 23rd, the female again at Borwick (Lancashire) on 19th-23rd, the drake at Wellington GPs (Herefordshire) to 22nd, Welsh drakes still at Cardiff Bay CP (Glamorgan) and Bryn Bach CP (Gwent) to 19th and 20th respectively and the drake again at Siblyback Reservoir (Cornwall) to 22nd at least.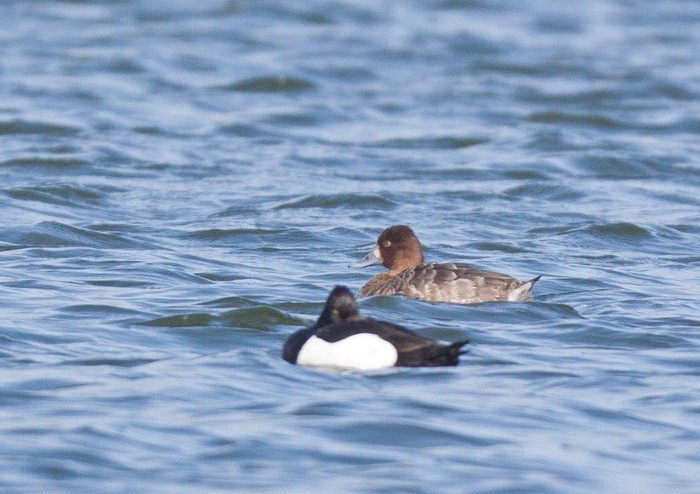 With no hint of the Scilly three, the number of Ring-necked Ducks this week dropped to eight birds, including, on 18th, two birds in East Yorkshire, the roaming first-winter still at Tophill Low NR, with another drake at Skerne.
Last week's new arrivals remained at Loch Kinardochy (Perth & Kinross) and Conningbrook GP (Kent) to 18th, while the female on North Uist was on Loch Scaraidh to 22nd. "New" drake Ring-necked Ducks were found on Lough Gara (Co. Sligo) on 19th and Chew Valley Lake (Somerset) on 20th.
Two Ferruginous Ducks were found in the past week ~ at Minsmere RSPB (Suffolk) from 17th-23rd and at Barrow Gurney Reservoirs (Somerset) on 19th.
A drake Blue-winged Teal was found at Burton Mere Wetlands RSPB (Cheshire) on 19th, where it remained to the following day. Four new drake Green-winged Teals appeared this week ~ at Lockington GP (Leicestershire) on 19th, Slimbridge WWT (Gloucestershire) on 20th and at Meadow Lane GPs (Bedfordshire) and on Westray (Orkney) on 21st.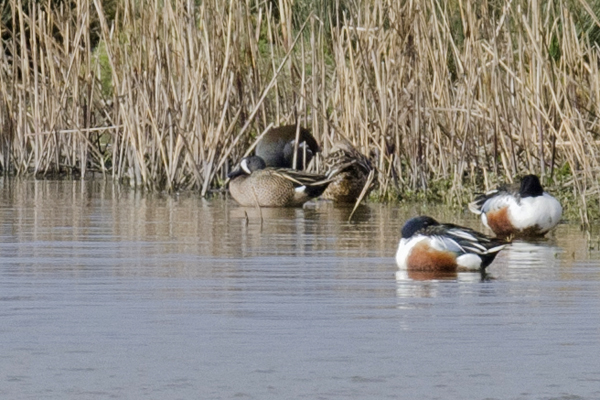 Last week's new birds at Kirkby-on-Bain (Lincolnshire) and Cross Ness NR, Thamesmeade (London) were still present on 21st and 23rd, while the birds at Loch a' Phuill, Tiree (Argyll) and Dorman's Pool (Cleveland) remained to 20th.
Two drake American Wigeons this week were at Loch of Stenness on Mainland Orkney from 19th-21st and at Twechar Marsh (Clyde) on 21st-22nd.
The drake King Eider was still around the salmon cages at Symbister, Whalsay (Shetland) to 22nd~ and was the only rare seaduck of the week.
Two Richardson's Canada Geese were noted at Loch Hosta, North Uist (Outer Hebrides) on 20th, with one again at Solas, on the same island, the following day. A third (or fourth) Richardson's for the week was at Loch Gruinart RSPB on Islay on 17th and the same island also hosted a Red-breasted Goose this week, seen at the head of Loch Indaal on 19th. In East Yorkshire, a Black Brant remained between Kilnsea and Spurn throughout the week.
Shorebirds
Two different adult Pectoral Sandpipers were seen in Northumberland on the afternoon of 20th ~ one at Bradford Kaims had appeared the previous day, while new in was the bird at Backworth Pond which moved to Holywell Ponds the following day, tho' it was back at Backworth on 23rd.
Single Dotterel were at Foremark Reservoir (Derbyshire) and Great Orme (Conwy) on 17th, and were followed by another lone bird on Shipman Head, Bryher (Scilly) on 18th-19th, two birds on Fair Snape Fell (Lancashire) on 19th-21st with three at Adlingfleet Grange (Lincolnshire) on 20th and four at Ballinskelligs, Reenroe (Co. Kerry) on 23rd.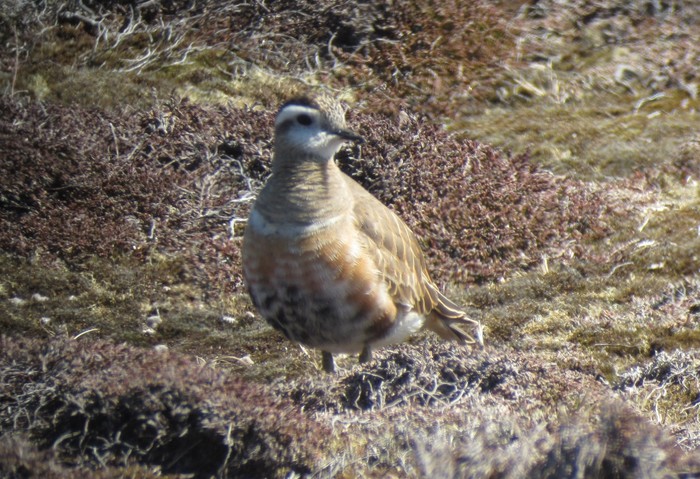 The seldom reported wintering Long-billed Dowitcher was again at Alkborough Flats (Lincolnshire) on 17th and 23rd (the bird is now well in to its seventh month in the area having appeared on October 4th) and the wintering Lesser Yellowlegs was at Ernesettle, near Plymouth (Devon) to 22nd (he or she rocked up on October 20th).
Gulls and Terns
With the first decent puff of warm southerly-ish winds, it wasn't too much of a surprise to see news of a couple of newly arrived Whiskered Terns with two adults appeared at Shapwick Heath NNR (Somerset) on 21st where they remained until early the next morning.
Later on 22nd, one paid a brief visit to Ham Wall RSPB before one of the two dropped in a few miles away at Durleigh Reservoir, with the other making it to Witcombe Reservoirs (Gloucestershire). The latter bird was still present the next morning before heading southwest just after 6am, then one was found a few hours later at Chew Valley Lake.
The Shapwick pair will be the ninth and tenth Whiskered Terns for Somerset, and the second and third for the site (one spent three days there between April 24th-26th 2004) while the most recent record for the county came at Berrow in May 2008.
An adult Bonaparte's Gull remained on the Ogmore Estuary (Glamorgan) to 17th while only three Ring-billed Gulls were noted this week ~ a second-summer was at Belfast Lough RSPB (Co. Antrim) on 18th, the first-winter remained on the Shetland Mainland, at Hillwell on 21st while a first-summer was a neat find at Rutland Water (Leicestershire) on 18th, appearing there again on 19th and 21st-22nd.
What was presumably the same bird was also noted at Melton Mowbray, coming to bread on 20th-21st and again on 23rd. A first-summer Ring-billed Gull was at Stanwick GPs (Northamptonshire) on 22nd.
Juvenile Kumlien's Gulls this week included two singles in Cork, at Kilkeran Lake and Castletown Bearhaven (on 17th and 21st) and another was still being seen on South Uist (Outer Hebrides) to 20th.
Up to 16 Glaucous Gulls included three birds at Port Nis, Lewis (Outer Hebrides) on 20th with singles in a dozen or so counties across Britain and Ireland, while numbers of Iceland Gulls rose slightly again this week, from 22 to at least 25, with twos for Shetland, the Outer Hebrides, Clyde, Cheshire and three in Cork.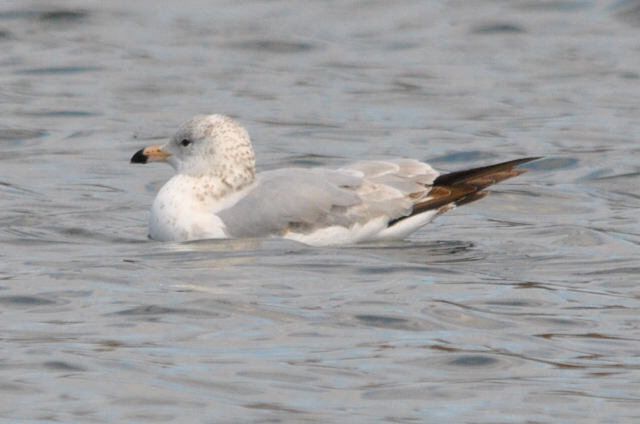 Raptors
A white Gyr was found at Orphir Bay, on Orkney, on 20th, spending a couple of hours around the Ward Hill area.
In Suffolk, a White-tailed Eagle was reported from Thorndon on 17th while the same county clocked up a Black Kite over Westleton Heath on 21st, with a second bird on the same date down in Devon, at Drum Bridges, near Bovey Tracey.
The Rough-legged Buzzard seen in east Norfolk at the end of the last review period was seen again at Horsey on 17th and one was reported from Burpham (East Sussex) on 20th.
Aside from a ringtail Montagu's Harrier in Norfolk on 19th (over Northrepps) and an early Honey Buzzard near Alderley Edge (Cheshire) on 22nd, there were no further raptors of note this week.
Passerines
With such a nice mix of third-week-in-April passerines, it is pretty tough to know exactly where to start. But we'll begin with the discovery of a Bonellis' Warbler sp.,at Pagham Harbour, Church Norton (West Sussex) on 22nd. An excellent find at any time of spring or autumn, this delightful Phylloscopus warbler will always raise an eyebrow or two when one appears ~ it remains a real birder's bird.
Opinion soon favoured Western Bonelli's as to the identity of the Sussex bird ~ and of the 123 accepted Western Bonelli's Warblers only four have been April birds (three of them appearing on April 9th ~ in 1972 at Beachy Head, in 1976, trapped on Lundy and in 1988 at Holme).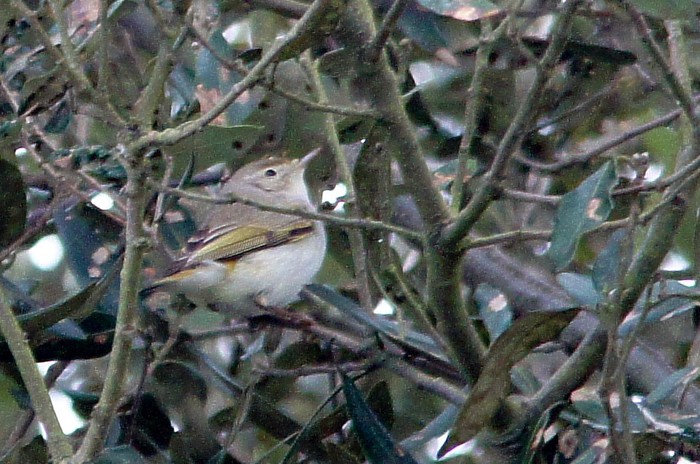 One of the five accepted Eastern Bonelli's Warblers was found (and photographed) in April, again on Lundy, on April 26th 2004 but there is a second spring record too ~ the Portland Eastern Bonelli's Warbler appeared, for one day only, on May 1st 2009.
Just one of the 83 accpeted Bonellis' Warbler sp., records was found in April, on 28th of 1987 at St. Margaret's in Kent.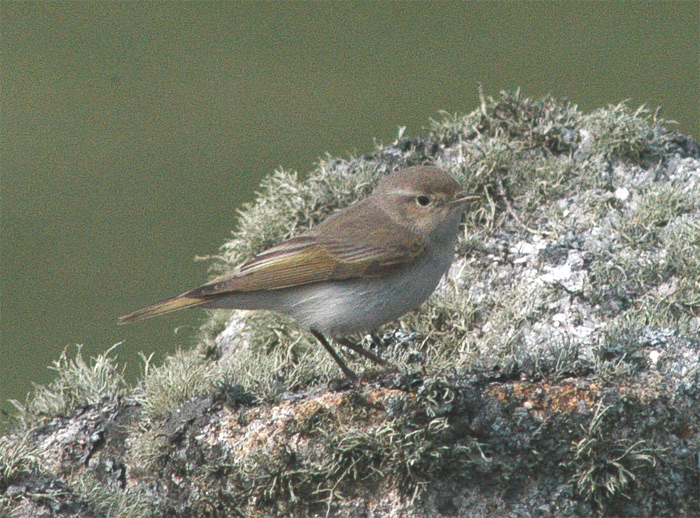 Prior to the Church Norton bird, all of Sussex's four Western's had been found at Beachy Head (including one of the above mentioned April 9th birds, in 1972) and the most recent record was in September 2005. Two Bonellis' Warbler sp., have also been seen at Beachy Head, with the only other county records coming from Alfriston in August 1973 and Rye in August 1979.
Staying with unusual Phylloscs, Cornwall's fourth-ever singing male Iberian Chiffchaff was a day visitor to Soap Rock on the Lizard Peninsula on 20th ~ the others were found in 2011, 2004 (also an April record from the Lizard) and the first was seen near Bodmin in May 2000.
Another species that fits, like Whiskered Tern, in to the mid April arrival slot is Subalpine Warbler and this week saw a nice flush of Mediterranean Sylvia action with at least five Western males making landfall during the week.
Two were seen in Dorset, one was a brief visitor to Holes Bay on 19th with the other bird appearing on Portland Bill on 21st. Gwynedd scored as well on 19th, a male making himself known at Uwchmynydd, remaining to 23rd. The fourth bird was found at Gibraltar Point NNR in Lincolnshire on 20th and frequently showed well to the end of the roundup period, with west Wales bagging bird five, found at St. David's Head (Pembrokeshire) on 23rd.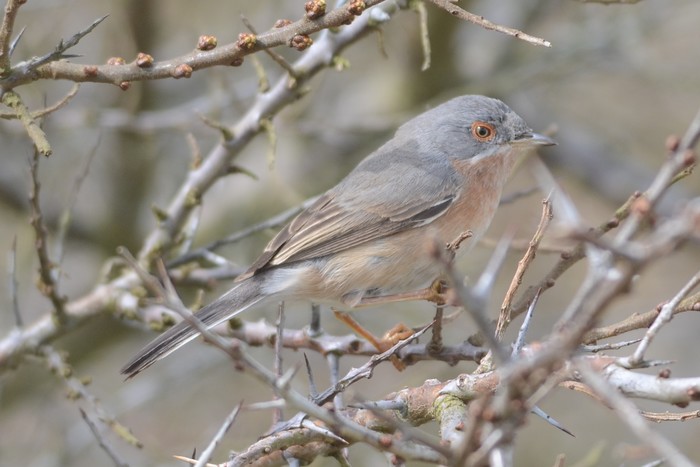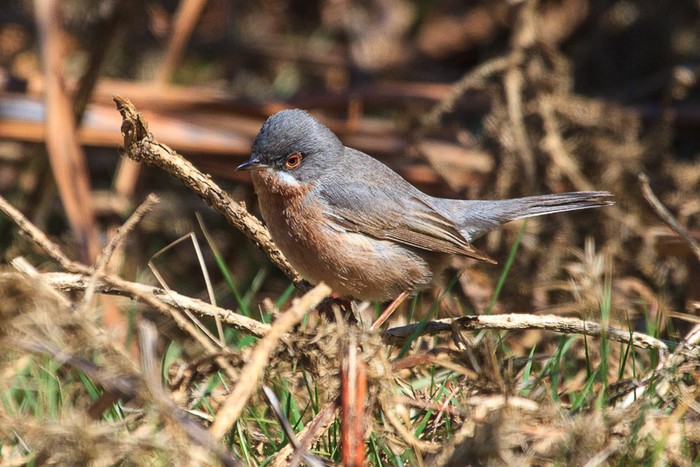 Along in to north Devon now, where a particularly neat and very snazzy male Ashy-headed Wagtail-type was found at Northam Burrows CP on 21st and continued to show on to the following two days as well.
Although still some way from specific status (here at least), there's no denying the sulphourous loveliness of the "colour-headed" wagtails and, arguably, the darker the heads become, the nicer the bird looks and whether the the Northam bird is a full on cinereocapilla or not, it was a proper bobby-dazzler.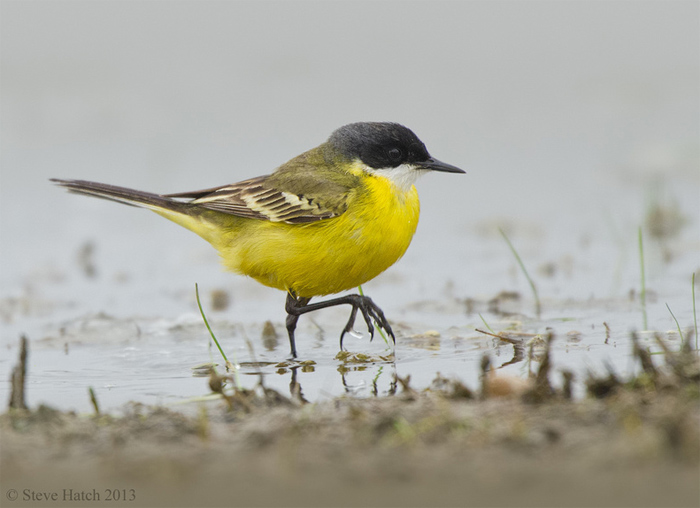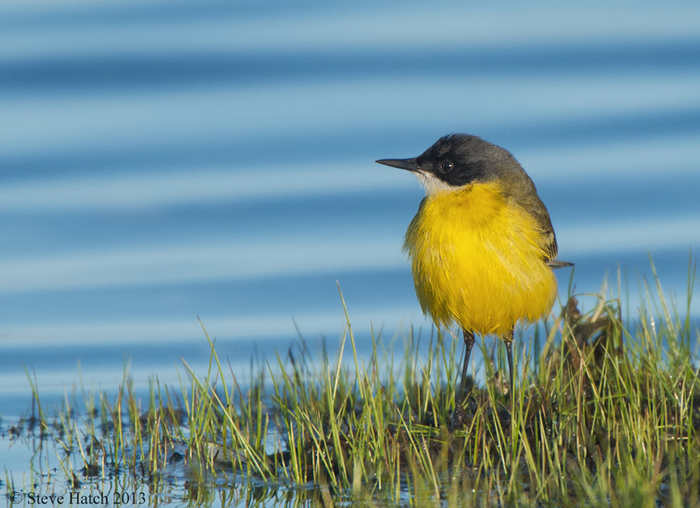 In West Yorkshire, a female Citrine Wagtail paid an early evening visit to Swillington Ings on 20th, a potential first for the county and only the seventh for Yorkshire as a whole.
Another delightful spring quartet were the Red-rumped Swallows found at Kessingland (Suffolk) and Waltham Brooks SWT (West Sussex) on 18th, over Porthgwarra (Cornwall) on 20th with perhaps the same bird the following day at Kenidjack and Cot Valley, and at Portland on 21st.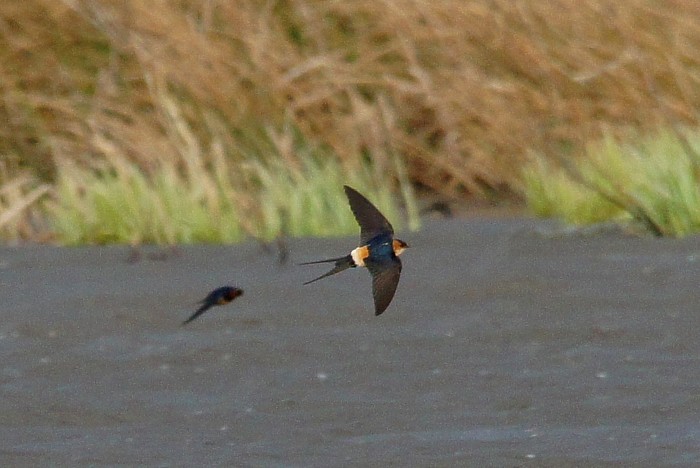 The southwest collected six of the week's eight newly-arrived Woodchat Shrikes ~ singles in Devon were at Aveton Gifford on 18th and Wembury on 20th, Cornwall and Scilly saw birds appear at Cot Valley and on St. Mary's on 20th, with a second bird on St. Mary's on 23rd, and in Somerset, another Woodchat was found near Chew, at North Widcombe on 21st (and was still present to 23rd). Welsh birders discovered the final two this week ~ one was seen near Aberdaron (Gwynedd) on 20th (the fourth found on that date) with the seventh at St. David's Head (Pembrokeshire) on 21st-23rd (making a nice double with the Subalpine Warbler).
Another magnificent seven this week were the septet of Alpine Swifts that arrived across Britain and Ireland on 17th ~ two singles were in Kent, at Dungeness and Cliftonville, with other lone birds at Scarborough and Filey (North Yorkshire) ~ perhaps the same bird ~ Lopham Fen (Norfolk) and in Ireland, at Glasnevin (Co. Dublin) and Castlerock (Co. Derry). Birds on 18th, at Flamborough and Lade GPs may well have been remnants from previous days. v
On Scilly, the Pallid Swift continued to cruise around St. Mary's between 17th-23rd, while over on Bryher, a Short-toed Lark was found on Shipman Head on 20th. A female Golden Oriole was noted on the Garrison, St. Mary's on 21st but the dazzling six-day male at Cemlyn Bay on Anglesey was a bit of a show-stopper. Another male arrived at Pig's Nose Valley, Prawle (Devon) on 21st and another spent 22nd-23rd on Inishbofin, off the coast of Galway. The week eneded with another new bird on St. Mary's and a male in Milcombe Valley on Lundy.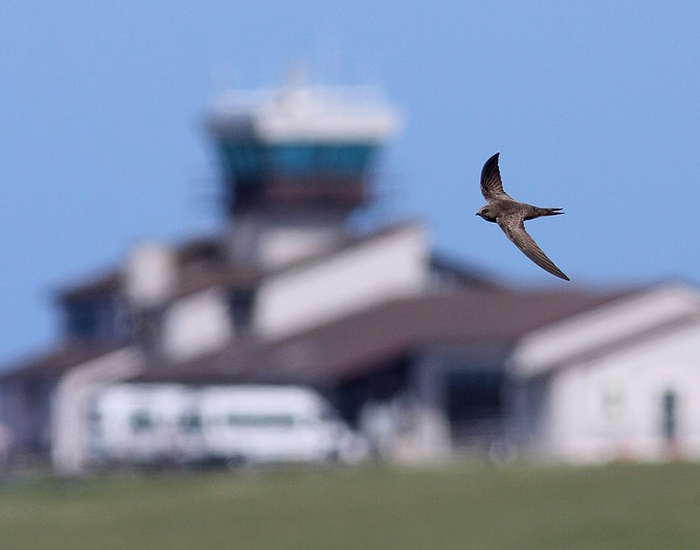 At least eight Hoopoes were noted through the week ~ last week's bird at Creadan Head (Co. Waterford) stayed all week while new arrivals appeared at Aberystwyth (Ceredigion) on 17th, at Radipole Lake RSPB (Dorset) and Soar Mill Cove (Devon) on 18th, Milton Keynes (Buckinghamshire) on 19th, Bryher (Scilly) on 20th and at Brent Reservoir (London) and Red Rocks (Wirral) on 21st.
There were also nine Serins reported this week ~ four of them on 20th, two of those were at Dungeness (with two, the same two perhaps, reported from Rye Harbour the following day). The other birds seen on 20th were in flight over Seaforth LWT (Merseyside) and at West Bexington (Dorset) ~ the female here still present the next day.
Two Serins arrived on 18th, at Ventnor (Isle of Wight) and a male was a brief visitor to Lade (Kent) while a male was singing for 15 minutes on Walney Island (Cumbria) on 19th. The final ones of the week were seen at Landguard NR (Suffolk) and Foreness Point (Kent) on 23rd.
Scilly hosted two Wrynecks ~ on Lower Moors, St. Mary's on 20th and on St. Agnes on 22nd, while one was also found in Devon "recently" in a garden at Rousdon. Last week's bird at Tytherington (Gloucestershire) remained to 18th.
In County Durham, the singing male Little Bunting remained at Houghton-le-Spring throughout the week as was the case for the Rose-coloured Starling at Exminster. A second Rosy Pastor arrived at Orford (Suffolk) on 23rd.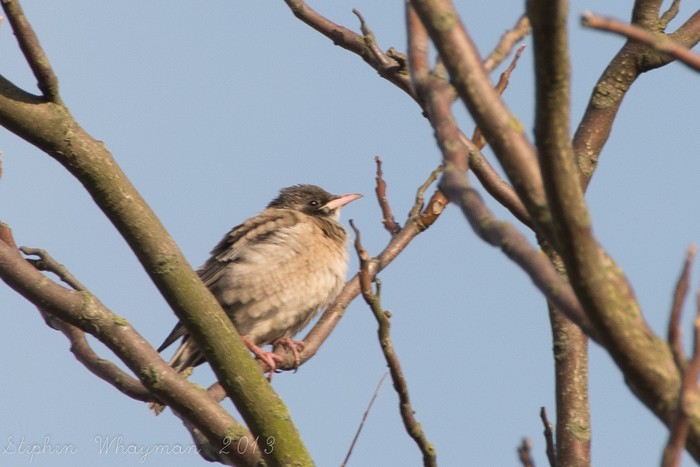 A female-type Common Rosefinch paid a brief visit to Pagham Harbour on 22nd while Kent had the only Penduline Tits of the week ~ one was again at Dungeness on 20th and the male was again at Stodmarsh on 22nd.
Following on from a report of a Great Grey Shrike at Sealand (Flintshire) on 17th, further birds were seen at Robin Hood Airport, Finningley (South Yorkshire) on 20th, at Cannock Chase (Staffordshire) on 17th-20th, two remained at Sixpenny Handley (Dorset) to 19th, with one there the following day and on 23rd, one was still in Hampshire's New Forest.
Numbers of Waxwings continued to fall away as May drew ever closer, but there were still easily four figures dotted countrywide this week ~ some 1300 birds noted including 178 at Orrell (Greater Manchester) on 18th (with 137 there later in the week), while there were 67 each for Westhill (Aberdeenshire) and Bradford (West Yorkshire), 44 inland at Ampthill (Bedfordshire) and in Ireland, 20 were seen at Ballyclare (Co. Antrim) on 23rd while 35 were at Galsnevin (Co. Dublin) on 22nd.
We end this week with news of a Hornemann's Arctic Redpoll at Loch Gruinart RSPB on Islay ~ these beautiful birds are often associated with autumn arrivals but there are several records of hornemanni in April, May and even June.
There should be plenty to look forward as may lies just around the corner. If the weather is right, we could be on for a whole host of great birds, quality overshoots like Black Stork have appeared on several occasions in the past at this time of year and there are several rarer options too ~ Alpine Accentor maybe, or Calandra Lark perhaps (both species have appeared more than once between April 24th-30th).
The week we head towards has also thrown up at least six Firsts for Britain and Ireland too….
Our only Eastern Phoebe spent two days on Lundy from April 24th 1987 and, incredibly the very same date in 1988 produced two Firsts ~ the male Moussier's Redstart on Dinas Head in Wales and the male Brown-headed Cowbird on Islay (another Cowbird was found on April 25th 2009 in Northumberland).
April 26th 2003 saw the first Taiga Flycatcher arrive at Flamborough and April 27th 1984 was the date that saw Spurn record Britain's first-ever Black Lark (accepted after the Anglesey bird) while the same date in 1959 saw Fair Isle record Britain's first Song Sparrow.
Throw in megas such as Sandhill Crane (another one for Fair Isle) and that almost forgotten about shorebird, Hudsonian Godwit (a returning bird appearing again at Blacktoft Sands on April 26th 1983) and masses of commoner rares, well, it's mouth-watering stuff.
Andy Stoddart is in the chair for the next couple of weeks ~ summer plumaged Spoon-billed Sandpiper is ~ hopefully…~ the next bird of note for me….
Mark Golley
24 April 2013
A special thanks this week to Richard Campey from
One Stop Nature Shop
for providing images of the Lundy Eastern Bonelli's Warbler
Many thanks also to the rest of our contributors for their photos and videos.
Andy Benson
,
Steve Hatch
,
Dave Boyle
James Packer - The Somerset Birder
,
Jeff Hazel - Levels Birder
,
Ashley Fisher - Scilly Pelagics
, Owen Foley, Dave Astins, James Lees, Andy Webb, Mick Davis, David Carr, David Talbot, Phil Woollen, Phil Gaywood, Brian Moore, Luke Dray, Andrew Hood, David Bradnum, Stephen Whayman.