Weekly round-up: 10 - 16 2013
The week at a glance
One day drake Baikal Teal in East Yorkshire
Red-flanked Bluetail appears in east Norfolk
Drake Harlequin remains on North Uist
Somerset's Pied-billed Grebe bursts in to song
American Coot clocks up a few more days in Galway
The wintering juvenile female Northern Harrier sticks in Wexford
Unconfirmed report of a Brunnich's Guillemot in County Cork
It had to happen...it always does...we know it'll come but sometimes the waiting feels as though we've been enveloped by a chilly, bird-free shroud as one season lingers a little too long and the new kid on the block is a little bit slow in making itself known....
Winter seems to have taken her leave (a winter with Pine Grosbeak, Harlequin, Pied-billed Grebe, American Coot and masses more besides....quiet? Not...) as Mother Earth changed things around in the last few days and anticpation levels began, sap-like, to rise.
Yes, finally, finally it seems as though spring has sprung this week ~ crashing in loudly like Zebedee's "boiiing" whacked through Neil Young's amp-stack….
The winds turned south to southwesterly, the wind blew a bit ~ quite a bit ~ and along with the occasional spell of damper weather came mild, borderline warm temperatures, nuzzling up to the high teens, and everyone in the birding world felt a little bit better for the avian passage that followed.
There were birds aplenty, or so it seemed, with common and scarcer migrants spreading themselves acorss much of the country. New rarities were in truth, a little harder to come by than perhaps some exhuberant souls had hoped for, but there was a new mega to muse upon.....
The times, they were certainly a changin'.....
Headline birds
By the end of the weekend, it seemed as if the first burst of spring vigour may not have produced quite the high quality bird that we were all hoping for….there were some great birds on offer, but the wow factor just wasn't there.
All that changed come the middle of Monday morning though when the second drake Baikal Teal of 2013 made itself known to long-time Flamborough patch worker Brett Richards.
First noted by Brett as a funny duck, with a chance of being a Baikal Teal, from the seawatching spot on the headland itself, coming "in-off" with two Teal, the bird was soon found on the Northcliffe Marsh area of Flamborough ~ sure enough, there it was, a lovely drake BT ~ a potential county first (for the whole of Yorkshire, not just the East) and perhaps only the fifth-ever British record.
After only 15 minutes or so, the bird was spooked by a couple of Pink-footed Geese but was soon re-found again, this time towards the Old Fall area before finally settling down for the rest of the day, back at Northcliffe Marsh.
Quite what people will make of the displaced feathers on the right wing remains to be seen, but it is a super thing and here's hoping that this unringed one-dayer will be viewed favourably by the Rarities Committee who, don't forget, have forced themselves collectively in to a tight corner with the acceptance of a Hooded Merganser or two that perhaps wouldn't have ever seen the light of day in the past….would the Newbiggin or Chilham birds have passed the criteria for a "first record"? The same goes for one or two Buffleheads as well….
Flamborough's bird did an overnight flit, but so did the spring one-day Marbled Duck at Kelling ~ the one obvious difference is that Baikal Teal has a place on Category A, so this bird shouldn't have too much trouble in being accepted ~ the bar isn't necessarily that high for some ducks it seems. The fight for Falcated Duck's Category A status ~ from a similar location to Baikal Teal and, in world terms, commoner too ~ goes on too…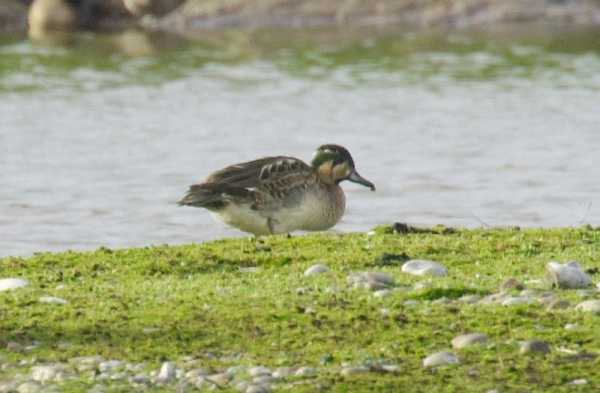 Digressions aside, the most recent accepted British record was the brief, photographed juvenile at Chigborough (Essex) on October 2nd 2010, while earlier this year Ireland's third Baikal Teal was discovered in the Forgotten Corner at Tacumshin, on the afternoon of February 8th ~ the second for the site ~ with the first Irish bird, another drake, spending a few winter days of January and February 2006 at Belfast Lough.
Accepted records of Baikal Teal in Britain and Ireland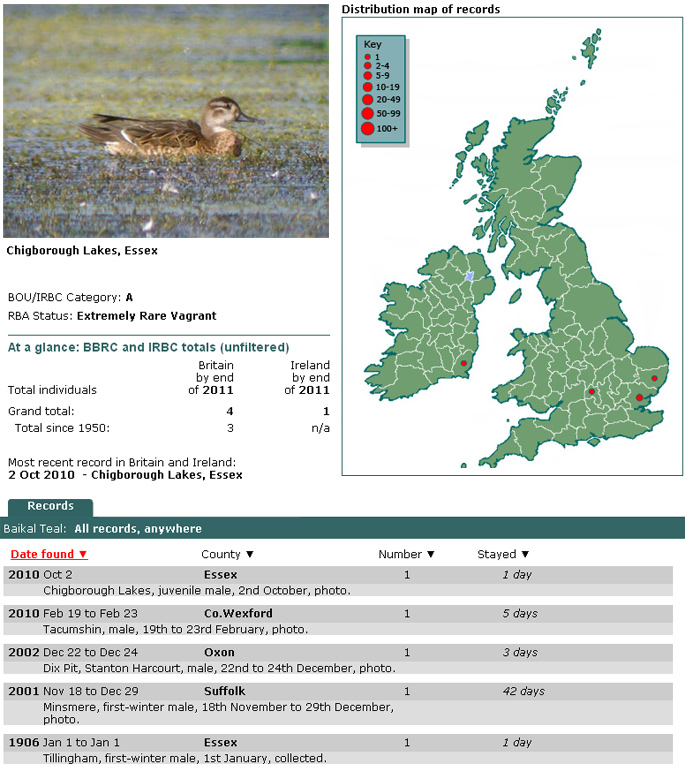 As was touched upon in the RBA review from that particular February week, Baikal Teal went through something of endurance test to earn a position within Category A of the British List with the first opportunities to take out the beloved "insurance policy" coming within twelve months of each ~ the first-winter drake that was found at Minsmere RSPB in November 2001 was followed in December 2002 by a three day drake in Oxfordshire ~ both were given the green light to follow on from the isotopic Essex skin of 1906.
No such issues to cloud the mind where the other main newbie of the week was concerned ~ a female-type Red-flanked Bluetail that spent a day in the bushes around Horsey (Norfolk) on 14th.
This photographed, multi-observed bird comes, of course, hot on the heels of the report last week of a male on the fence along the track to Burnham Overy dunes. Not much more is known of that one ~ reported to the RSPB and the county recorders too ~ but this week's bird will, for the time being at least, become Norfolk's first-ever spring record of the species, to go with the 15 autumn records that are now on the books.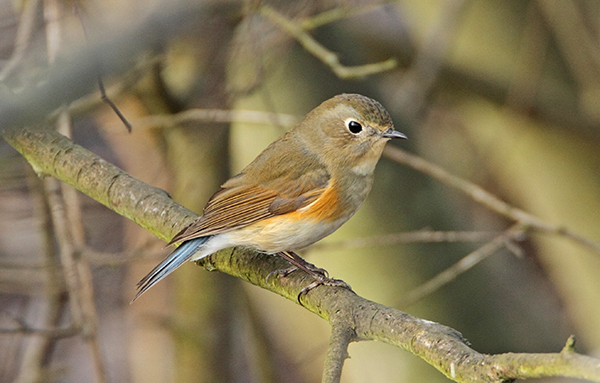 16 Bluetails in just under 20 years in Norfolk is a decent haul ~ the first was found in the cemetery in Yarmouth in mid-October 1994 and there have been 14 within the last 10 years, including six between October 9th-17th 2010.
Predicted a couple of weeks ago here, the Horsey Bluetail becomes the fourth proven April record, and the fifth for early spring.
Accepted Spring Red-flanked Bluetail records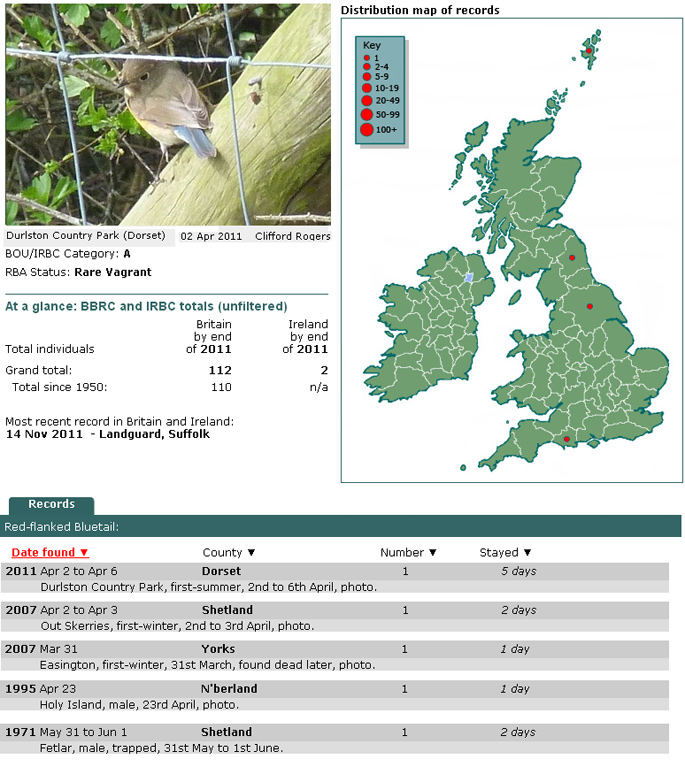 Galway's American Coot was still at Murlach on 13th ~ taking the length of stay to 136 days ~ as was mentioned here last week, there was a chance that it could overtake the Shetland bird of 2004 in to second place in the "longest staying stakes" but with negative news from the site on 16th, it looks as though the two Coots are tied on 136 days each.
The juvenile female Northern Harrier in Wexford was still present over the weekend, seen at Ring Marsh, some three miles or so from Tacumshin, on 13th. There's been no mention at all this week of the second individual in the county that wintered at Cahore Marsh but only came to light last week…
The late-winter reliables of the last couple of months both held station this week ~ the drake Harlequin at Traigh Iar, near the Balranald RSPB reserve on North Uist to 15th while the now singing Pied-billed Grebe was doing his best to emulate the feat of the 1993 bird at Stithians and find himself a mate…the Cornish bird didn't seem to worry that the love was shared with a Little Grebe and perhaps the lonesome Somerset soul may head down the same route….he was still present at Ham Wall for the week.
Back in Ireland, came an unconfirmed report of a Brunnich's Guillemot at the top of Lough Hyne in County Cork. Watched preening for 10 minutes or so, during the morning of 15th it will, if accepted, become the second record for Ireland, following on from the Christmas Eve bird of 1986, in Ballyteigue Bay, Wexford.
Seabirds
On the Outer Hebrides, off the coast of Lewis, out at sea between (almost inevitably) Port Nis and Skigersta were a whole bunch of banana-bills on 12th ~ a whopping seven birds noted in a tidy week for White-billed Divers.
The Orkney bird remained at Herston, South Ronaldsay to 12th while around the Highlands one was still at Gairloch on 10th, another was at nearby Opinan on the same date, two were seen at Little Gruinard on 13th and a final White-billed Diver was at Poolewe on 15th.
In Cornwall, the first Balearic Shearwater in over a month flew past Porthgwarra on 14th while, prior to 16th, a baker's dozen Pomarine Skuas were noted off seven sites ~ two each for Dungeness (Kent) and Criccieth (Gwynedd) on 14th and off Worthing (West Sussex) the following day, with a couple of singles in Suffolk and one each for Dorset, the Isle of Wight, East Sussex, Essex and Cumbria.
Then, on 16th, the first Pom passage of the spring was noted off Bowness-on-Solway (Cumbria), at least 17 through there and also from Aird an Runair, North Uist (Outer Hebrides) where a dozen were seen, along with a couple off Ardvule on South Uist while there were twos for Powillimoun (Dumfries & Galloway) and Portland Bill (Dorset).
Herons, Egrets & allies
Some 16 Great White Egrets were reported this week, including three still at Dungeness as the new review period began. At least three singles were noted around the Somerset Levels and one remained at Coate Water Park (Wiltshire) to 15th. In Northamptonshire on 12th, single birds were at Summer Leys NR, Earls Barton and Pitsford Reservoir and the loner in Cambridgeshire, at Soham Lode was present to the same date.
New records came from London's Ingrebourne Valley on 10th, at Bridlington (East Yorkshire) and Ainsdale (Merseyside) on 12th, at Snettisham Coastal Park (Norfolk) and Old Hall Marshes (Essex) on 13th and on 15th from Yarmouth on the Isle of Wight.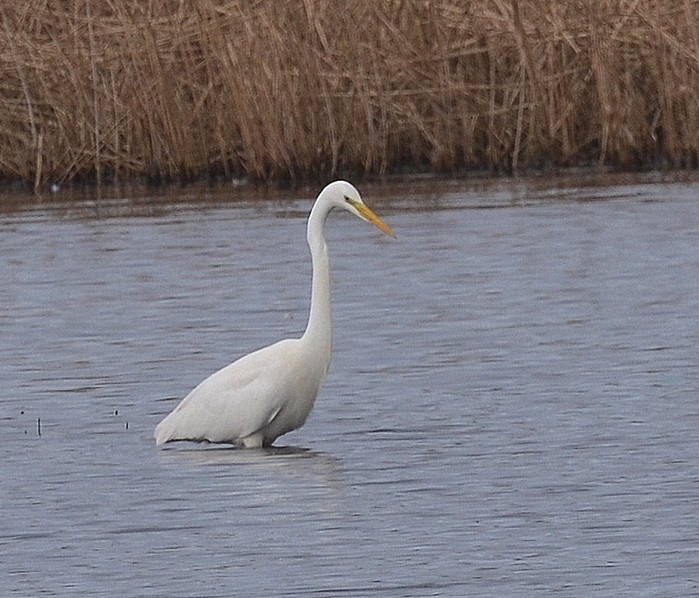 In Ireland, a Cattle Egret was again at Hillsborough Park Lake (Co. Down) on 16th and the Welsh Glossy Ibis was still at Marloes Mere (Pembrokeshire) throughout. The loitering bird in West Sussex moved another short distance this week from Arundel WWT to nearby Warningcamp on 14th-16th.
A White Stork noted in Cornwall on 14th, heading over Roseland and then Falmouth stood an excellent chance of being a genuine invader, and it (or another) was seen in the southeast of the county, near Kit Hill on 16th. The origins of single storks noted over Upper Caldecote (Bedfordshire) on 14th and Beal (Northumberland) on 16th are unknown, but the weather and dates aren't there working against either of them to be fair….the week's only other White Stork, in Clyde, was an escape.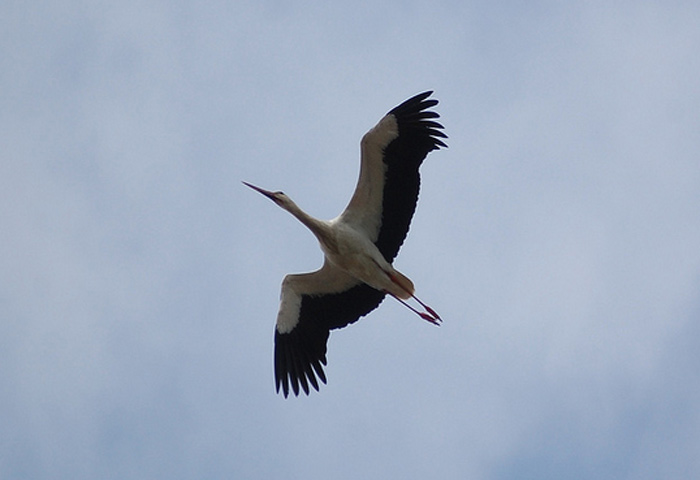 Around 25 Spoonbills were reported this week ~ five of which were in Kent on 10th, three at Dungeness and two at Shell Ness, on the Isle of Sheppey, while elsewhere on the south coast, three birds were at Brownsea Island (Dorset) on the same date, twos were noted in West Sussex, at Pagham Harbour and East Sussex, off Splash Point and also at Rye Harbour, all on 11th while six sites in east and south Devon registered single birds during the week (with one on the north coast, at Wrafton, too).
Two single Spoonbills were in Wales, still at Goldcliff Pools (Gwent) with another at Ynys-Hir RSPB (Ceredigion) on 15th, and further birds were seen in Lancashire, Norfolk, Suffolk and Essex. Noteworthy new birds were an early morning adult in Nottinghamshire, at Attenborough NR on 13th (departing to the NE by 9.30am) and in London, a Spoonbill flew over the Walthamstow Reservoirs on 14th.
Eight Common Cranes were seen at both Horsey and Winterton (Norfolk) on 13th, with two more Norfolk birds seen over Bittering on 11th. In Somerset, five Cranes were seen over Exmoor on 12th, with further multiples over Wark (Northumberland) on 13th ~ at least two there, but heard only ~ with two at Boyton (Suffolk) on 14th. Suffolk held two further singles, and there were two singles in Cambridgeshire as well through the week.
Three birds were reported in Scotland ~ one remained at Loch of Strathbeg RSPB (Aberdeenshire) to 15th, another headed over Aberlady Bay (Lothian) on 12th and one was reported from Stirling (Forth) the following day, when a Crane was seen at Long Nab, Burniston (North Yorkshire). Amongst the released breeding birds at Slimbridge WWT this week was an unringed bird, seen on the morning of 10th.
The week ended with the first Purple Heron of 2013, seen by the Natterjack pools at Winterton dunes (Norfolk) early in the morning of 16th, before flying off SSW.
Geese & Ducks
New this week was the female Lesser Scaup at Borwick (Lancashire) on 14th-15th ~ one of eight birds noted this week, but the only duck of the octet. The seven drakes were all individuals remaining from previous weeks.
In Glamorgan, the Cosmeston Lakes male was last reported on 10th (with one reported to be back in Cardiff Bay CP on 14th), while in Cornwall, the Siblyback Reservoir bird was seen until 11th.
The 14th was the last date reported for the following three birds ~ Auchendores Reservoir (Clyde), Freiston Shore RSPB (Lincolnshire), Wellington GPs (Herefordshire) with the Bryn Bach CP and Saltholme Pools Lesser Scaups both in place to 16th.
Eleven Ring-necked Ducks were seen during the week, with new drakes found in Derbyshire, at Foremark Reservoir on 12th and in Kent, at Conningbrook GP on 14th, where it stayed to 16th (with a potential Ring-necked Duck x Tufted Duck hybrid there on the last date).
The flock of three birds on the Great Pool, Tresco (Scilly) lingered to 15th and elsewhere in the far southwest, drakes remained at Par Beach Pool (Cornwall) and Slapton Ley (Devon) to 14th and 13th respectively.
In Wales, the first-winter drake was still on Marloes Mere to 11th at least, and the roving young male in East Yorkshire popped up at Tophill Low NR on 10th and was still present on 16th. In County Waterford, the drake Ring-necked Duck was on Knockaderry Lake to 12th and a drake was also reported from Loch Kinardochy (Perth & Kinross) on 16th. The only female was still on North Uist ~ at Loch Grogary on 11th and then Loch Scaraidh on 14th-15th.
New drake Green-winged Teals arrived at Cross Ness NR, Thamesmeade (London) on 12th-15th and North Warren RSPB (Suffolk) and Kirkby-on-Bain (Lincolnshire) on 14th, the latter still in place on 16th.
Two drakes were still on Tiree, in Argyll, this week ~ one on Loch a' Phuill, the other on Loch an Eilein and both were present to 13th, while further singles lingered at Pennington Marshes (Hampshire) to 11th, with one the following day at Keyhaven Marsh, Irthlingborough (Northamptonshire) to 14th, Dorman's Pool (Cleveland) to 15th and in Ireland, a drake Green-winged Teal was still at Tacumshin (Co. Wexford) on 12th. The sole American Wigeon of the week was the drake at Topsham and Bowling Green Marsh (Devon) to 13th.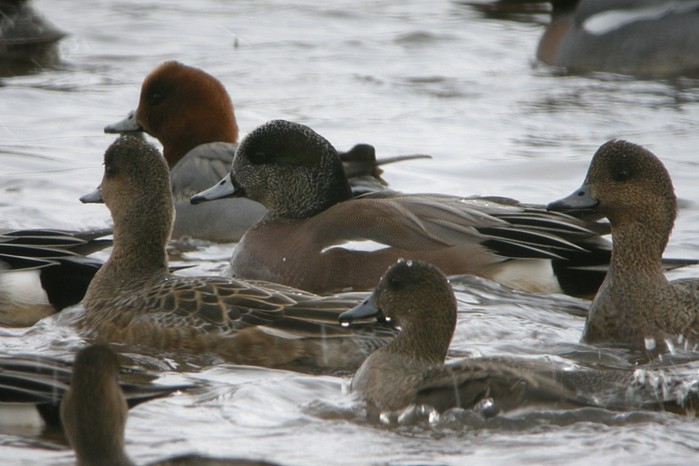 On the Scottish mainland, the drake King Eider was back on the Ythan Estuary and then off Blackdog (Aberdeenshire) on 12th while the near-adult male remained around the salmon cages at Symbister, Whalsay (Shetland) to 14th. Only one Surf Scoter was noted ~ a drake at Rerwick, near Kirkwall (Orkney) on 13th.
Two single Richardson's Canada Geese lingered for another week ~ on 10th one was again at Loaningfoot in Dumfries & Galloway ~ where the Red-breasted Goose remained to 14th with the second "hutch" of the week was at Solas, North Uist also on 14th. A Todd's Canada Goose was at Whitrigg Marsh, Anthorn, on the Cumbrian side of the Solway Firth, on 10th.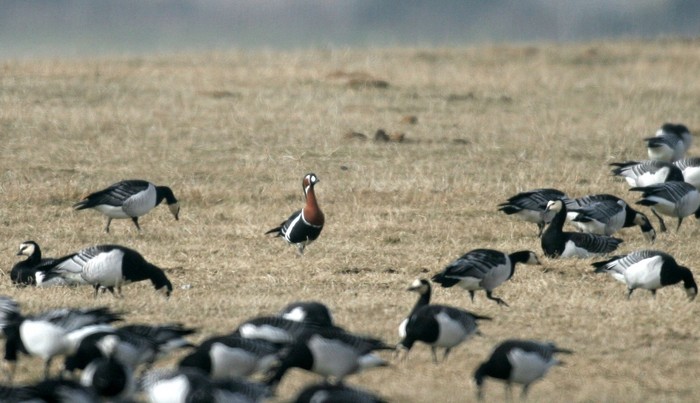 The adult Black Brant was still being seen on a daily basis at Kilnsea (East Yorkshire) between 10th-15th and another was seen in County Kerry, at Blennerville, on 13th. A probable first-winter was again in Cumbria, at Rampside, on 12th.
Shorebirds
A single Dotterel appeared at the traditional staging post at Pendle Hill (Lancashire) on 13th, with a second there on 15th. Another lone bird was found at Cockersand (Lancashire) on 16th.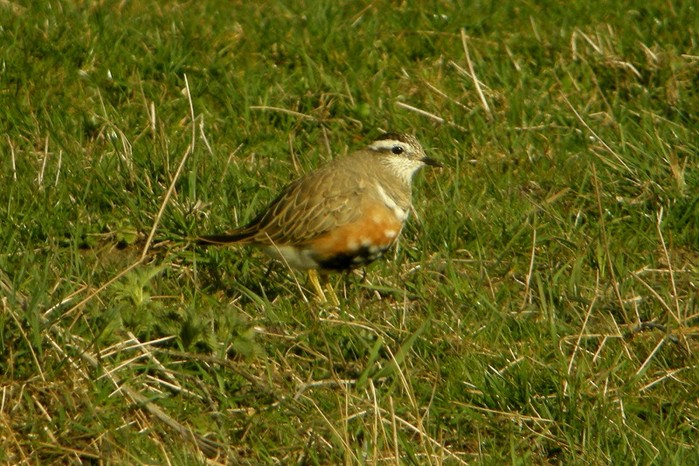 The only other shorebirds of note this week were the wintering young Long-billed Dowitcher on the Gann Estuary (Pembrokeshire), present to 13th and the now-summer plumaged Lesser Yellowlegs that remained at Ernesettle, near Plymouth (Devon) to 16th.
Gulls and Terns
The adult Bonaparte's Gull on Glamorgan's Ogmore Estuary was reported again for the first time in over a month this week ~ still present on 14th-15th.
Numbers of
Ring-billed Gulls
fell away a little more again this week ~ only eight birds seen in Britain and Ireland, with a couple of new second-summers to report ~ the first was at Chew Valley Lake (Somerset) on 12th-13th and the second was at Lochgilphead (Argyll) on 14th.
A first-winter was on Mainland Shetland, near Quendale on 12th, and five singles were seen in Ireland ~ two in Cork, an adult at Cuskinny Marsh and a first-winter at Ballydehob, a second-summer was at Tralee Wetlands (Co. Kerry) and single adults were at North Bull Island (Co. Dublin) and at Ennis (Co. Clare).
A juvenile Kumlien's Gull was at Ardvichar, South Uist (Outer Hebrides) on 13th and the Barmston juvenile Iceland or Kumlien's remained in East Yorkshire to the same date.
With spring edging ever-closer, there was no surprise to see a tailing off in numbers of white-winged gulls again this week ~ six of the week's 18 Glaucous Gulls were in Scotland, with four in the northeast and at least three in East Anglia, while Iceland Gulls mustered 22 ~ four of Scotland's nine were on the Outer Hebrides on 10th-11th, three were seen in the northeast and at least two were seen in Norfolk.
Raptors
In Suffolk, the juvenile White-tailed Eagle that arrived there last week clearly decided not to make a break for it to the Netherlands ~ spending 10th-11th at Benacre, with a brief trip to nearby Covehithe as well. Further White-tailed Eagle reports came from Essex, near Billericay, on the evening of 10th and, belatedly, from Triminingham (Norfolk) on 15th, where a juvenile was reported over the beach during the afternoon.
Back in Suffolk, a couple of Black Kites were reported during the week ~ at Bramfield on 11th and near Stowmarket on 13th while in Essex the first Montagu's Harrier of the year, a male, was seen at Ongar Park Wood on 14th, with a ringtail the following day at Lytchett Bay (Dorset) and one at Swineham, also in Dorset, on 16th.
Rather more wintery fare came in the shape of a (presumably departing) Rough-legged Buzzard in Winterton's North Dunes on 16th.
Passerines
Spring's first Pallid Swift was watched for the much of 16th around Porth Hellick and Salakee, St. Mary's (Scilly) ~ the 10th record for the islands. Scilly has now recorded this once legendary species in three different Aprils ~ this week's bird joins singles in 2004 and 2008 ~ nine of Scilly's ten birds have been between March and July, they've had just one autumn record.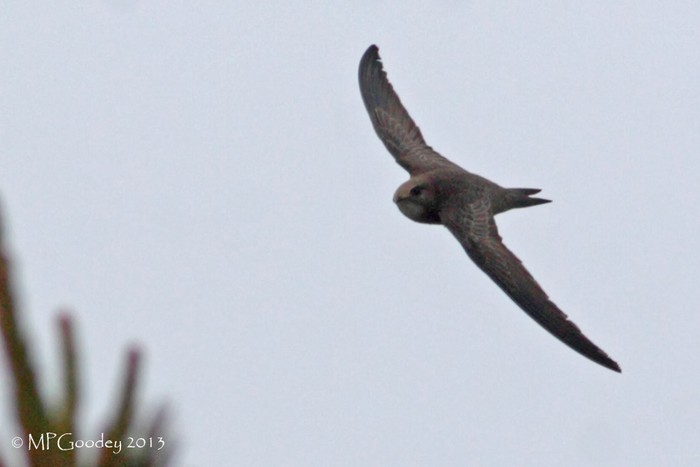 There are four earlier records of Pallid Swift ~ March birds seen on Scilly in 2002, Wicklow in 2006 and Wales and Suffolk in 2010, while May boasts seven of the 82 accepted records to date. Ocotber comfortably leads the way, 42 birds noted, all bar one having come since 1996, with November outscoring the spring months too, with 11 on the books.
A gentle spurt of the year's first Alpine Swifts came on 14th ~ three seen across the country. The first was a brief bird at Skinningrove (Cleveland) and was followed by one at Marton Mere (Lancashire) and another at Pagham Harbour (West Sussex). On 16th, up to three were seen along the Yorkshire coast. First came one over Bridlington during the late morning and it was followed by a bird at Bempton Cliffs RSPB just before 1pm. An hour later, further to the north, an Alpine Swift flew over Scarborough before, back at Bridlington, one flew inland during the middle of the afternoon. The day ended with one appearing at Flamborough Head, were it remained for much of the evening.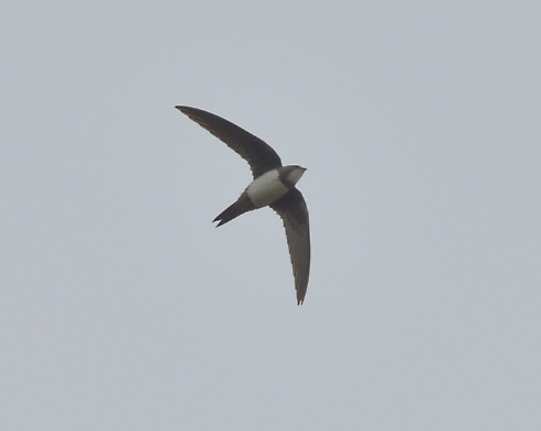 In Devon, a Red-rumped Swallow was at Crediton on 16th while Cornwall landed the first Woodchat Shrike for the year, with one in the Kendijack valley on 15th and other summery colour came via two Serins at Stanpit Marsh (Dorset) on 10th and singles at Sandy Point (Hampshire), also on 10th, at Dungeness (Kent) on 13th and over Happisburgh (Norfolk) on 15th.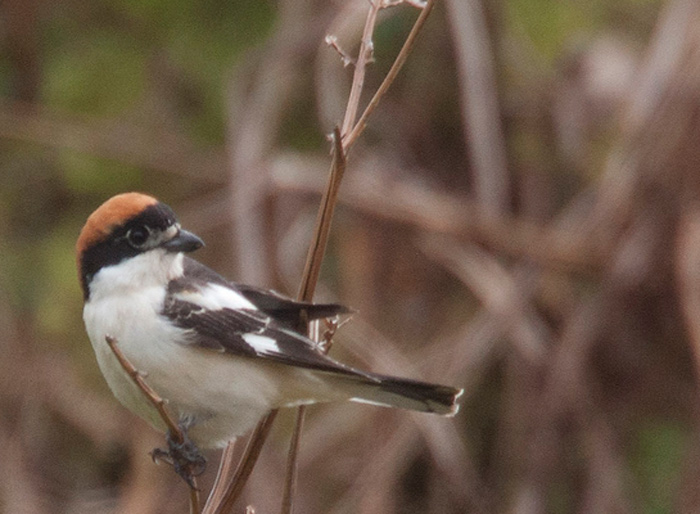 Seven Hoopoes included one left from last week, on Portland, and new arrivals at The Naze (Essex) on 11th, Middleton, on the Gower Peninsual (Glamorgan) from 13th-16th, Westhay (Somerset) on 14th-16th, Rustington (West Sussex) and Tyttenhanger GPs (Hertfordshire) on 15th ~ another was also reported over the M25, near Potters Bar on 16th. The latter date also saw a Hoopoe make landfall in County Waterford, one seen in gardens on Creadan Head. In Norfolk, a Wryneck was seen at Kirkby Bedon, near Norwich on 15th and another was at Tytherington (Gloucestershire) on 16th.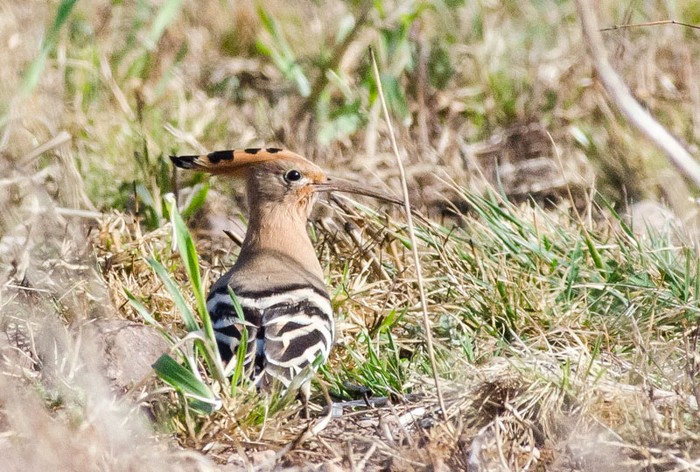 A singing male Bluethroat was reported from Hopton-on-Sea (Norfolk) on 16th and in Durham, the singing male Little Bunting spent the week at Houghton-le-Spring. Another songster that showed no signs of moving on just yet was the singing male Pallas's Warbler, still tucked away in its little hidey-hole on the Berkshire/Hampshire border, in place on 16th.
Other winterers that were also in no hurry to make a jump for it were the first-winter Rose-coloured Starling at Exminster for another week, while the Common Rosefinch at Broadstone (Dorset) was last reported on 10th. Dungeness' two Penduline Tits were seen again on 10th.
Numbers of Great Grey Shrikes were almost halved this week ~ after 11 last time out, we were down to seven over the last seven days. Regulars remained at Thursley Common and in the New Forest to 16th, at Beeley Moor to 15th and on Cannock Chase to 16th, while singles at Bagilit (Flintshire) and Tayport (Fife) on 15th were new. Two birds were again at Sixpenny Handley (Dorset) on 16th.
Waxwings were still pretty abundant, given that it was the second week of April, easily a couple of thousand still spread in an assortment of flock sizes from Shetland to Devon, with two flocks making it through the century mark ~ 107 were at Fortrose (Highland) on 12th while in Greater Manchester, the flock at Orrell went from 150 between 10th-12th to 162 on 13th and 185 on 14th.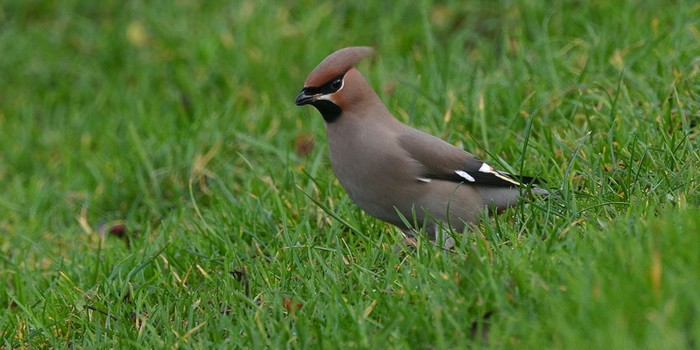 As every April day ticks by, the likelihood of rare birds making it here rise, depending on the weather of course. The next few days look a little unsettled still, with some sunny days and showery days o the cards and winds going almost every whcih way.
In recent years, there have been a lot of birds to enjoy in the week April 17th-23rd. Our only twicthable Crag Martin was found at Swithland Reservoir on April 17th 1999 and was, amazingly, relocated the following day in South Yorkshire, at Pugney's and Anglers Country Parks ~ being a weekend, it meant that 100's of people managed to connect....Eight Aprils on, and the third-winter Glaucous-winged Gull, complete with it's blue colour-ring made a surprise appearance at Beddington on the 18th of the month, in 2007.
However, those with ambitions of making a name for themselves with a potential once-in-a-lifetime find may want to pop a little circle around April 20th.
A Lesser Kestrel was seen in Dover on April 20th 1989, and Norfolk's only twitchable Alpine Accentor appeared at Overstrand on April 20th 2004. The same date in 2008 upped the ante further still, with a Calandra Lark on Fair Isle and a Black Lark in Norfolk (coming, of course, after a lenghty spell fo easterly winds), but topping the list ~ by virtue of the near 33 year wait (and counting) ~ is Rufous Bush Chat, the only spring record (out of the 11 accepted to date) came on April 20th 1968, on Cape Clear Island.

An almost forgotten mega, the most recent on the list, at Prawle Point, came along in August 1980. There's not been a sniff of one since. Imagine the scene for the next one of those....
Mark Golley
17 April 2013
With a current total of just shy of 200,000 signatures, please take a moment to head over to the Badger Trust's "Stop the Cull" website and sign the petition ~ it only takes a moment and the more of us who sign it, the better the chances of enforcing action against the Department of Environment, Food and Rural Affairs plans to wipe out huge numbers of Britain's badgers.
PLEASE SIGN THIS PETITION NOW

A special thanks this week to Martin Garner from Birding Frontiers for his Baikal Teal photos
. Many thanks also to the rest of our contributors for their photos and videos.
Mike Malpass,
Gary Thoburn
, Chris Bromley, J.Harris, Brian Henderson,
John Kemp
,
Martin Goodey
, Mike McGough, T.Mills, Mark Hipkin, Graham Etherington, Peter Simpson, Mark Breaks.
Correction from last week:
In last week's review the headline photo of the Killdeer at Longridge in Lancashire was incorrectly credited to Gavin Thomas. Although the bird was found by Gavin the photo was taken by Jon Worthington, apologies John and many thanks again for the use of your photo.