Weekly round-up: 20 - 26 Mar 2013
The week at a glance
The drake Harlequin remains on North Uist
Somerset's summer Pied-billed Grebe lingers for another weekend
More news on the White-throated Sparrow in the Blackdown Hills
Cornwall's Pacific Diver shows for a couple of days
Male Black-throated Thrush arrives in Aberdeenshire
Ireland's juvenile Northern Harrier still in Wexford
…and the American Coot remains in Galway
Yikes...what an unpleasant few days that was....almost the whole country seemingly under the cosh from an occasionally vicious bunch of low pressure systems almost encircling us at times in the last week ~ squeezing a continental high that managed to bring some overly-brisk, bitter easterly winds across from a cold continent. Many areas saw some snow on the ground by the weekend ~ indeed a few places, the northwest of England, parts of Scotland and the north of Ireland all really copped it, several inches accumulating there with the raw wind building up some hefty drifts too.
It wasn't all temperatures close to zero or thereabouts though, the further west you went, the milder it became ~ Scilly saw temperatures climb in to double figures near the start of the new review period and on to the weekend, but as the snow fell further north, Scilly and the southwest as a whole, endured some heavy rain along with those strong easterlies, bringing flooding to some.
A look to later in the week shows little sign of a change either, the biting wind may be easing a little, but there's barely a glimmer of spring on the horizon. Indeed an approcahing belt of mild air in the Atlantic could spell "more snow" if it collides with the easterly high. However, there were some pleasing pockets of action and new birds, exciting new birds too, began to arrive...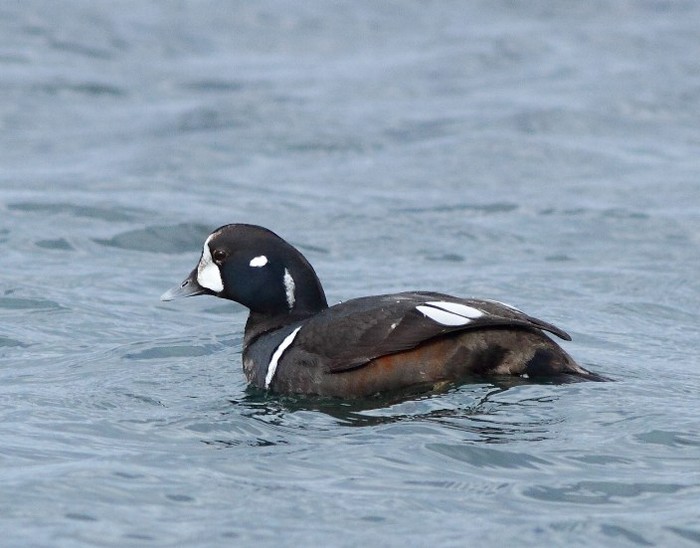 Headline birds
As with the last couple of weeks, it was generally a case of 'as you were' with the rarest birds of the last seven days.
On the Outer Hebrides, at Balranald on North Uist, the young drake Harlequin was still present offshore from Traigh Iar to the 25th when it was captured beautifully by Steve Duffield in what may well be the very best images of a vagrant Harlequin ever taken in the UK ~ this most handsome of seaduck has now clocked up a calendar month on site in to the bargain.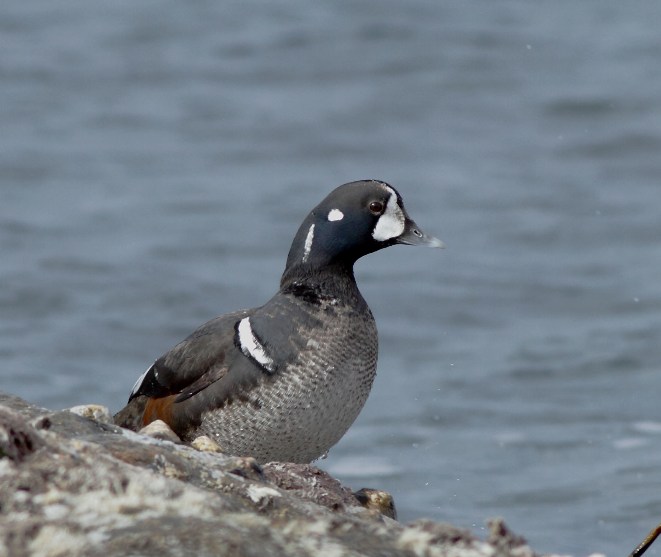 In Somerset, at the RSPB reserve at Ham Wall, the Pied-billed Grebe remained to 25th at least ~ that bird, like the Harlequin, has now clocked up a whole month in its current favourite location.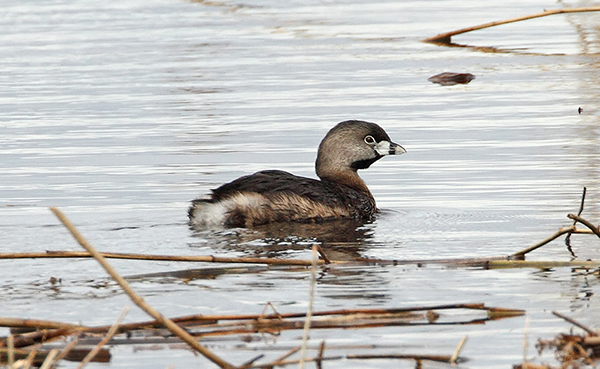 Staying in the same county, there's a little more news on the Stop Press headline from last week concerning the White-throated Sparrow that spent January 23rd – 3rd March in a garden in the small village of Churchstanton, nestled in the Blackdown Hills. A county first, the bird was only viewable from the living room in the house during the time of its residency ~ the house itself was located along some typically narrow southwest lanes ~ neither factor being overly conducive to putting news out on a grand scale.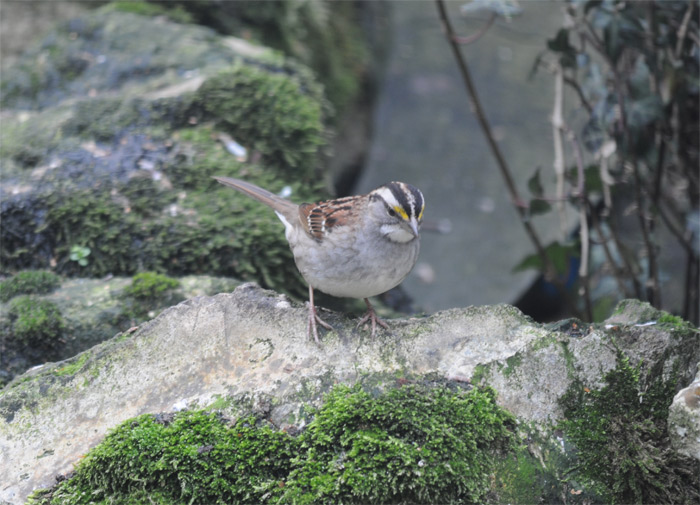 The householders recognised their visitor as being something out of the ordinary and eventually contacted a couple of local birders by way of getting a confirmatory identification. This duly came and Somerset joined the list of counties that have been graced by this high-quality Trans-Atlantic voyager ~ which is now nearing the half-century mark in the record stakes.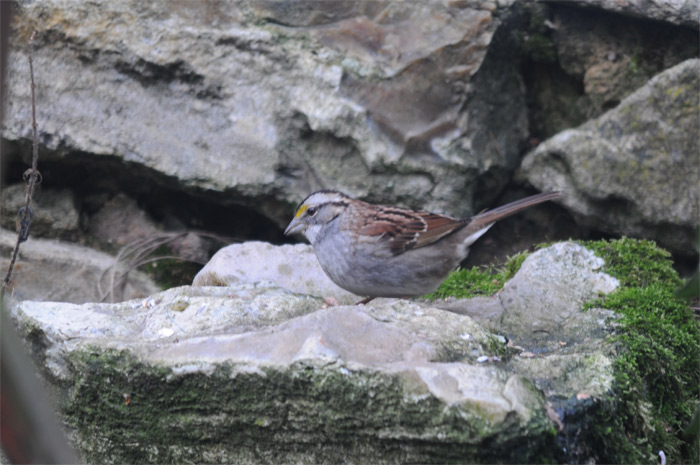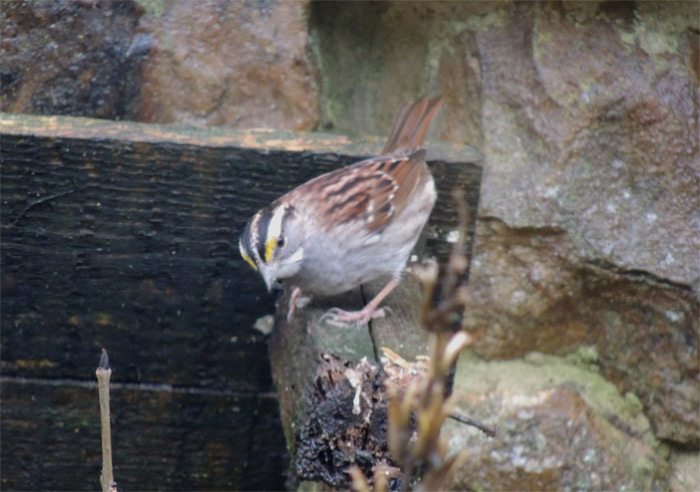 Back to this week's news and down along the southwestern highways and byways, all the way to Mount's Bay where the elusive wintering adult Pacific Diver was seen again off Marazion on 24th-25th ~ it'll be on it's way soon…I wonder where it goes? And has it got a Black-throated mate?
…and talking of black-throated…the review period closed with blogged news of a first-winter male Black-throated Thrush in gardens in Banchory (Aberdeenshire) on 26th (the bird was initially noted on 24th) ~ it becomes the first record for the county of this always-marvellous long-distance traveller.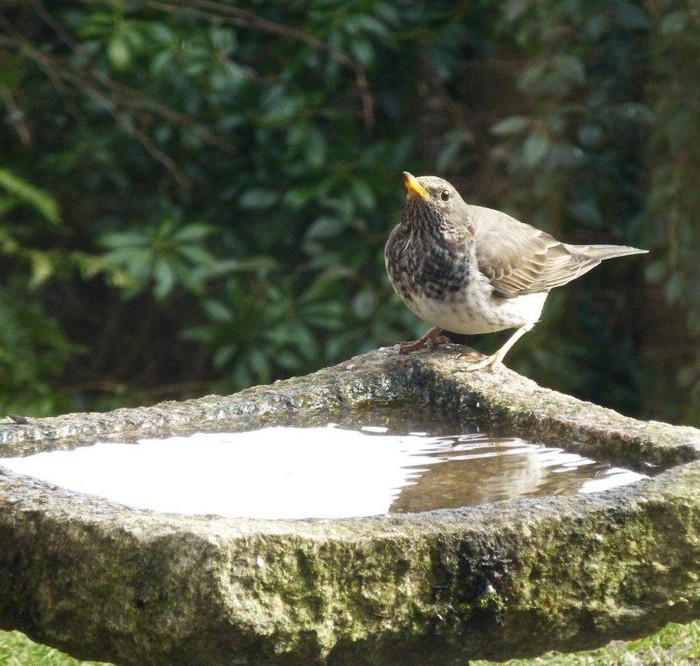 This becomes Britain's third-ever March arrival ~ the others being the first-winter female in Holkham Park (Norfolk) from March 13th-April 4th 1997 and, more recently, another first-winter female spent three days at Buckton (East Yorkshire) from March 25th-27th 2007. By the end of 2010, there were 70 accepted records of Black-throated Thrush in Britain (Shetland claiming the lion's share) while Irish birders still await their first one…
This week in Ireland, birders there still had a couple of megas to entertain them ~ the wintering juvenile female Northern Harrier remained at Tacumshin (Co. Wexford) to 23rd and then made a short excursion to nearby Lady's Island Lake on 24th while in Galway, the first-winter American Coot remained at Murlach to 25th.
Seabirds
After a nice quartet of White-billed Divers last week, sadly we've drawn a sizeable blank where the species is concerned this week. However, there were a few wind-blown waifs to report from the pelagic side of life ~ three Little Auks were seen on the sea, at the mouth of the River Esk, at Musselburgh (Lothian) on 23rd and the following day, singles were seen heading past the Farne Islands (Northumberland), Barns Ness (Lothian) and Dalgety Bay (Fife), with two seen off Dunbar (Lothian). On 25th, another Little Auk was seen off the Farnes and two more were seen off Crantock Beach (Cornwall) and the final (live) ones of the week were off Gorleston (Norfolk) and Brora (Highland) on 26th.
Back to Lothian where, on 23rd, a Grey Phalarope appeared off the pier at Longcraig Gate, South Queensferry and others were seen off Dalgety Bay on 25th and in Bridlington Harbour (East Yorkshire) on 26th. In Ireland, an unseasonal adult Sabine's Gull was seen off Briggs Rocks (Co. Down) on 25th.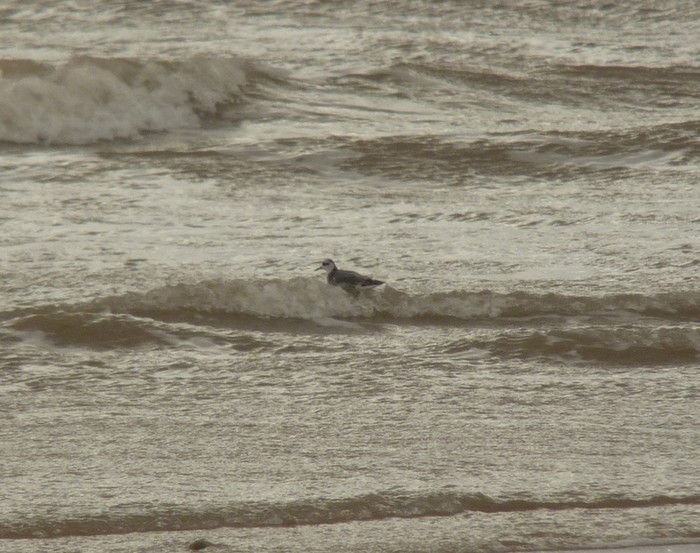 Herons, Egrets & allies
The number of Great White Egrets has fallen away slightly this week as spring tries hard to edge in toward us and species such as these ultra impressive egrets begin to have courtship on their minds….
Around 16 birds were reported over the last seven days, with six at Catcott Lows NR (Somerset) on 23rd being the highest single figure flock reported. Elsewhere in the Avalon Marshes, three birds were at Shapwick Heath NNR on 21st, two birds were noted at Ham Wall RSPB on 20th with two also at Westhay Moor on 26th.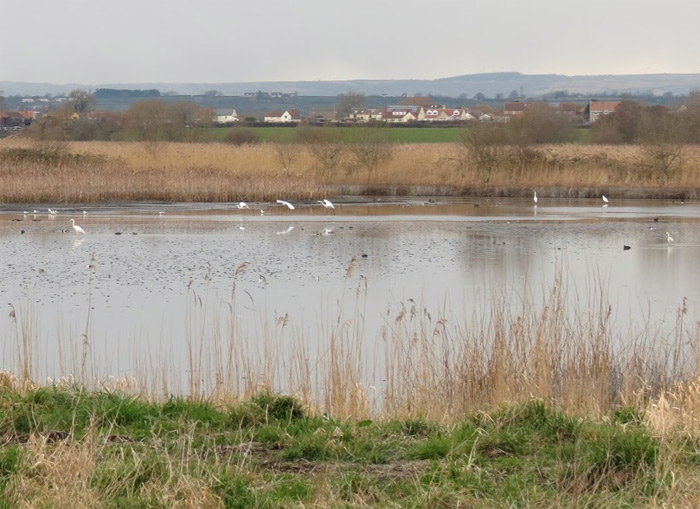 The bird at Coate Water Park (Wiltshire) remained all week while in Dorset, at Ferrybridge, a Great White Egret flew over on the morning of 24th. Further to the east, at least two remained at Dungeness to 26th, with another Kentish record coming from Grain on 21st.
In Norfolk, singles on 21st were reported from Cley and Acle, while the two records from Northamptonshire may well have related to one-in-the-same bird ~ at Pitsford on 21st then at Earls Barton GP on 23rd. Elsewhere, a new bird was at Thorganby (North Yorkshire) on 21st and another remained in Wales, at Llangorse (Powys) to 22nd.
In Donegal, the Cattle Egret made a return to the piggery at St. Johnston on 21st ~ the first report from there in almost a month, while the Glossy Ibis count was much as it has been for the last couple of weeks ~ singles still at Warblington (Hampshire) to 23rd and the second-winter was at Marloes Mere (Pembrokeshire) to 24th.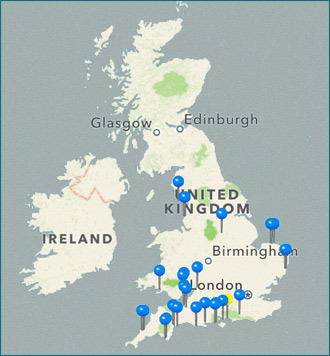 Numbers of Spoonbills this week nudged ahead of recent totals ~ some 35 or so noted over the past few days, with seven in Lytchett Bay (Dorset) on 23rd the largest single group, followed by five at Titchfield Haven NNR (Hampshire) from 21st-26th (one of four sites in the same county that hosted Spoonbills this week ~ singles also noted at Lower Pennington, Farlington Marshes and Keyhaven Marshes).
Elsewhere in the southwest, further Dorset birds included three over Upton CP on 23rd and one still at Lodmoor RSPB then Radipole Lake RSPB, with Devon hosting singles on the Exe and Kingsbridge estuaries and two birds at Budleigh Salterton and then Thurlestone on 25th. In Cornwall, a lone bird remained on the Camel Estuary to 20th with two present on 25th and in Somerset, a single Spoonbill was seen at Catcott Lows NR on 23rd, three were near Burnham-on-Sea on 24th and two were on the Huntspill River on 25th. Up in Gloucestershire, another bird appeared at Slimbridge WWT on 23rd.
In south and west Wales, lone Spoonbills were at the WWT National Wetlands Centre (Carmarthenshire) on 20th, on Goldcliff Pools NR (Gwent) on 21st and then at Peterstone Wentlooge on 25th and further roaming singles were seen at Marshside RSPB (Lancashire), Walney Island (Cumbria), Minsmere and Eastbridge (Suffolk), Pulborough Brooks (West Sussex) and, best of all, inland at Carr Vale, near Bolsover (Derbyshire) from 21st-24th (the first in the county for a couple of years). Two Spoonbills also spent 25th-26th around Stiffkey Fen (Norfolk).
Two small groups of Common Cranes were tracked around bits of the East Midlands and beyond this week ~ two birds headed west over Gringley Carr (Nottinghamshire) during the morning of 21st, with three birds there some 45 minutes after the first sighting. These birds were seen to head south and were presumably the birds seen an hour or so later over Hartsholme CP (Lincolnshire).
The same day saw a flock of four Cranes drift across Rutland Water (Leicestershire) just before noon before being picked up again over Idle Valley NR (Nottinghamshire) a couple of hours later. The birds then settled at Mattersey Priory for much of the remainder of the day.
Other Common Cranes included a report of two birds near Shrewsbury (Shropshire) on 21st, two on the Nene Washes (Cambridgeshire) on 26th and singles still at Lakenheath RSPB (Suffolk) (also on 21st), at Tyninghame (Lothian) to 25th and at Campbeltown (Argyll) on 26th, while 16 birds were seen near Brograve Farm, in the Norfolk Broads, on 25th.
A White Stork of unknown origin was seen in Lancashire on 24th-25th ~ at Hest Bank and over Leighton Moss RSPB.
Geese & Ducks
After all the renewed interest in Lesser Scaups last week, this week saw five of last week's males remaining to the weekend.
The first-winter drake at Freiston Shore RSPB (Lincolnshire) steadfastly refused to continue its way eastwards across the Wash and stayed put until 26th ~ the fourth record for Lincolnshire and the first since 2004 (the others appeared in 1999 and 1995).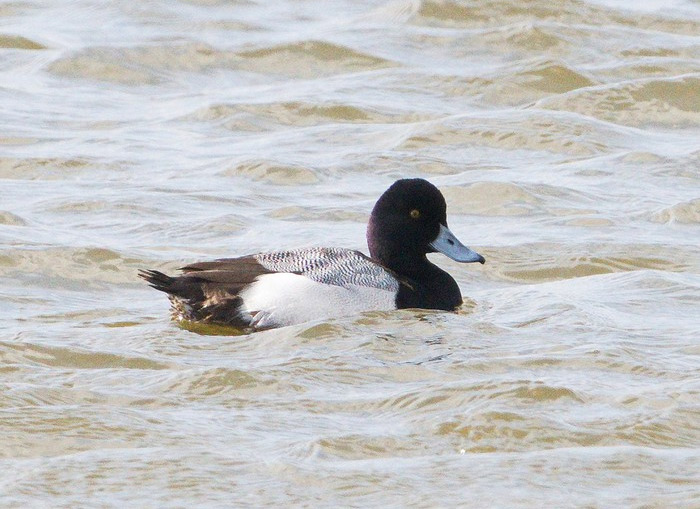 Herefordshire's first-ever Lesser Scaup remained at Wellington GPs to 25th while other drakes lingered at Siblyback Reservoir (Cornwall), Cardiff Bay (Glamorgan), Auchendores Reservoir (Clyde) and Oxford Island NNR (Co. Armagh) for much of the week too (the Clyde bird nipping back to Leperstone Reservoir as the review period drew to a close).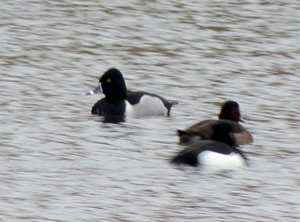 Ring-necked Ducks were in slightly shorter supply than they have been of late ~ nine birds reported this week, three of them were still on Scilly, loitering again on Tresco's Great Pool to 20th (with the drake to 26th). The drake remained in the Ham Wall area (Somerset) throughout the week ~ along with the Ferruginous Duck ~ while Devon's male, at Slapton Ley, was seen again on 25th. The first-winter drake present for several weeks in East Yorkshire was noted again at New Arram on 26th. The female Ring-necked Duck was still on Loch Scaraidh, North Uist (Outer Hebrides) to 25th and on 26th, two drakes were discovered on Keel Lough, Achill Island (Co. Mayo).
The second Ferruginous Duck of the week arrived at Otmoor RSPB (Oxfordshire) on 25th and was still present there the following day.
Numbers of drake Green-winged Teals fell from a dozen or so last week to only seven in the past few days. New were singles near Dundee (Angus), in Invergowrie Bay from 20th-23rd, at Stanwick GPs (Northamptonshire) on 24th-25th and at Annagh Marsh NR (Co. Mayo) on 25th, while reappearing birds were at Loch of Tankerness on Mainland Orkney on 2oth and back on the Rogerstown Estuary (Co. Dublin) on 23rd. Leftovers from previous weeks were at Caerlaverock WWT (Dumfries & Galloway) and Dorman's Pool (Cleveland).
The drake Blue-winged Teal was still at Threave Castle (Dumfries & Galloway) to 21st at least while four wintering drake American Wigeons remained ~ still on Fiskerton Fen (Lincolnshire) to 21st, at Bowling Green Marsh RSPB (Devon) to 22nd and in Scotland at Finstown (Orkney) to 25th and Udale Bay (Highland) to 26th. A female was also reported this week, at Aberlady Bay (Lothian) on 26th.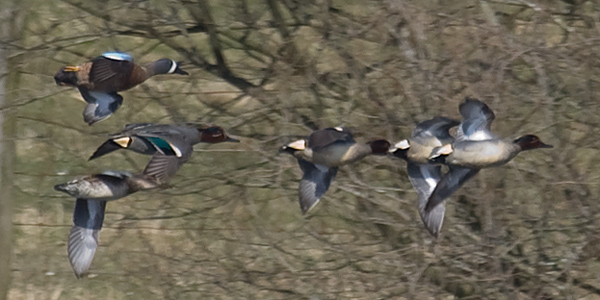 In a familiar dropping ducky numbers pattern, the week's Surf Scoter numbers fell too ~ from 11 to 5. A second drake joined last week's new arrival at Ben Head (Co. Meath) on 20th while the first-winter drake remained at Rosslare (Co. Wexford) to 23rd. A new Irish drake was seen off Balbriggan (Co. Dublin) from 25th. In Wales, the female was still at Broad Haven (Pembrokeshire) on 20th and the drake remained off Ruddon's Point (Fife) for much of the week.
Only a couple of "white-cheeked" geese to mention this week ~ the Todd's Canada Geese was still at Rhunahaorine Point (Argyll) with Greenland White-fronts to 20th and a Richardson's Canada Geese was again at Loch Sandary, North Uist (Outer Hebrides) on 21st.
Three single Snow Geese remained for another week, including one still on North Uist, at Loch Scaraidh on 20th. A further white bird remained at Sheskinmore Lough (Co. Donegal) to 21st while the blue Snow was at Westport Marsh (Argyll) to 20th.
In East Yorkshire, the adult Black Brant was still being seen along the top end of the Spurn Peninsula from 20th-26th and two adults were noted at Rosslare (Co. Wexford) on 23rd-24th. In Hampshire, at Farlington Marshes HWT both the adult Brant and Red-breasted Goose remained all week.
Shorebirds
Dorset hosted the first Kentish Plover of 2013 ~ one appearing at Ferrybridge on the morning of 24th on what was a productive weekend for the area. Two more (both males) followed a little further along the south coast, at Rye Harbour (East Sussex) on 25th-26th.. One of the birds was colour ringed and was found to have come from breeding colony in Schleswig-Holstein, the northern most state in Germany. The brid was ringed there in May 2009 and was seen again in the general area the following year. Since then, no further sightings until it popped up in Sussex.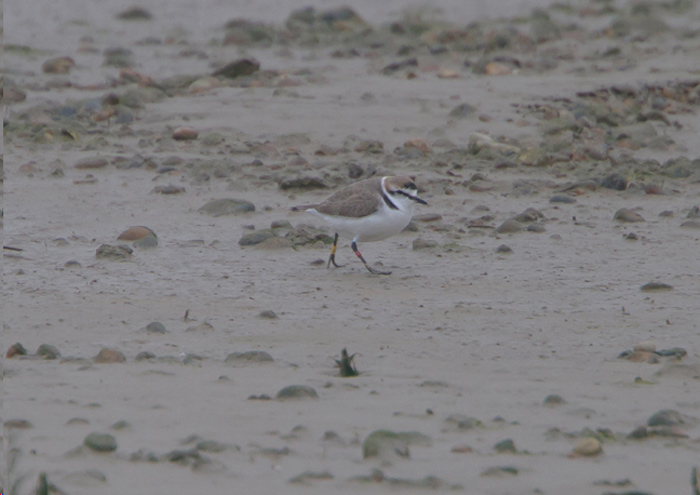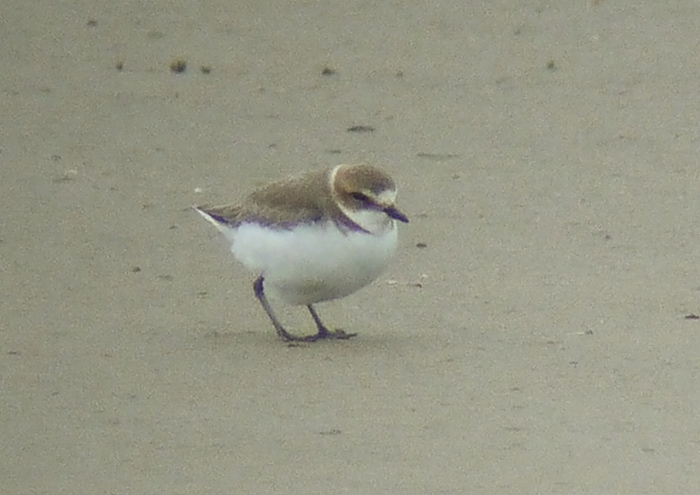 In Pembrokeshire, the first-winter Long-billed Dowitcher was on the Gann Estuary to 23rd at least and in Devon, the Lesser Yellowlegs at Ernesettle Creek remained to 26th. After a false start with a bird in Berkshire, the week's only Temminck's Stint was at Steart (Somerset) ~ the winterer remaining to 26th.
Gulls and Terns
The only Bonaparte's Gull recorded this week was the adult in Cardiff Bay (Glamorgan), seen on 23rd-24th.
Forty years on from Rob Hume discovering Britain's first-ever Ring-billed Gull on Blackpill Beach in south Wales (in March 1973), there were a few still on offer this week by way of a nod to that, at the time, remarkably sharp and perceptive find.
Ireland, inevitably, was leading the way, with three adults at Sandymount Strand (Co. Dublin) on 20th with the regular Kerry two (the adult and first-winter) still around the Tralee Wetlands on 23rd (they were joined by a second-winter on 25th-26th). Other Irish birds were lone adults in Wexford and Galway on 20th, Limerick on 23rd and in Mayo on 25th, a first-winter at Blennerville (adjacent to Tralee Wetlands) on 20th with another still at Castletown Bearhaven on 24th, while a second-winter was at Rosslare (Co. Wexford) on 24th.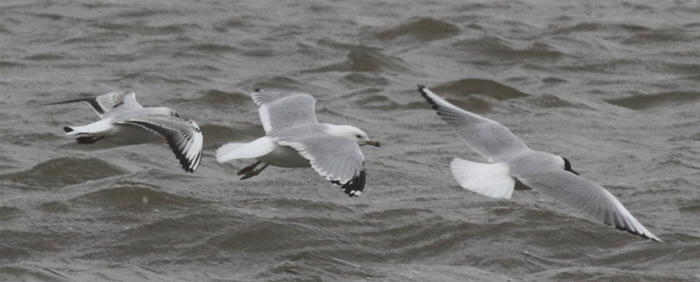 A new first-year Ring-billed Gull was seen at Otterspool (Merseyside) on 20th and the recent youngster at Neath (Glamorgan) remained to 23rd. Gosport's adult was present to 24th and completed the dozen records for the week.
A juvenile Kumlien's Gull was still being seen at Rossaveal (Co. Galway) on 22nd-24th, with further young birds on South Uist and at Castletown Bearhaven (Co. Cork) on 24th while a probable adult was seen again in the far west of Cornwall, in the roost at Mousehole, on 23rd. The debated bird at Barmston (East Yorkshire) was still present to 26th.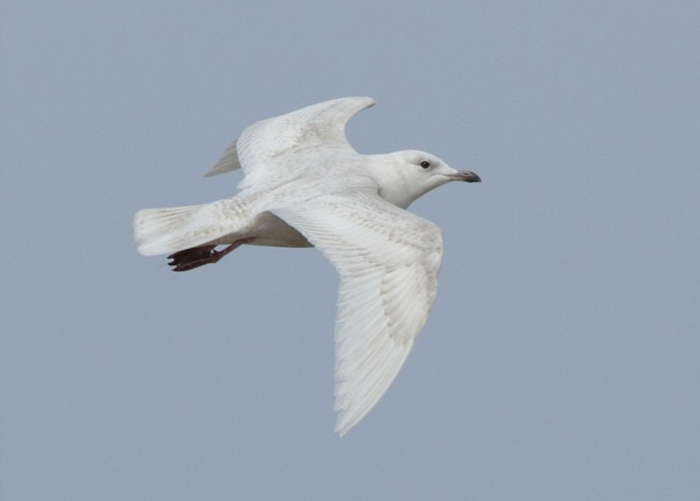 Maintaining the dropping tallies vibe of the week, numbers of Glaucous Gulls and Iceland Gulls both fell away a little again ~ totals of around 25 for the former and 22 for the latter species recorded. Scotland scored four Glaucous, with at least four (a near-adult and three juveniles) amongst the beach feeding frenzy at Sea Palling (Norfolk) on 24th-26th, with another along the coast at Caister-on-Sea. Three birds were again noted in the roost at Chasewater Reservoir (Staffordshire) along with two Iceland Gulls. Five Icelands were noted in Ireland, with three for Waterford and two for Galway, while two birds were seen at Richmond Bank (Cheshire) on 20th.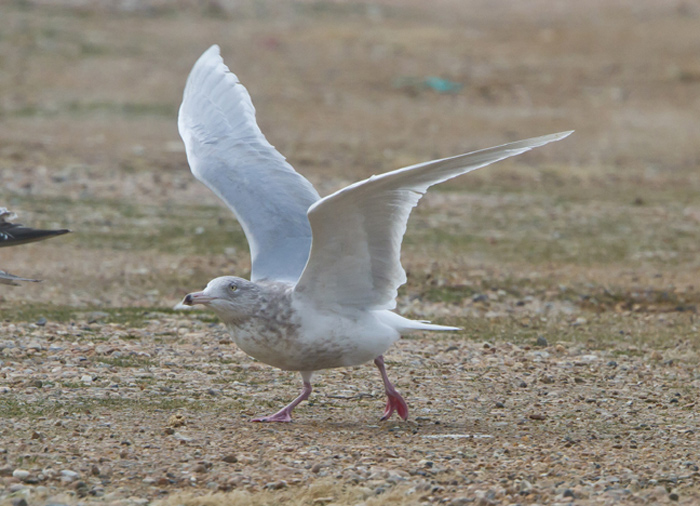 In Galway, the adult Forster's Tern was at Nimmo's Pier on 20th and was then at Kinvarra on 23rd-25th.
Raptors
Aside from an unconfirmed report of a juvenile White-tailed Eagle in Derbyshire on 21st, there was nothing else to report on the Barn Door front this week.
Norfolk's two Rough-legged Buzzards remained on the Haddiscoe Marshes to 20th and were then seen circling over Breydon Water the following day ~ were they on their way across the North Sea? No, it seems not, as they were back at Haddiscoe on 25th. Another Rough-leg was seen over Gallow Hill, Fetlar on 26th and further reports of the species this week came from Carmarthenshire and the Wirral, both on 24th.
The Raptor of the Week though has to go to a white Gyr found on Fetlar (Shetland) on the morning of 26th. Over in Ireland initial excitement of a Gyr seen in Co.Kilkenny on the same day was dampened by the discovery that a white Gyr had recently escaped in the Wicklow Mountains!
We're coming up to one of the times for this, the ultimate falcon, the southwest often a favoured spot in the past couple of decades where late winter/early spring birds are concerned.
Passerines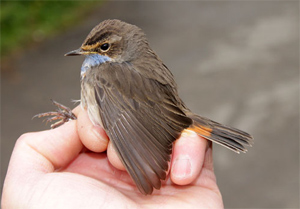 At the end of last week's roundup, thoughts turned to the potential arrivals for this week ~ and it was called exactly right as the brisk chilly, easterly airflow popped a delightful first-year male White-spotted Bluethroat into the nets at Portland Bird Observatory on 23rd. A look at the always excellent Obs website shows what an interesting day it was on the island ~ 300 Chiffchaffs, 150 Wheatears, 12 Black Redstarts and a couple of Ring Ouzels amongst the impressive list of birds that came along to remind many of what we had to look forward to as spring creeps, sloth-like, towards the rest of us. As the week closed, a second male White-spotted Bluethroatwas found, this one on the Isle of Wight, at St. Helen's, on 26th.
Further to the west, on the same day that the Portland Bluethroat made landfall, the Isles of Scilly enjoyed a good day too ~ the first Red-rumped Swallow of 2013 was found at Pendrathen Quarry, on St. Mary's, with a brief Hoopoe also reported there during the afternoon. A Hoopoe arrived on St. Agnes on 23rd (but was picked up dead on 25th) while the period between 22nd-24th saw Scilly also play host to a Common Swift over Periglis, St. Agnes on 23rd (the earliest ever for the islands) an early Redstart on St. Mary's on 24th, Ring Ouzel and at least 30 Black Redstarts around St. Mary's.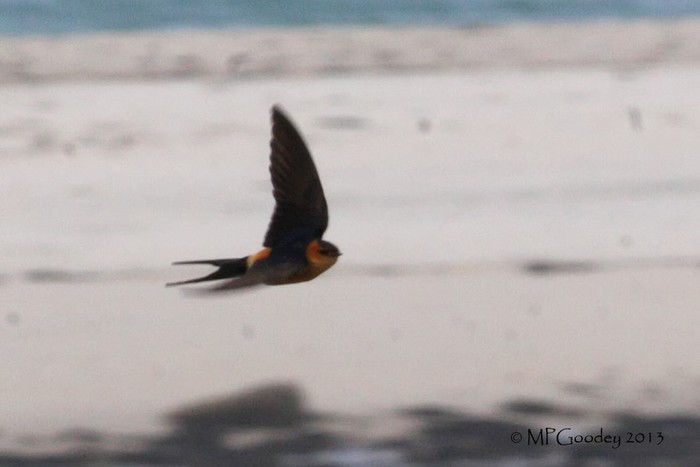 The far southwest also hosted a Serin over the weekend, one seen at Porthgwarra (Cornwall) on 25th, along with over 100 Chiffchaffs.
A new arrival in Norfolk was a second Black-bellied Dipper at Thetford from 21st ~ the new bird apparently a "blacker" bellied one than the original winterer. Both birds were still in place to 24th at least. This may be the first time two Continental Dippers have been seen in Norfolk ~ the last confirmed time two birds were seen together was in 1984, when a Black-bellied bird at Bawburgh was joined by a bird thought to have been either a British or central European race.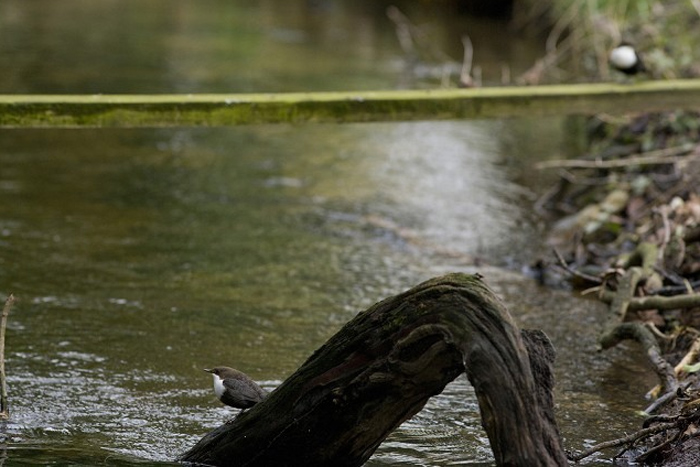 Other wintering fare that was still showing no real urge to head off in to such raw conditions included the Common Rosefinch on private feeders at Broadstone (Dorset) to 21st, the Pallas's Warbler on the Berkshire/Hampshire border to 22nd, the first-winter Rose-coloured Starling at Exminster (Devon) to 26th and the female Desert Wheatear at Rattray Head (Aberdeenshire) to the end of another week.
After a good haul last week, numbers of Great Grey Shrikes dropped to around nine over the last seven days. Two were seen in the New Forest ~ at Bishop's Dyke on 20th and Denny's Wood on 24th, with the bird next door in Dorset remaining at Sixpenny Handley to 22nd at least. A new bird was seen in Aberdeenshire, near Ordie, on 20th, the bird seen a few days ago at Egmere (Norfolk) was seen again on 26th while the remainder of the week's birds were all regulars ~ again at Mynydd Illtud (Powys), Streatley (Bedfordshire), Therfield (Hertfordshire) and Thursley Common (Surrey).
Maintaining the theme to the end of the review is Waxwing ~ numbers of these also tailing off this week, though there was still a country wide total into the low 1000's. Numbers in the southeast dropped notably from recent weeks though the northwest still fared pretty well ~ 132 were in Liverpool, 130 were in Romiley (Greater Manchester) on 22nd and 120 appeared in Dukinfield, also in Greater Manchester, on 26th. A flock of 92 at Fitzwilliam (West Yorkshire) on 24th also deserves a mention too.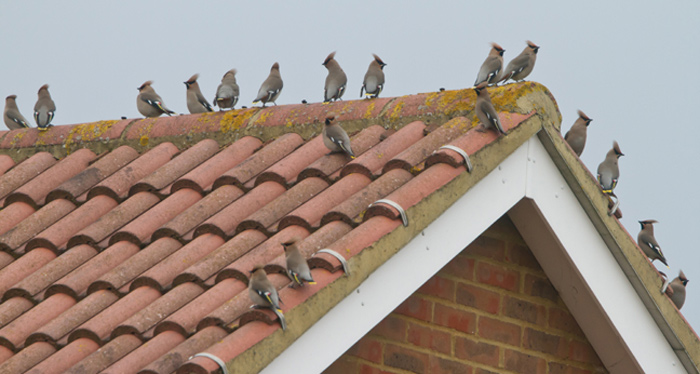 The outlook looks like hard going for many areas, the southwest may well be the place to score again in the next few days, a breath of south in the wind could deliver some nice Easter rares.
This time last year there was a trio of great American birds on the go ~ the wintering Northern Waterthrush on Scilly, the much-admired Common Yellowthroat in south Wales and the Scottish Greater Yellowlegs. The year before that we had the stonking adult drake Stejneger's Scoter in County Kerry, a showy Short-toed Treecreeper in Suffolk, the crowd-pulling Oriental Turtle Dove in Oxfordshire and a Pied-billed Grebe in Argyll.
We're on safe ground to think that out of all the Super-7 named above, we may be on for at least one of those species in the next round-up....last week's review ended with hopes of a change coming and, to a degree it did change, good new birds did arrive. This week then, let's hope that spring rares continue to nudge their way towards us and that there's still perhaps one final throw of the winter dice to come.
...and if All Fools' Day brings news of something as madcap and crazy as, say, a Belted Kingfisher in the middle of Staffordshire, best pay it some heed....
Mark Golley
27 March 2013
Otter Watch
Back by popular demand, OK we have had no requests! Some more extraordinary footage from the otters in Thetford. Looks like the job of this year's Springwatch producers has been made a bit easier!

Many thanks this weeks contributors for their photos and videos
Martin Cade - Portland Bird Observatory and Field Centre
,
Stephen Duffield - Western Isles Wildlife
,
Gary Thoburn
,
Paul Rowe
Martin Casemore
,
Jo Stockwell
,
Paul Kelly - Irish Bird Images
,
Martin Goodey
,
Brian Gibbs - Somerset Ornithological Society
, Mike Hudson, Doug Stannard, Gus Guthrie, David Aitken, Lee Evans, Graham Etherington, Erich Hediger, Darren Robson, Kevin Du Rose,