Weekly round-up: 13 - 19 Mar 2013
The week at a glance
Drake Harlequin continues to grace North Uist
Summer-plumaged Pied-billed Grebe remains in Somerset
Cornwall's elusive Pacific Diver resurfaces in Mount's Bay
Ireland holds on to Wexford's Northern Harrier and
Galway's American Coot for a few more days
and... STOP PRESS: late news of a White-throated Sparrow present in a Somerset garden from 23rd Jan - 3rd Mar
After the bone-chillingly cold of last week, the new review period saw a spell of somewhat jumbled up, mixed up weather ~ almost everything listed in Mother Nature's list of late winter/early spring conditions headed our way over the last seven days.
Sunshine? Yep, we got sunny spells. Wind, check, there was the odd wobbly blast from the north before the weekend. Sleet and snow? Sure we had some of that as well. Rain? Oh yeah, it rained alright...
But as the weekend drifted away and the new working week came along, it was back to a familiar pattern of sunshine and showers and average (or perhaps just below average) temperatures as a tame area of low pressure limply sat across us ~ tho' more chilly weather was apparently on the way....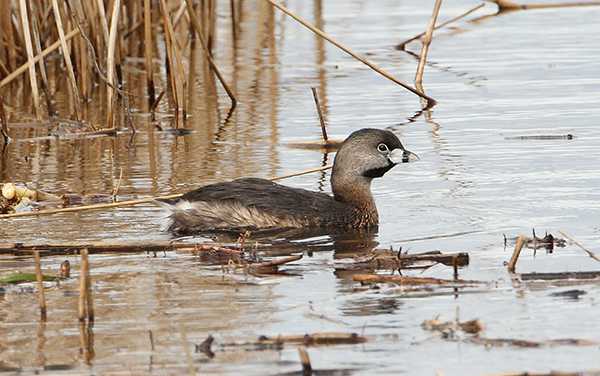 Headline birds
And to be honest, birdwise, it was all a little limp too really. There may have been white smoke billowing from the Sistine Chapel on Wednesday but there was little sign of new things making themselves known in the birding world over the last few days.
However, that's not to say there wasn't a pile of good birds to be had ~ there was ~ but it has to be said that thoughts have begun to drift away from the mid-March offerings ~ change is what people want as spring nudges gently into view.
Still leading the way, the drake Harlequin on North Uist ~ still present to the south of Traigh Iar, near the RSPB reserve at Balranald to the morning of 19th.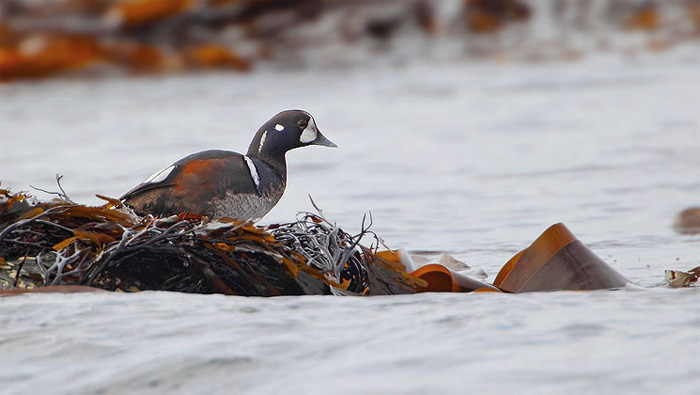 At Ham Wall RSPB in Somerset, the obliging summer-dressed Pied-billed Grebe lingered for another weekend and beyond to 19th, while further into the southwest, in Cornwall, the wintering (but generally ultra-discreet) Pacific Diver was noted again in Mount's Bay on 18th.
Across in Ireland, both the juvenile Northern Harrier and the first-winter American Coot made it into another week ~ the Harrier still at Tacumshin (Co. Wexford) to 18th and the Coot remained at Murlach, Ballyconneely (Co. Galway) to the same date.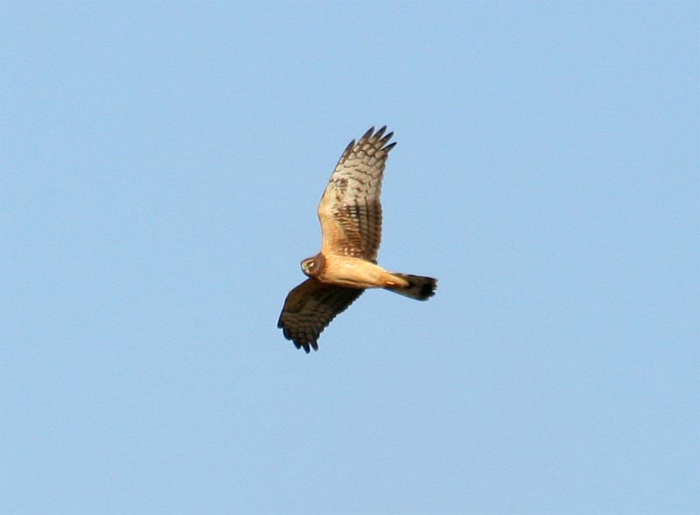 Seabirds
In East Yorkshire, a flyby White-billed Diver heading south from Barmston during the late morning of 14th would have been a nice surprise (and a pleasant change from the contentious seagull there) while off the coast of Aberdeenshire, at Portsoy, three birds were noted on the morning of 17th ~ continuing the decent run of records for the site in the last two years or so.
Towards the end of April 2011, five adults were seen (including three in summer plumage) one of which lingered to the end of the month. In 2012, on the very same date as this year's three (March 17th) a single bird was noted (it stayed for a couple of days) and was followed by at least one bird throughout much of April.
This year's threesome suggests that anyone not quite willing to chance their arm at a few days on Lewis searching for this most majestic of arctic travellers may well find worth in spending time in the far north-east of Scotland ~ there's a pattern starting to form….on Orkney, a White-billed Diver was seen again off South Ronaldsay on 19th.
The only other seabird report from the week was of a lone Pomarine Skua off Landguard Point NNR (Suffolk) on 16th.
Herons, Egrets & allies
The new review period began with nine Great White Egrets still present on the Somerset Levels, near Ashcott Corner on Meare Heath, with three birds at Shapwick Heath NNR on 14th and one at Ham Wall RSPB on 15th amongst other sightings in the general area. Further West country singles were noted at Frampton Court (Gloucestershire) from 13th-14th and still at Coate Water Park (Wiltshire) to 18th.
After eight birds last week, this week's total of Great Whites at Dungeness fell to just two by 15th with one at nearby Lade pits and two birds along the coast at Rye Harbour (East Sussex) on 13th with two more Kentish birds appearing at Worth Marsh on 18th. Last week's arrival at Amwell (Hertfordshire) departed at dawn on 13th, whilst new was a bird over Leyton (London) on the morning of 17th.
In south Wales, a lone bird was seen at Caldicot (Gwent) on 13th and two were still at Llanrhidian Marsh (Glamorgan) on 18th, while in the northwest of England singles were reported from Marshside RSPB (Lancashire) and Frodsham and Hale Marsh (Cheshire). The other birds this week were at Blaby (Leicestershire) on 14th-15th, Pitsford Reservoir (Northamptonshire) on 14th-15th and at Little Paxton (Cambridgeshire) on 17th.
A flock of eight Cattle Egrets reported in a field at Mount Edgecumbe CP near Cremyl, on the Cornish border on 17th saw their total fall to just two on 19th, quickly followed by a further fall in a status upgrade ~ they were actually Little Egrets.
There were three single Glossy Ibis on the books this week, the bird in Hampshire, at Warblington remained in place to 18th at least, as did the resident bird at Marloes Mere. A second Welsh bird was reported heading towards Anglesey, near Talybont (Gwynedd) on 13th.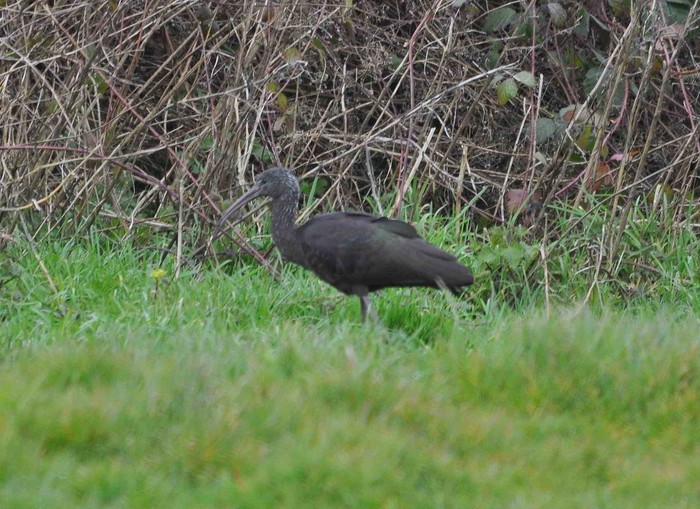 Some 25 Spoonbills were seen over the past seven days, with the southwest being the region to score highest. Up to seven birds were in Dorset, with four still at Lodmoor RSPB just ahead of the weekend and three were on Brownsea Island on 15th. At least two birds were around the River Exe (Devon) for much of the week and a single was noted in the east of the county, at Seaton, on 16th. Another lone individual was again on the Camel Estuary (Cornwall) and on Scilly, one bird on Samson was followed by two birds on St. Martin's on 15th before moving to Tresco on 17th.
In Hampshire, a Spoonbill spent much of the week at Farlington Marshes HWT whilst in Essex one was at Abberton Reservoir on 13th then Holland Haven the following day. Further along the east coast, two birds were at Hickling (Norfolk) on 17th, one was at Cley from 14th-16th and another was at Holkham, while in Lincolnshire, at Frampton Marsh RSPB, one was present to 14th. Further singles were seen at Marshside RSPB (Lancashire), Glandwr on the Dovey Estuary (Ceredigion) and North Bull Island (Co. Dublin).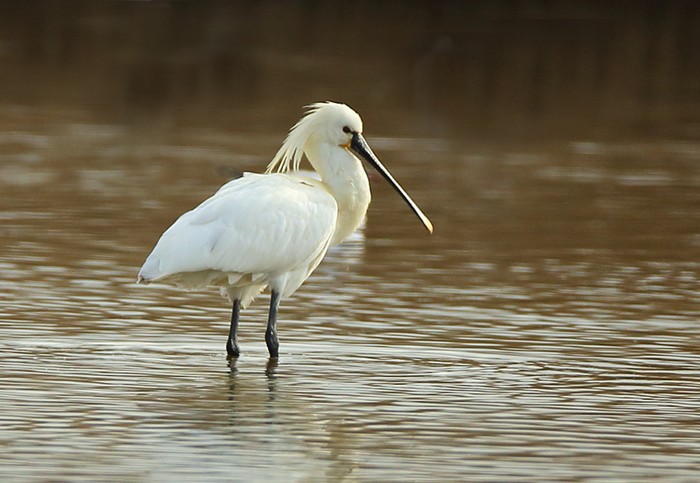 Just two Common Cranes to report this week ~ one was still at Lakenheath RSPB (Suffolk) on 15th and in Lothian, the first-winter bird remained at Tyninghame to 17th at least.
Geese & Ducks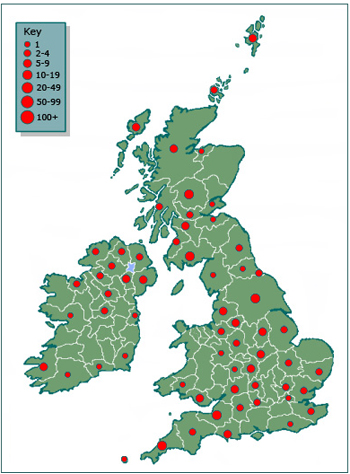 It seems rather fitting that, bang in the middle of the dates of Britain's first-ever Lesser Scaup, in Staffordshire in March 1987, that not one but two counties managed their first ever records of the species this week, both appearing on 16th.
A first-winter drake was found at Ogston Reservoir (Derbyshire) with the other being another drake, this one appearing at Wellington GPs (Herefordshire) ~ the Ogston bird must have been a bird on a mission, no sign on 17th. Perhaps that mission was to get to Freiston Shore RSPB in Lincolnshire where one turned up on 19th. Meanwhile Herefordshire's first looks like it was a 'three day treat', present as it was on 16th, 17th and 18th.
Up until the end of 2011 there were some 240 accepted records of the species across Britain and Ireland, with 41 counties across the UK scoring at least one Lesser Scaup. This week's new birds take the county score to at least 43 ~ and a look at a map shows very few holes where Lesser Scaup hasn't made itself known. A handful of Home Counties have so far drawn a blank and there remains a distinct dot-free zone on Norfolk…numerous mega ducks have been found in this high-scoring county (the Welney Canvasback, the Hardley Flood White-headed Duck, the Kelling Marbled Duck and the Titchwell Hooded Merganser to name four) but we (sorry, they…!) can't score a Lesser Scaup for love nor money…..a couple of Scaup-free bald patches exist in Wales and Ireland too, but generally speaking, this a species that has fared well in the 26 years since the Chasewater bird.
Other drake Lesser Scaups this week ~ there were another six~ remained at Lough Gash Turlough (Co. Clare) to 16th, Siblyback Reservoir (Cornwall) to 18th and Auchendores Reservoir (Clyde) to 16th, before nipping down the road a half mile or so to Leperstone Reservoir on 17th. In Lancashire, a drake spent a day at Brockholes Nature Reserve LWT on 15th, the sixth county record and the regular drake was again in Cardiff Bay (Glamorgan) on 18th. In Ireland, at Oxford Island, a drake was seen on 18th, it transpired that it had been present since 13th (a bird earlier in the year was reported as a Lesser Scaup then was thought to be a hybrid.)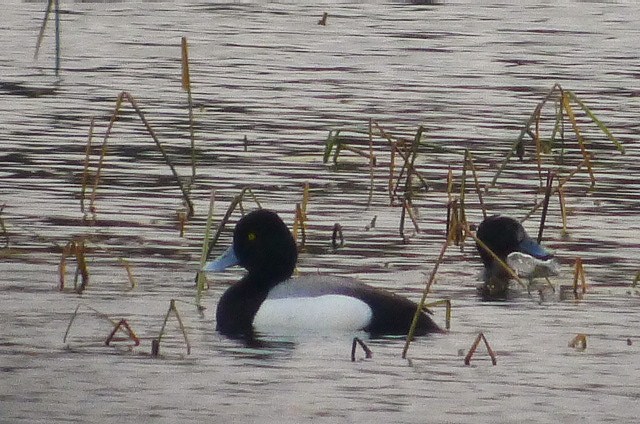 It was very much as you were with the week's tally of 11 Ring-necked Ducks ~ the Tresco three (the young drake and two young ducks) were still present to 17th and, moving up through the country, the female was still on Slapton Ley (Devon) at the start of the review period, the drake lingered at Ham Wall RSPB (Somerset) to 18th at least while in Pembrokeshire, the first-winter drake was back at Marloes Mere from 16th. In East Yorkshire, the young drake moved from Leconfield to New Arram and on the Outer Hebrides, the female was on Loch Scaraidh, North Uist to 13th. Irish birds ~ all drakes ~ were seen at Roo Lough (Co. Clare) on 16th, at Dunfanaghy New Lake (Co. Donegal) on the same date and at Tullyratty Dam, near Strangford Lough (Co. Down) on 18th.
As with the last week or two, the sole Ferruginous Duck for the review was the drake at Somerset's Ham Wall ~ still present on 18th.
Eleven drake Green-winged Teals were split between Scotland (4), England (4) and Ireland (3) ~ the Scottish birds included a new arrival at Kingoodie (Perth & Kinross) on 18th with others remaining at Loch Gruinart, Islay to 13th, at Loch a'Phuill, Tiree (Argyll) to 15th and Caerlaverock WWT (Dumfries & Galloway) to 17th. England's quartet included a new bird at Burton Mere RSPB (Cheshire) from 14th-15th with long-stayers at Brandon Marsh (Warwickshire) to 14th, Pennington Marshes (Hampshire) to 17th and Dorman's Pool and Saltholme Pools RSPB (Cleveland) to 18th while Ireland's three were still at Ballyquintin (Co. Down) to 17th and Tacumshin (Co. Wexford) and Timoleague (Co. Cork), both to 18th.
Back in to Scotland and Dumfries & Galloway where the drake Blue-winged Teal was again at Threave Castle on the morning of 14th and three of the week's five drake American Wigeons lingered in Scotland too ~ at Finstown on Mainland Orkney, Loch Bee on South Uist and in Udale Bay (Highland). The others were again at Fiskerton Fen (Lincolnshire) to 17th and still on the Exe Estuary (Devon) to the end of the week.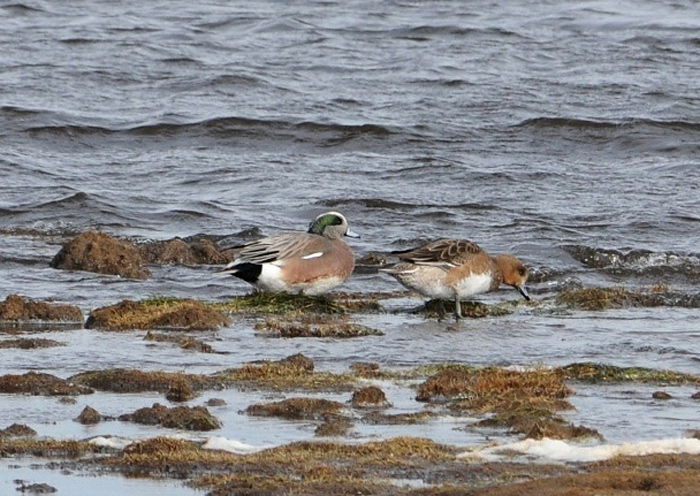 Numbers of Surf Scoters rose this week ~ at least 11 birds noted including a few new arrivals. Three separate new birds were seen in Ireland, a drake was off Ben Head (Co. Meath) from 16th when a first-winter drake was seen off Rosslare (Co. Wexford). The following day another drake was seen at Salterstown (Co. Louth) while the young drake remained off Ballinskelligs (Co. Kerry) to 16th.
In Wales, two drakes were found off Telpyn (Carmarthenshire) on 18th and three birds (two males and a female) were at Old Colwyn (Conwy) on 16th and in Scotland, single drakes remained at Soleburn (Dumfries & Galloway) and Ruddon's Point (Fife).
Two single Todd's Canada Geese were still hanging around this week ~ at Whitrigg (Cumbria) on 14th and Rhunahaorine Point (Argyll) to 18th while the only Richardson's Canada Geese were on the Mullet (Co. Mayo) on 13th and at Bowmore, Islay (Argyll) on 17th.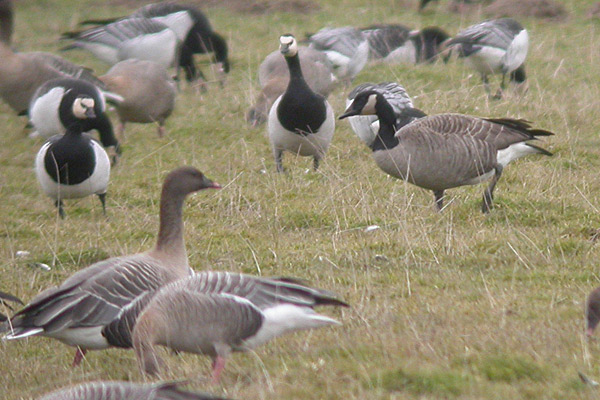 The blues outnumbered the whites where Snow Goose was concerned ~ in Argyll, at Westport Marsh blue bird #1 remained to 14th with blue bird #2 at Lower Lough MacNean (Co. Fermanagh) to 15th. The only white Snow this week was again at Balranald, North Uist (Outer Hebrides), present to 19th.
The adult male Gray-bellied Brant remained at Greendale Park, Donaghmede (Co. Dublin) to 18th while the Red-breasted Goose was at Farlington Marshes HWT (Hampshire) to 14th before appearing near Southsea on 16th (and headed back to Farlington later that day where it stayed for the rest of the week). A second Red-breasted Goose has also been seen recently on at Gartbeck, on Islay. Back in Hampshire, where a Black Brant was still around Portsmouth on 14th and nearby Southsea on 19th and the adult remained around the Spurn Peninsula (East Yorkshire) to 13th. Another was seen at Bannow Bay (Co. Wexford) on 17th while a hybrid adult was again on the pitch and putt course at Wells (Norfolk) on 13th.
Shorebirds
The first-winter Long-billed Dowitcher was on the Gann Estuary (Pembrokeshire) until 17th at least, while Devon's Lesser Yellowlegs was last reported from Ernesettle Creek on 13th. In Somerset, the first-winter Temminck's Stint was seen daily at Steart between 14th-19th.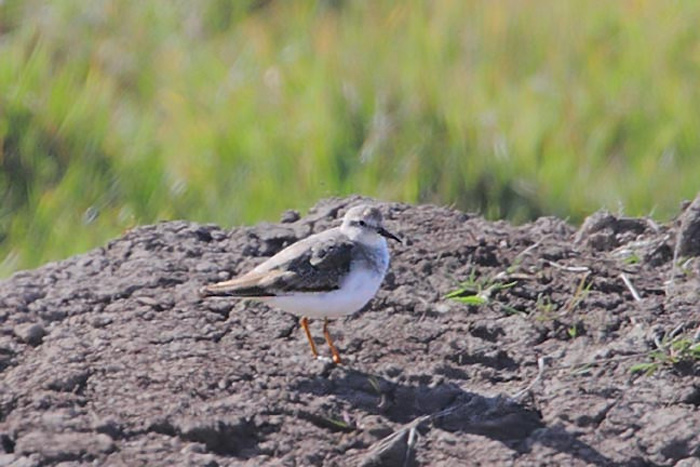 Gulls and Terns
As is often the way at this time of year, last week's rarities were this week's rarities and that was certainly the case with the three of the four Bonaparte's Gulls reported over the last few days ~ adults remained at Skerries South Beach (Co. Dublin) to 18th while the adults in Glamorgan, on the Ogmore Estuary and in Cardiff Bay were both still around on 17th. The fourth bird, another adult, was back at Ballygalley (Co. Antrim) on 18th ~ one was seen here this time last year and again in December 2012.
Around 16 of the week's total of 22 Ring-billed Gulls were noted in Ireland ~ Dublin held three adults, including two again at Sandymount Strand on 17th, two adults were found on the Mullet on 13th and two birds (the wintering adult and first-winter) were still at Tralee Wetlands (Co. Kerry) at the start of the week. Four birds were reported from County Cork (an adult in Cork City, a first-winter still at Castletown Bearhaven and both first- and second-winters still at Timoleague) while further adults stayed in Antrim, Galway and Waterford, with another first-winter still in Wexford on 16th.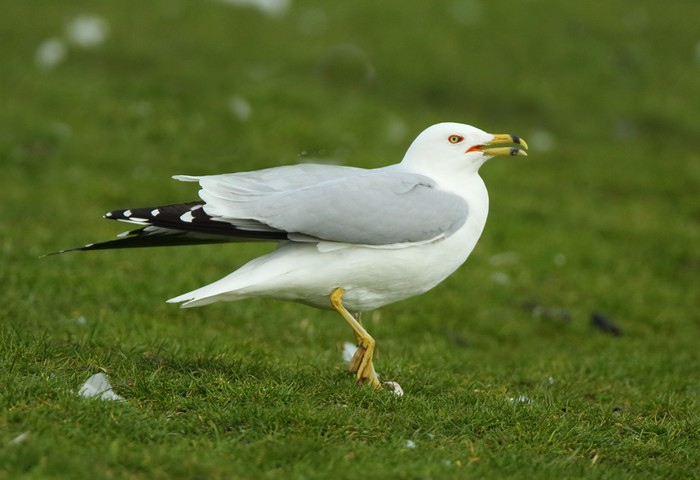 The adult Ring-billed Gull remained at Dingwall (Highlands) and a new first-winter was found near West Kilbride (Ayrshire) on 16th. The Welsh youngster was in Neath until 16th at least while one of the finds of the week was the first-winter Ring-bill at Stewartby Lake (Bedfordshire) during the late afternoon of 14th. English adults stayed at Sands End GP (West Yorkshire) and Gosport (Hampshire) to 15th.
Three Kumlien's Gulls (an adult, a near-adult and a juvenile) were at Killybegs (Co. Donegal) on 16th, along with eight each of Glaucous and Iceland Gulls . Another juvenile was still at Castletown Bearhaven on 17th and two further young birds were seen on the Outer Hebrides, at Ardivachar, South Uist on 14th-15th and Rubh' Arnal, North Uist on 18th while an adult was seen in the roost at Cotswold Water Park (Gloucestershire) on 13th.
The eight Glaucous Gulls mentioned previously for Killybegs (four second-winters and four juveniles) boosted the week's tally to just under 45 (with seven in Scotland and the Midlands, eight in the northeast and 13 in all for Ireland) while Iceland Gulls scored an almost identical number to Glaucous Gull ~ 43 ~ with 11 birds in Donegal (including the adult, second-winter and six juveniles at Killybegs) in a total of 19 Irish birds. Seven birds were reported in Scotland, including four on the Outer Hebrides, and three birds were seen in the Chasewater roost (Staffordshire) on 15th.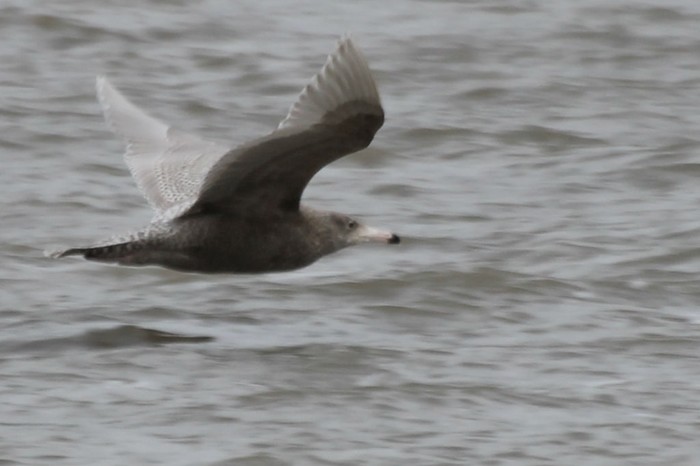 In Galway, the adult Forster's Tern was present again off Nimmo's Pier on 16th.
Raptors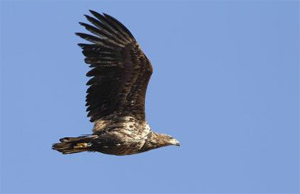 A White-tailed Eagle was seen along the border of North Yorkshire and County Durham, over Barningham Moor, on 13th and a colour-ringed bird was seen on Shetland, on Unst, on 18th. As the review period drew to a close, a White-tailed Eagle was seen heading northeast over Kirton Marsh, near Frampton and out in to the Wash at 1pm on 19th. Could it be the same bird that originated in Lincolnshire before spending time in west Norfolk? Well the evidence is certainly stacking up that way as later in the afternoon one was seen circling over Cockley Cley south west of Swafham at 3:15pm. 35 miles in 135 minutes = 3.8miles per hour = no problem for a White-tailed Eagle.
What may be spring's second Black Kite was reported from Eastney (Hampshire) on 16th and all of the week's claims of Rough-legged Buzzard came from East Anglia ~ birds reported in Suffolk at Higham on 13th, Benacre on 15th and Trimley Marshes SWT on 18th while in Norfolk, a Rough-leg was reported near Blakeney on 17th.
Passerines
After no news of the Pallas's Warbler on the Berkshire/Hampshire border last week, this week saw positive news come forth ~ the sometimes singing male still present around Eversley GPs and Moor Green Lakes to 19th. Also looking likely to see out a winter in unusual climes is Aberdeenshire's Desert Wheatear ~ the popular female still in residence at Rattray Head to 19th.
In Kent, the male Penduline Tit was at Stodmarsh NNR to 17th and in Devon, at Exminster, the Rose-coloured Starling remained to the end of the week.
…and then, truth be told, it all gets a bit scratchy-about….Thetford's Black-bellied Dipper was seen on 13th, 16th and 18th-19th while a very early Golden Oriole at Langport (Dorset) on 19th was an eyebrow raiser.
The week's total of 17 or 18 Great Grey Shrikes was of certainly of note ~ up to six singles were seen in Wales, four in Glamorgan (still at Afan Argred, near Maesteg, Perthcelyn and Coed Cae Aberaman, with a new one at Llanwanno on 18th) and two in Denbighshire (at World's End and Clocaenog Forest) while new birds in the southwest were noted at Dawlish (Devon) on 14th, over Rosenannon (Cornwall) on 16th and at Wareham Forest (Dorset) on 18th. The latter county held on to a Great Grey Shrike at Sixpenny Handley to 17th while next door in Hampshire singles in the New Forest were present at Bishop's Dyke on 14th-18th and Shatterford on 14th.
Elsewhere Great Grey Shrikes remained at Streatley (Bedfordshire), Therfield (Hertfordshire), Thursley Common (Surrey), Wrentham (Suffolk), Beeley Moor (Derbyshire) ~ perhaps two there over the weekend ~ and on Cannock Chase (Staffordshire).
After a mini-spike in records of Waxwings in the last couple of weeks, there seemed to be a slight fall in numbers this week but there were three three-figure flocks to report ~ 250+ (the largest for six weeks or so) was seen in Glasgow on 17th with 145 in Worksop (Nottinghamshire) on 14th and 125 in Rochdale (Greater Manchester) on 15th making up the trio.
Finally this week, news of a Little Bunting, trapped and ringed at Rawcliffe Moss (Lancashire) on 13th, last seen flying northwest after release.
As the gentle drift of the first spring migrants continues ~ the pace remains unsurprisingly snail-paced currently ~ the forecast for the next few days suggests a significant spell of east to south-easterly winds which, despite the colder air, could present us with our first eye-catching early rarity ~ things are looking promising for someone to discover a nice male White-spotted Bluethroat somewhere along the east coast....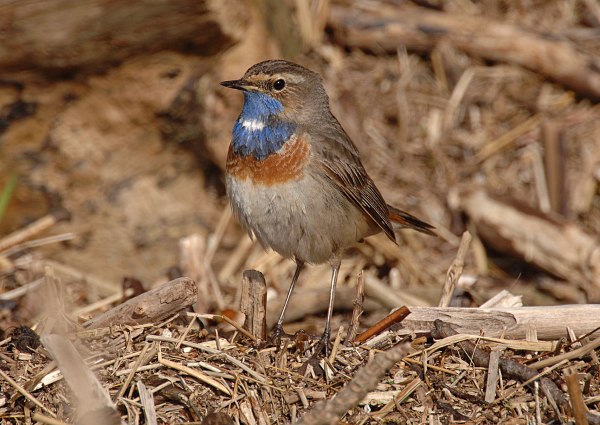 ....or, if you want to aim a little higher, how about Little Bustard Britain's last accepted record ~ an adult male ~ was found on St. Agnes on March 22nd 2002. Indeed that same week in 2002 shows a mighty rarity-role call that included Britain's one and only Snowy Egret still in western Scotland, the Black Scoter off the coast of north Wales, a much-twitched Scops Owl and Black-eared Wheatear in west Cornwall as well as the second accepted Hooded Merganser for Britain in Northumberland, a Ross's Gull in North Yorkshire and a Pallid Swift or two on Scilly....skip forward a couple of years and the megas of March 20th-26th were….Harlequin and American Coot….
It feels like its time for a change….
Mark Golley
20 March 2013
Otter Watch
The second (and what is most likely to be the last) instalment of our new feature!!! Following on from last week's footage one of the 'Thetford Three' devouring the local fowl some more extraordinary video this week showing how incredibly tame these particular individuals are. With Black-bellied Dipper nearby and the Brecks offering up it's spring specaliites, a trip to south-west Norfolk could be high on the lists of many birders 'must-dos' in the coming weeks.
Many thanks this weeks contributors for their photos and videos
Kit Day - Kit Day Photography
,
Jeff Hazel - Levels Birder
,
John Kemp - Western Isles Wildlife
,
Gary Thoburn
,
Oriole Birding
, John Fields, Phil Gaywood. Michael Trew, Dave Abraham, Darren Robson, Jeff Hazell, Kieran Nixon, Robbie Brookes, Mike Malpass.