Weekly round-up: 06 - 12 Mar 2013
The week at a glance
Dapper drake Harlequin holding station on North Uist
Pied-billed Grebe still showing well in Somerset
Tacumshin's young female Northern Harrier going nowhere fast
Another weekend under the belt for Galway's American Coot
Ah, the joys of an English early, early spring....despite 12 month memories of last year's largely spectacular March and April, it seems unlikely that anyone could have been lulled in to thinking that winter had had her way with us this early in 2013 after a tiny handful of beautiful sunny days.
...as predicted, rain did come along to spoil the party at the start of the week and then as the weekend rolled away, in came a chilly blast of easterly winds, biting in their coldness (from the Scottish east coast to the tors of Dartmoor) by, in some places, a significant amount of nearly mid-March snow.
Those early arriving Swallows must have wondered if that trans-Saharan crossing was worth it, but surely the chills won't last...?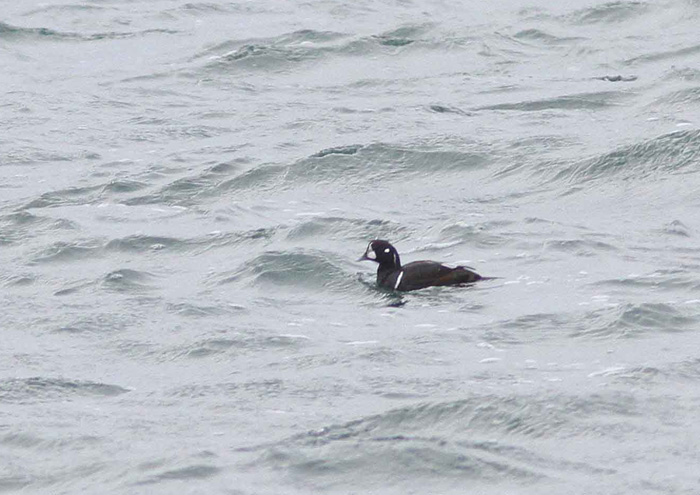 Headline birds
The best birds of the week maintained the Jack Frost feel, all four of them being far more in keeping with the dark days of winter than the expectant early days of spring.
Leading the way once again, the super drake Harlequin at the RSPB reserve at Balranald, on North Uist, still present to the south of Traigh Iar late in the morning of 12th. People are still making the significant trek to the extreme northwest ~ imagine having such a wonderful rarity all to yourself and your twitching companions, framed in such a glorious rugged, wild landscape. Wow…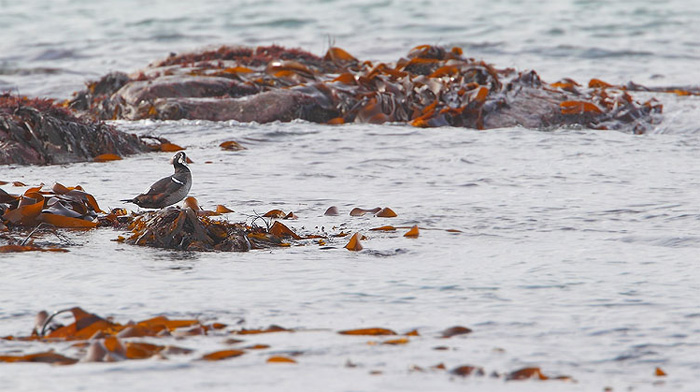 Not quite in such a back-of-beyond location are the ethereally-named Avalon Marshes of Somerset which continued to host the popular summer plumaged Pied-billed Grebe at Ham Wall RSPB for the week (there'll be more of the birds in this wonderful area later in the review).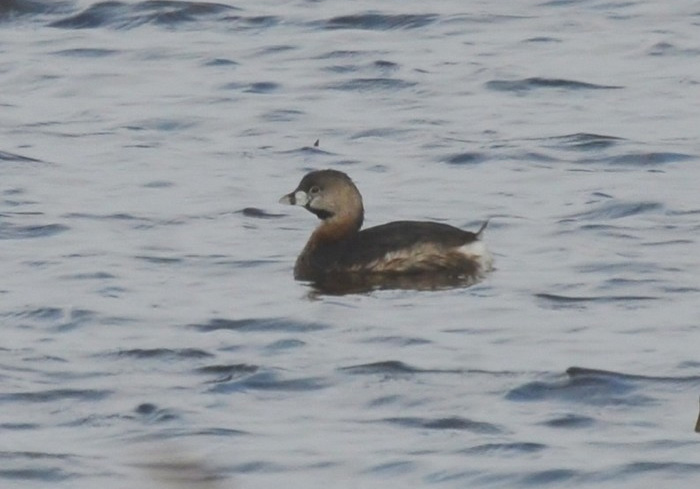 Across the sea, in the southeast corner of Ireland at Tacumshin, the role call of their weekly list of good birds continued to be headed by the young female Northern Harrier, still present there to 9th.
Interestingly, in a recently published set of proposed splits by the AOU, there was still no sign of the much discussed possibility of Northern and Hen Harriers being officially recognised as separate species ~ the definitive paper that confirms that the two forms are indeed "good species", on all the required levels, remains in prep. ~ those awaiting an armchair tick are still in for a long wait….but it is on the way and the split will happen.
What may be of interest to birders in the UK, Ireland and the rest of Europe is that the Americans look set to follow the BOU's Taxonomic Sub-Committee decision of 2011 to recognise Cabot's Tern as separate from Sandwich Tern, a split that (like the BOU) would include Cayenne Tern within the former species group. Any move by the Americans may be seen as an overwhelming endorsement to the decision made by the BOU (taxonomic decisions made here and in the US don't always mirror each other) and the split certainly could prove to be good news for those who went to see the yellow-billed tern in the Cemlyn Bay colony on Anglesey in the summer of 2006.
Whether that bird was a Cayenne remains to be seen (many who saw it say "of course", many who didn't say "no way"), but for now it lives in limbo-land along with a bunch of Elegant(-type) Terns. In terms of "nominate" Cabot's, there is already one accepted British record ~ a ringed first-winter picked up dead in Herefordshire in 1984.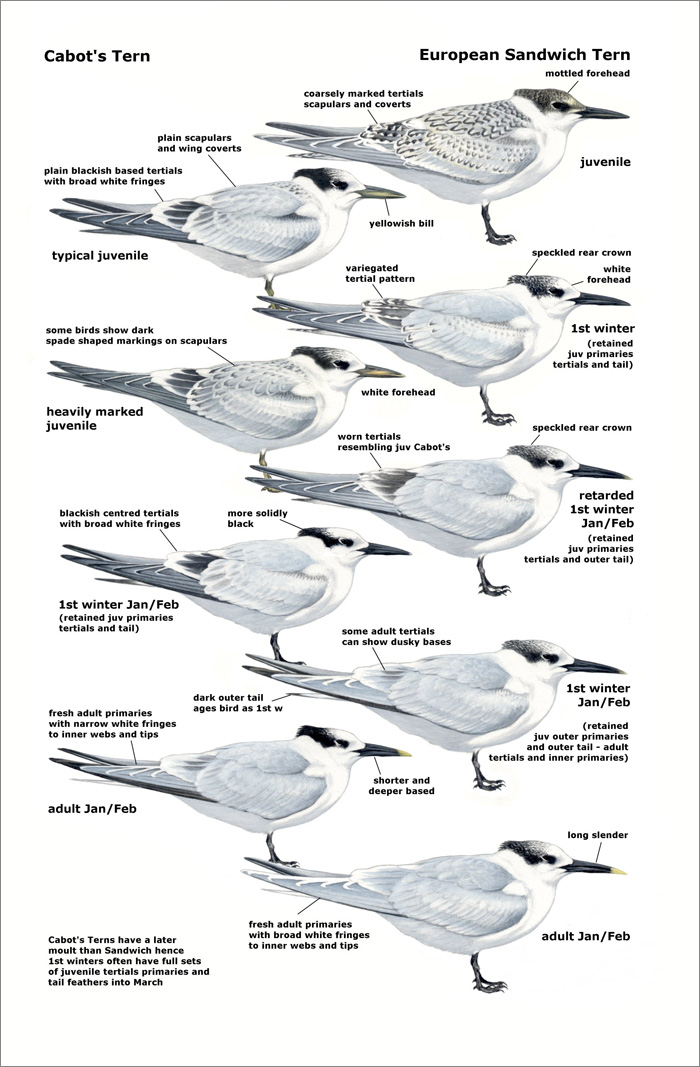 Also proposed, amongst the Sage Sparrows, Bush-tanagers and Hawaiian honeycreepers, were variable choices regarding the split of Barolo Little Shearwater (three options listed there with various knock-on effects) and also elevation of three "white-cheeked" (Canada) geese to specific status, with Cackling Canada (form minima) suggested as one split ~ we've had a handful of bona fide wild contenders) and also Giant Canada Goose (form maxima) which certainly has the potential for vagrancy to Europe…
Elsewhere in Ireland, on the west side, the wintering American Coot was still at Murlach, Ballyconneely (Co. Galway) on 11th, a date which sees it pass through the century mark ~ 104 days clocked up since arriving at the end of November but it still has a way to go to top the record stay of the Mayo bird from 2010-'11, 146 days for that one.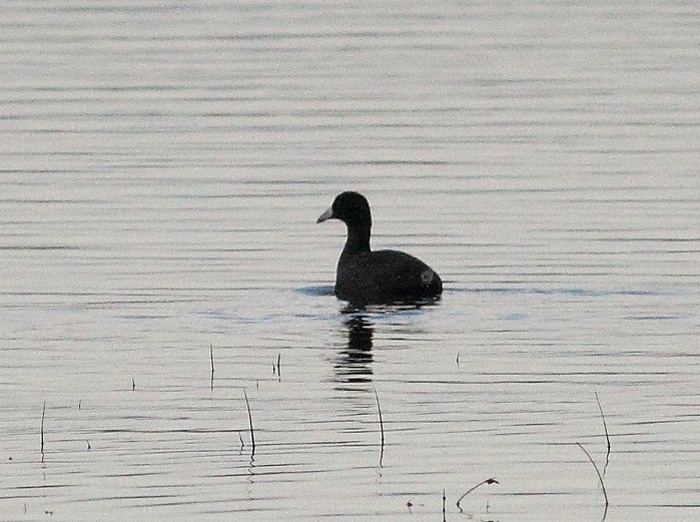 Seabirds
In one of the slimmest showings in an RBA review, there were just a couple of seabird records of note this week ~ a Balearic Shearwater off St. Ives (Cornwall) on 11th and single Pomarine Skuas off The Naze (Essex) on 10th and Felixstowe (Suffolk) on 11th being the pick of the slenderest of packs.
Herons, Egrets & allies
An amazing nine Great White Egrets gathered at Shapwick Heath NNR on the afternoon of 9th ~ which must bode well for future breeding attempts at the site this year, following on from last summer's historic and hugely successful events. All nine were present the following day, so here's hoping…
Elsewhere in the general area, three birds were at Catcott Lows on 6th and one was at nearby Ham Wall RSPB the same day, though it seems likely that these birds have teamed up in to the one group.
Nearby in Wiltshire, the Coate Water Park bird remained to 11th while over in the southeast of England, trying hard to catch the Somerset haul, were eight Great Whites at Dungeness (Kent) on 11th, while singles were seen over Alexandra Park (London) on 6th and at Standlake and Farmoor Reservoir (Oxfordshire) on 10th before the same bird appeared at Sonning Eye GP on 12th. Also on 12th, along the way in Hertfordshire, a single bird appeared at Amwell. In East Anglia, in Norfolk, last week's Boughton Fen bird remained to 10th and one was again at Marlingford on 9th, while Suffolk scored with one at Kessingland on 6th.
Two long-staying winterers remained in the Midlands this week ~ at Wellington GPs (Herefordshire) and Pitsford Reservoir (Northamptonshire) while two single lone birds were also noted in the northwest this week ~ at Connah's Quay (Flintshire) on 7th and again on Hale Marsh (Cheshire) on 9th ~ followed by two at Burton Mere RSPB on 11th. Welsh birders had four singles to go at this week ~ at Abercraf (Powys) on 6th, still at the National Wetlands Centre WWT on 7th, near Llandeilo (both in Carmarthenshire) on 8th and again in Powys, at Llangorse Lake on 10th.
Last week's two Glossy Ibis were this week's two Glossy Ibis, as both the Marloes Mere and the Warblington birds remained in place (until 10th and 12th respectively), while another was reported over Coventry (Warwickshire) on 12th.
Although there were slightly fewer Spoonbills noted this week, at least 28 recorded, with a distinct spread of presumed new arrivals especially in the earlier part of the week.
Around a dozen birds were in the southwest, with four birds at Lodmoor RSPB (Dorset) on 9th-12th (two were present on 7th, three on 8th) with further birds in the same county including singles at Abbotsbury on 6th, over Whitchurch on 8th with two birds in Poole Harbour on 10th. In nearby east Devon, a single Spoonbill was seen at Seaton on 6th with three on the north coast, at Wrafton, the same day. A lone bird was in Cornwall, on the Camel Estuary on 7th.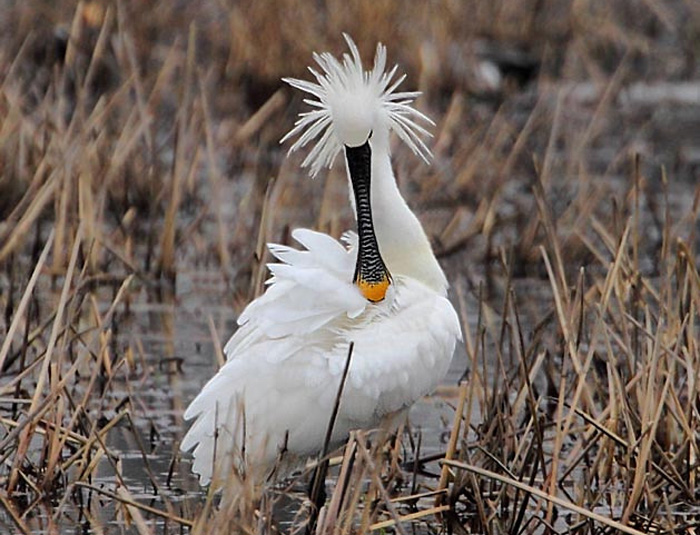 In Hampshire, two sets of two were seen on 6th ~ at Titchfield Haven NNR and Farlington Marshes HWT, and one was seen along at Dungeness on 9th with another singleton at Rainham Marshes RSPB (London) on 11th. Moving up in to Norfolk, two birds were recorded at Cley on 7th-8th and three birds were around the breeding colony at Holkham on 10th while across the Wash, two Spoonbills were seen at Frampton Marsh RSPB (Lincolnshire) on 7th. Finally, single birds were at Marshside RSPB (Lancashire) on 7th-9th and Ynys-Hir RSPB (Ceredigion) and Bull Island (Co. Dublin) from 10th.
Amazingly, there were no reports of Common Cranes until almost the end of the weekend ~ presumably all the bugling and dancing is being kept under wraps at various locations ~ but one lonesome soul remained on Walland Marsh (Kent) to 10th.
A White Stork was at Linwood (Clyde) on 10th-12th and may be the bird that was photographed in Cumbria at the end of January. Either way, it is certainly one that has to be looked at as being "of unknown origin" at best ~ but the metal ring would suggest that the origin of this bird was not wholly wild.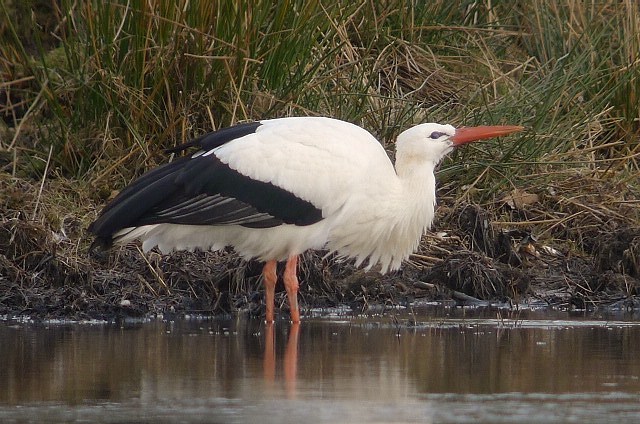 Geese & Ducks
In Ireland, the two drake Black Ducks were still in the flooded fields of Mizen Head from 6th-9th, completing a month on site.
Wales hosted two of the four Lesser Scaups noted this week. Last week's drake at Shotwick/Connah's Quay (Flintshire) remained to 8th while in the south, at Cosmeston Lakes (Glamorgan), a drake was seen again on 8th-10th (having been reported here on 6th ~ the first sightings of this sometimes site-regular since October). Across the Celtic divide, down in Cornwall, the drake Lesser Scaup remained at Siblyback Reservoir to 11th and in Clyde, near Port Glasgow, a drake was found on Auchendores Reservoir on 12th.
At least 10 Ring-necked Ducks lingered in to another March week, with the trio of first-winters on Scilly still top of the pile, heading back to Tresco and the Great Pool on 7th and 10th. A further four birds were on the southwest mainland ~ the drake was at Par Beach Pool (Cornwall) to 8th, the female at Slapton (Devon) was present to 9th and single drakes in Somerset were again at Hawkridge and Ashford Reservoirs again, present on 6th and 9th-11th respectively, and at Ham Wall RSPB to 10th.
In East Yorkshire, the young drake remained at Leconfield to 11th while on the Outer Hebrides, the female was on Loch Scaraidh, North Uist on 8th and 11th before heading back to Loch Sandary on 12th. In Ireland, the drake on Lough Leane, at Ross Castle, remained to 7th at least while in Wales, a drake was reported with Tufted Ducks at Coed-y-Dinas LNR (Powys) on 9th.
Back in Somerset, at Ham Wall, the week's only Ferruginous Duck remained in place to 10th at least.
New Green-winged Teals this week made themselves known at Saul Worth (Gloucestershire) on 8th, Loch a'Phuill, Tiree (Argyll) on 11th and Ashton's Callow (Co. Tipperary) on 9th. The Irish arrival was one of four seen in the country, others remaining at Ballyquintin (Co. Down), Tacumshin (Co. Wexford) and on the Courtmacsherry Estuary, Timoleague (Co. Cork).
In Britain, drake Green-winged Teals remained at Caerlaverock WWT (Dumfries & Galloway), Dorman's Pool (Cleveland), Brandon Marsh (Warwickshire), Pennington Marshes (Hampshire) and St. John's Lake, Torpoint (Cornwall). Back in Dumfries & Galloway, the drake Blue-winged Teal was still at Threave Castle on 12th.
The drake American Wigeon was still on the Exe Estuary, around Topsham and Bowling Green Marsh to 10th while in the north of Scotland, at Udale Bay, the wintering drake was also present to 10th. Further north still, the drake American Wigeon was again at Finstown on Mainland Orkney on 11th. Also over the north side of Hadrian's Wall, the drake Surf Scoter lingered at Soleburn (Dumfries & Galloway) while to the left (and then some) of Offa's Dyke, the female Surfie was in Broad Haven (Pembrokeshire) to 7th. On the north coast of Wales, three drake Surf Scoters were off Llysfaen, near Llandullas, (Conwy) on 11th and two more drakes were seen off Orkney, in Deer Sound, on the same date.
This week's "white-cheeked" geese were represented by two lone Todd's Canada Geese, one was at Rhunahaorine Point (Argyll) on 8th and the other was still near Kirkbride (Cumbria) on 11th, while a Richardson's Canada Goose was still present on the Outer Hebrides, at Balranald on North Uist, along with two Snow Geese through to 10th at least and a second Richardson's was at Mersehead RSPB (Dumfries & Galloway) on 12th. In Argyll, a blue Snow Goosewas near Kilchenzie, on Westport Marsh on 12th.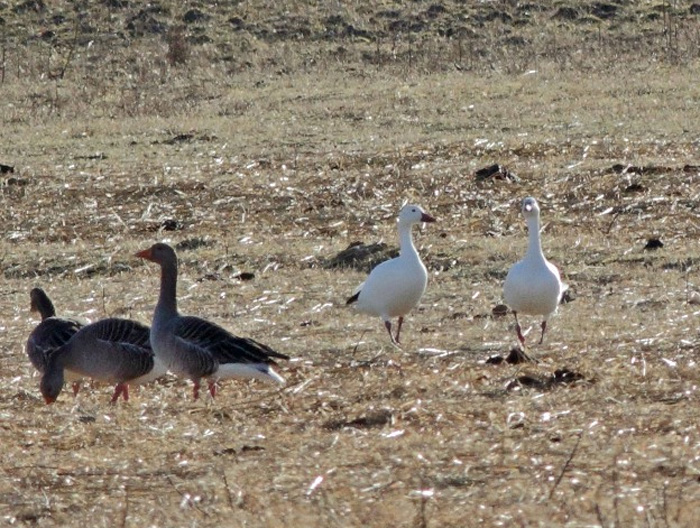 In Dublin the presumed adult male Gray-bellied Brant was still at Greendale Park, Donaghmede on 11th ~ this beautiful looking individual's distinctive appearance (ticking many of the boxes for the mysterious potential form-in-waiting) has been captured superbly in this set of portraits from Victor Caschera. Whatever the conclusion may be on this particular Branta, there's no doubting what a delightful bird it is.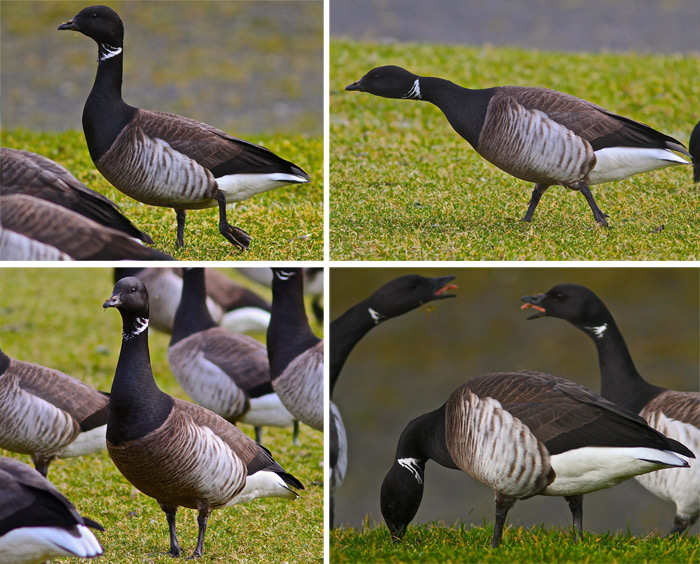 The adult Red-breasted Goose remained at Farlington Marshes HWT (Hampshire) to 12th and a Black Brant was noted there between 6th-9th. Further single Brants were also at Spurn (East Yorkshire) on 9th-12th, at West Mersea (Essex) on 10th and in Wexford at The Cull and Rosslare on 8th-10th. A bird on the pitch and putt course at Wells-next-the-sea (Norfolk) on 10th really needs photos to prove that it wasn't one of the hybrids from the area…(as will be the case with almost any claim of Black Brant in the county from now on).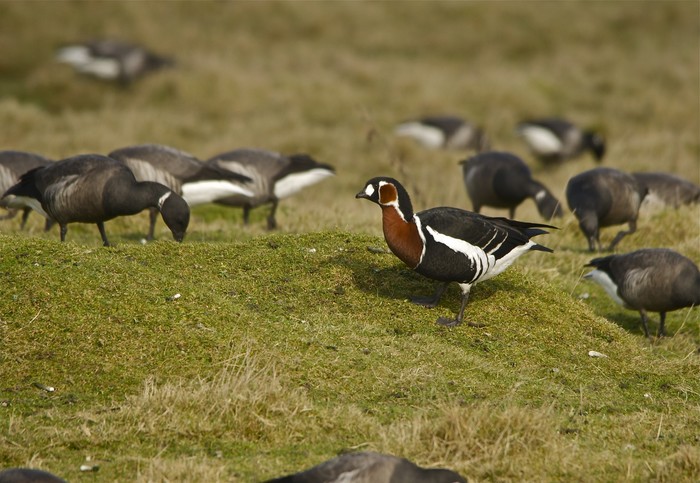 Shorebirds
On the Gann Estuary in Pembrokeshire, the first-winter Long-billed Dowitcher was seen to 7th while the adult at Tacumshin was noted again on 9th. In Devon, the wintering Lesser Yellowlegs at Ernesettle Creek, near Plymouth still showed no signs of northward passage, still present to 11th while in Somerset, the first-winter Temminck's Stint was seen again at Steart on 8th (the first report since February 23rd).
Gulls and Terns
Last week's one evening Bonaparte's Gull at Skerries (Co. Dublin) was seen again on 9th, heading south, while the adult Bonaparte's in Glamorgan were still at both the Ogmore Estuary and in Cardiff Bay on 9th.
County Cork was, again, the best place to see Ring-billed Gulls this week ~ seven of Ireland's 16 birds noted there ~ an adult was at Ring on 6th, a first and second-winter were at Timoleague from 8th-9th, two were at Bantry on 9th when single first-winters continued to linger at Ballydehob and Castletown Bearhaven. Other Irish birds were the regular twosome at Tralee Wetlands (Co. Kerry) on 7th which were joined by a third bird (a second-winter) on 11th, three adults still in the Dublin area on 12th (two on North Bull Island and one still at Drimnagh), the long-staying third-winter in Groomsport (Co. Down) on 10th and adults at Bray (Co. Wicklow) and Wexford town in errrr, Wexford across the weekend.
Two birds remained in Scotland for much of another review period, the adult at Dingwall (Highlands) and the first-winter at East Voe, Scalloway (Shetland) with singles in England and Wales at Sands End GP (West Yorkshire), Gosport (Hampshire) and Neath (Glamorgan). Hampshire potentially scored a second when a first-winter bird was reported at Titchfield Haven on 9th-10th (and an un-aged bird reported in Southampton at close of play on 11th).
The week's tally of Kumlien's Gulls definitely dropped by one this week when one of the juveniles present at Castletown Bearhaven was picked up dead on 9th. A live bird in Cork was seen at Timoleague from 7th-9th and further singles were at Rossaveal (Co. Galway) on 9th and Cromane (Co. Kerry) on 10th. A juvenile remained at Balranald RSPB, North Uist at the start of the week and in Lincolnshire, the second-winter Kumlien's was back at Gainsborough tip from 7th while in East Yorkshire, the "Barmston Gull" remained throughout the week.
Glaucous Gull fell once again (as they'll continue to do now) with just over 30 birds noted this week (it was 40 last week). Cork was top of the pile again, seven birds noted in the county this week, while the Midlands scored seven and the northeast six. Three sets of twos were noted, at Ballycotton, Chasewater Reservoir and Seaton Carew but the individual gold goes to Killybegs, with five birds there on 10th.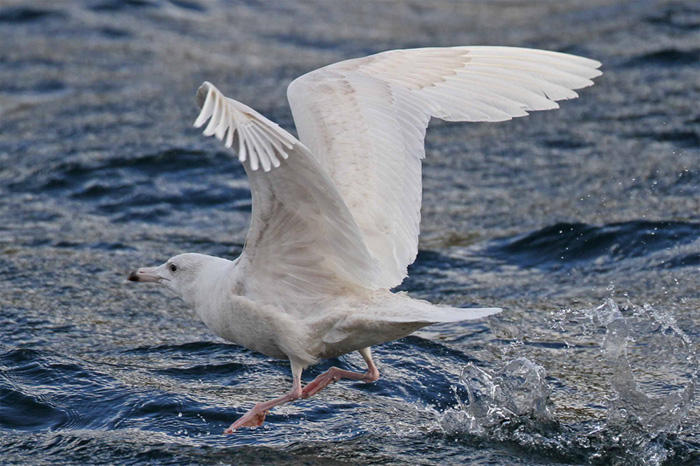 Cork also fared well with Iceland Gulls, seven of them too (spooky!) this week, in a total of 14 in Ireland all told. Scotland, the northeast and the Midlands scored fives in a total of around 28 birds. A further five were in Donegal on 10th, all at Killybegs.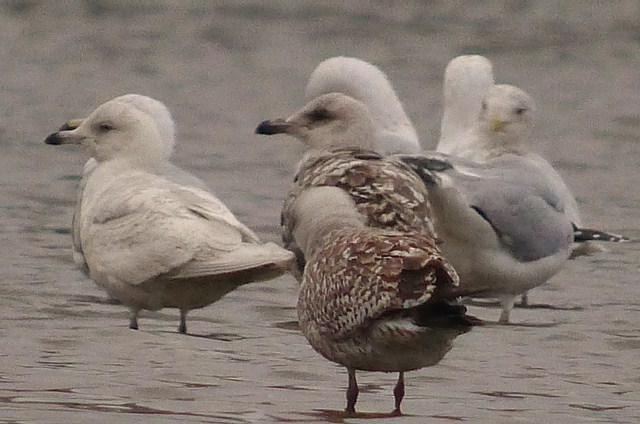 Raptors
Given the glorious weather in Norfolk at the start of the review period, it wasn't too much of surprise to see that the juvenile White-tailed Eagle had made its way, in a straight east to west line, across the bottom end of the county, noted soaring over Burston, near Diss, just after noon on 6th.
Norfolk was host to the only otherBOP of note ~ the lingering Rough-legged Buzzard, still at Haddiscoe to 10th although if proven, a potential Dark-breasted Barn Owl at Reawick on Mainland Shetland on 10th would certainly be of note.
Passerines
Firstly, beltaed news from the tail end of last week concerns a Little Bunting photographed at Longstone Hill (Somerset) on 5th ~ subsequent searches proved unsuccessful though.
Hanging on in some grim weather in Aberdeenshire was the female Desert Wheatear at Rattray Head, still present on 12th after a couple of days of "horrendous conditions". The singing male Pallas's Warbler appears to have made his excuses and left the Berkshire/Hampshire border, no mention of him this week, but the Common Rosefinch and wintering Hoopoe were both still in their different bits of Poole satellites this week (to 6th and 10th respectively).
The first overshooting Hoopoes of 2013 appeared on Scilly ~ one was on St. Agnes on 8th and it or another was found on St. Martin's on 10th and two new Penduline Tits were found at Dungeness RSPB on 10th (and the male was still at Stodmarsh NNR to 6th).
A Yellow-browed Warbler was reported from Stalybridge (Greater Manchester) on 10th, while the first-winter Rose-coloured Starling was in Exminster to 9th at least with the Thetford Black-bellied Dipper still along the River Thet to 11th (with negative news on 12th).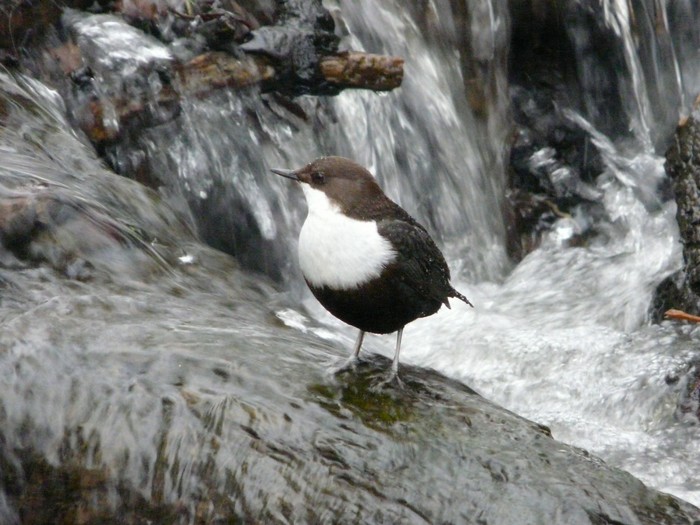 With the sense at least that spring was sneaking towards us, several Great Grey Shrikes began to shuffle themselves around before their impending departure ~ two birds were at Sixpenny Handley (Dorset) on 10th, while up to three new singles were seen in Glamorgan, at Afan Argred, near Maesteg on 8th-12th and Coed Cae Aberaman and Perthcelyn on 10th. Other newbies appeared at Aberdour (Fife) on 6th, Egmere (Norfolk) on 7th, Streatley (Bedfordshire) on 10th and Potarch (Aberdeenshire) on 11th.
One or two birds were noted in the New Forest this week and other regulars still knocking around their winter haunts were at Therfield (Hertfordshire) and Thursley Common (Surrey).
It felt as though our wintering Waxwings were also seeking their assorted favoured routes out the country this week ~ with birds recorded everywhere around the country once again but with definite spikes of activity in some areas....
Largest gathering of the week was the 173 birds seen in Cranhill, Glasgow on 7th, 150+ near Reading on 11th, 100 over Pomona (Greater Manchester) on 7th and 97 in Garforth (West Yorkshire) on 8th. Several flocks of 50, 60 or 70+ were noted in the northwest and through the Midlands and up into Yorkshire, while 60 were seen in Lowestoft (Suffolk) on 9th and 54 were in Norwich (Norfolk) the following day. In the southeast, at least 80 were in Ashford (Kent) on 10th and even in the southwest decent numbers remained, including 45 in Exwick, near Exeter on 9th. The week's tally was certainly well in to the 1000's again ~ the widespread set of records suggesting a rise on numbers from recent weeks.
Should things improve dramatically on the weather front and some overshoot action gets going, there are a few things to keep hoping for in addition to those mentioned last week. Before its removal form the BBRC list, there were five March Subalpine Warblers while, interestingly, just under a third of our Great Spotted Cuckoo records (13 out of 46) have occured in March ~ the earliest being two single birds in Kent, found at Dungeness on March 6th 2007 and Sandwich Bay on March 7th 2001.
Historically, the week ahead does tend to be a fairly quiet one ~ but there have been a couple of Buffleheads noted ~ the much-twitched drake at Colwick, in Nottinghamshire, from March 17th -26th 1994 and, before that, Britain's fourth (and first twitchable individual) was seen on Loch Bee, South Uist from March 14th-18th 1980. The most recent (and only other) March Bufflehead was on The Fleet in Dorset in 2010.
…and, while Nottinghamshire is in mind, two years on from the Colwick Bufflehead came the Bleasby Redhead ~ even more heavily twitched than the former species, this first for Britain attracted hordes to the east Midlands between March 8th-27th 1996.
Rare warblers, rarer cuckoos and mega ducks ~ any one of them would be welcome in the following days. But will they come? Seems unlikely given the forecast but you never know….
Mark Golley
13 March 2013
A very special thanks this week to Ian Lewington for his wonderful tern plate. Thanks also to the rest of this weeks contributors for their photos and videos
Chris Goodie - PittasWorld.com
,
Kit Day - Kit Day Photography
, Mick Davis, Peter Phillips,
Jeff Hazel - Levels Birder
, Dave Abraham,
John Kemp - Western Isles Wildlife
,
Martin Garner - Birding Frontiers
, Victor Caschera, Ephraim Perfect, Ed Carty, George Petrie, Dave Abraham, Neil Fox