Weekly round-up: 20 - 26 Feb 2013
The week at a glance
Drake Harlequin Duck still on the Western Isles
Pied-billed Grebe still in Somerset
Pine Grosbeak departs
American Coot in Galway
Two Black Ducks in Cork
Northern Harrier still in Wexford
Pacific Diver reappears in Cornwall
It was very much a case of 'as you were' this week. The anticyclone over Scandinavia remained very slow-moving although the nearer of its two centres gradually drifted southwest into the North Sea as the week wore on. The weather was therefore remarkably stable though it remained very cold, particularly over southern Britain where a stiff and bitter northeasterly wind set in, bringing a thick and persistent layer of cloud, scattered snow flurries for most and light coverings for some. The sunniest skies and the highest temperatures recorded were in Scotland and Northern Ireland.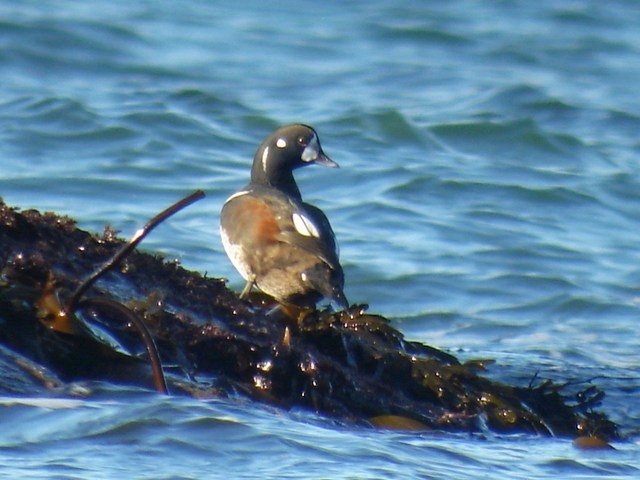 Headline birds
In 'Oscars week', the prize for 'best actor' went to the gorgeous first-winter drake Harlequin Duck at Balranald, North Uist, Western Isles, still there and apparently showing well to 26th. With nice weather and a terrific back-up cast on the red carpet including Kumlien's Gull , Richardson's Canada Goose , Lesser Snow Geese and Ring-necked Duck , this was clearly the place to be.
The 'best supporting actor' gong went to the dapper Pied-billed Grebe at Ham Wall RSPB reserve, Somerset to 26th, doubtless entertaining a steadier stream of visitors than the Harlequin Duck. Given this species' propensity for long stays, however, there may not be much cause to hurry - this bird could linger in this increasingly high-profile wetland complex for months if not years!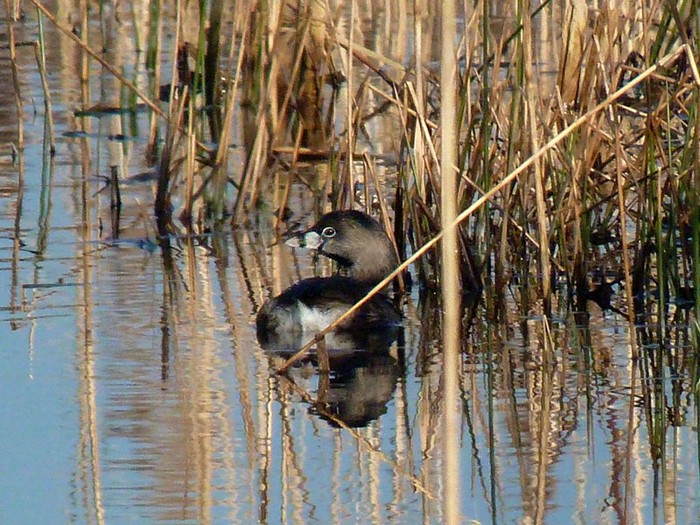 Meanwhile, the Pine Grosbeak at North Collafirth, Shetland was still present on 23rd, though often elusive, but didn't turn up for its award on 24th (or indeed subsequently) despite extensive searching. Given the (relatively) milder temperatures in northern Scotland, it has presumably detected the imminence of spring and headed east.
Elusive as ever was the adult Pacific Diver in Mount's Bay, Cornwall. Seen on 22nd and 23rd, it promptly disappeared again but is doubtless still present somewhere nearby.
The remaining 'A list' birds were in Ireland - the Northern Harrier at Tacumshin, Wexford, the American Coot at Murloch, Galway and the 2 Black Ducks at Mizen Head, Cork.
There were a couple of exciting birds in Europe this week. Firstly, and intriguingly, a Paddyfield Warbler was trapped in France, a clear echo of the bird which wintered at Pagham Harbour, Sussex from January to March 2012. Quite what Paddyfield Warblers are doing in winter in western Europe is an interesting question but this is clearly a species which is 'on the up'. Also exciting was the discovery of a Sandhill Crane amongst up to 35,000 Common Cranes in the stunning setting of Laguna de Gallocanta, south of Zaragoza, Spain. Presumably this is one of the recent British birds now on its way back north. Sadly, it won't be coming back to Britain but observers at the traditional crane stopover sites in northern Europe should certainly be on the lookout for it in the coming weeks. Sweden's Lake Hornborga in a month's time must be a good bet.
Seabirds
The week's best seabird was again the White-billed Diver off South Ronaldsay, Orkney, still there on 24th at least. With no Little Auks reported this week, the only other seabird of note was the lingering Pomarine Skua off Felixstowe, Suffolk.
Herons, Egrets etc.
There was little change either in the number or distribution of Great White Egrets . Somewhere between 20 and 30 birds were still present, almost all in now-traditional locations, so clearly these birds still regard it as full winter. As usual, multiples were recorded in Somerset (perhaps about 5?), Kent (at least 4), Cheshire and Wirral (3) and Glamorgan (2) and the following counties all hosted singles - Buckinghamshire, Hampshire, Herefordshire, Lincolnshire, Norfolk, Northamptonshire, Suffolk, Sussex and Wiltshire. In Ireland, the pig-loving Cattle Egret remained at St. Johnston pig farm, Donegal.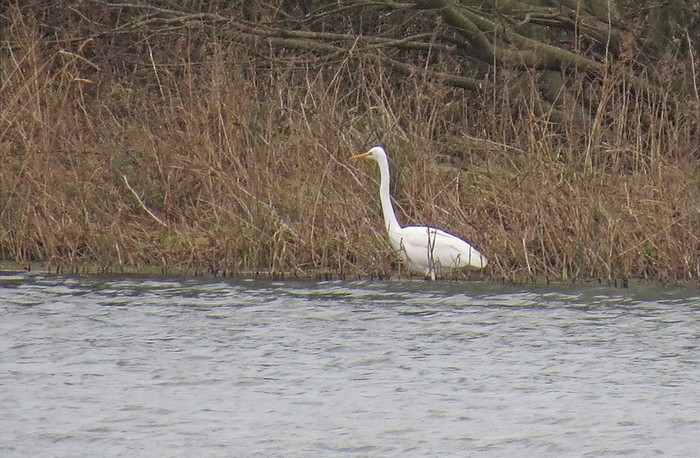 Clearly staring to move about, however, were the Spoonbills of Poole Harbour, Dorset, down to 8 this week. Still in situ, however, were Glossy Ibises near Havant, Hampshire and, of course, at Marloes Mere, Pembrokeshire.
Wildfowl
Richardson's Canada Geese were still evident this week, again mainly with Barnacle Geese. Two remained on Islay, Argyll with another duo at the also-traditional site of Raghly, Sligo. Singles were on the Mullet, Mayo, at Mersehead, Dumfries and Galloway and at Balranald, North Uist, Western Isles. In Cumbria, a Todd's Canada Goose was at Whitrigg, Cumbria on 26th.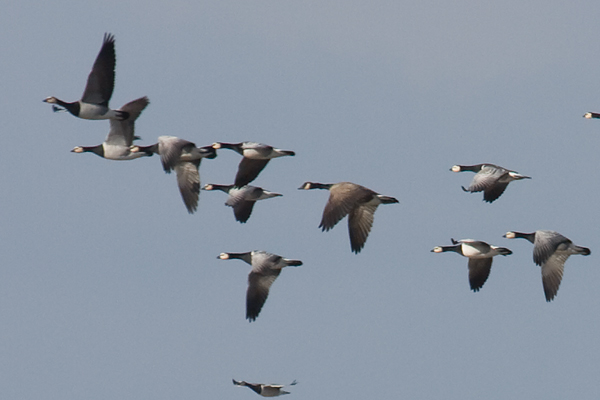 Lesser Snow Geese were also still in the same places - adult blue morphs at Pilling, Lancashire and Lough Macnean, Fermanagh and 2 white morph birds also at and around Loch Paible, North Uist. From the same direction, the 6 Greenland White-fronted Geese were still on St. Mary's, Isles of Scilly.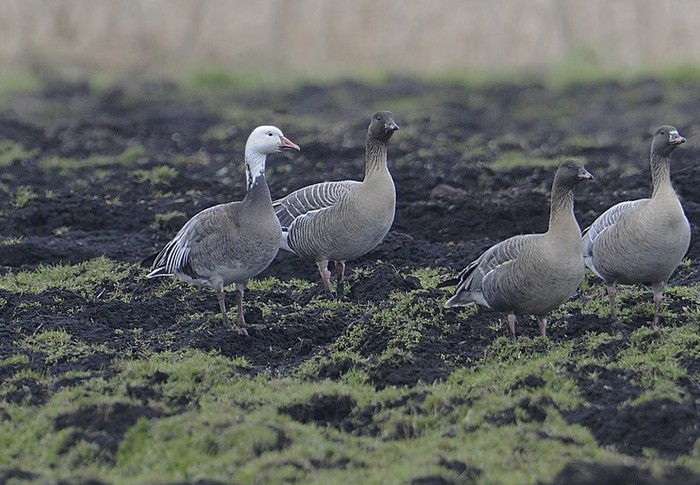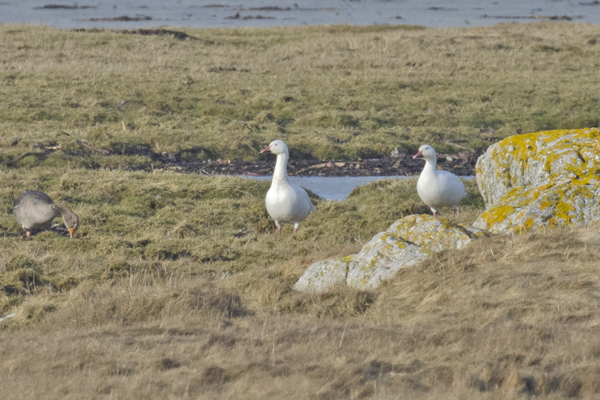 As normal, Taiga Bean Geese faded away this week, with none now left in the Yare Valley, Norfolk. The now-familiar parties of well-scattered Tundra Bean Geese were still around, however, including 7 at Westleton, Suffolk, up to 6 at Walland Marsh/Dungeness, Kent, 3 at Slimbridge, Gloucestershire, 2 at Radwell Gravel Pits, Bedfordshire, 2 at Arundel, Sussex and a single at Cowpen Marsh, Cleveland.
The other goose highlight was the continued presence of the Red-breasted Goose around Thorney Island, Sussex. Siberian Black Brants were at Felixstowe, Suffolk (2), Portsmouth, Hampshire, St. Osyth/Fambridge/Maldon, Essex and Gibraltar Point and Tetney, both Lincolnshire. No Nearctic birds were reported from Ireland though they are doubtless still present.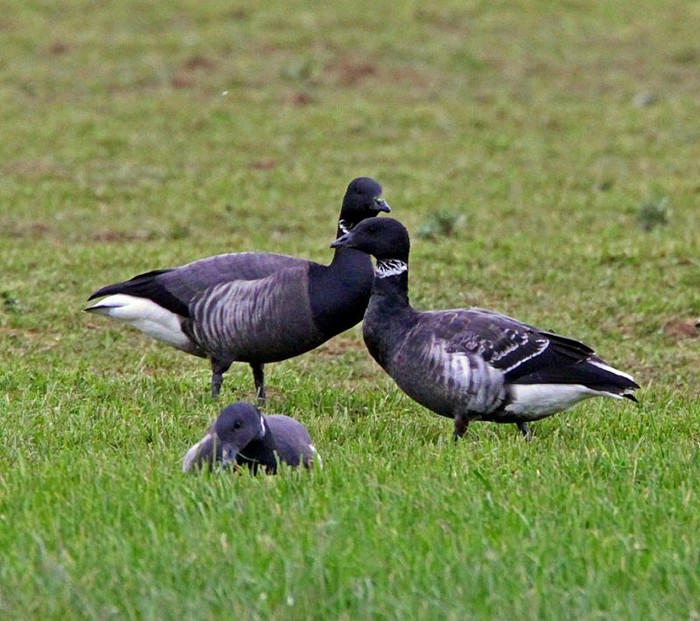 Green-winged Teals in 2013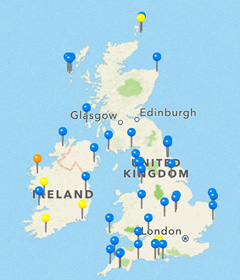 March traditionally sees a flurry of northbound Nearctic ducks but this week was clearly still too early, and only a handful of winterers was on offer. Drake American Wigeons were still at Topsham, Devon, Udale Bay, Highland, Fiskerton Fen, Lincolnshire, Cahore Marsh, Wexford and Tullaghan, Leitrim/Donegal, whilst drake Green-winged Teals graced Shannon Airport Lagoon, Clare, Cross Lough, Mayo, Dorman's Pool, Cleveland, Torpoint, Devon, Caerlaverock, Dumfries and Galloway, Tacumshin, Wexford, Ballyquintin, Down and Brandon Marsh, Warwickshire. The best dabbling duck was the reappearing Blue-winged Teal at Castle Douglas, Dumfries and Galloway on 25th.
As for diving ducks, this was a by-now largely familiar list too. Single Ring-necked Ducks were at Wimbleball Lake, Somerset, Leconfield, Yorkshire, Par Beach Pool and Colliford Lake, both Cornwall, Marloes Mere, Pembrokeshire, Tottiford Reservoir, Devon and Knockaderry Reservoir, Waterford whilst the long-staying trio from last autumn migrated north all the way from St. Mary's, Isles of Scilly back to Tresco. This week's reported Lesser Scaups numbered just 3 'old faithfuls' - at Siblyback Reservoir, Cornwall, Cardiff Bay, Glamorgan and Lough Gash, Clare.
Turning to Palearctic ducks briefly, the drake Ferruginous Duck at Priory Country Park, Bedfordshire was no longer the only one in Britain. Another was reported at Blashford Lakes, Hampshire from 22nd.
Finally, on the sea, 2 Surf Scoters were still off Llandulas, Conwy and singles were at Soleburn, Dumfries and Galloway, Brandon Bay and Ballinskelligs, Kerry, Largo Bay, Fife and Broad Haven, Pembrokeshire. In Aberdeenshire a lovely drake King Eider was off St. Combs from 22nd to 25th and a drake 'Northern Eider' was in Bluemull Sound (between Yell and Unst), Shetland on 23rd.
Waders
There was no change at all in the wader line-up this week. Still present were the Lesser Yellowlegs at Ernesettle, Devon and the Long-billed Dowitchers at the Gann Estuary, Pembrokeshire and Lady's Island Lake, Wexford. Also still alive and kicking was the Temminck's Stint at Steart, Somerset.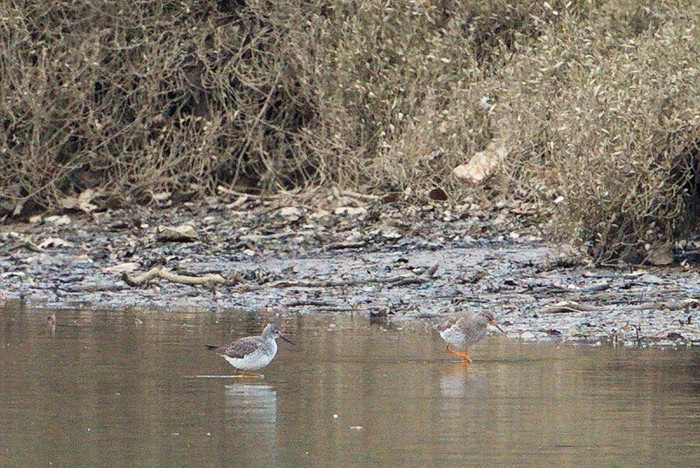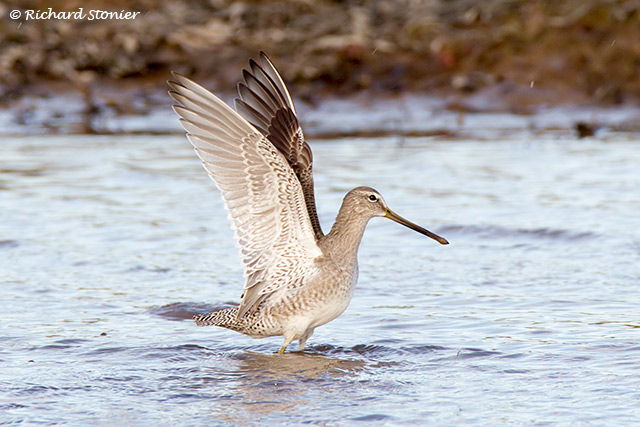 Gulls and Terns
Also still present were the photographer-friendly adult Bonaparte's Gull at Eastbourne, Sussex and the other semi-resident adult, on the Ogmore Estuary, Glamorgan, was still around too.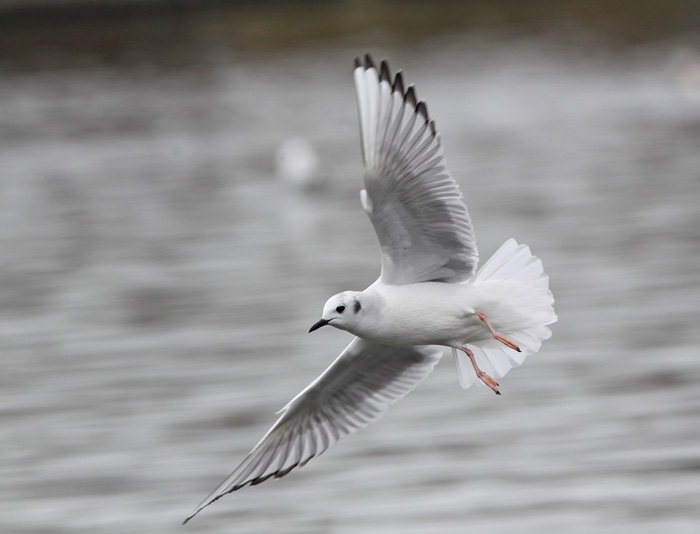 Amongst the 50 or more each of Glaucous and Iceland Gulls , a scatter of new Kumlien's Gulls was reported, including a juvenile at the currently favoured Balranald, North Uist on 22nd and 23rd as well as a second-winter at Loch of Harray, Mainland Orkney on 22nd and an impressive 4 juveniles at the traditional site of Killybegs, Donegal on 23rd. Also still present on 25th were the juveniles at Castletown Bearhaven, Cork and Barmston, Yorkshire.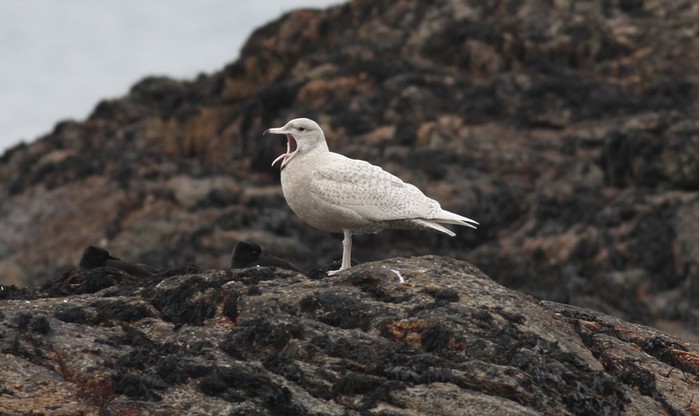 Caspian Gulls were again widely distributed, with some impressive concentrations noted - 5 at Rainham Marshes, London on 22nd and another 5 at Milton Tip, Cambridgeshire the same day.
Lingering Ring-billed Gulls remained at Scalloway, Shetland, Dingwall, Highland, Sands Lane Gravel Pits, Yorkshire and Gosport, Hampshire whilst new birds (perhaps the start of the traditional light spring passage?) were logged at Lackford, Suffolk on 22nd and Seaforth, Merseyside on 23rd. As usual, Ireland accounted for the remainder, with 2 at Tralee, Kerry and singles at Portrush, Antrim, Smerwick Harbour, also Kerry, Tramore, Waterford, Salterstown, Louth, Quay Street, Sligo and in both Dublin and Belfast.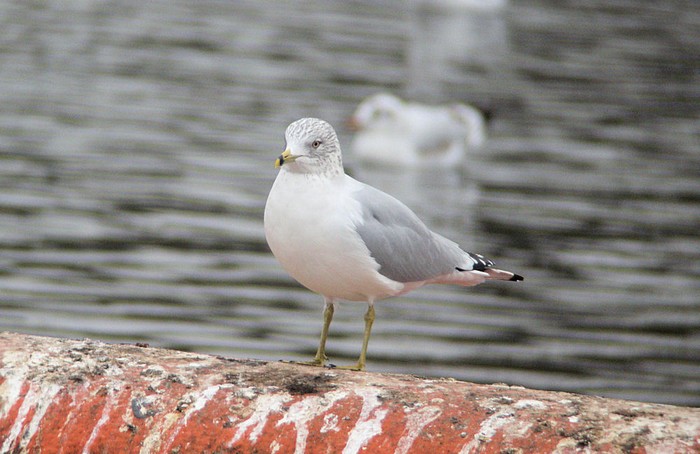 Raptors
The rarest raptor species of the week was again White-tailed Eagle . The juvenile remained faithful to the Houghton/Anmer area of Norfolk whilst, away from any reintroduction areas, another was on Bressay, Shetland on 23rd. Also in Norfolk, 2 Rough-legged Buzzards were still at Haddiscoe, another was at Framingham Pigot on 21st and, perhaps inevitably, one was also seen by eager eagle-spotters at Houghton/Anmer on 24th. In Yorkshire, a single bird was seen between Skirlaugh and White Cross on 22nd and at Clapham Moor on 23rd.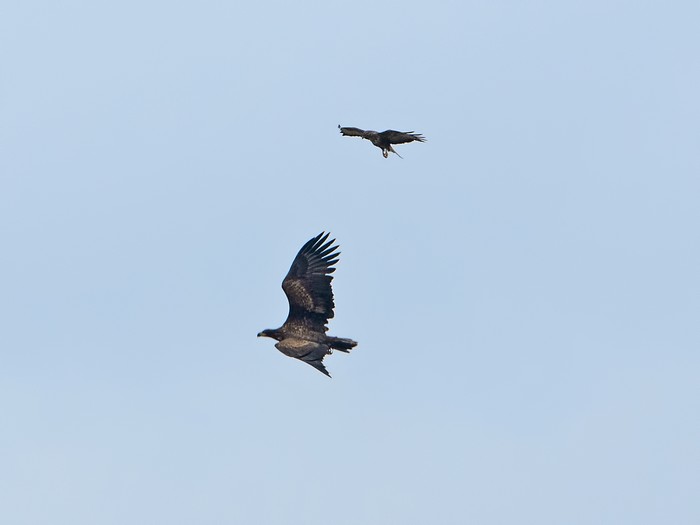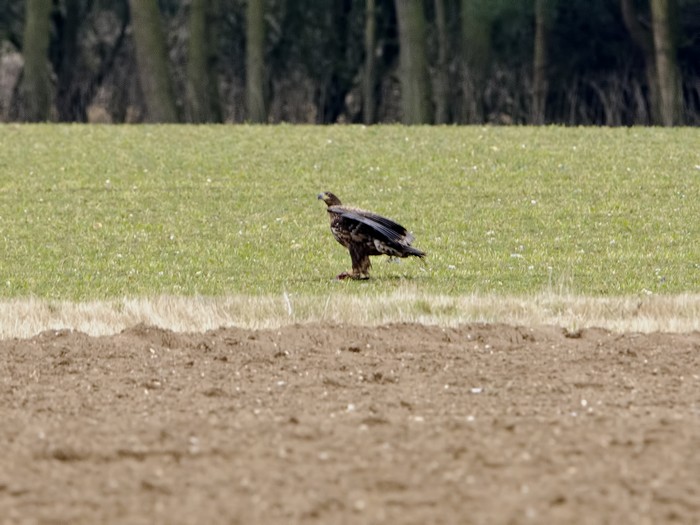 Owls
A 'dark-breasted' (though not necessarily Dark-breasted) Barn Owl was reported at an undisclosed Norfolk site on 21st. These days, the acceptance threshold for a genuine guttata Barn Owl is quite high, a good claim requiring as an absolute minimum dark thighs/vent and underwing coverts and 'tear drop' eyes. Late owl news concerned a Snowy Owl on the Cairngorms, Highland on 18th February.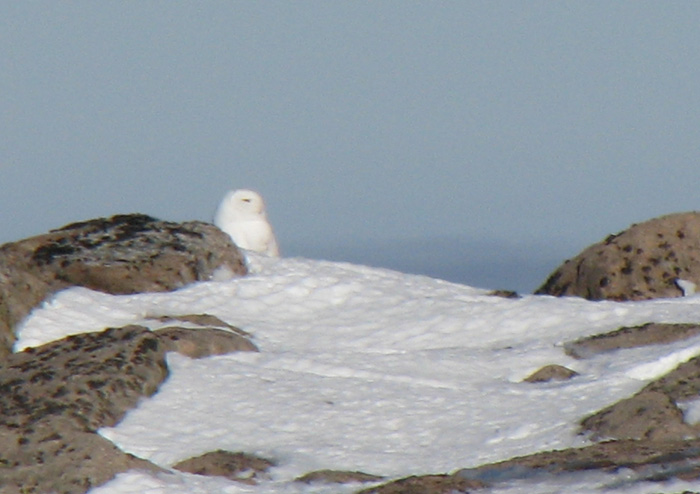 Passerines
The full complement of wintering passerines continued to survive the cold weather, notably the photogenic Black-bellied Dipper at Thetford, Norfolk, the female Desert Wheatear at Rattray Head, Aberdeenshire, the Rose-coloured Starling at Exminster, Devon and the Pallas's Warbler at Moor Green, Berkshire/Hampshire. The Hoopoe at Poole, Dorset was also seen again on 24th and in Ireland a Richard's Pipit was at Cooley Point, Louth on 23rd and 24th.
Wintering Great Grey Shrikes were also still on territory at Therfield Heath, Hertfordshire, Wyke Down, Dorset, Clocaenog Forest, Denbighshire, Beeley Moor, Derbyshire and Bishop's Dyke, Hampshire. However, a trio of new birds appeared, again a sign of some late winter/early spring wandering. The first of these was at Wrentham, Suffolk from 22nd but other birds also popped up at Old Kinord, Aberdeenshire and at Crynant, Glamorgan.
Finally, although Waxwings continued to wander around almost the whole country, only one lonely Shorelark could be found - last week's bird still at Havergate, Suffolk.
So, this was very much a winter week, but even so it was still possible to discern the very faintest stirrings of spring. Should we get a sudden spell of mild weather then we can expect sudden and significant changes - new discoveries of northbound gulls and ducks, migrant Great Grey Shrikes, perhaps even a Hoopoe or an Alpine Swift. Sadly, however, the forecast for the week ahead promises yet more of the same cold, cloudy continental conditions and a likely re-run of this week's birds all over again. For the moment, it seems, spring will have to wait…
Andy Stoddart
27th February 2013
Many thanks to this weeks contributors for their photos and videos
John Kemp - Western Isles Wildlife
, Mark Dowie, Pete Hall, Darren Robson, Michael Malpass, Phil Woollen, Chris Baines,
Paul Rowe
,
Richard Stonier Richard Stonier Photography
, Sean Nixon, Stuart Piner, Darren Ward, Andy Thompson,