Weekly round-up: 06 - 12 Feb 2013
The week at a glance
Drake Baikal Teal graces County Wexford
With the Northern Harrier still there too and another is reported on Orkney
Shetland's Pine Grosbeak continues to draw southern admirers
Cork's baby American Herring Gull remains to the weekend
And Kerry's gull questions resolved
While the American Coot sticks in Galway for another week
Cornwall's Pacific Diver pops up again too
It stayed cool and breezy this week - a chilly, raw, rather cutting easterly breeze ensuring that it never really felt properly warm as the week drew to a close. Prior to that, there'd been more snow, along with heavy rain to make it a rather miserable affair for many in terms of the weather. There'd been sunny spells, but they were few and far between as a grey shroud of cloud covered many areas and it didn't seem very nice out there.
However, in terms of the birds, there was more than enough to keep the chills at bay and a new arrival in Ireland kept February's tempo nice and high.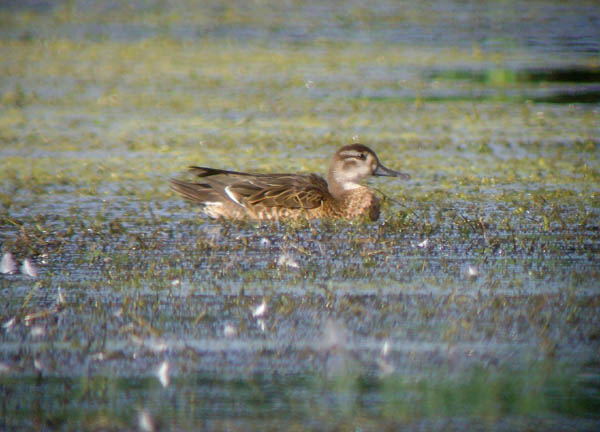 Headline birds
After all the fun and games last week, things calmed down a little (but only a little) for much of the new week but the discovery of another belter helped to keep the blues at bay.
What could be Ireland's second, Wexford's second and Tacumshin's second drake Baikal Teal was discovered in the Forgotten Corner on the afternoon of 8th and although still present there the following day doesn't seem to have been seen since.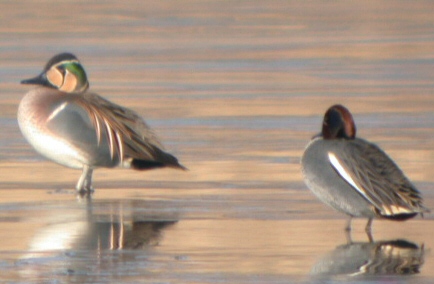 It was only three years ago, that a drake Baikal Teal was present at the same site, at an almost identical time of year (the 2010 bird was present from February 19th-23rd and followed on from a Baikal Teal-like hybrid there earlier in the same year) and duly became the first record for Ireland - there's no sign yet of acceptance for the drake that spent January 29th – February 8th 2006 at Belfast Lough RSPB.
The likelihood of the 2013 Tacumshin bird being the same individual as in 2010 isn't necessarily that high, but it is possible of course, so we'll go down the route of this being a new bird and an outstanding find at this extraordinary site.
Birders visiting this weekend had the chance of seeing not only a mega Eastern duck but also the still-present juvenile female Northern Harrier, an American Wigeon, five Common Cranes with, nearby, the adult Long-billed Dowitcher on Lady's Island Lake.
Admittance to the British List has been something of an on-of affair where Baikal Teal is concerned. For many years a presumed juvenile or first-winter female seen on Fair Isle in September and October 1954 was on the list as Britain's first-ever record of the species and was followed by a drake in Essex in late November 1970 and a goose-poo eater at Caerlaverock in February 1979. By the middle of the 1990's all three birds had been removed from the Category A column and the species was back in limbo.
Interest in this most beautiful of far-off ducks spiked dramatically when a first-winter drake appeared at Minsmere RSPB in November 2001 - the bird stayed until almost the end of the year, allowing all interested parties the chance to take out another one for their assorted insurance lists. This was followed in 2002 by a three day drake in Oxfordshire (another December record) and then things got interesting.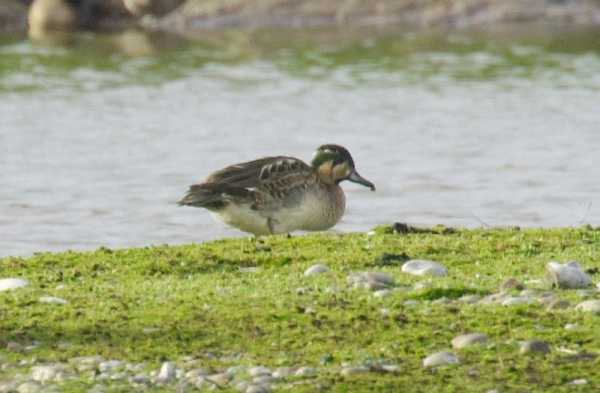 Analysis of stable-hydrogen isotopes was carried out on a Danish corpse and the results published in 2007 suggested that the bird in northern Europe was a likely contender for vagrancy and was accepted as a "Category A" equivalent by the Danish Records Committee. On the back of this news, the BOURC instigated the same research work on the feathers of a first-winter drake Baikal Teal shot in Essex in 1906. Here too the results were similar to those of the Danish bird, indicating the strong likelihood of natural vagrancy and with further research in to the status of captive birds at the turn of the 20th Century and the Essex bird's age and moult cycle, the green light was given for admittance to the British List.
Minsmere's drake became Britain's second, the Oxfordshire bird became the third and, since then, we've had a fourth - again in Essex - when a superb juvenile male was seen for a few hours at Chigborough on October 2nd 2010.
Baikal Teal in Britain and Ireland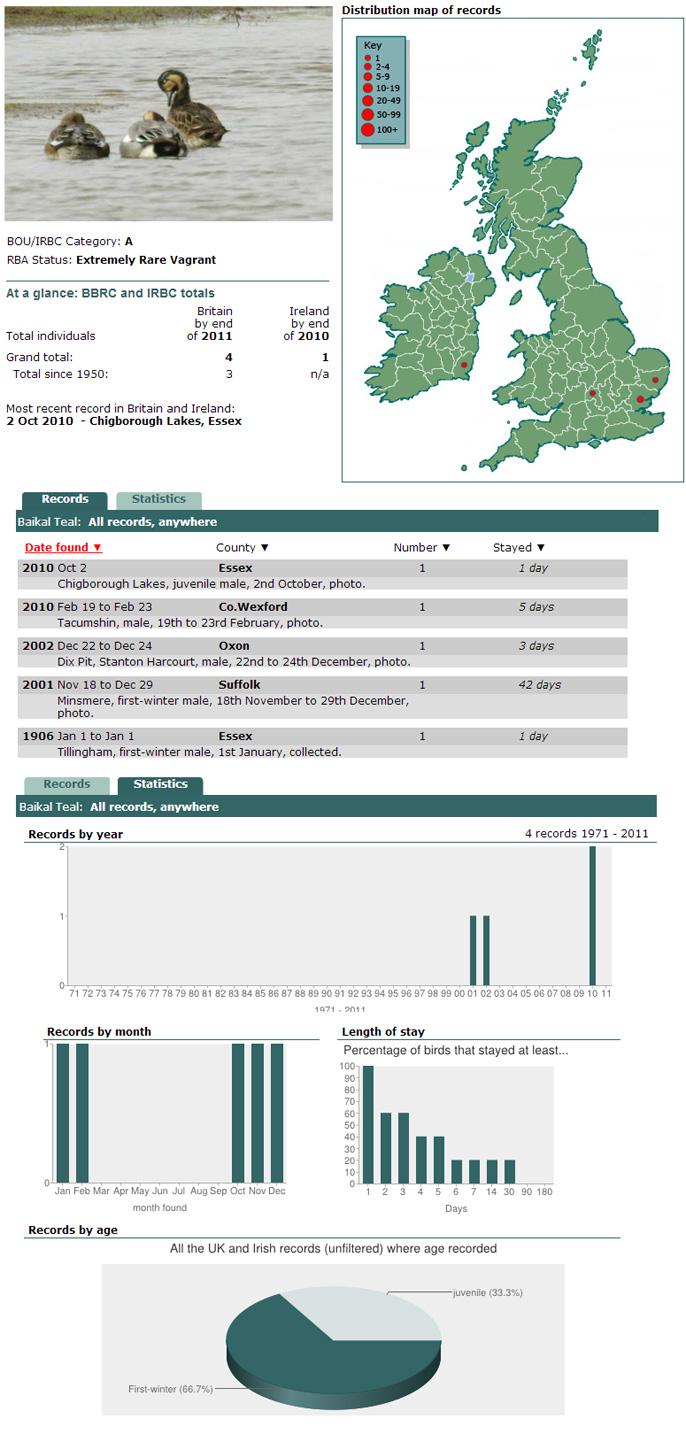 As with other gorgeous mega-ducks (Hooded Merganser, Bufflehead, Marbled Duck, Falcated Duck, Wood Duck to name a few) we know that there are rogue escapes at large but the real deals are surely reaching us - the case for the last three still seems hard to prove at national committee level but regular readers of this review will remember that the green light has already (perhaps rashly?) been shown for the recent one-day only drake Wood Duck at Tacumshin, seen on December 2nd last year. It really is some place.
On Shetland's north Mainland, the first-winter male Pine Grosbeak continued to perform for visitors, although he wasn't always that easy to find as he continued to move around the Collafirth area. Seen daily to 10th at least, there seemed to be no suggestion that he was in a hurry to depart the islands anytime soon - but then came negative news from 11th. Was it just a case of proving really tough to track down with only a few people looking or has the bird surprised us all by departing weeks before we expected? It would appear to have been the former, he was back in situ, at Collafirth, on the afternoon of 12th.
…and there's no doubting that he proved as photogenic as he did throughout last week.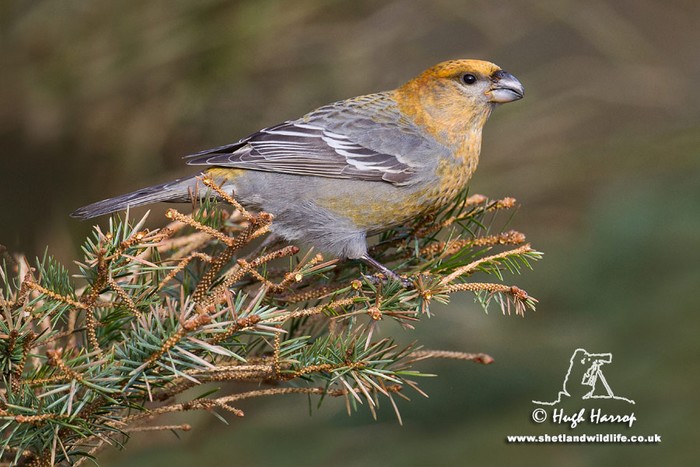 Staying in the Northern Isles, news emerged late on 12th of a presumed juvenile Northern Harrier on Mainland Orkney, seen on "several days" around Deerness during the month and on 11th, it was at Tankerness. The bird has been photographed and is purported to show a solidly dark brown hood, plain orange body and wing linings. So far, so good for what could be a first for Orkney (a bird photographed on North Ronaldsay a few autumns ago remains on observer-limboland).
Back over to Ireland, where the juvenile/first-winter American Herring Gull was still present around the fish factory at Baltimore (Co. Cork) on the morning of 9th while in County Kerry, at Cromane, the bird widely touted by assorted American birders as being an outstanding candidate for a first-winter Glaucous-winged Gull (some even saying it was a nailed-on, perfect one) was seen again on 7th-8th and again on 12th, and opinion (unsurprisingly) swayed away from the mega option towards the bird just being a Kumlien's Gull. The original photos did suggest a potential Kumlien's influence (the notion of a possible Kumlien's X American Herring Gull was touted here) but new images seem to suggest that it may well be have been a Kumlien's with no other elements involved.
No debate could possible surround the first-winter American Coot, present for another week at Murlach, near Ballyconnelly to 12th while the same date also saw the reappearance of the Pacific Diver off the seafront at Penzance, in Mount's Bay (Cornwall), the first confirmed sighting since the middle of December, although it may have been seen in the middle of January.
Seabirds
On Orkney, a White-billed Diver was again in the waters off South Ronaldsay this week, on 6th the bird was at St. Margaret's Hope and on 9th it was in Water Sound, off Cara. The same day also saw a White-billed Diver noted at St. Mary's on Mainland Orkney while on Shetland, another was seen in Bluemill Sound during the afternoon of 8th.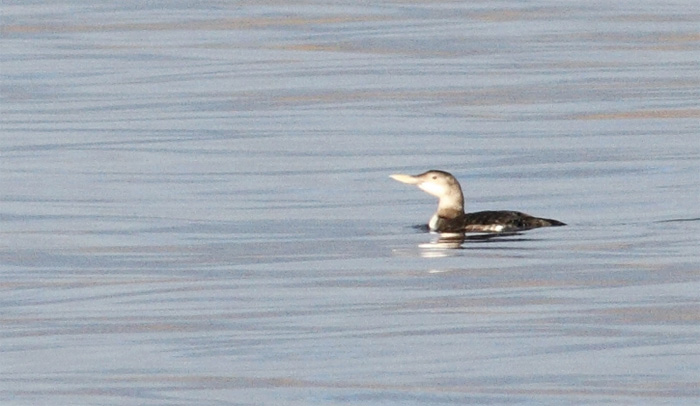 After last week's brief winter pulse of Little Auk records things were a little more typical for the time of year - seven birds seen including two off Strumble Head (Pembrokeshire) on 10th while two singles were seen in Cornwall on 6th (off St. Ives and Pendeen), with one off Penryhn Bay (Conway) the same day while others were off Lothian and Scilly.
Half a dozen Balearic Shearwaters were seen from Pendeen Watch on 8th (following on from five there on 6th) while single birds were seen from the Suffolk coast, at Landguard on 6th and back in Cornwall, off St. Ives on 10th. The only Pomarine Skua this week was reported off the beach at Cley (Norfolk) on 8th while a Leach's Storm-petrel well inland at Brogborough Lake (Bedfordshire) on the same day was much more of a surprise.
Herons, Egrets & allies
Just under 30 Great White Egrets were noted countrywide this week - another steady week for this colonist-in-waiting. There were three each for Kent's Dungeness and East Sussex's Rye Harbour between 6th-10th at least (the Rye three also noted at nearby Pett Levels). Two sets of two were seen in Cheshire on 9th, at Parkgate and Ince Marshes, two flew over Rainham Marshes RSPB (London) on 6th and on 10th, two Great Whites were seen again at Llanrhidian Marsh (Glamorgan). Two birds were also at Tealham Moor (Somerset) on 9th with singles in the same county, on the same day, noted at Ashcott Corner, Catcott Lows and Hay Moor (another was at Shapwick earlier in the week).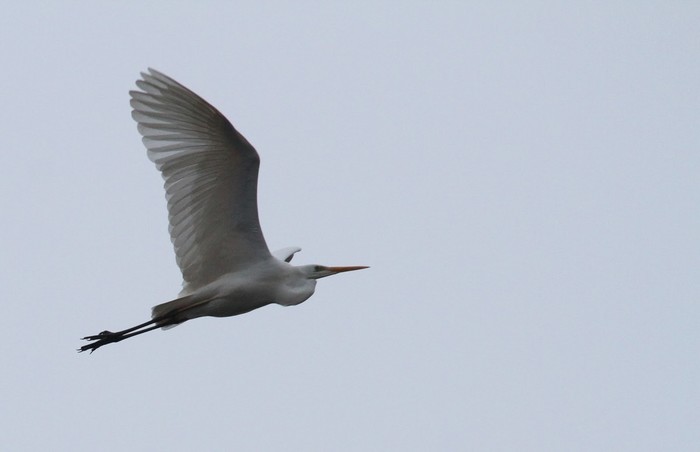 Regular single birds were still at Crossens Marsh and Marshside RSPB (Lancashire), Wellington GPs (Herefordshire), Pitsford Reservoir (Northamptonshire), Lade GPs (Kent), Coate Water Park (Wiltshire) and Ringwood (Hampshire), while the bird seen throughout the week on the edge of Norwich has presumably just worked its way along the local river courses during the last few days. Further loners were seen in Suffolk, at Thorpeness on 6th and North Warren on 8th, while on 7th a Great White Egret was at Christchurch (Dorset).
No news on any Cattle Egrets this week, and Glossy Ibis news was hard to come by too - the Marloes Mere bird the only one reported this week, seen to 9th at least.
Dorset's Poole Harbour saw 13 Spoonbills fly over Swineham Point on 9th after five had been seen at Arne RSPB on 7th. Three birds were in south-east Cornwall, between Torpoint and Saltash for much of the week and two birds remained on the north Devon marshes at Wrafton to 10th. Two singles remained in Ireland, at Dungarvan (Co. Waterford) and Cromane (Co. Kerry) and another spent 10th-12th on Colloway Marsh and at Marshside RSPB (Lancashire).
In Kent, the seven Common Cranes remained on the Isle of Sheppey all week, while other multiples reported this week include four near March (Cambridgeshire) on 6th (with two at Eldernell the same day), eventually building to 10 birds on the Nene Washes by 11th. Four Cranes were seen at Sea Palling, in the Norfolk Broads on 10th, moving to nearby Horsey the following day.
Single Cranes were seen at Barrow (Co. Kerry) on 6th-7th, at East Linton (Lothian) on 9th and still on Walland Marsh (Kent) on 10th. As mentioned earlier, the Tacumshin five remained in Wexford to 11th.
Geese & Ducks
We'll start the wildfowl section of this week's review with a record single week haul of Black Ducks - four birds seen this week, including two brand new arrivals found in Cork. The two newbies (both drakes) appeared in flooded fields near Mizen Head on 7th and remained in the general area for the rest of the week. The other birds (alos both drakes) making up this quirky quartet of record-breakers were the long-time favourite on Achill Island in Mayo and the Scottish bird still at Strontian in Highland, both present on 10th.
Up until the end of 2011, there were exactly 100 accepted Black Ducks on the record books, since the first (an adult female) was shot in County Kilkenny in February 1954. This week's new double in Cork is only the third time there has been a multiple occurrence of the species - in May 2009, a pair spent three days on Mainland Shetland, with the first pairing coming back in 1976, arriving on Scilly in late Ocotber of that year - the female famously going on to produce hybrid broods with local drake Mallards until 1983 (she stayed until the autumn of the following year).
There were three Lesser Scaups to report this week, the adult drake still in Cardiff Bay (Glamorgan) and the wintering young drake at Lough Gash Turlough (Co. Clare), both present to 11th at least and the drake at Colliford Lake (Cornwall) was present to 12th.
Southwest England remained the dominant region for all things Ring-necked Duck - eight birds seen from Somerset to Scilly this week. The wintering trio (the drake and two ducks) remained on Porth Hellick Pool, St. Mary's to 12th, with two singles a little further along the way in Cornwall, the drake at Loe Pool, Helston and the duck still on Siblyback Reservoir (to 6th and 12th). In Devon, the two birds (one of each) remained on Slapton Ley until at least 8th (the female to 9th) and in Somerset, a drake was on Wet Moor on 7th.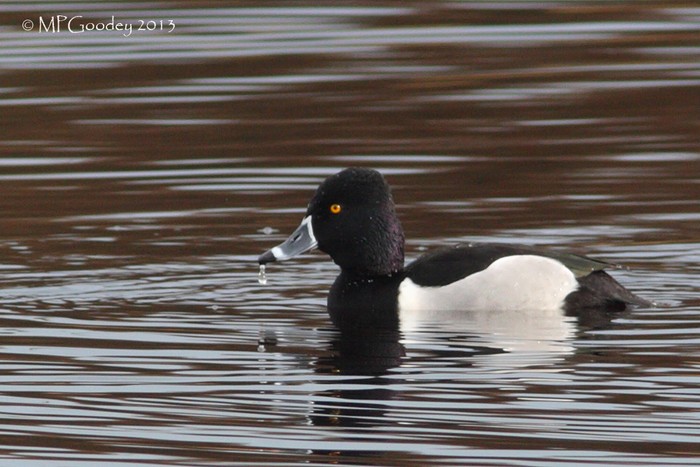 Elsewhere, three single birds (all drakes) were seen in Ireland - still near Ross Castle, on Lough Leane (Co. Kerry) to 8th, at Keel Lough (Co. Mayo) on 10th and Dunfanaghy New Lake (Co. Donegal) on 12th. Lone first-winter drakes were still at Marloes Mere (Pembrokeshire) to 9th and Tophill Low NR (East Yorkshire) to 10th, while the female was still on Loch Scaraidh, North Uist (Outer Hebrides) to 11th.
In Bedfordshire, the drake Ferruginous Duck spent another week at Priory CP while in Norfolk, an adult female was reported again at Cockshoot Broad on 8th and 10th (this species sails murky waters in the county, numerous hybrids and escapes clouding the issue of what is, and what isn't the genuine article).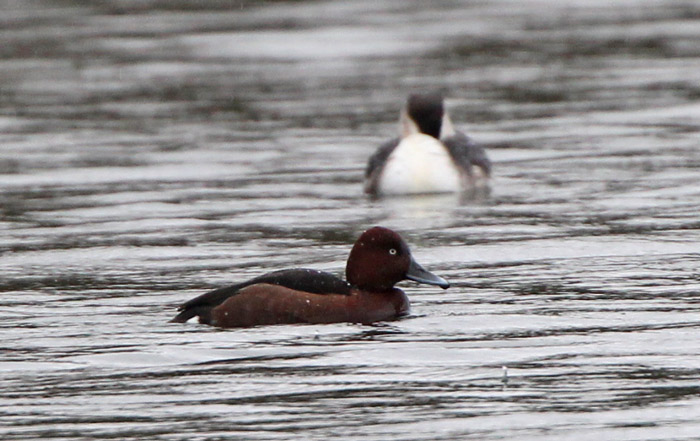 Numbers of drake Green-winged Teals this week, stayed at last week's figure of 15 birds. Two birds were seen in Scotland, still at Caerlaverock WWT (Dumfries & Galloway) to 11th, with another reported the same day on Mainland Orkney, at Loch of Tankerness. In the northeast of England, the drake was on Dorman's Pool (Cleveland) throughout the week and over in the northwest, another remained at Martin Mere WWT (Lancashire) to 8th.
Two Green-winged Teals were seen in Norfolk - at Hickling Broad on 7th and Breydon Water on 9th-10th (and again on 12th) while in Wales, in Pembrokeshire, one was again at Sprinkle Pill on 9th. In the southeast of England, a drake was again on Blashford Lakes (Hampshire) from 6th-11th and southwestern counties mustered three birds - at Steart (Somerset) on 6th, in Poole Harbour (Dorset) from 7th-9th and still at Torpoint (Cornwall) to 9th. In Ireland, single birds were at Cahore (Co. Wexford) on 9th, on the Mullet (Co. Mayo) on 11th and still at Dunfanaghy New Lake on 12th.
There was a doubling up in numbers for American Wigeons over the past seven days, at least six (all drakes) seen this week, three of them in Scotland.
On 6th, one was found on Loch Bee, South Uist (Outer Hebrides) and was followed by another new bird, this one on Orkney, on Liddel Loch, South Ronaldsay on 8th. The third Scottish bird was the regular male in Udale Bay (Highland), still present on 12th.
Two birds were seen in the Irish Republic this week, one remained at Tullaghan (Co. Leitrim) to 6th and one was again at Cahore (Co. Wexford) on 9th. That leaves us with one more drake, that one was found at Fiskerton Fen (Lincolnshire) on 9th.
Up in Dumfries & Galloway, at The Wig, the drake Surf Scoter was present to 12th and was one of four birds seen in Scotland, the others were drakes off Ruddon's Point (Fife) between 7th-11th, Rerwick Head (Orkney) on 9th and Hougharry, North Uist (Outer Hebrides) on 11th. A drake remained off Llandulas (Conwy) to 8th at least and in Ireland, the first-winter drake was still at Ballinskelligs (Co. Kerry) to 10th. Best of all though were the three drakes found in Carmarthen Bay (Pembrokeshire) 12th.
Another new, and still unseasonal, Garganey was seen this week in Somerset, at West Moor, Hambridge, on 8th.
The only Red-breasted Gooseuntil the final day of the week was one of the contentious first-winters in Suffolk, seen again at North Warren RSPB, with a flock of over 300 White-fronted Geese, on 6th-10th (the latter species was, once upon a time, deemed to be THE carrier species for the former).then, as the week came to an end, four birds (possibly/presumably from Suffolk?) were seen with Dark-bellied Brents at The Naze (Essex).
After all the who-haa with the Richardson's Canada Goose on the north Norfolk coast from the turn of the year, those who seek absolute purity and an air of the bona-fide where their hutchinsii are concerned would, presumably, have been more than happy with the provenance of the delightful Richardson's that was seen with several hundred Pink-footed Geese in west Norfolk this week.
First seen on 5th in fields around North Wootton, near King's Lynn, this classic little goose was seen again on 6th-7th, albeit very hard to pin down, which was reflected by it being only seen again once in the rest of the week, briefly during the morning of 9th.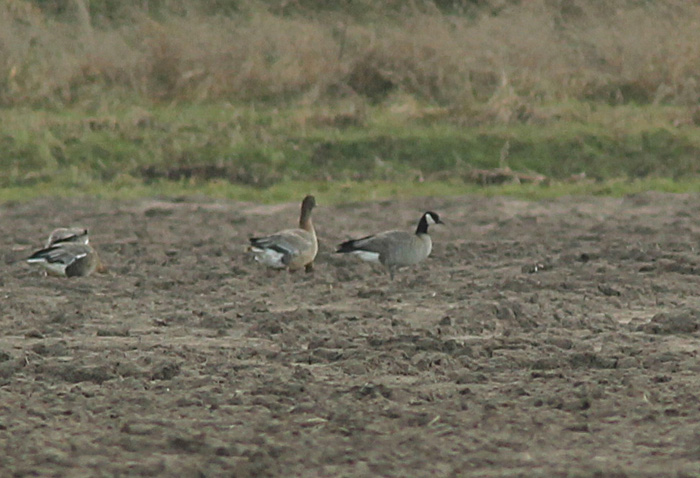 Interestingly, given all the online grizzling about the origins of the Cley bird, this particular pukka individual was very poorly received - only a handful of folk searching for it over the weekend. Perhaps it sounded like it was too hard to find and, therefore, if not offered up on a plate, it wasn't worth going for? Hmmmmm. Beggers can't be choosers and all that.
What we do know about the Norfolk bird is that it seems to be the very same bird that was seen in Lancashire, at Marshside RSPB on October 25th last year. The movement between of Pinks (and the vagrants they bring with them, be they Snow, Ross's or Canadas) is long established and has been mentioned here before. What we don't know is whether this cute little bird has actually been loitering in west Norfolk for the entire winter and only surfaced now.
Other Richardson's Canadas this week included one still with the Barnacles at Balranald RSPB, North Uist from 6th-11th, another at Grainel and then Loch Gruinart, Islay (Argyll) on 10th and 12th, with the bird at Frampton Marsh RSPB (Lincolnshire) still present to 9th at least.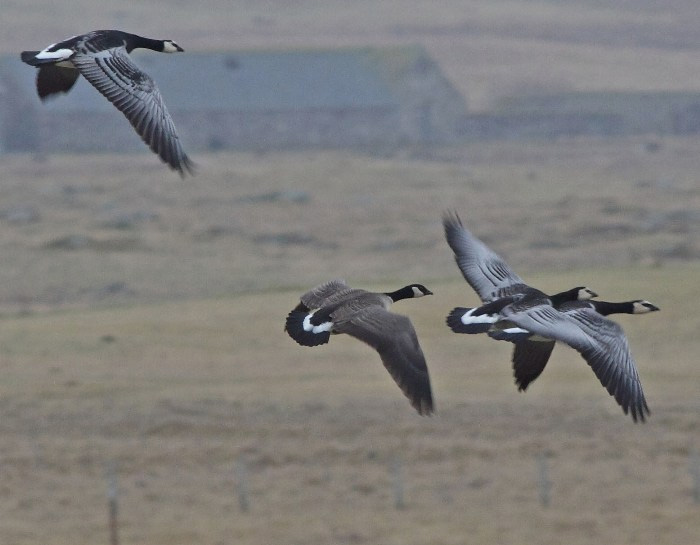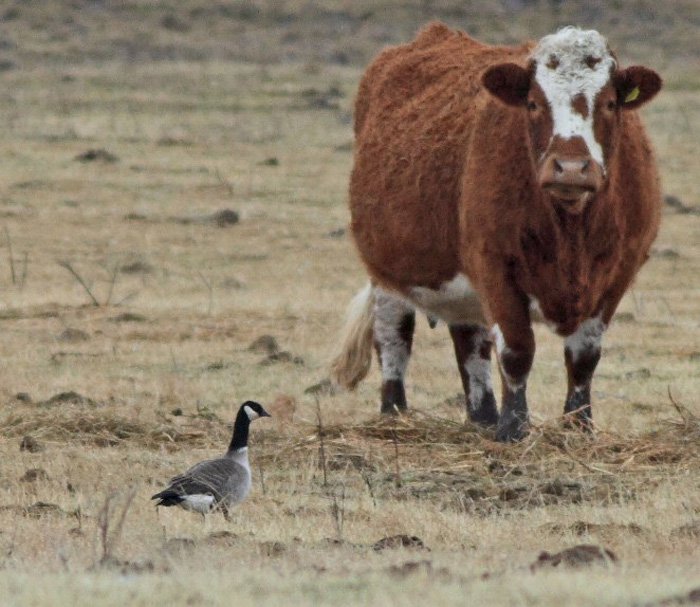 Up to a dozen Black Brants were reported this week, three of them in Norfolk. An adult was at North Wootton on 6th, with another adult reported from the saltings near Wells on 10th while the moulting juvenile/first-winter Brant was seen again at Cley on 11th.
Also along the east coast were singles at Gibraltar Point (Lincolnshire) from 8th-11th (and at Tetney Lock on 12th), at King's Fleet (Suffolk) on 9th, Old Hall Marshes (Essex), also on 9th (with another at The Naze on 12th) and at Shell Ness, Sheppey (Kent) on 8th. Along the south coast, at least one bird was around the Portsmouth area from 7th-11th (also seen at Langstone Harbour on 8th and at Southsea on 11th) while the bird at Fishbourne (West Sussex) was still present on 10th. In Ireland, in County Clare, a Black Brant was at Flaggy Shore on 8th.
Four Snow Geese were reported this week - two white birds remained on North Uist, at Knockintorran to 6th, another white bird was seen amongst Greylags at Penrith (Cumbria) on 10th while the adult Blue Snow Goose was still present at Lower Lough MacNean (Co. Fermanagh) on 11th.
Two groups of (presumably) feral Barnacle Geese held (presumably) feral (or duff) Ross's Geese this week - four Ross's were at Sutton Bridge (Lincolnshire) on 6th (with 10 Barnies) while the regular Norfolk loner was still with half a dozen Barnacles at Horsey for much of the week.
Shorebirds
Along with the already mentioned Wexford Long-billed Dowitcher, there was still another one on offer this week - the first-winter still on the Gann Estuary (Pembrokeshire) to 9th at least.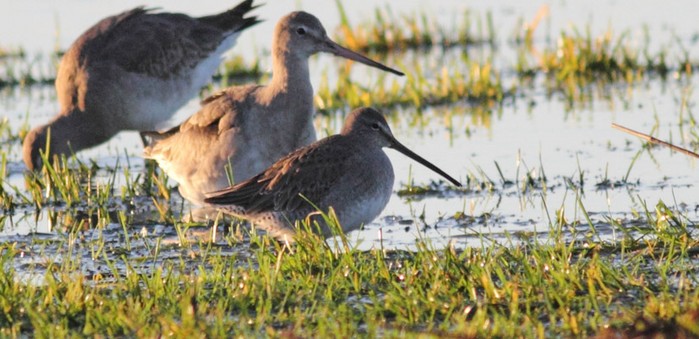 In Devon, the wintering Lesser Yellowlegs remained at Ernesettle, near Plymouth for another week, while in Somerset, the first-winter Temminck's Stint was noted again at Steart on 8th - it was last reported here on January 16th.
Gulls and Terns
The week's two adult Bonaparte's Gull remained popular throughout the last few days, showing on the Ogmore Estuary (Glamorgan) to 8th and on the Princes Park lakes in Eastbourne (East Sussex) to 12th.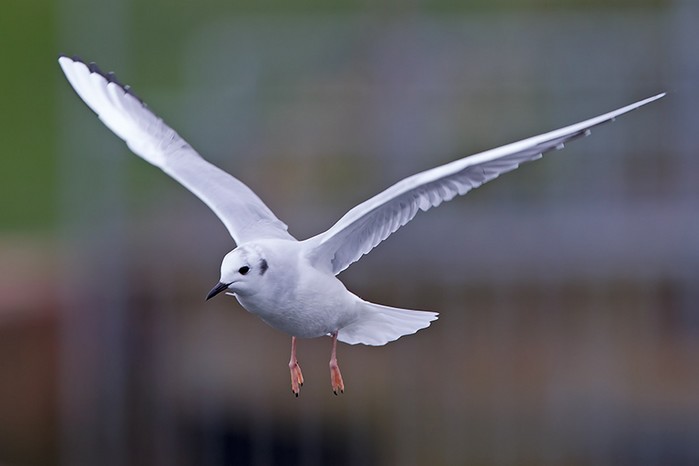 Ireland continued to be the place to be for Ring-billed Gulls - at least 17 noted around the country during the week. Six birds were noted in County Cork, first- and second-winter birds were at Bantry Bay on 9th, another first-winter remained at Castletown Bearhaven to the same date, two adults were at Cuskinny Marsh, near Cobh on 10th and another adult was in Cork City on 12th.
Three birds were seen around the Tralee Bay Wetlands and Blennerville area of County Kerry on 10th (two adults and the first-winter), while single adults were seen in seven other Irish counties - Louth, Dublin, Wicklow, Wexford, Limerick, Galway, Donegal (a new adult found at Killybegs on 9th) and Antrim.
In Wales, an adult Ring-billed Gull was seen in the roost at Llys-y-Fran Reservoir (Pembrokeshire) on 8th (could it be the bird seen here, very sporadically, since February 2009?) while Scotland still had two birds to play with - the adult still in Dingwall (Highland) and the first-winter remaining at Scalloway, Mainland Shetland (to 12th and 10th respectively). England's only representatives were the adult at Gosport (Hampshire) and the first-winter in Bude (Cornwall), both present all week.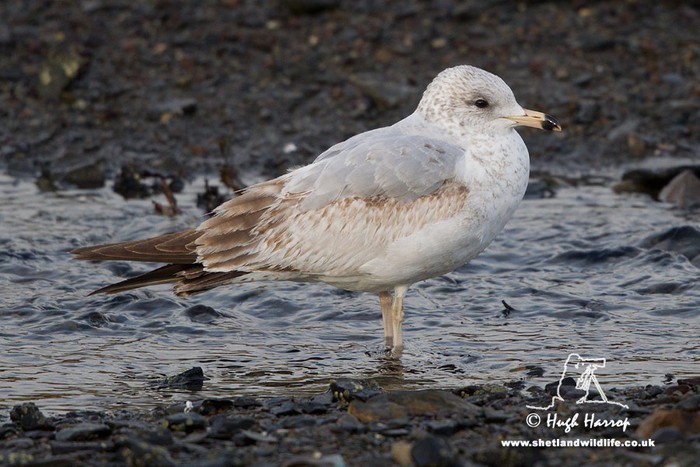 An adult Kumlien's Gull was found in the Anglers CP roost (West Yorkshire) on the evening of 10th and was seen there the following morning and again on the morning of 12th. Another adult was present for a short while in Sligo town centre on 8th and on 9th with two juveniles were seen at Castletown Bearhaven with another youngster at Killybegs. Back in Cork and at Cobh, the near-adult Kumlien's was seen again on 10th. The proposed Kumlien's Gull at Barmston in East Yorkshire remained to 7th.
Another small rise this week in the numbers of Iceland Gulls present around Britain and Ireland - a winter peak of at least 61 birds reported over the past seven days.
Leading the line was the tip at Richmond Bank in Cheshire where at least seven different individuals were reported - five birds (four second-winters and a juvenile) were seen there on 8th with four birds the following day (a single second-winter along with three juveniles). As the week closed, five birds were noted there on 12th. Scotland hosted 19 birds, with at least four around Shetland and three on Orkney, while the northeast of England's tally of nine was boosted by three juveniles at Wheldrake Ings (North Yorkshire) on 9th. Half a dozen birds in the southwest included four birds in Cornwall while Ireland scored a low eight, including two on the Bann Estuary (Co. Derry) and two at Killybegs (Co. Donegal) during the week.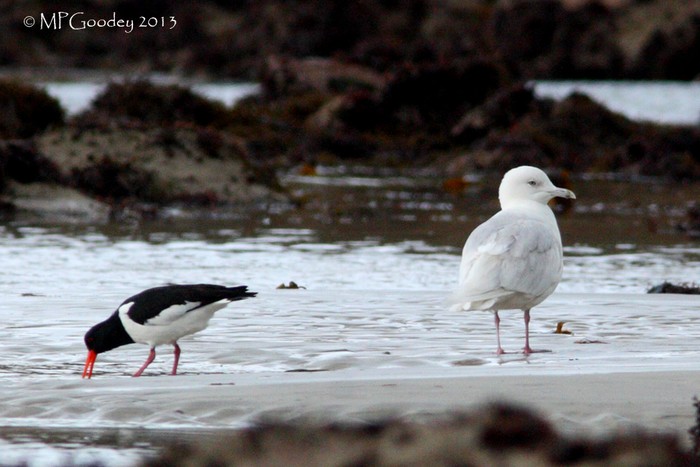 Also showing an increase this week, and a more marked one at that, was Glaucous Gull - with just under 80 noted (jumping up from 60 or so last week).
Four juveniles on Buness, Fair Isle was the peak single site count (seen on 11th) and they were part of Shetland's total of eight (a further three were on Bressay on 8th). Four birds were also found around Orkney and three birds were seen on the Outer Hebrides.
Three juvenile Glaucous Gulls were at Seaton Carew (Cleveland) on 10th while up to 17 birds were reported around the Midlands, including four birds in Staffordshire and three in Leicestershire. In Ireland, at least 14 were found, including three at Killybegs on 9th, while up to five were noted in Cork.
Raptors
The first Snowy Owl of 2013 was seen on the Pettigo Plateau in Donegal on 10th while the Dark-breasted Barn Owl was again at Rodmell, near Southease Railway Station (East Sussex) on 7th.
A white Gyrfalcon was seen again on Mainland Orkney on 8th, flying over Yesnaby while another white morph was reported from Hutton village in Cleveland on 9th.
In South Yorkshire, a Rough-legged Buzzard was at Broomhead Moor on 6th with all others reported this week (once again) coming from Norfolk. Two were again seen around the Haddiscoe and Chedgrave Marshes at the start and end of the week, while one was reported from the Burnham Overy area from 7th-11th.
Passerines
Dungeness is rapidly heading to - wait for it - an astonishing 50th Penduline Tit for the site courtesy of two birds present by the Denge Marsh Road on 8th. Up until the end of 2011, there were at least 42 birds accepted from the site and last year there were perhaps a further four noted, so the half century is well within reach in 2013 (the first recorded there was in October 1988, with the Silver Anniversary only eight months away, the "two-in-a-year average" for the 25 years looks like it could be on.
Elsewhere in Kent, another Penduline Tit, a male was at Stodmarsh NNR on 6th and again from 9th-12th (having perhaps wandered to nearby Grove Ferry NNR on 8th).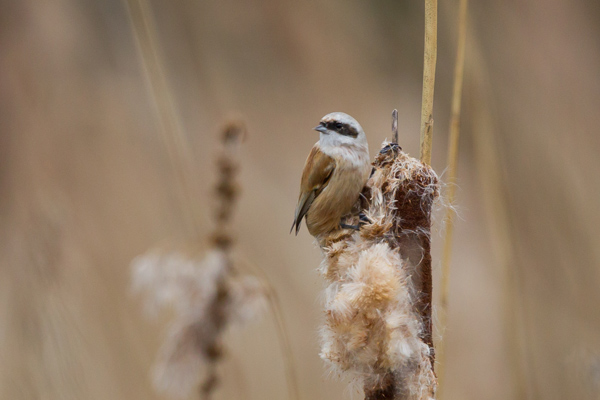 In Aberdeenshire, at Rattray Head, the female Desert Wheatear remained around the beach to 11th while on the Berkshire/Hampshire border, the Pallas's Warbler was seen again, on 10th (across both sides of the county line) and then again on 12th on the Berkshire side.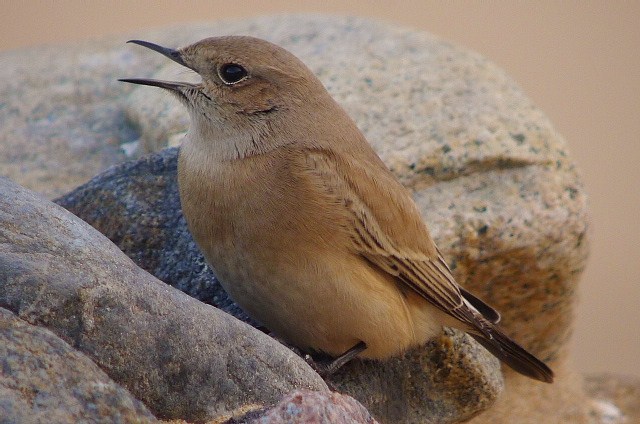 Other unseasonal lingerers a Yellow-browed Warbler still at Gwennap Sewage Farm (Cornwall) on 11th, the Richard's Pipit at Cooley Point (Co. Louth) from 6th-11th at least and the Common Rosefinch still on private feeders at Braodstone (Dorset) on 8th.
The first-winter Rose-coloured Starling at Exminster (Devon) was present to 12th with another "reported briefly" in Wales, at Llanon (Ceredigion) on 10th. Thetford's ever-popular Black-bellied Dipper remaiend throughout the week.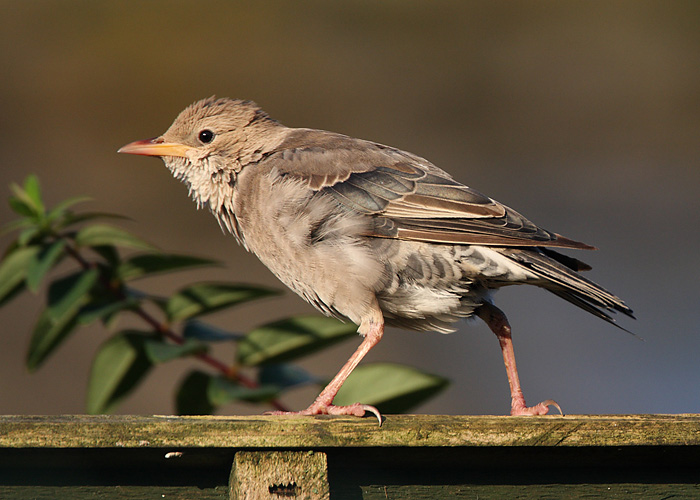 There seems to have been a slight drop in the number of Great Grey Shrikes reported this week, slipping from ten to seven over the last few days. New was a bird at Crynant (Glamorgan) on 10th with another potential new bird reported at Harston (Cambridgeshire) on 12th. Otherwise, it was "as you were" - singles still present at Loch Kinord (Aberdeenshire), Upper Longdon (Staffordshire), Therfield (Hertfordshire), Thursley Common (Surrey) and Sixpenny Handley (Dorset).
Had enough of Waxwings yet? Well there are still plenty to be seen countrywide, easily 3000+ still spread from north to south and west to east. A dozen three figure flocks were reported this week (up from nine) with 195 in Chorlton-cum-Hardy (Greater Manchester) on 11th the largest group of the week.
Two groups of around 130 were recorded, at Essington (Staffordshire) from 9th-11th and at Laindon (Essex) on 9th, with 120 or so again for Bredbury (Greater Manchester) and Glasnevin (Co. Dublin) during the week, along with the same number in Hull (East Yorkshire) on 6th. Elsewhere, 115 were seen at Norton (Cleveland) on 11th and groups just nudging into the 100's were at Cottingham (East Yorkshire), Lincoln (Lincolnshire), Codnor and Belper (both Derbyshire) and Oakland (London).
There we go then. Another week of 2013 already on the clock and a week which saw another mega surface. Can February's third week make it a hat-trick? There have been two storming megas in the seven days we're coming to now - the West Midlands Dusky Thrush, in Shirley, was found on February 17th 1979 (and spent 35 days in and around the area.) while one of only four accepted Rock Buntings was found at Spurn on February 19th 1965 (where it stayed for 20 days). That bird was number three, number four came along two years later - since then, aside from the Bolton Abbey shenanigans in May 2011 - not a sniff.46 years and counting on that one.
Either of the above named species would cause a commotion of seismic proportions - and you could only wish for such a lengthy stay too.
Mark Golley
13th February 2013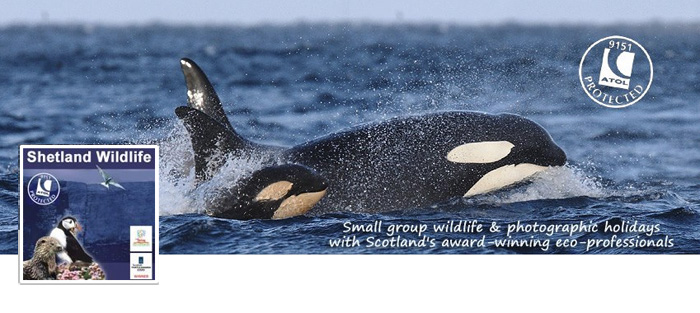 Many thanks to this weeks contributors for their photos and videos
Adrian Kettle, Gerry O.Neill, Mike Malpass,
Hugh Harrop / Shetland Wildlife
,
Martin Goodey
,
Paul Kelly - Irish Bird Images
, Roger Riddington, Graham Etherington, Sean Nixon, Ashley Banwell,
Stephen Duffield - Western Isles Wildlife
,
Chris Upson
,
Simon Knight
, David Abraham,
James Packer - The Somerset Birder
,