Weekly round-up: 23 - 29 Jan 2013
The week at a glance
Single American Buff-bellied Pipit still in Berkshire
First-winter American Coot remains in Galway
…and Wexford's Northern Harrier hangs on for another week
….and then it was gone.
The snow, ice and chilly weather of the last two weeks finally parted company with just about everyone as the weekend drew to a close - sub-zero temperatures replaced by a belt of heavy rain, with sunshine following on behind for many, as mild (very mild) conditions established themselves for the remainder of the review period.
With the wind and weather looking like it was going to stay set in the Atlantic flow well ahead in to the next few days we have, for now, bide farewell to wintery weather. But what of the winter birds? Any change there?
Well, no, not at all really. As Talking Heads once observed…
"Same as it ever was, Same as it ever was Same as it ever was Same as it ever was"
But despite the air of "when's something new going to happen" there were, as with many of the week's prior to this one, lots and lots of decent birds to be seen. Its just that there weren't too many new ones.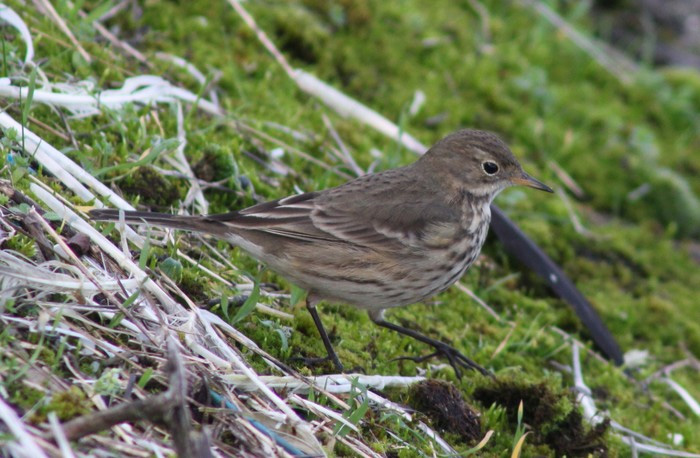 Headline birds
Present now for over six weeks along the edge of Berkshire's Queen Mother Reservoir, at least one of the previous weeks two American Buff-bellied Pipits remained in town for a few more days this week, present to 25th at least.
First discovered on December 12th, the visitors from across the Atlantic have proved to be the big draw of the winter, helped not only by their relative rarity and tickworthy status for some but also, not unlike the Brown Shrike in nearby Surrey three years ago, because of the ease by which hundreds of birders could journey along the motorways of the UK and be right there beside the site within moments of leaving the highway.
The last date when both of these pleasing pipits was seen was at the end of last week's review period, on 22nd.
Far rarer but receiving far, far fewer visitors was Ireland's third American Coot- still at Murlach, near Ballyconnelly in County Galway for another weekend and now coming up to two calendar months on site.
In Wexford, the juvenile female Northern Harrier has an extra few weeks on the Galway Coot, she arrived on October 20th last year, so has now passed the three full months barrier - other Marsh Hawks at Tacumshin have lingered well in to spring, so will this winter's bird follow suit? And just when will they pass on the upgrade to specific status for this ultra-distinctive form?
Seabirds
Early in the week, on the waters around the Isle of May, off the coast of Fife, came a White-billed Diver -which if accepted by the local county records committee will be the first in Fife for almost a decade, following one from a corpse picked up on the beach at Elie Ness in March 2003.
This week's bird will also be the first live bird in the county since a two day bird in Largo Bay in October 1994. The only other county record, and Fife's very first record of White-billed Diver, was of another corpse, found at Earlsferry on New Year's Day 1965. A presumed returning White-billed Diver was noted on South Ronaldsay (Orkney) on 29th.
Other seabirds of note this week were in pretty short supply - two single east coast Pomarine Skuas were reported on 24th, off Shoeburyness (Essex) and Holme (Norfolk) while the week's Balearic Shearwaters were a little more spread out - six were seen from Porthgwarra on 23rd, while twos were noted off Carne Harbour (Co. Wexford, Looe (Cornwall) and Prawle Point (Devon) all on 26th. A Little Aukwas at Ballycotton (Co. Cork) on 27th and the second of the week was seen off Fife Ness on 28th while a Grey Phalarope was seen near Nimmo's Pier in Galway on 29th.
Up to three Balearics were seen in Carbis Bay during the week, with nearby St. Ives scoring four on 24th.
Not so lucky was the European Storm-petrel picked up in a garden in Swanage (Dorset) on 22nd, it died the following day.
Herons, Egrets & allies
The Somerset Levels took over the mantle of Great White Egret Central this week - at least six birds present around the Avalon Marshes on 26th, with four on Shapwick Heath NNR and two also at nearby Ham Wall RSPB. Other sites in the area that registered birds this week (the same ones? New ones?) included one at Catcott Lows again on 24th, three on Westhay Moor on 25th and two at Meare Heath on 26th. Another two Great Whites in Somerset were seen along King Sedgemoor's Drain, at Beer, on 25th. A further lone Westcountry bird remained at Coate Water Park (Wiltshire) to 26th.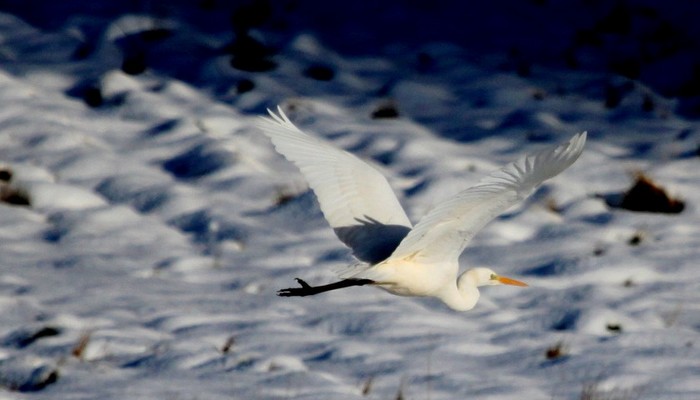 Moving in to the south east, and at Dungeness three Great White Egrets lingered to 28th and another was at Lade GPs the same day, while one remained at Paglesham Lagoons (Essex) to 28th and along the south coast, in Hampshire, one remained at Ringwood to 24th, being seen again on 28th.
In Norfolk, following a Great White Egret in flight over Filby Broad on 23rd, a neat inland find was the bird at Wymondham the following day, which stayed in the snow until 26th before reappearing on 29th. Another was still in the heart of the Broads, at Horsey, also on 26th. In the middle of the country, up to three birds were reported - singles remained at Pitsford Reservoir (Northamptonshire) and Wellington GPs (Herefordshire) to 24th and 26th respectively, while one was reported flying over Dosthill (Warwickshire) on 26th when the bird at Chenies (Buckinghamshire) was still present. The Dosthill bird was presumably the bird that appeared on 28th at Middelton Lakes RSPB, also in Warwickshire.
There was 2 and two 1's in Cheshire, the double yellow bill appeared at Gowy Meadows CWT reserve on 26th when one was also seen at Frodsham. The previous day, on 25th, another Great White Egret was seen at Parkgate while in nearby Lancashire, one was at Marshside RSPB on 27th-28th. Finally, in Wales, two were together again at Llanrhidian Marsh (Glamorgan) on 27th, while singles remained at Llangorse Lake (Powys) to 27th and at Dinefwr Pools (Carmarthenshire) to the same date.
On Holy Island this week, a Northumberland mega appeared in the form of the Cattle Egret around Crooked Lonnen from around 23rd (the identity was confirmed on 26th). Only the second record for the county, this 2013 bird would be a county tick for just about everyone in Northumberland - the only other accepted record was a 12 day juvenile on private land at Barrasford in the autumn of 1986 - a bird that basically no one connected with. The 2013 bird stayed to 29th.
Two of the week's three Glossy Ibis were very long-stayers - in Cork, the bird at Timoleague was still present to 26th (conceivably its one of the birds that was seen here back in October 2011 and that has stayed in the area every since), while in Pembrokeshire, the loner at Marloes Mere (which presumably appeared as one of the gang of three in January last year - it seems longer doesn't it?) was present to 27th (completing a year on site, where its been a singleton since mid-June). Bird number three was seen flying over Hampshire's Blashford Lakes on 27th.
At least 14 Spoonbills were still at Holes Bay (Dorset) at the start of the week but numbers in the area fell away a little with only seven seen at Swineham Point on 24th but with 12 towards the end of the week at Arne RSPB. In north Devon, five birds were still at Isley Marsh RSPB and in south east Cornwall, three Spooners were at Wacker Quay, on the River Lynher, all on 26th.
Single birds were noted in East Yorkshire (last week's bird moving to Kilnsea where, sadly, it was found dead on 29th), over Christchurch Harbour (Dorset) and at Milford-on-Sea (Hampshire) on 24th, with further birds at Dungarvan (Co. Waterford) and Parkgate Marsh (Cheshire) to the end of the weekend (when one was seen again in Hampshire near Lepe).
Last week's two septets of Common Cranes were all present and correct throughout much of this week too - the six adults and single youngster were at Clifton Pits (Worcestershire) to 26th while the four adults and three first-winter birds remained at Harty Ferry, Sheppey (Kent) to 29th. The Wexford five were also still around for much of the last few days too - present to 26th at least. The only other Crane reported this week was one in East Sussex, around Pevensey Levels and then Scotney GPs, from 24th-26th.
Geese & Ducks
Well start the familiar "is it or isn't it gen" goose round-up with birds that would appear to be, unequivocally, the real McCoy.
In Dumfries & Galloway, the Todd's Canada Goose was at Caerlaverock WWT on 24th and a Richardson's Canada Goose was still in the goose fields of Sligo, at Ballyconnell at the end of last week (on 22nd).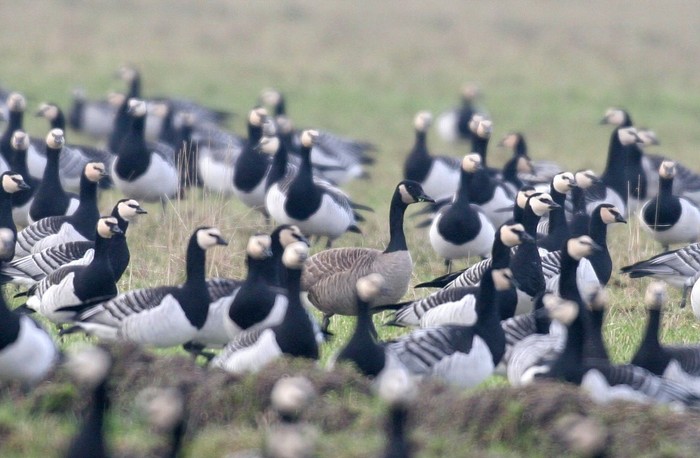 A "small" Canada, thought to be a Richardson's Canada Goose, was seen again at Freiston Shore RSPB on 26th (that won't generate any online chit-chat given that it isn't in Norfolk…) while on County Kerry's Cashen Estuary, the possible interior or parvipes was still with the wintering Whooper Swans on 23rd.
The presumed-to-be-duff adult Lesser White-fronted Goose rocked up amongst the feral Barnacle Geese (500 or so of them) on Southwold's Town Marsh on 27th while the presumed-to-be-duff flock of six Red-breasted Geese were seen in the same area the previous day. Up the road in Norfolk, the presumed-to-be-duff Ross's Goose was still being kept company by seven Barnacles around Horsey to 29th.
In West Sussex, the adult Red-breasted Goose was again at Thorney Island on 24th but the pitch was queered somewhat when an adult RBG popped up amongst the local Greylags along the River Adur the following day. The two may be totally unconnected, but it just adds to the perpetual goose-induced headache (and with the Thorney bird being noted again on 27th-29th, with Brents, the birding analgesia seemed to be working).
Talking of goosey headaches, the sizeable flock of Dark-bellied Brents in and around Cley this week hosted, well, actually, who knows what it hosted.
One things for certain, the indisputable (and rather lovely) juvenile Black Brant was still in the Eye Field on 23rd, and was seen later in the week at nearby Kelling, while the 23rd also saw the arrival of a hybrid adult Black Brant amongst the 2750 birds on show (along with a few Pale-bellied Brents and a couple of "dark" hrota curios…). The following day, an adult Black Brant was seen in the flock, along with the previous day's hybrid, but some observers feel that even this second bird, in a particularly impressive Brant-y disguise, was also a hybrid….photographs actually do little to favour the pure Brant theory either.
It perhaps says a lot for just how the Brents and the Brants are perceived when a showy Purple Sandpiper on a nearby puddle drew more interest, and more of a crowd, than the fascinating flock full of ID conundrums. Each to the own and all that.
Further along the coast, another adult Black Brant was reported at Holkham on 26th, a site more famous now for the look-a-like hybrids as it is for bona fide Brants.
Elsewhere, single Black Brants were seen on Gedgarve Marshes and Levington Creek (Suffolk), Hamford Water (Essex) and still at Lower Halstow (Kent) on 23rd-29th, with one at Gilkicker Point (Hampshire) on 24th and still at Fishbourne (West Sussex) on 27th. In Ireland, a new single was found at Flaggy Shore, New Quay (Co. Clare) on 24th and one remained at Rosslare Back Strand (Co. Wexford) to 26th. A Barnt or hybrid was at King's Fleet (Suffolk) on 29th.
There were two separate blue Lesser Snow Geese on offer this week - the bird in Bute, on Clyde Island, was still with Greylags on 23rd and the individual seen for the last couple of weeks in Lancashire was noted at Upper Thurnham on 24th. The only white Snow Geese this week were seen on North Uist (Outer Hebrides) on 24th.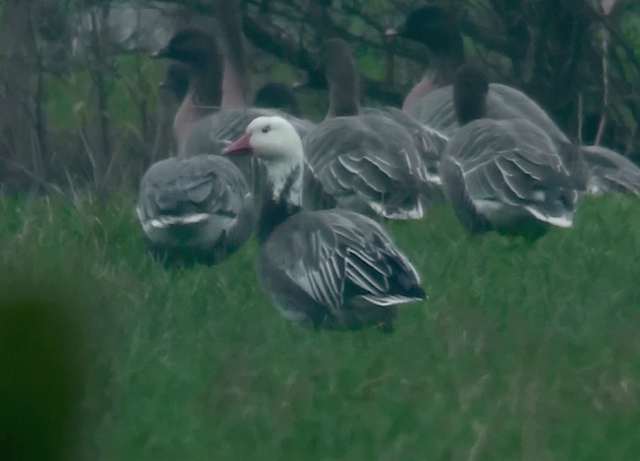 Just two Lesser Scaups to report this week, adult drakes that are leftovers from recent weeks - at Colliford Lake (Cornwall) and Blagdon Lake (Somerset), both present to 28th.
Scilly's three Ring-necked Ducks were back together again on Porth Hellick Pool, St. Mary's on 27th-29th and this lingering trio made up a third of the week's total - nine birds recorded all told.
The female remained at Siblyback Reservoir (Cornwall) to 27th and as we edge our way north, the drake was again at Hawkridge Reservoir (Somerset) on 26th-27th with, to the west, the first-winter drake staying at Marloes Mere (Pembrokeshire) to 27th. Hopping further west (with some north in it), over on the border of Counties Clare and Galway, on Lough Roo, a drake Ring-necked Duck was found on 25th with further new birds, both drakes, near Strangford Lough (Co. Down) on 27th and Killarney (Co. Kerry) on 29th, while in Scotland, another new drake was discovered at the start of the review period on Loch Skerrols, Islay (Argyll) on 23rd.
Also new this week, a drake Ferruginous Duck at Priory CP (Bedfordshire) from 27th and drake Green-winged Teals at Blashford Lakes HWT (Hampshire) on 26th, on the Rogerstown Estuary (Co. Dublin) on 27th and at Colyford Common (Devon) on 29th. Reappearing drakes were also seen at Loch Sandary, North Uist (Outer Hebrides) on 24th (one was here on December 10th 2012) and again at Dorman's Pool (Cleveland) on 25th (this one was last seen on January 14th). Otherwise, it was birds from recent weeks that made up the numbers - at Caerlaverock (Dumfries & Galloway), Martin Mere WWT (Lancashire), Polemere (Shropshire), the two birds in Cornwall, at Rodd's Bridge, Bude and at St. John's Lake, Torpoint and also two more in Ireland, at Ballyquintin (Co. Down) and Kilkeran Lake (Co. Cork).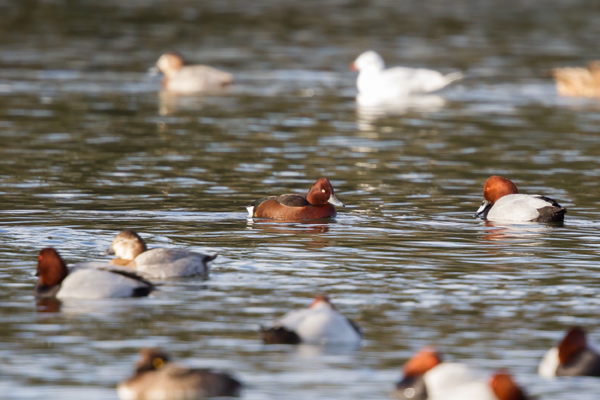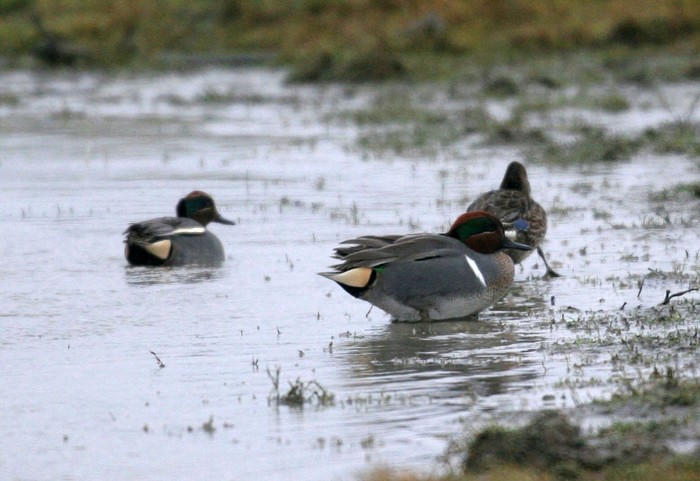 The week's only American Wigeons were lone drakes again at Udale Bay (Highland) from 23rd-25th (having last been reported on January 11th) and Tullaghan (Co. Leitrim) on 27th and reported again near Marlingford (Norfolk) on 29th. Elsewhere in Scotland, the drake Blue-winged Teal was at Threave Castle (Dumfries & Galloway) to 23rd.
With no news on any of the two drake King Eiders we've become accustomed to in recent weeks, we'll move right along to Surf Scoters - up to four of which were seen during the past seven days. On 23rd, a drake was again offshore from Ruddon's Bay (Fife) with the Irish young male again at Dungarvan (Co. Waterford) on 24th, while a drake was also reported amongst a sizeable flock (450+) Scaup at The Wig (Dumfries & Galloway) on 26th. The popular female at Broad Haven (Pembrokeshire) was present to 27th at least.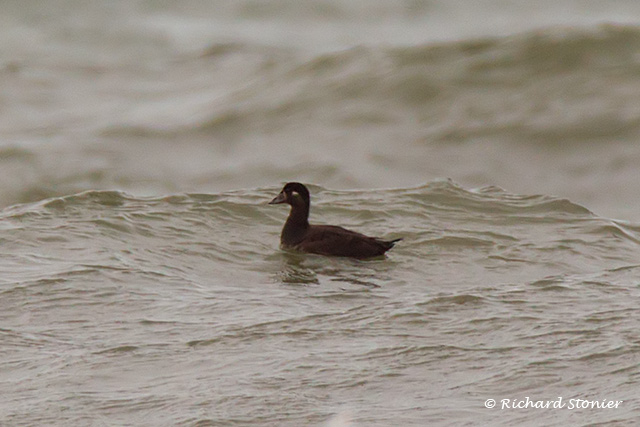 Finally, unseasonal drake Garganeys were noted in Suffolk (at Sproughton) on 23rd and in Norfolk (at Titchwell) on 29th - these followed on from a female in Somerset in the second week of the month.
Shorebirds
Also still having fun in Pembrokeshire, was the Gann Estuary's first-winter Long-billed Dowitcher- still present on 27th (what a good weekend you could have there at the mo., Surfie, Dowitcher, Glossy Ibis and Ring-necked Duck) while the adult at Tacumshin and Lady's Island Lake was last seen on 26th. It seems way too early for the Godwits to move off to Iceland, that won't happen for at least another couple of months, so where will they appear next?
Aside from the Lesser Yellowlegs at Ernesettle (Devon), still present on 28th, there wasn't a great deal on offer (again) in Waderworld.
Gulls and Terns
In Glamorgan, adult Bonaparte's Gulls were on the Ogmore Estuary from 24th-28th and again in Cardiff on 26th. Much better though (in terms of being new…) was the adult Bonaparte's Gull found in Eastbourne (East Sussex) on 27th. The bird remained to the following day and is only the sixth record for Sussex as a whole, but the third since the start of the 2000's - following on from a 10 day bird at Pagham in March 2002 and the five day bird at Arlington Reservoir in April 2010.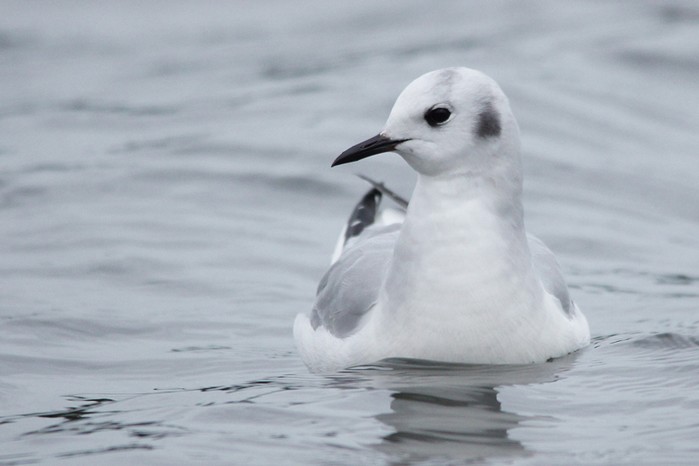 Like a few other species this week, there's been a little bit of a down turn in numbers of Ring-billed Gulls, 16 seen, with a split of 10 Irish, four English and two Scottish records over the past seven days.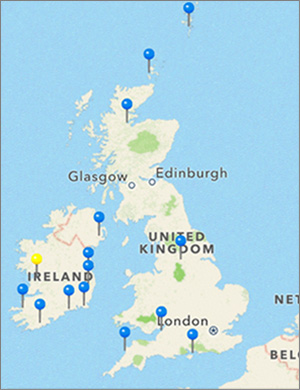 A "new" adult was at Drimnagh (Co. Dublin) from 24th with other Irish birds noted again at Tralee Bay Wetlands in County Kerry (two, including the first-winter, there on 29th), by the bus station in Cork City, still along Galway City's Nimmo's Pier, at the races at Phoenix Park in Dublin, still in Tramore in County Waterford, at Bray in Wicklow and again in Wexford (all these were adults) while the wintering third-winter was still at Groomsport (Co. Down) for another week. Two birds, an adult and first-winter were again at Castletown Bearhaven (Co. Cork) on 27th.
English Ring-bills included the showy first-winter still along the canal at Bude on 27th-28th, and a new adult at Avonmouth (Somerset) on 24th while regulars were the single adults at Sands Lane GP (West Yorkshire) and Gosport (Hampshire).
In Scotland, an adult was on the boating lake in Dingwall (Highland) to 29th and the lovely first-winter remained at Scalloway on the Shetland Mainland to the same date.
The Barmston white-winged gull was showing for another week, with questions still being asked as to exactly why it is a Kumlien's Gull. Or an Iceland Gull, depending on your take on things. Truth be told, it doesn't sit as being a classic juvenile of either Kumlien's or Iceland, and you can't help but wonder if the East Yorkshire bird is perhaps a meeting of minds and, more especially, the bodies of a lone Kumlien's and a lone Iceland Gull (if in doubt, there's always the "H" theory to play with).
In Cambridgeshire, the hard-to-pin-down adult Kumlien's Gull was seen again on 26th, flying through the pit at Tanholt, near Eye, at least the third sighting in the county this year.
Just under 50 Glaucous Gulls were noted across Britain and Ireland this week, with the Midlands faring best with up to 10 birds in the region including two (an adult and near-adult) at Ditchford (Northamptonshire) on 24th. At least 10 were in Scotland, with three at Norwick, Unst (Shetland) on 27th, while there were up to another 10 birds in Ireland including three in County Cork on 26th, one at Youghal and two again at Ballycotton, with two more the following day at Castletown Bearhaven.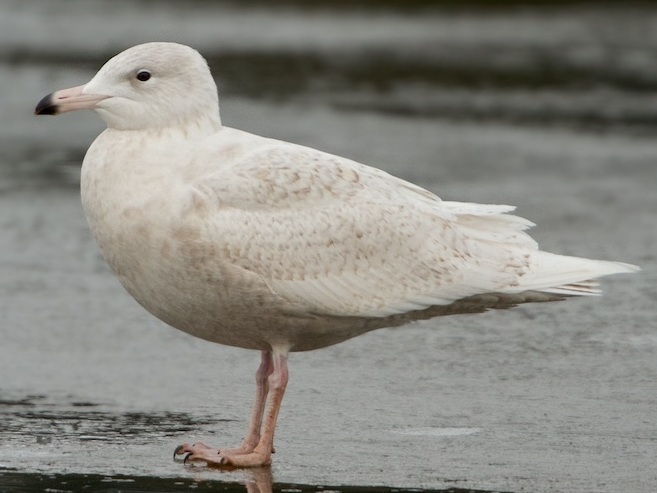 The numbers of Iceland Gulls also took a bit of a tumble this week - only 25 reported, including seven in Scotland (three of them in Aberdeenshire), two in North Yorkshire, five in the north west of England, including two at Moore NR (Cheshire) on 25th, three singles in Cornwall and just five birds in Ireland (singles in Antrim, Cork and Galway with to at Dunmore East in Waterford on 27th).
Back in Galway, the adult Forster's Ternwas still present this week, seen off Kinvarra on 27th.
Raptors
Once again, the only raptor species of note this week was Rough-legged Buzzard, with Norfolk being the hub of the action.
Singles in the east of the county were at Haddiscoe Marshes on 24th and then 26th-27th with one again near Burgh Castle on 25th. The same date also saw another appear on the north coast at Holkham, flying off over the seawall from the beach and on 26th, a juvenile lingered for five minutes in the south east corner of Salthouse Heath before heading off inland. Away from East Anglia, the only other bird noted was on Sheppey, at Capel Fleet on 27th-28th.
Passerines
The borderline Pallas's Warbler continued to draw admirers to both Berkshire and Hampshire this week, this glorious little bird showing very well on occasion at Moor Green Lakes and Eversley GPs up to and including 28th. Not quite as bright and stripey were the two Yellow-browed Warblers at Gwennap Sewage Farm (Cornwall) on 23rd, but they're a nice find nevertheless....one of them remaining to 28th.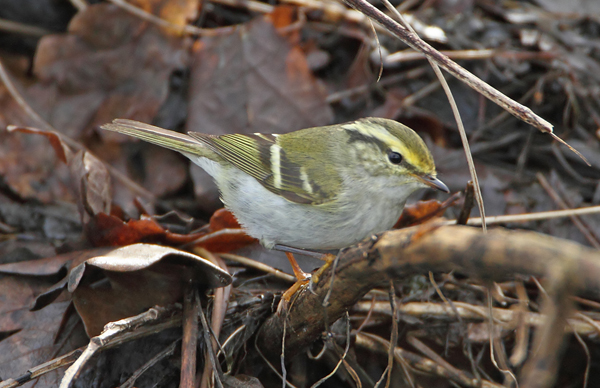 Also nice for a late January week is a Hoopoe so the surprise appearance of a wintering bird at Hamworthy (Dorset) on 23rd was always going to be a draw for birders in the south and south west, and it duly stayed to 28th at least. Also offering up something of an impromptu (though not unique) winter hello-there was another curio in Dorset, a possible Common Rosefinch photographed in a private garden in Broadstone on 28th and still present the following day.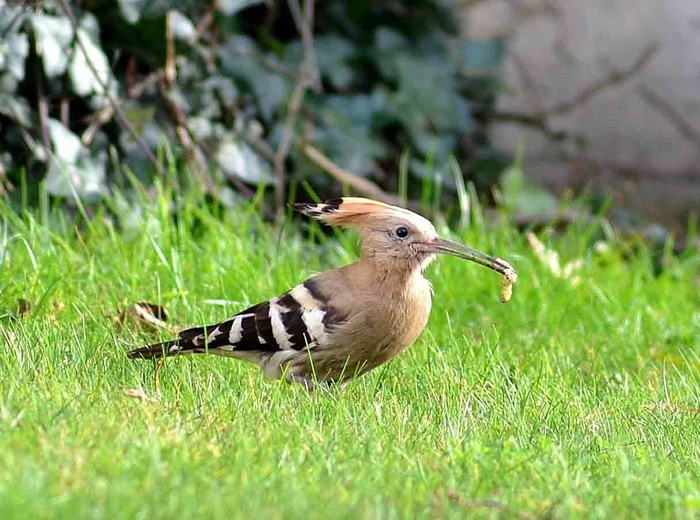 In Cornwall, also on 23rd, the first-winter female Western Subalpine Warbler was still in the gardens around Pleasant Terrace, but that may well be her last day….negative news has followed since so she's either moved on or she succumbed to the weather, a Cornish cat or maybe a Cornish Sparrowhawk.
If the 23rd was indeed the Sub-A's final day, her stay in Kernow totalled an amazing 68 winter days since arriving on November 17th.
Still going strong in Scotland was the female Desert Wheatear at Rattray Head, still present on 29th (she's clocked up some 56 days in Aberdeenshire now) while also still proving popular end-of-the-month draws were the Black-bellied Dipper at Thetford (Norfolk), showing all week and the first-winter Rose-coloured Starling in Exminster (Devon), on view to the end of the weekend and through to the end of the review period. Proving rather tougher to see was the heard only Richard's Pipit at Kilnsea Wetlands (East Yorkshire) on 27th-29th.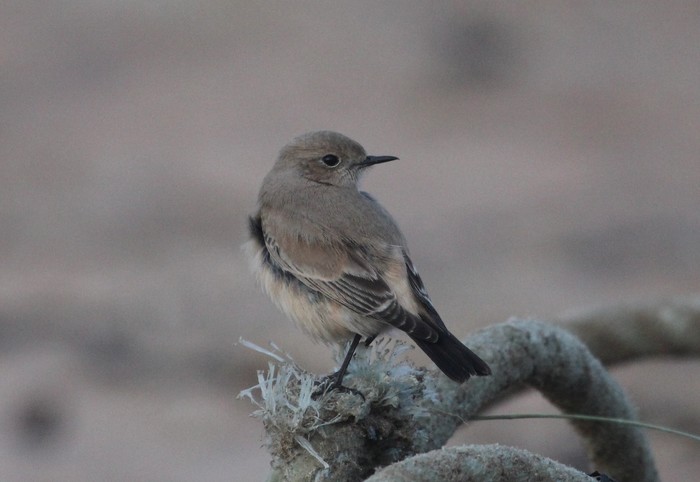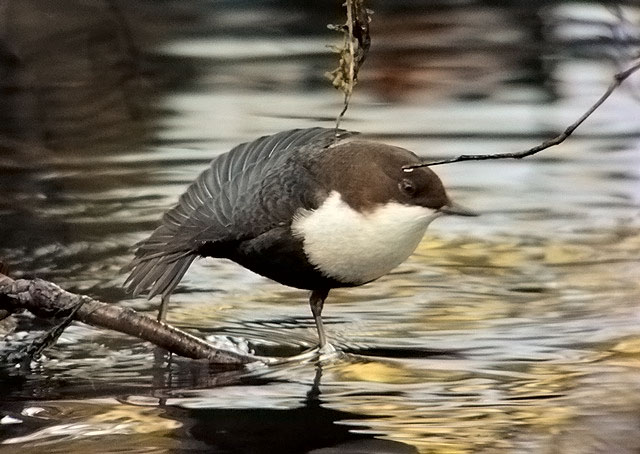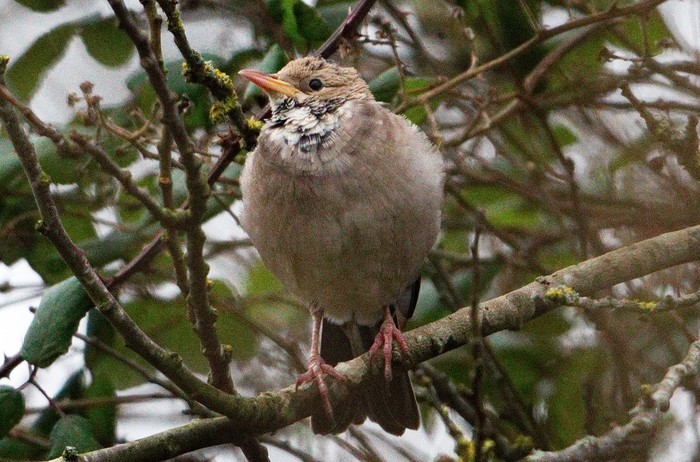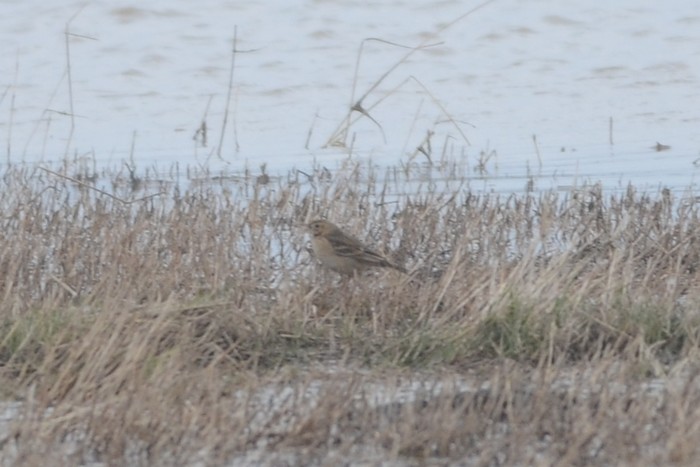 Two of the nine Great Grey Shrikes this week were seen at Therfield (Hertfordshire) from 26th with a new bird seen briefly near Weybourne (Norfolk) on 25th. The other six were all old favourites and all around over the course of the 26th & 27th - at Sixpenny Handley (Dorset), Bishop's Dyke (Hampshire), Cholsey Marsh (Oxfordshire), Thursley Common (Surrey), Beeley Moor (Derbyshire) and Upper Longdon (Staffordshire).
Finally, as ever, we head to Waxwings- and they too saw numbers fall away this week. Although there were perhaps 3000 or more birds spread around the country, the big flocks were becoming gharder and harder to find. The last two weeks has registered at least 10 three figure flocks, this week, we're down to just six. Two of those were in South Yorkshire, 100 each for Ashton and nearby Sheffield on 23rd and 26th, with 100+ seen in Raheny, on the outskirts of Dublin on 24th. A further 100+ flock was noted in Aberdeen on 28th but the largest groups of the week were the 120 seen in Liverpool on 24th and the 200 in Chaddeson (Derbyshire) on 28th.
There looks to be some drier weather on the horizon - maybe - and the winds appear to have a distinctly west to northwest edge for the days ahead. Will it the arrival of a new month provide a new rare or two? That twitchable Shetland Brunnich's Guillemot of 1987 appeared at Hamnavoe on February 3rd (one of two found on the same date), while up to nine different Lesser White-fronted Geese have turned up during the period. One of the most out of place records of yesteryear from early February was the first-winter Rock Thrush found at Minster in Kent on February 5th 1983.
That bird lingered along the edge of the seawall until April 1st and represents a species that has quietly become an extremely rare bird here once again. There are just 28 accepted records, the most recent being a one afternoon bird in the Erme Valley, in Devon, on May 25th 2004. Before that, a near eight year gap to a five day female on Scilly in September to October 1996. Two birds in almost 18 years adds up to a rather desired species for many and as unlikely as it is for one to appear in the same week as that Kentish bird of three decades ago, there's no denying that when the next Rock Thrush does appear, it will draw quite an audience.
Mark Golley
30th January 2013
This weeks contributors
Many thanks this week this weeks contributors for their photos and videos,
Simon Knight
,
Richard Stonier Richard Stonier Photography
,
Gary Thoburn
,
Paul Rowe
,
Like Dray
, Neil Fox, Steve Moore-Vale, Brian Henderson, Paul Slade, Richard Hollis, Chris Dresh, Andy Williams, Barry Woodhouse, Andrew Hood,