Weekly round-up: 16 - 22 Jan 2013
The week at a glance
Berkshire's two American Buff-bellied Pipits stay for another week
Ireland double bill of American Coot and Northern Harrier stay put too.
After last week's initial snowy weather starters, the significant "main course" falls across many parts of the country this week, coupled with generally below zero temperatures meant that some of the allure of the beautiful white-clad scenery began to lose its appeal.
Getting to work proved tough for some, getting away from various airports was harder still and the grim avalanche in the Scottish mountains put everything else in to some perspective.
There was very little let up as the weekend came and went, a widespread dump of a good four to six inches across many areas of the southeast, through East Anglia, the Midlands and the North (up to a foot was on the ground in Northumberland by Monday) and with some chilly winds blowing across the North Sea, it really wasn't very pleasant.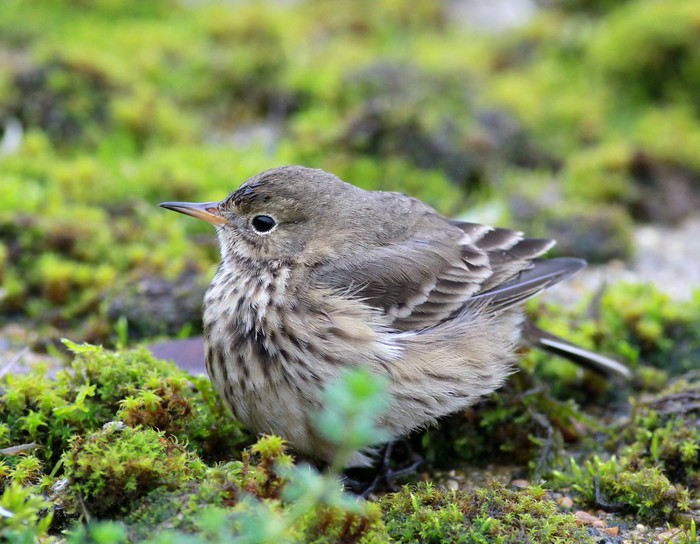 Headline birds
Still, good weather or bad weather, there were always going to be hardy souls out in the field and despite the lack (again) of any significant hard weather movements there were new birds being found, though at the top end of the rare scale, it was very much a case of "as you were".
In Berkshire, the two American Buff-bellied Pipits continued to share their time between the Queen Mother Reservoir and puddles near Kingsmead Quarry to 20th, with at least one still present in the snow on 21st, with both present and correct again as the week concluded.
Ireland's best birds remained the American Coot, still at Murlach, near Ballyconnelly (Co. Galway) to 19th at least and the juvenile female Northern Harrier at Tacumshin (Co. Wexford) to 20th.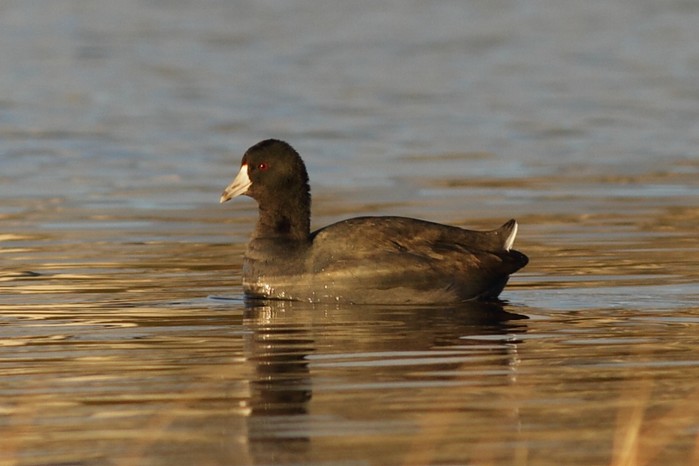 .and, err, that was that!
Seabirds
The first White-billed Diverof the year appeared off South Nesting Bay on Mainland Shetland on 20th - a regular spot for the species in recent years - while in Cornwall, an altogether rarer Gavia was reported as a probable only this week - the Pacific Diver thought again to be off the seafront at Penzance on 19th.
Single Little Auks flew south past Newcastle (Co. Wicklow) on 17th and north past Southwold (Suffolk) on 19th and the only Pomarine Skua flew past Spurn (East Yorkshire) on 20th.
Back in Cornwall, the best day count of Balearic Shearwaters this week was seven birds, seen on 17th in Carbis Bay (where the species is being seen on a daily basis). Birds were also seen off nearby St. Ives on three dates during the week and on Scilly, one was seen in the Roads, off Samson, on 16th.
Herons, Egrets & allies
The week's collection of Great White Egrets reads much like the collection of several of the winter weeks that have drifted past in the last month or two. Quite how many there were was almost impossible to work out given potential mobility of a few individuals in some counties but the average seems to have been around 25 birds of late, so let's go with that as this week's ballpark figure.
Top of the table, once again, was Dungeness - six birds there on 17th (four on the Burrowes Pit and two on the nearby New Diggings) while Kent also scored two more (still near Ashford with another at Oare Marshes).
In Somerset, two birds were recorded at four different sites through the last seven days - at Catcott Lows on 16th then nearby at Meare Heath on 17th, at Pathe on 19th and then two were seen at Bridgwater on 20th. Singles were also noted at Hay Moor and Wedmoor during the week as well.
Single Great White Egrets were seen at three sites in Lancashire and in Hampshire too, while there were also two single birds in east Norfolk (in the Broads at Hickling and further round at St. Olaves). Elsewhere, lone birds remained at Coate Water Park (Wiltshire), Chenies (Buckinghamshire), Wellington GPs (Herefordshire), Pitsford Reservoir (Northamptonshire), Paglesham Lagoons (Essex) and Llanrhidian (Glamorgan) while the bird seen over Stotfold (Bedfordshire) on 18th may well have been the individual seen at Willington last week.
In Donegal, the Cattle Egret was still around the (now known to be organic) piggery at St. Johnston (do Cattle Egrets have a moral code of porky ethics?) until 20th while the only Glossy Ibis this week was the old faithful at Marloes Mere, still enjoying life on the Pembrokeshire Riviera until 20th at least.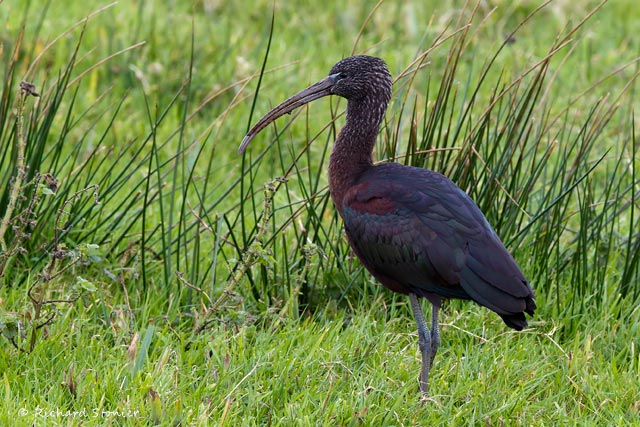 There were still 16 Spoonbills in Poole Harbour this week, spending a lot of time in Holes Bay, while there were three a piece for both Samson (Scilly) and Saltash (Cornwall) during the week. In Kerry, the long-returning adult Spoonbill remained at Cromane on 16th with further birds at Marshside Marsh RSPB (Lancashire) also on 16th and, back in Dorset, in Brand's Bay, Studland and then Lytchett Bay on 20th and 21st. The week finished with a Spoonbill at Spurn (East Yorkshire) on 22nd.
A flock of seven Common Cranes first seen over The Wrekin (Shropshire) on 19th were relocated in Worcestershire, at Clifton Pits, the following afternoon. The six adults and one youngster remained here until the end of the week. A second group of seven were seen on 22nd, this particular group appearing at Harty Ferry, Sheppey (Kent). Whether these two groups are from a very wintery Norfolk or from further afield is one to muse on.
In Lancashire, a single Common Crane popped up from time to time during the week at Martin Mere WWT while the quintet at Tacumshin were seen to 20th.
Geese & Ducks
Most of the potential vagrant geese in East Anglia in the past few weeks have taken quite a kicking from assorted sages - Norfolk's Richardson's Canada Goose and Ross's Goose have come along with added howls of derision ringing in their ears, while Suffolk's Red-breasted Geese have, after a wholesome start, seen themselves rapidly relegated through the ranks. Up to six were seen at Southwold (with 1,000 Barnacles - is that a flock made up entirely of feral birds now?) on 19th, a group consisting of four adult and two first-winter birds but the case for them appears to get weaker with every flap.
That same snowy date in the same snowy county also produced an adult Lesser White-fronted Goose at Eastbridge, near Minsmere RSPB. Seen in the company of some Greylags, the "duff" stick is the easiest one to pick up and beat this lonesome traveller with.
Quite how far it has travelled is anyone's guess, but as with the other interesting birds in the region over the past couple of months, it is deemed as "not worthy" and so will be forgotten about from here on in. Where is it now and what happens when it moves in again with the Taiga Beans in Norfolk again?
While we're talking Norfolk, the aforementioned Ross's Goose continued to wander with his/her Barnacle buddies, seen on 22nd at Horsey, while "for-real" geese in and around Norfolk and Suffolk this week included the juvenile Black Brant amongst the throng of Dark-bellied Brents around Cley on 19th and again on 22nd, while on 16th an adult Brant was seen at Shotley Marshes (Suffolk). Two further singles were noted further south, at Eastney (Hampshire) on 17th and again on 22nd, and in Kent, at Lower Halstow, from 18th-22nd.
The week's only pukka Red-breasted Goose was seen at Loch Gorm, on Islay (Argyll) on 17th while the only Canada Goose given any credence was the Todd's at Caerlaverock (Dumfries & Galloway) on 16th and again on 19th. Lancashire's blue Lesser Snow Goose was at Pilling Lane Ends on 19th-20th with a white Snow remaining at Sheskinmore Lough (Co. Donegal) to 19th.
Single adult drake Lesser Scaups were still present on Blagdon Lake (Somerset) and Colliford Lake (Cornwall) to 21st and the first-winter drake was still on Lough Gash Turlough (Co. Clare) until 19th at least.
At least 13 Ring-necked Ducks were seen across Britain and Ireland during the week including the trio of young birds, two ducks and a drake again on Porth Hellick Pool, St. Mary's (Scilly) at various point of the day on 22nd. Two birds were seen again on Slapton Ley (Devon) on 20th, a female at Torcross and a young male on the Lower Ley, while new birds were a female (or immature drake) at Loch Scaraidh, North Uist (Outer Hebrides) and a drake at Pulfin & High Eske NR (East Yorkshire), both on 20th (the latter bird probably moving north from Lincolnshire).
Birds seen in recent weeks remained at Hawkridge Reservoir (Somerset) - a drake there to 20th at least - and at Siblyback Reservoir (Cornwall) - a female present again on 20th.
In Ireland, five single drake Ring-necked Ducks were noted - still on Lough Shivnagh (Co. Donegal) and again on Lough Money (Co. Down), while new were birds on Lough Sheelin, in Cavan, on 16th, at Knockaderry Lake, in Waterford, on 20th and on Lough Arrow, in Sligo, on 22nd. In Wales, the young drake remained at Marloes Mere to 20th.
Four of the week's 11 Green-winged Teals were also seen in Ireland - two were on the Mullet (Co. Mayo) on 16th, one at Saleen, the other at Tarmon, with singles still at Ballyquintin (Co. Down) and Kilkeran Lake (Co. Cork).
In Scotland, a single Green-winged Teal remained at Caerlaverock (Dumfries & Galloway) to 20th with a new bird appearing at Loch of Strathbeg RSPB (Aberdeenshire) on 21st. In England, two single drakes were seen in Cornwall, one lingering at Torpoint until 19th, with a new arrival on the north coast at Maer Lake, Bude on 20th. Another new bird was seen briefly at North Duffield (North Yorkshire) on 17th and further lone birds remained at Polemere (Shropshire) and Martin Mere WWT (Lancashire) for much of the week.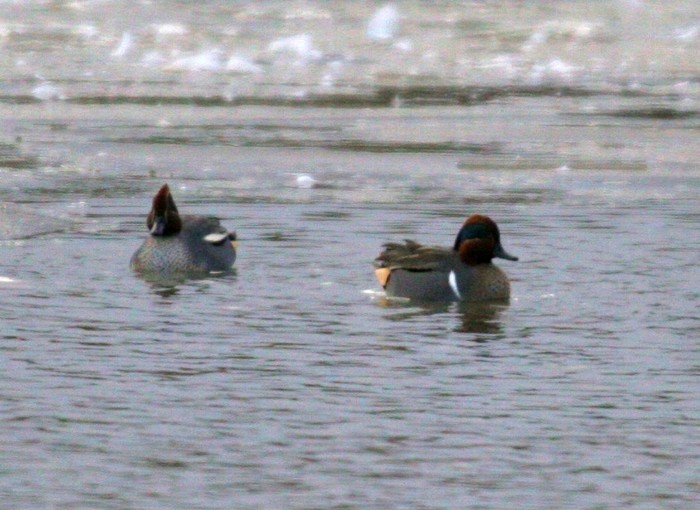 The only confirmed American Wigeon this week was the bird still at Tullaghan (Co. Leitrim) on 18th-20th (another, a drake, was reported in Lancashire on 19th but wasn't seen subsequently) while in Scotland, the drake Blue-winged Teal was again at Threave Castle (Dumfries & Galloway) on 22nd.
The two drake King Eiders seen in Scotland recently remained for another week or so, the bird in Aberdeenshire moved to Rattray Head on 16th while the male remained around the salmon cages at Symbister on Whalsay (Shetland) to 17th.
It was much the same story where Surf Scoters were concerned. The female at Broad Haven (Pembrokeshire) remained to 20th at least and a drake lingered in Largo Bay (Fife) to the same date. Another drake was again off the Welsh coast, at Llanddulas, as the week began and young males in Ireland remained at Dungarvan (Co. Waterford) and Ballinskelligs (Co. Kerry), both to 19th.
What could have been the bird of the week had its identity amended late in the day on 22nd - a Scoter seen off the beach at Black Rock Sands in Gwynedd on the afternoon of 16th was initially thought to have been a drake Black Scoterbut, not unlike the incident from April last year in Highland, the bird was seen again later in the week and some doubts were raised as to its identity. Bill structure, head profile and too much yellow in the bill were all thought to point away from Black Scoter, but whether an atypical Common Scoter, or a hybrid it appears to be an amazing looking bird - certainly at first glance in the Black Scoter ballpark, so fair play to the original observer for noticing the wacky waterbird in the first place and also for seeing the process through to the stage it is at now.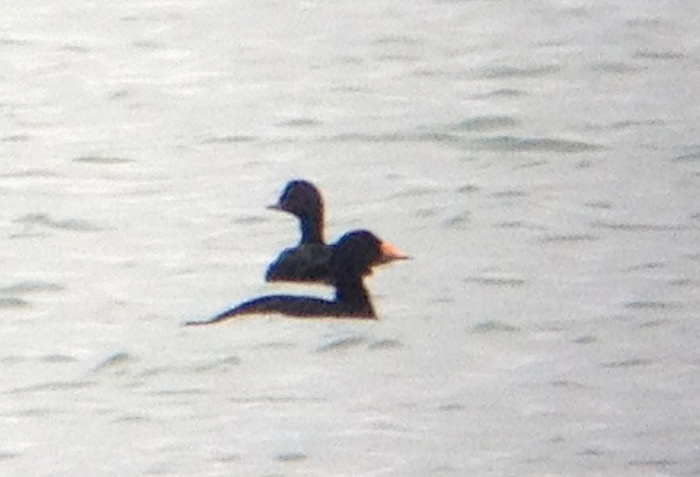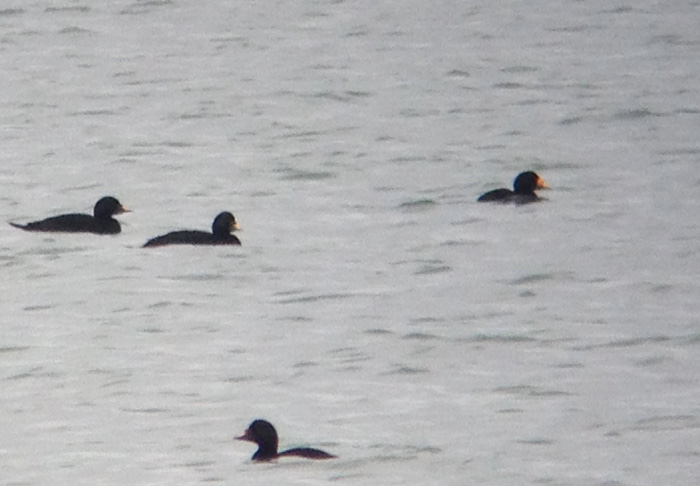 Shorebirds
The first-winter Long-billed Dowitcher extended its stay on the Gann Estuary in Pembrokeshire for a few more days this week, present to 20th while last week's new adult (I'd still wager that it was hotfoot from Slimbridge!) remained with the islandicas at Tacumshin for the week.
Also continuing a long stay (now with three months on the clock) is Devon's first-winter Lesser Yellowlegs at Ernesettle, still present with wintering Greenshanks on 21st while the wintering first-winter Temminck's Stint at Steart (Somerset) was last seen on 16th.
Gulls and Terns
Brand spanking new Forster's Terns don't come along very often these days, so the discovery of a first-winter at the top end of Lady's Island Lake (Co. Wexford) on 20th was something of a red-letter day.
The bird was present only until around 2pm, and was then seen later the same day near Carne Harbour. The last recorded first-winter Forster's Tern was found almost seven years ago in County Cork, before moving to Waterford. You have to go back to January 2003 for the last British record of the species, a first-winter that spent four days in Argyll ~ every one in the past decade has been an Irish bird.
Britain's first-ever Forster's Tern was the famous first-winter found off Swanpool in February 1980 and further young birds followed in Cornwall, Ireland and Wales (a further seven records) before the first adult was found on Anglesey ~ and that had been seen as a first-summer earlier the same year (1984) in Flintshire.
Glamorgan held on to its two Bonaparte's Gull- the bird on the edge of Cardiff, seen this week on the Rhymney Estuary proving much harder to see than the adult along the way on the Ogmore Estuary - the former seen on briefly on 16th, the latter seen to 19th.
Slightly fewer Ring-billed Gulls to report on this week but, funnily enough, there were a few new birds amongst them to take note of.
Best of all, a showy first-winter on Mainland Shetland, at Scalloway, from 16th. This bird showed wonderfully well (as Hugh Harrop's shots testify) and the bird was in place for the whole week. This came hot-on-the-heels of last week's new first-winter on Fair Isle (an altogether more heavily marked bird) and that was still on the island to 21st.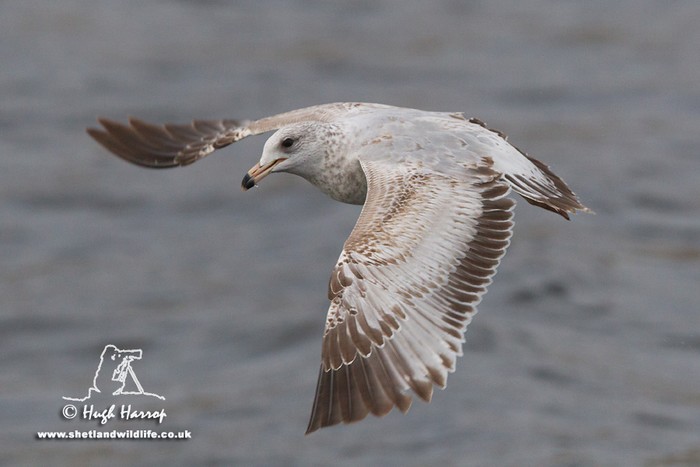 To the south of Shetland, on Mainland Orkney, an adult Ring-billed Gull was at Stromness on 22nd (the first on the islands in over five years, since an adult at the same spot) while the adult seen from time to time in West Yorkshire popped up again at Sands Lane GP from 19th (it went missing just after Christmas). Further English birds were the long-term adult at Gosport and a first-winter photographed at Bude (Cornwall) on 21st (another north coast young bird was reported from the Camel Estuary on 16th).
Rather fewer birds were reported in Ireland this week - the third new young bird of the week was found on Lough Swilly (Co. Donegal) on 20th, while further young birds remained in Sligo town and at Blennerville and the Tralee Bay Wetlands in County Kerry, the latter bird still alongside an adult to 20th at least. Two adults were at Nimmo's Pier (Co. Galway) on 19th (with the Forster's Tern still present a couple of days beforehand) with single adults still in Waterford and Wexford through the week. In Cork, the second-winter Ring-billed Gull was again at Timoleague on 18th and an adult was in Cork City on 22nd.
After almost three weeks on the beach at Barmston (East Yorkshire), the young white-winged gull there was deemed worthy of juvenile Kumlien's Gull status on 16th - take a look at the photo and see what you think.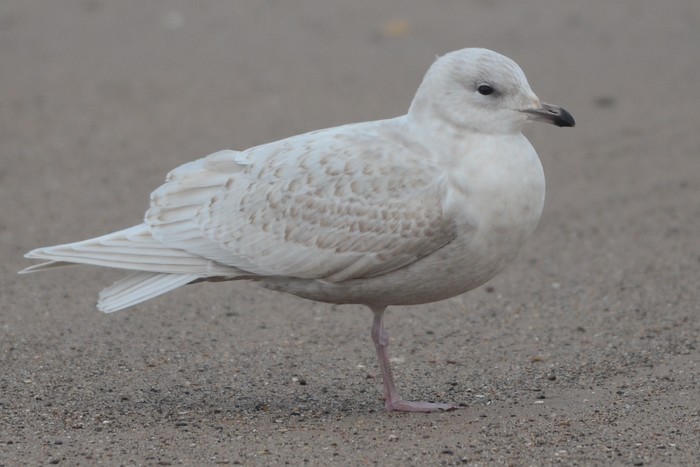 In "the old days", during the 90's, whilst wandering around by the outfall, the estuary and the boats and fish factories at Killybegs, or a decade or so further back while scanning the Plym Estuary or the comings and goings at the (once marvellous) Swanpool in Falmouth, there's every chance that this bird may well have drawn the eye as presumed pale-end Kumlien's. Things are different now of course (so they tell me), so where do you draw the line between those pale-end kumlieni and darker, so-called "extreme" glaucoides? Where indeed.
An exact pronouncement on this one seems tough, it feels like a Kumlien's Gull in the photos and not quite right for a full-on baby Iceland. But is that as far as you can take it? Probably, yes.
A second-winter Kumlien's was reported from Richmond Bank (Cheshire) on 16th and the second-winter was again in Lincolnshire, at Gainsborough tip on 17th. A near-adult remained at Cobh (Co. Cork) to 20th and the Barmston bird was present all week.
Once again, numbers of Glaucous Gulls were around the 50 mark - three birds (a third-winter and two juveniles) were at Ballycotton (Co. Cork) on 20th (the county holding at least six Glaucous in all) with another nine dotted around the rest of Ireland, including three in Waterford.
Around 36 birds were noted across Britain, with at least four on Shetland (two at the salmon cages at Symbister on Whalsay on 17th) and there were two at Peterhead (Aberdeenshire) on 19th and two singles were seen in Clyde. Heading south, two were at Seaton Carew (Cleveland) on 19th and there were also two reported at Richmond Bank (Cheshire) on 16th. Up to four birds were noted in Derbyshire and there were two for both Staffordshire and Nottinghamshire.
Iceland Gulls were in significantly shorter supply, only 29 birds reported across both Britain and Ireland this week - eight were seen in Scotland, including up to four singles in Aberdeenshire but it was Greater Manchester's Pilsworth Tip that fared best, three birds present there during the afternoon of 20th (up to five were in the region during the week). Just eight birds were reported from Ireland, two at Killybegs and two singles in Cork leading the way, with other singles in Antrim, Wexford, Sligo and Kerry.
Raptors
There were very few raptors to report this week - it was just Rough-legged Buzzards really…
…in east Norfolk, one was around the Burgh Castle/Langley Marshes area from 16th-21st at least. In the west of the county, a Rough-legged Buzzard was reported near Holme-next-sea, while on the north coast, on 19th-20th, singles were reported from Cley and Salthouse. On 21st, in central Norfolk, another bird was mentioned as flying over the main road near Swaffham.
Elsewhere, single birds were reported at Lee Valley CP (Essex) on 17th, Ixworth (Suffolk) on 19th and on 20th, at Arnold (Nottinghamshire) and Lockwood Beck Reservoir (Cleveland).
Passerines
Proving almost as popular this week as it was last week was the Pallas's Warbler on the Berkshire/Hampshire border, still surviving some testing conditions around Moor Green Lakes and Eversley GPs throughout the week, often showing well too. Another bird was reported in brambles at Croston (Lancashire) on 22nd, we await more details on that one,
In Cornwall, the wintering female Western Subalpine Warbler remained in St. Just for the week while some 750 miles to the north-north east, at Rattray Head, the female Desert Wheatear was proving equally as hardy, surviving another Asberdeenshire winter week, still in place on 22nd as well.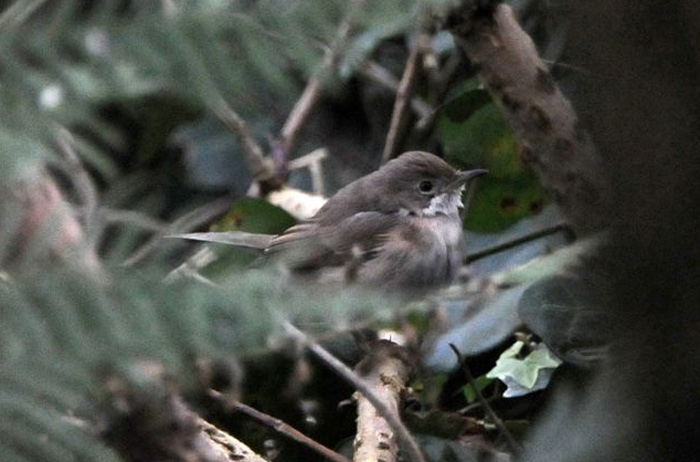 The first-winter Rose-coloured Starling at Exminster (Devon) was another bird that was hanging around for the week as was the still-popular Black-bellied Dipper in Thetford (Norfolk). In Somerset, the Richard's Pipit was at Clevedon to 17th.
As with a few other species this week, there was a downturn of Great Grey Shrikes- only seven reported, but perhaps just relating to lack of observers in the field due to the poor weather...
New individuals were seen at Cholsey Marsh (Oxfordshire) on 19th-21st, at Sixpenny Handley (Dorset) on 20th and near Wick (Highland) on 20th-21st. A fourth new bird was reported near Evercreech (Somerset) on 20th, but there's been no further news on that one. Regulars were still in Hampshire (in the New Forest), Hertfordshire (at Therfield) and in Surrey (on Thursley Common).
As is our winter tradition here in RBA Round-Up Land, we'll conclude the week's proceedings with Waxwing news. Slowly but surely, the early winter numbers have faded to a degree but there are still many, many hundreds on offer around the country.
Just like last week, there were 10 three figure flocks seen during the past week - the largest group being the 190+ seen in Ferry Meadows CP, near Peterborough (Cambridgeshire) on 18th, followed closely by the 180 in Otley (West Yorkshire) on the same date and another count of 18o (all together now...) at Buckhaven (Fife) on 20th. Elsewhere, flocks of 100 or more were seen from Aberdeen to Liverpool and right down in to the southeast, in Rawreth (Essex) and Dartford (Kent). In Ireland, at least 300 birds were spread across seven counties, from Dublin and Louth in the east to Galway in the west.
Milder weather is on the way they say, and a thaw, and presumably flooding reaching some by the weekend, a positivley balmy five degrees on the cards. Having had little by way of new birds through the cold snap, it is now a tough call to think of what may appear now the weather looks like returning to slightly more normal late January conditions.
Predicting the unpredictable is a dangerous game and no one would have gone to their local bookies and had money on a treble consisting of Olive-backed Pipit, Short-toed Treecreeper and American Bittern within 24 hours of the same late January week, but that's exactly what happened during the "Big Freeze" of 1991, when the week ahead's corresponding dates did indeed produce those three species - the first was at Cobh (Co. Cork) on January 23rd, the second was at Dungeness, also on 23rd, with the third species attracting huge crowds to Lancashire's Marton Mere from 24th.
Other curios have included two Brunnich's Guillemots (one dead, one alive) on 25th (the deceased bird was in Aberdeenshire in 1981, the live one was on Orkney in a very busy week in 1991), an inland Rustic Bunting in Cambridgeshire in 1994, a Great Snipe in Gloucestershire in 1958, a Little Bustard in Essex in 1969 and a Pine Bunting in Northumberland in 1992.
oh, and there was one this as well…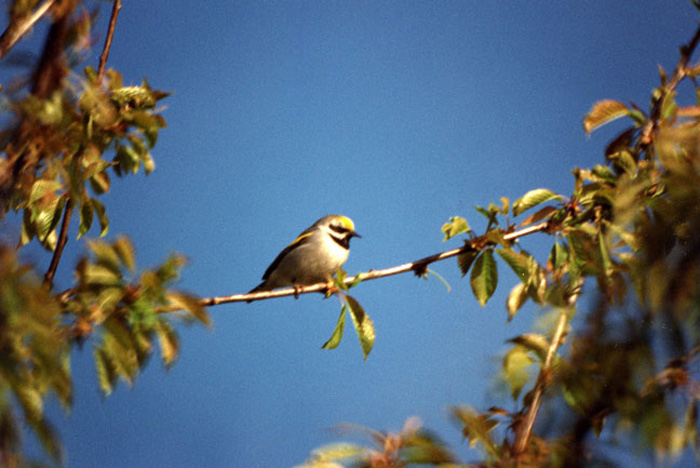 Record crowds appeared at Larkfield, in Maidstone, for one of the truly great birds on the British List, one that could so easily have been the one that got away…
…the Golden-winged Warbler was first photographed as a "bright bird" in a resident's garden on January 24th 1989, no one knew a thing until birder Paul Doherty noticed something wacky near the post box by Tesco's in Maidstone in the first week of February.
Luckily for all of us with a listing-fetish at the time, Paul knew that something outrageous was on the cards and within a day or two, the crowds were bigger than nearby Gillingham FC could ever dream of….it remains the Mother of all twitches and also one of the most-wanted birds for a whole generation of new listers too.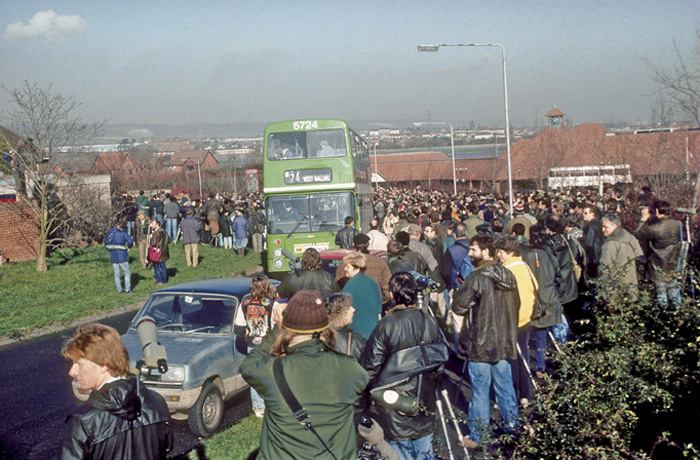 Halcyon days indeed!
Mark Golley
23 January 2013
This weeks contributors
Many thanks this week this weeks contributors for their photos and videos,
Dermot Breen
,
Richard Stonier Richard Stonier Photography
,
Hugh Harrop / Shetland Wildlife
,
Mike McKee
, Brian Henderson, Chris Jones, Mark Hipkin, Mark Rayment, Andrew Hood, B Rankine/Cornwall Birding, Kit Day, Tim Loseby.