Weekly round-up: 09 - 15 Jan 2013
The week at a glance
American Buff-bellied Pipit double bill reappears in Berkshire
Galway's American Coot present for another week…
Tacumshin's juvenile female Northern Harrier still likes the Wexford way
Drake Black Duck lingers off the Mayo coast
…and a tideline White-tailed Tropicbird has the potential to make the British List….
It was all about the weather really, all the familiar media panic buttons were pressed long and loud as a little condensed blitz of some good old-fashioned traditional winter weather trundled its way, loosely, from west to east as the weekend faded ~ temperatures hovering around or just below zero with snow falling in many areas nationwide.
No great accumulations were to be had though, save for a few inches or so here and there, particularly in East Anglia, but with no real sign of tougher, rougher conditions overseas, there was little in the way of hard-weather movements to engage the birding public.
Indeed, aside from a couple of innarestin' moments in Royal Berkshire (the reappearance of a couple of pre-Chrimbo favourites and a seven-striped sprite upgrade) things were, as you may expect, given the time of year all a little bird samey.
But when "samey" includes all the birds that are about to be listed below, it just shows how high expectations have become.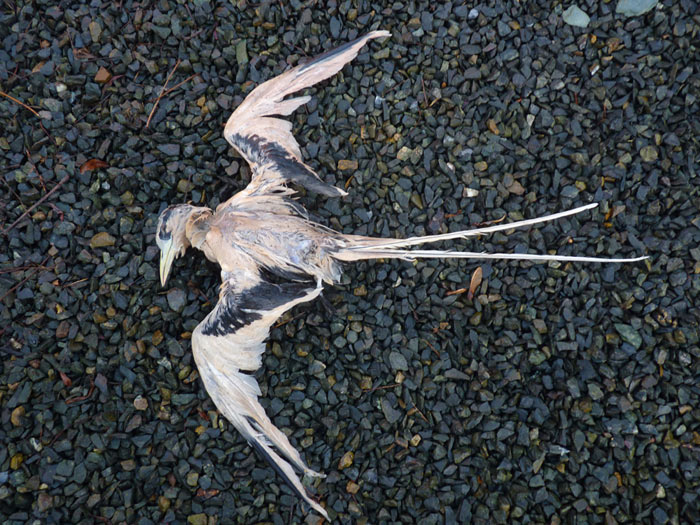 Headline birds
On the outer most fringes of London, at Queen Mother Reservoir, the two American Buff-bellied Pipits found last month were back again around the water's edge from 9th.
Last seen on Boxing Day, this extremely popular duo were on show for much of the week, and behaved themselves for another busy weekend's viewing - often on show in the puddles at nearby Kingsmead Quarry - with one bird back at the reservoir on the morning of 14th and both birds seen again on 15th.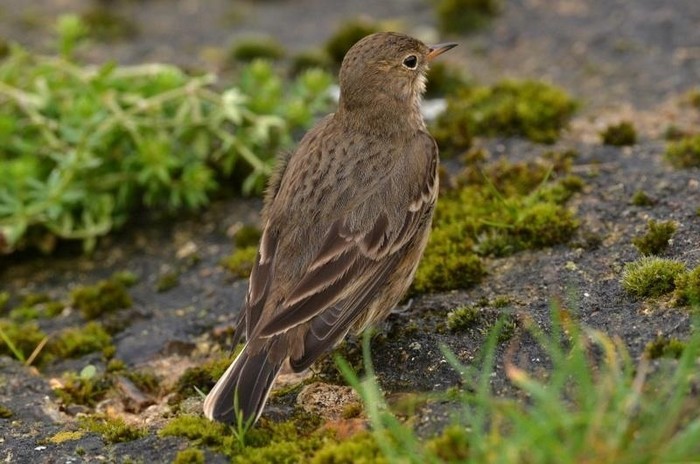 Everyone seems to have been behaving themselves on site and the sale of day permits so far (to around a 1,000 or more observers) has amassed a tidy sum to swell the coffers of the local county ornithological group, the BOC, by at least a couple of thousand pounds or so.
The willingness of Club members to act as volunteer marshals, overseeing permit sales and parking, is to be applauded and let's hope that all visitors have appreciated the time given to help them see the birds. This is another top class example of just how a sizeable twitch can benefit all parties…..more of these please…..
There was probably not much call to keep an eye on the crowds over in Galway as the American Coot remained at Murlach, near Ballyconnelly for another few days, still present to 13th at least, while over in the southeast of Ireland, the super young female Northern Harrier was seen again on 13th (the first report in 10 days).
Whizzing back to the west side, and up on Achill Island, the drake Black Duck was again noted on Sruhill Lough on 9th.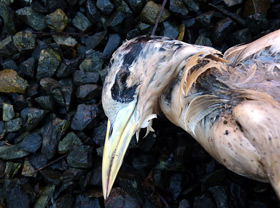 Making up the numbers isn't the normal starting point for a potential first for Britain, but in this instance, there's little to get excited about (sadly).
Found as a tideline corpse, the White-tailed Tropicbird picked up last week at Mawbury Bank (Cumbria) on January 6th, the specimen was said to be a) intact, b) smelly and c) shedding feathers. Online images certainly confirm c) and given the state of the corpse, b) would appear to be a given. As for a) - it depends on your dictionary definition of intact I guess…..but there's certainly enough of it there to give our assorted record committees another seabird record to play with.
This beautiful and charismatic species has a broad range, including the "tropical" Atlantic, through to the Western Pacific and Indian Ocean. In terms of Western Palearctic listing, there are three accepted birds to date - the first being an adult at Velho, Boavista, on the Cape Verde Islands in February 1999, with a further 12 years until the next one - the stunning adult on Flores and then on Corvo, on the Azores, for two weeks in October 2011.
What was thought to be the same bird reappeared in March last year, this time on Terceira and last October, an adult (perhaps the same bird again) was seen on Faial. A further six records have occurred in waters (loosely) adjacent to the Cape Verde Islands and the Azores (three in each), the first coming in July 1975, but all were in waters that were outside "Western P" boundaries.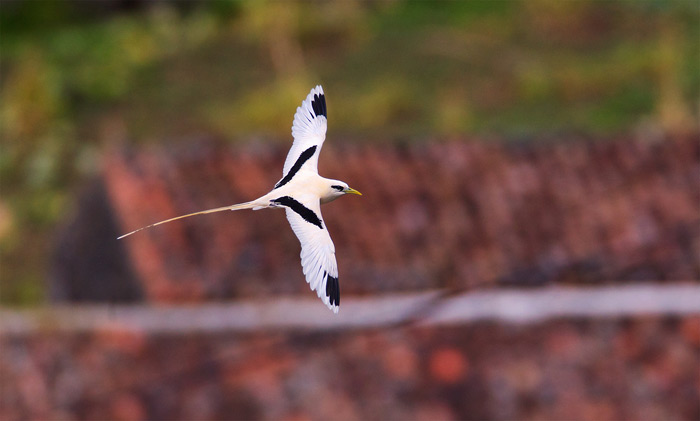 To have one species of Tropicbird on the British List seems pretty amazing (all the British Red-billed Tropicbird records have come since 2001), to have another would be more amazing still.
Seabirds
The week's only Little Auk was seen heading north off Hemsby, on Norfolk's east coast on 9th, while a little further south in Suffolk, the week's only Pomarine Skuas were reported from Landguard Point, two on 12th and one on 13th.
Carbis Bay, near St. Ives was, once again, the place to catch up with wintering Balearic Shearwaters - a maximum of nine there this week, the peak count coming on 13th. Seven were seen in St. Ives Bay a couple of days beforehand, and 15 were seen there on 14th, with one off Pendeen and two off Cape Cornwall as well during the past week. The only other Balearic this week was seen off Portland Bill during the afternoon of 11th.
Herons, Egrets & allies
Little change to report with another excellent spread of Great White Egrets this week - comfortably 25 on offer, maybe more if you could keep tabs on some of the birds present around the country….
Once again, Dungeness was top spot - five birds there on 11th with four present for much of the rest of the week (four of these ? were at nearby Lade GPs on the morning of 13th too). Three further singles were noted elsewhere in Kent this week, on Sheppey on 9th and on 13th at Conningbrook GP near Ashford and also at Sandwich Bay.
The rest of the southeast fared pretty well too - up to three lone birds were in Hampshire (at Ringwood, Blashford Lakes and also flying over Havant), two singles were seen in Essex (at Paglesham and Halstead) and further birds were again in East Sussex, at Pevensey Levels and in Buckinghamshire (still moving between Latimer and Chenies for the week) while a new bird was seen at Willington (Bedfordshire) on 9th.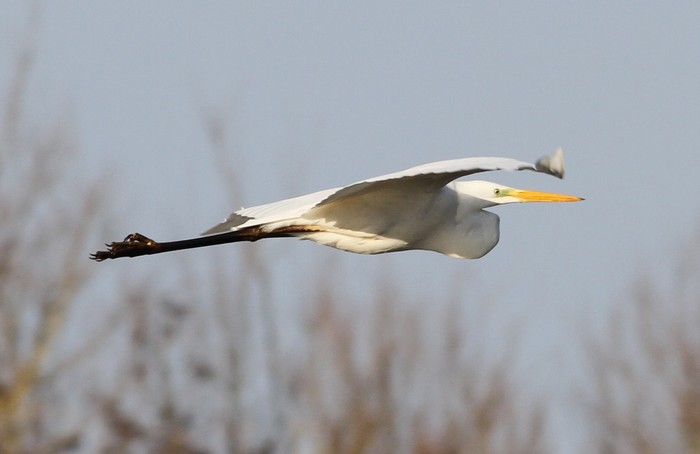 East Anglia, the Midlands and the Westcountry held two Great Whites a piece (one each for Norfolk and Suffolk, singles still in Herefordshire and Northamptonshire with Wiltshire and Somerset also having dibs on one as well), while the Welsh regulars included two again at Llanrhidian (Glamorgan) and another lingering at Llangorse Lake (Powys). A fourth Welsh bird was at Dinefwr Pools (Carmarthensire) on 15th.
In the northwest, three sites in Lancashire & North Merseyside and four sites in Cheshire all played host to single Great White Egrets this week - Banks Marsh, Crossens Outer Marsh and Southport having birds in the former, Frodsham, Parkgate, Ince Marshes and Stanlow in the latter. How many birds are involved is quite another matter, two rocked up again at Burton Marsh on 15th.
The porcine-loving Cattle Egret at St. Johnston (Co. Donegal) appeared to have bid his new found piggy chums a fond farewell sometime after 9th, but was back again as the week came to a close - plainly he was missing his porky chums. The second Cattle Egret of the week appeared at Tealham Moor (Somerset) on 11th and was still present the following day.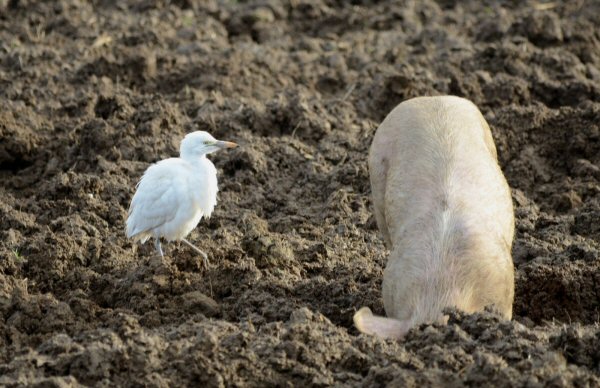 Next door in Dorset, a presumed new Glossy Ibis was seen over Stanpit Marsh on 9th, while old favourites remained in Hampshire (at Ringwood), Pembrokeshire (at Marloes Mere) and in Cork (at Timoleague).
Dorset also continued to host (and will do for weeks to come) the largest concentration of Spoonbills - 16 noted at Arne RSPB on 15th. Six birds were at Isley Marsh RSPB (Devon) while three lingered on Samson (Scilly) to 9th. Single birds were in Lincolnshire (at Frampton Marsh RSPB) and Lancashire (at Banks Marsh and Southport) while Ireland's sole representative was again at Dungarvan (Co. Waterford) for much of the week.
At least a dozen Common Cranes were in roadside fields between Repps and Clippesby (Norfolk) on 12th with four at Martham the following day. Three birds remained at Lakenheath Fen RSPB (Suffolk) to 11th and the Tacumshin Five were still in place to 13th too.
Ducks & Geese
Geese. Ahhhhh, geese! These poor old things are getting it in the neck from almost every quarter! Only a handful seem to be given anything like a light that's approaching green at the moment, with others remaining much debated and, generally, having rubbish heaped upon them.
We'll start this potential rogue's gallery in Norfolk with another super goose in the fabled 10km square at Cley, found initially at Salthouse on 11th, before moving to the fields around the nearby Norfolk Wildlife Trust reserve at Cley itself, the impressive juvenile Black Brant gave many observers their first opportunity to study this extremely unusual age on this side of the Atlantic and often showed well, to 15th.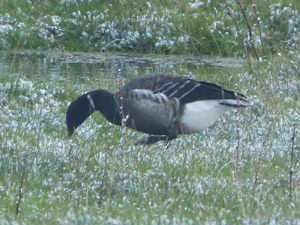 Given just how scarce this age is in Britain and Ireland, it is worthy of more, so the finder, James McCallum takes up the story…..
Around midday on the 11th January I was watching a small flock of Brents at Salthouse when I suddenly noticed an interesting looking bird on the back edge of the flock - a first winter bird with an obvious broad neck collar with the feathers on the back and belly being darker and browner than those of the rest of the flock. Straight away this bird was showing many of the characteristics of a young Black Brant – a plumage rarely encountered in Britain. Only once before had I seen a bird in this plumage so I was quite excited by the unexpected encounter.
After watching it for a short while, it soon became clear that it was a lone goose and not bonded with any of the adult Brents. Over the years there have been several mixed pairs of Black Brant and Dark-bellied Brent with hybrid goslings so I was keen to establish whether this was likely to be a pure Black Brant or a hybrid. So far all the 1st winter hybrids have shared a very similar appearance. Although some have had very Brant-like neck collars the ground colour of their backs and bellies has been grey-brown and the replaced adult-like feathers of the rear flanks have had a distinct buffy wash.
By comparison the back and belly feathers of this 1st winter were distinctly darker and browner and the new adult-like flank feathers had the chalky white appearance of a typical adult Black Brant. I concluded that the bird showed all the features that I would expect to see in a 'pure' Black Brant of the same age.
If this bird stays for the rest of the winter it will be interesting to see how its plumage develops. Some of the white feathers of the neck collar are still growing so it is likely that this feature will become even more well-defined and eye-catching. As the winter progresses many of the juvenile back and flank feathers should steadily be replaced and, with the exception of a few white tipped feathers on the coverts, the bird should start to look increasingly like an adult.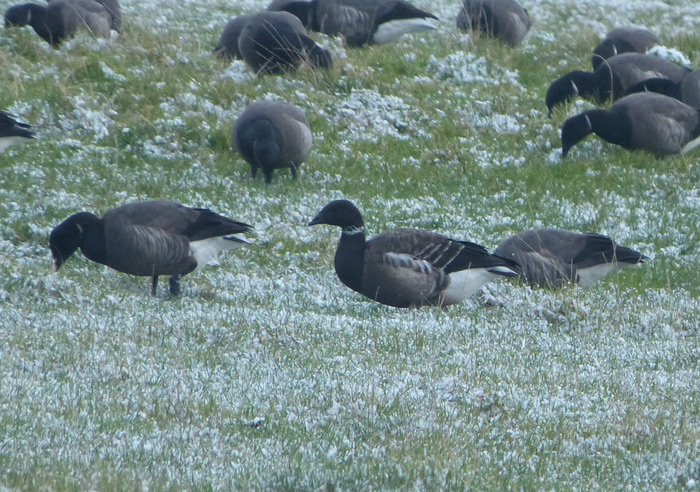 The north Norfolk coast has played host to all manner of Brants (one or two bobby dazzler ganders in particular have ticked all the right Brant boxes) along with a few dowdier birds (also passing muster as the real deal). A few of these have taken relationships with their kissing cousins that little bit further and, as James touched upon, in recent years several families of readily identifiable hybrid Brant X Dark-belled Brent have been noted in many winters across the last decade.
Some of the hybrids are at the Brant end of the hybrid range (and, as mentioned last week, remain a pitfall for some, there have only been hybrid adults birds at Wells and Burnham Overy this winter for instance….) and others require a more perceptive eye to pick out the birds that are at the bernicla end of the scale, but remain, unequivocally, hybrids.
This week's juvenile arrived as a significant push of Brents appeared along the north Norfolk coast, and it is the first youngster in the county since a one-afternoon bird, also at Cley, with a small group of Dark-bellied Brents back in early April 2002. Very few others (any?) have been reported in the intervening decade although a bird photographed in Cumbria less than a month ago looks like another serious juvenile Brant contender.
Further Brants, all adults, were reported from Felixstowe Ferry (Suffolk) on 9th, at Old Hall Marshes (Essex) on 10th, Pagham Harbour (West Sussex) on 11th and around the Portsmouth area (Hampshire) to the same date.
The same county continued to play host to a Red-breasted Goose until 12th before being seen to head east, then back west off Selsey Bill (West Sussex) the following day, before settling at Thorney Island on 14th.
The Suffolk RBG carry-on continued, news services deeming all of them duff now, with two adults and two first-winters seen at North Warren RSPB on 13th while the highly regarded adult with Barnacle Geese in Dumfries & Galloway remained near Loaningfoot to 12th at least.
Within the same flock of in D&G were both a Todd's Canada Goose (on 10th) and a Richardson's Canada Goose (on 11th) but neither of the two forms reported were seen on 12th. Elsewhere, single hutchinsii were seen on Islay (at Neriby on 11th and Loch Gruinart the following day), in Sligo at Ballintemple on 12th and briefly at Frampton Marsh RSPB (Lincolnshire) on 13th (keeping a dozen birds company, it was off within a minute - the same flock also held a "larger" race bird too!). How far the Lincolnshire goose has travelled is anyone's guess, but perhaps it could have trekked across the Wash from north Norfolk.
A lovely blue Snow Goose was found amongst the wintering Pink-footed Geese at Cockerham Moss (Lancashire) on 13th, with another blue bird still with Greylags on the Isle of Bute, at Ettrick Bay, on 12th. Two white Snows remained at Balemore, North Uist (Outer Hebrides) to 13th and Sheskinmore Lough (Co. Donegal) to 12th.
The dubious Ross's Goose in Norfolk departed the north coast on 9th (after a stop off at their regular haunt of last winter at Bayfield Lake) and, along with his Barnacle Goose buddies, was back in the east of the county on 12th. This mobility is quite at odds with the bird's last two winters in Norfolk and after at least one summer in Perth & Kinross, it'll be interesting to see where they are tracked next.
Last week's two adult drake Lesser Scaups continued to show for most of the week this week - on Dozmary Pool and then on Colliford Lake (Cornwall) to 14th and in Somerset, the long-staying bird was still on Blagdon Lake to 14th too. On Mainland Orkney, the first-winter female Lesser Scaup remained on Loch of Ayre, St. Mary's to 11th.
There were seven English Ring-necked Ducks on offer this week, with one for Wales and two in Ireland. The English birds included the first-winter drake and one of the two first-winter ducks again on Scilly, this time on Porth Hellick Pool, St. Mary's on 9th while on 13th there were two birds on different parts of Devon's Slapton Ley (the "regular" female and a new male). Elsewhere in the southwest, singles drakes were still at Par Beach Pool (Cornwall) on 10th and Hawkridge Reservoir (Somerset) to 13th, while the final member of the English septet was the drake lingering at West Ashby (Lincolnshire) to 11th.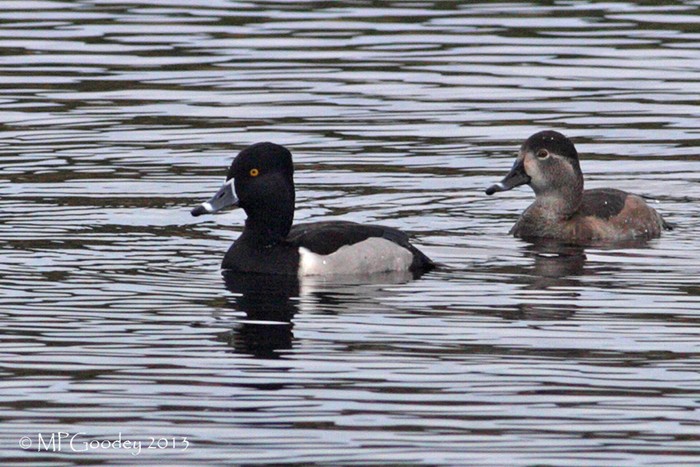 In Wales, the young drake Ring-necked Duck on Marloes Mere was present throughout the week, while single Irish drakes were on Lough Shivnagh (Co. Donegal) and Lough Ennell (Co. Westmeath) for much of the week. Green-winged Teals managed to clock up 16 drakes over the past seven days - almost the same number as last week but with a few variants compared to recent weeks. Three birds were seen in Scotland, on Loch of Ayre, St. Mary's (Mainland Orkney) on 11th, on Loch Mor, near Baleshare, North Uist on 13th and again at Caerlaverock (Dumfries & Galloway) on 14th.
In Wales, a new arrival was found at Sprinkle Pill (Pembrokeshire) on 12th and another new Green-winged Teal was found at Slimbridge (Gloucestershire) on 13th while others remained at Torpoint (Cornwall), Polemere (Shropshire) and Martin Mere WWT (Lancashire) while the drake in Cleveland moved from Saltholme to nearby Dorman's Pool from 9th-14th. A hybrid was also at Stalmine (Lancashire) following on from a report of a pure bird there last week.
Ireland registered seven singles - two in Cork (at Timoleague on 9th and Kilkeran Lake on 14th), still at Murlach (Co. Galway) over the weekend and Tacumshin (Co. Wexford) on 13th. New within the seven were individuals at Ballyquintin (Co. Down) on 10th, Dunfanaghy (Co. Donegal) from 12th and on the Mullet (Co. Mayo) on 14th.
Three American Wigeons were noted, all of them seen in previous weeks - at Udale Bay (Highland) on 10th, along the River Yare, between Marlingford and Bawburgh (Norfolk) to 13th and beside the River Drowes, at Tullaghan (Co. Leitrim) for the week.
Both of the week's King Eiders were in the far or very far north of Scotland and were, as with many other birds from this week, leftovers from previous days. In Aberdeenshire, the drake remained off St. Combs to 11th and on Shetland, at Symbister on Whalsay, the drake was present to the same date.
Pembrokeshire hosted two different Surf Scoters during the past few days - a new first-winter drake was found between Amroth and Wiseman's Bridge on 14th while the female was still at Broad Haven, also to 14th. County Kerry also had a couple of Surfies to play with - the juvenile at Ballinskelligs still around on 9th while a female was found in Brandon Bay on 10th. The only other bird this week was the now-familiar young drake at Dungarvan (Co. Waterford) to 13th.
Shorebirds
Tacumshin proved, as if it needed re-iterating, that it is currently Europe's leading single site rarity hotspot thanks to the discovery of an adult winter Long-billed Dowitcher, accompanied by Black-tailed Godwits, on the afternoon of 14th.
This joins the Northern Harrier and Green-winged Teal for this week's excellent trio of rarities and is just another addition to a remarkable list of birds seen there not just in the past few weeks (that one day December Wood Duck perhaps one of the bird's of the year.) and not even recent months, but over the past few years. Geography and habitat are obviously something to do with it, but there's little doubt that the perceptive, rarity-finding radar of some of the regulars there has much to do with it too.
As for this week's Dowitcher, it is perhaps inevitable that there's one route to go down and that is the "it's the Slimbridge bird" route…the Gloucestershire bird arrived at the start of the third week of July (on 21st) in lovely adult summer plumage, and quickly settled in with some early returning Icelandic Black-tailed Godwits (several Dowitchers have teamed up with Black-tailed Godwits in the past).
The Slimbridge Dowitcher was last seen on December 12th, after a stay of 144 days, still in the company of the godwits and now, we have an adult winter Long-billed Dowitcher on the southeast coast of Ireland, also with Black-tailed Godwits, one in the same? Who knows, but birders who are lucky enough to have flocks of Blackwits pass through their local patches need to keep eyes peeled for both species of dowitcher…the Dorset juvenile Short-billed was often seen hanging out with Black-tailed Godwits too.
First-winter Long-billed Dowitchers remained on Alkborough Flats (Lincolnshire) and the Gann Estuary (Pembrokeshire) to 9th and 13th respectively. In Devon, the first-winter Lesser Yellowlegs remained at Ernesettle throughout the week, while the Temminck's Stint at Steart (Somerset) was seen again on 11th and 15th.
Gulls and Terns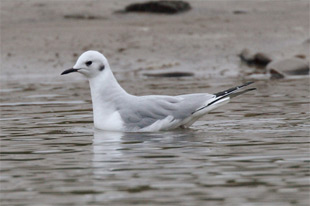 After some musings on the chances of Glamorgan's Bonaparte's Gull at Ogmore perhaps being a long-returning bird to the county (it would seem that it could be) but there were actually two adults in the county this week - the bird at Ogmore and another in Cardiff Bay, some 25 miles (across country) away.
Both birds were seen almost simultaneously on both 12th and 13th, with the Ogmore bird showing to the end of the week. The third bird of the week was found at Padstow (Cornwall) on the afternoon of 14th and will become, remarkably, the 50th record for the county.
Cornwall's first was shot at Falmouth on January 4th 1865, with the second shot a few days later at nearby Penryn. After the third in 1890, it was almost 80 years until the next one, an adult in Newlyn for three late October days in 1967. Just four birds followed until the start of the 1980's (a decade which saw 10 birds recorded) with 16 accepted from the 1990's with all others following in the last 12 years. Bonaparte's number four was the regular adult seen in Larne (Co. Antrim) on 15th.
Although Ireland remained utterly dominant where Ring-billed Gulls were concerned this week, we'll start with news of a new arrival on the Northern Isles - a first-winter Ring-billed Gull found on Fair Isle on 9th was just the fourth for the island, following hot-on-the-heels of the third (seen last June) with previous records coming in April 2001 and August 1992.
Britain's only other Ringos were, inevitably, still in Hampshire, at Gosport all week, with a new arrival at Chew Valley Lake (Somerset) on 15th but we'll leap across the Irish Sea for their collection of this underrated, and still tricky for some, larid.
Up to 17 birds were spread across nine Irish counties with Cork leading the way again, up to seven birds there (twos for Castletown Bearhaven on 11th, Cork City on 12th and Cuskinny Marsh on 14th) with a single bird at Rostellan Lake on 13th.
Three birds were seen in Kerry, the adult and first-winter moving between Blennerville and the Tralee Bay Wetlands on 11th with another adult at Carrahane Strand on 9th. New adults were seen in Antrim (at Carrickfegus) from 12th and in Clare (at Clarecastle) on 14th while further regular adults remained in Wicklow, Wexford and Waterford. A first-winter was seen again in Sligo on 10th and the third-winter remained in Groomsport (Co. Down) throughout.
Last week's total was boosted by three more adults in and around Dublin on January 3rd - at Bull Island, Ballydoyle and Swords.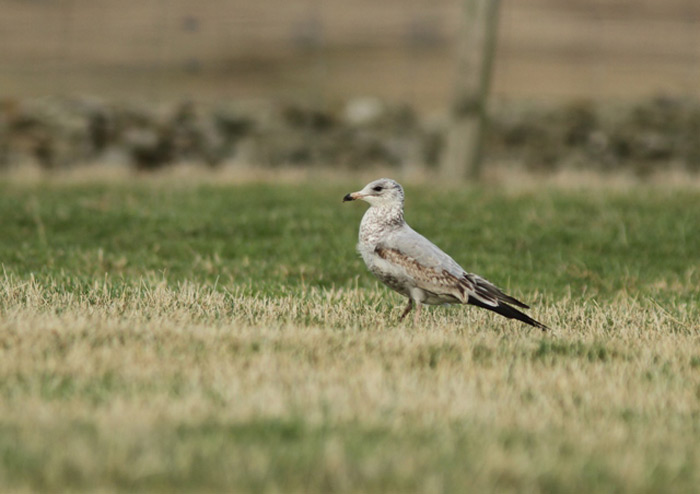 The adult Kumlien's Gull was seen again in the gull roost at Grafham Water (Cambridgeshire) on 10th and a juvenile (and probable third-winter) were at Killybegs (Co. Donegal) on 12th, with the juvenile still there following day, when another was seen at Cobh (Co. Cork).
Glaucous Gull numbers fell from around 50 last week to 40-odd this week, with 10 in Ireland bolstered by three birds at Killybegs on 12th and 15th. Four places scored two birds at a single site this week - in Northamptonshire an adult and juvenile were at Stanwick on 9th and two young birds were at Ditchford on 15th, two juveniles were noted at Tanholt GPs (Cambridgeshire) on 12th and two more youngsters were on Fair Isle on 14th.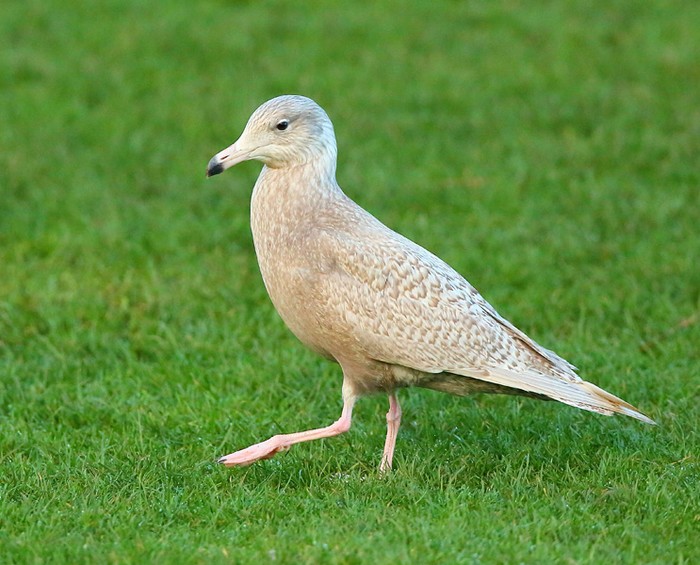 Iceland Gulls also saw a slight drop in numbers this week - down from 40 or so to 33 this week. Three birds (a second-winter and two juveniles) were seen at Richmond Bank (Cheshire) on 10th while the same number (and also comprising a second-winter and two juveniles) were seen at Killybegs on 12th. An adult and a juvenile were reported from Farmoor Reservoir (Oxfordshire) on 13th while singles were spread from Scilly to Shetland - with two birds each for London, East Yorkshire, Ayrshire and Highland.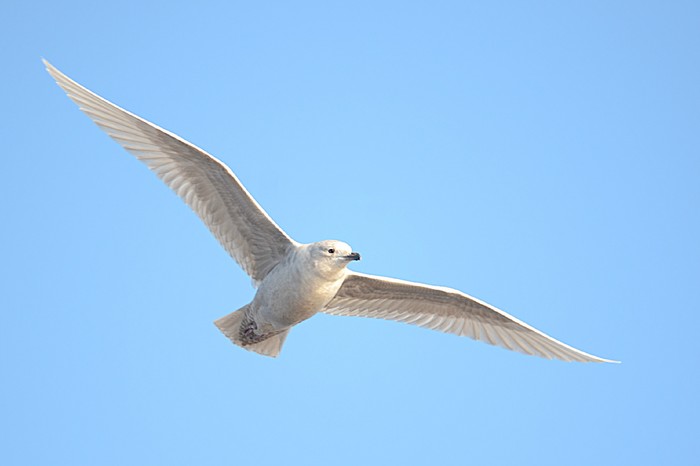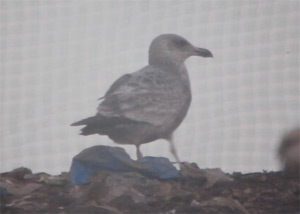 In Cleveland, what could prove to be a second-winter American Herring Gull was seen and photographed at the tip at Seaton on 13th - the overall impression of the bird was certainly heading down the Smiths line and what detail that could be seen on the set of images taken looked promising - the pattern on the tertials, coverts and scapulars all looked rather pro-American Herring Gull, while the smooth brown tones on the head and body, contrasting with the emerging pale grey mantle feathers certainly rang Trans-Atlantic bells (fair play to the observer for sussing it was worthy of taking some shots and then for getting anything at all on celluloid). Hopefully, a few more eyes may help to nail down this fascinating looking bird in the next few days.
Raptors
On the Outer Hebrides, at least one white Gyrfalcon was seen on and off through the week - seen on South Uist on 9th-10th, the bird was seen heading north during the morning of the latter day and it (or another) was seen later the same day on North Uist. Then, on 11th, the bird was back over the coast of South Uist, last seen tracking north to Benbecula.
Another Gyrfalcon was found on 15th, this one on Orkney, seen near Toab, on Mainland.
Two Rough-legged Buzzards were reported from the Waveney Forest/Haddiscoe area of east Norfolk on 12th, a male and a female - the male was last seen heading over the forest and just one bird remained to the end of the following day. The juvenile remained at Gibraltar Point (Lincolnshire) to 11th and in Kent a juvenile was seen at Leysdown-on-Sea, Sheppey on 9th.
Back in Lincolnshire, a Dark-breasted Barn Owl was reported at Croft Marsh on 13th.
Passerines
On the Berkshire/Hampshire border, last week's Yellow-browed Warbler at Moor Green Lakes and Eversley GPs turned in to Berkshire's first-ever Pallas's Warbler on 12th in a re-identification scenario you should just put down as being one of those things.
A wintering inland Phyllosc., all lovely and stripey, is a good find whatever way you look at it and that the bird has given itself up well enough for a few extra stripes and a lemony rump to be revealed is good news for all, especially those with a Berkshire list and also for those journeying to see the Buff-bellied Pipits too - some 250 people turned out at one point over the weekend to enjoy this classy'n'classic little seven-striped sprite.
Yellow-browed or Pallas's, at least the news was released and some of those who may have a had a dig or two about the circumstances surrounding the eventual end result probably went along to have a look too.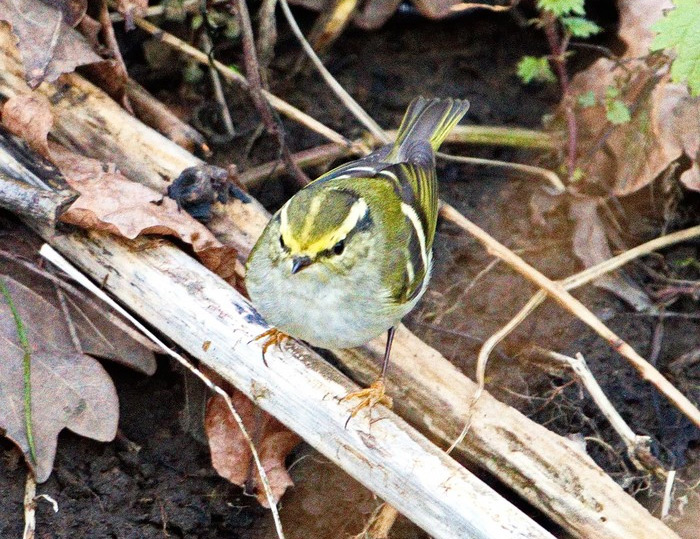 Other unseasonal wintering warblers this week included the Dusky Warbler still showing on Lower Moors, St. Mary's (Scilly) on 9th and 11th and the wintering first-year female Western Subalpine Warbler that continued to pop in and out of the gardens of St. Just (Cornwall) for the whole week.
Way off to the north, on Shetland, a Hornemann's Arctic Redpoll was seen at Haroldswick, Unst on 15th - the last report from the islands came on December 17th at Baltasound. A little further south, in Aberdeenshire, the wintering female Desert Wheatear stayed for another week too.
In the far southwest, in Devon, the first-winter Rose-coloured Starling in Exminster was seen daily to 13th while back on Scilly, the Richard's Pipit remained around Telegraph to 9th. In Somerset, a new Richard's was found at Clevedon on 12th, where it stayed until the end of the week. In Norfolk, the Black-bellied Dipper spent much of the week on the River Thet in Thetford, present to 15th.
Only seven Great Grey Shrikes were seen this week - one in East Yorkshire, at Market Weighton, had been present for some six weeks or so before news emerged on 9th and it stayed around to 12th at least. Also new was a bird at Colliford Lake (Cornwall) on 12th, while wintering birds remained in Powys, Staffordshire, Derbyshire, Hertfordshire and Surrey.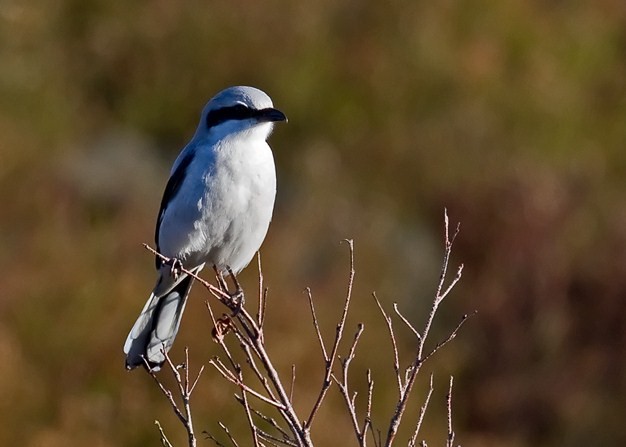 Thousands of Waxwings were spread far and wide again this week - from the Northern Isles down to Devon and Cornwall and across in to Ireland with, once again, the central spine of England seemingly faring best for this winter nomad.
After 16 three figure flocks last week, just 10 were seen over the past seven days with the highest count coming from Old Moor RSPB (South Yorkshire) where 360+ birds were counted on 14th - one of three flocks over 100 in the county this week. A flock of 200 was seen at Cresswell (Derbyshire) on 12th and other flocks of 100 or more were noted in Fife, Greater Manchester, Merseyside, Northamptonshire, Buckinghamshire and London.
That wraps the fun up for another week - the cold weather is set to last for a few more days to come, so perhaps an icy continental blast will send a few new arrivals our way.
Some of the most recent, genuine, accepted Great Bustards made their way to East Anglia in the third week of January 1987 (unsurprisingly that was also a particualrly chilly winter spell too) and they arived at the start of a manic spell for the listers of the day.
A first-winter drake Harlequin drew hordes of folk north to Shetland from January 16th and that was followed soon afterwards by a five-day Brunnich's Guillemot, also on Shetland. No sooner had that drawn crowds back north, then some more Great Bustards made themselves available (in Norfolk, then Suffolk) and a second-winter Franklin's Gull (still a tricky bird to see in the late 80's) played a little bit of cat & mouse in Cornwall.
Will the next few days be as good? There are 1000's waiting for those Bustards that's for sure, and don't forget, it was just two years ago this week that the first potential Slaty-backed Gull for Britain started to drive many to distraction, which leads us nicely in to.
A little postscript to this week's review, where we'll take a quick look at a couple of species that would have been almost guaranteed in harsh winter weather in the past but which have both become rather trickier to connect with in recent years, the frequently asked question being...
...whatever happened to Ross's Gull and Ivory Gull?
In the past six or seven years, these two supreme High Arctic vagrants have virtually fallen by the wayside as a trio of "Super-Larids" have grabbed all the attention...
Within this triumvirate of uber-vagrant gulls comes Thayer's Gull and, in particular, Glaucous-winged Gull and the aformentioned Slaty-backed Gull.
As Ireland's potential & putative Thayer's have, arguably, become less-impressive over the years (compare the original Cork City dump bird of 1990 with say, the curio on the Mullet from 2005), Britain's two most recent candidates, the adult in Essex in 2010 and last year's juvenile in Lincolnshire have the appearance of both being the real deal.
The roaming third-winter Glaucous-winged Gull pushed the boundaries further still during the winter and spring of 2006 in to 2007 and the stunning adult found at the end of 2008 in Cleveland confirmed just how special these birds can be.
And then came the potential/presumed Slaty-backed Gull in and around London and Essex from January and February 2011. As pale as it sometimes looked, it is hard to see it as being anything other than a schistisagus, the next one (rest assured there will be a next one) may look better still and, hopefully, may behave itself and settle at one site for a few days.

So. That's five mega, mega gulls in the space of six years or so - and within the same time frame we've had just four accepted Ivory Gulls and five Ross's Gulls, numbers which seem exceptionally low.
By the close of 2010 there were 121 accepted records of Ross's Gull, with just one bird since then, the lovely adult at Ardglass last year, while the last Ivory Gulls came four years ago - a delicious adult for two January days on North Uist and a spotty first-winter for just under a week in County Cork.
Where have they gone? Ross's amd Ivory Gull in Britain and Ireland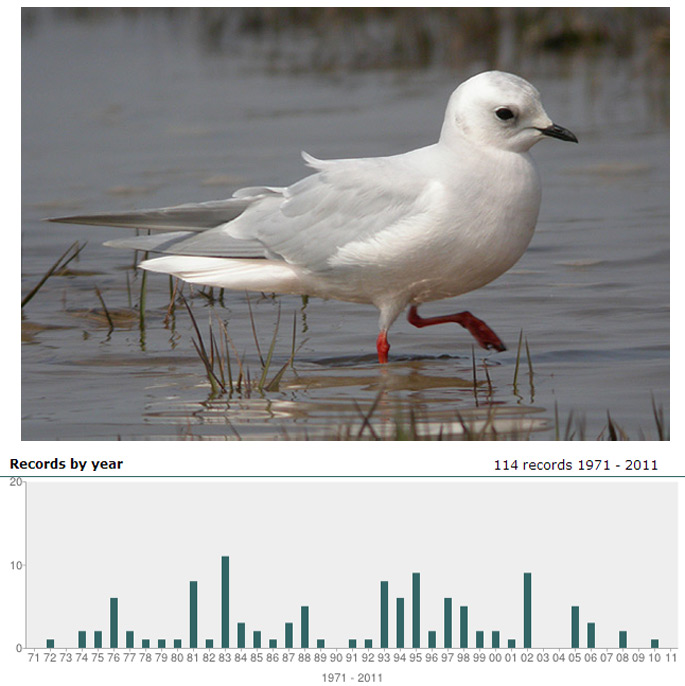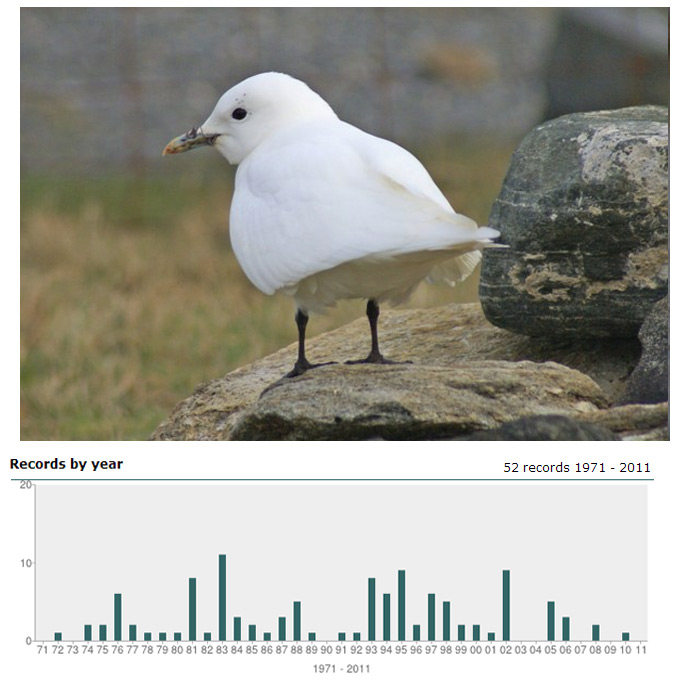 With each chilly blast, minds invariably turn towards both Ross's Gull and Ivory Gull as predicted species to occur but they just won't come. There seems to be more chance of another Thayer's or even Slaty-backed then there is of an Ivory Gull but it is hard to fathom exactly why. The number of skilled and practicsed birders scanning through flocks of gulls is as high now as it ever was but still the numbers of these almost once-annual duo of delightful drifters has fallen away to barely a one.
It is one of winter birding's trickier puzzles to work out, but sometime soon, someone, somewhere is going to have one of those "special" moments, and if it's an Ivory Gull in full-on gore-fest mode on a seal on the beach at Cley, then so much the better!
Mark Golley
16 January 2013
This weeks contributors
A very special thanks this week to
James McCallum
, Deryk Shaw and
Steve Hewitt
for their contributions
Many thanks also to all our other contributers for their photos.
Paul Rowe
Martin Goodey
,
Mika Bruun
,
Andy Jordan
, Chris Bromley, Neil Cowley, Christine Cassidy, Marcus Nash, Michael Trew, Andrew Hood, Steve Clifton, David Carr, Tom Lowe, Tristan Reid, David Acfield, Steve Duffield