Weekly round-up: 19 Dec 2012 - 01 Jan 2013
The week at a glance
Rose-breasted Grosbeak still on the Isles of Scilly
Buff-bellied Pipit in Berkshire joined by another
Hornemann's Arctic Redpoll departs to pastures new
Black Duck reappears in Highland
Laughing Gull in Aberdeenshire
American Coot still in Galway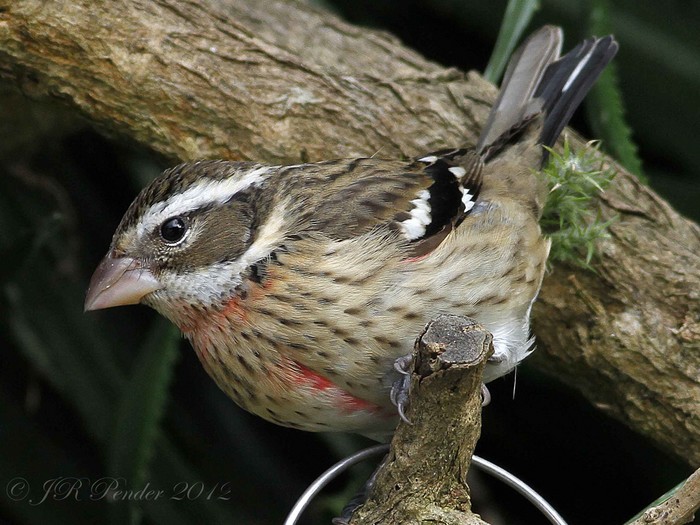 Headline birds
The pre-Christmas period saw a return to shocking weather with very strong southeast winds and heavy rain prompting a recurrence of flooding in southwest and southern England and parts of Yorkshire and eastern Scotland. There was then, needless to say, no white Christmas, just an endless procession of Atlantic lows with accompanying strong winds and frontal rain though temperatures remained mild.
Despite the weather, however, and the lure of shopping, there were clearly still some people out in the field, for during the festive period there was an excellent selection of rare birds scattered across the country from Scilly to Aberdeenshire, and plenty more in Ireland too. Indeed many of the long-staying rarities were logged on Christmas Day, a demonstration of commendable enthusiasm and dedication to the cause.
However, Boxing Day onwards is a more traditional birding period, with many desperate to escape from the house and regain some sanity in the open air. Such post-Christmas escapism has often produced a major rarity but this New Year there was nothing new and startling to grab the headlines. There was, nevertheless, much to report.
The period's undoubted highlight was the continued, albeit intermittent, presence of the first-winter male Rose-breasted Grosbeak on St. Mary's, Isles of Scilly, tucking into its Christmas fare at feeders to at least 29th. Even though elusive, sometimes going missing for several days at a time, it clearly finds St. Mary's to its liking. Fortunately, this bird has had the good sense to choose Britain's mildest corner in which to attempt a wintering. This is important for a species whose normal winter range (from southern Mexico to northern Peru and Venezuela) is distinctly more tropical. Rose-breasted Grosbeaks come readily to feeders, however, a habit which this bird clearly understands. Hopefully it will ensure its survival over here.
Due to its location, however, a much greater crowd-pleaser was the Buff-bellied Pipit at Queen Mother Reservoir, Berkshire. Whilst access was available this bird vied with Suffolk's Hornemann's Arctic Redpoll to be the tamest bird of the year and must be the best-photographed Buff-bellied Pipit ever in Britain (with apologies to anyone who knows better). Almost unbelievably, however, the bird was, on 26th, joined by another individual, only for both then to disappear, with no further sightings by the New Year.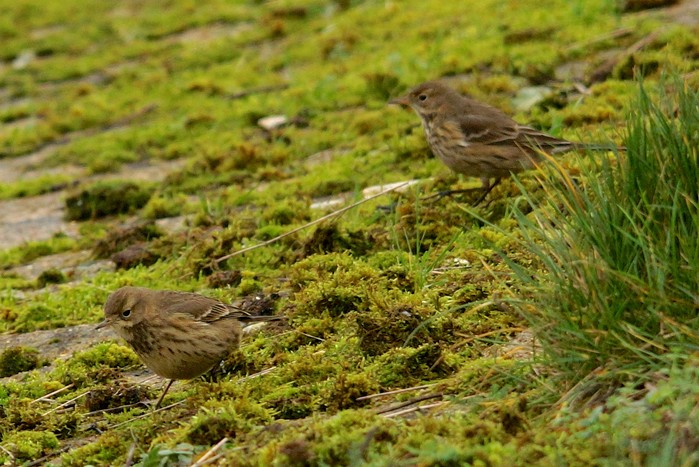 This astonishing double-act was only witnessed for a couple of hours but both birds were well photographed together. The appearance of another poses the obvious question as to how many more might be out there. Nor is this the first time that Buff-bellied Pipits have appeared in multiples. The events in Berkshire are a clear echo of the two birds on the Isles of Scilly in late September and early October 2007 and, more recently, the two at Tyrella, Down in late autumn 2012. As if to remind us of this event, one of these latter birds duly made a reappearance on 27th and was still present on 29th.
Suffolk's Hornemann's Arctic Redpoll was still present on 19th but a second dose of strong southeasterly winds and rain driving straight into its favoured stretch of beach probably tested its patience a little too much and it promptly disappeared. Where it goes will doubtless remain a mystery but if it chooses a similar 'random' piece of open ground the chances of its relocation will be slim. We should, however, be on the lookout for this species again in April. There are already a tiny handful of early to mid spring records of this species and the recently discovered light mid-April passage of hornemanni in Iceland (presumably returning to Greenland) is a further big hint that we should be looking at this time of year too. Readers of this column should remember a lovely picture of one with a Linnet on Islay in April 2012.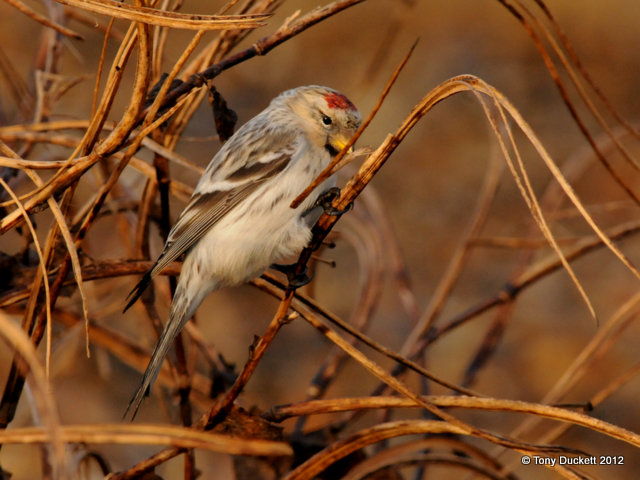 New just in time for Christmas was an adult drake Black Duck in the stunning location of Loch Sunart, Highland. It was first seen on 23rd and then again on 24th and 28th but it is in fact a returning bird, first recorded here from 16th to 17th June 2007 and then again in 2011, on 6th to 26th June and 6th October. Such a long-staying habit is of course not unusual in Black Ducks. Previous stayers have included birds on Tresco, Isles of Scilly from 1976 to 1983 and at Aber, Gwynedd from 1979 to 1985.
The other star bird of the Christmas to New Year period was a second-winter Laughing Gull at Rosehearty, Aberdeenshire, found on flooded fields and on the nearby shore on 19th and then missing but appearing again on 22nd, then again on 25th and then more regularly from 27th to 31st, either at Rosehearty or at Fraserburgh. There was, unfortunately, no sign of it on New Year's Day, however. Surprisingly, this is the first for Aberdeenshire but Rosehearty is of course already famous for an altogether rarer Nearctic bird - the juvenile Short-billed Dowitcher of September 1999.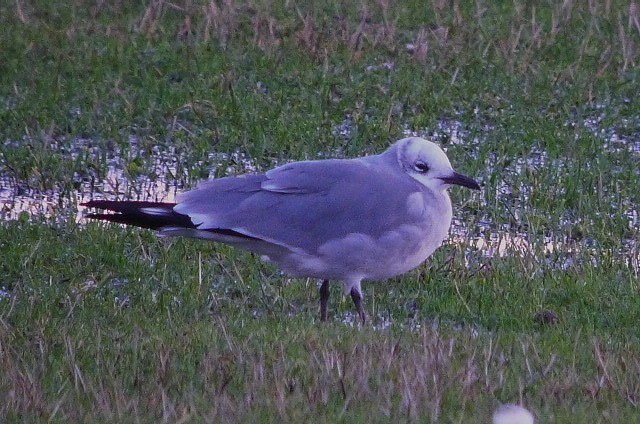 To complete the parade of the top rarities, the American Coot was still at Murloch, Galway on 27th at least.
There was a steady stream of 'Euronews' over the festive period but the most amazing event was the relocation of Estonia's Red Fox Sparrow at Parainen, southern Finland on 20th where it remained until at least 30th. Other excitements included a female Baikal Teal in Switzerland and, in Sweden, a Cedar Waxwing . Also grabbing the headlines was an adult Slaty-backed Gull at Grodno, Belarus on 26th to 30th at least. Other good birds were in the Netherlands - a Dusky Warbler at Alkmaar and no fewer than three Hume's Warblers - at Groningen, Den Haag and Katwijk, the latter presumably a returning individual from last winter. A Black-throated Thrush was in Denmark.
Seabirds
There was a tiny scatter of Little Auks during the period, almost all off northeast Scotland where a maximum of 15 passed Tarbat Ness on 23rd. Elsewhere, two were off Ardvule Point, Western Isles and another off Seafield, Lothian the same day with further singles off Fleetwood, Lancashire on 27th, Carnsore Point, Wexford on 28th and two more off Ardvule Point on 29th. Other singles were off Filey, Yorkshire on 30th and St. Ives, Cornwall the same day with others off Tiree, Argyll and Old Head of Kinsale, Cork on 31st. 58 Balearic Shearwaters off St. Ives on 30th and 45 in Carbis Bay, also Cornwall, on 31st were notable counts for December and, also somewhat unseasonally, a Leach's Petrel passed Selsey Bill, Sussex on 27th. A good record for Devon was of five Blue Fulmars past Berry Head on 31st.
Herons, Egrets & allies
Great White Egrets continued to dominate, with at least 25 birds reported from 16 counties. An impressive five were at Dungeness, Kent, four at Westhay Moor, Somerset, two at Llanrhidian, Glamorgan and two also remained on the Dee off Parkgate, Cheshire and Wirral, whilst two (the same?) were on the Mersey at Frodsham, also Cheshire and Wirral. Cattle Egrets were at St. Johnston, Donegal and Westhay Moor and Mudgley, Somerset.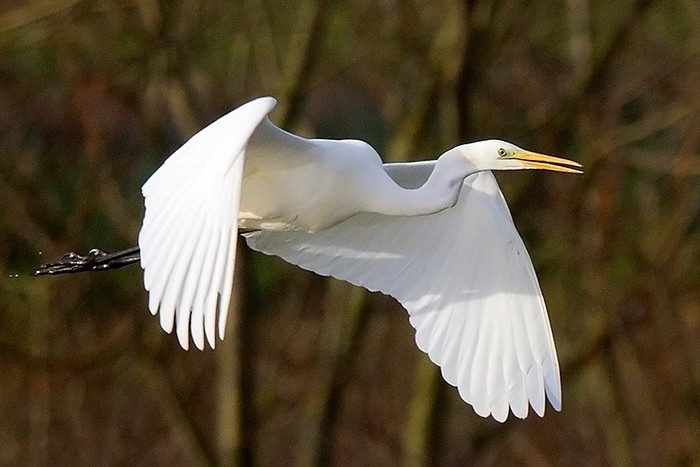 Spoonbills were still almost exclusively on the south coast, with five at Yelland, Devon and 15 in Poole Harbour, Dorset. Glossy Ibises were still at Marloes Mere, Pembrokeshire, at Timoleague, Cork, at Stanpit Marsh, Dorset and at Ringwood, Hampshire. In Ireland, five Cranes remained at Tacumshin, Wexford.
Ducks & Geese
The wildfowl story was dominated by long-staying winterers but some new discoveries were made too. Top of the bill remained this winter's set of Richardson's Canada Geese - at Lissadell, Sligo, Mersehead, Dumfries and Galloway, at least one on Islay and up to two at Campbeltown, Argyll and at Cley/Salthouse/Kelling, Norfolk. A new discovery on Jan 1st was a Todd's Canada Goose at Loaningfoot, Dumfries and Galloway, a welcome reappearance by this form. Also from the Nearctic were single Black Brants at Dundrum, Down on 22nd and at Dungarvan, Waterford on 27th, a Blue Snow Goose at Lough Macnean, Fermanagh on 19th and two Snow Geese at Knockline, North Uist on 27th. The adult Ross's Goose , previously in east Norfolk, made an appearance on the county's north coast along with its Barnacle Goose companions, being seen at Cley on 21st and 22nd.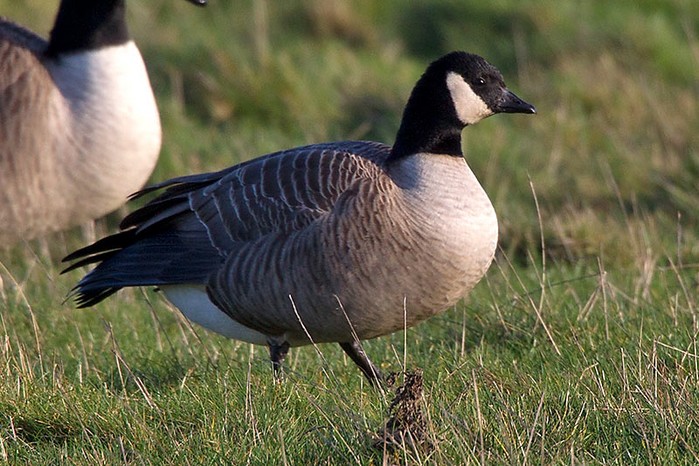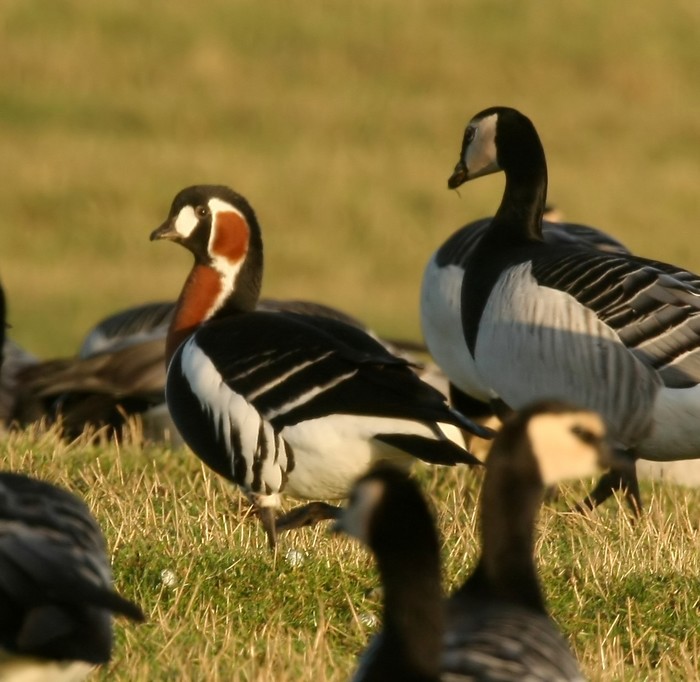 From the other direction, a handful of Siberian Brants was also noted - at Cley and Salthouse, Norfolk on 23rd to 27th at least, with another reported at Wells/Holkham on 27th to 28th, and also at Elmley, Kent on 28th. The wintering Red-breasted Geese were also still at Loaningfoot, Dumfries and Galloway and at Farlington Marshes, Hampshire while a new first-winter was at Hollesley Marshes, Suffolk on 27th before joining the three feral adult birds at North Warren, also Suffolk, on 30th. Finally, another was reported on Islay, Argyll on 30th.
This is not proving to be a big winter for Tundra Bean Geese , and only a handful were reported - five at Westleton/Minsmere and up to seven at North Warren, both Suffolk, and, more unusually, two over Rainham Marshes, London on 20th, a single at Cayton Carrs, Yorkshire on 27th to 28th (with three there from 30th to the New Year), five at Lough Swilly, Donegal on 25th and two at St. Osyth, Essex on Jan 1st. Taiga Bean Geese in the Yare Valley numbered at least 62 by the year's end but away from here two were at Kingseat, Fife on 29th and two also at North Warren, Suffolk on 30th and 31st.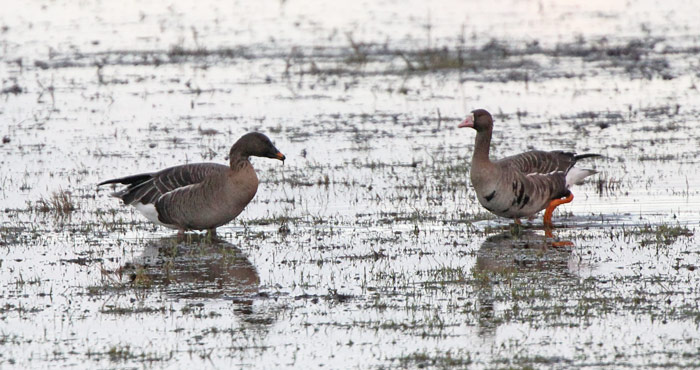 As for diving ducks, Lesser Scaup were still at Lough Gill, Kerry, Dozmary Pool, Cornwall, Blagdon, Somerset and Lough Gash, Clare with Ring-necked Ducks at Charlestown Woods, Cornwall, Slapton Ley, Devon, Lough Gill, Kerry, Loch Hosta, North Uist, Lough Owel, Westmeath, Par Beach Pool and Siblyback Reservoir, Cornwall, Kirkby-on-Bain, Lincolnshire, Hawkridge Reservoir and Ashford Reservoir, Somerset, Emlagh and Lough Baun, Mayo, Marloes Mere, Pembrokeshire and three still on Tresco, Isles of Scilly. The period's only Ferruginous Duck was at Girton Gravel Pits, Nottinghamshire on 27th and again on 30th.
Green-winged Teals put in a good showing, with drakes recorded at Nosterfield NR, Yorkshire, Caerlaverock, Dumfries and Galloway, Loch Mor, North Uist, Slimbridge, Gloucestershire, Hodbarrow, Cumbria, Wyre Estuary and Marshside, Lancashire, Torpoint, Cornwall and Clogheen Marsh, Cork. Drake American Wigeons were at Ashton's Callow, Tipperary, Udale Bay, Highland, Loch of Strathbeg, Aberdeenshire, Angler's Country Park, Yorkshire and between Marlingford and Bawburgh, Norfolk. Finally, the Blue-winged Teal at Castle Douglas, Dumfries and Galloway, was reported again on Jan 1st.
At sea, Surf Scoters were still off Dungarvan, Waterford, Dingle and Burnham Lagoon, Kerry, Broad Haven, Pembrokeshire and Largo Bay, Fife whilst at least one King Eider was noted off Burghead, Moray on 25th and off Rosehearty, Aberdeenshire on 29th, with another at Symbister, Whalsay on 31st, the last new rarity discovery of the year.
Raptors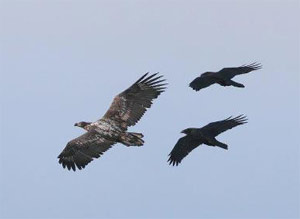 The best raptor was undoubtedly the Northern Harrier still at Tacumshin, Wexford on Jan 1st. In a very thin winter indeed for Rough-legged Buzzards , only three were reported - a wintering bird at Haddiscoe/Chedgrave, Norfolk, one reported at Lound, Nottinghamshire on 23rd and another at Gibraltar Point, Lincolnshire on 27th to Jan 1st. Finally, away from the breeding populations, a White-tailed Eagle was over Unst, Shetland on 26th and another near Finstown, Orkney on 30th.
Owls
A good find was a Dark-breasted Barn Owl at Ouse Fen, Cambridgeshire. Reported previously as 'dark-breasted', it was awarded the accolade of initial capital letters on 29th and was still there on Jan 1st.
Shorebirds
Very few waders of note were reported, the best being an American Golden Plover at Rosslare Back Strand, Wicklow on 23rd and a new Long-billed Dowitcher on the Gann Estuary, Pembrokeshire on Jan 1st - the first new rarity of 2013. Otherwise the story was one of winterers - the Long-billed Dowitcher still at Alkborough Flats, Lincolnshire and the Lesser Yellowlegs at Ernesetle, Devon. Also apparently now wintering was the Temminck's Stint at Steart, Somerset, still present on Jan 1st.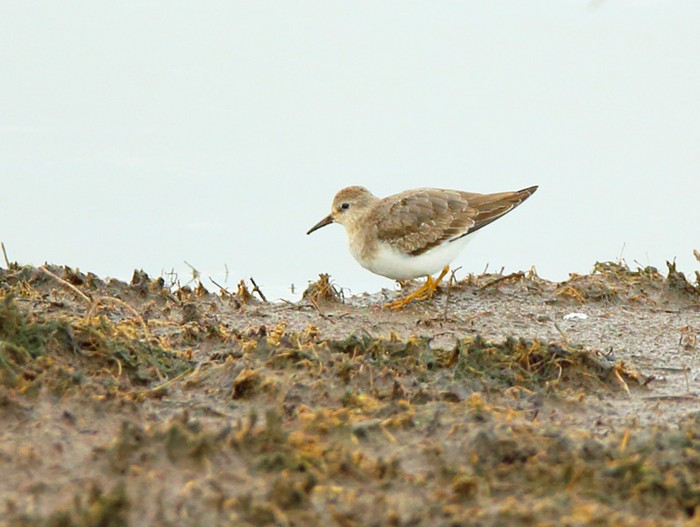 Gulls and Terns
Apart from Aberdeenshire's Laughing Gull, the best gull was the Antrim adult Bonaparte's Gull , seen again on 26th, 28th and 31st and frequenting Larne and Ballygally.
After last week's thin spread of Glaucous and Iceland Gulls (about a dozen of each), the turbulent Atlantic weather of the Christmas period saw a much more concerted influx with well over 30 of each recorded. Both species were well distributed around the country between Cork, the Isles of Scilly and Shetland and, as expected, a good number were inland too. Best of all, though, were two Kumlien's Gulls - a third-winter at Cleadon, Durham on 28th and 31st and a 'near-adult' at Cobh, Cork on 30th and 31st.
Though from a completely different direction, Caspian Gulls were also particularly prominent with some high single-site totals recorded, most notably up to 9 at Pitsea, Essex and 8 at Rainham Marshes, London but also 6 in Sussex and 4 in Sheffield.
Also impressive was an excellent list of Ring-billed Gulls , almost all in Ireland. It is not clear how many of these are new discoveries as opposed to returners/winterers but birds were noted at Tralee and Carrahane ( Kerry), Bearhaven, Burren, Midleton, Castletownbere, Timoleague and Cobh (Cork) - with up to three at the latter site - South Slob, Duncannon and Rosslare Back Strand (Wexford), Groomsport (Down), Nimmo's Pier (Galway), Bray (Wicklow), Tramore (Waterford), Sligo (Sligo), Dublin (Dublin) and O'Callaghan Strand (Limerick). Away from Ireland there were only two - the long-stayer at Gosport, Hampshire and another at Sands Lane Gravel Pits, Yorkshire on 25th and Savile Town, also Yorkshire, on 29th.
The only tern of note was the Forster's Tern , again around Galway City, Galway on at least 24th and Jan 1st.
Passerines
Passerines were also scarce but some hardy birds continued to brave the British winter. Suited to much sunnier climes were the sometimes elusive female Desert Wheatear at Rattray Head, Aberdeenshire, still there to Jan 1st, and the always elusive Subalpine Warbler at St. Just, Cornwall, also still there to Jan 1st, whilst in neighbouring Devon, the young Rose-coloured Starling also made it to the New Year. Joining the Rose-breasted Grosbeak on St. Mary's Isles of Scily on 27th was a Serin , whilst another was at Dawlish Warren, Devon on Jan 1st.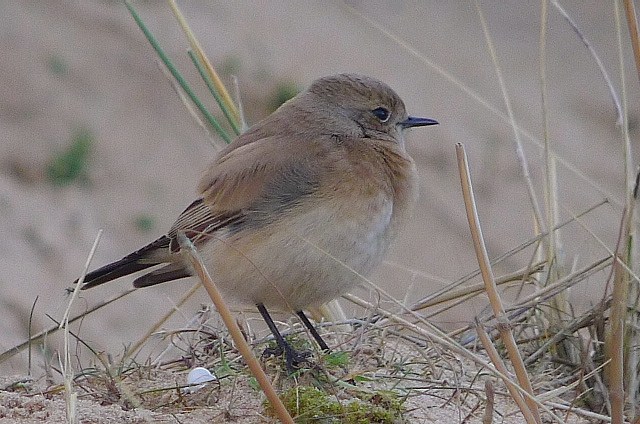 Other birds more typical of the autumn were Siberian Chiffchaffs on Inishbofin, Galway on 20th and at Arlington, Sussex on 27th, a Yellow-browed Warbler discovered in Worcester, Worcestershire on 22nd and, also a new discovery, a Richard's Pipit on Lewis, Western Isles on 25th and 26th.
Otherwise it was a tale of winter passerines. Great Grey Shrikes were at Old Kinord, Aberdeenshire, Bishop's Dyke, Hampshire, Lollingdon Hill, Oxfordshire, Thursley Common, Surrey, Therfield Heath, Hertfordshire, Beeley Moor, Derbyshire, Clocaenog Forest, Denbighshire/Conwy and Boreham Down, Wiltshire - a rather poor showing by normal standards.
As ever, the last word goes to Waxwings . Birds continued to wander around the whole country (including as far southwest as the Isles of Scilly) but there were some very large flocks, most notably 470 in Wombwell, Yorkshire and 300 at Thorpe-on-the-Hill, Lincolnshire. Other three-figure flocks were in Nottinghamshire, Gloucestershire, Cheshire and Wirral, Suffolk, Greater Manchester, Aberdeenshire, Yorkshire and Northumberland.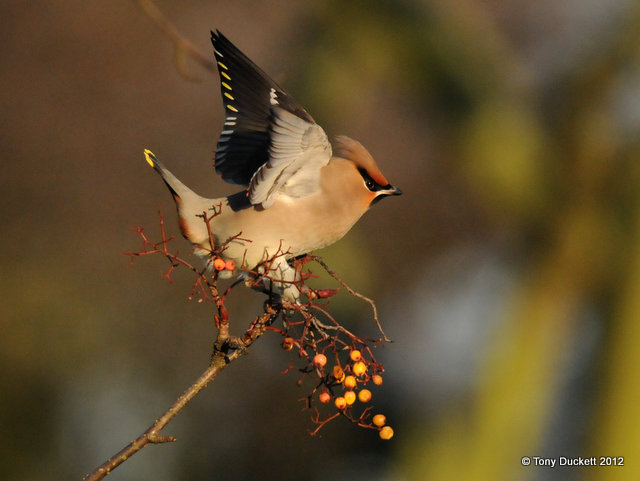 As the New Year starts, the weather is settling down, with the prospect of sunnier days and calmer winds. This should ease the task of eager year-listers keen to collect all the leftovers from 2012 but it may also prompt the discovery of a previously unsuspected winterer lurking somewhere. Whatever happens, Mark will be back next time to report on the New Year's first full week.
Andy Stoddart
19 December 2012
This weeks contributors
Many thanks this week to all our other contributors for their photos and videos.
Joe Pender - Sapphire Pelagics
,
Ashley Fisher - Scilly Pelagics
,
Alex Berryman
,
Chris Upson
,
Robbie Brookes - Nature in Shetland
, Tony Duckett, David Abraham, Brian Henderson, Sean Nixon, Michael Trew,