Weekly round-up: 12 - 18 Dec 2012
The week at a glance
Rose-breasted Grosbeak on the Isles of Scilly
Buff-bellied Pipit found in Berkshire
Hornemann's Redpoll performs for all in Suffolk and another appears on Unst
White Gyr Falcons on Orkney and the Western Isles and in Derry
Pacific Diver reappears twice in Cornwall
American Coot still in Galway
Falcated Duck appears and disappears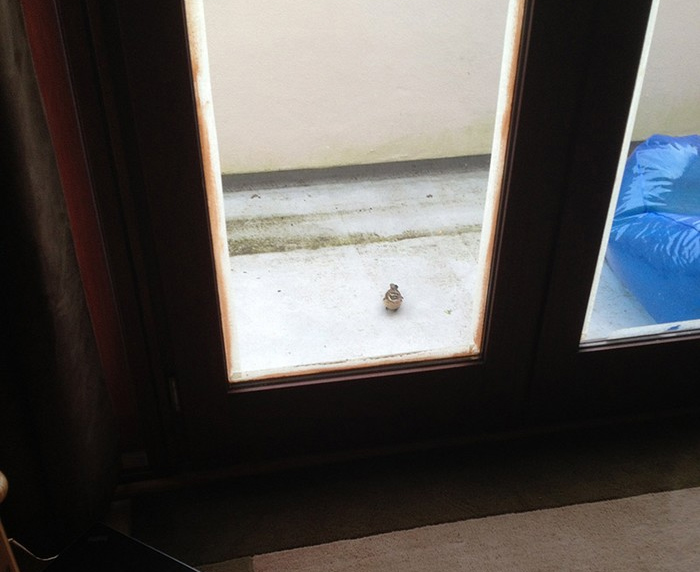 Headline birds
This week saw a freezing start, with temperatures barely rising above zero on 12th and 13th. Temperatures rose dramatically on 14th, however, but this relief came with very strong south-east winds and driving rain. Conditions were particularly severe across northern Scotland. The remainder of the week settled down into a more typical December pattern with near-average temperatures and a weaker south-westerly airflow.
The totally unexpected highlight of the week came right at the end with the outstanding discovery on 18th of a Rose-breasted Grosbeak on St. Mary's Isles of Scilly, found on a feeder near the dump. This is only the 23rd for Britain up to 2010 (with another 8 in Ireland) but is the 13th for the Isles of Scilly! Most remarkable, of course, is the date of this bird. Rose-breasted Grosbeaks are, almost without fail, October arrivals, the latest autumn discovery date at a west coast location being 30th October. Only two have ever been discovered later - on 5th November 1991 at Bridlington, Yorkshire and on 20th December 1975, at Leigh-on-Sea, Essex but both of these clearly made an earlier landfall somewhere else in Britain or Ireland. A December bird in the west is therefore utterly without precedent. With the autumn migration season so far behind, does this mean a near-certain ship-borne arrival?
Rose-breasted Grosbeak in Britain and Ireland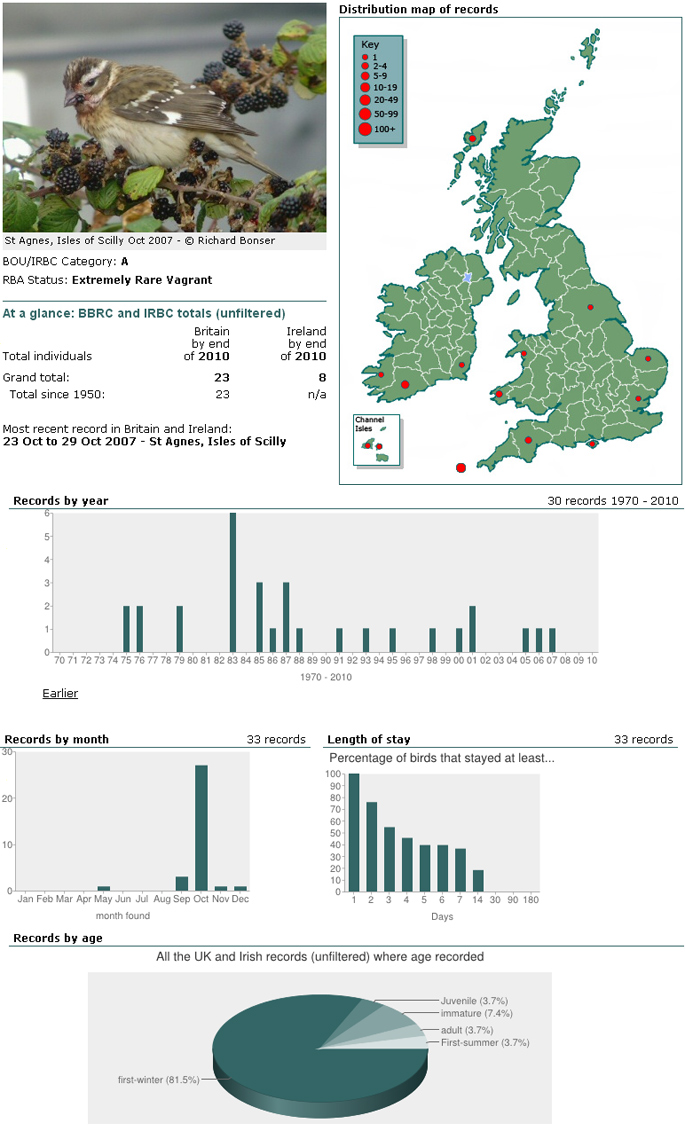 The other highlight of the week was the discovery of a Buff-bellied Pipit at Queen Mother Reservoir, Berkshire on 12th, its identity confirmed on 13th and then remaining until 18th. Outstanding views were eventually enjoyed by most thanks to a cooperative sailing club and an effective day permit system.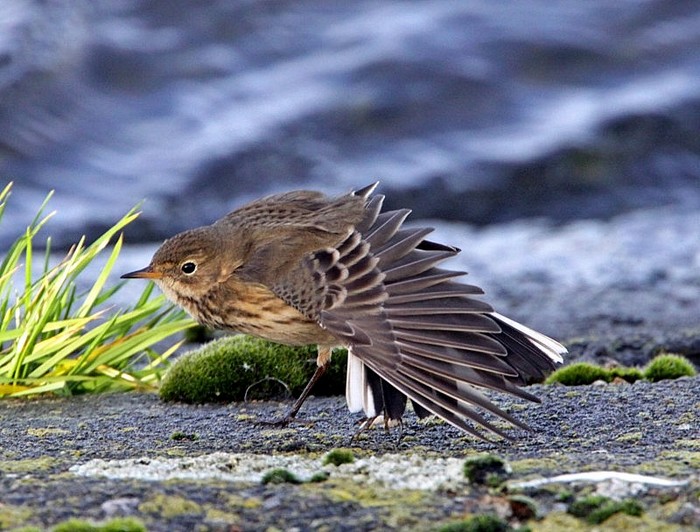 This splendid find is of course a new bird for Berkshire and echoes the other inland reservoir bird, at Farmoor Reservoir, Oxfordshire on 8th to 10th October 2007, and the only other winter bird to date, at Wyberton, Lincolnshire from 5th December 2005 to 29th January 2006. As has been mentioned before, this species is becoming something of an autumn mainstay as well as a viable winter target too. With a breeding range as close as west Greenland, however, this is perhaps not too surprising. This area already provides us with Greenland Redpolls and some of our Lapland Buntings, not to mention all those Northern Wheatears.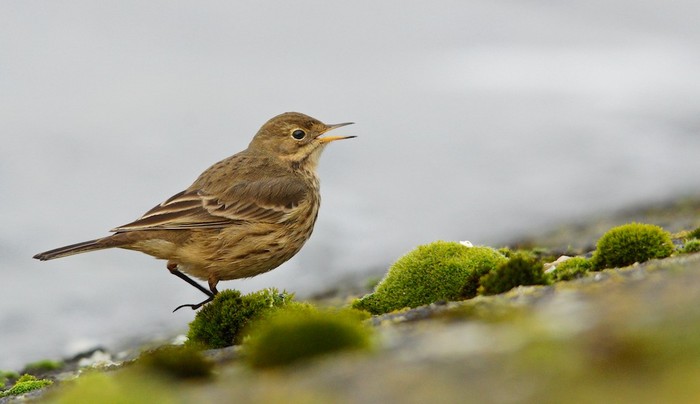 Talking of Greenland and showy birds, another star bird of the week was the stunning Hornemann's Redpoll , still on its sparse clumps of Yellow Horned Poppy along the top of Aldeburgh's beach to 18th.
This, the second of the autumn in mainland England, must by now have delighted hundreds of visitors and become one of the most-photographed rarities ever. With its combination of extreme rarity, gorgeous appearance and ultra-close views, this must be a serious contender for 'bird of the year'. While the bird at Holkham, Norfolk in October was for most of its stay both mobile and elusive, this bird can hardly have been more different, testing the close focus properties of binoculars, telescopes and cameras alike.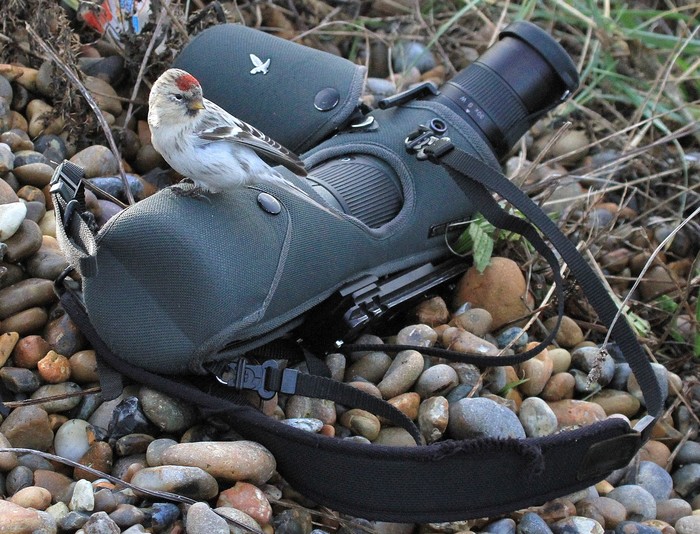 Interestingly, there can be no suggestion that the Holkham and Aldeburgh birds were one and the same. The former was a particularly heavily-narked specimen with a very rich copper wash to the head and breast, a rich brown mantle, liberal flank streaks and a narrow buff-suffused greater covert wing-bar. By contrast the Aldeburgh bird was a more text-book 'snowball' with a much weaker buff wash to the face, a whiter ground colour to the mantle, a broad white greater covert wing-bar and barely marked snowy-white flanks.
Surprisingly, another appeared again on Unst, Shetland on 17th, though whether this is one of the original birds from this autumn's record-breaking influx or a new arrival is as yet unclear.
Although now a regular vagrant to Shetland and the Western Isles, it is worth reflecting on just how rare this species/form is in England. Unfortunately, the status of Hornemann's Redpoll is not well documented but, even being generous, there can have been no more than eight previous English records and perhaps as few as four.
Even in their home range Hornemann's Redpolls are not easy to catch up with. In Greenland they occur only in the northern half of the country. Even more remarkably, most spend the winter in Greenland too, only a tiny number appearing as vagrants south to Iceland, Scotland or mainland Canada. This is therefore a truly 'must see' bird, as special as a white Gyr Falcon or an Ivory Gull (the latter, by coincidence, also once seen on this very same beach!), and a bird which, like them, can only realistically be seen as a vagrant.
This species/form is not just so exciting because of its rarity, however. It also has an amazing lifestyle, living in conditions of extreme cold and darkness, and has therefore evolved the densest body plumage of any passerine. Snug behind its little concrete wall, the Suffolk bird must therefore hardly have noticed the freezing daytime temperatures of 12th and 13th. It is also likely that this bird had never seen people before. Perhaps it thought that its human observers were tight-ranked Musk Oxen, whilst those lying down were perhaps just funny seals. So, as well as being rare, beautiful and obliging, this bird also takes us on a real journey of the imagination - to the wild shorelines and shining ice of northern Greenland.
Also wanderers from remote parts of Greenland were this week's White Gyr Falcons , the first at Deerness, Mainland Orkney on 13th, where it was seen feeding on a goose carcass, the second a repeat showing on 16th of the bird at Loch Paible, North Uist, Western Isles and then, amazingly, a different bird at Kilpheder and Orosay, South Uist on 17th and again on 18th. Finally, late news concerned yet another, at the Burnfoot River, Derry on 12th. After our Hornemann's Redpolls, is there a realistic chance of one ever reaching south-east England? There has been a white bird in Holland so maybe, just maybe, this could happen!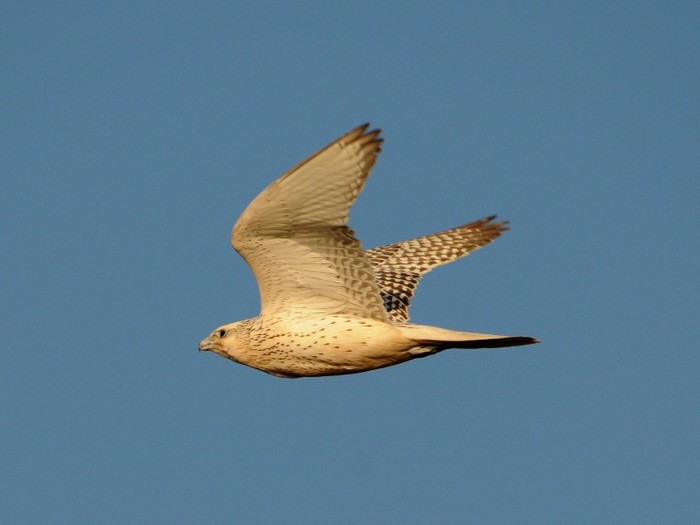 Also perhaps from the same direction (albeit Canada rather than Greenland) was the returning adult Pacific Diver in Mount's Bay, Cornwall, seen on 13th but then disappearing again until 16th. No doubt it will appear again though before the winter is out and, divers being long-lived birds, it presumably also has the potential to return for some winters yet.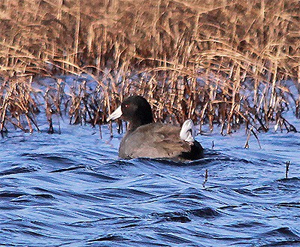 Also from the Nearctic, but producing fewer gasps of aesthetic appreciation, was the lingering American Coot , still at Murloch, Galway on 18th.
Finally, a bird from another direction…. Last week's gorgeous drake Falcated Duck at Farmoor Reservoir, Oxfordshire went missing (as did its Mallard companions) on 12th but was back again (with its friends) on 13th, only then to go missing again. Though some might baulk at Mallard as a carrier species, who knows how this bird might have got here. It won't have flown non-stop from Siberia and would have mingled with a whole host of wildfowl along the way, so an arrival with an influx of Mallards is surely not an issue. Then again, it could of course be an escape. More importantly, perhaps, what a beautiful bird it was, its green and purple glosses and elegantly curved elongated scapulars straight out of a Chinese painting.
Western Palearctic News (or 'Euronews' if you prefer) was, as might be expected, a little sparse this week though the more adventurous successfully twitched Estonia's Red Fox Sparrow. Otherwise, a Baikal Teal was in Switzerland, Rufous Turtle Doves were in Norway and Germany and a Black-throated Thrush was in Sweden on 15th.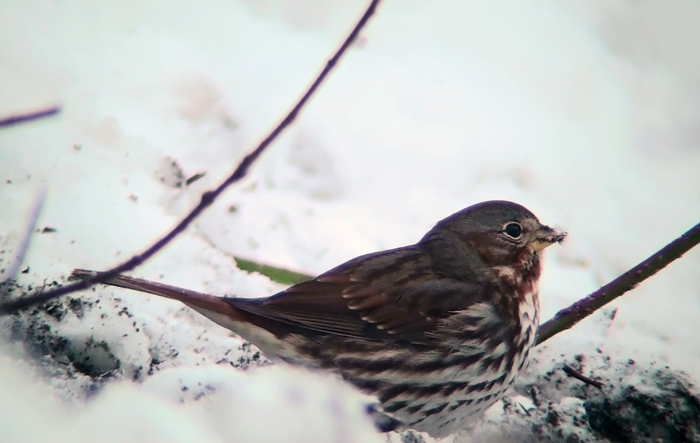 Seabirds
Seabirds were also few and far between, the highlights being single Leach's Petrels brought inshore by the gales of 14th at Landguard, Suffolk and Weston Shore, Hampshire. In the North Sea, a lonely Little Auk passed Flamborough on 15th and another was off Unst, Shetland on 16th.
Herons, Egrets & allies
Great White Egrets were, as usual, to the fore, with up to 2 at Burton Wetland Centre and Parkgate, Cheshire and Wirral, 2 at Rye Harbour, Sussex, 2 at Llanrhidian, Glamorgan and up to 4 at Dungeness, Kent. Elsewhere, singles were at Alton Water and Kessingland, Suffolk, Latimer, Buckinghamshire, Llangorse Lake, Powys, Ham Wall and Catcott Lows, Somerset, Ringwood, Hampshire, Coate Water Country Park, Wiltshire, Robertsbridge Sussex, Cilsan Bridge, Camarthenshire, Pitsford Reservoir, Northamptonshire and Marshside and Lytham, Lancashire. There were, by contrast, only two Cattle Egrets , both in Ireland - at St. Johnstone, Donegal on 14th and Little Island, Cork on 15th - an abrupt return to prior form for this adventurous little heron.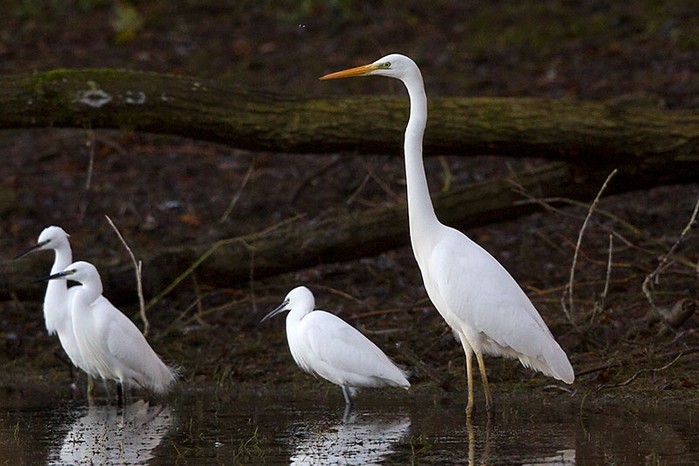 Glossy Ibises , also now few and far between, remained at Ringwood, Hampshire (where there was also a Great White Egret) and Marloes Mere, Pembrokeshire.
Other birds in this section were in wintering flocks - an impressive 16 Spoonbills in Poole Harbour, Dorset and 54 Cranes which were seen, as all things in east Norfolk, 'recently'. Less usually, five Cranes were also at Fethard-on-Sea, Wexford on 12th.
Ducks & Geese
As expected, wildfowl dominated the news this week. Richardson's Canada Geese were amongst the most special, with birds still at Ballyconnell Sligo, Mersehead, Dumfries and Galloway and Campbeltown, Argyll and Bute. The bird at Cley, Norfolk was, however, unreported. From the same direction, the Nearctic Black Brant was at North Slob, Wexford still whilst, from Siberia, the Red-breasted Goose remained around the Portsmouth/Farlington area. Two Snow Geese flew over Loch Paible, North Uist, Western Isles on 16th with Greylag Geese and were still present on 18th.
Despite the cold weather on the near-continent, however, there was no influx of Tundra Bean Geese , the only birds reported being a lingering party of five in east Suffolk at Westleton. Is it now too late for Norfolk's Lesser White-fronted Goose to return to the Yare Valley's still growing flock of Taiga Bean Geese, or could it still brighten up Christmas?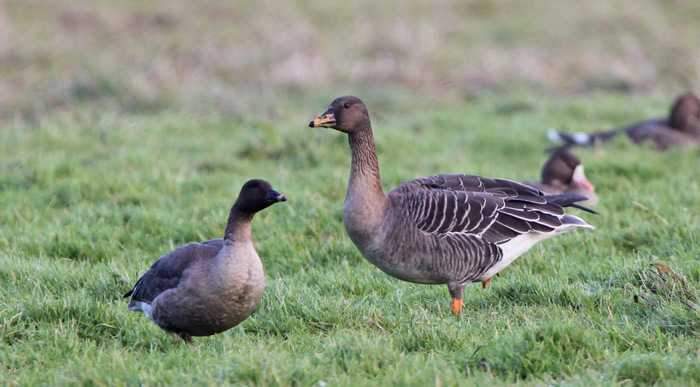 As for ducks, the drake American Wigeon was again between Marlingford and Bawburgh, Norfolk (though it had in fact already present for some weeks) and the other regular bird was also at Angler's Country Park, Yorkshire.
Green-winged Teals put in a good showing this week with birds at Murloch, Galway (the site of the American Coot) and Martin Mere, Lancashire on 14th, Tacumshin, Wexford, Torpoint, Cornwall, Hodbarrow Cumbria and Loch Mor, North Uist, Western Isles on 15th and the Wyre Estuary, Lancashire on 16th. The Blue-winged Teal remained at Castle Douglas, Dumfries and Galloway.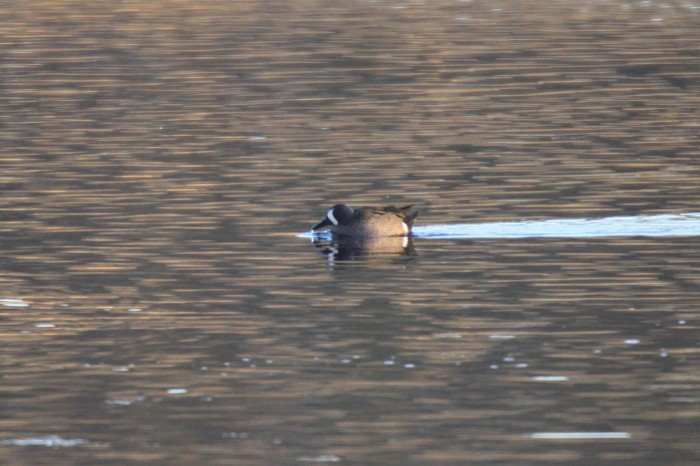 Turning to diving ducks, Lesser Scaups were at Siblyback Reservoir, Cornwall to at least 15th, at Loch Gill, Kerry on 13th and at Blagdon, Somerset to at least 16th. There were more Ring-necked Ducks , however, at Slapton, Devon, Whitlingham, Norfolk, Loch Gill, Kerry (with a Lesser Scaup), Par Beach Pool, Dozmary Pool and Siblyback Reservoir, Cornwall (the last site also hosting a Lesser Scaup), Hawkridge Reservoir, Somerset and Loch Watten, Highland. Finally, Ferruginous Ducks were at Wimbleball Lake, Somerset on 13th and Girton Pits, Nottinghamshire on 18th, with single Surf Scoters at Minsmere, Suffolk on 13th (the same bird as that previously in Norfolk?), at Dungarvan Waterford from 14th to 16th and in Largo Bay, Fife on 17th and 18th.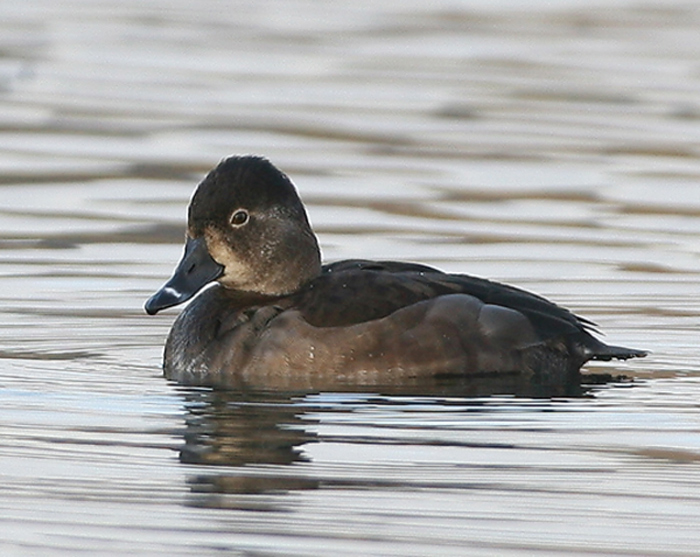 Raptors
The raptor highlight was undoubtedly the continued presence of a Northern Harrier at Tacumshin, Wexford to 18th. The only other scarce or rare birds of prey reported were single Rough-legged Buzzards at the traditional site of Haddiscoe/Chedgrave, Norfolk from 15th and the much more unusual location of Cemlyn Bay, Anglesey on 12th and a White-tailed Eagle over Baltasound, Unst, Shetland on 13th.
Shorebirds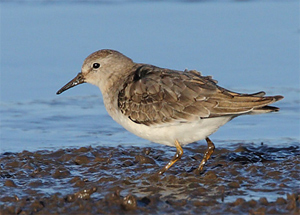 The most surprising wader of the week was the unseasonal Temminck's Stint , again at Stockland Reach, Somerset on 16th to 18th. The best new bird, however, was an American Golden Plover at Burnfoot, Donegal on 13th.
Elsewhere, long-stayers included the Lesser Yellowlegs at Ernesettle Creek, Devon and the Long-billed Dowitcher at Slimbridge, Gloucestershire but this latter bird was, after an exceptional stay, not reported after 12th. However, the bird at Alkborough Flats, Lincolnshire was still present on 15th. In Ireland, the Baird's Sandpiper was still at Black Rock Strand, Kerry on 12th.
Finally, Grey Phalaropes were at Dunstable Sewage Works, Bedfordshire to at least 16th and at Christchurch Harbour, Dorset on 13th.
Gulls and Terns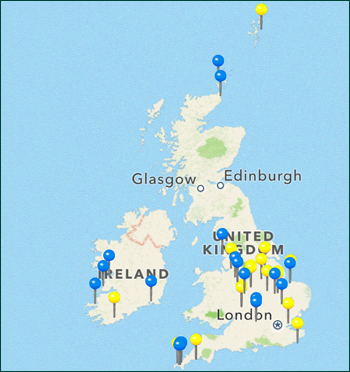 The main gull surprise this week was the reappearance of Devon's Bonaparte's Gull at Dawlish Warren on 15th. Otherwise, American gull interest revolved around Ring-billed Gulls , most notably an adult at Sands Lane, West Yorkshire on 12th and 13th and at Crosby, Merseyside on 15th, with the long-stayer again at Gosport, Hampshire and Irish birds at Castletown (2), Timoleague and Blackrock, Cork, Nimmo's Pier, Galway, Dundalk, Louth, Blennerville, Kerry and in Dublin.
At least eleven Glaucous Gulls were recorded during the week, though all were well scattered, with birds as far apart as Whalsay, Shetland and East Looe and St. Ives, Cornwall. As usual, a number were inland, at Albert Village Lake, Leicestershire, Throckmorton Worcestershire, Gainsborough Landfill Site, Lincolnshire, Foremark Reservoir, Derbyshire, Pitsea, Essex and Hoveringham Gravel Pits, Nottinghamshire.
Iceland Gulls mustered an identical count and were equally widely distributed, between Stromness, Orkney and Mount's Bay, Cornwall. Inland birds were at Newcastle-under-Lyme, Staffordshire, Milton Tip, Cambridgeshire, Appleford Gravel Pits, Oxfordshire, Dogsthorpe Cambridgeshire and Sandbach, Cheshire and Wirral.
In Ireland the Sabine's Gull was still at Cobh, Cork to at least 15th and the Forster's Tern remained around Galway Bay.
Passerines
The best of the 'also ran' passerines was the long-staying female Desert Wheatear at Rattray Head, Aberdeenshire, still present on 17th. Found on 2nd December, it has now survived some truly awful weather! Attempted wintering is not unprecedented in this hardy species, however, so maybe it will make it into the New Year!
Also hanging on grimly was the ever-elusive Subalpine Warbler at St. Just, Cornwall, still there to 17th and just up the road from the year's last Red-breasted Flycatcher , last seen on 13th. As might be expected, there was a south-west bias to most of the other scarce passerines of the week - a Rose-coloured Starling at Exminster, Devon to 18th and at Wadebridge, Cornwall on 15th. A good discovery further north was a Yellow-browed Warbler at Llandudno Junction, Conwy on 17th and 18th.
The Dusky Warbler was also still on St. Mary's, Isles of Scilly on this latter date. The 'best of the rest' were the 2 Penduline Tits still at Ouse Fen, Cambridgeshire on 13th with one reported still on 15th and, after a good November showing, only 6 Great Grey Shrikes , two in the New Forest, Hampshire and others at Thursley, Surrey, Therfield, Hertfordshire, Clocaenog Forest, Denbighshire/Conwy and Sixpenny Handley, Dorset. Also very scarce this winter are Shore Larks , the only ones reported being at Gibraltar Point, Lincolnshire and the traditional location of Blakeney Point, Norfolk, both on 16th.
The last word must, again, go to Waxwings , large numbers of which continued to swirl around the country. Three-figure flocks were noted in Essex, Leicestershire, Glamorgan, Staffordshire, Yorkshire, Tayside, Nottinghamshire, Cumbria, Shropshire and Gloucestershire.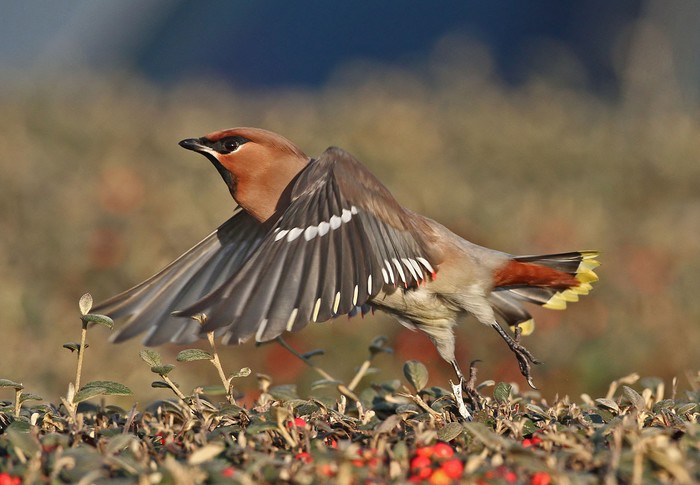 So, that's almost it for this year. No doubt little birding will be done between now and Christmas but the post-Christmas and New Year period has an enviable reputation for turning up something exciting. Let's hope this year will be no different.
This will be the last round-up until the New Year when I will be penning a special 'bumper double edition' to cover the whole holiday period and thereby complete the year. Last week Mark promised that I would be your 'Christmas elf'. I'm not sure what duties this entails but I will try my best. In the meantime have a great Christmas and New Year and let's look forward to a happy and bird-filled 2013.
Andy Stoddart
19 December 2012
This weeks contributors
Many thanks this week to all our other contributors for their photos and videos.
John Kemp - Western Isles Wildlife
,
Ashley Fisher - Scilly Pelagics
,
Alex Berryman
,
James Packer - The Somerset Birder
, Karen Johnson, Alan Lewis, Chris Baines, Mark Bicknell, Derek Charles, Chris Upson, Sean Nixon, Brian Henderson, Rob Wilson, Reston Kilgour.