Weekly round-up: 05 - 11 Dec 2012
The week at a glance
Suffolk's Hornemann's Arctic Redpoll proves popular
Adult Pacific Diver returns to west Cornwall for another winter
Galway's American Coot still in situ…..
…..likewise, South Uist's Pied-billed Grebe
Juvenile female Northern Harrier remains in Wexford
Oxfordshire's drake Falcated Duck opens up a familiar well-worn debate…..
Here we go again ~ the cold weather came back this week ~ though in all fairness, it wasn't that chilly….pleasantly crisp was the order of the day as the week drew to a close, after assorted wet fronts had bundled their way across the country as the new review period opened up.
And although we're heading towards the shortest day and the mid-winter blues, there was masses on offer, notably a pre-Christmas cracker (for a lot of people) on the East Anglian coast…..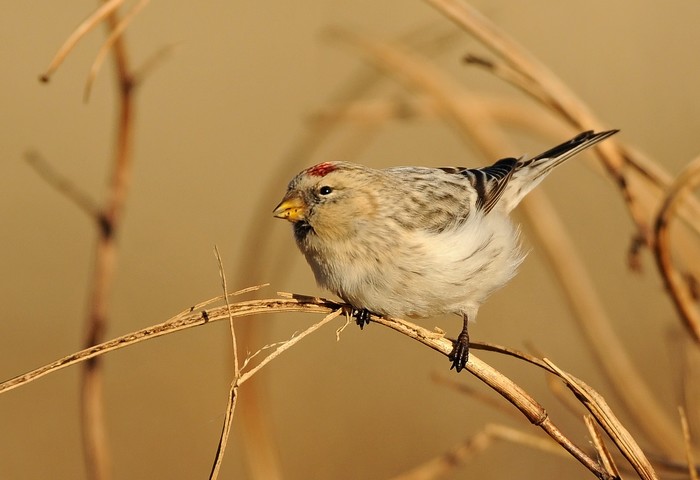 Headline birds
Despite there being several far rarer species on offer this week (be they recent discoveries or returning favourites) the true star of this week's far-from-dull proceedings was a most welcome second bite at the cherry for many mainland birders, following the discovery of a stunning Hornemann's Arctic Redpoll on the Suffolk coast, at Aldeburgh, on 8th.
As with the delightful bird seen at the end of October in neighbouring Norfolk, there was a tale to tell with the Suffolk bird ~ the Norfolk bird was initially called correctly, then "demoted" to "just" a Coues', while this week's winter wonder began life as a Lapland Bunting.
A couple of shots were posted locally during the evening and the rapid response was testament to just how special this bird was ~ the "RFP" of the week award firmly in place as the bird's identity switched from pleasant, regular bunting to mainland mega redpoll….
….seemingly (and perhaps unsurprisingly) the first county record of this ultra-distinctive form (if they can split exilipesfrom flammea, Europe's assorted all-knowing taxonomic sages could surely see the sense and reasoning in making a move that would see a parting of the ways for hornemanni and exilipes…), Suffolk birders pronounced that their Redpoll was the county's bird of the year (just as their discerning neighbours in Norfolk did with regard to the recent Holkham bird).
But this wasn't just a bird for local listers. Despite the lumped status, this was a "new" bird for a lot of folk and even a few of those who have been fortunate enough to encounter Hornemann's on Shetland or the Hebrides made a move to the east coast at the weekend to witness what remains a truly rare event away from Scottish islands.
Hornemann's Arctic Redpoll in Britain and Ireland 2012
2012 has proved to be a record breaking year for Hornemann's Arctic Repoll with two mainland records in East Anglia including the most recent and well twitched bird in Suffolk and birds staying longer than ever on Shetland. Islay and Scilly both had single reports, unfortunately neither of which were could be confirmed and Ireland had just the one record with a bird on 13 April in Co.Galway. Photo above taken at Aldeburgh, Suffolk © David Bradnum.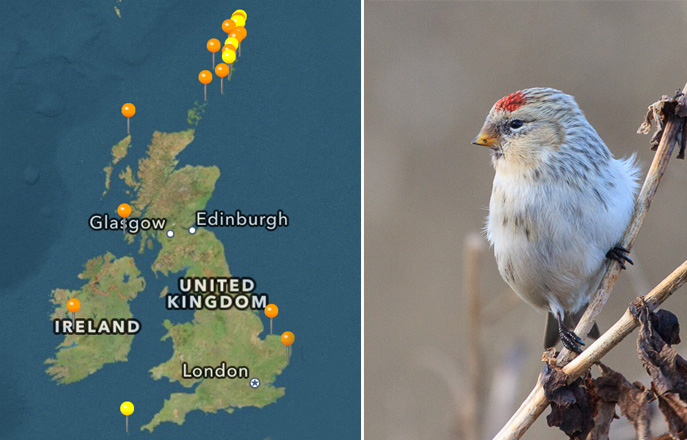 Wonderfully documented (and still present to 11th), the Hornemann's Arctic Redpoll is the county's second "Arctic Redpoll" of 2012, following on from a trapped bird, a Coues', in the Breckland forests at Santon Downham in March.
Prior to that, one was reported at Mayday Farm in March 2011 and before that came a one-day bird, also trapped in the Brecks, at Brandon in April 2006 and long-stayers at Rendlesham and a wintering bird at Icklingham (in 2006 and 2005 respectively).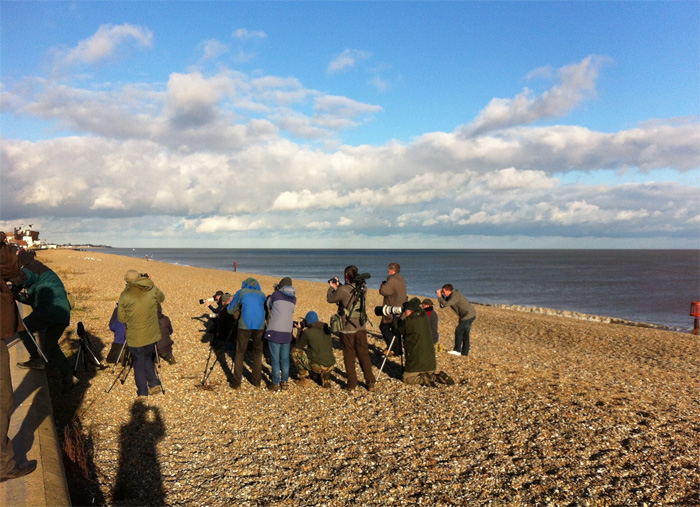 Far, far rarer but, funnily enough, seen by many more people than have seen a Hornemann's Arctic Redpoll, the week's other new star turn was a (presumed) returning favourite of old…..
An adult Pacific Diver was back in Mount's Bay from 5th this week and was seen every day between Penzance and Marazion to 11th in what could be the bird's fifth year of visiting west Cornwall.
First seen in February 2007 (where it stayed for almost a month), the bird appeared again late in the same year, noted through to end of March 2008 off both Porthpean and Marazion.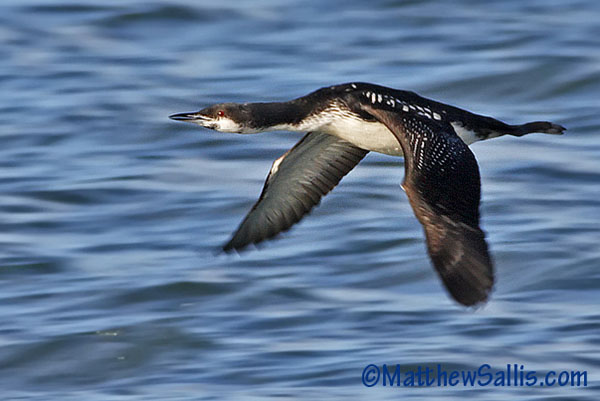 After a handful of "possible" sightings, the bird was finally confirmed as being back off Marazion in early December 2008 (albeit only for a short stay). Then, in November 2009, the bird performed wonderfully well on the Carnsew Basin (alongside the nearby Hayle Estuary) for over a fortnight, before a brief sojourn to Carbis Bay.
Just before Christmas in 2010, the bird was back in Mount's Bay and spent almost four months in the area (departing in the middle of March 2011) but (a couple of possible sightings aside) may have given Cornwall a miss in the second-winter period of the year.
Now, in December 2012, normal service has been resumed and this exceptional vagrant is giving all interested parties the chance to reacquaint themselves with a teasing tho' ultimately pleasing identification puzzle.
The Cornish bird's first appearance was the final part of a remarkable diver trilogy during the first two months of 2007. Britain's first Pacific Diver spent the first two weeks or so of a 24 day January, straddling February, stay firmly under wraps at Farnham Gravel Pits in North Yorkshire ~ thankfully the secret-squirrel inner circle was eventually broken and the gloriously showy juvenile was enjoyed by hundreds of visiting birders before departing on February 4th.
Two days before that, Britain's second juvenile Pacific Diver was discovered on the reservoir at Llys-a-Fran in Pembrokeshire ~ rattling up a 47 day stay in to the bargain ~ and the third, the Cornish adult, was wrangled with from the third week of February to the middle of March. The latter two, not as showy as the first, took a little time to resolve but the conclusions for both were definitive and absolute.
The only other British county to have an acceptable record of Pacific Diver is Gloucestershire ~ an adult on the Severn for two days in November 2009 (reappearing a week or so later for a day) while one bird visited two Irish counties (Galway then Clare) between January and May 2010.
Pacific Diver in Britain and Ireland

Whilst Galway is on the agenda, racing back to the present day, Dermot Breen's American Coot (Ireland's third) remained at Murloch, Ballyconneely to 8th at least and further quality lingering Nearctic stars this week included South Uist's Pied-billed Grebe still on Loch na Bagh, at Smerclate (also to 8th) and the juvenile female Northern Harrier again at Tacumshin (Co. Wexford) on 7th and 9th.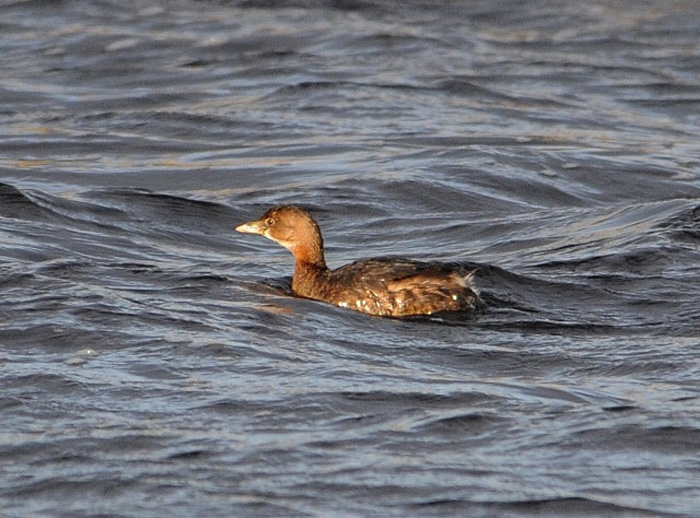 …talking of Tacumshin, no sign of the one-day (eeek!) Wood Duck there this week but there was another ultra-contentious quacker to muse upon ~ step forward please the handsome drake Falcated Duck at Farmoor Reservoir (Oxfordshire) present from 9th-11th.
Of course you could almost re-write assorted paragraphs from recent reviews relating to potentially rare ducks and insert the words Falcated Duck by way of replacement for Wood Duck or Hooded Merganser because the arguments, for and against will largely be the same ~ some would champion the cause, others would argue 'til the cows come home that Falcated Duck /Wood Duck /Hooded Merganser (take your pick) has no place on the British List given that they are nigh-on impossible to prove as a vagrant.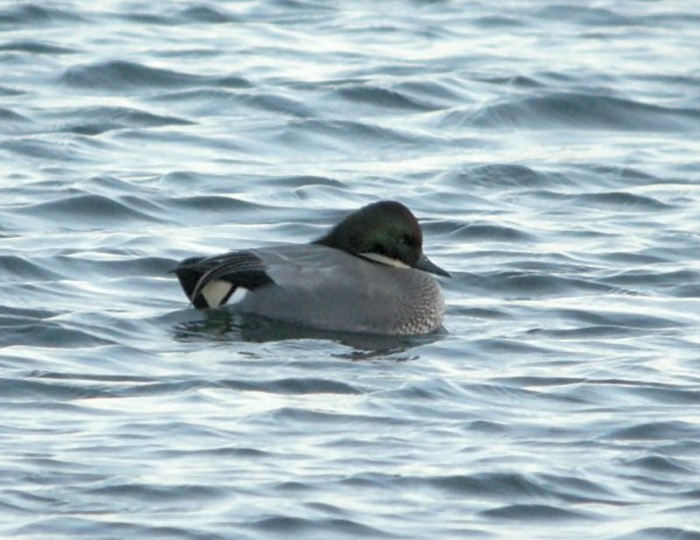 So, rather than rehash the whys and wherefores of who likes which duck more and which duck is the more likely long-range vagrant, we'll marvel at the intense beauty of the species and the long-distance migration that it undertakes every year from breeding grounds from eastern Russia through to Sakhalin (I have a cunning plan….), North Korea, northern China and northern Japan over in to much of southeast Asia.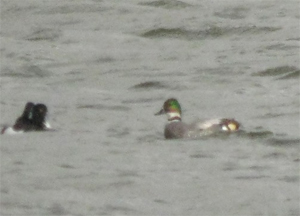 Actually though….(here we go again….), let's take a skew-whiff delve in to this one…
….we know that genuine Baikal Teal can get to Europe (all hail the isotoped Danish bird of 2005!). Indeed, the county currently graced by this week's Falcated Duck ~ née Teal ~ has an accepted record of the first-named species (one of just four on the British List) from a pit almost within ducky spitting distance of Farmoor (at Dix Pit from December 22nd-24th 2002).
You'd like to think that the BOURC would have the chance to engage in new investigations relating to the strongest of claims of Falcated Duck ~ indeed they may well get the chance ~ two birds are back in circulation with the BBRC (and have been for almost a year).
It would be nice to think that the Pitsford drake of 1987, the Welney and Cley drake/s of 1986/'87 and '89, the Exe Estuary bird from 2006 all get half a look in at least. You'd also hope that the Irish Records committee may view last year's beauty on the Mullet in County Mayo in a favourable light…..
The autumn presence of a tiny handful of ultra-far eastern vagrant passerines is tentatively becoming established, almost expected, in optimum conditions and the optimist would suggest that if a Sakhalin Leaf Warbler can make it to the UK, then a long-range migratory duck from within the same core range may have half a chance too…..
Seabirds
Off the coast of East Yorkshire, four Little Auks flew past Spurn on 8th and singles were recorded in Wicklow (in Newcastle Harbour on 5th) in Norfolk (off Winterton on 9th and Cley on 11th) with another seen in Kent, from Dungeness on 9th when three Pomarine Skuas were also noted there.
A single Pom was noted from Dungeness on 7th too and Kent's fifth of the week flew past Sandwich Bay on 10th. Elsewhere, there were lone birds seen from Cley (Norfolk) on 5th and Flamborough Head (East Yorkshire) on 8th.
Cornwall was the sole county to record any Balearic Shearwaters this week ~ 12 birds from five sightings, including four off St. Ives Island on both 7th and 8th.
The only other seabird of note this week was the Grey Phalarope at Gibraltar Point NNR (Lincolnshire) on 9th while the report of 10+ Sabine's Gulls near Rosscarbery (Co. Cork) remained wholly unconfirmed…..
….no such problems with the other Cork Sabine's, seen again at Cobh between 7th-10th.
Herons, Egrets & allies
Numbers of Great White Egrets recorded this week fell away a little, though 16 in a December week would have been unthinkable just a few years ago….as would the semi-resident group of four birds at Dungeness ~ still present to 8th at least.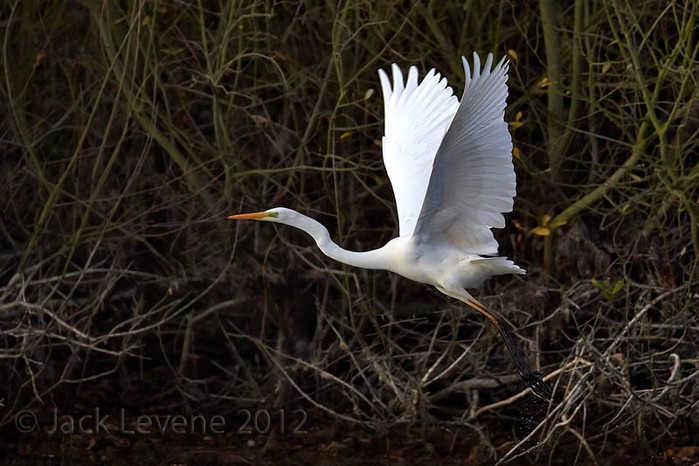 Elsewhere it was as you were really. Two birds remained at Ham Wall RSPB (Somerset) in the early part of the week, at least three were seen in Cheshire and Lancashire (with two together at Burton Mere at the end of the week), another was still in Herefordshire at Wellington GPs to 8th while a single bird bounced around Staffordshire (at Belvide and then Gailey Reservoir on 8th). Elsewhere other lone birds were at Walgrave (Northamptonshire) on 9th, in Suffolk, at Alton Water from 8th-11th and in Glamorgan, at Sarn on 11th.
In the far southwest, singles were recorded at Bideford (Devon) on 7th-8th and at Tehidy CP, near Cambourne (Cornwall) on 8th while the Great White Egret in the Avon Valley (Hampshire) still had a Glossy Ibis for company for much of the week.
The resident Welsh Glossy Ibis at Marloes Mere was present all week while a flock of four birds were reported heading northwest over the station at Rochford (Essex) in the early morning of 10th.
Six Common Cranes, including four adults, were at Waxham (Norfolk) on 6th (with four near Horsey on 11th) with the only other Crane report this week coming from Walland Marsh (Kent) on 8th. In Dorset, 15 Spoonbills continued their early-winter schedule in Poole Harbour throughout the week with the group on the marshes of north Devon, at Yelland, peaked at six on 8th. Single Spoonbills were seen at Burton Marsh (Cheshire) and at the Cunnigar, Dungarvan (Co. Waterford).
Ducks & Geese
In Norfolk, almost as soon as around half a dozen of the county's birders began enthusing about the Richardson's Canada Goose in and around the Cley area, the bird promptly went to ground for much of the week. Despite (limited) searches over the weekend and beyond, the dinky cutey from across the pond didn't reappear until 11th, despite the fact that the flock of feral ("wild") Canadas was, pretty much, the same size as recent weeks.

The Richardson's may well have been lurking nearby (or perhaps it wandered a little further afield within the county). The fact that it popped up on Blakeney Freshes on 11th is a clue that it may not have gone too far during the rest of the week. Over in Sligo, three rather less contentious Richardson's Canada Geese remained near Lissadell to 9th at least.
The only Red-breasted Goose this week was the bird in Hampshire, back at Farlington by 11th, so we can move right along to Black Brant - at least seven of which were found this week.
Two birds were at Rosslare's Back Strand (Co. Wexford) on 8th with further Irish birds, both singles, at Sandy Bay (Co. Kerry) on 5th and in Waterford, at Quann's. British Brants were at Freiston Shore RSPB and Friskney (Lincolnshire) on 5th and 10th respectively, at Dengie (Essex) from 8th and on the marshes at Reculver (Kent) on 9th, while in east Norfolk, a Ross's Goose was seen again at Berney Marshes and Haddiscoe on 6th (with no mention of any Barnacles in the flock this time).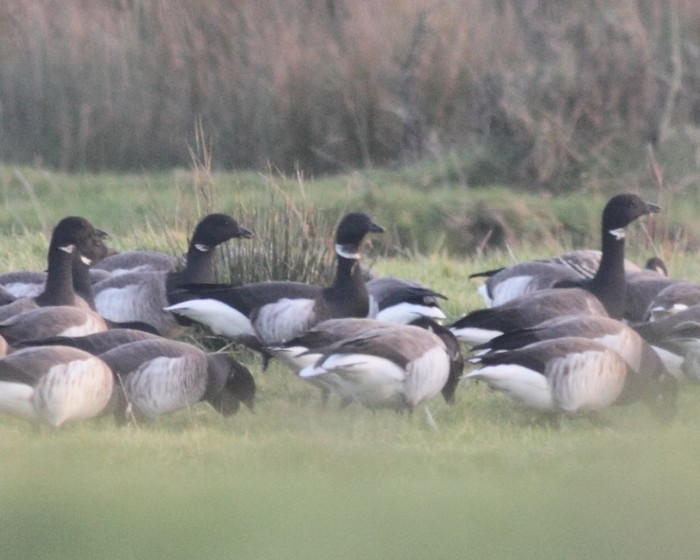 On Dublin's North Bull Island, the returning female Blue-winged Teal was back for her (remarkable) seventh winter in a row from 9th. Seen every year since her first appearance in October 2005, the bird has popped up at various times of the autumns and winter that have followed (though she did give the second winter period of 2008 a swerve) this is the latest she's rocked up in all that time….
…prior to this week's arrival, this particular individual has normally reappeared in either September or October and departs by the end of March. Last year, she was back by the end of the third week of September and left on the last day of March, with her latest arrival back on the Bull (until now) was on December 7 2006.
In Scotland, at Threave in Dumfries & Galloway, the drake Blue-winged Teal that appeared last week was still present on 11th.
Across in Clare, the first-winter drake Lesser Scaup remained on Lough Gash, Newmarket-on-Fergus throughout the week and a drake remained on Kerry's Lough Gill (along with a Ring-necked Duck) to 5th.
Another Lesser Scaup + Ring-necked Duck double was confirmed on Cornwall's Siblyback Reservoir on 5th (a possible Lesser Scaup had been reported there on November 29) and the two birds were still present on 10th. It seems highly plausible that this is actually a returning Lesser Scaup ~ one was seen at nearby Dozmary Pool throughout much of January 2012 before moving to Siblyback the following month….(that bird then went to Newquay and possibly Somerset after that)….
….talking of which, Somerset had a Lesser Scaup of its own this week too ~ a drake at Blagdon Lake from 7th completing the current quartet, while the same county continued to play host to the drake Ferruginous Duck at Hay Moor, still present between 5th-9th before moving to Wimbleball Lake on 11th.
Leftover Ring-necked Ducks from recent weeks were single drakes at Eyebrook Reservoir (Leicestershire) from 5th-8th (moving to Rutland Water on 11th) and on Loughrea (Co. Galway) to 9th while the female at Slapton (Devon) was present from 5th-10th. In Kent, at Dungeness, a drake Ring-necked Duck was seen on 9th (one was seen here for three days in April this year) while in Norfolk a returning female was on the lake at Whitlingham, near Norwich on 9th-10th (it is presumably the bird that has come back to the Broads in several recent winters).
Not so many Green-winged Teals to report this week ~ single drakes remained at Baleshare and Loch Sandary, North Uist (Outer Hebrides), Hodbarrow RSPB (Cumbria), Portworthy Dam (Devon) ~ confusingly news was of definite and possible throughout the week ~ and again at Tacumshin (Co. Wexford), with the only new arrival appearing on the Newry Estuary (Co. Armagh) on 8th.
There were four drake American Wigeons seen this week ~ a returning bird was seen in flooded meadows alongside the River Yare, near Bawburgh (Norfolk) on 9th ~ it was seen throughout the winter of 2011/'12, but only became known about in March this year ~ and a new bird was seen at Cahore (Co. Wexford) on the evening of 8th. Wintering drakes remained at Loch of Strathbeg (Aberdeenshire) to 9th and around Anglers Country Park and Wintersett Reservoir (West Yorkshire) throughout the week.
In North Yorkshire, an immature male King Eider was a great find off Filey Brigg on 8th ~ this was the very same site that hosted the county's most recent King Eider, the young male that spent a July fortnight there in 2010 before moving down to Norfolk and Suffolk.
There were five Surf Scoters to report this week ~ all birds from recent round-ups. Two drakes and a duck were still amongst the carpet of Commons (10,000+) off Llandulas (Conwy) on 11th, with further loners still at Loch na Reivel, North Uist to the morning of 10th and Dungarvan (Co. Waterford) throughout the week.
Raptors
First up, it seems as though last week's reports of a White-tailed Eagle in County Durham could have stemmed from a hoax….
…while this week, an adult White-tailed Eagle was seen at Terrington St. John (Norfolk) on 10th before heading off west.
There is an outside chance that this may actually be a known escape ~ "Stan" the 10 year old White-tailed Eagle was lost from Warwick Castle in early September and appears to be still on the loose (he was last seen in Northamptonshire in October). As unlikely as it may first appear, there is a chance for a raptor this big to go missing for weeks on end ~ just as the Egyptian Vulture did earlier in the autumn as it bounced between Wales, Cornwall and Norfolk without detection, so there's no way of knowing if the Norfolk bird was the real deal or a lost soul from the Midlands…..
On the Outer Hebrides the young Gyr seen again this week, present as before around Balranald RSPB reserve on North Uist on 11th before heading south to Knockintorran later the same day. It almost goes without saying, but just a quick look at the two images here and you can't help but marvel at the beauty of these most awesome of raptors….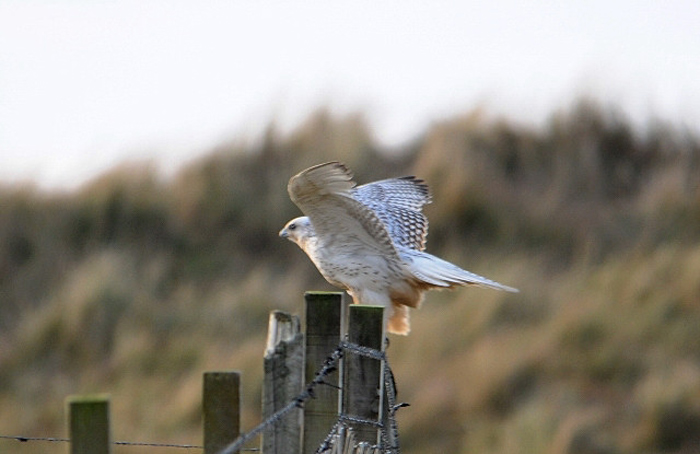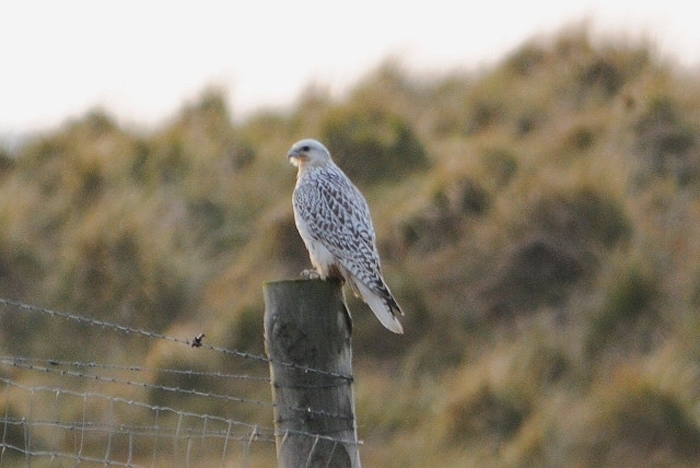 The only Rough-legged Buzzards this week were an obliging juvenile alongside the minor road between Langham and Morston (Norfolk) on 5th and over Westwood (Wiltshire) on 8th.
Shorebirds
In County Kerry, at Black Rock Strand, the Baird's Sandpiper was present and correct to 8th at least, while Dorset's Longham Lakes White-rumped Sandpiper remained to 9th when it was seen to head off north.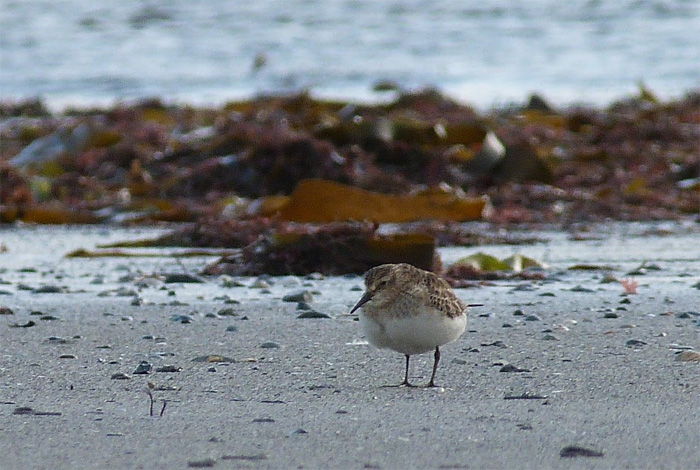 Further Nearctic shorebird adventurers this week included the wintering adult Long-billed Dowitcher at Slimbridge for another week and the double act of Long-billed Dowitcher and Lesser Yellowlegs at Alkborough Flats in Lincolnshire to 10th at least, while the other two recent Lesser Yellowlegs, at Aldcliffe Marsh (Lancashire) and Ernesettle (Devon) remained to 5th and 10th respectively.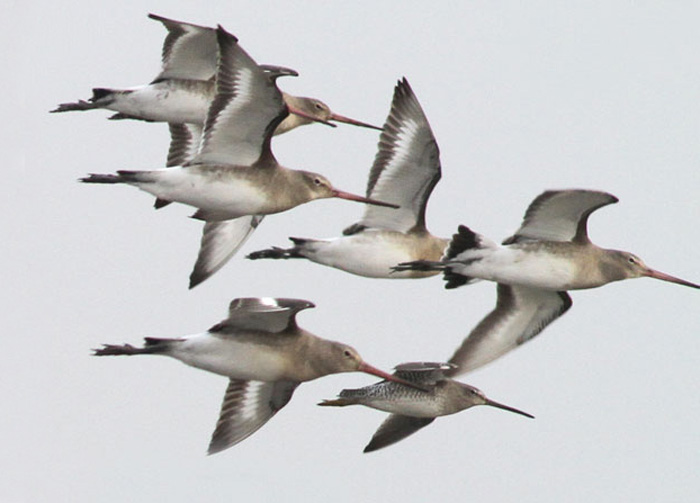 In Somerset, at Steart, the unseasonal first-winter Temminck's Stint lingered throughout the week.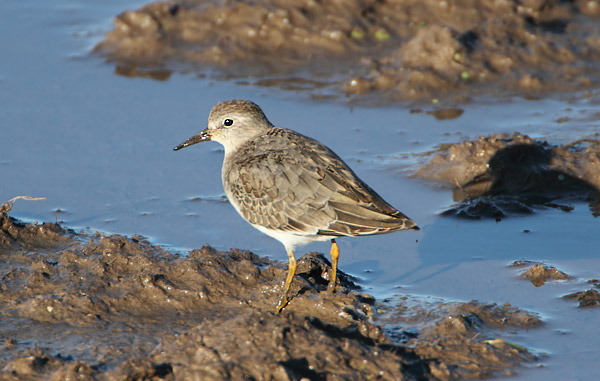 Gulls and Terns
The first Franklin's Gull in Norfolk for over 14 years was seen at Lessingham, near Eccles-on-Sea during the morning of 9th ~ thought to be a second-winter, the bird was in place for just a short while and despite searching, was not seen again in the original area, though it is tempting to think that it could well reappear somewhere in East Anglia in the next few days and weeks….
Norfolk's first Franklin's Gull was found on Breydon Water on June 30th 1991 with it or another adult at Titchwell, also on just one date, in July 1992. The most recent county record prior to this week was a first-summer (also seen on Shetland and later in Suffolk) for a day in 1998 ~ incredibly Norfolk's third Laughing Gull was present there on the same date ~ May 10th.
In Devon, the adult Bonaparte's Gull resurfaced a little way along the coast of south Devon this week ~ on the beach at Teignmouth on 8th and 10th (after last being seen at Dawlish Warren on November 19th) while up in West Yorkshire, the adult Ring-billed Gull was back at Sands Lane GP, near Mirfield, where it was first seen in February 2010. In the second-winter period of 2011, the bird returned on November 29th, departing on February 13th this year.
Further Ring-billed Gulls this week included the adult again at Bray (Co. Wicklow) on 5th, two birds at Beale (Co. Kerry) on 6th, the adult in Gosport (Hampshire) throughout, an adult at Nimmo's Pier (Co. Galway) on 8th, when there were also two birds in County Cork (at Cobh marina and nearby Cuskinny Marsh), the adult still in Portrush (Co. Antrim) on 8th as well, with the resident third-winter at Groomsport (Co. Down) to 9th at least.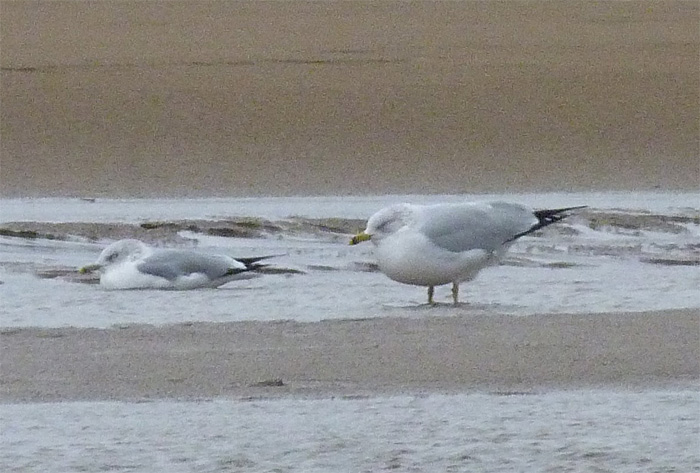 Around 16 Glaucous Gulls were recorded this week, including four sets of two ~ at Annagh Head (Co. Mayo) on 7th, Baltasound, Unst (Shetland) on 8th and Killybegs (Co. Donegal) and Birsay (Orkney) on 9th. Inland English juveniles were at Milton Tip (Cambridgeshire) from 5th-8th and at Rutland Water (Leicestershire) on 8th (and another youngster was on the Suffolk coast on 11th) with other singles reported from Antrim, Lincolnshire, Norfolk and Worcestershire through the week. Two birds were noted at Dungeness on 11th, the popular third-winter and a new juvenile.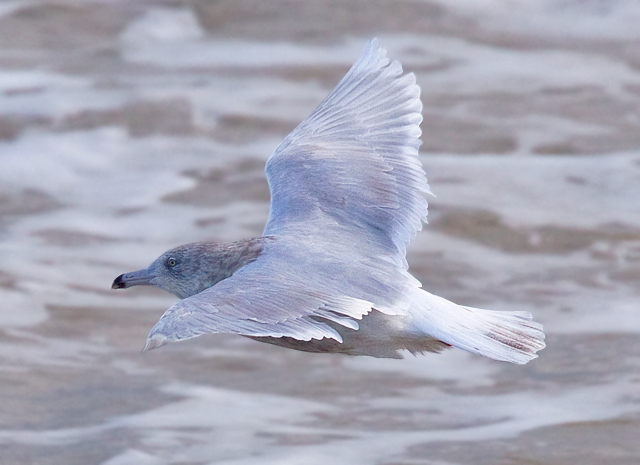 The last seven days saw around half the number of Iceland Gulls on offer compared to Glaucous ~ Irish singles were at Annagh Head and Killybegs, Scottish birds were on Orkney (at Marwick) and, as usual, at Ayr throughout the week, while English singles were seen in Staffordshire (at Silverdale), Nottinghamshire (at Hoveringham), in Cornwall (a juvenile again on the Hayle Estuary and then at Mousehole) and a near-adult on Tresco (Scilly) on 10th.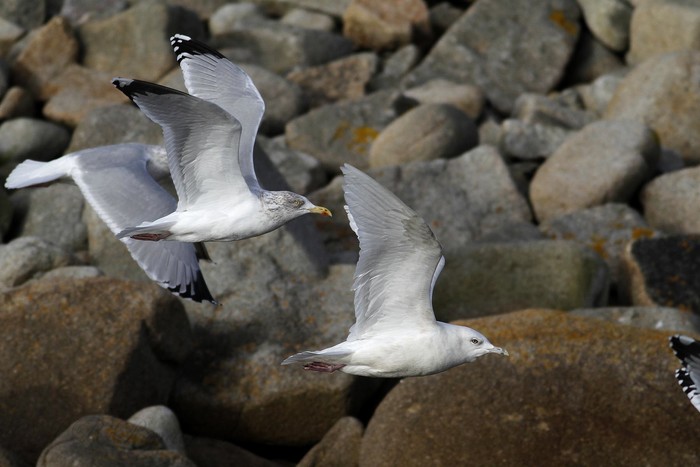 Back at Nimmo's Pier, the adult Forster's Tern was seen on both 7th and 8th.
Passerines
Top of the passerine heap this week (Suffolk redpoll aside) was the still-present female Desert Wheatear on Rattray Head in Aberdeenshire, in place for the whole of the round-up period. Not far behind was a new Dusky Warbler ~ found on Lower Moors, St. Mary's on 10th, it becomes the third Dusky of the past fortnight, one of those, the bird at Swanvale, Falmouth was seen again on 4th-5th (the same site also still hosting the only Yellow-browed Warbler of the week).
Also in Cornwall and setting allsorts of records was the first-winter Subalpine Warbler at St. Just. You'd think it was unlikely to go anywhere now and so perhaps it is just the Cornish weather, a lack of suitable food items or a local puddycat that may prevent it from becoming the first-ever Subalpine Warbler to winter in the UK or Ireland.
Although removed from the BBRC list in 2005, the near-600 records (of all forms of the species) listed, throws up just nine November arrivals (from a male at Hauxley in 1963 to two birds, on Skokholm and Scilly, in November 2001).
Most of these birds were fairly early arrivals in the month, the latest arrival being one at Whitley Bay on November 16th 1984, with the latest date shown as November 19th ~ the last date of a 15 day stay for another November Northumberland bird in 1984.
So the Cornish bird is already a record-breaker, but more could follow. Present throughout the week, it would be great to see a piccy or two…..
Not too far away from St. Just, at Nanquidno, another unseasonal waif was found on 11th in the shape of a Red-breasted Flycatcher. There have been a couple of late RBF's in the past decade or so ~ one spent two December days at Barley Cove (Co. Cork) in 2003 and a first-winter was seen in Bedfordshire between November 23rd-29th 2008 but this week's bird is truly late….
Further late birds this week included the Little Bunting found at East Burrafirth on Mainland Shetland, on 7th (still present on 11th) and two separate young Rose-coloured Starlings in north Cornwall, still at Port Issac on 5th-6th and at Wadebridge, also on 6th. A probable Melodious Warbler was also reported this week, at Runcton (West Sussex) on 10th.
In Cambridgeshire, at Ouse Fen RSPB, at least two Penduline Tits remained amongst the reedmace until 8th. Further singles were seen at Pegwell Bay (Kent) and Minsmere RSPB (Suffolk), on 6th and 8th respectively.
After almost two weeks away from the limelight, the Black-bellied Dipper reappeared in Thetford (Norfolk) on 6th, before promptly going AWOL again.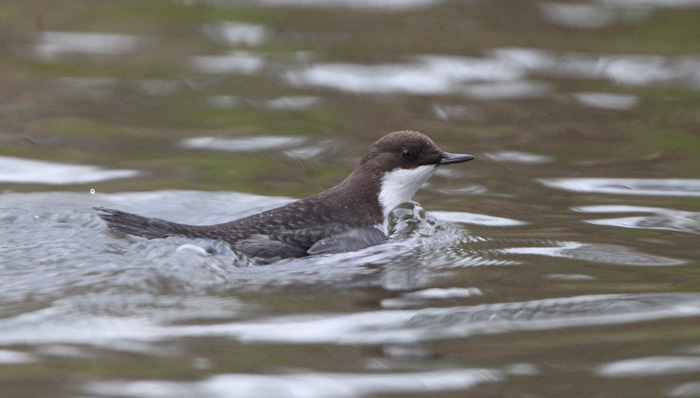 The half dozen Great Grey Shrikes this week were all regular wintering birds from previous recent weeks ~ five in England (in Dorset, Essex, Hertfordshire, Staffordshire and Surrey) and one in Wales (in Powys).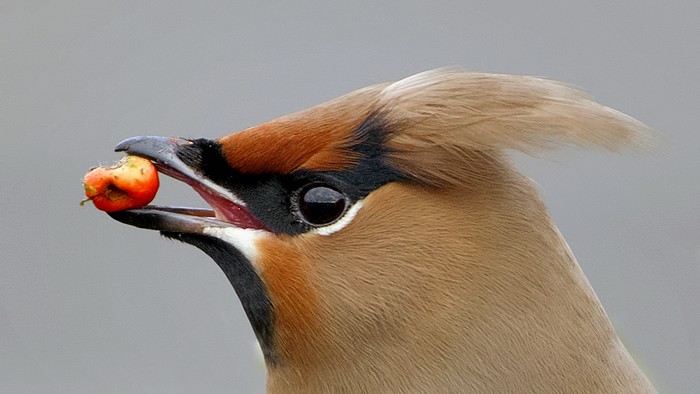 As usual, we'll round things off with those delectable Waxwings ~ numbers on the up again this week as birds continue to push their way from north to south, with more birds filtering down in to Ireland, Wales, the Westcountry and the southwest, as well as continuing to plunder their hungry way through the Midlands and in to East Anglia and the southeast.
Last week there were 28 groups of 100 or more ~ this week the numbers spiked at at least 39 triple digit scores for Britain and at least four in Ireland ~ these 43 groups yielding over 7,600 birds alone.
The largest gathering of the week, as with last week, was in Dundee ~ 800 birds seen in one group there on 6th with 500 at Pegwell Bay (Kent) on 11th taking second spot. Some 500 or so were noted in three groups around Glasgow on 5th and perhaps as many as 600 birds were recorded around Cardiff between 7th-9th.
Groups of 400+ were noted in Stairfoot (South Yorkshire) and Burton (Lincolnshire) during the week, while Ireland's largest gathering was 320+ at Lucan (Co. Dublin) on 11th.
With many, many flocks in the 40's, 50's and 60's (along with a few in the 70's and 80's) the number of Waxwings spread around and about is well in excess of 11,000 birds. Wonderful!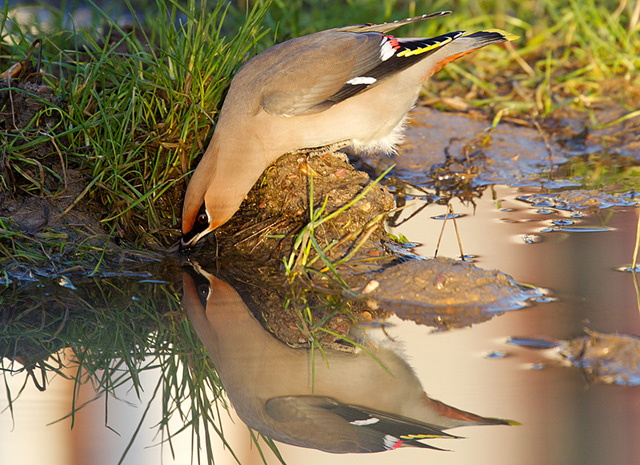 …what to expect in the next few days? Well, the later it gets in the year, the harder it becomes but there have been some memorable birds recorded in the week we're just heading in to….
December 12th has provided an inland Sora (in Nottinghamshire in 2004) and the famous Dusky Thrush in Hartlepool in 1959 also arrived on this date. December 16th has also provided some spectacular birds ~ a tideline Black-capped Petrel in Yorkshire in 1984, a Baltimore Oriole in Warwickshire in 1968 and, in 1970, Britain's first Desert Warbler was found at Portland.
The surprise can come at any moment……
This is my last round-up for this year as the 'bergs of the White Continent beckon ~ Andy Stoddart will be your Christmas elf with all the news for the next couple of weeks.
All that remains for me is to say "thank you" to all the contributors who have posted photos to the RBA galleries, or who have put pen to paper to offer up finder's accounts and informed analysis over the past few months. Your contributions have ensured that the standard of the RBA> reviews has remained of the highest order throughout the past eight months.
Chin, chin!
Mark Golley
12 December 2012
This weeks contributors
Many thanks this week to all our other contributors for their photos and videos.
Rich Mooney
,
John Kemp - Western Isles Wildlife
,
Jack Levene
,
Davey Farrar
,
Paul Kelly - Irish Bird Images
,
Gary Thoburn
,
Joe Pender - Sapphire Pelagics
, Dermot Breen, Jon Evans, David Bradnum, Matthew Sallis, Adam Hartley, Alan Lewis, James Lees, Steve Ashton, Sean Nixon, Andy Thompson,