Weekly round-up: 28 Nov - 04 Dec 2012
The week at a glance
Wood Duck in Wexford ~ could it be the real deal….?
Ireland also receives their third American Coot
The Pied-billed Grebe remains on the Outer Hebrides
Shetland steals in with a late, late Black-throated Thrush
Single Buff-bellied Pipit hangs on in Down
The veritable mixed bag of early winter came at most of us during the course of the past week….rain (there was quite a bit more of that sadly), wind (some of last week's unpleasant raw northeasterlies lingering for a day or two, with stiff northwesterlies following), some snow (even to some lower altitudes) and, thankfully, joy of joys, some clear blue skies, glorious sunshine and crisp, cold air too…..
To go with the mixed bag of weather, a suitably mixed bag of birds. There were new arrivals, old faithfuls and, to start things off, another one of those species that opens up the can labelled "worms"….as Caroline Aherne might say, in her best old lady guise, "let's have a heated debate"…."!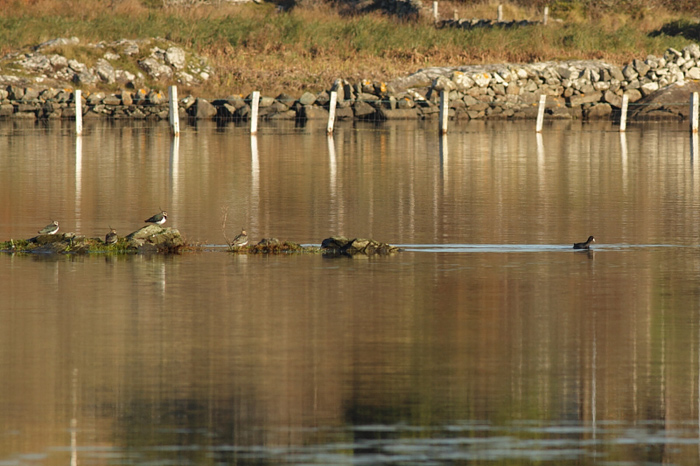 Headline birds
When the words Wood Duck appear on the pager they often elicit a number of responses ~ many of them on the negative side of negative.
If the words Wood Duck are accompanied, as they were earlier this year, for instance, by the word Abbotsbury, the species in question will (for whatever reason) quickly be deemed unworthy, with a high escape potential. If though the words Wood Duck are followed by an altogether rather more alluring location, say an Irish off-island, like maybe Arranmore, then (for some) an eyebrow or two will be raised and interest will be peaked.
…such was the case in January this year when a drake Wood Duck was seen on Arranmore, off the coast of Donegal. Soon established to be perhaps injured and with what may have been a poorly wing, there was an initial degree of positivity towards the bird from a few (injury could have been sustained in Ireland, that sort of thing…).
However, it was quickly established, before Euros were invested in a trip to the northwest coast, that the bird was actually a local escape with a duff pinion. Lesson learned (again) with a potential vagrant mega-duck in Ireland (don't forget the tale of the ringed escape Hooded Merganser in Kerry in 1996)…..
Now though, to perhaps redress the balance to the positive, a bird to really make you wonder again about the acceptable vagrancy potential of the species. A drake Wood Duck found by Noel Keogh and Brian Porter in the Forgotten Corner at Tacumshin (Co. Wexford) on the morning of 2nd.
One of the premier rarity site anywhere in Ireland and Britain (arguably, over the past few years, one of Europe's prime vagrant hotspots), this autumn has seen a procession of Nearctic new arrivals make their way to this magnificent corner of Wexford ~ two new juvenile Marsh Hawks lead the way, along with, multiple American Golden Plovers and White-rumped Sandpipers, the inevitable Pectoral and Buff-breasted Sandpipers, American Wigeon and Green-winged Teal and Ireland's earliest-ever autumn Kumlien's Gull. An impressive list and there's no reason why a wild Wood Duck shouldn't top the lot.
The weather has, in recent days, certainly been conducive for delivering fresh transatlantic arrivals (one or two American Coots and a Pied-billed Grebe for starters) so could this be the Wood Duck to finally unlock the door to official recognition?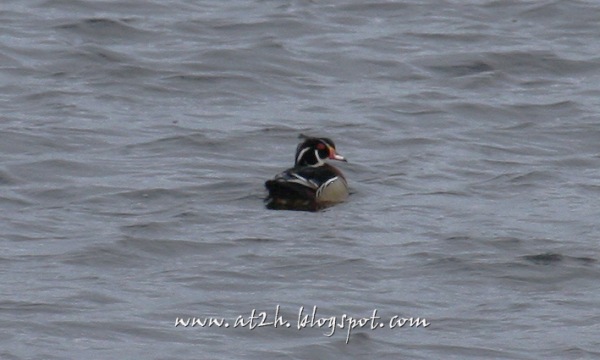 Shetland was the last great island hope for Wood Duck, the drake on southern Mainland from April to June 2009 generated a significant degree of interest (the arrival date of April 16th was just one day adrift from the now accepted Hooded Merganser on Shetland three years earlier….) but despite northern populations of this gaudy species being famed long-range migrants in North America and vagrancy to Azores regarded as par for the course, the road to acceptance closer to home remains a particularly twisted one.
...but with numerous presumed escapes almost going noticed throughout the year, it seems as though fans of Category A Wood Ducks may still have significant wait until the lights change to green...which seems odd (and perhaps a little unfair too) as many of the same rules apply to the arguably more contentious acceptance of some Hooded Mergansers in the past 12 years….
Ducks eh?!?!
Moving on to something far less gaudy and, thank heavens, way, way less contentious ~ just two days after a one-day American Coot appeared on South Uist, the (presumed) second of the month was located in County Galway, at Ballyconneely, on Murlach during the morning of 28th.
Finders account: Ireland's third American Coot in Co.Galway, by Dermot Breen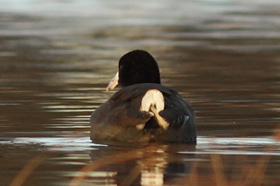 "I was finishing up some I-WeBS counts down around Ballyconneely at around 1030hrs on the morning of 28th. The last time I attempted to undertake a count at this site, I got nicely bitten on my left wrist by a sheepdog. The wrist is only now back to normal….
Anyway, the first site to cover was Murlach, a small brackish lough located between Ballyconneely village and bay. It is a great looking spot and has a real rarity hotspot look about the place, especially for waders, but it's never produced anything really in the five years that I've been in the area ~ a single Ruff this autumn was probably the best I've had in there to date.
So, while counting from a second viewpoint on the south side I had distant views of what I initially thought was the back end of a Moorhen. Thankfully it turned around and produced an all white bill. White undertail coverts on a Coot ~ it couldn't be anything else but American Coot!
The bird moved happily around the lough. Some of the back pools and channels were frozen over but the bird feed easily by upending and occasionally diving.
There's no way of knowing how long the bird has been present here as the place hasn't been checked in around three weeks. However the UK only got its seventh record just two days previously, up on South Uist on the Outer Hebrides, so maybe this bird isn't too long.
I had seen the American Coot found by Dave Suddaby two years ago, up on Termoncarragh Lough on the Mullet peninsula. That bird showed up on 15th November 2010 and stayed until 9th April 2011. It was only the second Irish record, the first was at Ballycotton, Co. Cork, present from 7th February to 4th April 1981. Will my bird hang around until next April? Time will tell.
I've never even seen Eurasian Coot in the Ballyconneely/Slyne Head area and have only seen them less than three times in Connemara before. The No.1 and 3 best Irish sites for Eurasian Coots both lie within County Galway. Lough Corrib is the most important site for the species in Ireland. A peak of 20,444 birds were counted during the 2003/2004 count season, though numbers have decreased dramatically mirroring the huge declines here also of diving duck.
The last count I have to hand is the 2008/2009 count when only 4,840 were counted. 1,500 to 2,000 Coots are found at the third best site - Loughrea. I've often looked through these vast flocks wondering what the chances of picking up an American were and as to how noticeable the white undertail coverts would be in comparsion to their Eurasian relations.
One slight note of caution for potential American Coot finders ~ I must say that the undertail coverts were eye-catching at all times on Murlach bird on the day of discovery, but the following day in very dull and overcast conditions, the white undertail coverts were very difficult to pick out at any reasonable distance. Along with the faint blackish sub-terminal band on the bill, it could easily be overlooked as a Eurasian."
Many thanks to Dermot for his first-hand account and also for the neat selection of images of his terrific find ~ the Murlach American Coot was present to 2nd, with birders soon discovering another rarity there, a drake Green-winged Teal ~ in place on 29th-30th.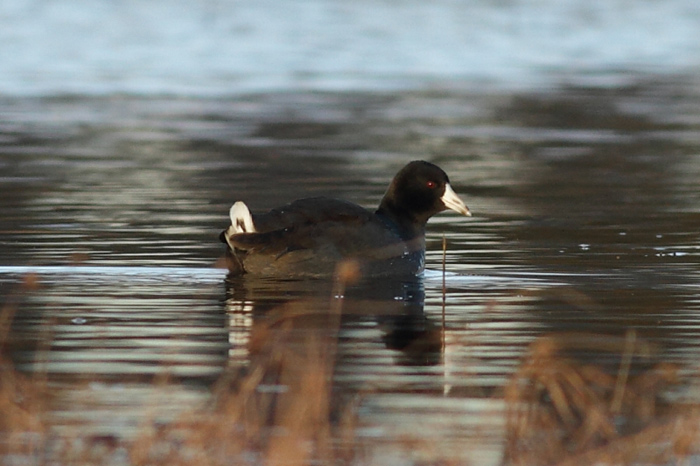 Inevitably, it is tempting to speculate on the odds (however long they may be) as to whether this bird could even be one-in-the-same as the South Uist bird from the tail end of last week….but that may be a theory too far….
Last week's other star-turn on South Uist, the first-winter Pied-billed Grebe on Loch na Bagh, at Smerclate was seen to 29th.
New this week, and yet another outstanding bird for Shetland in a manic autumn, a brief Black-throated Thrush, a first-winter male, seen at Loch of Benston, on Mainland, during the middle of the day on 1st. The second for Shetland this autumn, following one on Fair Isle on October 6th, this bird will become the 30th record for the islands of this wonderfully exciting vagrant (and the 14th records since the start of the 2000's) ~ Shetland's overall total represents just under half of all UK records…..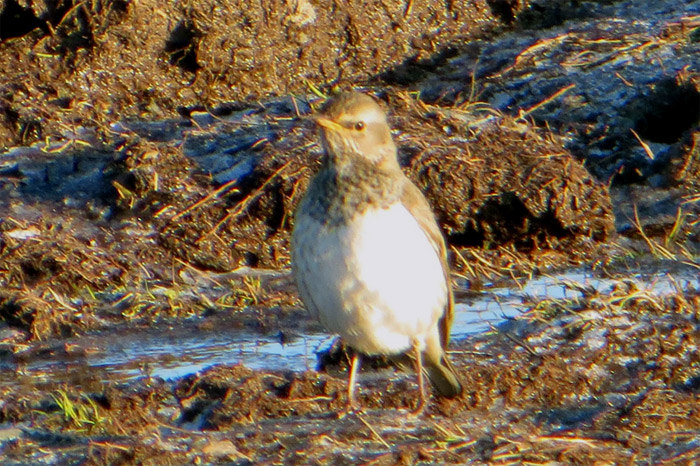 Back over to Ireland, and to Tyrella where one of the Buff-bellied Pipits remained on Corbett's Beach until 28th at least.
Seabirds
During the still gusty and cold 28th, a White-billed Diver was seen flying north past Flamborough Head (East Yorkshire) ~ despite their relative frequency nowadays, the buzz felt when one of these beautiful mealy-monster divers flies by on a seawatch really is quite something….
The same seawatch also produced a single Little Auk, one of seven sightings of the species during the day which included a dozen off Spurn and one of the coast of Cork (along with a Grey Phalarope). A handful of Little Auks (only ones or twos) were seen through the rest of the week (nine more reports) with a couple in the Mersey Estuary on 29th, one in the harbour at Newcastle (Co. Down) on 2nd while four passed Bridges of Ross (Co. Clare) on 3rd.
Two single Pomarine Skuas were reported off the beach at Cley (Norfolk) early in the week and the only others were another one in Norfolk, at Hopton-on-Sea on 4th and in Lothian, off Musselburgh, on 30th. A Leach's Storm-petrel was seen from Spurn on the seawatch of 28th and the same site also scored a Grey Phalarope on 30th. Four more singles were noted during the week, in Holyhead Harbour (Anglesey) on 28th, past Hilbre Island (Cheshire) on 1st, inland, on Livermere Lake (Suffolk) on 2nd-3rd and at Bothal Pond (Northumberland) on 4th.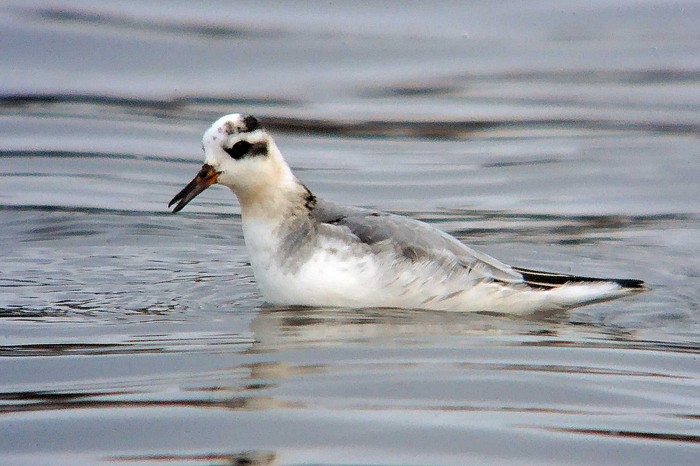 Herons, Egrets & allies
As we've come to expect now, there were any number of Great White Egrets on offer this week as the species continues to become something of a mainstay in British rare-birding terms.
Around 25 birds were noted during the week, with four still around the Dungeness area throughout. Doubles were seen at Llanrhidian (Glamorgan), still present to 28th, Kidwelly (Carmarthernshire) from 2nd with two at Ham Wall RSPB (Somerset) in the middle of the review period too. Two further singles were noted in Somerset and there were two singles reported along the north Norfolk coast this week (at Titchwell and Cley). Three or four birds were still moving around the northwest of England, from Cumbria to Lancashire and Cheshire, and a couple of birds were noted in Dorset and Hampshire.
Last week's bird at Stretton Sugwas in Herefordshire moved to Wellington GPs on 1st, but returned to its original site on 2nd (and then went back and forth to 4th) while inland singles included individuals at Pitsford Reservoir (Northamptonshire) on 29th-2nd and Langford Lowfields RSPB (Nottinghamshire) on 30th while in Kent, the fifth county bird of the week was seen at Bough Beech Reservoir from 29th. Further singles were seen in Powys (up to five for Wales again this week), Gloucestershire, Warwickshire, Suffolk and Essex.
A little late news from Devon, where the only Cattle Egret of recent weeks was still at Colyford on 27th, but there have been no updates since then.
The Marloes Mere Glossy Ibis was seen to 2nd at least while in the Westcountry, single birds were at Ham Wall RSPB on 29th-30th, Longham Lakes (Dorset) on 2nd with presumably the same bird (seen flying east) then appearing at Ringwood (Hampshire), where it remained to the following day.
Not too many Common Cranes to report this week ~ just half a dozen noted at the Stubb Mill roost at Hickling Broad NWT (Norfolk) on 29th while five were at Eldernell (Cambridgeshire) for much of the week. The five Cranes in Wexford reappeared on 4th, heading towards Tacumshin.
In Poole Harbour, up to 14 Spoonbills were counted at the start of the week, and a group of three were found near the Tamar Bridge (on the Devon side) on 28th. Another three were again on Samson (Scilly) on 30th with singles seen in Lancashire, Cornwall, Essex and Waterford throughout the week.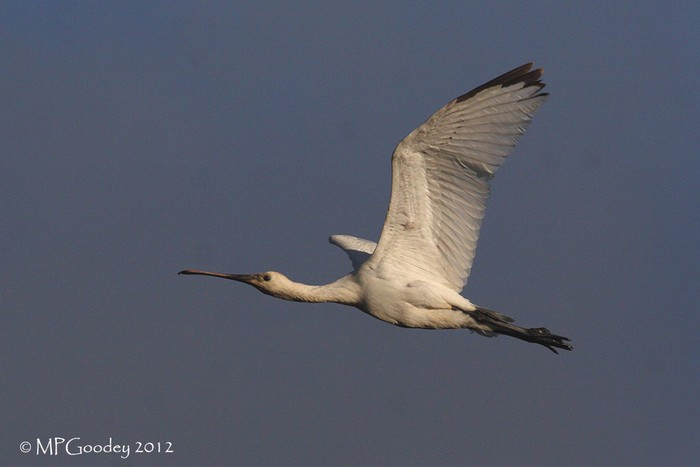 A White Stork reported over Sandy (Bedfordshire) on 3rd seems likely to be swiftly shifted to the "of unknown origin" category…..
Ducks & Geese
Two Richardson's Canada Geese were still in the Goose Fields of Sligo (near Lissadell) on 28th while in Argyll, singles were seen at three sites on Islay (Loch Gruinart, Loch Finlaggen and Loch Indaal) and again near Campbeltown on 28th, while in Norfolk, a Richardson's Canada Goose amongst assorted Pink-footed Goose, Dark-bellied Brents, Greylags and feral big boy Canadas began to glean some attention.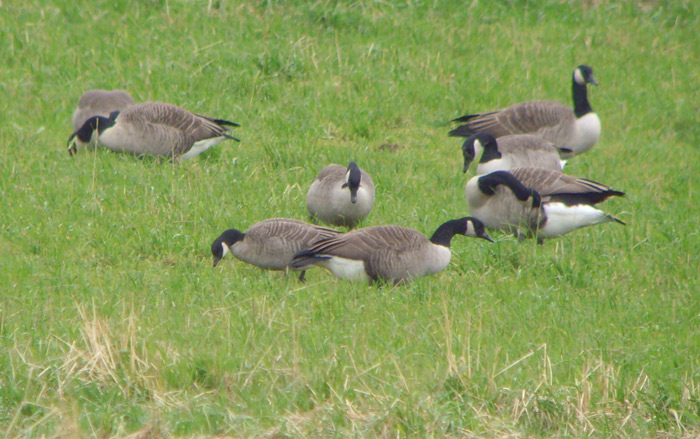 Present since October 28th on the rough grazing meadows between Cley (where it was first noted) and Kelling, this particular little goose has drawn a familiar opening comment ~ "who knows where its from", usually followed by "it'll be an escape".
Well, here's a few thoughts, coming at it from an altogether more upbeat angle!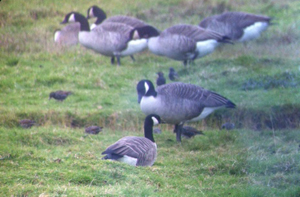 Initially, hopes were high that the bird in Norfolk was actually the one day Richardson's Canada Goose that had been seen in Lancashire, on October 25th, at Marshside RSPB, with Pink-footed Geese ~ three days before the Cley bird arrived on the east coast.
Scrutiny of images suggests that the bird in Lancashire, although very like the Norfolk individual (both are rather pale breasted for instance), isn't the same individual, but that shouldn't put off the hopeful voices trying to rally round and support the vagrancy potential of the east coast bird.
The southeast/northwest movement of Pink-footed Geese between the two counties is long-established and well documented and coincidentally, at the time of the Canada was seen heading southeast, much of the country was subject to a blast of hefty, chilly Arctic air…..
….and those conditions, around the time of the Cley bird's arrival, were very favourable in terms of helping shift a migrating goose across the country ~ strong north to northwesterly winds not only produced the expected decent mix of seabirds on the north Norfolk coast but also (completely out of the blue), a Hornemann's Arctic Redpoll and, funnily enough, numerous flocks of newly-arrived Pink-footed Geese…..
As is often the way in cases such as this, it is a guessing game as to whether the Norfolk bird is "4 Real". The favourite stick with which the Norfolk bird is currently being beaten with is that it is too cosy with the local Canadas. Well, it could be argued that a vagrant goose could happily jump from a carrier species to a species it would be instantly familiar with, so (perhaps) why couldn't a lone bird decide to jump in with a flock of birds that are, albeit twice the size, just the same?
… cast your eyes through a few online galleries too and soon enough, there are images of "thumbs up" vagrant Scottish hutchinsii from recent weeks which have a few large feral Canadas as companions too. The bird shown here in John Nadin's shot initially kept Greenland White-fronted Geese company and then jumped ship to the S.S Canada. In that respect, you'd ask the question "what's the difference between the two birds, Norfolk and Argyll?" And, aside from three or four hundred miles, arguably, there is no difference whatsoever…..
In Cumbria, a Red-breasted Goose arrived at Cardurnock (along with around 1,000 Barnacle Geese) on 28th and remained to 2nd at least (presumably having moved down and across from Islay). In Hampshire, at Portsmouth, the Red-breasted Goose and Black Brant were still with the wintering Dark-bellied Brent Geese to 2nd. Further Brants were seen on Sheppey (Kent) on 30th and on the Isle of Wight, at Yarmouth, on 2nd.
The two white Snow Geesewere still on North Uist this week, present at Knockintorran on 28th before heading to Baleshare on 2nd. Another white bird was at Sheskinmore Lough (Co. Donegal) on 28th-29th while a Blue Snow Goose spent 29th-2nd at Skinnet (Highland).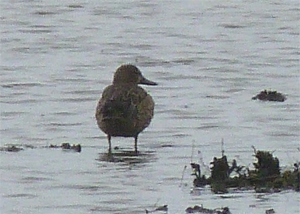 Ireland doubled up on the number of Blue-winged Teals present there this week ~ as well as last week's female or immature at Ballylongford (Co. Kerry), a new young drake was found at Ballyallia Lake (Co. Clare) on 1st. In Scotland, the returning drake Blue-winged Teal was seen again at Threave (Dumfries & Galloway) on 29th (it was last seen here in February).
The only Lesser Scaup of the week was the lingering first-winter drake on Lough Gash, Newmarket-on-Fergus (Co. Clare), still present on 3rd.
Ring-necked Ducks nudged in to double figures this week, courtesy of a few birds that we haven't heard about for a little while….up first, the Scilly three ~ the young drake and his two young duck companions still on Tresco at the start of the week. Moving east, to the Cornish mainland, a female was on Siblyback Resevoir (Cornwall) on 1st and the recent female at Slapton (Devon) reappeared on 2nd while the drake at Chew Valley Lake (Somerset) was reported until 30th. In the east Midlands, the popular drake at Eyebrook Reservoir (Leicestershire) remained throughout the week.
On the Outer Hebrides, a young female was seen on North Uist off and on through the week (on Loch Eaval and Loch Hosta) while the west side of Ireland hosted three birds ~ a drake still on Lough Shivnagh (Co. Donegal), the female again on Lough Baun (Co. Mayo) and a new drake on Loughrea (Co. Galway) from 1st, while in County Diown, a drake was on Lugh Money on 4th.
A couple of Ferruginous Ducks were seen through the last seven days ~ at Dosthill Lake (Warwickshire) on 1st (and again on 4th when the "H word" cropped up) with a drake on Hay Moor (Somerset) on 2nd-4th. A probable was also seen in Norfolk, on Ranworth Broad, but this particular part of the county has been plagued by assorted F1 hybrids in recent years, making it nigh-on-impossible to know exactly what's happening….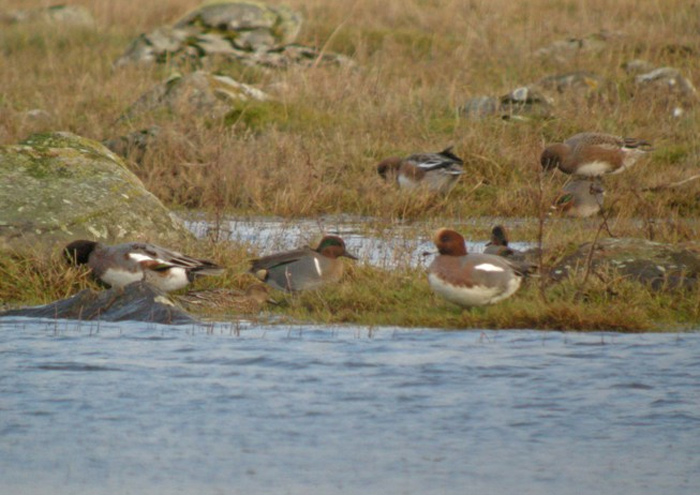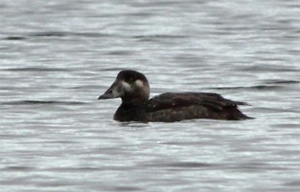 All of the week's ten drake Green-winged Teals were west side birds too ~ as well as the already mentioned bird in Galway (alongside the American Coot) birds this week were noted as follows: on 28th, singles were either side of the Solway Firth, at Hodbarrow RSPB (Cumbria) and Caerlaverock WWT (Dumfries & Galloway) and these two were followed by singles at Loch Leven (Perth & Kinross) and the Comber Estuary (Co. Down) on 30th, Conwy RSPB (Conwy) and Ardnave Loch (Argyll), both on 1st, Martin Mere WWT (Lancashire) on 2nd and on 3rd, at Baleshare, North Uist and Portworthy (Devon) ~ the North Uist bird may then have moved to Loch Sandary on 4th.
The wintering drake American Wigeon remained in West Yorkshire, at Anglers Country Park and Wintersett Reservoir throughout the week and in Aberdeenshire, the drake American Wigeon popped up again at Loch of Strathbeg on 3rd.
Out at sea, the juvenile Surf Scoter made a surprise reappearance along the north Norfolk coast, off the coastguard cottages at Weybourne, on 2nd. Three drakes remained off Llandulas (Conwy) to 2nd at least and one was found on Loch na Reivel, North Uist on 29th, where it stayed to 4th. A drake was in Largo Bay (Fife) over the weekend and Irish birds were still at Dungarvan (Co. Waterford) from 28th-3rd and also off Toe Head (Co. Cork) on 28th.
Raptors
Two white Gyrfalcons were on the Outer Hebrides on 1st ~ one, hail and hearty, was around the RSPB reserve at Balranald on North Uist while ~ sadly ~ the other one (a juvenile) was rather less well, picked up dead at Eoligarry, Barra.
What was presumably the North Uist bird on 1st was the South Uist bird on 3rd ~ seen at Ardivachar Point.
The only other raptors of note were a single Rough-legged Buzzard, at Ellough (Suffolk) on 2nd and a juvenile White-tailed Eagle (presumably an introduced bird tho') seen flying south over Chopwell Woods (Co. Durham) on 2nd before appearing on 4th at Crookfoot Reservoir.
Shorebirds
Hot on the heels of last week's "latest ever-find date" for Baird's Sandpiper on Shetland comes a bird that immediately takes that particular avian crown, following the discovery of one on the beach at Black Rock Strand (Co. Kerry) on 30th ~ with the bird still in place on 4th.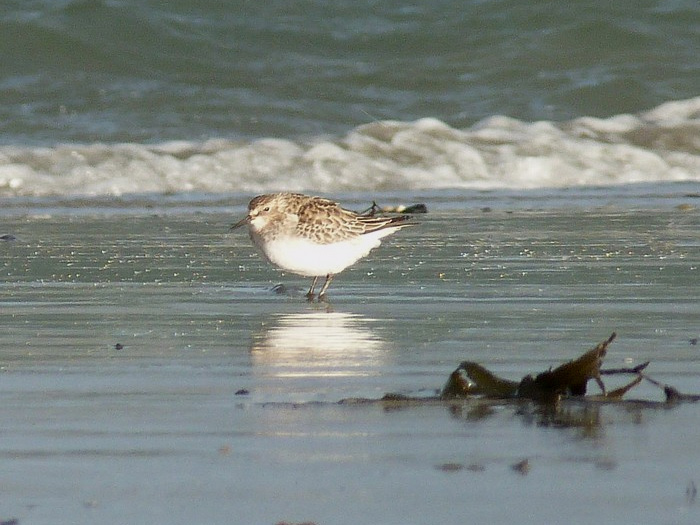 Another late long-winged Nearctic arrival was the moulting juvenile/first-winter White-rumped Sandpiper found at Longham Lakes (Dorset) on 30th. There have been any number of White-rumped Sandpipers seen this autumn but it is tempting to wonder if this bird and the recent late bird in Staffordshire could be one in the same….the Longham Lakes bird was still present to 4th.
The third very late (and exceptionally unseasonal) shorebird this week was the Temminck's Stint found at Steart (Somerset) on 3rd. Amazingly, it is the second December in a row in which the species has been seen ~ last year single birds were seen at Cotswold Water Park (Gloucestershire) from December 3rd-12th with it or another then appearing at Swithland Reservoir (Leicestershire) from December 24th-28th.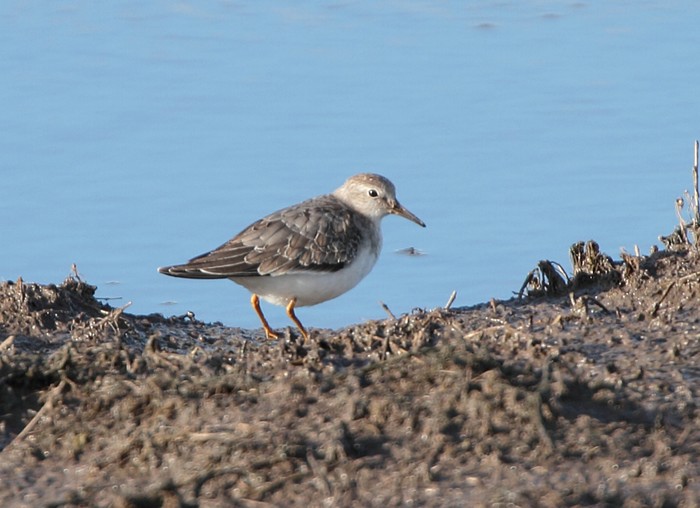 Last week's two Long-billed Dowitchers (the adult at Slimbridge and the first-winter at Alkborough Flats) were this week's two Long-billed Dowitchers ~ and there's every chance that they may well be the same two birds that feature for several more weeks to come…..
….and much the same could be said for at least two of the week's trio of Lesser Yellowlegs ~ the birds at Aldcliffe Marsh (Lancashire) and Ernesettle (Devon) both around for another (part of ) the week, to 29th and 3rd respectively, while the returning second-winter bird in Lincolnshire, also at Alkborough Flats, reappeared on 29th-30th.
Gulls and Terns
England's only Ring-billed Gull of the week was, again, the returning (11 winters and counting) adult in Gosport (although another was reported from the M56 services at Elton (Cheshire) on 3rd. Two birds were in Cork on 28th, a second-winter again at Timoleague, with another at Rosscarbery (these followed a late record of a first-winter in the county, at Castletown Bearhaven the previous day). On the Irish east coast, a Ring-billed Gull was on North Bull Island (Co. Dublin) on 28th and an adult was again at Bray (Co. Wicklow) from 30th.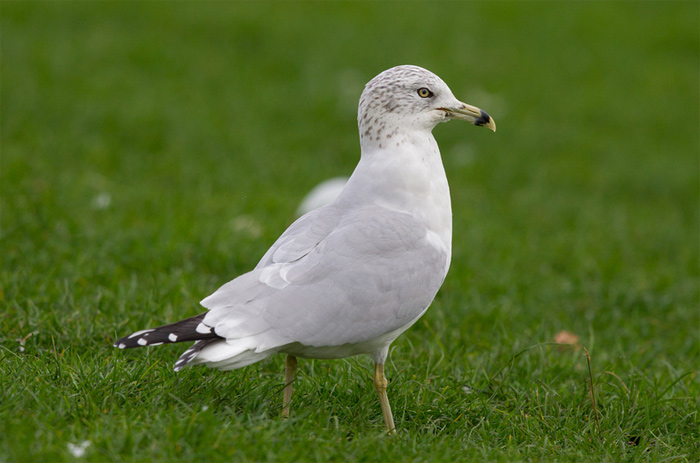 Cork's third Ringo of the week was an adult at Ballydehob on 30th and was followed on 1st by a new first-winter at Rosslare (Co. Wexford). The resident third-winter at Groomsport (Co. Down) was around all week.
There were 16 Glaucous Gulls noted through the past seven days~ including four on Shetland, twos at Lamba Ness, Unst on 28th and two off Whalsay on 1st ~ with three on the Outer Hebrides on 3rd and two around North Ronaldsay (Orkney) in the middle of the week. The long-staying third-winter remained at Dungeness (Kent) and singles were also noted in Cambridgeshire, Worcestershire, Nottinghamshire, Lincolnshire and North Yorkshire.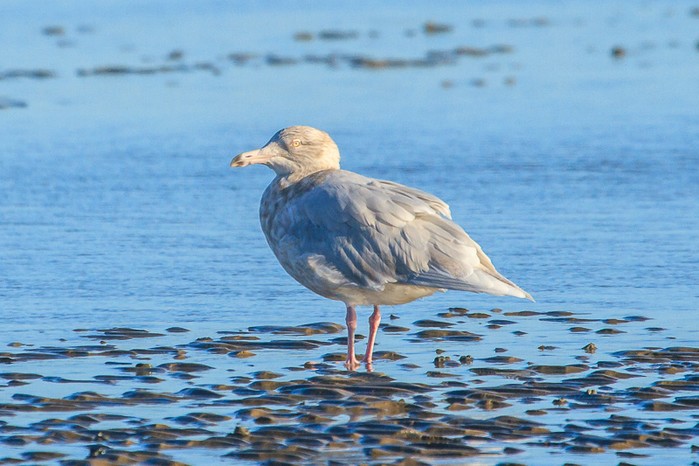 In contrast to the rising numbers of Glaucous Gulls, just four Iceland Gulls were seen ~ inland at the Chasewater roost in Staffordshire on 28th-2nd, at Rosehearty (Aberdeenshire) on 30th, on Westray (Orkney) on 2nd and at the Hayle Estuary (Cornwall) on 4th.
Back in Cork, the adult Sabine's Gull was seen at Cuskinny Marsh, near Cobh, on 2nd.
Passerines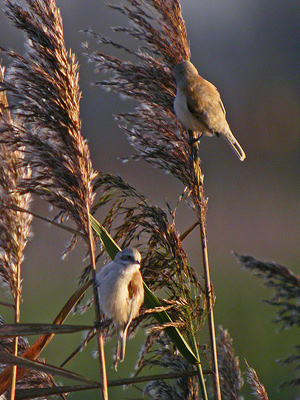 With so few new passerines making themselves known this week, it is pretty easy to focus on the smartest find of the past few days ~ step forward the two female or immature Penduline Tits that arrived at Ouse Fen RSPB (Cambridgeshire) on 2nd and remained to 4th.
Perhaps surprisingly, these were the fourth and fifth records for the landlocked county, the first were two separate singles at Ely on October 13th 1990, followed by a two-day first-winter at Somersham on October 28th-29th 1995. For county listers who missed any of the first three, this week's birds were on show throughout a Sunday and on to the following day too.
In North Wales, at Rhyl, the autumn's fifth Desert Wheatear, a popular female, was last seen on 30th but was quickly followed by the sixth ~ another female ~ on the beach at Rattray Head (Aberdeenshire) on the afternoon of 2nd which was still present as the review period drew to a close. It will become the sixth record of Desert Wheatear for the county, with four of the previous five birds (all of them recorded since 1997) making an appearance at Girdle Ness, including a male there last November.
This year's split between male and female Desert Wheatears is now back on level terms ~ birds 1 and 2 (in West Sussex and Dorset) were males, with bird 3 being the crowd-pleasing female in Essex. A one-day male in Kent was bird 4, and now the Welsh and Scottish females have made it level-pegging.
Not far behind the new Tits and Wheatear came the two Little Buntings at Rosenannon Downs (Cornwall) on 28th, one of which remained to 30th at least. The same county was still playing host to both the exceptionally late-staying first-winter Subalpine Warbler at St. Just (seen on both 29th and 1st) and also the Dusky Warbler at Swanvale, Falmouth (seen infrequently all week) ~ while on 30th the southwest's second Dusky of the week made an appearance at West Bexington (Dorset).
Swanvale was also one of the three sites that held on to a Yellow-browed Warbler, the bird there heard again on 28th with the other two on St. Mary's (Scilly) on 28th and still at Oldbury Power Station (Gloucestershire) on 29th.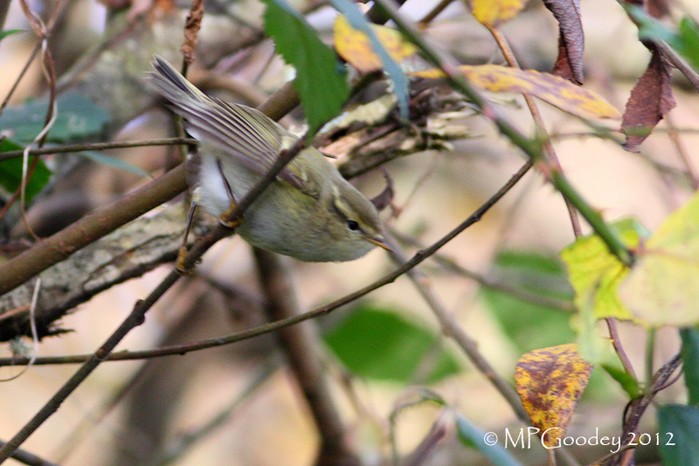 In Northumberland last week's Richard's Pipit was still at Low Newton-by-the-Sea on 28th and at the other end of the country, back down in Cornwall, the juvenile Rose-coloured Starling remained in private gardens at Port Isaac.
There were 11 Great Grey Shrikes on offer this week ~ a new bird was at Pantmaenog Forest (Pembrokeshire) on 2nd (with another Welsh bird still in Powys, near Brecon on the same date) while one or two were on the regular wintering spot of Thursley Common (Surrey). Further singles remained at their potential wintering sites ~ Wareham Forest (Dorset), Therfield Heath (Hertfordshire), still near Colchester (Essex), Beeley Moor (Derbyshire) and on Cannock Chase (Staffordshire).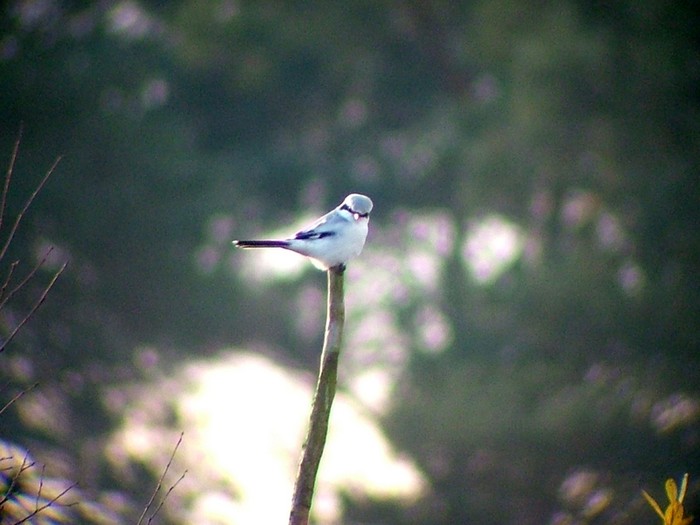 Waxwing numbers continued to stay well in to the mid-thousands this week. Birds were spread far and wide throughout, from Shetland to Scilly and there was a pronounced shift away from the huge flocks in Scotland and assorted west coast islands off the Scottish coast, as a wave of birds pushed further south throughout the week, with numbers in the Midlands and in Wales rising sharply.
There were at least 28 three-figure groups recorded over the week, those alone tallied over 4,200 birds and the mass of healthy flocks numbering between 30 – 60 birds would have put another couple of thousand on to the still expanding tally. The largest groups this week were 500 in Dundee (Angus) on 4th, 315 at Pegwell Bay (Kent) on 1st and 300 in Partick, Glasgow on the same date.
A group of some 250 were seen in Salford (Greater Manchester) on 3rd with a similarly-sized group at Barton Stather (Lincolnshire) on 2nd and there were 200 each for Rhuddlan (Denbighshire) on 29th, Nottingham on 1st and Roath, Cardiff on 3rd.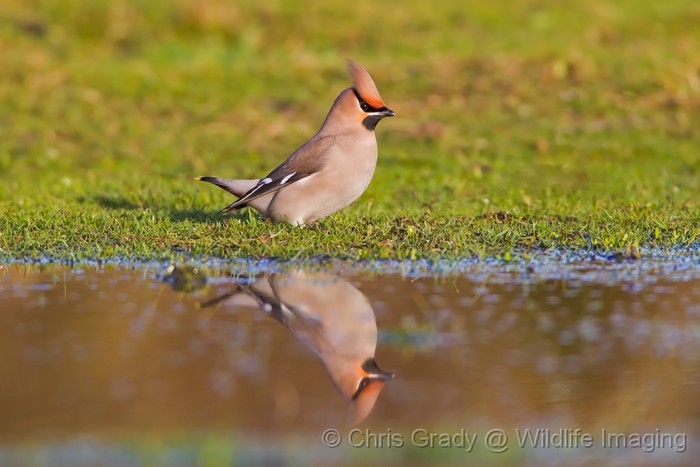 Several hundred birds were seen in Wales during the week (at least six flocks over 100 noted) while in Nottinghamshire alone, at least 1000 birds were recorded between 1st-3rd. Waxwings also pushed in to Ireland during the week, birds recorded in at least 15 counties, from Antrim and Tyrone in the north to Clare in the west, down to Cork, across to Waterford and Wexford, through Carlow, Kildare, Wicklow and Meath to Louth and Dublin. The latter county (one of the smallest in Ireland) was inundated by hundreds of birds ~ dozens of flocks noted around the county throughout the week with a peak of 100 on O'Connell Street , in the heart of Dublin, itself on 3rd.
Finally, on Shetland, on Unst, at least four Hornemann's Arctic Redpolls were still present around Baltasound on 28th and one was found at Norwick on 29th. Three birds lingered at Baltasound on 2nd and two were at Uyeasound on the same date. Singles were then seen at Norwick and Baltasound on the same date.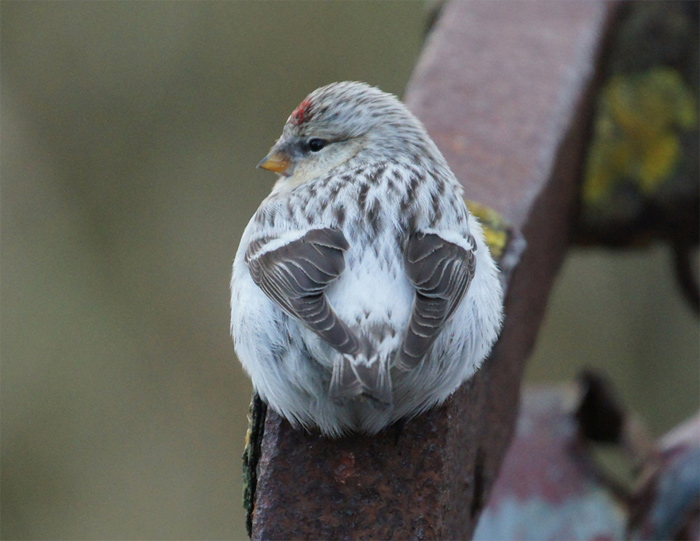 Another week done, another week with new rairties too. Still plenty of options as December rattles along ~ and the week ahead has, in the past, produced some pre-Christmas crackers...., a Steppe Grey Shrike in Suffolk in 1986, a Black Scoter in Moray in 1992, a Blackpoll Warbler in East Sussex in 1994, Ireland's first Belted Kingfisher in 1978 with Britain's first Greater Sand Plover in West Sussex at the same time and, of course, most recently of all, Britain's only Great Blue Heron, on St. Mary's, Scilly on December 7th 2007.
Mark Golley
05 December 2012
This weeks contributors
A very special thanks this week to Dermot Breen for his American Coot finders account and photos. You can see more photos of the American Coot on
Dermot's Blog Here
.
Thanks also to all our other contributors for their photos and videos.
Jason Atkinson - A Tale of Two Halves
,
Martin Goodey
,
Sacha Barbato
,
Davey Farrar
,
Stephen Duffield - Western Isles Wildlife
,
Simon Knight
,
Chris Grady - Wildlife Imaging
,
Mike Pennington - Nature in Shetland
, Dennis Coutts, Barry Woodhouse, John Nadin, Allan Chard, David Bradnum, Richard Thomas, Neil Randon,